Dana White Reacts To Backstage Brawl Between Leon Edwards and Jorge Masvidal
UFC London took place yesterday and for a fight night card it was unbelievably stacked. With multiple hometown fighters but also a blend of the rest of the world's best fighters, it was a night to remember. Till and Masvidal was the main event but Masvidal fought two fights last night…
In the main event, Jorge Masvidal knocked Darren Till out cold. Leaving him lying on the canvas for a good few minutes. After he came to, he still couldn't stand properly…
Silencing the home crowd in The O2 Arena, Masvidal wanted his one hundred grand for knockout of the night. However, he showed great sportsmanship towards a very dangerous Darren Till who had him dropped in the early seconds of the first round.
It was backstage where during an interview, Masvidal had an altercation with Leon Edwards who fought in the Co-Main event of the card against Gunnar Nelson.
Leon apparently came towards Masvidal with his fists up so Masvidal reacted by throwing multiple punches and cutting Edwards in the process.
BACKSTAGE BEEF!😱

Masvidal attacks Edwards at UFC London shortly after his 2nd round KO victory against Darren Till!👀#UFCLondon pic.twitter.com/1qopULKN4p

— BOXINGCONNOISSEUR (@bxngconnoisseur) March 17, 2019
Of course, this isn't the first time two fighters have engaged in combat after the bell has gone. The first major incident being at UFC 229 which resulted in suspensions and fines for multiple fighters.
Then at UFC 235 between Kamaru Usman and Colby Covington.
After basically being Guaranteed a KO of the night bonus, could Masvidal's additional pay have been swiftly whisked away by the UFC after his actions?
Post-fight brawls are starting to become more and more frequent. Dana White, the boss man himself even agreed and while speaking to Brett Okamoto from ESPN, had his own comments on the altercation between two of his fighters. (Quotes courtesy of MMA Mania)
"I can't even believe that this happened," 
"We(UFC) need to do a much better job of making sure this s**t doesn't happen at any of our events!!!!"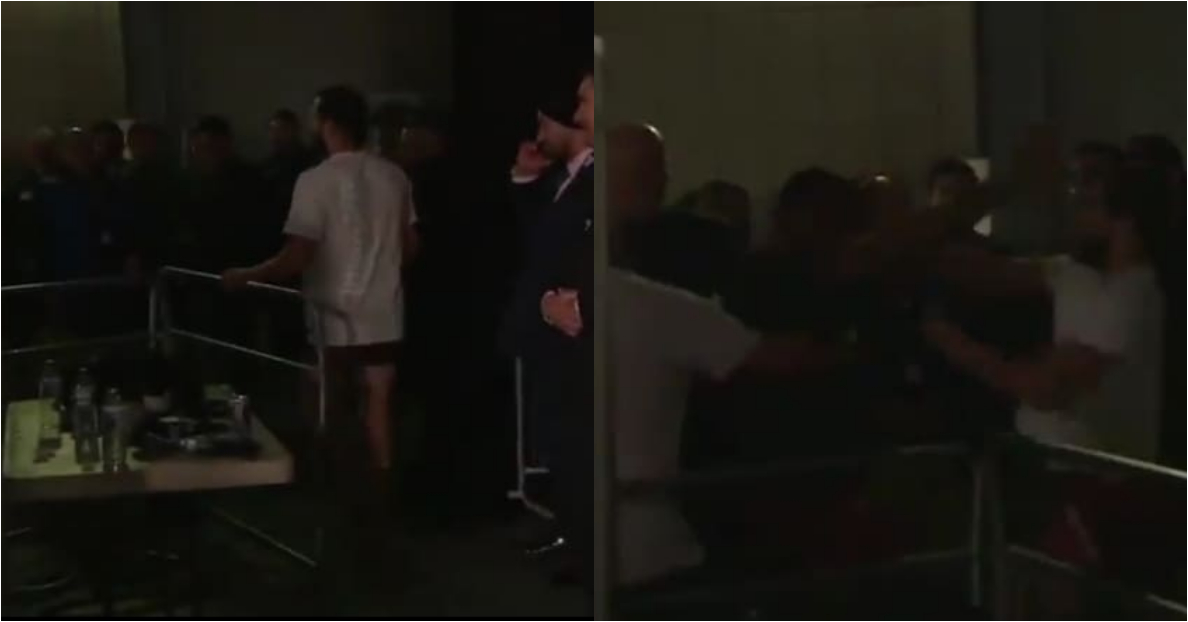 Dana White Couldn't Believe It…
Then again, this is the UFC, maybe the video editors are currently cutting the scene into a Masvidal vs. Edwards promo.
There will likely be no suspensions after this altercation. It's nothing quite like the UFC 229 incident. Regardless, MMA is about respect between arts, brawls like this should be a rarity or not happen at all.
After Till's knockout Loss, where do you see him going from here? What about Masvidal? Should he fight Edwards next?
Check out the full results of UFC London below:
170 lbs.: Darren Till vs. Jorge Masvidal – Masvidal def. Till – KO Round Two
170 lbs.: Leon Edwards vs. Gunnar Nelson – Edwards def Nelson by split decision
205 lbs.: Volkan Oezdemir vs. Dominick Reyes — Reyes def. Oezdemir by split decision (28-29, 29-28 x2)
135 lbs.: Jose Quinonez vs. Nathaniel Wood — Wood def. Quinonez by submission (rear naked choke) at 2:46 of Round Two
170 lbs.: Danny Roberts vs. Claudio Silva — Silva def. Roberts by verbal submission (armbar) at 3:37 of Round Three
185 lbs.: Jack Marshman vs. John Phillips — Marshman def. Phillips by split decision (28-29, 29-28 x2)
145 lbs.: Arnold Allen vs. Jordan Rinaldi — Allen def. Rinaldi by unanimous decision (30-26, 30-27, 29-28)
155 lbs.: Marc Diakiese vs. Joseph Duffy — Diakiese def. Duffy by unanimous decision (30-27 x3)
205 lbs.: Nicolae Negumereanu vs. Saparbeg Safarov — Safarov def. Negumeareanu by unanimous decision (29-26 x2, 29-27)
145 lbs.: Danny Henry vs. Dan Ige — Ige def. Henry by submission (rear naked choke) at 1:17 of Round One
125 lbs.: Priscila Cachoeira vs. Molly McCann — McCann def. Cachoeira by unanimous decision (29-28 x3)
145 lbs.: Mike Grundy vs. Nad Narimani — Grundy def. Narimani by TKO (punches) at 4:42 of Round Two