Following their infamous UFC London backstage scuffle, where Jorge Masvidal hit Leon Edwards with a "three-piece and a soda," a lot of fans were expecting that the pair is bound to share the Octagon next. But Dana White just revealed that is not the plan.
Both welterweights won their respective assignments at UFC London two weeks ago at the sold-out 02 Arena.
Edwards survived Gunnar Nelson in three pulsating rounds to eke out a split decision victory while Masvidal shocked the world with his three-punch combo knockout of Darren Till in the main event.
They continued to make headlines moments after the MMA event as they were caught in a video throwing hands backstage in a heated confrontation.
They already planted the seed of their rivalry, and everyone was just waiting for the promotion to book them in a future fight until the UFC president confirmed that they are working on different opponents for both welterweights.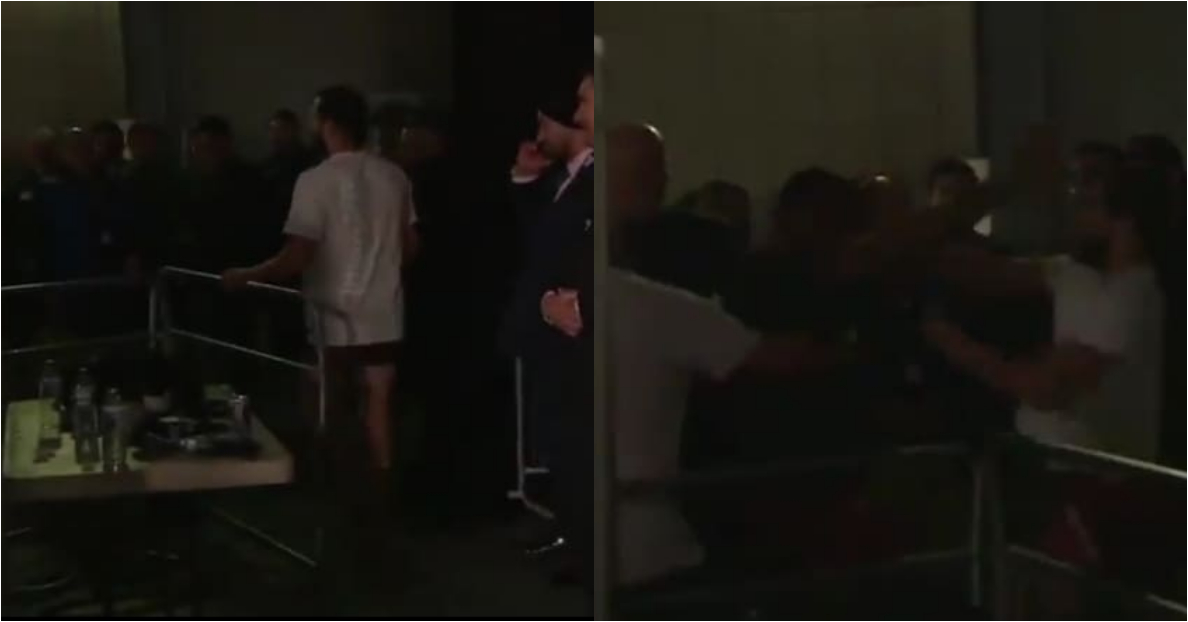 Three Piece and A Soda
Following his scary second-round KO of Darren Till, Jorge Masvidal got into a heated confrontation with co-welterweight Leon Edwards backstage.
"Gamebred" was answering some questions from the media when he surprisingly abandoned the interview to confront and exchanged punches with Edwards.
Speaking with ESPN's Brett Okamoto, Masvidal explained what exactly happened backstage, saying it was Edwards who was the instigator of the fight while his friends attempted to sucker punch him. (Quotes from MMA Mania)
"I'm doing my interview, and this hooligan comes by saying some stuff, like 'July, get your ass kicked in July, July!'"
"I go 'Maybe bro, whatever, because maybe I wanna kick your ass in April."
"Maybe I don't wanna wait until July. Maybe I don't want to fight you in a prize ring because you're not worth the training camp, I'll just fight you here because you're a scrub.' 
"You are what you are, you're just a loser in life, man."
"You're not going to get a hit off on me. So I had to give him the three-piece with the soda and then just glide out of there, you know?"
Low Ranking
The British fighter has also aired his side about the incident and insisted it was Masvidal who tried to sucker punch him. He also hoped the UFC would make their fight soon so he can "put his hands on this man."
Edwards has won seven straight fights, and his most recent victory could set him up to a date with the winner of the UFC London headliner, who happened to be his co-backstage brawler.
But the UFC president said they are not capitalising on the Masvidal and Edwards "three-piece and a soda" drama.
And "Gamebred" is not fighting the British next because of his low rankings.
"Masvidal's ranked No. 5 right now, Edwards is No. 10," stated White (via MMA Mania).
"So we are working on something for Masvidal and Edwards, but not each other."
"We're actually talking about Ben Askren vs. Masvidal right now."
Askren is coming off a controversial stoppage win over Robbie Lawler. He made his highly anticipated debut earlier this month at UFC 235 and is looking to rack up more wins to get his title shot.
What do you think of the Masvidal vs Askren fight? Let us know in the comment section below.
(Featured Image Source: Instagram/Jorge Masvidal and Leon Edwards)