Henry Cejudo was assumed to give Demetrious Johnson a better match than their first fight at UFC 197 in 2016. But he exceeded all sorts of expectations when he actually defeated the man who was considered by many UFC fans as the pound-for-pound best fighter. 
Cejudo and Johnson showed the world what could have been the greatest flyweight title bout in the history of mixed martial arts. Both fighters finished each of the five rounds strong, but there could only be one winner. After finishing all 25 minutes of the fight, Cejudo claimed Johnson's flyweight title via split decision.
He got two out of three 48-47 scores, which seems like a fair decision.
With Demetrious Johnson's streak at an end, the current longest-reigning UFC champions now are:

Daniel Cormier (205) — 1,170 days
Amanda Nunes (135) — 757 days
Tyron Woodley (170) — 736 days
Max Holloway (145) — 428 days

Johnson was at 2,142 days.

— Shaheen Al-Shatti (@shaunalshatti) August 5, 2018
Johnson Accepted Defeat But Believes It's Unfair
While Cejudo celebrates his victory, Johnson suffers probably the most heartbreaking moment of his UFC career.
He was the second-longest reigning champ in UFC history at five years, and 10 months. Cejudo also put an end to the former champ's winning streak at 13 and unbeaten streak at 14.
"I came in, I was knocked out in the first round two years ago, and this time I came in and defeated the legend and now I'm the champion," Cejudo (13-2) said after the match.
During the first round, Johnson was obviously dominating the fight using his used his speed and a variety of kicks on Cejudo. The former champ even believes that he might have broke Cejudo's foot after repeatedly kicking him.
Despite his efforts, judges were in favour of Cejudo. During the UFC 227 post-fight conference, Johnson admits that believes he wasn't fairly judged on the scorecards.
"The stand-up numbers, I think I outstruck him," Johnson said. "But it happens. I don't think the judges know how to score leg kicks."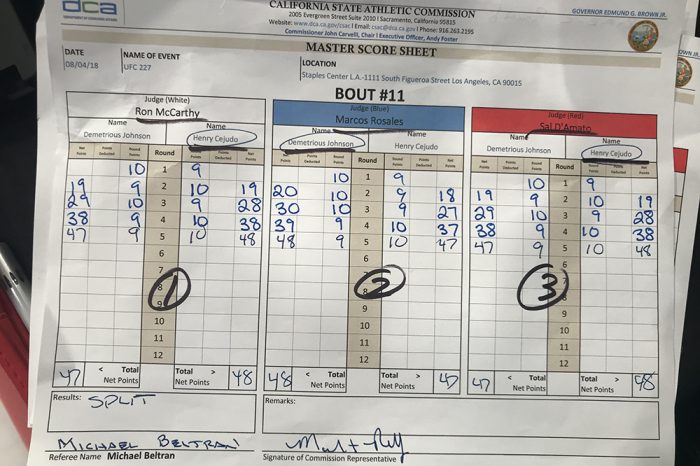 Possible Rematch
Johnson also made it clear that the fight could have gone either way. That's why he's looking forward to a rematch to reclaim his title hard-earned title from Cejudo.
But, the former UFC flyweight champ said he isn't in a hurry for that.
"It wasn't like he blew me out of the water," Johnson said. "First thing's first. I'm not going to be like, 'Ah, I want a rematch.' I need to get healthy first. My health is No. 1, and I'm not going to sign a contract if I can't get through eight weeks of training camp."
Fans Demand Rematch
Throughout Johnson's reign as the champ, he surely earned a lot of fans. And although he isn't immediately demanding for a rematch, his fans believe that no UFC fighter deserves the title shot than him.
Check below for some of the Twitter reactions of those who want a rematch between Johnson and  new UFC Flyweight Champ Cejudo:
Unquestionably Demetrious Johnson deserves a rematch.

— Josh Gross (@yay_yee) August 5, 2018
If Demetrious Johnson doesn't get a rematch, I'll seriously question the UFC.#UFC227

— Wesley Riddle (@AllThatMMA) August 5, 2018
Just to be clear — no one in the history of the UFC has ever deserved an automatic rematch more than Demetrious Johnson.

11x defending champion and he lost a very close split decision. Unless his injuries are gonna keep him out for 7 or 8 months, he gets Cejudo next#UFC227

— Damon Martin (@DamonMartin) August 5, 2018
DC: "If anyone deserves an immediate rematch, it's Demetrious Johnson."

Rogan: "What about Stipe Miocic, doesn't he deserve a rematch?"

— Jake Nichols (@JakeNicholsMMA) August 5, 2018
If any champion ever deserved an immediate rematch, Demetrious Johnson deserves a trilogy fight next. #UFC227

— Brian Campbell (@BCampbellCBS) August 5, 2018
Props to Daniel Cormier for clarifying/giving the nod to Stipe Miocic in regards to Demetrious Johnson deserving a rematch/Brock Lesnar not showing up to dance. #UFC227

— Dan Tom (@DanTomMMA) August 5, 2018