With all the fuss and toxicity going on in Twitter, someone just decided to be funny. Tweets from Jeff Wysaski — the man who makes funny things for a living — are probably some of the best things you will see on social media.
There is one thing sure about him: he loves dogs and he hates bees. Those are two and so is Wysaski. He's both practical and fake. By fake I mean this man literally plants fake self-help books on the shelves of bookstores, fake coupons in grocery stores, leaves fake animal facts in zoos or puts fake in-store reviews in IKEA.
He actually gets money from too much sarcasm, seasonal wit, a little bit of humour and more sarcasm.
Here are some of the most hilarious tweets from Wysaski — the man who has been fooling his 80K followers since 2010.
#1 Commitment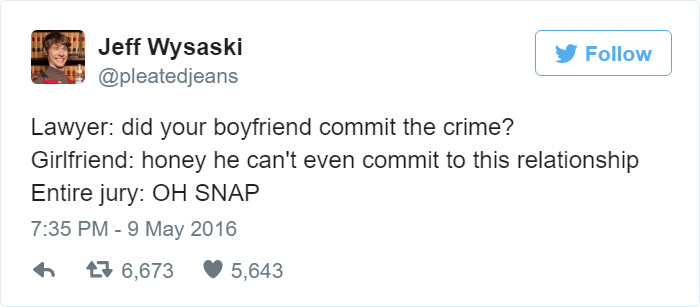 Uh-oh. It seems like another case needs to be heard.
#2 Count on Me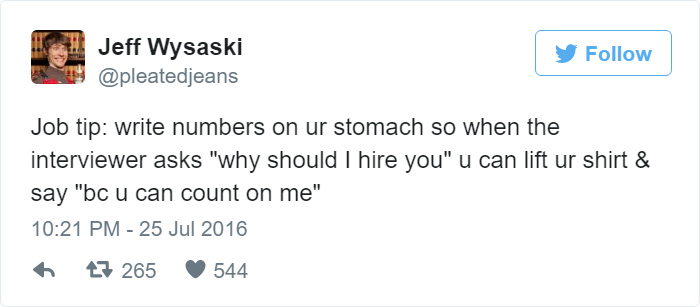 Count on  me like one, two, three I'll be there.
#3 Here You Go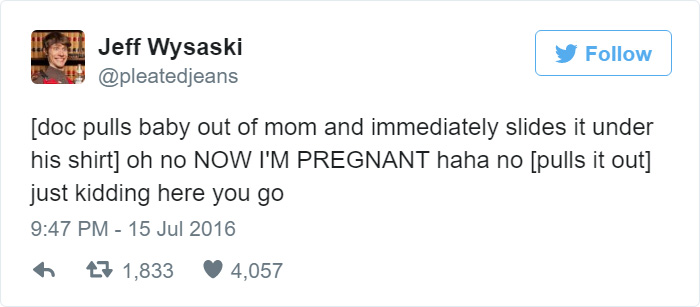 I know everyone's imagination is working right now.
#4 Intelligence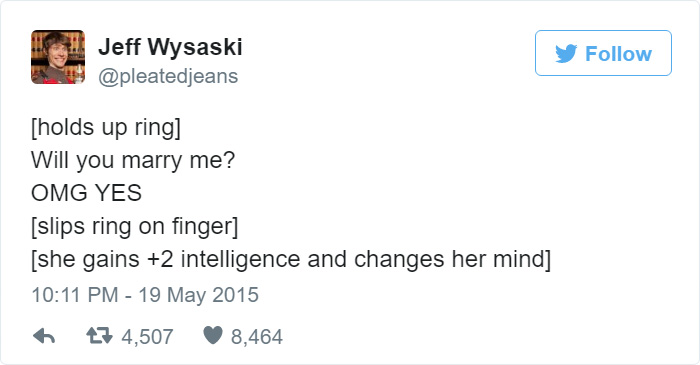 Never mind the wedding proposal and engagement ring. Just get married.
#5 Mafia Boss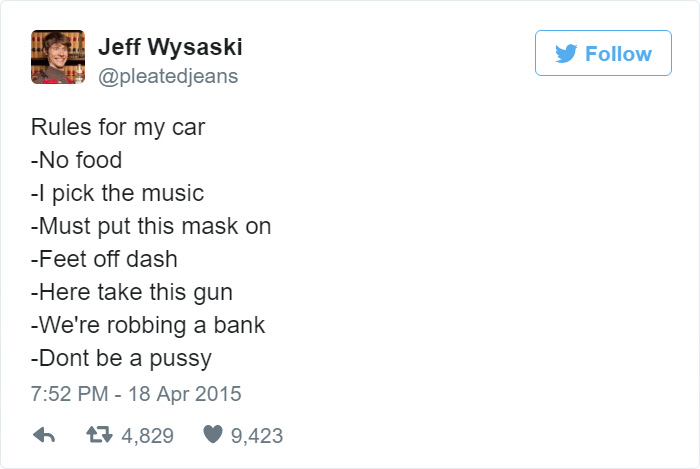 Wanna get in?
#6 Can't Resist Chips
Murderer sees him… Gets some chips.
#7 X-Ray

Don't you have any filter?
#8 Graveyard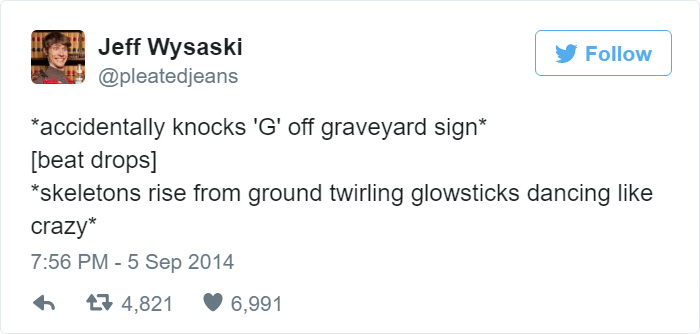 Raveyards. Rock on!
#9 He's Out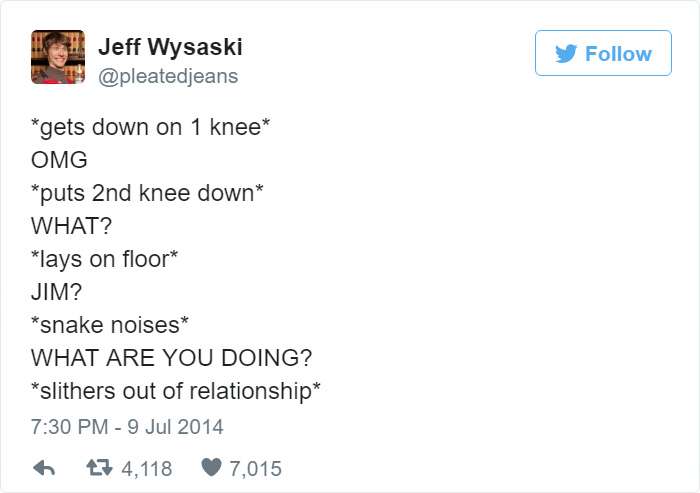 Snake noise's the best!
#10 Blue Liquid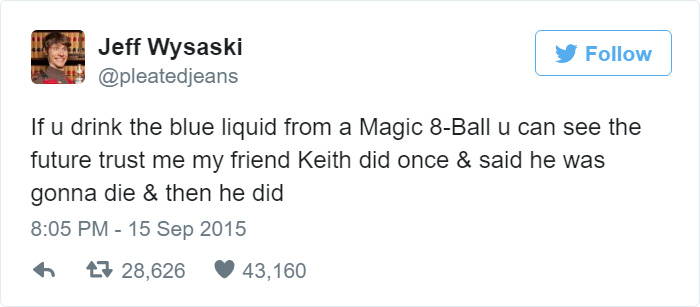 Is this supposed to be funny?
#11 Escape from the Real World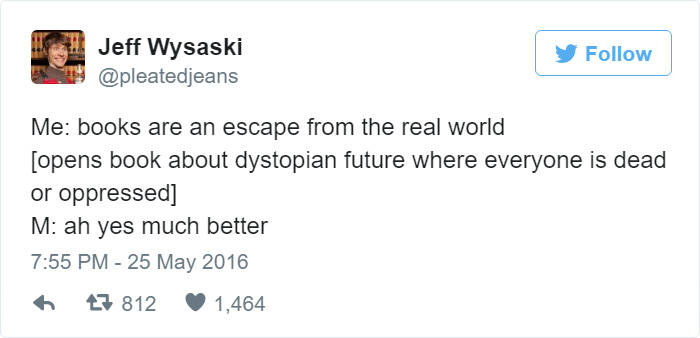 I'd rather not.
#12 Tinder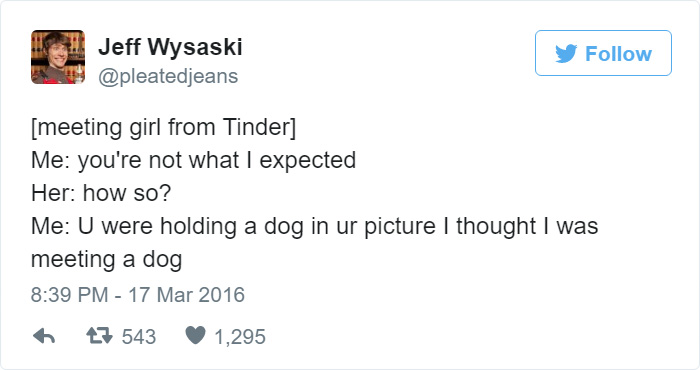 It's dog I'm interested in.
#13 Snorkeling with Jesus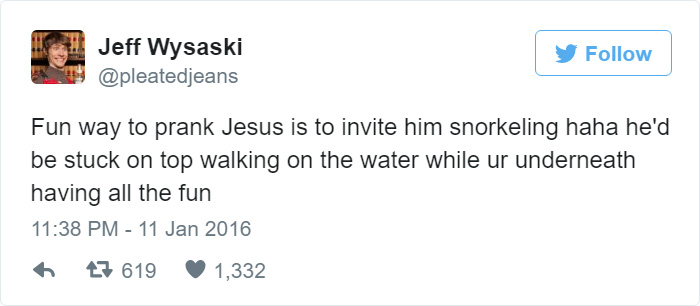 Have you forgotten that Jesus makes miracles?
#14 Dog Museum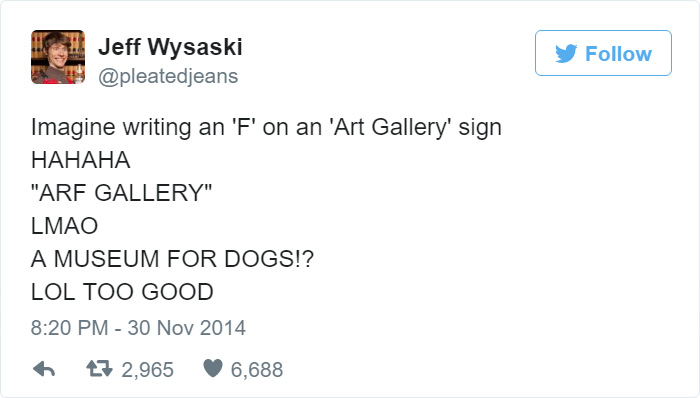 This is actually a great idea.
#15 Wizard Wand and Coffee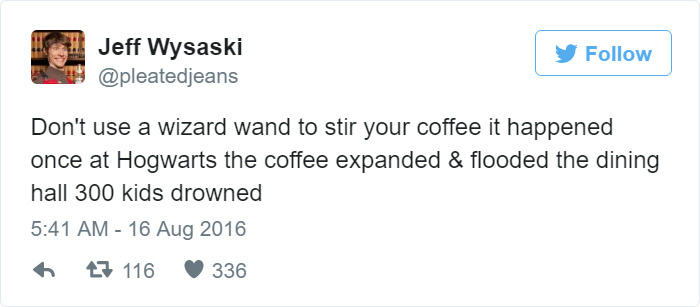 If I'm in Hogwarts I would definitely do that.
#16 Tombstone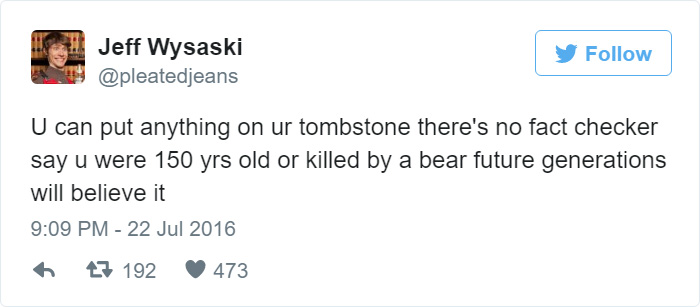 Better write something funny at least.
#17 Curtainly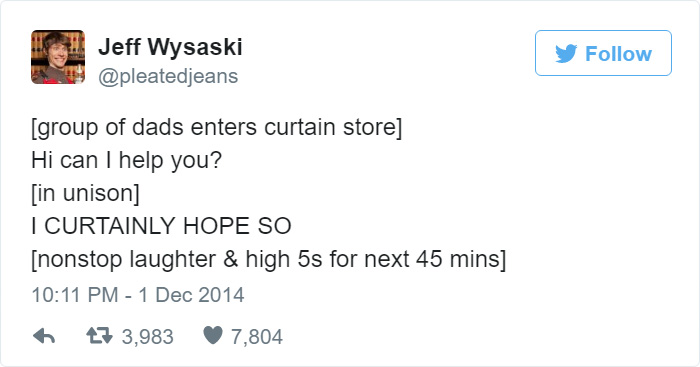 Dads are adorably annoying.
#18 Never Pay For Drinks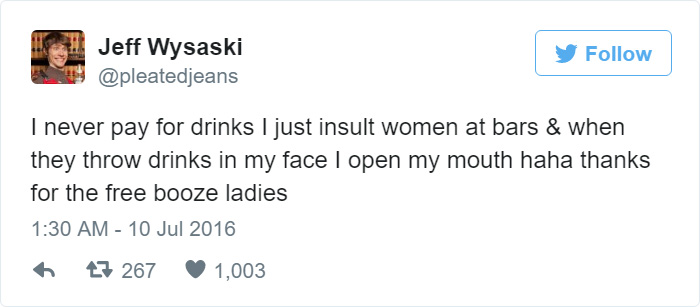 He will pay for this hospital bill once a woman decides to include the bottle though.
#19 World of Constant Tragedy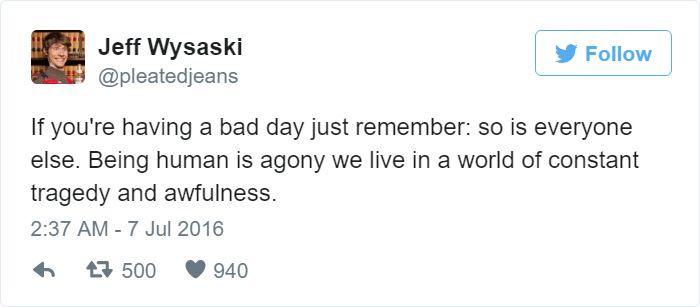 You are not alone.
#20 Come Out of Your Shell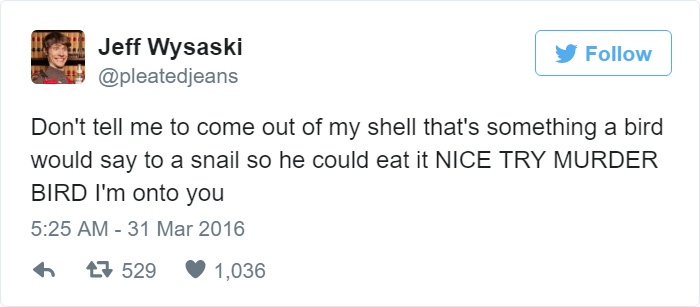 This is another way to look at things. We should all practice this.
#21 Cinnamon Toast Crunch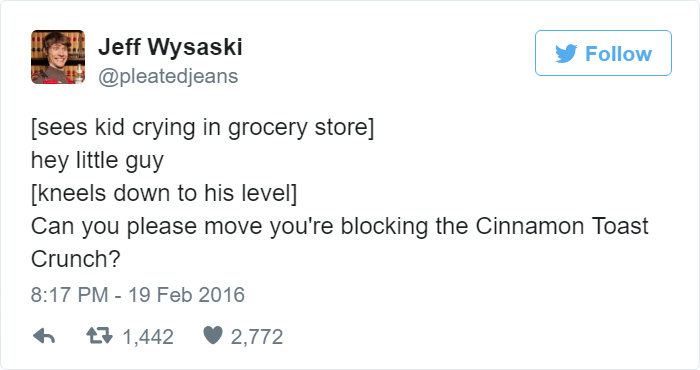 He such a caring person. He cares so much for himself.
#22 Terrarium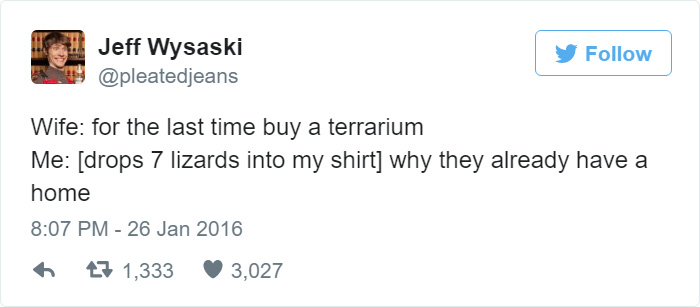 Who needs a terrarium when you already have a shirt.
#23 Surprise Party for Tim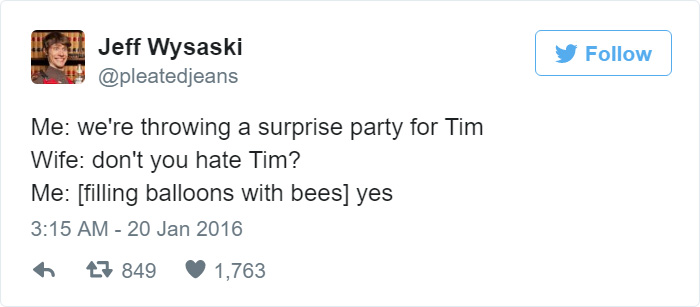 He'll be more than surprised.
#24 Burglary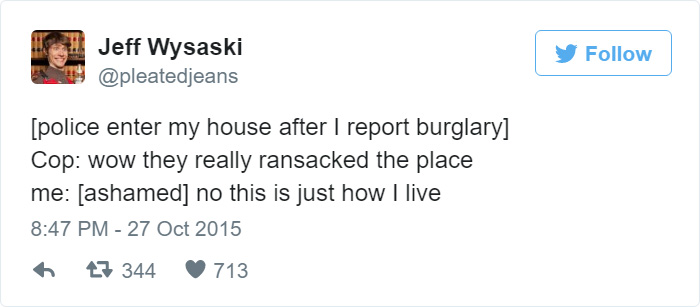 Well this is embarrassing.
#25 Flowers and Chocolates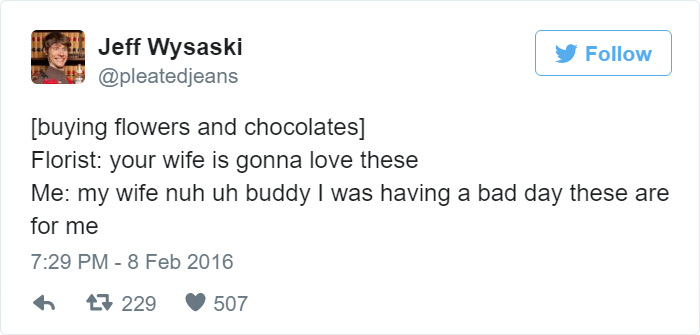 404 Error: Wife not found.
#26 Only Way He Could Be Happier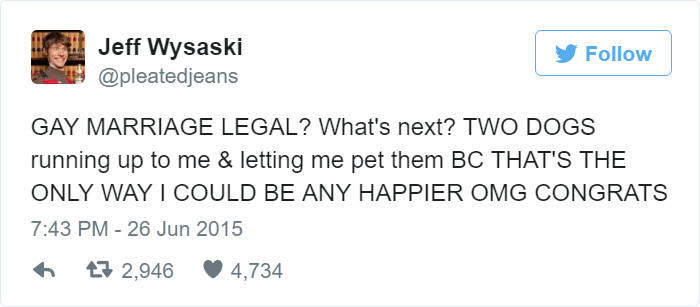 When you thought he'd be against it…
#27 Impressive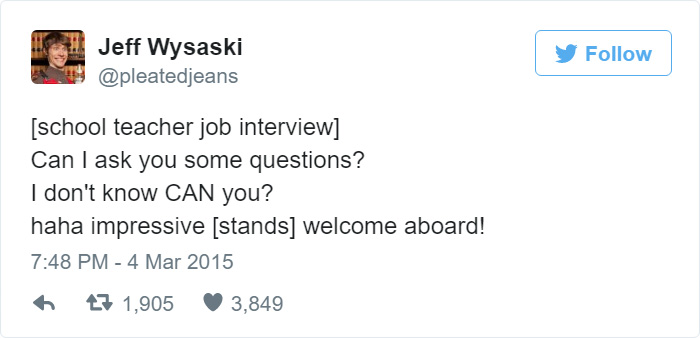 When hired…
Student: Can I go to the bathroom?
Teacher: I don't know CAN you?
#28 Snorkeling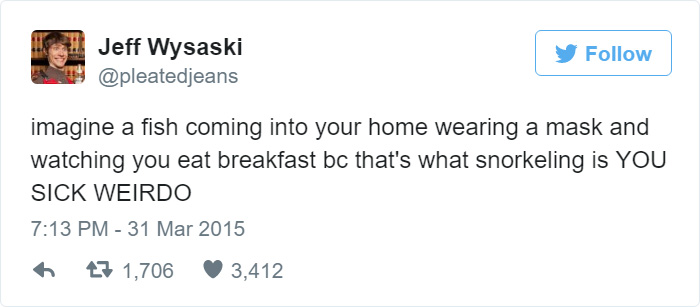 "Aww, that's a nice fried egg you got there human."
#29 Ostrich Design Flaw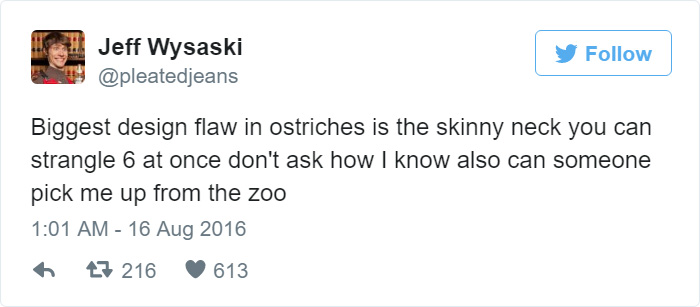 Can someone please pick him up from Earth?
#30 At What Cost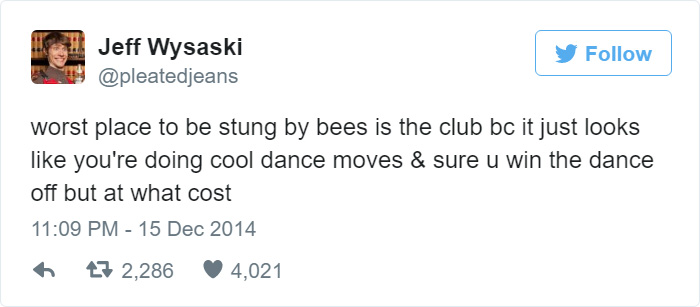 I think it's the best place though.
#31 Stable Boy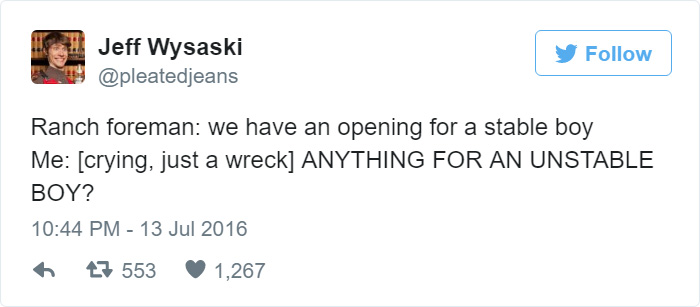 Emotionally unstable boy.
#32 T-shirt Guns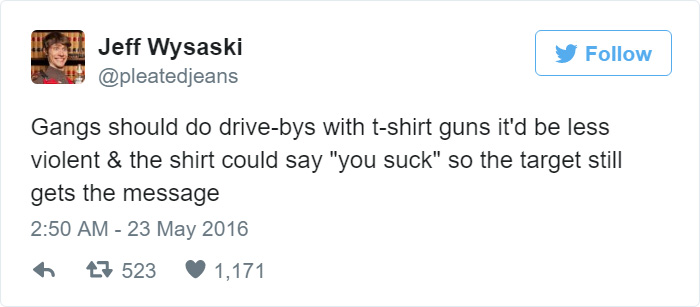 This is a great idea.
#33 Sleep is for the Week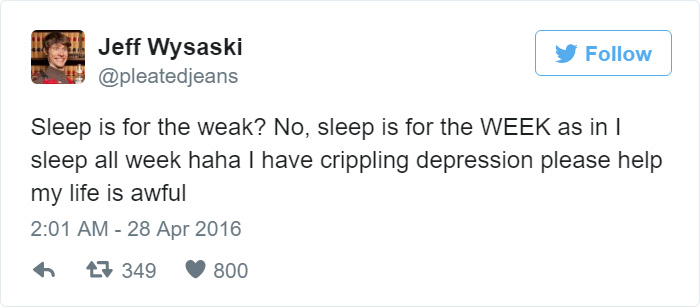 Sleep is for the week. And the week sleep is for me.
#34 Nice Try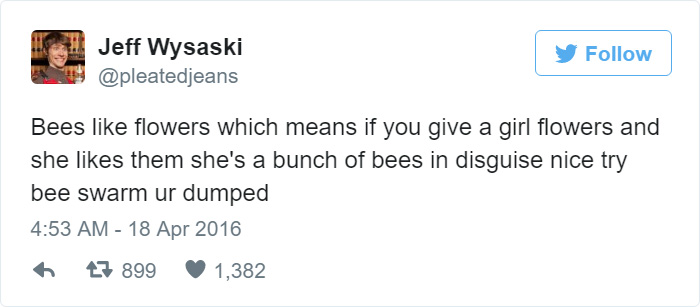 How to see if a girl is a swarm of bees: Give her flowers.
#35 We're Done Here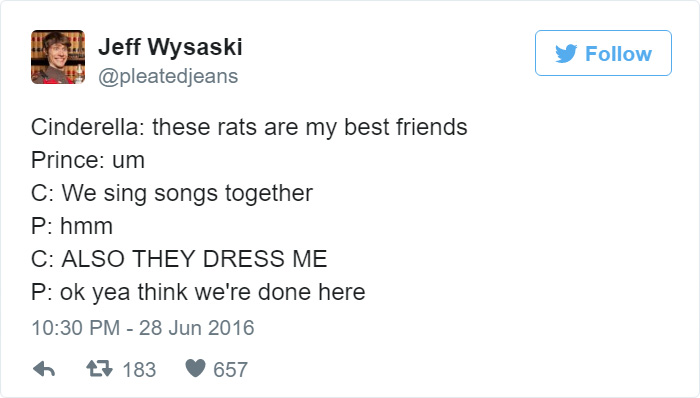 This is infidelity.
#36 We Just Suck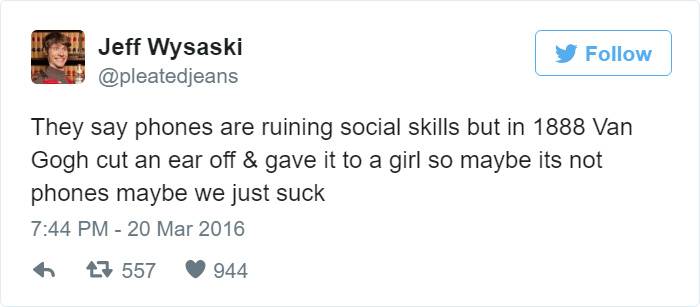 Different eras have their own way of suckness.
#37 Most Beautiful Chairs

They're a perfect fit.
#38 My Eyes are Fine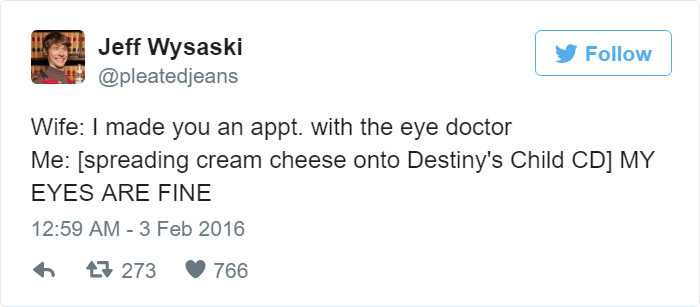 This is alarming.
#39 4 Stars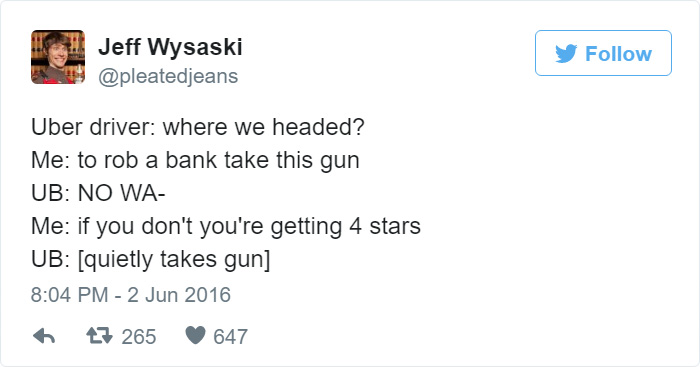 What would you not do for five stars?
#40 This is Mine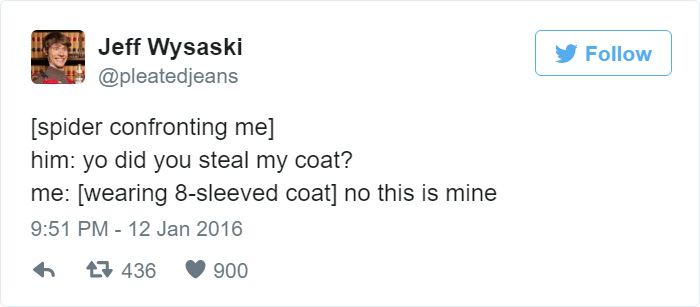 #41 Santa Claus and His Keys
Santa is every husband.
#42 I Probably Didn't Get This Job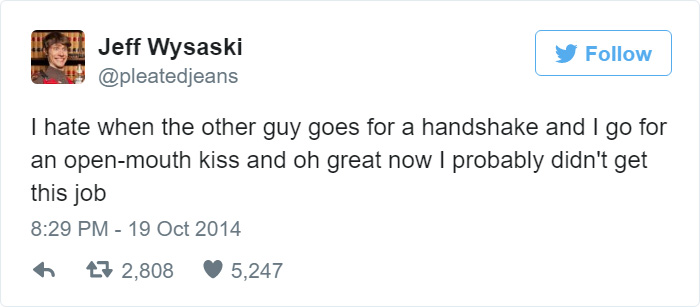 This is hilarious!
#43 Falling Out Jelly Beans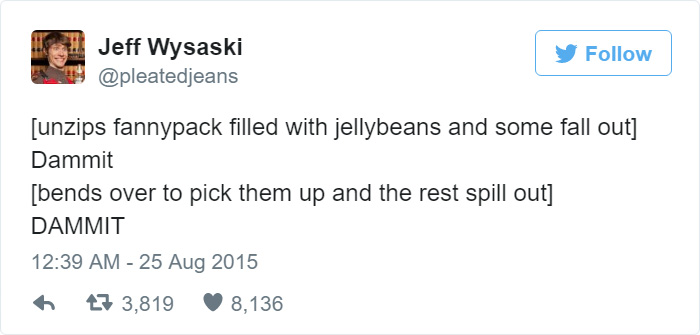 This happens all the time.
#44 Coffee is the Perfect Drink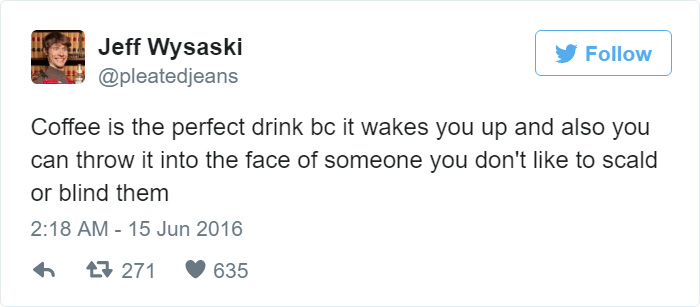 No way. It's a waste of coffee.
#45 Jamaican Girl in the Library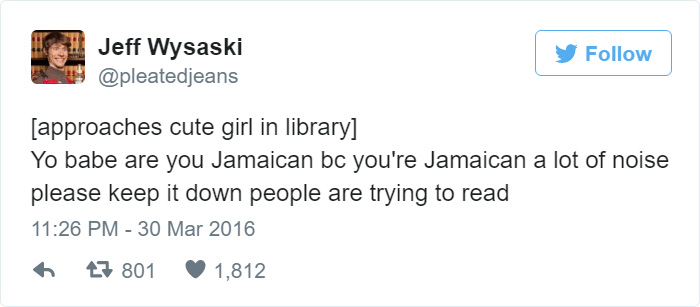 Jamaican girls arrive in the library in groups.