Anyone who has an overflowing drawer of workout clothes knows. Keeping things organized in your drawer for workout clothes can be the most challenging task.
This process can cause you a hardcore headache, and a major mess when you are searching for clothes. But the good news is there is a way how to organize your workout clothes, just like how you organise your closet so that you can find anything you need at any time.
All you have to do is follow a few simple tips for how to organize your workout clothes, and understand those folding workout clothes is different than folding regular clothes.
How to Fold Workout Clothes
There is a special technique for folding workout clothes. Now, this technique might not save you more space. But it will help with slippery clothing, and allow you to stack items up like wine bottles.
Here is how to fold every piece of workout clothing:
– Fold your leggings in half, and make sure that the two legs come together into one long leg. In the end, bring the ankles up to the waistband. Do the same thing in organising your yoga pants.
– Fold your top properly. If you are wearing the top with long sleeves, lay the shirt on a flat surface with the front down. Fold the shoulder into the edge of the collar, and bring the sleeve. down the back. Repeat on the other side, and then lay on top of the leggings.
– For a tank top, use the hamburger style folding technique. Create a wide shape from top-to-bottom and then fold again from top to bottom. In the end, you should get a thin strip of material.
– Roll all of the clothes into one big burrito, and then stack them on top of the other. This way, you can grab a full set for working out on the go.
– Do not roll sports bras, because you will mess up the cup shape. Gently fold the straps into the cups and neatly stack them on top of each other.
– Do not roll socks, as they are easy to pick up on their own.
Create a Special Space for Fitness Clothes
No matter whether you lay out workout clothes the night before a run, or grab something before a workout, having all of the fitness clothes in one place makes it easier. This can help you put outfits together in a snap.
Never put your casual gear in the same chest piece. If you like, you can make a drawer for your "to and from workout". And of course, casual wear for walking the dog or walking around the city also falls into the workout clothes cabinet.
View this post on Instagram
Do Not Hang, Always Fold
If you are short on closet space, you can always fold your workout clothes using the technique we mentioned earlier. Hanging your workout clothes will eat up so much of your drawer space. Closets are usually small, and if you want to hang the workout clothes, you will need to buy a much larger closet.
Hang your evening wear so that it is wrinkle-free. But your workout clothes? They can survive with a few wrinkles here and there. The only exception for hanging are jackets and long sweatshirts.
These take up less room when hanged.
Stack Vertically, Not Horizontally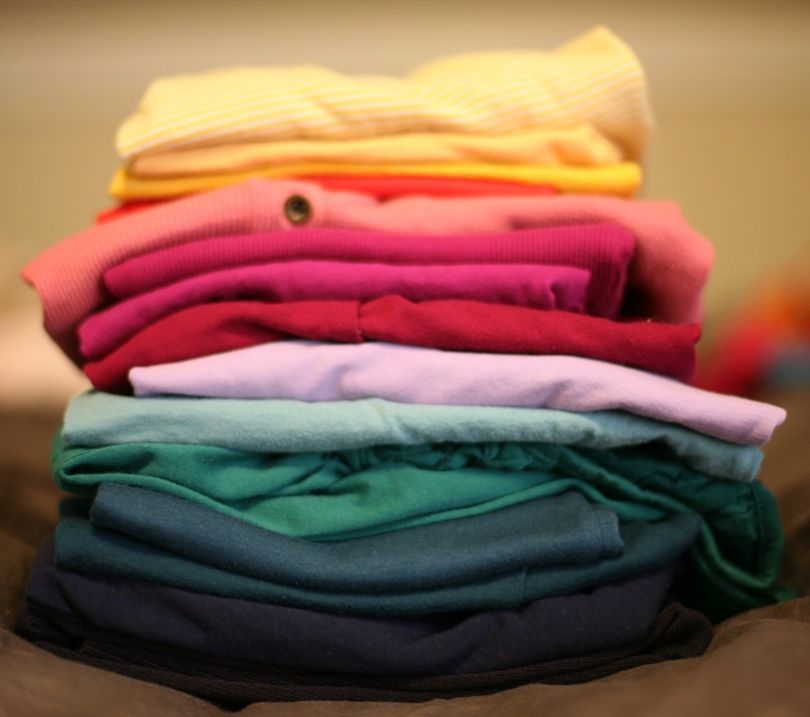 The moment you start using this tip for how to organize workout clothes, it will be the moment your life changes. Stacking clothes horizontally doesn't let you easily identify the items that are at your disposal.
And you solve that problem instantly by stacking vertically. You can see all of your options at a glance. This way, the outfits you put together are easy to find. And you won't ever forget what you have. Combine this hack with drawer dividers, and you will see how life becomes easy.
Utilize Drawer Dividers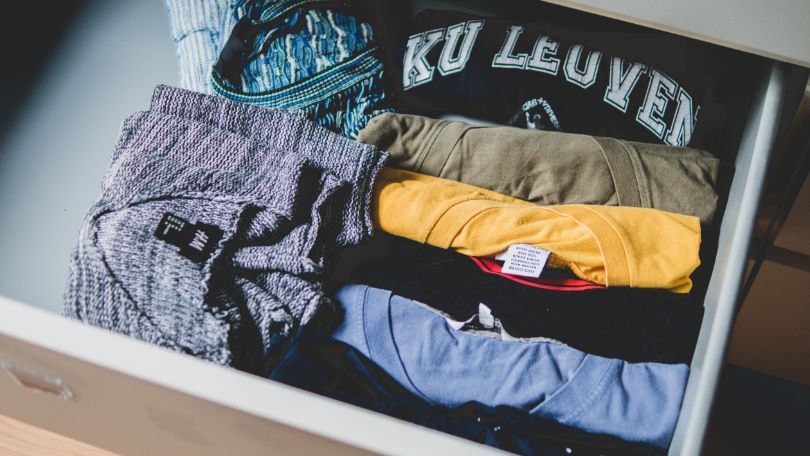 Workout clothes can be a challenge to keep organized. The biggest problem happens when you put socks, headbands, tank tops, sports bras, and other smaller items. They make a complete mess when thrown into drawers.
Drawer dividers help you sort out clothing and maintain order in the drawer. Group items together, and always keep your socks from getting tangled up with the tank tops. Bonus points: you can choose the style of the drawer divider.
How to Store Small Items?
Speaking of small items like headbands, socks, and hats, the best way to store them and keep them organized is in small bags or bins. You want these items at your fingertips.
Keep them in a small bag or bin, and keep these bins next to the chest of clothes.
View this post on Instagram
Keep Your Off-Season Clothes Close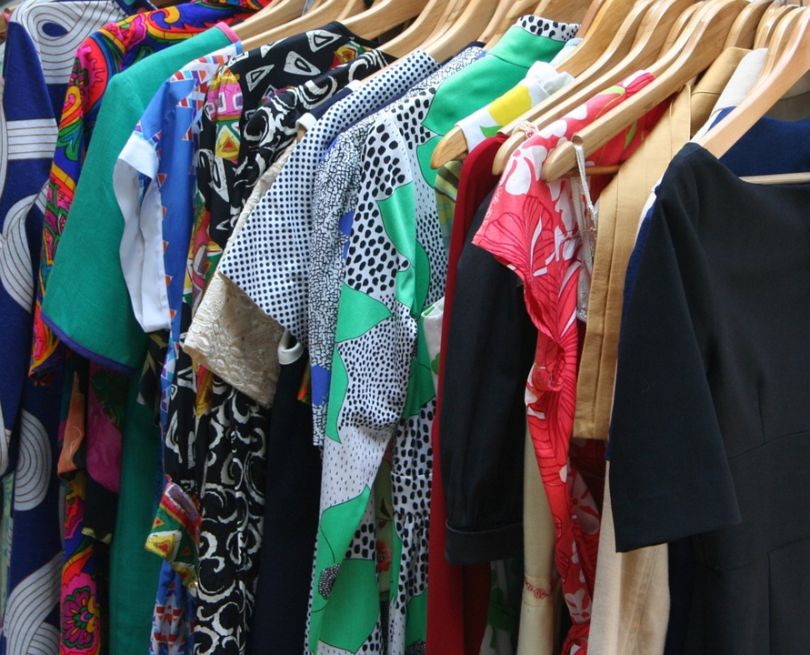 Reserve one drawer for your winter clothes. The reality is that you never know when the weather will change.
Some mornings and evenings can get chilly even in the summer. You want to have some options so that your summer clothes do not prevent you from working out.
Dry out Workout Clothes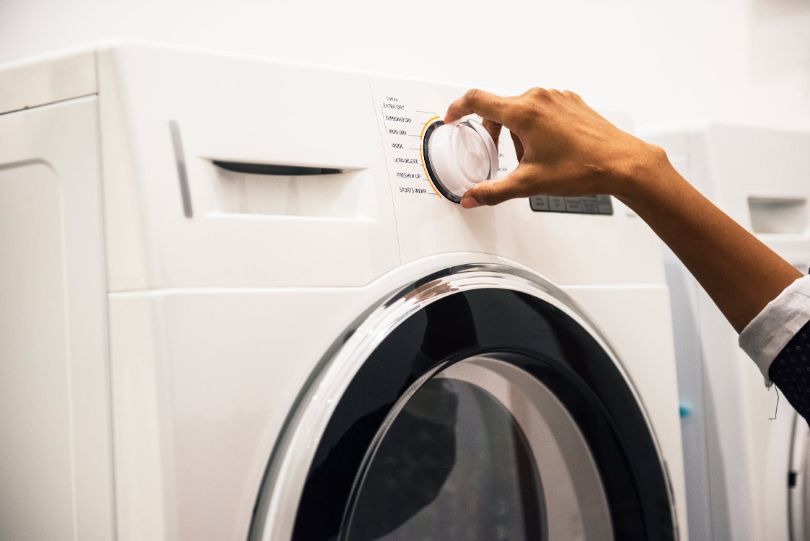 Always let your workout clothes dry properly after a hard workout. Wash them on a regular basis. Even if you use modern exercise clothing like dry-fit clothes and others that promote moisture wicking and has antimicrobial properties, you need to be safe.
Be persistent in your workout clothes hygiene. It is the most important part of keeping your workout clothes organized.
With that in mind, we hope you find these tips for how to organize workout clothes useful. The many benefits they bring will extend to the rest of your wardrobe as well. You can try the hacks for other clothes as well.