Flabby arms and/or big arms can hurt your image so much. Imagine a scenario where you want to put on a slim-fit dress, or you want to put on a sleeveless dress, and your arms just completely ruin the outfit. Arm fat can be disgusting, in the same way as stomach fat is. Truth be told, arm fat is as much a part of the equation as stomach fat. Now, if you are a guy, you probably don't mind if you have big arms. But girls love toned and slim arms. Nobody likes saggy arms, and I am here to help you get your arms toned to a point where you can wear sleeveless dresses and shirts with confidence.
No matter if you have fat accumulated only in your arms or in your whole body, the following exercise plan will help you get where you want to be in a matter of weeks. Nothing comes instantly, so you'll have to work a bit. Expect first results within few weeks, while the ideal shape should come after several months. But if you are persistent and devoted to the cause, you'll make it through.
Weight Lift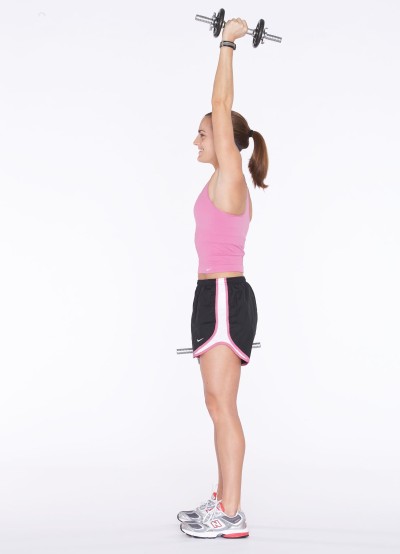 Let's start with a simple one—an exercise that targets your triceps. Pick up a weight, lift it over your head, and keep your arms straight. This is the starting position, and from there, you need to lower the weight, taking it behind your back. Reach as low as you can go. The lower you go, the more pressure you put on your arm muscles. But be careful not to hurt yourself. Now bring the weight back again to your head. Make sure to move your arms slowly. When you rush things, you are not using your muscles—you are using momentum. The most important part is to keep your upper arms close to your head.
To make sure that you are doing it right, I suggest working out in front of a mirror, so you can see if you are doing the exercise right. My suggestion is to do 3 sets of 15 to 20 reps. If you start feeling the weight becoming easier after a while, use a heavier weight.
Chair Dips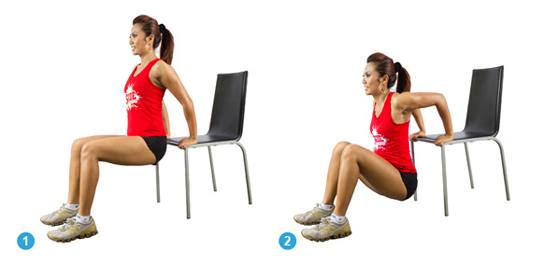 Probably the most common exercise when it comes to losing arm fat. As a bonus point, you are working your back as much as your arm muscles. You'll need a chair, a bed or any platform—just make sure it is stable.
You need to have an item that is at least two feet higher than the ground. Between you and the item, you need a space of approximately three feet. Face away from the item of your choosing, place your hands on it, and keep your arms shoulder-width apart. Move three steps away from the item, keeping your body straight at all time. This is your starting position. From here, bend your knees, bend your elbows, and move your whole body close to the ground. In theory, you should touch the floor, but go as close as possible. Come back to the starting position. This is one rep. You need three sets of 15 to 20 reps. If you are having trouble, you can start with 10 reps, and work your way up as you feel stronger.
Lateral Dumbbell Raise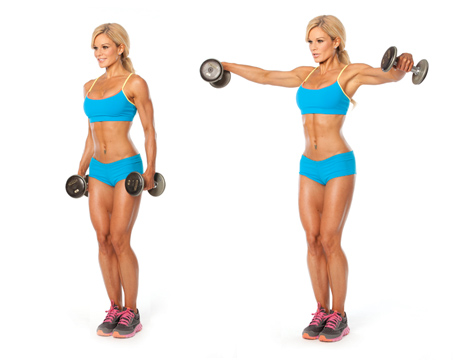 At first glance, this exercise looks extremely easy. But tell that to those who have tried it. The dumbbell raise is the first and basic exercise for losing arm fat. You can start with two light dumbbells, and then work your way up to heavier weights.
To start, position the dumbbells at your side and raise both hands as if you're trying to fly. Raise your hands in front of you, making sure that the weights are close together. Your arms should be extended the entire time you are doing the exercise. You need 3 sets of 10 reps. You can mix it up by raising your hands to the side instead of in front of you.
Push-Ups
Many people think push-ups are a breast and chest exercise. And they are right. But push-ups also help you tone your arms. Truth be told, push-ups work your entire core and your arms as well. The position is simple. I recommend starting with knee push-ups at first, as they are easier. And once you get stronger, you can do the normal push-ups. For knee push-ups, your knees are placed on the floor. Everything else is the same as for the normal push-up. You need 3 sets of 10 reps.
Counter Push-Ups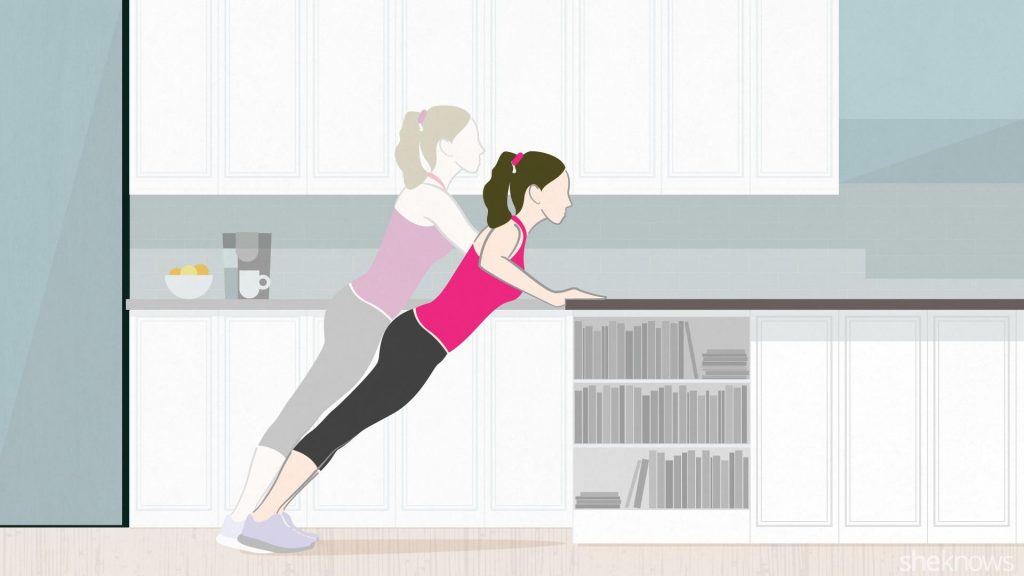 There are countless variations of push-ups, but when it comes to how to lose arm fat, counter push-ups are the second best to standard push-ups. The reason is simple: counter push-ups are easier on your core, and you can perform them easily. Yet they still give great results. You need a table or kitchen counter to perform this exercise. Face the counter, place your arms on the edge and your feet at its base. Move back until you get to a point where your body is leaning forward on your toes.
Your feet and back are straight for the starting position. Bend your elbows, come down and try to touch the counter. Straighten your elbows and come back to starting position. This is just one rep, and you need 3 sets of 15 reps.
Wrist Rotation
I want to share some easier exercises with you. This one can be done with a light dumbbell—one or two pound maximum. Stand straight, with your feet shoulder-width apart. Hold a dumbbell in each hand and extend your arms in front of you, palms facing down. Rotate the wrists inward as much as you can, and then rotate back outward. Alternate between inward and outward for 60 seconds.
Weighted Punch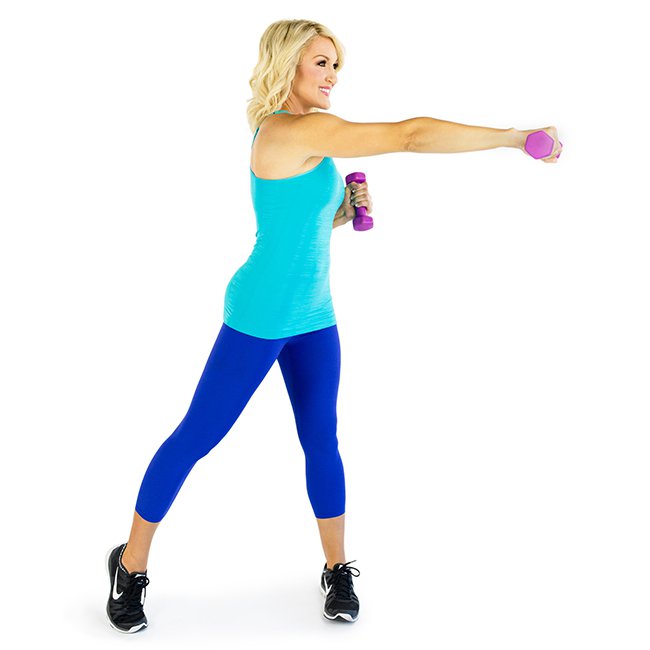 Boxing helps tone your arms as much as any sport. You don't need to go to a gym to box; you can do weighted punches at home. Remember, it is not as easy as it looks. Hold a two-pound weight in each hand. For this exercise, your feet are hip-width apart, and fists are positioned in front of your face, with your palms facing each other. Punch with your left fist, without moving the right one. Aim for as high as possible. As you are pulling your left fist back, you punch with your right one. Alternate for 60 seconds, starting slowly, and then increase the speed.
Scissors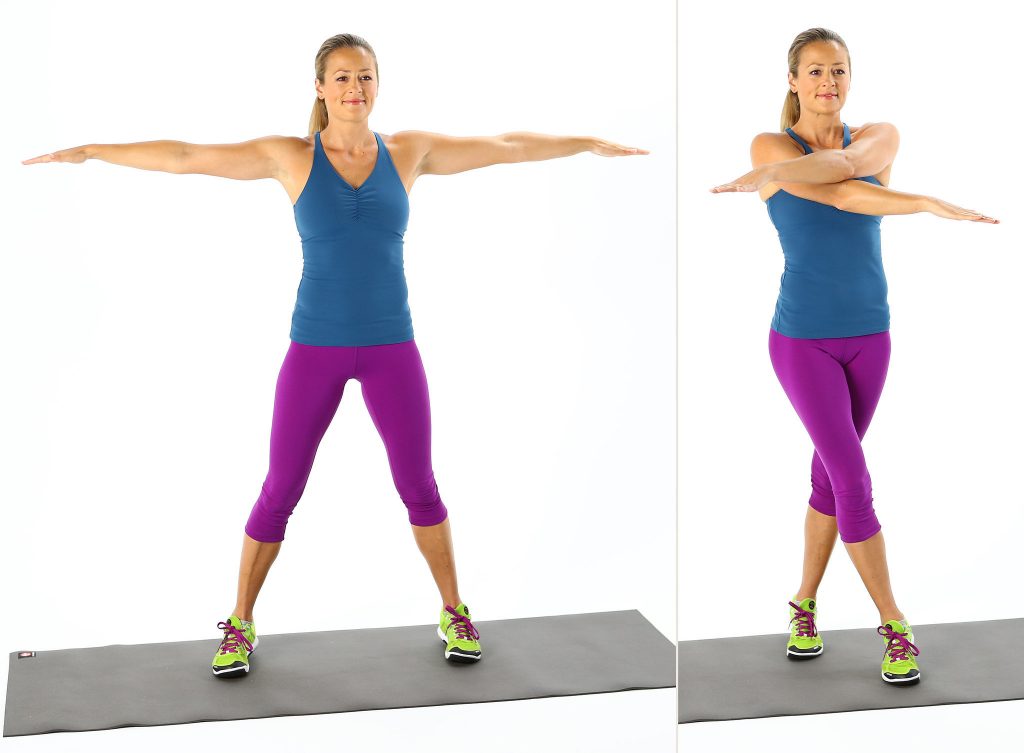 Cardio exercises are also important when your goal is to lose arm fat. And when it comes to cardio, scissors are probably the best exercise—and the most fun, too. Your starting position is standing straight. Lift your arms in front of you at shoulder height.
Stretch the arms to the side and bring them to your front, with your left overlapping your right, like scissors. Stretch them to the side again, and now make sure the right overlaps the left hand. This is just one rep, and you should do 3 sets of 15 reps each day.
Half-Moon Rotation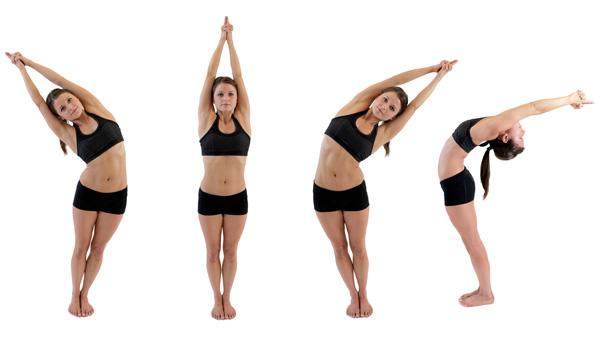 Speaking of fun and interesting cardio exercises, we have to talk about the half-moon rotation. This is a low-intensity exercise that involves slow and controlled movement. You engage both the biceps and the triceps with this exercise.
Stand straight, position your feet hip-width apart, raise your arms to the sides at shoulder height, and place the fingers together. This is the starting position. With your palms facing towards the floor, rotate the thumbs slowly towards the back, so that your palms are facing the ceiling. You need to rotate down and then forward to get to the starting position. Rotate for 60 seconds.
The Diet Plan
As most trainers will tell you, exercise is just one part of the equation when you want to lose fat, be it arm fat, belly fat or thigh fat. The other part of the equation is diet. You need to pay attention to what you are eating and remove some harmful products from your diet. Let's take a look at what you need to eat more of, and what you need to eat less of.
Eliminate refined carbs, or as nutritionists call them, "empty foods." As an alternative, consume more whole grain cereals, whole wheat, and whole grain pasta.
Get rid of sugary drinks, especially cokes. Your alternative should be sugar-free drinks, mostly water.
Speaking of water, you need a glass of water 30 minutes before every meal. This will help your body digest food better.
Try not to eat anything two hours before going to bed; your body will be able to burn more fat while sleeping.
Soda and fast food are things you absolutely need to forget. Junk food is another type of food with "empty calories." You simply cannot lose weight if you are eating junk food.
Fruits and vegetables are your new best friends. I recommend a piece of fruit in the morning, e.g., 30 to 60 minutes after waking up. Consuming fruits in the morning will make sure you have natural sugar to last through the day and you won't reach for candies and other sugary products.
Pay attention to your breakfast, and make sure to include enough fiber and protein. Speaking of protein, you need a lot of it to build your arm muscles. The best source of protein is lean meat, but you can also get it from beans, mushrooms, fish, eggs and other dairy products.

READ NEXT: Top 10 Natural and Effective Ways to Avoid Loose Skin After Weight Loss