For years, black and red henna were the standard for henna art. However, in recent years, we see a new trend that is emerging in the form of white henna. What is the advantage of white henna? For starters, it is much better option for people with dark skin tones, and for western culture women that would love a change from the classic oriental and traditional henna tattoo.
And the best part about henna tattoo is that it is temporary. After a while, the tattoo will be gone, meaning you can get a tattoo for a special occasion, without worrying it will stay there forever. In the past few years there have been advancement in technique of using white henna. With so many styles and techniques, it is only appropriate we show several henna ideas for the summer. Decorate your body with some henna art, and you'll be sure to attract attention everywhere you go.
SEE ALSO: 65 Sizzling Underbreast Tattoos You'll Drool Over
White henna is becoming increasingly better option than jewelry, because of the beautiful and delicate designs, and because you can never get tired of it. No matter if you are wearing bikini, cocktail dress, short skirt, wedding dress, or some classic jeans and shirt, your henna tattoo will look amazing. As mentioned, white henna looks best on dark skin tones, or once you get some tan on, but it will look great even before tanning.
1.
For those that are just entering the world of henna tattoos, arms and hands are the safest place. At the beginning you need to get used to your tattoo, and what better way to do than get your art on some body part you'll watch the entire day.
2.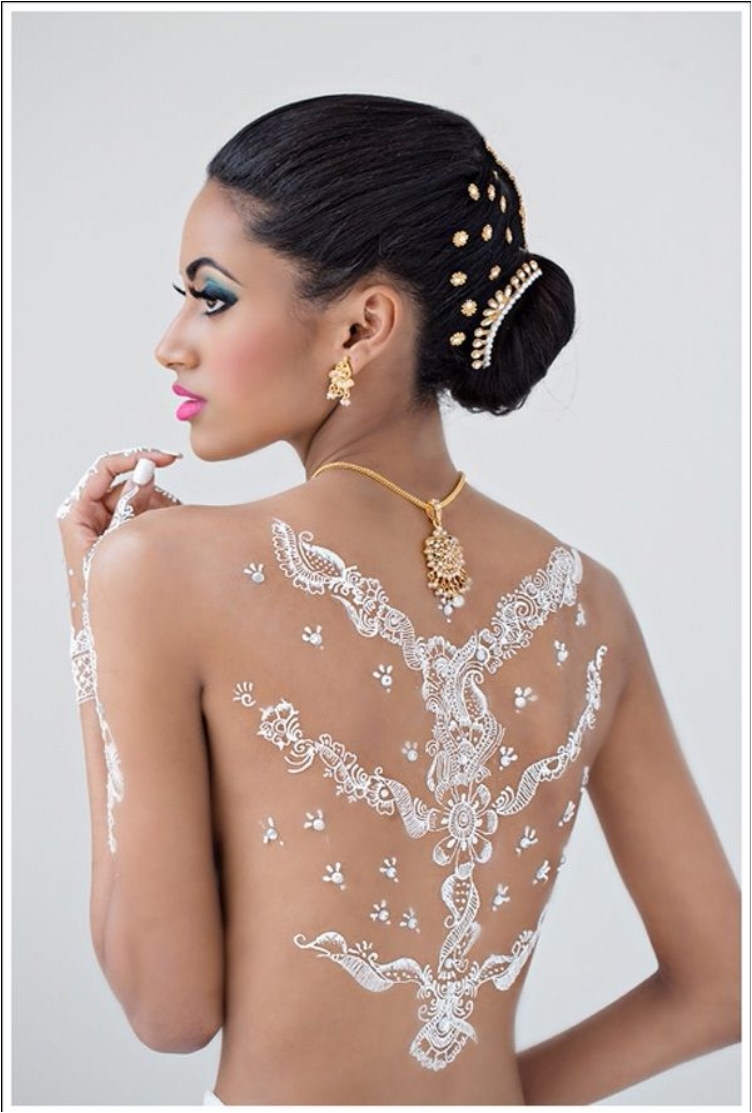 One of the trends lately is dresses that show the entire back. Some ladies don't feel as comfortable with their nude back, and that is where white henna can help. This tattoo, for example, looks like you are wearing lace on your back. Couple it with a monochromatic dress in any color, and you'll look stunning.
3.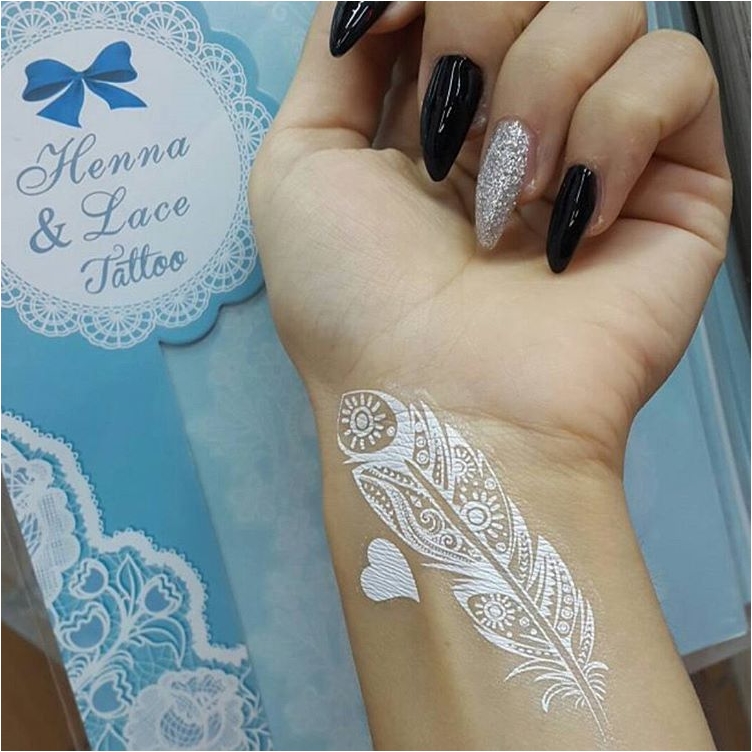 The inner side of the wrist is good option when you want some body art, but you don't want everyone to see it. Leaves are common symbols for white henna, and they look stunning even on pale skin.
4.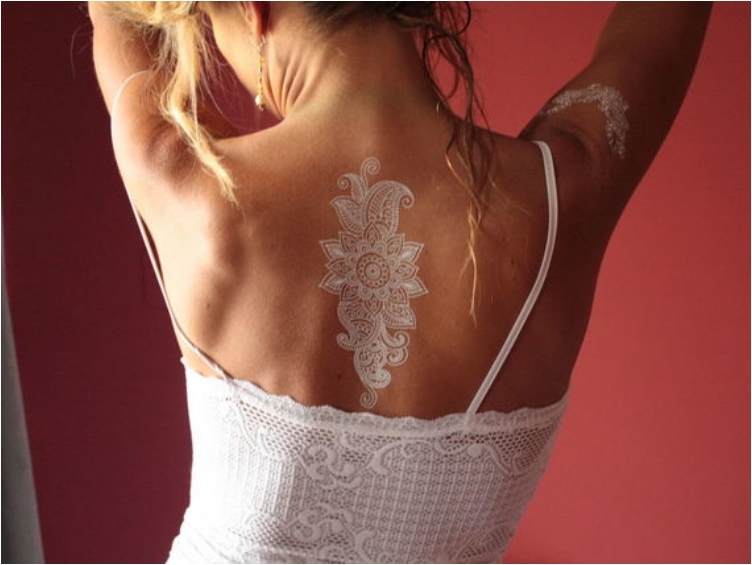 Another back tattoo, only this time we get an entire symbol, not lace design. Smaller, and more subtle, this tattoo is perfect for those who want to get some flower on their back.
5.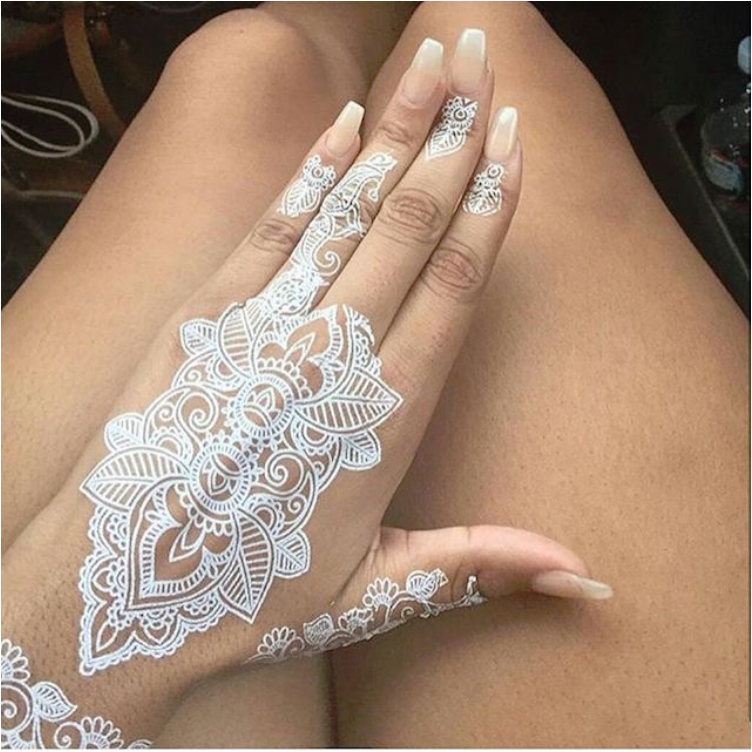 Tribals are another popular option, and the hands and fingers are great way to look "oriental". When henna was gaining popularity, fingers and hands were among the first places for tattoo.
6.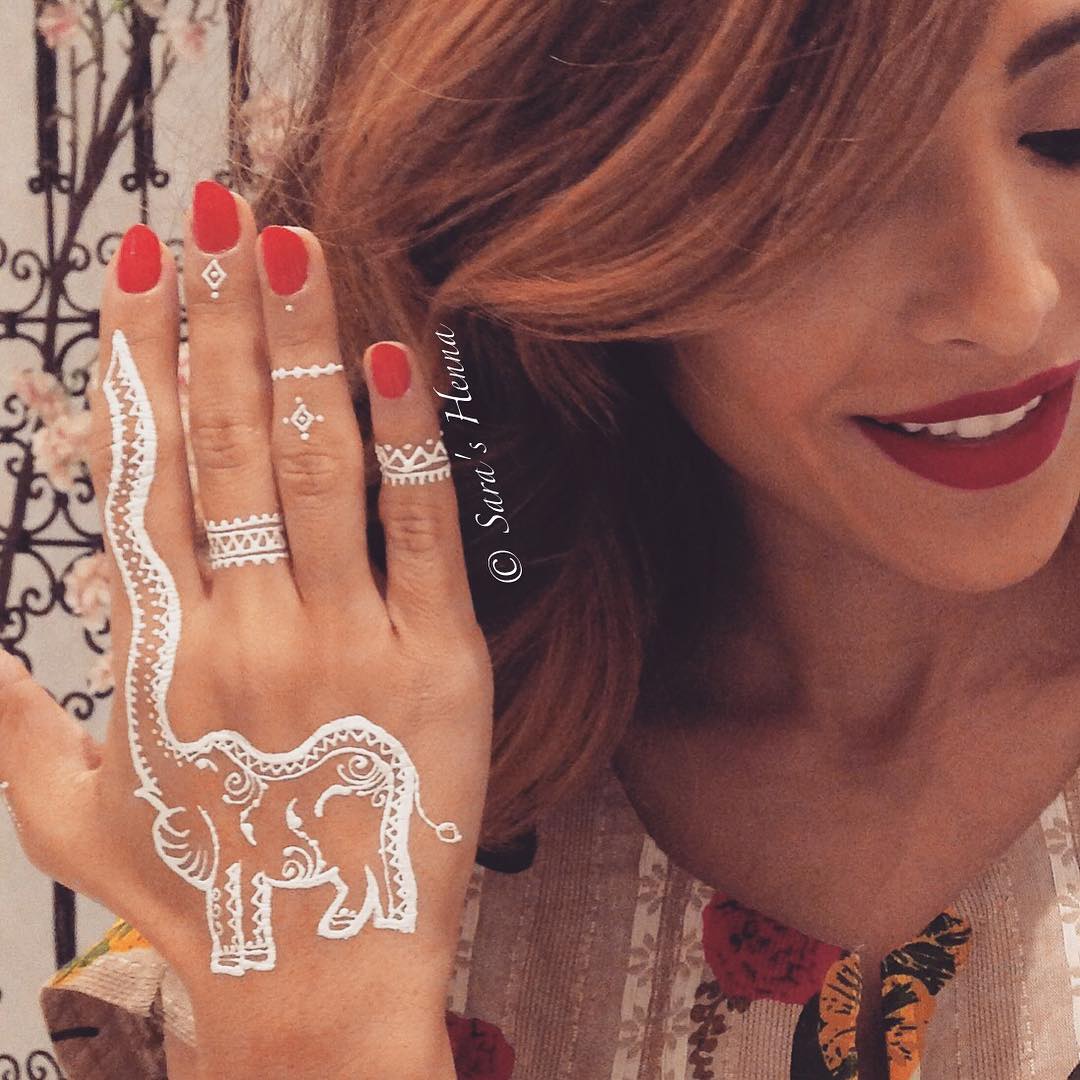 Going oriental to the fullest, with an elephant on your arms is perfect way to pay tribute to the origin of henna body art.
7.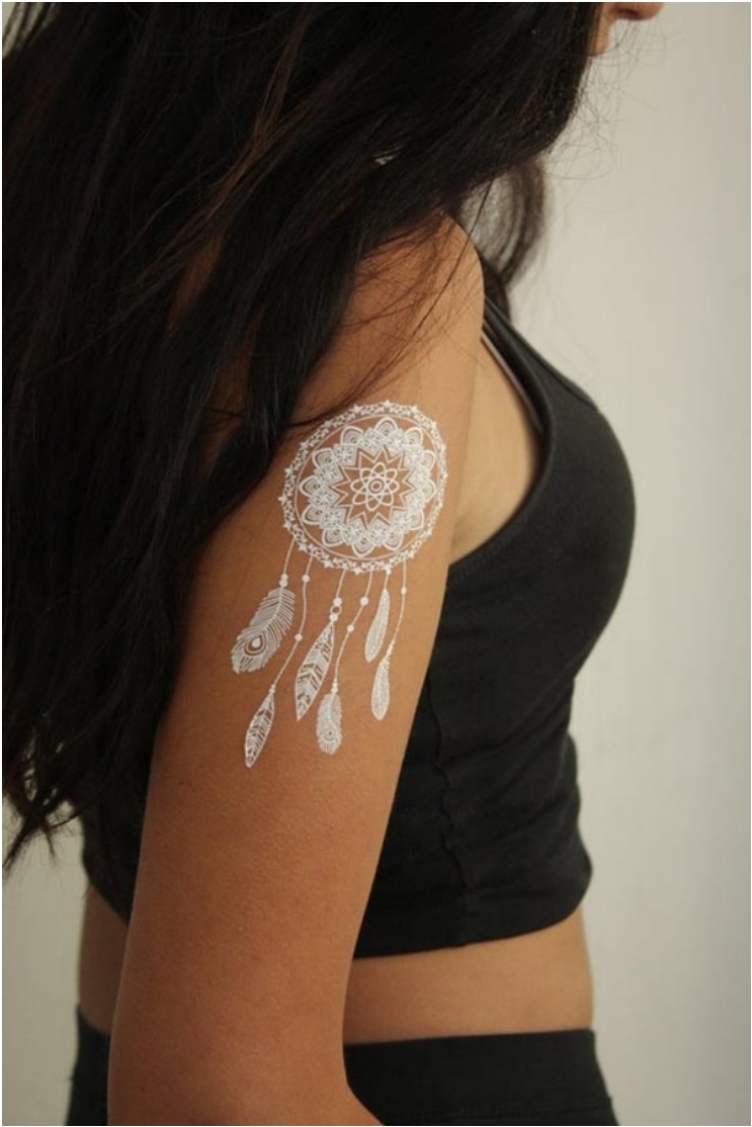 Another great oriental looking tattoo, this time on the shoulders. You can think as the opposite to man-like tattoos on the shoulder. While men love to put some symbol of strength and power, women go for something more emotional on their shoulders.
8.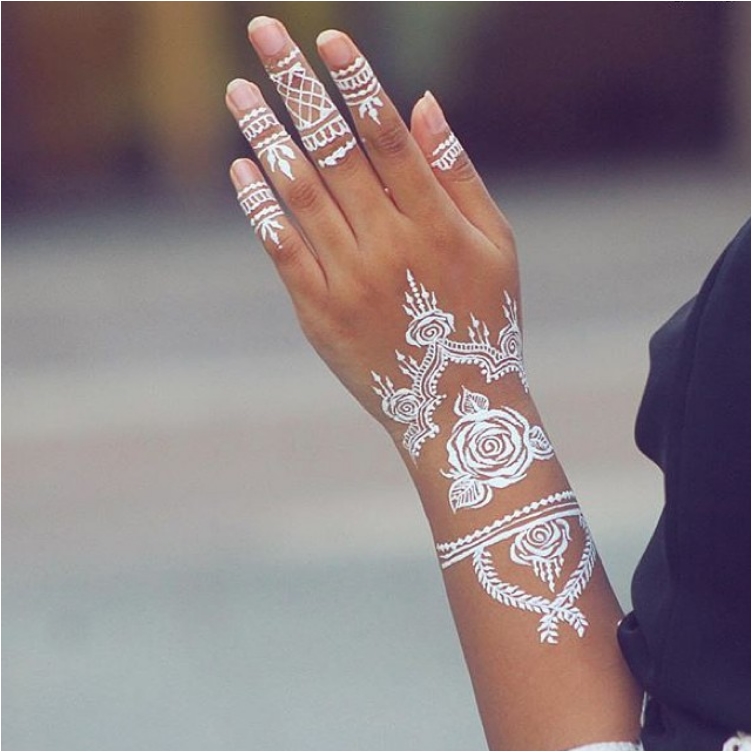 This is the true spirit of henna body art. Roses give this tattoo a gentle touch, making it more feminine.
9.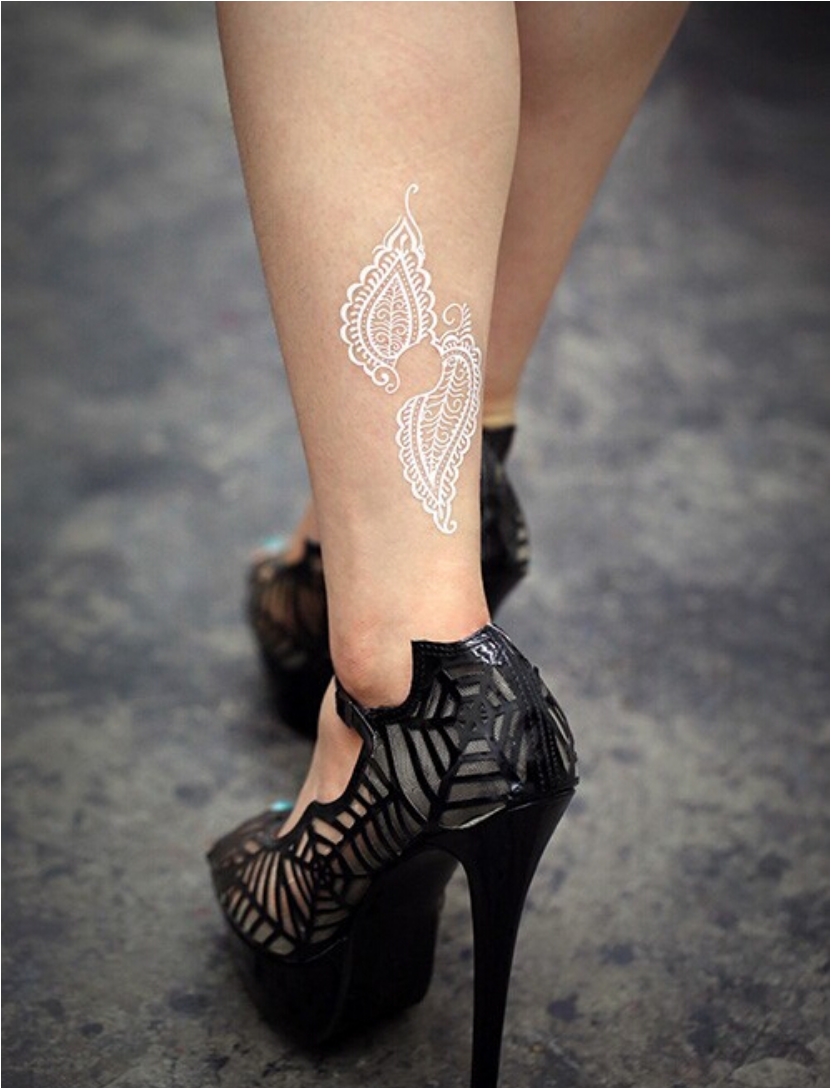 Another subtle, yet very powerful way to introduce henna body art is on your calf. You'll see the spot gaining popularity among celebrities in the next few years, trust me. And especially during the summer, when you are walking in bikini, your calves are one of the most erotic spots.
10.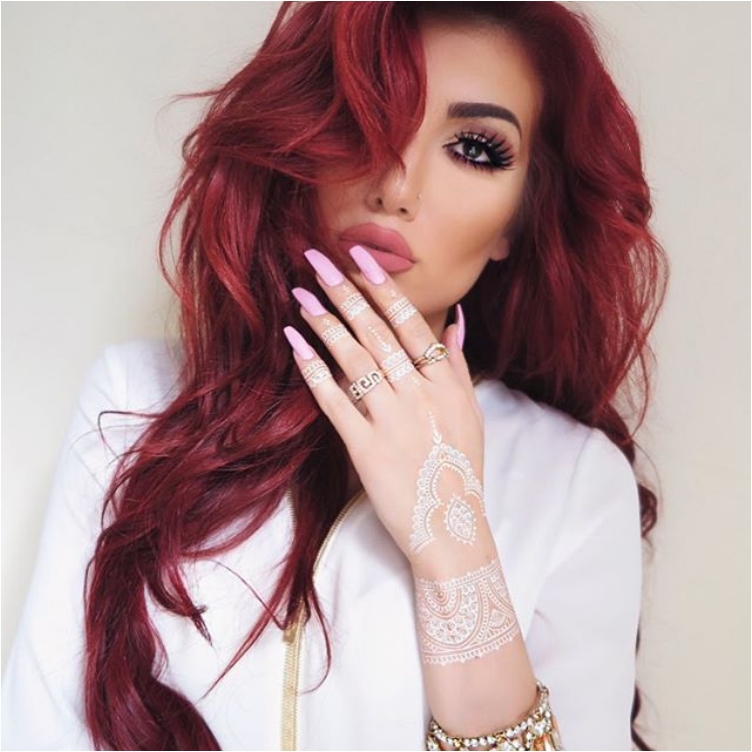 You might notice a pattern by now, which is extending the henna tattoo from your hand towards your finger. And you'll be right, but that is just the essence of henna. It is the fastest, and simplest way to get some body art.
11.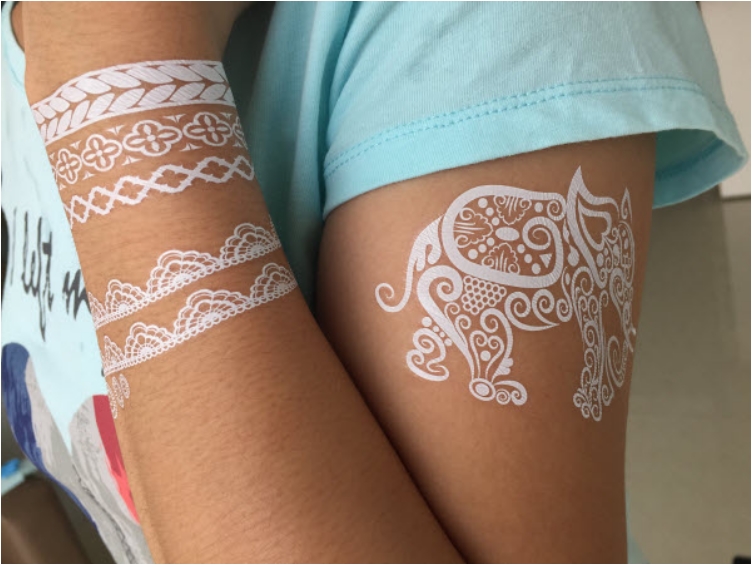 Elephant is a popular symbol among henna lovers, and that should be expected. After all, henna comes from India, where elephants like national treasure. And i love the combination of shoulder + wrist.
12.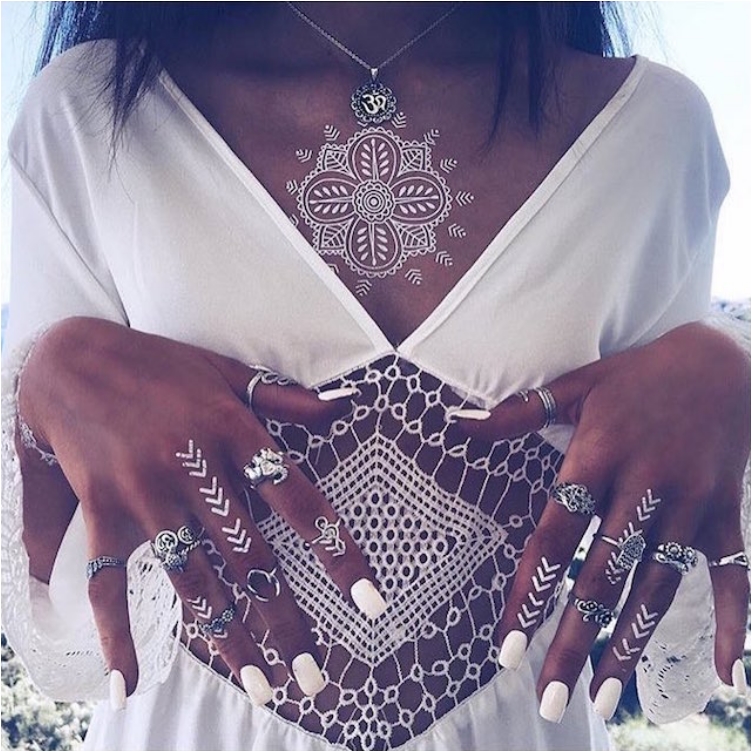 The chest bone, and the area under the breasts have become one of the most popular spots for tattoos in the past two years. And henna is catching up on that trend. The chest bone is ideal for a powerful tribal tattoo.
13.
Just notice how henna art can be combined with a bridal dress. Notice how the art is just an extension of the dress. Now, when you are choosing for a sleeveless dress, you probably don't want something on your hands, but henna is just great option here.
14.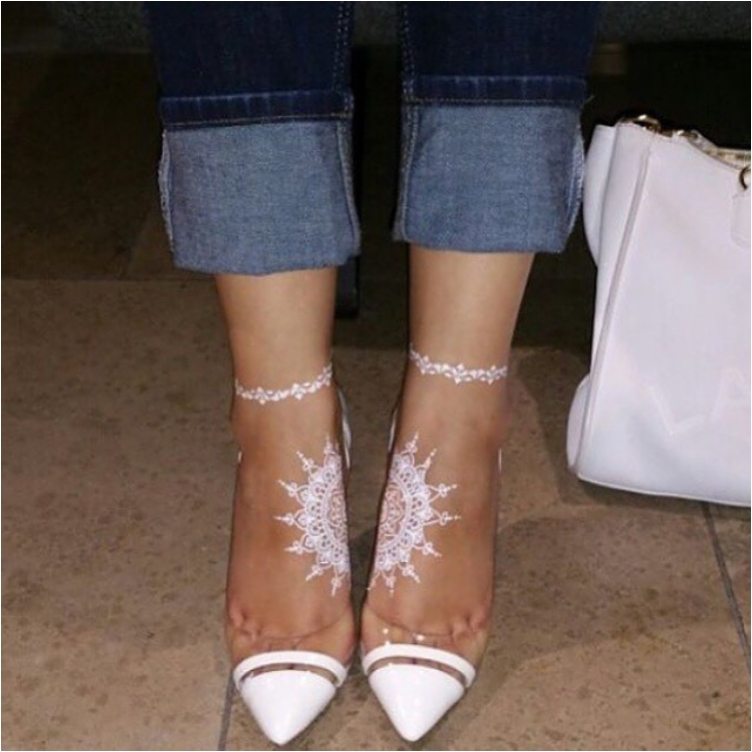 I love matching tattoos, like the one on the feet. Two halves make one whole, a simple and subtle way of delivering a message.
15.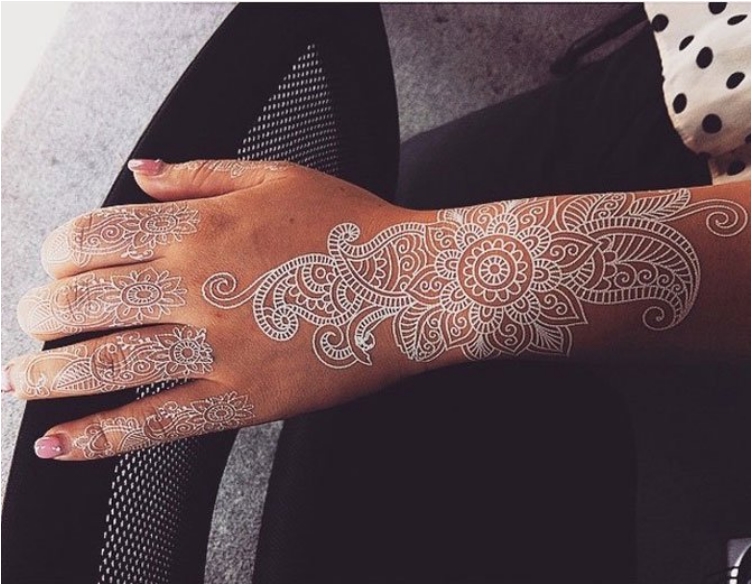 I bet women who love lace will love henna art. After all, most of the art looks like hand embodied lace. The only difference is your body is the dress you are wearing.
16.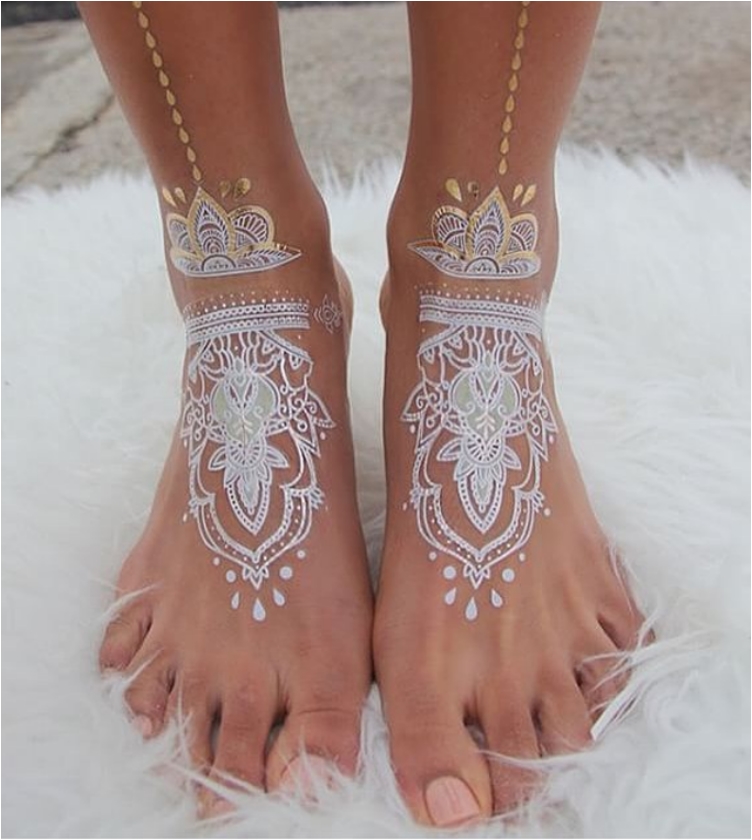 We rarely see henna art on feet, because it is a bit complicated. But I am always up for something like this, generally because it transforms your look completely to some oriental queen/princess.
17.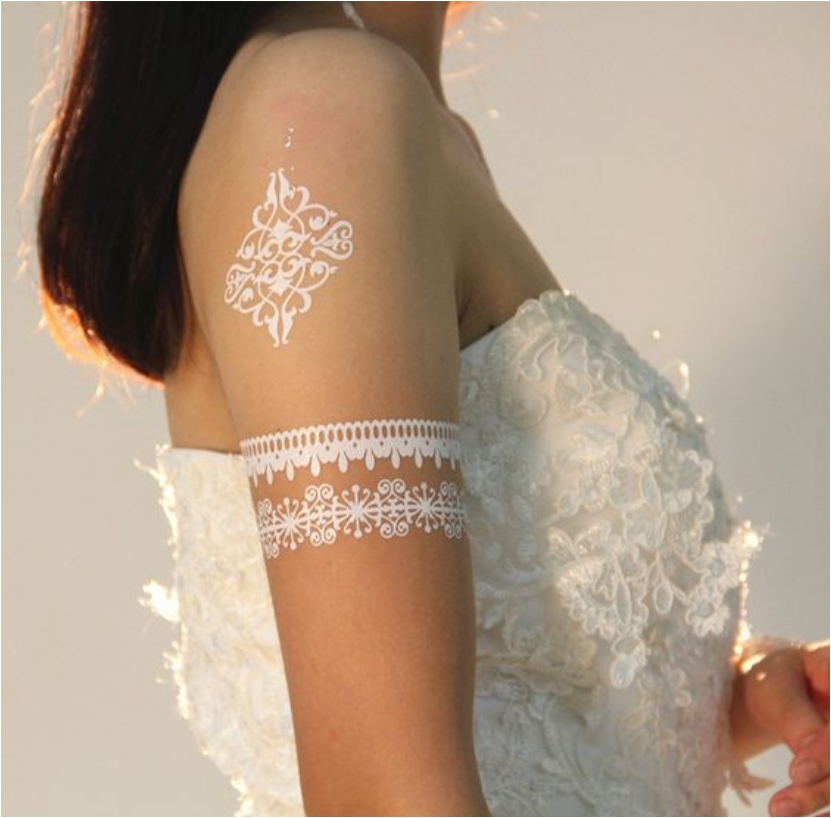 Another great example of henna art used by brides on their big day. Only this time, the body art is rather subtle, not spread across the entire arm.
18.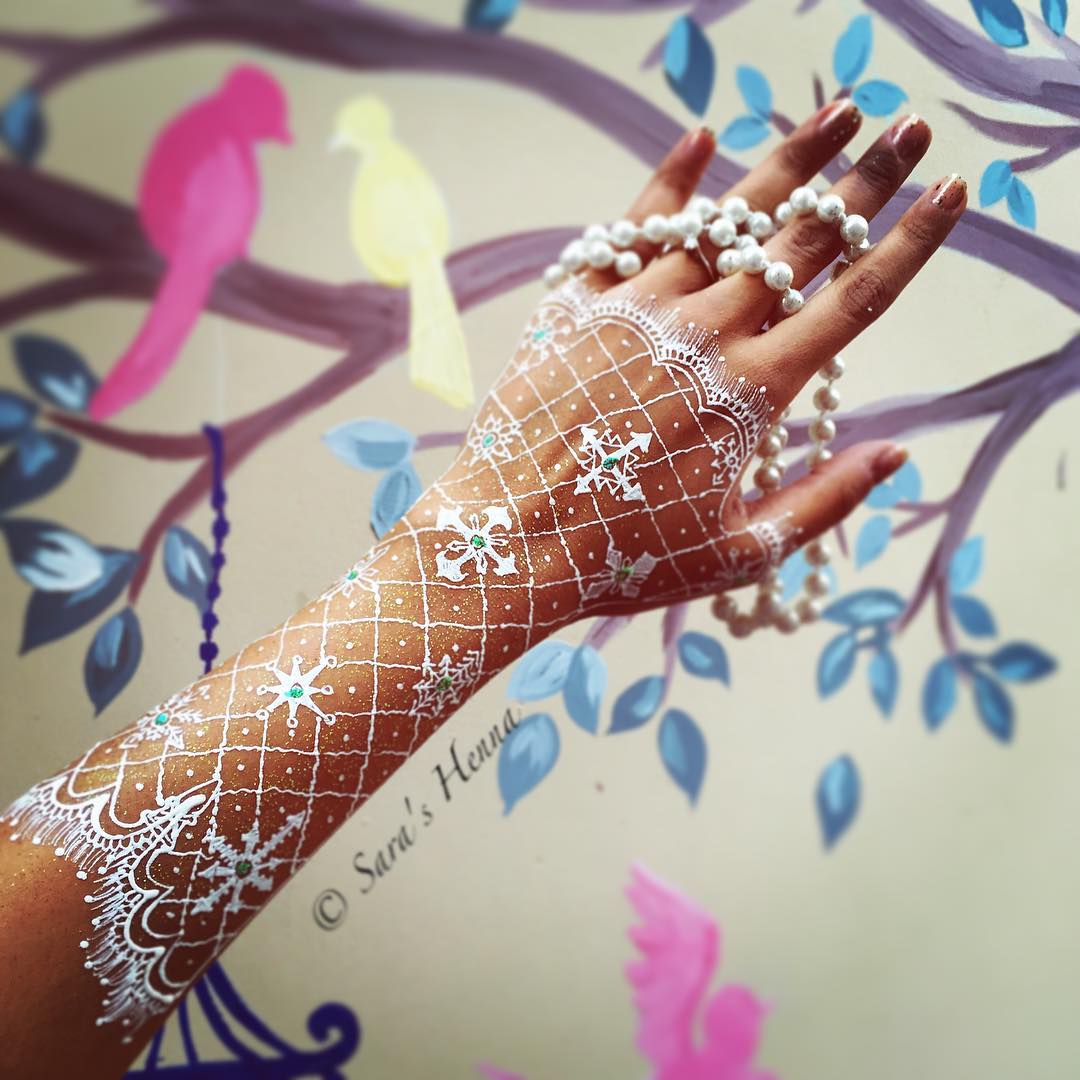 This art looks like Spiderman has placed his web on your arm. Jokes aside, the details are just extraordinary. In henna, details are the most important aspect, so make sure you get them right.
19.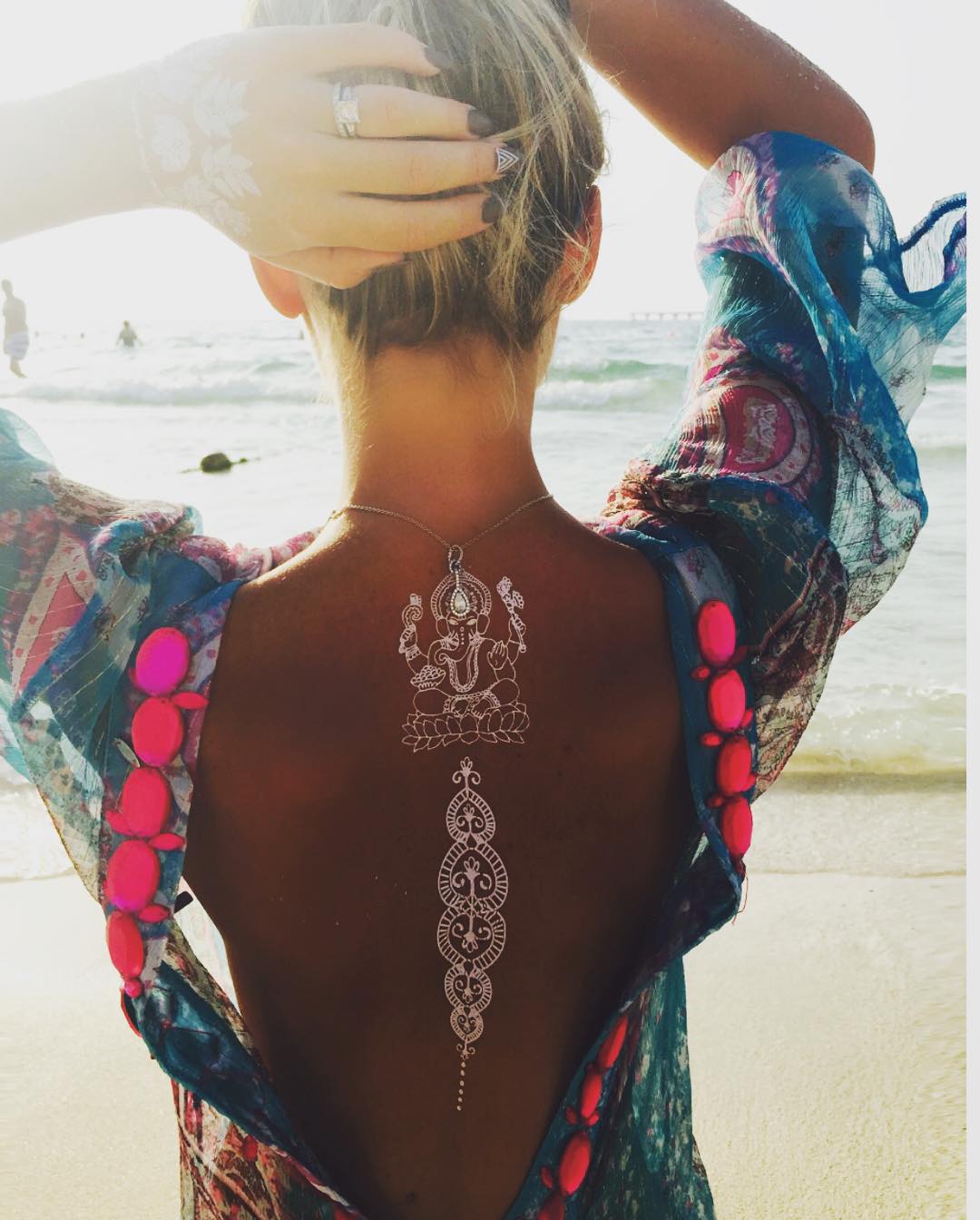 Some Buddhist and oriental saint is always welcomed. Not many women opt for such tattoo, because they want something that looks nice. But it is always good to honor the origin of henna through the tattoo.
20.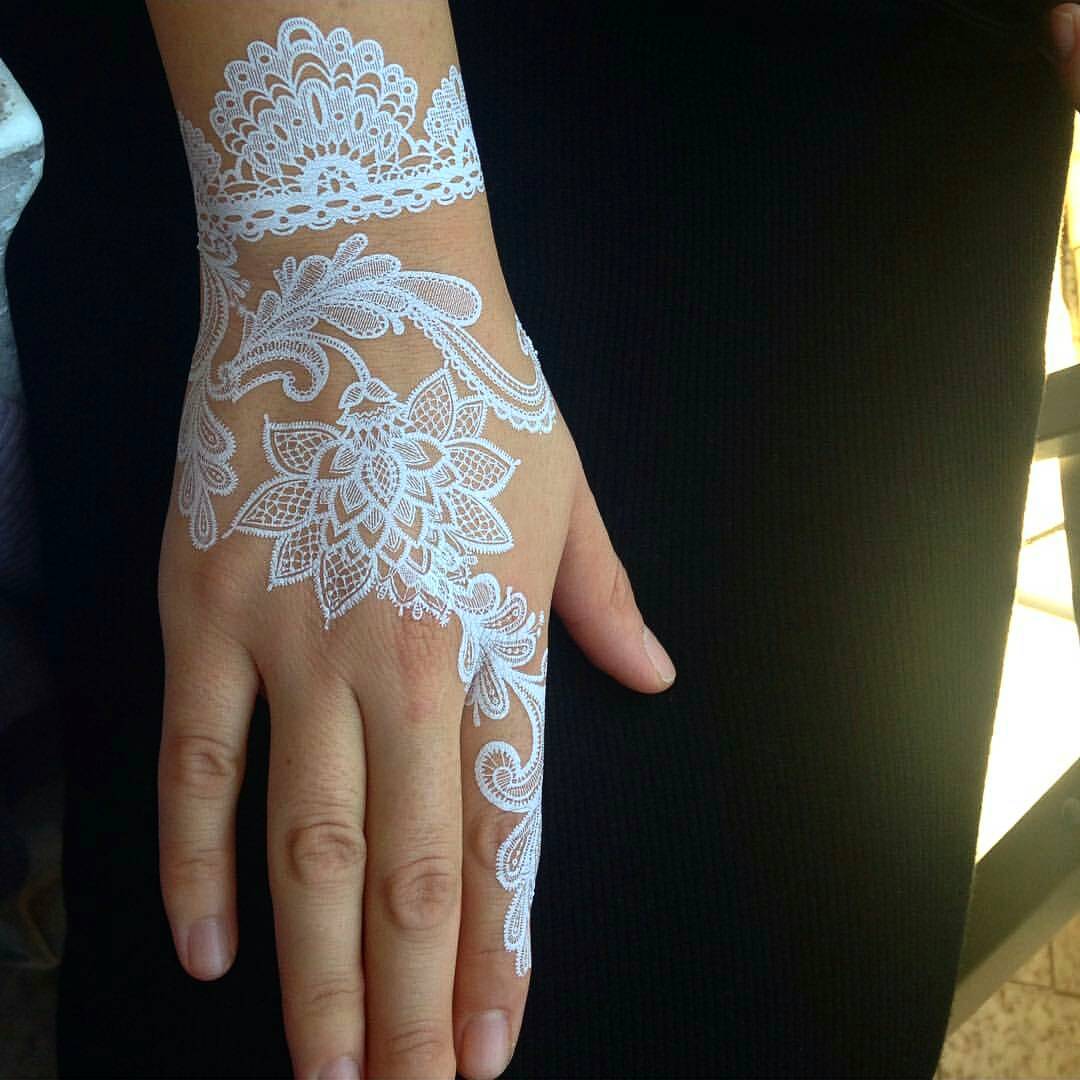 By now you've certainly noticed that henna and arms go hand in hand (pun intended). But what I must stress is the flow of the tattoo. It looks just so natural, so smooth and easy.
21.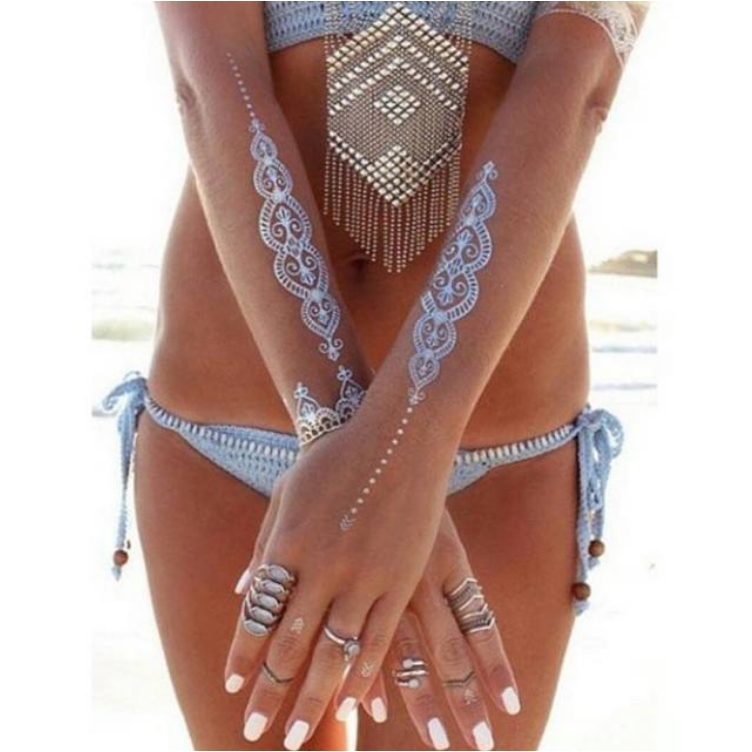 This year, one of the hottest summer trends is boho chic, at least when it comes to clothing. And I am happy to say that henna is probably the best way to accessorize your body when you want boho chic look. Just look at how seamlessly and smooth that necklace fits with the art.
22.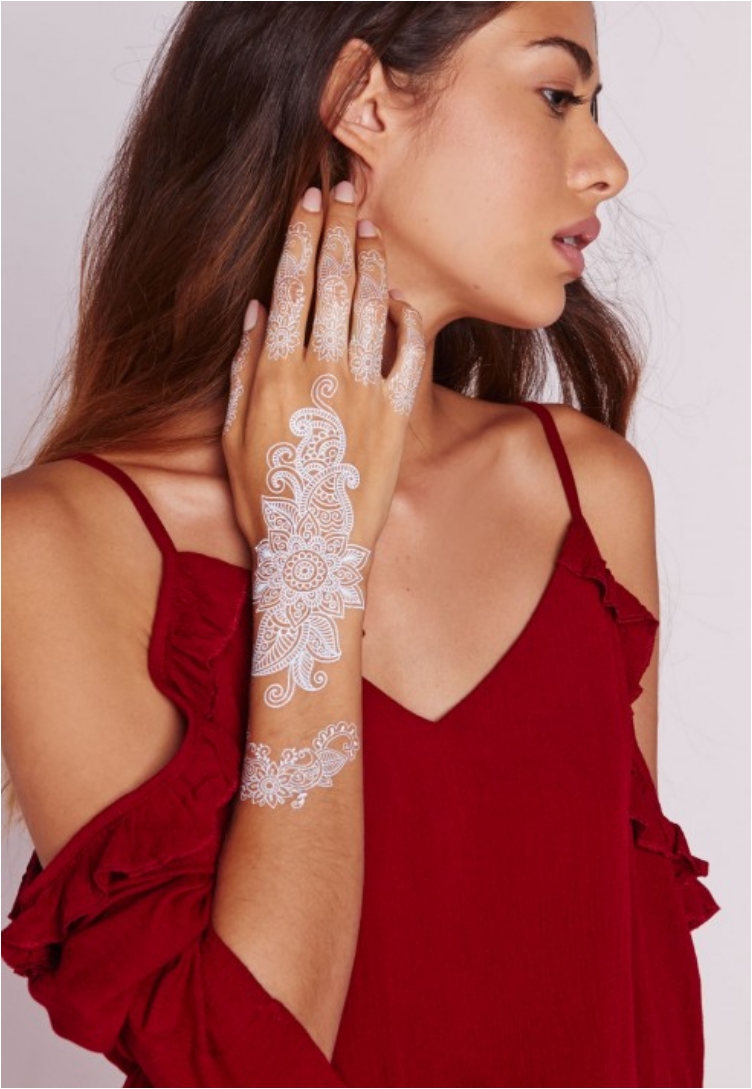 With henna, even when you want some roses and flowers as your tattoo, you get some oriental touch to it.
23.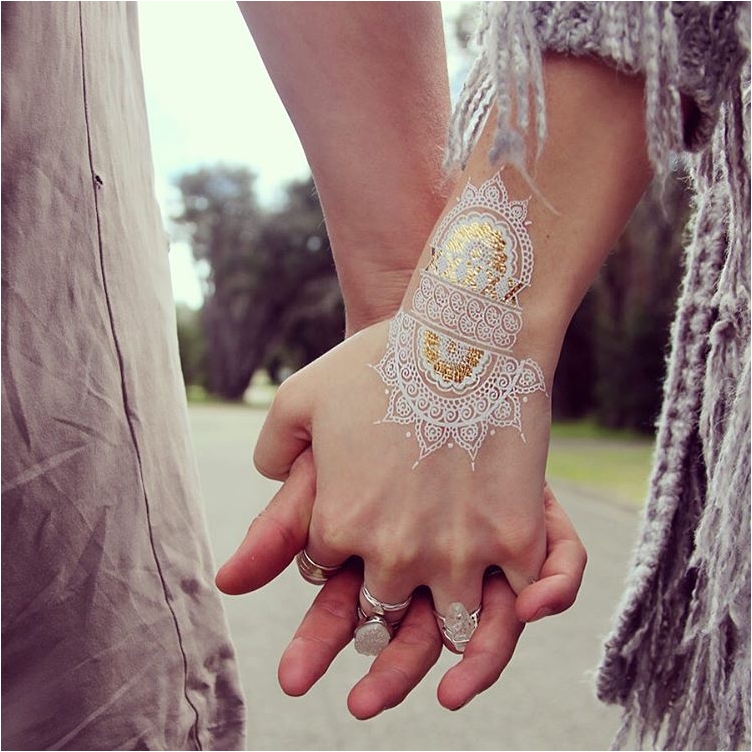 You might not notice it at first glance, but this picture actually symbolizes the togetherness of the couple. Their love represented by a tattoo on the woman's arm. Simply beautiful.
24.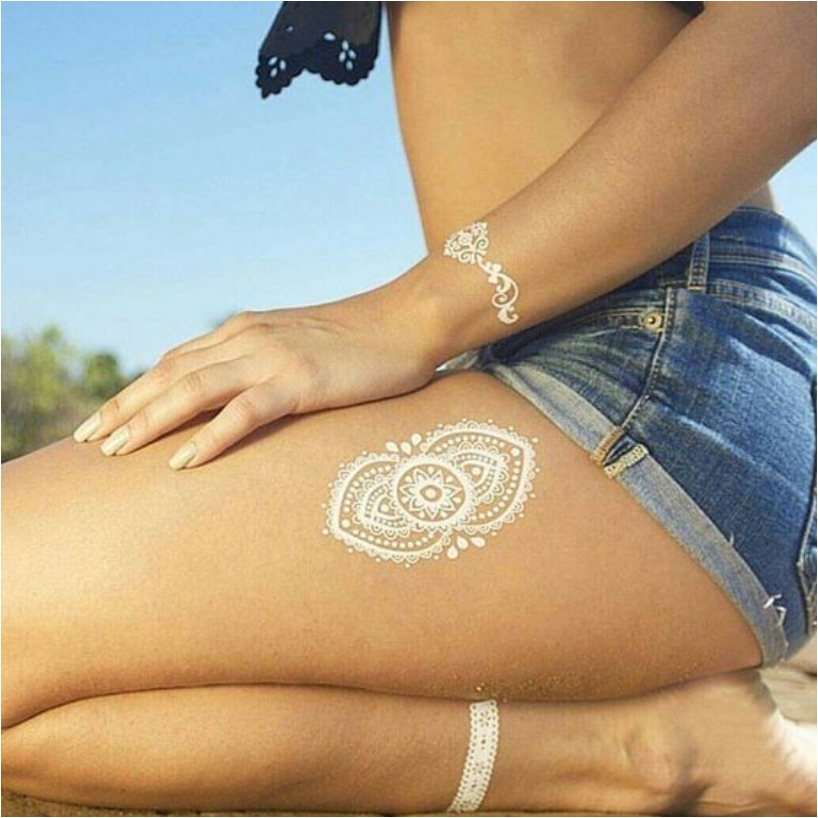 Not everyone wants a big henna body art tattoo that spreads across their entire leg or arm. Sometimes, just a small symbol is enough. And that is not a problem.
25.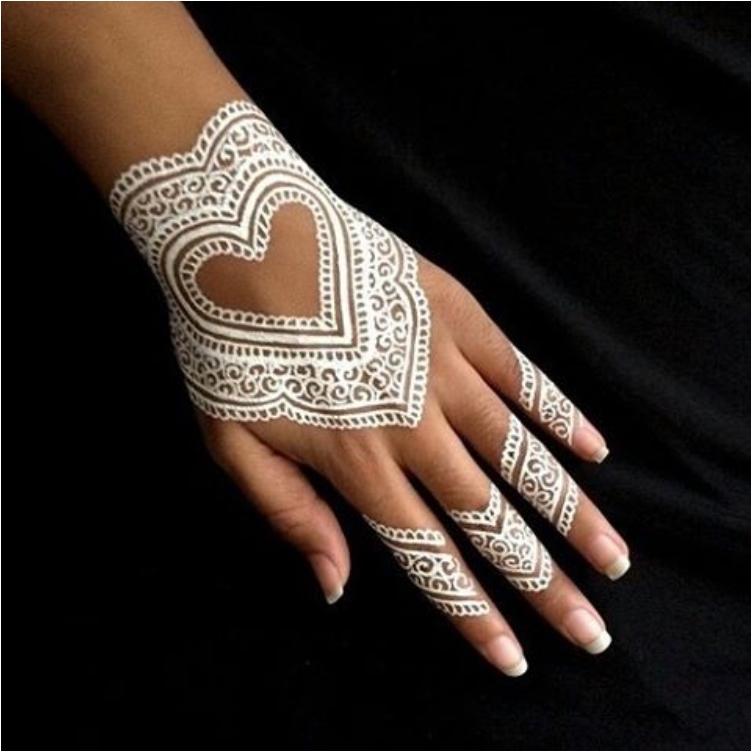 I might be wrong, but this one reminded me of Rihanna. This design is very close to the one Rihanna wears in her new Sledgehammer video.
26.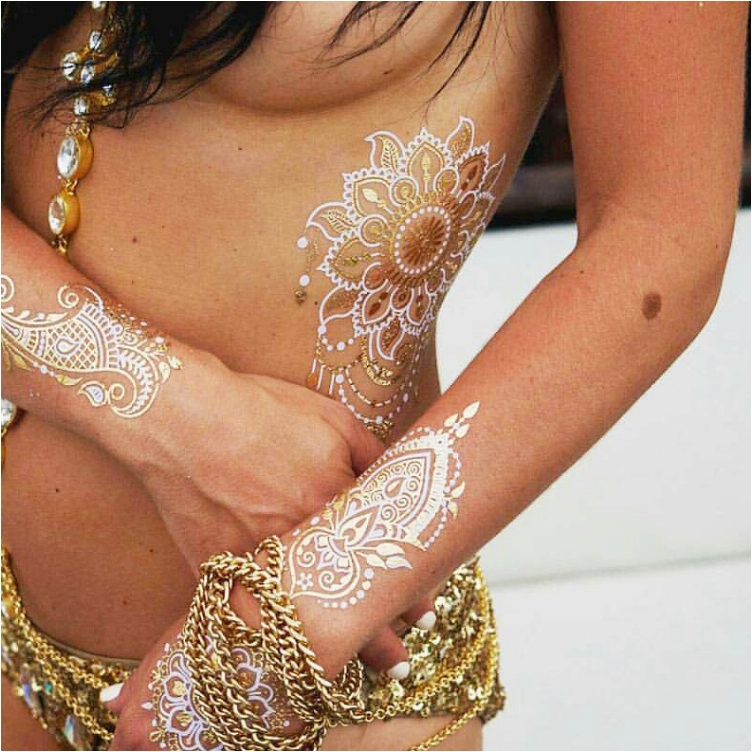 White henna mixes very good with gold art. Unlike black and red henna, white fits perfectly because the colors are complementary. And it looks rich and powerful.
27.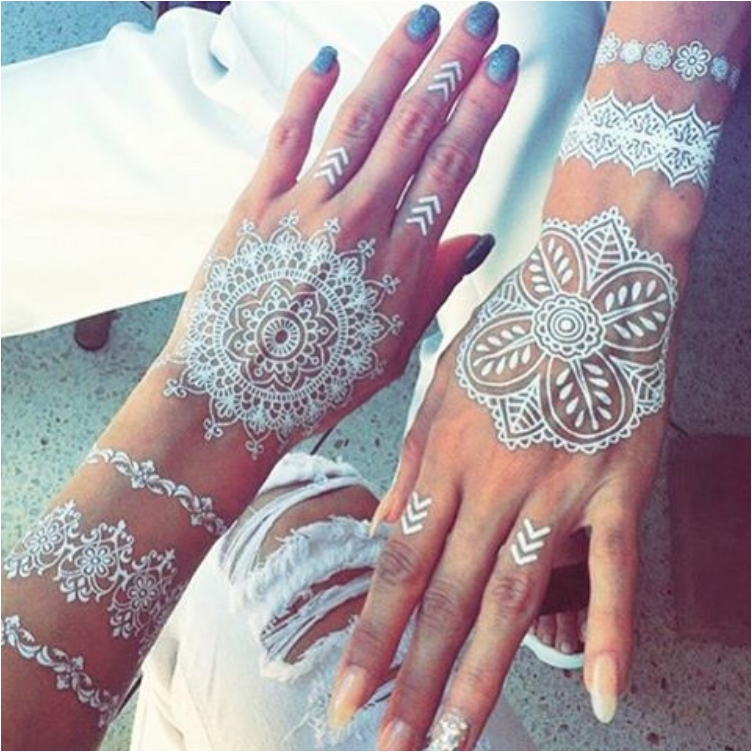 Another hand body art, another tribal. We've got several of these, but I like to give you options to choose and try different designs. If you are more into traditional henna, tribals is the way to go. If not, roses and simple elegant lines are always an option.
28.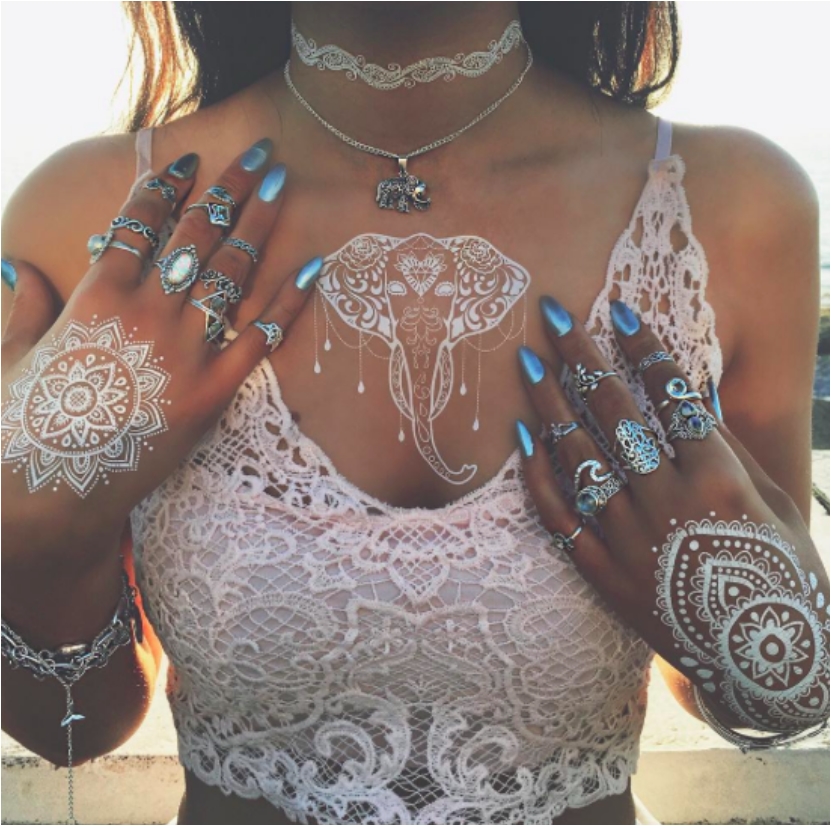 I admit, sometimes people can go over the top when it comes to henna. But as you can see here, henna can also be necklace. However, the main focus is the elephant, the symbol of India.
29.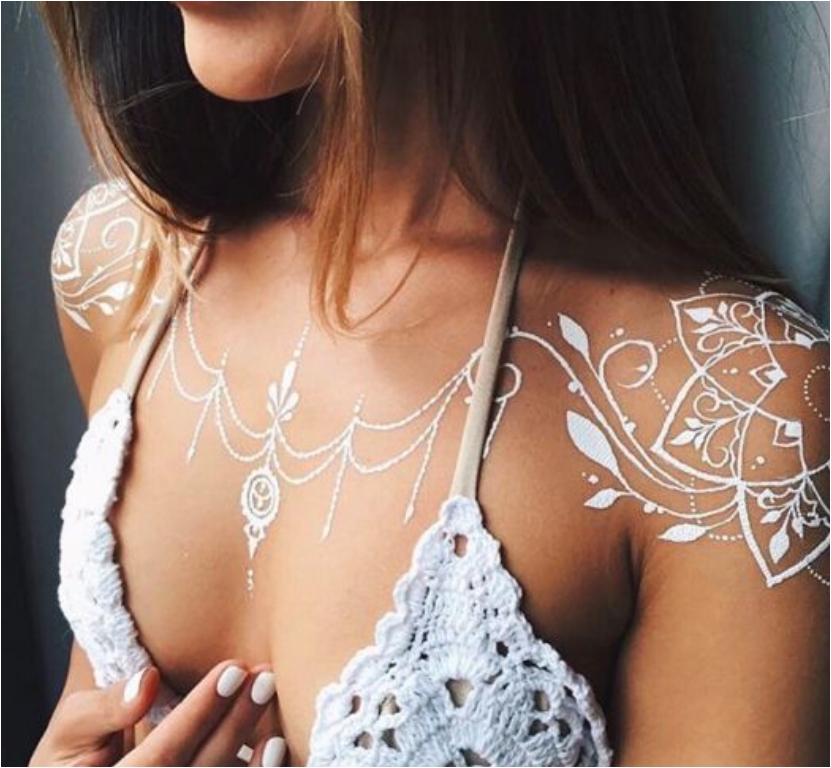 Another great example of henna being used as a necklace alternative. Even though the art spreads to the shoulders as well, essentially this is a necklace tattoo.
30.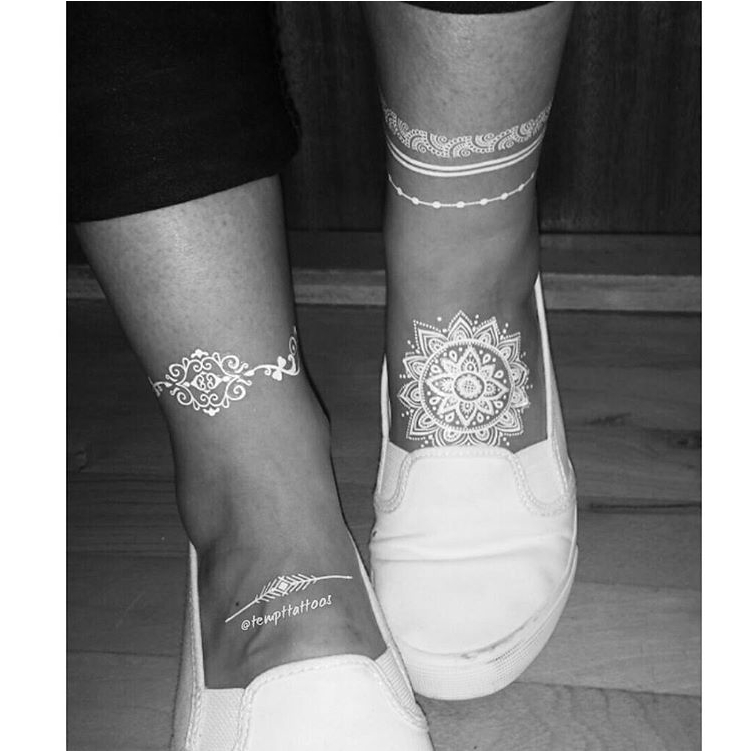 One of the best aspects of henna art is that you can use different designs, and they will still match. Take this example, where one design graces the left leg, and another the right one.
31.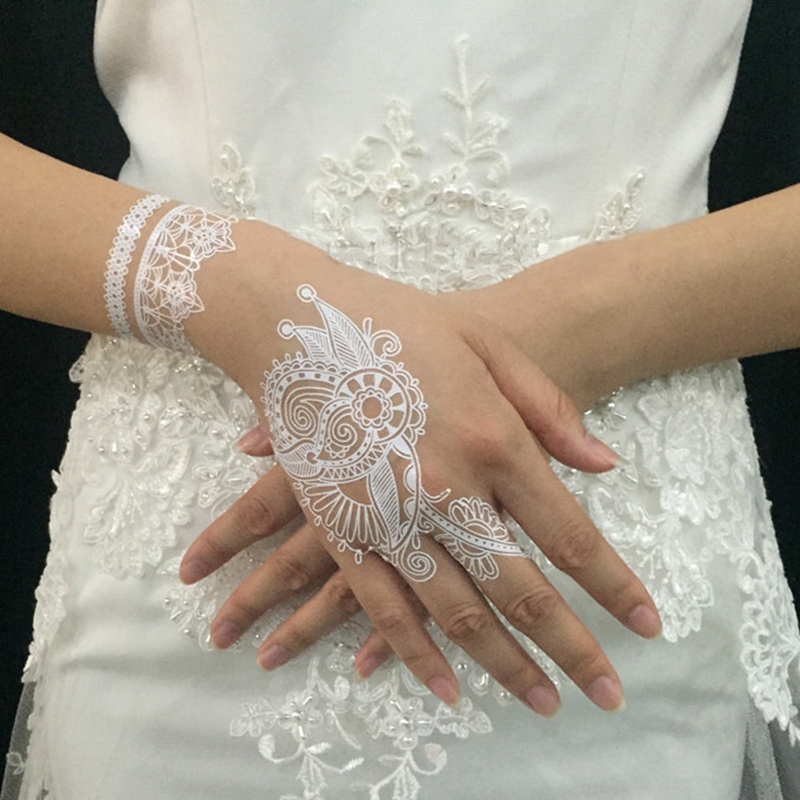 Can you notice the elephant in the tattoo? Take some time, but you'll probably notice it eventually. This design shows henna at its best, when even a simple object like elephant can be hidden within the art.
32.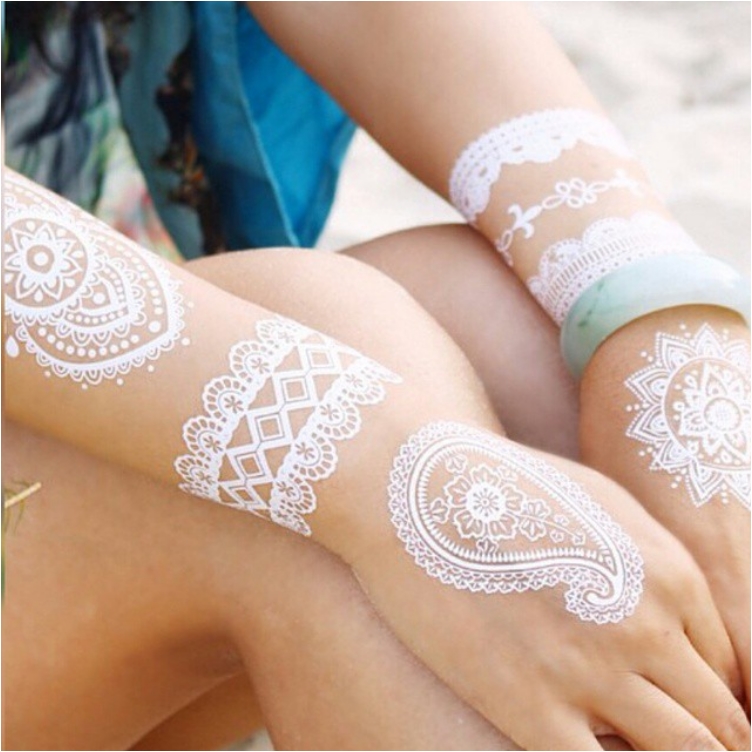 Another classic body art for your hands. We see the versatility of henna again, with different designs used for a different hand.
33.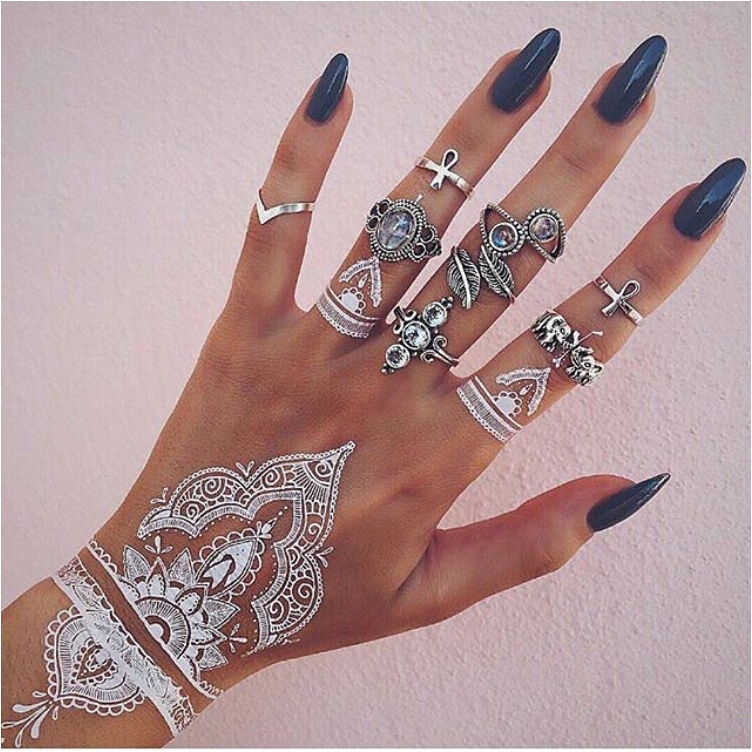 Just look how smooth the body art fits with the jewelry on the fingers. You can remove either one, and it will still look beautiful. But when together, jewelry and henna create a powerful combo.
34.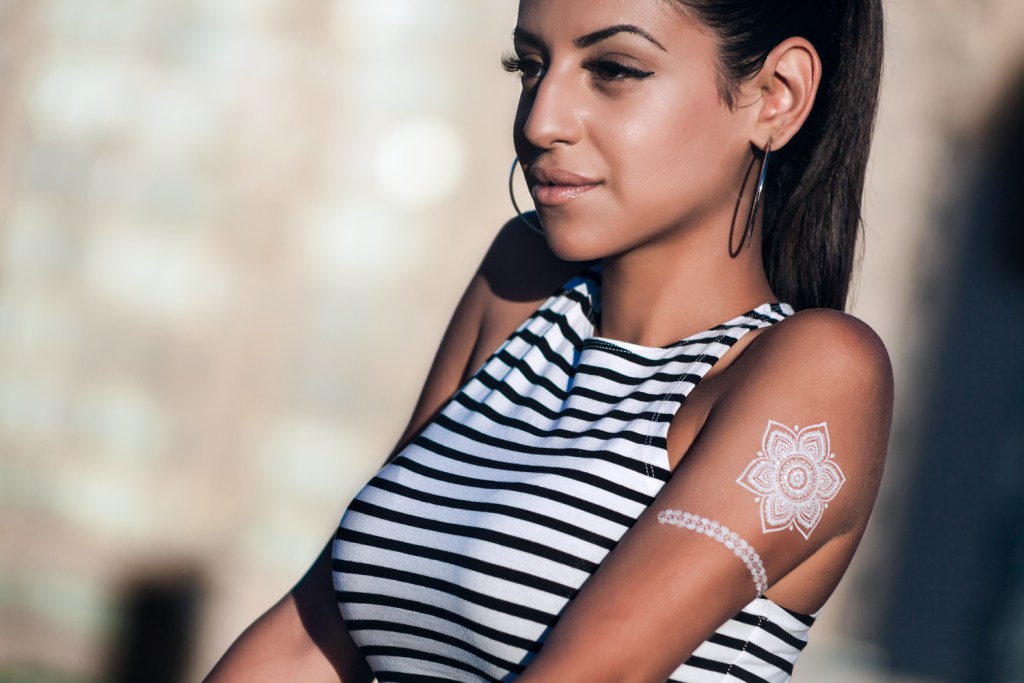 I mentioned how women's shoulder henna art is more feminine and gentle. Point taken with this beautiful flower tattoo.
35.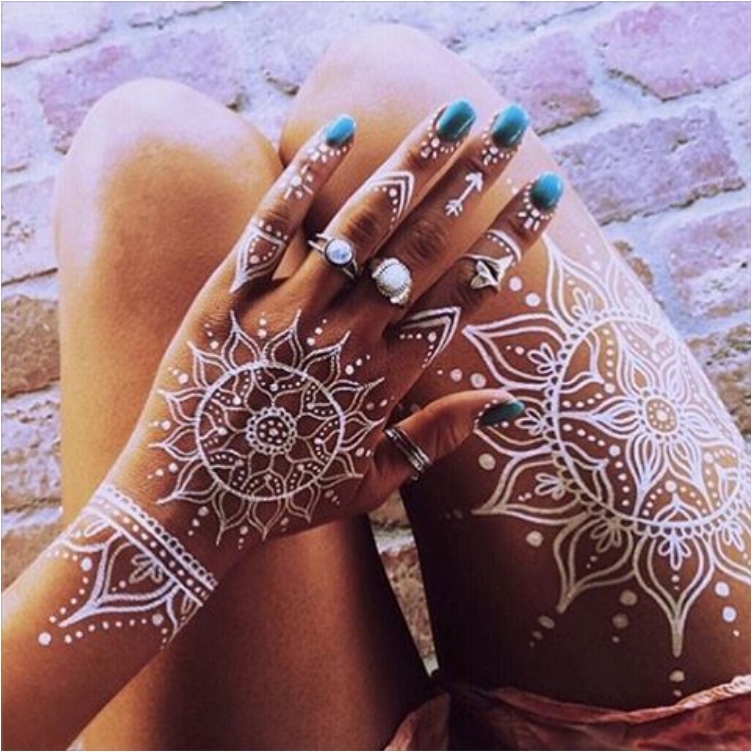 The Sun is another symbol that dominates henna art. The sun and henna have strong ties, and it is to be expected for our Sun to be focal point of many body art designs.
36.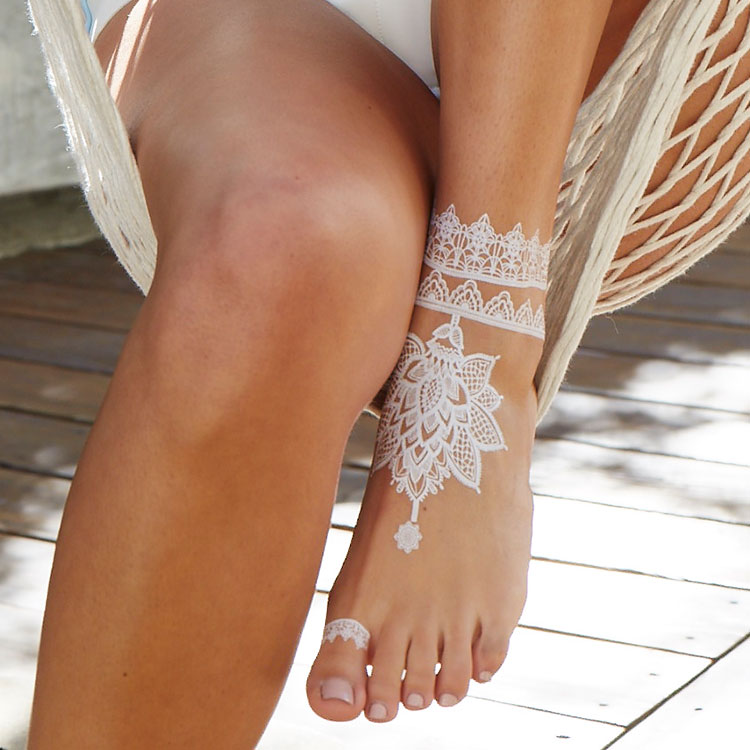 I must admit, at first glance I didn't notice this design was used on the foot. But that is because henna is so versatile, and so easily adjustable. You can use the same design on your foot, and on your wrist/hand.
37.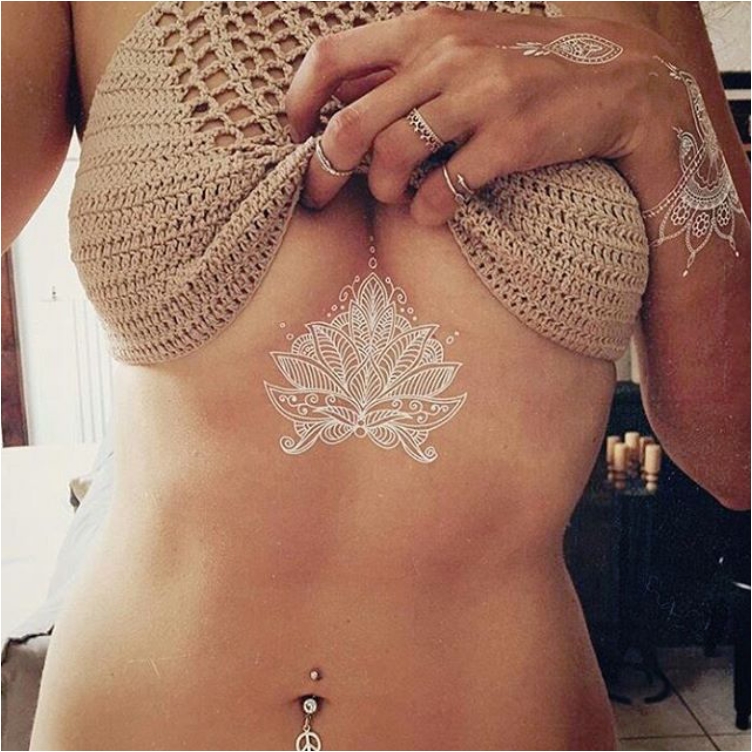 I mentioned at the beginning that henna is accepting trends in tattoo, and since the last two years the area under the breasts has been a huge trend, I must give you a henna idea for the spot.
38.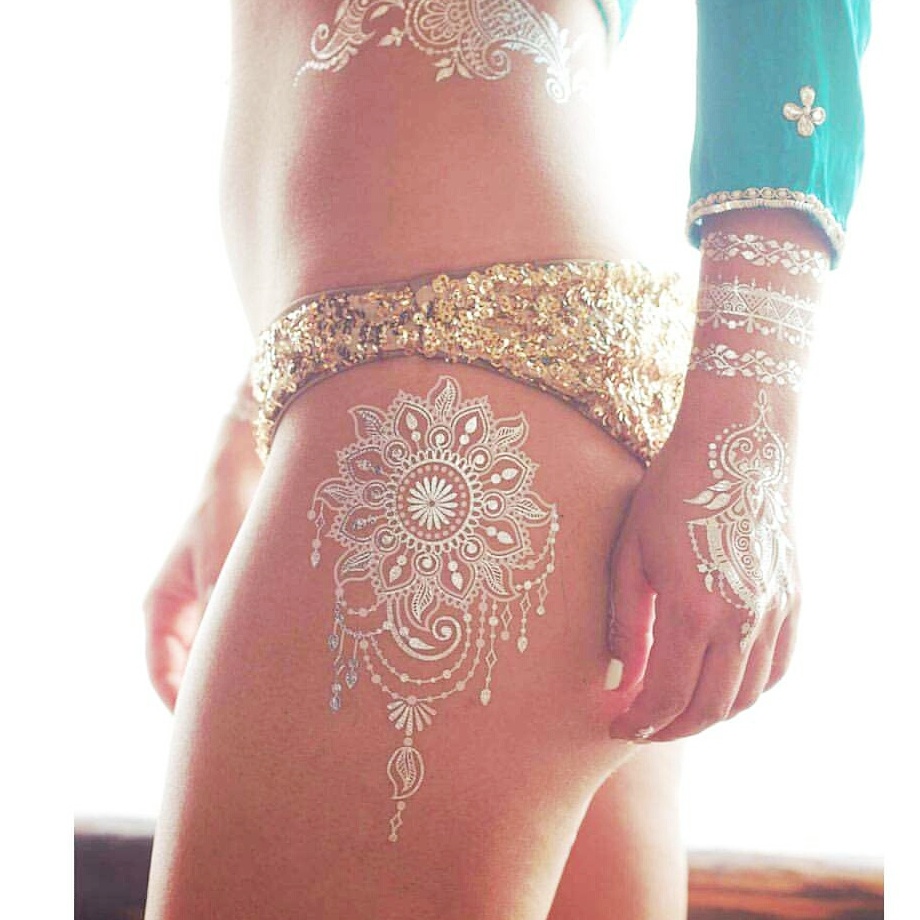 If you like to attract some attention at the beach, a henna design just underneath your butt is one of the best ways to do so.
39.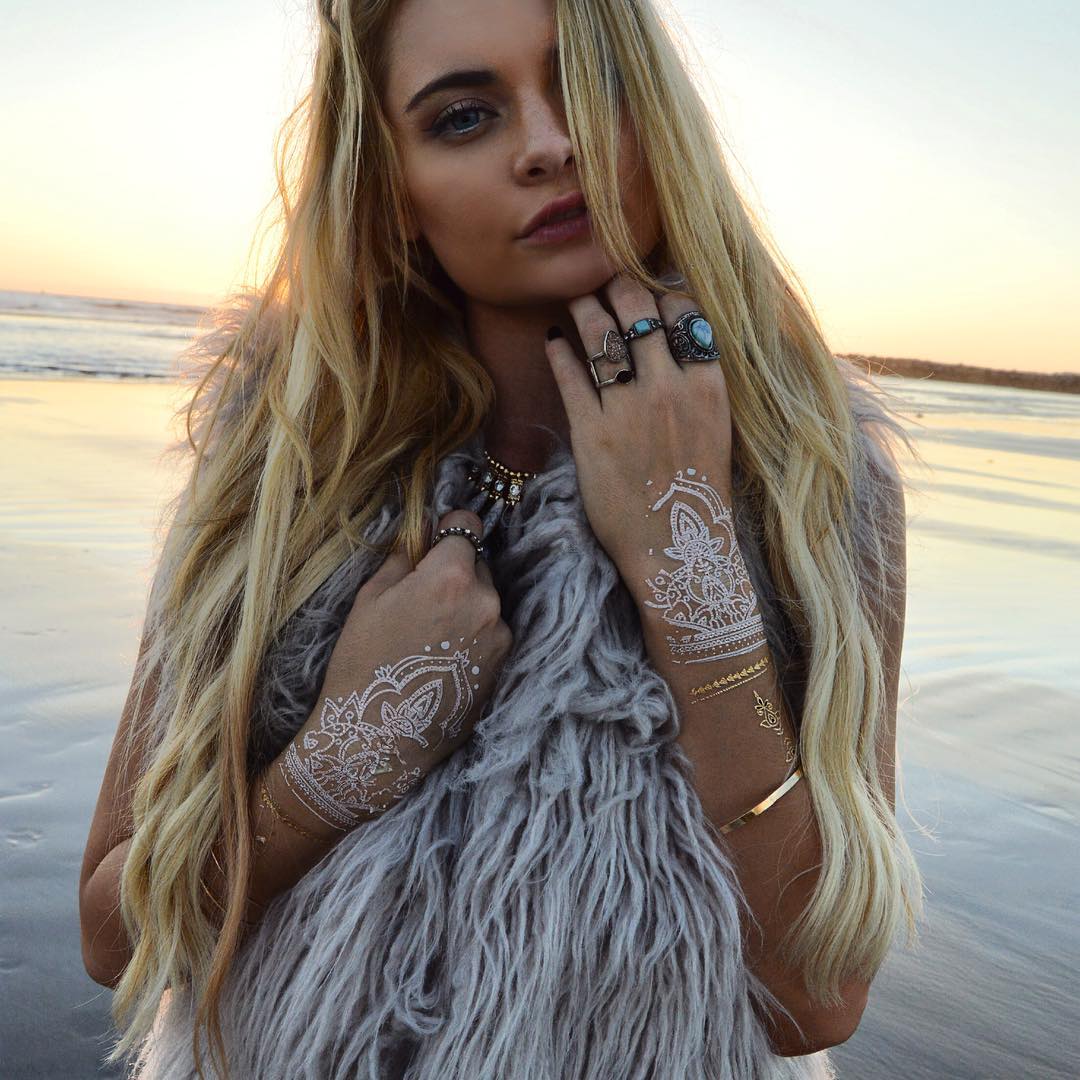 A classic traditional henna art on your hands. I've said it few times, when you want classic way to honor henna, oriental design on your hand/wrist is best way to do so.
 40.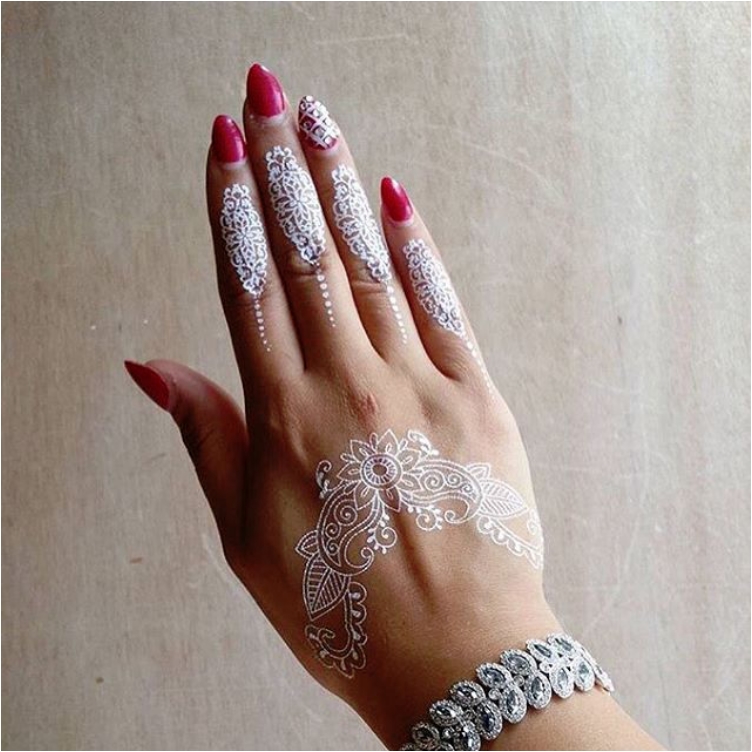 I am going to be honest, I like this design without the hand part. The fingers are more than enough for me, but that is because they are so beautifully done.
41.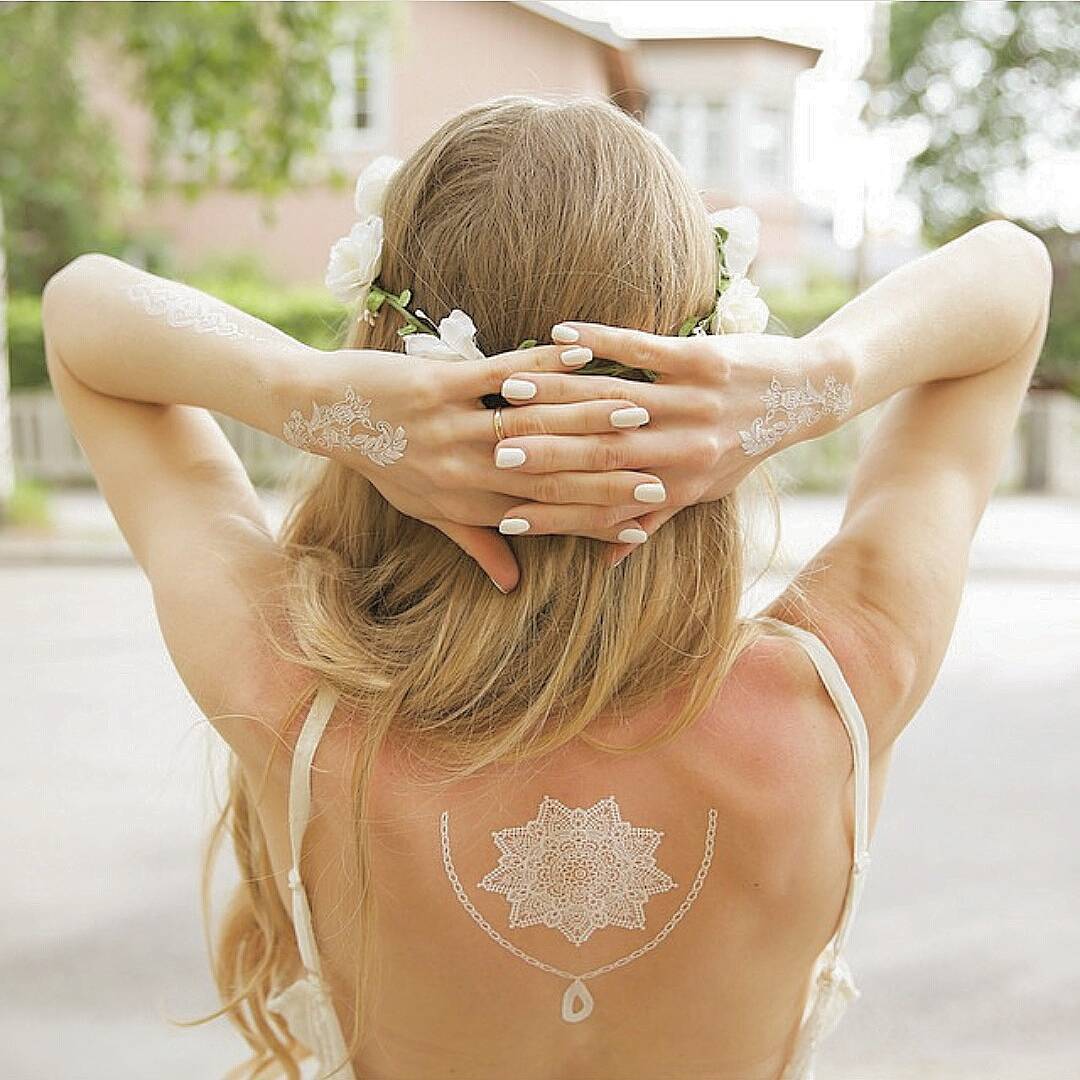 A romantic and feminine, this floral art tattoo is perfectly accompanied by a necklace.
42.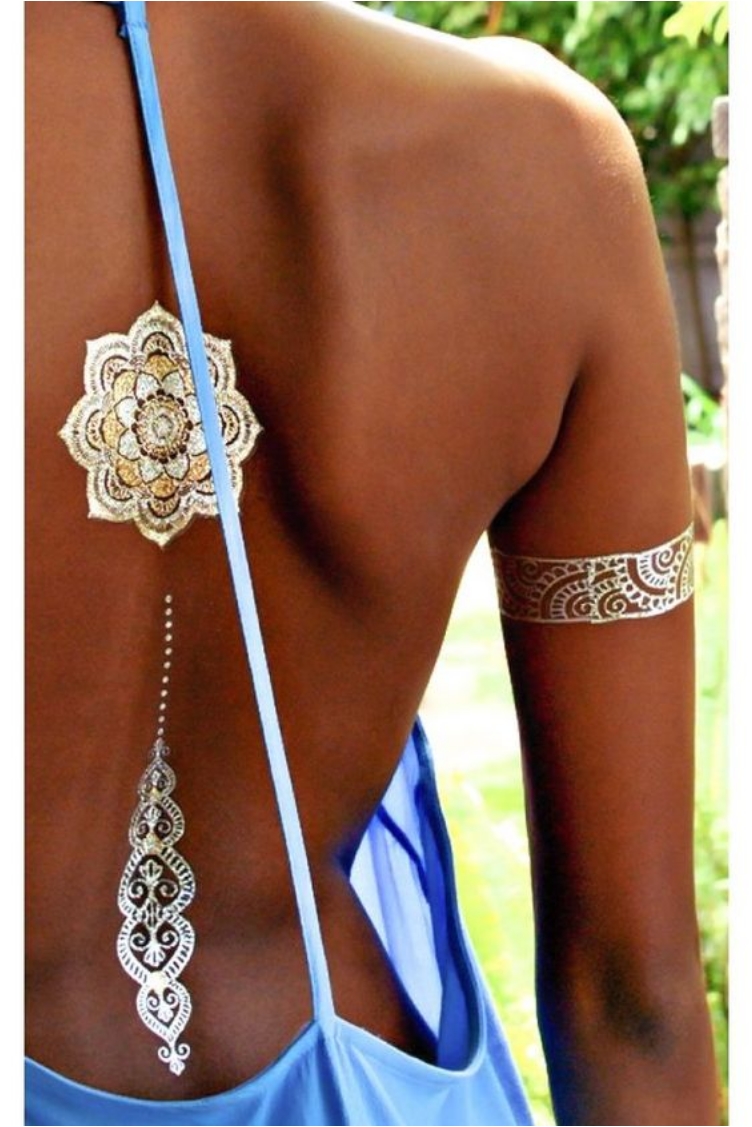 Some people want their tattoo to "shine". And that is when gold and silver touches come in handy.
43.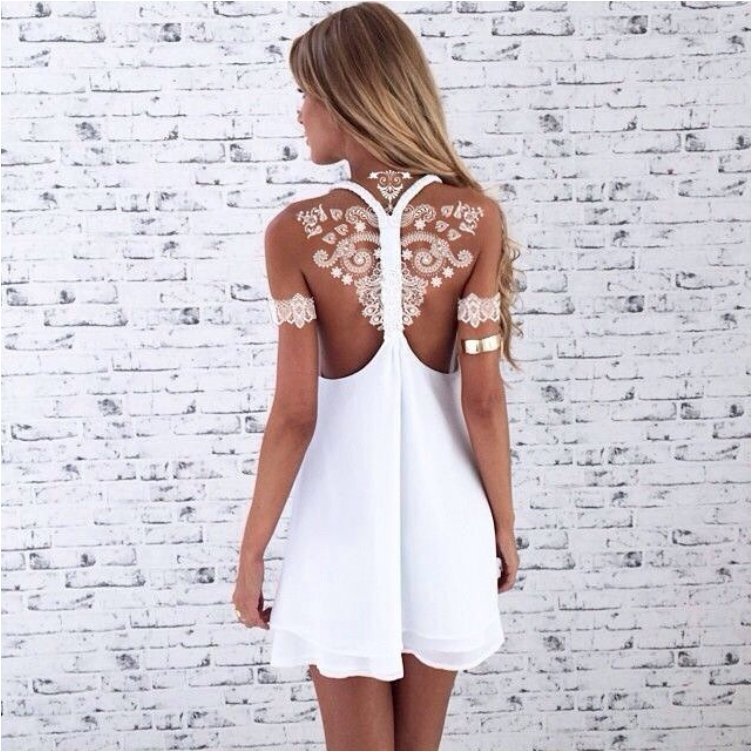 I'd say that this design is more suited for a nude back dress, but a small vertical line can also work. It gives the tattoo a sense of symmetry.