A friend of mine told me some 10 years ago that once you get one tattoo, you're already thinking about the next one. In that spirit, people are always thinking about the next big trend in decorating their ears.
We had helix piercings, and we've had some ear makeup. Now, the latest trend is helix tattoos, and we've got you covered. Check out some of the ideas for decorating your ears.
1. Black Dotted Vines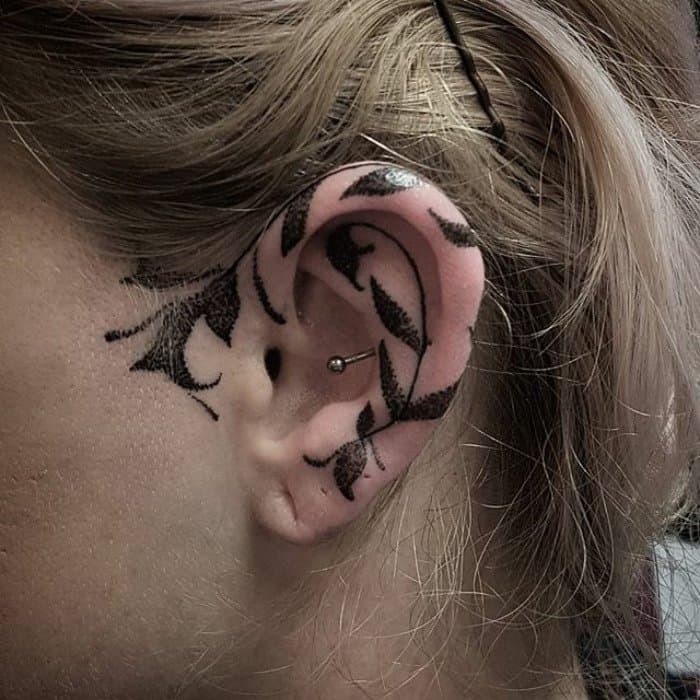 I'd like to start with something that's more obvious and less subtle. Vines are always a good option for a tattoo because of the flowing element. And they cover almost your entire ear. So, if you want your helix tattoo to be noticed, start with vines.
2. Paw Prints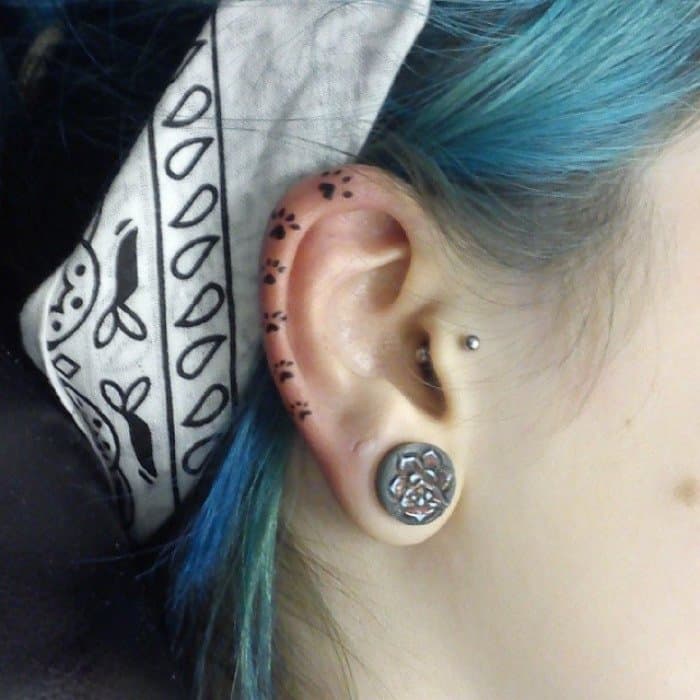 I remember that many years ago, paw prints were the starter pack for girls who wanted a tattoo. I had quite a few friends who got this tattoo on the back of their neck. And after all these years, paw prints are still a popular choice. They've just moved from one spot on your body to another.
3. Leaves on Earlobe and Helix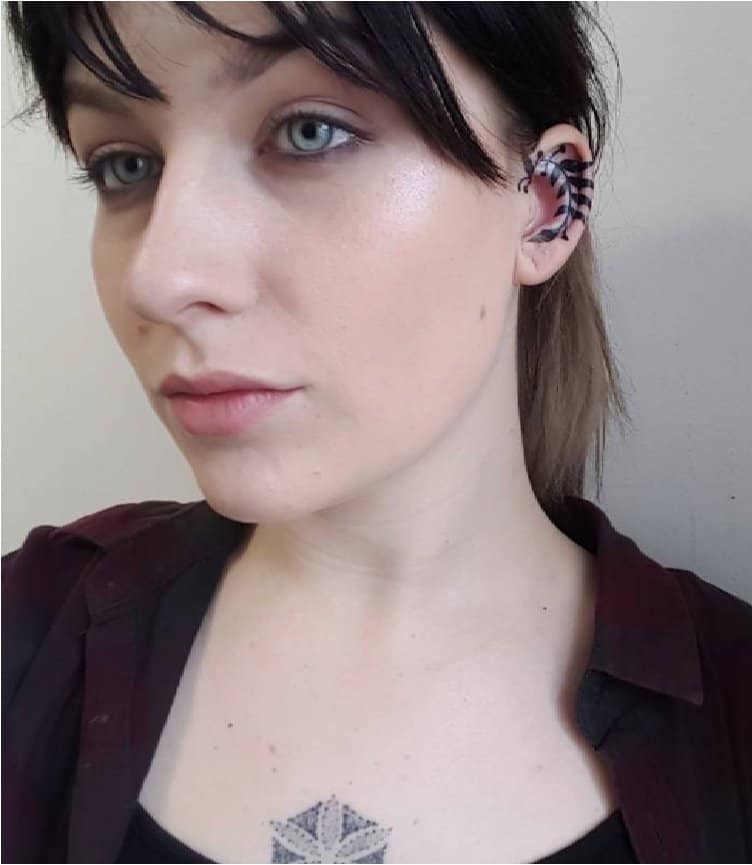 Leaves are another nature-inspired element you can use for your helix tattoo. We had vines, and now we have leaves as well. They also cover the entire ear.
4. Purple Flower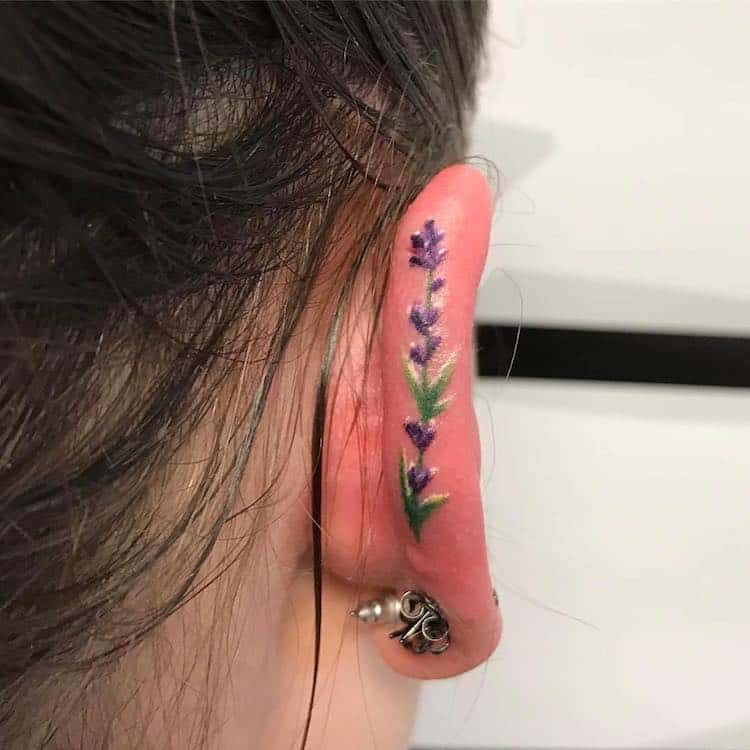 The best part about this tattoo is that not many people will notice it. Located on the back of your ear, this flower allows you to keep the tattoo just for yourself.
5. Black Triangles on Helix and Earlobe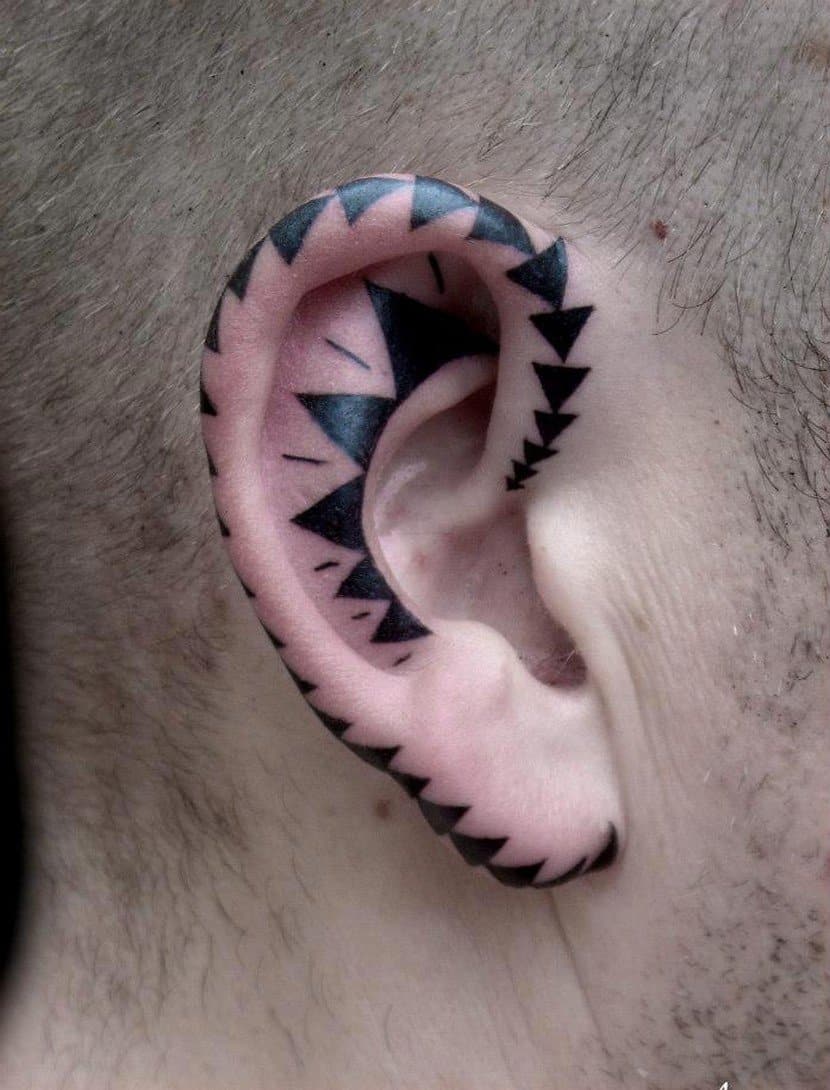 One thing I love about tattoos is the artistic element. Almost every other tattoo is an artistic masterpiece. I love when people are trying to bring art to the tattoo world. And in that spirit, I give you the triangle tattoo.
6. Small Black Moon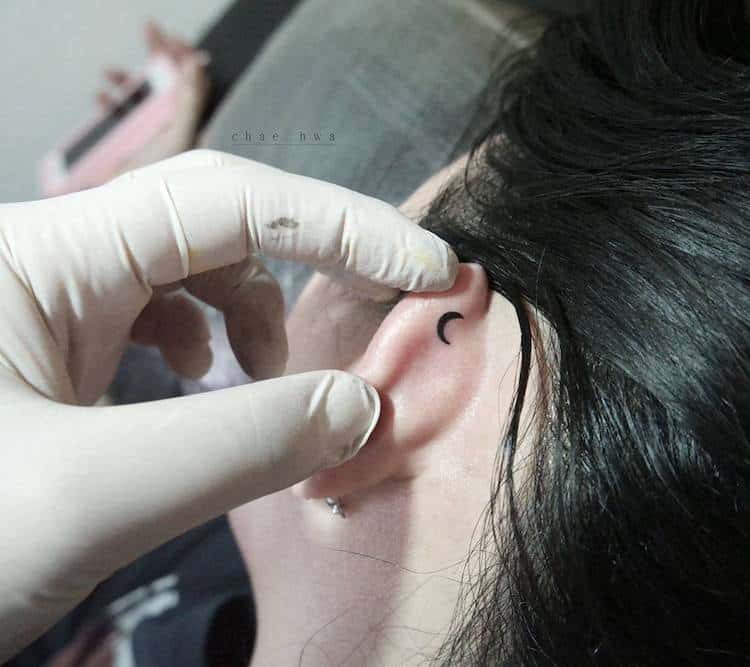 Similar to the flower, when you want a small and unnoticeable tattoo, you have options. It's all about being subtle with your tats. And the moon—the Earth's satellite—is definitely a good symbol.
7. Delicate Initial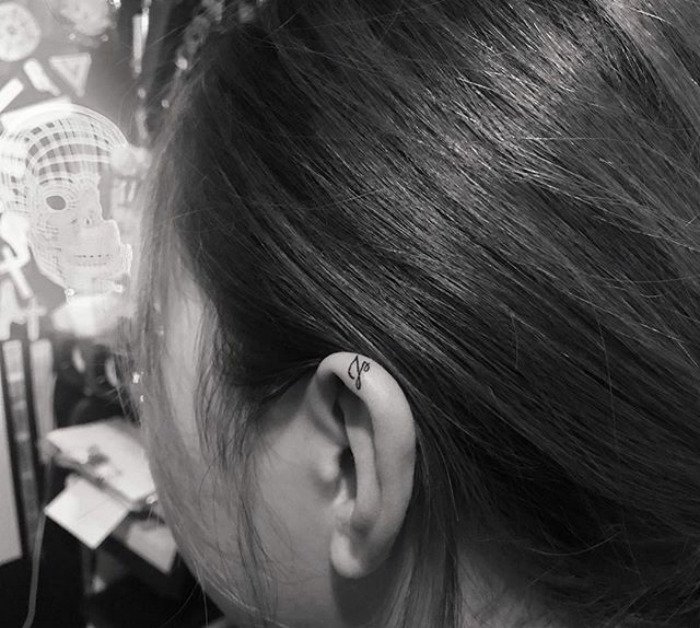 Initials have become a big trend in the tattoo world in the past few years. Some people tattoo their kids' initials. Others go for their own initials. And then there are some who get the initials of their loved ones. Whatever you choose, initials are a nice, subtle way to pay tribute to someone.
8. Flower and Piercing Combo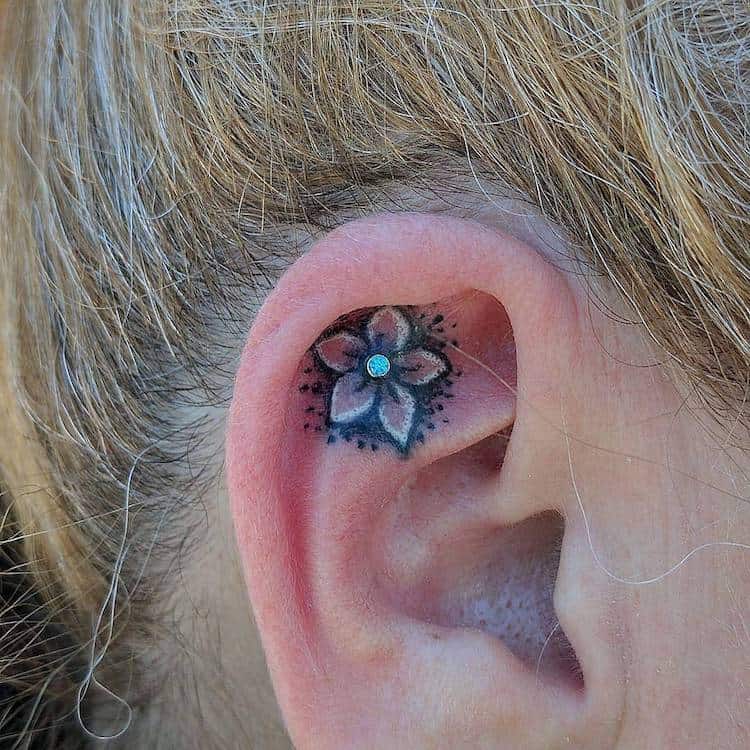 I said at the beginning that helix piercing has become a huge hit. Tattoos are the next big thing. So, it's only logical that we get a combination of the two. After all, you want to mix and match and stay trendy all the time, don't you?
9. Cherry Tree and Hello Kitty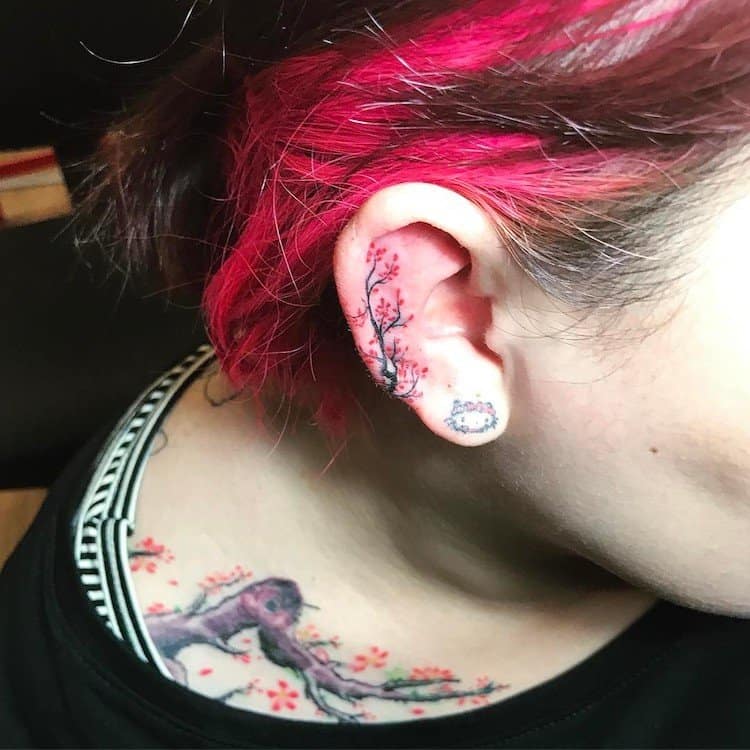 You can say that this is a girly tattoo. But there's nothing wrong in that. Some girls never grow up, and they want to keep their youthful spirit. I have nothing against girls who love cartoons like Hello Kitty.
10. Unbreakable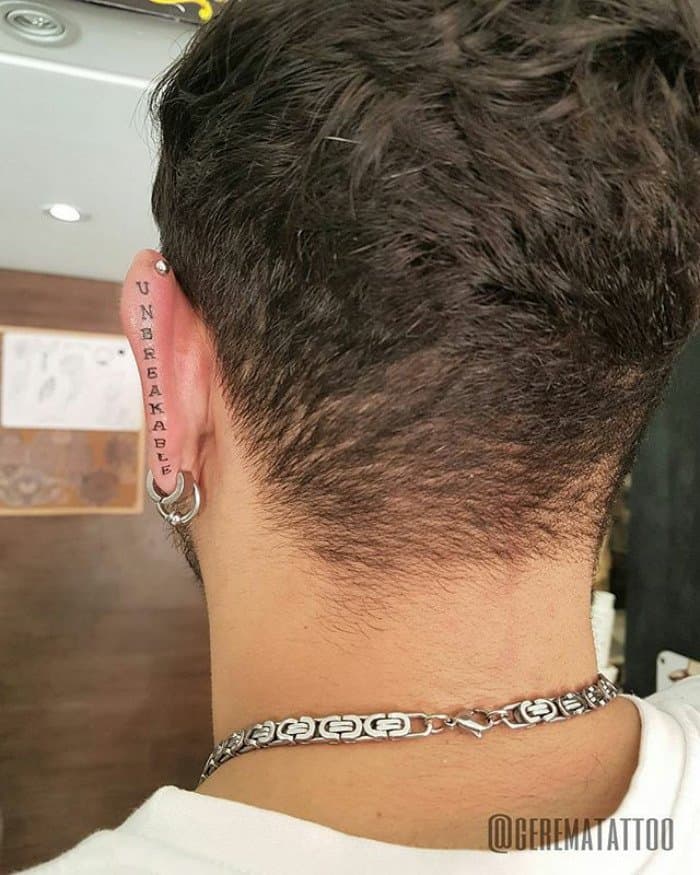 Letters and words are tattoos you will always find. No matter which part of the body you're looking at, there will always be some word-inspired tattoos. In this case, we have "unbreakable."
11. Dotted Lotus Earlobe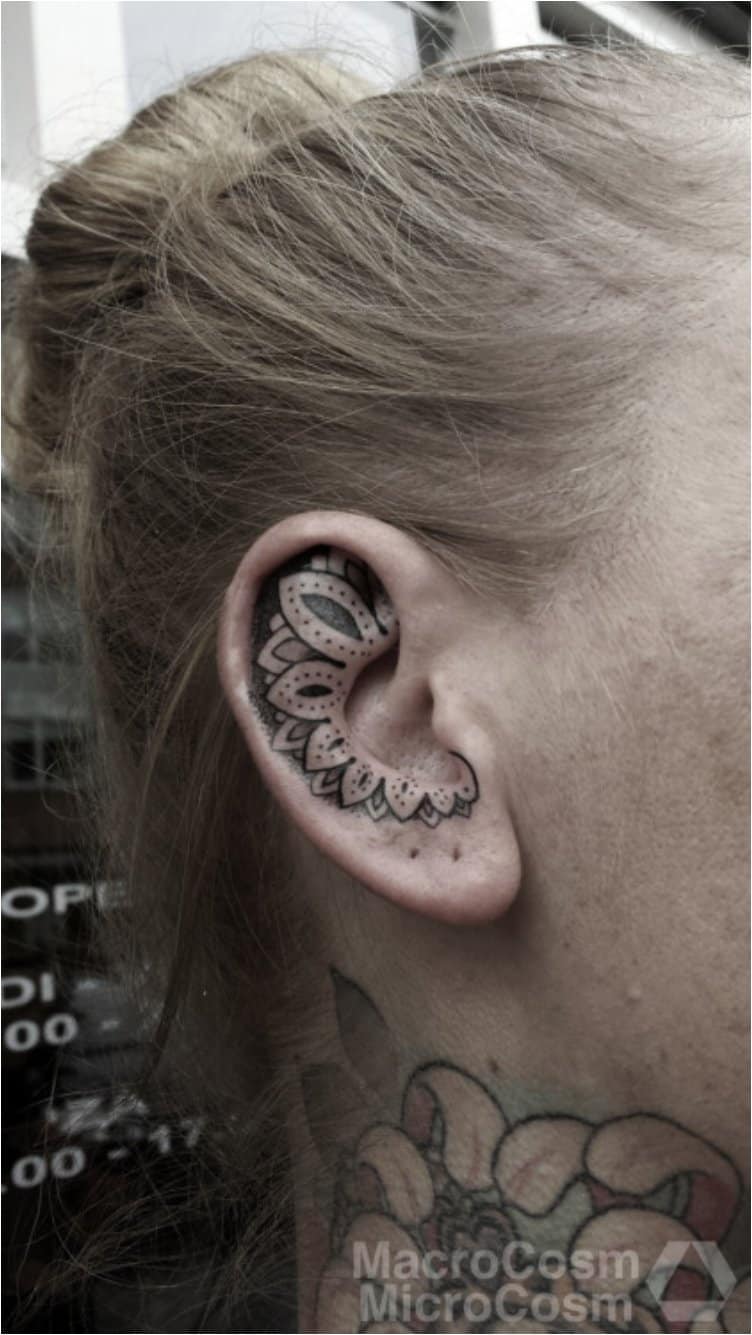 I mentioned the artistic element a while ago. And in that spirit, I give you the dotted lotus. Definitely one of the more artistic tattoos on the list.
12. Handpoked Lines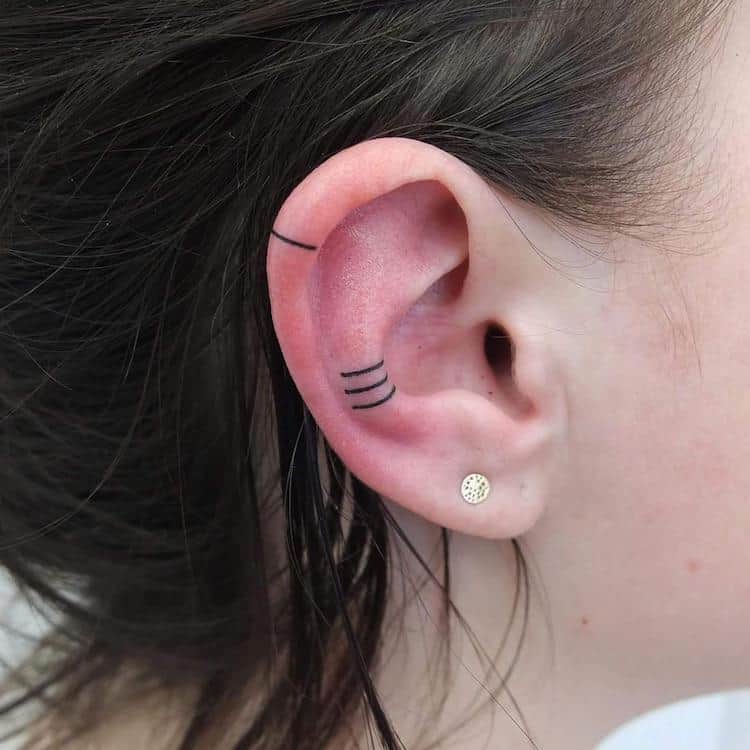 When you think of subtle lines and tattoos, I'm sure you didn't think of just one line. Perhaps just three lines? Well, think again. The only downside is that people will definitely ask you about the meaning of your tattoo. And that can become annoying.
13. Flower and Leaf Lines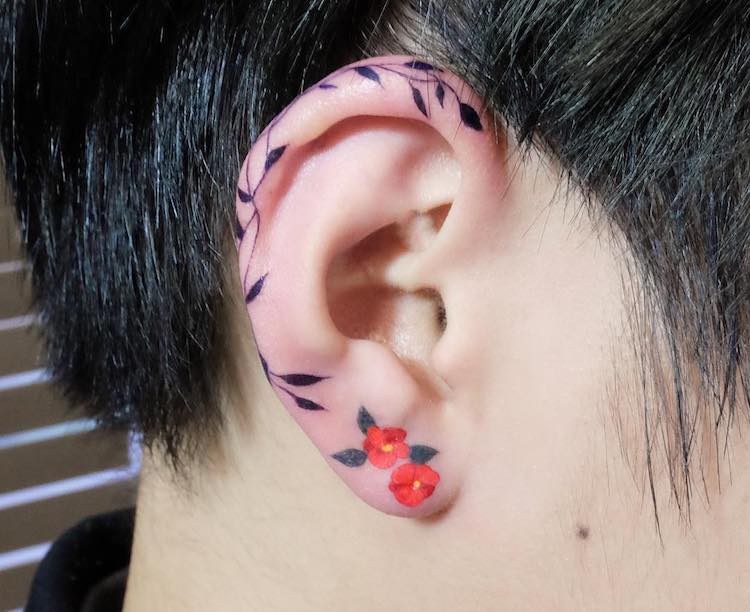 Let's mix a few nature elements, shall we? And even better, we have a splash of colors. Those red flowers are great.
14. Black Lines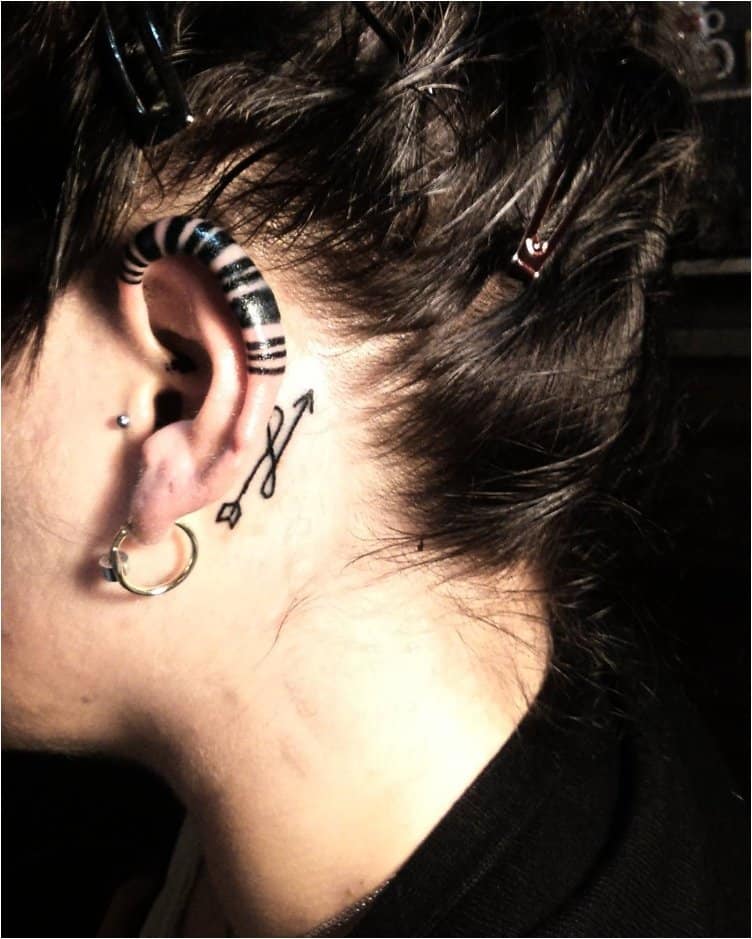 We have a different take on the "lines tattoo." We had a subtle line, but now we get several lines that clearly have some meaning. But what is it? Can you find it?
15. Dotted Black Flower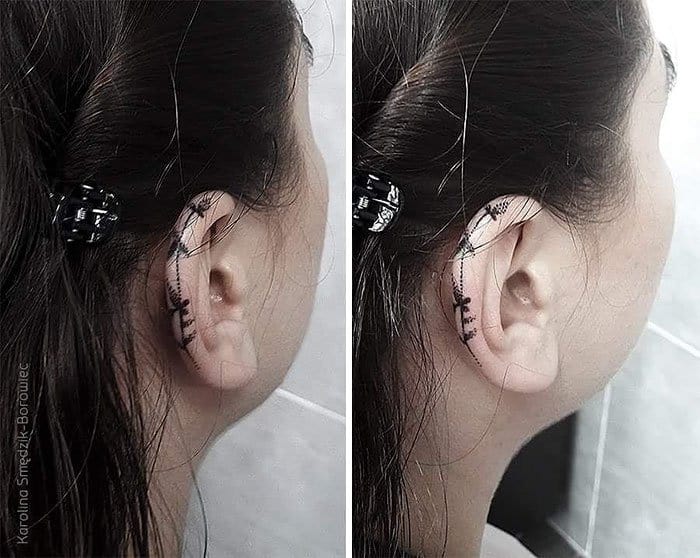 The worst part about a dotted tattoo is that it takes too long to get it. This tattoo is much more challenging for a tattoo master than a regular flower. You need a lot of attention to detail to make sure every dot is on spot. And that means you'll spend more time at the studio waiting for your tattoo to be completed. But you'll have a unique tat!
16. Red and White Swirls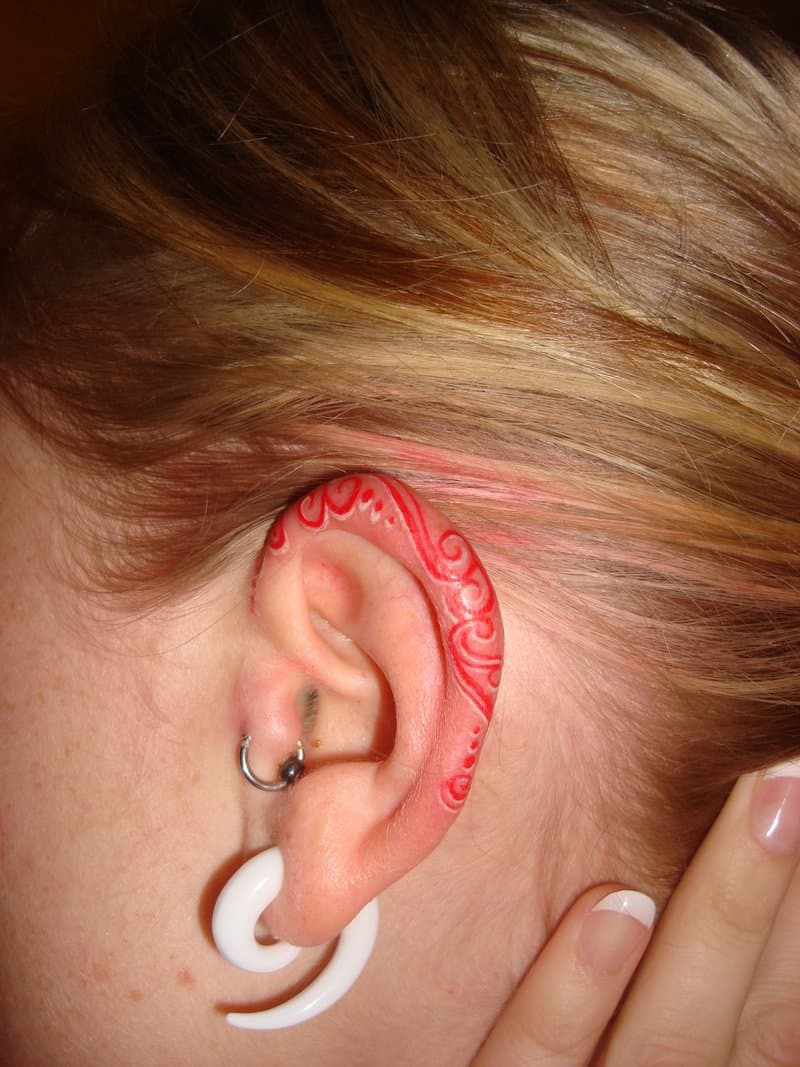 Swirls are an association to spiritual life, spirituality and all things spiritualism. But the tattoo looks good, no matter the meaning. And that is more than you can ask for.
17. Delicate Lilac Flower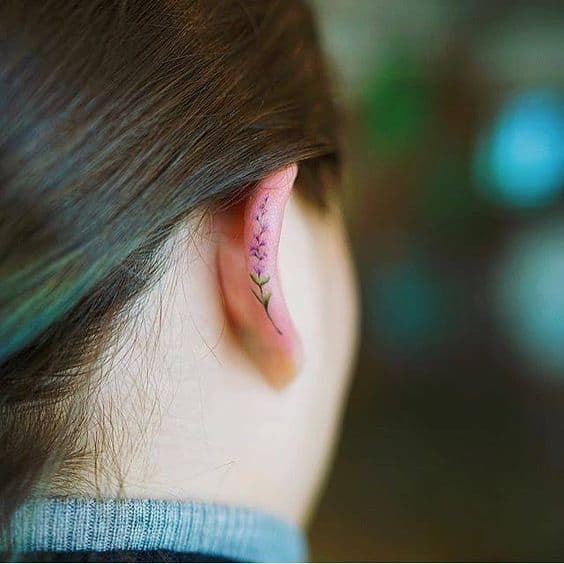 We have another example of a flower on the back of your ear. There are different flowers you can "grow" there. It all comes down to preferences in color and look.
18. Handpoked Dotted Lines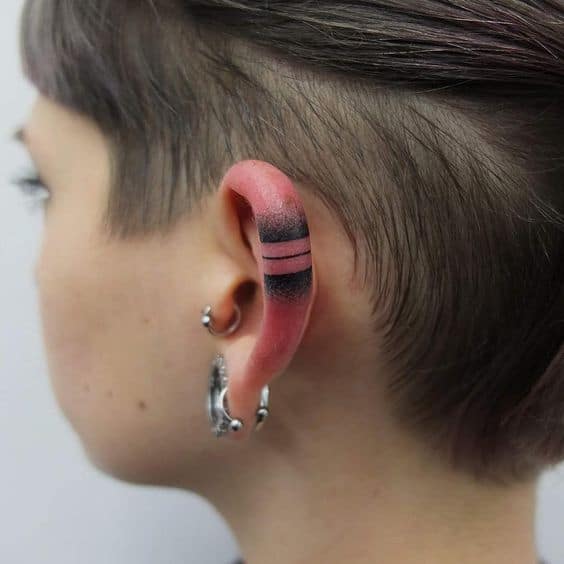 I'm sure you're asking yourself, "What is the deal with all these lines?" Well, you're not the only one. But that's exactly the idea. Lines are mysterious, and people do love a mystery.
19. Flower in Earlobe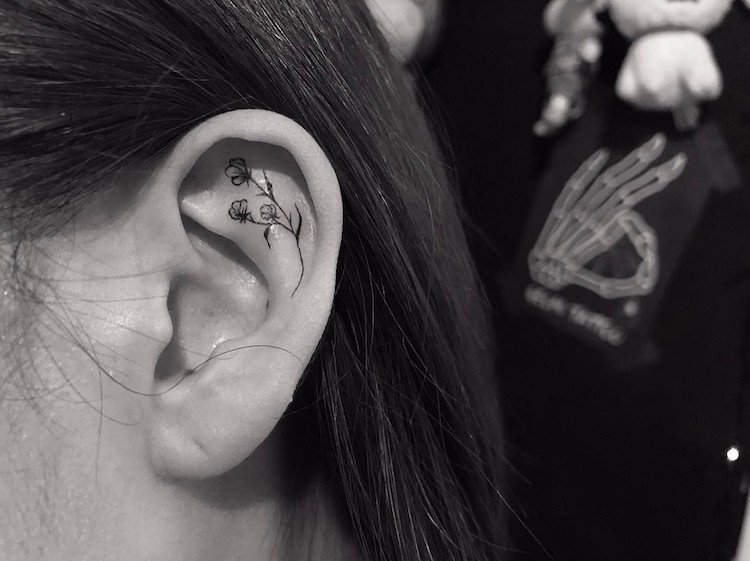 Flowers can go inside or outside of the earlobe. Most people prefer flowers on the outside of the earlobe when it comes to a helix tattoo. But you can place a flower inside as well.
20. Green Vines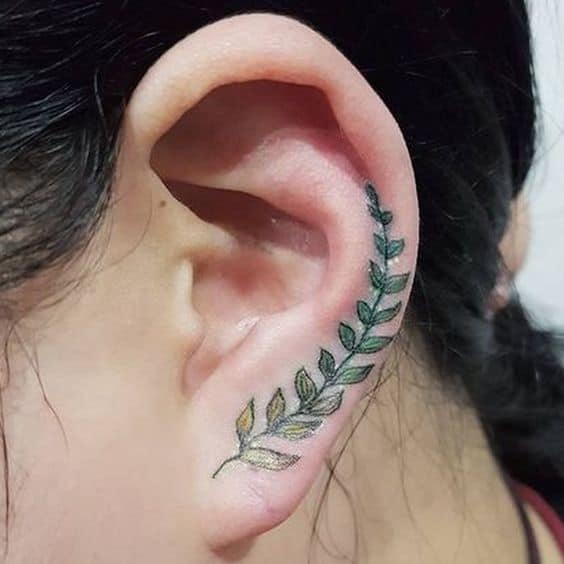 If you remember, we started this list with vines. But they covered almost the entire ear. This is a smaller tattoo, but you get colors. When you go green, well, go "green."
21. Tiny Purple Flower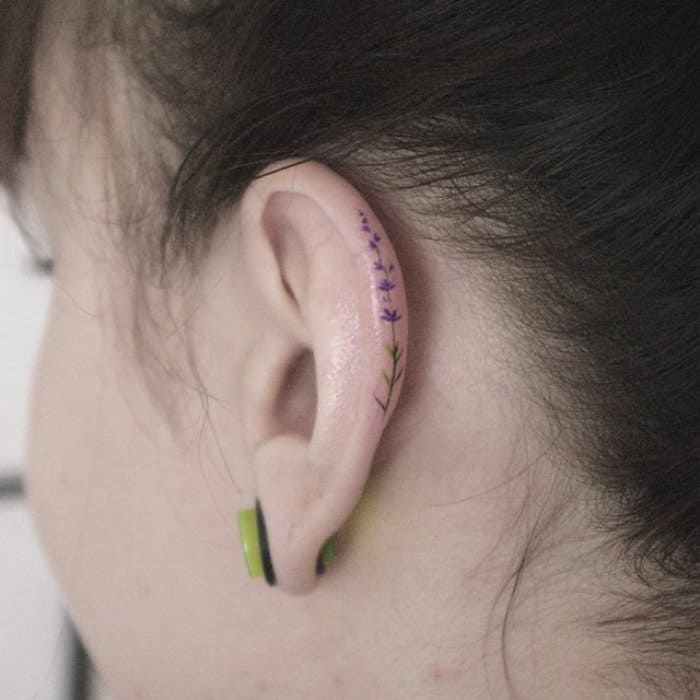 Since flowers are some of the most common and popular tattoos, I wanted to give you several different options for your helix tattoo. You have small flowers, large flowers, inside the ear, outside of the earlobe, on the back of your ear, and so much more. The more options you have, the easier you'll find a tattoo.
22. Fluorescent Flower Lines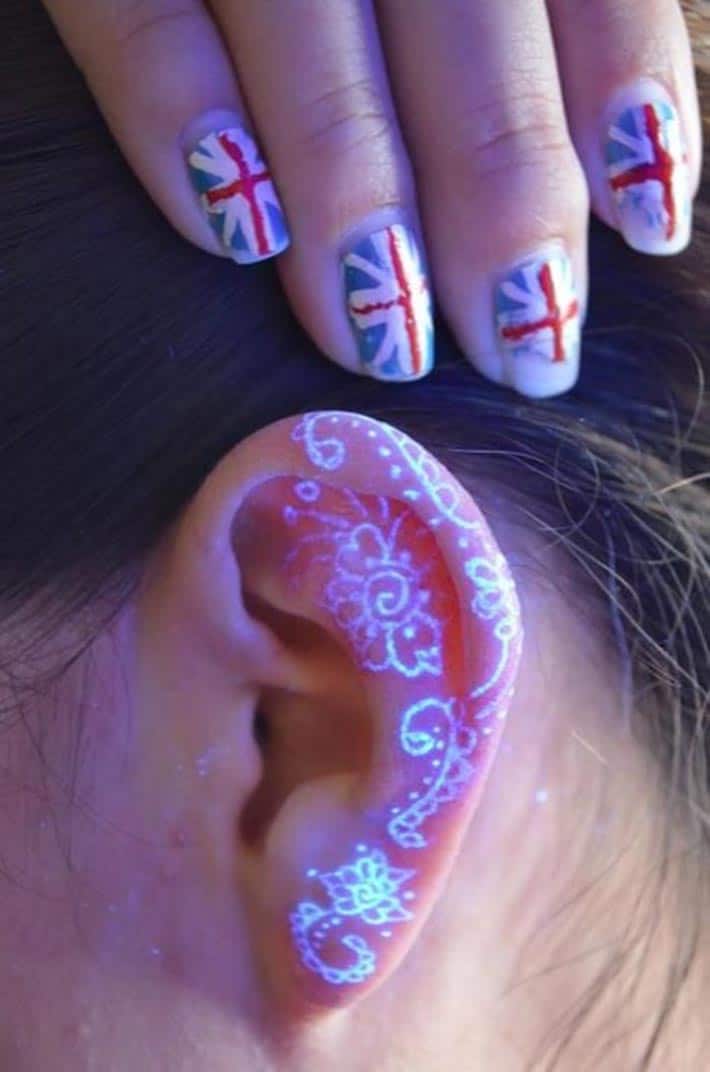 Fluorescent tattoos are one of the big trends recently. I've seen a lot of them, and I've written about them as well. And since I want to include one on this list, I opted for a flower.
23.  Black Swirls and Blue Dots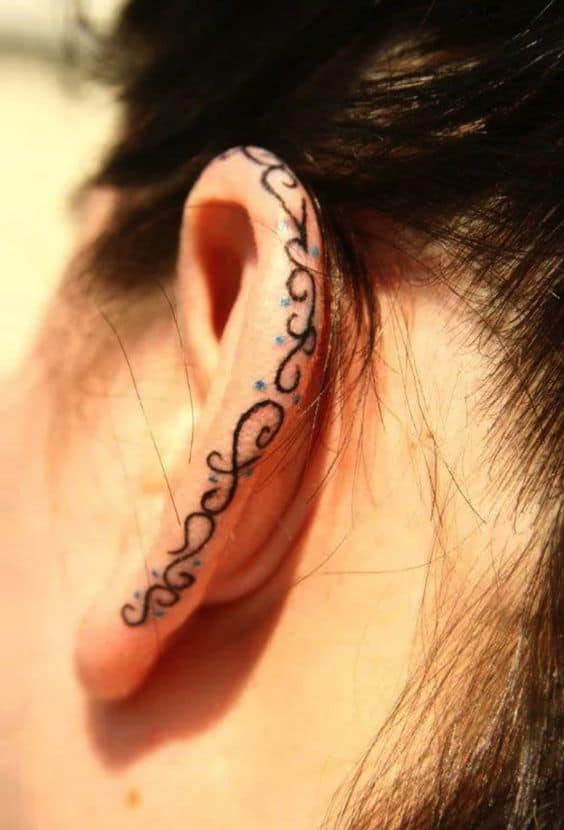 Finishing off with a very artistic tattoo.
I hope you found some inspiration for your next tattoo. That is, if the helix is your preferred spot. Looking forward to seeing your tats!