We all know the heart is a symbol of love. That's the primary symbolism of the heart. But there is so much more to a heart. Known as the seat of emotions, the heart is synonymous with affection as well.
As a tattoo idea, the heart can be much more. You can show your love for your partner, for your child, for nature, or for anything in between. Wearing your heart on your body allows everyone to see your love. If you're not shy about expressing your love, here are some ideas you can try.
1. Kids' Names in Hearts on Back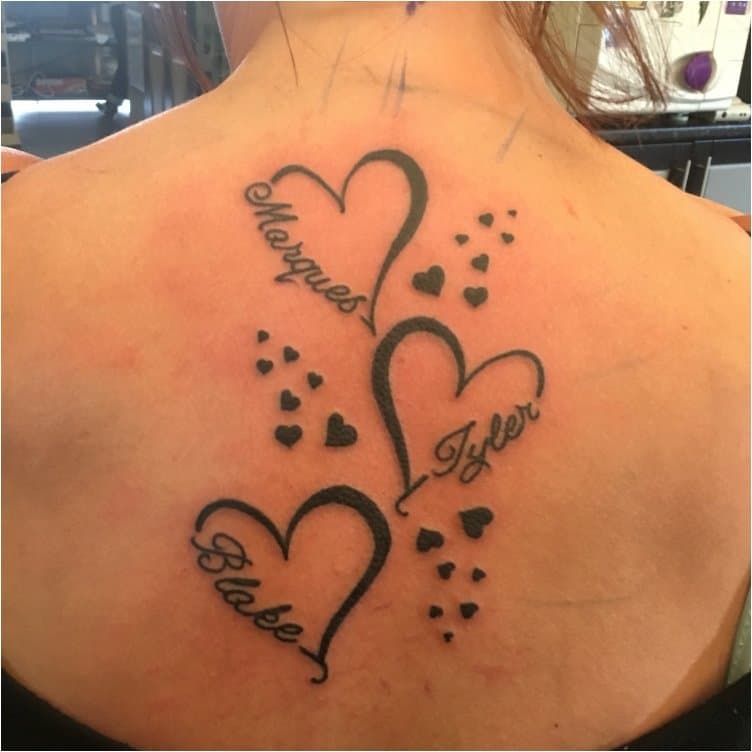 As mentioned, some people want to express the love they have for their children. Athletes, for example, often get their kids' names tattooed on their body. A heart tattoo is a bit more romantic than just the date of birth.
2. Red and Blue Splashed Heart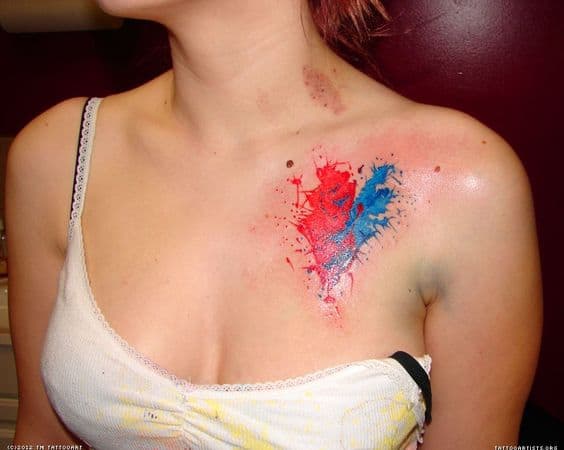 The tattoo, located just a bit higher than where the actual heart is, is a great way to add a splash of color to your body. And if you want to know the symbolism behind the tattoo, blue is the color of peace. And that goes perfectly with the emotions of the red heart.
3. Fingerprint Hearts and Infinity on Forearm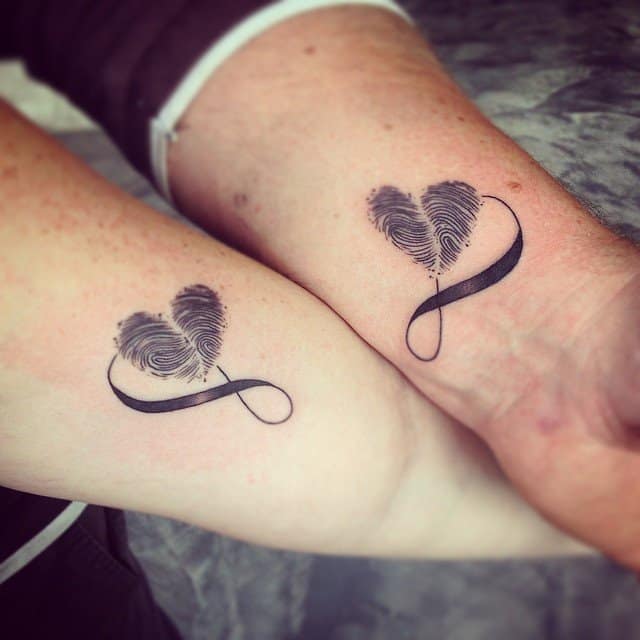 Is there a cuter way of saying "I will always love you" than an infinity heart? The tattoo looks awesome, but also has an artistic side.
4. Under Breast Crystals and Starry Heart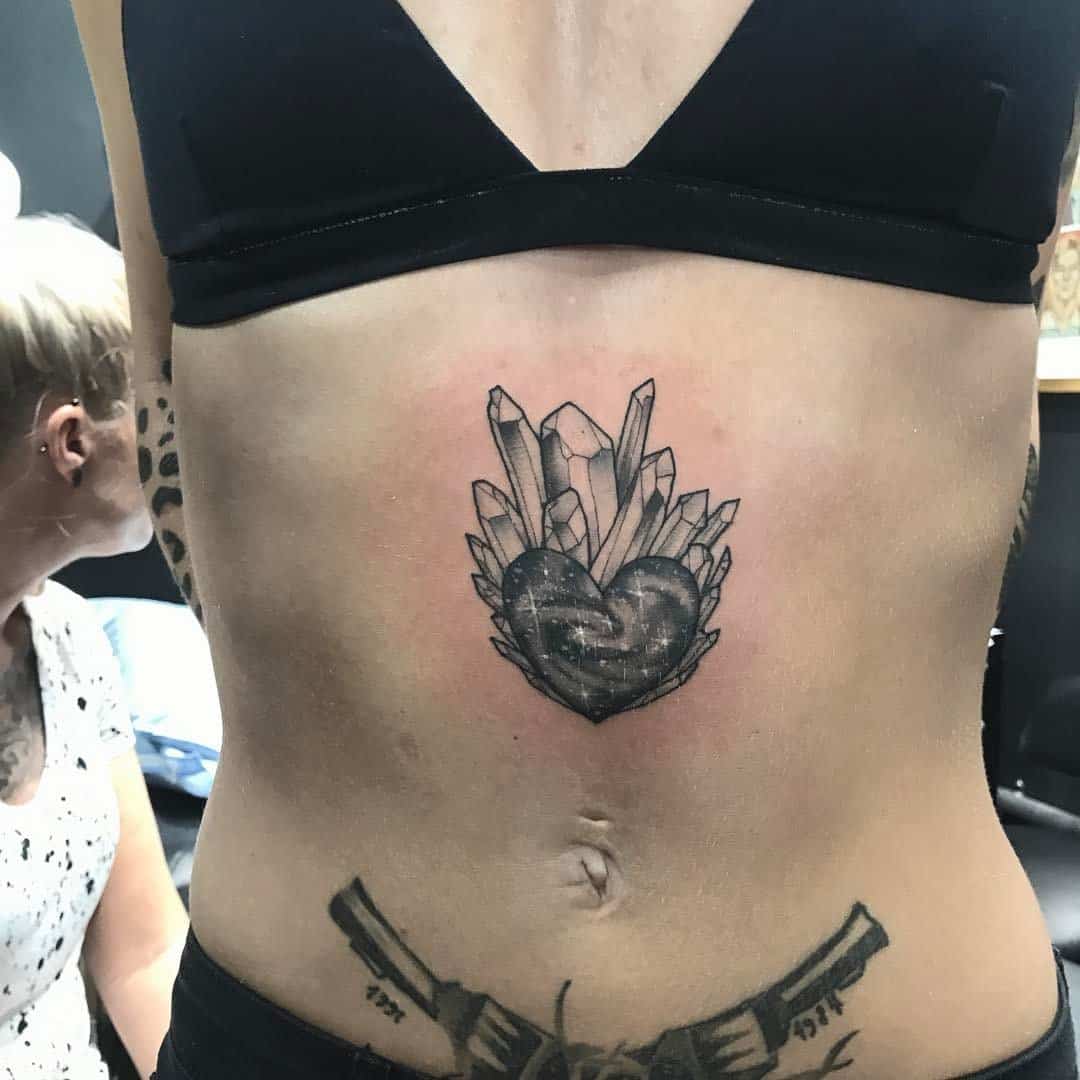 Some people want a simple heart, while others want to take things to a more complicated level. If you belong in the latter group, here's an idea you can use.
5. Keyhole Lace Heart with Lace Flowers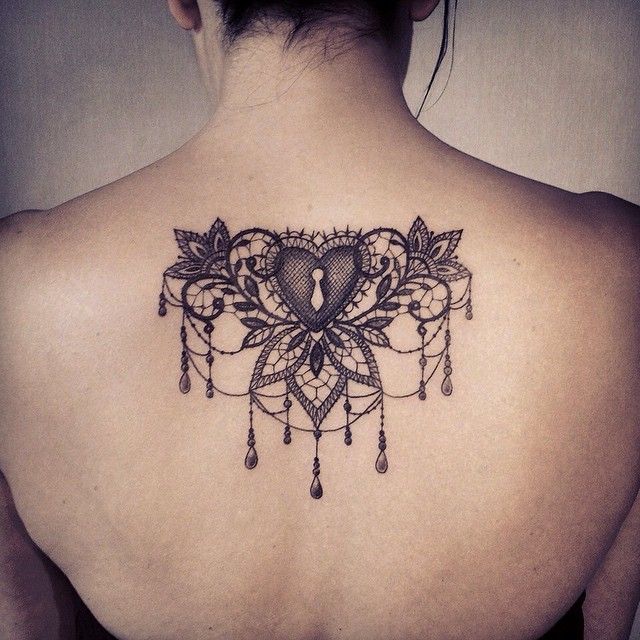 Speaking of taking things to the next level, I have another option for you. This tattoo will take over your entire upper back section. But you'll get one amazing tattoo. The lace is perfect for expressing your romantic side. And you've got to love a heart that looks like a dream catcher!
6. Black Jewelry Heart with Yellow Flames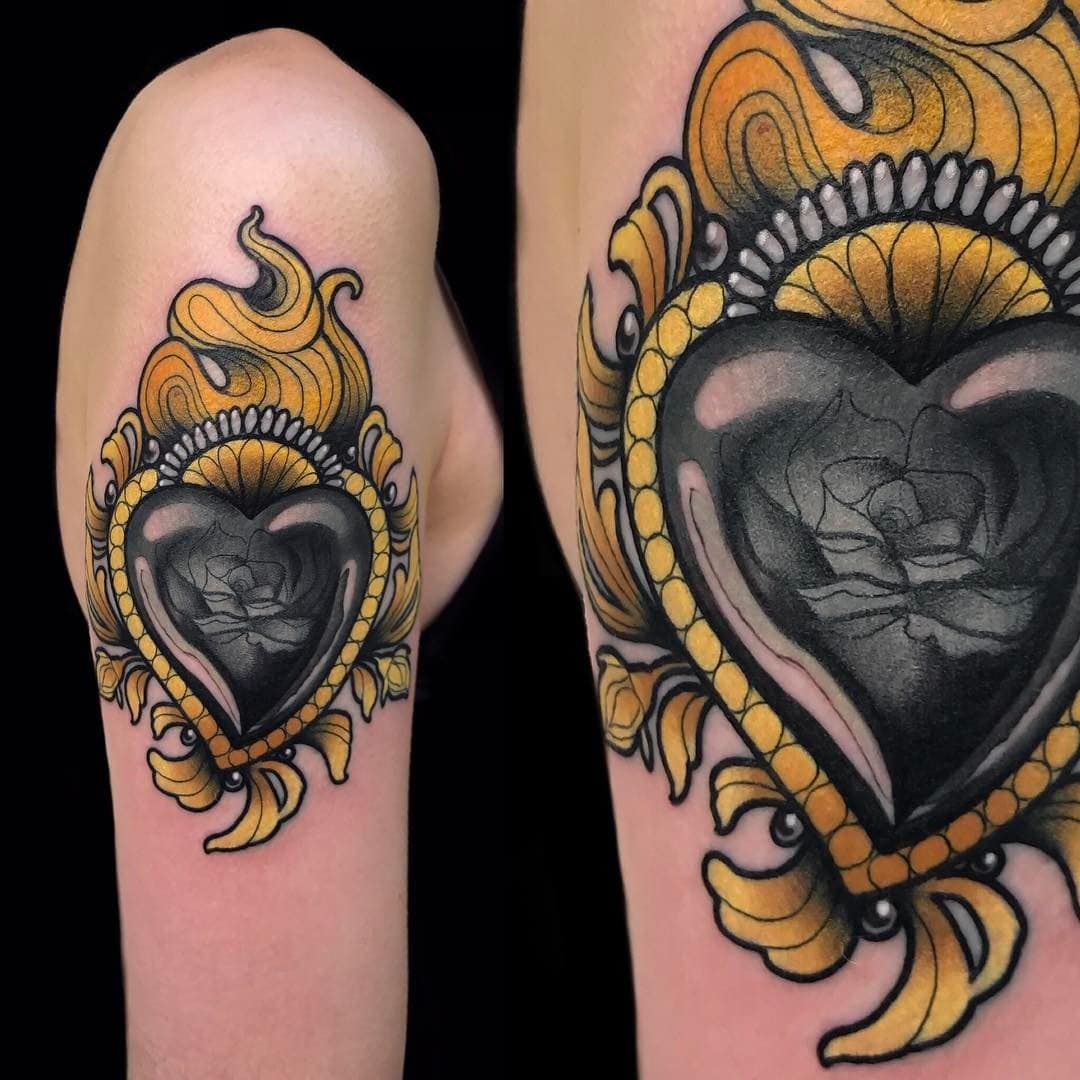 In most cases, a heart tattoo is either red or black. Or, as we saw earlier, a combination of blue and red. But sometimes, people want to show colors. The red flames symbolize the fierce emotion—the determination—you have in your love life. And it's certainly mesmerizing.
7. Wrist Name Heart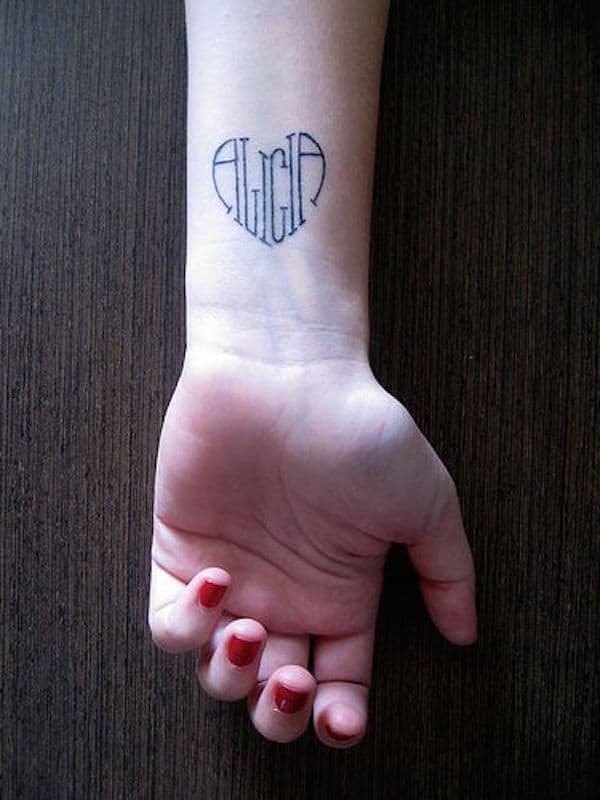 To be fair, not all names can be drawn in the shape of a heart, but Alicia is one of those that works. When I think of that name, I think of Alicia Keys, one of my favorite singers. And you never know—there are fans out there who might use this idea to show their love for Alicia.
8. Hearts on Back of Ankles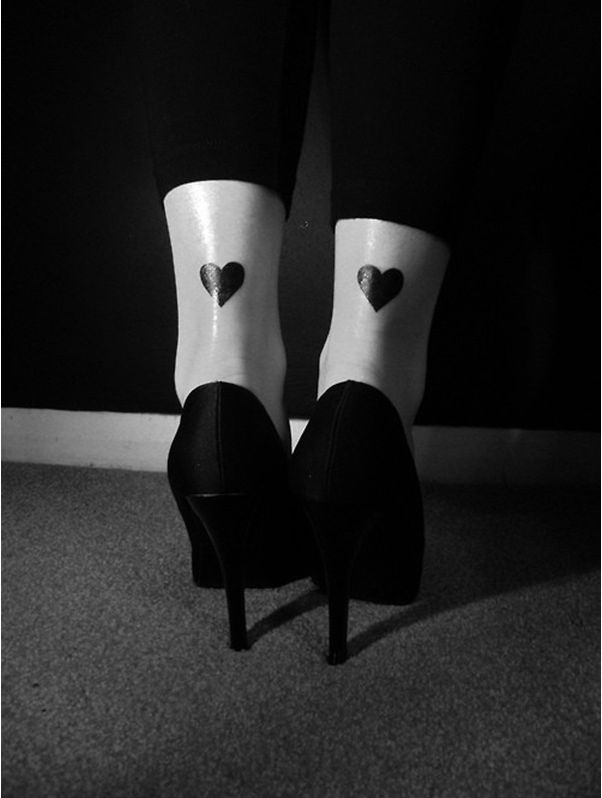 Some people are affectionate, and some people just don't show their love in public. The same applies for heart tattoos. Some people want to show their tattoo, and show it publicly. Others want to be more subtle. For those who are not as courageous and ready to show their heart tattoos, the back of the ankle is a perfect place.
9. Faith-Hope-Love Heartbeat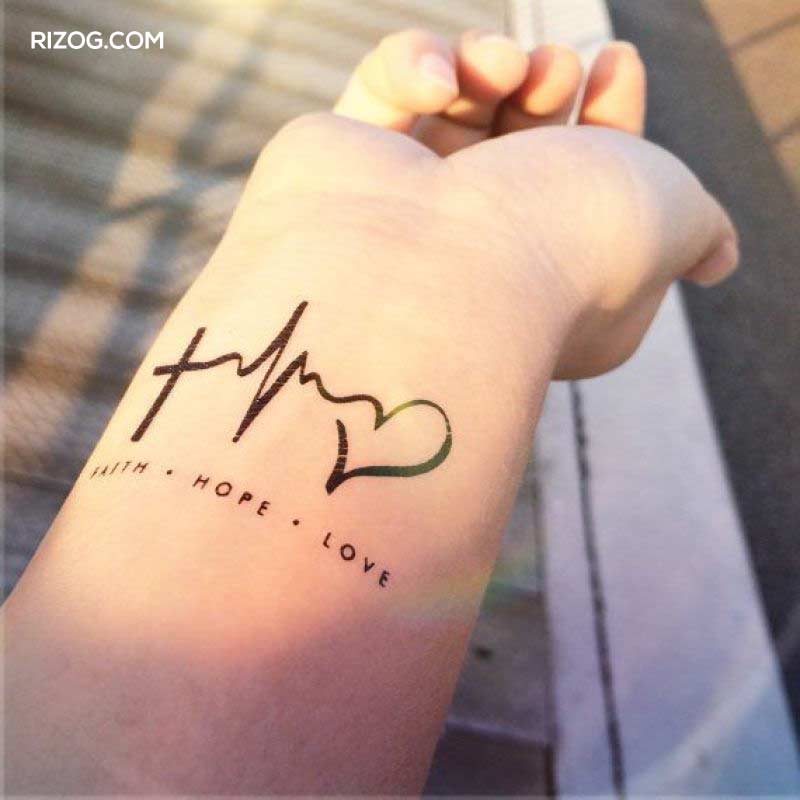 Faith, hope, and love—three words that go so well together. And all of them wrapped in a perfectly-drawn heartbeat finishing with a heart. Definitely one of the more artistic and creative tattoos on the list. Well-thought-out for sure.
10. Ornament Heart on Shoulder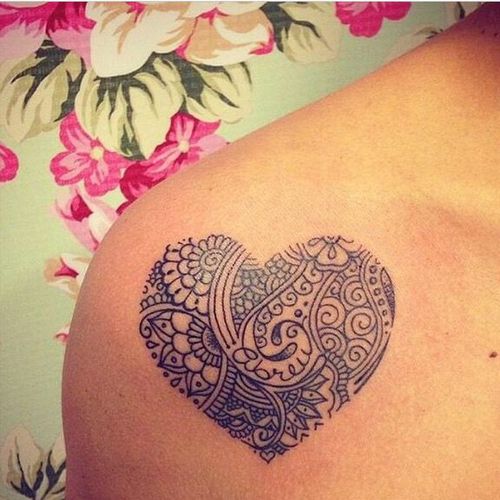 There are many ways you can draw a heart. And many techniques you can use. Ornaments are just one of those techniques. But I must say, ornaments make the heart look very detailed and whimsical.
11. Rebel at Heart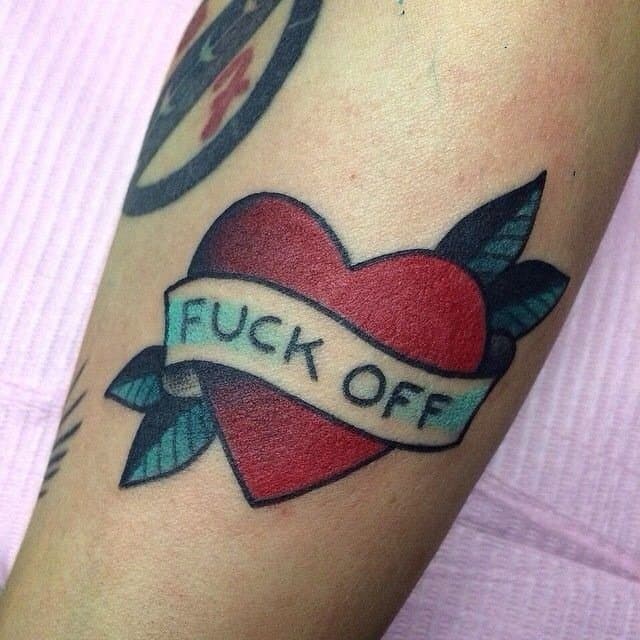 I've seen this tattoo design a few times already. There are just some people who want to tell the world to "get off their back."
12. Hearts Down the Spine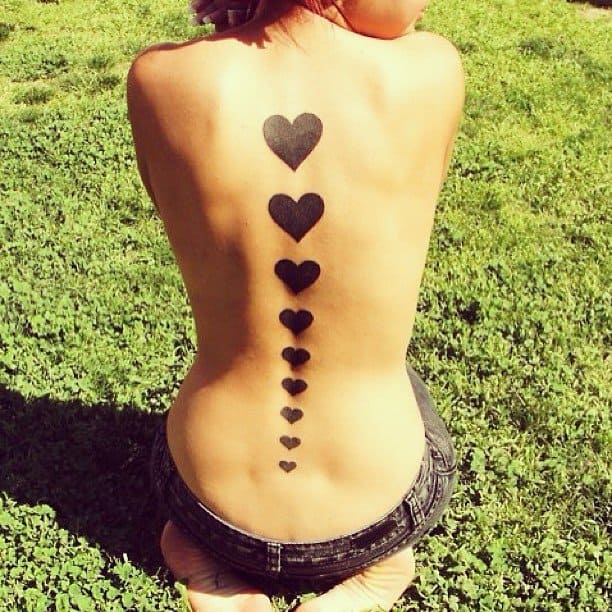 Your spine will never look as beautiful as this one. Who wants to see bones on your spine? No one! You can imagine people would love to have hearts down their spine instead of bones!
13. Red Crystal Heart with Black and White Roses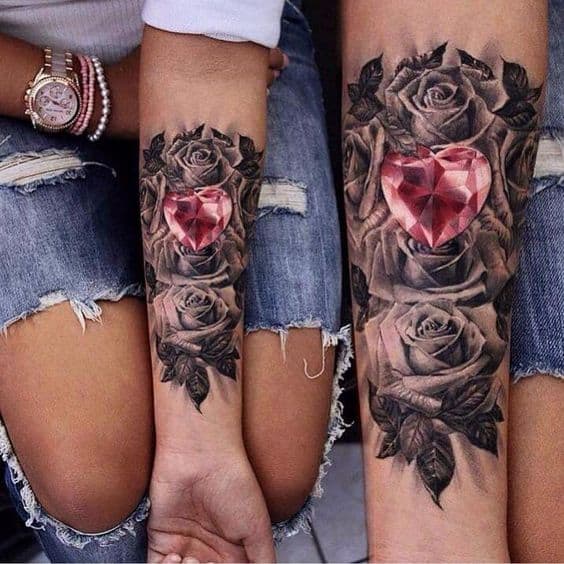 As I've mentioned a few times already, there are simple heart tattoo designs, and there are complex heart designs. This one falls in the latter category for sure. The good news is that you can paint your entire arm with the tattoo.
14. Anatomic Heart Vase with Colorful Roses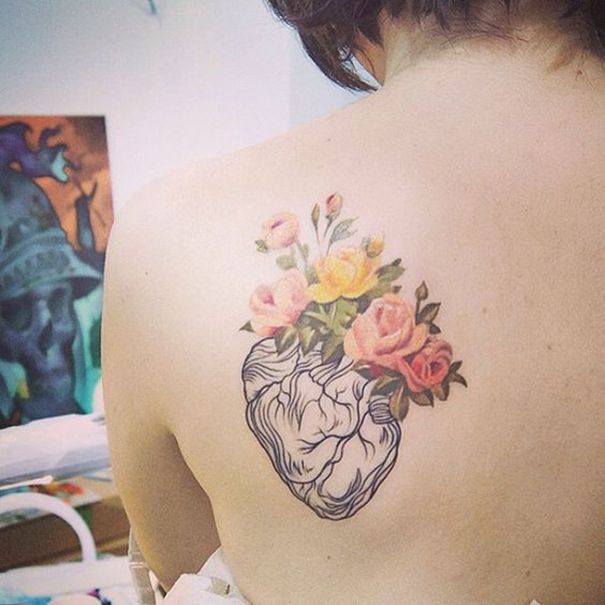 Hearts and flowers. Now those two things go hand in hand, don't they? Both are very closely linked to the idea of love. And I love how the heart is drawn so that it "pumps blood." I'd love to see more colorful flowers, but that's just me.
15. Heart of Waves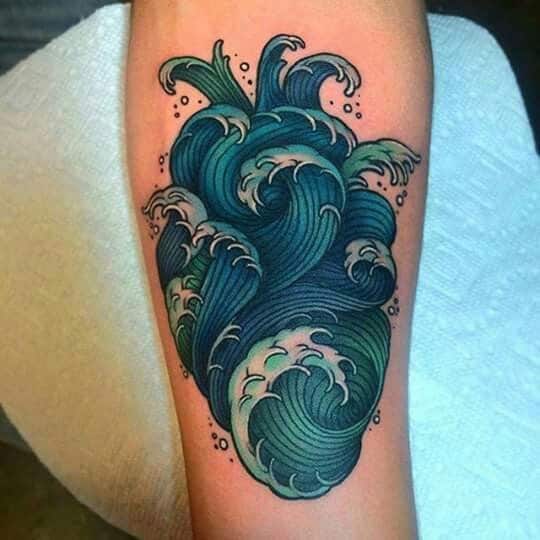 I said previously that there are different techniques you can use to draw a heart. We had an ornament heart, and now we have a waves heart. This one gives your tattoo a more dynamic flow and playfulness.
16. Tribal Heart on Foot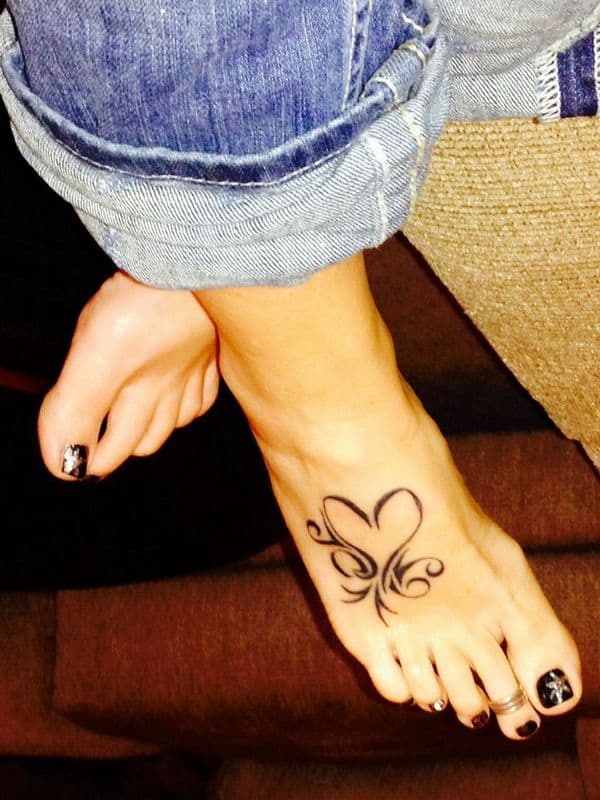 Anytime I'm doing a tattoo list, I found myself writing about a tribal design. You just can't escape the tribal. The design and technique is so versatile: you can apply it to any tattoo and to any spot on your body.
17. Family Hands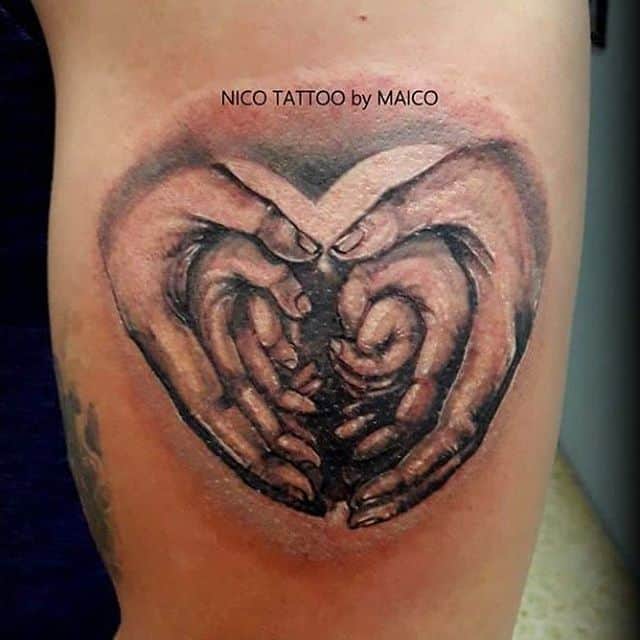 When you have two people in love, their hearts blend together. That's what this tattoo symbolizes. In the same way we hold our hands together, our hearts beat together to the same rhythm.
18. Matching Cross Heart on Wrists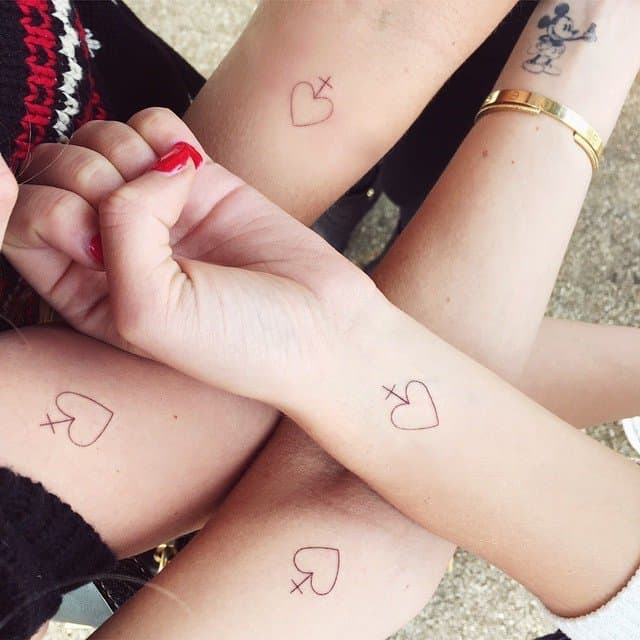 I know a lot of people who want to get matching tattoos with their friends. Even Rihanna has a matching tattoo with her friends. I know there are many ideas and options for a matching tattoo, but doesn't love conquer them all?
19. Dotted Flower Heart Design
At first glance, this tattoo looks simple and easy. But anyone who has ever had a dotted tattoo knows the pain. Dots require so much time, attention to detail, and patience. The end result is always worth the effort, but it's really a matter of who can tolerate it.
20. Geometric Heart on Chest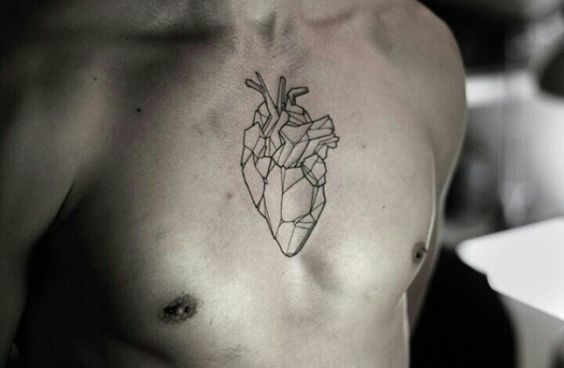 You can put geometry in the same sentence as tribals. Truth be told, geometry has taken our world by storm; it's become one of the most popular trends in almost every aspect of our lives. Fashion? Check! Interior design? Check! And now tattoos? Check!
21. Ankle Bracelet with Heart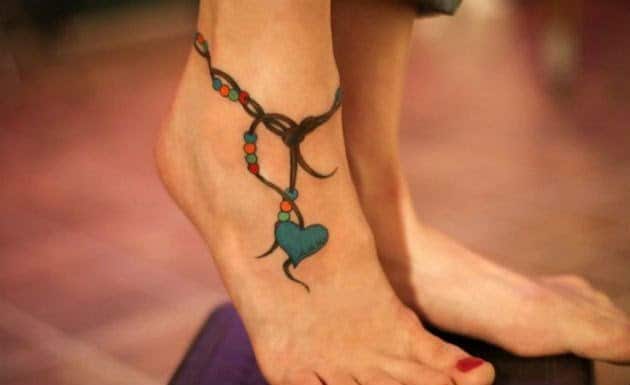 The ankle bracelet is definitely one of the most popular girly tattoos. I know a lot of girls opt for the ankle bracelet—especially those who want to get a tattoo, but don't want the whole world to know it. The ankle is the perfect place to hide your tattoo, your heart included.
22. Tiny Peace Sign in Heart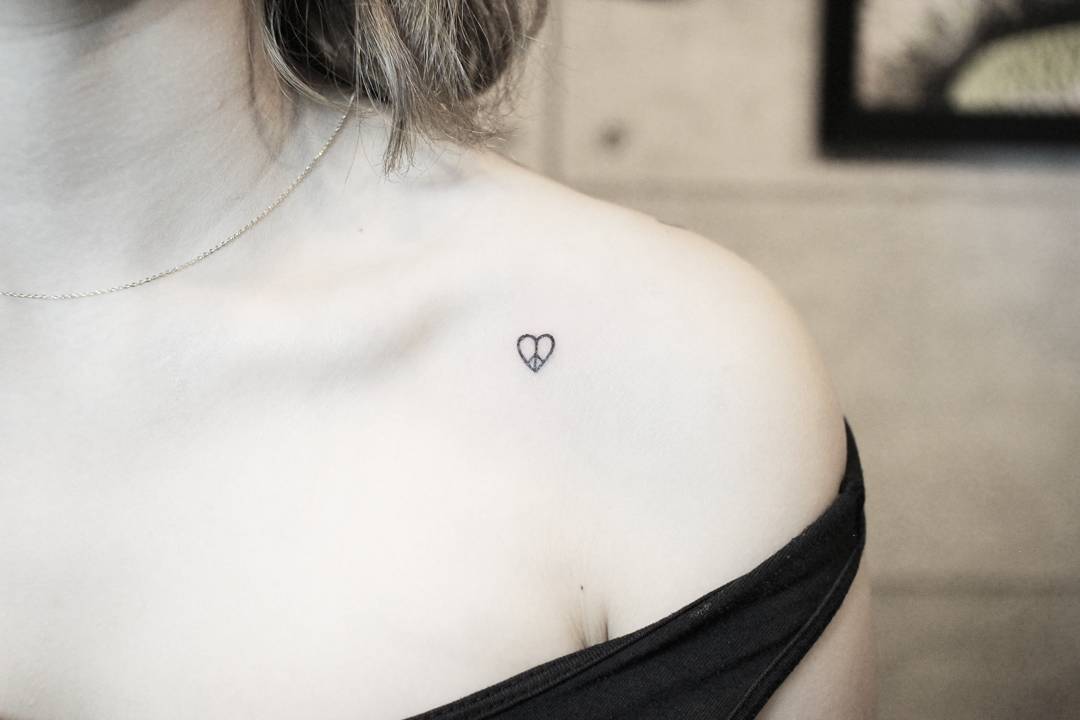 Sometimes, even the smallest details can make a difference. In that spirit, a tattoo doesn't have to be huge and voluminous. A simple, small heart is all that some people want. And I have nothing against that.
23. Winged Heart Lock on Pelvis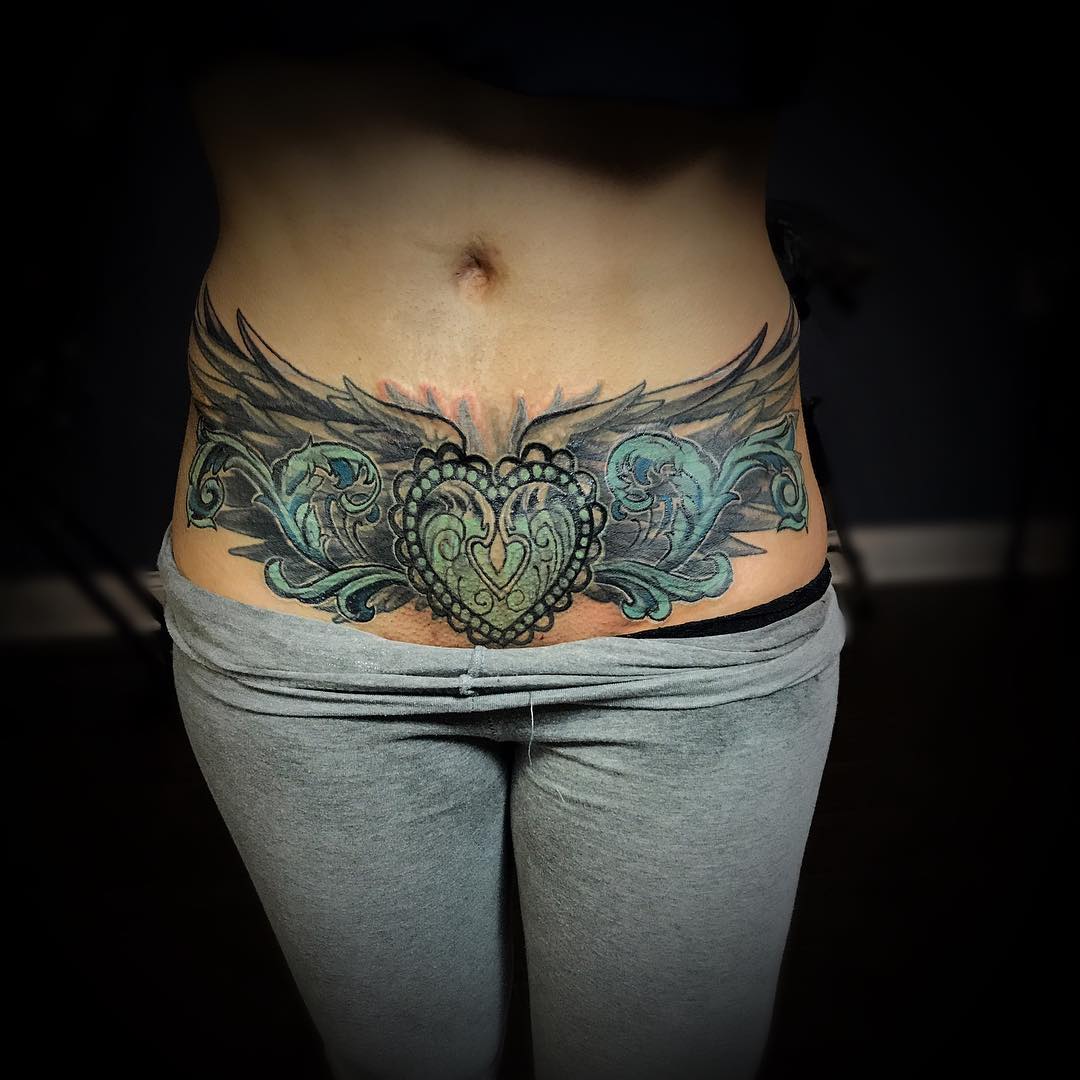 I assume that the pelvis will become a popular area for girly tattoos in the coming years. We had the area above the butt, the area under the breast, and now the pelvis looks like the next best thing. I want to get you ready for what's coming. The heart is a perfect tattoo design for the pelvic area.
24. Minimalist Heart-Shaped Roses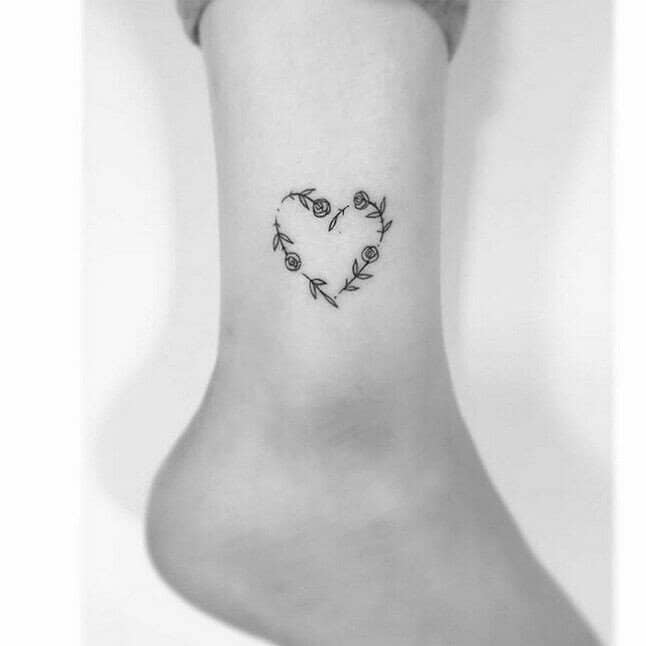 As mentioned, hearts and flowers go hand in hand. You can have a big tattoo with roses and a heart, and you can have a small and subtle one. It all comes down to what you want and what you need. And, of course, how comfortable you feel.
25. Pierced Heart with Dagger Quote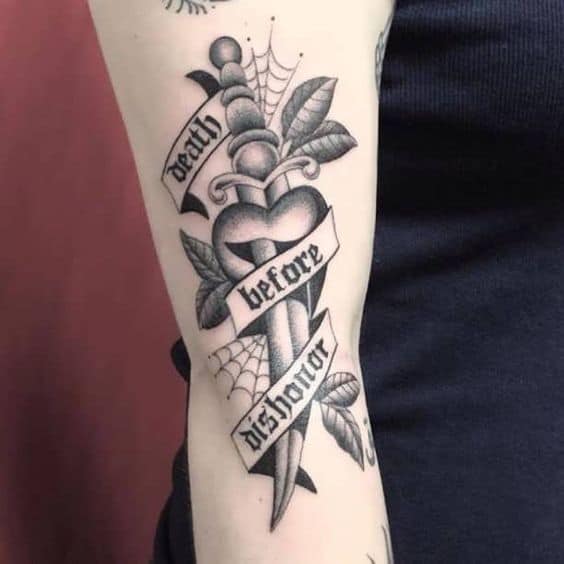 If you remember, earlier we had the "fuck off" heart tattoo. And I noted that it's one of the most common tattoos. The dagger with words is right there also. You can write whatever you want: some people opt for a personal message, others opt for a popular quote.
26. Anatomic Geometric Heart
I've also noted that geometry is a huge trend. Mix it with some anatomy, and you have two school subjects in one tattoo! And besides, this tattoo shows the heart as close to the natural shape and form as possible.
27. Black and White Heart with Flowers on Leg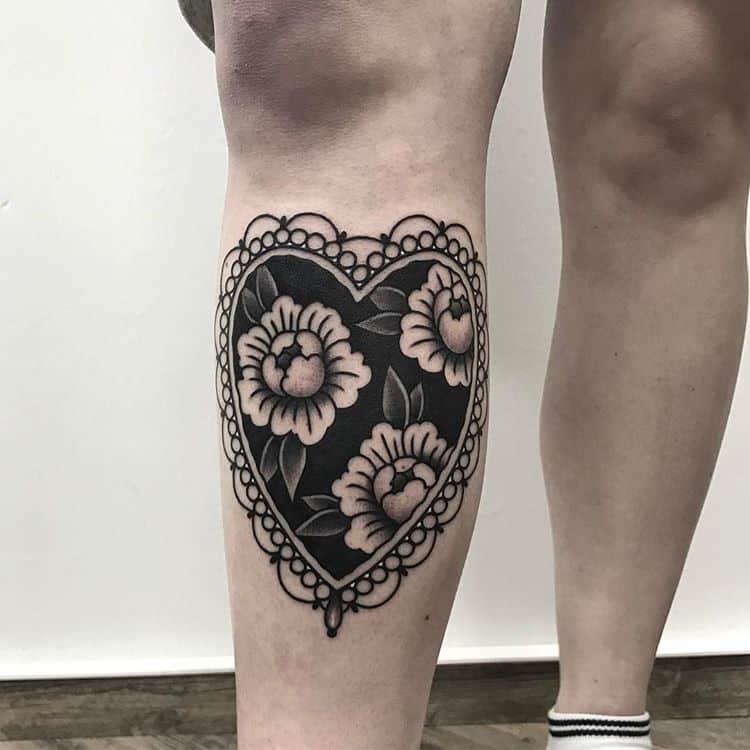 This tattoo reminds me a lot of the tablecloth my grandparents often used. You remember those lace, hand-sewn fabrics? Well, apparently, they're popular even now. Jokes aside, the tattoo looks sleek.
28. Heart-Shaped Diamond on Ribs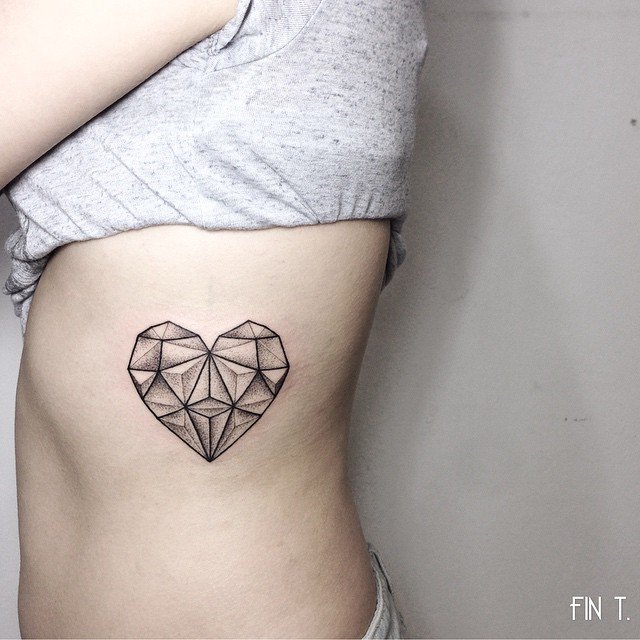 Being that I am a huge fan of minimalism, it's only fitting that we finish off with a tattoo in that spirit. Not much philosophy here. A diamond-shaped heart. Small, but not too small to cover a good portion of your rib area.
With that in mind, I hope you found some inspirational designs. If you have any other ideas, feel free to share them with the rest of us.