Every Halloween, we are all looking for the next best thing to celebrate the holiday. And always, one of the first things that come to mind are costume, Halloween decorations, and Halloween desserts.
Well, today we will talk about an unconventional, but perfectly cute way to pay tribute to Halloween. In the era of tattoos, and the rise of popularity of tattoos, it would be only logical to find some Halloween-themed tattoos.
And no, they are not all spiders, pumpkins, and bats. Tattoo artist are some of the most creative people you'll meet, and they have given us so many ideas to try. Let's take a look.
1. "Haunt Me" Ghost And Witchy Pumpkin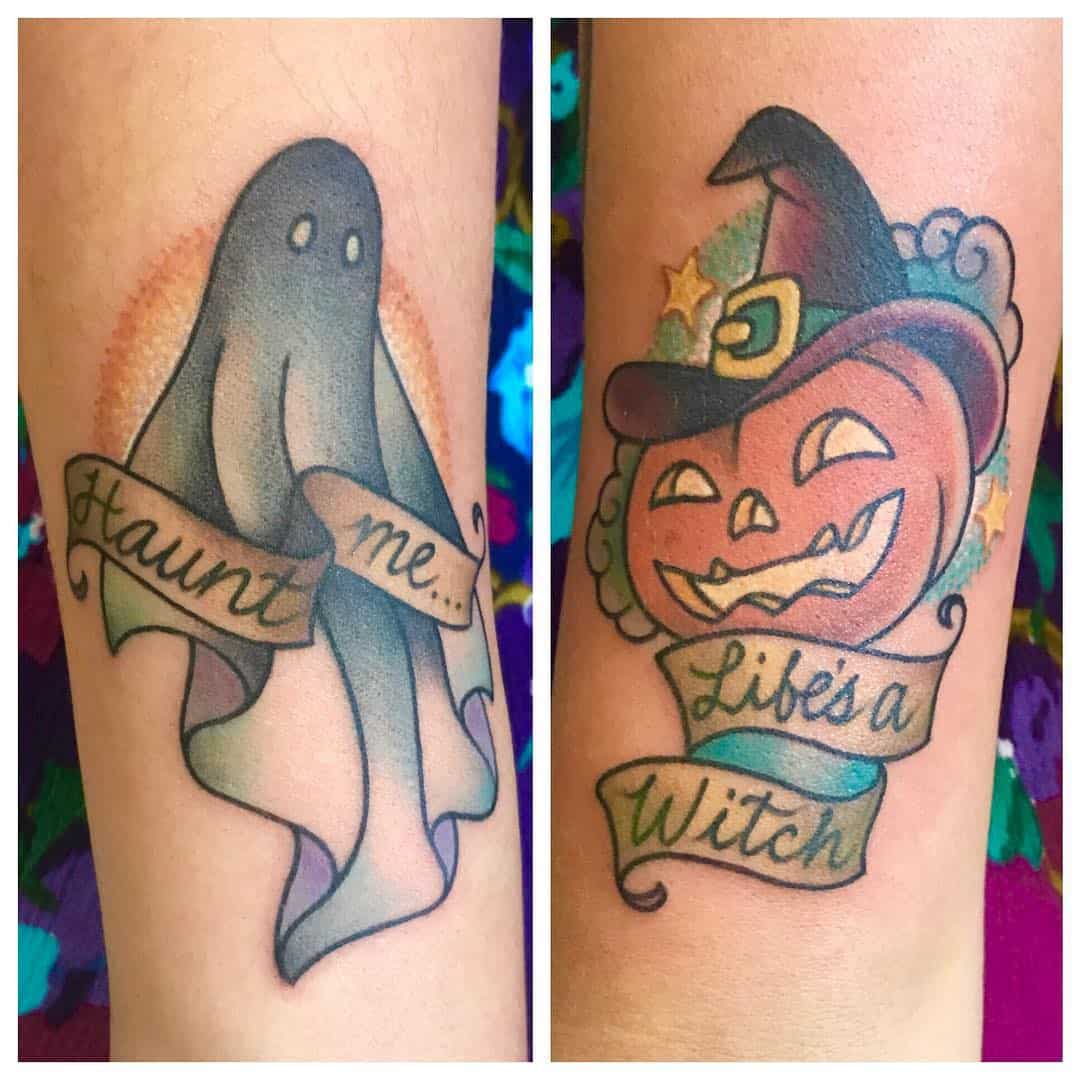 We start off with the classic Halloween theme. And that is pumpkin. But since this is a tattoo, and you want something edgier and with more sass, we go for a scary pumpkin. Just look at this Jack-O-Lantern.
2. Medusa Baby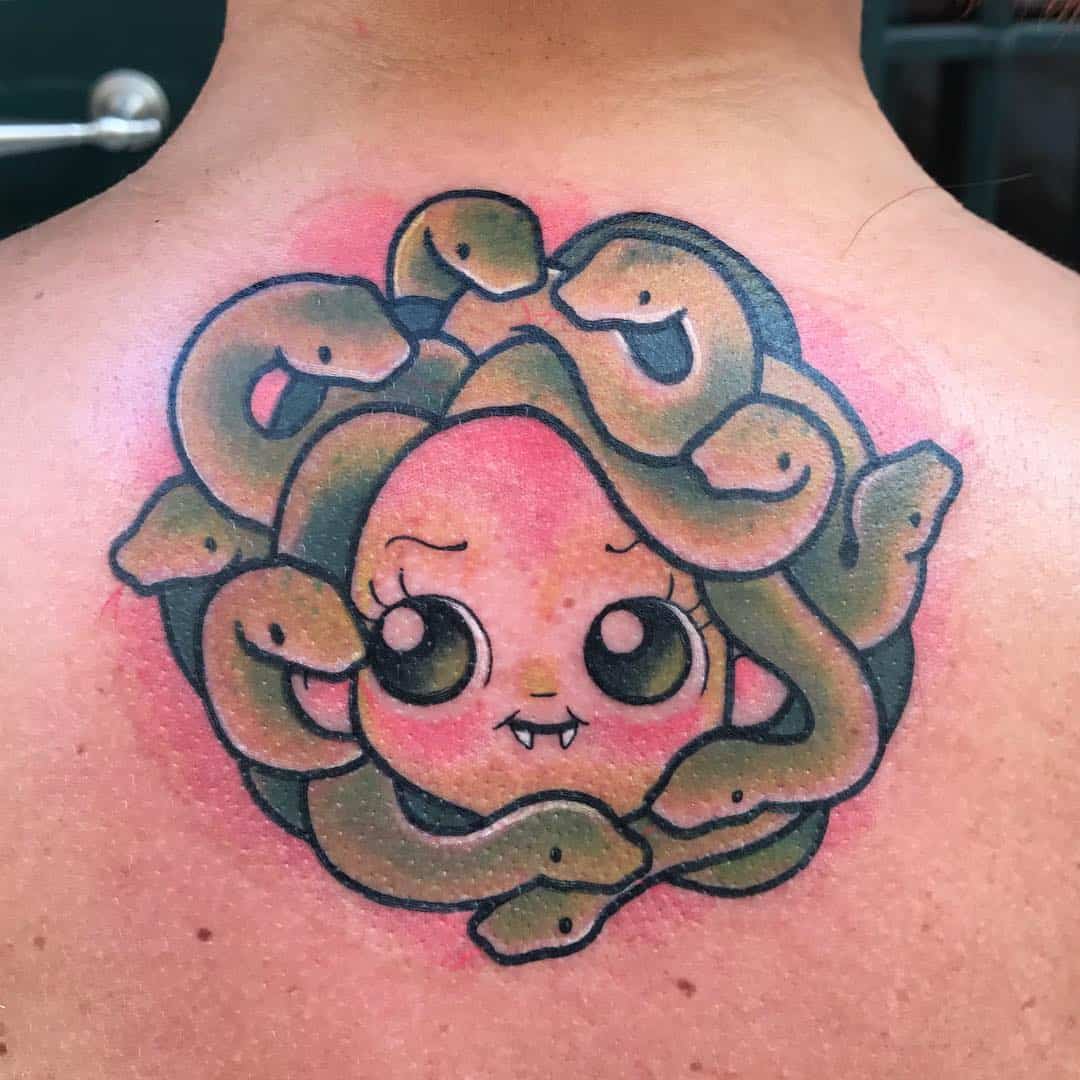 Have you seen anything cuter and creepier in the same time? I know I haven't seen something as adorable and as scary in a while. Plus, the medusa is tied with all sorts of legends, giving your tattoo a bit of mystery.
3. Jack-O-Lantern Teapot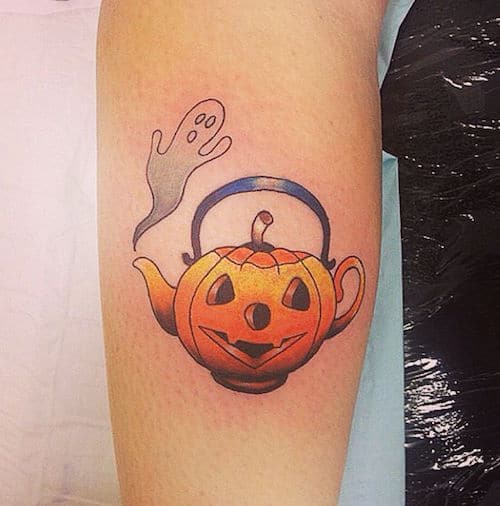 As most of the tattoos on this list, this one looks beautiful and scary in the same time. While the idea of Halloween is to scare people off, you can do that in a cute way as well. This Jack is a perfect proof for that idea.
4. Ghouls In A Tub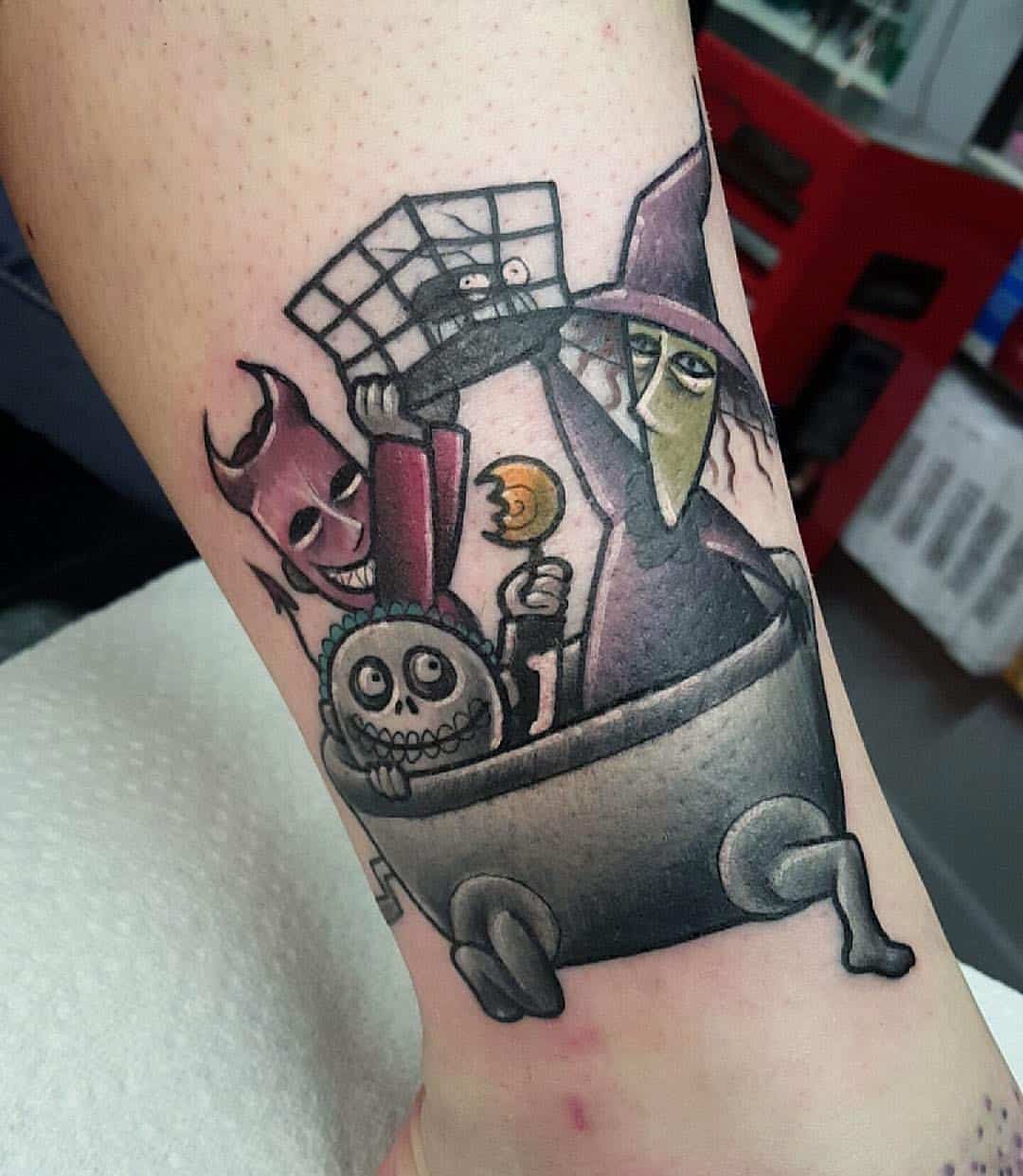 I said previously that tattoo artist are extremely creative and artistic. Talk about thinking outside of the box. I just cannot stop but gaze at these ghouls and how much fun they are having. Don't you just wish to join them, even for a split second?
5. Black Pumpkin Cat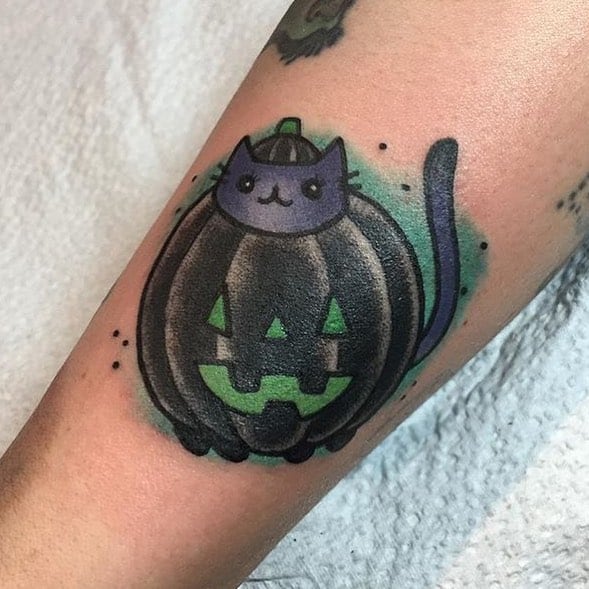 Black cat is one of the symbols of Halloween. While it is more of a Friday 13th theme, the scary cat is also part of the Halloween lore and mythology. And what you get when you combine two popular Halloween symbols? A black pumpkin cat, of course.
6. Black And White Witchy Face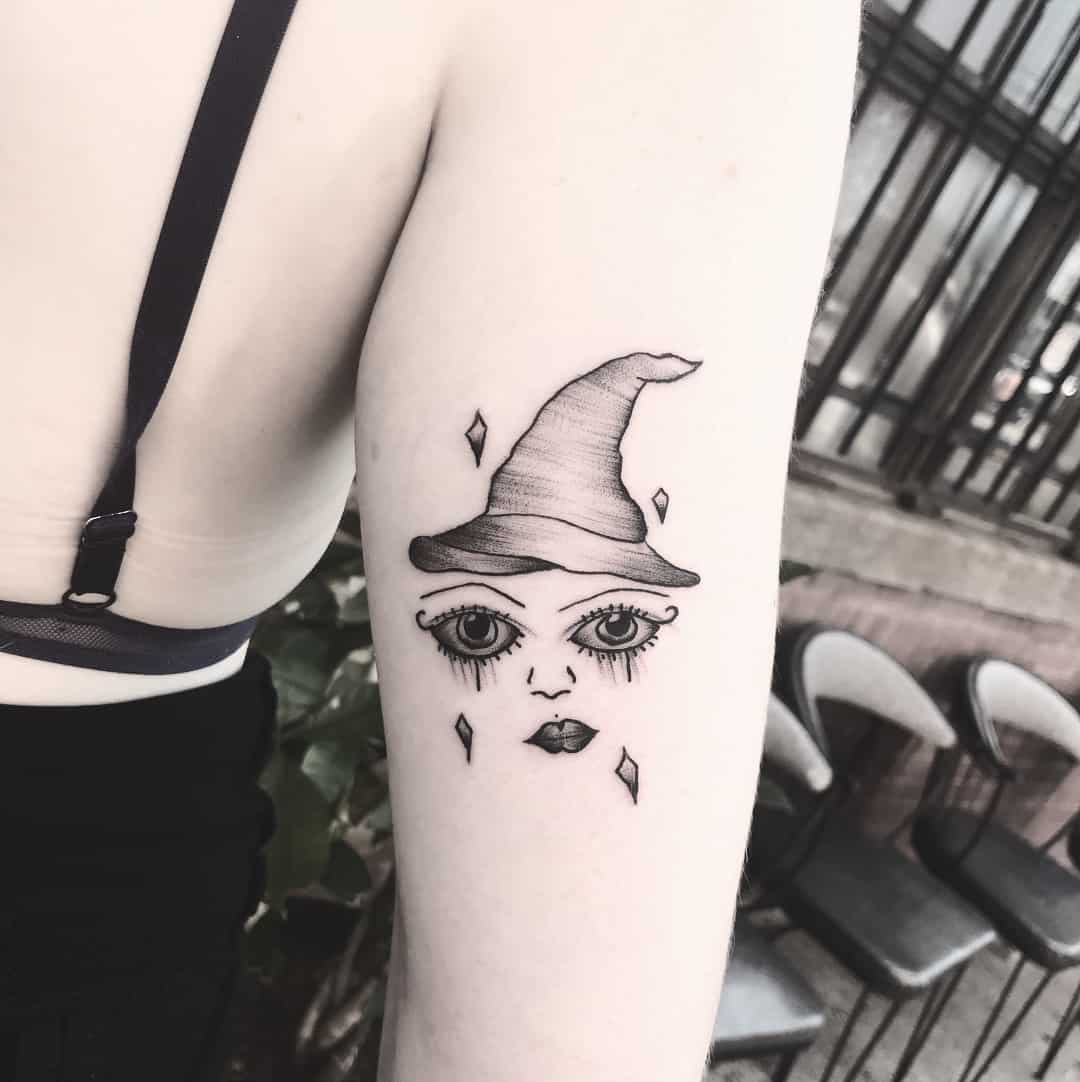 I love to marvel at artistic tattoos. This is one of those tattoos you just cannot stop looking at. It looks so real, so emotional, and so touchy in the same time. It is a Halloween tattoo, but also an everyday tattoo. So many emotions there.
7. Tiny Halloween Faces On Fingers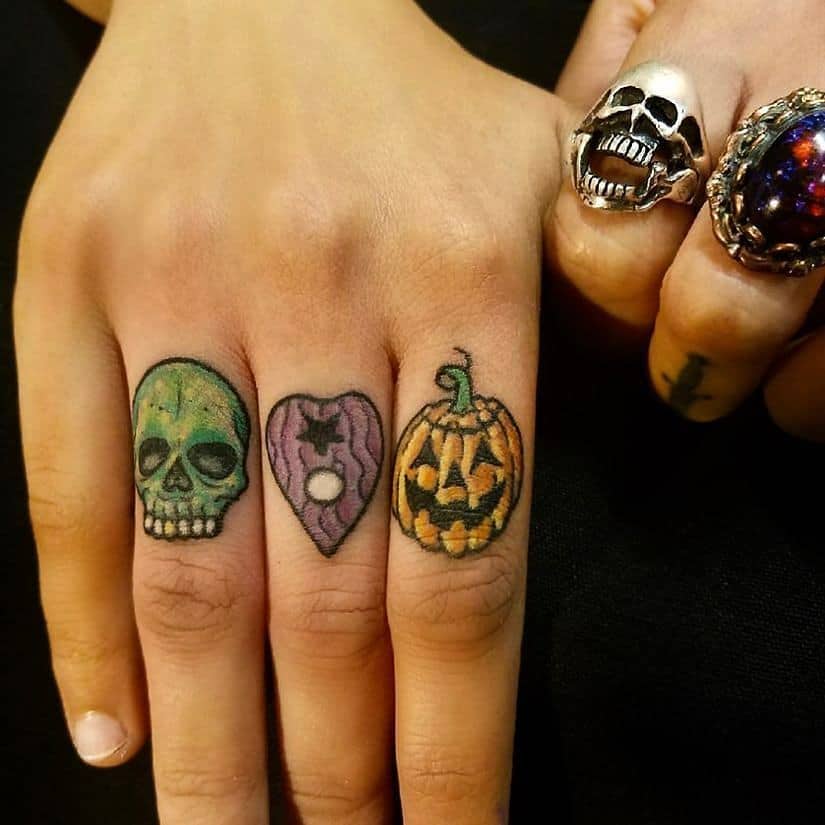 Some people go for one tattoo, others go for many. That is the case here as well. Instead of one large Halloween tattoo, you can do one on each of your fingers. In the same way you add different nail polish on each nail.
8. Candy Corn Crying Jack-O-Lantern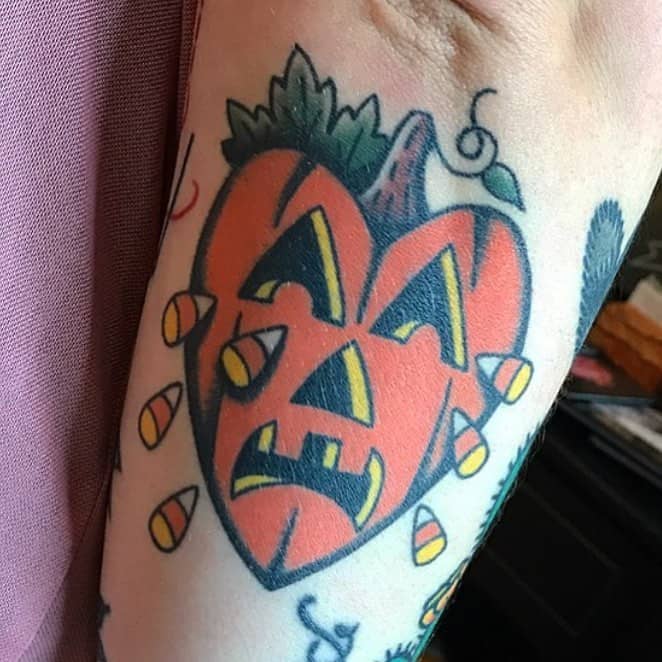 I love it when people mix different Halloween symbols in one tattoo. For example, the Jack is a staple in Halloween decorations. And the candy corn is one of the most widely recognizable Halloween treat. Tasty, isn't?
9. Too Cute Tombstone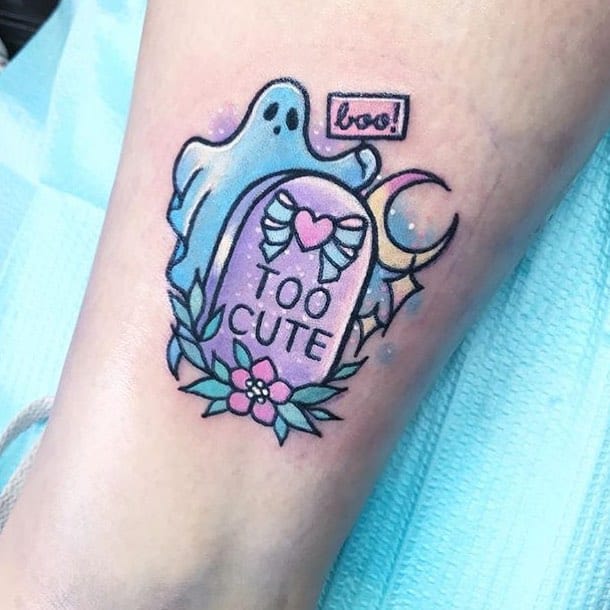 This tattoo has everything. You have the ghost with the popular "Boo", and then you have a tombstone that reminds us of death. But even death can be cute at times. And when you look at the colors, they are just amazing. Baby pink and baby blue? Sign me in.
10. Minnie Mouse Jack-O-Lantern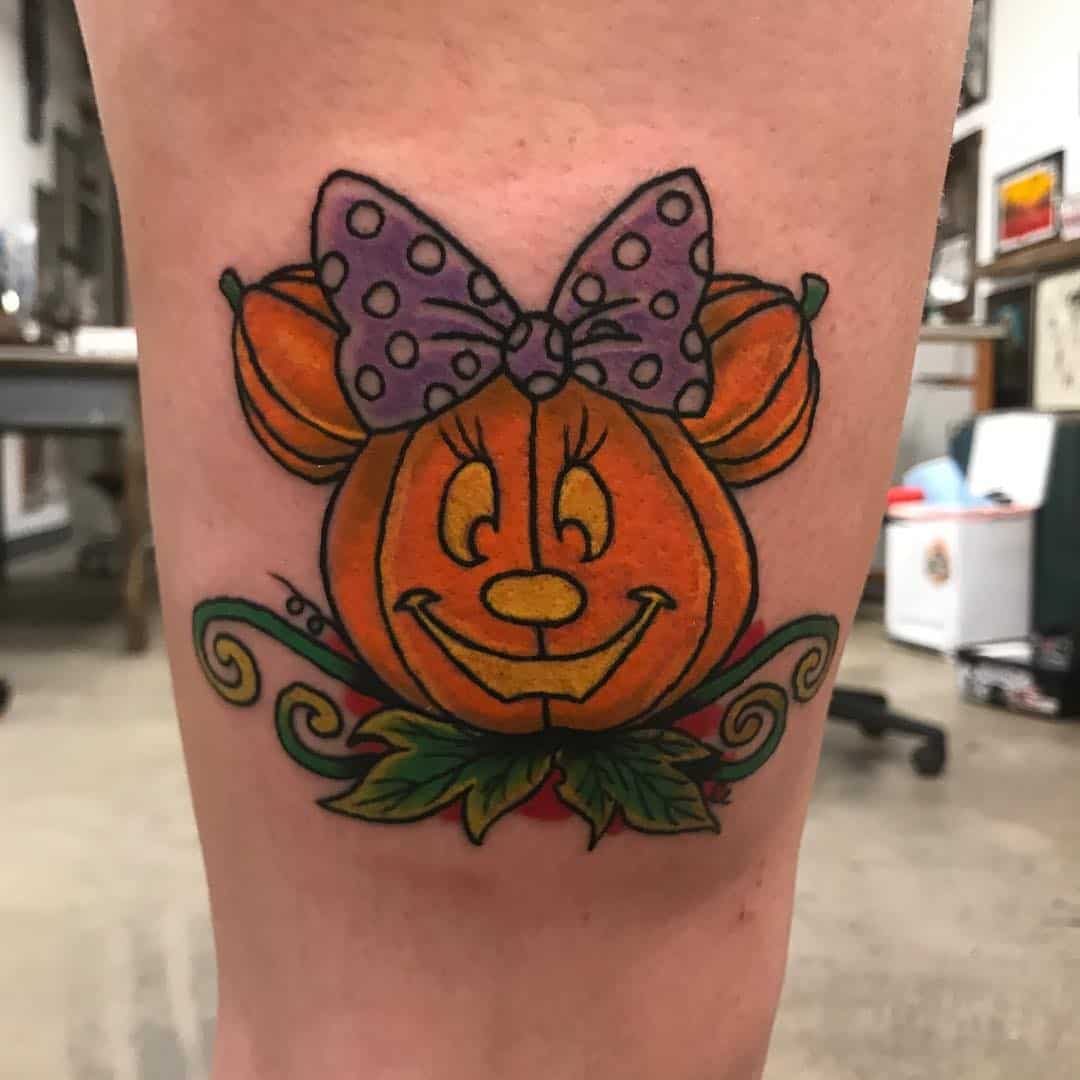 You can have so many different versions of Jack-O-Lantern. We had a scary one, a sad one, and now we get a Disney remake. Who knew Minnie can look so good as a pumpkin? Do not tell that to Disney, all right?
11. Framed Halloween Night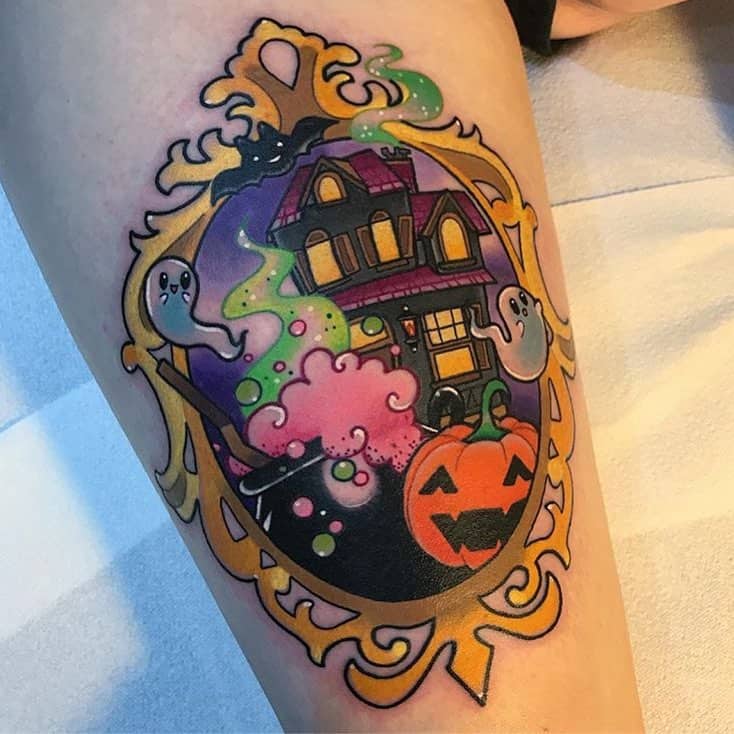 One of the common rules for tattoos is that they need to tell a story. Well, if you want to take it to the next level, your tattoo can tell a story from the beginning till the end. This Halloween house definitely tells the complete story of the holiday.
12. Halloween Sweethearts Candy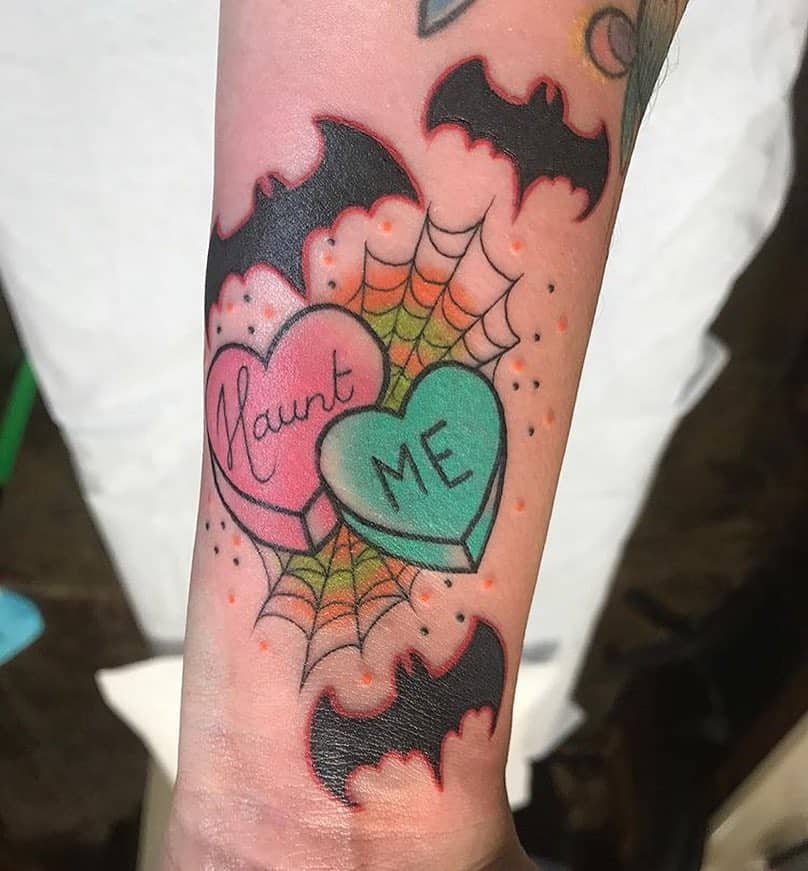 Tell me honestly, wouldn't you want to haunt somebody with a cute tattoo like this one? Well, he/she is calling for you. What are you waiting for? Jokes aside, the tattoo is definitely one of the better designs.
13. Cute Halloween Animals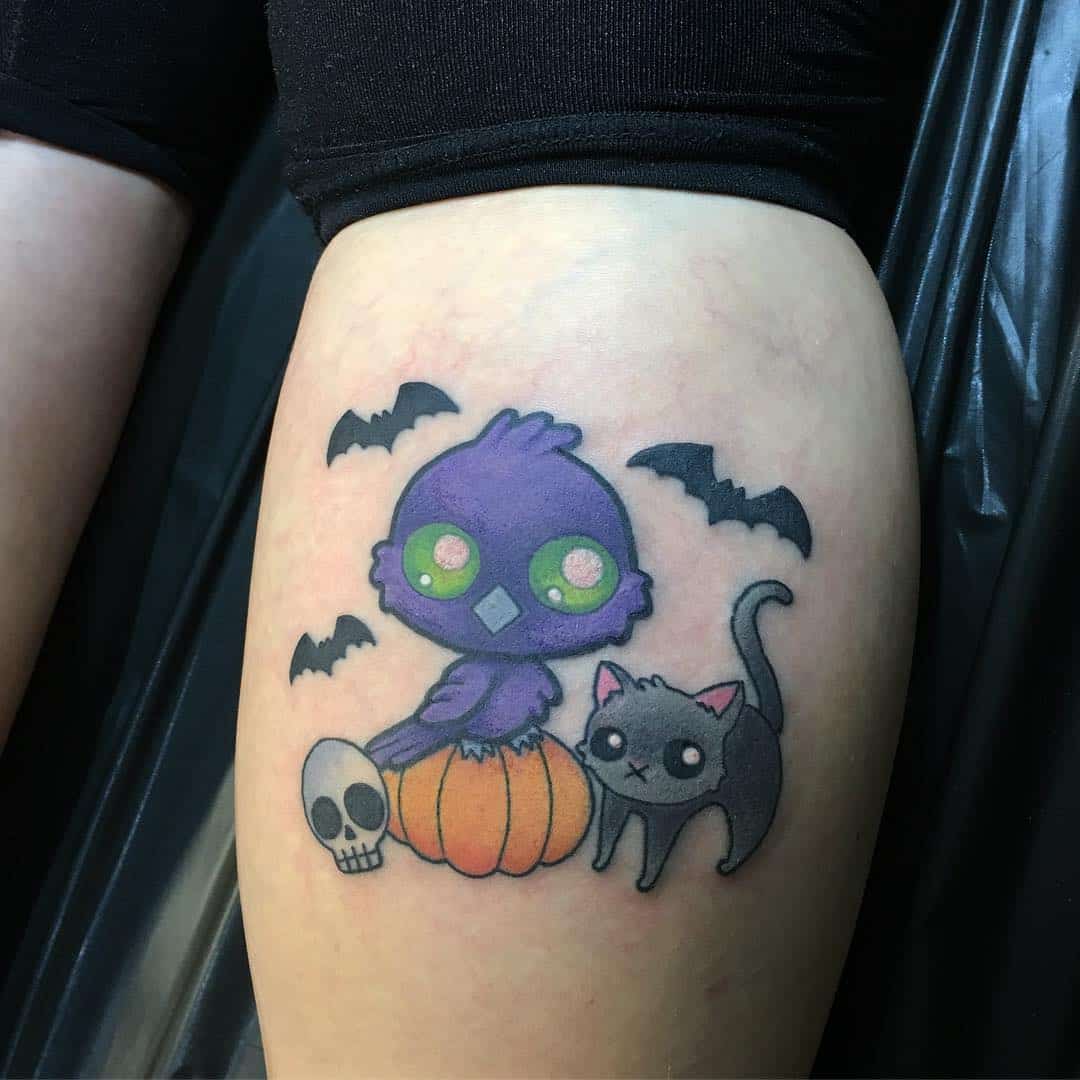 When it comes to Halloween, we all know the animals and creatures that make it to the final cut. Bats, black cats, skeletons, spiders, and so on. But do they always have to look creepy? Well, of course not. We can make them look cute, and have our own Halloween farm of adorable animals.
14. For The Love Of Boo's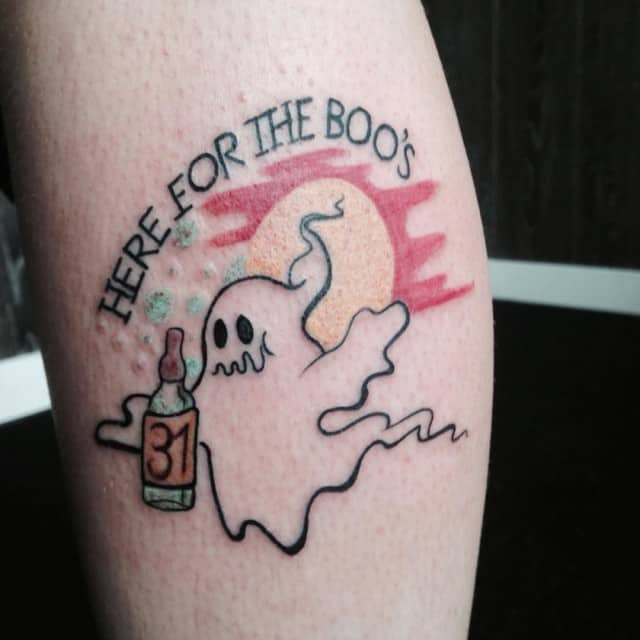 I just love it. The subtle message, the creativity, the imagination. It is remarkable. If you have troubles understanding the tattoo, just go to Google translate and listen to the pronunciation of Boo's. You'll understand it then.
15. Chihuahuas In A Jack-O-Lantern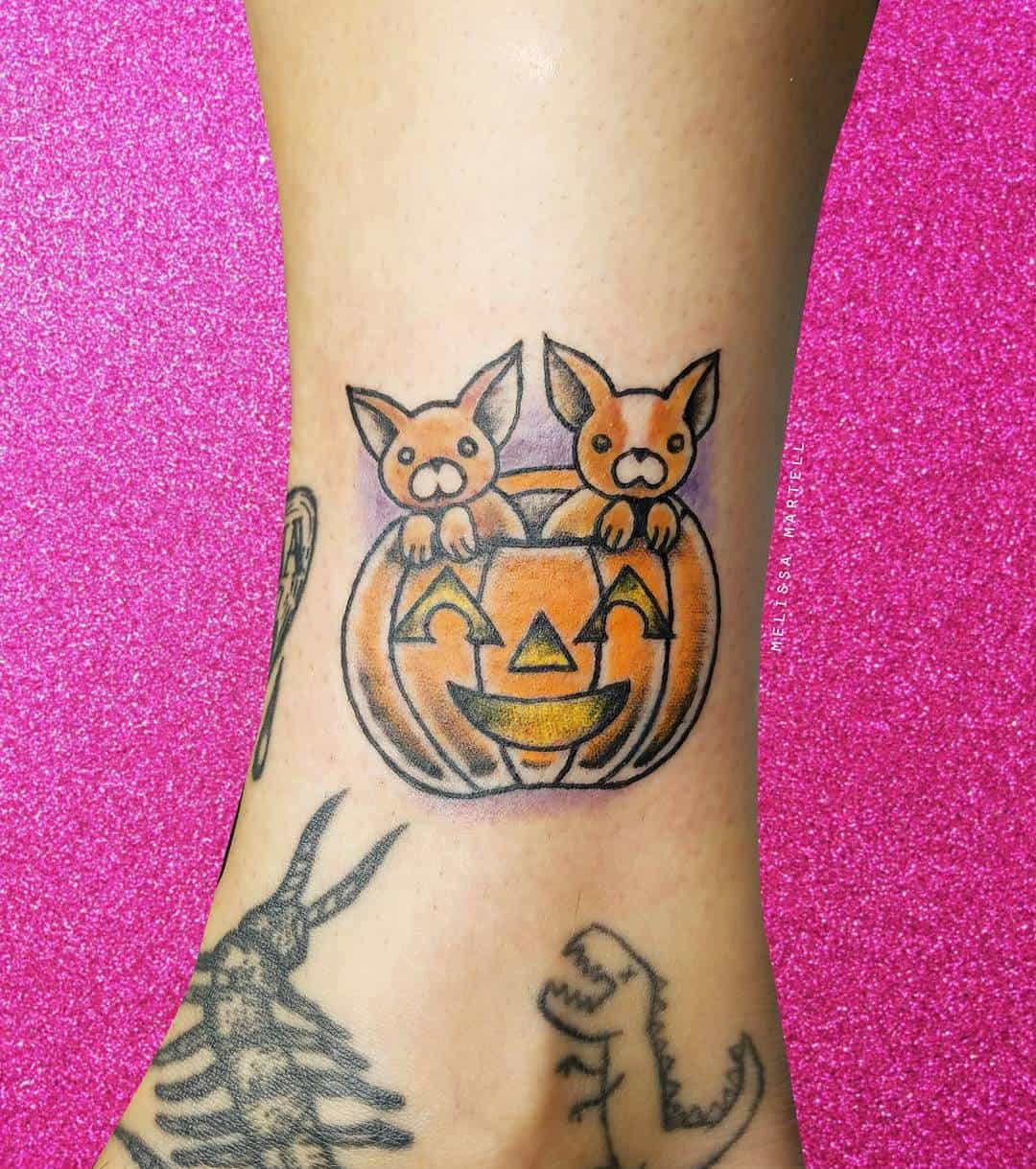 There are dog persons, and cat persons. Personally, I am a dog person. And I love all types of dogs. With that in mind, I have rarely seen something as cute as little Chihuahuas in a pumpkin.
16. Fuzzy Spiders With Candy Corn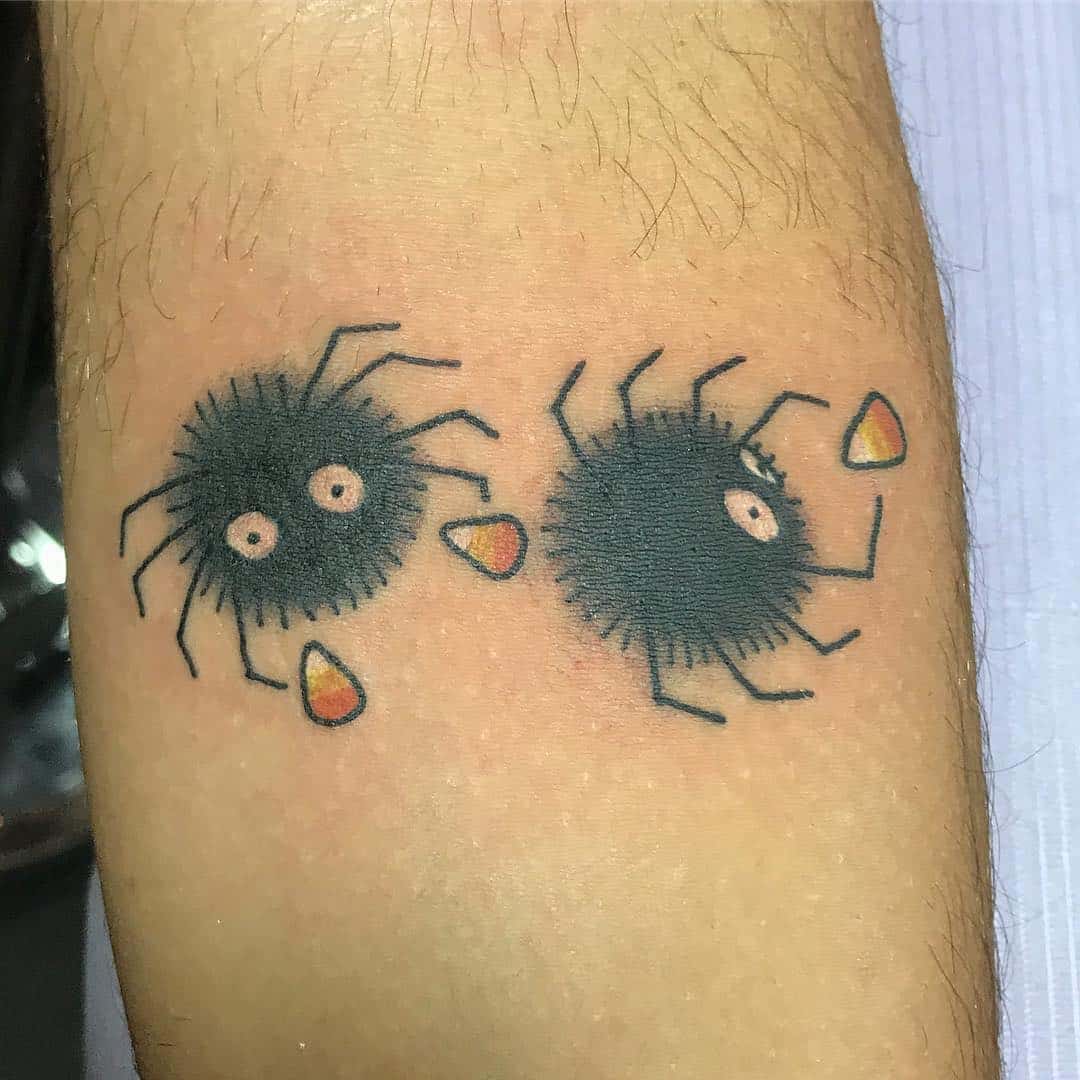 Here is your living proof that spiders can be funny and entertaining as well. Not all spiders have to be freaky, scary, and creepy. And who knew spiders can joggle? Apparently, all you have to do is give them some Candy corn, and they will joggle. Try it.
17. Frankenstein's Bride Chicken McNugget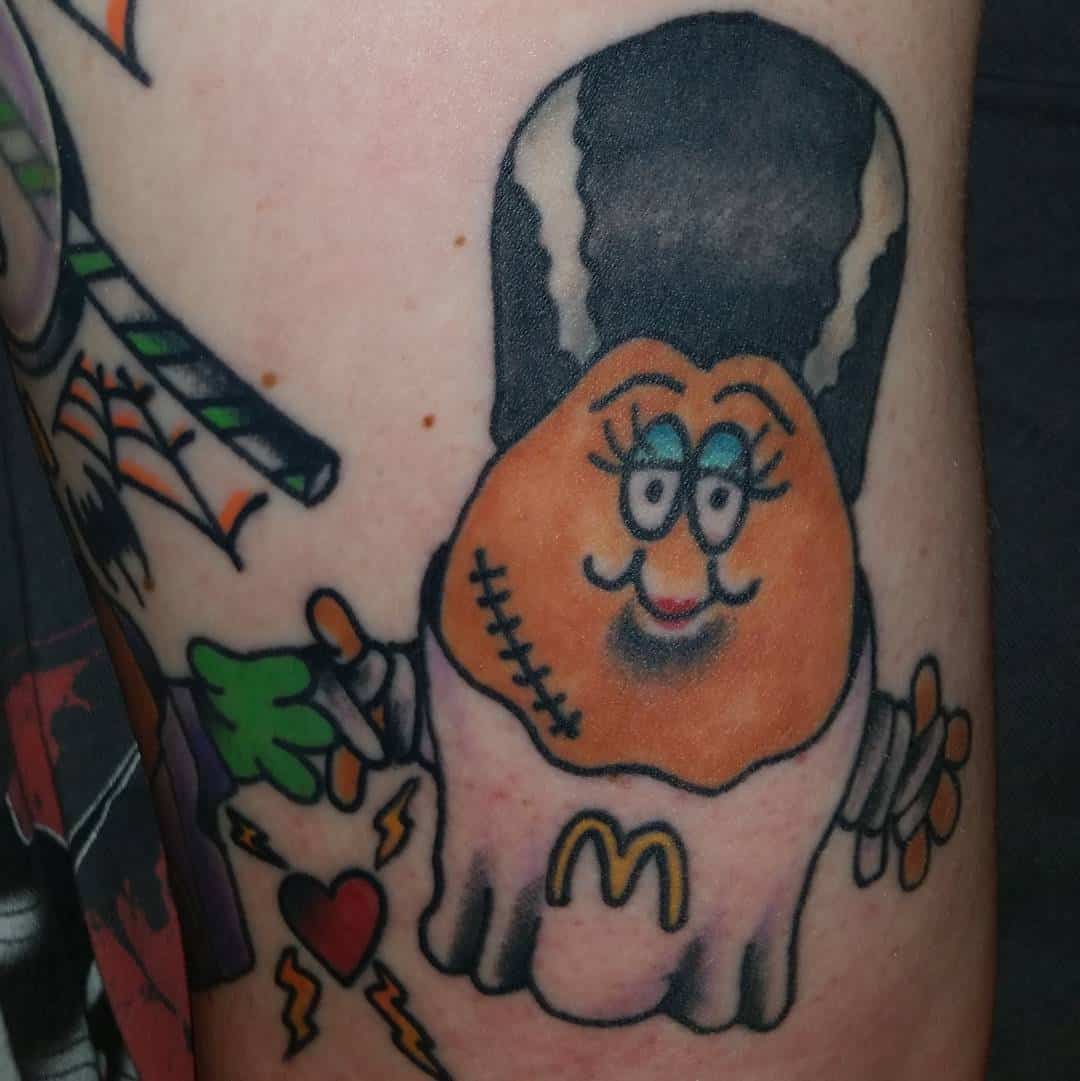 I have a friend that is basically in love with McDonald's. I am sure she will love this tattoo. In any case, I never knew that Frankenstein's bride can look so beautiful.
18. Batty Love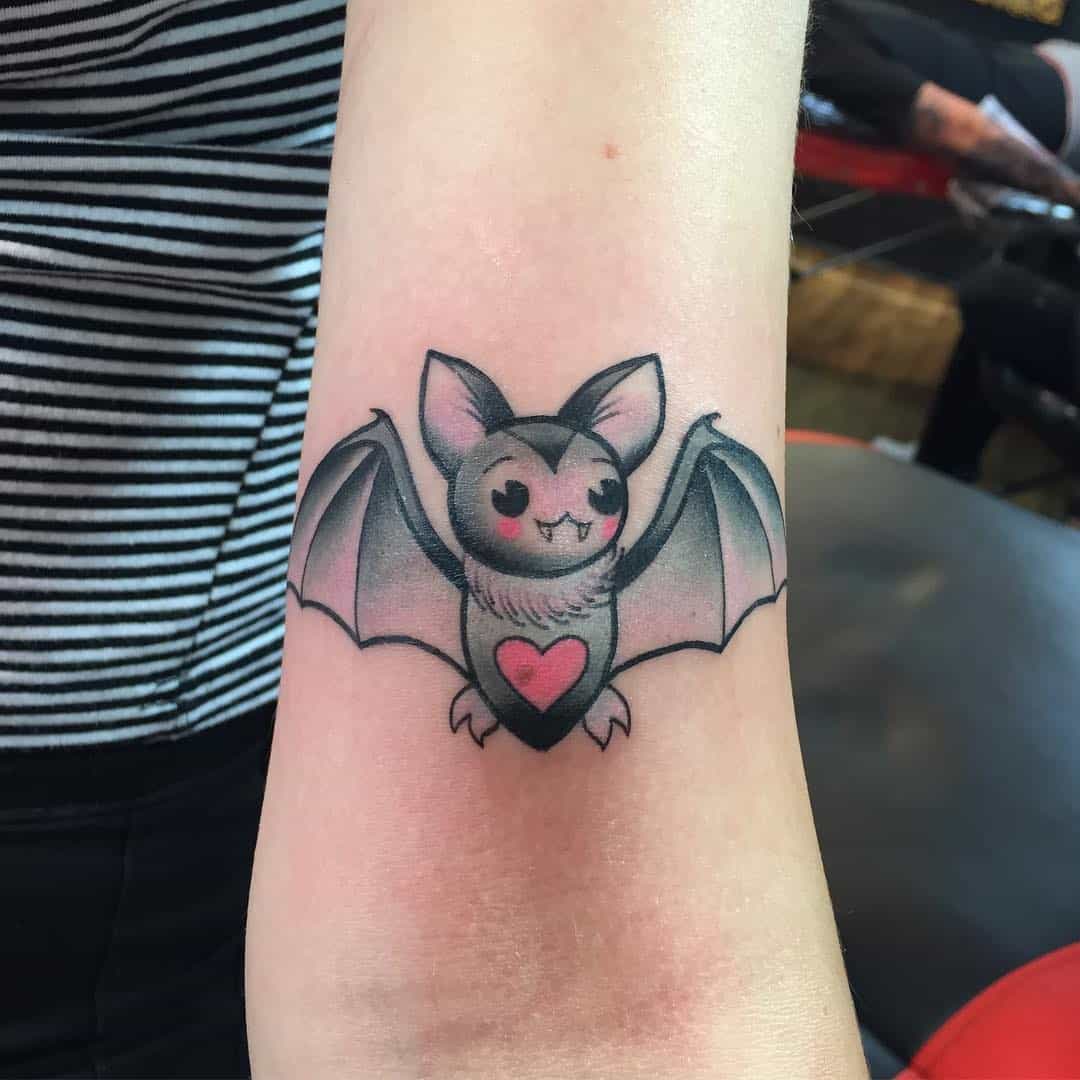 How can you look at his bat and not have your heart melt? I do not know. Not many things get me emotional, but this bat is one of those things you just cannot ignore. I love it how some of the Halloween tattoos bring out so many emotions.
19. Chibi Pennywise
Anyone who has seen the original IT movie, knows that Pennywise is scary. Like, real scary and creepy. Half of my friends that have watched still cannot stomach clowns. But as with many other Halloween symbols on this list, even Pennywise can get the adorable treatment.
20. Sally Nesting Doll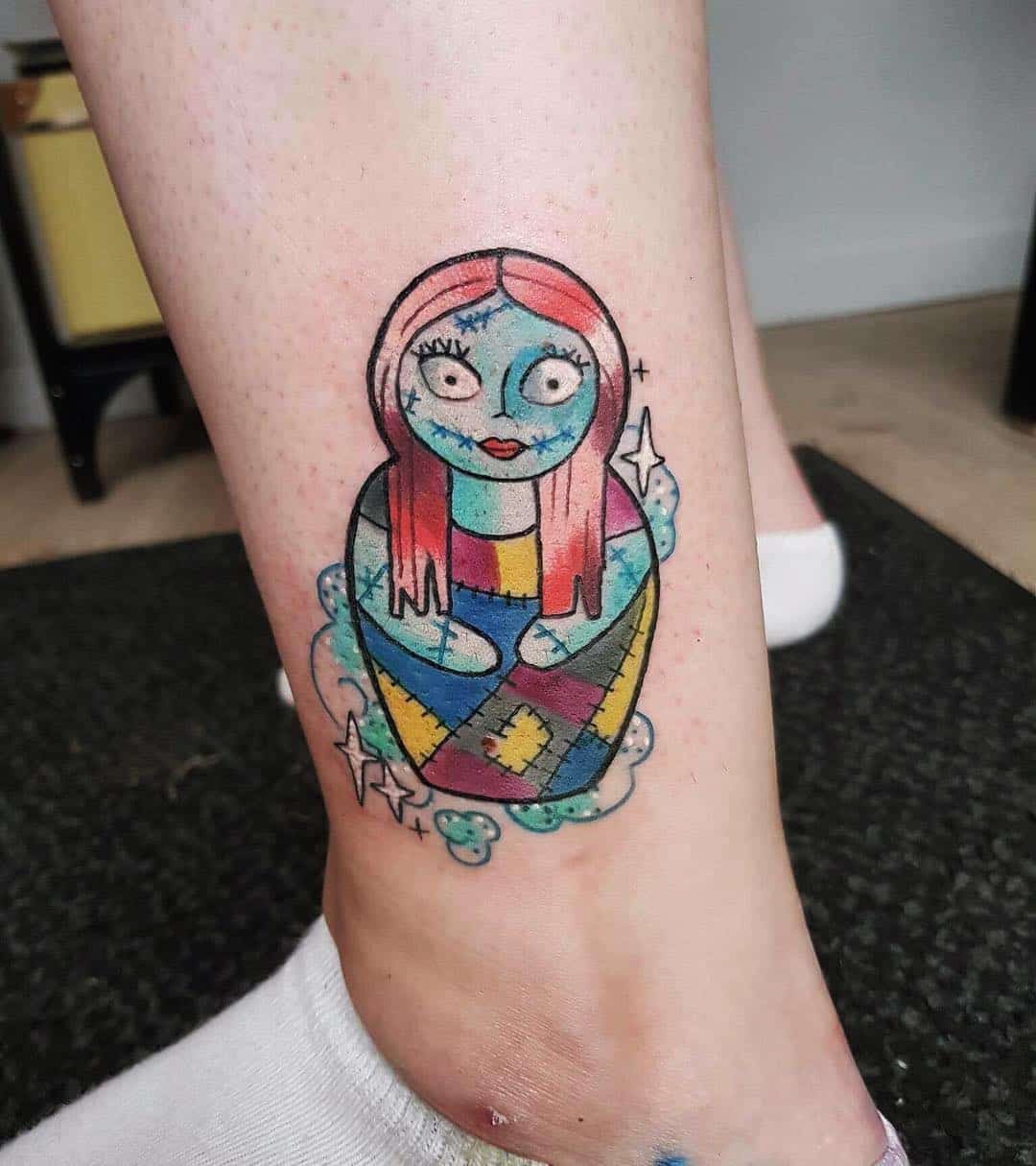 Sally is one of the popular children dolls. And she is available in so many different variations. For example, one of my favorites is "The Nightmare before Christmas". You just cannot go wrong with the Sally doll for Halloween. And we have it as a tattoo as well.
21. Purple Kitty With  A Pumpkin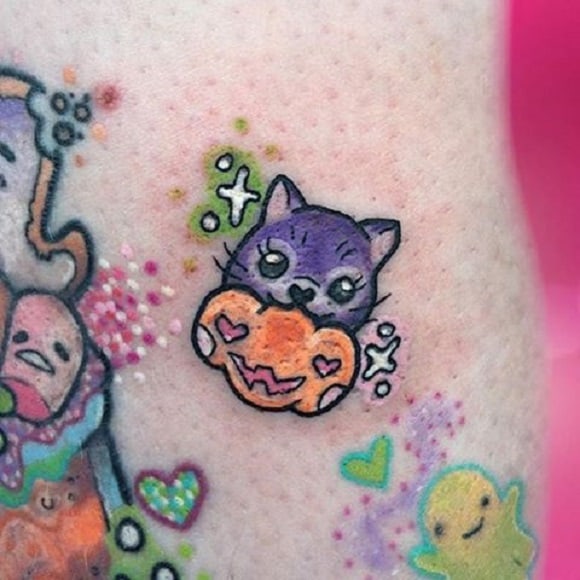 Who knew kitties love pumpkins? You will find anything when you start thinking outside of the box. And that is one of the keys to a great and successful tattoo.
22. Flaming Black-light Ghost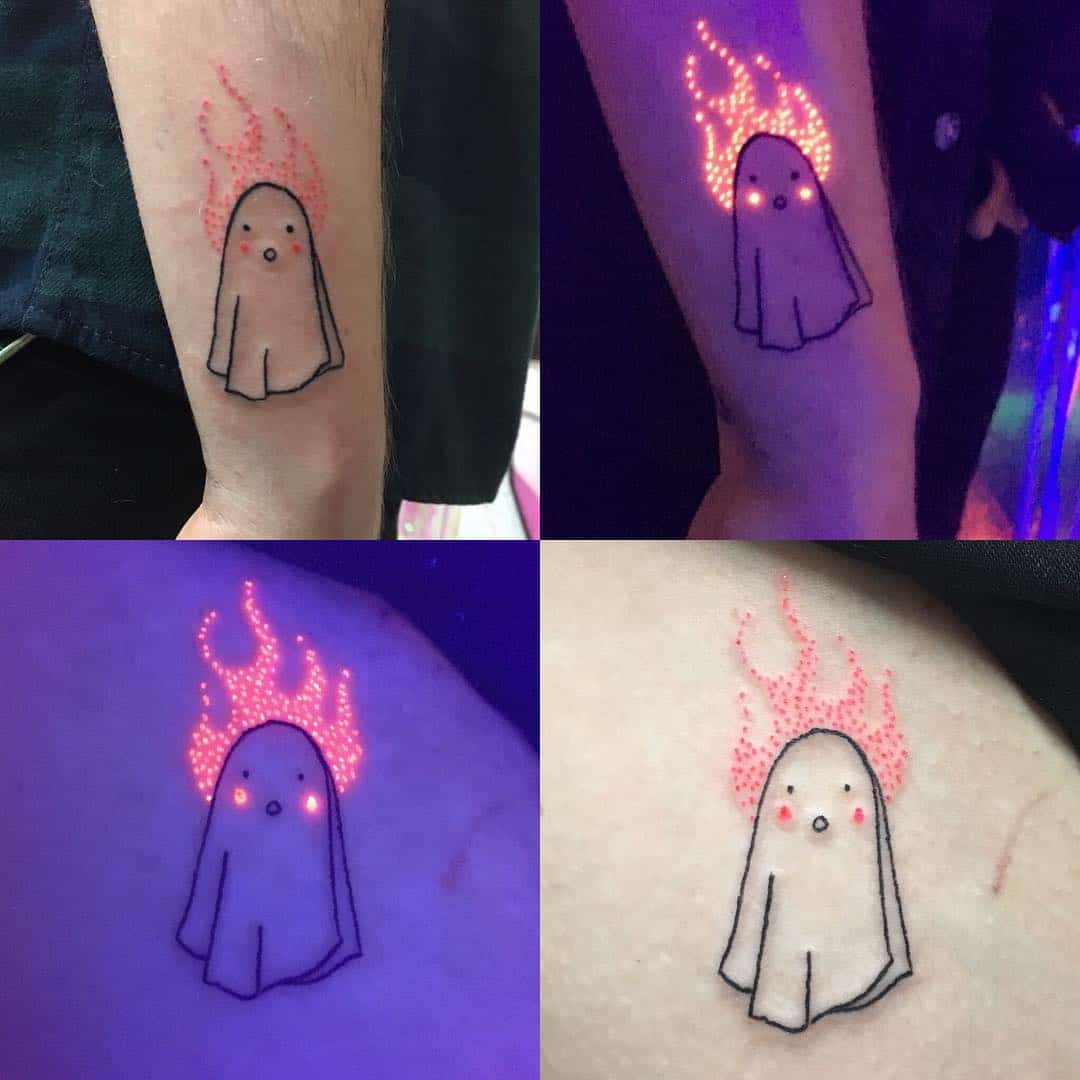 One of the best ways to get noticed during Halloween is to glow in the dark. Therefore, many Halloween-themed accessories are designed with the glow in the dark aspect in mind. But you can glow with your tattoo as well. I reckon some people will freak out once they see the ghost in the dark.
23. Cute Bat Hanging From The Moon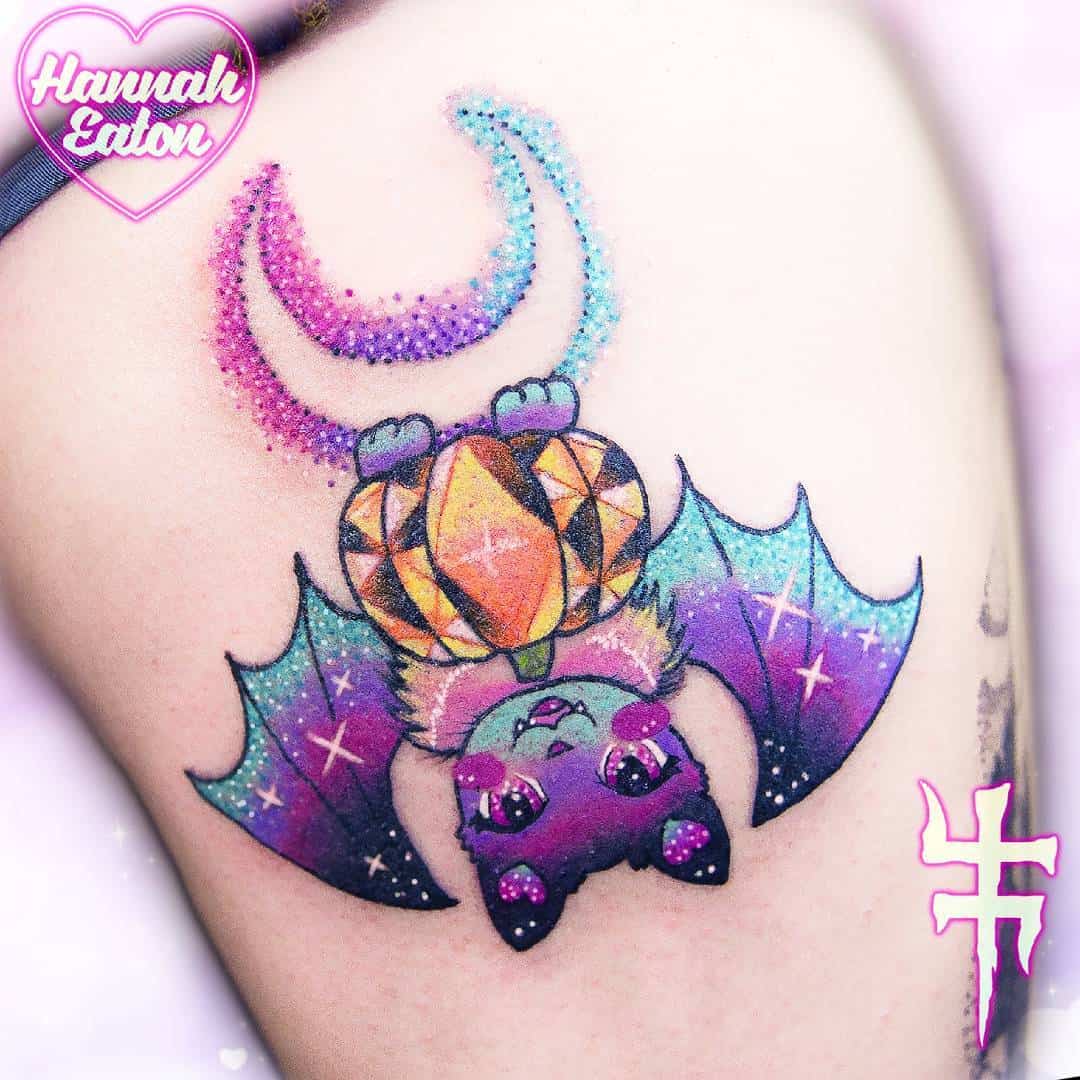 When we think of bats, we usually think of them in black color. But if you like something more adorable, you have to call in the help of other colors. Purple, pink, blue, all of these colors look just great on the bat. Of course, as long as the bat is smiling.
24. Glowing Trick-Or-Treating Ghost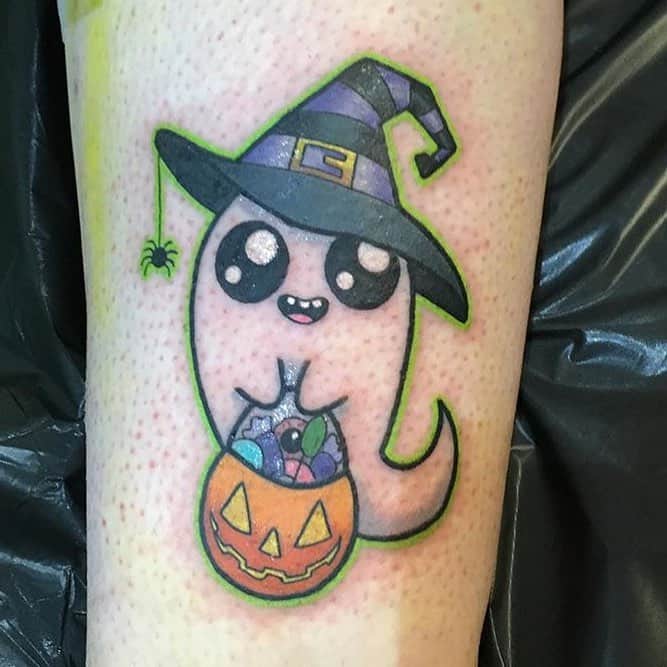 For the very end, it is only suitable that we finish off with the common tradition for Halloween. You want trick, or treat? It is up to you to choose.
Hopefully, I managed to get your interest in some of the tattoos. And if you have another Halloween-themed tattoo, I would love to see it. Feel free to share it in the comments section.