People are always looking for different ways to celebrate the holidays. When it comes to Halloween, most of us put on a costume and go to a party. But sometimes, you are just too lazy to put on a costume, or you cannot find one that you want.
Well, there is no reason to go completely unmasked at a Halloween party. After all, most of the people will be masked there, and you will be greeted by number of Halloween decorations. With that in mind, you can always put on some makeup, and you'll have a DIY Halloween costume.
So, what you can use as a mask for Halloween? I have some creepy and fun makeup ideas that will ensure you are dressed for the occasion.
1. Simplified Skull Look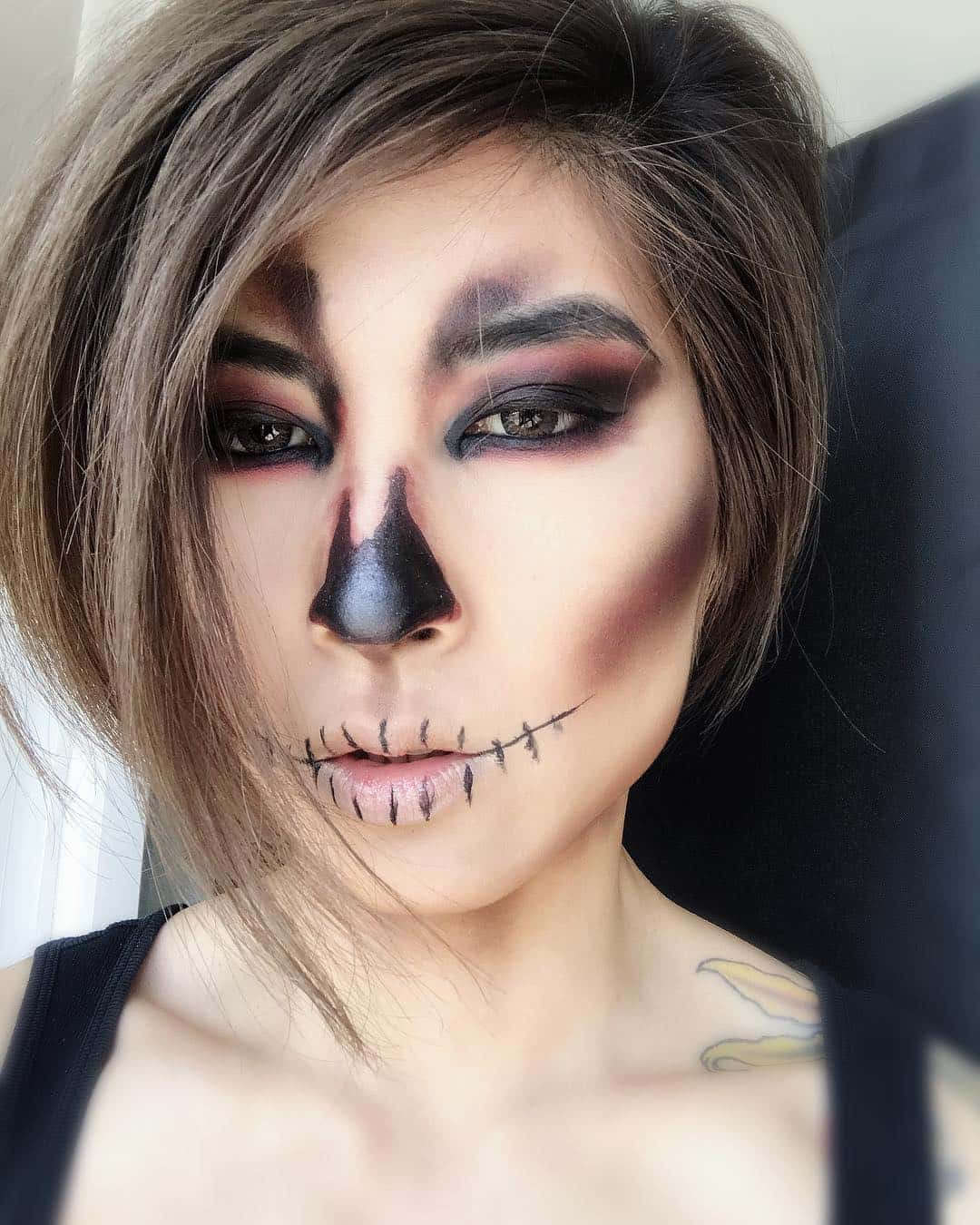 We start off with a staple in the Halloween decorations. The skull is always welcomed, and I want to start off with a simple version. After all, you do not want to spend too much time putting makeup for a party.
2. Smokey Red Blood Tears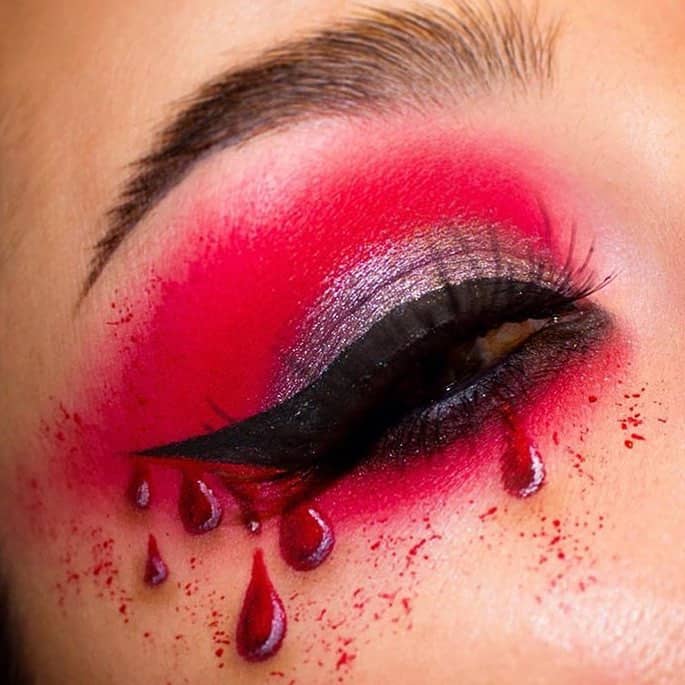 There are many makeup ideas you can use for a Halloween party. Some of them require makeup on the whole face, while others require just small touches here and there. This falls into the latter category, with just some blood-inspired drops under your eyes.
3. Wood Nymph
Not all of the Halloween masks need to be scary and spooky. Sometimes, you can "dress" yourself up for an elegant party and occasion. If that is the case, this romantic and sensual wood nymph will do the trick. Make sure to combine it with a white dress for a complete innocent and romantic look.
4. Leopard Face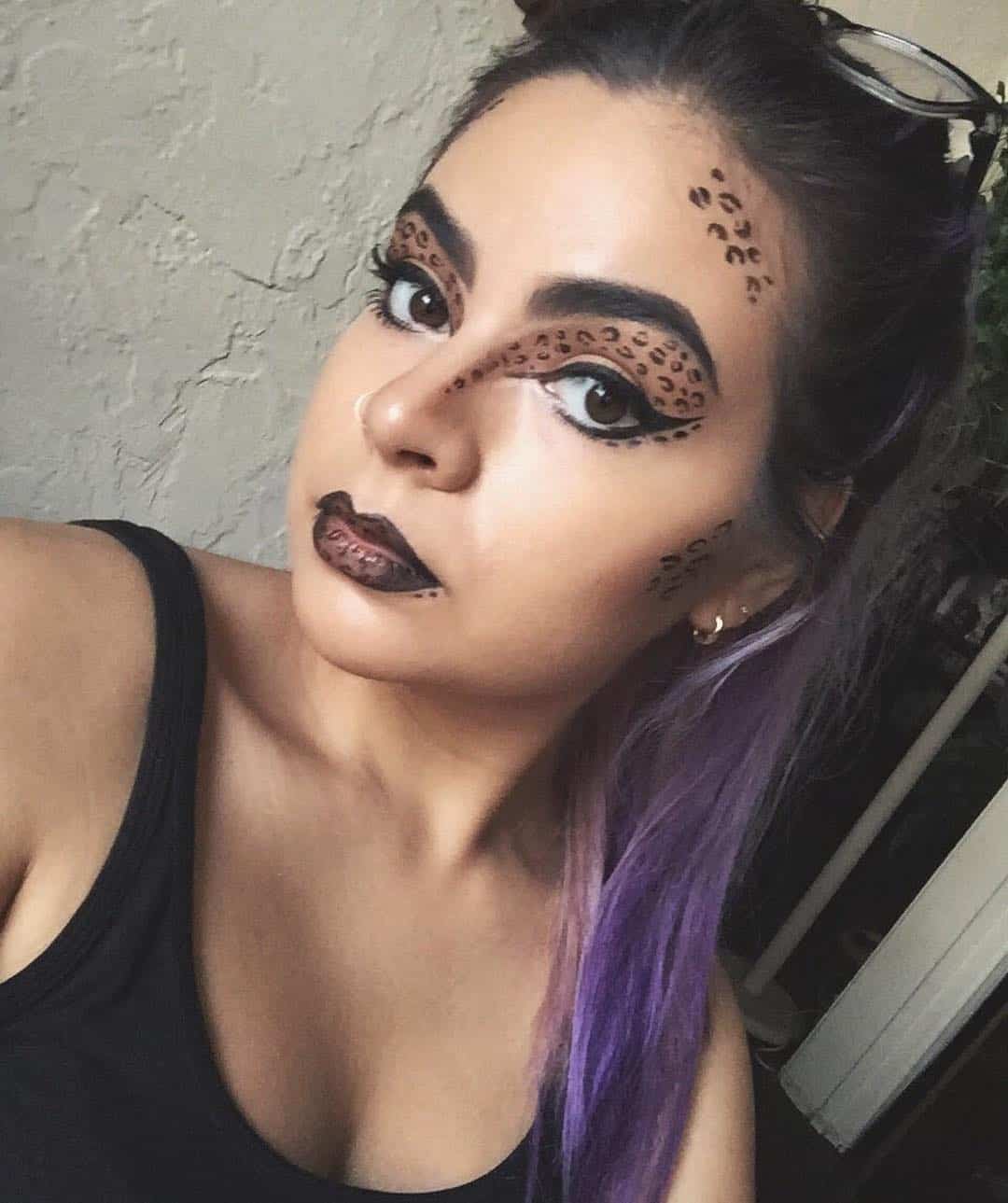 Animal themed makeup will always be trendy. Since entering the world of makeup and fashion, animal prints always find a way to stay there. Sometimes it is the leopard print, or the zebra print, or any other animal print. You can choose from the many, but my personal favorite is the leopard. The characteristics of this animal is what stand out.
5. Bloodied Knife Eyeliner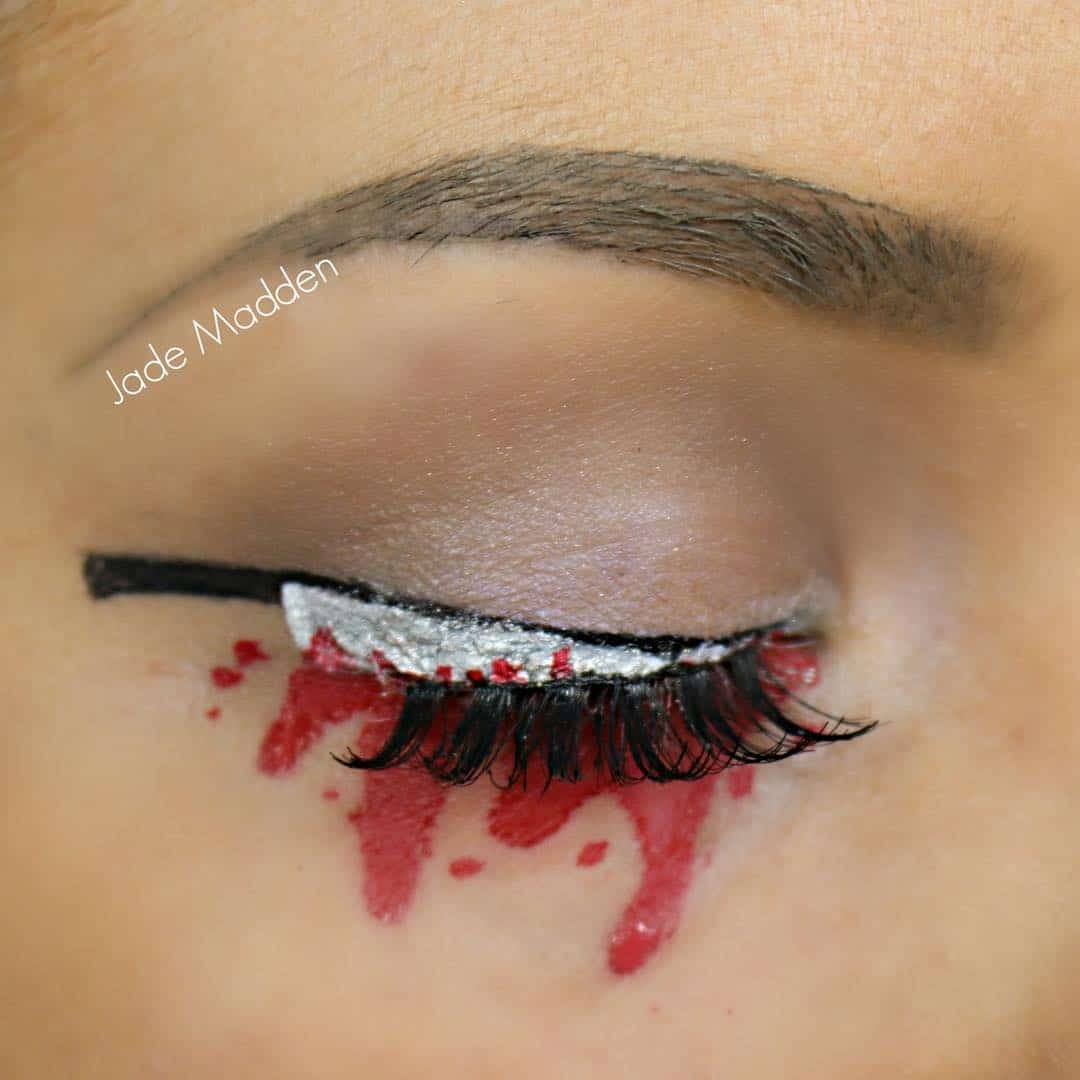 As I said before, sometimes just a small touch will be enough. We had blood drops under your eyes, but this is a complete new level. I know it might be hard to draw the knife, but it takes a little patience and steady hands. If you have that, this eye makeup will be the star of the show.
6. Batman Corner Eye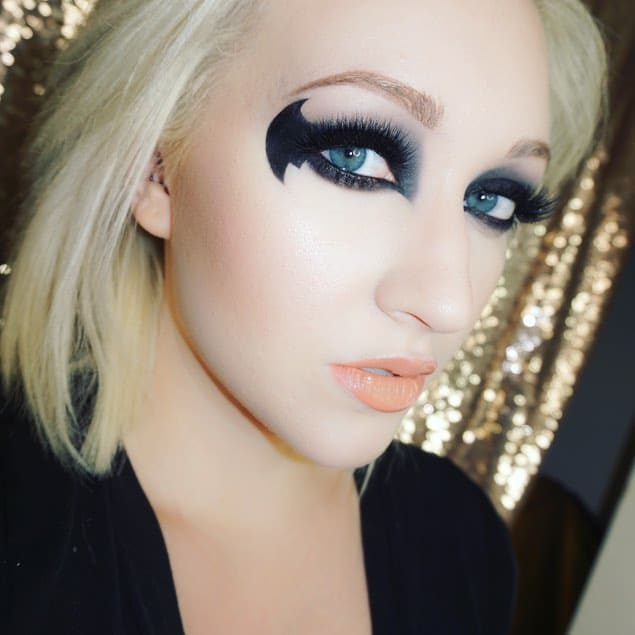 For some people, Batman is a hero. For others, he is one of the scariest things you will see. Living in the darkness, Batman can be scary. And the Dark Knight movie trilogy painted exactly that picture of Batman. He might not be creepy and spooky, but there is a dark and mysterious side of Batman you can evoke with your makeup.
7. Wednesday Adams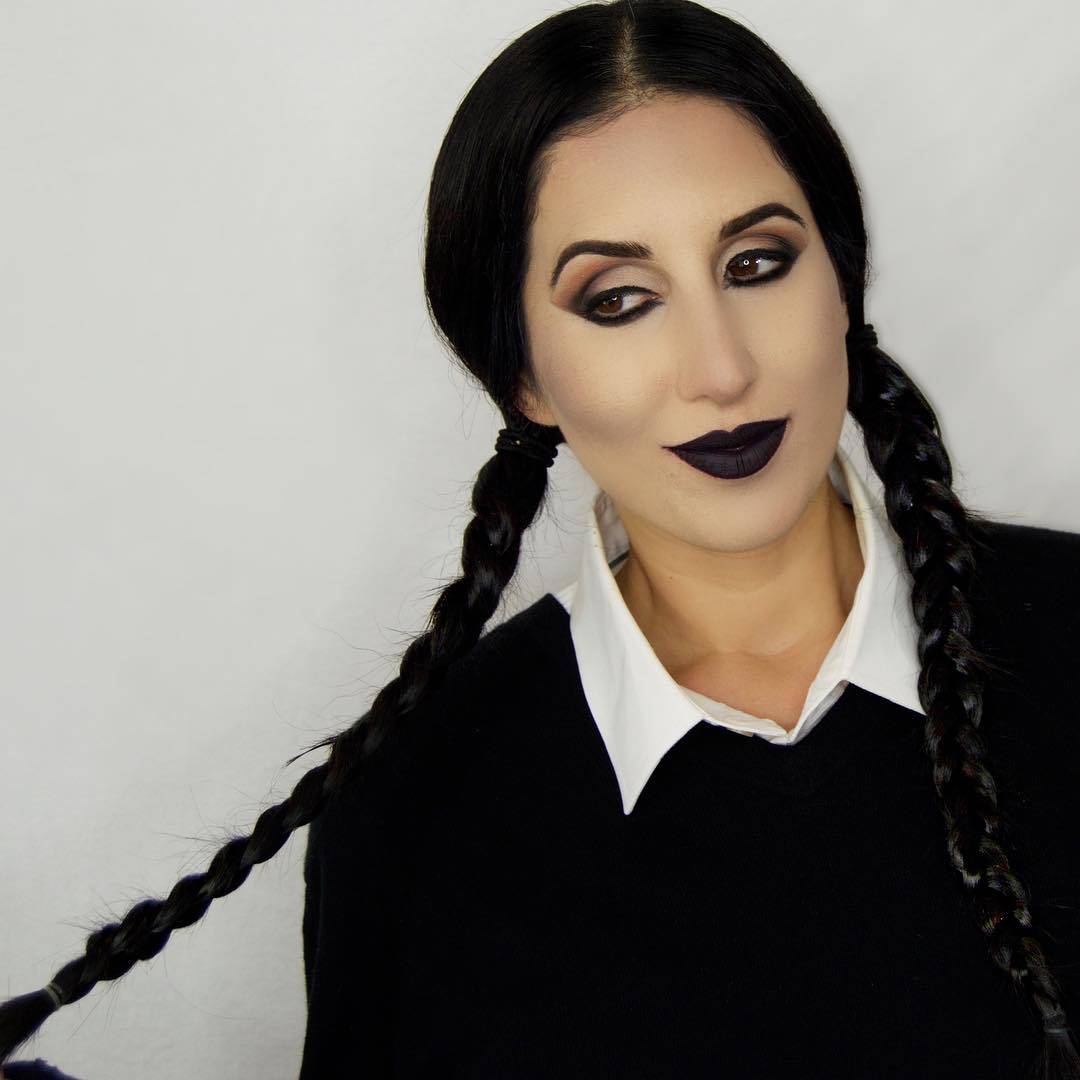 Wednesday Friday was one of the more fun characters of the Addams Family. Years after the movie aired in the 90s, she is still a popular character for cosplay and makeup ideas. Her cold face was probably one of the creepiest things on the set. And Christina Ricci played her to perfection. You can try that as well.
8. Jessica Rabbit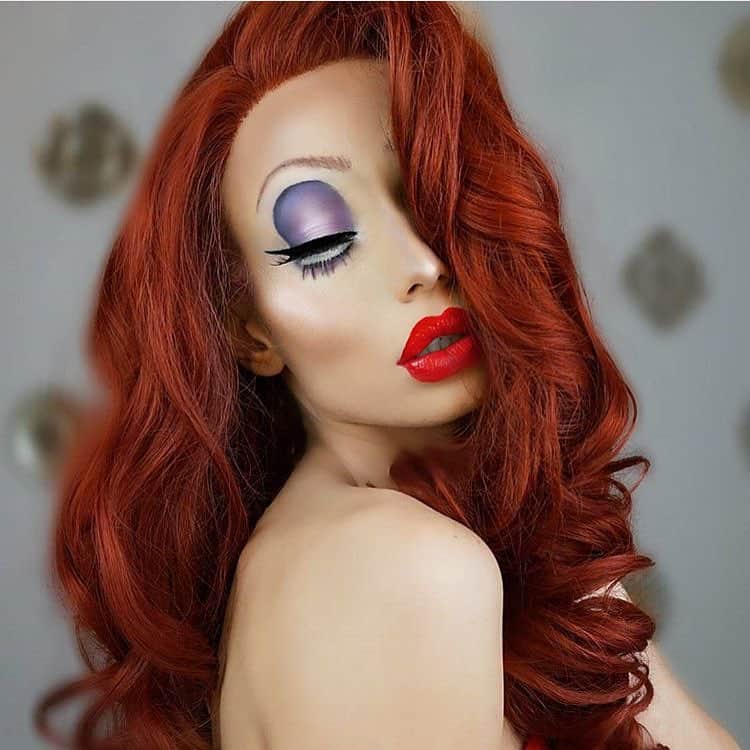 Some people want to be spooky, others want to be sexy as hell for Halloween. For those in the latter category, there are few things sexier than Jessica Rabbit. She remains one of the sexiest characters ever to appear on television. With her red sexy dress, you cannot go wrong. Sometimes you need something "Scary sexy".
9. Blood Splattered Eyeshadow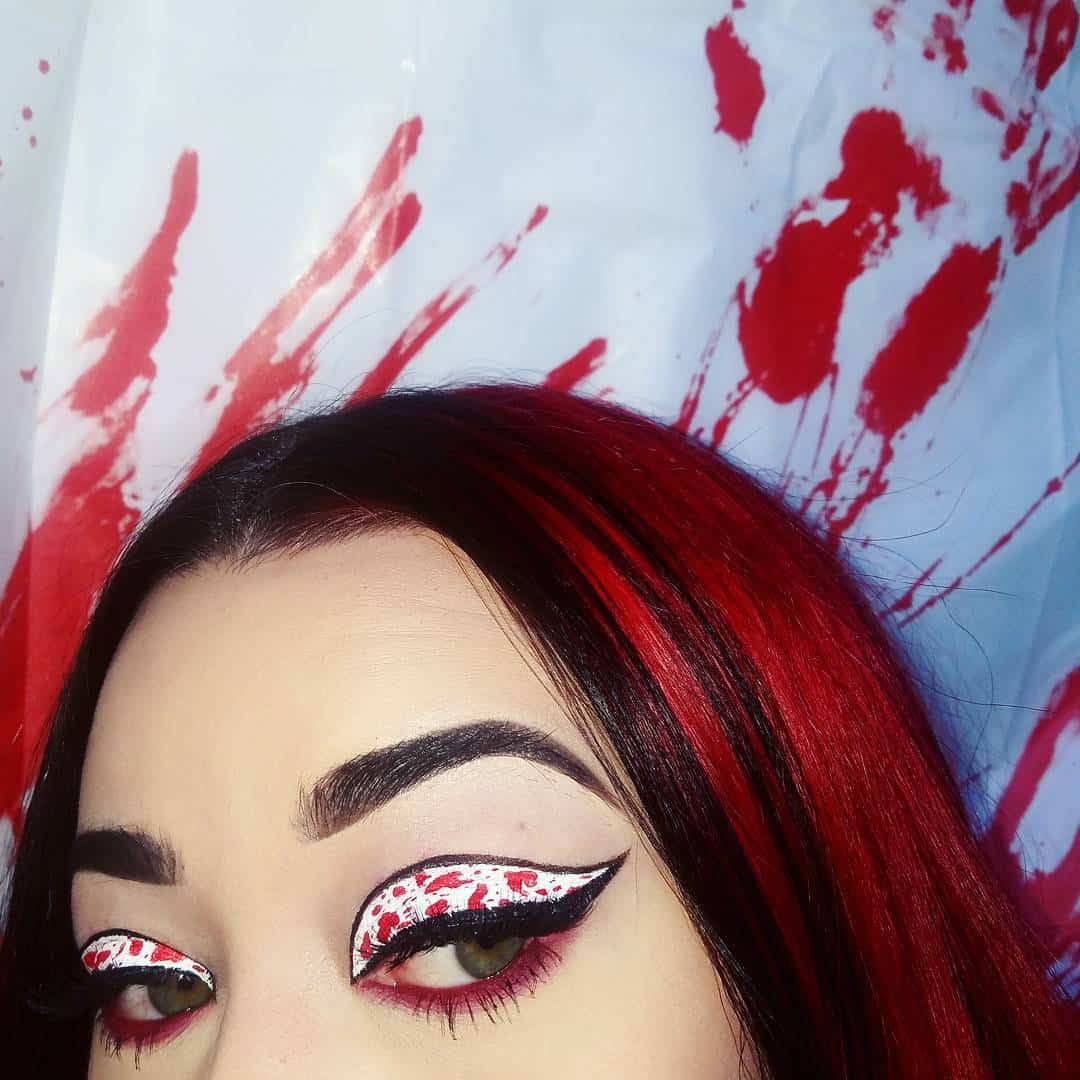 We had few blood inspired eye makeup ideas. They are all different. This one, for example, does not look as scary and creepy. But it is still blood. More like a vampire look with the red line underneath the eye.
10. Doll Face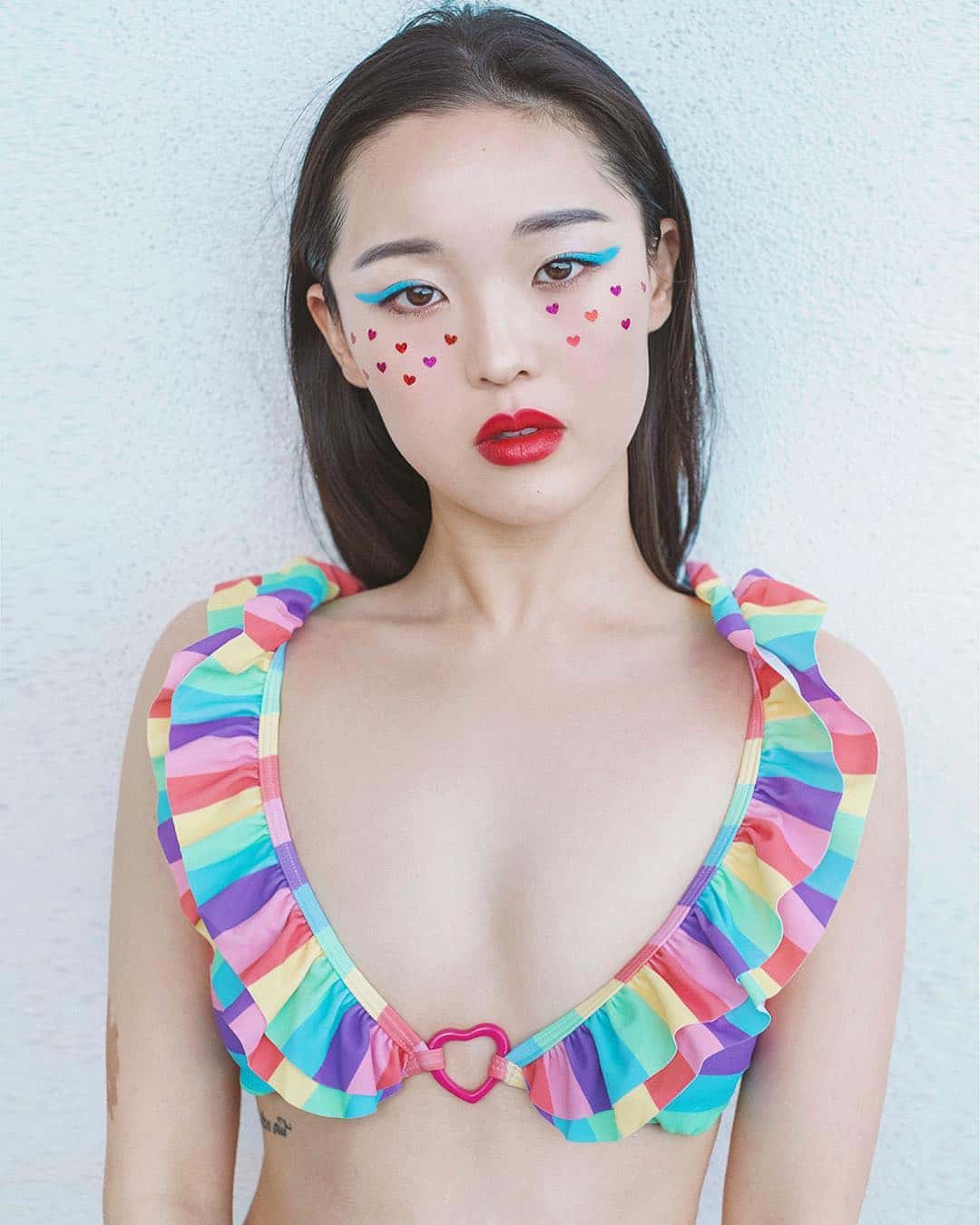 I said previously that not all costumes and makeup ideas need to be scary. After all, the clown from IT is one of the scariest things I've seen on TV, and he was a clown. Dolls can be scary as well. But in this case, you are looking for a more cute and adorable type of look.
11. Black And Red Glitter Makeup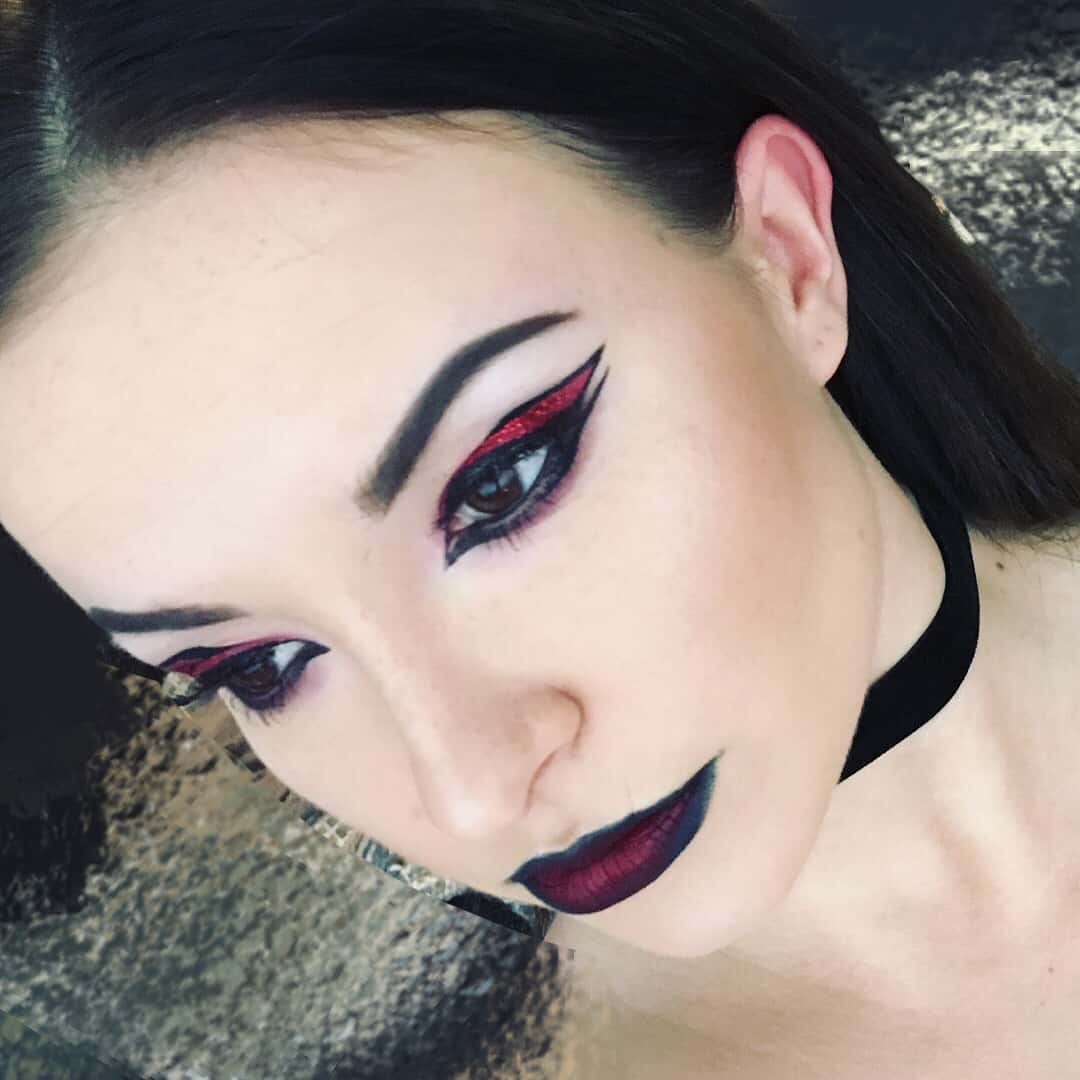 You cannot go wrong with a true vampire look. The Twilight saga might have given vampires a more romantic side, but they are still one of the symbols for scary Halloween. Evoke that cold-blooded look with some red and black glitter.
12. Ice Queen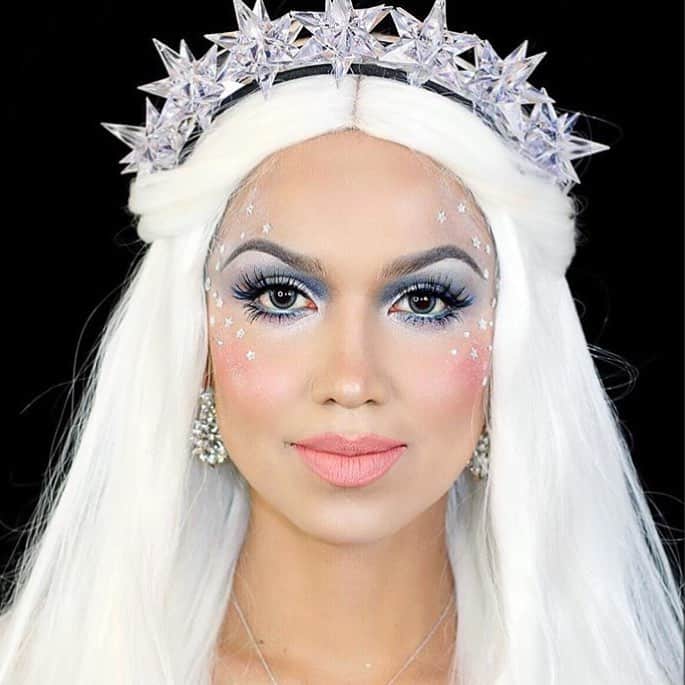 The Ice Queen is another makeup idea that is less scary and more beautiful. There is no limit to the masks you can use for Halloween. You can draw inspiration from anywhere you like. We may not have snow for Halloween, but the Ice Queen will freeze everyone.
13. Black Clown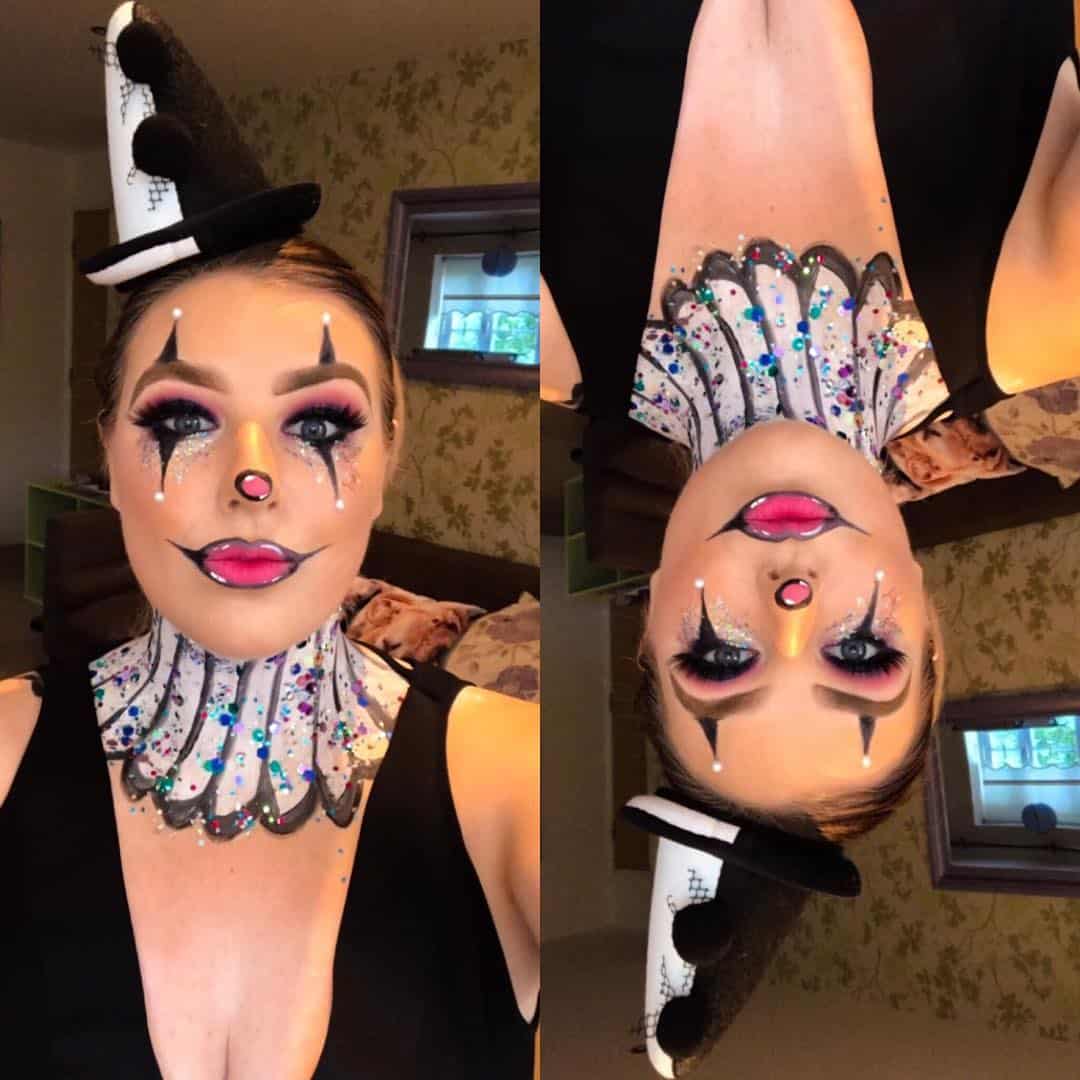 I said before that clowns can be scary. Take IT as example. But they can also be fun and entertaining. This one falls in the funny clowns category.
14. Thunder Storm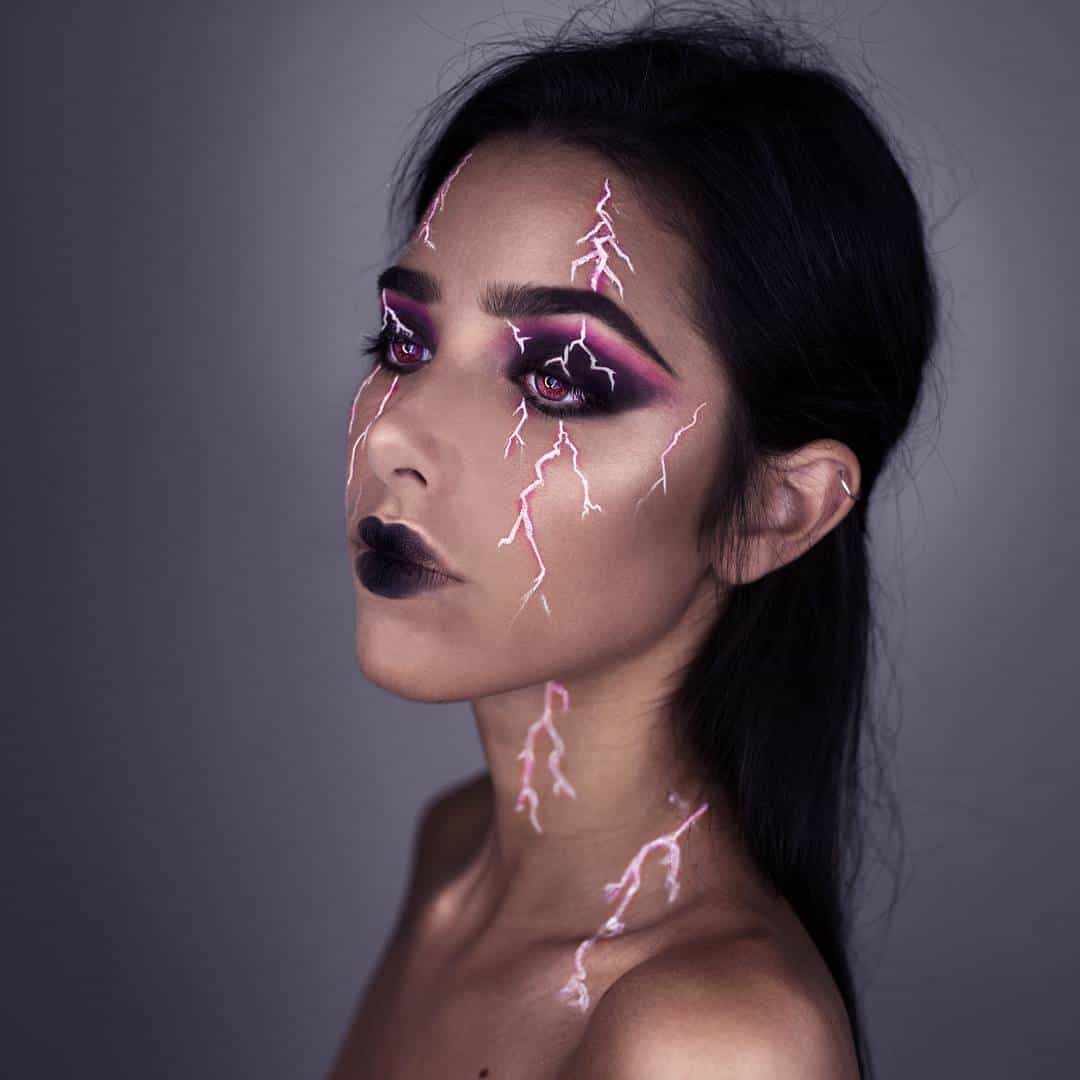 If you do not like this makeup, there is something wrong with you. You can rarely find so inspiring and beautiful looking makeup ideas. Everything is done to perfection. Lips, eyes, everything else on the face. Even the hairstyle fits the makeup perfectly. Just make sure you wear a suitable dress that won't cover your neck and shoulders.
15. Purple Spiderweb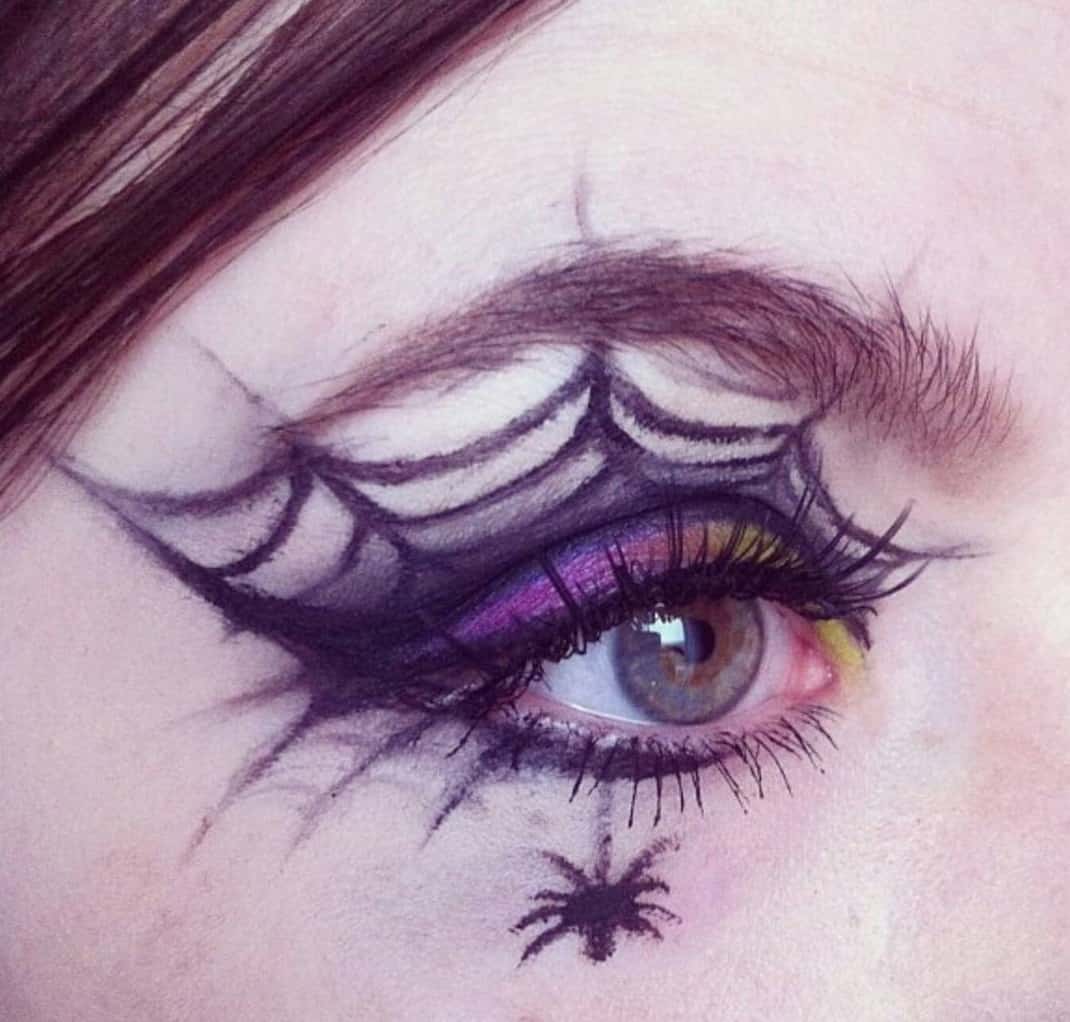 In addition to vampires, spiders are another symbol for Halloween. You can knit its web on your eye, and you will be ready to go to a party. As simple as that.
16. Pom Pom Clown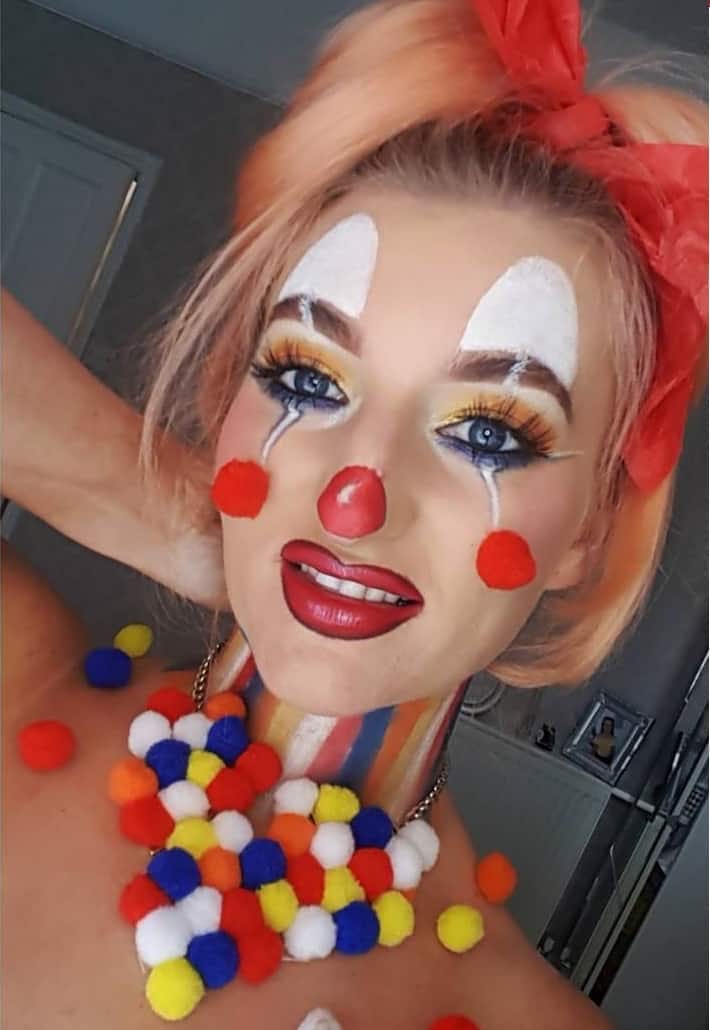 There are people that just love colors. I love those people. Colors are beautiful, and colors are cool. So, with that in mind, what is be the most colorful thing you can think? Well, clowns of course. You can add as many colors as you like in a clown costume, and it will still look good. To be fair, a clown costume/makeup is probably the only thing that can accept so many colors.
17. Confetti Makeup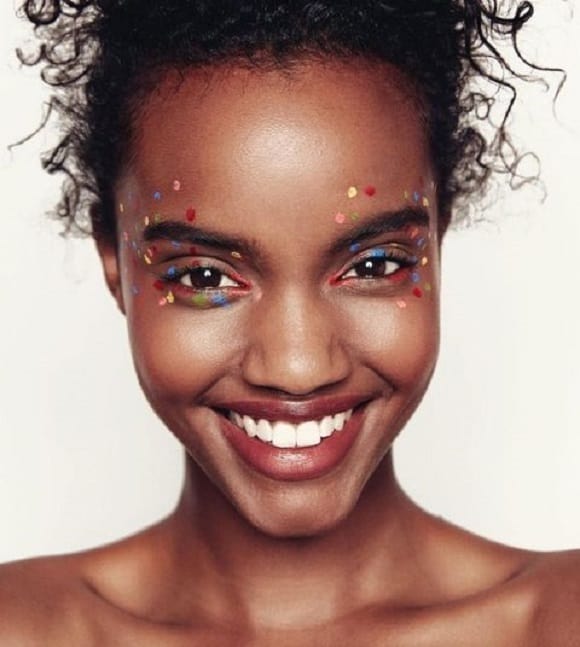 If you are looking for a makeup that will make you look like a person from a Benetton ad campaign, this is it. Joyful and cheerful, you check the two most important boxes for a Benetton campaign. Smile, and go conquer the world.
18. Black Mask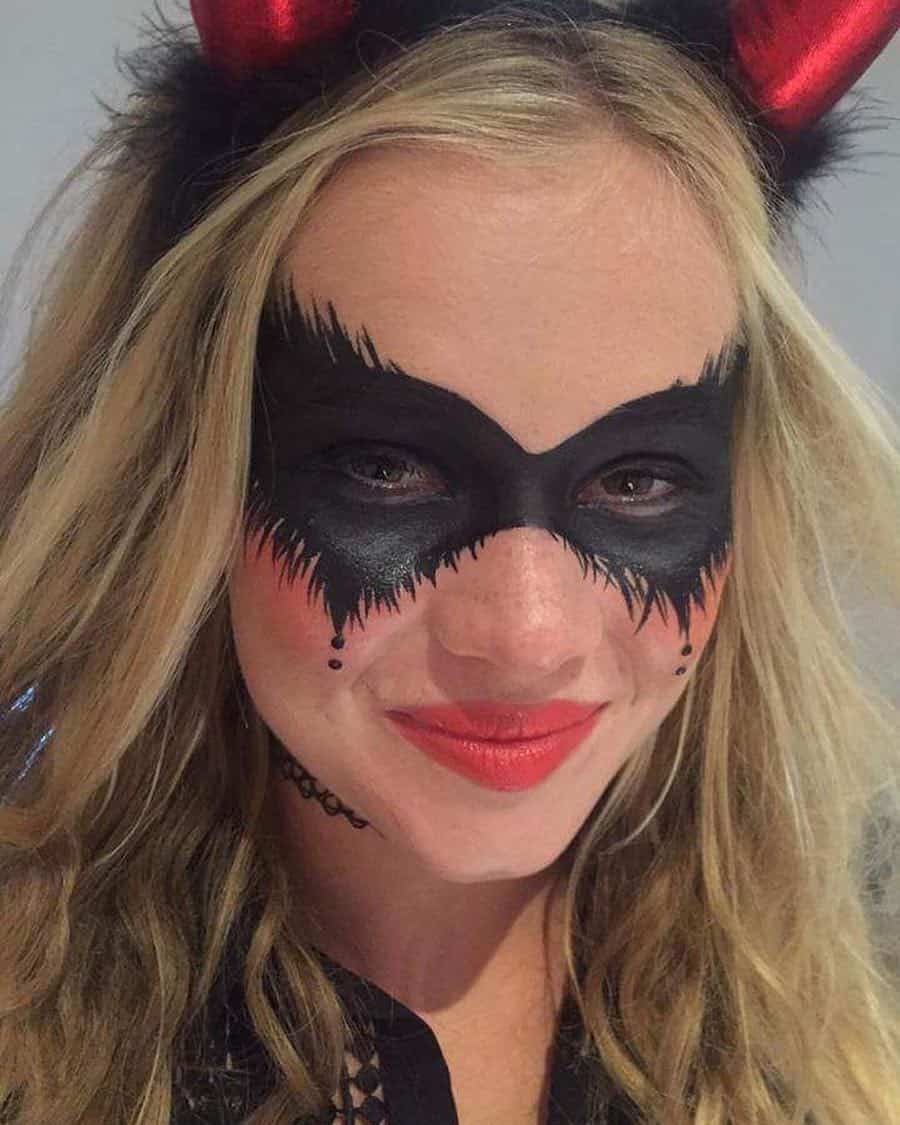 The black mask is basically one of the simplest masks you can put on. If you are in a hurry, and you need something simple for the party, put on the mask and you are set to go. Just be careful, a black mask goes well only with black outfit.
19. Spider Legs Makeup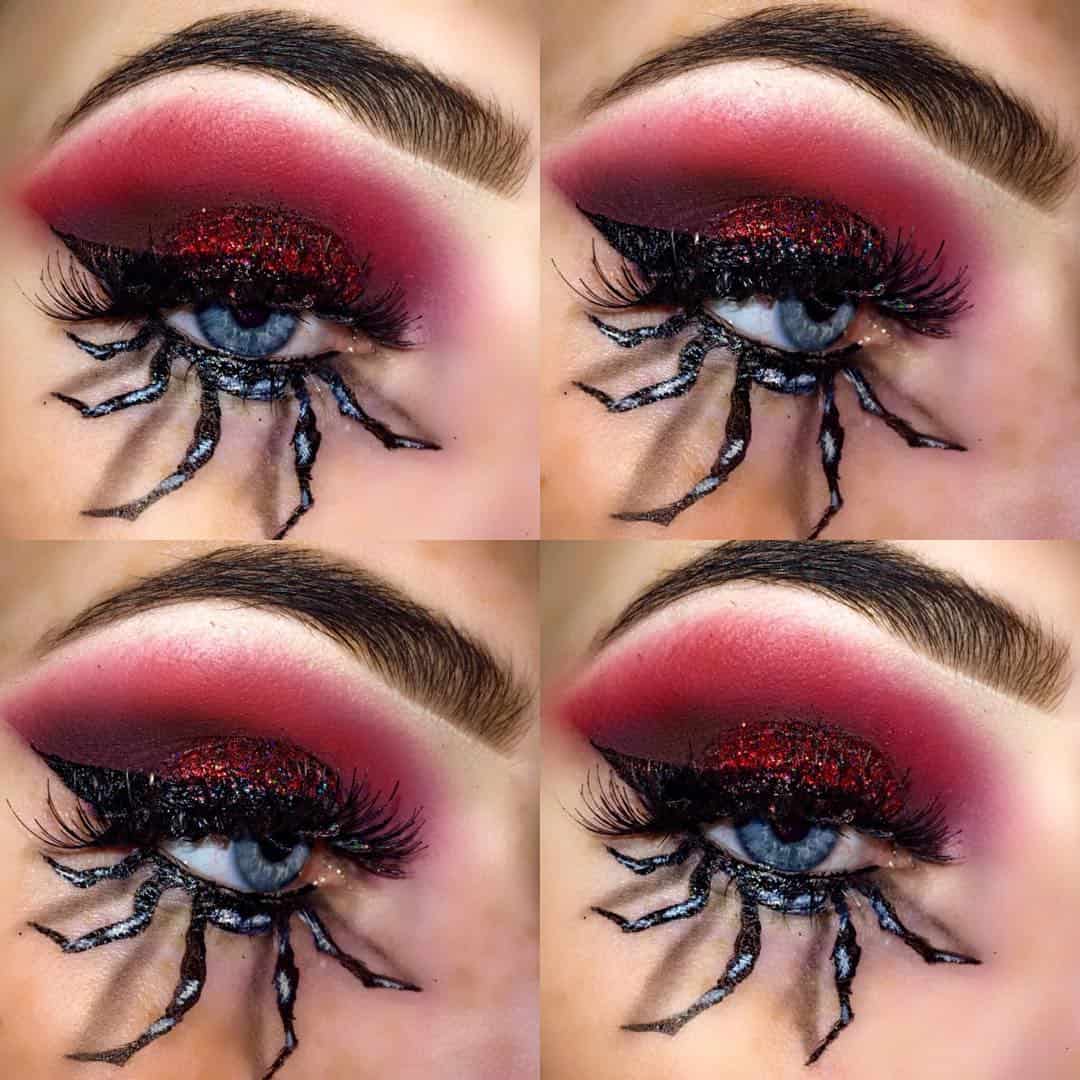 I must say, I have rarely seen a more spooky and creepy spider makeup idea. Usually, the spider-inspired makeup ideas focus on the web. But just the legs of the spider hanging from your eye is just creepy as hell.
20. Harley Quinn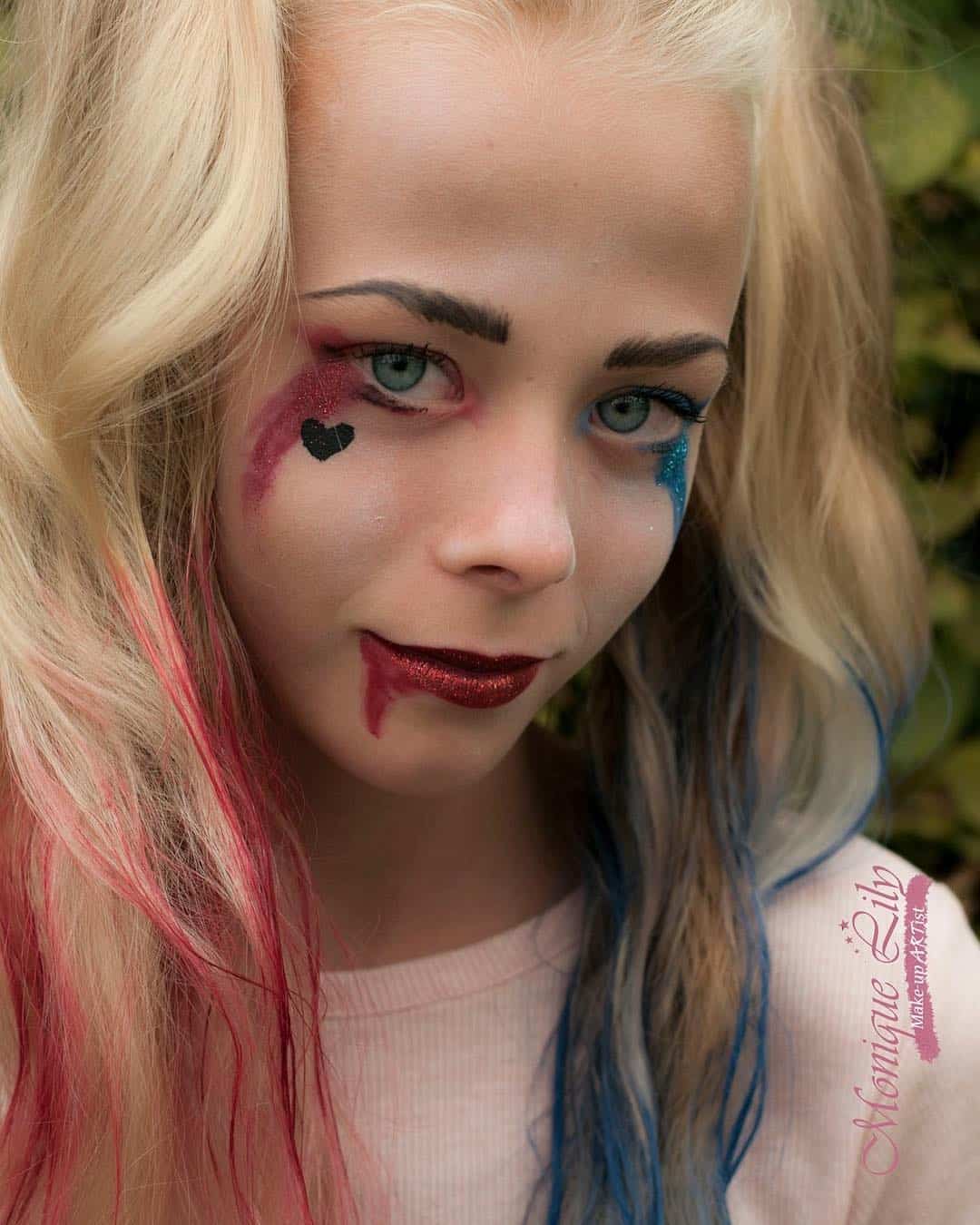 The Suicide Squad movie was not as successful as people thought it would be. But Margot Robbie as Harley Quinn was a bright spot definitely. And Margot helped bring Harley back into the popular cosplay and makeup ideas. In the last year or two, I've seen a lot of Harley Quinn costumes, and it is all thanks to Margot.
21. Cleopatra Makeup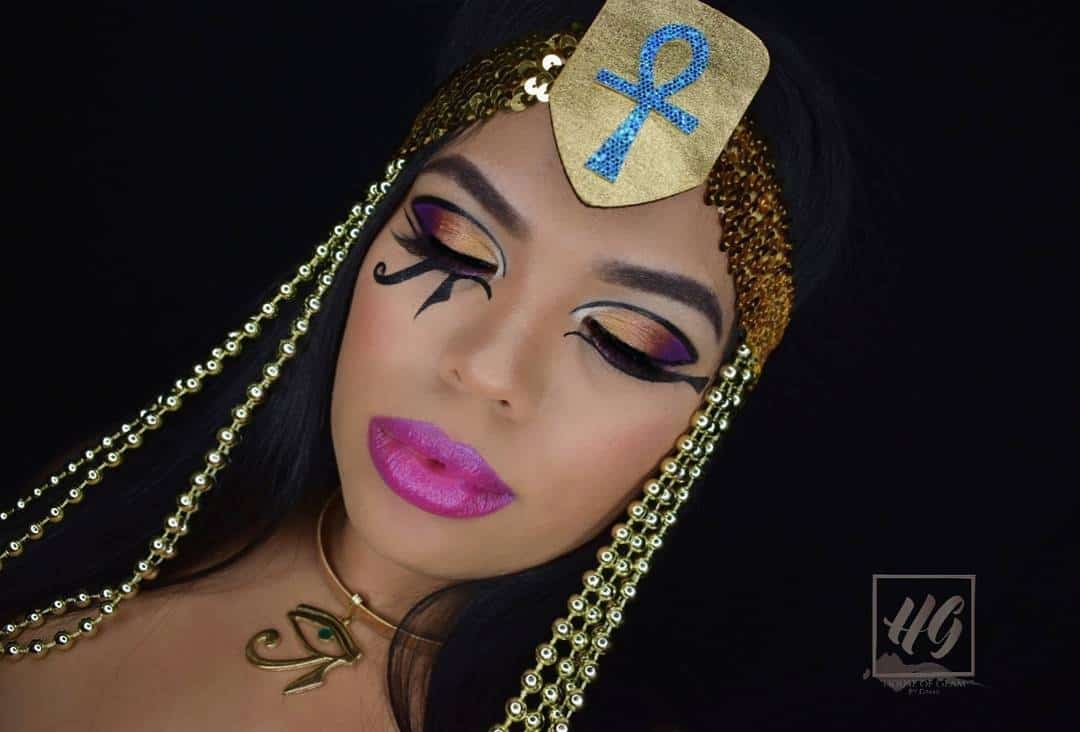 Cleopatra is widely considered one of the most beautiful and influential women in the history of mankind. With a reputation like that, it is no surprise many people find her as an inspiration. You can try looking as her as well.
22. Bambi Face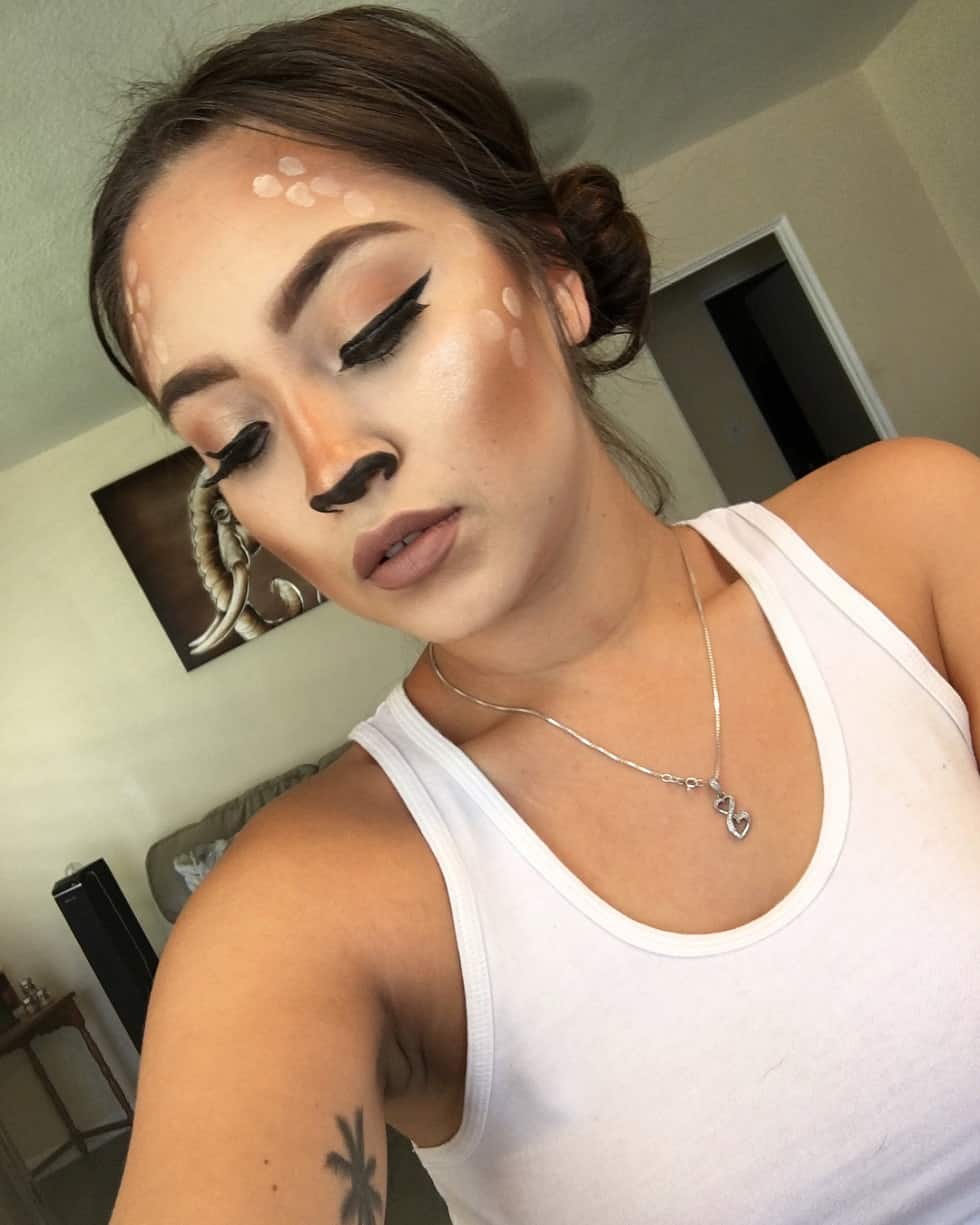 I talked previously that there are many animal print ideas you can choose. Bambi is basically an animal print with a character. Such a popular cartoon character definitely deserves his own face mask.
23. Ice Cream Face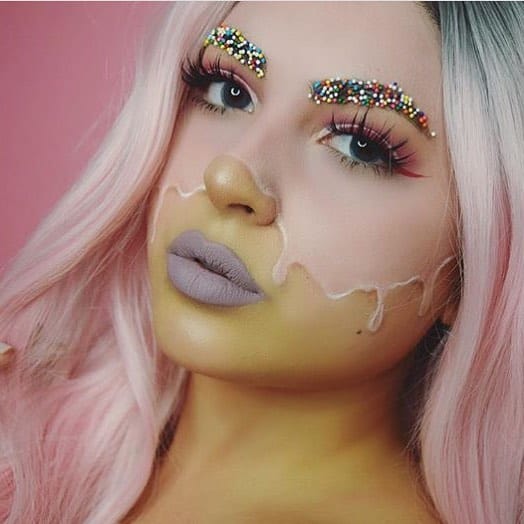 When I think of ice cream face, I think of Nicki Minaj instantly. She looked like this in one of her videos. I cannot remember exactly what video was that, but she had this makeup once.
24. Bats In The Night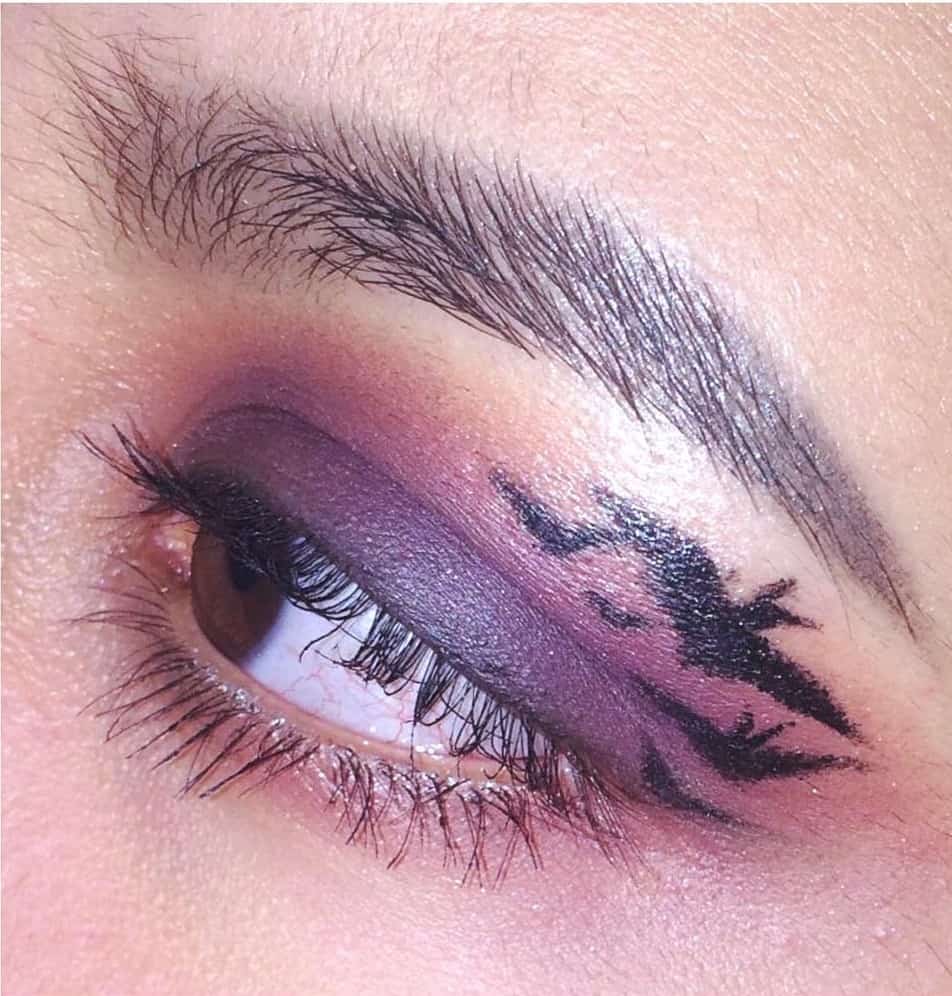 You do not have to like Batman to get some bats for your makeup. After all, bats are staple for Halloween decorations. Their mysterious side is what makes  them popular choice.
25. Pennywise The Clown
We had so many clowns on this list. Some of them are popular characters, others are just a clown idea. Pennywise is the clown from IT. In this case, however, he gets a more beautiful and adorable look.
26. Pop Art Makeup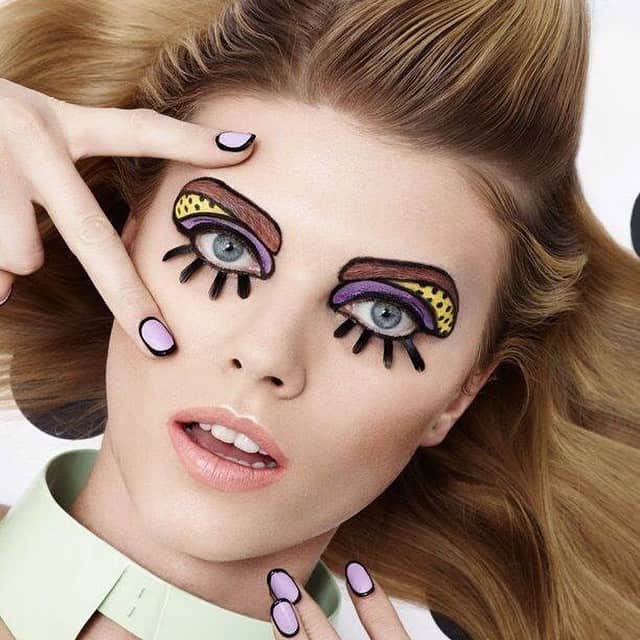 In the end of the day, you can show off your artistic idea with your Halloween makeup. You do not need a classic inspiration. Just go wild. That is exactly the case here.
27. Four Halloween Inspired Makeup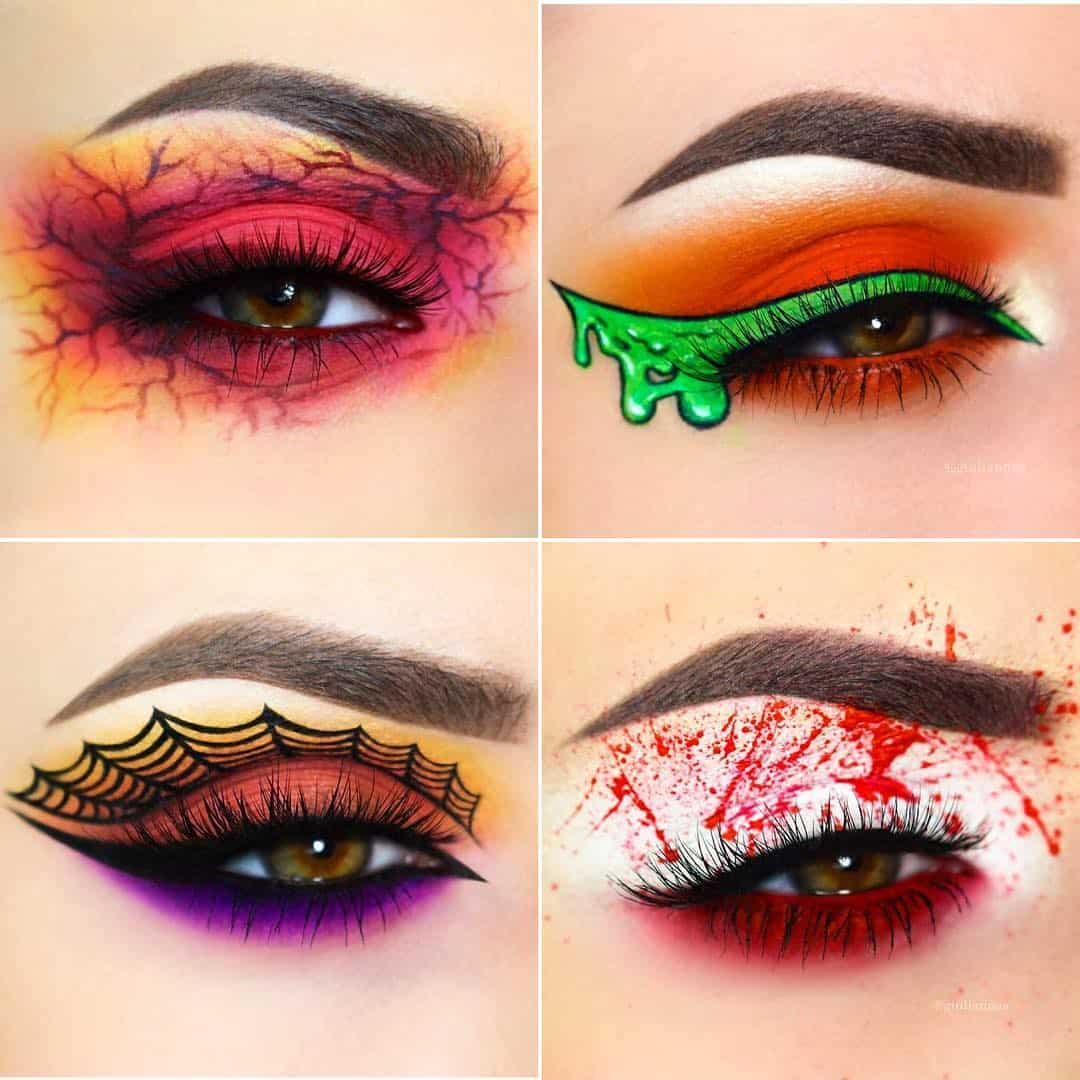 I often love to finish my articles with a two in one, three in one, or in this case four in one ideas. You are welcomed. I hope you enjoyed. Leave all your requests for future articles or comments on this one below. Have a nice day and prepare for Halloween.