Glory 64 is going down in Strasbourg, France, tonight and has featured some top-level combat for fans of pure stand-up fighting…
With two world titles on the line, Glory Kickboxing did not skimp on the action in France this evening. Headlining the event is the welterweight title fight between reigning champ Harut Grigorian and former boss Cédric Doumbé.
Anika Meksen, arguably one of the scariest female kickboxers ever, puts her bantamweight title on the line against Tiffany Van Soest in the co-main event.
The viral "Bazooka" Anvar Boynazarov was victorious in his action-packed main card bout against Abdellah Ezbiri. After three rounds the judges scored the fight unanimously for the Uzbeki fighter.
Donovan Wisse got the job done in the second round against Matěj Peňáz. As his opponent attempted a knee, Wisse whistled in a brutal straight right hand that flattened Peňáz for the 10 count.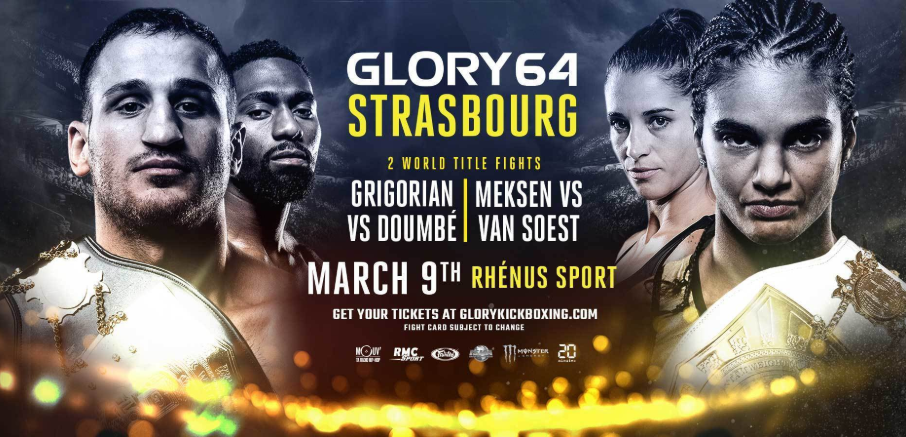 Glory 64 Results & Videos
Perhaps the gnarliest knockout of the evening came when D'Angelo Marshall fought Daniel Skvor. The Heavyweights didn't make it out of round 1 in this fight.
Marshall, a veteran of Superkombat and the winner of the Glory heavyweight contender tournament, didn't waste any time getting the job done.
One big shot put Skvor's lights out in brutal fashion. The punch was clean and fast and the camera was close enough to catch the full sound of the impact.
Watch below courtesy of Glory Kickboxing on Twitter:
WHAT A SHOT! D'Angelo Marshall closes the show with a BOMB! #GLORY64

HOW TO WATCH: https://t.co/GSrniJCzOH pic.twitter.com/Gi0OLcsWcs

— GLORY Kickboxing (@GLORY_WS) March 9, 2019
Knockout artist Michael Duut is known for being a heavy hitter, ut couldn't get it done against Donegi Abena tonight:
SWEET uppercut from Abena! #GLORY64 pic.twitter.com/kfbhKarniX

— GLORY Kickboxing (@GLORY_WS) March 9, 2019
Alim Nabiyev def. Murthel Groenhart:
You can't touch @NabiyevAlim. #GLORY64 pic.twitter.com/NImUsC1sf8

— GLORY Kickboxing (@GLORY_WS) March 9, 2019
Here are the Glory 64 Results courtesy of CombatPress.com:
Harut Grigorian vs. Cédric Doumbé – for welterweight title
Anissa Meksen vs. Tiffany van Soest – for super bantamweight title
D'Angelo Marshall def. Daniel Skvor by knockout (punch). Round 3, 1:43
Donegi Abena def. Michael Duut by split decision (27-30, 30-27, 29-28, 28-29, 29-28)
Alim Nabiyev def. Murthel Groenhart by split decision (27-30, 29-28, 29-28, 29-28, 29-28)
Zinedine Hameur-Lain def. Artur Gorlov by disqualification (intentional foul). Round 1
Anvar Boynazarov def. Abdellah Ezbiri by unanimous decision (29-28, 29-26, 29-27, 29-27, 29-27)
Mike Lemaire def. Arian Sadikovic by split decision (28-29, 28-29, 29-28, 29-28, 29-28)
Donovan Wisse def. Matěj Peňáz by TKO (body shot). Round 2, 2:49
Aleksei Ulianov def. Massaro Glunder by unanimous decision (29-28, 29-28, 29-28, 29-28, 30-27)
Michaël Palandre def. Guerric Billet by split decision (30-27, 27-30, 28-29, 29-28, 29-28)
Ertugrul Bayrak def. Jakob Styben by split decision (29-28, 28-29, 29-28, 29-28, 29-28)
Sarah Moussaddak def. Jiwaen Lee by split decision (30-27, 28-29, 30-27, 30-27, 29-28)
Dani Traoré def. Jeremy Antonio by TKO (three-knockdown rule). Round 2, 1:30
River Daz def. Vincent Foschiani by split decision (30-27, 27-30, 30-27, 28-29, 29-28)
Mathieu Ceva def. Daniel Krost by split decision (29-28, 27-30, 29-28, 29-28, 29-28)