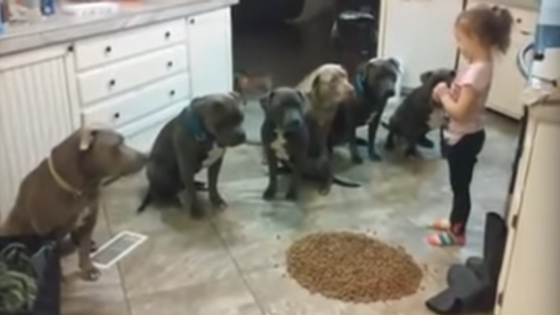 Pit bulls are often considered a dangerous dog breed, but a woman wanted to prove people wrong by capturing a video of her niece with six male pit bulls. 
In this video, a little girl named Taisley Rose is standing alone in front of six hungry male pit bulls. The footage stirred a lot of mixed reactions, with some raising their concerns about the child's safety around the 'fearsome' dogs.
However, little Taisley seemed to be sure of what she's doing. She yells "Sit!" and claps her hands as she orders the dogs to do so. Surprisingly, the massive pit bulls obey her command!
It's Time to Eat!
"Are you hungry?" she asks them, as she gets a hold of the dog food.
While the little girl spills the two buckets of food onto the kitchen floor, she repeatedly says "Stay", so the dogs only moved their heads.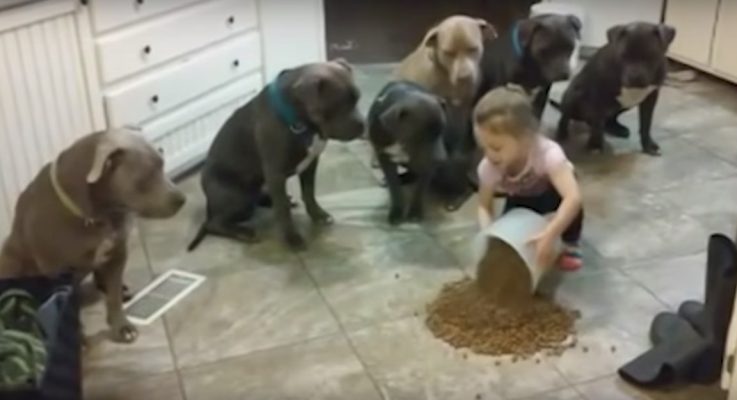 The pit bulls were starving, but they remain seated and patiently waited until Taisley said.. "1, 2, 3, Okay!"
They quickly swarmed around the mountain of dog food and started eating calmly.
Taisley may be tiny, but her heart is as big as her flock of pit bulls, and they obviously love her. She has the full potential of becoming a dog trainer sooner or later.
Negative Reactions From the Netizens
Many viewers were amazed by Taisley's brave soul and ability to control the big dogs. But, some people didn't seem to approve of what little Taisley did. They believe that a pit bull is a kind of breed that's unpredictable and can attack anytime.
However, Taisley's dad, Tye Girard, wanted to make it clear that he would never harm his daughter. "The dogs love these kids more than you would ever know. If I felt that she was in any danger, I definitely wouldn't put my daughter in that situation at all," he told InsideEdition.com.
Watch the video below as little Taisley incredibly controls six full-grown male pit bulls:
Taisley's dad also said that he took care of the pit bulls since they were babies, so he knows that he raised them well.
And until now, the belief that "there's no such thing as bad dogs, just bad owners" is still objected by a lot of people.