Look, we cannot all be geniuses, can't we? I get that there are moments in life that you simply don't the answer to the question. However, sometimes it is just sad what people say on television. Is there anything better than humiliating yourself on TV? I must admit one thing, these people definitely have the confidence to show up on TV shows. You have to admire their confidence, but their intelligence is another story. I won't say "how dumb you should be", but let's just look at some of the questions and answers.
1. The man  who never played video games.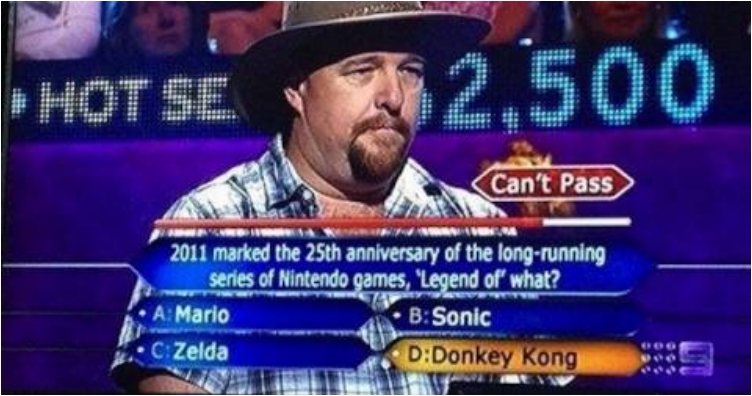 I am sure Donkey Kong is the only name that this guy have ever heard in regards to video games. But Legend of Zelda, that is an iconic game to the point it is more than a game. It has become part of a subculture, and in the best way possible. Good thing he didn't answer Mario. Well, not all of us have been playing video games as kids.
2. Well, the pharaohs did it, why can't she?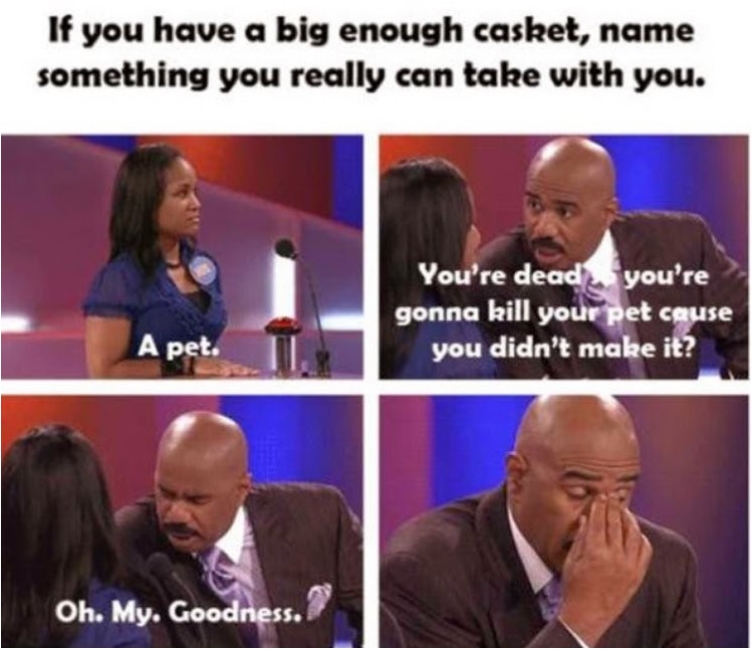 Some people just love or hate their pets. I don't know what to think about this answer. Does she really like her pet so much she wants to take it anywhere with her, even in the afterlife? Or she just hates her pet and wants to throw him under the bus? In any way, praise the Lord and the dead people.
3. Why fill in the blanks at all.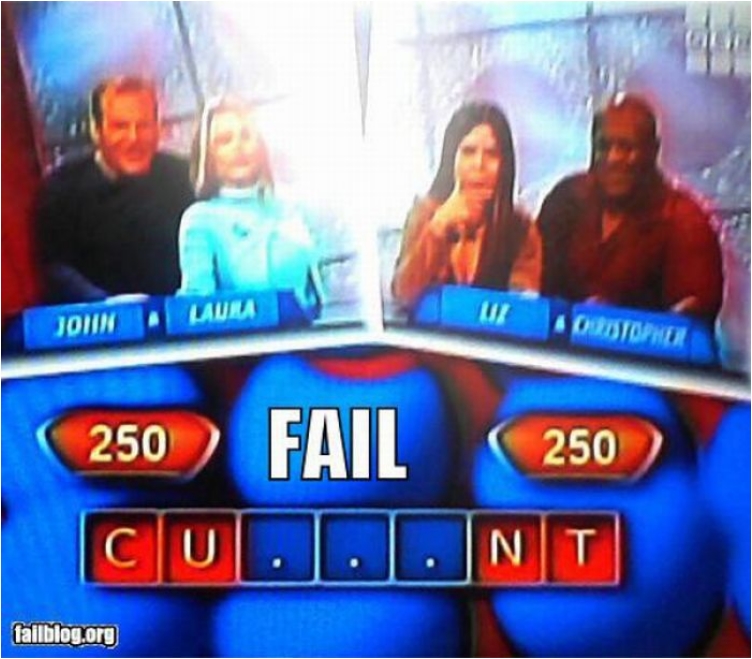 I said at the beginning some people at least have the confidence and courage to try and get the answer right. But other, just choose to let the time pass, and hope that the answer will magically appear from somewhere. That isn't happening. When you enter a quiz, you need to try and get the answer, OK? The answer won't appear from anywhere.
4. Because "Z" is such a commonly used letter.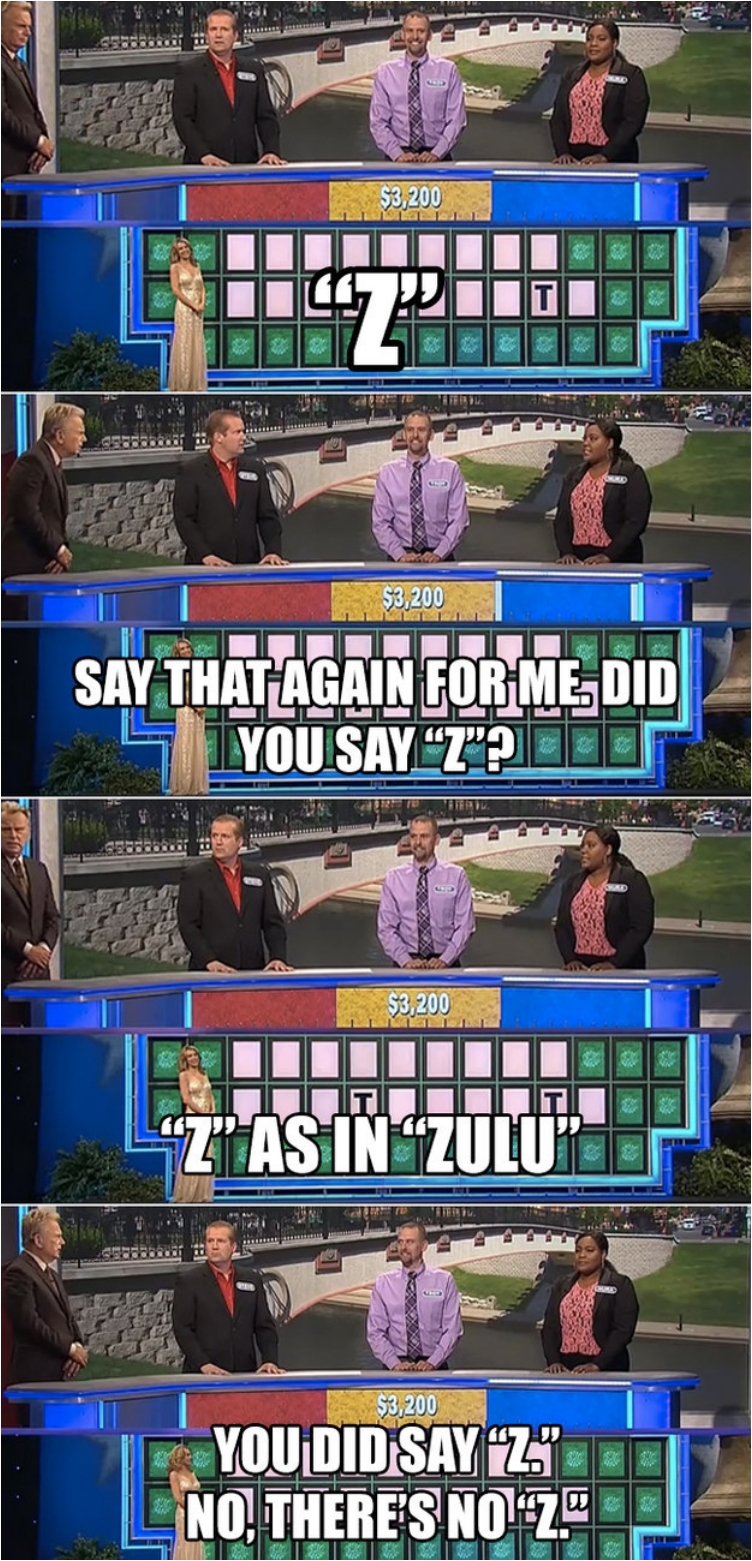 I love quizzes like this one. You get a plank page, and you need to get all the right letters, and then the word itself. In most cases, people try with "a", "i", "o", "e", you know, vowels that are part of 99% of the words in the dictionary. Or you know, some of the common consonants like "s", "r" and "t". But why bother? One can guess that "z" is his favorite consonant. Honestly, there is no other explanation why "z" would be your first choice on this type of quizzes.
5. The answer is "puberty", by the way…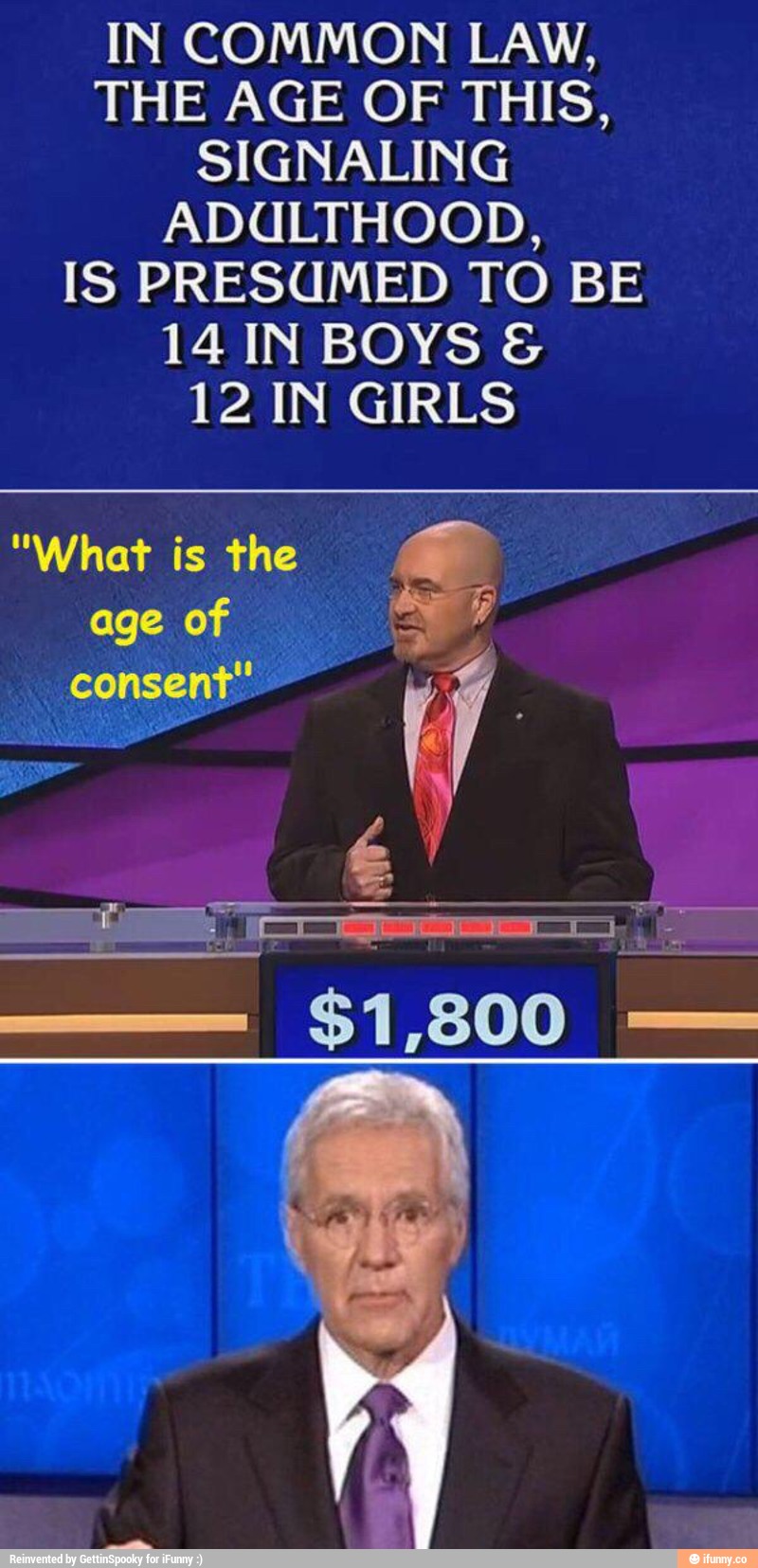 Well, some people actually never get pass their puberty. Can you blame them? I understand some people are young in spirit at the age of 50. And I know there are people that have difficulties learning, but they don't apply for a spot in a quiz.
6. The "force" is weak in this one.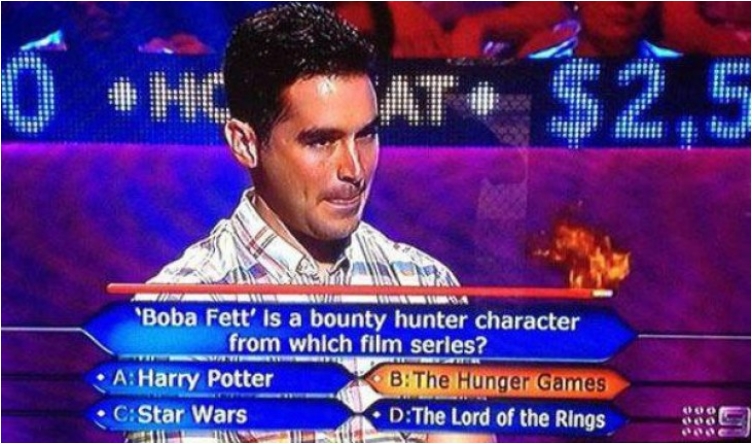 I'd understand if the candidate was a 10 year old kid. Cross that. A 10 year old kid knows Star Wars, an iconic movie that has also become part of subculture. I know the Hunger Games are quite popular in recent years, but does the name Boba Fett sounds like something modern Hollywood would use in a movie? Good thing he didn't say Harry Potter.
7. Awkward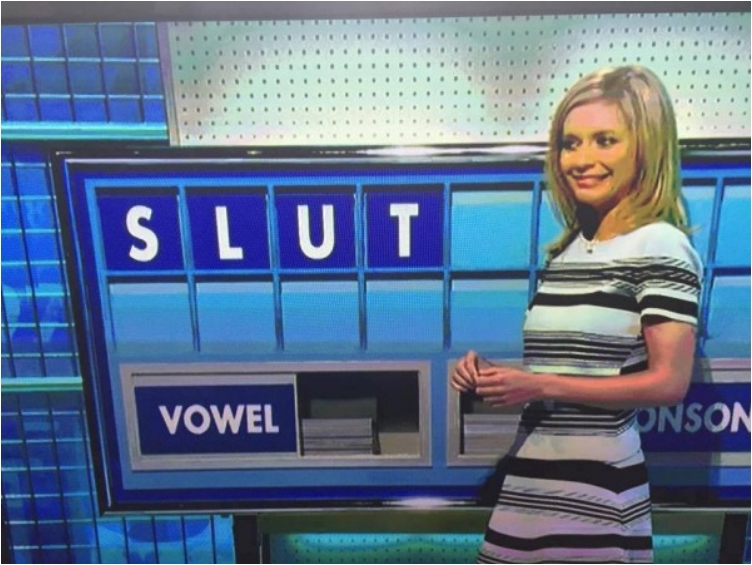 This is truly awkward, I must say. And it has nothing to do with the candidate being dumb or anything like that. Sometimes, faith intervenes and a funny moment is born. Just sit back, relax, and enjoy the moment.
8. I pity the lady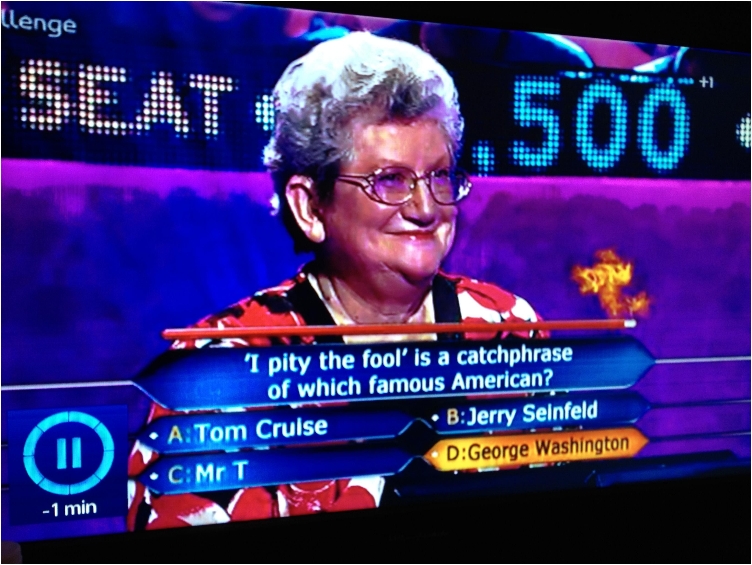 I can understand that a 60+ year old lady has no interest in the A-Team. She probably never heard of Mr T and the A-Team. But choosing George Washington, one of the Founding Fathers of America? Would you think for a second that the founding father would say something so childish, funny and comical?
9. OMG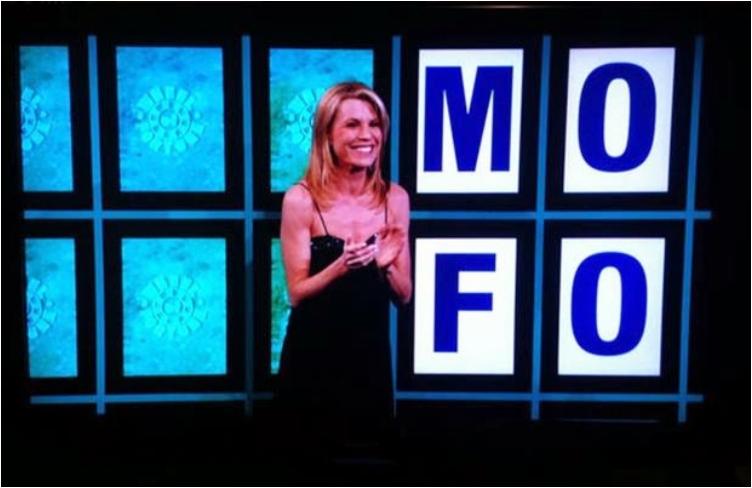 You must appreciate the effort here to come up with a mafia word. After all, why would you need FOOD? We only need food to survive, and nothing more. Well, after oxygen and water, food is the third most important thing in our life. But I assume this lady is reading too many crime novels.
10. Didn't know "cupine" was a word until now.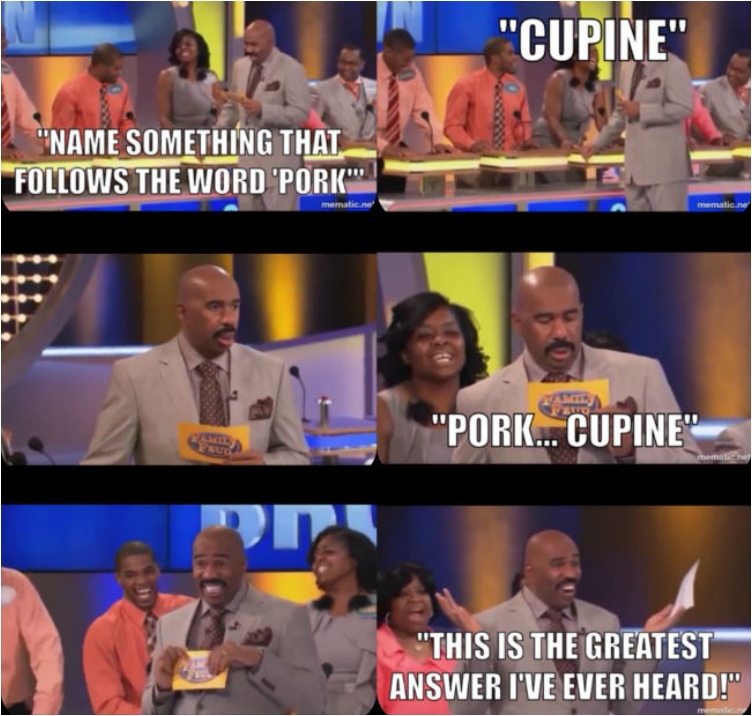 Speaking in an interview some few years later after this incident in Family Feud, Steve Harvey revealed that he was on the floor laughing for 15 minutes after he heard the answer. It is just brutal. He goes on to say that the answer sent black people back 200 years. Well, I can't blame him. And this is definitely an answer that will make your family dissolve you.
11. Good name for a girl's tap-dance group, huh?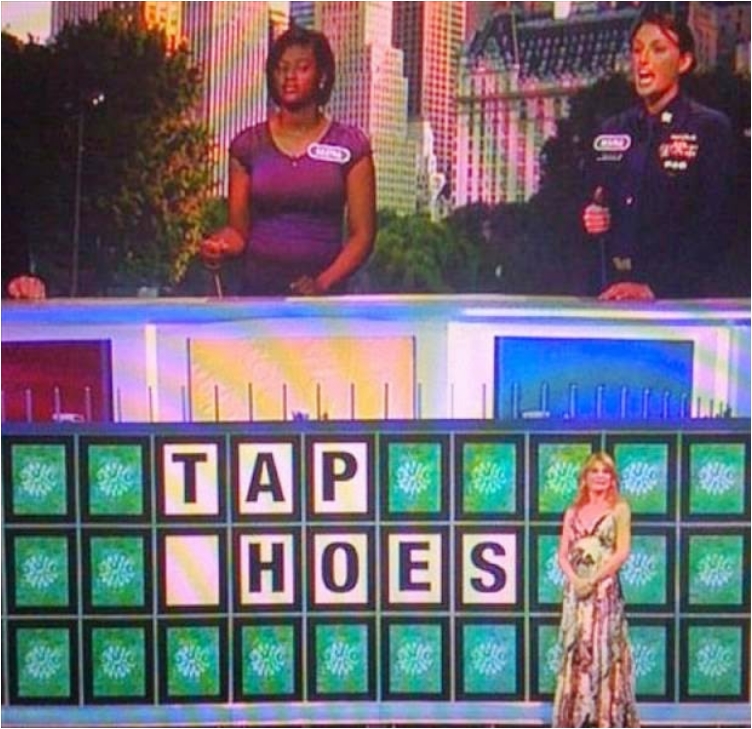 Well, in honestly, one letter is missing, and once you add "s" there, it will be "tap shoes". But still far from the real answer.
12. When you mix pecan and toucan on national TV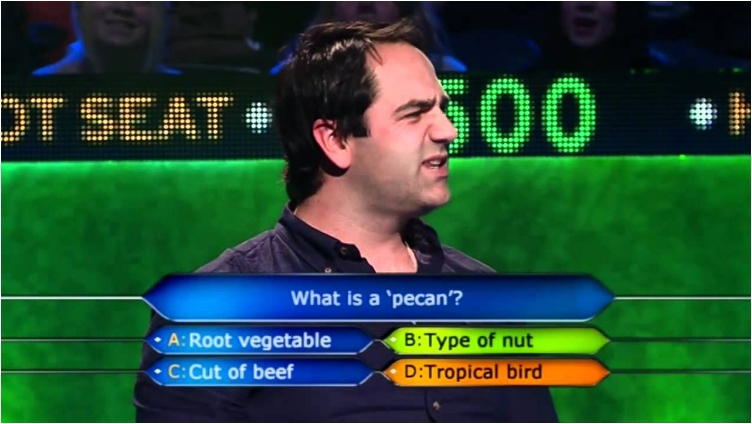 Well, good thing he didn't say cut of beef. That would be even more hilarious. But you could say this guy is not much into veganism, as pecans have slowly become the most popular of all nuts. The popularity of pecans as a vegan and vegetarian option for protein sourcing is growing, and I am surprised this guy didn't know it. Or just go simpler, whenever you are watching a game with friends, or you have friends for a beer, you probably take nuts out on the table (pun intended).
13.  Wonder how he eats his tacos…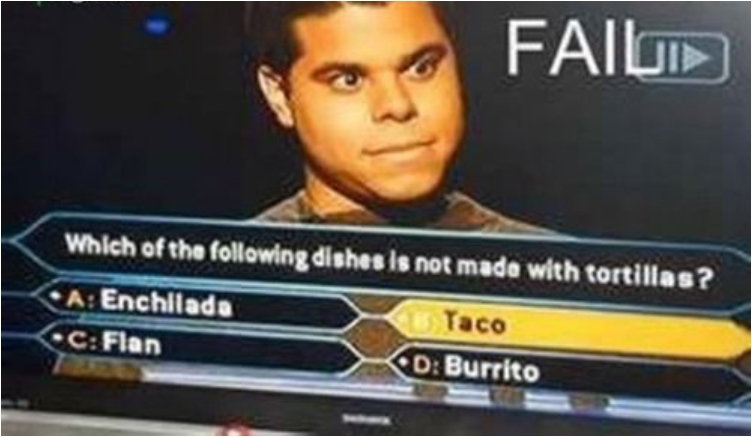 Hey, I will say that taco has become one of the most versatile dishes, and people put everything inside nowadays. But still, the basis is a tortilla. But hey, we might find a new recipe sometimes in the future, where tacos are made with something else, not a tortilla.
 14. The countdown went up.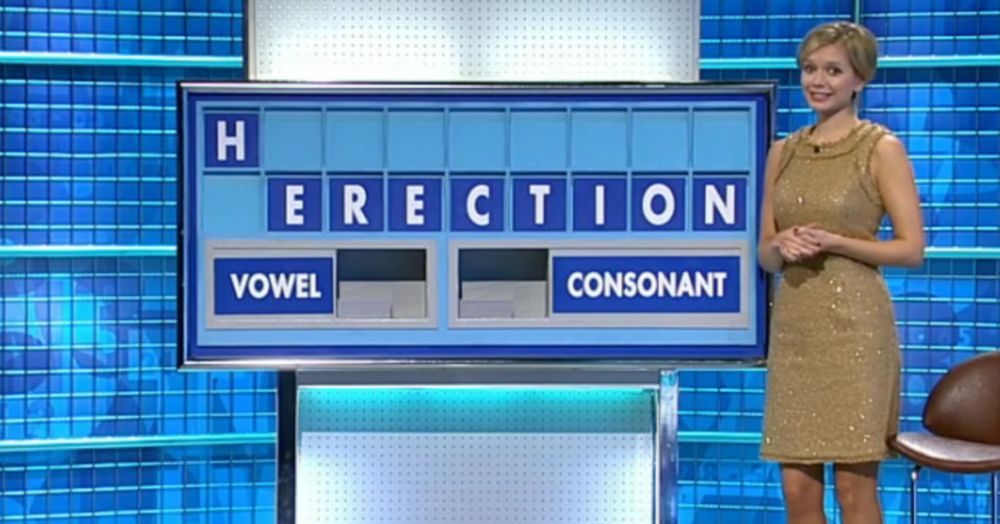 Well, with such a beautiful lady out there, you might say that an erection is only logical choice? After all, men are visual human beings, and when they see a hot lady, they react, one way or another.
 15. You're thinking of the letter "T", aren't you?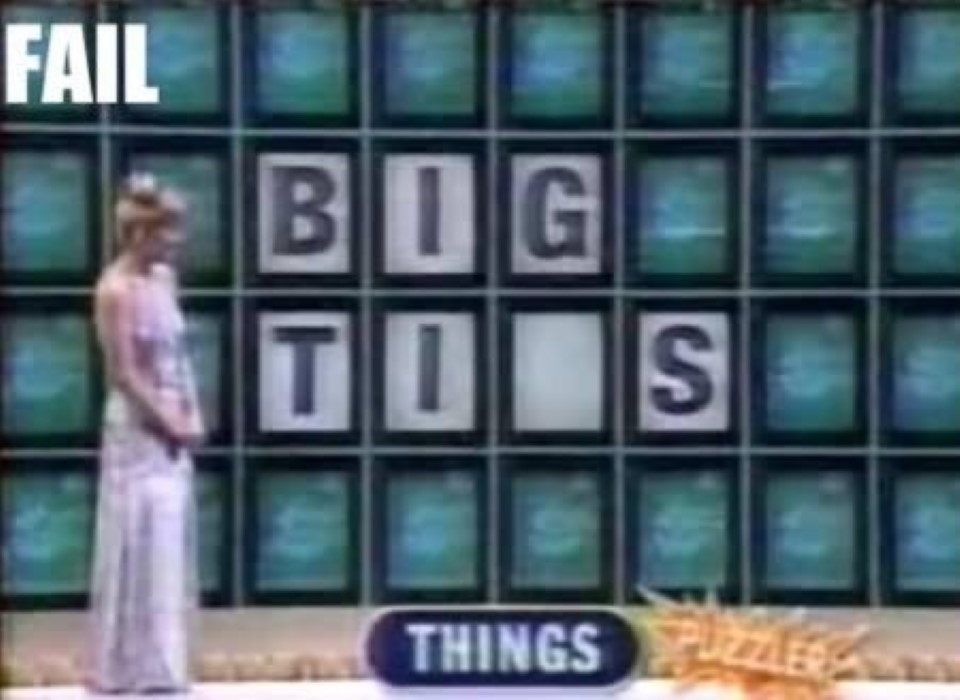 Show this your friends, and nine out of ten will say tits as well. What can we do, our society has become extremely sexual, and everything revolves around sex. It just how our mind works in a pervert way. But once you take a deep breath, you'll probably guess the answer.
16. Next time, they'll give a surround system to a deaf person. Oops.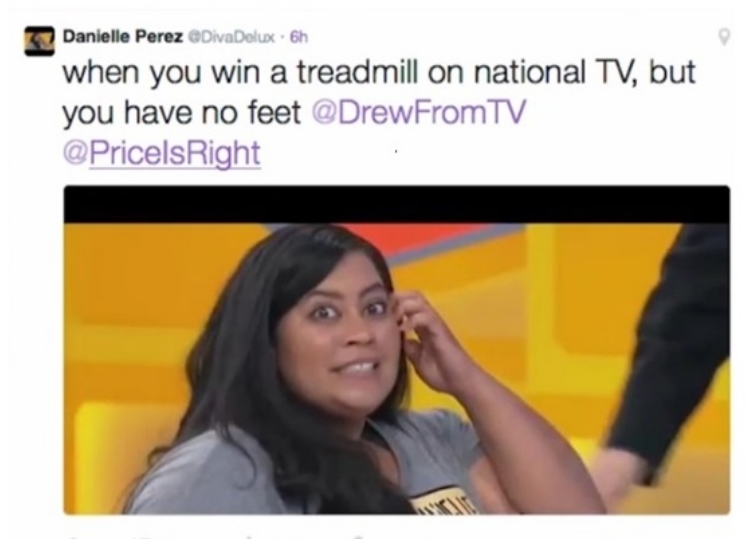 The only thing you can do in situations like this one is to post it online and make fun of yourself. It is just a funny coincidence, but the girl can always sell the treadmill. In an era when everyone is working out and trying to lose weight, treadmills are actually becoming quite expensive.
17. That answer fell flat.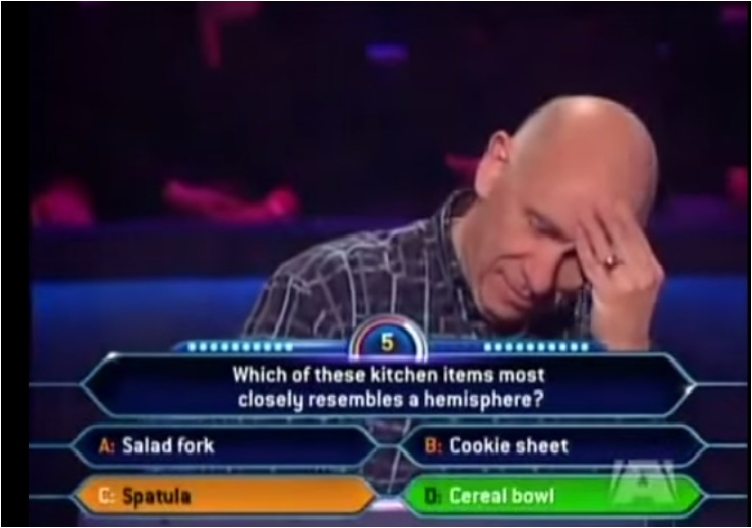 This is what happens if you have never seen how a hemisphere looks. What other explanation can you give for such terrible answer? Imagine if he said salad fork? Now that would be plain dumb.
18. Well, she had a point.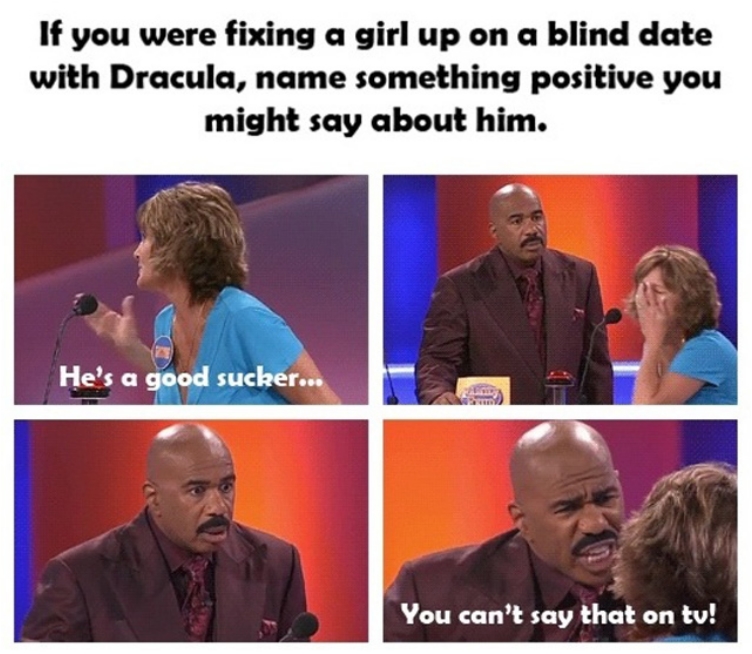 I said previously, we live in a sexist society. We think of sex more than we should during the day. And the woman was right, Dracula is actually good for sucking blood. And we know women love their oral sex. Good thing I am not on TV, or I would be banned for all the sex talk.
19. At least he's honest.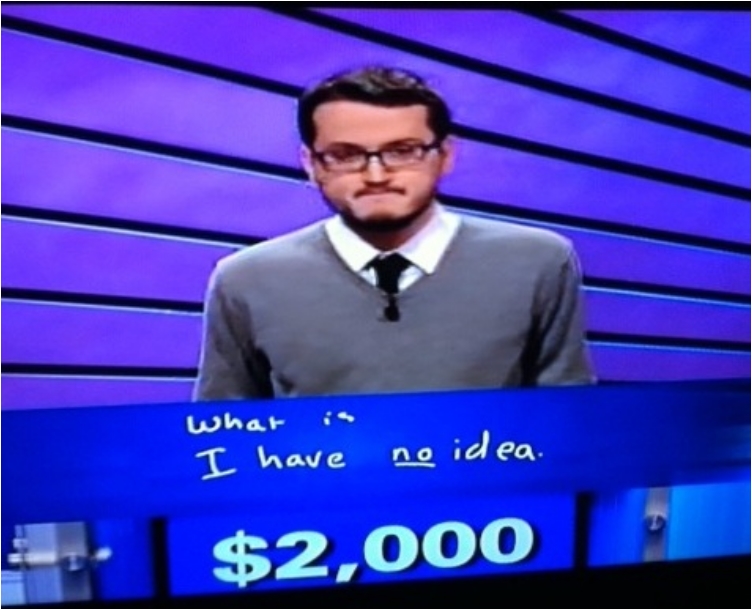 They say all is forgiven when you are honest. Confess, and you'll be forgiven, that is what the Bible teaches us. In this case, even stupidity and ignorance is forgiven.
20. Someone should really double check these things…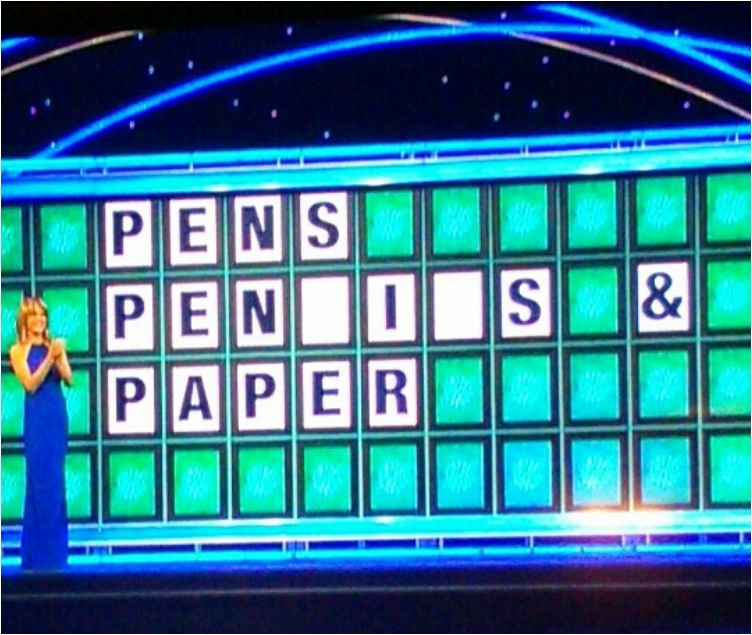 I've said it over and over again, coincidences are the most funny moments on live TV. We are just blessed with so many quizzes nowadays, and so many coincidences, that we have to appreciate the era. There might be a day when quizzes are no longer part of the mainstream television, and we will miss these funny moments and coincidences.
 21. From your head to your toes, armed to the nose.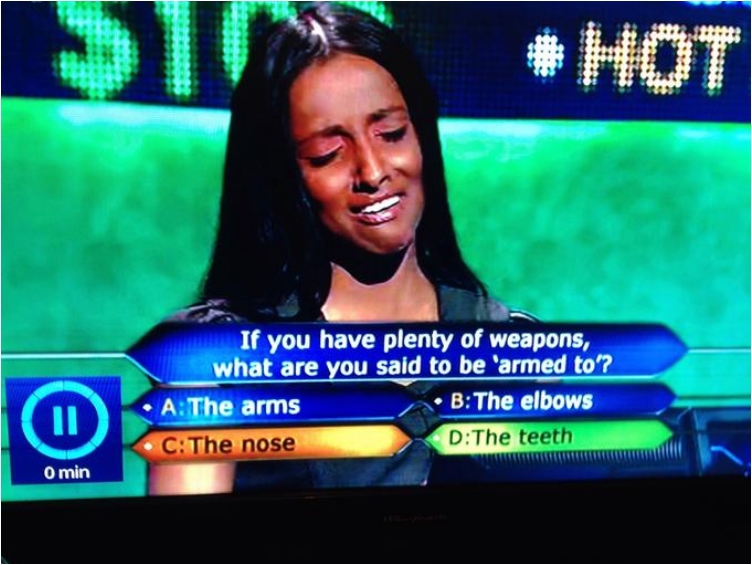 Well, she got it almost right. After all, if you go by vertical, the nose is actually positioned higher than the teeth. But a saying is a saying. And I am surprised how many people guess this answer wrong.
22. So suggestive, but you're looking for something found in casinos.
If you guessed "tuck me in the arm tonight", you guessed right. Now, there are pervs out there that probably guessed something entirely different. And that is the best example how thin the line is between romantic and sexist. I'll admit, it took me five seconds to get the romantic answer. But what can I do, I am just built this way.
23. Made the host say Turd Ferguson. Wrong answer. Epic win.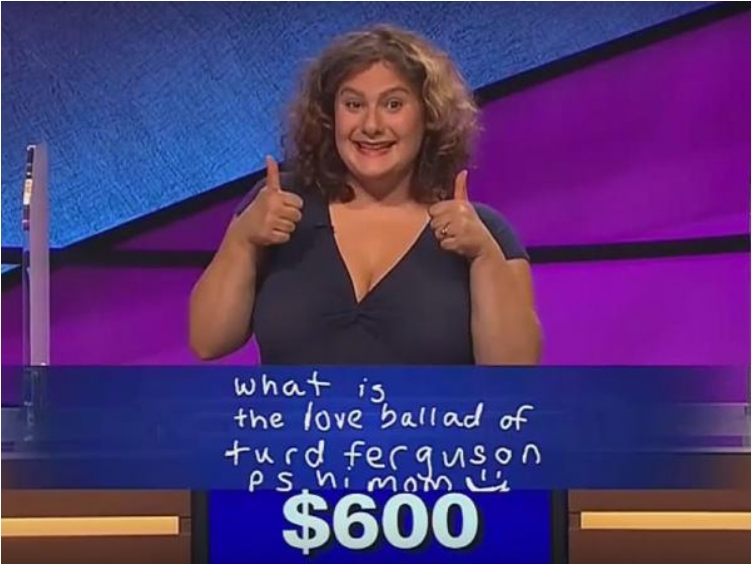 In chess, you sacrifice a pawn to get a queen. And war, you sometimes lose a battle, but win the war. Such is the case here, as the woman probably deliberately guessed the wrong answer.
24. She was tricked by the answer being given in the question.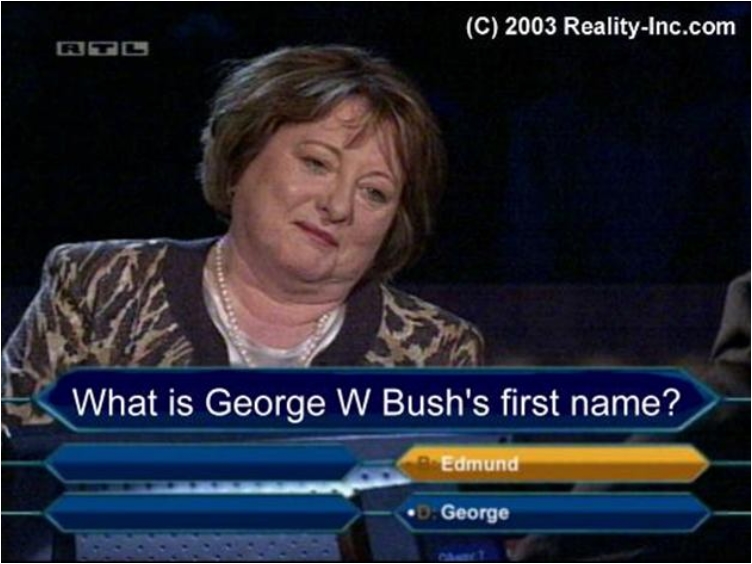 All right, I cannot justify this one. And when you think that the woman actually asked for help first, eliminating half of the answers. She probably thought George W Bush is a pseudo name, and Edmund is the real name of the former US President.
25. Someone can't learn form their mistakes, apparently.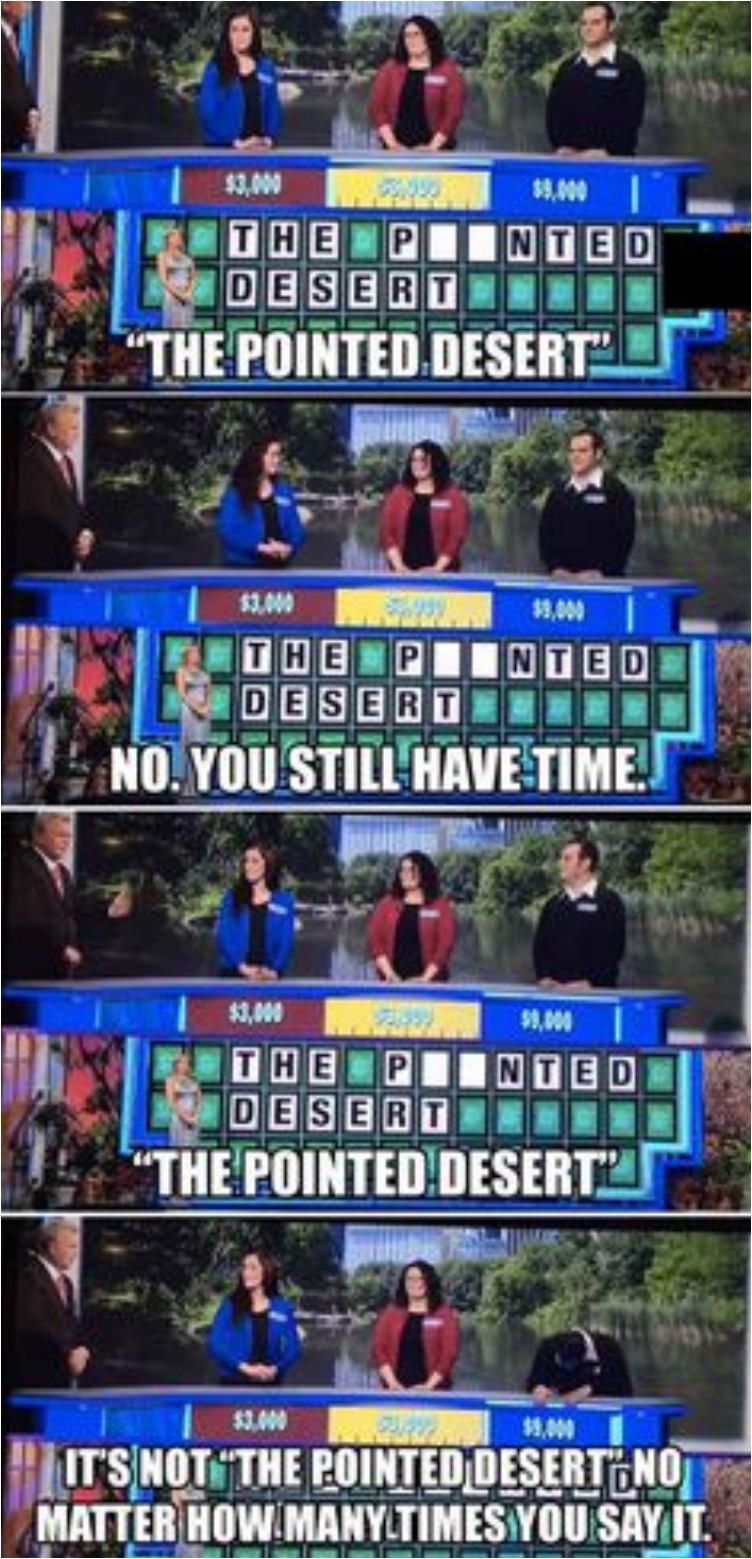 They say that if you say something multiple times, and repeat it to yourself, it will become reality or a fact. Sadly, that doesn't apply for quizzes, and no matter how many times you try the same answer, if it is wrong the same time, it will be wrong the second, third and fourth time you say it. It is just how quizzes work.
26. Since when do owls have ink sacks?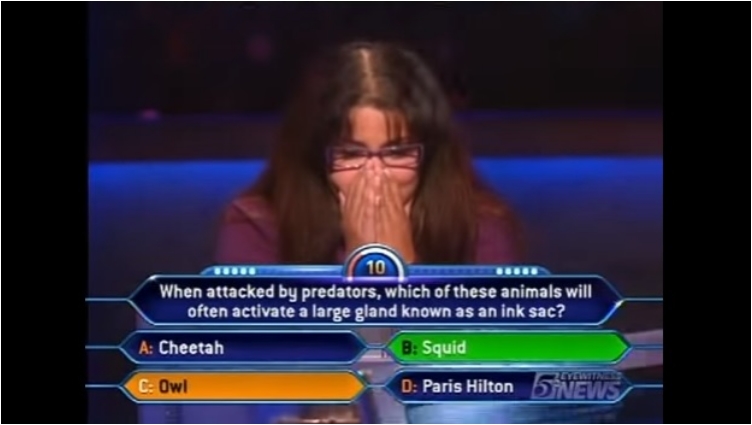 I admire the woman for not saying Paris Hilton. What can I say, with so many horrific answers out there, a woman can expect everything nowadays. I didn't know owls have inc sac. But hey, you learn something new each and every day.
27. What are anniversaries compared to burgers?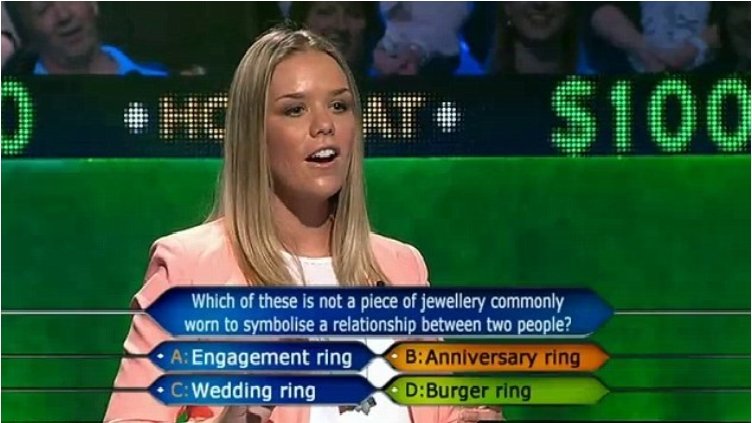 Well, what do you know, maybe in an alternate universe, people give themselves burger rings to symbolize a relationship. I'll admit, I've seen quite the burger rings given in a relationship, but those are jokes symbolizing one of the partners just love his food so much.
28. Another funny, but honest guy.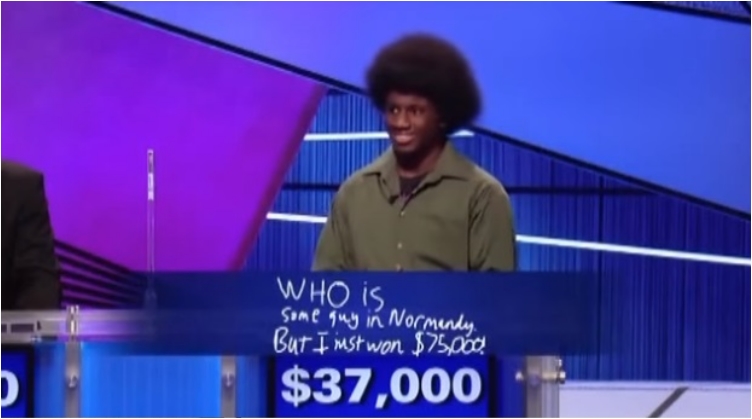 We've learned so far that honesty is the best answer, even if you are wrong. Sometimes, honesty pays. Sometimes, it doesn't. What you think, did this guy won $75,000?
29. But, the Moon looks so small up there.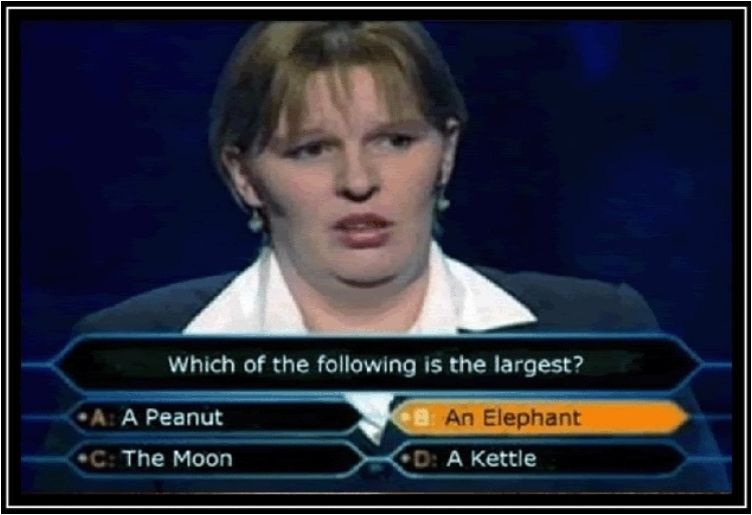 Well, have you been to the moon? Have you touched it? Have you walked on it? It might be small, no matter what those people at NASA tell you. We all believe in conspiracies, and who's to say this woman didn't believe in some conspiracy scenario where the moon does not exist? In that case, an elephant is definitely the largest subject of the three remaining.
30. Really, get your mind out of the gutter.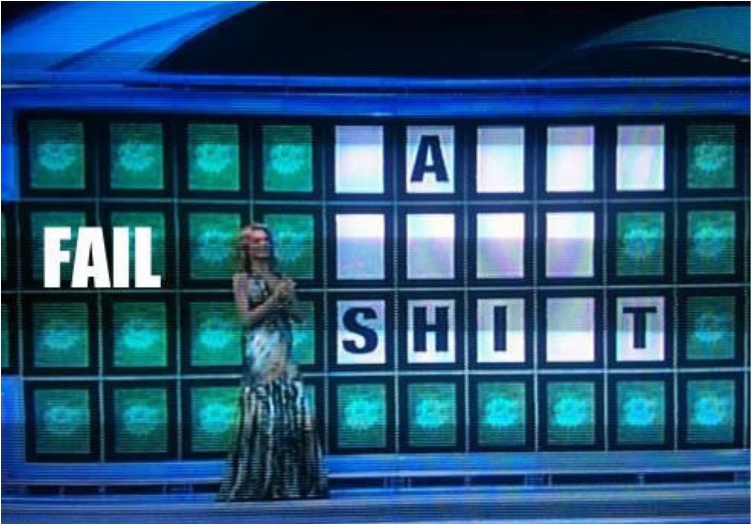 This is definitely the quiz with the most funny and awkward answers, so it is only fitting that I finish my list of funny moments with it. Hope you enjoyed the ride, I know I did.