Game of Thrones is one of the best TV shows there is. What makes the show so great is the dialogue and perfect acting. Intrigue, schemes and political battle is great, but it wouldn't mean a thing without some perfect lines delivered by the show's heroes. We take a look back at some of the most memorable and iconic quotes of the first five seasons.
We go forward. Only forward – Stannis Baratheon, s5/e7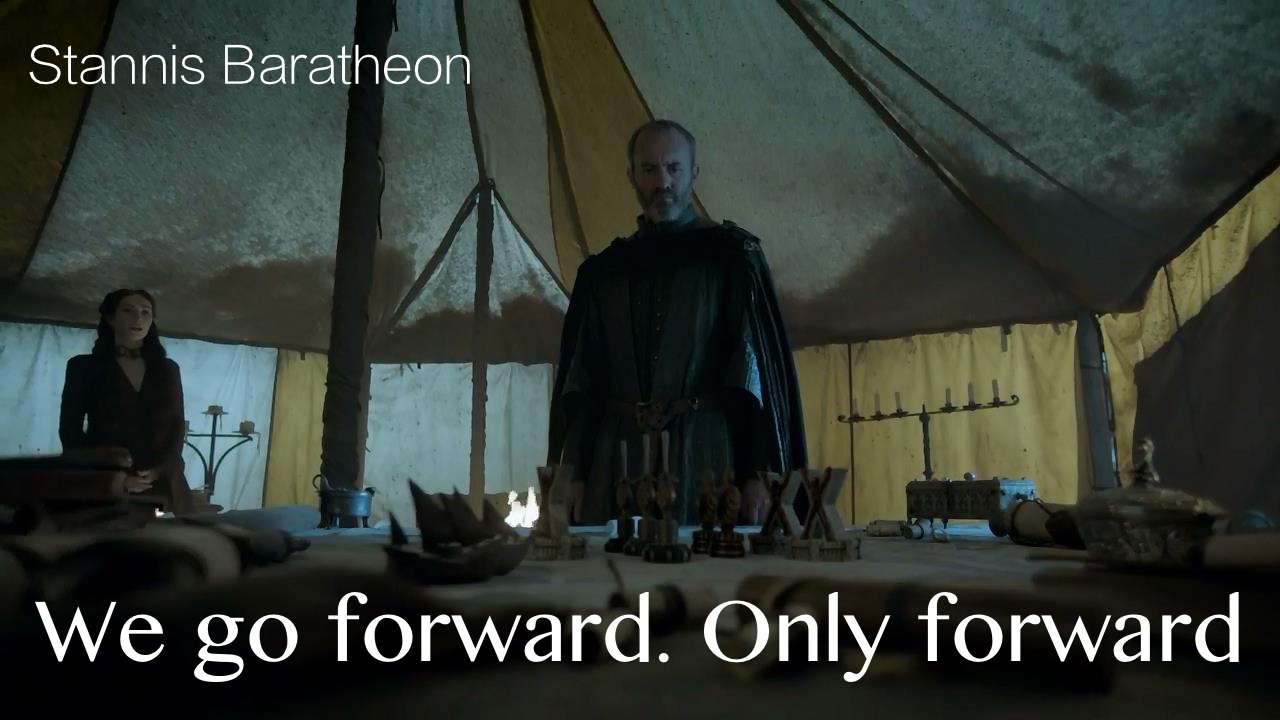 Book Stannis and show Stannis are two different things. In the books, Stannis is seen as more of an honorable man, someone who tries to win the Iron Throne because it is his right. And while both book and show Stannis would do anything for the throne, the show goes a step further and makes Stannis look more vicious, cold-blooded asshole. You can even say the show makes him the villain towards the end of season 5.
I'm not going to stop the wheel. I am going to break the wheel – Daenerys, s5/e8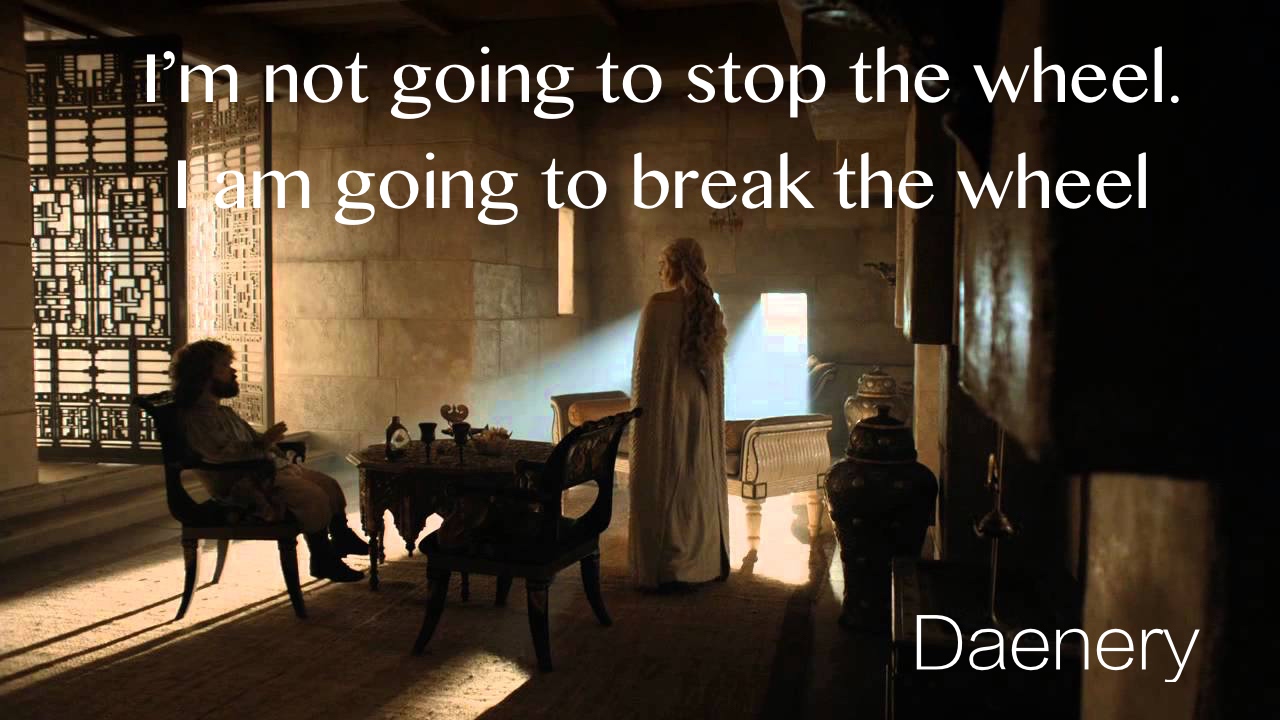 Daenerys story in the show is all about changing the political system we live in. She frees the slaves, and promises to make "Westeros Great Again". Any similarities to Donald Trump are not intended. There are few limits on her ambition, so we are only left to see whether she succeeds in changing the political landscape of Westeros and the social infrastructure.
For the Watch – Alliser Thorne, s5/e10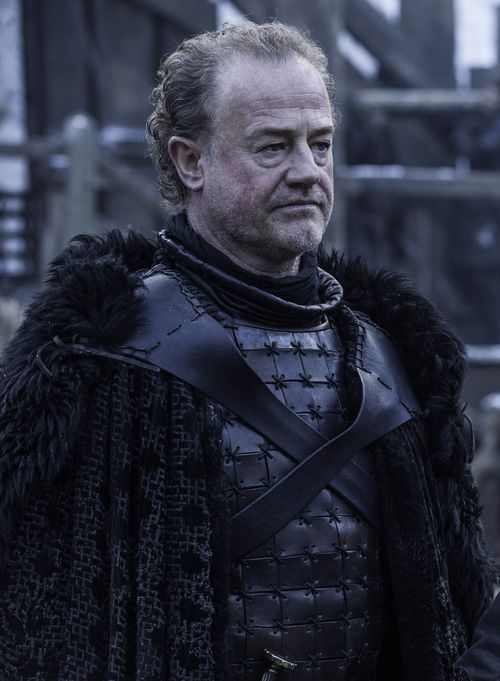 The death of Jon Snow as fans recall it. Alliser believed that Jon Snow betrayed his brothers at the Night's Watch, so he made sure that the Watch got its revenge. All of the brothers stabbing Jon in the back say the words, but Alliser is the first one.
Everyone wants to know their future… until they know their future – Maggy the frog, s5/e1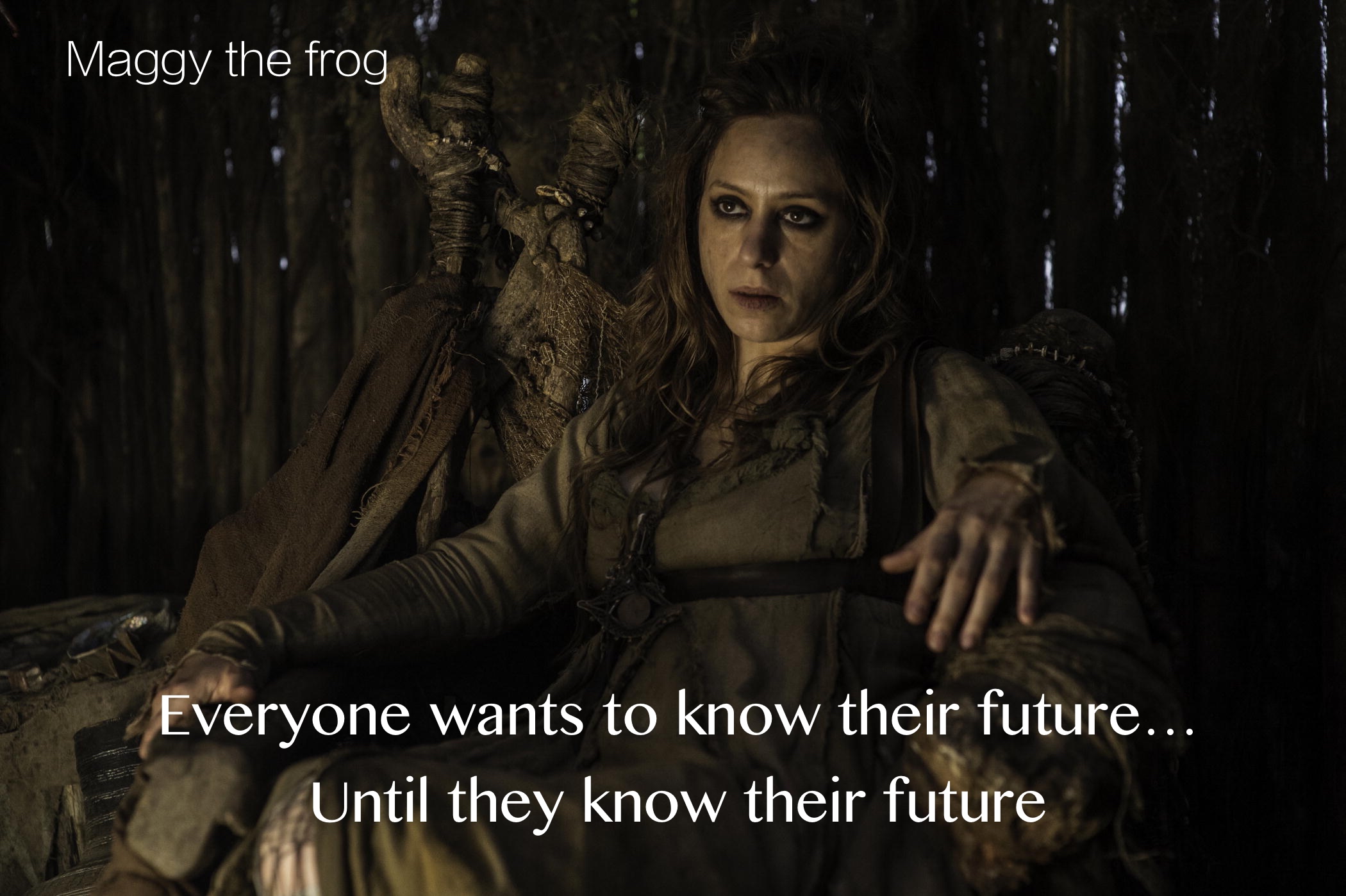 This is the opening scene of season 5, and fans finally see the prophecy Maggy tells to Cersei. The prophecy is that Cersei will have three kids, and that they will all die before her, and she will be killed by her younger brother. Makes you wonder, do you really want to know the future? Maggy says it best.
The powerful have always preyed on the powerless. That's how they became powerful in the first place – Tyrion Lannister s5/e1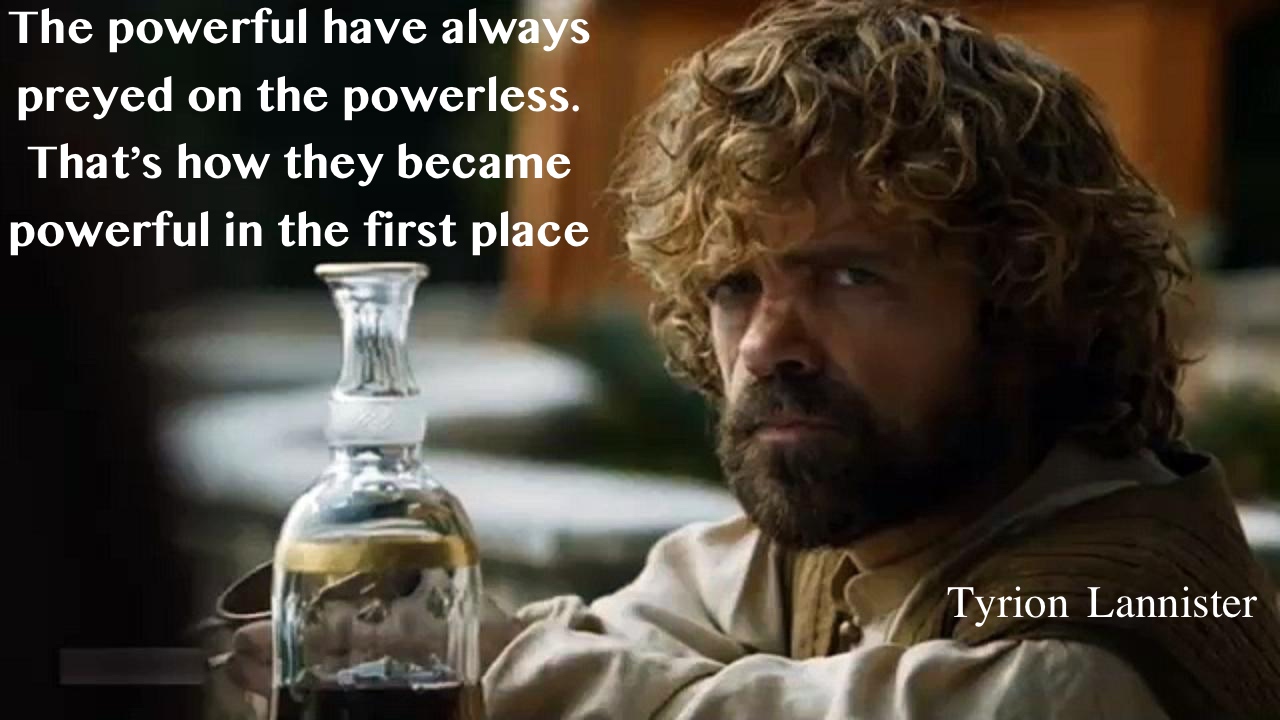 Tyrion is one of the characters in the show that always says the right words. He describes the political system we live perfectly, and this is just one of the great examples.
There's no justice in the world. Not unless we make it – Petyr Baelish, s5/e10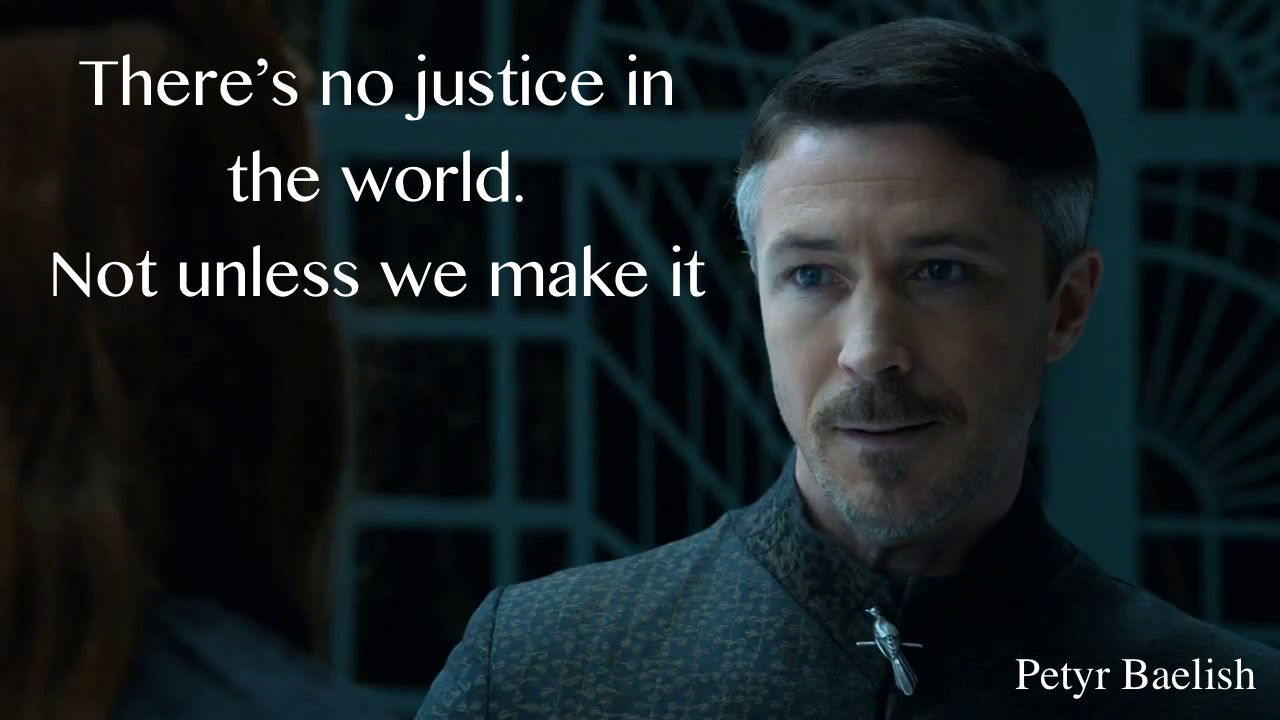 Petyr is talking to Sansa, urging her to get her justice by avenging her family. He tells her the harsh reality: unless you take matters in your own hands, nobody will help you.
Nothing isn't better or worse than anything. Nothing is just nothing – Arya Stark, s4/e7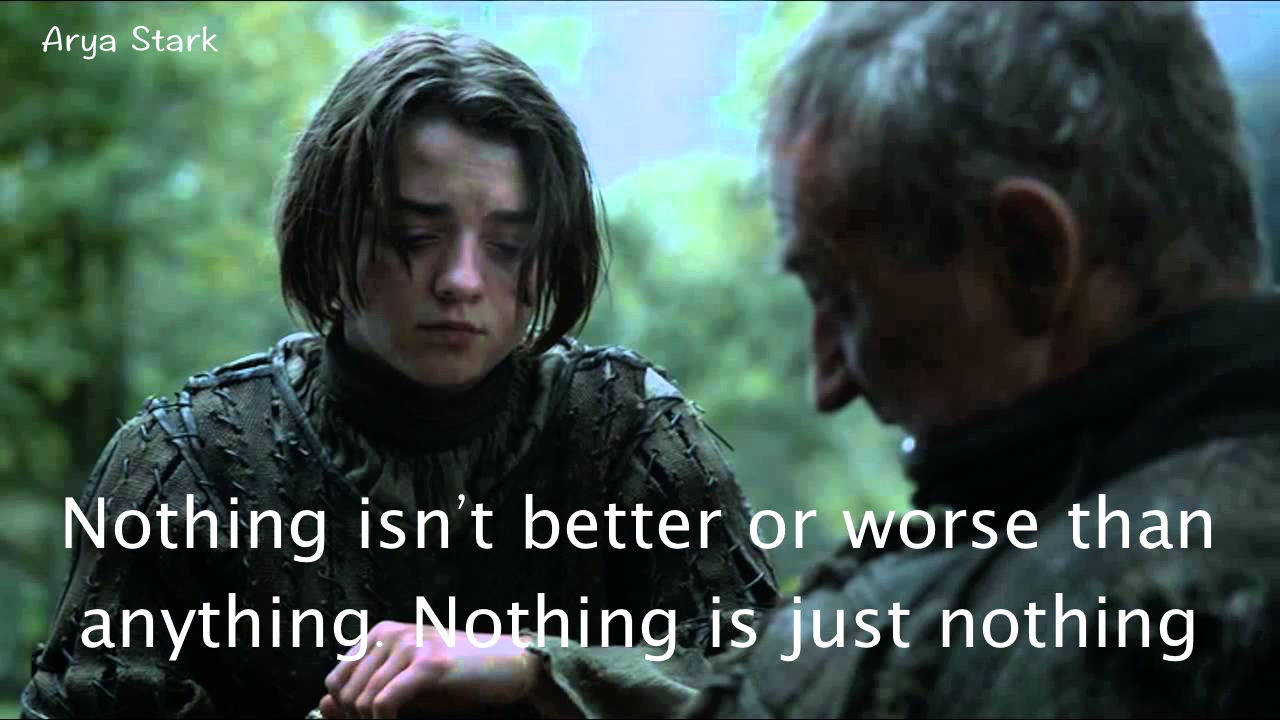 Many people were amazed by the monologue of the man Arya and the Hound found dying in season 4. The monologue was inspired by Samuel Beckett's Waiting for Godot novel. But Arya made it clear, nothing is just nothing.
I wish I was the monster you think I am – Tyrion Lannister, s4/e6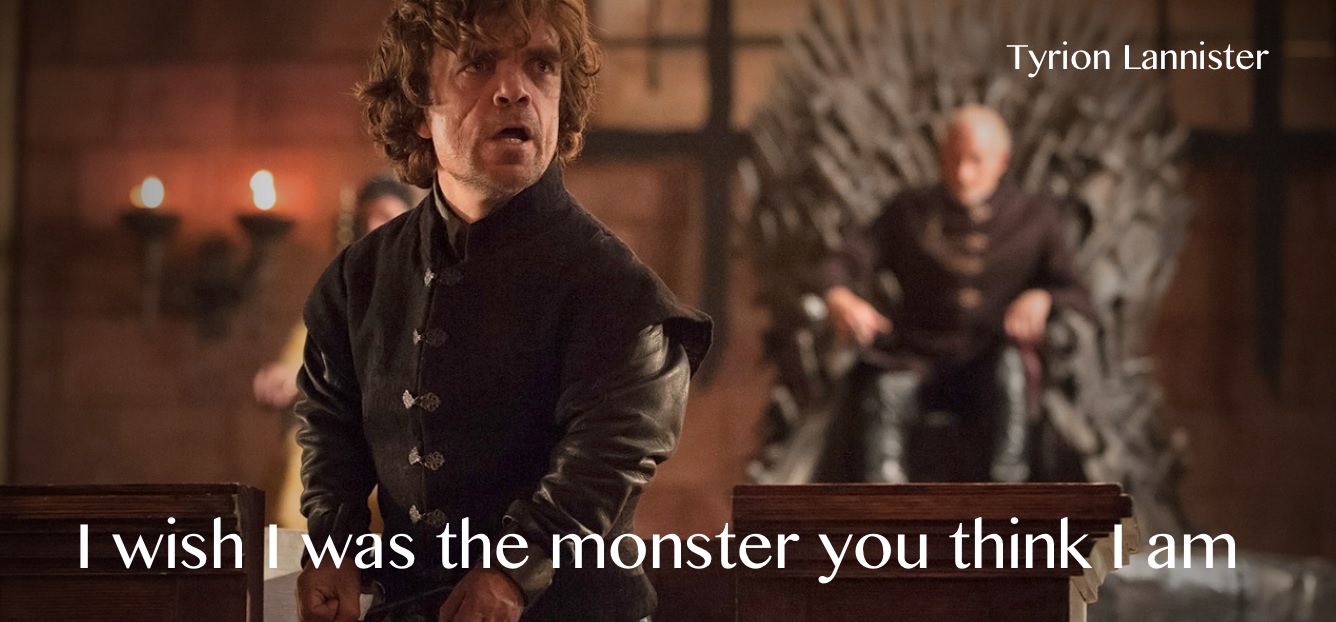 During season four, Tyrion is on trial for the death of Joffey. Everyone in King's Landing think he has done it, but he knows he hasn't done it. Still, in what is one of the most epic speeches in Game of Thrones, Tyrion finally says to the crowd he wishes he is what everyone thinks of him.
Hate's as good a thing as any to keep a person going. Better than most – Sandor Clegane, s4/e5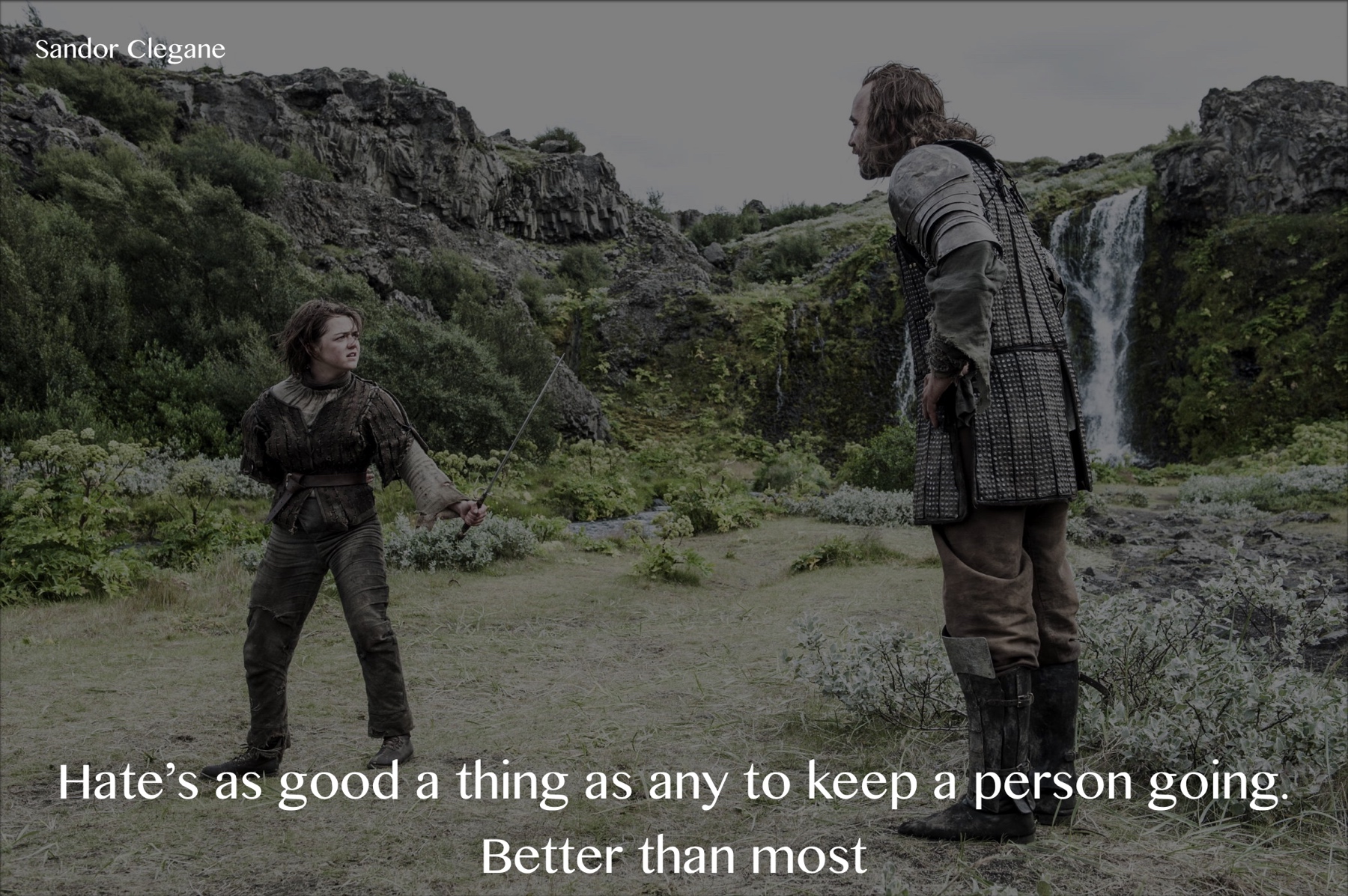 The hound talks to Arya and tells her what can inspire and motivate people. Arya is motivated by hate and revenge, and the Hound agrees that hate can be a powerful motivator.
Money buys a man's silence for a time. A bolt in the heart buys it forever – Petyr Baelish, s4/e3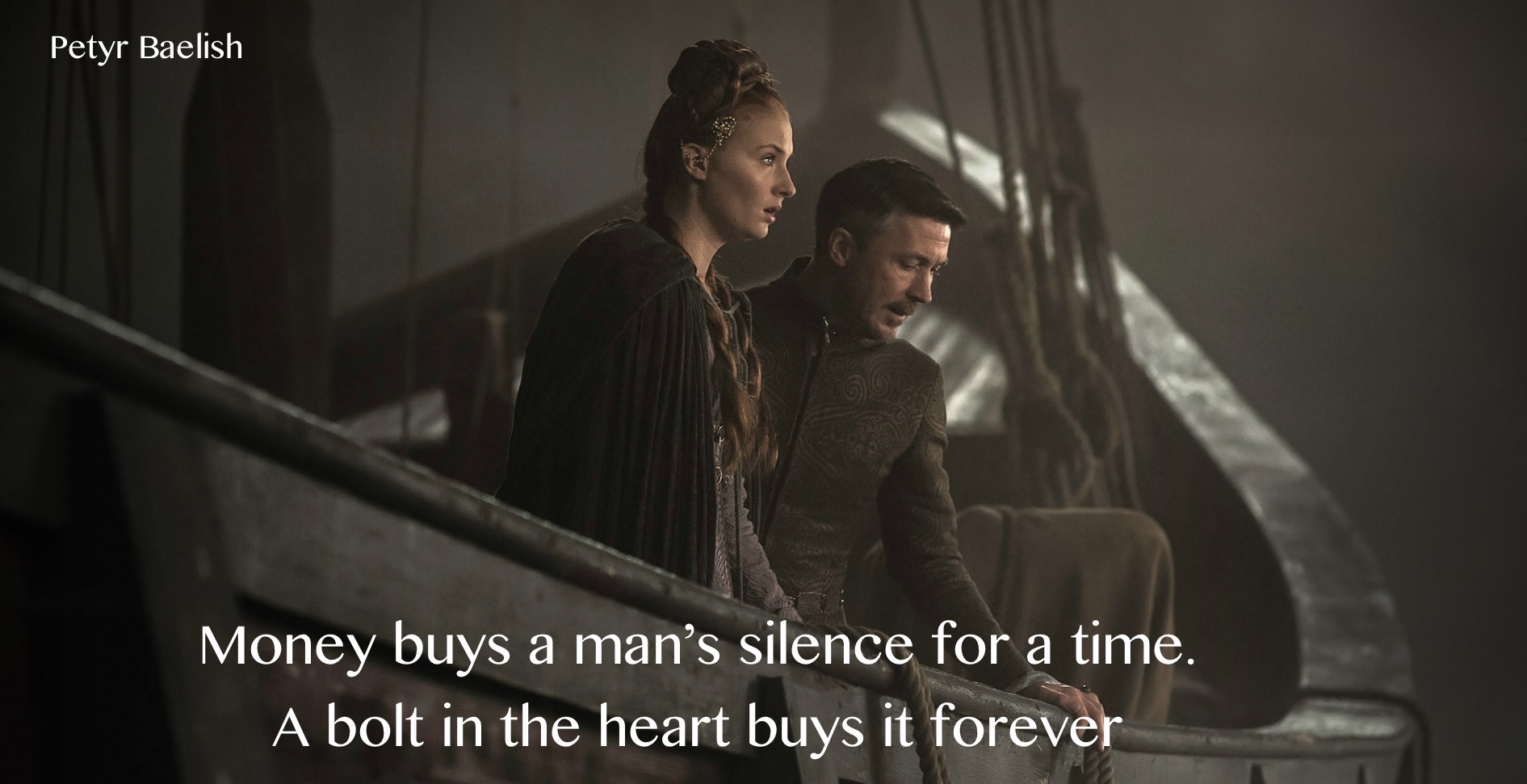 Right after Littlefinger resuces Sansa Stark from King's Landing, he tells her his motivation to kill the person who helped him. Baelish is well aware that in order for him to be successful, nobody needs to know his ambitions and plans. And no matter how much you try to corrupt someone with money, eventually, you might run out of money, and the truth will come out. So, he chooses the more durable solution.
It's not easy being drunk all the time. If it were easy, everyone would do it – Tyrion Lannister, s3/e10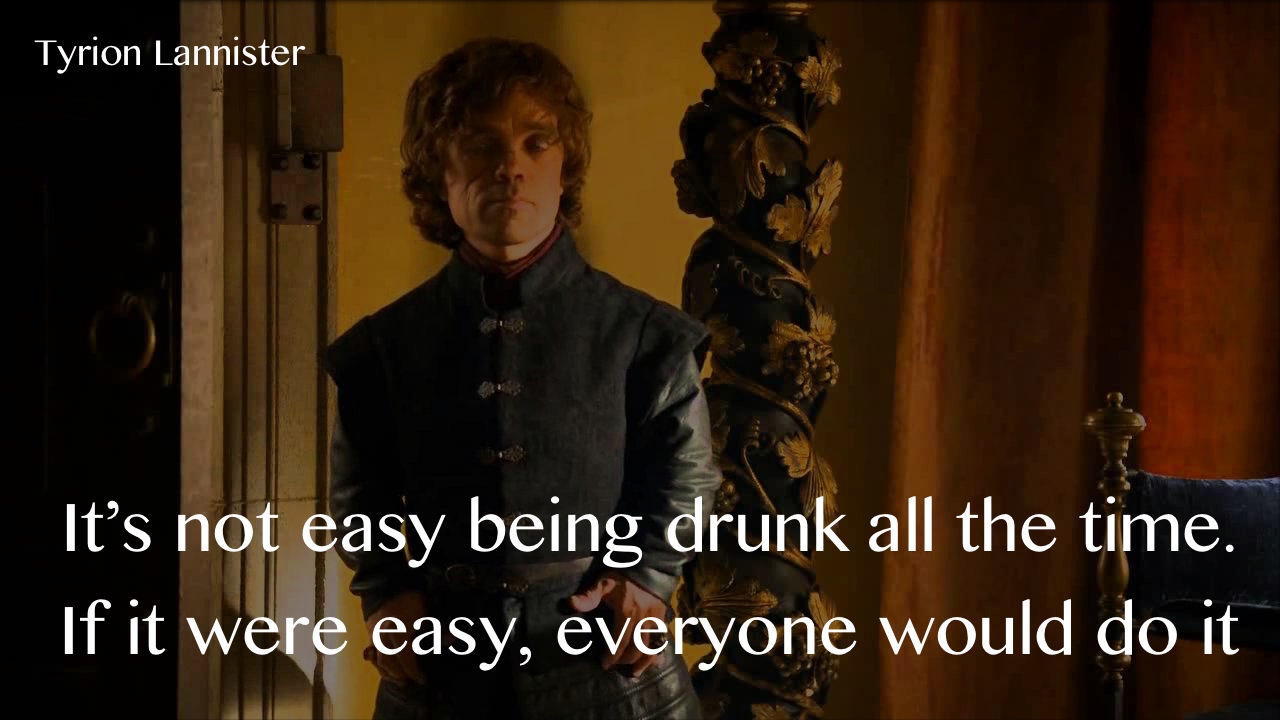 Tyrion is known in the show as the goofy character who drinks all the time. And he makes sure the audience knows that being drunk is not an easy task. Being drunk, but don't end up in trouble while being drunk is a skill few achieve during our lifetime.
If you ever call me sister again, I'll have you strangled in your sleep – Cersei Lannister, s3/e8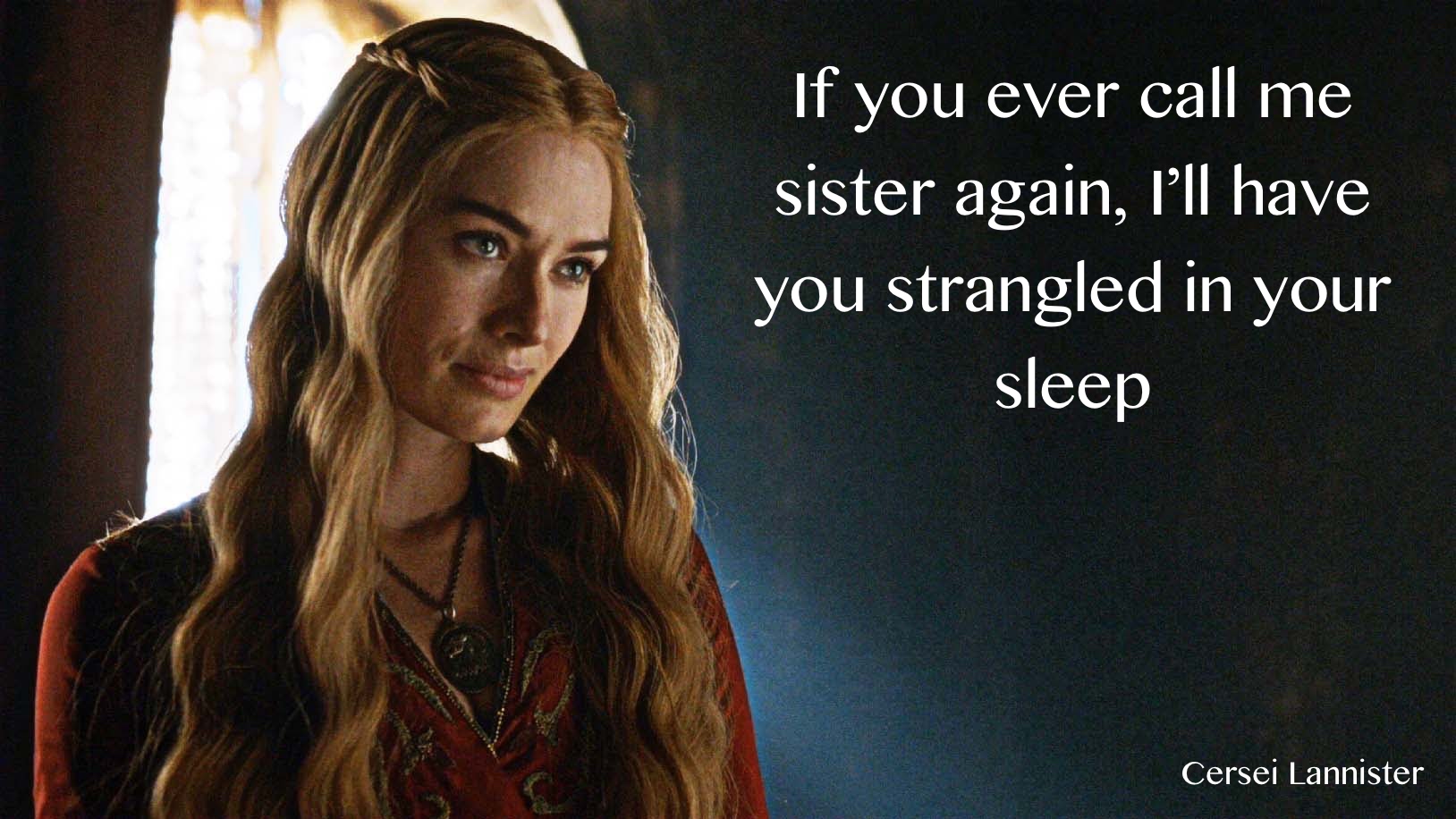 Margaery Tyrell and Cersei have a chat, and Margaery tries to provoke Cersei by calling her sister. Suffice to say, the Queen Mother doesn't appreciate it. She knows Margaery will marry Joffrey, but that doesn't make them any closer.
You're mine. Mine, as I'm yours. And if we die, we die. All men must die, Jon Snow. But first we'll live – Ygritte, s3/e7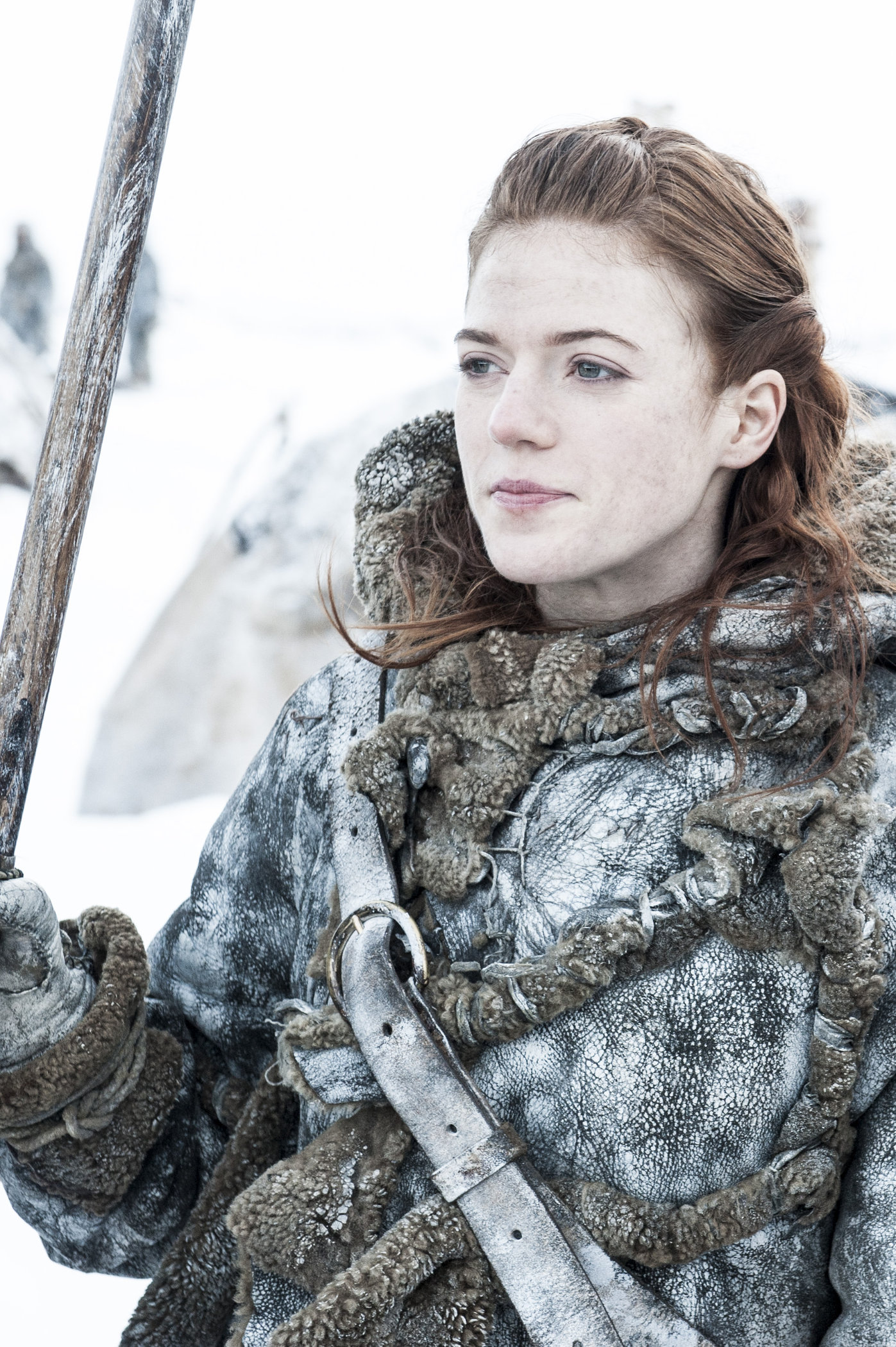 Ygritte is arguably one of the best characters on the show. At least, the most realistic one. She knows what is coming for all of them, but she wants to live as good as she can until the judgment day comes. And you can hardly find a person with more love and devotion like the wildling woman.
Chaos isn't a pit. Chaos is a ladder – Littlefinger, s3/e6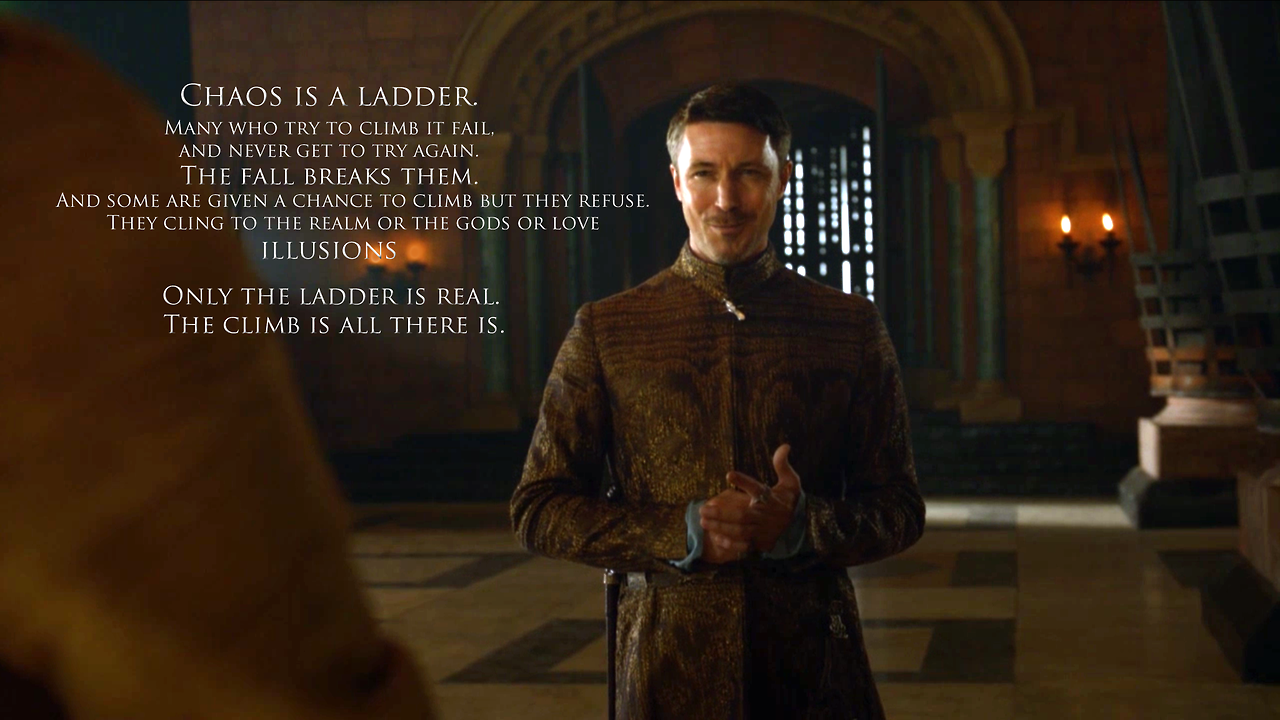 The two schemers, Varys and Littlefinger have a talk in the throne room, with Varys all about the greater good of the realm. Littlefinger show he is the ultimate opportunist, as he has been in the entire show. Speaking of the ladder, Lord Baelish says that many have tried to climb and fail, but they never try to do it again. The fall breaks them. Obviously, Littlefinger is the one who is constantly trying to climb it.
A dragon is not a slave – Daenerys Targaryen, s3/e4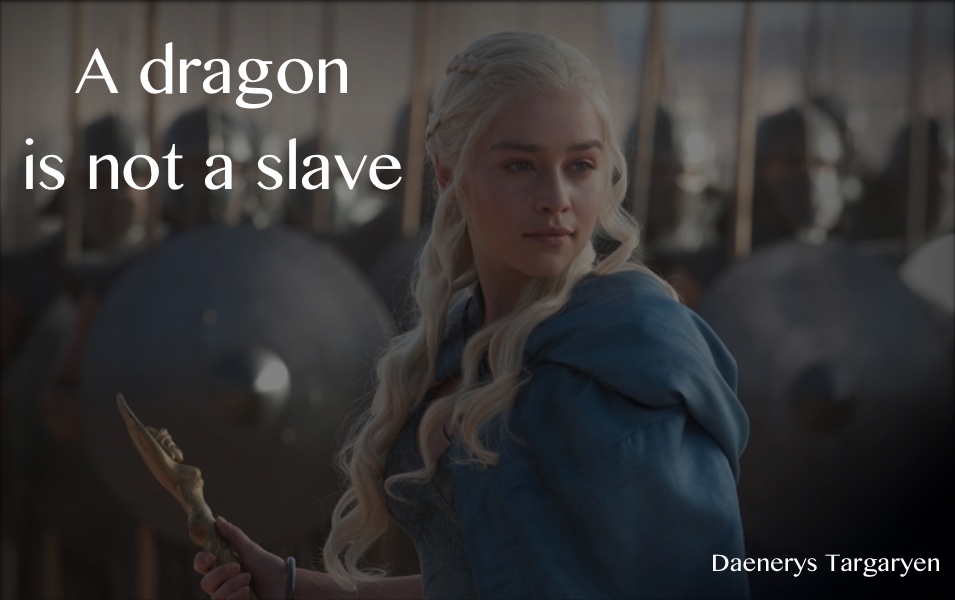 Daenerys might be one of the more boring characters in the show now, but until season 3, she was definitely one of the best. And her ferociousness and viciousness was visible in every scene. She makes a deal to give her dragon for soldiers, but as the slave masters soon find out, you cannot put a dragon in chains.
He would see this country burn if he could be king of the ashes –Lord Varys, s3/e4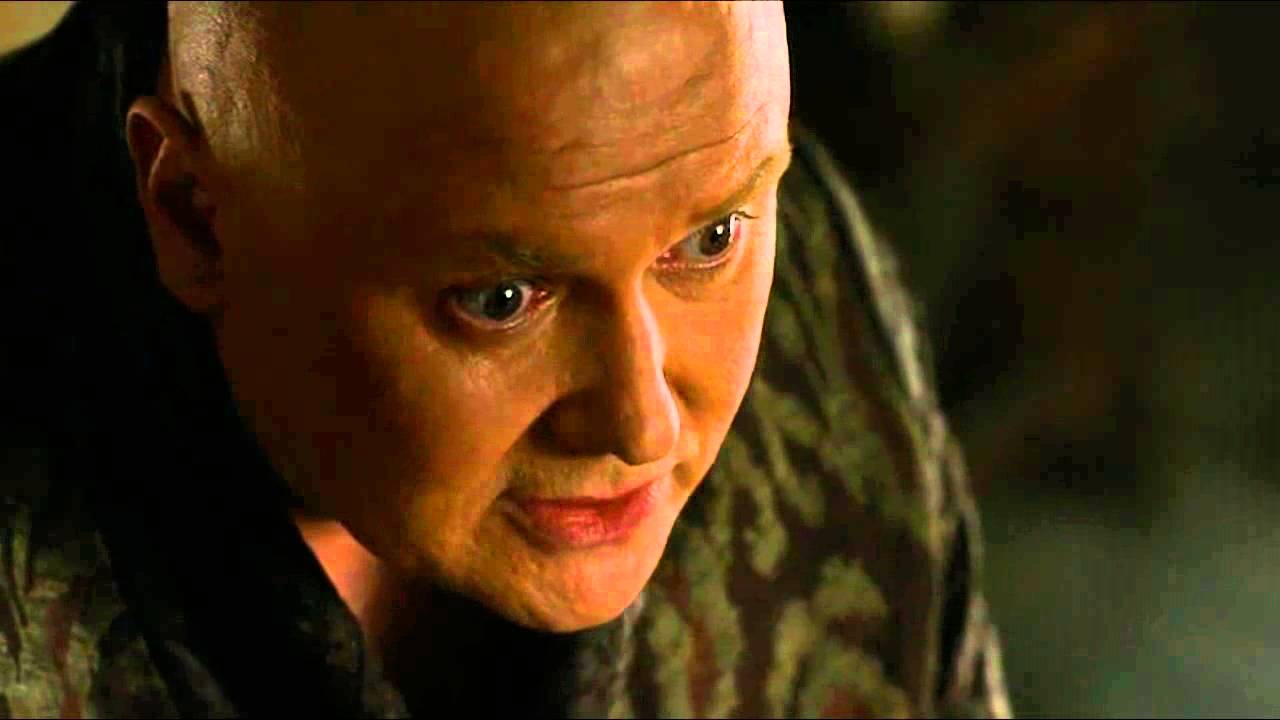 Varys has a discussion with Lady Olenna, and he tries to perfectly sum up the game of thrones that Littlefinger is playing. While Varys is seen as someone who schemes and manipulates, he is trying to do it for the greater good. Baelish, on the other hand, does it just so there is chaos. The two members of the small council are seen as opposites in the entire show, and many fans believe the true game of thrones is played between these two.
There is a beast in every man and it stirs when you put a sword in his hands – Ser Jorah Mormont, s3/e3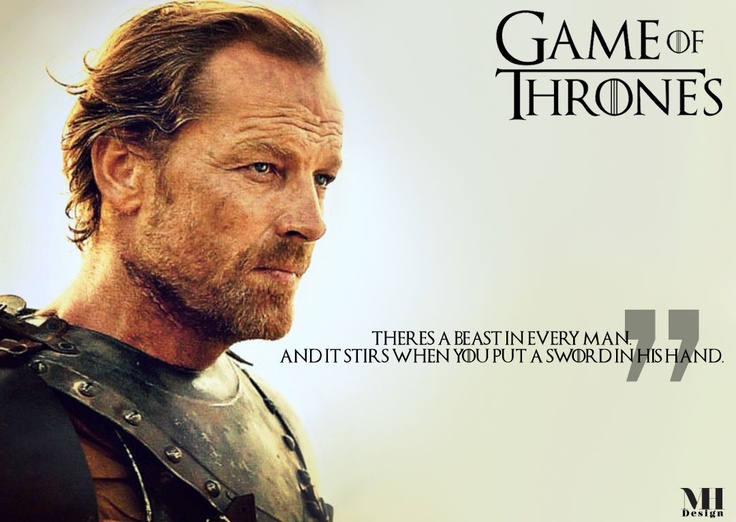 What makes a man go crazy? Power of course. So when you provide people who haven't had power with power, they go crazy. And Jorah warns Daenerys of that early on.
I will hurt you for this. A day will come when you think you are safe and happy, and your joy will turn to ashes in your mouth. And you will know the debt is paid – Tyrion Lannister, s2/e8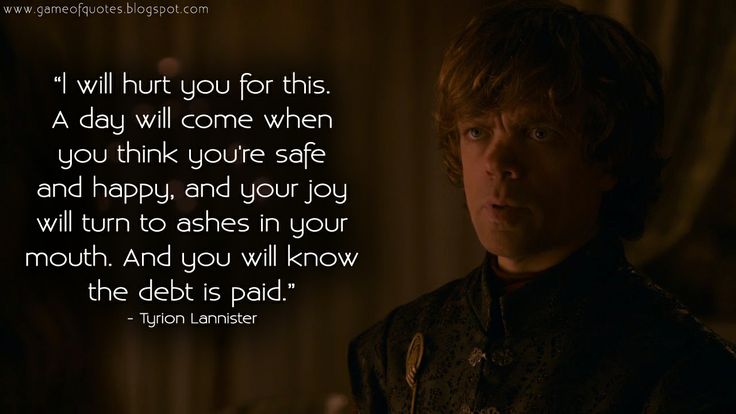 Tyrion makes a bold statement and threatens Cersei that he will come back for her. What provokes the dwarf to go all rage on the Queen Mother? Her capturing of one of his whores. Tyrion thinks that Cersei has his love, Shae, but it is a different whore. However, Tyrion plays the role of a hurt man to perfection, allowing Cersei to think she has captured his love.
All my life men like you have sneered at me. And all my life I've been knocking men like you into the dust – Lady Brienne of Tarth, s2/e8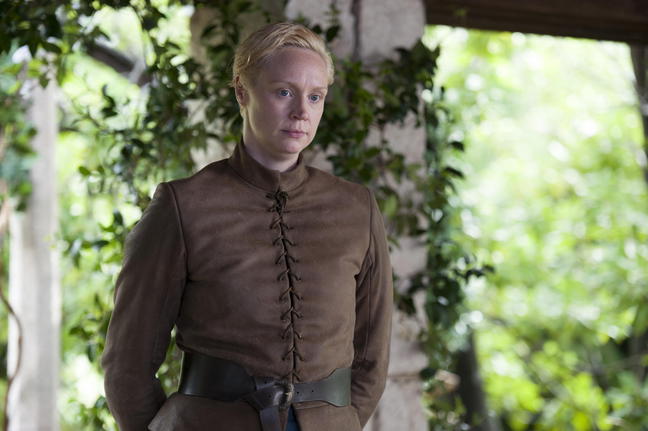 Brienne is one of the best soldiers and knights on the show, and she is not afraid from anyone. During a talk with Jamie Lannister in season 2, she tells him that she has been underrated her entire life. But that hasn't stopped her, and it never will.
Power resides where men believe it resides. It's a trick, a shadow on the wall. And a very small man can cast a very large shadow – Lord Varys, s2/e3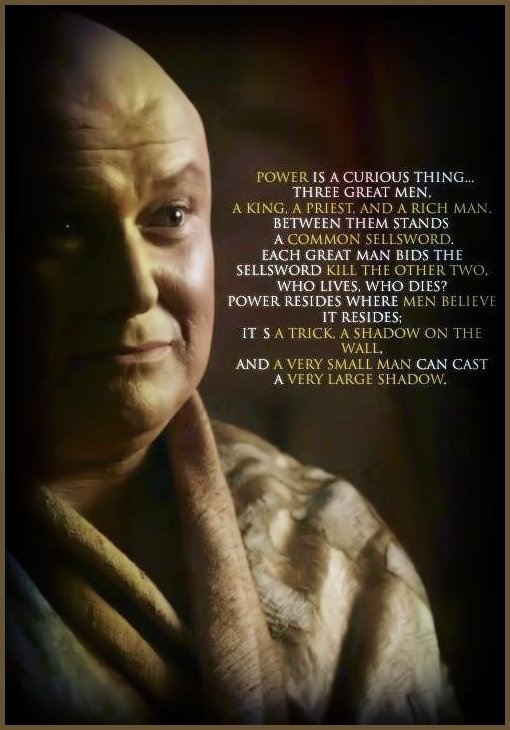 Varys talks with Tyrion, just after Tyrion is named hand of the King. Tyrion might not yet understand the power he has, but Varys makes sure he knows. Varys is the true epitome that in the right situation, and with the right mindset, everyone can be powerful in Game of Thrones.
When dead men and worse come hunting … you think it matters who sits on the Iron Throne – Jeor Mormont, s1/e10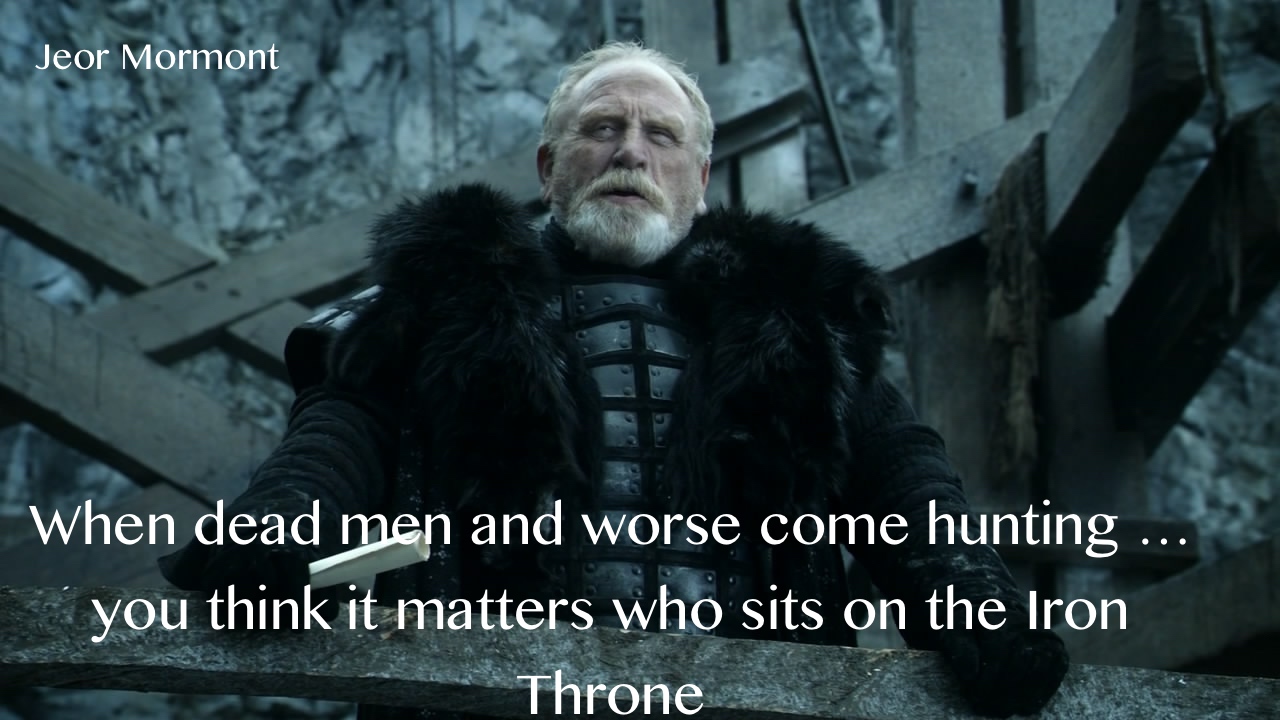 For the first five seasons, Game of Thrones is all about who wins the Iron Throne. The battle of the Five Kings as they say it. But Jeor Mormont, a commander of the Night's Watch, has understood that the stakes are much higher, and he tries to explain that to Jon Snow. The battle between the living and the dead has been five seasons in the making.
It's the family name that lives on. It's all that lives on. Not your personal glory, not your honor… but family – Tywin Lannister, s1/e7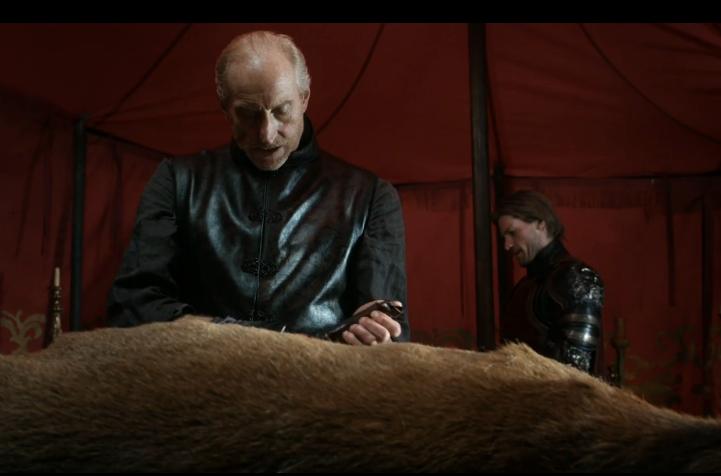 Tywin is all about family and legacy. Early in season 1, when we first meet him, he shows the audience a principal and moral code that he will go by until the end of his days. Some would argue that he hasn't left much of a family name, but hey.
When you play the game of thrones, you win or you die – Cersei Lannister, s1/e7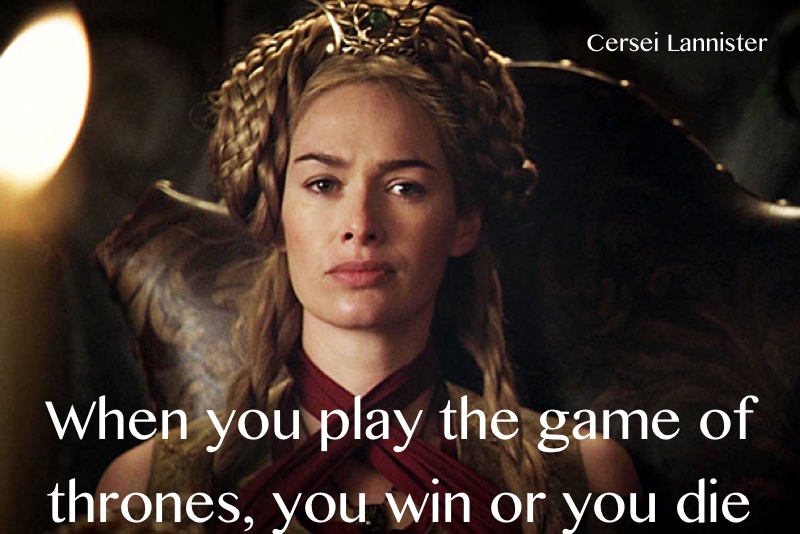 There is a reason why the first season of Game of Thrones was so successful. Fans loved it, because nearly every memorable quote in it could translate to real life. Cersei is talking about the game of thrones, but it really applies to everything in life. You either risk enough and go all-in, and win, or you will lose either way. If you are not risking everything, you are losing.
The man who passes the sentence should swing the sword – Eddard Stark, s1/e1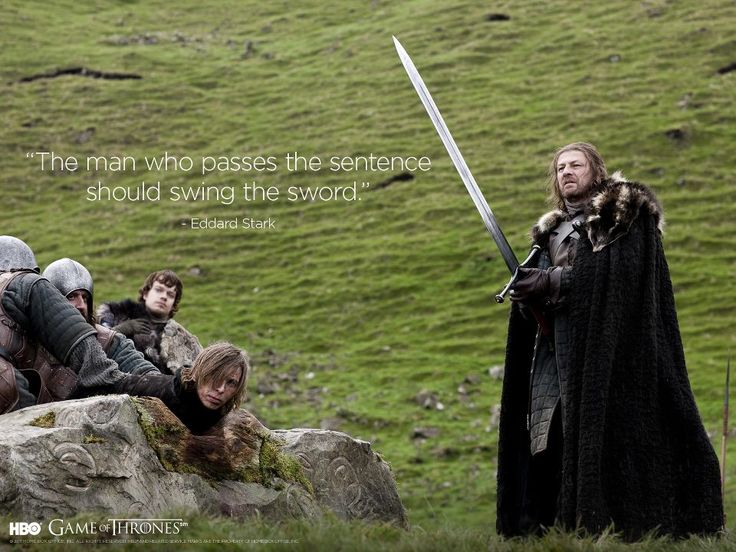 This is one of the first looks we get at Lord Ned Stark, warden of the North. And it is the one that captures his personality perfectly. Eddard Stark is one of the most honorable men in whole Westeros. He is all about honor, doing the right thing and serving the realm. This quote in particular, is the he passes to his son Bran, giving the young boy some early lessons on honor.
The things I do for love – Jaime Lannister, s1/e1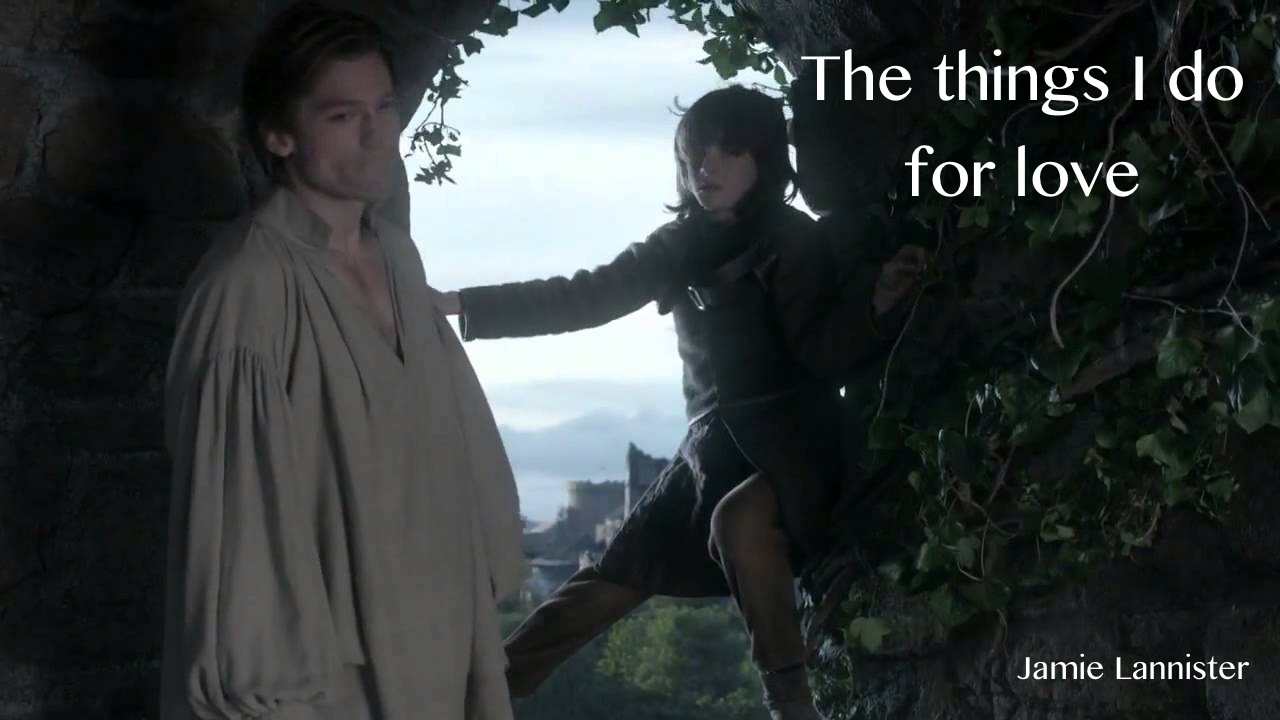 Bran catches Jaime and Cersei having sex high in the tower of Winterfell, and after a quick chit-chat, Jaime throws the little boy from the tower. This is the epitome of Jaime Lannister, no matter if he is doing the right or wrong thing, he will do everything for his love for Cersei. We see him prove this over and over again through the course of six seasons.
I learned how to die a long time ago – Eddard Stark, s1/e9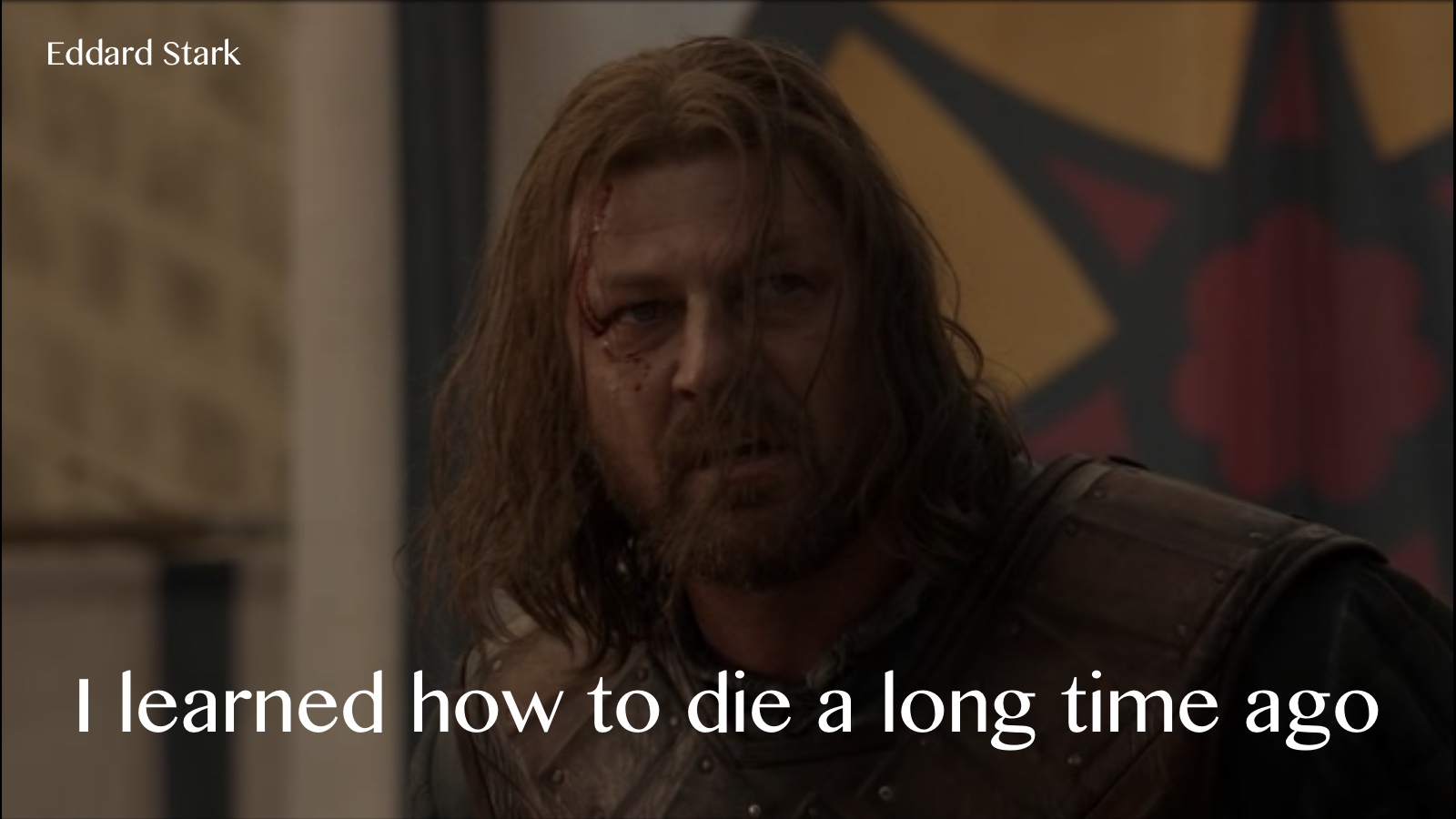 Ned is talking to Lord Varys, who is trying to convince him to confess his sins of being a traitor. Ned is imprisoned for treason, and he awaits a death sentence. Varys believes Ned should survive, and live his life in the Night's Watch. But Ned chooses the honorable path, rejecting the offer Varys makes. He then changes his stance, because Varys tells him what might happen with his daughters who are at King's Landing.
READ THIS NEXT: 22 "Game Of Thrones" Cast Members In Their Youth