Anyone who has ever had a cat at home, knows how crazy they can get. Cats are great pets. They keep us entertained, but also have their own needs in the same time.With that in mind, let's talk about funny cats for a moment.
The internet is full with cat memes and funny cat memes. Today, we list some of the funniest out there. Being that is Monday, we know all of us need a small dose of laughter. So, scroll on.
1.Do not come home early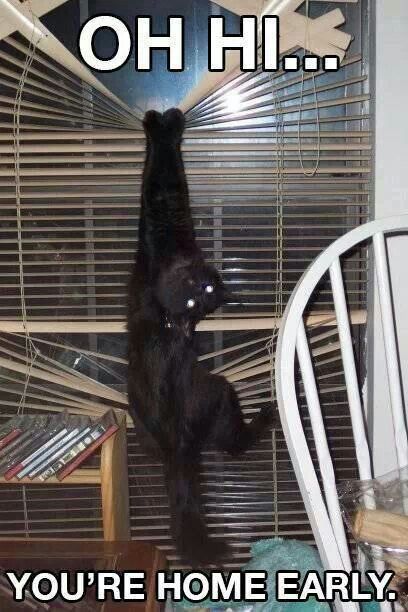 If you come back home early from work, you might catch your partner having an affair. We've all heard that joke. But another thing that can happen is you catch your cat having fun with things you didn't know she has fun with.
2. Cats like cuddling as well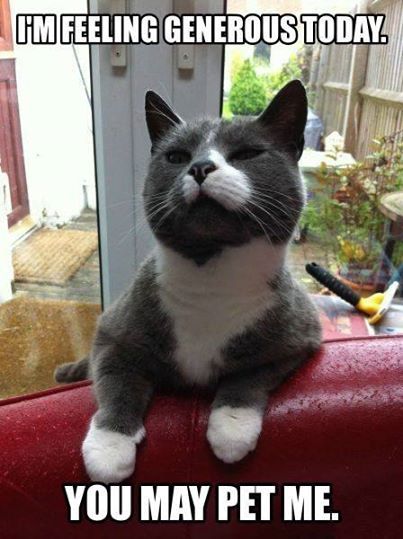 Unlike dogs, cats are a bit more arrogant. They have their own personality, and can be stubborn at times. Petting a cat is a bit more challenging. You might not get the permission to pet the cat. But every now and then, cats want to cuddle as well.
3. Toilet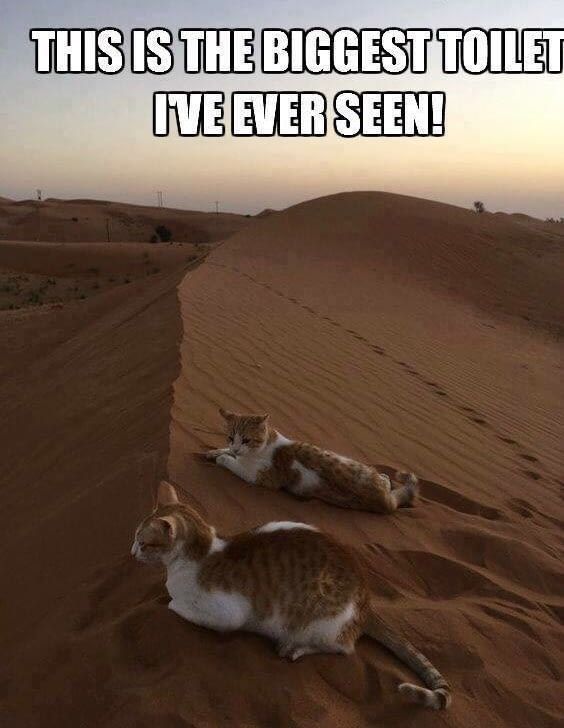 Cat owners always but trash litter for their cats to do their business. But when you take your cat outside, the options for going to the toilet are limitless.
4. I need food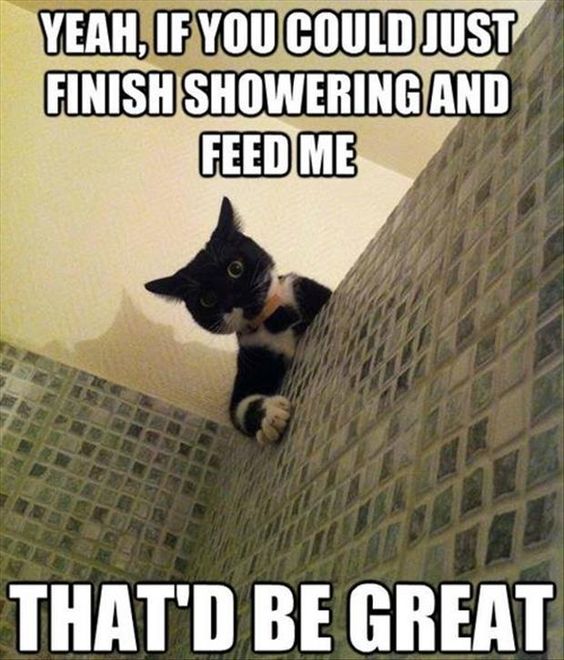 Living with a cat keeps you always in check. You will be surprised how little privacy you will get. No matter if you are in the shower, or in the toilet, your cat might be following you. And she might scare you off lurking from the shadows.
5. Spider cats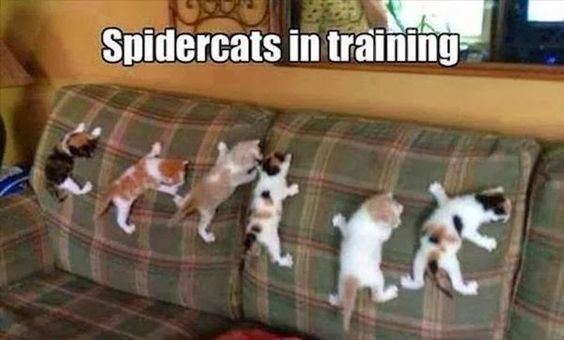 Spiderman is one of the most popular comic book characters. Well, it seems like cats want to get a piece of that popularity. Here are some cats practicing to be spidercats. For no reason at all.
6. What is yours is mine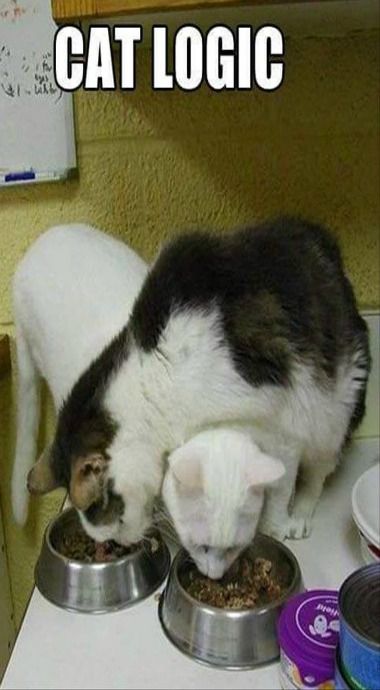 When it comes to cats, the following rule applies. What is mine is mine, and what is your is mine as well. Or, to put it simply, everything is mine, unless of course it is yours. In that case, the object is still mine, but you can borrow it from time to time. This picture perfectly sums it up.
7. Going on a trip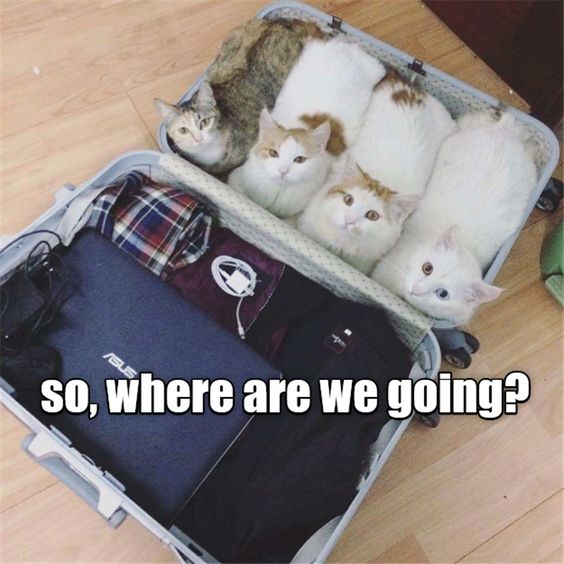 You cannot expect for you to go on a trip, and leave your cats behind. When you are not looking, they will squeeze in your suitcase, and you have to take them.
8. Christmas photo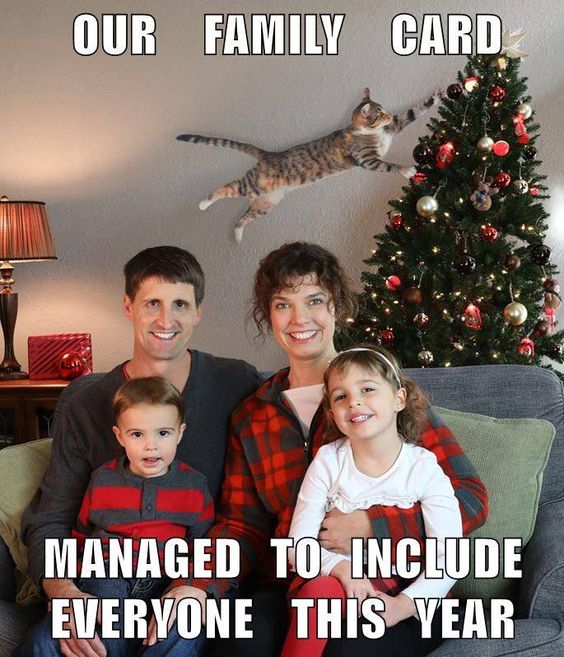 This is a great example of funny cats. They always find a way to feel included.
9. Cats can fit in anything
If you need a great example that cats can fit in almost anything, here is it. That doesn't mean your cat will be happy. But you will manage to squeeze her in any box.
10. Cats and toys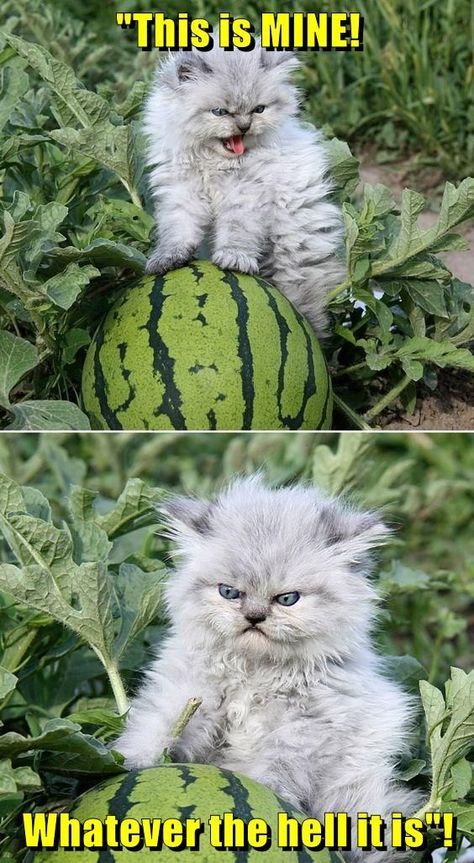 If you thought dogs are territorial, think again. Cats think everything in the house is theirs. And it doesn't matter if they know what is it or not.
11. Cats and mouses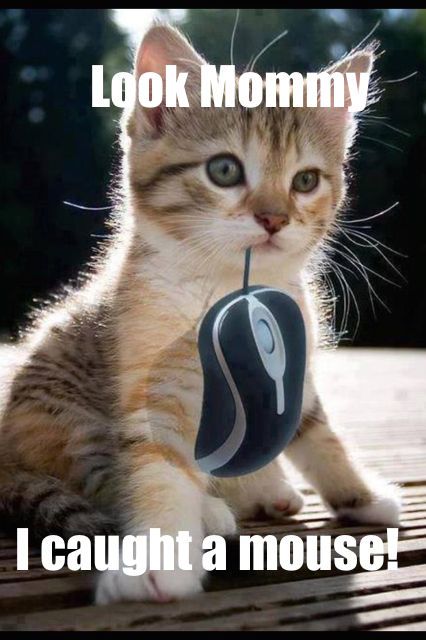 The purpose of a domestic cat is to keep mouses away. So, why are you panicking? Your cat has caught a mouse, right? That was what you wanted, wasn't it?
12. Can I come home with you?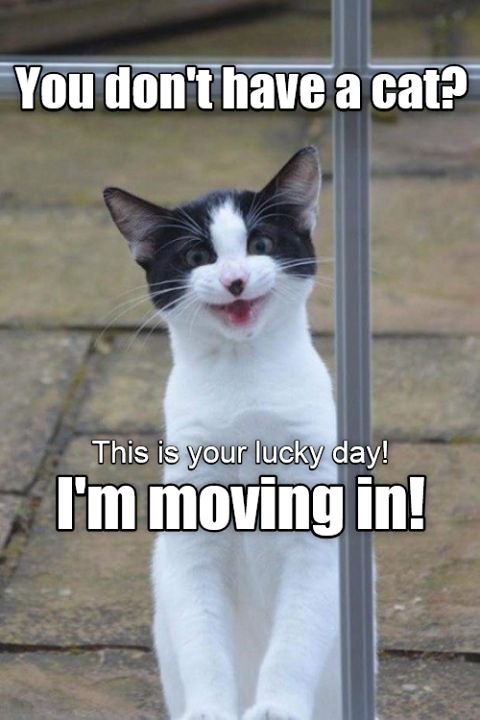 Street cats can be even more cuddling and gentle than domestic cats. That is, until they manage to move in. Street cats know to be affectionate with prospective owners, so that they get them in. Once they settle in, the chaos begins, and you understand what does the term funny cats mean.
13. I want treats!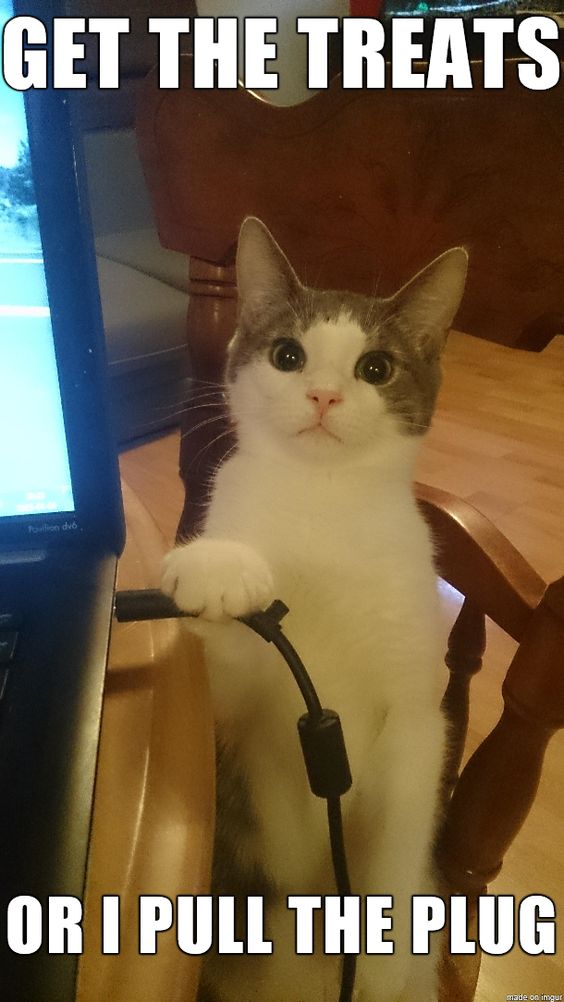 When your cat wants food or treats, and you are ignoring them, you have a problem. Dogs bark when they want treats or food, but cats go a step further. They start making troubles.
14. Pet protection
Now this is called irony. Jokes aside, it is always funny to have fun with PETA and their fight for protection of animals.
15. This cat is sad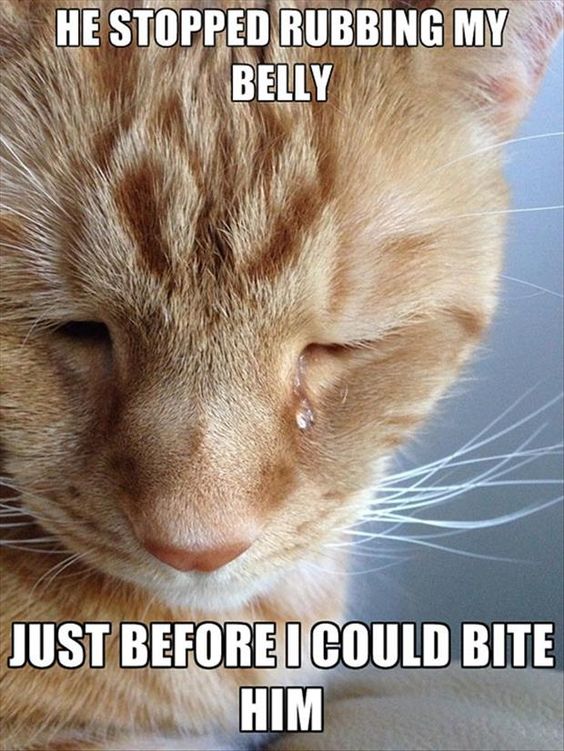 We said previously that cuts love to cuddle from time to time. They love when you rub their belly. The difference between cats and dogs is that while you pet them, cats might jump and bite you. This cat missed that opportunity.
16. Hide and seek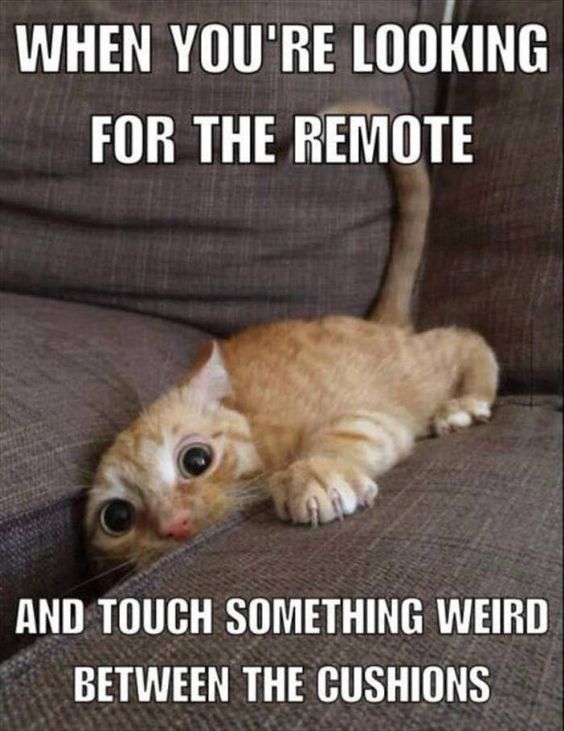 Cats can fall asleep in any place of your home. You will be surprised at all the spots you might find your cat. Playing hide and seek has never been more fun.
17. Funny cats litter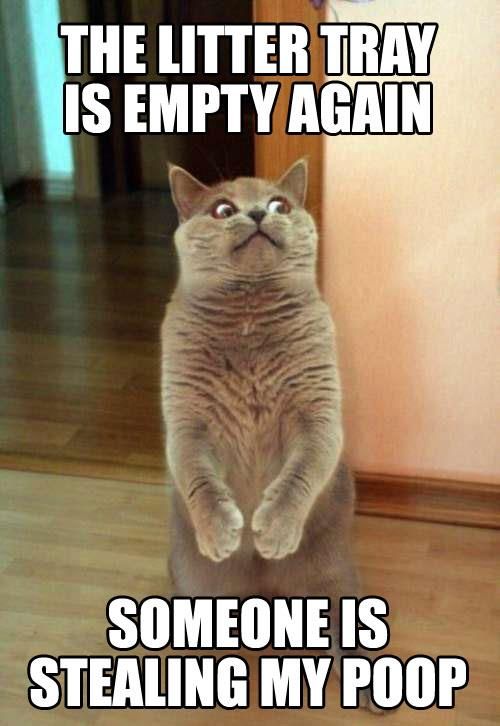 When you have a cat at home, the first thing you need to do is get yourself a litter tray. After all, you have to care for your cat and her biological needs. But cats do not understand when you are emptying the litter, you are doing them a favor.
18. Catfish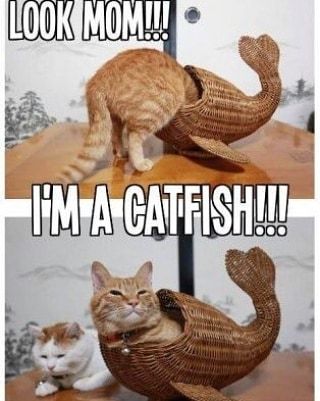 One reason why we love funny cats is they can transform into anything else. We had spider cats, and now we have catfish. Basically, a cat can be any other animal out there.
19. Please mom, two more minutes
We've all gone through this moment. When we were little kids, we all wanted two more minutes of television. Now, our cats want two more minutes of playtime.
20. Building confidence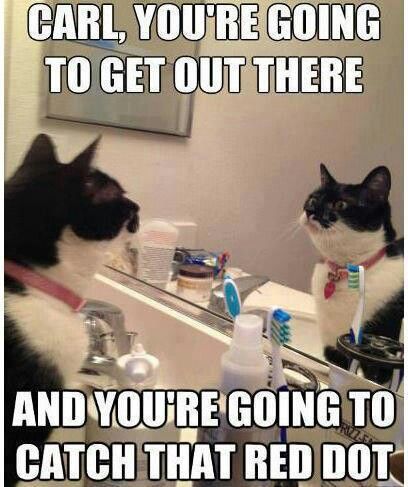 If there is one thing cats love to play with, it is the red dot of a laser. It is one of the best toys for cats. You can have hours of fun. And your cat will never catch it. This cat is just building confidence she can do it.