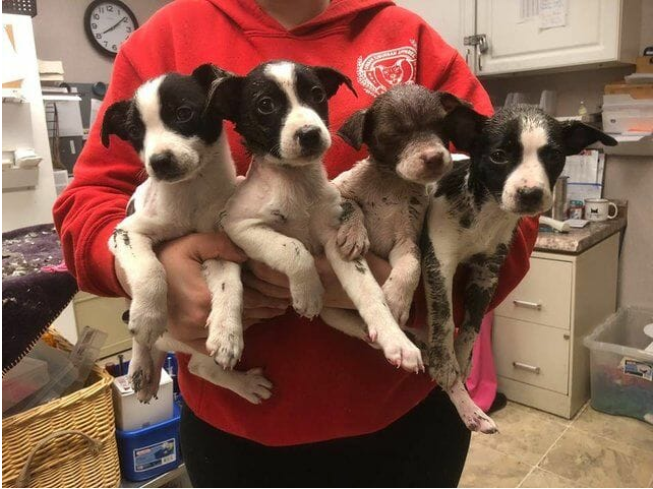 Just when KC Pet Project was about to close up for the day, the organisation received a call from the police asking for desperate assistance. At that moment, they learned that four little pups were in need of immediate help.
After receiving a complaint about domestic violence, the authorities found out that the animals were covered with a strange substance. Later on, they discovered that the content was latex paint, causing the skin and fur of the dogs to become greasy and matted.
"The officers had been called for a domestic violence incident after a man came into someone's home and said he was going to hurt puppies who were there. When they arrived, he had already dumped a jug of latex paint all over the dogs."
The paint caused the dogs difficulty in moving.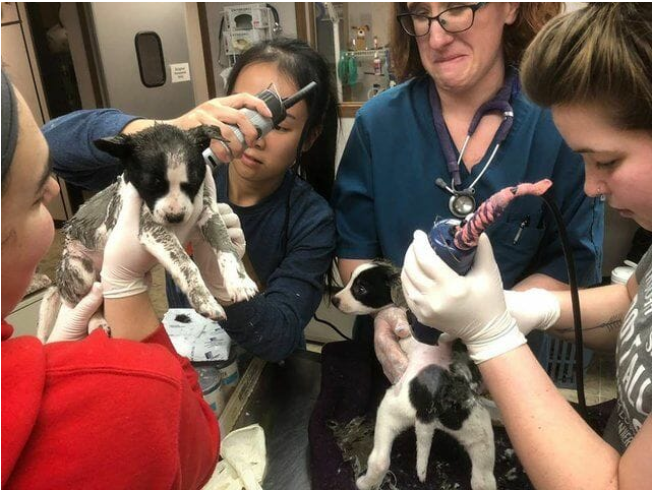 Difficult Decision
Since latex paint contains dangerous chemicals, removing it would require the rescuers to use other chemicals, which will be harmful to the dogs.
"There was no safe way to remove the paint without chemicals, so we ended up having to shave them."
To save the dogs from any harm, the rescuers decided to shave them to remove the paint over their body. And while they ended up hairless, the quintet is now clean and happy, ready to become adorable companions again.
Aside from receiving the needed assistance, rescuers have also given them their new names: Pablo Picasso, Frida Kahlo, Banksy, and Jackson Pollack.
Leaving the Past Behind
The rescuers said that the abuse experienced by the four puppies is now a thing of the past now. The perpetrator of this crime has been arrested and faced animal cruelty charges.
"We've had animals come in who had been spray-painted or coloured with markers, but I've never seen anything quite like this."
After the story went viral on social media, thousands of people submitted their applications to adopt the four puppies.
"We're finding it so difficult to understand what kind of person would do this. But we're so thankful we could be here for them and get them into loving homes."