We all know that cats love chasing off mice. But, have you ever heard of a rodent running after four brawny felines? Watch this video of four cats trying to engage a giant Russian rat who turned out to be more vigorous than they are.
The cat and mouse game can differ from individual to individual, but most of the time, cats are biting the neck of a dead mouse as they come home in victory. In this case, it is clearly the opposite.
At the start of the footage, a group of muscular cats can be seen looking at the same direction. After a little while, it turned out that they are inspecting an approaching animal — a rat.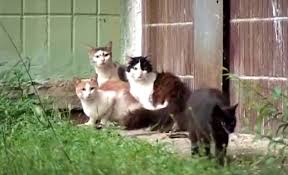 The bravest among them, the black cat went head on to attack the rodent. It made a slow approach to assess the enemy.
After a few inches, it stopped and stared at the little creature in full curiosity.
Without a bit of expectation, the rat went into a defensive mode when the black feline followed it closely to the wall.

If you think that's the end of it, you're wrong. The rat realised its edge and ran toward the other cats who are furiously watching the show.
Gaining enough courage, the rat attacked the felines anew and there's no stopping it.
It's like seeing a supposed-weak boy defeating his bullies and scaring the best out of them.
Eventually, the rat left the agitated kitties wearing the crown of victory.