The spring season is at full bloom. And that means lots of flowers all around us. Flowers come along with spring, and they enter almost every segment of our lives.
And I truly believe you can never have enough flowers. They are so fresh, so appealing, so mesmerizing. That being said, today we will look at a different aspect of our lives: makeup. Who would've thought that flowers could be a great "accessory" to our makeup portfolio?
With a colorful eyeliner, you can create so many floral makeup designs. Here are some ideas you can try.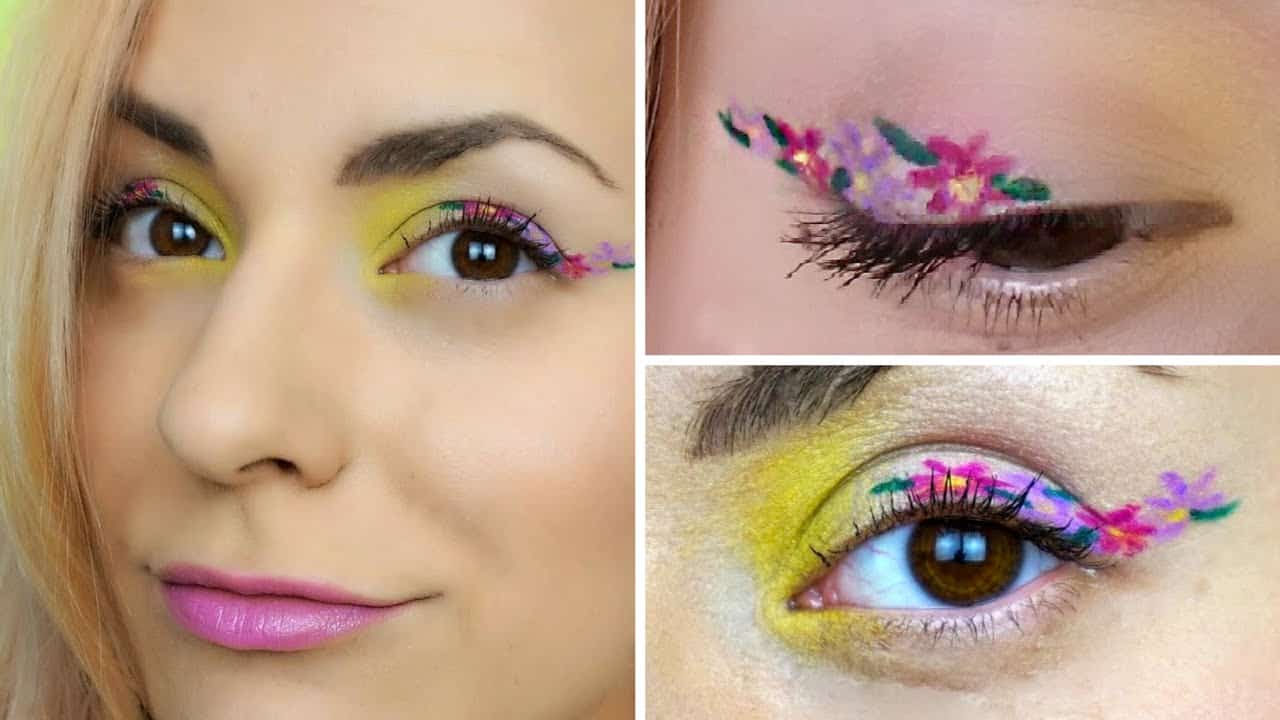 We start you off with a classic spring floral design. Flowers need sun, and sunny yellow makes a great addition to this makeup idea.
2. Tiny Red, White and Yellow Flowers with Green Leaves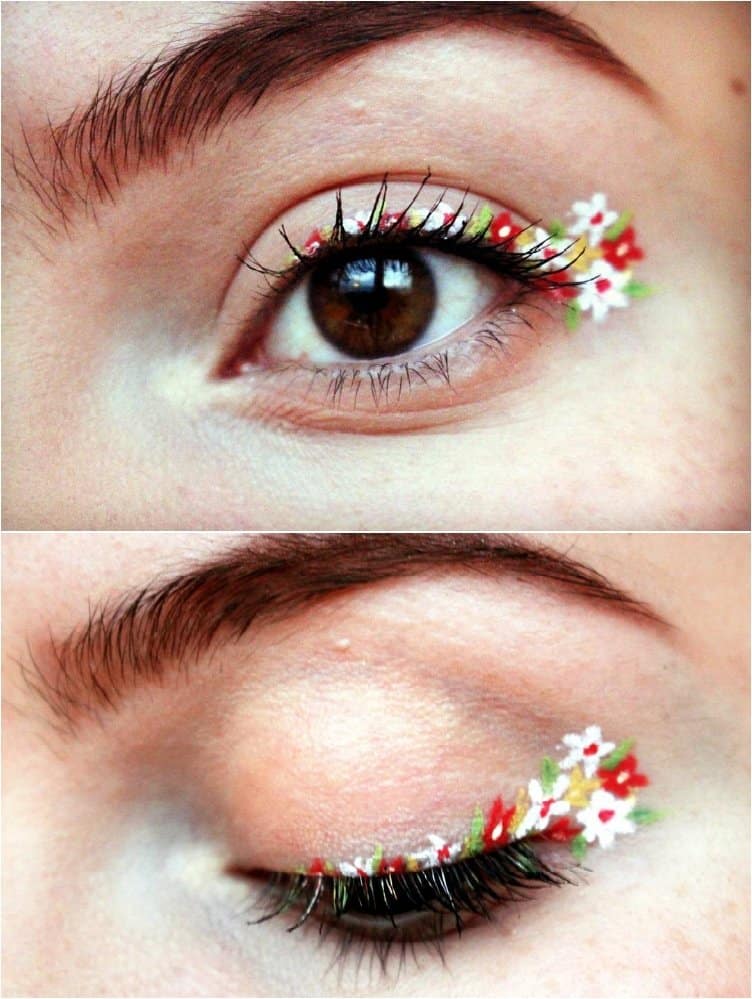 This makeup idea is very subtle. There's no eyeshadow, allowing the flowers to pop and be the center of attention. And the green leaves add a touch of freshness.
3. Tiny White Flowers on Outer Lids and Lash Line, and Pink Roses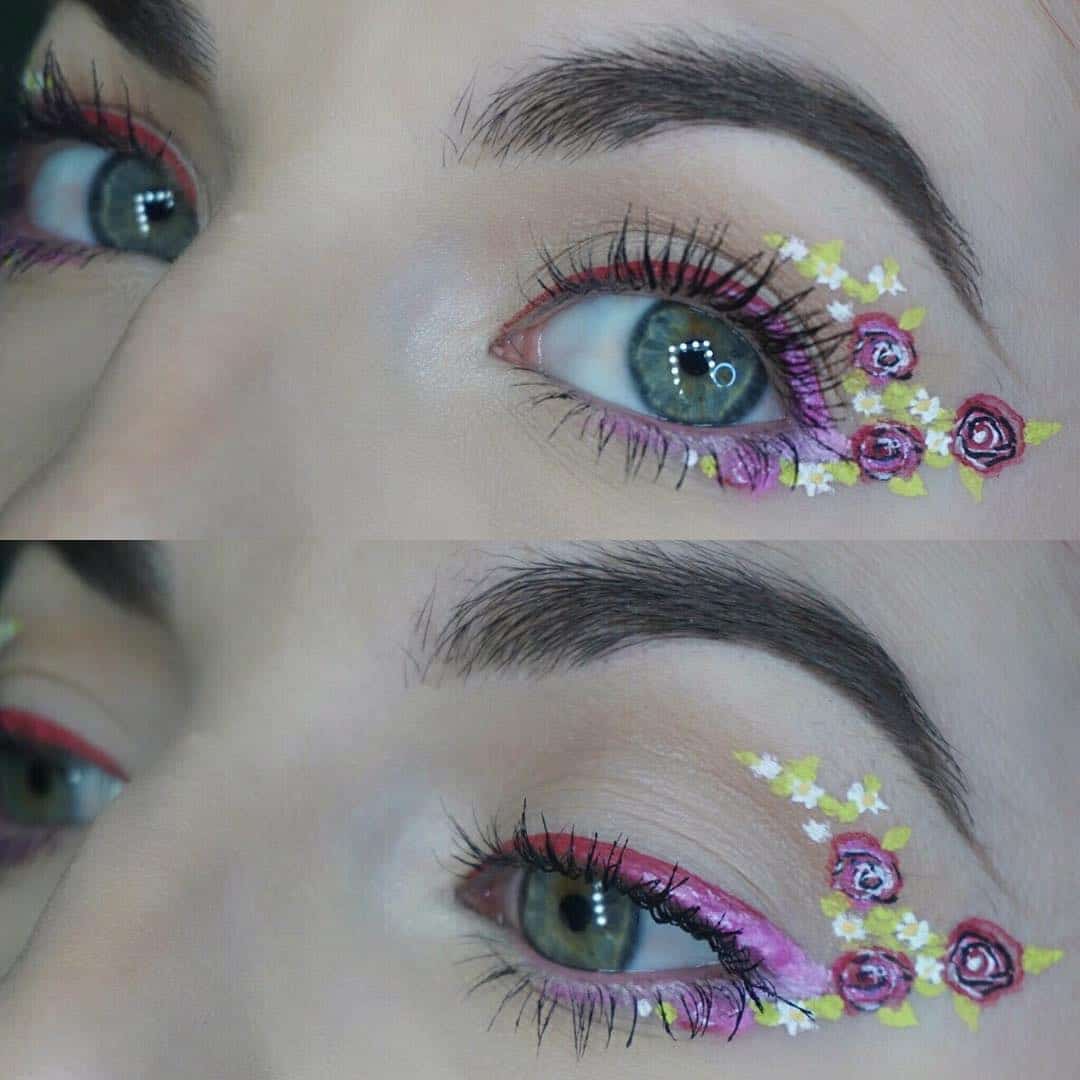 The trick with floral makeup is to create a flow, which is what happens here with the pink lash line. And we all know roses are always a good idea.
4. Colorful Flowers on Upper Lid and Green on Lower Waterline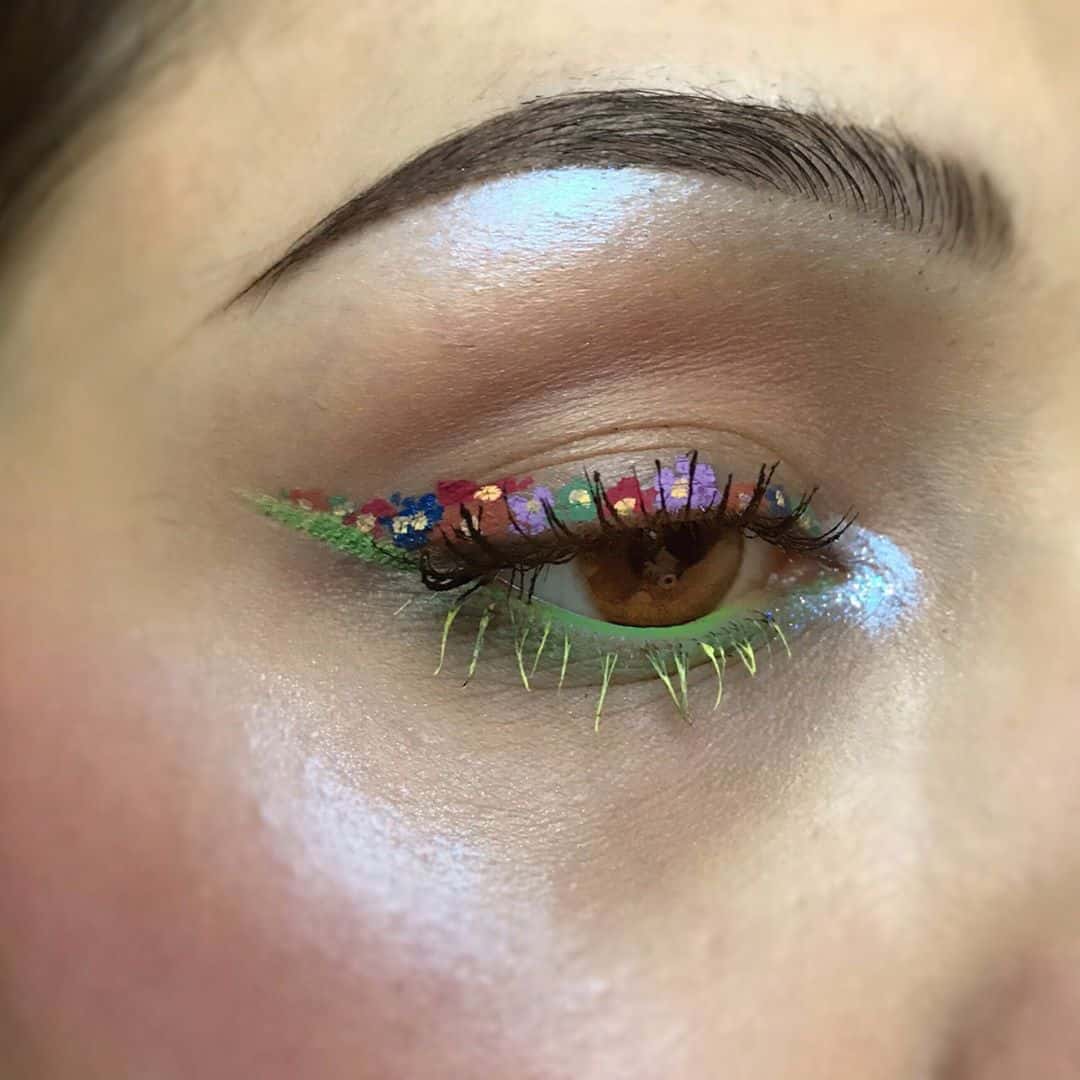 When you think of flowers, you think of green. That makes the color so perfect as a base. You can combine green with any flower, and it will still turn out great.
5. White and Purple Daisies on Eyelid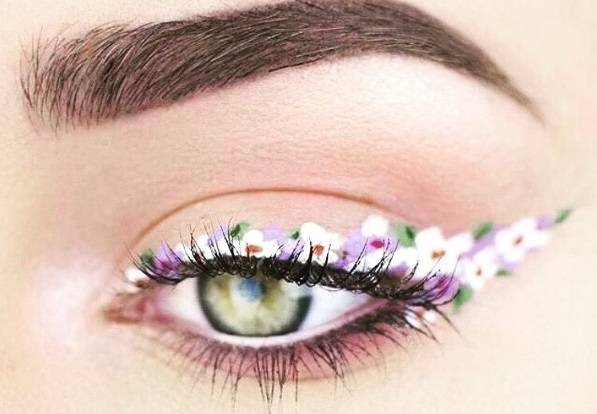 Daisies are one of the most common flowers. Everyone loves a good daisy. There's no way to make a floral makeup list without some daisies on it.
6. Red Eyeshadow with Yellow and Blue Metallic Eyeliner Flowers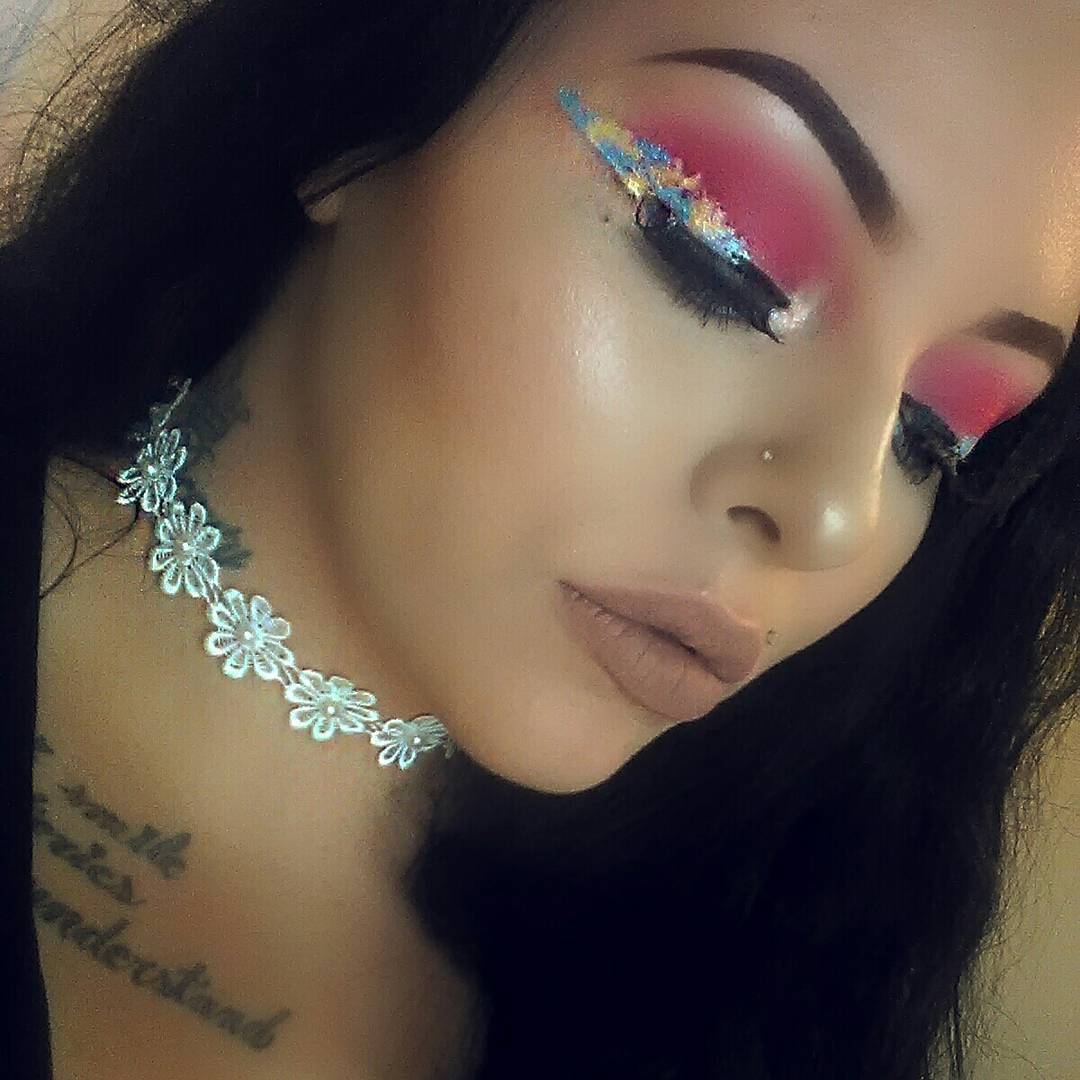 Taking floral makeup to the next level. This is a bit of an avant-garde idea, but there are girls who would gladly wear it. You do need to have a high confidence level to pull it off, though.
7. Blue, Pink, White Flowers with Green Glitter Line Above the Crease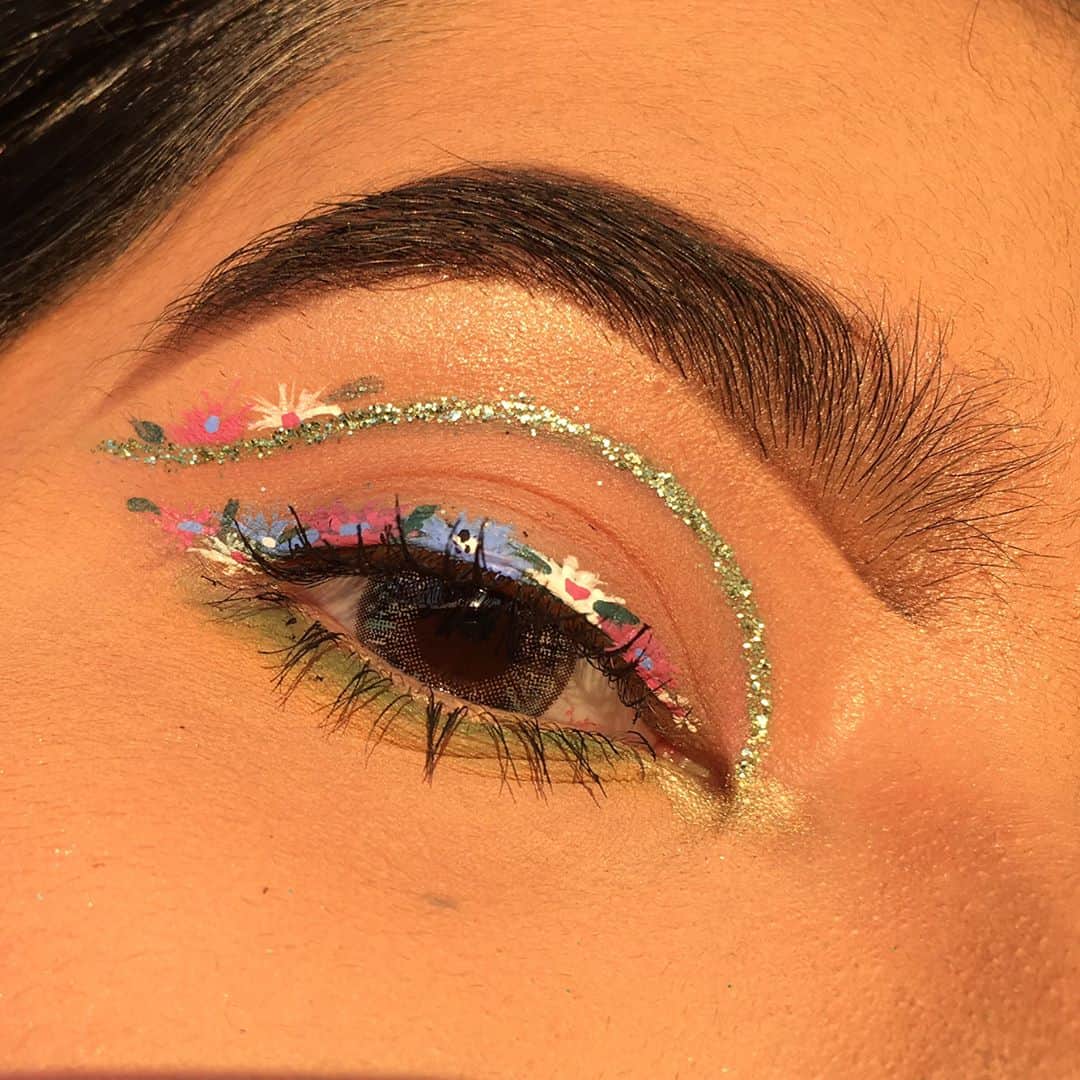 Again, we witness the full power of green. Glitter makes the makeup that much more special and eye-popping. This one is definitely one of the more romantic ideas on the list.
8. Tiny Light and Dark Blue Flowers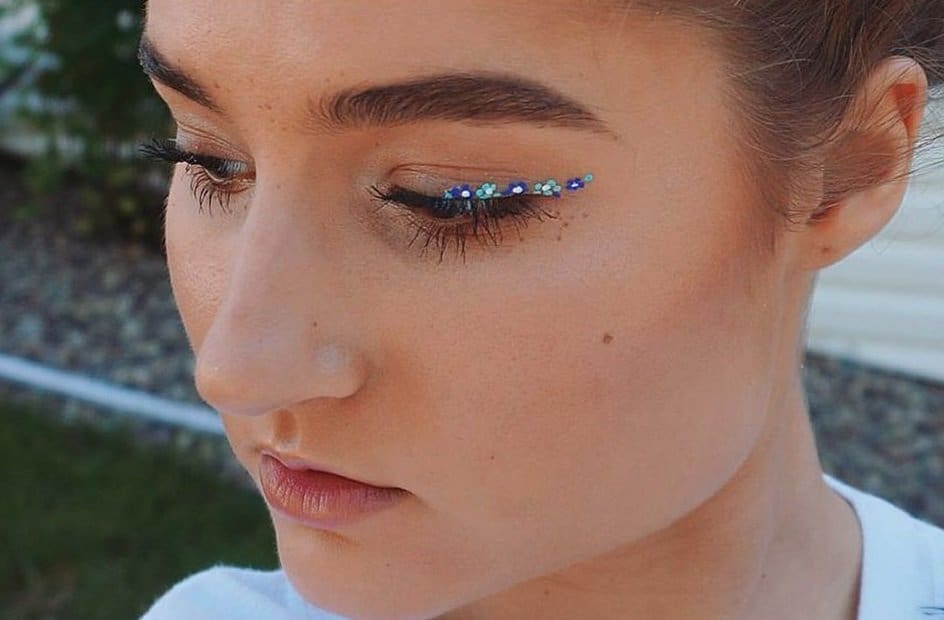 There will always be women who want to try a trend, but they don't want to go over the top. That's why there are always subtle ideas. In this case, we have tiny flowers that are almost non-noticeable.
9. White Eyeliner Flowers with Blue Flowers on Corner of Eye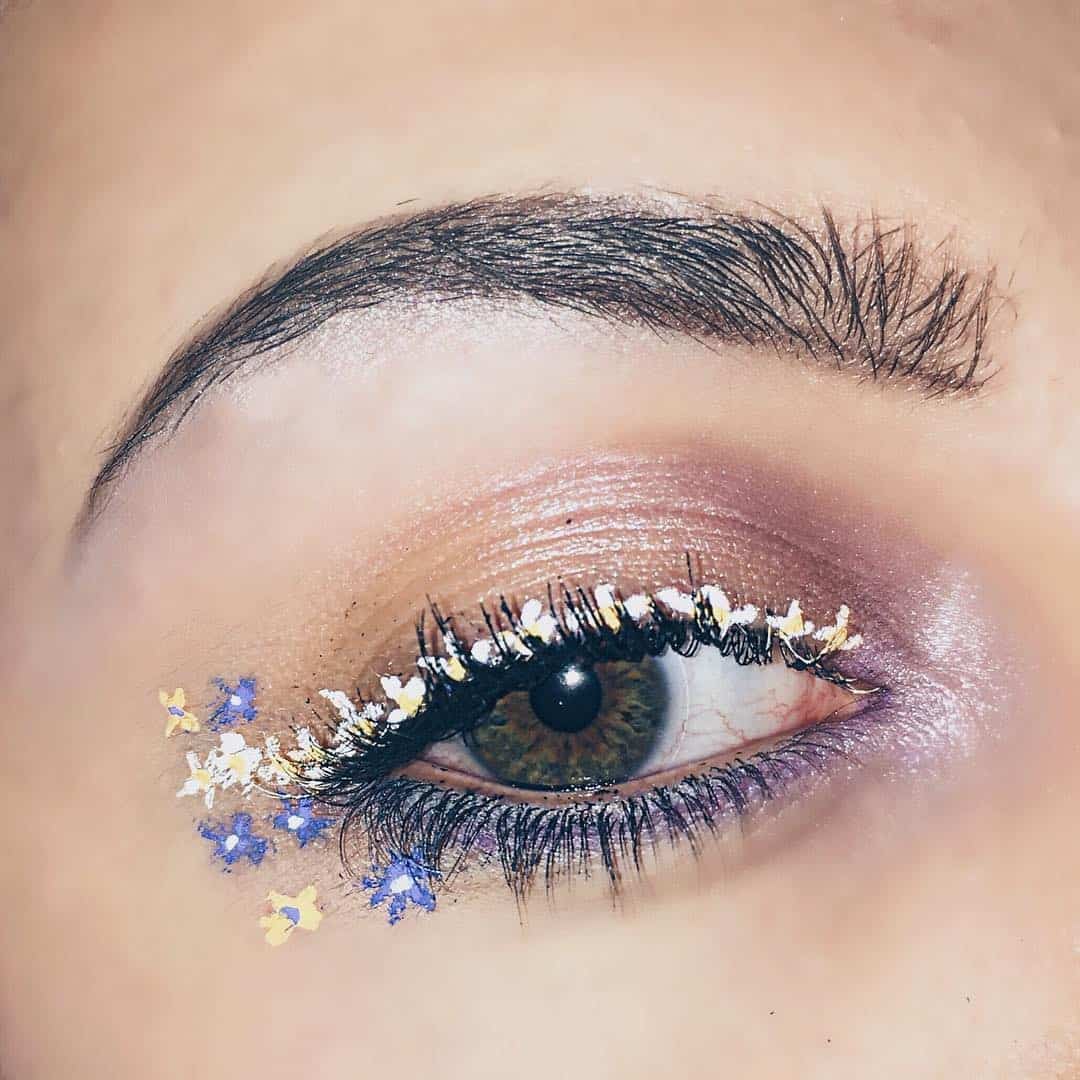 You can just imagine how sexy this look is when you wink at somebody! That's when your entire makeup idea comes to light.
10. Cluster of White and Purple Flowers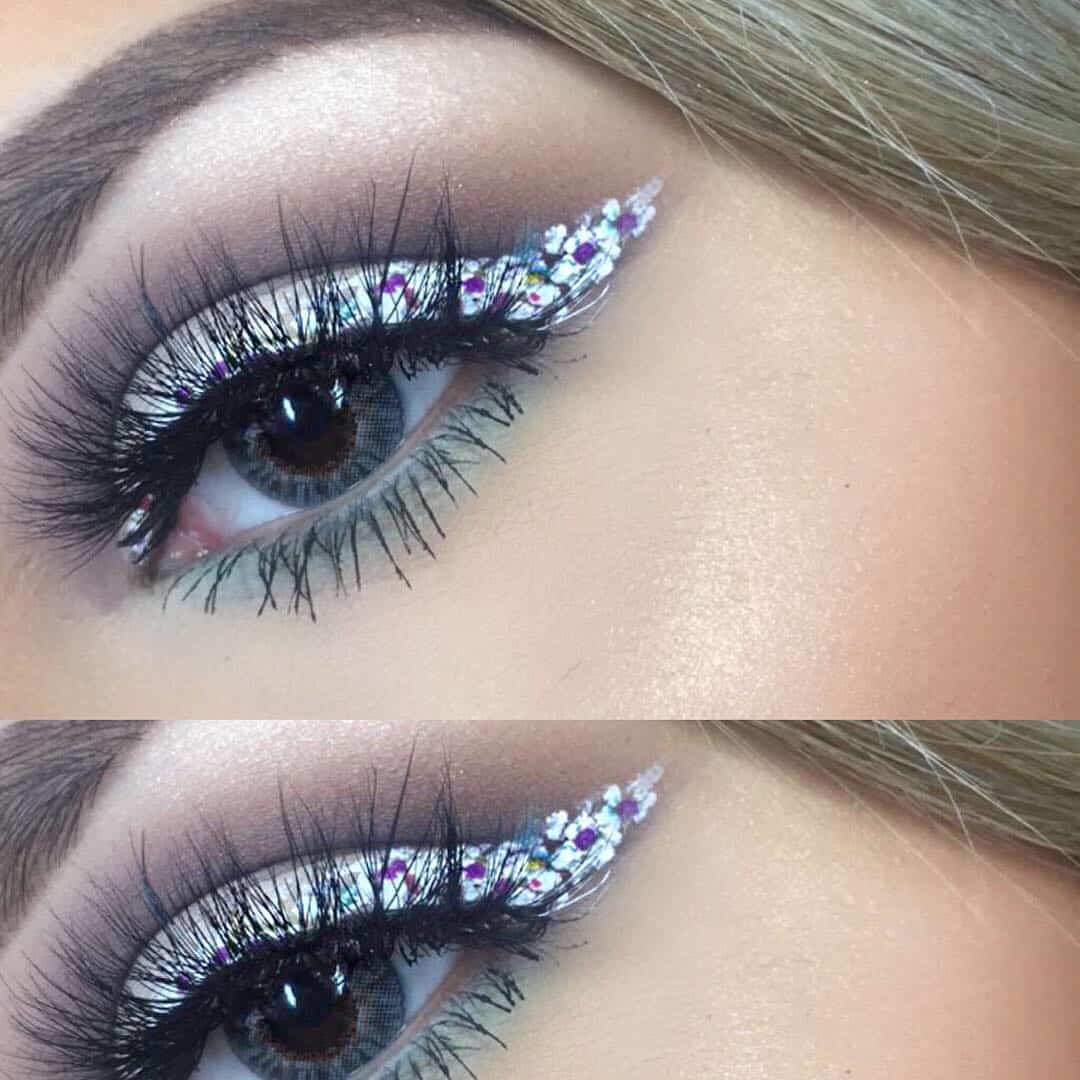 Yes, you can combine several different flowers in one group. That's the whole idea of cluster makeup. Personally, I want a little more space between the flowers, but you can't argue the beauty of this mosaic-like makeup.
11. Purple and Yellow Flowers with Green Leaves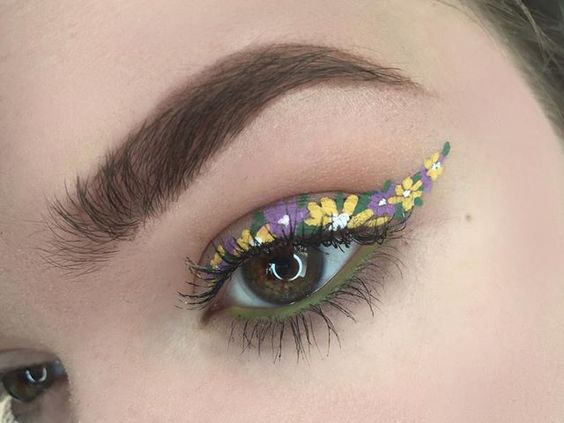 Another cluster makeup idea. This time, we get more vivid and colorful flowers. Purple and green is always a nice combination. And with a dash of sunny yellow, the makeup is full circle.
12. White, Pink and Purple Flowers on Eyelid and Outer Lash Line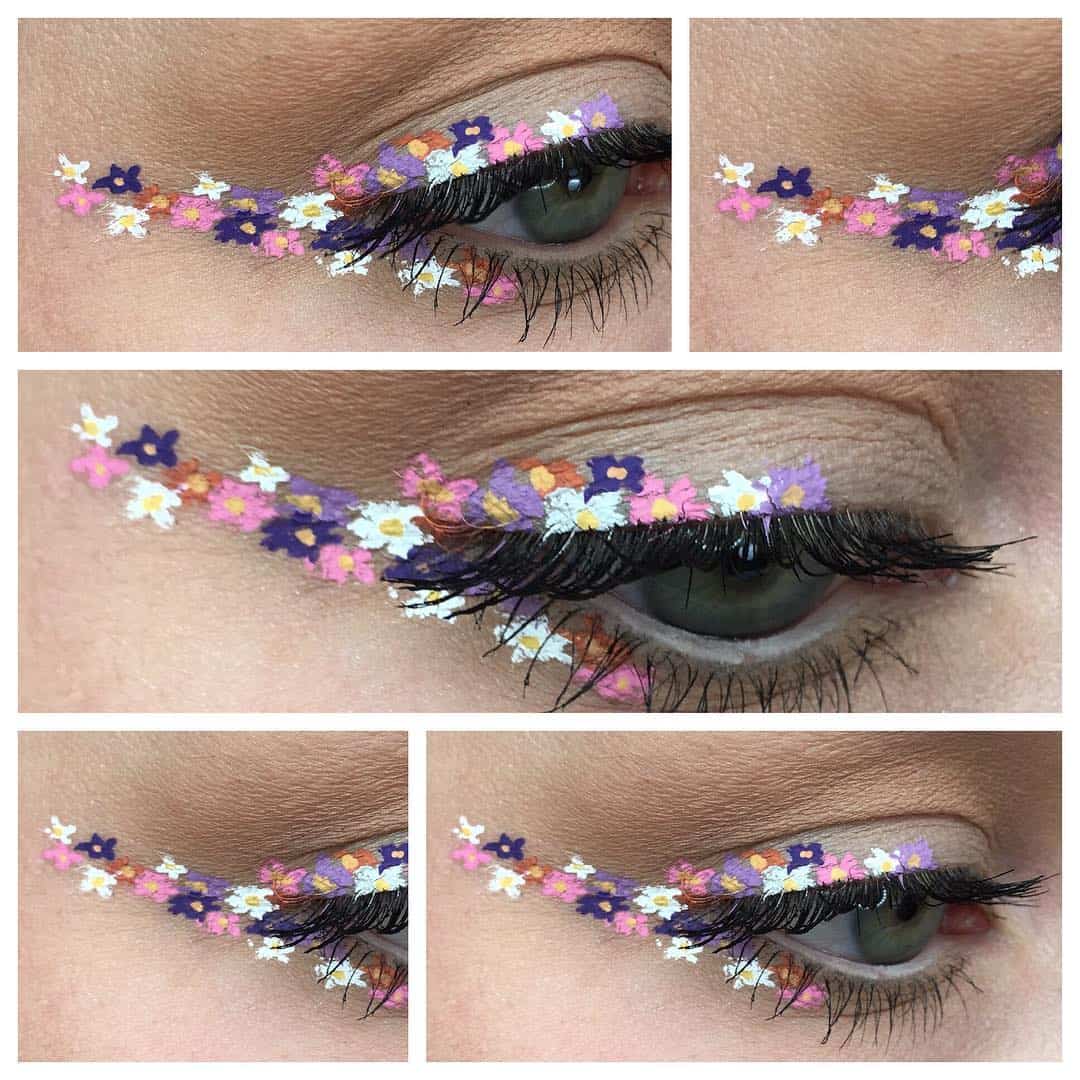 The colors are feminine and sensual. Combine them with a similar outfit, and you'll definitely be the star of the show!
13. Pink and White Flowers with Silver Eyeshadow on Lid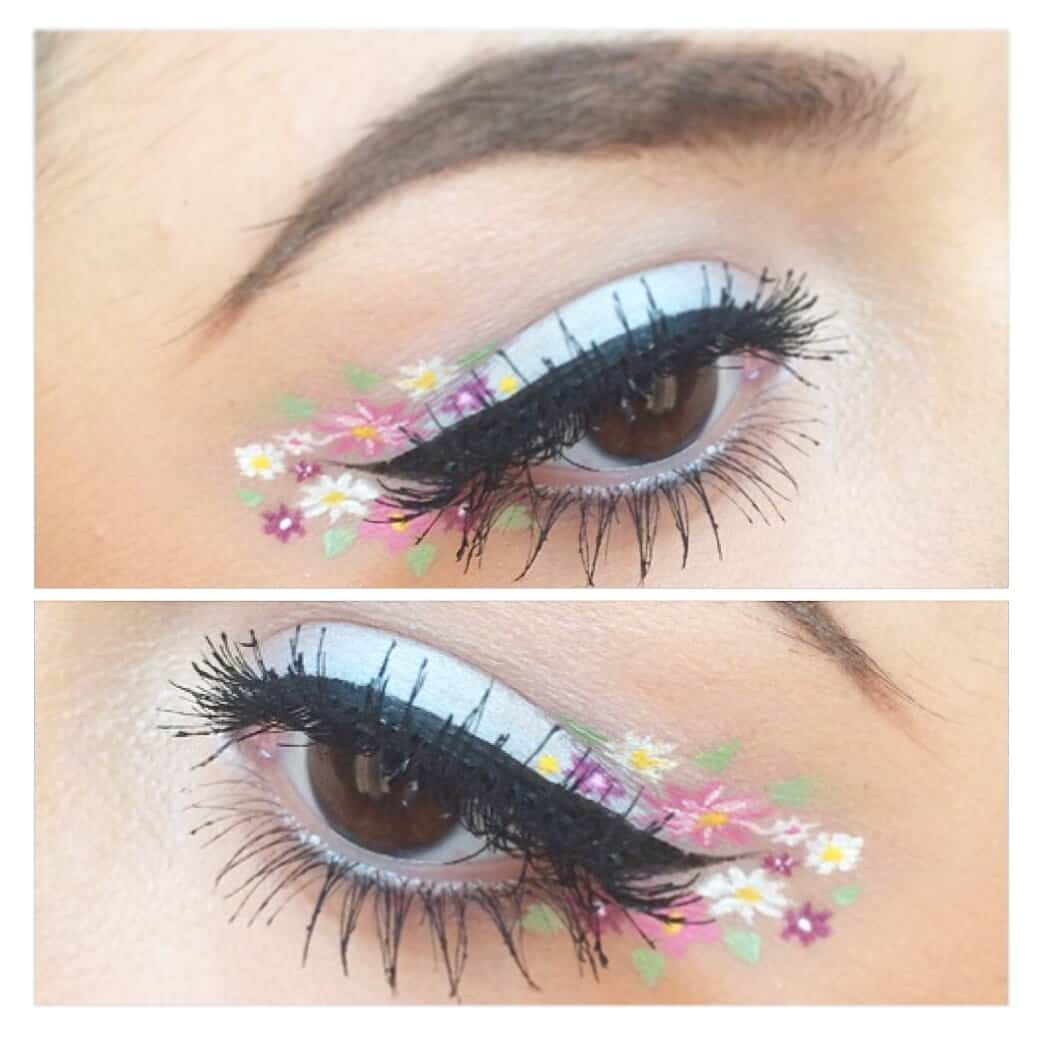 This is the flow we talked about earlier. You want to get a full circle finish with your floral eyeliner makeup. And for that purpose, you need to put some eyeshadow on the lid as well.
14. Colorful Flowers with White and Purple Eyeshadow and Blue on Eyelash Line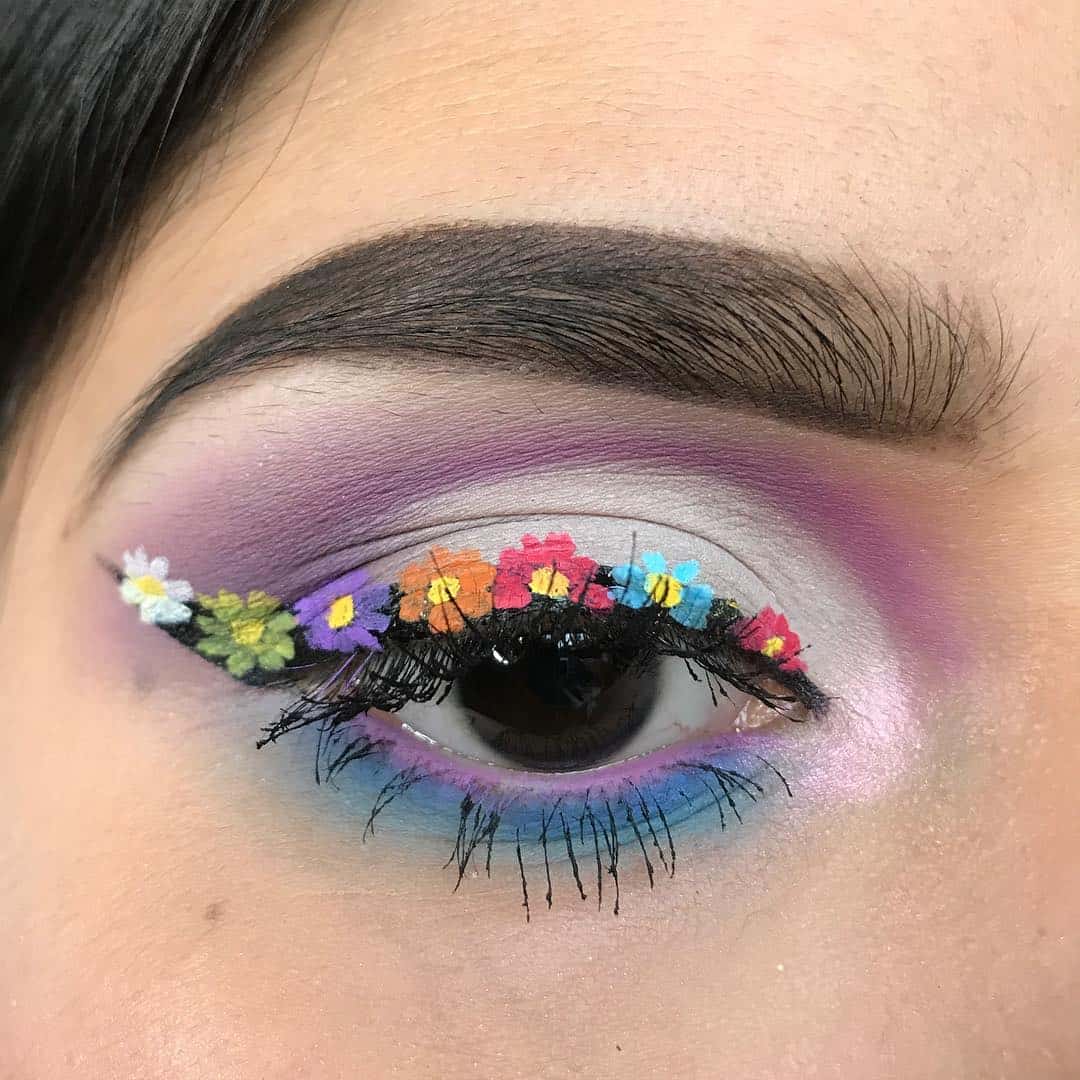 If this looks like floral smokey eyes, that's because that's exactly the point. Smokey eyes do not have to be dark. You can follow the same principle for smokey eyes, but opt for refreshing, light colors.
15. Bouquet of Purple Flowers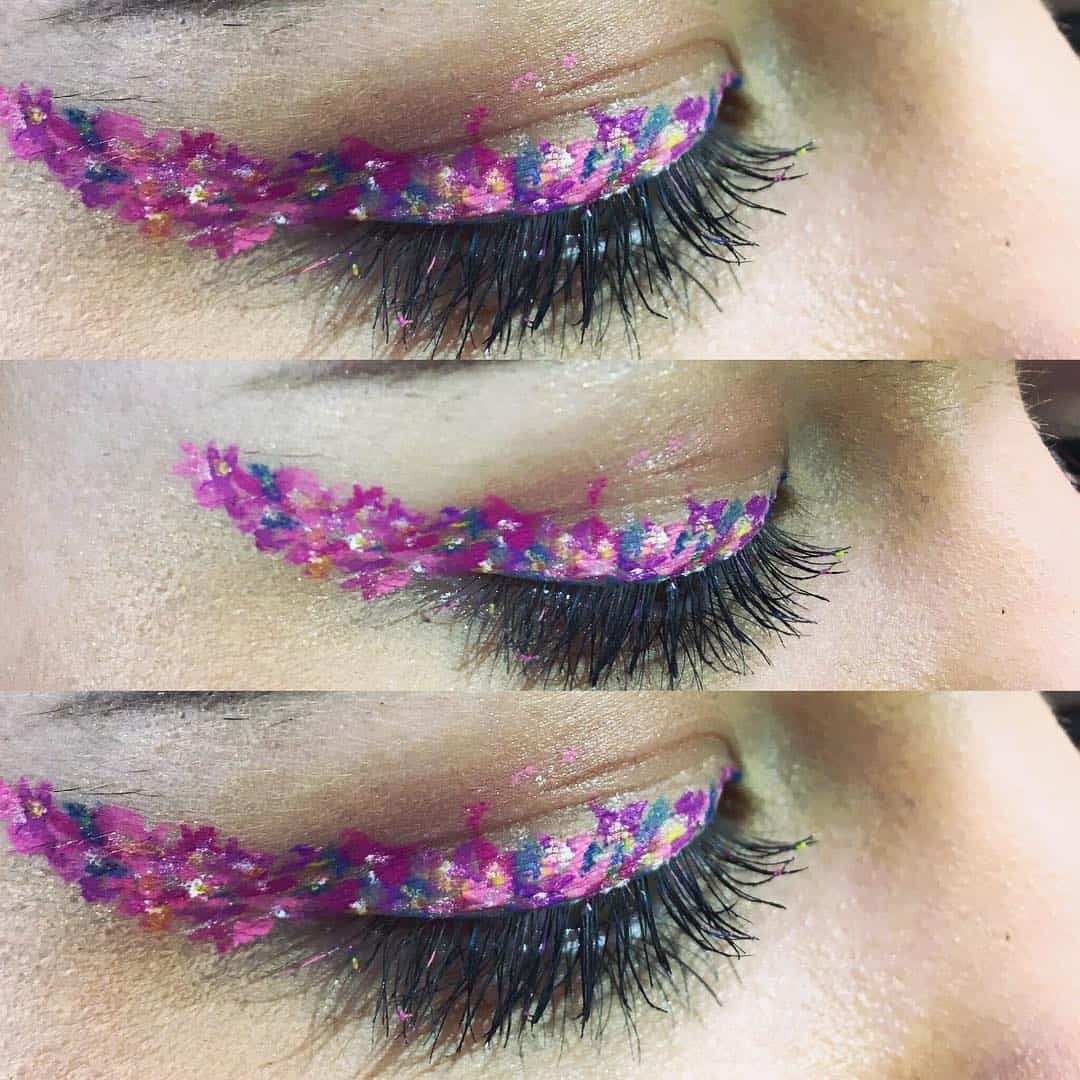 Purple is one of the most common floral colors. There are so many purple flowers. And that makes purple a great base for floral makeup. And the color works well with other colors.
16. Floral Eyeliner Done Four Ways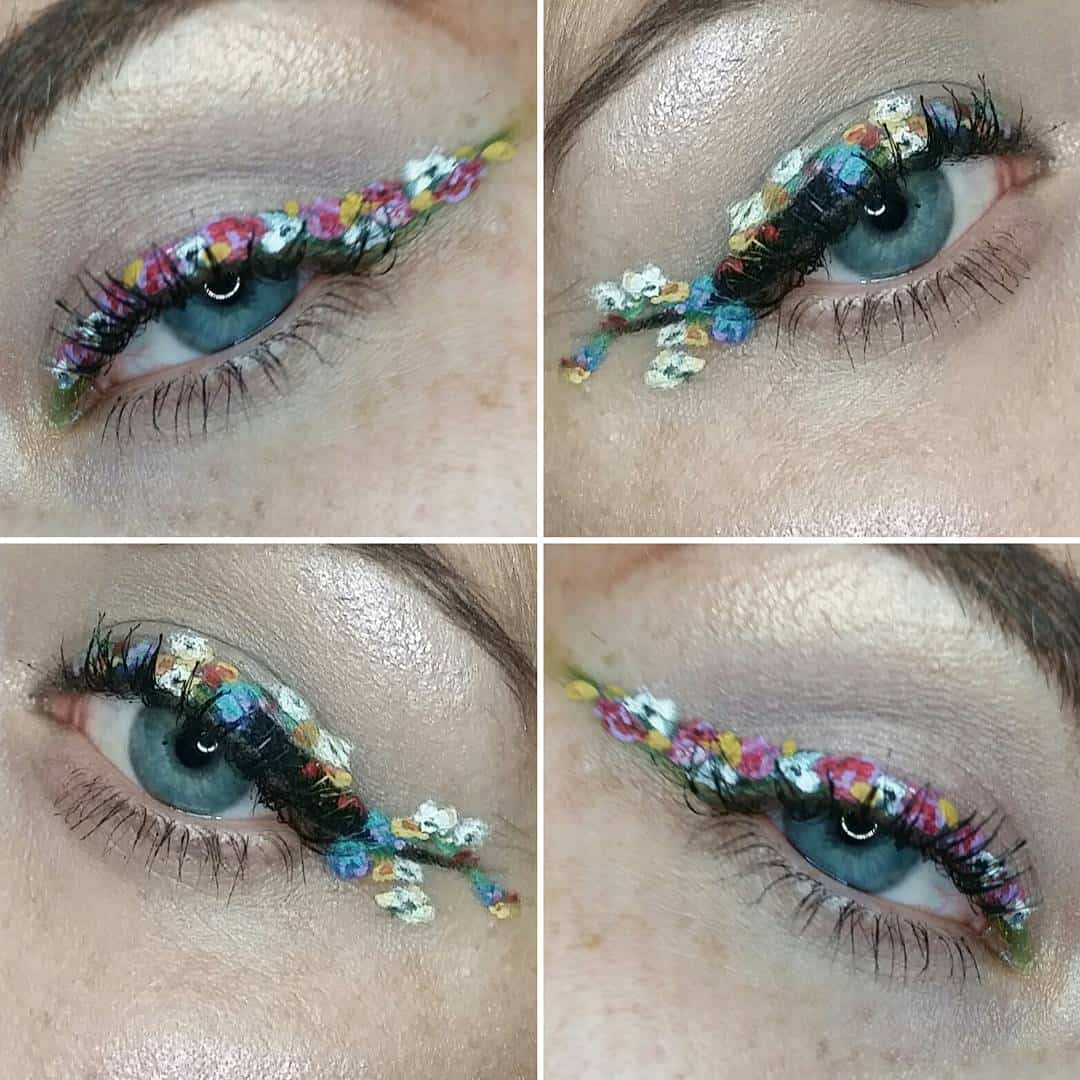 You get the same makeup, but in four different colors. This just shows that you can experiment with so many different colors for your floral makeup. Don't stick to just one color.
17. Cluster of Flowers on Outer Lid and Outer Lower Lash Line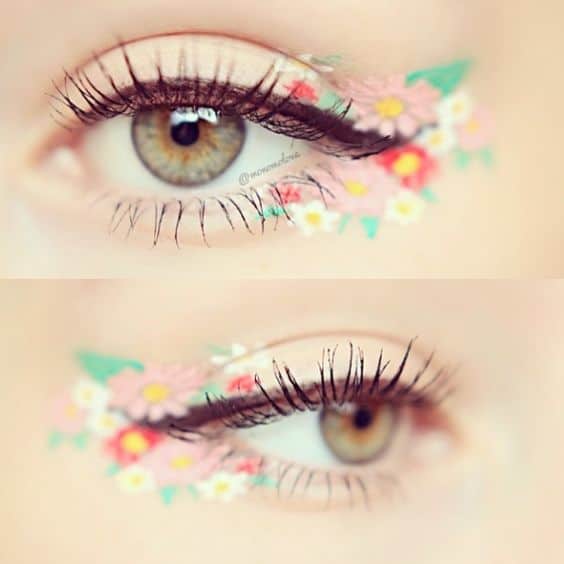 A pale makeup like this one works wonderfully with brown eyes. Personally I prefer more vivid colors when it comes to flowers, but when something works, you just have to accept it.
18. Tiny Flowers with Pink Eyeshadow and Rhinestones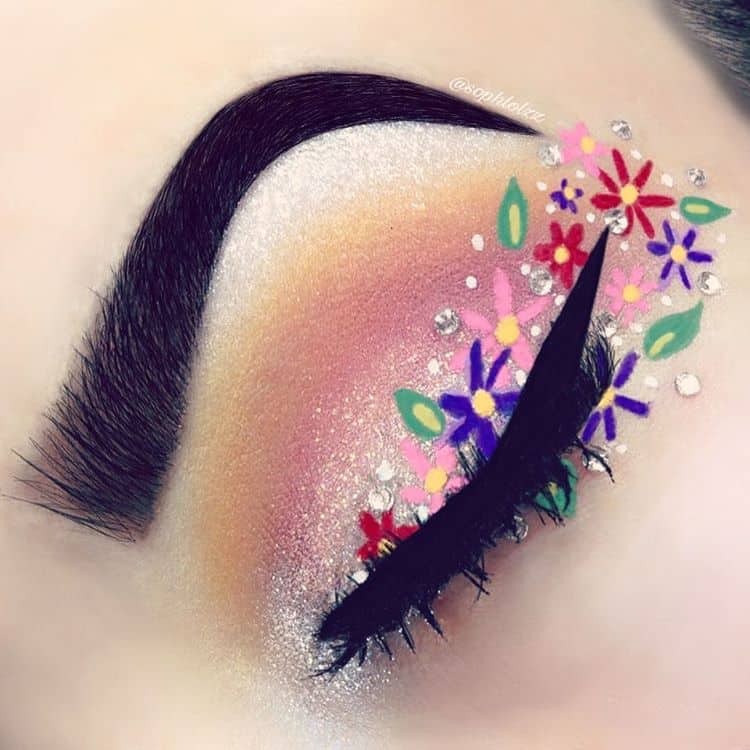 Rhinestones are always a nice accessory. You can add them to your nails, and you'll have an even better manicure. Add them to your eye makeup, and you'll have an even better result. Simply said, rhinestones enrich everything.
19. Blue Pink Floral Eyeliner with Second Line Above Crease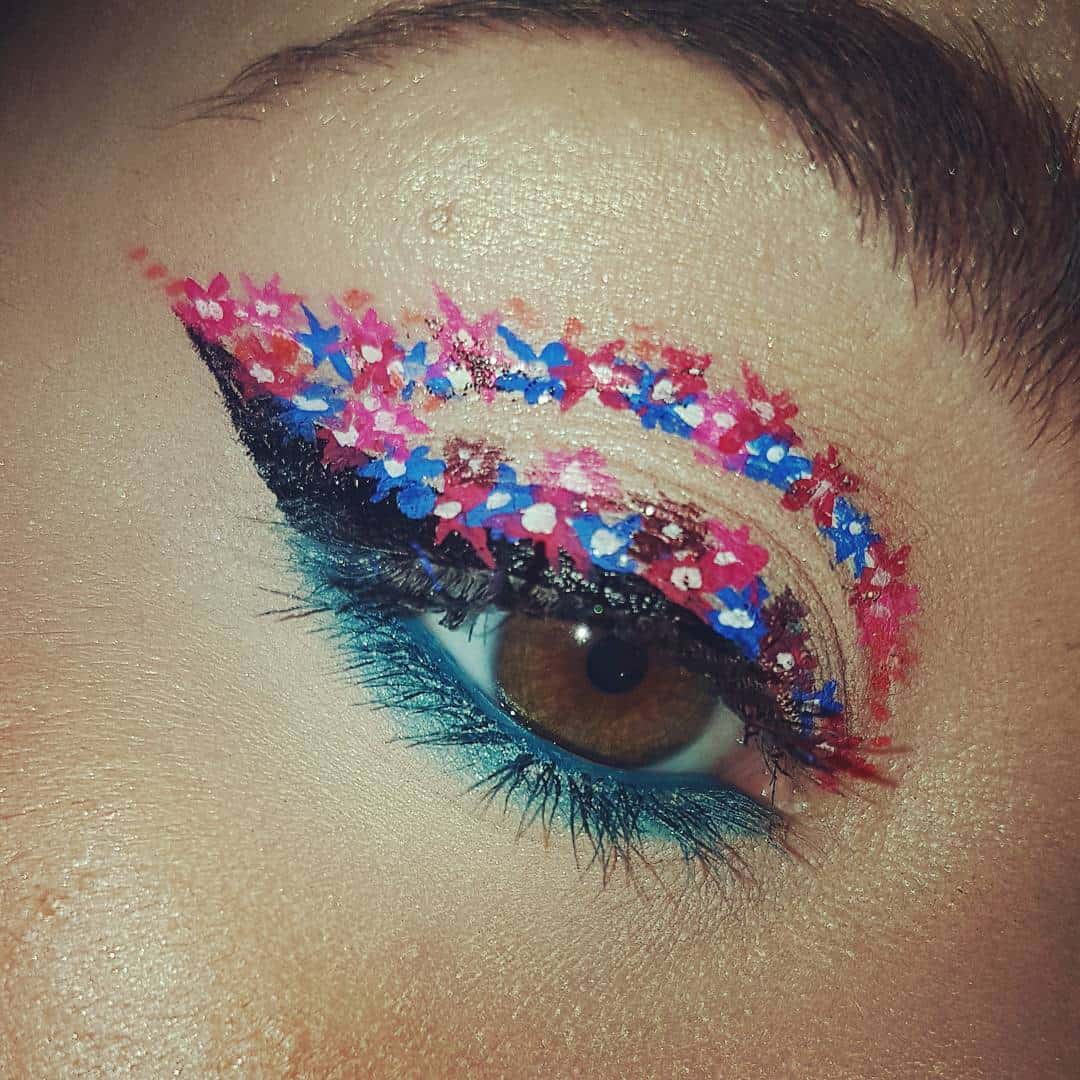 I love different ideas for floral makeup. It's just a joy to see women experimenting with different styles. For example, in this case we have not one, but two, floral lines. It looks like an eye drawn with flowers.
20. Thick Bouquet Floral Eyeliner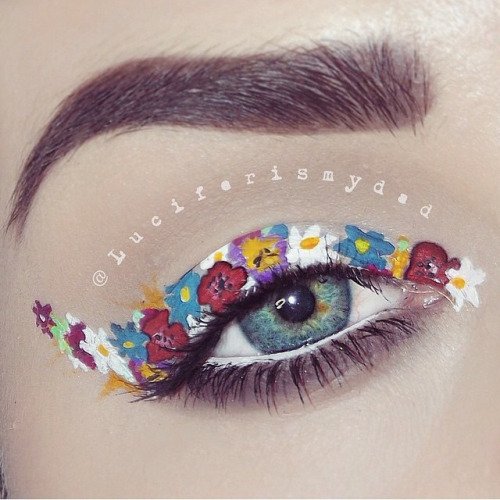 What I love here is the precision and attention to detail. The lines are just so perfectly drawn. Bravo. Hopefully you can be this precise.
21. White and Purple Daisies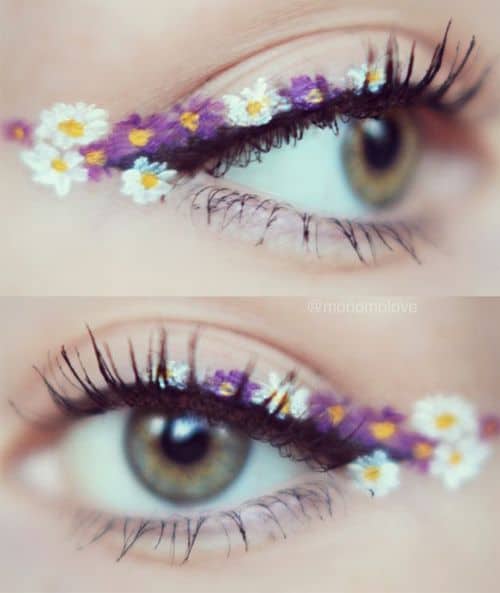 We had white daisies at the beginning. But the daisy flower is much more than just white. Truth be told, white and purple is probably one of the best floral decoration combinations you can get.
22. Pink and White Roses with Green Leaves and White Eyeshadow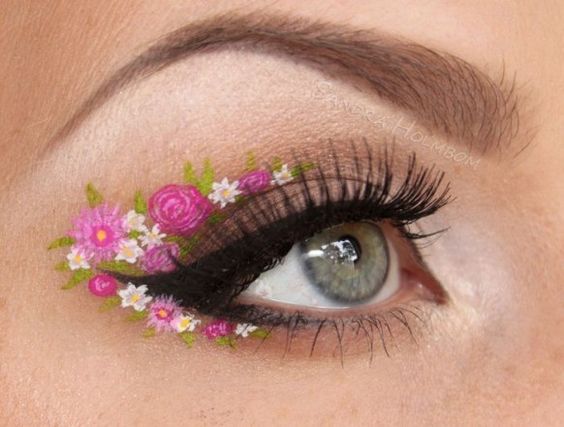 As I said earlier, roses are always a good idea. And it's been a while since we had some refreshing green between the flowers. This makeup idea is like a garden on your eye: you have flowers and grass in between.
23. Floral Bouquet Eyeliner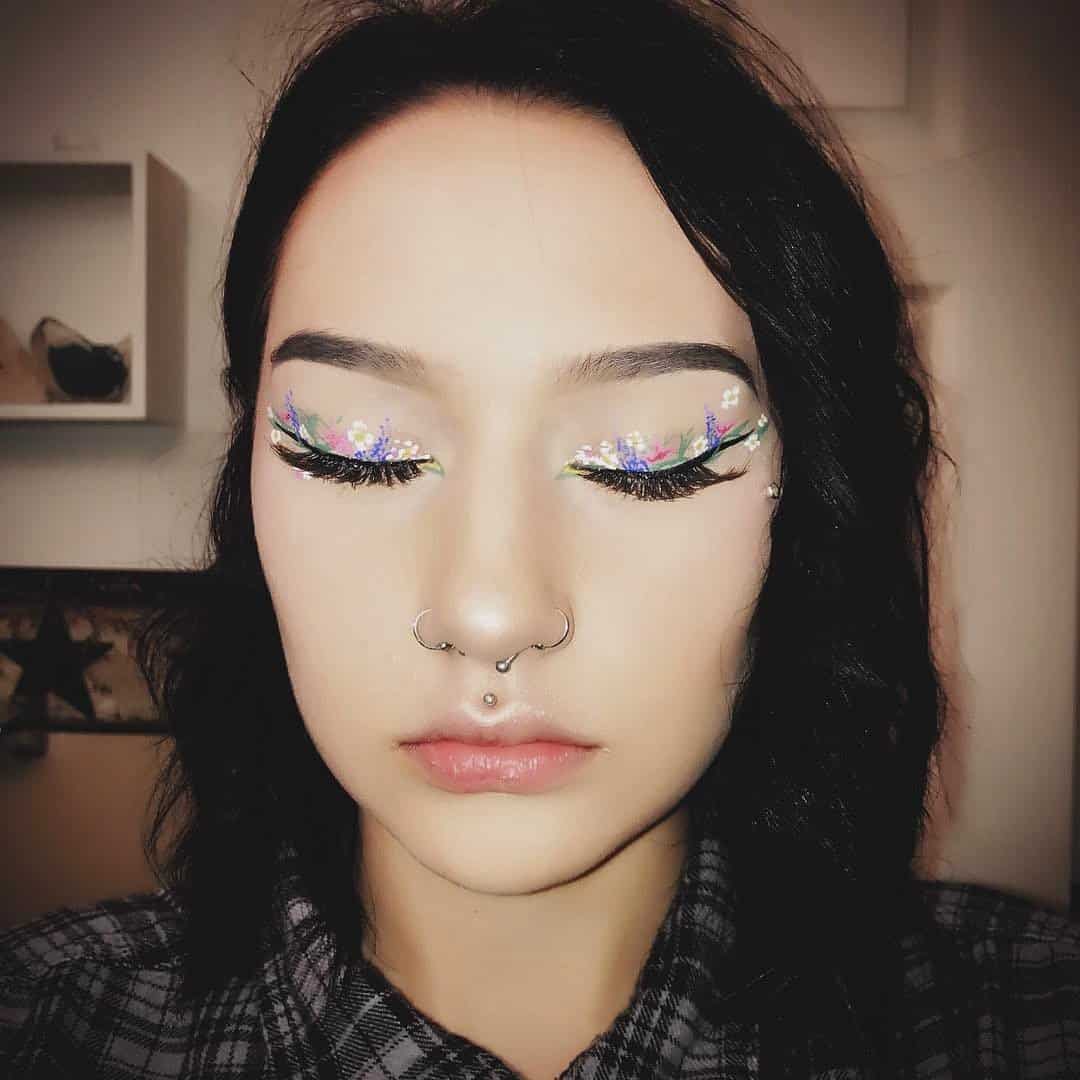 It's only suitable that we finish off with a flower bouquet. After all, flowers work best in a bouquet, not when they're alone.
Hope you enjoyed the list. Feel free to share your own floral makeup ideas in the comments section.