The majority of women will spend much of their lives monitoring weight. Fearful of putting on a few pounds here and there, diets can form a big part of daily life. But what if you're not looking to lose weight, but to gain some? It's a minority, sure, but there are plenty of other women that strive to gain extra weight and to bulk up. So let's take a look at some of the weight gainers women are buying!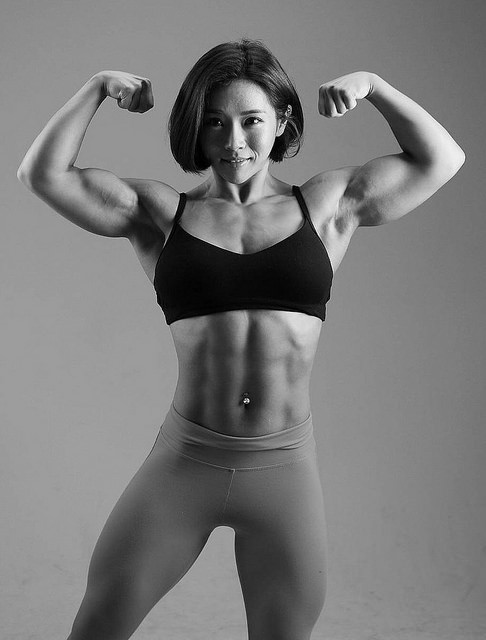 Is Weight Gain Really a Necessity?
Less than 2 per cent of the American population are considered to be underweight. Having a BMI (Body Mass Index) of under 18.5 classes a person as below the healthy weight recommendation. But whether or not BMI is a concern, female bodybuilders are a growing community with gymnasiums regularly seeing girls pumping iron next to the guys.
Bodybuilding requires some weight gain for the fat to be used to turn into muscle. Adding extra pounds to a lightweight frame is not an easy task. The general rule of thumb states that to gain one pound in weight, increasing a daily intake by 500 calories a day is required. This needs to be achieved over a period of one week.
However, increasing daily intake by 500 calories is not as simple as it sounds! Eating unhealthy cakes, confectionery or fatty sausages and burgers will not do. It needs to be healthy calories and not simply pure calorific fat.
Weight gaining supplements can prove useful here. These come in powder form and are mixed with drinks, making it easy to consume and convenient.
Weight Gainers
It is not possible to turn a thin and underweight body into a muscle-toned physique simply by consuming weight gain supplements. Many women will genuinely need to gain weight but not necessarily need the ripped muscular frame.
Weight gainers are a healthy option. The shakes should be consumed in addition to a healthy and balanced diet. As weight gainers are a liquid format, it makes it easier to consume for those that have difficulty eating large portions of food.
The calorie content in weight gaining supplement comes from carbs and proteins. These are transformed into energy that can easily help build lean muscle instead of body fat. Most weight gainers are packed with nutrients too. This helps to increase the health status of those who consume these products.
The Weight Gainers Women Pick Most:
Following a bout of illness, many patients will find they have lost weight. Regaining strength is an important stage in the recovery of someone who has recently been out of action for some time with an illness.
During illness and bouts of poor health, much of the muscle mass is lost and a weight gaining supplement can help to rebuild this. There is also a wide range of products on the market and knowing which one works best can be a challenge.
Listed below are five great weight gainers women consider to be the best on the market.
Optimum Nutrition
Pro Gainer powder is packed with carbs and proteins. There are 26 minerals and vitamins and just one tablespoon is enough to add 650 calories to a diet. There are four different flavours to choose from and the container holds enough for around 28 servings.
However, Optimum Nutrition's Pro Gainer is expensive. Using this regularly is good for weight gain and getting muscle tone back, but it will impact on the pocket.
Nature's Best Isopure Mass
Natures Best is power-packed with carbs and proteins. It is made from 100 per cent whey protein and provides 24 vitamins and minerals. The formula is great for those who suffer from food intolerances (lactose-intolerant etc.). It is gluten-free and can be mixed with water or milk.
There are only two flavours but the Dutch chocolate is highly recommended for taste. It may sound as if the mix is packed with sugar, but it is not. The downside to this weight gainer is the requirement to take six scoops per serving. This means the formula will need to be replaced regularly and often. For this reason, it will be another weight gainer supplement that will impact on the wallet.
MRM All Natural Gainer
This is an all-natural weight gaining supplement that provides just 500 calories per serving. It provides 17 minerals and vitamins. There are no synthetic ingredients in this mix at all. It is much lower in price than some of its competitor products. However, some feedback from users has been poor.
Some users reported their weight remaining largely unchanged.
Muscle Milk
This protein shake is one of the great weight gainers women who struggle to put weight on should opt for. There are 109 grams of carbs, 32 grams of protein and 22 minerals and vitamins packed into this dynamic powder supplement.
Muscle Milk is reasonably priced compared to some of the other leading supplements and with 650 calories per serving, it works. However, the powder mixes badly and the taste is not as good as the other leading powder supplements.
Universal Nutrition Real Gains
At 602 calories per serving, Universal Nutrition Real Gains is a winner. It has 10 flavours to select from. So, there will always be a taste formula you'll like in this supplement.
The carb and protein levels are very high too. But with only 10 vitamins and minerals, it serves up less than some of its competitors. Moreover, some users report unwanted side effects. Mostly, these have been issues with the digestive tract. If you have a sensitive stomach, it may be worth considering carefully if this is the right product for you.
Which Weight Gainers Women Recommend
Optimum Nutrition's Pro Gainer is expensive but is worth the extra bit of cash if you are serious about weight gain. However, it works dynamically and has the best results of the five products listed above. It has the ability to substitute as a nutrient-rich meal supplement. The powder is also used as a post workout tonic for recovery. One scoop is all that is required and with 28 servings in each container, it should last at least one month. Give it a go today!