Imagine a plant with a flower that looks like an explosion of flame. And now imagine that same plant producing one of the most beautiful fruits you've seen in your life. In short, that's pitahaya, the plant that produces the dragon fruit. The fruit is native to Central Africa, but you can also find it in Southeast Asia. Thailand and Vietnam are known for their dragon fruit.
Many people associate dragon fruit with pineapple, since it has red or yellow skin, with the sole difference being that dragon fruit has spikes. Inside, you'll find many small, black edible seeds. The flavour of the fruit is mildly sweet, something of a mixture between a pear and a kiwi. The texture, on the other hand, is crunchy. Before we get to the benefits and the nitty-gritty of dragon fruit, let's take a look at its nutritional value.
Nutritional facts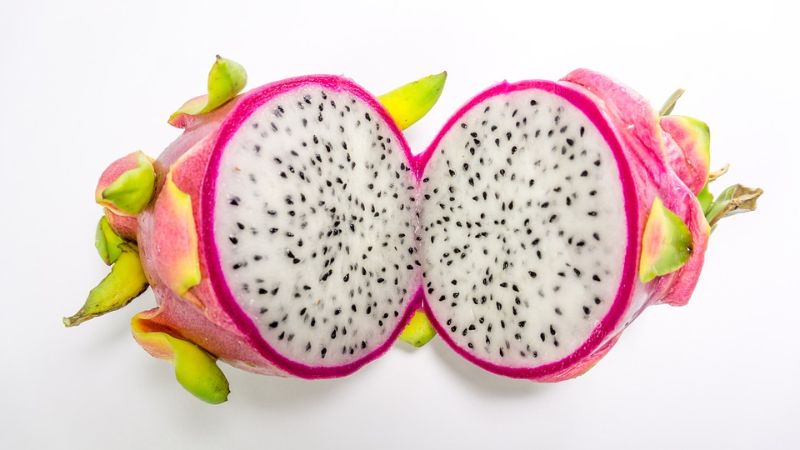 There is no shortage of vitamins and minerals in dragon fruit. In addition to vitamins, it's also rich in antioxidants, good fatty acids, beta-carotene, and protein. But the best part is that the fruit has zero complex carbs. That means that the fruit helps you break down foods easily. The omega-3 fatty acids are all located in the seeds. Here is the nutritional value of 3.5 ounces of fresh dragon fruit.
60 calories
1.5g fat
0% cholesterol
1g of dietary fibre
9g of carbs
9g of sugar
2g of protein
Benefits of dragon fruit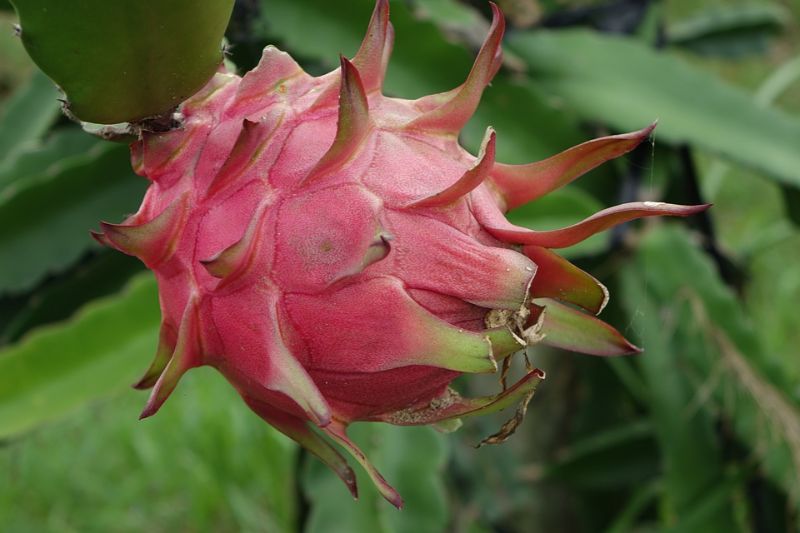 Every fruit is beneficial. Some are more, some are less. But the fact of the matter is that eating fruit is healthy. Now, different fruits target different diseases. Let's see how this Asian and Central American fruit can improve your health.
For starters, dragon fruit helps you maintain a healthy weight. Since it contains zero cholesterol, the fruit satisfies your sweet tooth, all while keeping your cholesterol level at bay. In addition, the fruit helps the body break down other foods.
Dragon fruit keeps your heart healthy thanks to the addition of monounsaturated fats (good fats). They help the heart stay in good condition. No cholesterol also means that consuming the fruit will lower your bad cholesterol levels, all while replenishing the good cholesterol levels.
I mentioned that the fruit is extremely rich in active antioxidants. We all know we need them to fight off free radicals. Antioxidants help in a number of ways, but most importantly, they prevent cancer-producing cells.
By providing your body with a good amount of dietary fibre, the fruit improves and cleans up your digestive system. If you have poor digestion, consuming the fruit on a regular basis will help. Any fruit that contains fibre is good, to be honest. But remember to eat the flesh and the seeds. That way, you also get healthy acids and protein.
High fibre, and low sugar. Does that sound familiar? Those are the things you look for when you want to prevent diabetes. Dragon fruit helps you regulate diabetes and stabilize your blood sugar levels. I mentioned at the beginning that consuming the fruit will satisfy your sweet tooth.
Prevent skin problems by getting a high amount of vitamin C. I will talk later about how you can use the fruit for treating acne.
Last, but not least, dragon fruit improves our mobility by affecting the joints. Joint pain, arthritis, and similar ailments can easily be prevented by consuming fruit like this one.
In a nutshell, the fruit provides skin benefits (fights signs of ageing, acne, sunburned skin, promotes skin health, provides moisture for dry skin), hair benefits (treats coloured hair, promotes healthy hair), and general health benefits (lowers cholesterol, helps with stomach ailments, lowers blood sugar, improves cardiovascular health, cuts low hemoglobin risk, prevents cancer, prevents congenital glaucoma, boosts immunity, improves health of teeth and bones, repairs body cells, improves vision, boosts brain function).
How to eat dragon fruit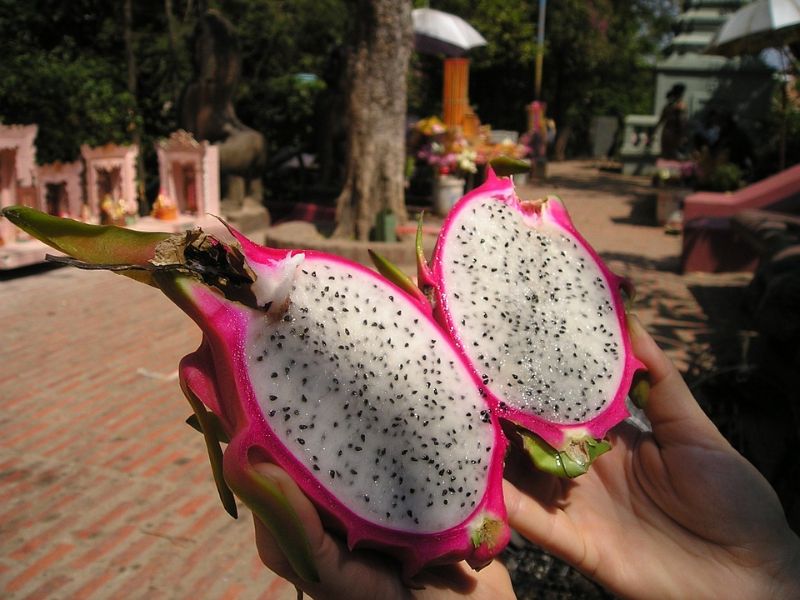 Think of the dragon fruit as a perfect substitute for your everyday banana or apple. The exotic fruit is so good, you can swap it for any other daily dose of fruit. All you need is a spoon, and you can start digging. But let's start from the beginning.
Step 1: Find your perfect dragon fruit
The hardest part is finding this exotic delight. For starters, the fruit has a very short season, and it's hard to source it fresh. In the United States, your best bet is to check Asian markets. Pay attention to the ripeness. You want a ripe fruit that's bright red or pink. This exotic delight tastes best when it's fully ripe.
To check if the fruit is ripe, press the flesh. If it has a little give, the fruit is ripe. If the fruit is soft, it's overripe. If the flesh is hard, you need to wait a few days.
Step 2: Cut the dragon fruit
Get a sharp knife and cut the fruit in half. Slice right through it. As you are cutting the fruit, you'll notice bright white flesh that looks similar to kiwi and seeds all around it.
Step 3: Eat the fruit
I said that all you need is a spoon. You can't eat dragon fruit with your bare hands. Get a spoon, and run it along the edges of the skin. Scoop underneath in order to loosen the flesh of the fruit. Spoon it into your mouth, or cut it into quarters like an apple.
Of course, you can always use the fruit in recipes like smoothies. I will give you some ideas for that as well. One thing to note: the fruit tastes best when cold, so consider putting it in the fridge.
Recipes
I promised you several recipes in which you can add the exotic delight:
Fruit bowl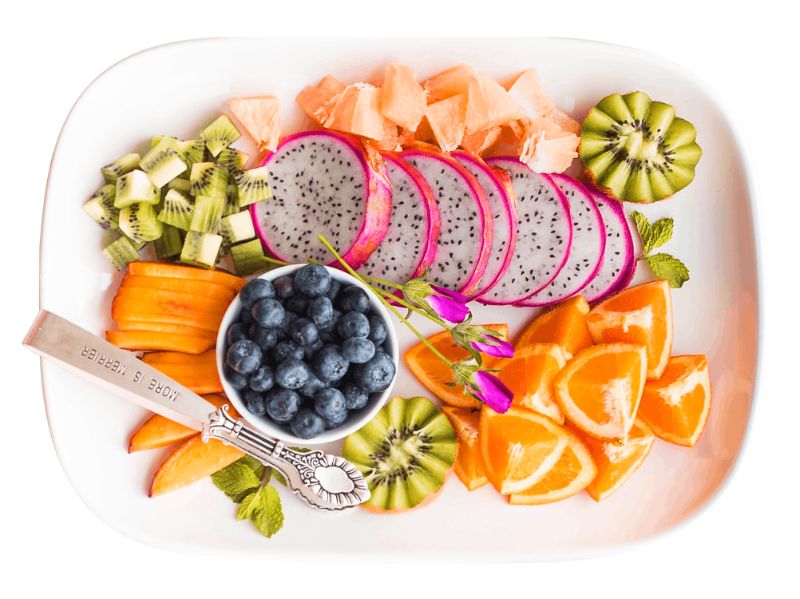 Ingredients
1 cup fresh papaya, cubed
1 cup pineapple chunks
1 banana, sliced
1 cup mango, cubed
1 cup strawberries
1 cup dragon fruit
Just toss all the ingredients in a large fruit bowl and enjoy. You can serve cocktails with the fruit bowl.
Salad dressing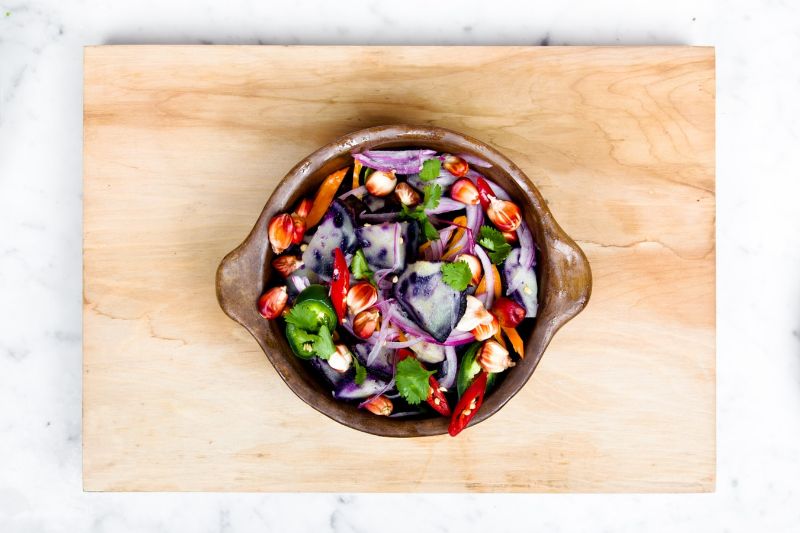 Ingredients
1 cup strawberries
2 tablespoons stevia
1 tablespoon lime juice
1 cup dragon fruit
Stir the ingredients in a cup until the stevia fully dissolves. Pour over any salad to which you want to add a sweet flavour.
Smoothie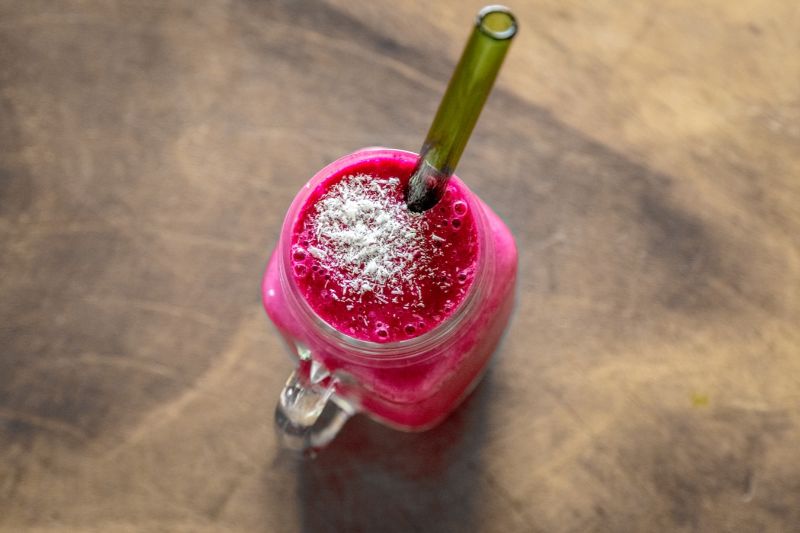 Ingredients
1 cup yoghurt or nut milk
½ dragon fruit
1 banana
Pint of blueberries
Cut the dragon fruit in half and scoop out just one half of it. Peel the banana and slice it. Add the ingredients to a blender; blend until smooth. If you like, add extras like apple or grape juice, or peanut or almond butter.
How to use dragon fruit topically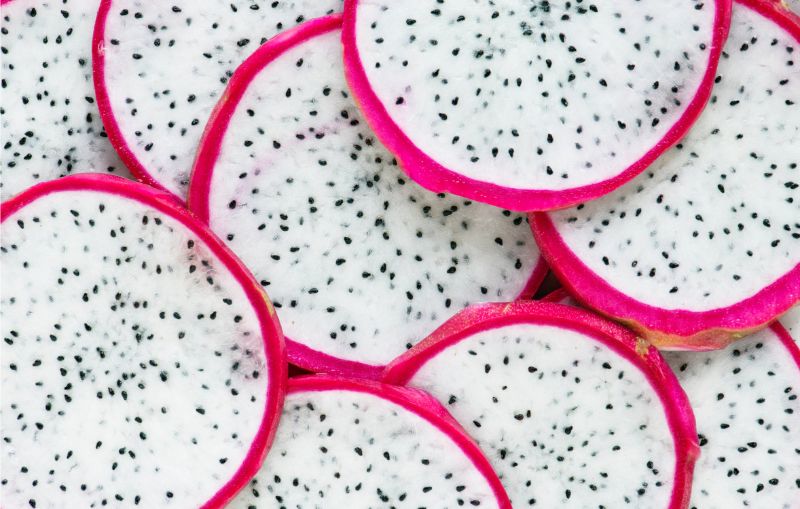 I promised you recipes for treating acne and other skin and hair problems with dragon fruit:
Fight ageing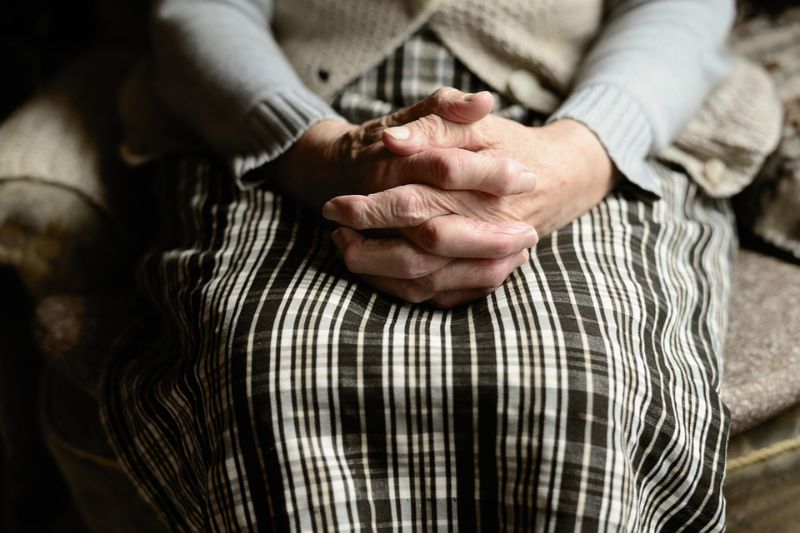 Ingredients
½ dragon fruit
1 tablespoon yoghurt
Scoop the pulp and make a paste with the yoghurt. Apply the paste on your face and neck. Let it dry on its own for 20 minutes, and then rinse with lukewarm water. Repeat once per week for two months.
Treat acne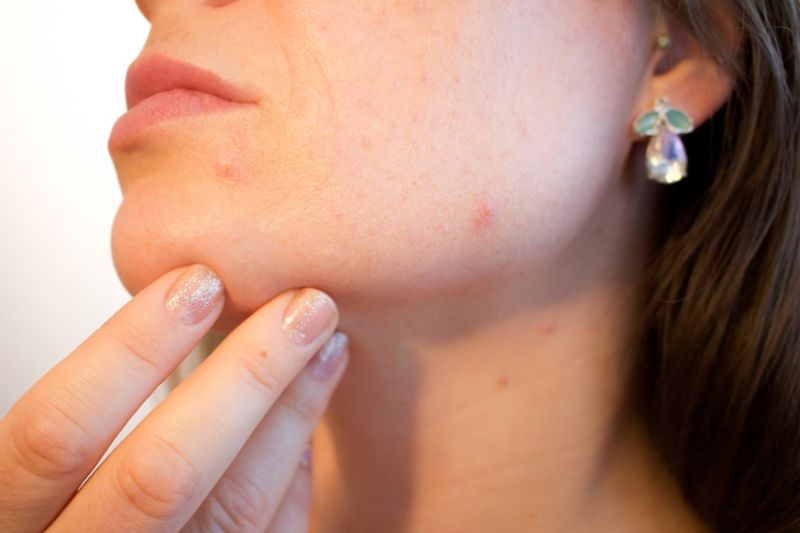 Ingredients
1 dragon fruit
A few cotton balls
Scoop out half of the dragon fruit and, using a fork, mash it into a paste. Take a cotton ball, dab it into the paste, and then apply on the affected area. Once you've applied the paste, let it dry for 15 minutes and rinse with lukewarm water. You can repeat the process two times per week.
Treats coloured hair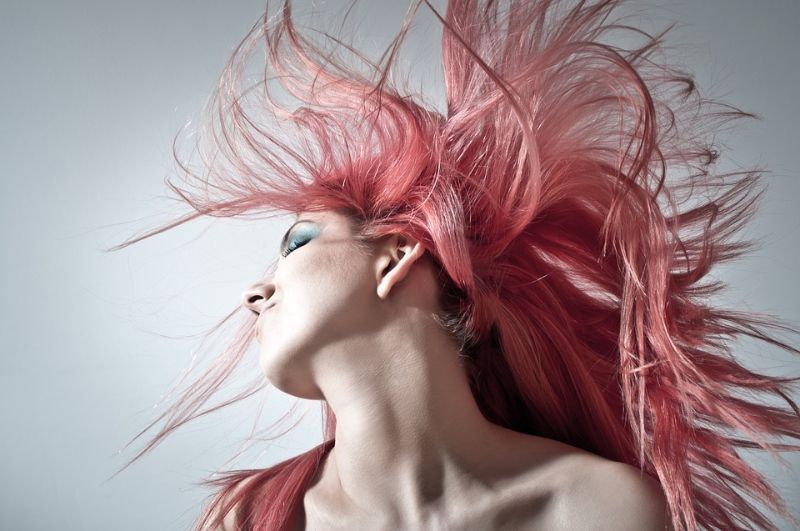 Last, but not least, you can use the exotic fruit for treating coloured hair. We all know that dying our hair damages it. Luckily, all you need is one dragon fruit to feed your hair with healthy nutrients.
Scoop out the flesh and process it in a blender. Apply the paste on your hair and scalp, and cover with a towel or a plastic cap. After 20 minutes, wash your hair with a mild shampoo. You can repeat the process just once per week.