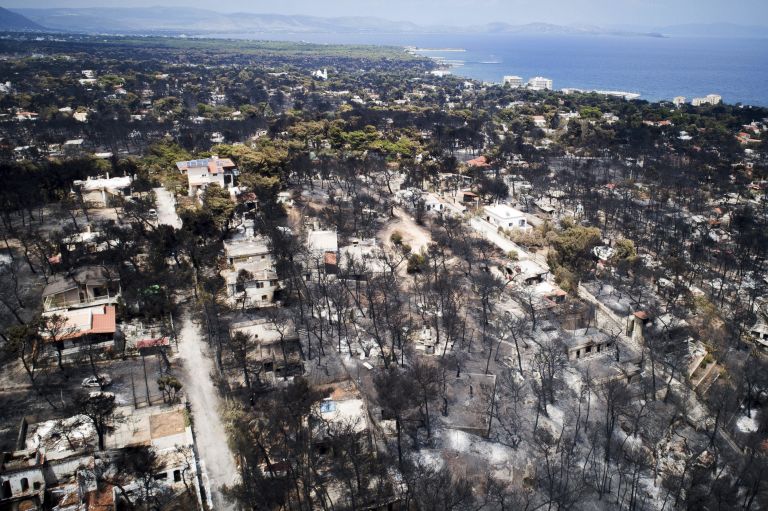 According to Wildfire Today,  there were at least two large fires in Greece. One was about 10 miles northeast of Athens near the coastal city of Nea Makri and the other was about 25 miles west of Athens at another city on the coast, Kineta.
Both fires have spread to the ocean, generally west to east. The Associated Press reported that 10 people were killed when a boat capsized while it was evacuating vacationers from a hotel in Mati, east of Athens.
That was the deadliest fire season in Greece since 2007 when more than 60 people were killed in the Peloponnese region. Several European countries have offered to send water-scooping air tankers to assist firefighters, including Spain, Italy, Turkey, and Croatia. Greece also has their own fleet of scoopers.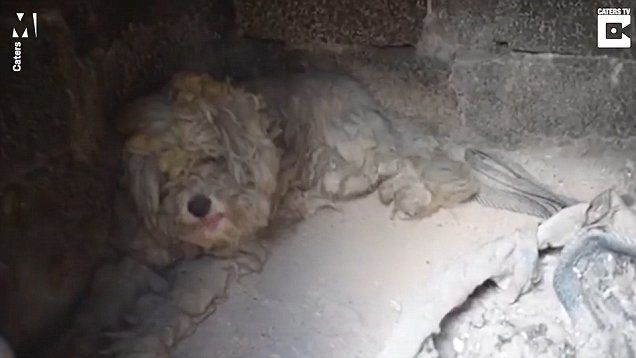 The Dog Was Burned, Hurt, Hungry and Scared
After the outraging wildfires that struck Greece, the rescuers came into action to look around the burnt village. Artemis Kyriakopoulou discovered the dog, who had been protected by the outdoor oven while the surrounding forest area was razed.
The oven served to protect him until rescuers arrived and found him hiding in there for two days. Right after being found, he came out;
Realising he was saved.
In the video below, he began to wag its tail again. The footage of the dog's emergence happened near the town of Mati, east of Greece's capital Athens.
It was then shared on Facebook by Artemis Kyriakopoulou, who said:
"We found this creature in a furnace of a burnt out house at an area of Mati that has been completely destroyed. The dog was burned, hurt, hungry, and of course, scared as we managed to save him and his sibling who was in better condition. They have been both transferred to a vet. The second dog that is not shown in the video was patiently awaiting his owner at the entrance to the house. Please help us to find their owners if they are still alive."
He was singed yellow from the smoke and flames of the fires and was struggling to breathe when he was found. Diana Topali, who is looking after him, said:
'Even its eyelashes are burnt, I wonder how this dog survived.'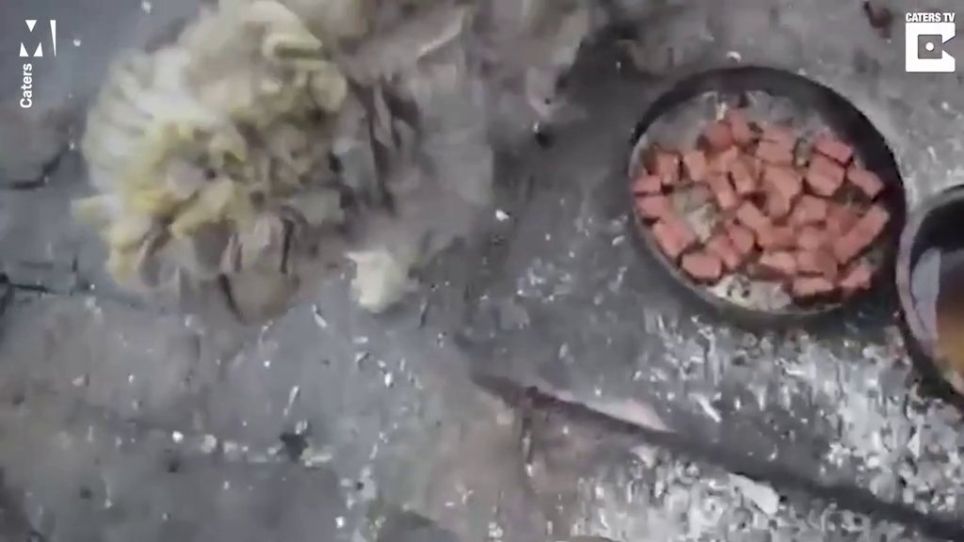 'Loukoumakis'
Loukoumakis, named by a vet is believed to be a stray, aged about four and a half years. 'He just looked like a burnt shaggy rug,' Topali said.
Loukomakis has been now groomed. He is on antibiotics and is slowly recovering.
He will stay with Topali until he finds his forever home.
The fires of last week are thought to have killed hundreds of animals, as well as more than 90 people. Despite looking like it had been through hell, this dog was surprisingly healthy given the circumstances.
As well as the human and animal cost, thousands of homes have been destroyed by the wildfires that have decimated large swathes of the area. There is currently an investigation ongoing to find out whether the fires were started deliberately or not, according to World News.