A trellis is a great way to expand your garden. Defined as framework that serves as support for fruit trees, a trellis will give you much more options for your backyard.
If you have blank space in the back of your yard, for example, one between two windows, that is the perfect spot for a trellis. Today, we will look at different trellises, which are a beautiful way to add charm to your garden.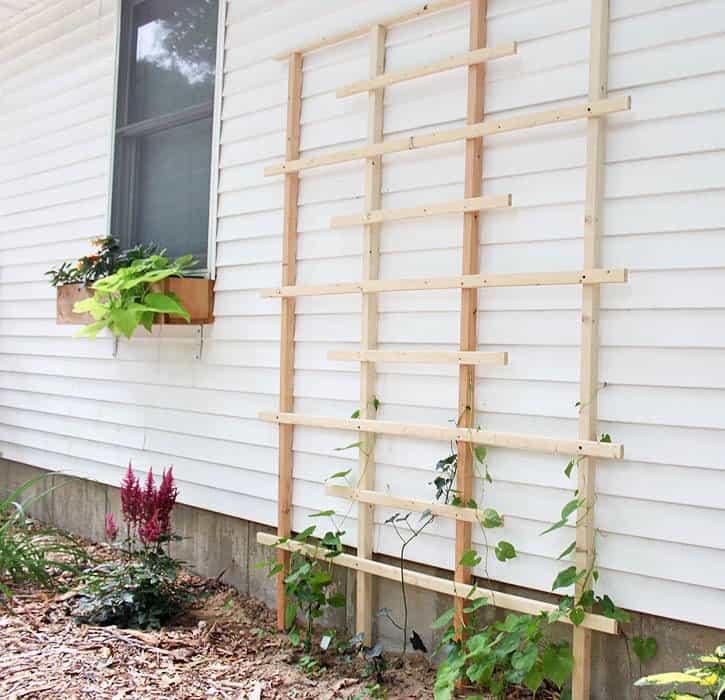 In most cases, a trellis is made out of wood. That makes it very suitable for a DIY project. After all, you can find different parts of wood to use for your trellis. And after all, wood is a nature material that enriches your yard. As you can see here, in this case, the trellis is used for support for climbing plants.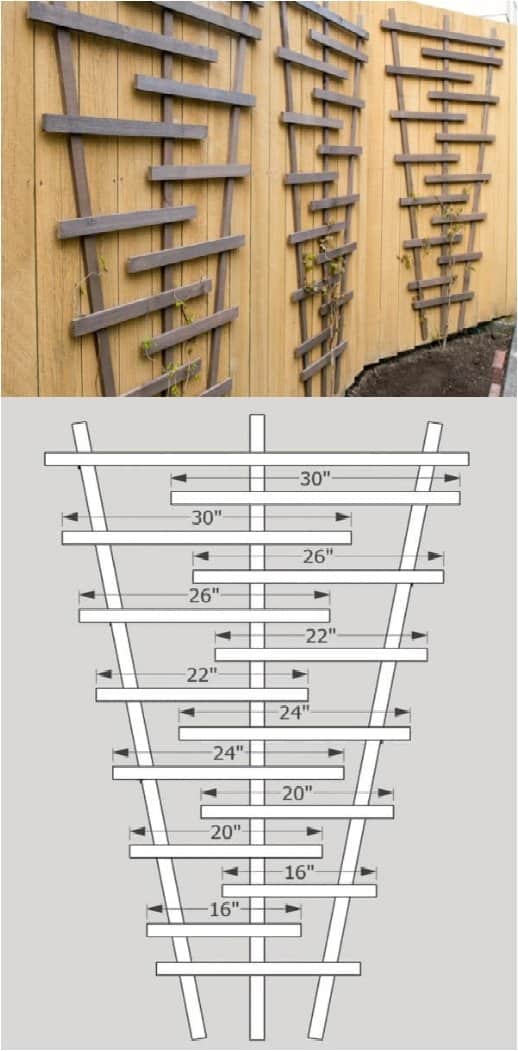 In most cases, people are satisfied with a simple design. But sometimes, you want to add more  flair and charm with your trellis. And you want some unique shape. One way to get there is a V-shaped fence trellis. This shape and form is perfect when you have tight space you want to utilize.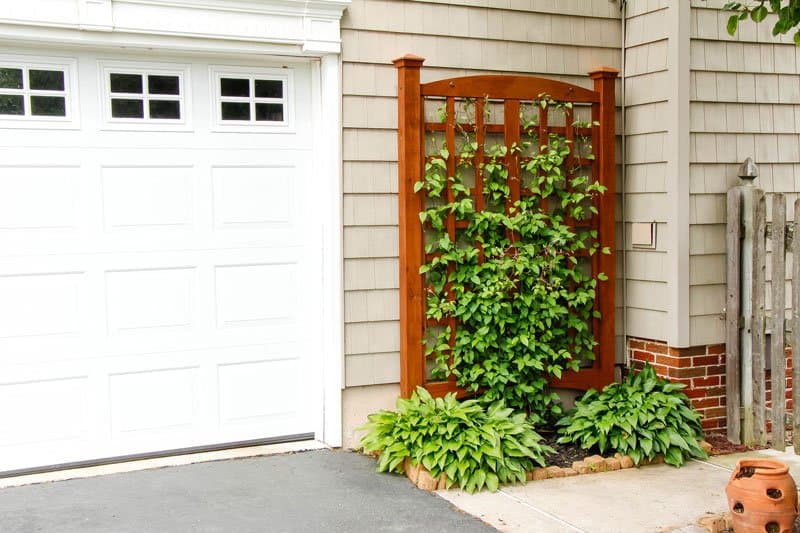 As you can see, any corner in your home and yard can be transformed with a trellis. You can get little greenery at every corner of your home. You will definitely benefit from a trellis.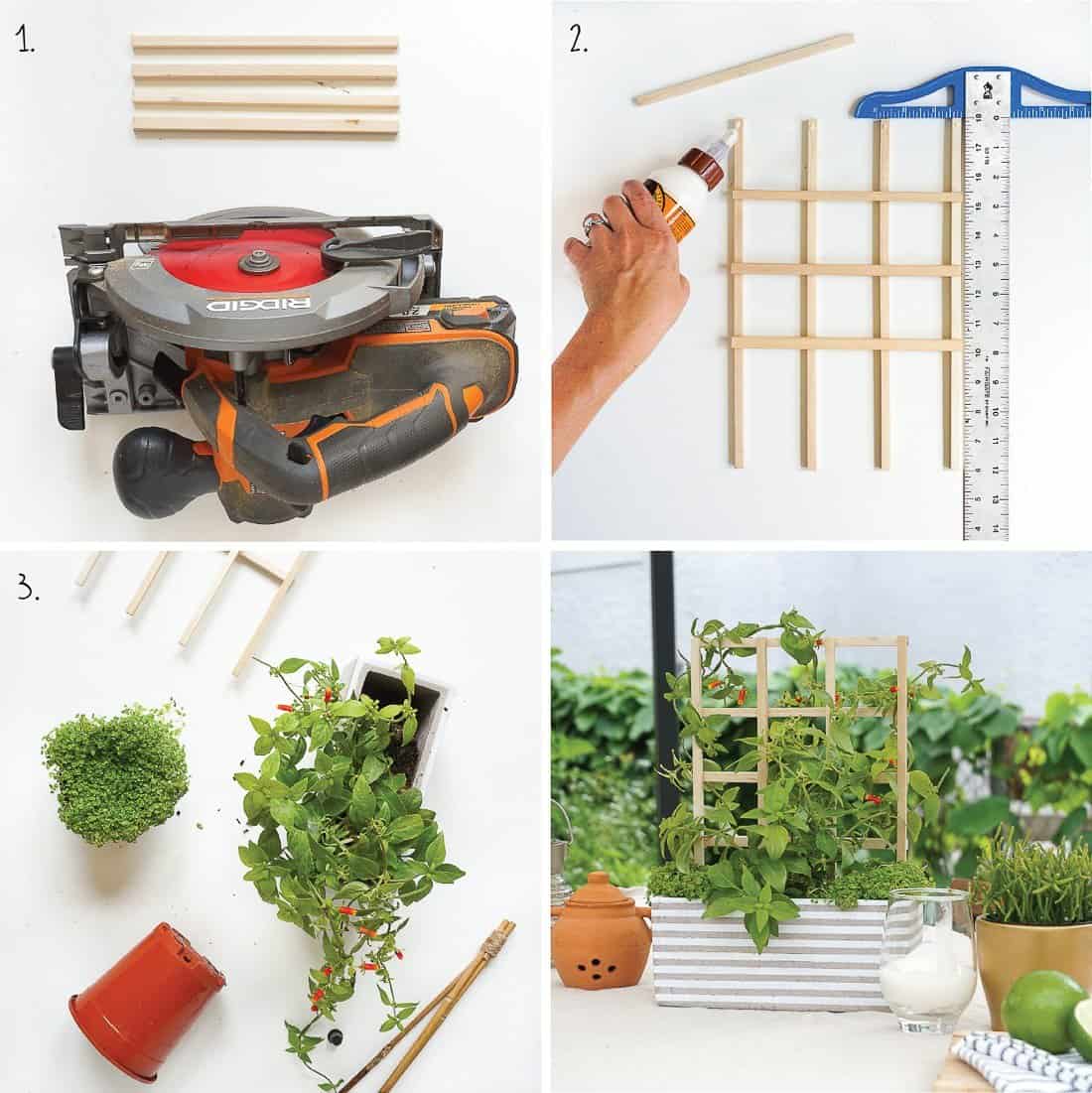 I mentioned previously that a trellis can be utilized even in a tight space. You do not have to go big. A small trellis is more than enough in some cases. Depending on how much space you have, you can adjust it accordingly. And I am willing to bet you can always find space for a small trellis planter.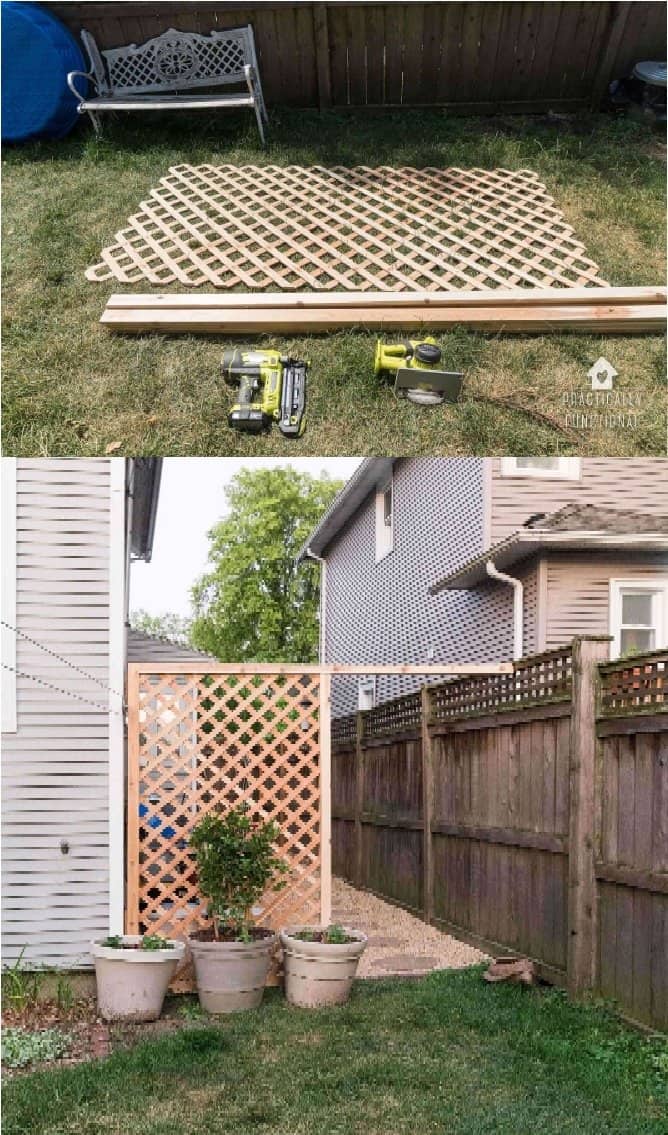 A trellis can serve many roles. In this case, for example, the trellis serves as a separation wall. Think of it as a wall that gives you a little more privacy.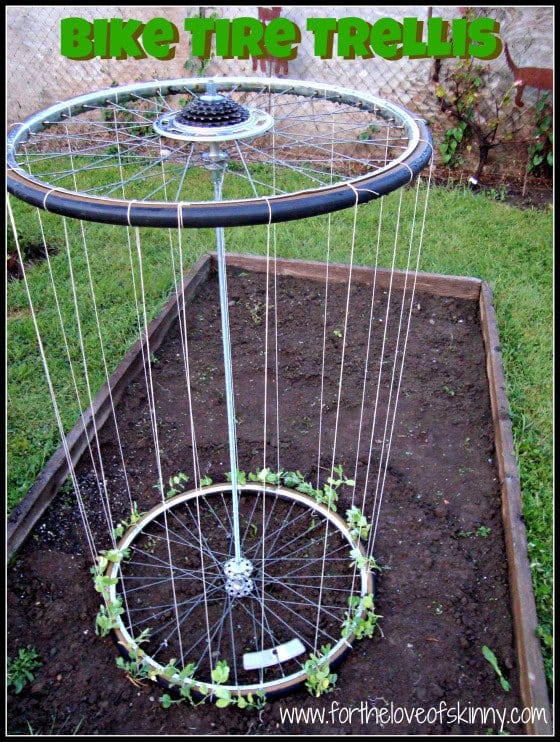 You do not always have to think of a trellis as a wooden framework on walls. As you can see, a trellis can take many different forms and shapes. When you start thinking outside of the box, magic happens. The trellis is basically something you can use for climbing plants. And you can make one with only bike tires.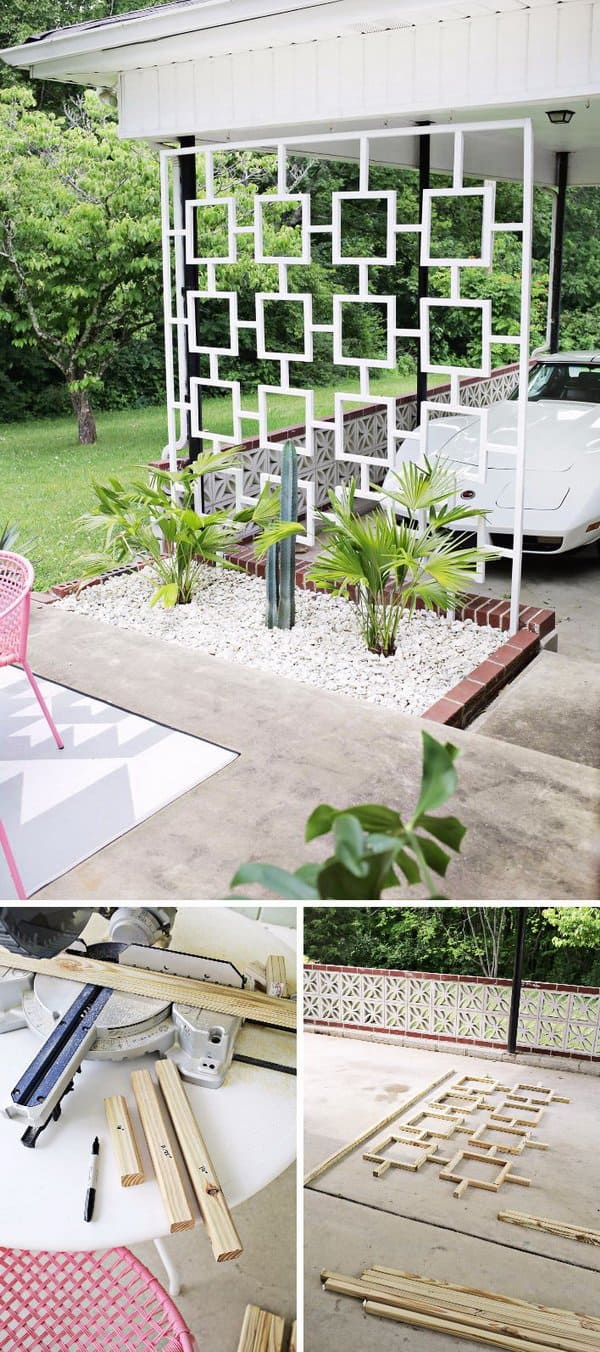 Another case where the trellis is basically a separation wall. In this case, the trellis is just a separation between the patio and the carport. And it is understandable. After all, would you like to have a brunch or drink with friends just few feet away from your car? I sure as hell do not like that.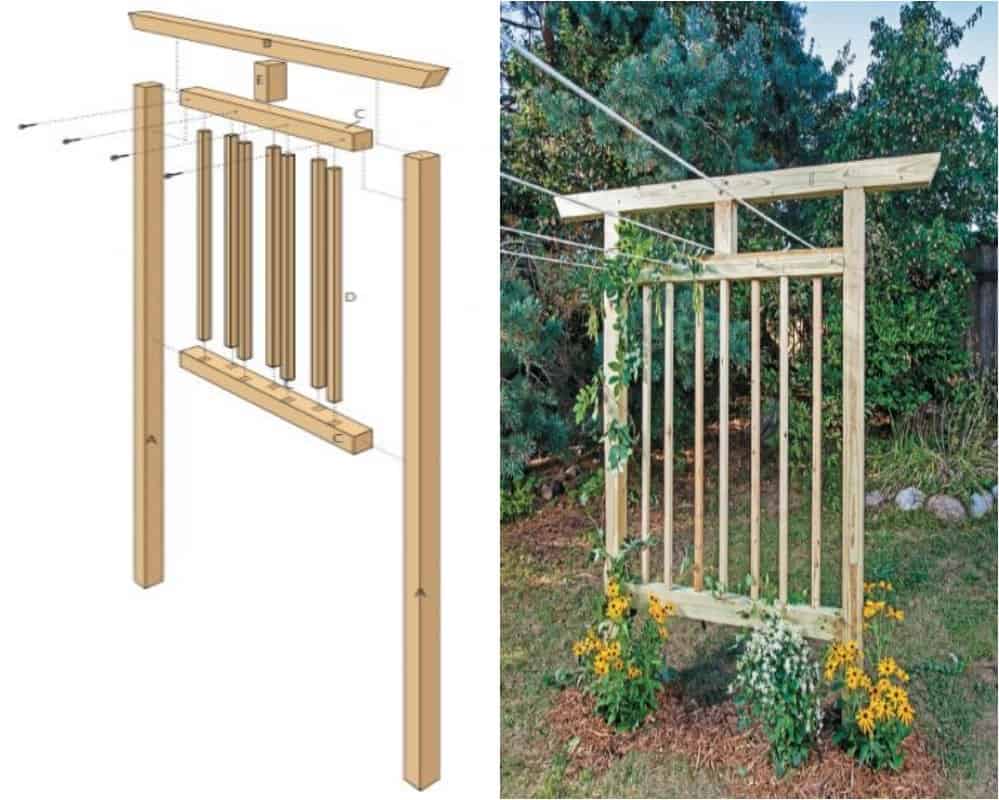 As we move down the list, you will see there are many different things you can use to make a trellis. I said previously that trellises are versatile, and this is another example of that theory.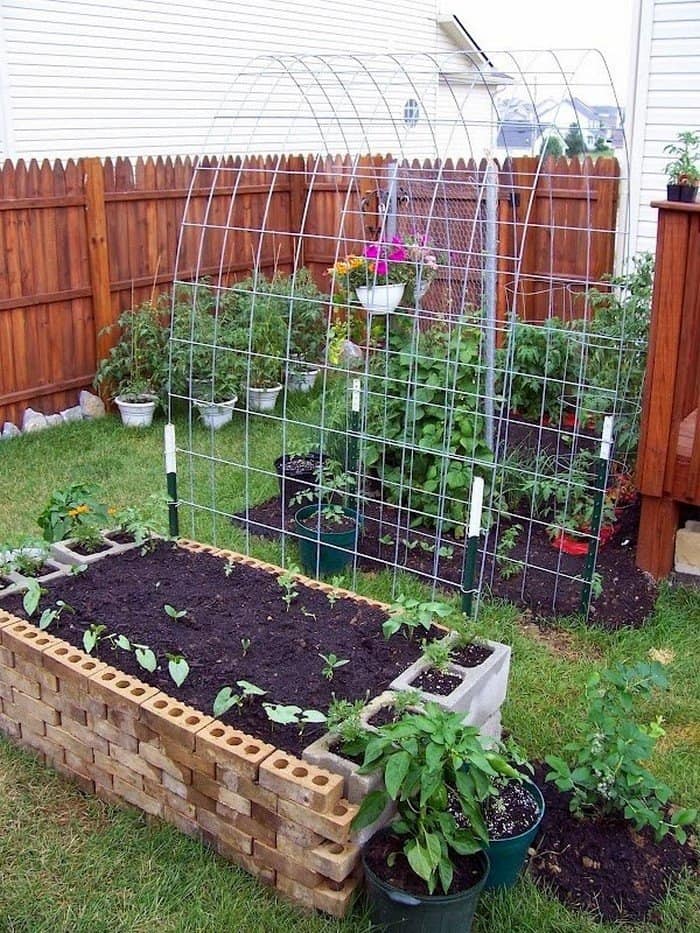 You can make an entire garden with a trellis. If you fancy climbing plants, you absolutely must have a trellis. There are not many other ways you can use to support your plants. Bonus points for getting some space for hanging planters as well.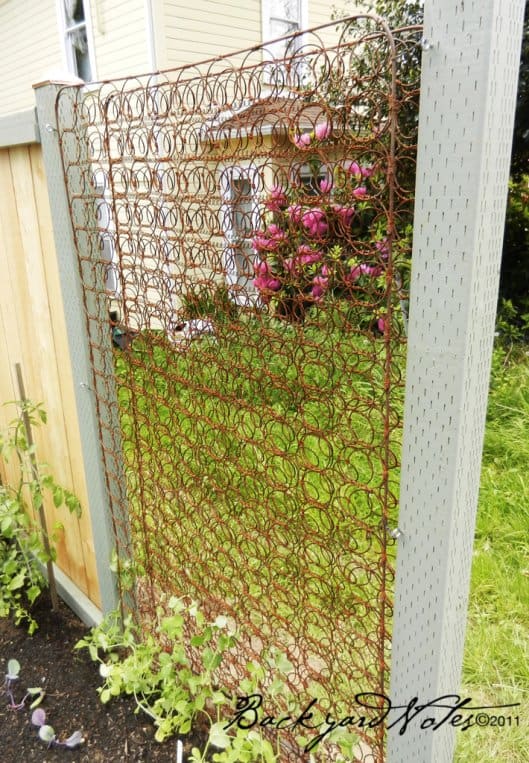 I know that for some of you, this trellis might be just too much. After all, a mattress does not hold a reputation of "looking beautiful". However, you cannot argue that this solution is not practical. You have to give respect where respect is due. And it is admirable how one can come up with such ideas. At the very least, you get a ton of space for planters.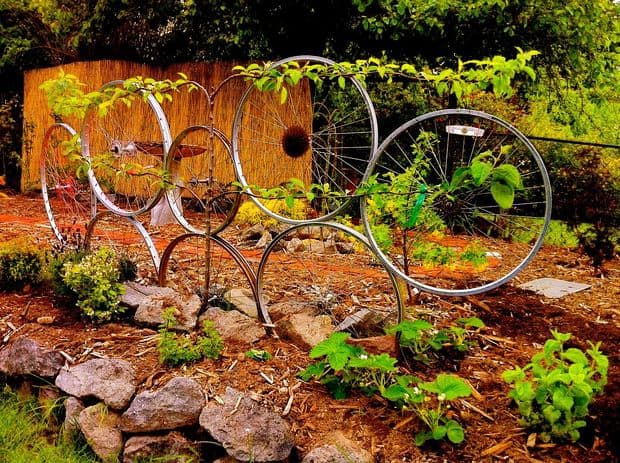 We had a previous example of bike wheels used as a trellis. But those were positioned vertically one a top of another. In this case, we have a bit different setting. However, the conclusion is the same. You can use almost anything you can think of for a trellis. And I admire the creativity here.

We already saw that you can enrich every corner of your home with some plants and flowers. And let's be honest, the downsprout is not exactly something "beautiful". But with the addition of few flowers and plants, you can make even this "ugly-looking" part of your home beautiful.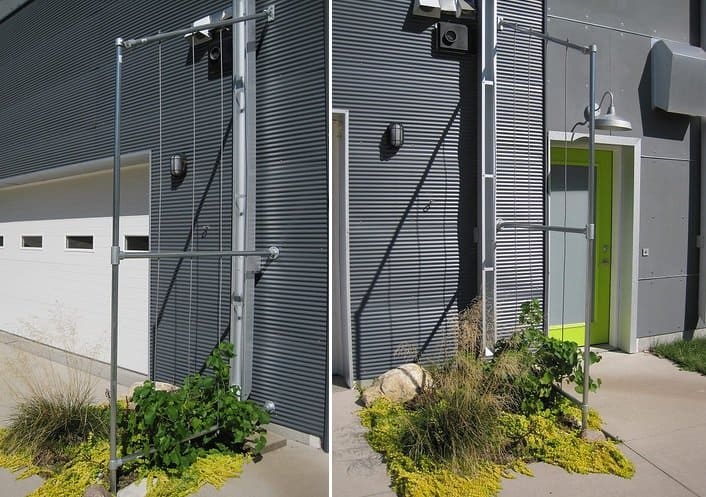 I love it how you can make a great area in your home with just some cheap materials. Tubular pipes definitely fall in that category. You can use old and forgotten pipes for this purpose. I just love when you can recycle something unused and find new purpose for those items.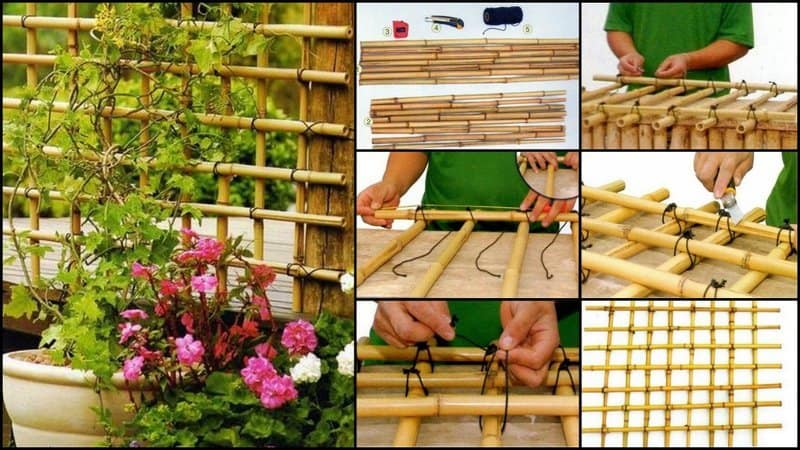 This is definitely one of the most beautiful looking trellises on the list. Bamboo tree is a material that makes everything better. Such a versatile DIY ingredient. I am sure you've seen some of the articles I've written on DIY projects with bamboo trees. The trellis falls in that category.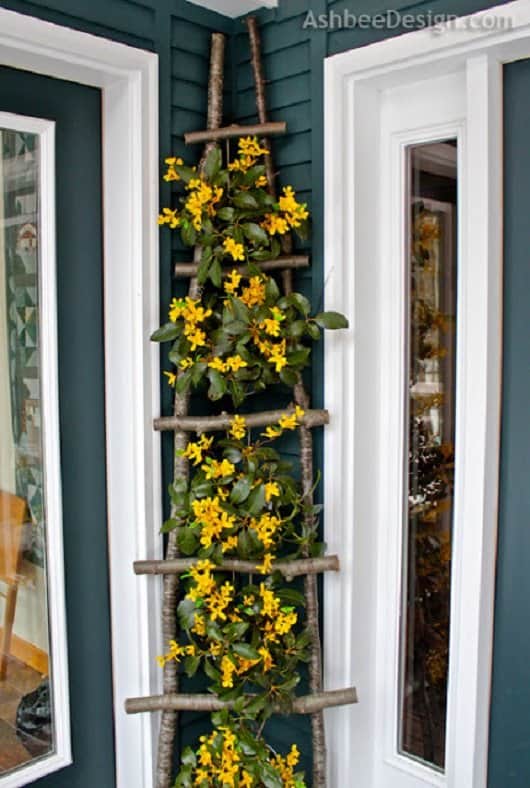 I'll give you a challenge. Think of a place in your home that looks completely unused. In other words, a dead space in the outer part of your home. And now, try to find a way to utilize a trellis there. As you can see in this example, you can fit a trellis basically everywhere in your home. Even in a tight space as this one.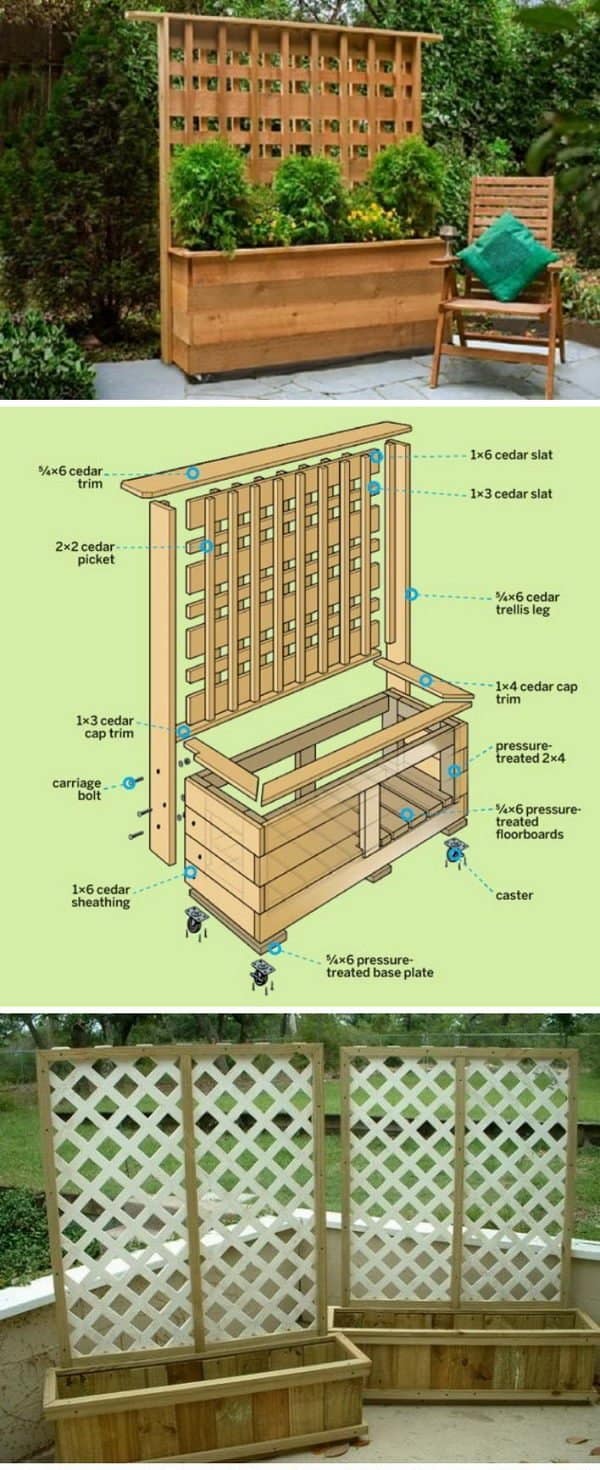 We said previously that the trellis can serve the role of being a separation wall. Sometimes, you just want to separate two areas. And sometimes, that separation or divide wall gives you privacy. Who doesn't want privacy while relaxing in the back of his/hers yard?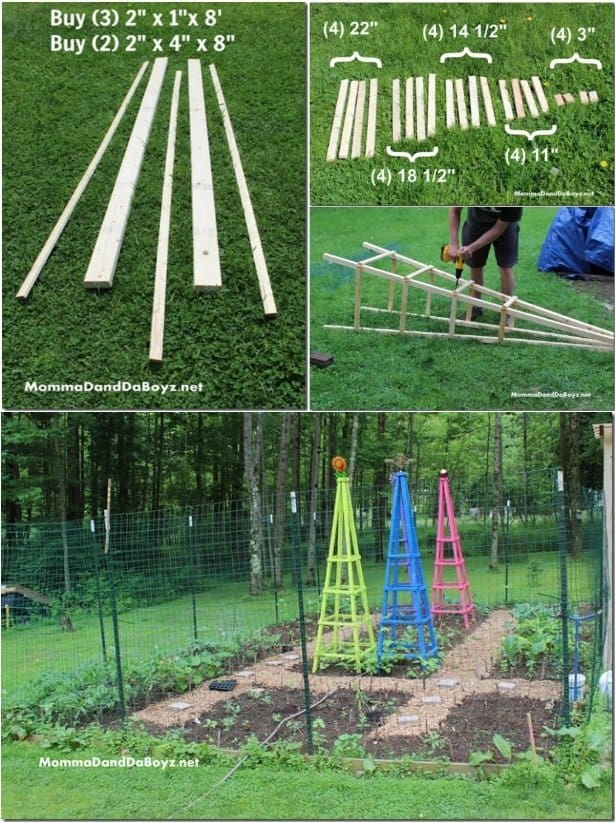 You do not have to satisfy with a simple looking trellis. If you want to get creative, and finish off with a unique object, I have to support you. In that spirit, I am giving you a trellis that looks like an obelisk. I am sure it won't take you more than 30 minutes to make it.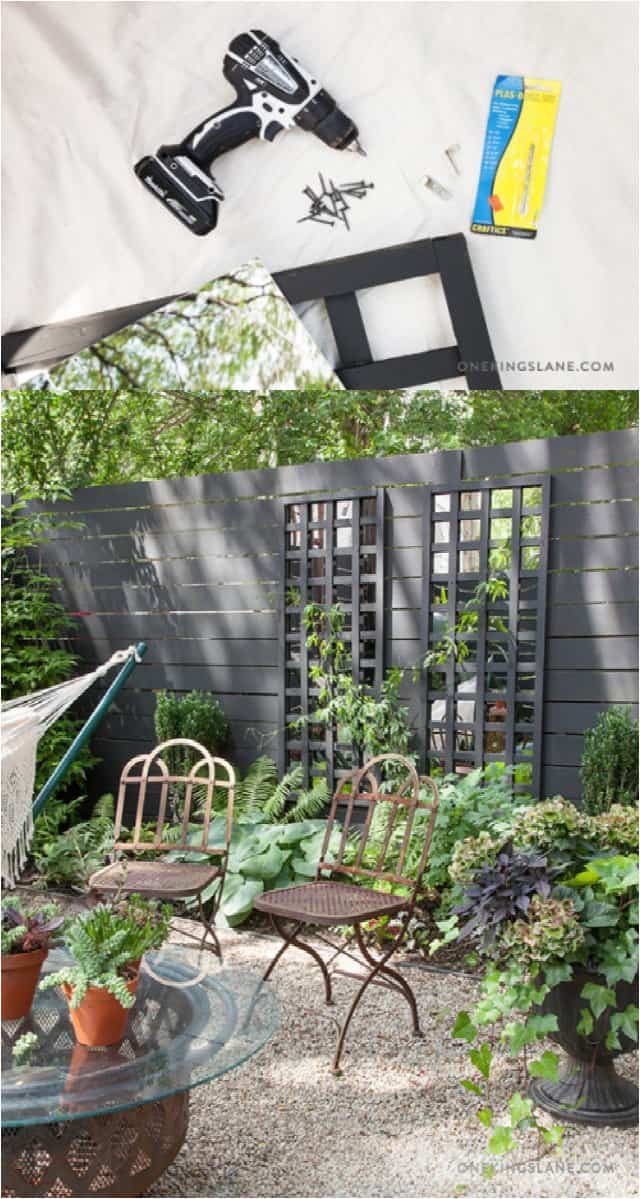 In this case, we have a trellis that was initially added for privacy. However, even when you want to block views, you do not want to have a full solid wall there. That would feel claustrophobic, right? Well, to prevent that, a trellis can give you a bit of "breathing space" within the separation wall.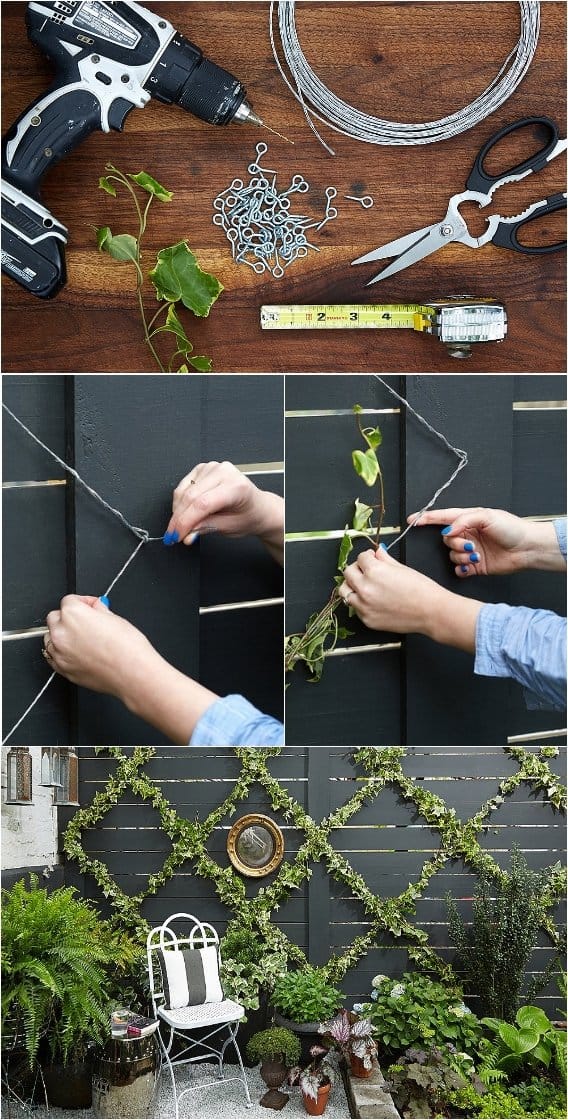 Now just look at that trellis. How beautiful is that? I must say, covering the trellis with greenery makes it that much more beautiful. The diamond shape might be common, but with so much greenery in the yard, who cares?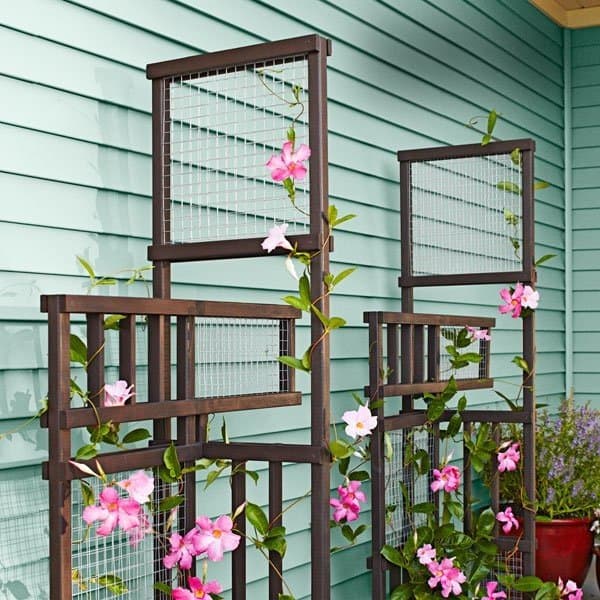 We finish off with a simple, yet unique design. I like the minimalistic approach to flowers and hanging plants. Not too many, and not too little in the same time.
I am looking forward to see what ideas for a trellis you guys have. Share them in the comments section.