When I think of sand art terrariums, I think of gifts. I love giving gifts to my friends, family, and colleagues. A sand art terrarium is definitely an item you can easily make for a gift.
There is no need for a purpose. Even if there is no special occasion, or any purpose for the gift, the terrarium is something you can make in several minutes. Your friends will definitely love it. And you can even get creative for your home, and make one for you.
A sand art terrarium is a color and greenery mixed in one glass bowl, and it is all fun and cheer. So, get in creative mood, and start working. I will give you some ideas for beginning.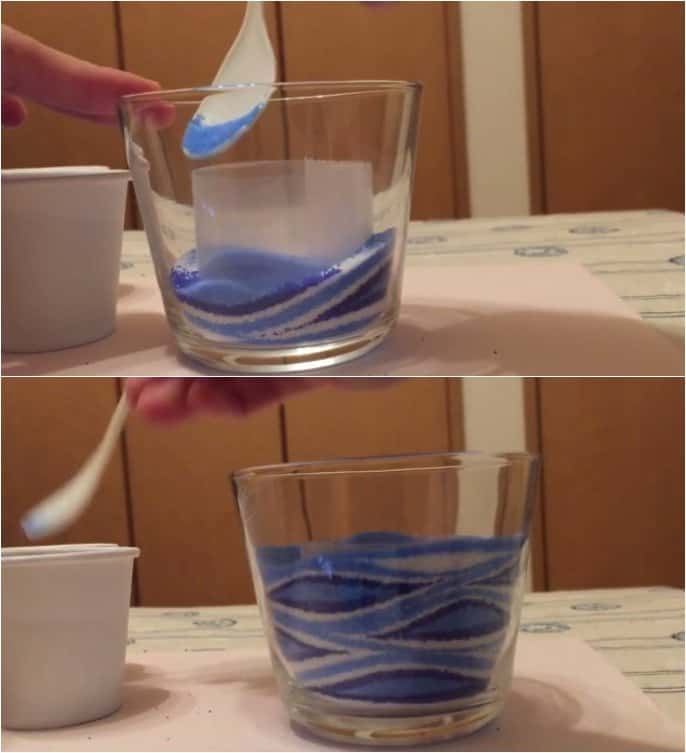 Since we are talking about sand art, you have to start with something that is a synonym for sand. And that is the beach and the sea. This little glass will bring memories of your holiday and sea for sure. Keep it in your home for a sense of tranquility.
For those of you that are little more into the colorful world, and less in the black and white, here is a rainbow terrarium. You get almost all of the colors of the rainbow, one on top of another. Finish off with a little greenery, and you have the perfect gift for a colleague in the office.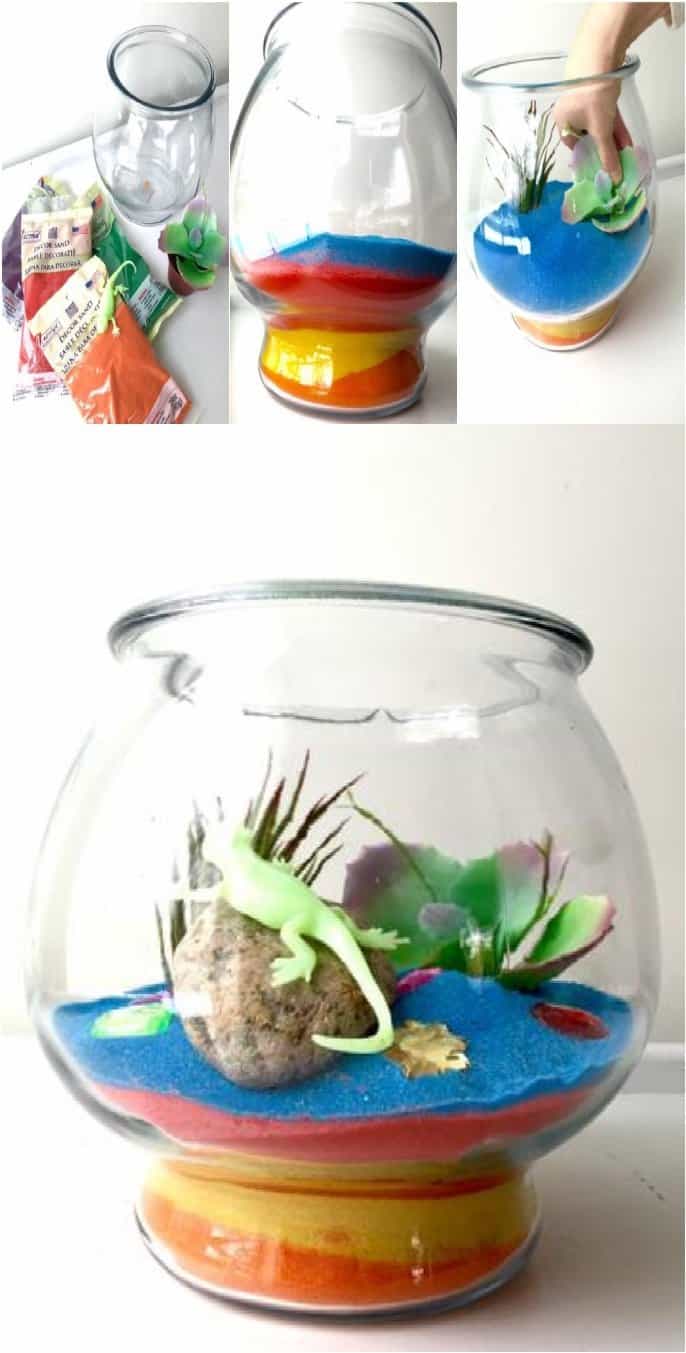 When you think of sand, beach and dessert are the two things that come to mind. And while the beach is cheerful, the dessert is mostly associated as a deserted, lonely place. But even the dessert can look good in a terrarium if you put the effort.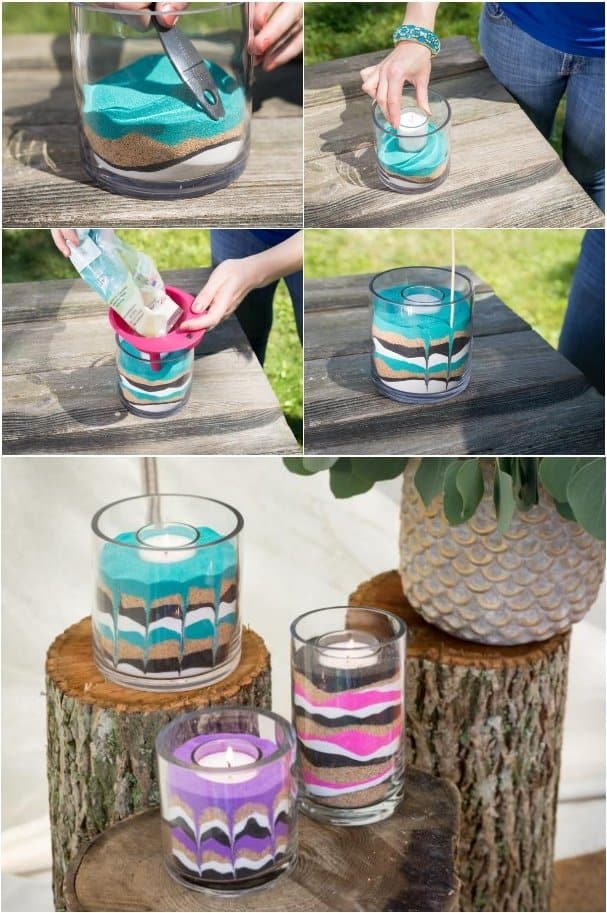 We had layered sand terrarium with the colors of the rainbow. This one is layered in a different manner. Mostly because the purpose is different. This one is supposed to bring calmness and tranquility into your home. Add a candle, and you have a perfect spa-like element in your home.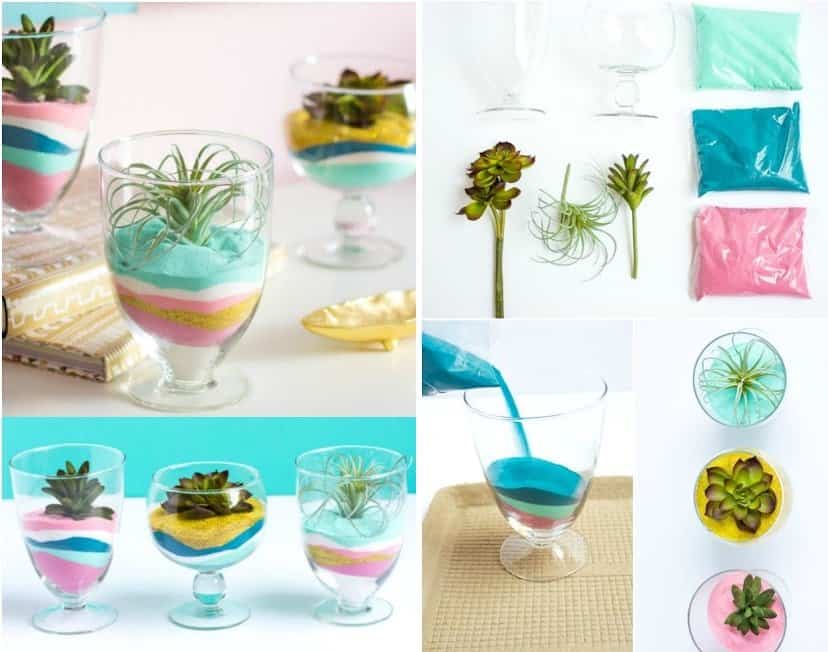 Sometimes, you just need to keep things simple. And that is more than enough. Just pour some colorful sand into a small glass, and that is it. The only thing to pay attention is how colors match with each other. Stick to pairings that work, and you will be fine.

Hanging decorations are very popular in the last few years. They save space, and they add decoration and visual appeal in the same time. With such properties, it is only logical that you would love to have some hanging decorations. So, why not a sand terrarium?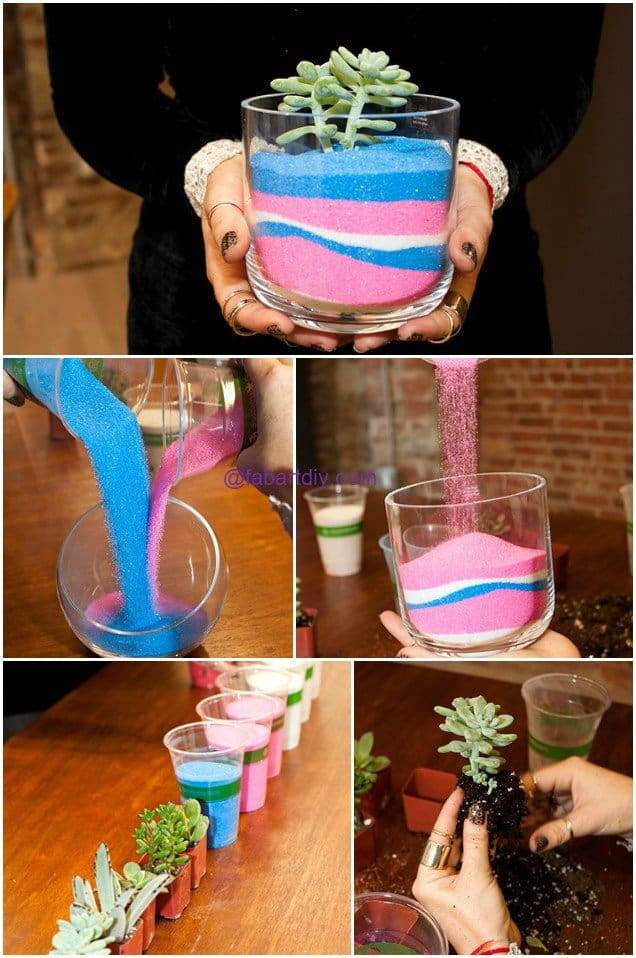 I must say, pink, blue, and white is like the gold standard for a succulent plant. I do not know why, but there is no denying that the colors just work perfectly. The saying is "you do not change the team that wins". So, stick to something that works if you are out of ideas.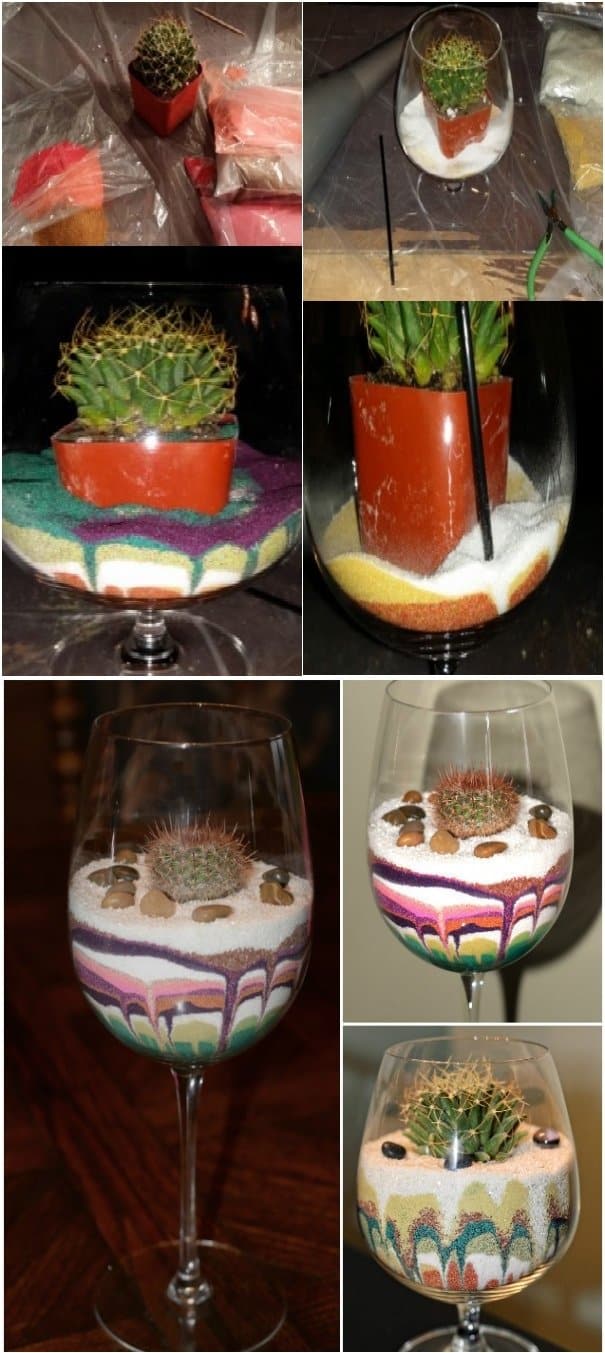 The cactus is one of the best plants for a sand terrarium. Simple reason: cactus can survive in the most extreme conditions. No water? No problem! A wine glass is a sophisticated and elegant way to add some decorations. And it is good to change and mix things up every now and then.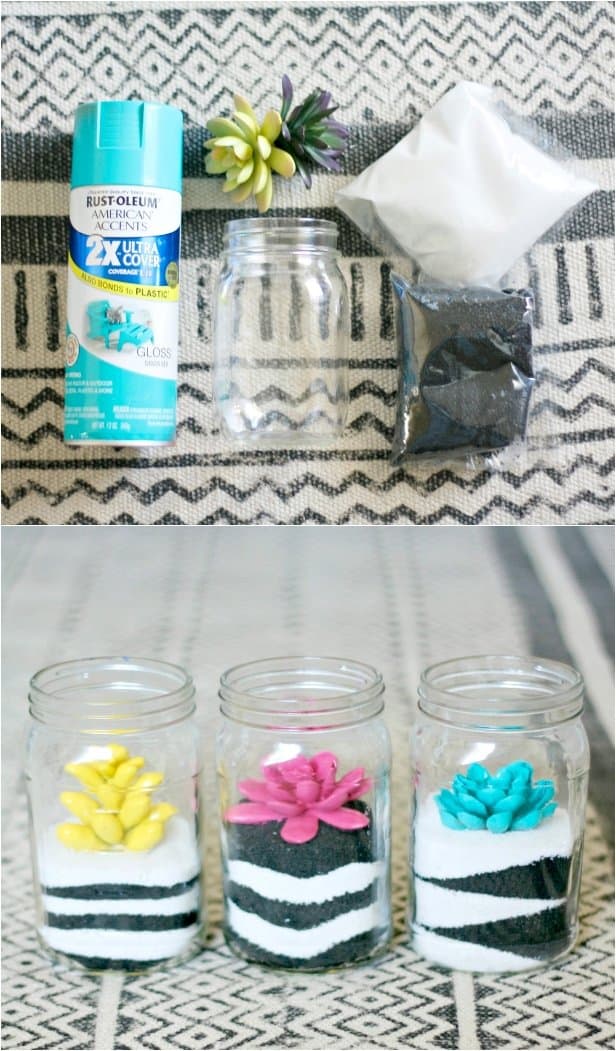 Almost everywhere else, black and white would be the classic and timeless standard. But for sand terrariums, we said that pink, blue, and white is the gold standard. Nevertheless, black and white works perfectly as well. Especially when you like to add a bit more dramatic feeling to your terrarium. Besides, black and white is perfect base for colorful plants inside.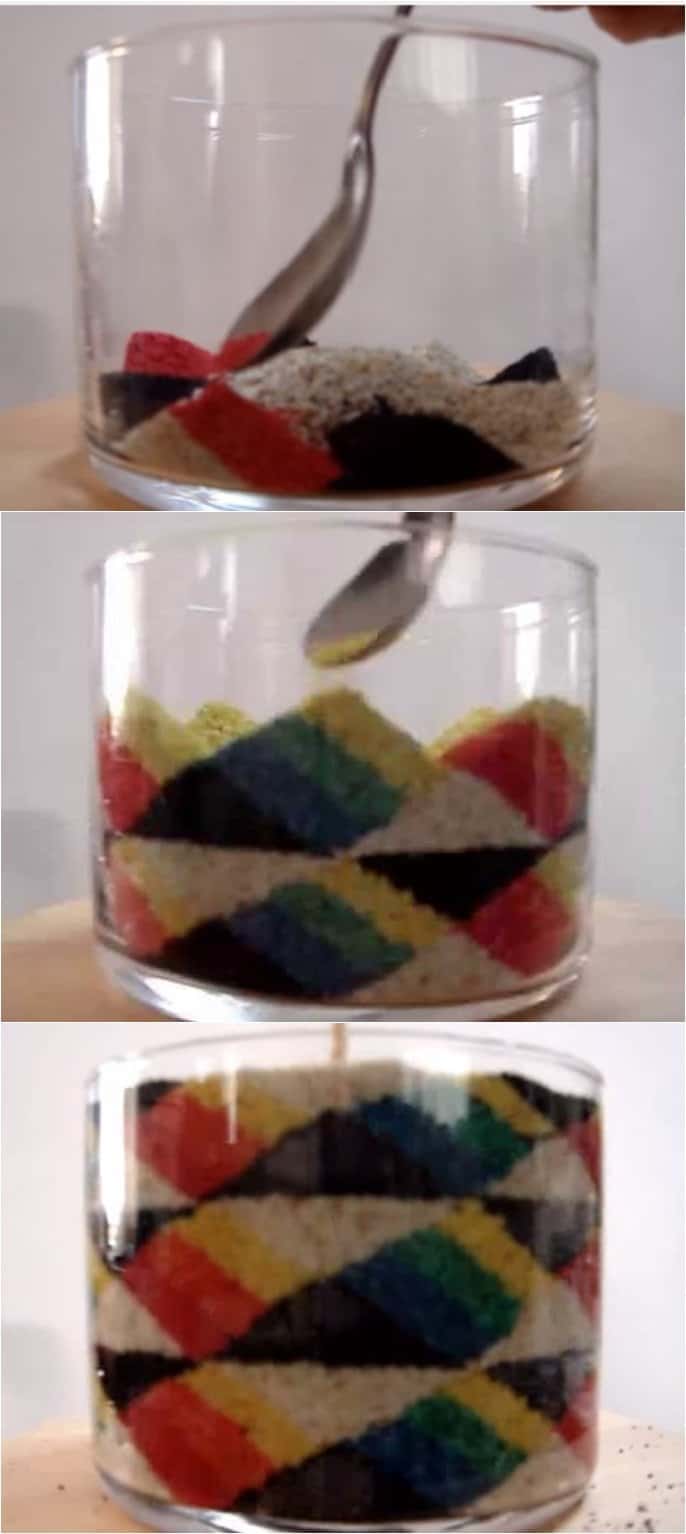 We had a rainbow before. But that was layered one on top of another color decoration. Now, I want to show you a way how to introduce a bit of geometry to your decorations. If you didn't know, geometry is a huge trend in interior design in the past few years. And you can add  it with just some small touches here and there. A terrarium certainly works in that spirit.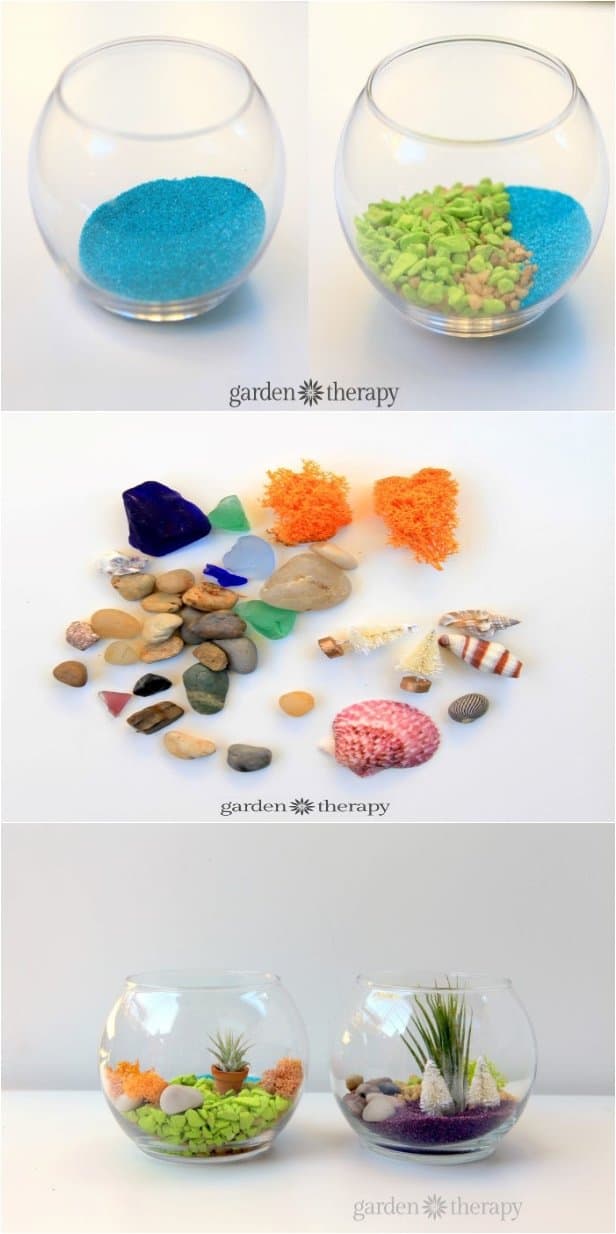 One of the best ways to bring the calmness of the beach in your home is with a terrarium. There are so many beach-inspired decorations you can make, but the terrarium is one of the best. Just look at it. A terrarium basically tells a whole story. You've got the beach, people, plants, and everything in just one small glass bowl.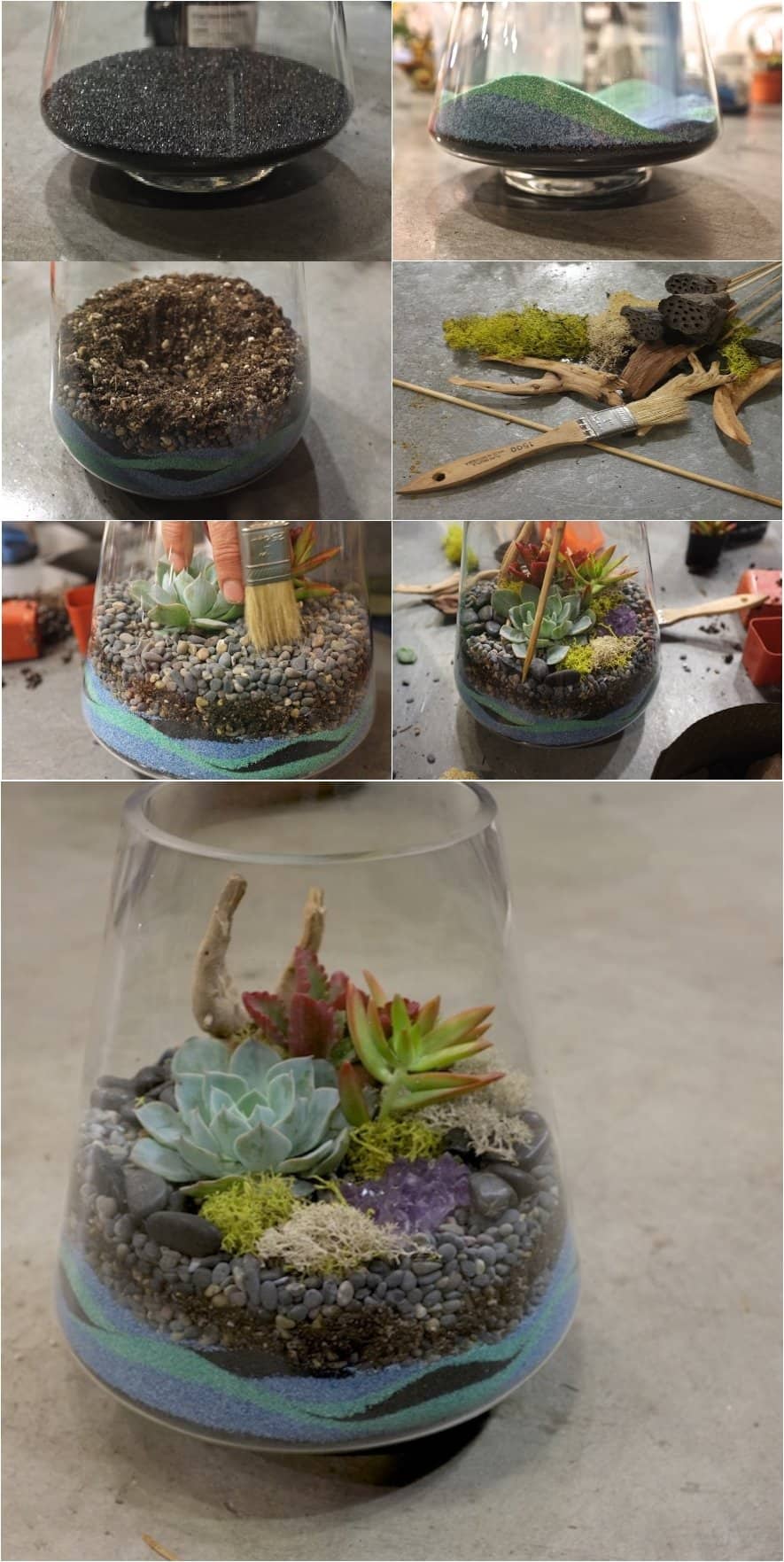 Let's try something different, shall we? This decoration is definitely one of the more unconventional and unusual ones. Usually, when it comes to a terrarium, people stick to bright and cheerful colors. You might say this one is quite the opposite. But in certain cases, it will work. It all depends on your interior design.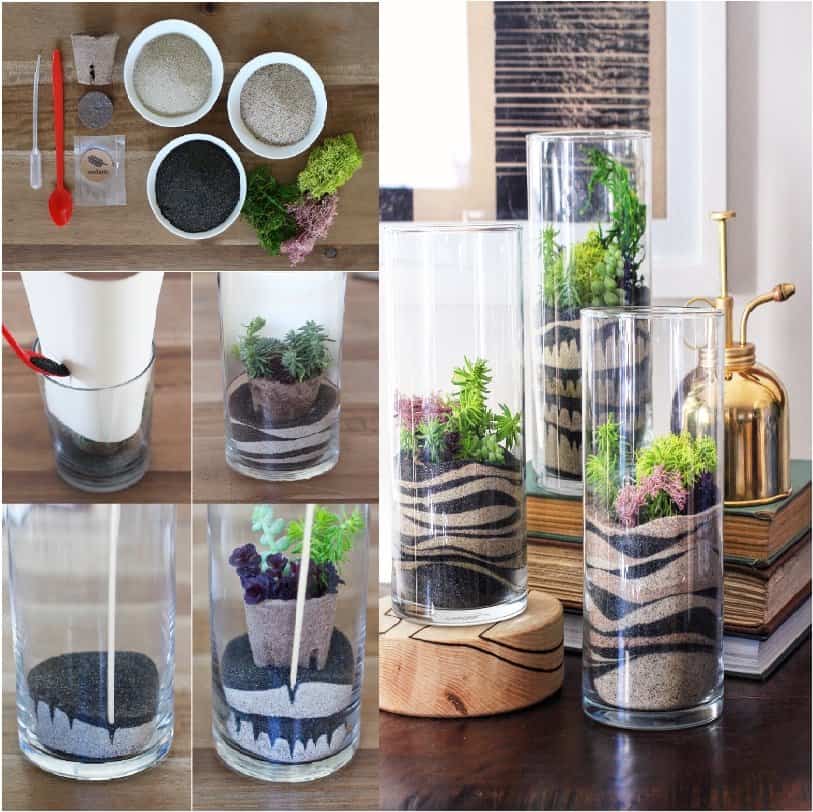 For the very end, I want to give you a forest in a terrarium. Same as we had a beach in a terrarium, now we have a forest that looks just perfect. Just a neat way to add some greenery to your home.