Easter is almost here. Which means only one thing—we're all preparing our home for the big holiday. Decorations are everywhere. We're already thinking about what and how to decorate. So, with that in mind, I want to get into the Easter spirit.
Holidays are similar in one aspect. They all bring out the best in us—our most creative version. And another similarity is that no holiday can pass without a decorative centerpiece, be it Christmas, Thanksgiving, or Easter. And since eggs are the first association one has for Easter, you'll find some bunnies and eggs on the list.
That being said, let's take a look at some of the gorgeous centerpieces that will WOW your guests.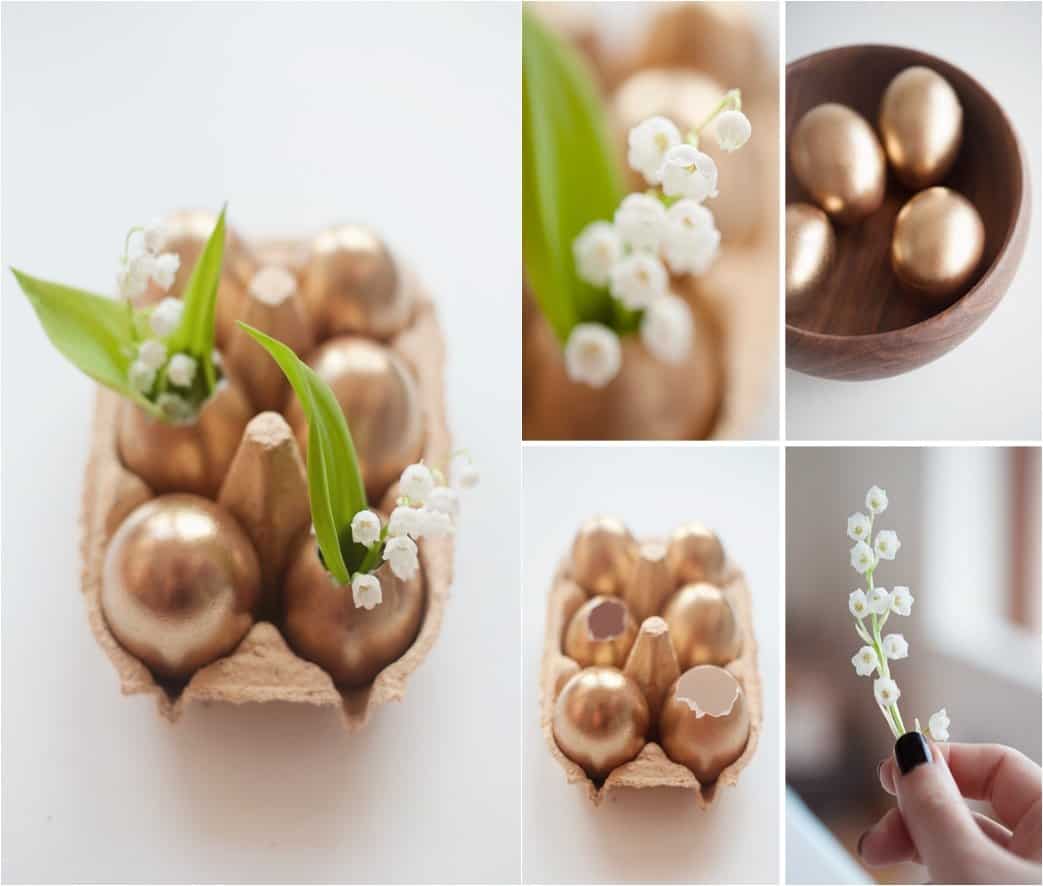 Of course we're starting with eggs. After all, it is Easter. The biggest challenge here is getting the right color. Gold can be a tricky color to hit, but even if you fail with your first egg, there are still many more eggs you can try. What I love the most here is the simplicity of the decoration.

When I was little, I remember my parents hiding eggs in the garden. We had to go through all the flowers and plants to find the eggs. This centerpiece reminds me of that tradition. Flowers are always a nice idea, as they bring freshness to the decoration. You can go with or without the hidden eggs, but do use real spring flowers.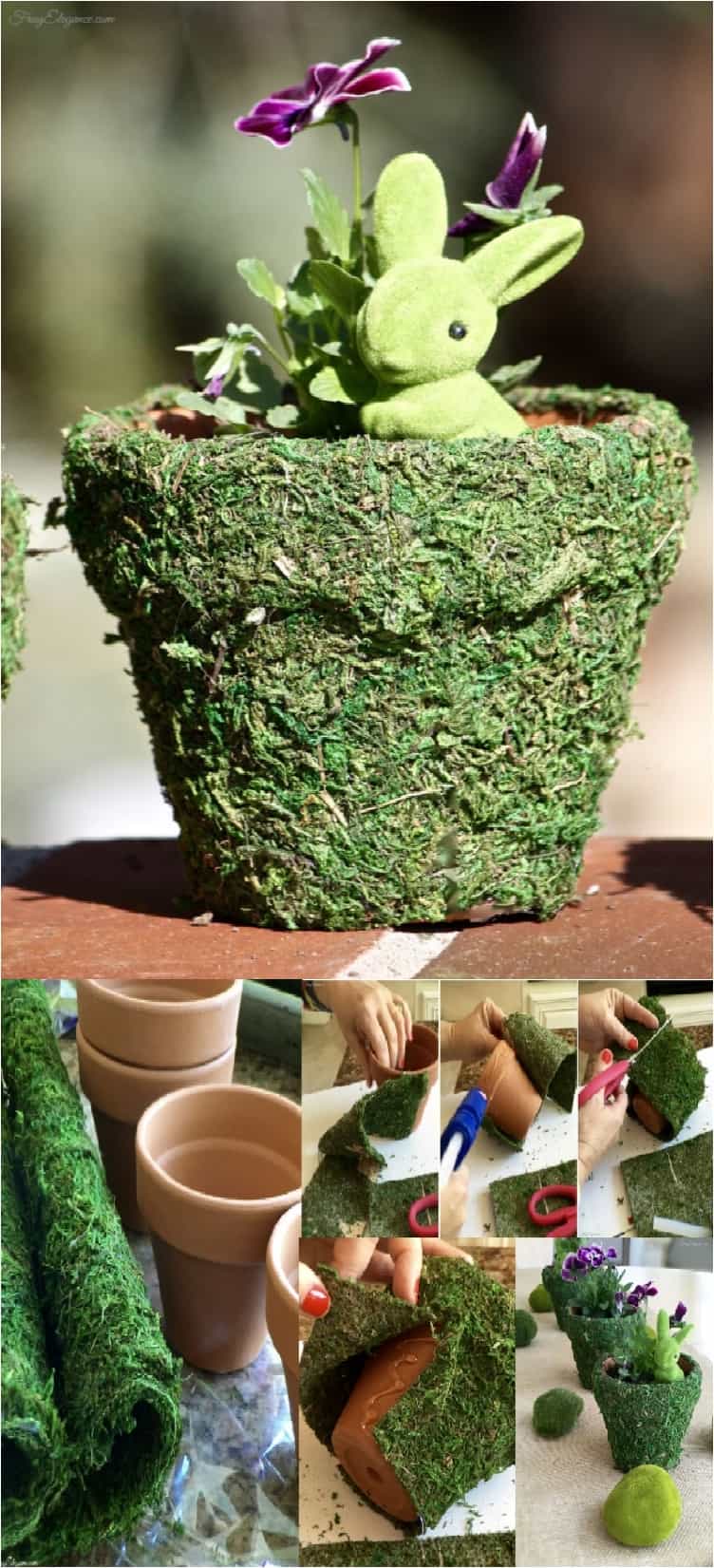 For some of the decorations, like this one, you'll have to buy the ingredients. But spring moss is not expensive; once you get the moss, just wrap the pot and that's it. Simple and elegant.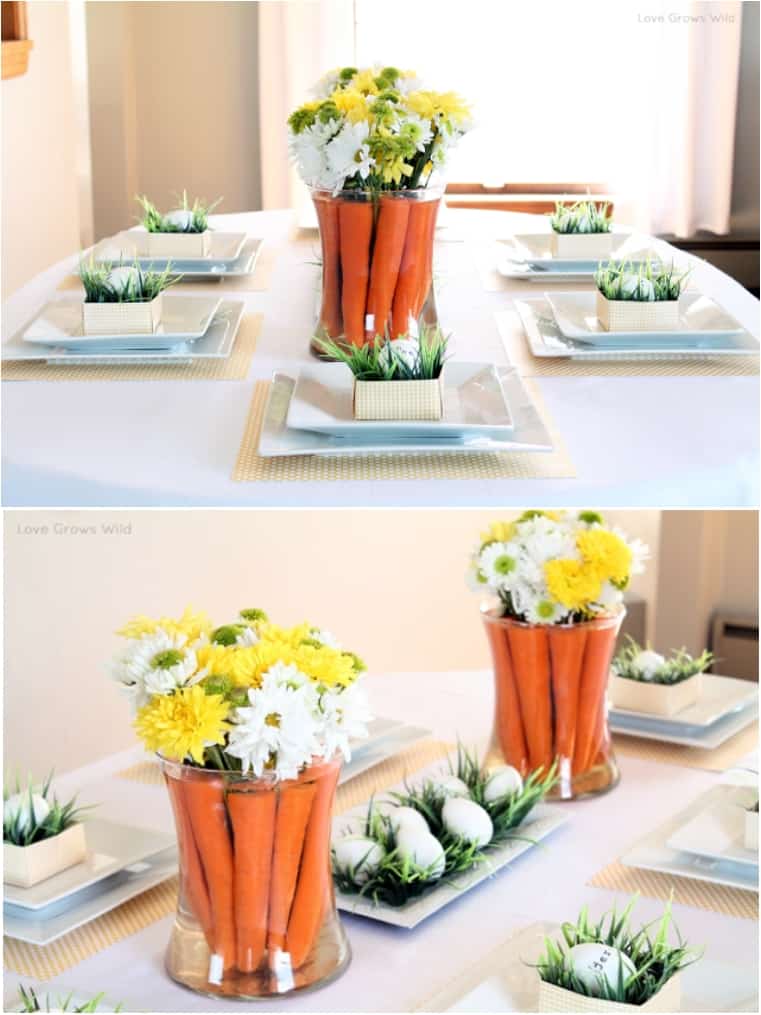 A little tribute to the Easter bunny. We know bunnies love carrots (at least, that's what cartoons taught us). The good thing here is that carrots are actually highly decorative because of their vibrant color. In addition to the carrot centerpiece, you'll need the egg boxes as well.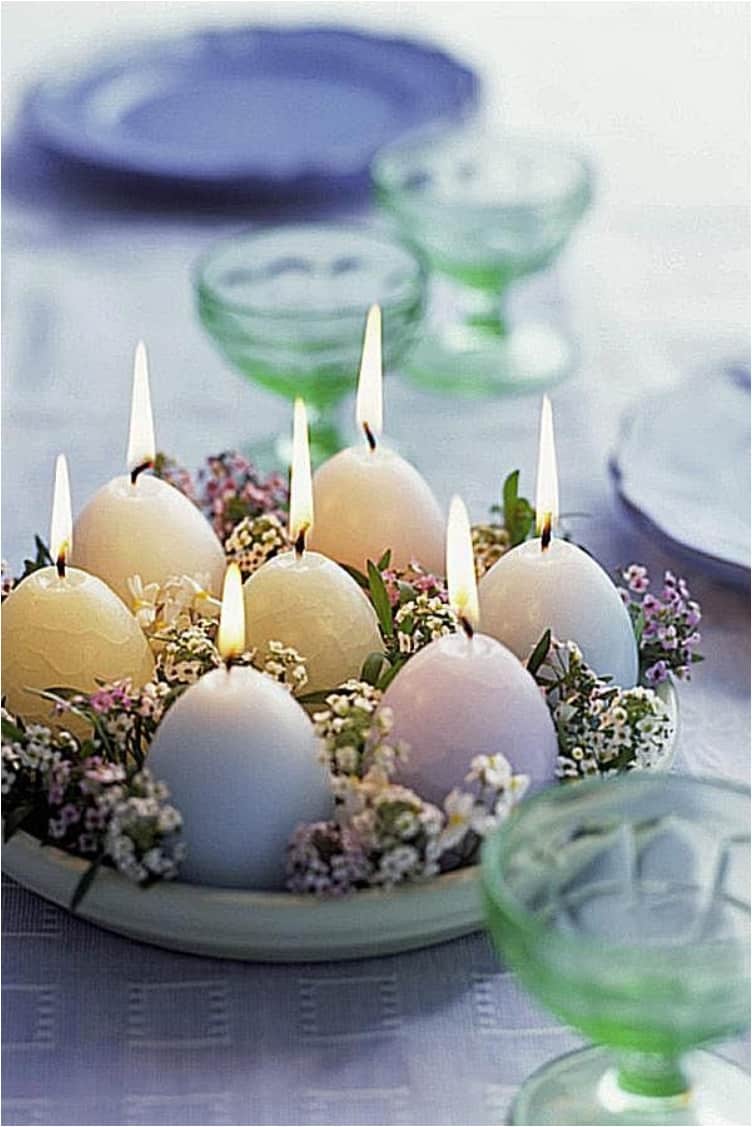 When people see this decoration, they often think that the candle will melt the egg. But don't worry. You can be sure that your decoration will withstand the fire from the candle. And you get a romantic centerpiece.

It's only logical to expect lots of Easter bunnies in the decorations. There are so many different ways to use the bunny. In this case, we use it as a sweet candy. What I love the most about this decoration is the colors. Violet and pink are not the first colors that come to mind when you mention Easter. But they sure look beautiful!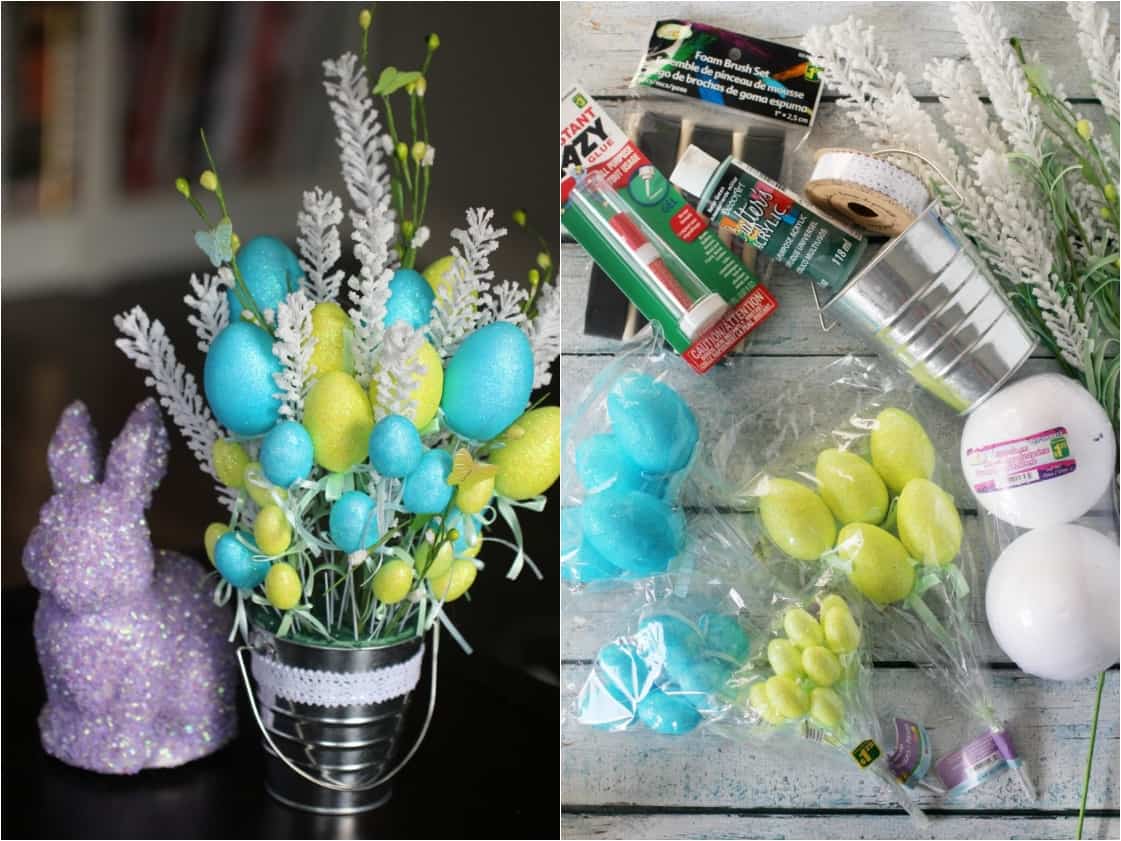 You can make a bouquet from so many things. My favorite is a candy bouquet. But since it's Easter, we need an egg bouquet. We are long past the days when a bouquet was a synonym for flowers. Nowadays, there are so many different ways to make a bouquet.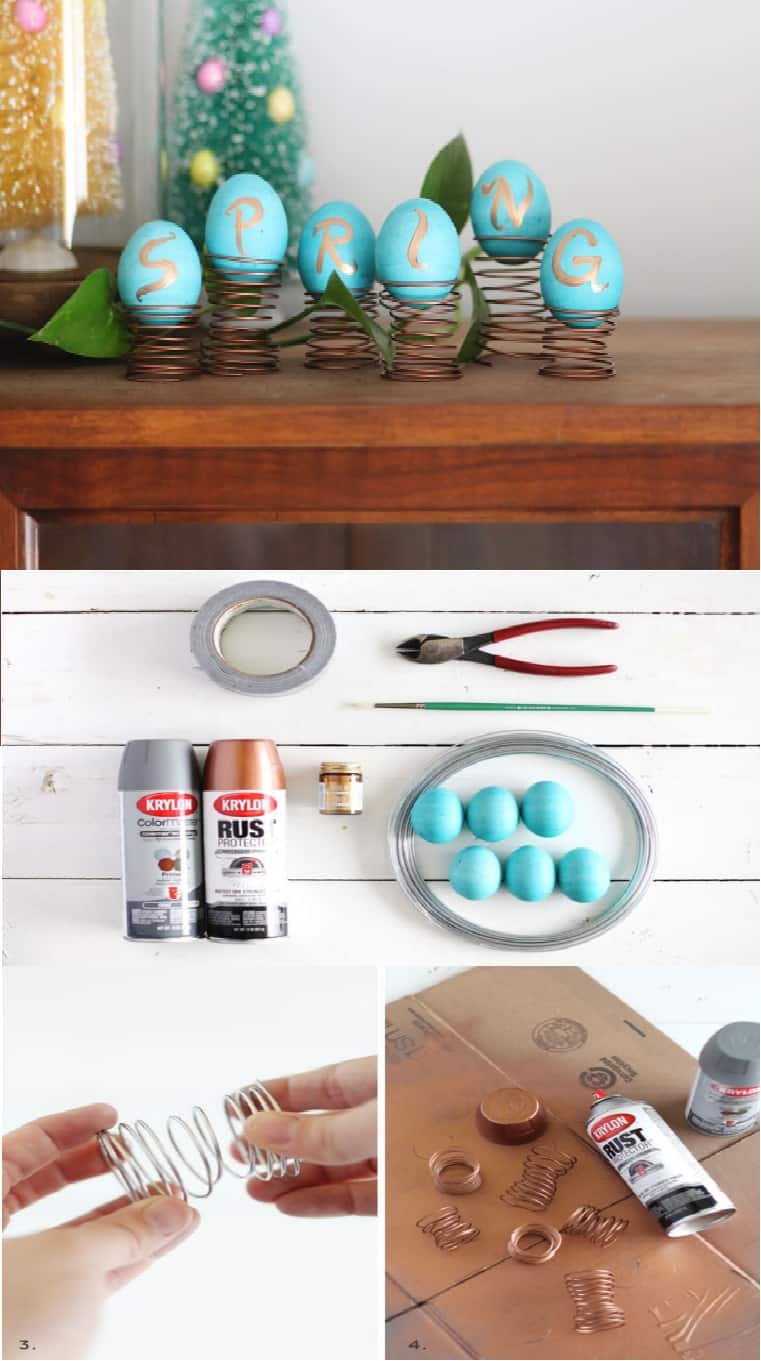 I love obvious decorations (we all know that Easter is a spring season holiday, for example). But when you make it as obvious as this decoration, the decoration looks either beautiful or awful. Personally, I love this one, mostly because the leaves give it a nice finishing touch.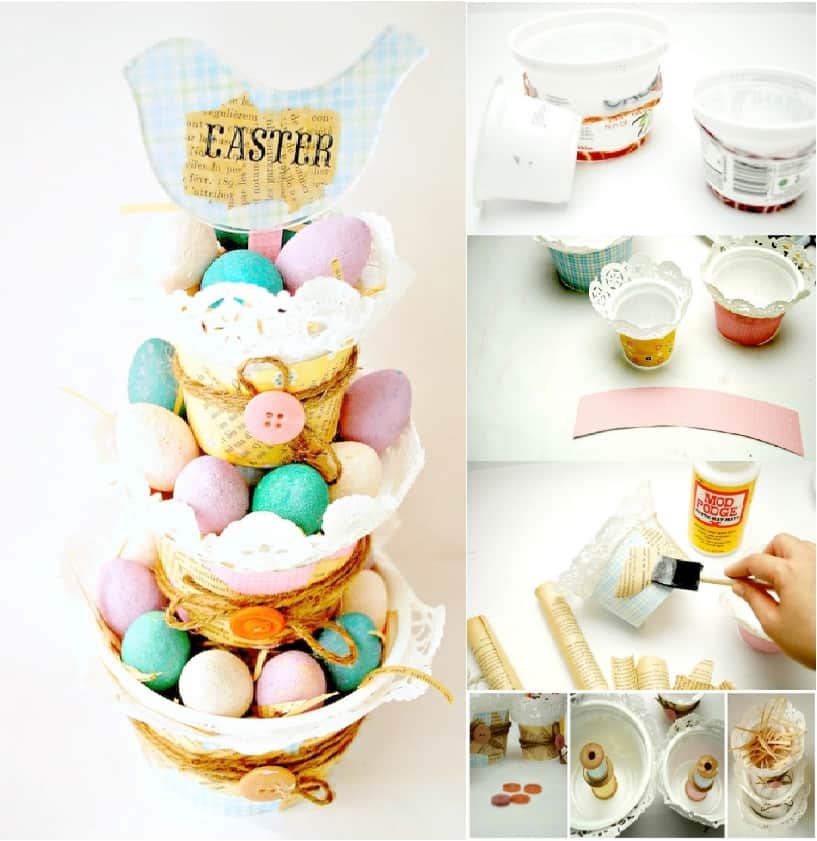 Every Easter, I meet someone who goes above and beyond. There are people who want to take holiday decorations to the next level. I'm not one of those—I stick to normal, standard, simple things. But I must applaud those who go above and beyond. This decoration will definitely make you such a person!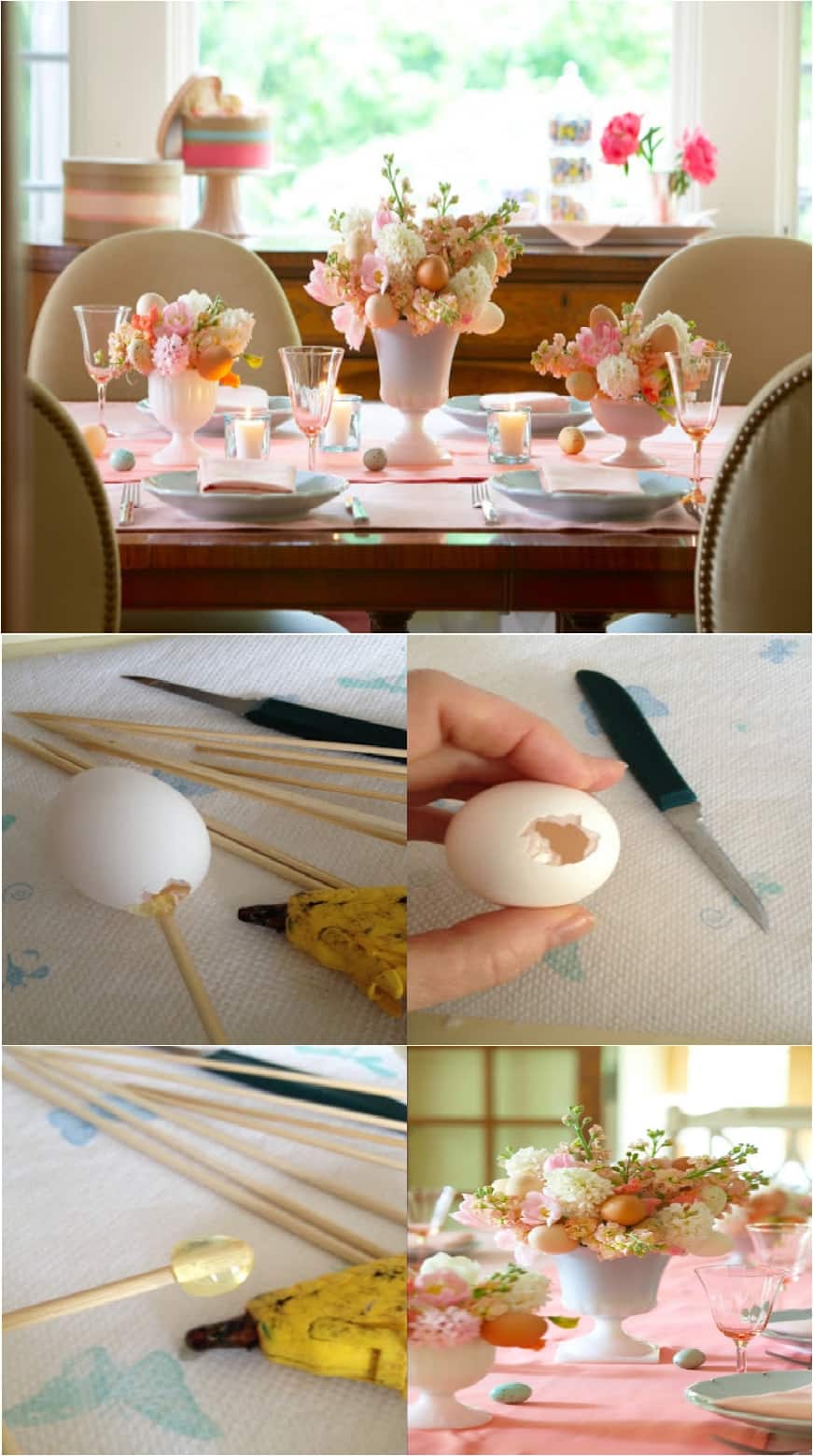 You can never go wrong with flowers and eggs. But that doesn't mean that you should keep the flower and egg decoration simple. Why not spice things up? You certainly can't say this decoration is "simple." It looks sumptuous and ornate. The colors might be pale, but they fit perfectly with the sunny Easter.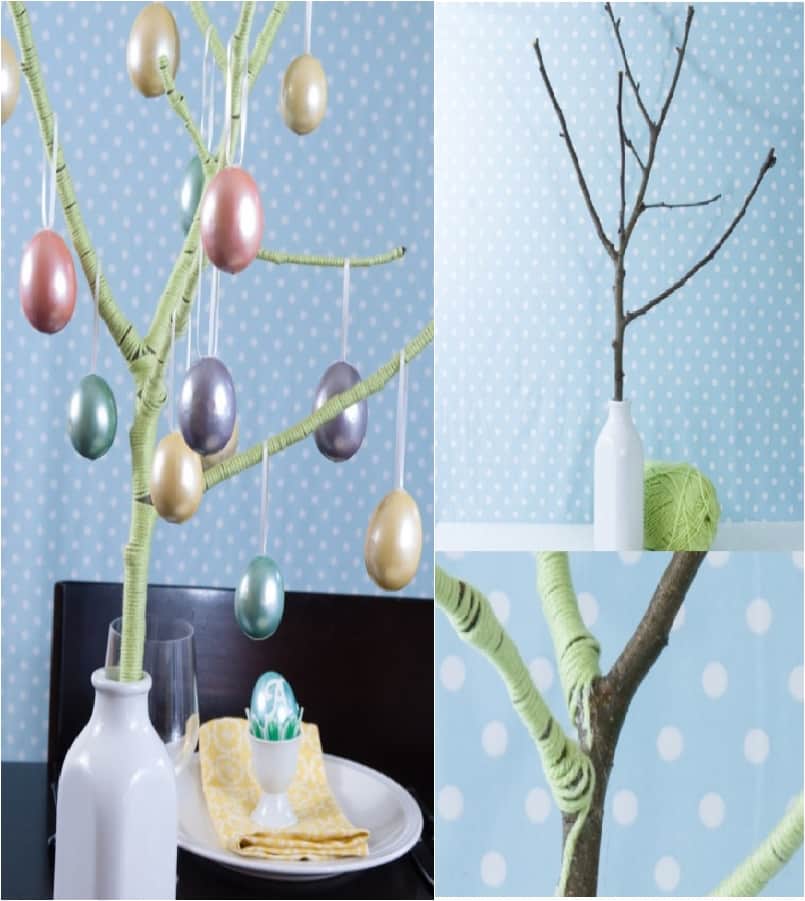 Now this is a decoration that's perfect for simple people like me. You just need a tree and a couple of eggs. When you're a fan of minimalism and simple things, you tend to stick to that style for everything. And that includes decorations.

Now this decoration is the complete opposite of the previous one. This decoration will take up your entire table, but that's a good thing. You might find it challenging to set up the table, but you can be sure there's a decoration close to every guest!
At first glance, this decoration looks extremely hard to pull it off. And I admit, it will take you some time. But the end result is just astonishing. And besides, you don't have to build such a large egg; you can make a smaller egg. And you can choose different colors as well. The project certainly offers versatility.
We had another moss centerpiece earlier on. Moss is always a nice idea for a decoration, especially if it is a spring season decoration. And since Easter is a spring holiday, moss is a staple element, just like bunnies and eggs. And you don't have to build three tiers—one is more than enough. But if you want to go above and beyond like some people tend to do, feel free to do it.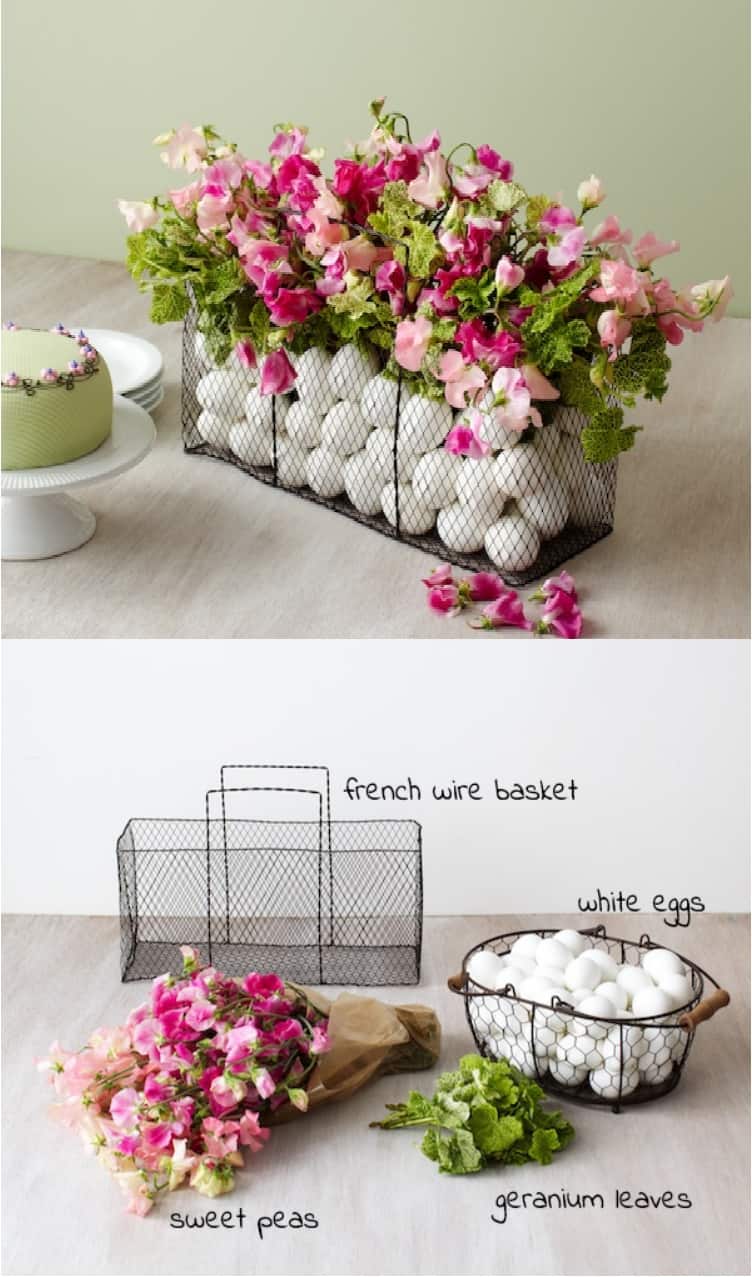 The thing I like about this decoration is the simplicity the white eggs bring to the table. You get a perfect contrast between the white eggs and the colorful flowers. The decoration is taken straight out of the mix-and-match style for interior decoration.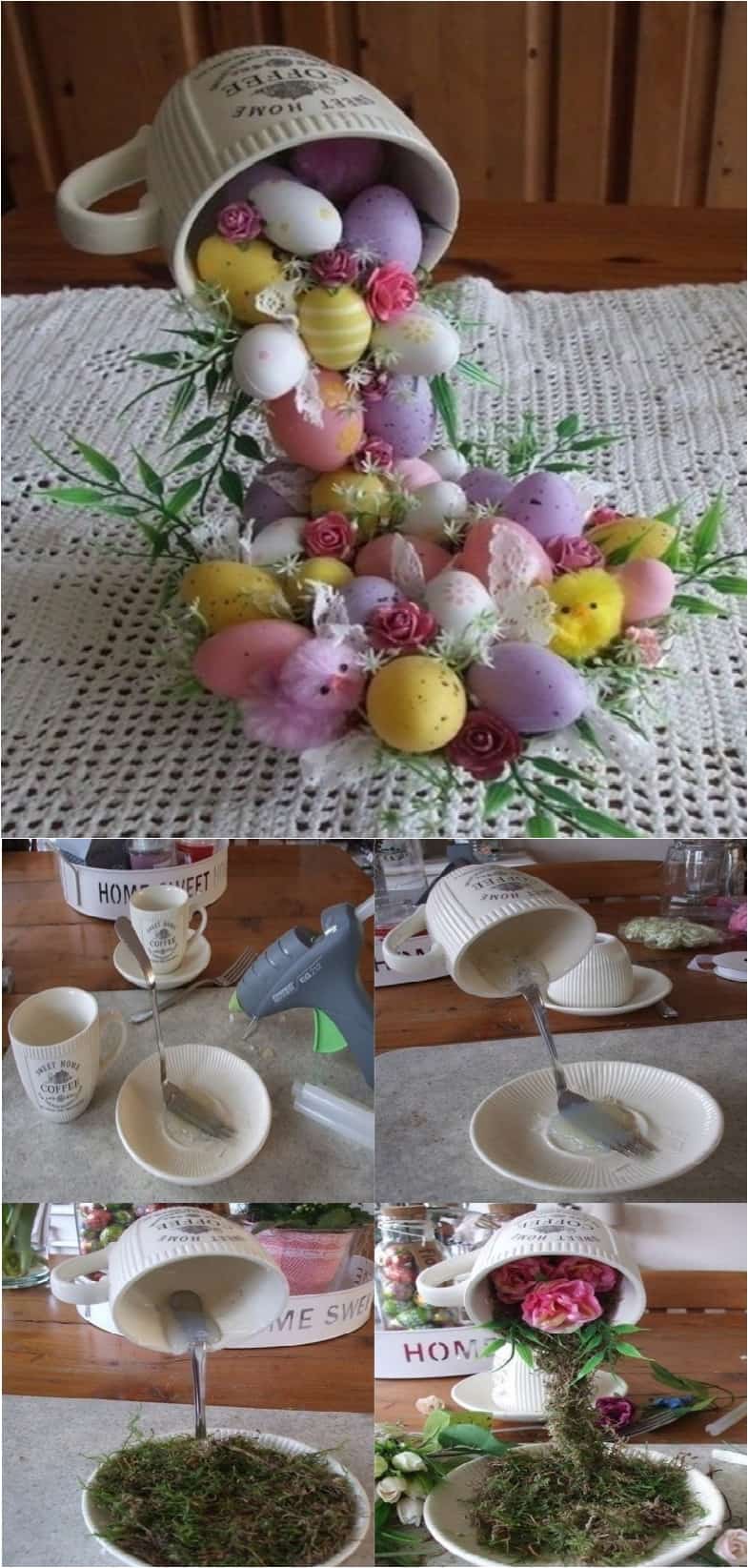 We had a few "next level" decorations. But I can safely say that this is the one—this is the decoration that will have your guests scream "WOW." The first thing they'll notice is the floating effect. And whether or not they know how it was made, they'll be impressed. A floating effect is always impressive, and most people have no clue how to get it.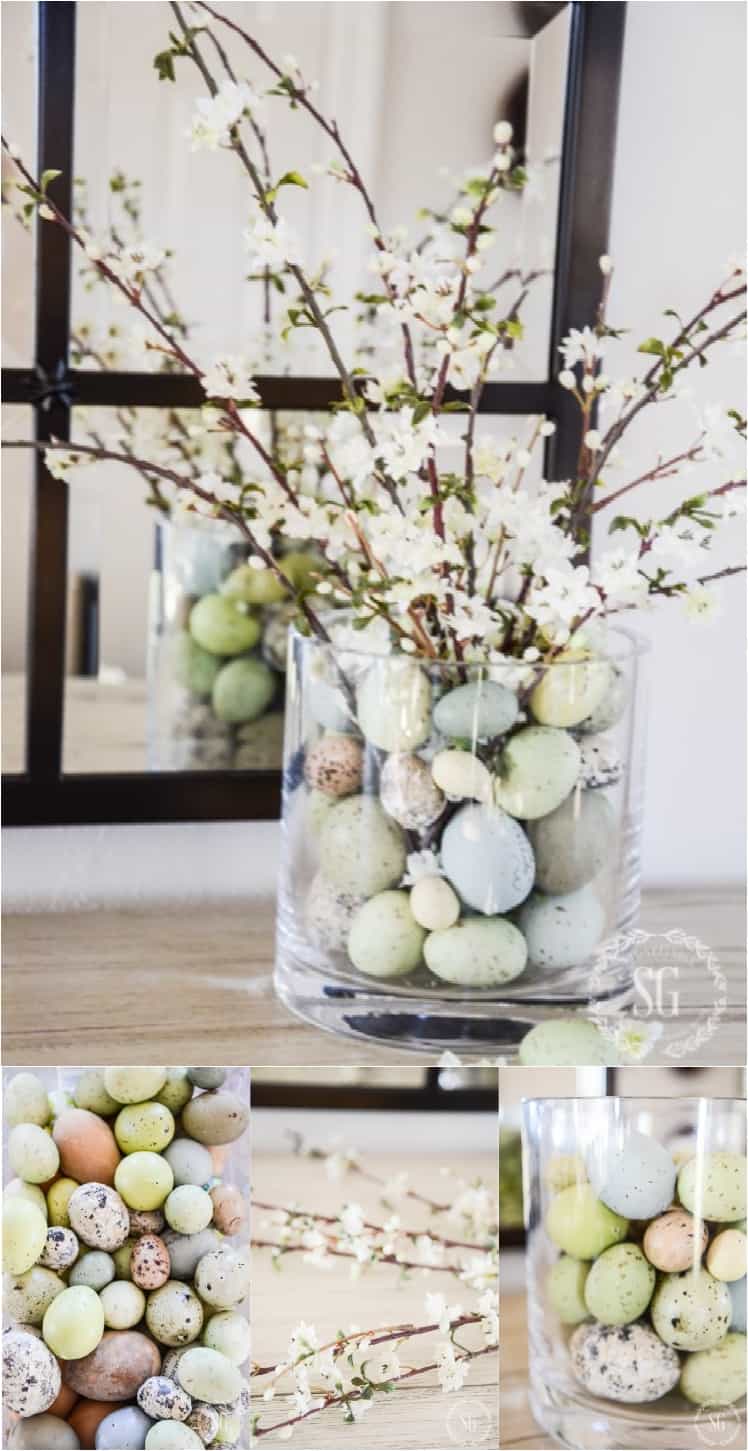 Spring is the season for blooming. In that regard, we pay tribute to the season with a blooming eggs centerpiece. A simple, elegant, and sophisticated decoration that everyone can make.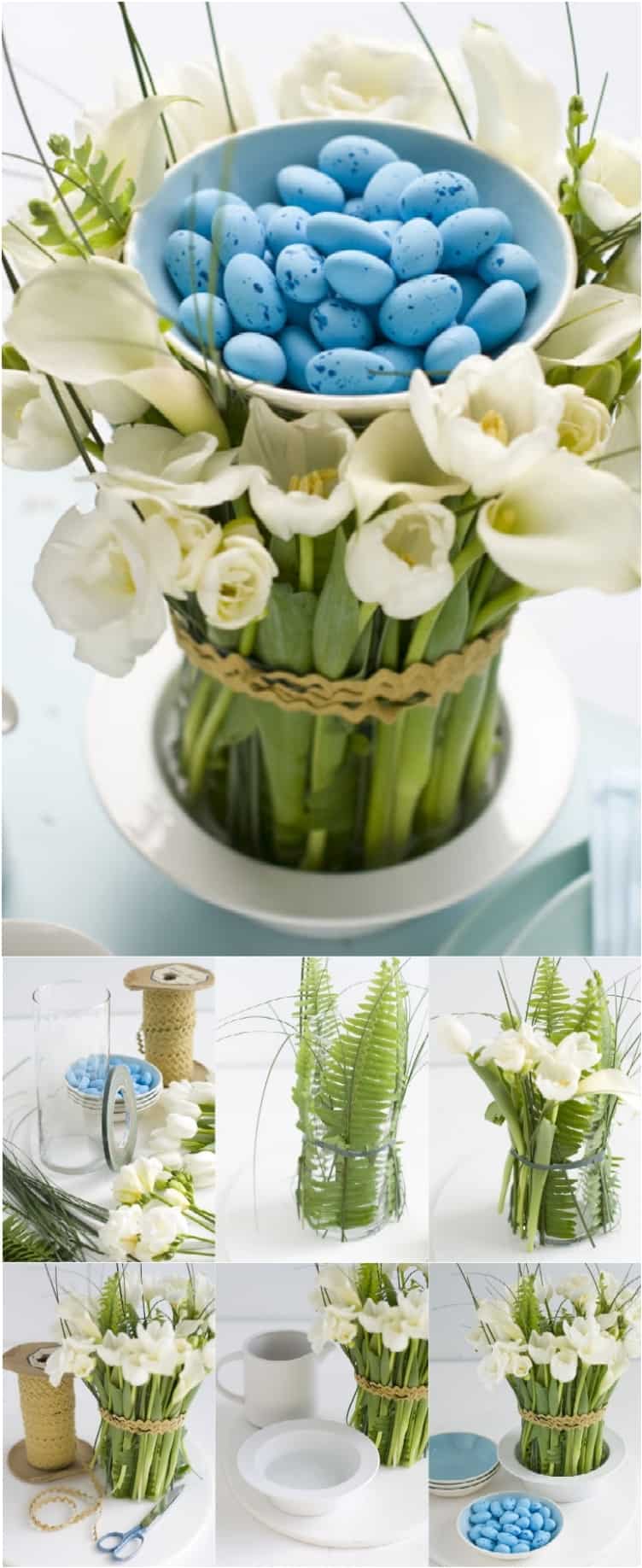 For the last centerpiece, I want to give you something simple that you can easily make in a matter of minutes. I chose the white and blue combination because blue is my favorite color. But don't limit yourself—you can make this decoration in any other color. It all comes down to your preference.
That's all for today. As we get closer to Easter, I'll have many more decorations and ideas for you. Hope you enjoyed this!