UFC strawweight fighter Polyana Viana is trending in social media today for her brutal response to a man who tried to steal her cell phone last Saturday night. Everyone is now talking about not messing with the Brazilian mixed martial artist including the promotion chief, Dana White. 
The UFC top honcho shared a photo on social media of Viana and the man he completely hammered last weekend and reminded everyone that it is certainly not a good idea to target the strawweight fighter in an attempted robbery.
Solid Beating
The Brazilian mixed martial artist spoke to Fernanda Pratas of MMA Junkie on Sunday and recalled what transpired Saturday night when a man with a gun tried to steal her cell phone while she was waiting for a ride in front of her apartment.
"When he saw I saw him, he sat next to me. He asked me the time, I said it, and I saw he wasn't going to leave. So I already moved to put my cell phone in my waist. And then he said, 'Give me the phone. Don't try to react, because I'm armed.' Then he put his hand over (a gun), but I realized it was too soft."
Turning to her MMA skills, Viana fought back and threw solid punches and a kick, which sent the man down to the floor, before locking in a rear-naked choke.
"He was really close to me. So I thought, 'If it's a gun, he won't have time to draw it.' So I stood up. I threw two punches and a kick. He fell, then I caught him in a rear-naked choke. Then I sat him down in the same place we were before and said, 'Now we'll wait for the police.'"
Fake Gun
Later on, Viana found out that the robber's weapon was fake and was only a cardboard paper cut in the shape of a gun. Luckily, Viana did not sustain any injury from the incident but admitted that her hands hurt a little after throwing a pair of brutal punches.
"I was fine. I was fine because he didn't even react after. Since he took the punches very quickly, I think he was scared. So he didn't react anymore. He told me to let him go, like 'I just asked for the time.' I said, 'Asked for the time my ass,' because he saw I was very angry. I said I wouldn't let go and that I was going to call the police. He said, 'Call the police, then' because he was scared I was going to beat him up more."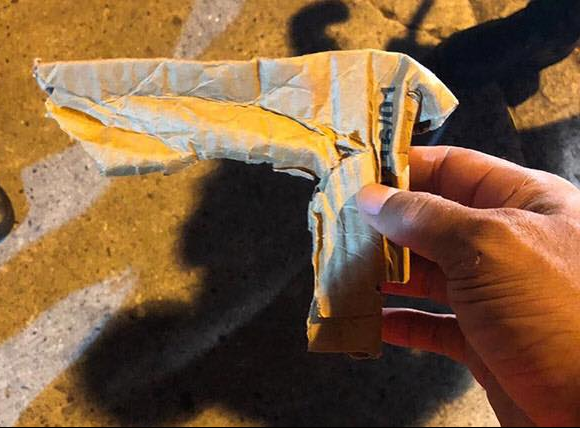 White Reacts To The Incident
Dana White learned about the incident and immediately took to Twitter to remind people not to mess with the Viana. He summed up everyone's thought, posting a photo of the two along with the hashtag "bad fucking idea."
On the left is @Polyana_VianaDF, one of our @UFC fighters and on the right is the guy who tried to rob her #badfuckingidea pic.twitter.com/oHBVpS2TQt

— Dana White (@danawhite) January 7, 2019
So to all thugs everywhere, you know who to avoid now!
(Featured Image Source: YouTube/ESPN and Polyana Viana Photo)