When you think of fluffy animals that are also cute, fun to be around, and playful, you think of dogs and cats. Kittens, foxes, and pandas are adorable little furballs. But there is another animal you can put in that category as well. It is a breed of cows whose babies are just as adorable and as heart-melting. We are talking about the highland cattle calves, a Scottish breed that is unique thanks to their long and wavy hair. In fact, their unusual double coat is the longest of any cattle breed.
Their oily outer layer and a downy undercoat makes them perfect to withstand harsh weather conditions. But it also helps to present them as cutest little moos ever.
And as with most animal species, they are way cuter as babies. The highland cattle calf has small snouts, tongues, and stature that makes it impossible not to smile when you see them.
So, today, instead of watching pictures of adorable kittens and puppies, let's focus for a moment on another animal, one that is more unusual, and simply, cute as hell. You just cannot feel sad after looking at these pictures.
1.Getting a bath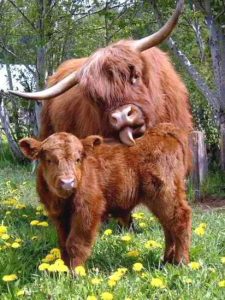 Same as kittens, highland cows bathe their babies using their tongue. It is just an animal's ways of showing love.
2. Fluffy and cute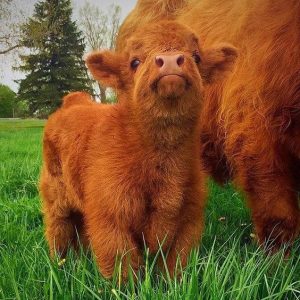 Just look at this fluffy baby. Can you resist his charm? When you think of fluffy animals, you rarely think of highland cattle calves, but this is just a great example why you should.
3. Not just brown color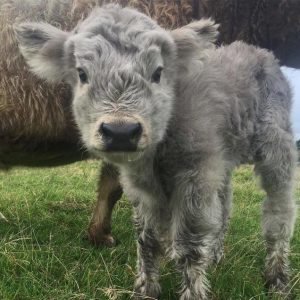 Most of the highland cattle calves are brown in color. But that doesn't mean that brown is their designated color. They can come in other colors, same as other animals.
4. Yes you can cuddle with them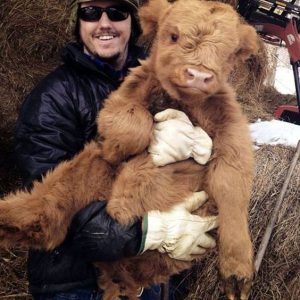 If you want a furbaby you can cuddle with, you probably think of panda, a Maine coon cat, or something else. But a cow calf can be a good option as well.
5. Cute and fuzzy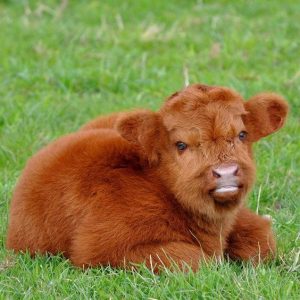 Just look at those eyes, and say you can ignore them. They are just heart-melting and tears-dropping. Hard to resist, isn't it?
6. Is that a real animal or a stuffed toy?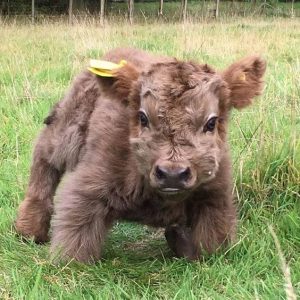 This cute little guy definitely doesn't look real. He looks like a little stuffed toy you just bought from the toy store. Definitely as cute as a cat.
7. Sleeping time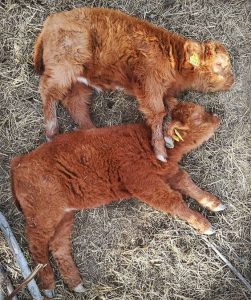 When they sleep, they are as adorable as kittens. Truth be told, most baby animals are just a joy to watch while they are asleep.
8. Funky guy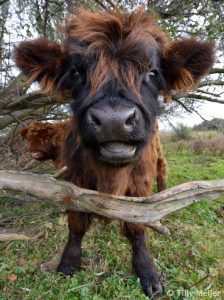 Same as with most animals, there are some funky highland cattles as well. Just look at this funny dude.
9. A sheep or a cow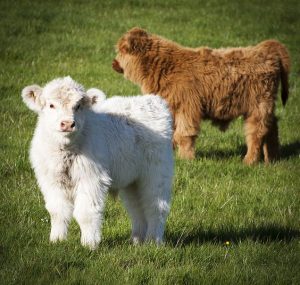 When you see a fluffy white cow, you might mistake it for a sheep. But this cute furbaby is not a sheep, it is just another great example of highland cattle.
10. The world's biggest dog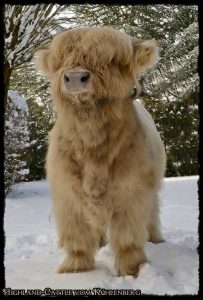 In many cases, highland cattle calves look similar to dogs. Especially when they get a bit older, and they are no more little babies.
11. Hello mommy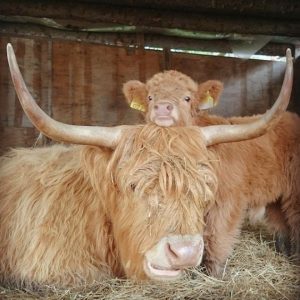 A calf and a cow, picture that can definitely bring a smile to your face. Just look at those sad, but cute eyes looking at you. How can you feel sad? These pictures of baby calves are great to cheer you up when you are feeling down or sad.
12. Kiss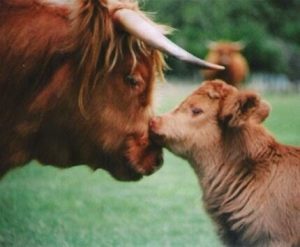 Another great picture of a baby calf and his mommy cow. This time, we have them kissing each other. Just an adorable moment captured on camera.
13. This baby is the cutest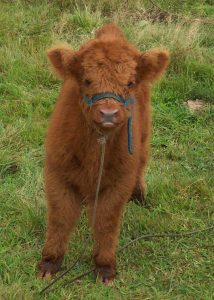 This baby is just the cutest. And a great way to finish off our list. Hope we brought a smile on your face. If not, check the pictures again, and again.