The beauty is in the small things. This has been said over and over again. And it has been proven times and times again. One little line can make all the difference. One small object can transform everything.
In terms of makeup, the crease line is basically the cherry on the icing. Your makeup might be good without a crease line, but a crease line will make your eyes twice as captivating. And in the past few years, we've seen more and more women understanding and embracing the crease line.
With that in mind, we will look at several different ideas. You'll see ideas where the crease line is opposite color, and ideas where it blends with the makeup. Let's go.
1. Metallic Sunset with White Crease Line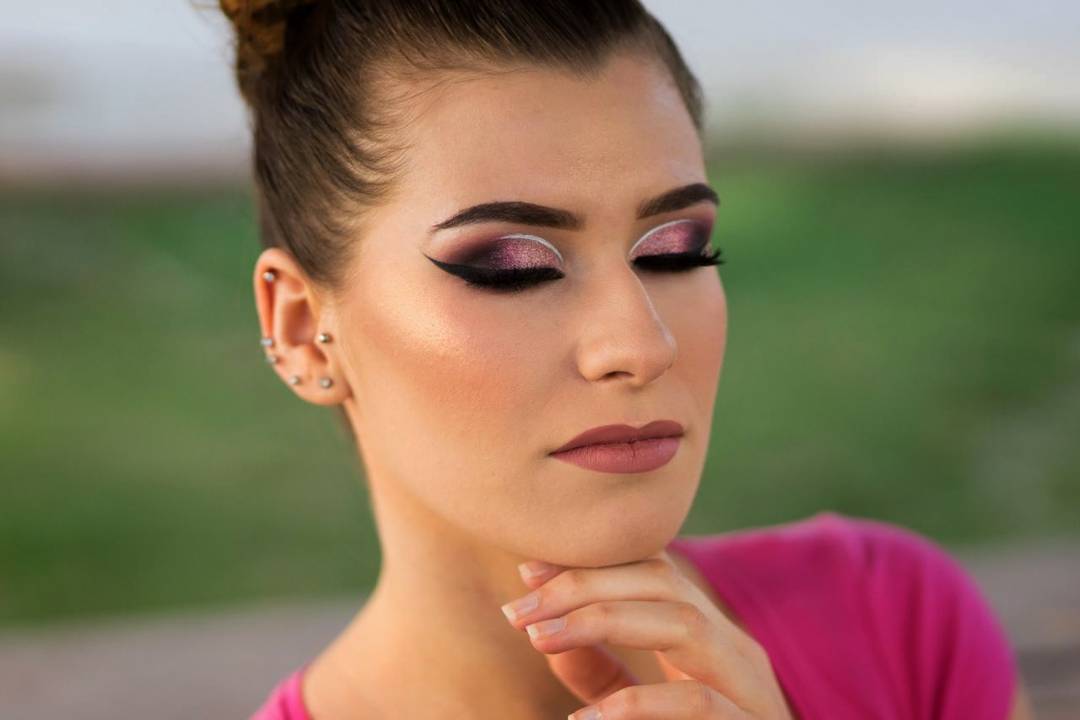 We start off with one of the most popular makeup trends for 2017. That is the metallic makeup, which gives a whole new dimension to your eyes. In this case, we see the colors of the sunset, and they are beautifully accompanied by a simple white line.
2. Yellow And Orange With Silver Glitter Line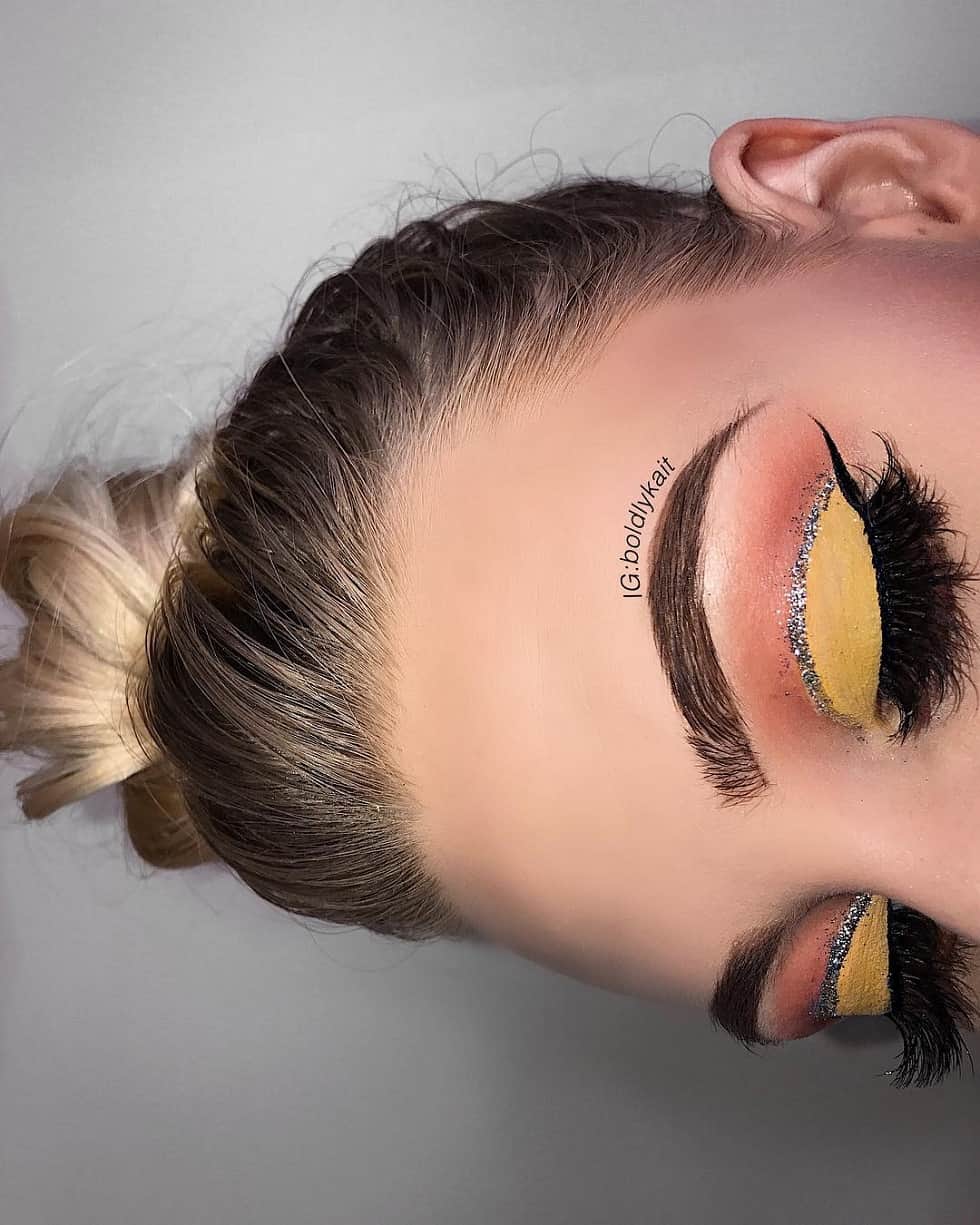 Silver is one of the most popular options for the crease line. The reason is simple, silver makes everything look more elegant. Such is the case here. Yellow and orange might not be the classic elegant colors, but the silver glitter line makes the makeup look sophisticated.
3. Fading Black With Red Cut Crease Line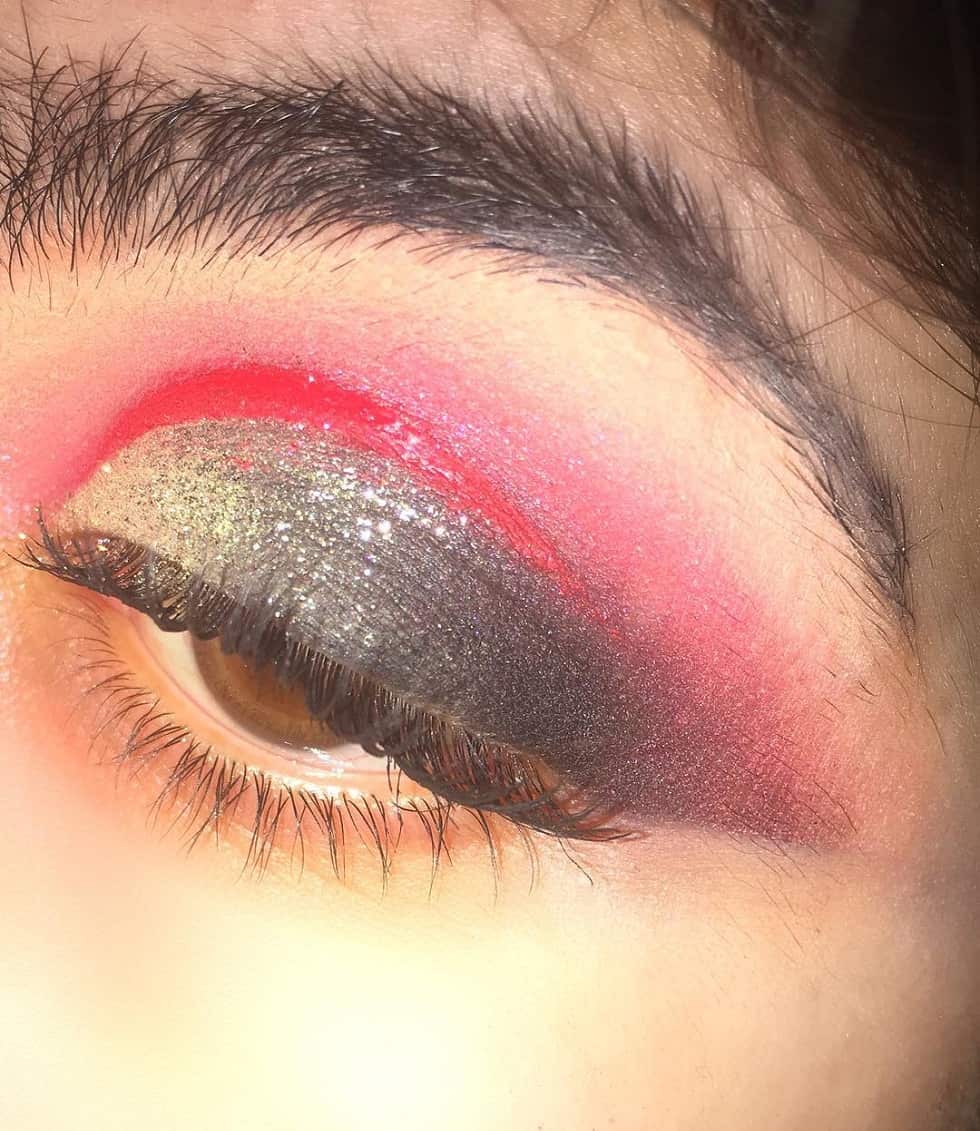 Black and red is one of those timeless combinations, same as black and white. And there are million combinations of black and red. Here, we see a combination where red is the more dominant color.
4. Fading Pink With Gold Glitter And Bold Orange Crease Line
I said at the beginning that a simple crease line will make all the difference. But that doesn't mean that the crease line should always be simple. You can get a little bit creative and artistic. What stands out here is the color combination. Since Kim Kardashian wore orange and purple dress years ago, the color combination has taken over.
5. Bubbly Blue Whit White Cut Crease And Touch Of Pink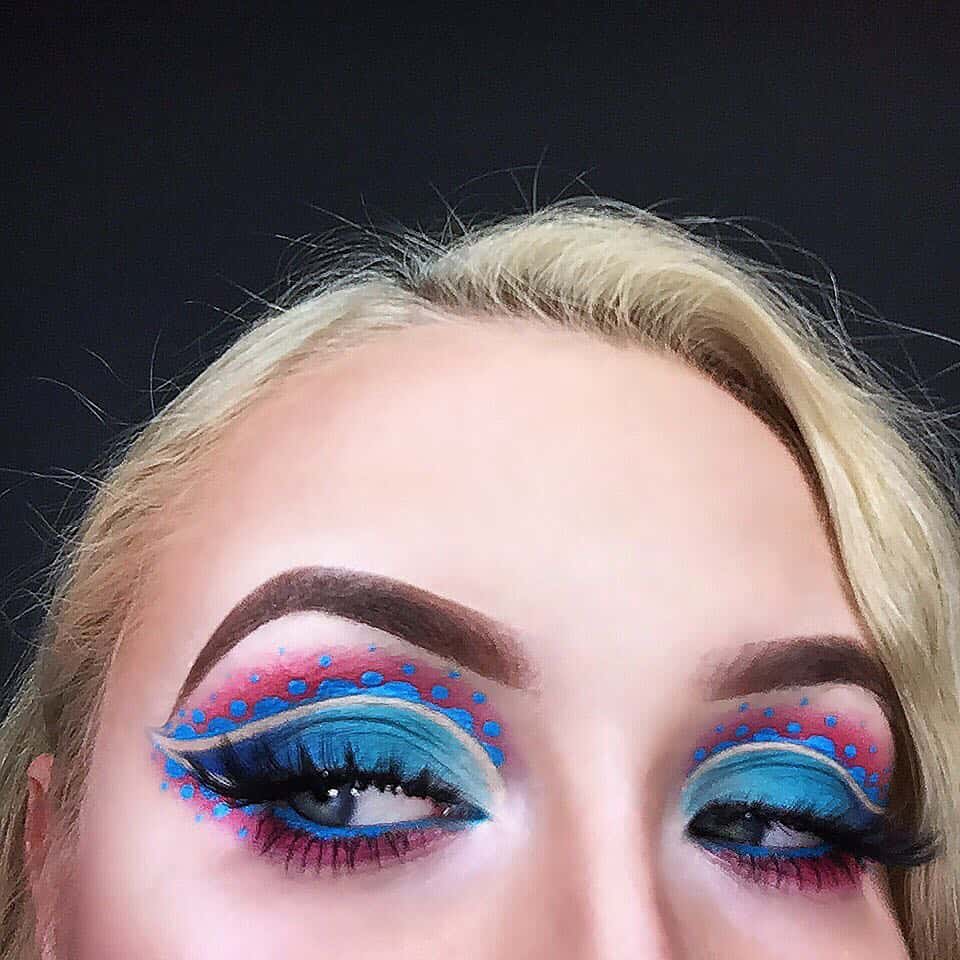 On first glance, the colors are not so complimentary. Blue and pink are definitely two colors on different side of the palette. But even opposite colors can work, as long as you find a way to bring them together. The white line is what eases up the transition here from blue to pink.
6. Soft Makeup With Pop Of Blue Glitter Cut Crease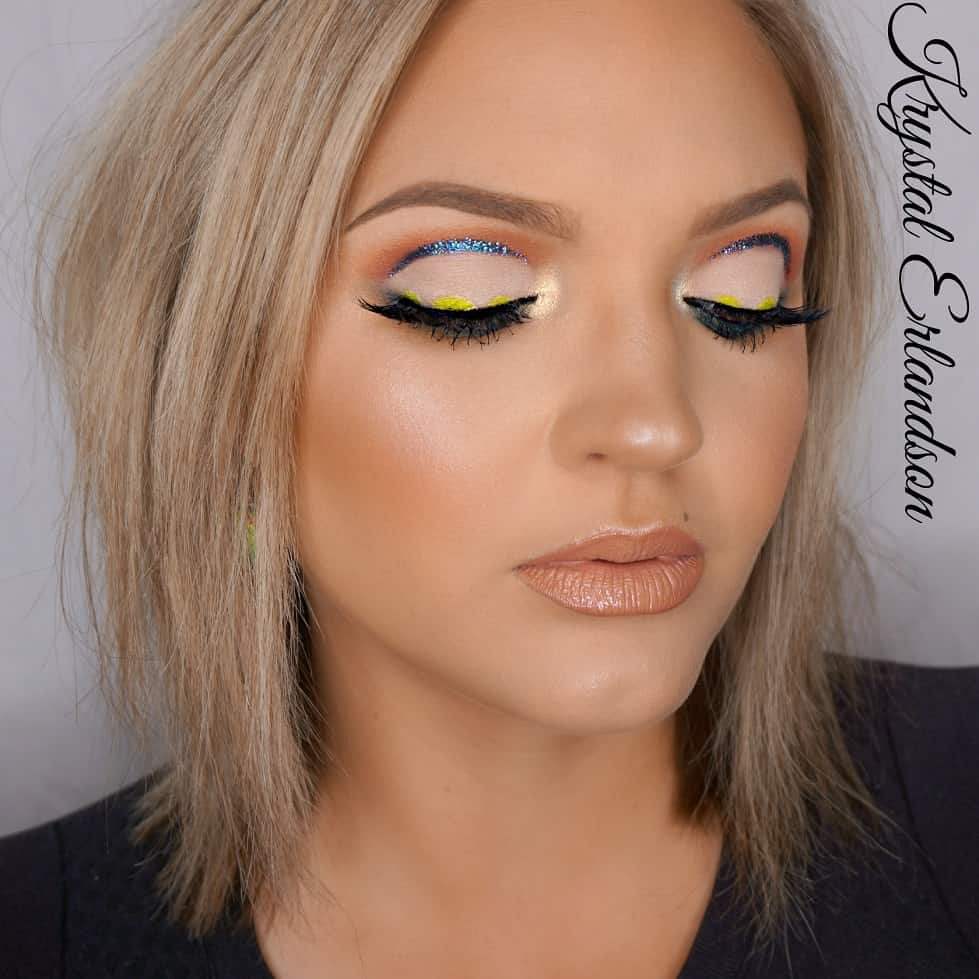 I mentioned at the beginning that sometimes the crease line can even be the dominant color. Most people opt for a neutral crease line. But every now and then, we see a lively crease line that stands out from the crowd.
7. Bumblebee Black Crease Line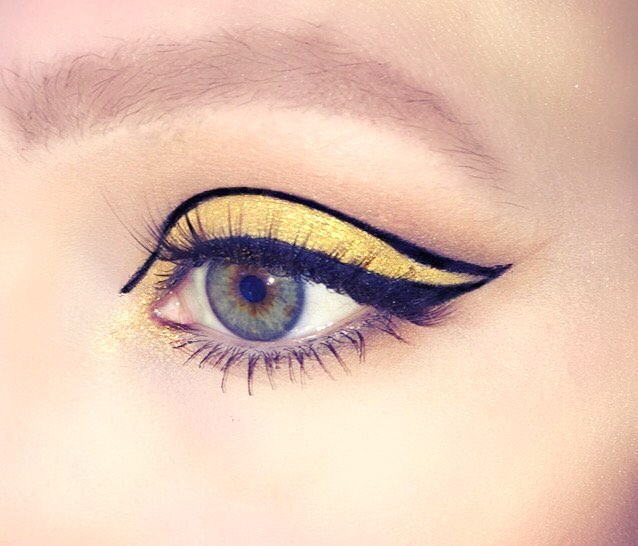 You can find an inspiration for makeup in everything. We've seen leopard and animal prints for years. Some people even find animal-themed inspiration in the bumblebee. But you cannot dismiss the fact that the black and yellow combination is stunningly beautiful.
8. Smokey Pink And Purple With Golden Glitter Crease Cut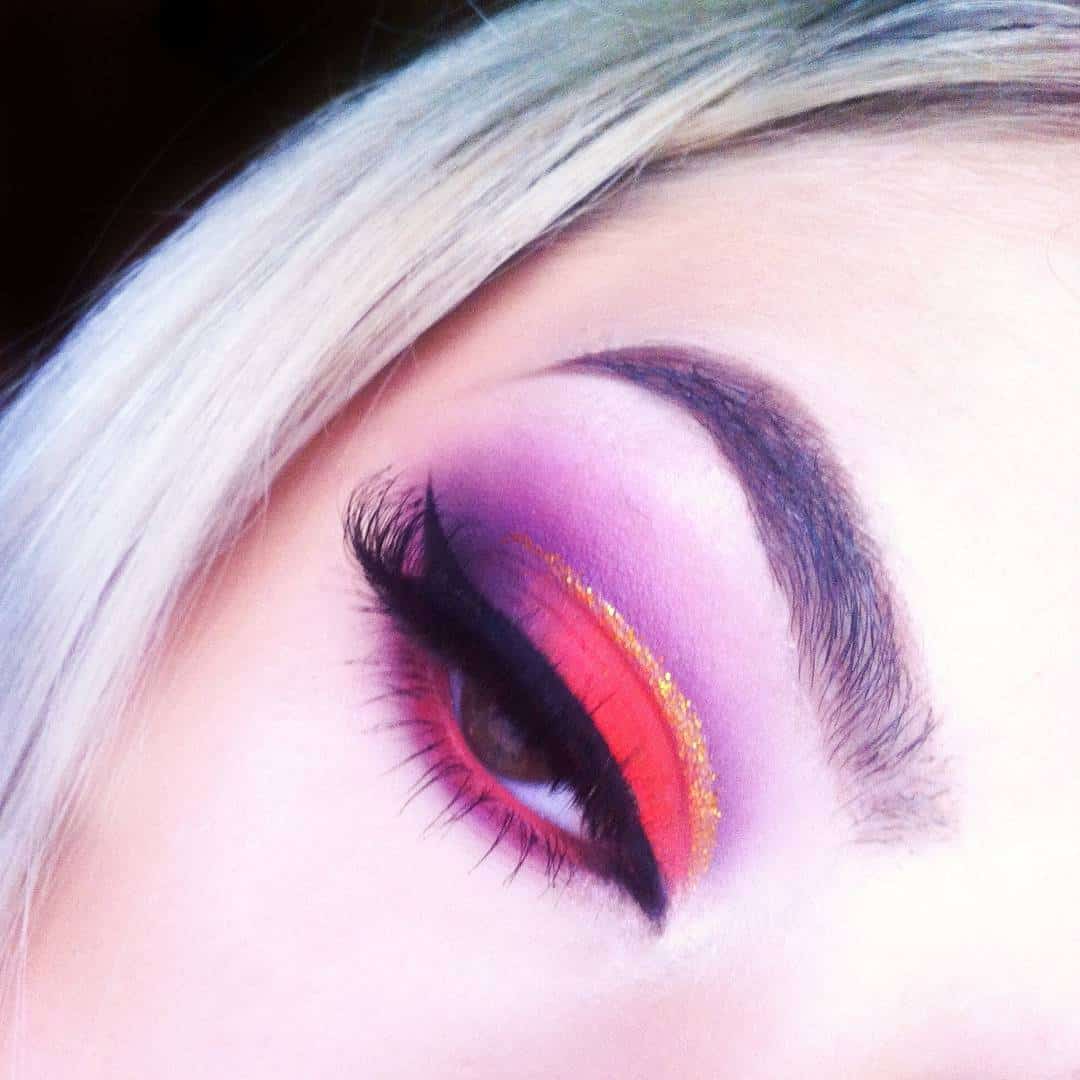 Smokey eyes are usually without a crease line. But if you want to draw a line between two close colors, a crease line is the way to go. That is what happens here with the pink and purple smokey eyes.
9. Brown Makeup With Bronze Eyeliner And Silver Cut Crease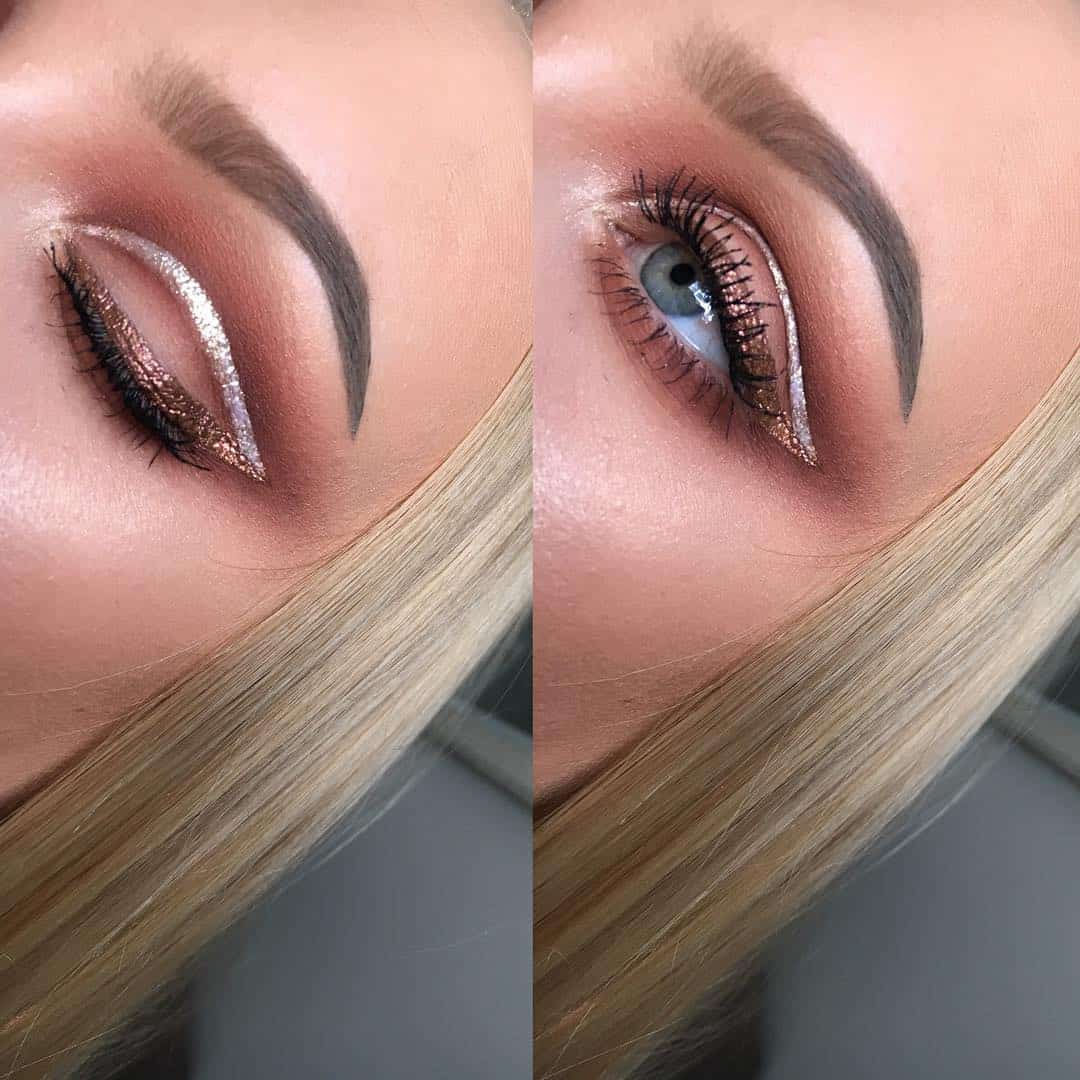 This is one of the more natural looks you'll find. Bronze and brown makeup colors are the closest to the skin color. And people often look for a natural look that is elegant, sophisticated, and simple in the same time. But even in that situation, you need something to help you stand out of the crowd. The silver crease line will help you.
10. Naked Makeup With Gold Crease Cut And Orange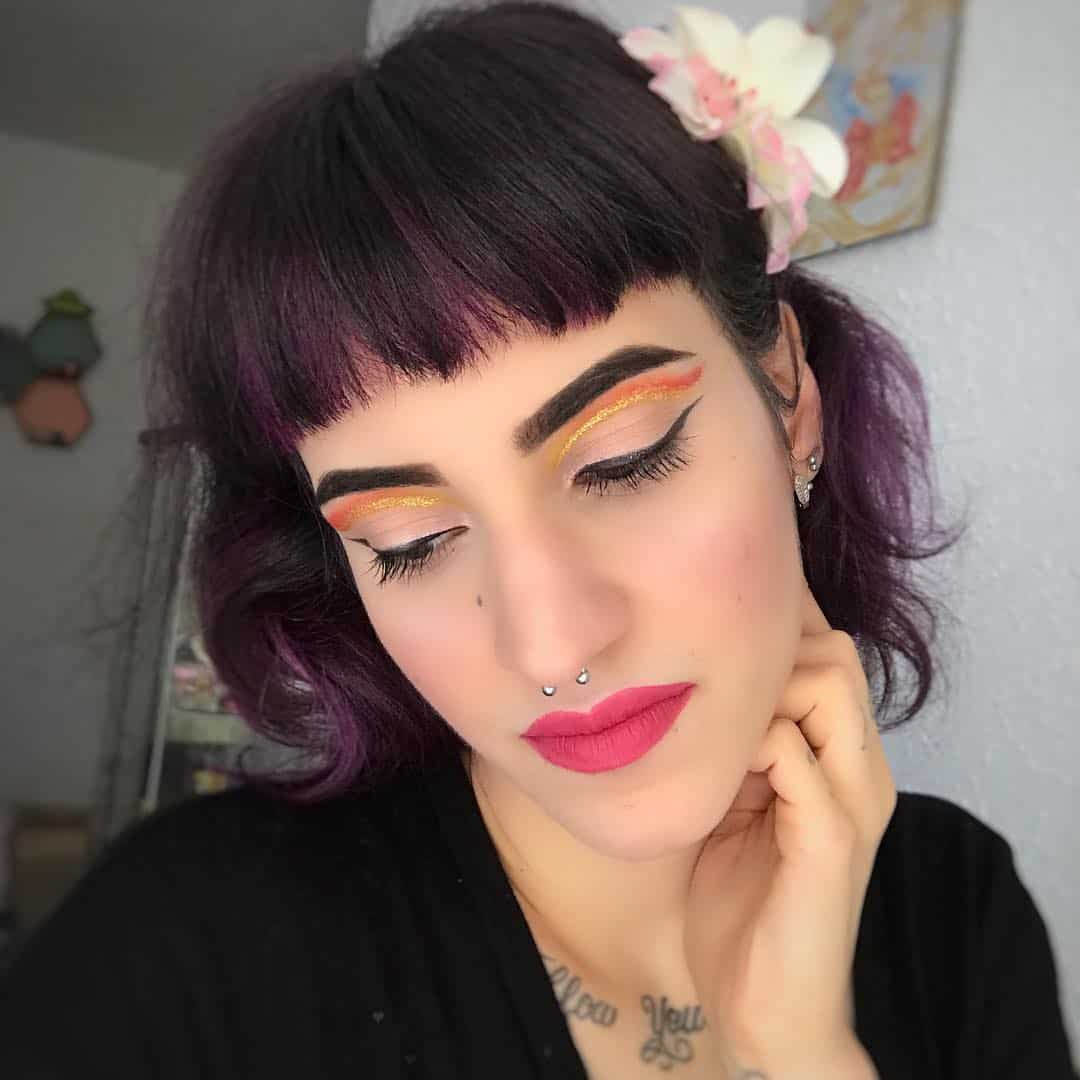 I said previously that the crease line can help you add color and make your makeup lively. We had some examples, and it is always nice to get more. Gold is such a good color for this idea.
11. Emerald Green With White Cut Crease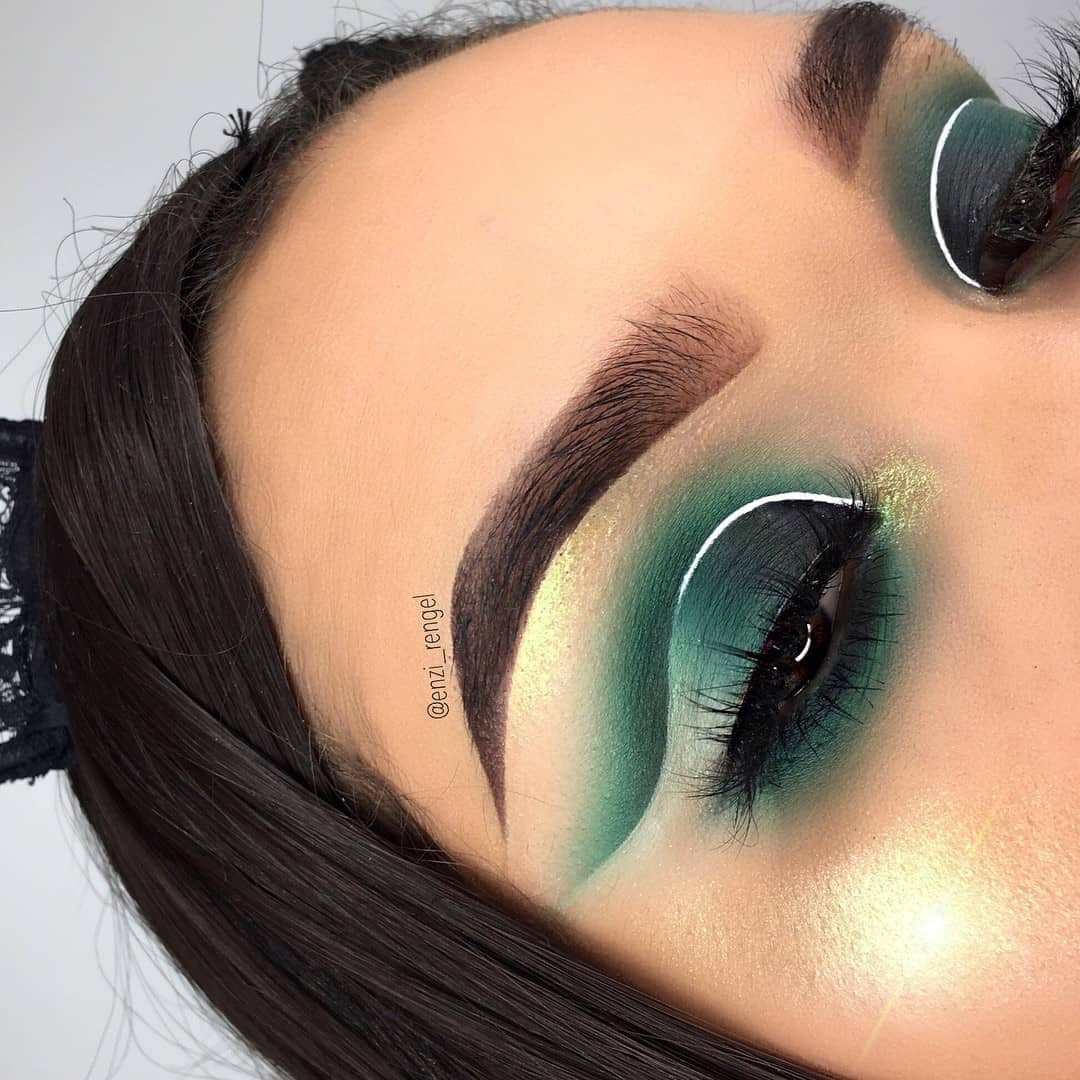 White is an universal color. It goes well with everything. We saw several different combinations with white, and we will see more. But this emerald green makeup is just astonishing and mesmerizing. Who wouldn't fall for a woman with such makeup?
12. Red Makeup With Sticking Red Cut Crease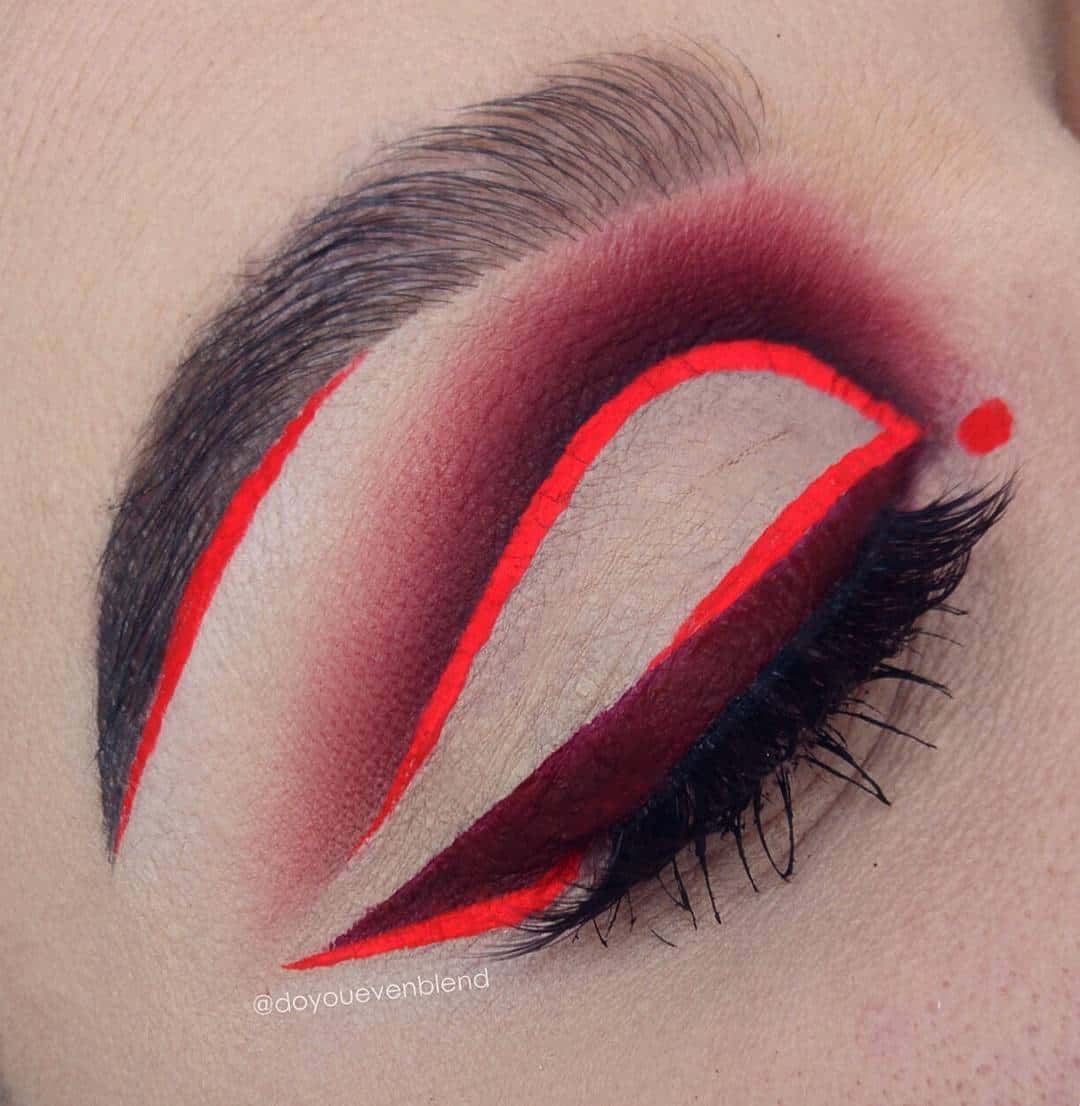 You remember when I said the crease line can fit seamlessly with the color of your makeup. Well, we have different shades of red here. And you can do that with every other color. The trick is to have one vivid shade, and one more pale, neutral, and dark shade of the same color.
13. Silver Makeup With Glittery Cut Crease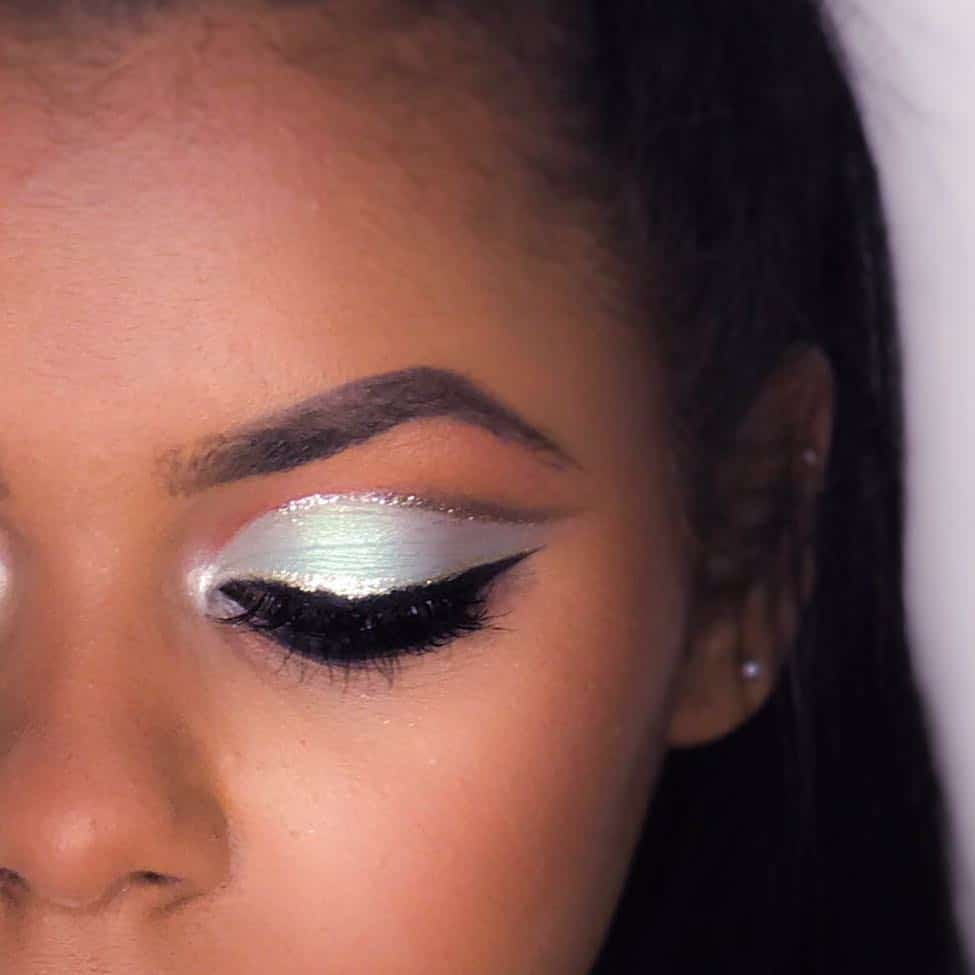 Most of the time, the crease line was silver. So, what you do when you have silver makeup? You can try with silver crease line again, just add some glitter to make it pop. See, it is simple!
14. Creative Cut Crease Makeup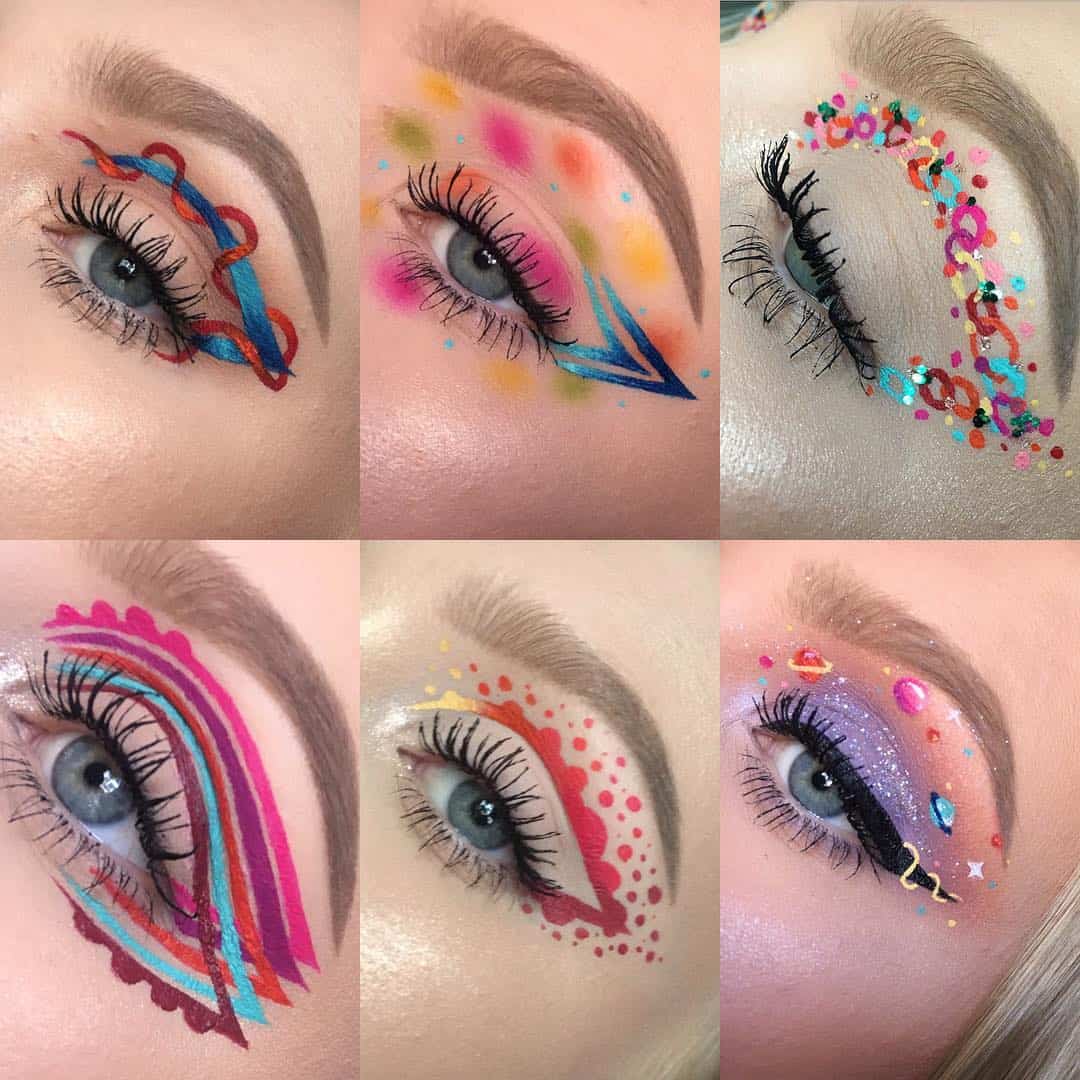 I said previously that you can get artistic and creative with your crease line. In that spirit, I want to give you several ideas you can try. All of them are just beautiful.
15. Sunset Makeup With White Confetti Cut Crease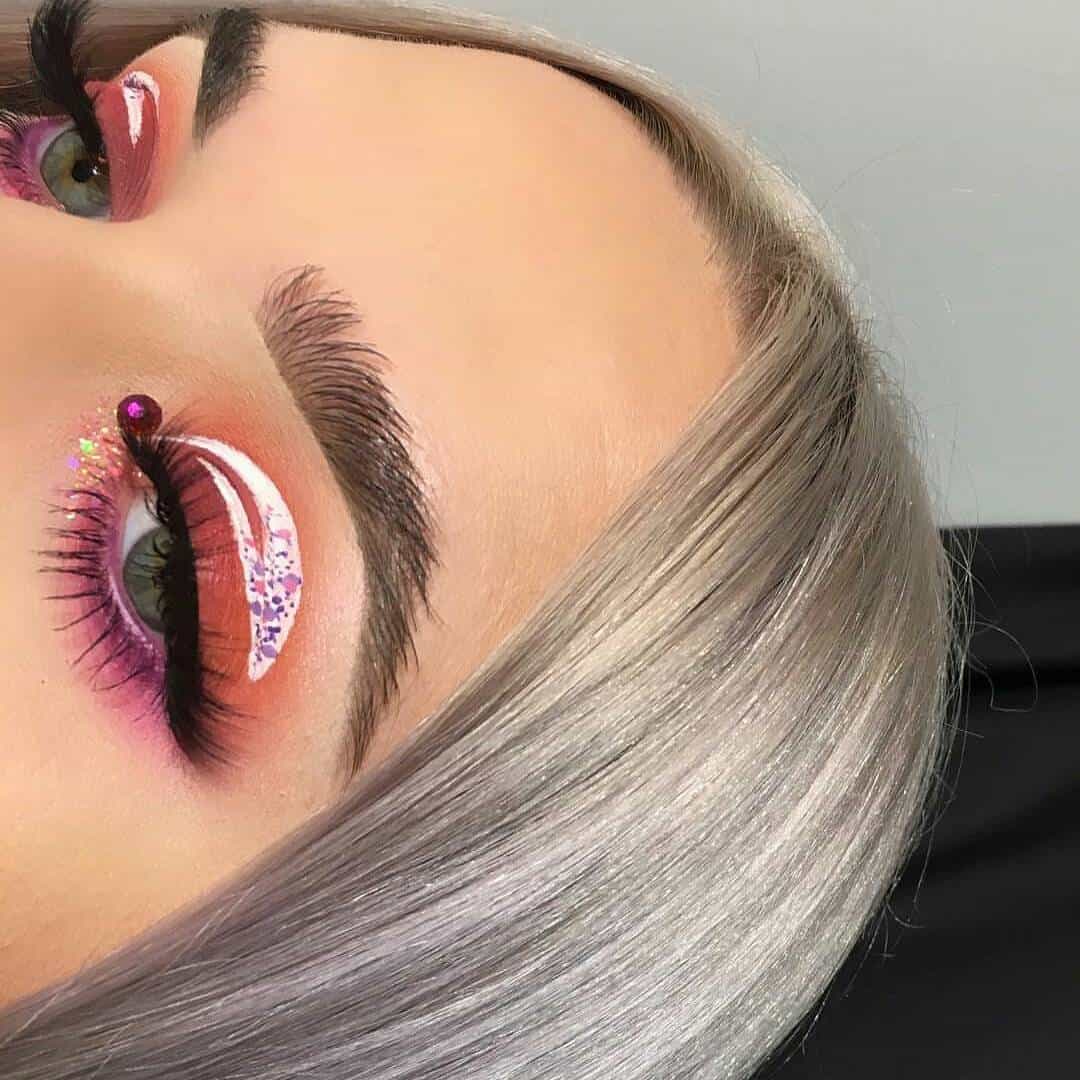 We started off with a sunset makeup. And now we have another example. While the first one was more clear, with clear colors and lines, this one is more accessories-rich. And because of that it looks more playful and whimsical.
16. Cream And Purple Makeup With Blue Glitter Lines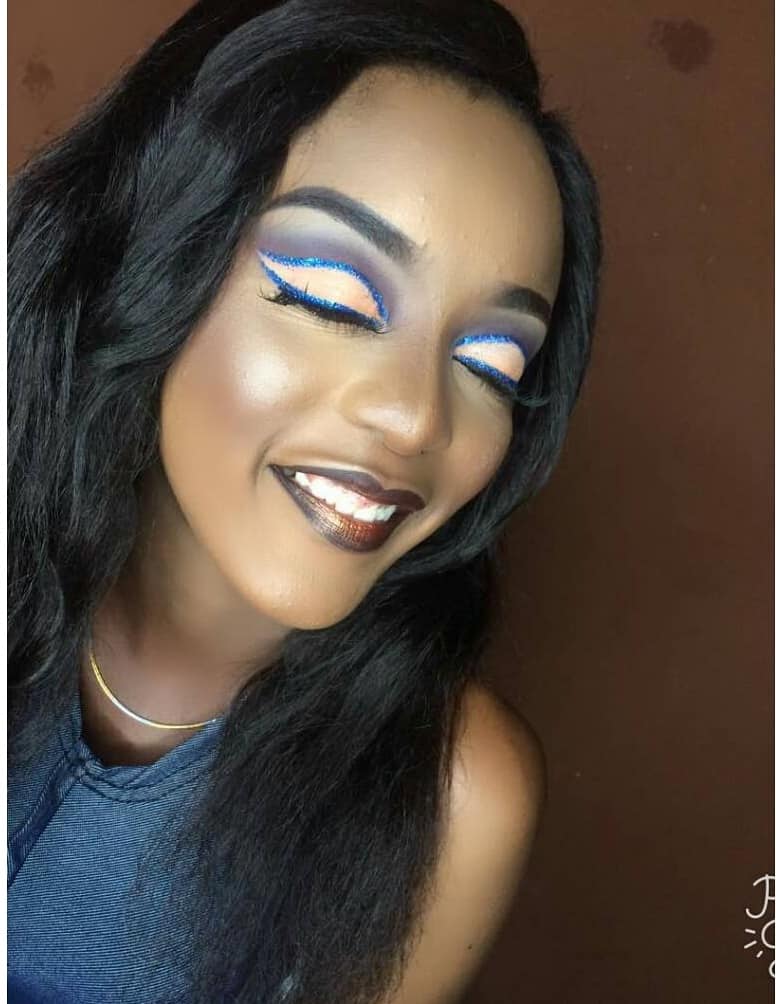 I must say, I am not much of a fan when the crease line looks like a frame for your makeup. But some women love it. And it is quite popular. So I must adhere to the trends and make sure you are being trendy as well.
17. Black Glittery Eyeliner With Brown Makeup And White Cut Crease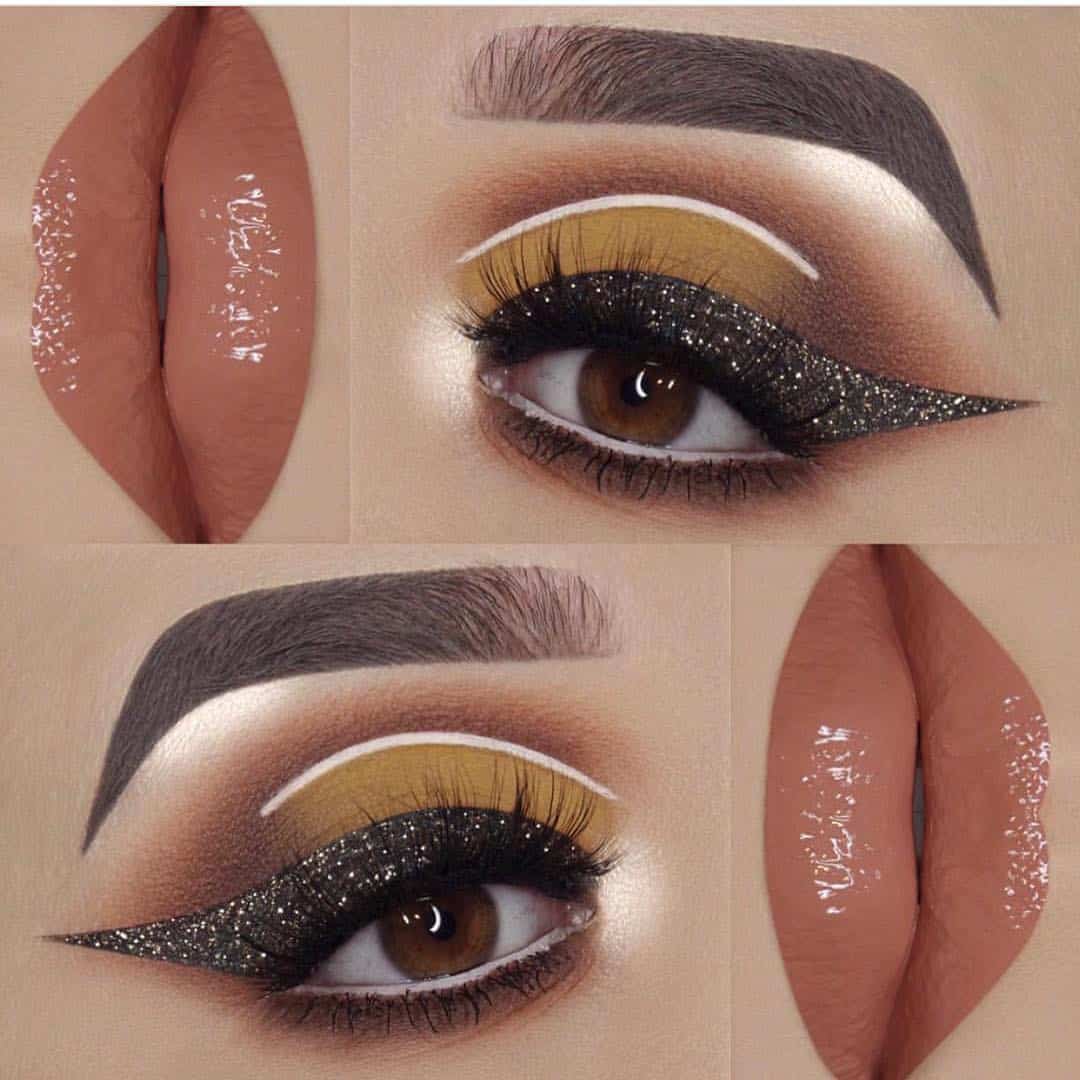 So many colors here, but they all follow one simple principle. The goal is to make the eyes more emphasized. And brown eyes compliment each of the colors of the makeup. If you are looking for a natural, yet elegant look for brown eyes, you've found it.
18. Black Smokey Glitter With White Cut Crese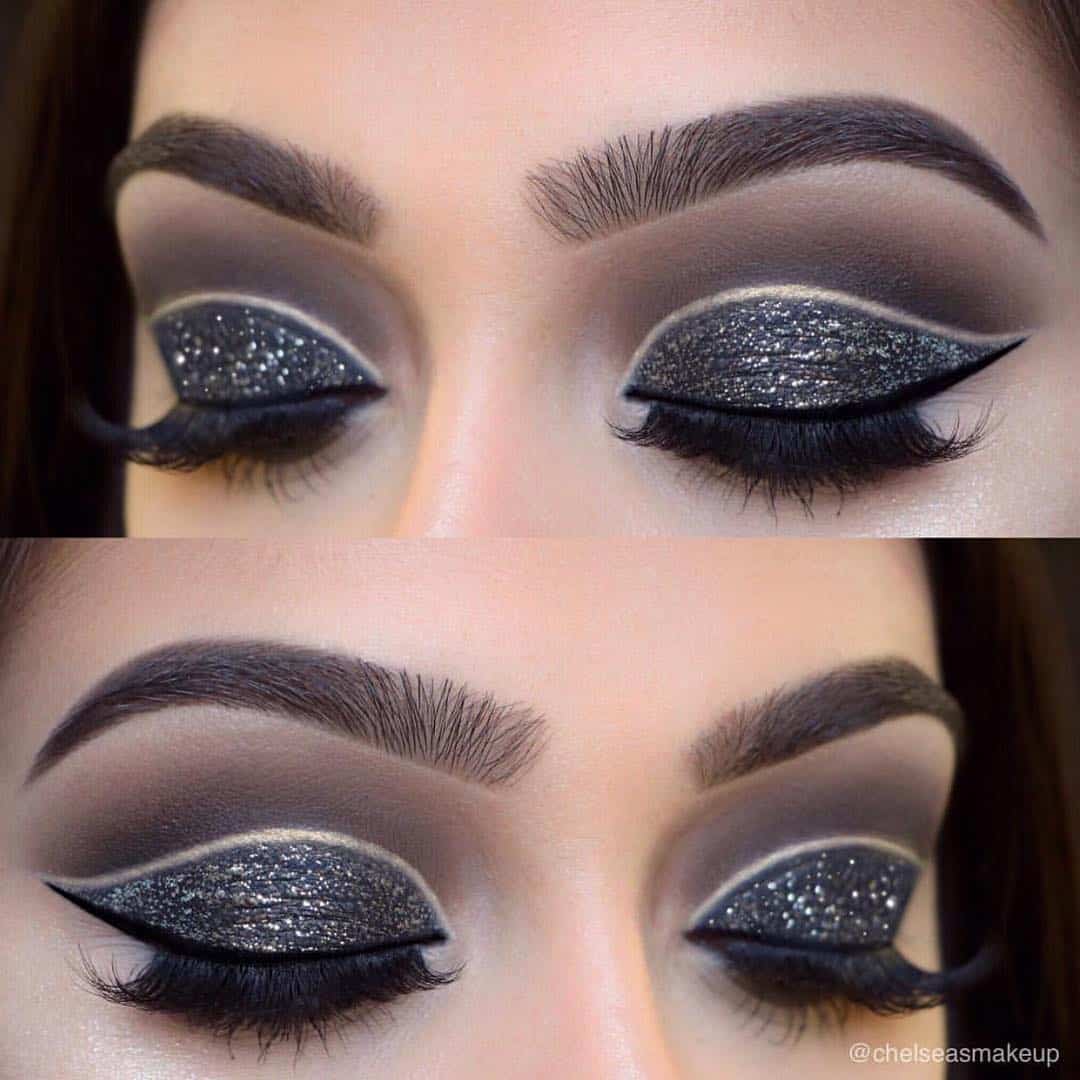 Well, since we had the black and red timeless combination, it is only logical that we see a black and white combo as well. And same as with the red, I want to give an unconventional makeup idea. Glitter makes everything sparkle, and that makes this makeup great for a cocktail and black-tie event.
19. Blue Eyeliner With Pink Makeup And Silver Cut Crease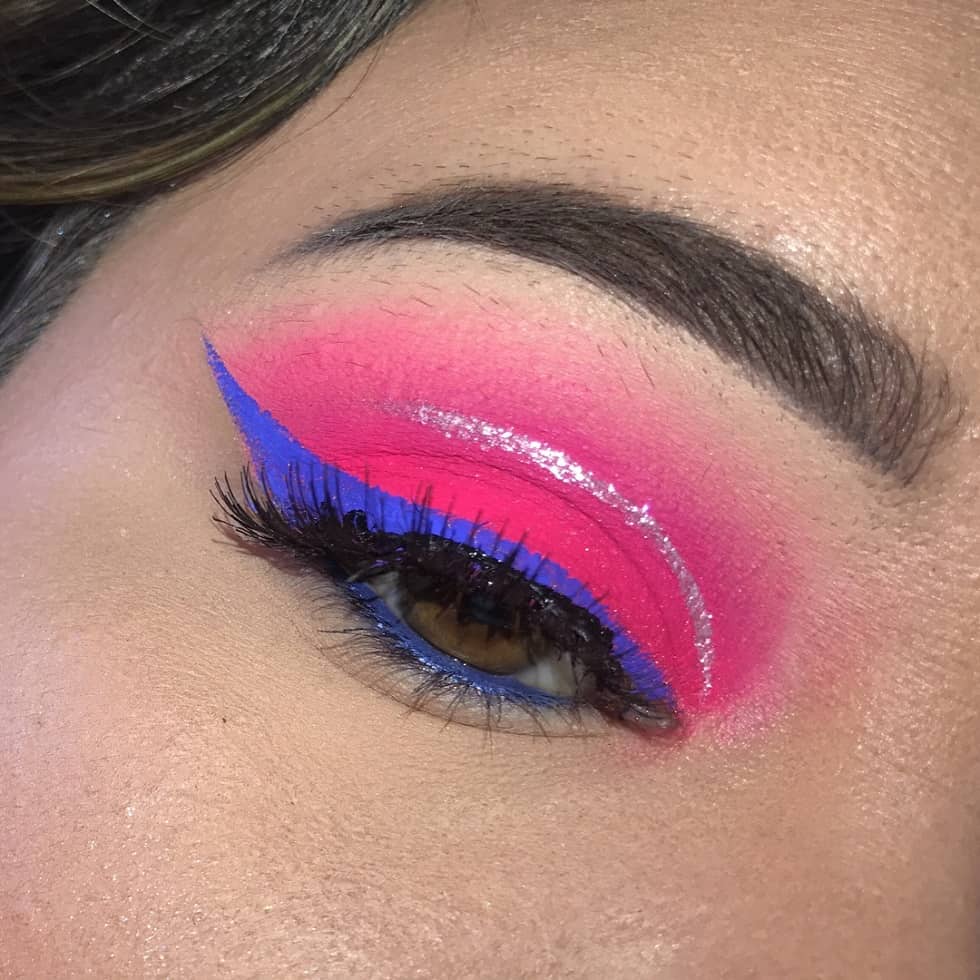 Another blue and pink combination, and again, a line brings the two colors together. This time, it is a silver line, not a white line. And this makeup is simpler and cleaner. No bubbles or any other "accessories". Some women just want a clean look.
20. Gold Brown Makeup With Black Crease Cat Cut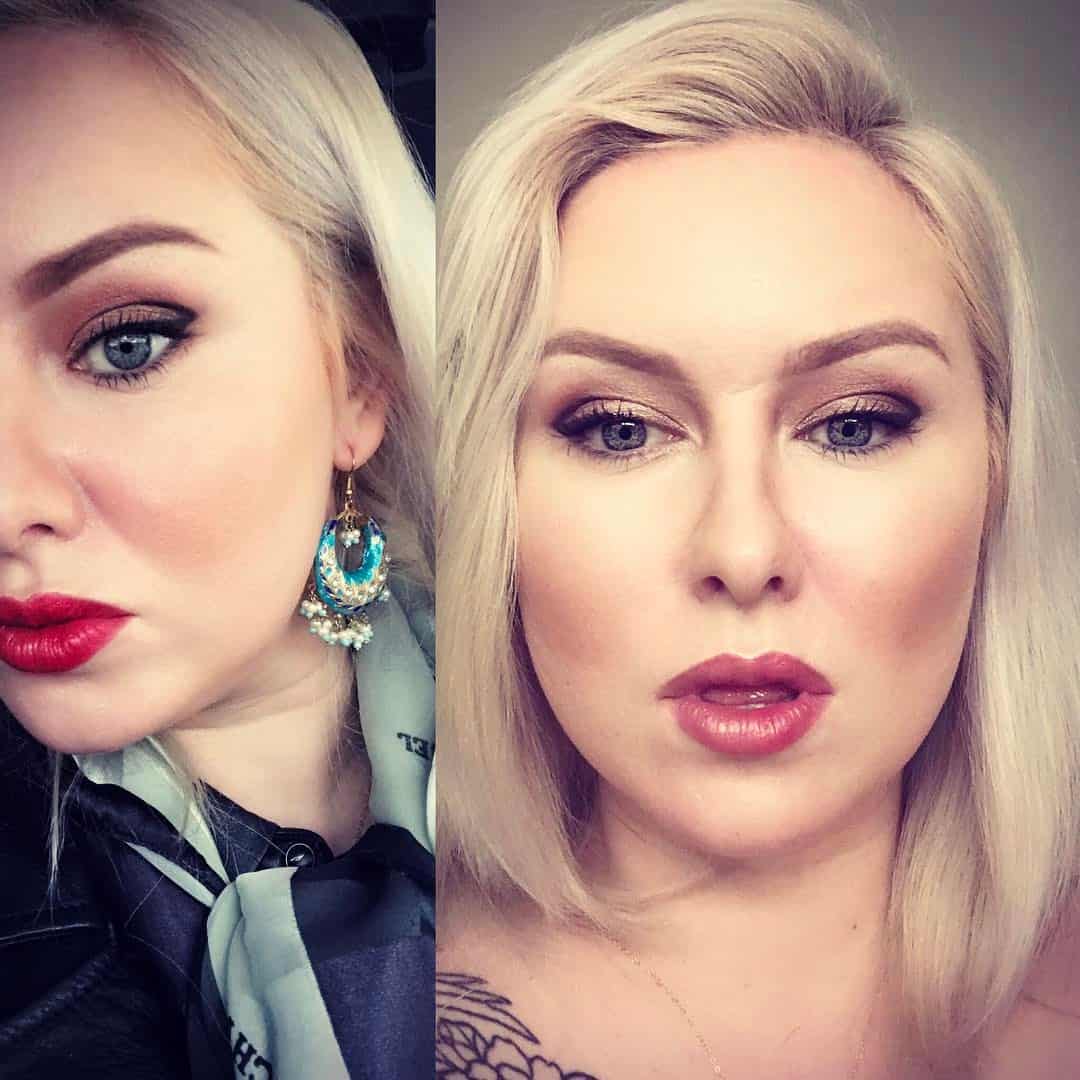 The beauty of this makeup is how everything fits seamlessly. You won't even notice the crease line. But that is the objective here, and the result is great natural look.
21. Purple Blue Makeup With Yellow Crease Cut And Rainbow Rhinestones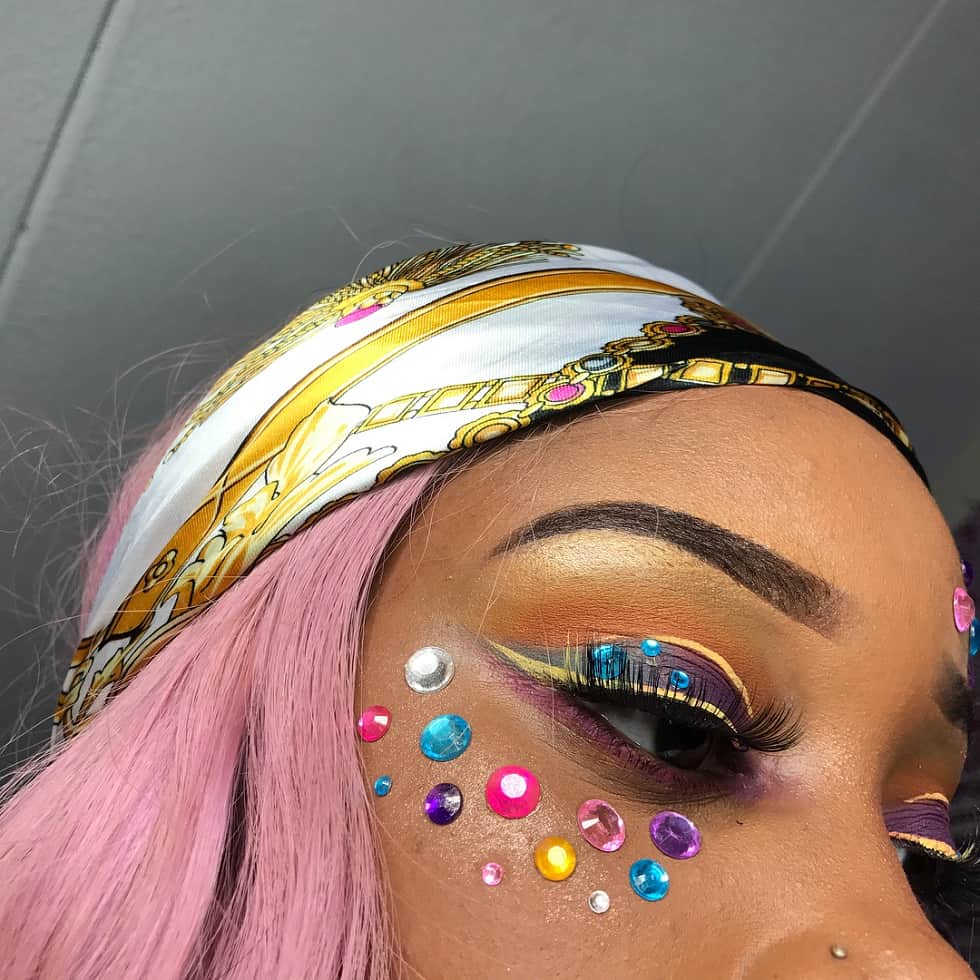 If you are into colors and accessories, I am sure you will find this makeup beautiful. I am sure not all of you will like it, and few will wear it. But nobody can dismiss the beauty and elegance of the look. It is just not all of us are bold and courageous enough.
22. Green And Gold Cateye With Gold Glittery Cut Crease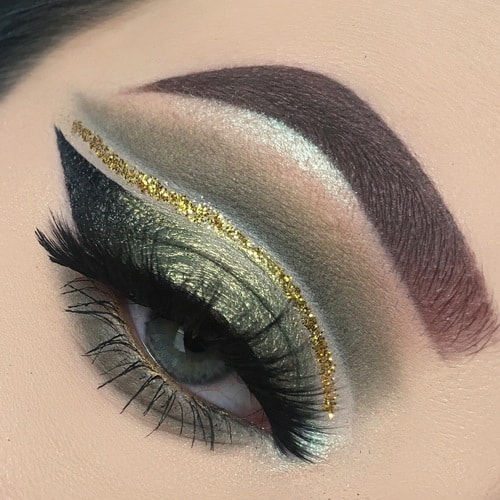 There are shades of green that are just perfect as complimentary color to gold. Not many colors work great with gold, as gold is such a dominant color. But this pale and a bit dark green fits smoothly and seamlessly.
23. Gold Pink Makeup With Pearly Crease Cut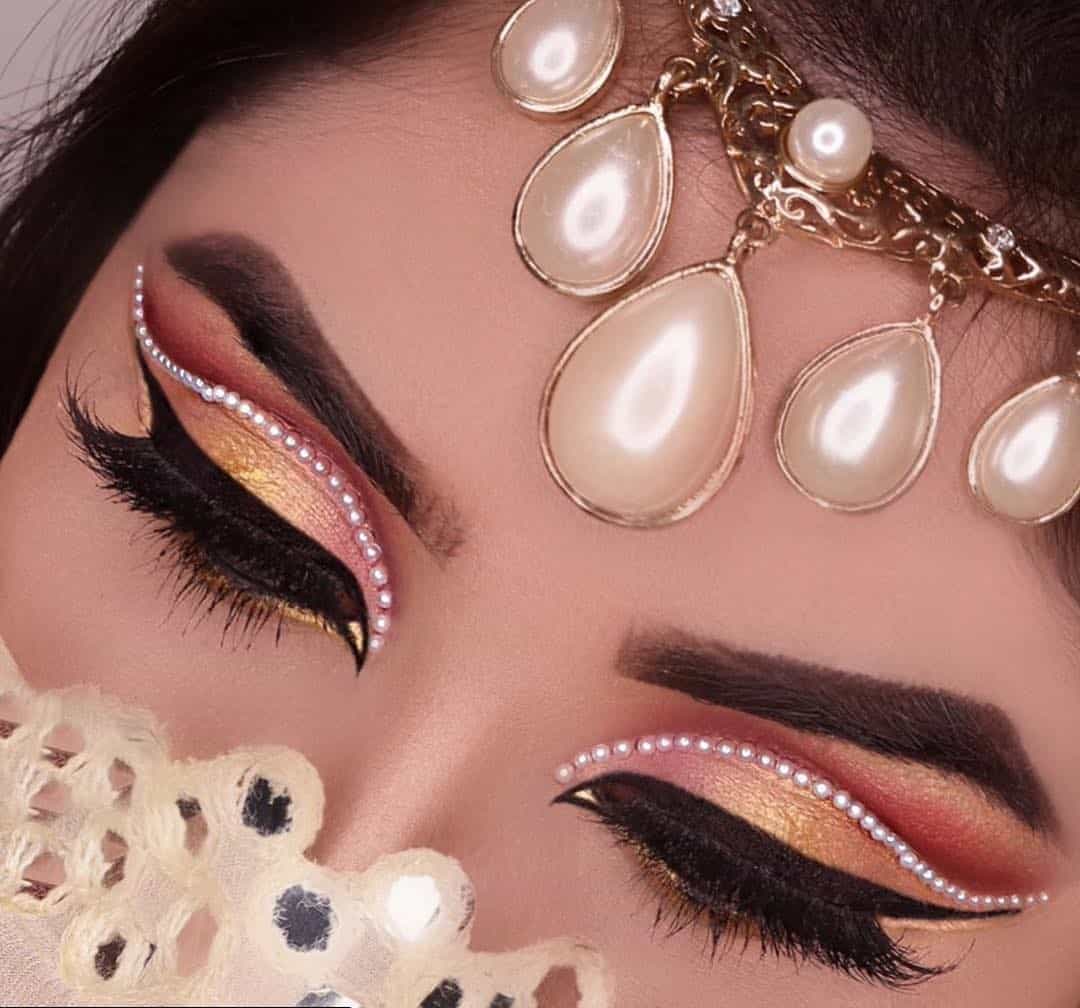 On first glance, you have so many colors and accessories that do not pair well. For example, gold and pearls are two opposite worlds. And pink is definitely not an elegant color as gold. But with a little effort, you can pair almost everything.
24. Peach Makeup With Winged Glitter Crease Cut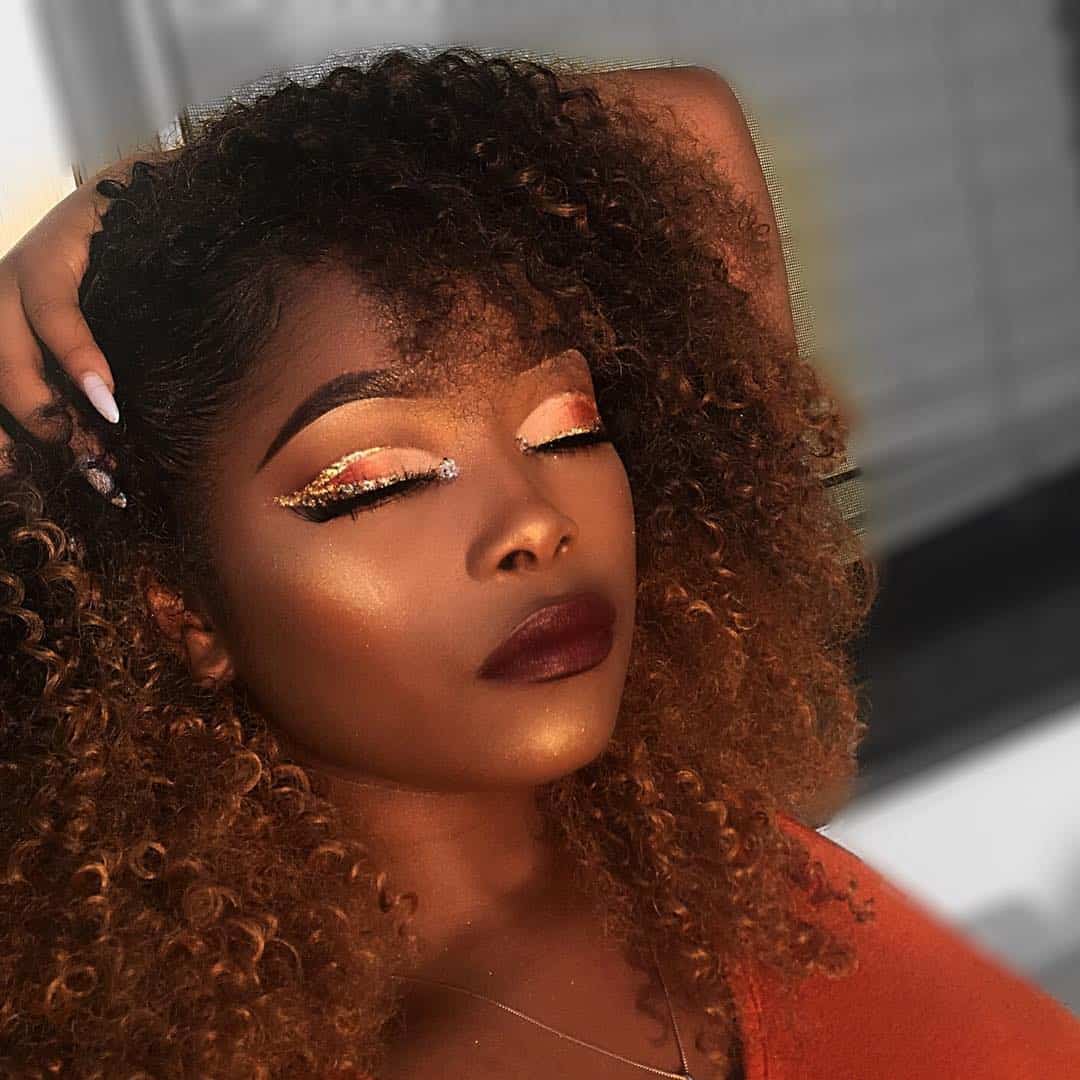 Peach is one of the trendy colors for 2017. Since the end of last year, peach has taken over the world, and not just the makeup world. You'll see peach on nails, fashion clothes, and in interior design. As for the makeup, I wanted a peach combination that is a bit more sparkly.
25. Smokey Eyeshadow With White Cut Crease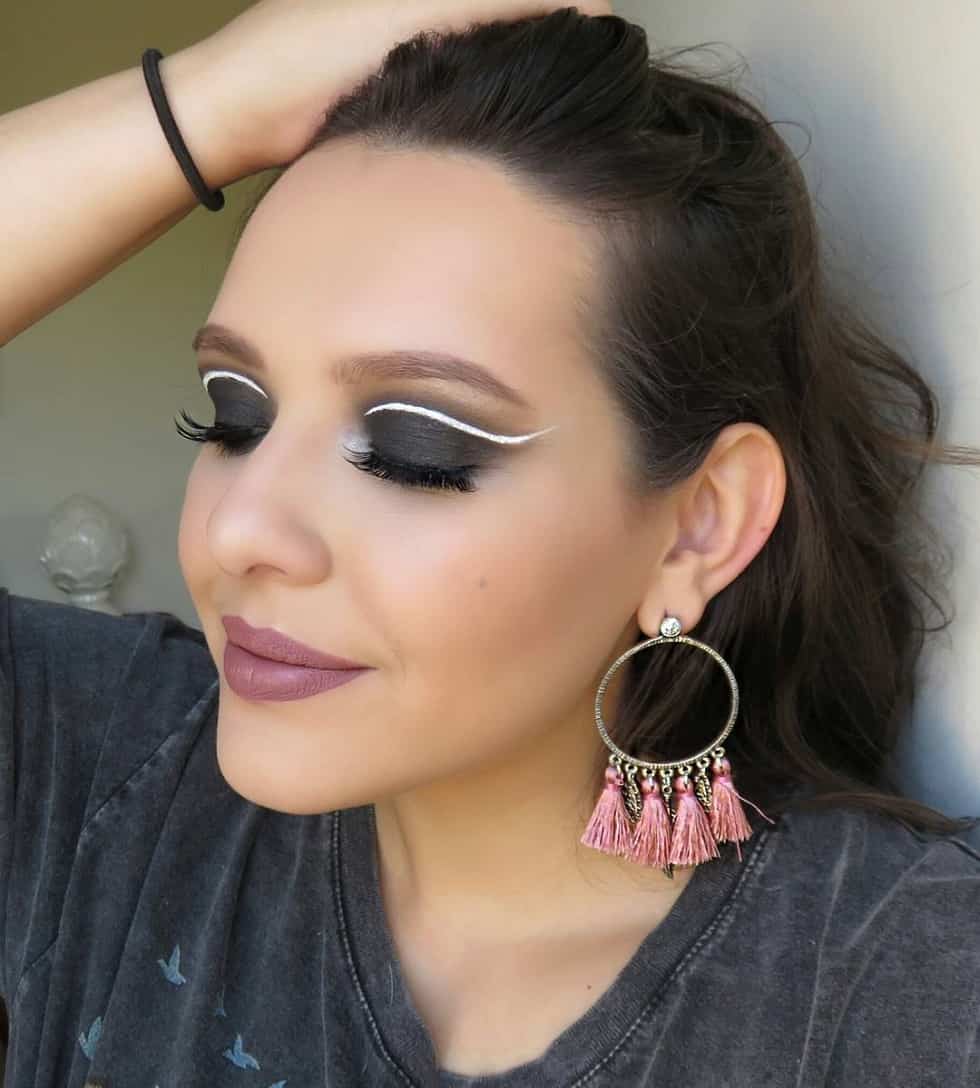 The classic dark smokey eyes has been around for a while. And it has become boring over the years. That is why women and makeup artists are constantly looking for ways to add unique touch to the classic smokey eyes. In this case, just a simple line changes everything.
26. Pink And Winged Purple With White Crease Cut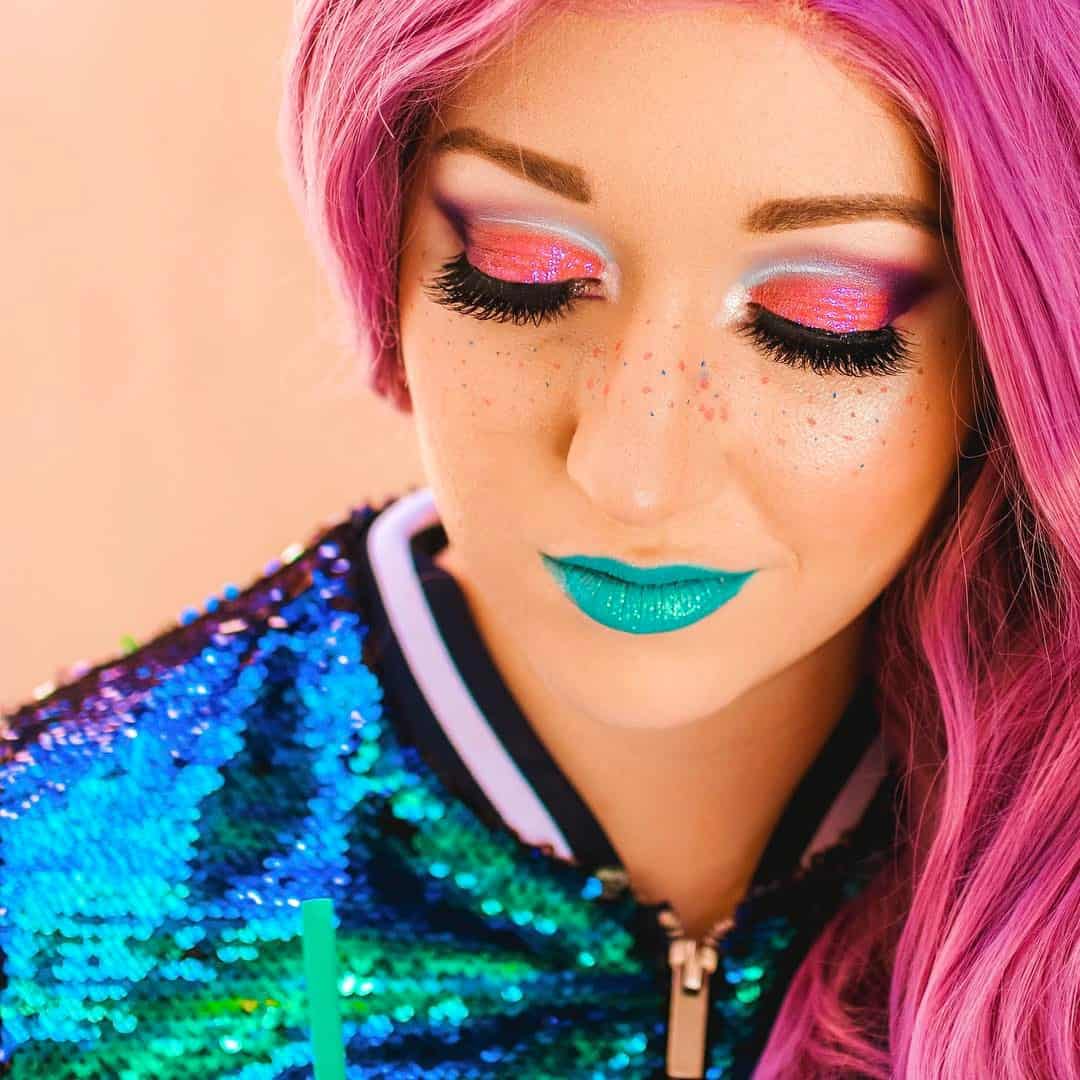 I wanted to finish with a more girly approach to the crease line. The pink and purple combo is a bit more friendly towards younger girls. But that doesn't mean you cannot try it in your later years. Just not with such lively shades.
With that in mind, I hope you found some great inspiration for your next going out. There are so many makeup ideas, and I tried to gather the very best. If you have any suggestions, I am open to hear them.