Who doesn't want to feel like royalty? But the truth is, not all of have royal blood flowing through their veins. The good news is, however, that we can all wear a crown. You can wear a real crown on your head. You can wear a fictional crown in your mind. And of course, you can wear a crown tattoo on your body.
Sometimes, all we need in our life is a crown to remind us that we rulers of our own life. That being said, let's take a look at several crown tattoo designs. Hopefully, you will find a design that will inspire you.
1. Crown And Wreath On Ankle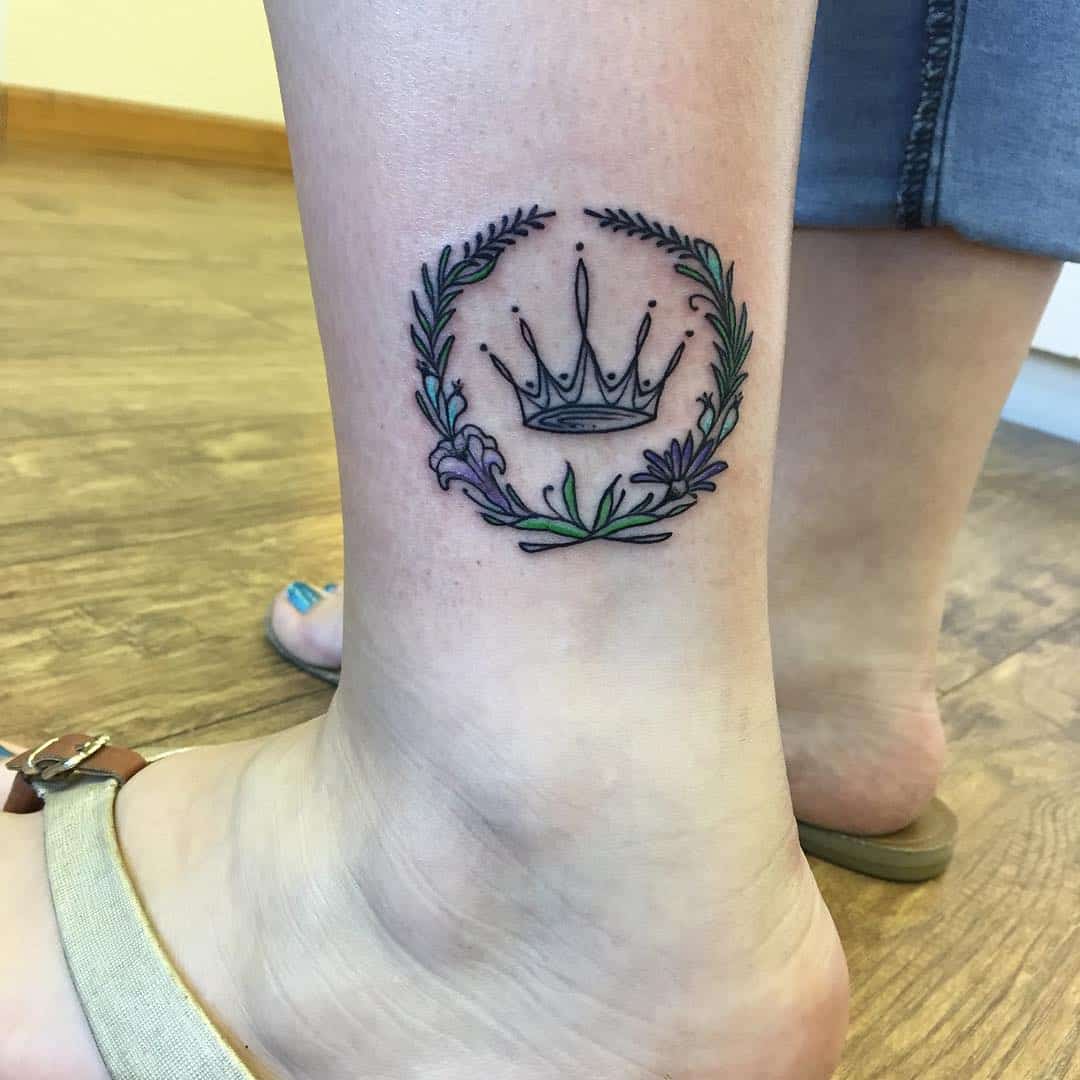 We start off with an unconventional choice. Of course, you cannot get a tattoo on your head. But the ankle is a bit unconventional for a crown. Right? Well, sometimes it might be just what you need. The wreath is a great addition as well.
2. King Of Universe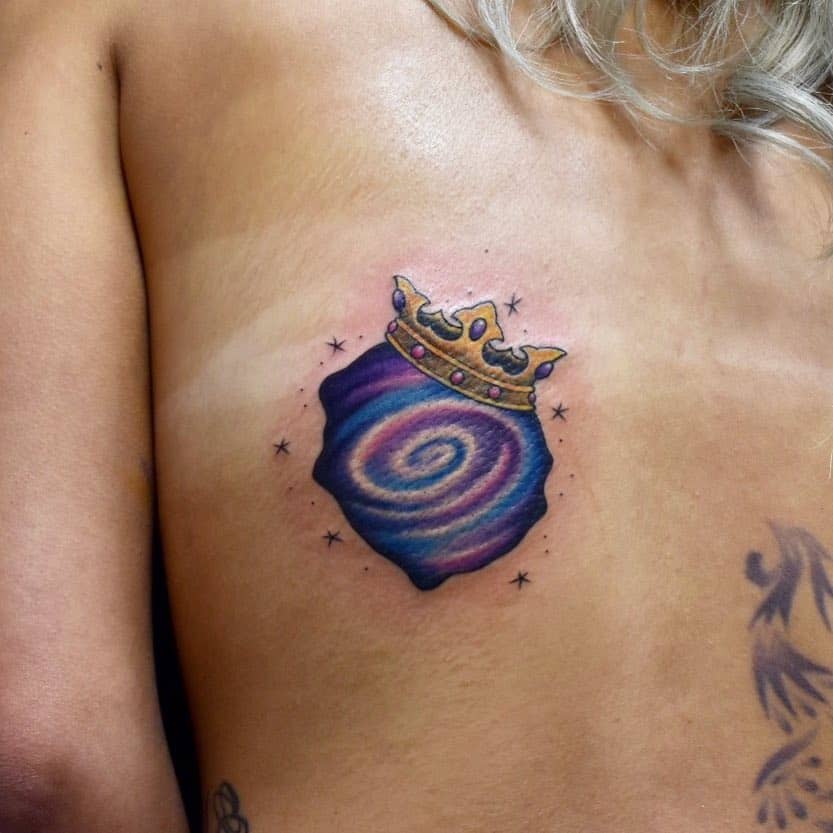 You will notice many of the crown tattoos are small. But that doesn't mean their significance is small as well. Quite the contrary. Even the smallest crown can rule the entire universe. And this is your reminder of that.
3. Queen Crown On Back Of Neck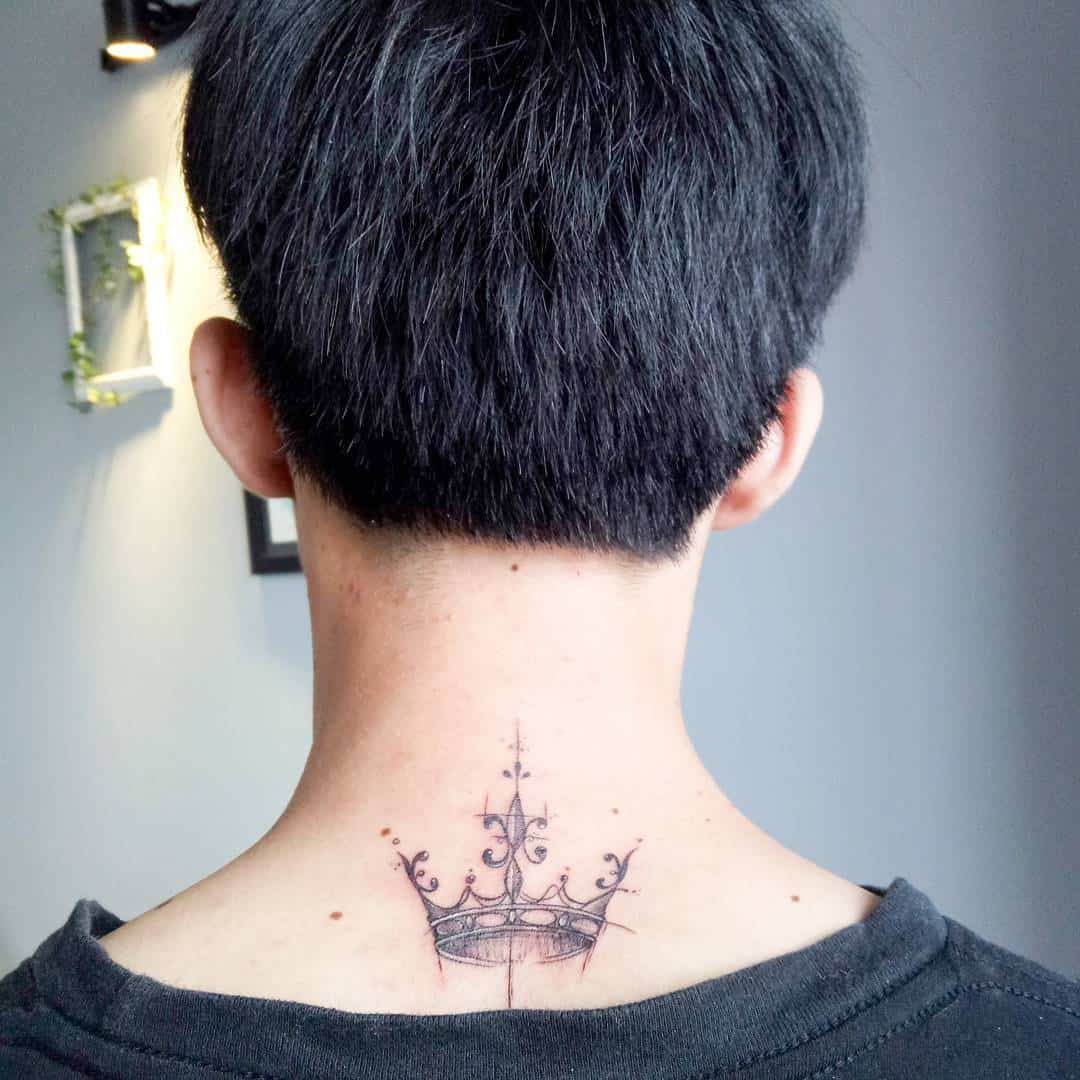 Some 15 years ago, the back of the neck was reserved for paws tattoos. Nowadays, however, we have so many different designs that are perfect for that area. The crown is just one of them. If you cannot wear it on the head, wear it to the closest next thing. And  that is the neck.
4. Lion King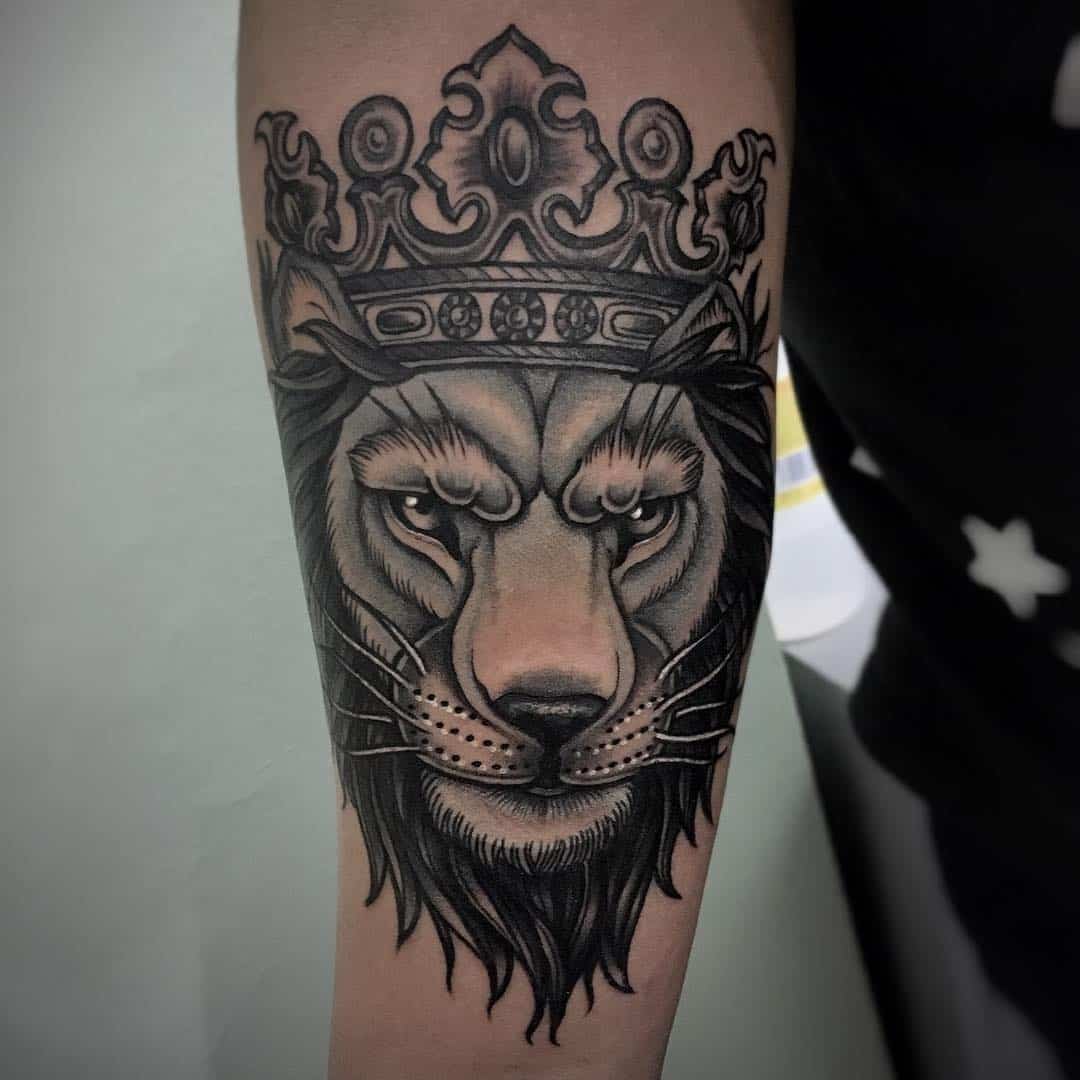 Lion King is one of the most popular, and a favorite of mine Disney cartoons. Lion King taught us so many life lessons. It is not just about the crown, it is about the message Lion King sends. For example, you learn about the circle of life. You also learn that some people are just evil. You should stick with your childhood dreams, and of course, who can dismiss Hakuna Matata as a powerful phrase.
5. Crown On Hand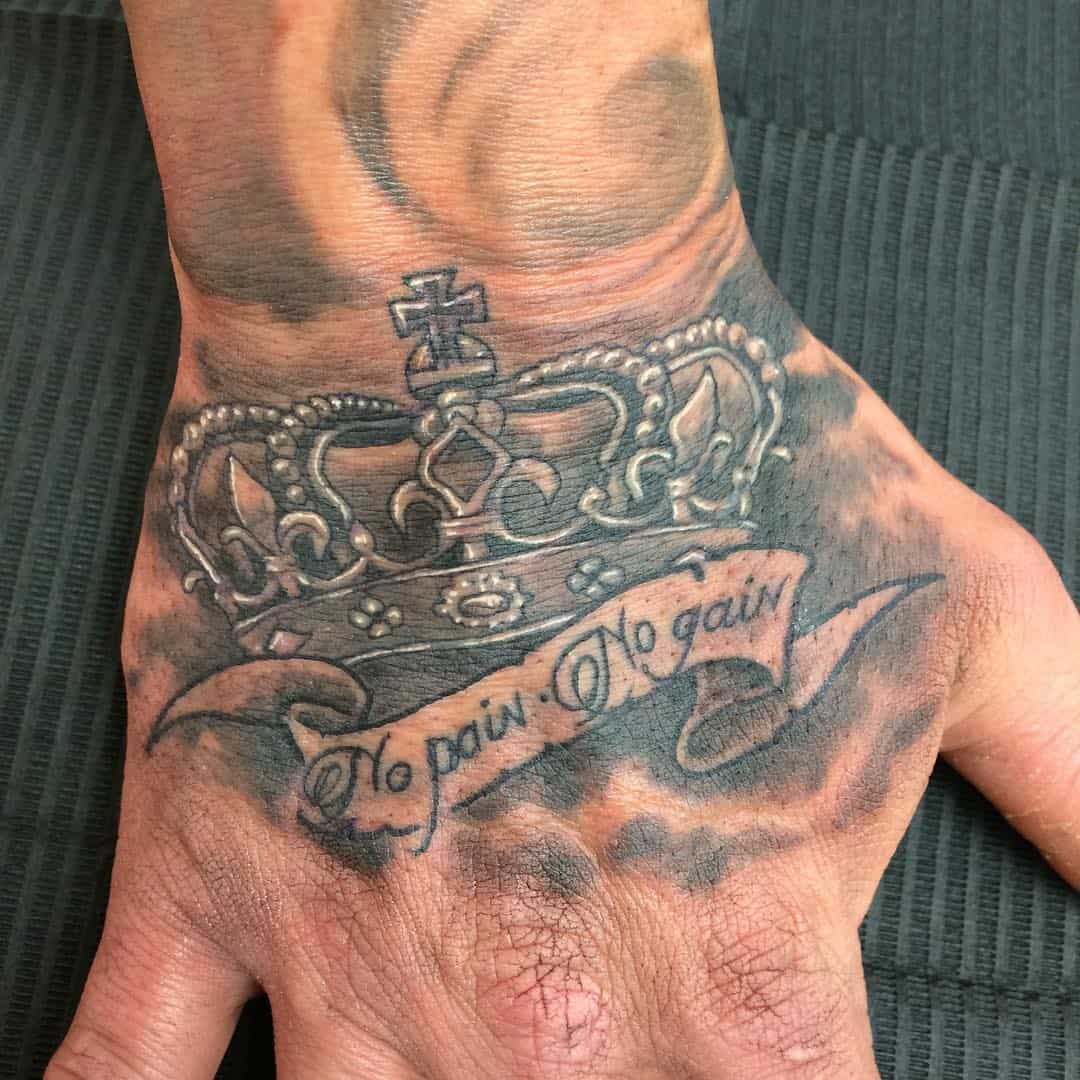 This one is more of a fitness motivation to be honest. No pain no gain is one of the most popular fitness motivational quotes. But it applies for everything else in life as well. If you do not work hard, you won't succeed. Do you need any more motivation than that?
6. Wooden Crown With Flowers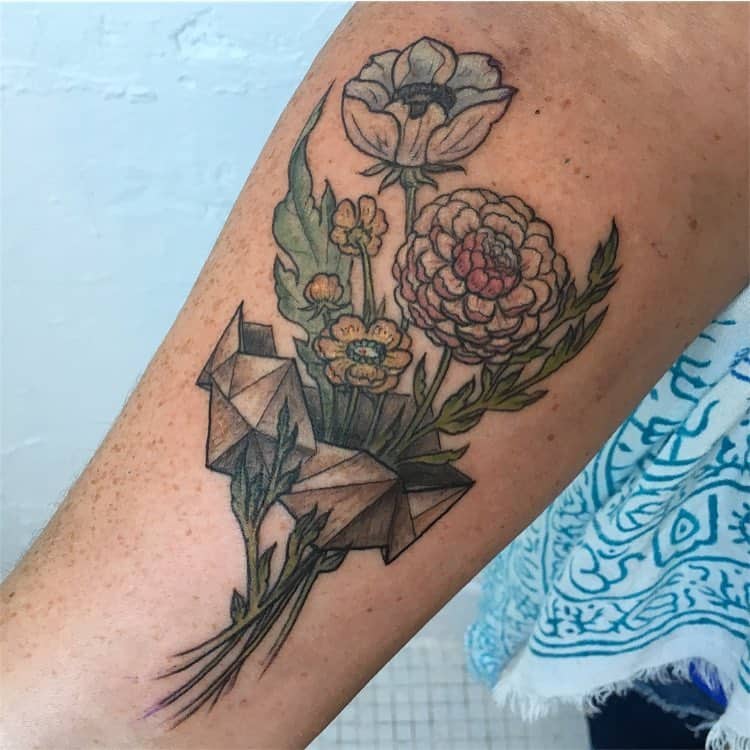 We go back to medieval times for a moment for inspiration. That is the time when crowns were made of wood. But no matter if the crown is made of wood or metal, or even gold, it is still a crown. That is all that matters.
7. Tiny Crown On Finger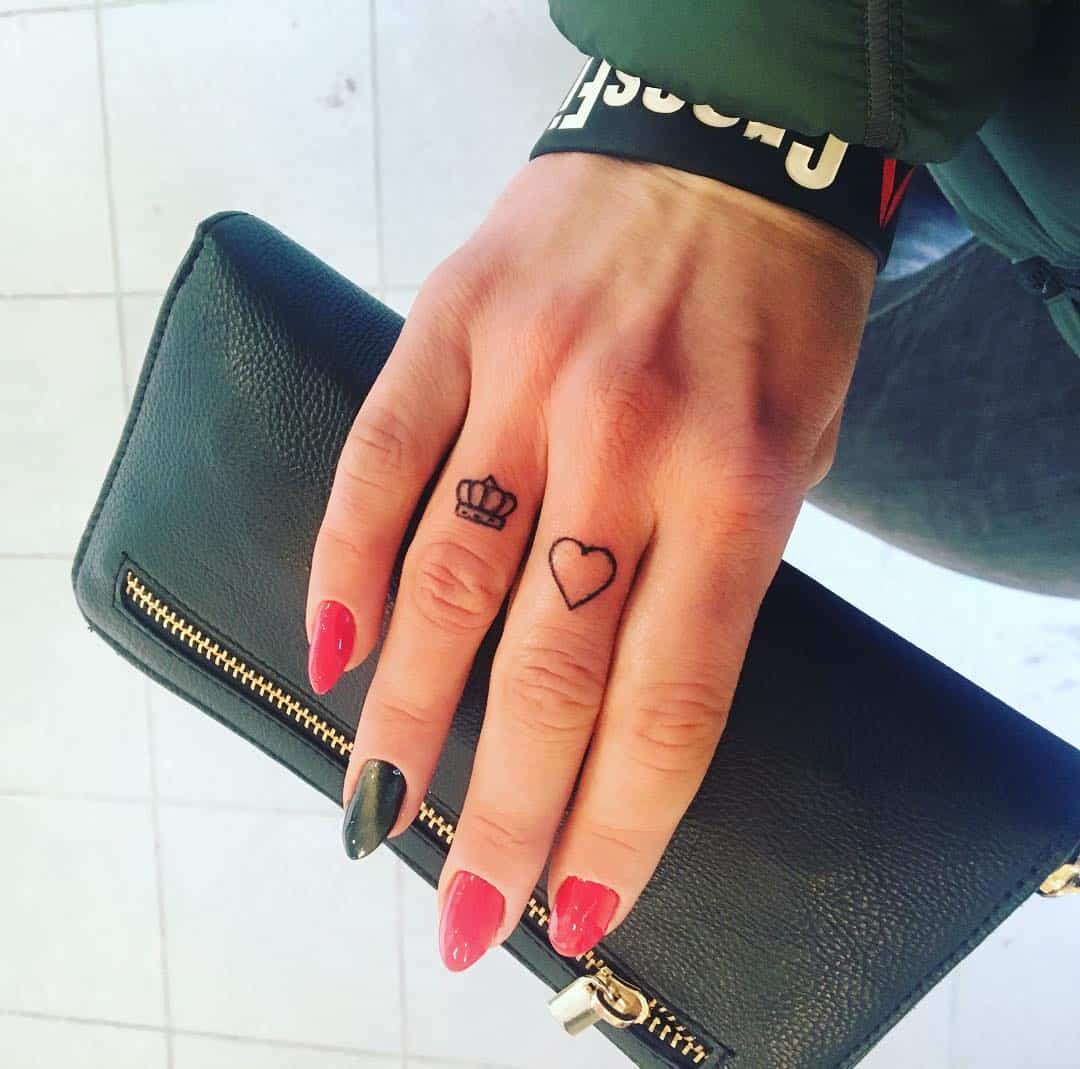 Few years ago, finger tattoos became the next best thing. And I love it. The best part about a finger tattoo is that rarely someone will notice it. And even if they do, it is not seen as offensive as a large tattoo on your entire arm. I have nothing against tattoos, but I know there are people that do not like them.
8. Black And Gray Half Sleeve Crown Tattoo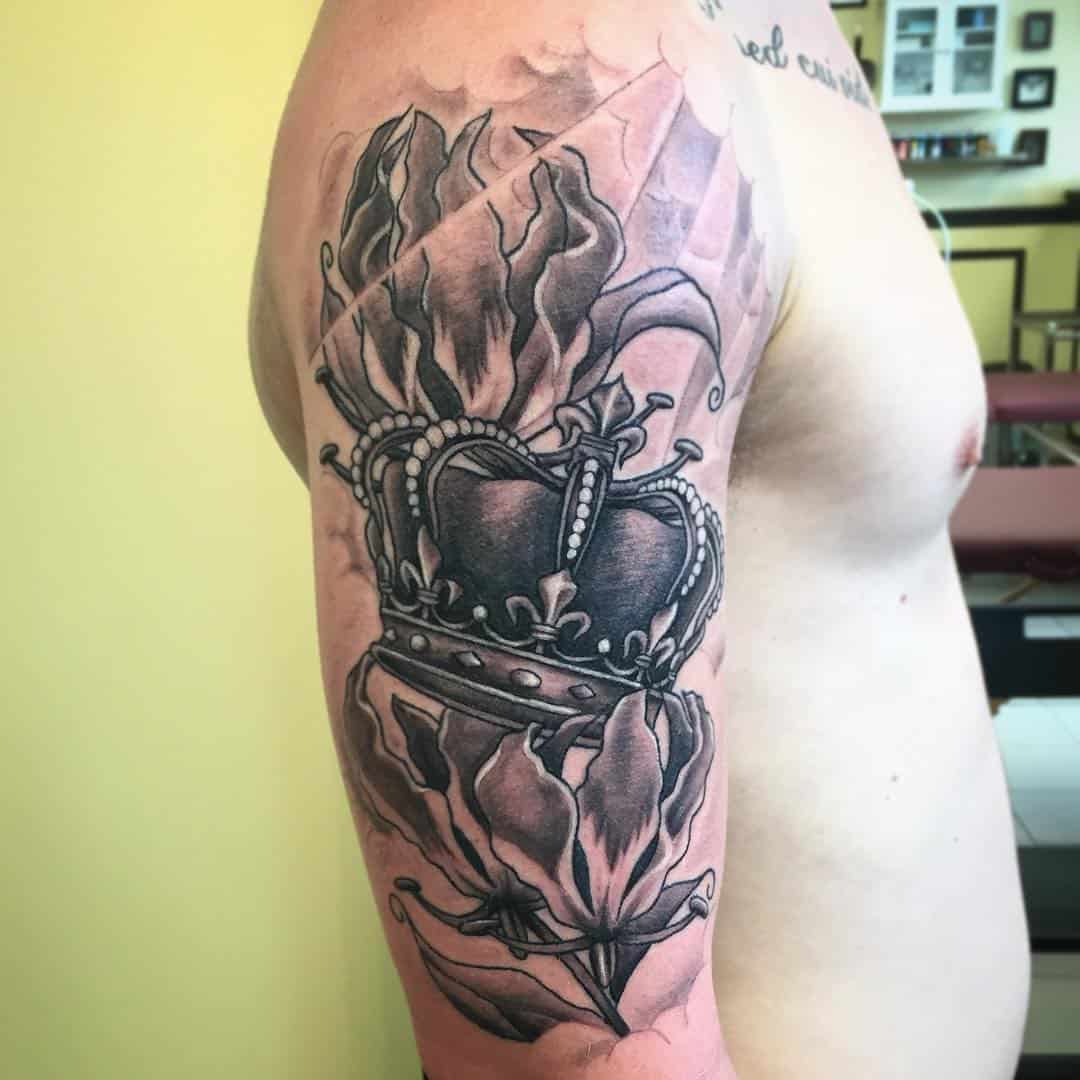 Speaking of large tattoos, here we have one that occupies half of your arm. And it looks absolutely stunning. This is more of a modern crown. But the artistic look, the attention to details, and the lines, it is just perfect. You can even say the crown looks scary, and you won't be wrong.
9. Queen's Crown In Pink Flame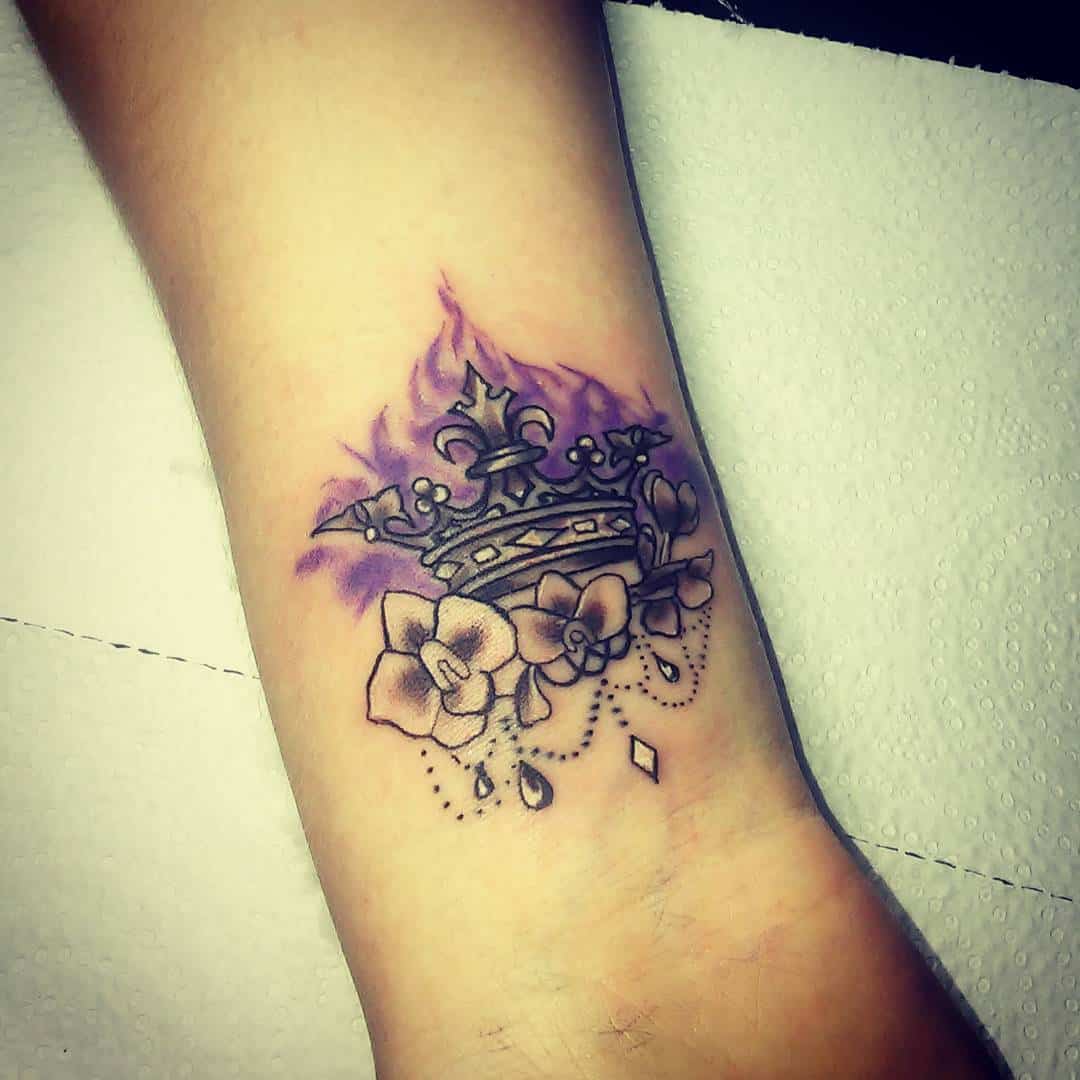 Kings and Queens are forged in fire. Or in troubles to be fair. That is the symbolism behind this tattoo. And even though pink is associated as a girly color, it works as a flame here.
10. Black And White Crown With Gray Rose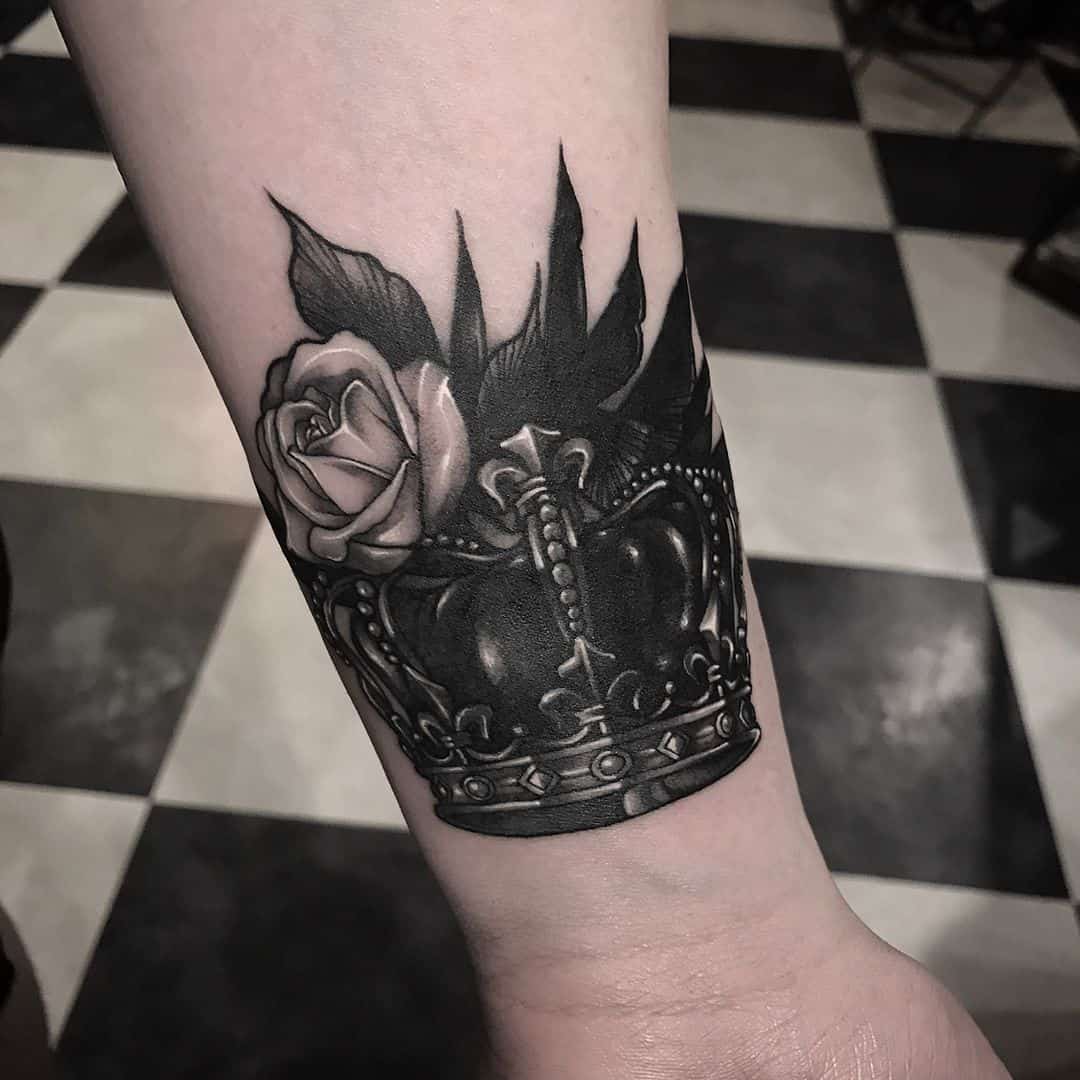 A crown that looks a lot like the ones from the glory days of Great Britain. But most importantly, the crown here brings an element of fear, power, and respect. Often, the tattoo is a representation of a person's character.
11. Winged Crown On Back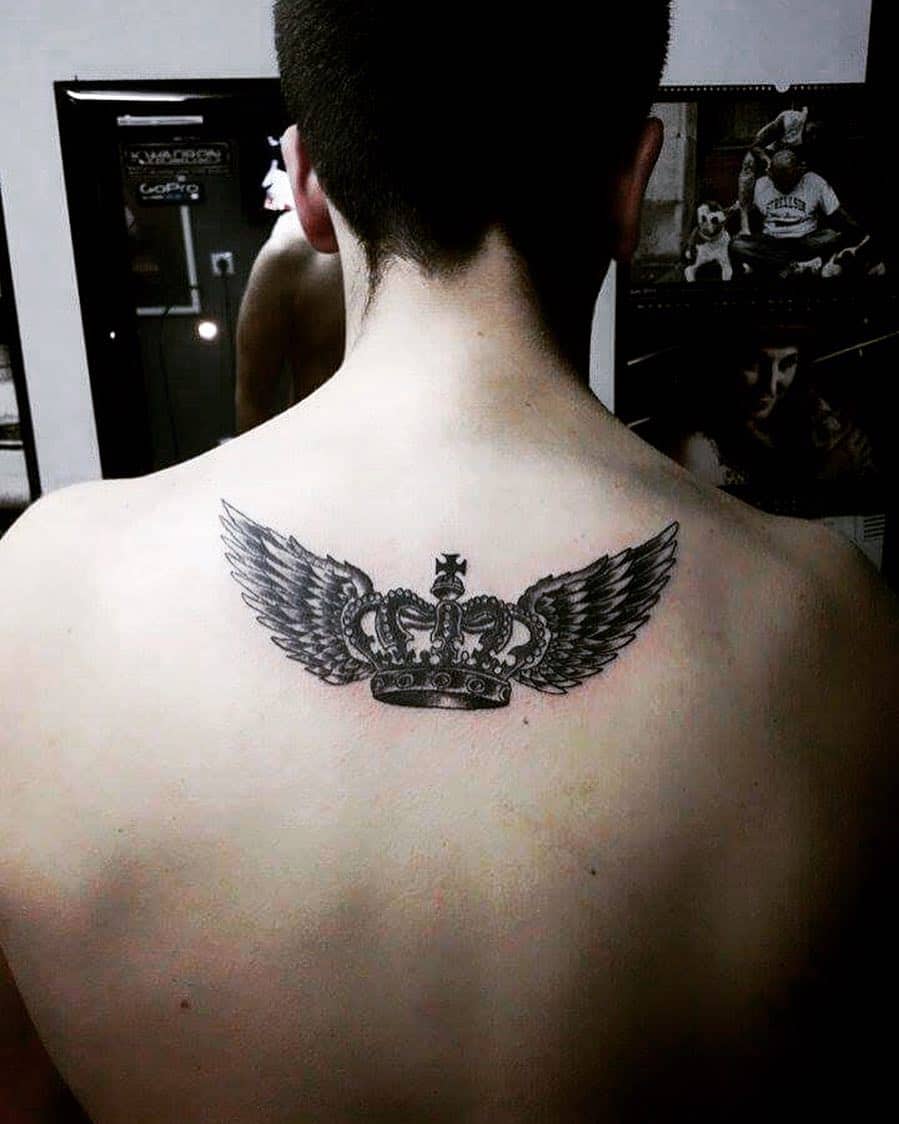 We've quite a lot winged tattoos on back over the years. Wings are probably one of the more common ideas for a back tattoo. And they work great with other elements. Wings and crown pairing is a great one. Especially when you consider wings are symbol of freedom, and crown symbol of dominance.
12." I Am Queen" Tattoo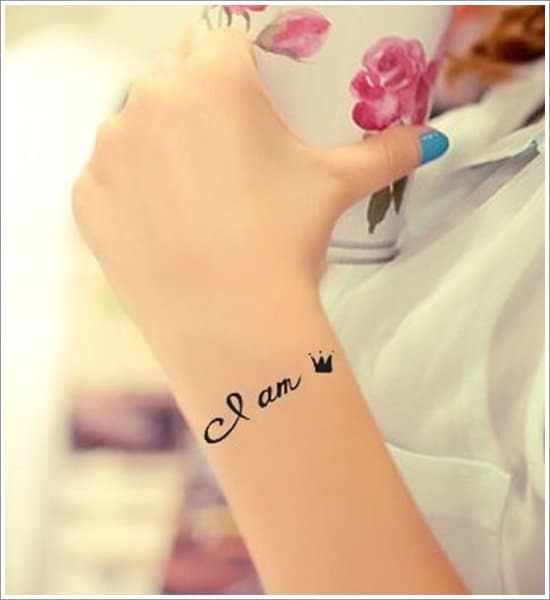 I've talked about tattoos with just words written several times. They've become popular as people are looking new and innovative ways to spread their message. Now, on first glance, words written on your arm might not look creative. But that is just wrong.
13. Soccer King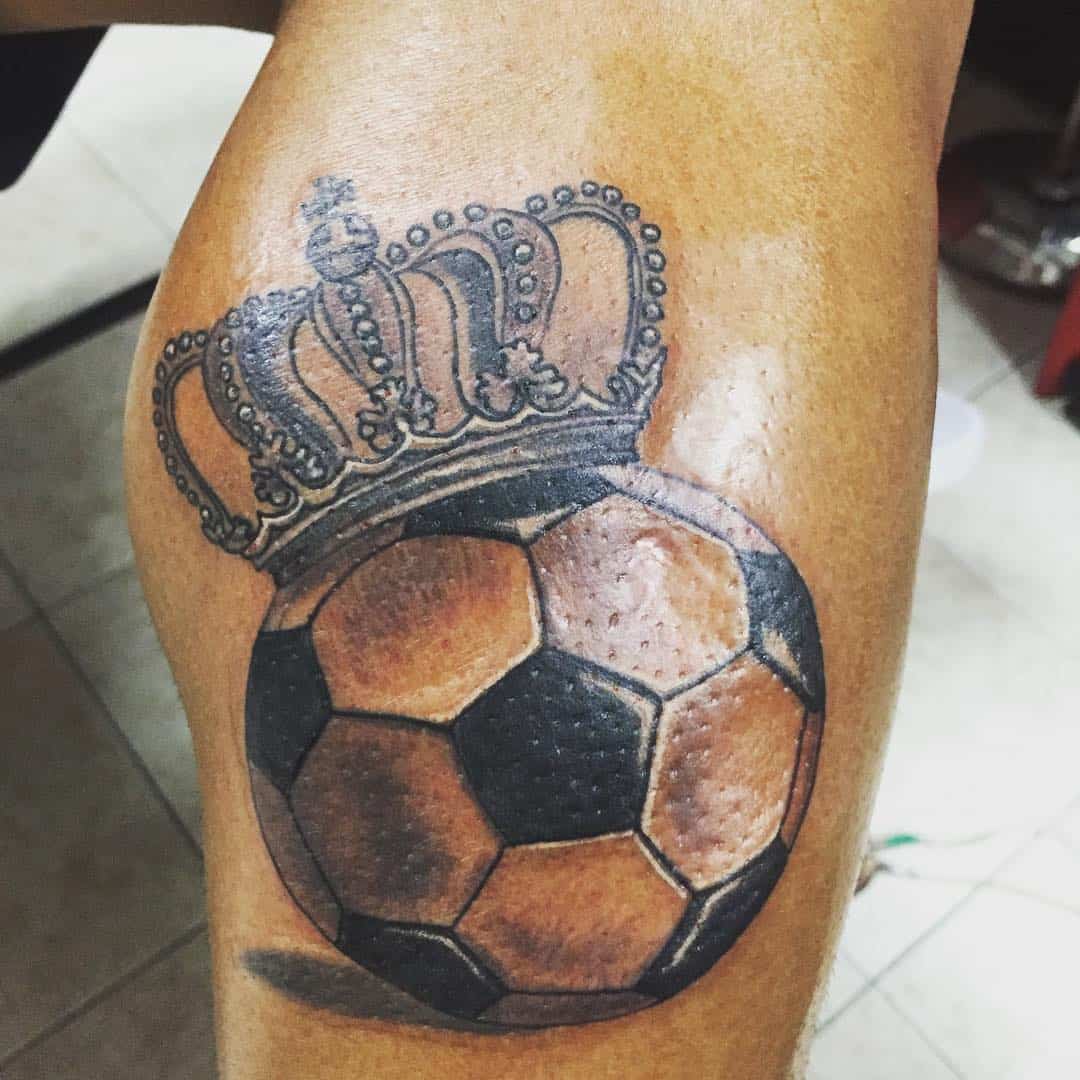 A crown is not always symbol of royalty. Sometimes, a crown means you are the best in something. If that is soccer, why not? In any case, you must applaud the creativity here. And just look at that soccer ball. So many details, even the stitches look real.
14. Crown With Geometric Design On Bicep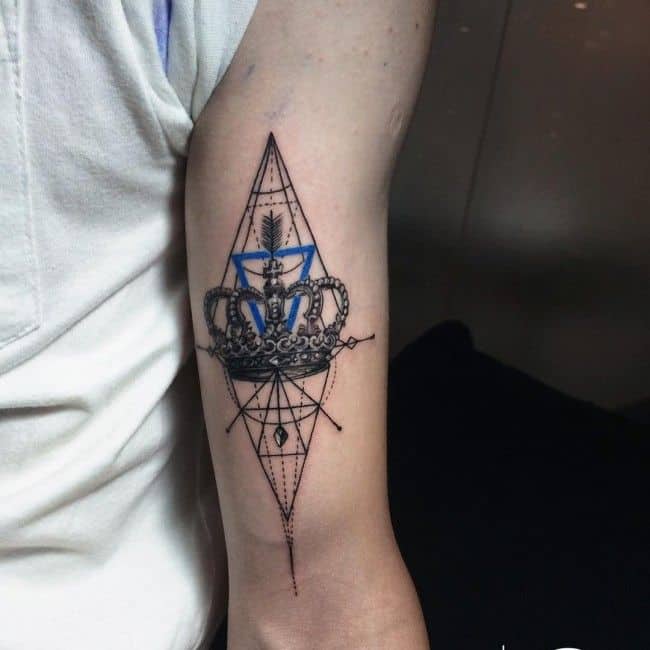 Geometry is a popular trend lately. Be it fashion, interior design, or even tattoo art, geometry has become a popular technique. Geometric patterns add instant visual interest, the applications you can use are endless, and even just a little goes a long way.
15. Crown On Earlobe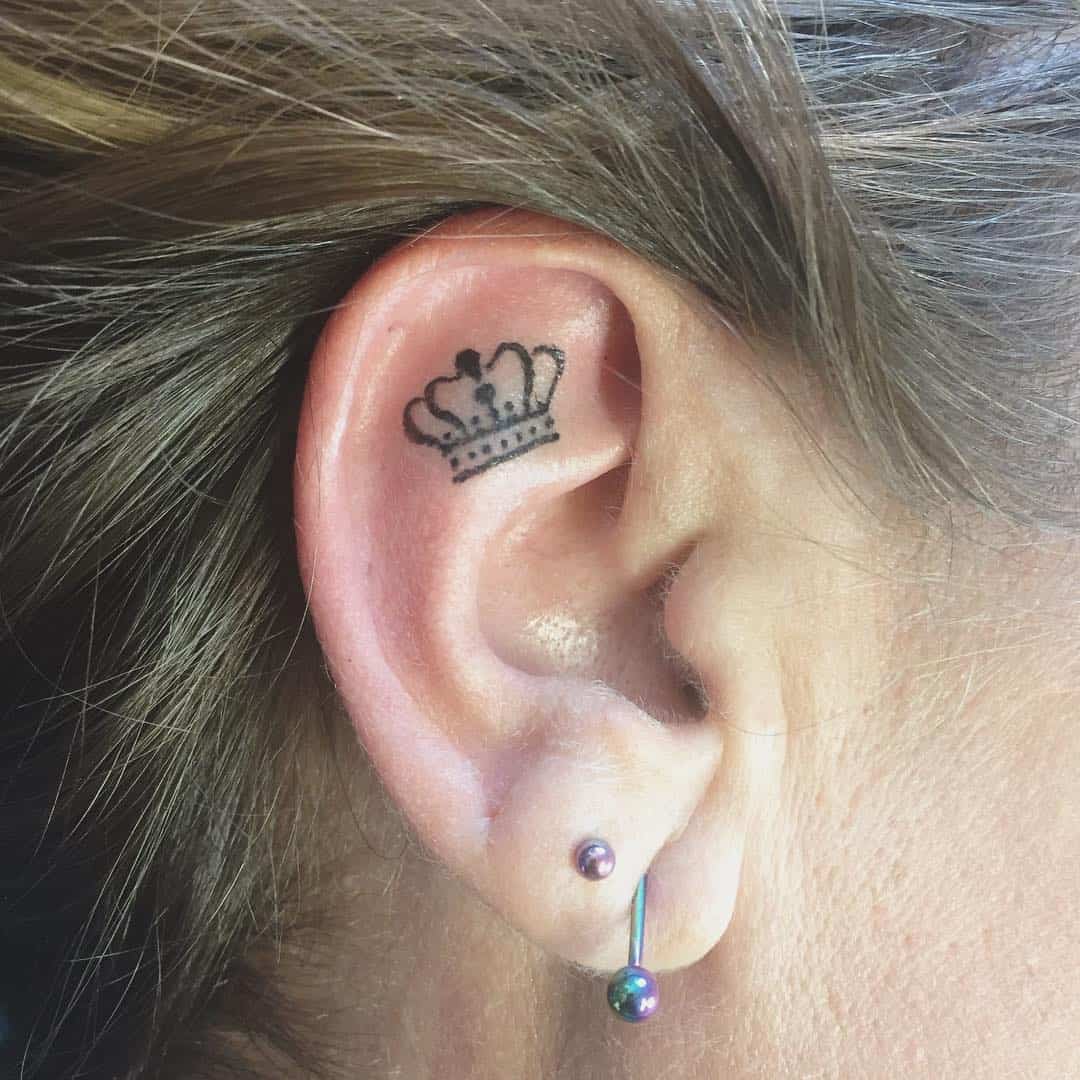 Another area of your body that is becoming increasingly popular. The earlobe tattoo has become more popular than an earlobe piercing. I can understand, a piercing is more painful. At least that is what I have been told.
16. Watercolor Tiara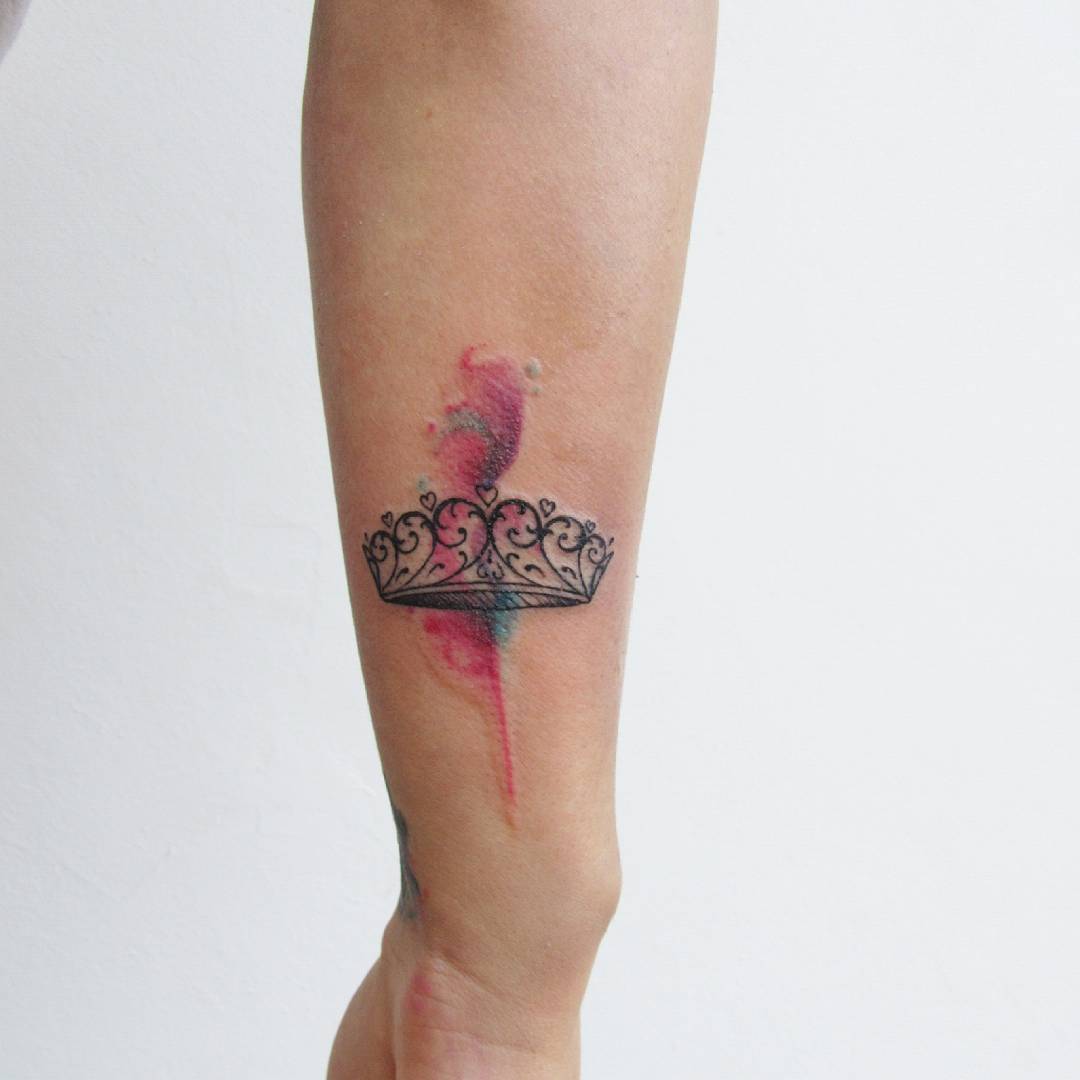 For many people, a black and white tattoo is more than enough. But there are always people that want more colors in their life. And in that spirit, I give you the watercolor tiara. Most of the colors of the rainbow make their way to this tattoo.
17. A Crown For Mom And Dad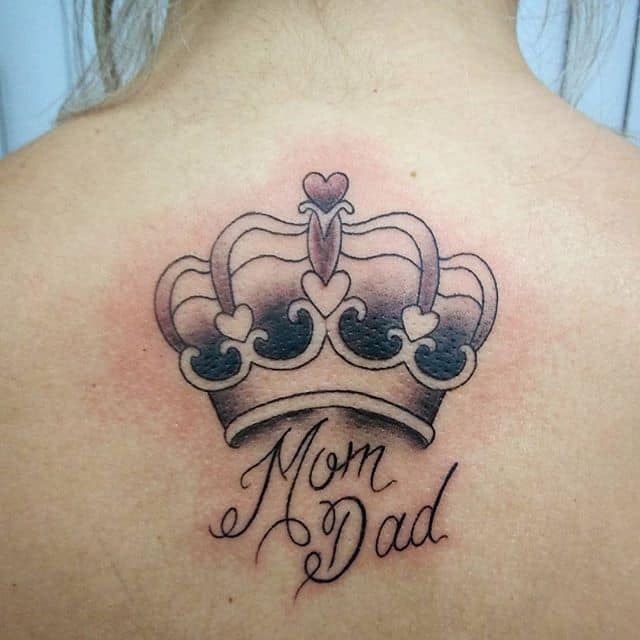 We all love our parents. We appreciate them. And we certainly are grateful for the gift of life they gave us. Now, I know some people are in bad terms with their parents. But speaking of appreciation, there are so many ways you can honor your parents. Some people go for dates, some for names, and some go for a crown that is dedicated to  his/hers parents.
18. Mirrored Dutch Crowns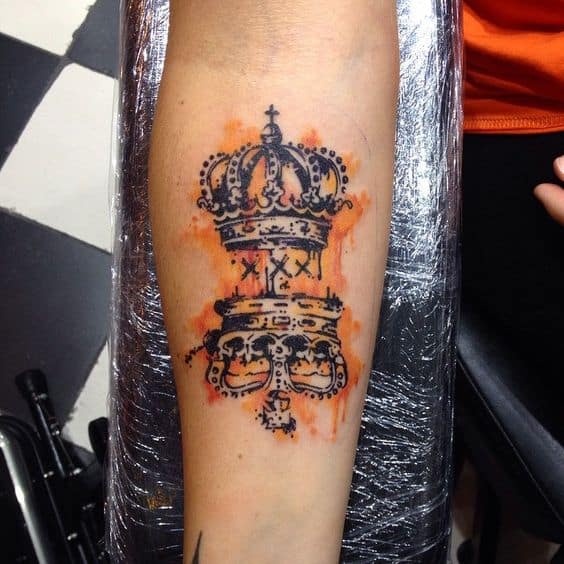 If one crown is not enough for you, go for two. In most cases in life, two is better than one. And I must say, symmetry makes  everything better. Although asymmetric is a huge trend lately, symmetry will always be in fashion.
19. Matching Crowns For Couples On Back Of Arm
Most of the matching couples celebrate love. They sometimes dates, sometimes they are a pattern, and sometimes they are a mosaic that requires both hands to be close one to another. In this case, however, we have a queen and a king.
20. Princess Crown On Forearm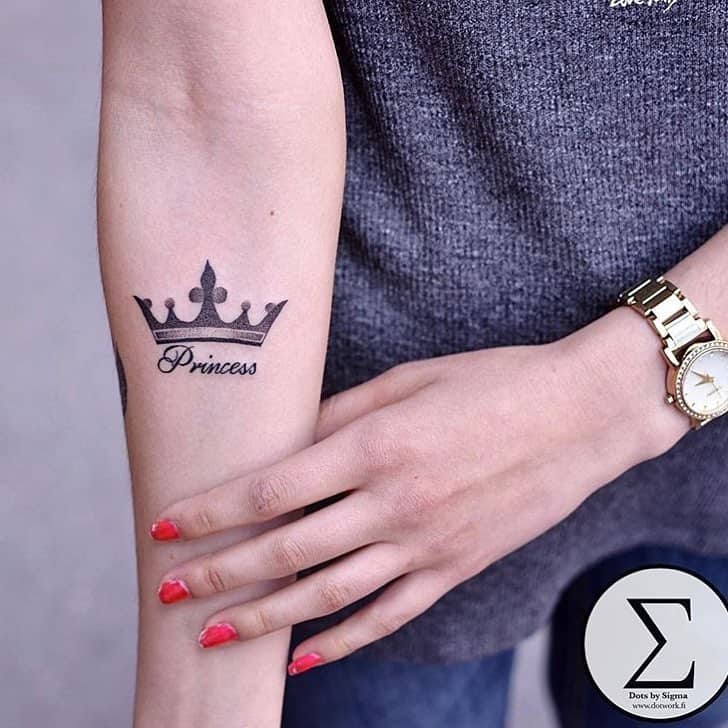 The good news is that if you want to cover your tattoo, you can easily do in this case. Long sleeves will make sure of that. But why cover who you are? If you think of yourself as a princess, absolutely go for it.
21. Crowned Skull With Red Roses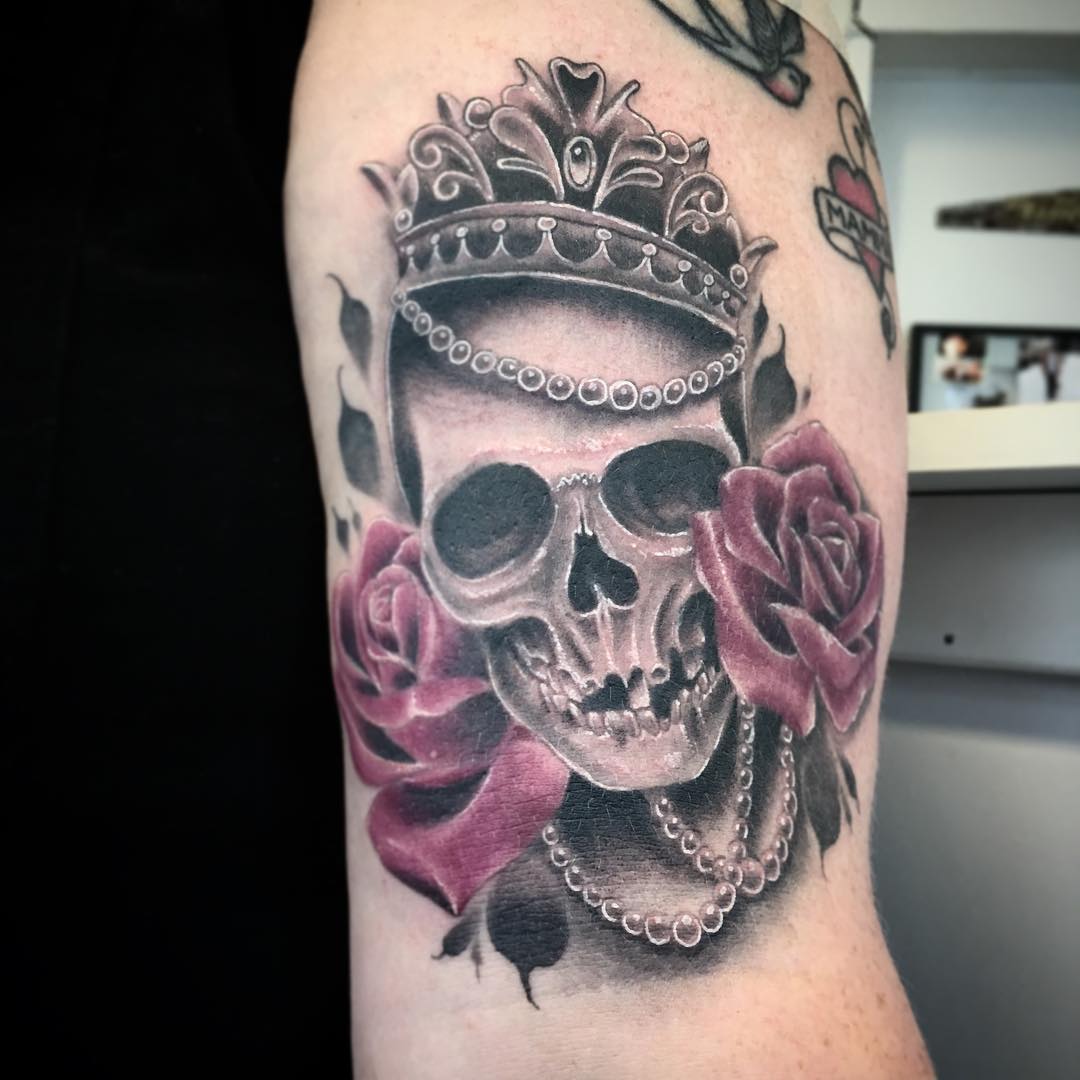 One thing that will never go out of fashion, at least when tattoos are concerned is skulls. And roses as well. Skull and roses have been around for so many years, and they look like they are here to stay. You can include skull and roses in everything, even in a crown. Who would've thought of that?
22. Flash Art Black And White Crown Tattoo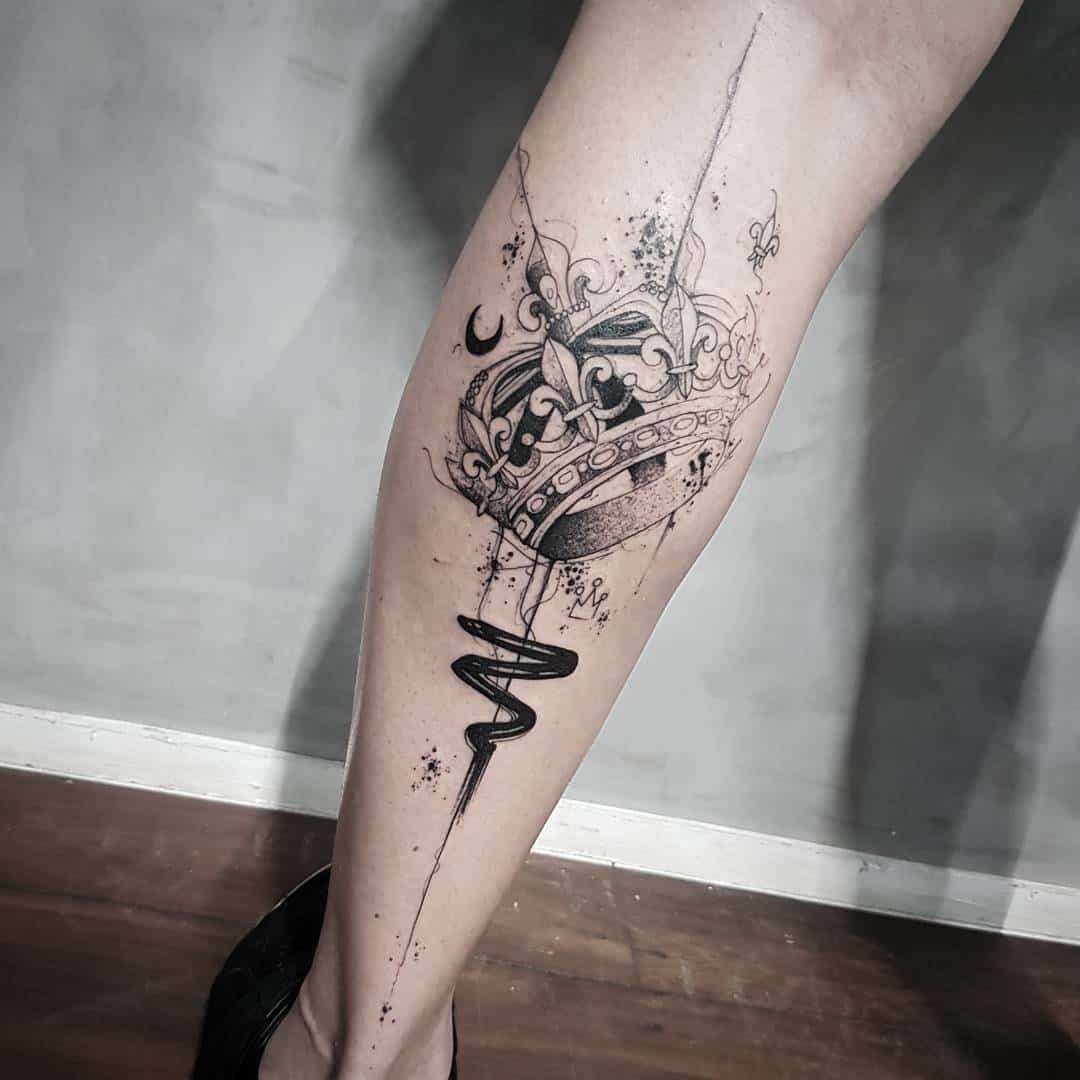 I know many artistic and creative people. Many of my friends are extremely artistic. And I know that for them, a simple and clear line is not enough. They want something more. They want a flow, a story within the object. Which is what we have here.
23. Watercolor Crown On Forearm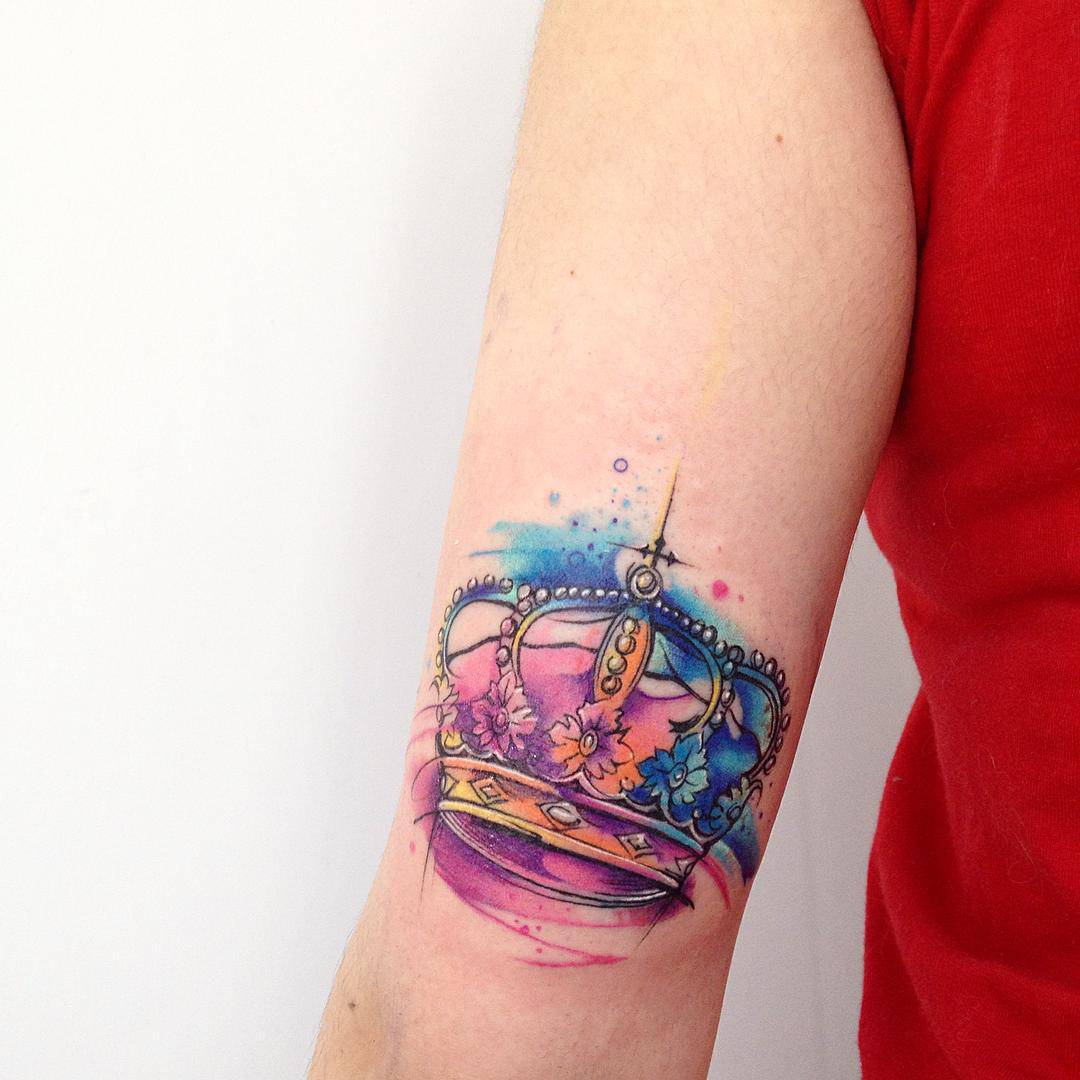 We had a watercolor crown tattoo before. And that one had a flow like a vein. In this case, we have colors all around the crown.
24. Regal Crown Over Red Rose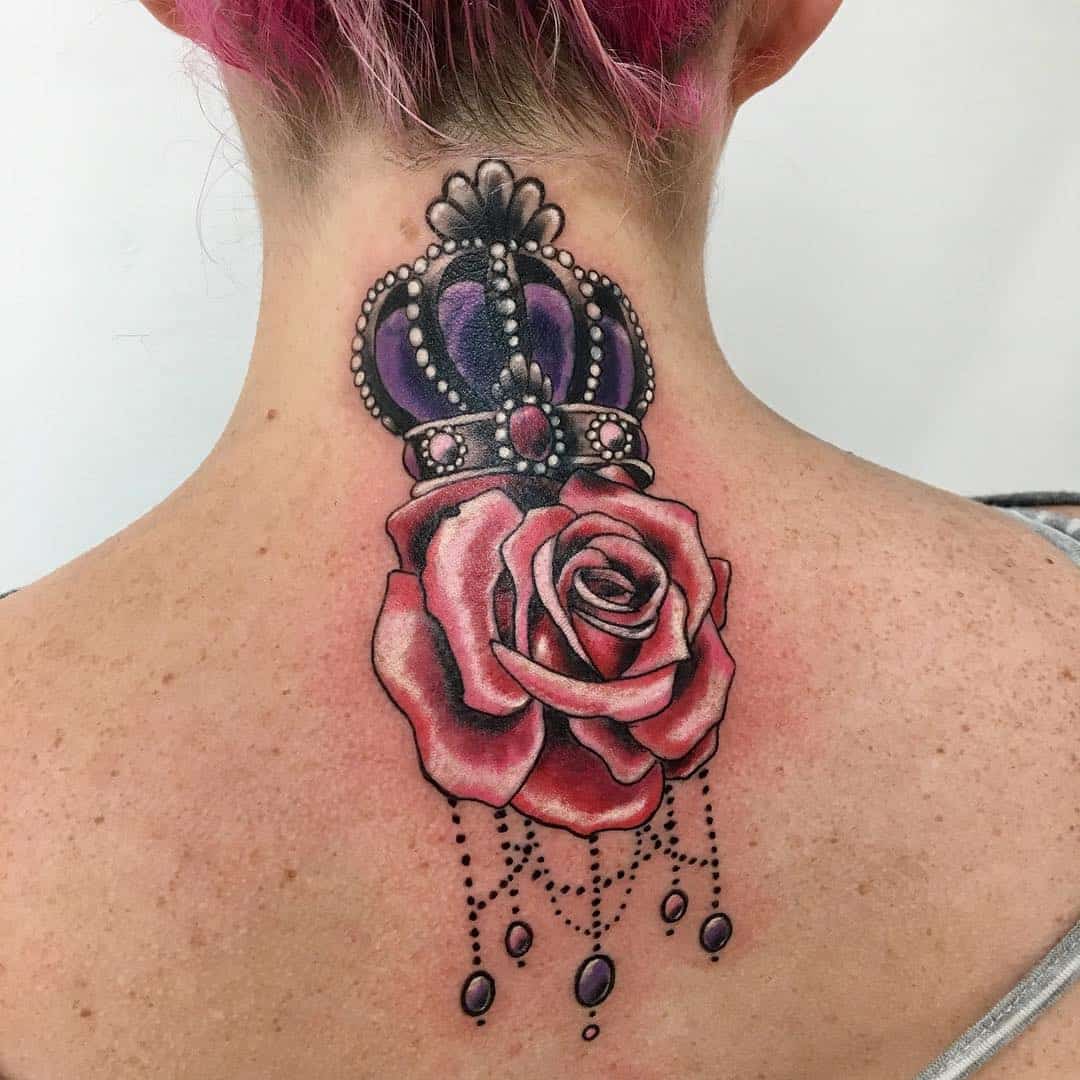 I said that roses are timeless when ti comes to tattoo art. What I love here is that the tattoo actually looks like a dream catcher. And few people will notice it straight up.
25. Crown Behind The Ear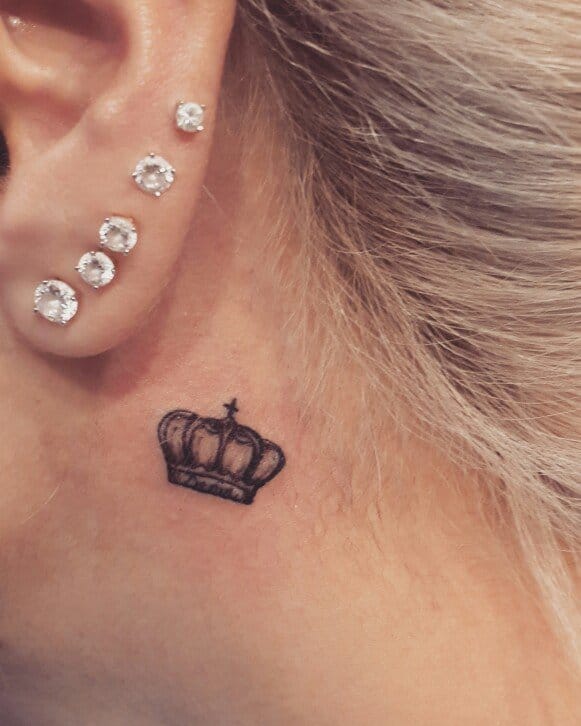 We had a crown on the earlobe, and now we have one behind the ear. You can say Rihanna was one of the celebrities that started the behind the ear tattoo trend. It is a nice area where you can get a small tattoo without anyone seeing it.
26. Royal Crown On Forearm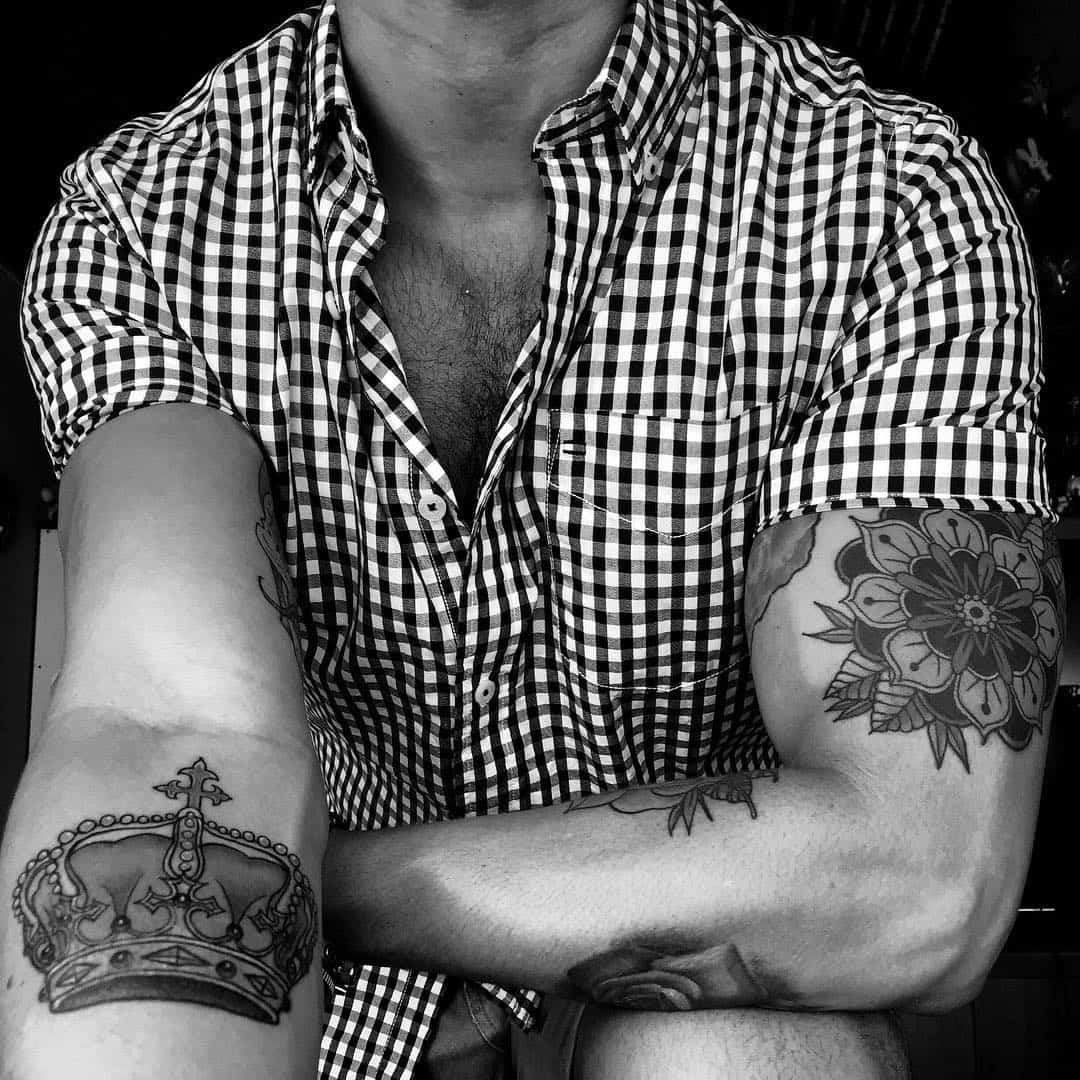 When it comes to royalty and crowns, you just have to have the real deal. And that is this crown. When you think of a crown, most people picture this design.
27. Couples Queen And King Tattoo On Forearm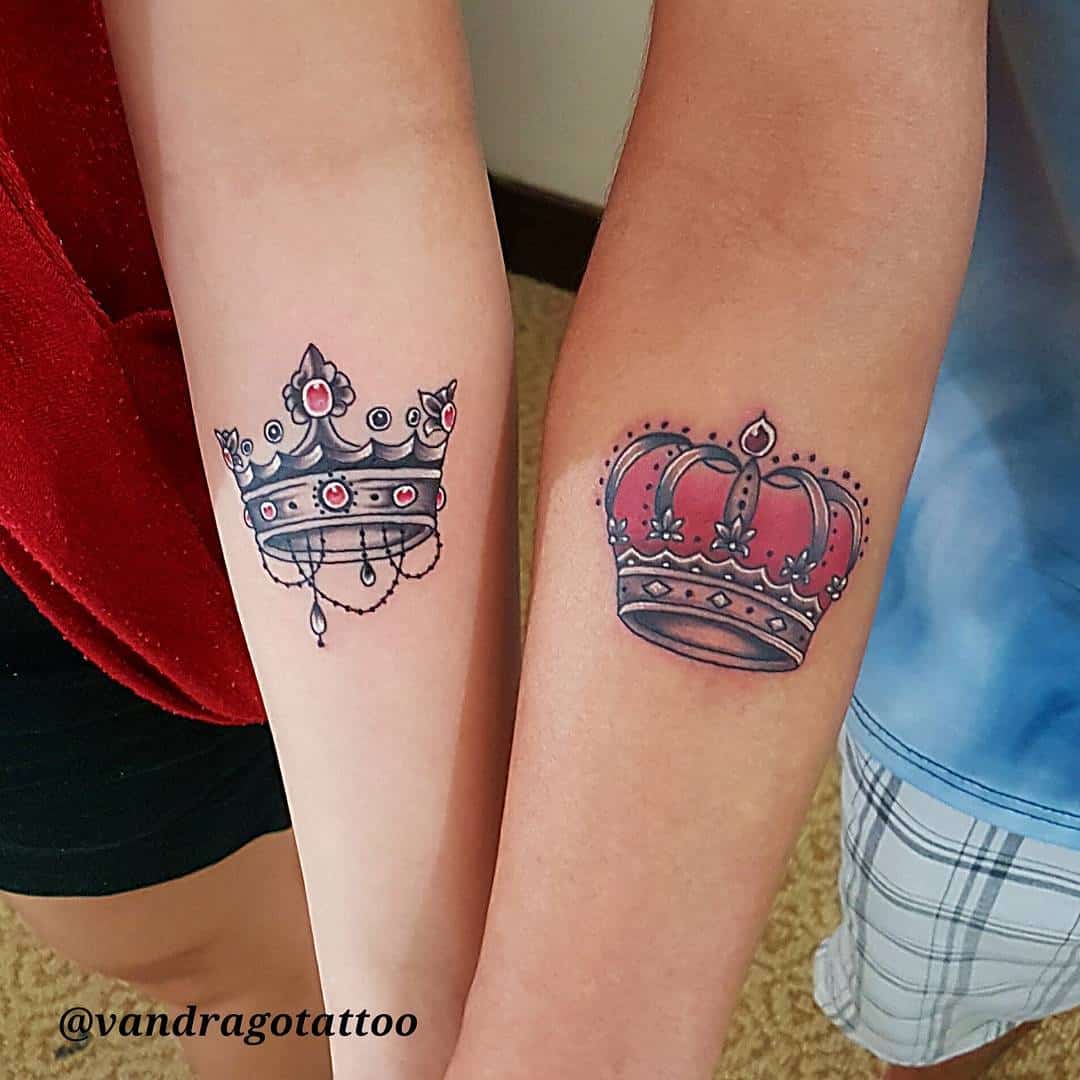 It is only fitting that we finish off with a couples tattoo. After all, Queens and Kings are equal. It would have been wrong to finish with just a queen or just a king tattoo. I hope you enjoyed it, and you found some inspiration along the way.