Shirley Bassey sang "Diamonds Are Forever," winking subtly at what men can do to show their love for a woman. And she was right: diamonds are indeed forever. Unless the woman suddenly decides to sell her diamonds for something better.
Nowadays, couples try to immortalize their love in a different way: ink. With the increasing popularity of tattoos, everyone is trying to get one. Tattoos are now part of the mainstream culture.
And with that, I would like to share some ideas for a couples tattoo.
1. Eternal Love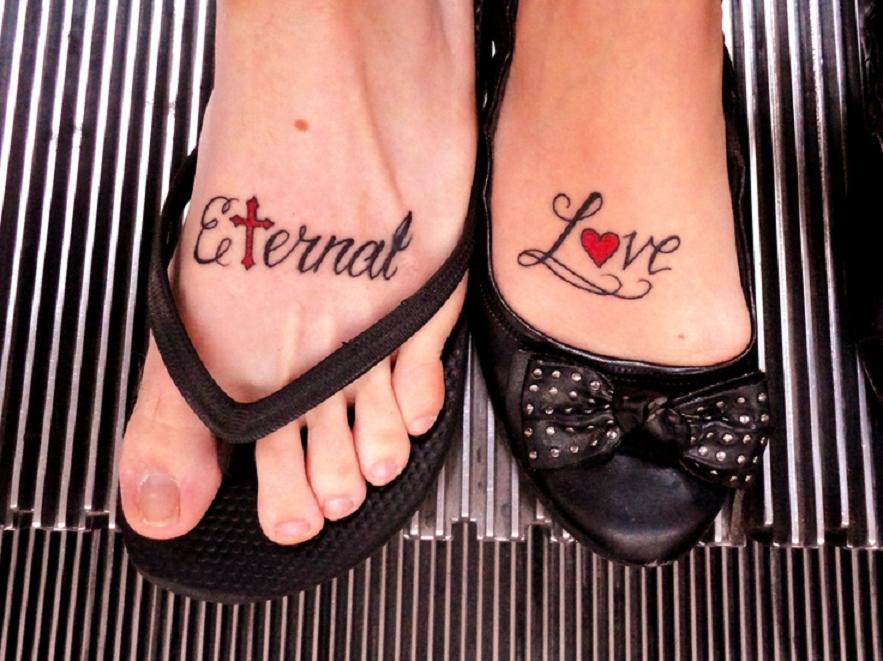 Simple and elegant, sometimes all you need is two words that tie everything together. I like the cross design of "T" in eternal, adding a bit of a religious touch to the tattoo. And the fun part is that not everyone will fully understand your tattoo, as you have to be together for the tattoo to be complete.
2. The King and Queen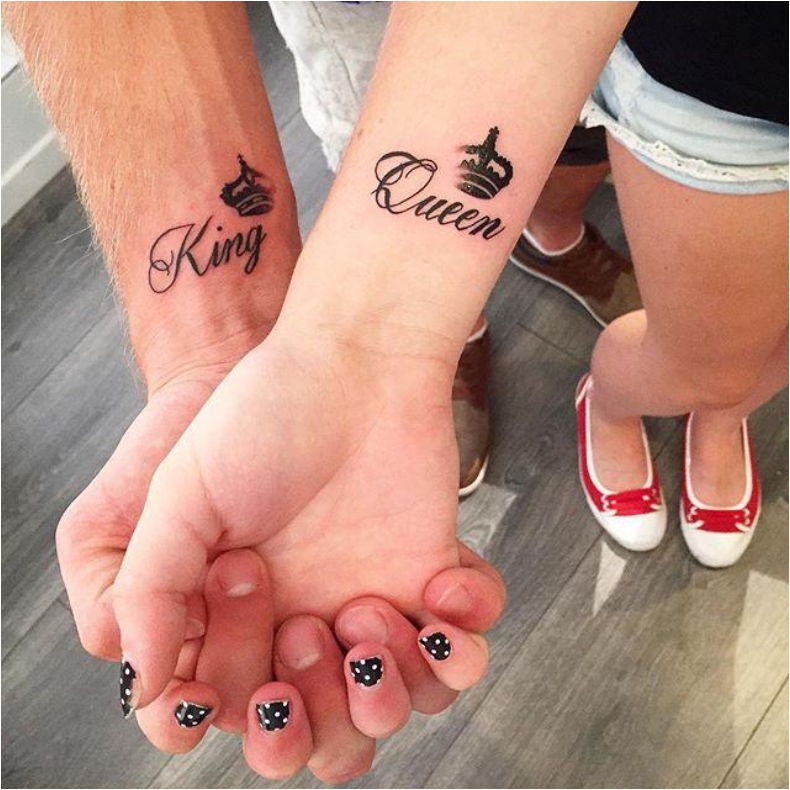 Gone are the days of medieval culture; we live in an era where there aren't many kings and queens. But that doesn't mean you still can't be one. If you view yourself as the King, and your female companion as your Queen, then absolutely go for it.
3. Compass and Anchor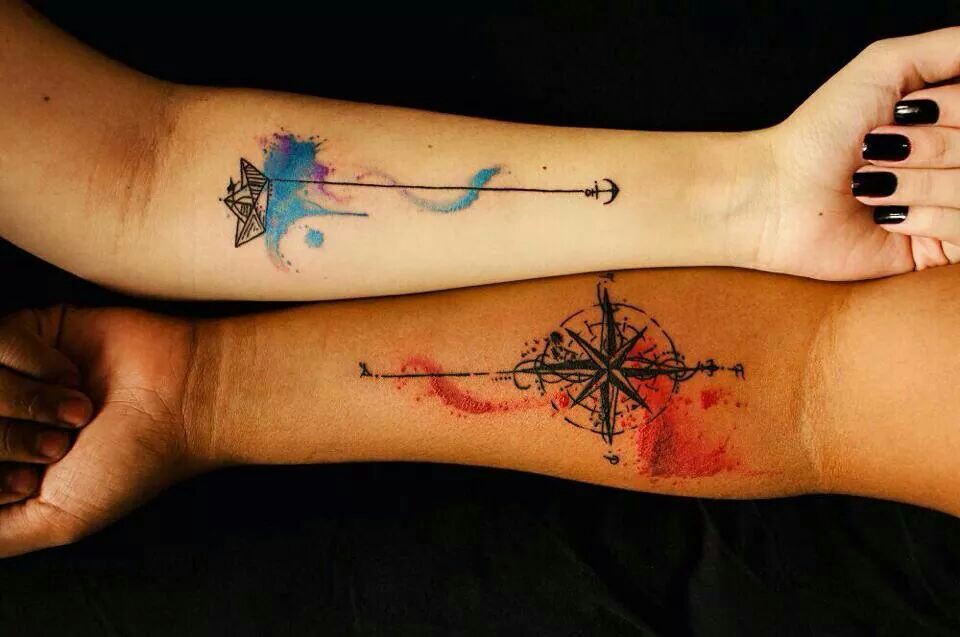 I love when a couples tattoo also works well individually. A compass and an anchor are each good tattoos on their own. They show the individuality of a person, but they also show how one is lost without his/her significant other.
4. Sun and Moon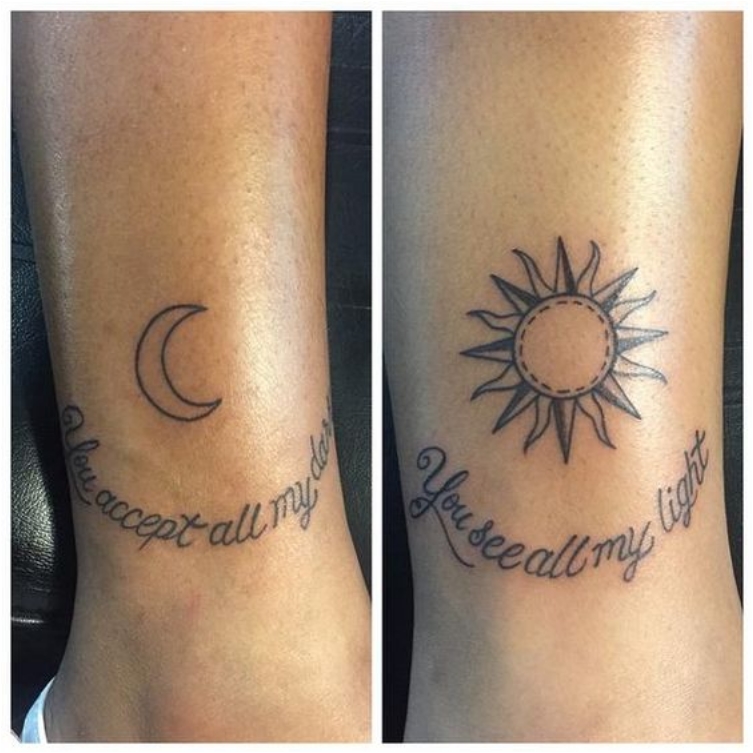 Khal Drogo and Khaleesi immortalized the sun and moon tattoo. And while this one isn't taken from their iconic love in Game of Thrones, it's still pretty close. The words even make the tattoo more romantic and personal.
5. Barcodes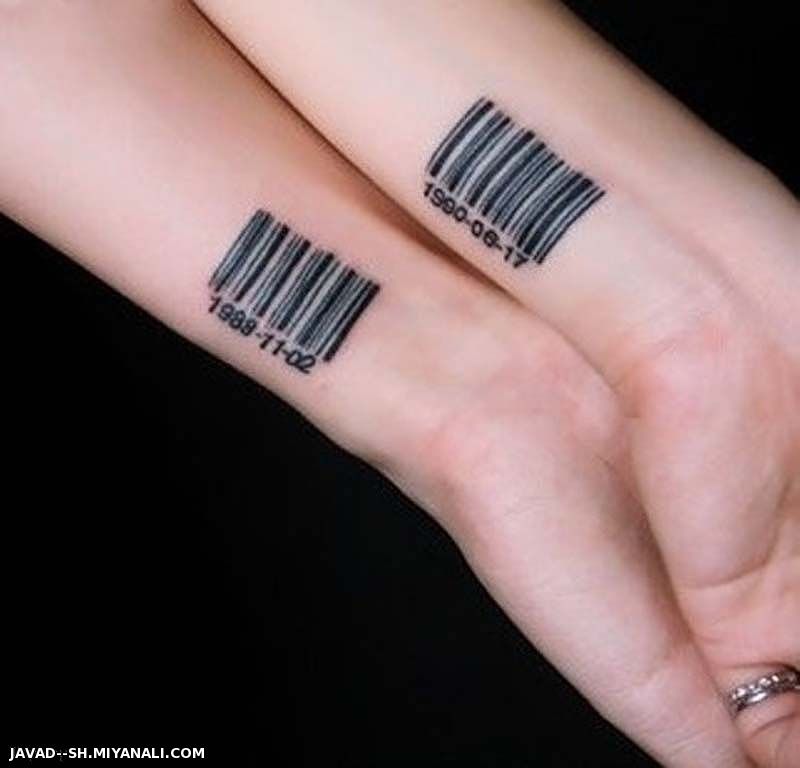 Personally, I'm not much into barcode tattoos—I find them boring and unimaginative. But there are people who love them, and since Rihanna has one, why shouldn't you? After all, she is a trendsetter.
6. Love Tattoo on Finger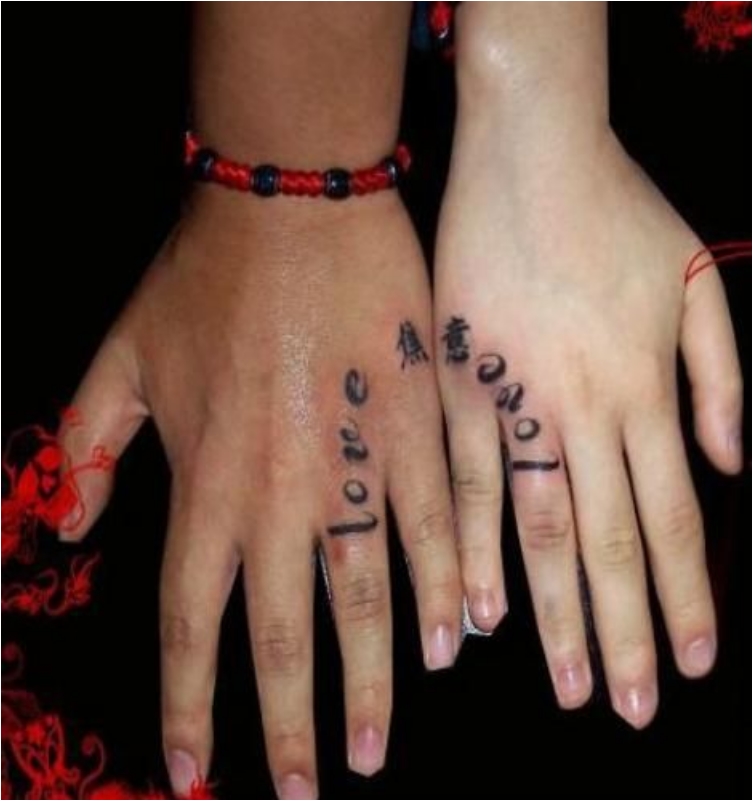 This one, on the other hand, looks awesome. Subtle, small, and just the right balance of cuteness and awesomeness. The symbol at the end adds a certain dose of flair to it.
7. The Missing Piece of the Heart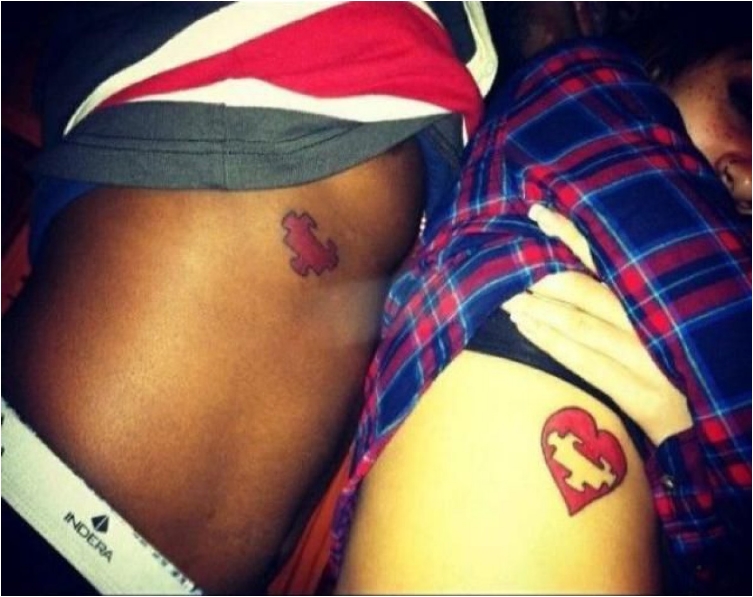 The good thing about this tattoo is that nobody will know what your ink means. For example, the missing piece looks like just a piece of a puzzle.
8. Roman Numerals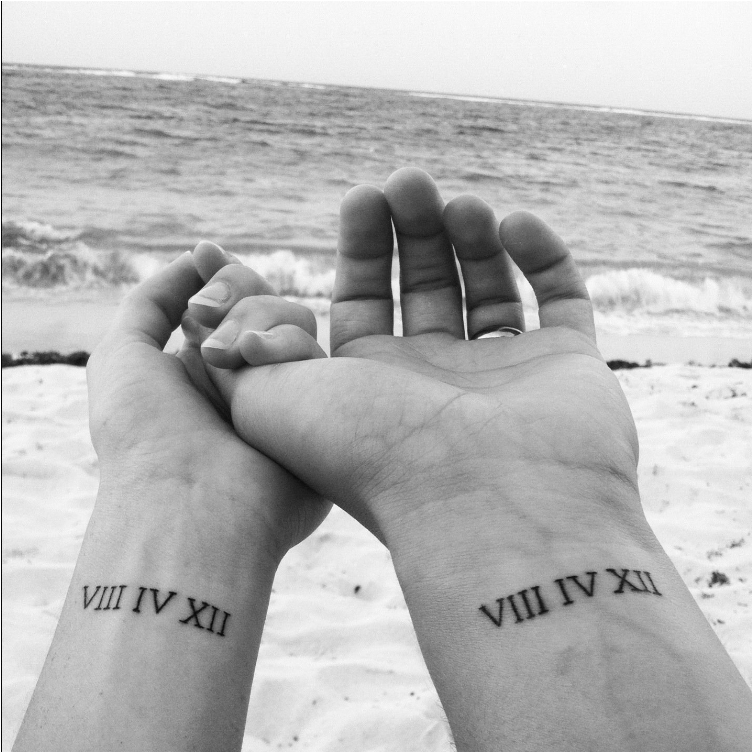 Roman numerals are one of the most versatile tattoos you can think of. You can go numbers that represent your anniversary, or the birthday of your significant other, or with some other date you like. There are a lot of options, and all you have to do is choose one.
9. Feathers
Feathers symbolize different characters, like courage, freedom, bravery, and so on (required for great love). And you can go deeper in the meaning of the tattoo, and see it as a black and white or as Yin and Yang, the two halves of one perfect whole.
10. Chemical Symbols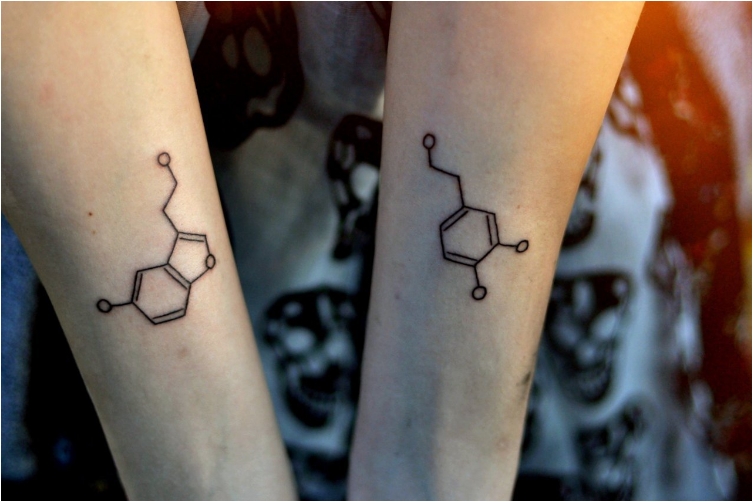 When you want something out of the ordinary, chemical symbols look good. And as with some other inks on the list, not everyone will understand it. You'll have to be good in chemistry to understand the meaning of the symbols.
11. The Red String of Fate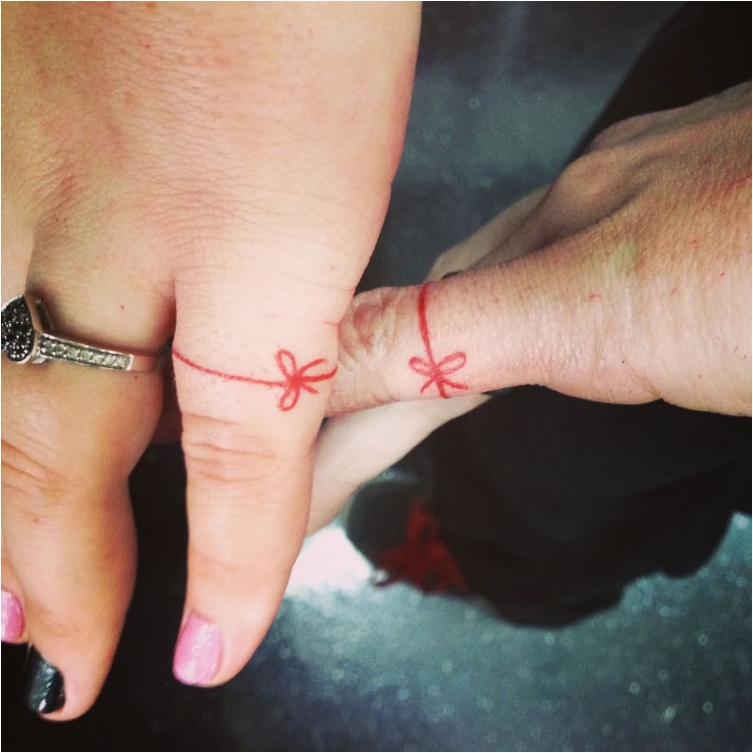 Going into Asian culture and tradition a bit now. The red string is a tale—a legend—in which two lovers were connected by red thread. They are believed to be destined lovers, no matter the time, place, or any circumstances for that matter.
12. Alfas of the Wolf Pack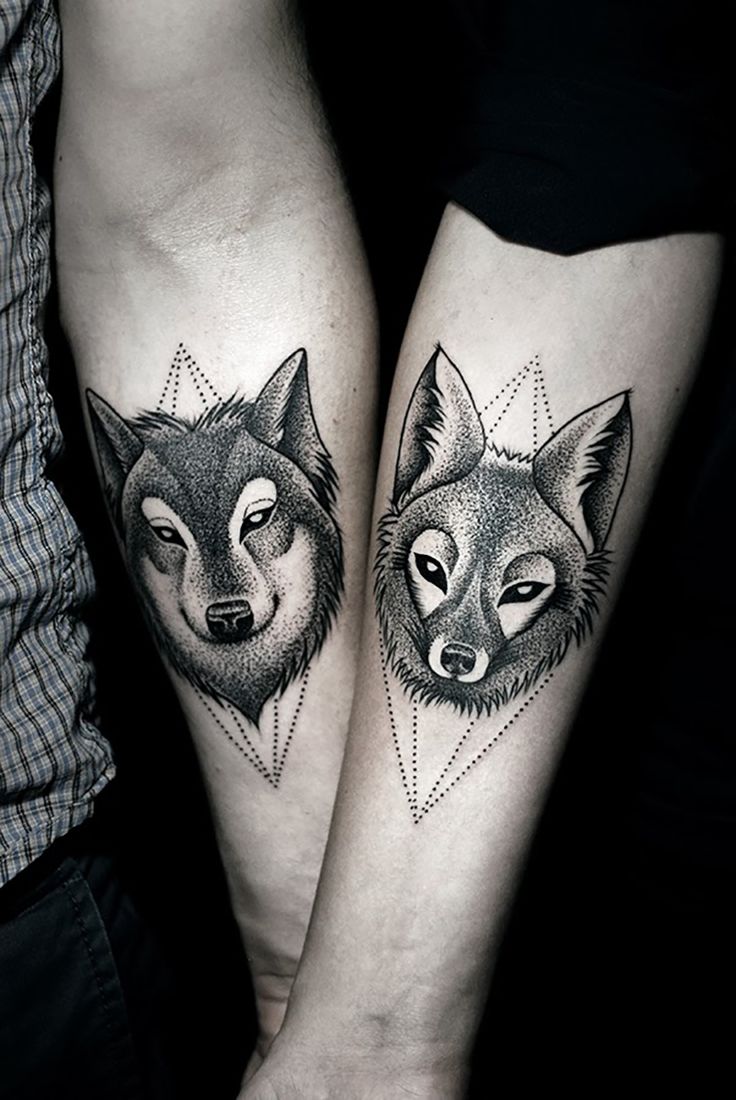 A wolf pack is a group of animals that live, feed, and travel together as a family group. And every pack has its female leader and its male leader. Therefore, the tattoo shows the love you have and the desire to start a family and stay together.
13. Two Halves of the Tree of Life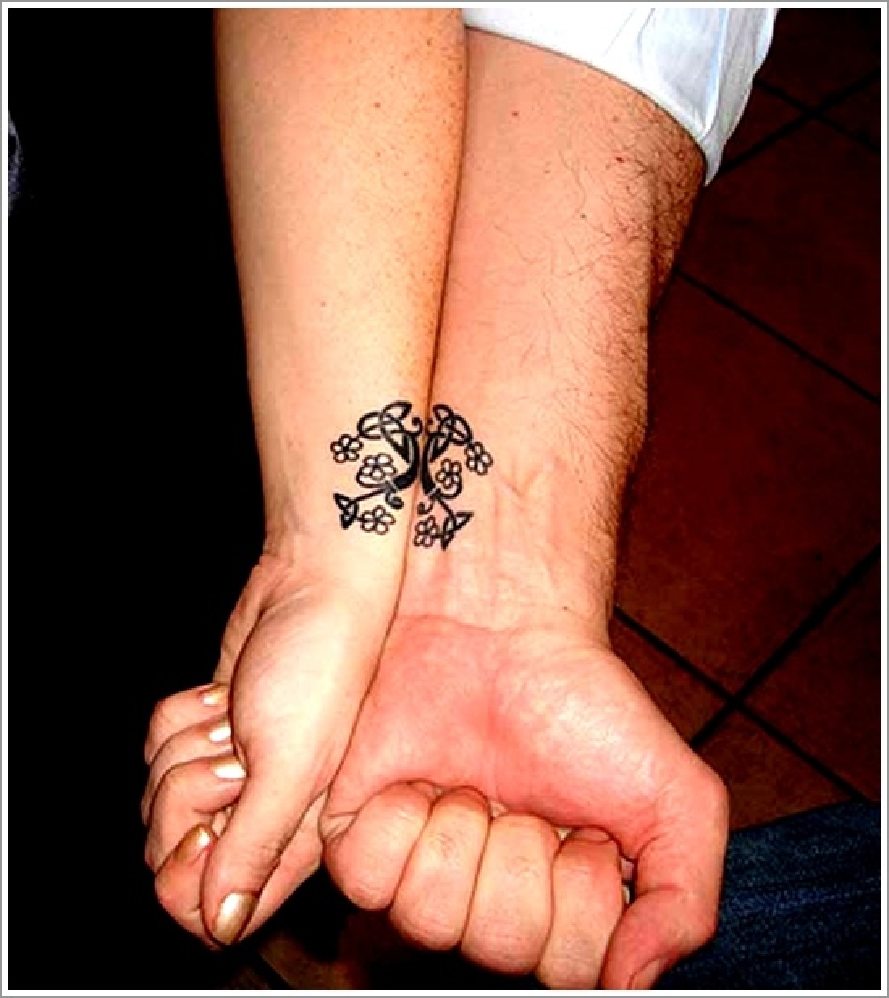 Back into the mythology world, the tree of life is usually an individual tattoo. I know some people who have it, and it indicates their rebirth—their new beginning, a new chapter in their life. And if you go for it as a couple, it shows that you are at that point in life where everything before your relationship doesn't matter. You are starting a fresh, new life together.
14. Celtic Knot and Heart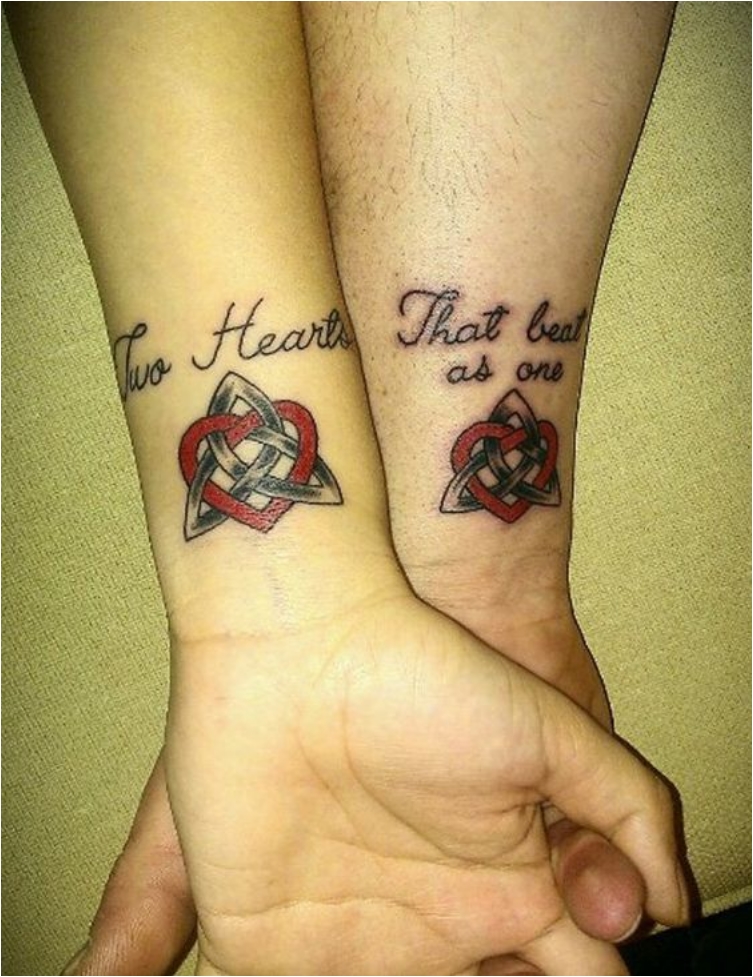 Another mythology-inspired tattoo, the Celtic knot is a popular symbol in design, clothing, and ink. There are many different interpretations and explanations of the knot, but they all come down to the trinity: the three parts of life.
15. Love That Gives You Wings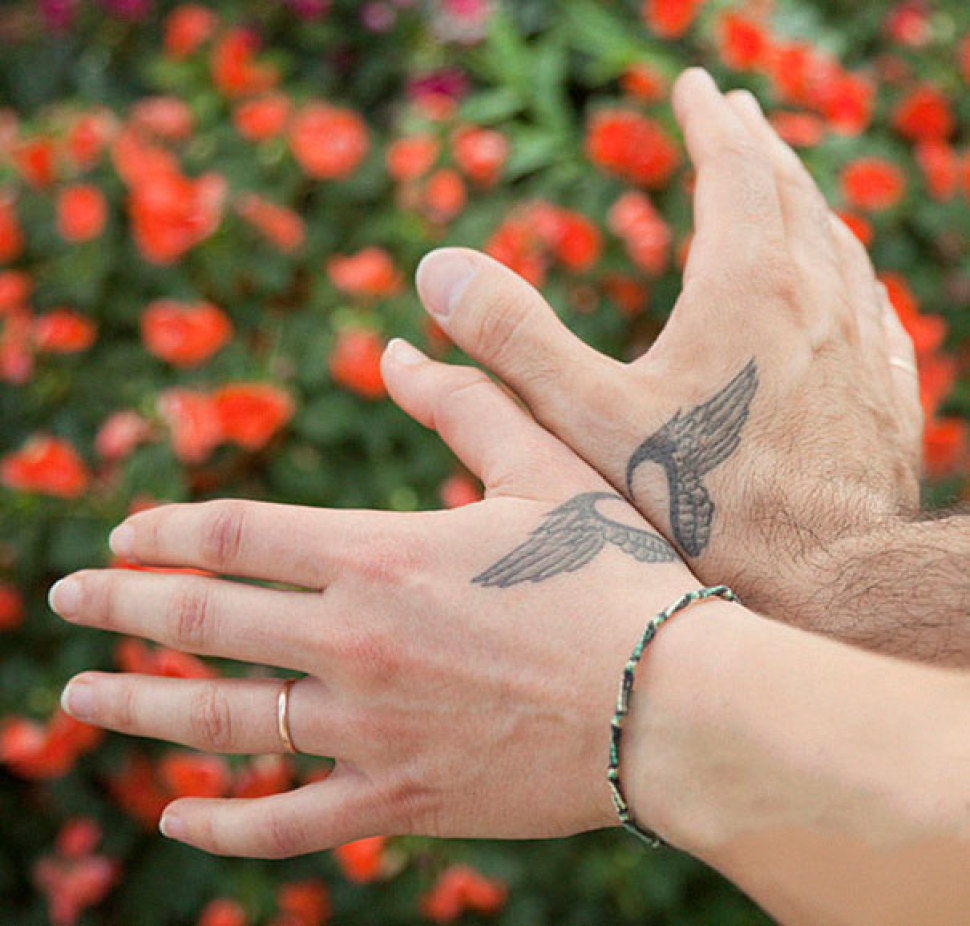 Anyone who's ever been in love knows the feeling. You feel that you can move mountains—you can fly—that nothing else matters. Well, that's what love is supposed to feel like. And in that regard, wings are a perfect way to immortalize your love.
16. Supporting Statements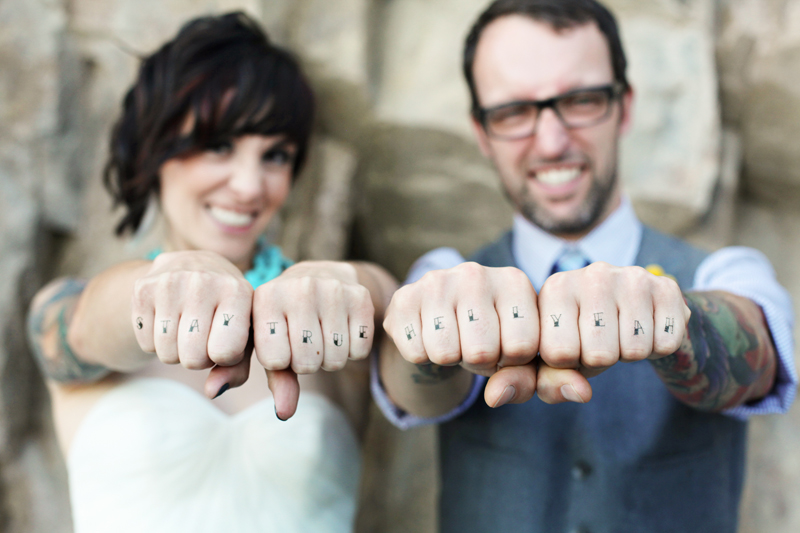 I just love how playful your hands look with this tattoo. The tattoo itself is cheerful, joyful, and shows happiness. Those are the feelings you get when you're in love.
17. Love Owls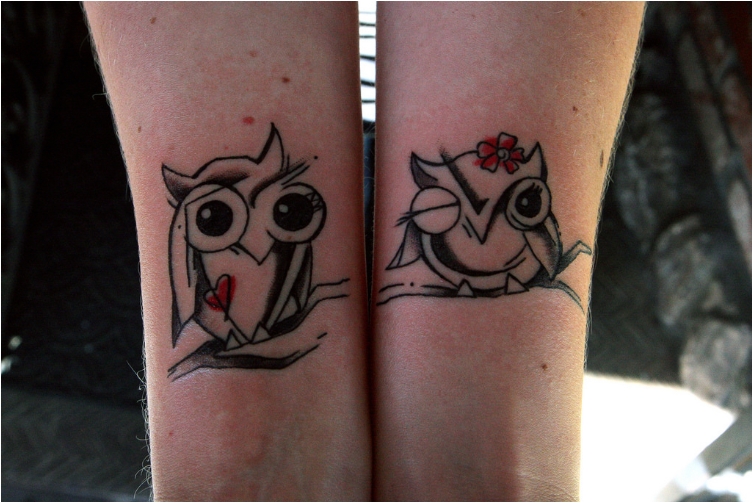 Since owls took over everything five years ago, more and more people get them on a tattoo. And while some find owls unimaginative, this tattoo is definitely unique and pops out. It looks like a love story on its own. And I love that the female owl is the one winking.
18. Like Hummingbird to a Flower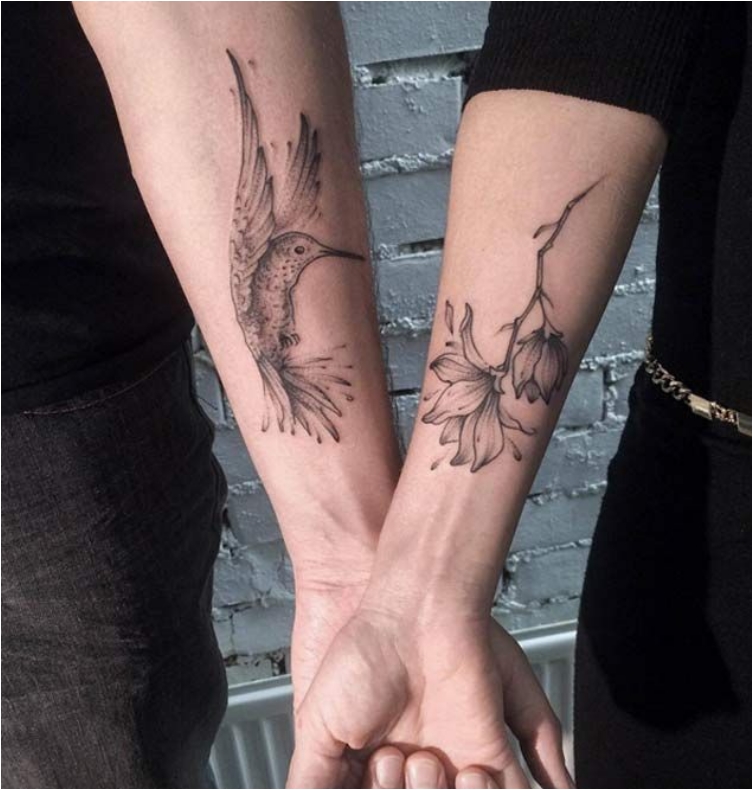 To understand the tattoo, we have to delve into biology. Hummingbirds are attracted to flowers, particularly brightly-colored ones. They just can't remain immune to their nectar, in the same way you can't remain immune to the attractiveness of your partner.
19. Watercolor Peter Pan and Tinkerbell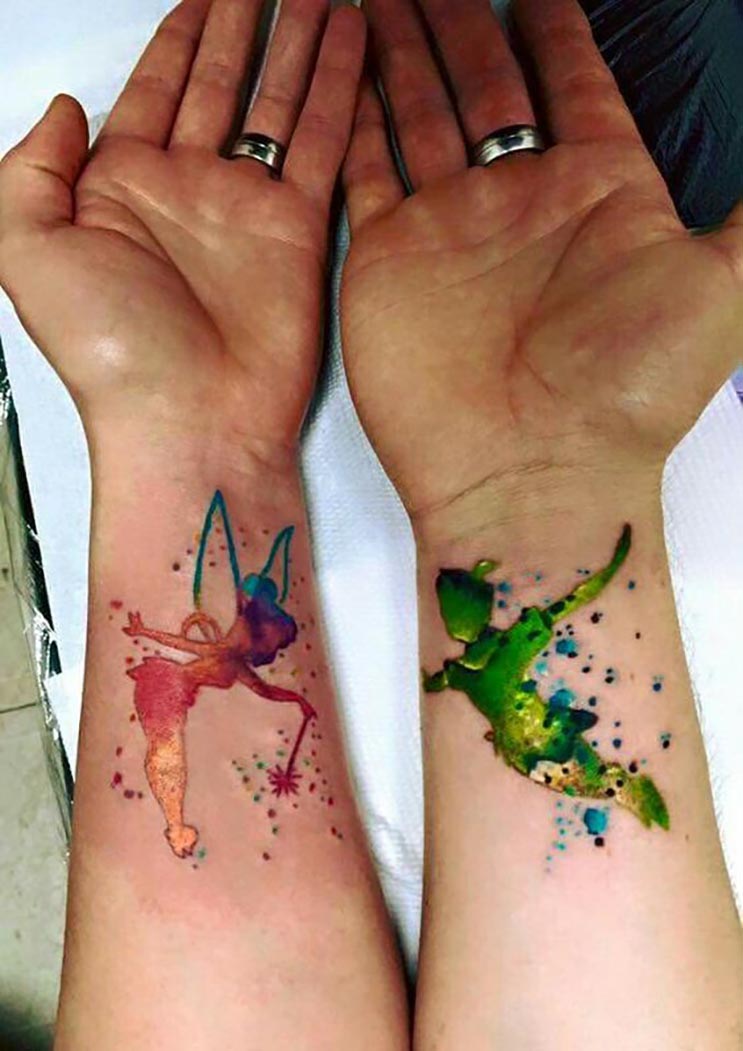 Some might say that Peter Pan is actually better suited with Wendy. After all, who can forget that jealous reaction Tinkerbell had when Peter flew with Wendy. But in any case, these two are inseparable.
20. Heartbeats of Love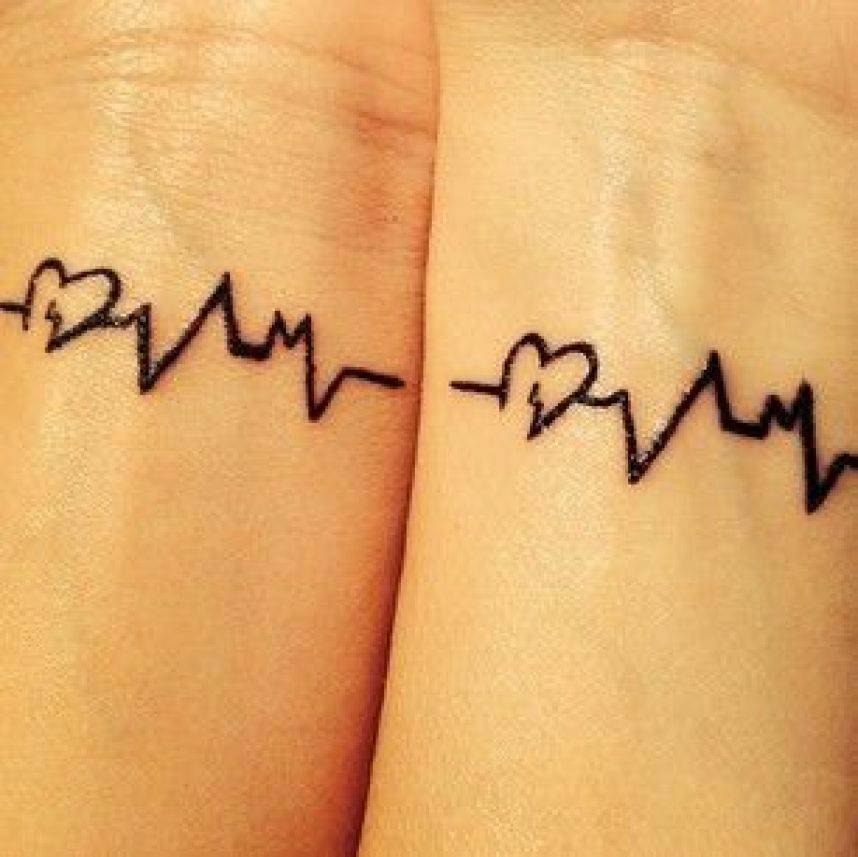 I have a friend who is a doctor, and he jokes that people in love have a different heartbeat—that hearts appear on their EKG. Of course, that's only an illusion. But when you are close to the love of your life, your heart does start beating very fast.
21. Matching Hamsa Tattoos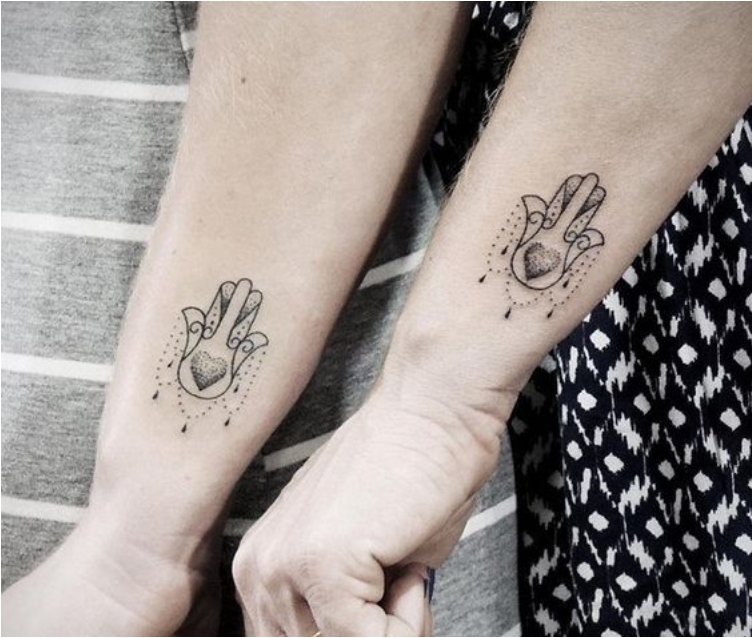 Hamsa is a tattoo that can be interpreted in a number of ways. It depends on which religion you support. For example, in Christianity, the Hamsa is the hand of the Virgin Mary. In Islam, the five fingers represent the five pillars of Islam. And so on. But in any case, it's a beautiful design.
22. Together for the Rest of Our Lives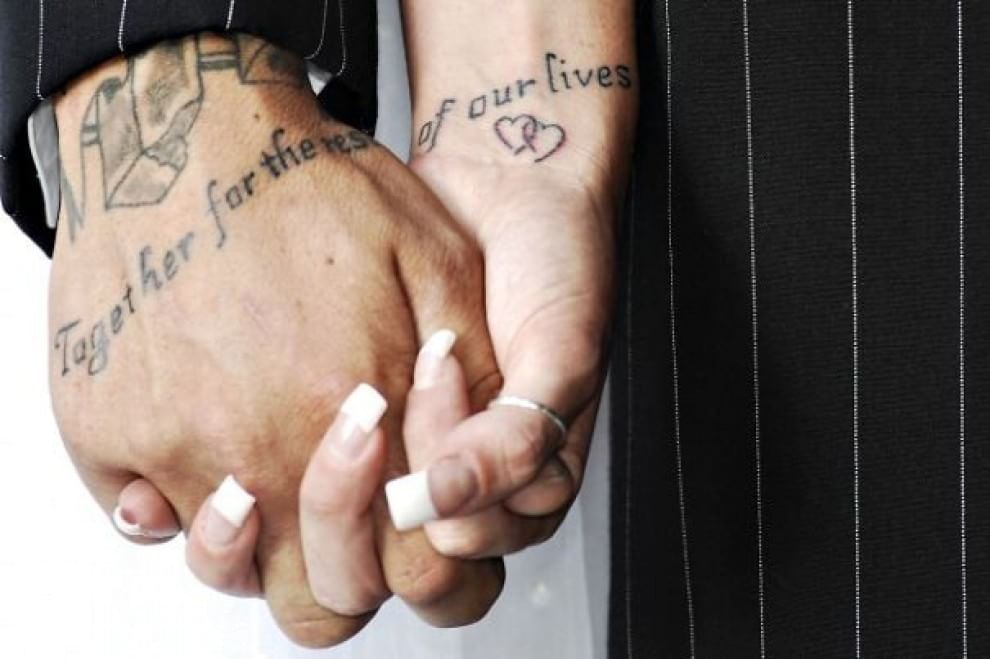 As I mentioned at the beginning, sometimes all you need is words to express your feelings. But sometimes, there are moments in life when words aren't enough to express your feelings. And then there are those moments when you can express your feelings with ink. This is one of those moments.
23. Angel and Devil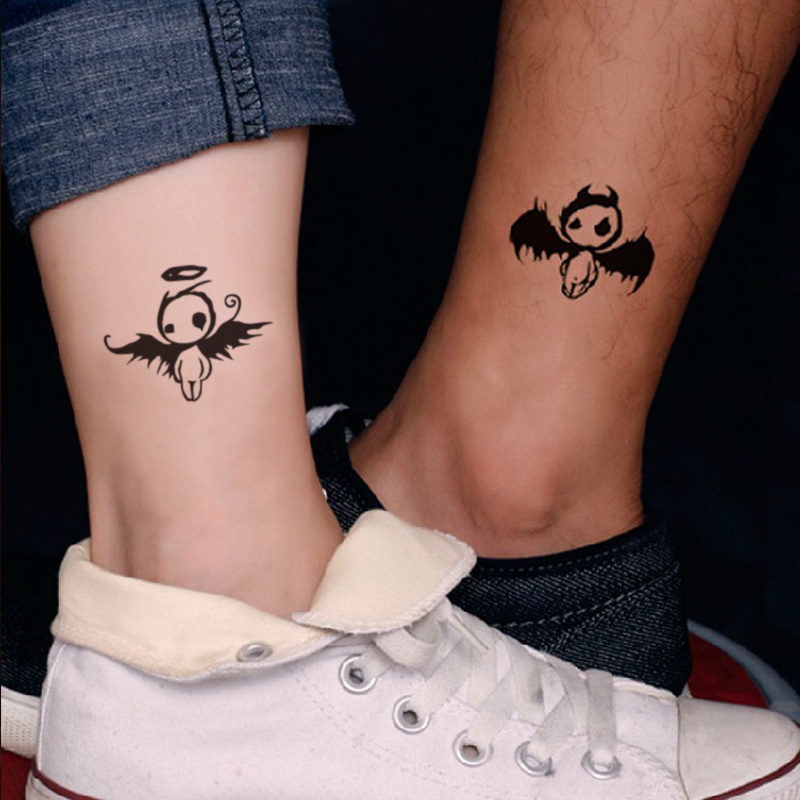 At first glance, this tattoo looks creepy. But gaze at it for a while, and you'll understand just how creative and artistic the design is. The tattoo strikes that perfect balance between cute and creepy. And it all comes down to the tattoo master and his talents.
24. You're the Peanut Butter to My Jelly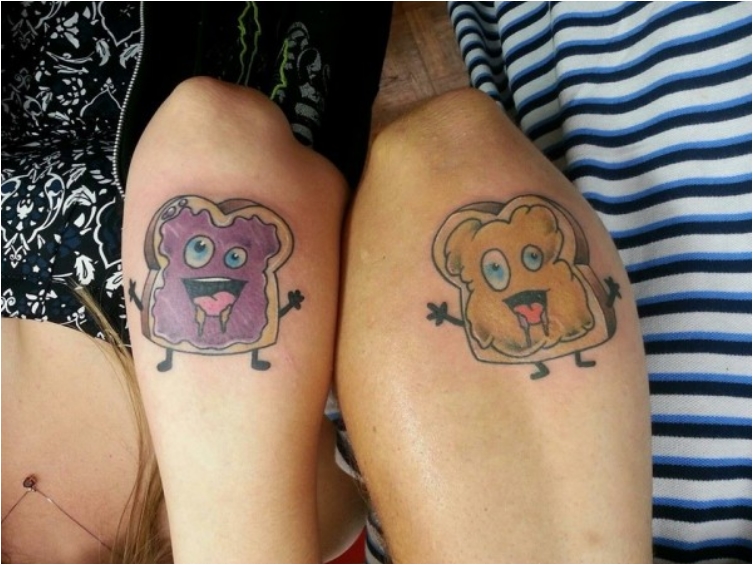 If there is one "couple" that always goes together, it's peanut butter and jelly. One just can't imagine peanut butter without jelly, and vice versa. This tattoo is definitely a funny and interesting design. How many of you remember that viral peanut butter and jelly sandwich GIF?
25. Elephants Never Forget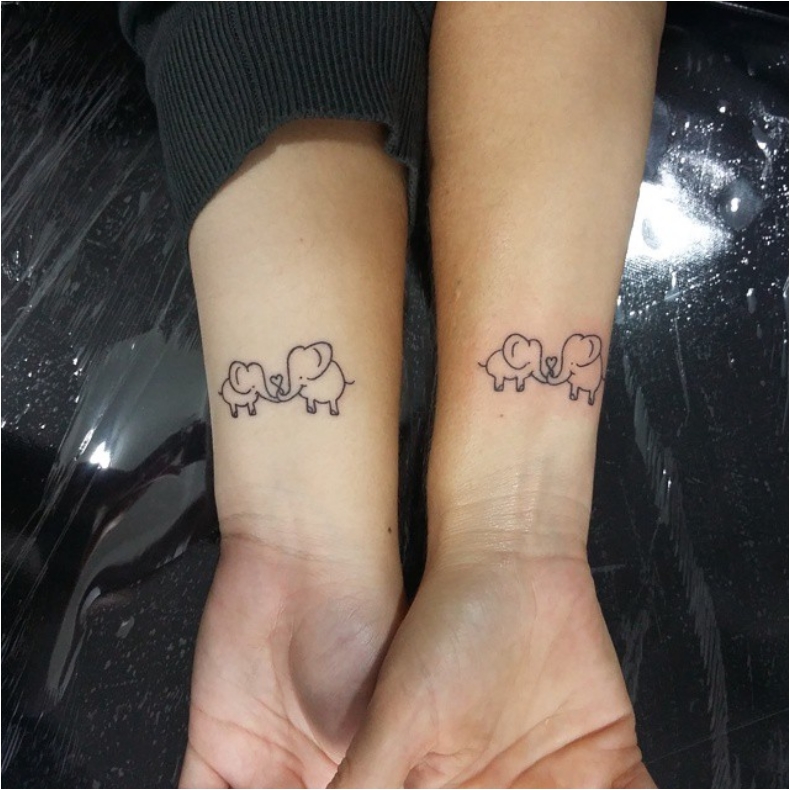 Some believe that the saying "elephants never forget" is an exaggeration. But in reality, it's truer than ever; elephants rely on their memory to survive in the wild. Without going into the science of it, let's stick to what most people believe—that elephants never forget.
26. Minimalist Geometric Tattoos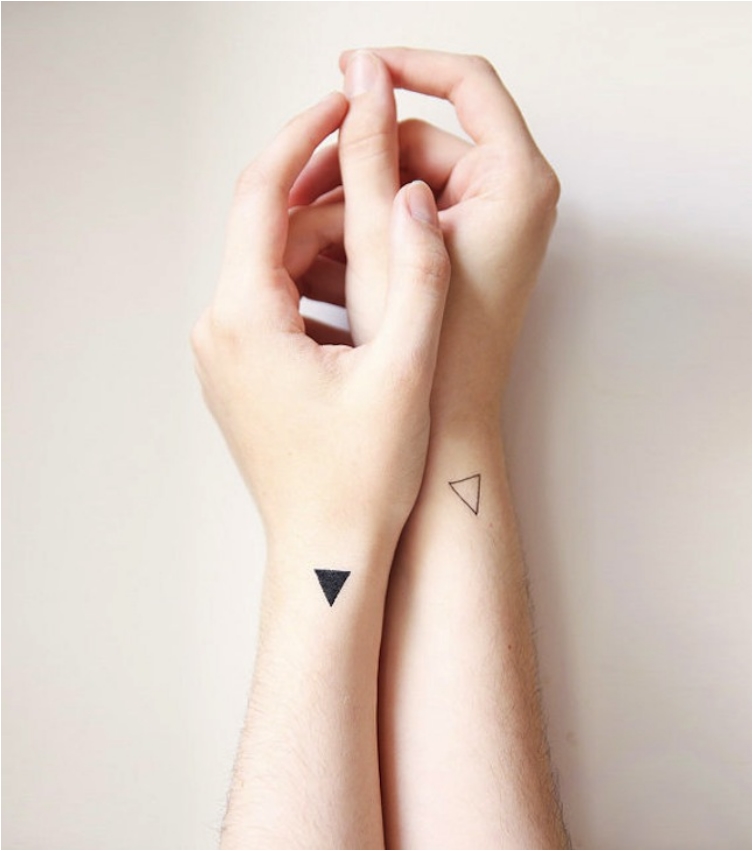 I mentioned a few times that small and subtle tattoos are my favorite. I'm not a fan of ink; I love to keep things simple. And what I love the most is that there is no special meaning or explanation for the tattoo. Just two geometric figures.
27. Kitty High Five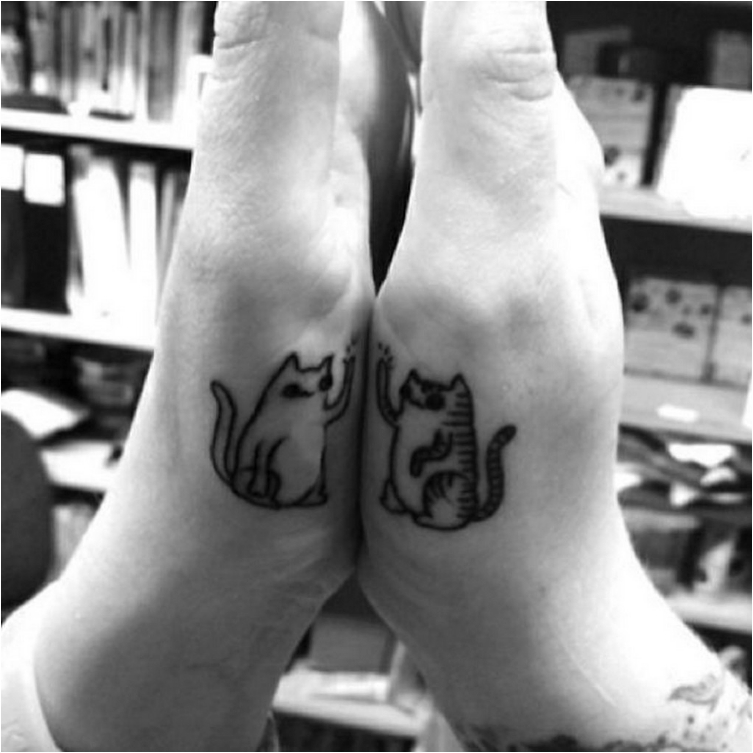 If there is anything better than a high five, it's the kitty high five. Even Barney Stinson can't argue with that.
28. The Missing Heart Piece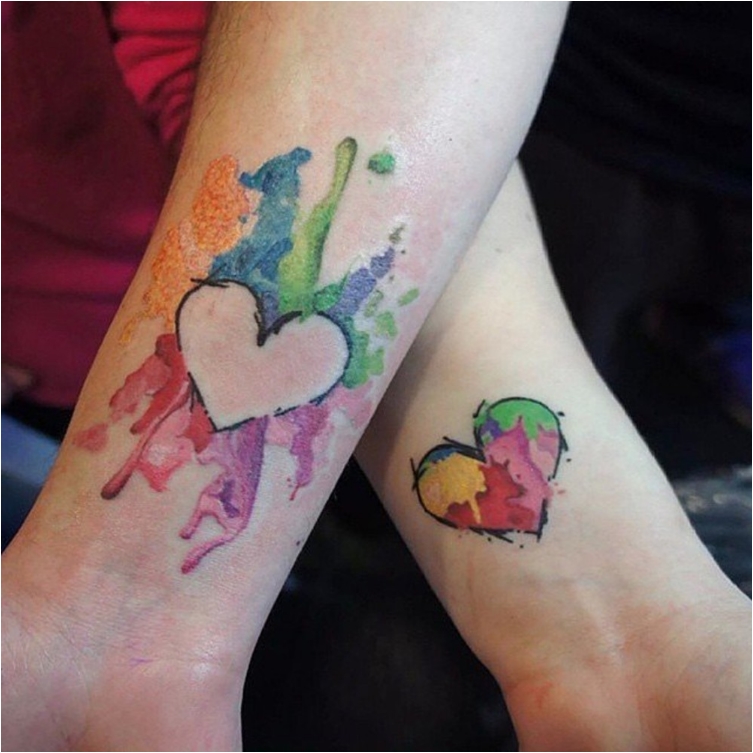 We had a missing heart piece tattoo earlier—a simple, elegant design. This one is more colorful. And you just have to love how the colors represent the missing piece.
29. Pointing Arrows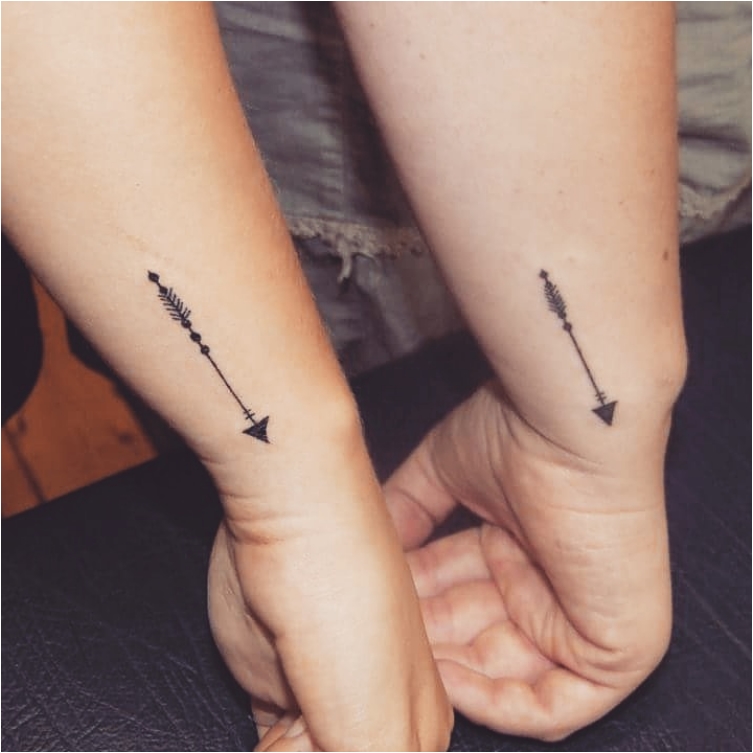 Cupid is the one who hits you with an arrow. And once you're hit, you're in love with your significant other. So why not keep the arrow as an everlasting memory of your love?
30. Birds of a Feather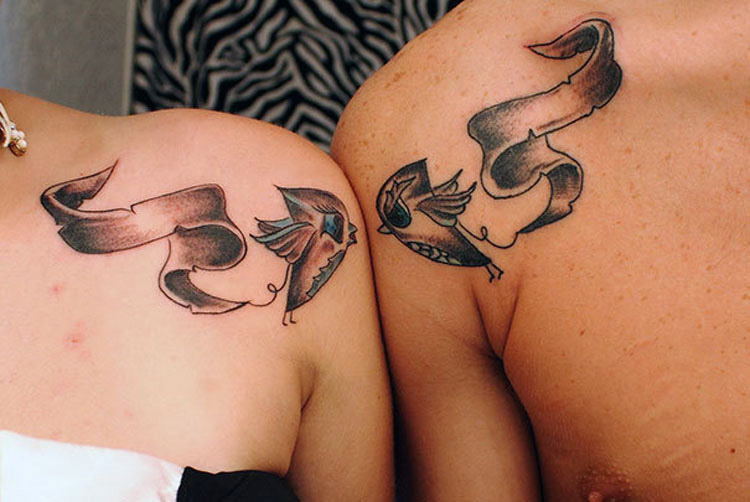 Birds of a feather means that two people share the same views, interests, backgrounds, and beliefs. That's what you look for in a partner. If you're lucky enough to find a partner who has "the same color feathers" as you, make sure to keep him close. Never let him/her go.
31. Love Smileys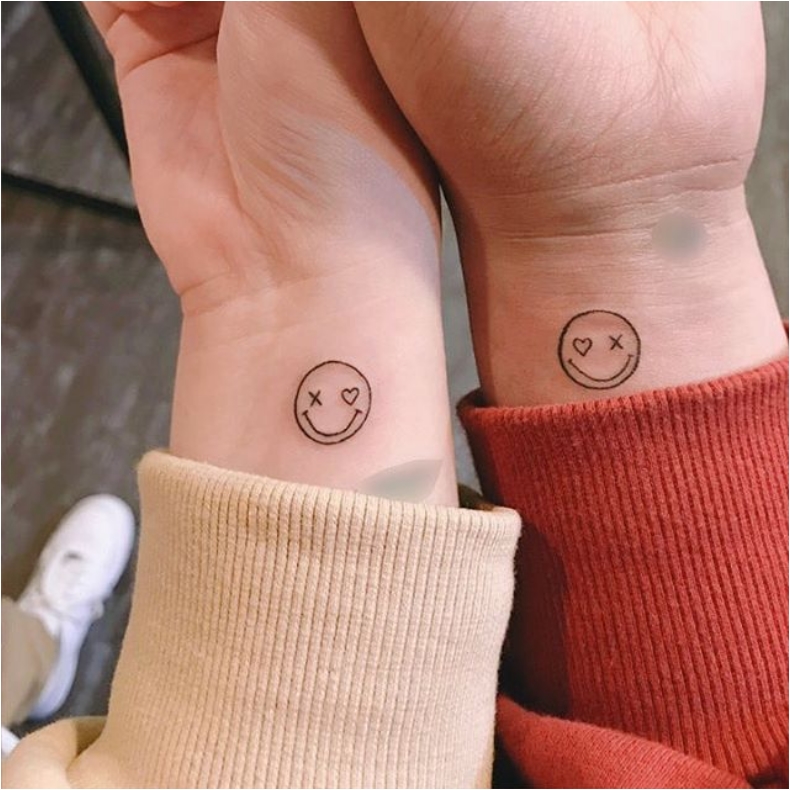 I mentioned few times that I love small and subtle tattoos. But what I especially love about this tattoo is the happiness it expresses. You just look at the tattoo, and you can't help but smile. And love always puts a smile on your face.
32. Matching Skulls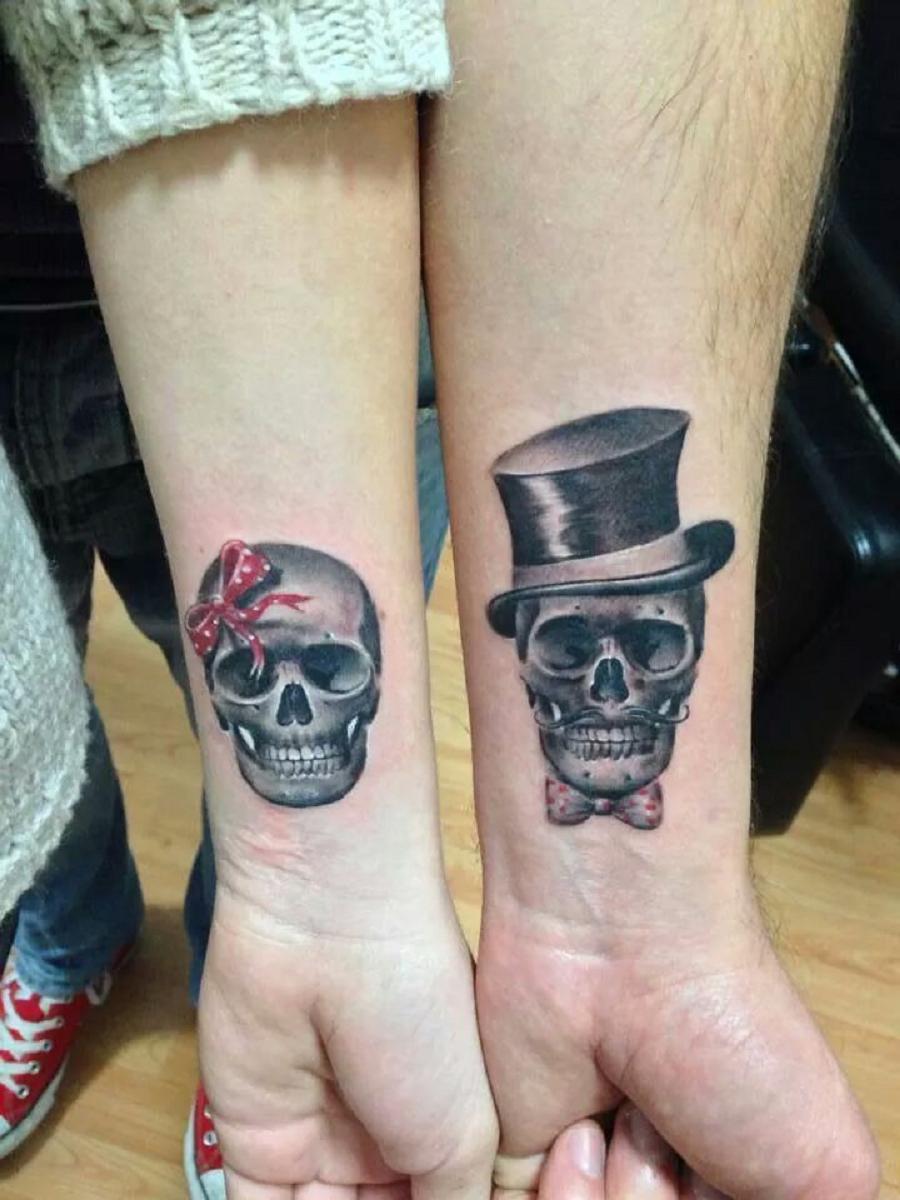 Yes, it can be creepy. But yes, people live in their own world. Some people find skulls creepy, some find them mysterious. We can't judge people by their tattoo.
33. His and Hers Angel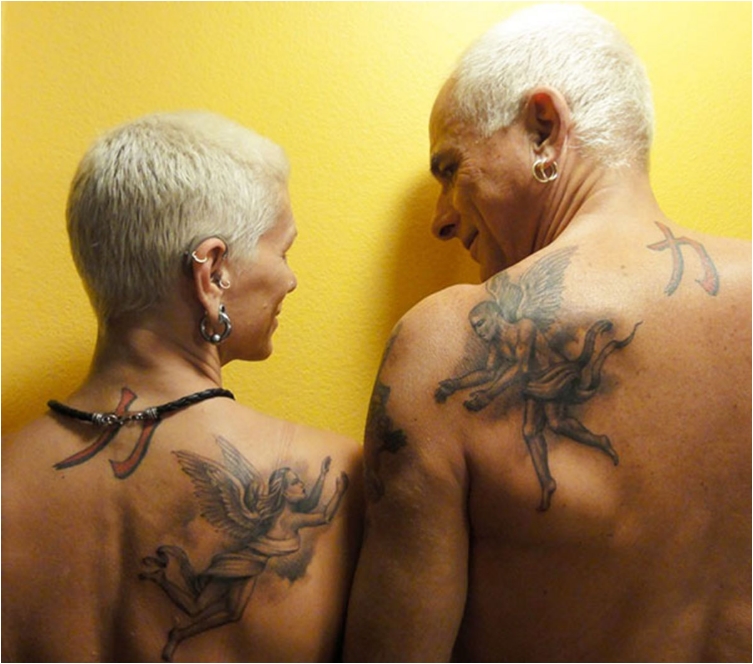 We had a small angel and devil tattoo, but this one is a bit different. As in: there are two angels flying towards one another. And when you stand next to your significant other, that is exactly what people will see.
34. X/O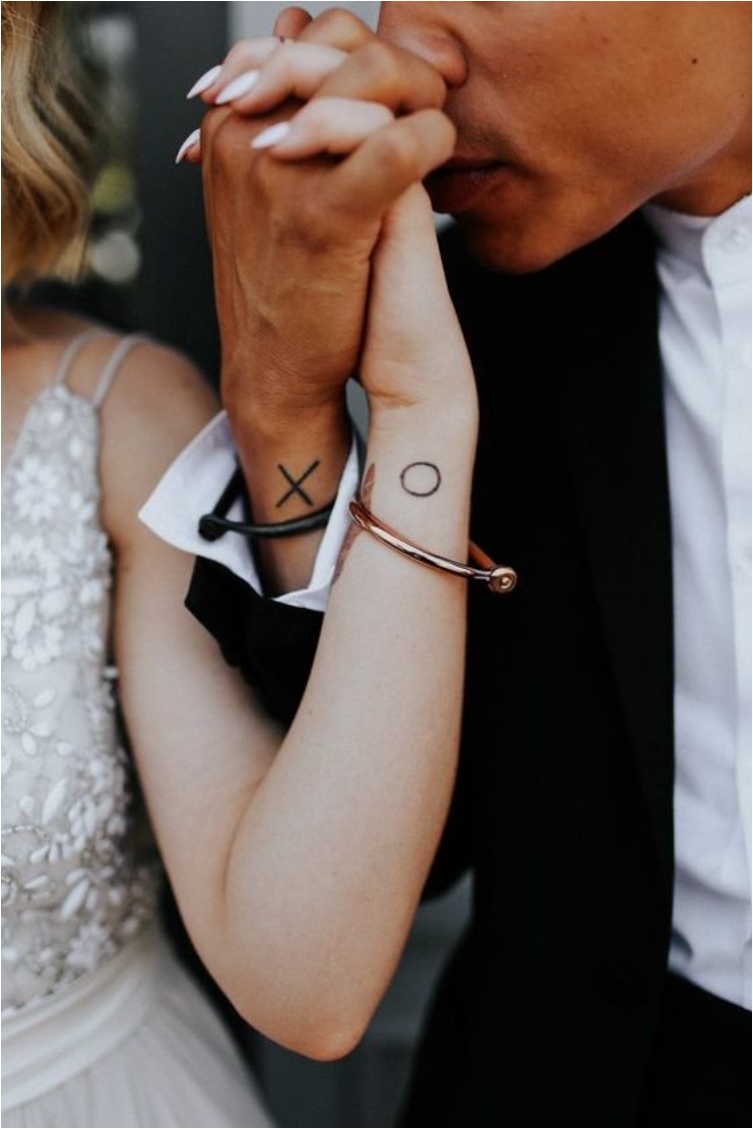 Sending hugs and kisses towards your partner. We live in the digital era, and it's only logical that we get some technology-inspired tattoos on the list. The X/O is just that—the symbol for hugs and kisses.
35. Lock and Key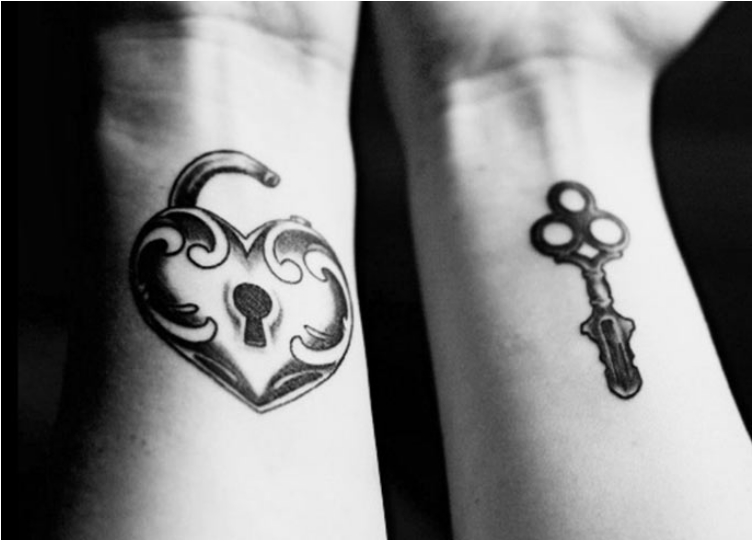 There is a key for every lock. You might have kept your lock locked for most of your life. But at least once in your life, a special someone comes along and he has the right key to unlock your heart and soul. Really poetic tattoo.
36. Infinite Love
We finish off the list with the simple, eternal love tattoo. We started with infinity love, and we finish off with infinite love.
I hope you enjoyed the list. If you are considering getting a couples tattoo, I am sure you can find some inspiration here.