Two-division UFC champion Conor McGregor will be celebrating his 30th birthday on the 14th of July.
So, what do you give one of the highest paid athletes (who can almost buy anything) for his birthday? Effort, maybe. And this one is pretty touching, just a little weird for an MMA legend as McGregor.
Lithuanian artist Edgar Askelovic spent five months handcrafting a 'hyper-realistic' 100kg sculpture with a value of £50,000. Okay so, it's not all effort but money as well.
The Vilnius-born, Birmingham-based artist takes great pride in sending a special present to the dual-division champ:
"It is an honour Conor has accepted this as a gift from me."
He's the sculptor who created a begging Queen Elizabeth on the street
Askelovic – better known as Aspencrow – looks up on McGregor as a great athlete in MMA.
"He is a phenomenon of our time – not just a smart athlete, but also a visionary."
Aspencrow calls his 200-pound work "Atlas." Despite doing celebrity sculptures in the past, the artist has never met McGregor in person, though he has communicated with him through some of his 'friends.'
"That's how I got the information that he knows about the sculpture and that he accepts it."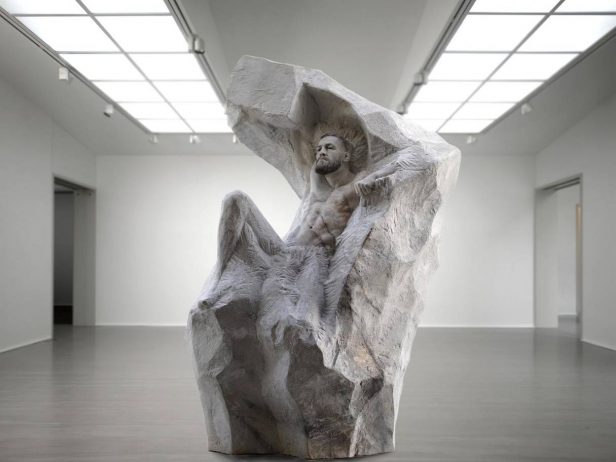 What is he doing in this pose though?
Aspencrow sets out to unveil the work at the JD Malat Gallery in London on July 14, McGregor's exact birthday. Also, the brilliant artist reportedly plans to do two more versions, opening up one for sale.
This may sound a little ordinary, but wait until you hear how he's trying to communicate McGregor in this shirtless sculpted piece of rock.
"It's up to you what you see in it. You can see him as a prisoner, or a god, or just as a person."
I bet the thought of looking at the sculpture as a god didn't cross your mind for a second, so it's weird that it did in his. Maybe that's why he called it the god of war, Atlas. Here's another of his statements to blow your mind:
"I like Conor McGregor. He's a great guy. I feel he's my soulmate. Some of the decisions he makes might not be correct, but none of us is ideal."
That 'soulmate' evidently hit you too. Well, even if things went from zero to super weird, we all know artists can go overly extraordinary at times.
Watch this small presentation on the creation of McGregor's (literally) hard face:
Will you be waiting for this release? It may sound and look weird, but we can't discount the fact that every Aspencrow work is chillingly amazing!