UFC megastar Conor McGregor knew that Jon Jones' recent victory deserves a celebration. So as his congratulatory gift, "The Notorious" sent the newly-hailed light heavyweight champion his signature whisky brand following a successful stint at UFC 232. 
According to a report, the former two-division champion gave "Bones" a bunch of Proper Number 12 whiskey after he savaged Alexander Gustafsson in the main event of the promotion's final offering in 2018 held at The Forum in Inglewood, California.
.@JonnyBones is BACK!

He defeats Alexander Gustafsson in Round 3 by TKO at #UFC232. pic.twitter.com/pn8MhHlnhR

— SportsCenter (@SportsCenter) December 30, 2018
Successful Return
Five years after their thrilling match-up dubbed by many as the greatest fight of all time, Jon Jones and Alexander Gustafsson went at it again in the highly-awaited headliner of UFC 232.
"Bones" passed his return fight with flying colours as he dismantled Alexander Gustafsson for the second time en route to recapturing the UFC light heavyweight belt. Despite the controversy surrounding him, Jones showed up composed and collected to finish "The Mauler" in just the third round of their rematch.
The 31-year old fighter did not show any signs of rust despite a 17-month layoff and was in full control of the match from start to finish. Jones brought his ground game in the third, giving his opponent a solid beating, which forced the ref to call off the fight.
It was a sweet victory for the returning mixed martial artist, capping a long week of controversy with a belt on his waist. Days before his highly-anticipated comeback, he tested positive on a small trace of Turinabol, the same substance he used in a doping violation a year ago. The scandal overturned his win over Daniel Cormier at UFC 214 to a no-contest and forced the promotion to strip him of the same belt.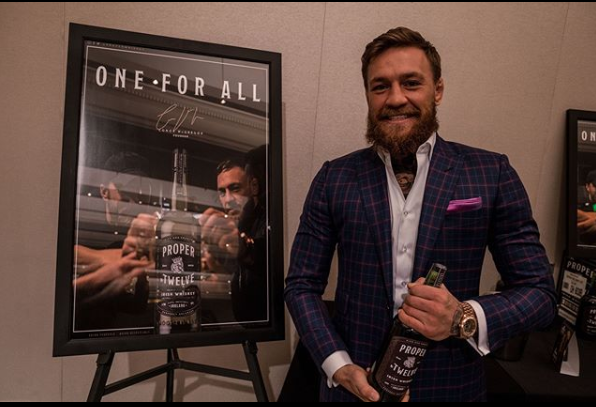 Conor McGregor's Gift For Jon Jones
Jones has reclaimed his throne in the light heavyweight division. While some professional fighters have criticised him over his doping violation histories, one mixed martial artist wanted to know that he is happy about his recent success.
Conor McGregor reportedly sent a bunch of his famous whiskey brand to Jones and his entourage after his dominant win against "The Mauler" at UFC 232 last weekend. This was initially reported by Kevin Iole of Yahoo Sports.
Ran into @jonnybones in the hotel lobby and he said @TheNotoriousMMA sent him and his team a bunch of Proper 12 whiskey!

— Kevin Iole (@KevinI) December 30, 2018
After he suffered a humiliating loss at the hands of Khabib Nurmagomedov at UFC 229 last October, the Irishman has been busy promoting his Proper No. 12 whiskey, in an attempt to build an empire in the alcohol industry.
Currently, McGregor is still under indefinite suspension and is awaiting the final verdict from the Nevada State Athletic Commission after his involvement in the infamous UFC 229 post-fight brawl that ensued, following his defeat to Nurmagomedov. He is also rumoured to fight UFC veteran Donald Cerrone this year as an immediate rematch with Khabib is unlikely to happen after their first encounter went one-sided.
(Featured Image Source: Instagram)