Jose Aldo failed to extend his winning streak to three after suffering a unanimous decision loss against Alexander Volkanovski at UFC 237. Conor McGregor, as usual, was quick to air his criticism — and to delete it afterwards. 
"The Great" Volkanovski entered the lion's den in Rio De Janeiro on Saturday night vs the former longtime UFC and WEC featherweight champion Aldo.
The Australian phenom is now riding a 17-fight winning streak; retaining his undefeated UFC record after winning the judges' scores.
"Junior" Aldo, meanwhile, failed to carry the day for his home crowd despite initially launching a 'smart game plan' to earn his third simultaneous win and increase his chances to obtain another shot at the featherweight title.
For this, the Brazilian fighter's former Octagon rival Conor McGregor posted a tweet mocking his legacy; which he immediately deleted after earning various reactions and re-tweets.
In 2012, Alexander Volkanovski gave up a pro rugby league career to focus on MMA. Jose Aldo was 3-0 in the UFC.

At #UFC237 the Aussie beat Jose by unanimous decision in his own back yard. pic.twitter.com/ArtdTZ9Xev

— Watch UFC 237 live on BT Sport (@btsportufc) May 12, 2019
Aldo Vs Volkanovski
On his match against Aldo at the main card of UFC 237 in Brazil on Saturday night, Volkanovski was able to set the tone early and land numerous inside leg kicks at the opening round.
The 32-year-old Aldo has successfully sent some in-close body shots but failed to overcome his opponent's grappling skills from the first round to the second.
In the third round, the Brazilian ex-champ seemed to realise his setback on the judges' scorecards and looked to be head-hunting for the finish, but the Australian fighter's solid offence barred every attempt.
On an interview before the match, Aldo was confident that he could outplay Volkanovski despite being known for his overhand right.
"He's (Volkanovski) always coming at you, he looks for the fight, he throws his overhand right, that's one of his strong suits, but it could also be a weakness," Aldo said via Bloody Elbow.
"We can work with that. I trained a lot, I believe my gameplan and I know it will work."
Greatest Featherweight
UFC star McGregor didn't hold back in airing his reaction over Aldo's loss.
""There goes the consensus greatest featherweight in UFC history Joe, you numpty" – me walking by the mirror in my Jon anik voice," the Dubliner wrote on his deleted tweet.
Taking a trip down memory lane, McGregor knocked Aldo out on the first round of their main event match in 2015. The next year, "Junior" was able to seize a win over Frankie Edgar but has suffered a pair of title defeats over Max Holloway.
"The Notorious" McGregor, meanwhile, has not re-entered the fighting cage since getting his comeback spoiled by Khabib Nurmagomedov in October. Despite this, UFC President Dana White believes the Irish star will be back in the summer.
"He and I are getting together very soon, within the next week, and we're going to figure out what's next for him," the MMA promoter told the 'Jim Rome Show' on Tuesday. "I see him fighting this summer."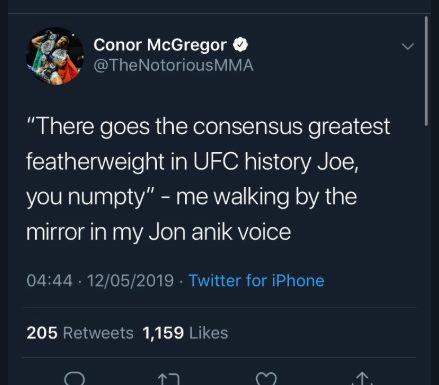 Featured Image Credit: Instagram/Jose Aldo and Instagram/Conor McGregor