When I was young, I could sleep on anything. Literally. There were times I slept on the floor. One time, a friend and I slept on a table in a restaurant. And the restaurant was closed. But those were my teenage days. And I'm sure many of you have had similar experiences!
But as you grow older, you start to appreciate comfort. You want something that is comfortable and cozy. You want to come home, lie down, and rest.
The challenge is, not all of us live in a luxurious and spacious apartment. Some of us live in small apartments, which usually translates to a small bedroom. And that's where comfort gets challenging. Please remember that you should not sacrifice comfort, even in a small apartment. There are ways you can have a comfortable bed in a limited space.
Today, I give you compact bed designs. You won't have to worry about not being able to sleep in a comfy bed anymore.
1. Closet Converted to Bedroom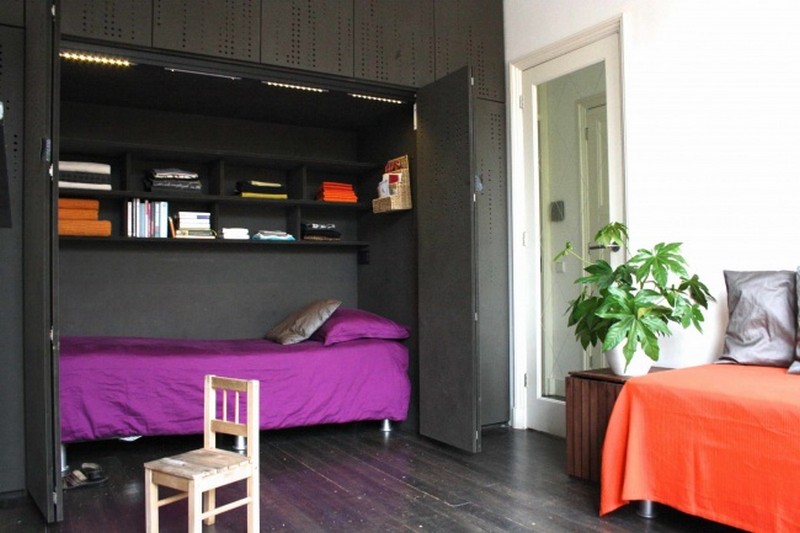 I'm sure that for many of you, this looks like a teenage memory. There were times when we were young and slept in everything we could find. But even when you get older, you can have a cozy, comfortable bed in the closet. And this is just one trick to save some space. Stay with me, and you'll find many more.
2. Tango Sofa – Folding Bed over Sofa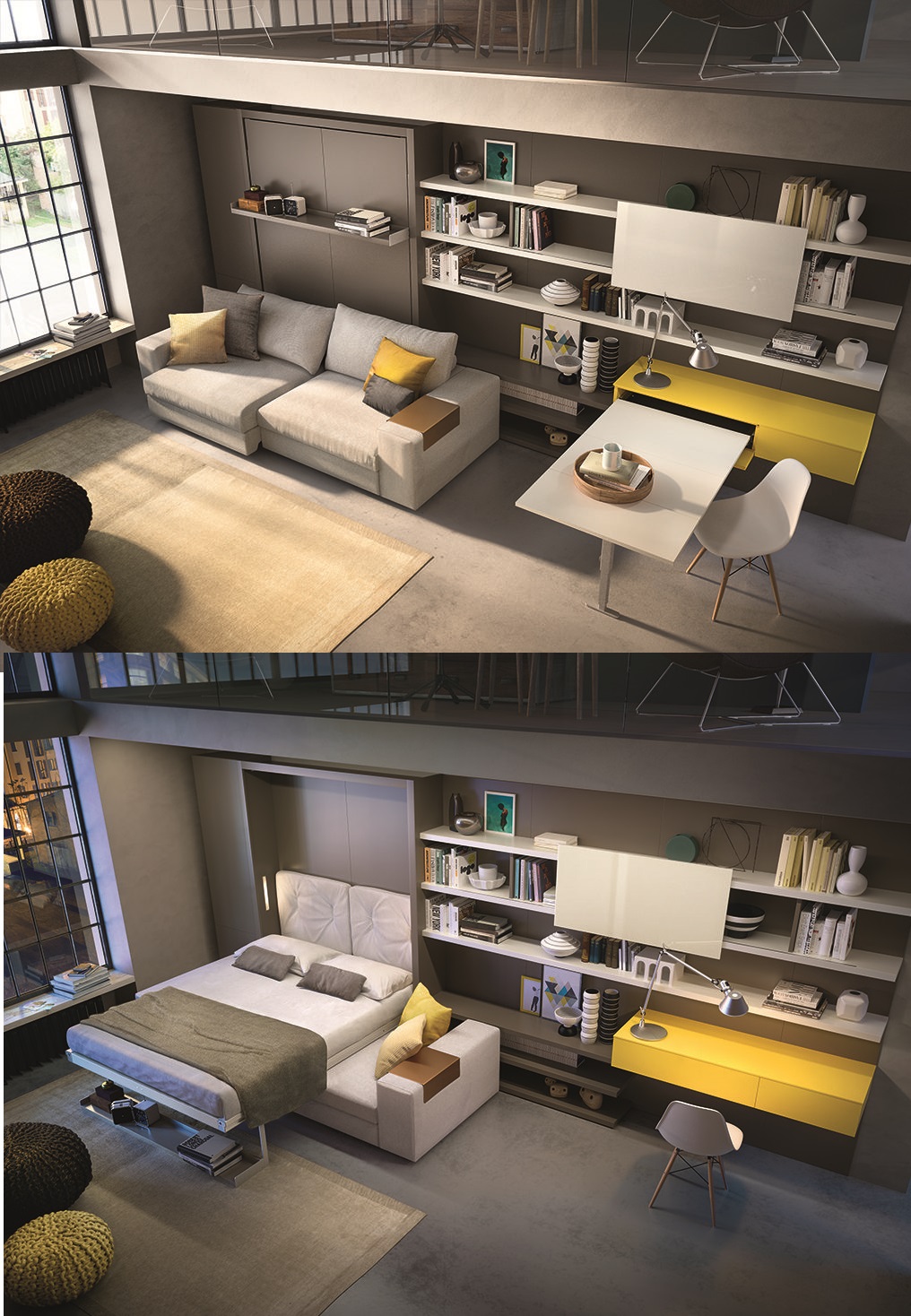 We all know that folding beds are the trend at the moment. To be honest, any furniture you can fold is great. But the problem is they are not very modern looking. Well, that's not the case with this bed. You can literally place it in any interior design, and it will look beautiful. The bed fits seamlessly in the interior, making it a perfect addition.
3. Bed Hidden Under Stairs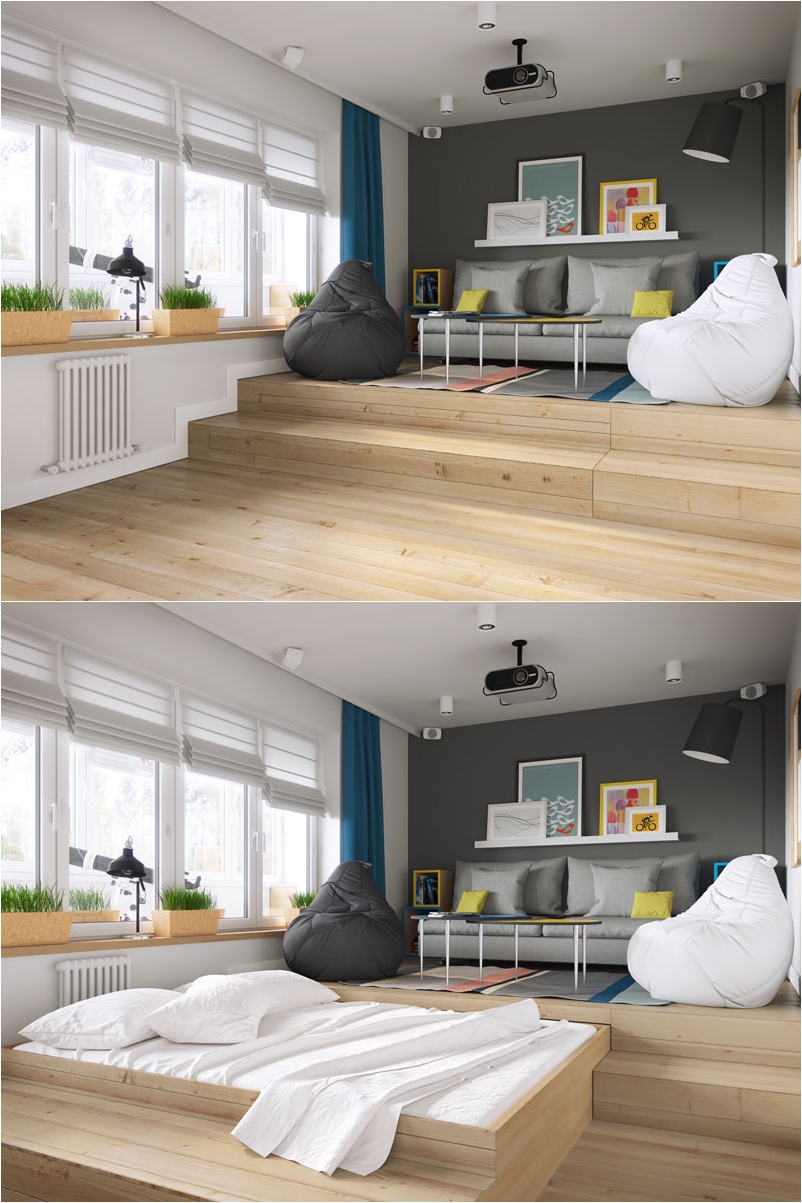 The space under the stairs is usually considered dead space. That's been the case for so long. But in the past several years, designers have acknowledged the fact that people need more out of their space. And in that spirit, we see more and more designs for utilizing the space under the stairs. And yes, you can fit an entire bed there.
4. Desk Bed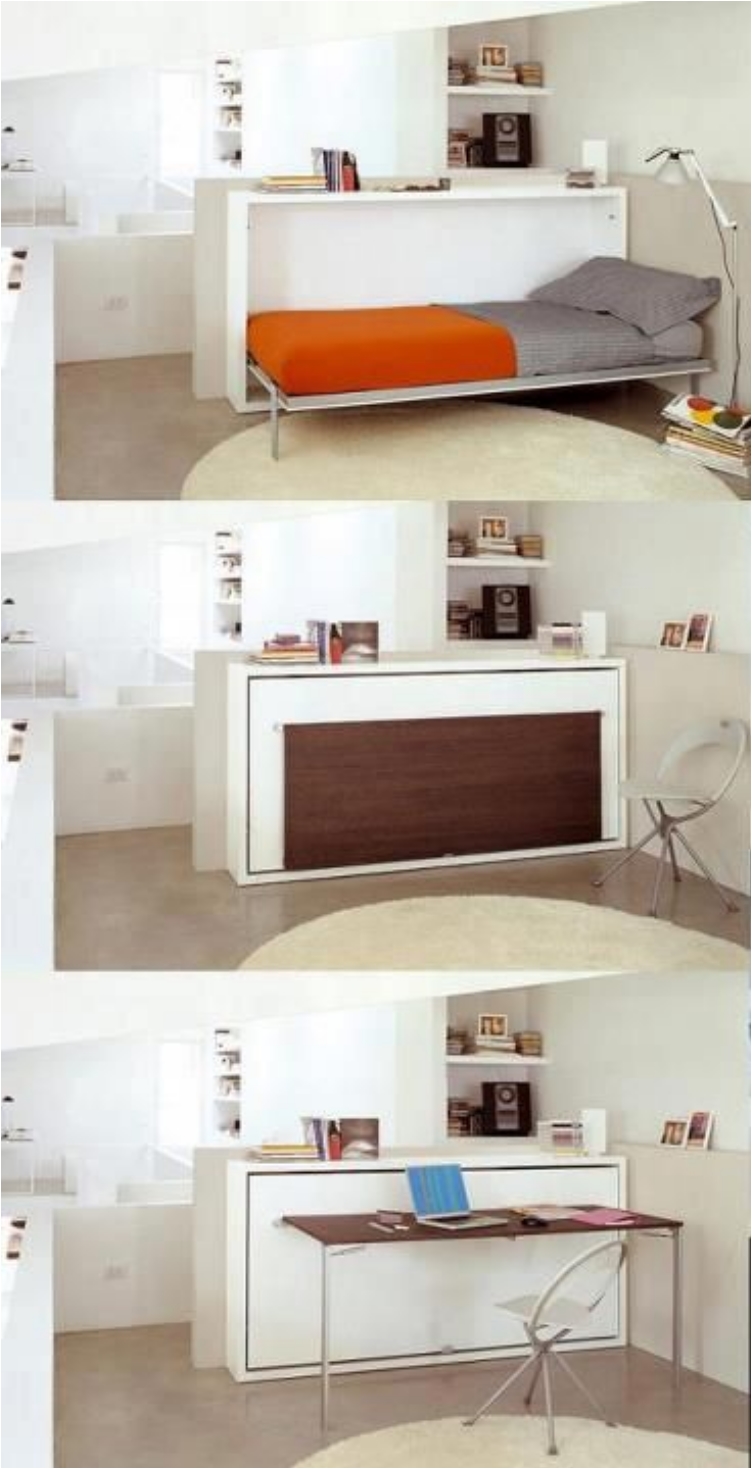 To be honest, this bed is perfect for people who work from home: an office and a bedroom all in one. I would prefer my office to be separated from my bedroom, but if you can't afford so much space, this solution is just tailor-made for work from home freelancers.
5. Concealed Pull-out Bed
Similar to folding beds, there is a trend for beds you can pull out of the wall and push back in. This is such an example. In a way, your living room transforms into a bedroom in a matter of seconds. That's more than some people can ask for.
6. Loft Bed with Closet Storage Underneath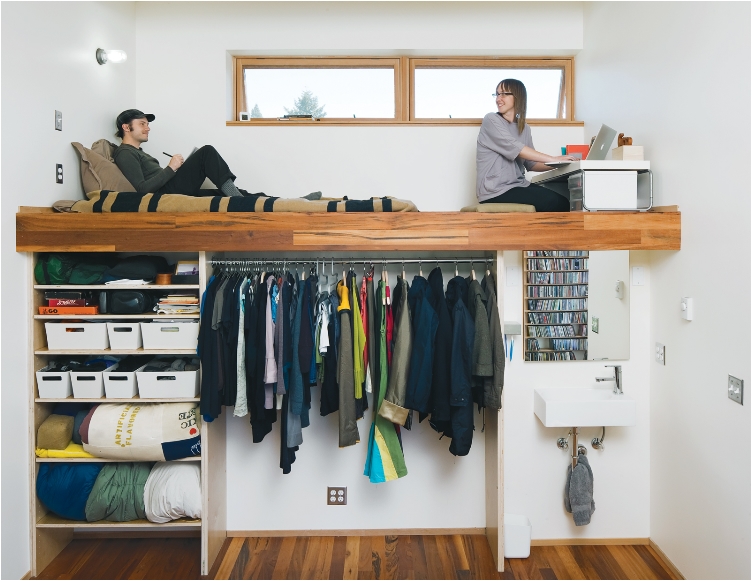 Having a comfortable bed is just one of the many challenges in a small apartment. The other is finding storage space. Well, this bed is a two-in-one solution. You get a cozy bed and tons of storage space underneath. The only problem is that you need a room with a high ceiling. If your ceiling is low, you can't make this work.
7. Murphy Bed in Narrow Room
I've noticed that even high-end furniture stores sell Murphy beds, which is a testimony to the popularity of the bed. The best part about a Murphy bed is that you can have the room free during the day. And once the night settles in, just pull it out, and you have a cozy sleeping arrangement!
8. Pull-out Bed Doubling as Sofa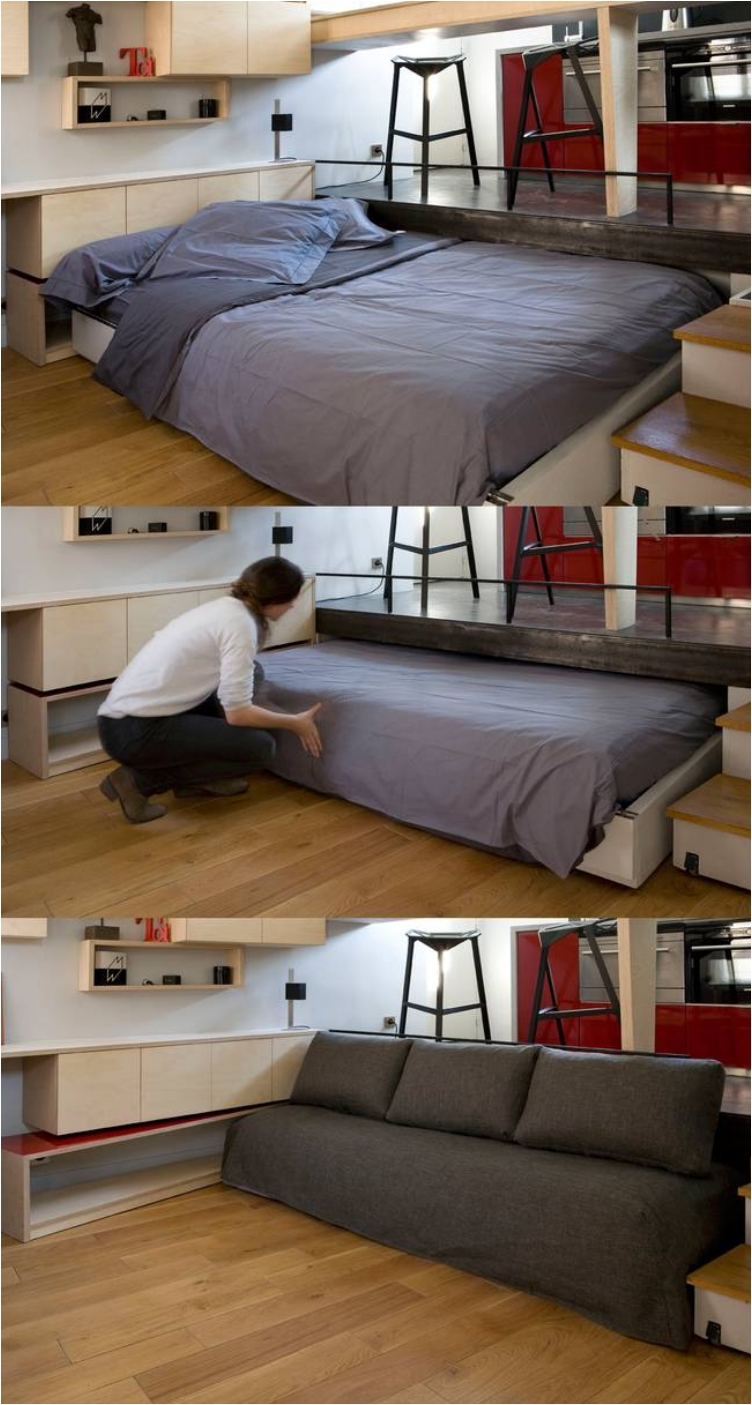 The biggest trend in furniture and interior design in recent years is functionality and practicality. People are looking for multipurpose and multifunctional furniture more than ever. And that's where this bed earns its keep. You need a sofa during the day? You have one. And if you need bed at the night, then you can have that too.
9. Bed Suspended Near the Roof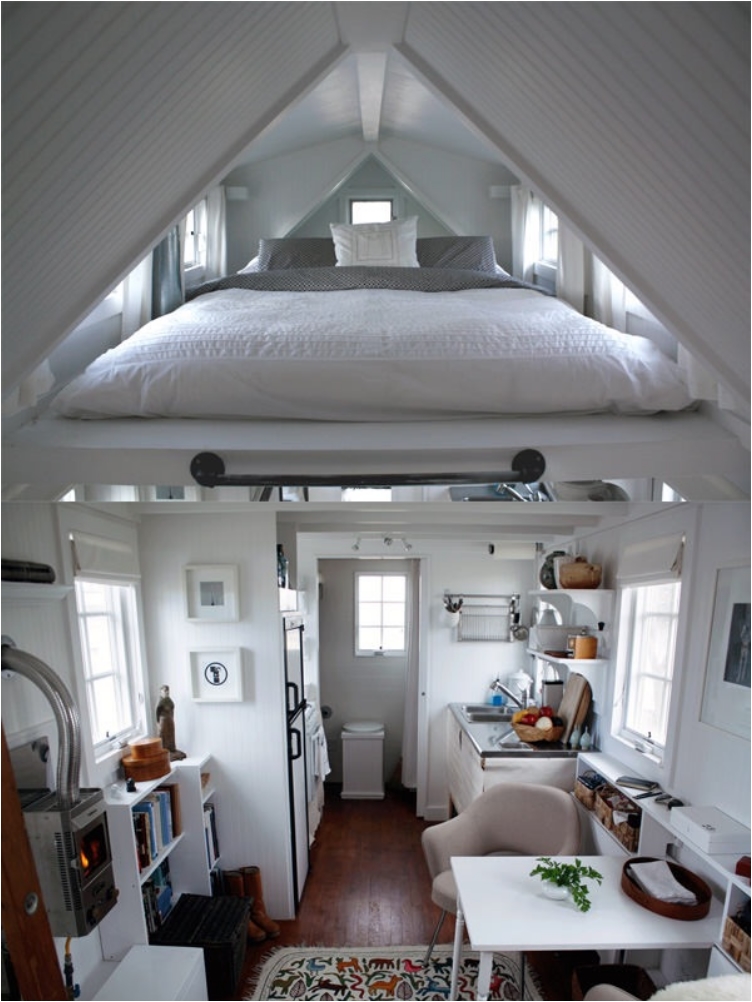 I discussed fitting a bed into a room that has a high ceiling earlier in this list. When you have height in the room, it's easy to utilize the space. You can work wonders with that. Some people opt for lots of floating shelves. But having a bed on the top of everything is good as well. The only challenge is, some people are afraid to look down.
10. Loft Bed with Seating Area and Bookcase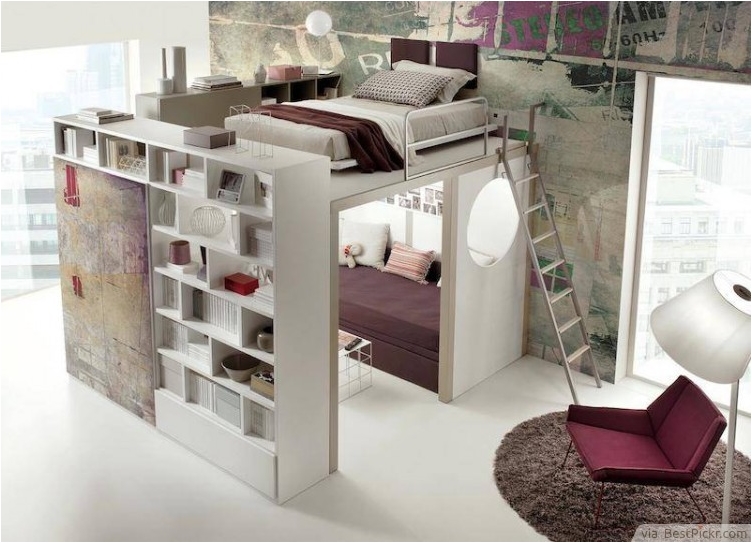 You can think of this bed as an apartment within the apartment. After all, you get almost everything a small apartment needs. You have a seating area. And you have a bookcase. There are also several shelves you can use for storing other items. Simply beautiful.
11. Work Area with Hidden Pull-out Beds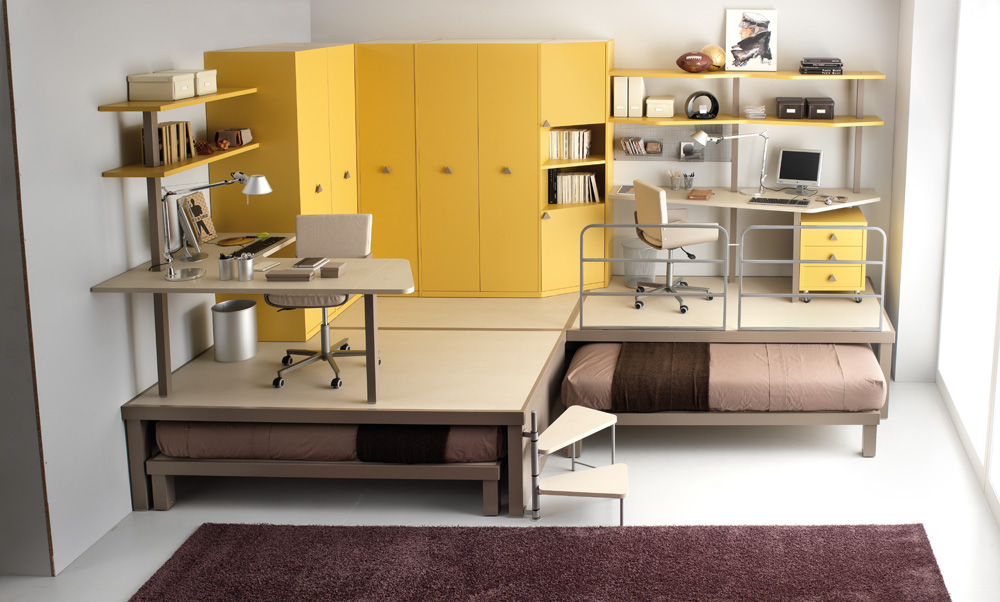 We had a working area with a bed previously. And I mentioned how awesome it was for people who work from home. This one takes things to the next level. You can't ignore the coziness and the comfort of the design. And let's be honest, the bed design certainly looks luxurious and glamorous.
12. Converting Guest Bed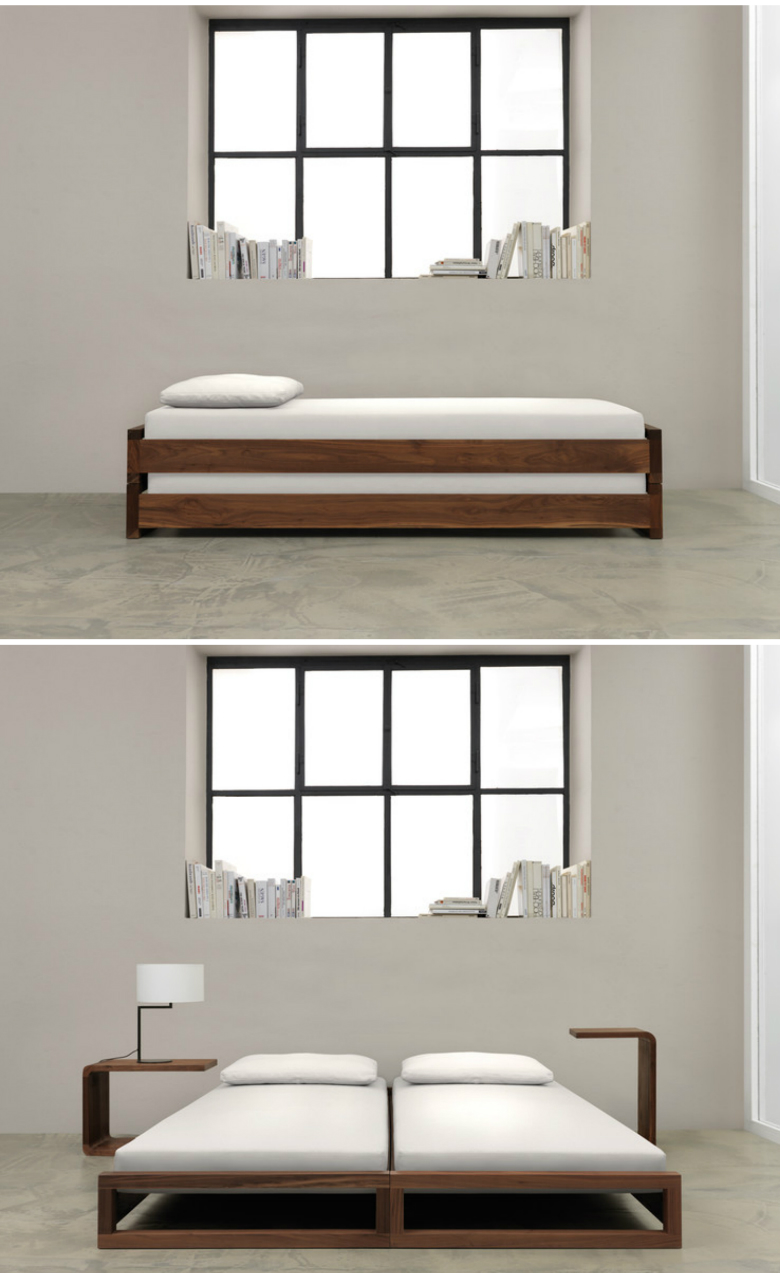 Even when you live in a small apartment, you can have a guest room. Or better said, a guest bed. If you are living alone, this bed will be perfect for when you have guests coming over.
13. Transforming Bed with Multiple Functions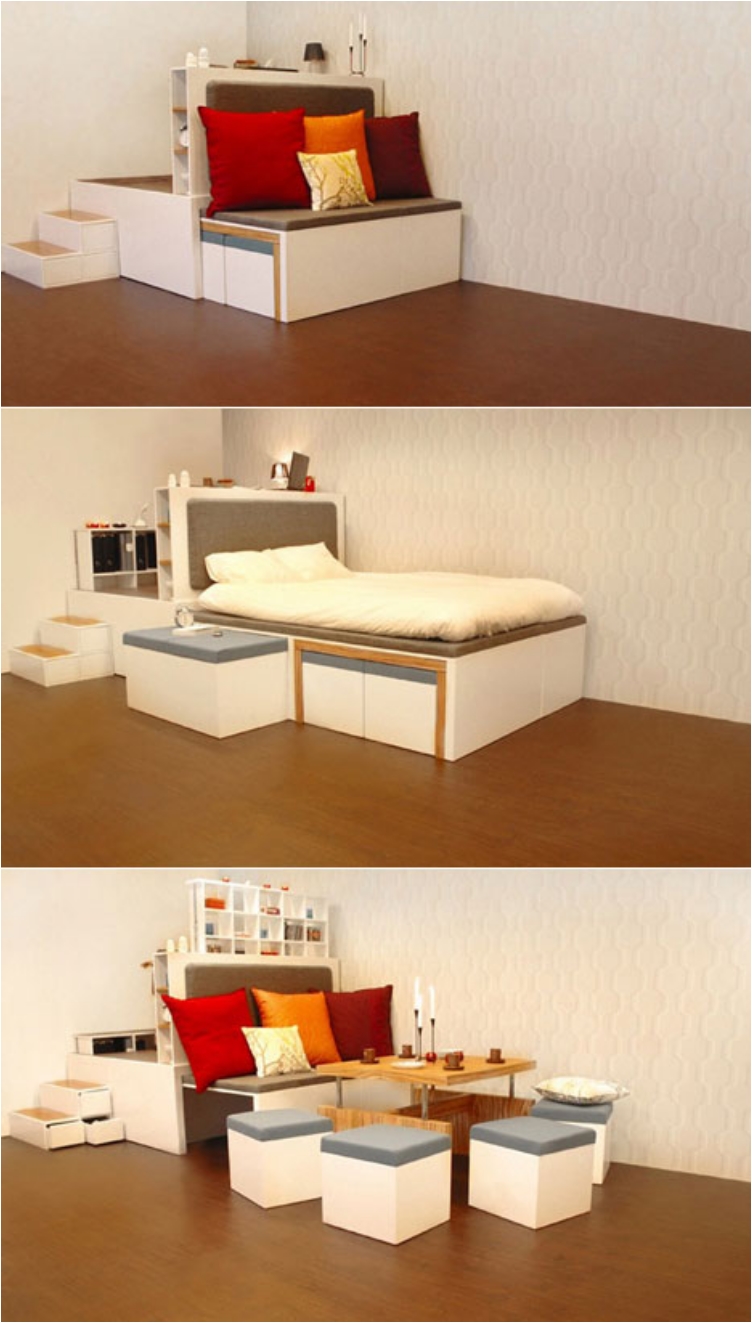 We had a similar "apartment within an apartment" bed previously. Now, we have another idea. Just look at all the options you can get from a single bed. A seating area for dining, a sleeping area, a sofa, and an abundance of storage space. To be honest, is there anything more you can ask for? The only thing missing here is a kitchen. But let's not get carried away!
14. Little Loft Bed over Kitchen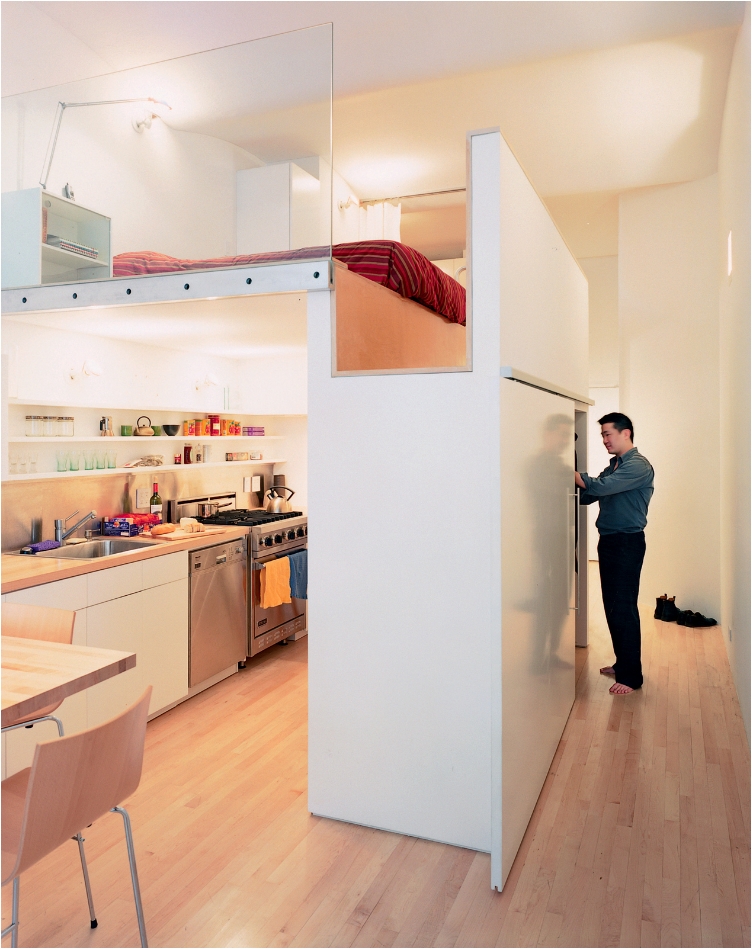 Yes, you can have a bedroom and a kitchen in one design. Everything is possible nowadays. You just need to find the right idea and design for you. I don't want you to worry about cooking odors—you can easily include an exhaust fan in the kitchen. And all your problems will be gone.
15. Office Murphy Bed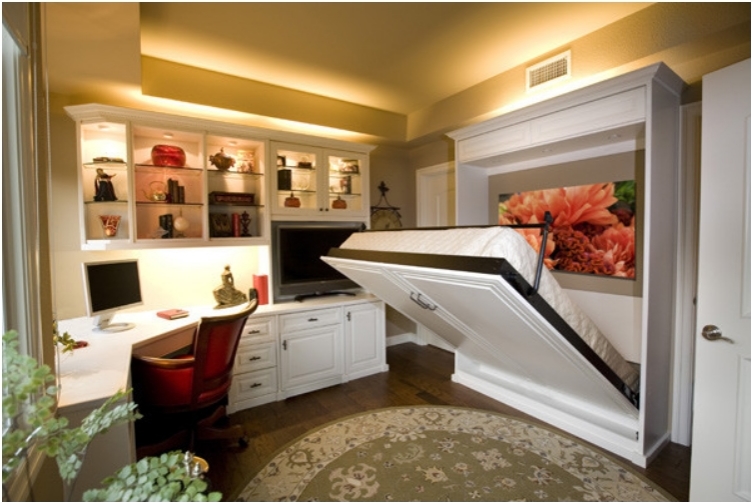 You've probably noticed that we've had a few office designs, and there's a reason for that. We live in an era where many people work from home. The internet and online paychecks have made that possible. And that's why many people living alone try to transform their bedroom into a small office.
16. Elevating Bed Design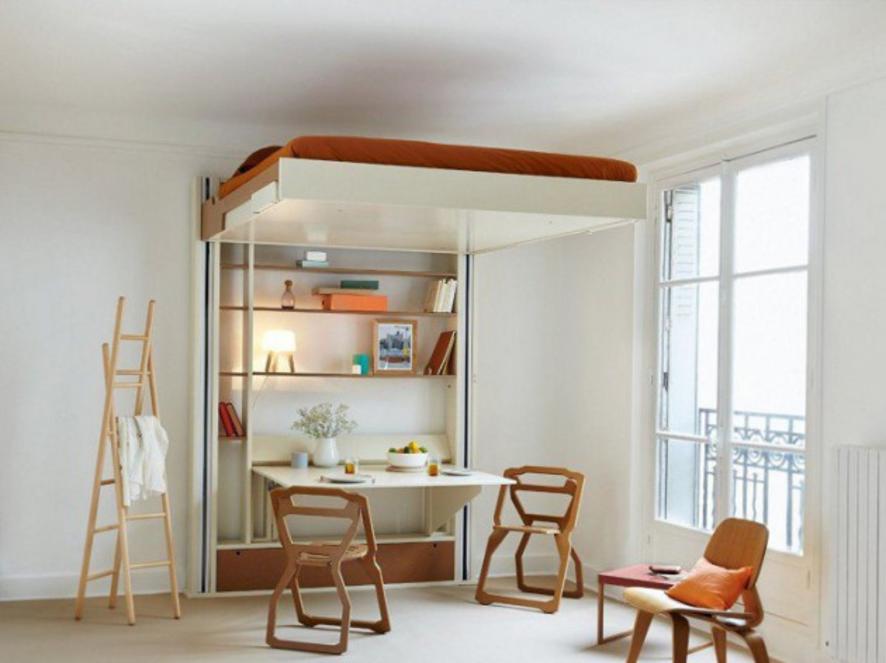 The fun part here is that you can move the bed up and down. If you are afraid of sleeping close to the ceiling, you can lower your bed. You can even lower it all the way down to the floor. Just move the chairs and everything else.
17. Couch That Turns into a Bunk Bed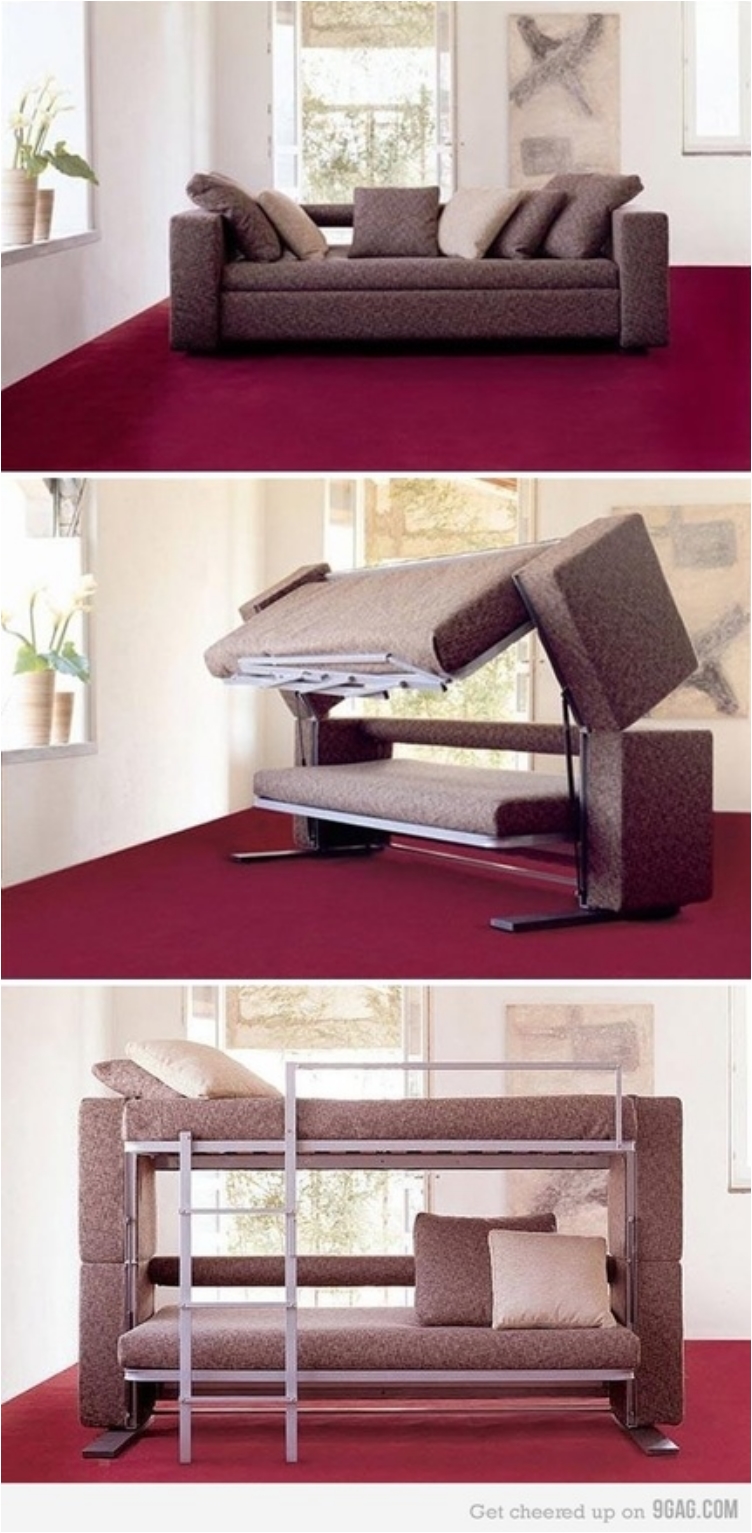 We had quite a few designs for "transformer beds." What I like about this one is the simplicity of the design. And the fact that you get to sleep up, and somebody else sleeps down. Feels like those teenage years again.
18. Bookcase Murphy Bed with Hidden Working Desk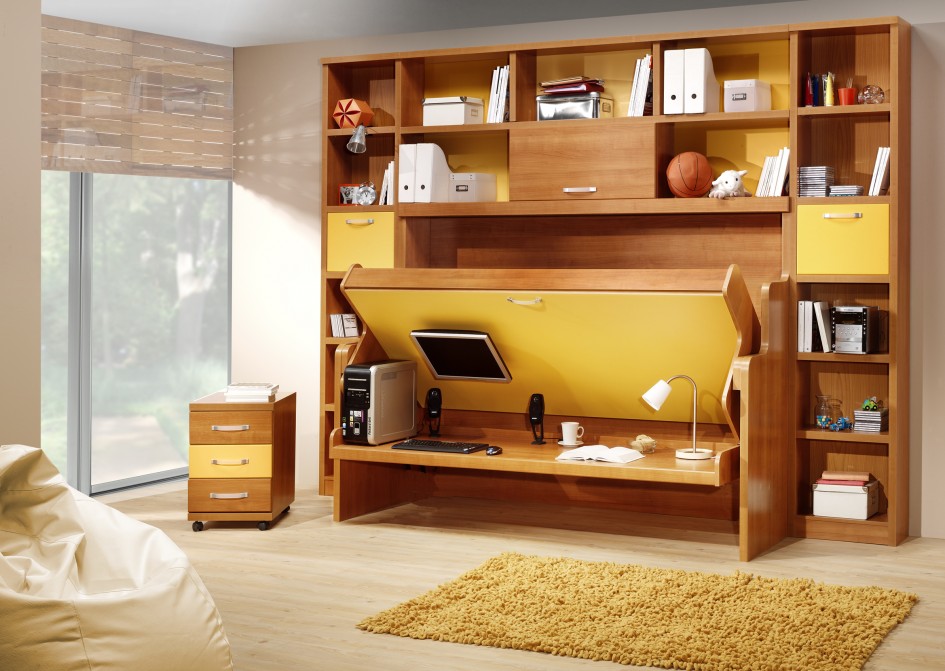 This design is just too perfect. You can't ask for more out of a bed—especially if your goal is to have a practical bed. Basically, you have three rooms in one design: the bedroom, the office, and the library with all those books. And in every different aspect, the design looks flawless.
19. Chair, Lounge Chair and Bed in One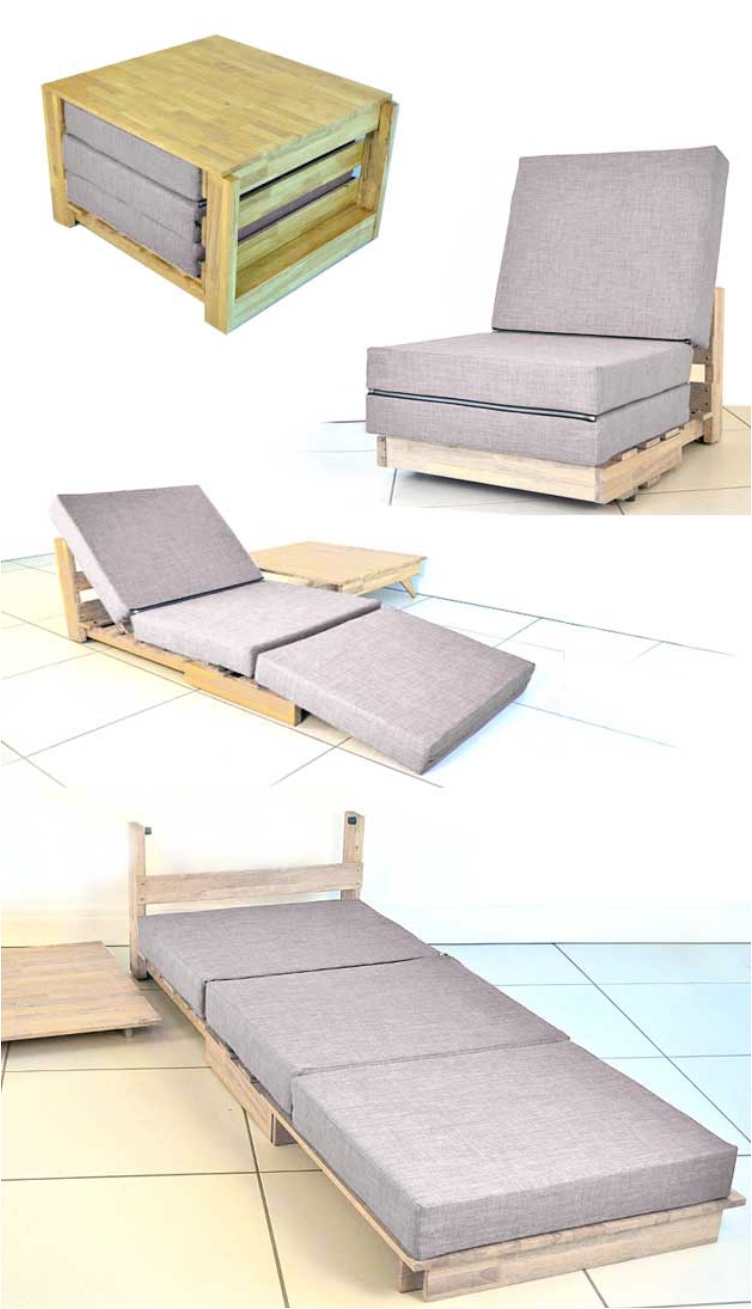 Simple, elegant, and very practical design—that's this bed in a nutshell. Certainly not one that will get you excited at first glance. But there is no denying the versatility.
20. Loft Bed with Pull-out Storage Beneath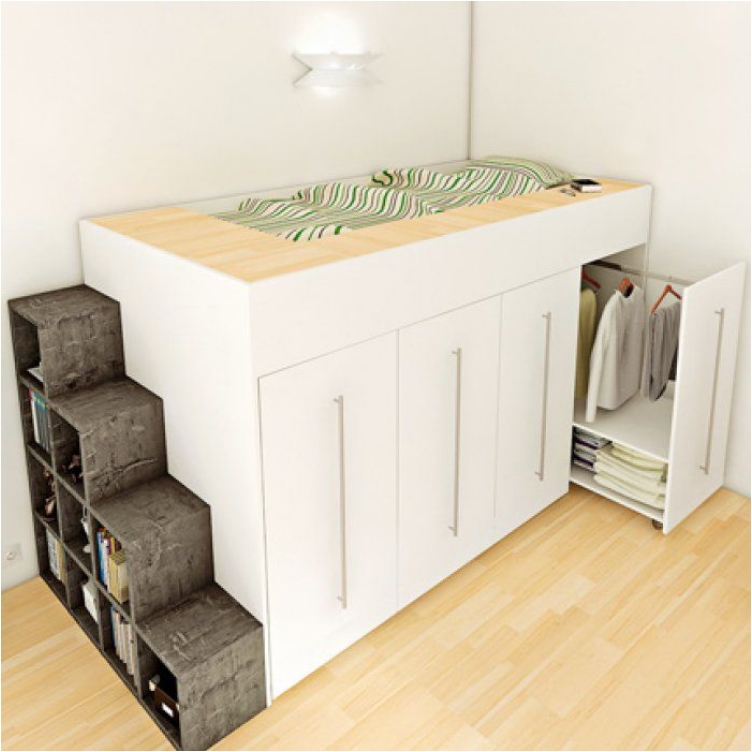 Loft beds are perfect because they offer so much storage potential. The higher the bed is, the more storage space you get underneath. And that's something not many bed designs can offer. You can even organize the space in different sections.
21. Hidden Bed as Room Divider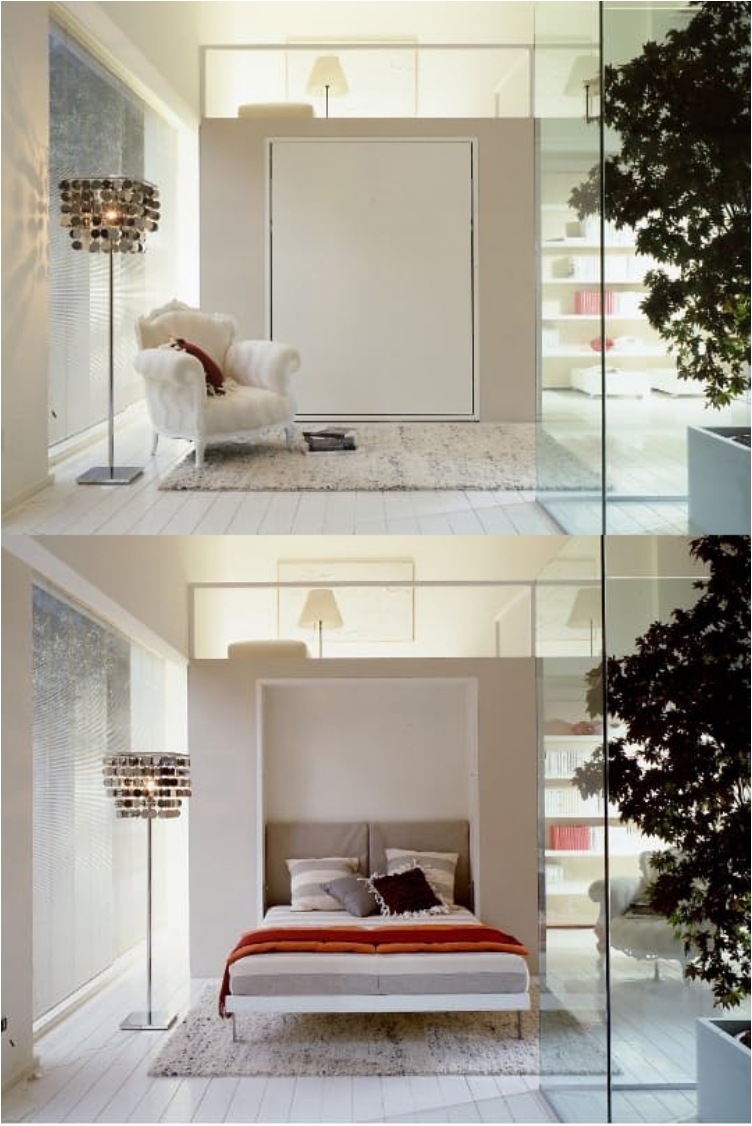 Recently, I wrote an article about room dividers. I talked in length about everything you can use to divide your rooms without using a wall. And a bed is definitely one of the more practical ideas.
22. Bookshelf Hidden Murphy Bed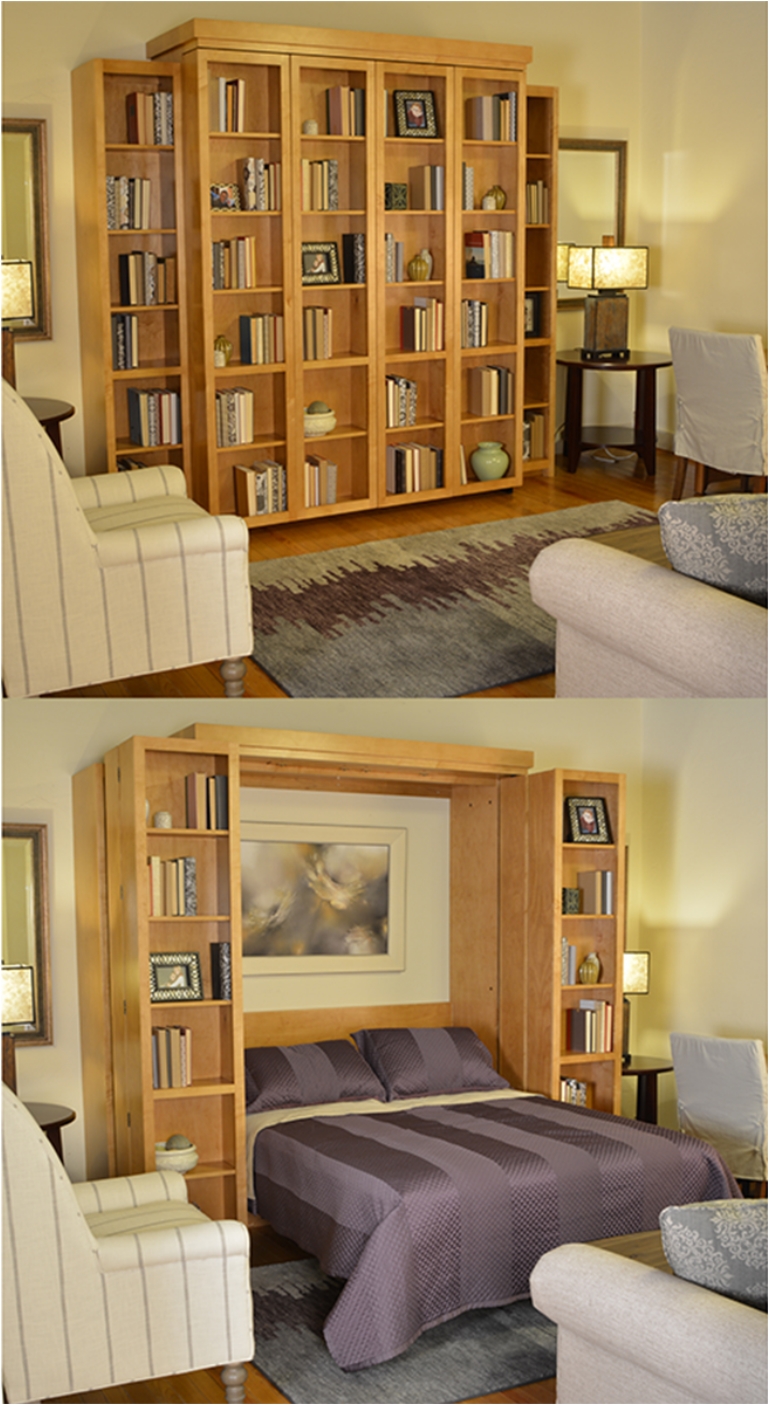 We had a bookcase with a Murphy bed just a while ago. But I want to give you another example. The previous one was with office space as well. This one is less practical. But you get more storage for books.
23. Murphy Bed with Shelves and Couch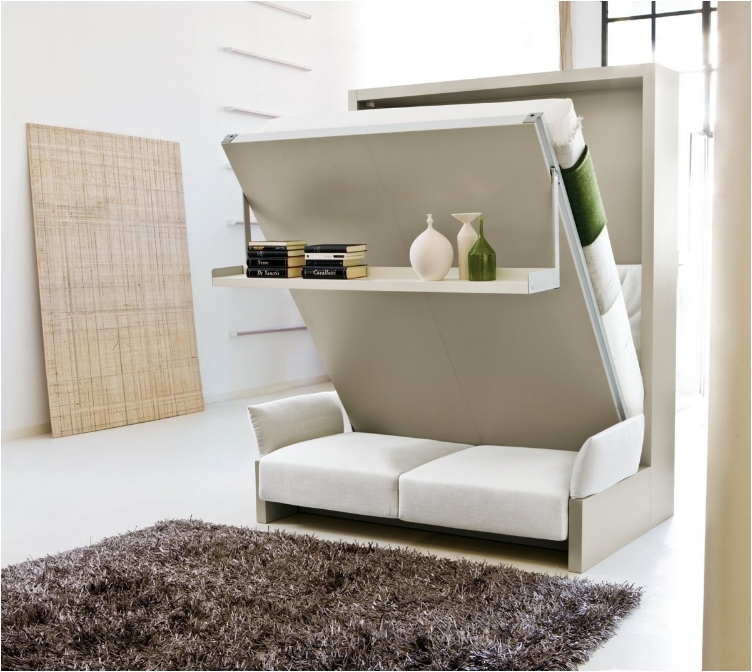 Given the fact that Murphy beds are some of the most practical and versatile bed designs for small apartments, it is only fitting that we finish off with a Murphy bed. This design might not look great, but that isn't the reason why you buy a Murphy bed in the first place. The reason you buy a Murphy bed is because of the practical aspect.
With that being said, I hope you had fun reading and browsing through some of the designs. Feel free to leave your suggestions in the comments section.