There comes a time when we all must go on our own. I'm sure you had that time as well. It was time to leave your parent's home and move into your own.
Now, it's time for your children to follow a similar path. For your little girl, we have several design ideas to turn her room into a princess' room. Girls dream of a pink bedroom, and you will rightfully find several pink designs below. It's time to look at your daughter as a princess.
1. Pink Walls with House Bunk Bed and Shelving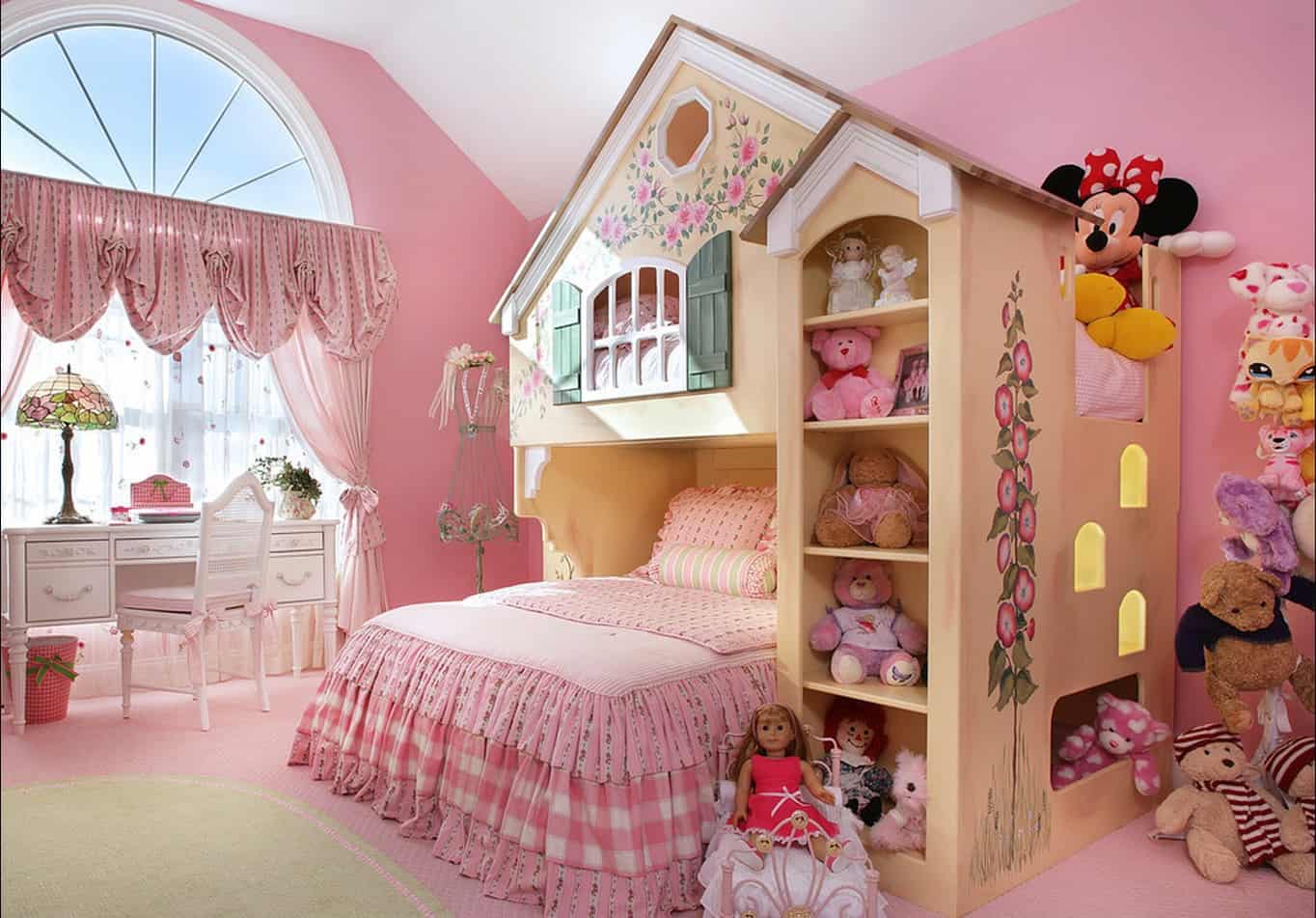 We start off with something classic, yet very elegant and practical. It's all about the storage here. Princesses have lots of dolls in their room, and it can get messy. But the trick here is to find a house that will give you more than enough storage room for all the dolls.
2. Pink and White Striped Walls with Canopy Bed, Seating Space and Desk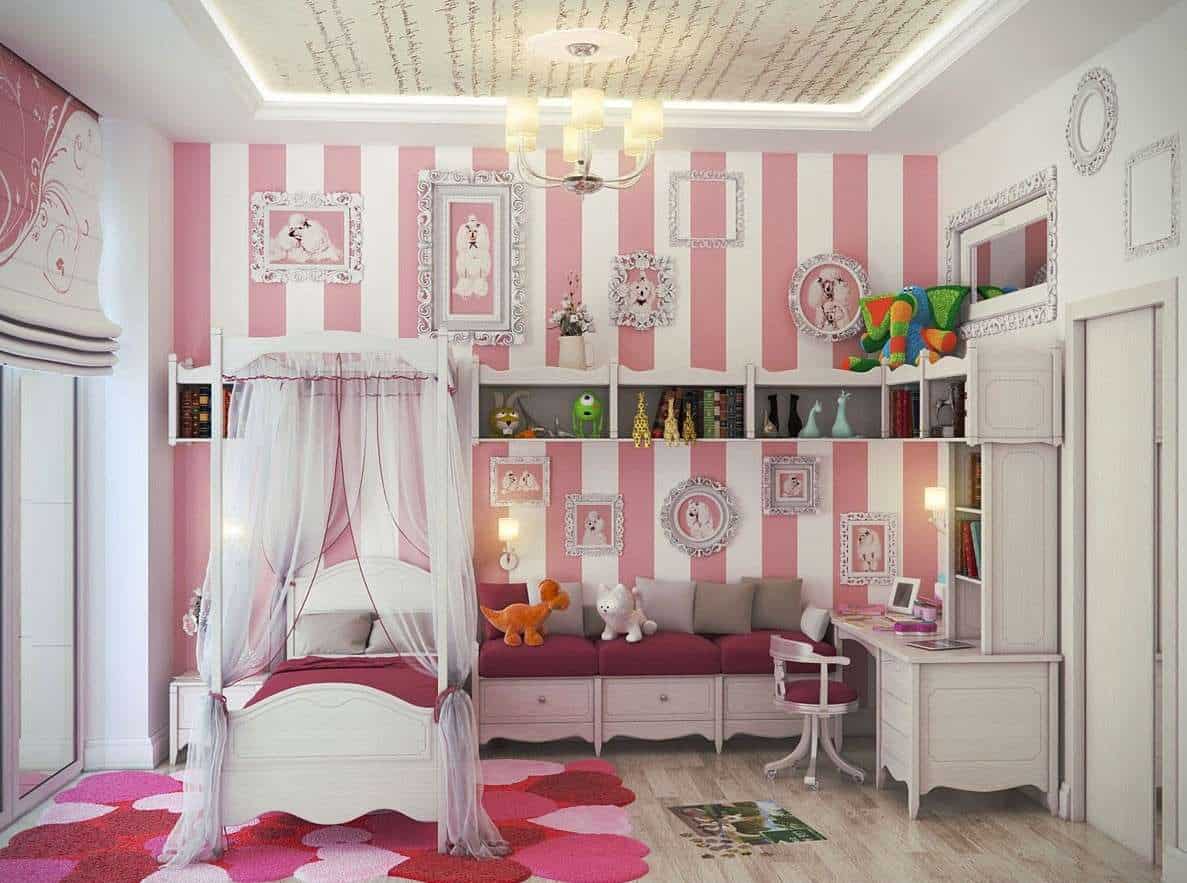 The canopy bed is right out of a princess catalogue. But the best part about this room is that it looks sophisticated. Yes, it's a little girl's room, but that doesn't mean you can't make it elegant. Pink and white stripes help you achieve that look.
3. Pink Car Bed, Pink Furniture and Green and Pink Striped Walls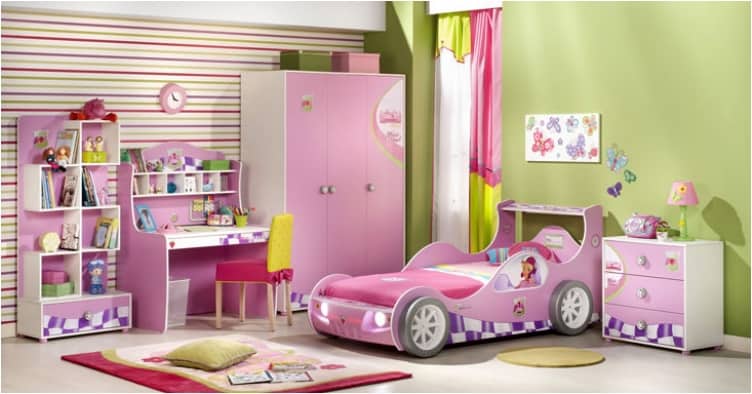 Car beds are usually reserved for boys. After all, they're the ones who want racing cars in their bedroom. But sometimes, girls love car beds as well. And there's no rule saying you can't have a pink racing car. The green is a perfect color to balance to pink.
4. Blue Tree House Raised Bed with Blue Furniture and Purple Walls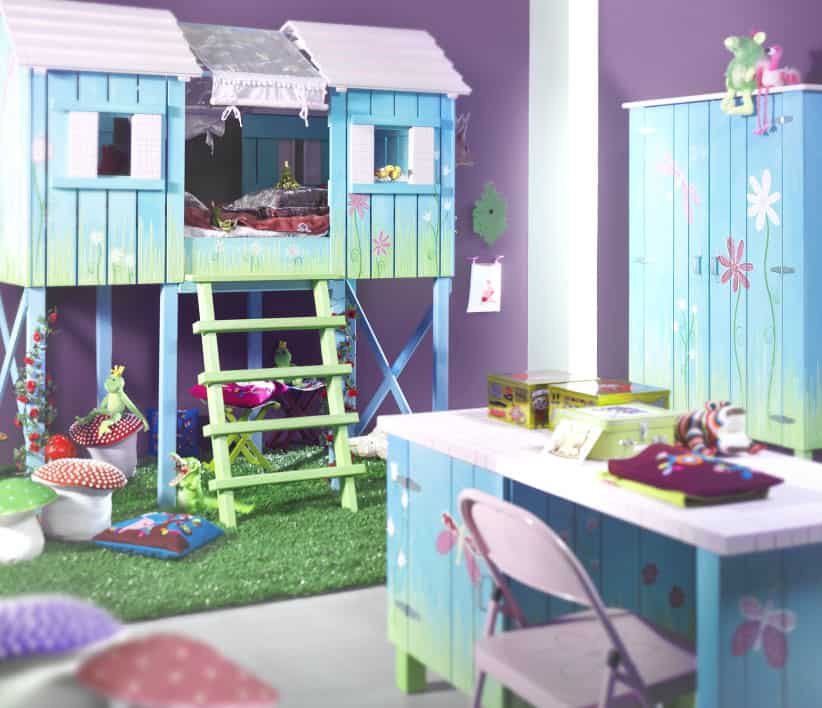 Want to bring some nature into the room? Well, nothing says nature as much as a tree house. And this room is a great example that you don't have to go pink at all costs. Blue and violet are girly enough colors. You can be sure your girl will have tons of fun in this room!
5. Winnie the Pooh-Inspired Orange Bedroom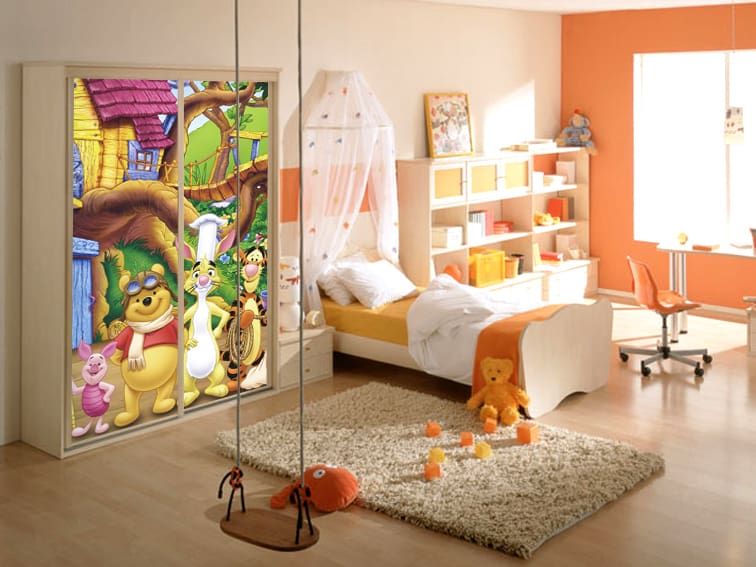 Winnie turns 40 this year. It's amazing how long this character has survived. My parents watched Winnie, I watched it, and now my kids will watch it. Winnie is definitely one of the best written characters in cartoon history, and it teaches our kids so many life lessons. But mostly, it teaches you that friendship is above everything else. Good point, right?
6. Purple and Pink, Two-Girl Bedroom with Bunk Beds and Desks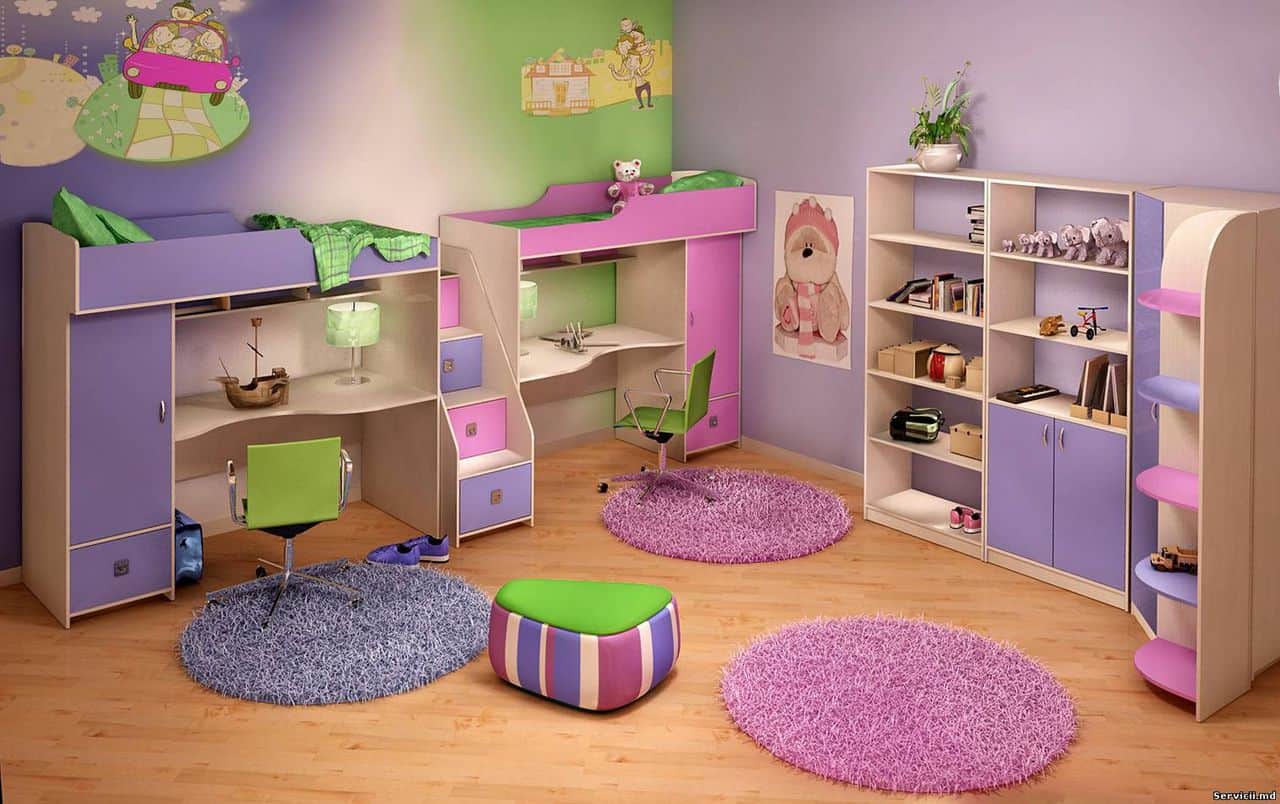 It's all about being practical here. Loft beds allow you to create a small desk section beneath. And I love how the colors match each other. Of course, that seat in the middle of it all is just perfect.
7. Fairy Princess Bedroom with Pink Furniture, Canopy Bed and Baby Blue Walls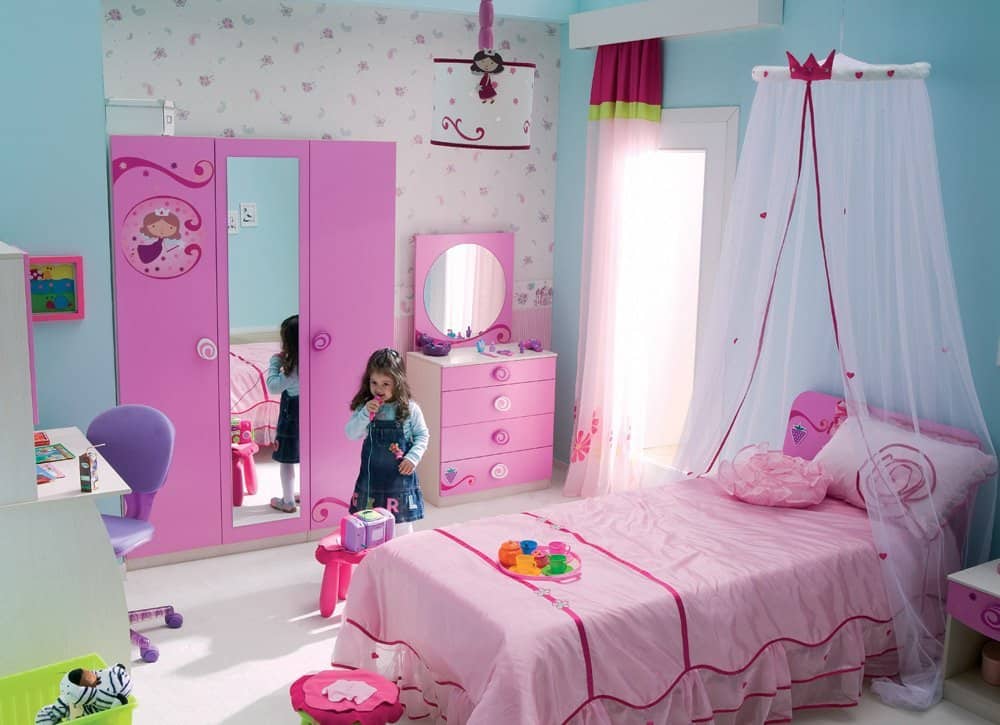 We had a canopy bed at the beginning, and I noted that it was right out of a princess catalogue. This one is a bit softer, as the canopy is sheer. I love the mirror on the cabinet wall, allowing your little princess to play with outfits and look at herself in the mirror. Isn't that something all girls dream of?
8. Small Pink Princess Bedroom with Disney Princesses Mural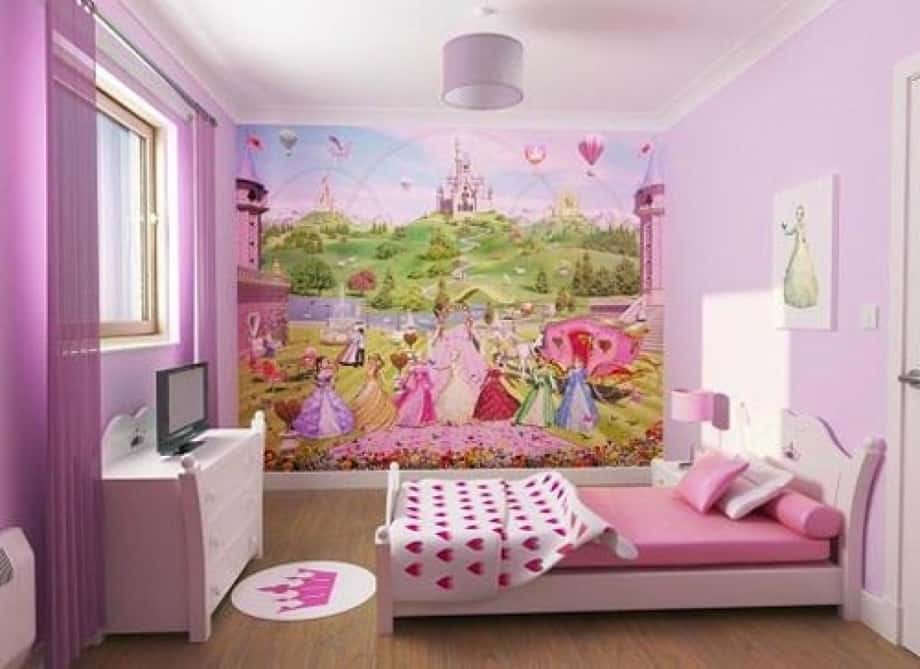 If your girl is into princesses, nothing beats Disney. And I mean nothing. So why not bring a Disney element into the bedroom? Parents usually opt for Disney-themed bed sheets. And a mural is definitely taking the next step.
9. Bratz-Themed Bedroom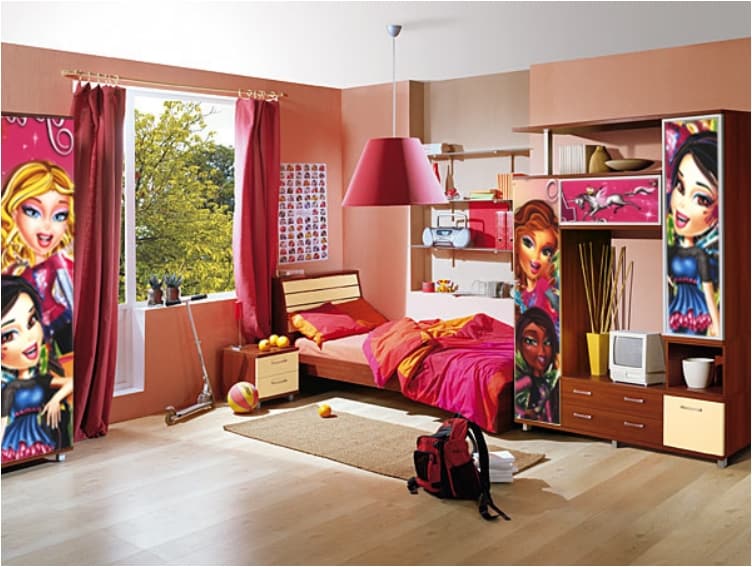 I'm not a big fan of Bratz, but this cartoon show has somehow managed to galvanize girls around the world. And with that type of popularity, you know a Bratz-inspired bedroom was inevitable.
10. Pink Bunk Bed with Dome Cover, Cream Furniture and Blue Walls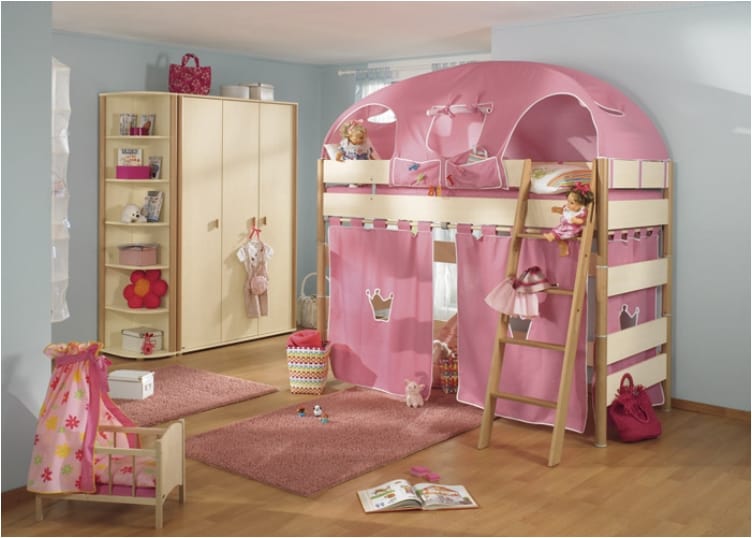 I don't know if I've told you, but I'm a big fan of a "room within a room" designs. This bed certainly falls into that category. Your princess can hide there for hours. She can use her bed as a personal hideout. And you can teach her to appreciate her privacy from a young age.
11. Hello Kitty-Themed Bedroom with Round Canopy Bed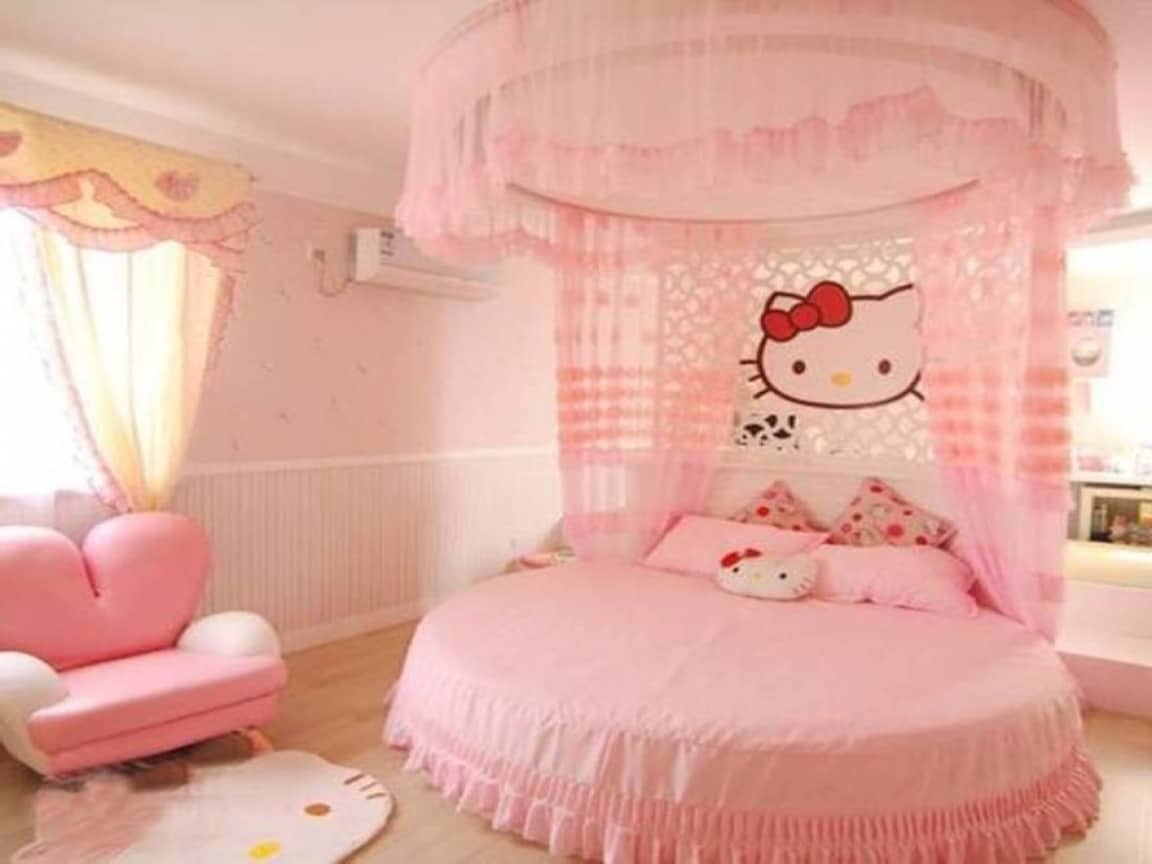 You just can't escape Hello Kitty. Unlike Bratz, Hello Kitty is definitely something I love. This Japanese cat took over the world like nothing else in the past several years. I don't know if you really need that big of a bed in the kid's bedroom, but why not—if you have the space, go for it. Your little girl will be comfortable and cozy, and that's definitely something we want for her.
12. Pink and Yellow Bedroom with Striped Walls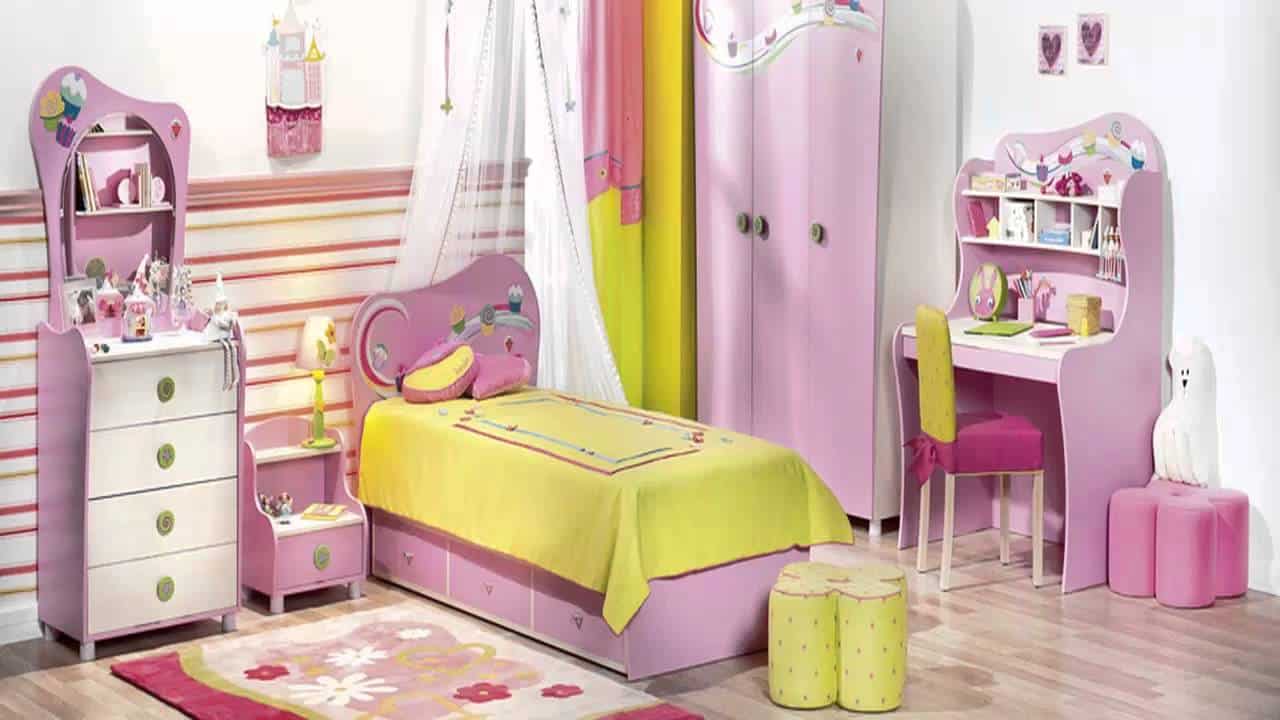 Pink is a color you can mix and match with so many different colors. In terms of yellow, your goal is to bring a little bit of energy and vibe into the interior. Yellow is such an energetic color, and I must say, not many designers recommend it for a child's room. Some believe it makes your kids hyperactive. But that doesn't always apply.
13. Princess Bedroom with Four-Poster Canopy Bed and Floral Wallpaper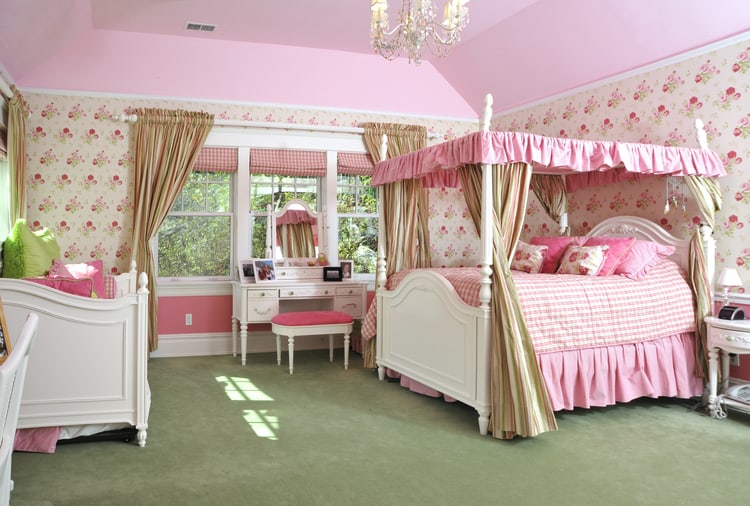 The first thing you notice here is the wallpaper. It gives such a romantic note and feel to the room. I don't want to go into stereotypes too much, but girls are romantic. And that's just a fact—especially when they're young.
14. Princess Castle Bunk Bed with Slide and Pink/Purple Diamond-Patterned Wall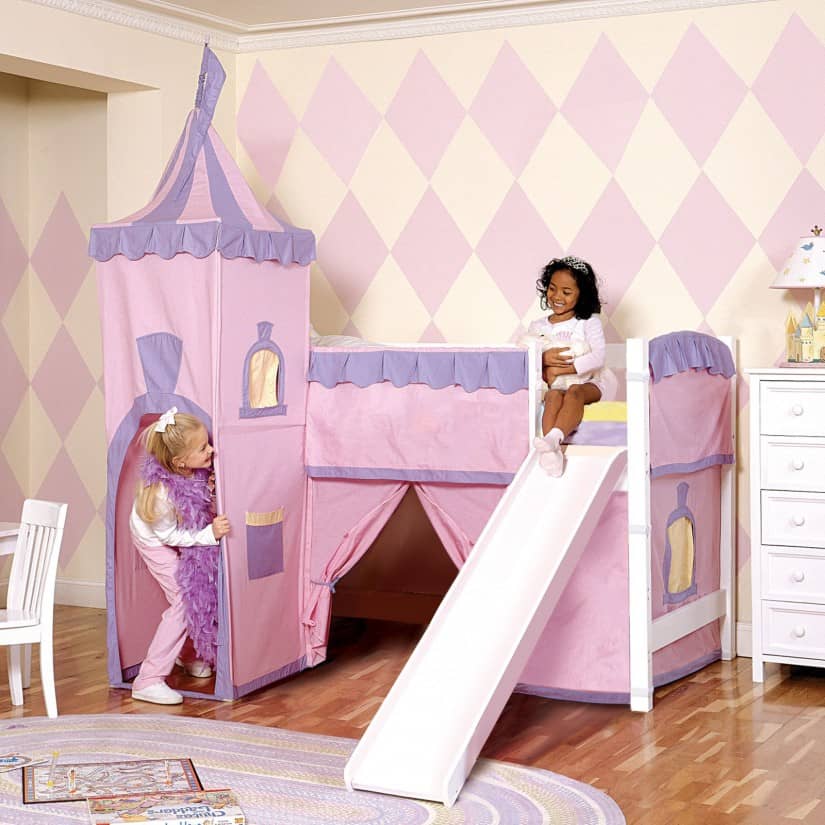 We talked about a "room within a room" design. This bed will bring so much fun and entertainment into the room. Your little girl will enjoy it whenever she has friends over. Basically, you're giving your girl a playground within the room.
15. Green and Pink Bedroom with Canopy Bed and Purple Walls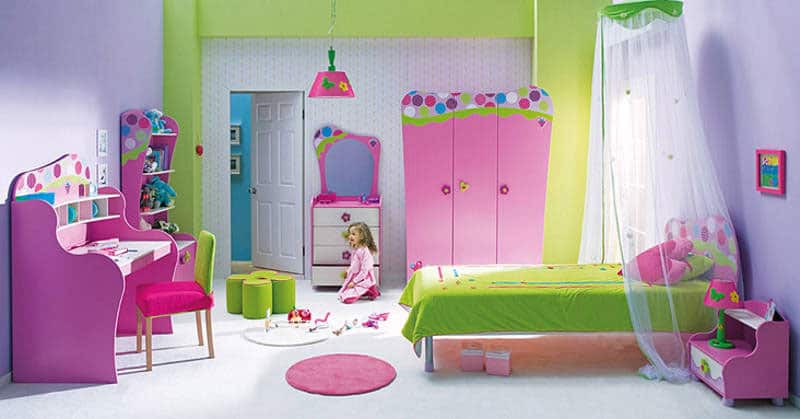 The colors are just so vibrant in this room, and that makes the room look so cheerful and joyful. You can be sure your little princess will be happy most of the time. The colors just enhance that feeling.
16. Princess Bedroom with Cinderella's Carriage Bed and Wood Floors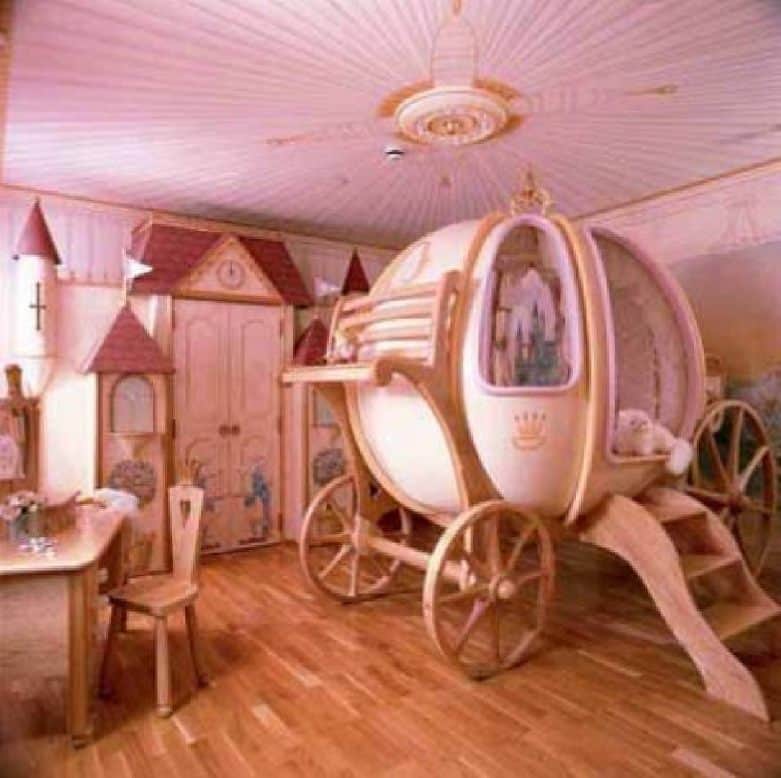 We all dream of finding our prince. Right? Well, you can let your little girl dream from young age. A Cinderella carriage certainly does that to a child. But you can't deny how unique and beautiful this room looks.
17. Pink and White Toddler Bedroom with Floral Accents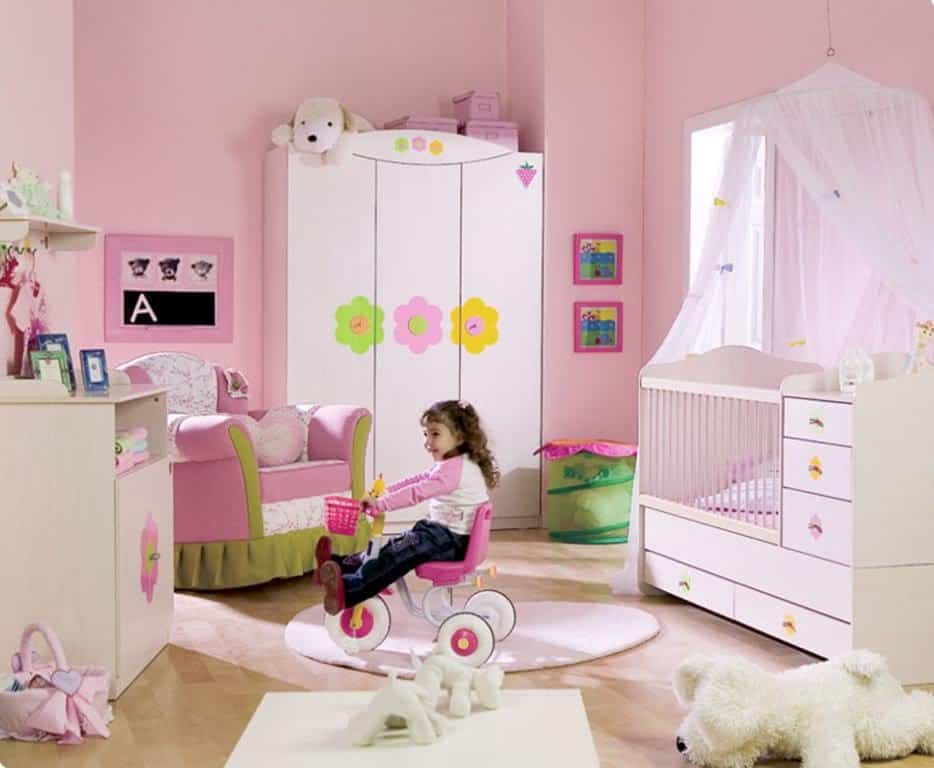 When you want to stick to classic colors and simplicity, pink and white is your best option. But a room painted just in pink and white would be boring, which is why we add accessories. In this case, they come in the form of floral accents.
18. Winx-Themed Attic Bedroom with Car Bed and Room Divider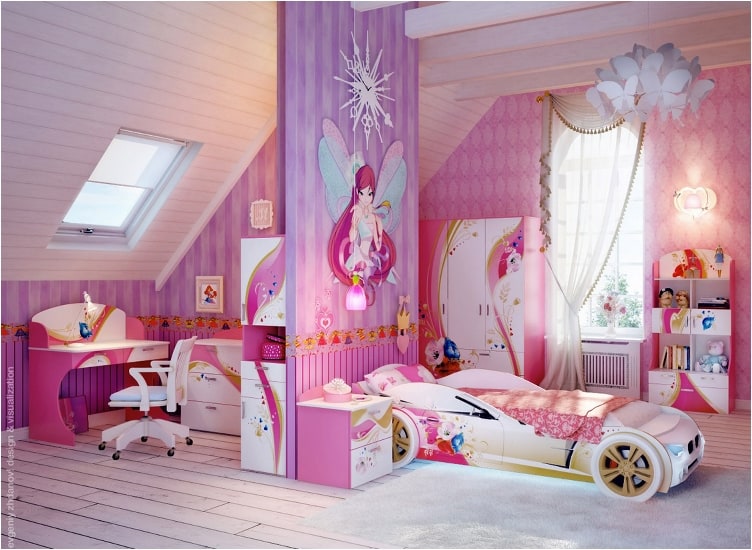 Room dividers are not only for the living area. I've written previously on room dividers, and how practical are they in a room. But as we can see here, they're excellent in the kids' room as well. You want the place where your daughter reads and studies to be separated from the place where she sleeps. Oh, and I almost forgot—that race car bed.
19. Laminated Pink Bedroom with Four-Poster Canopy Bed with Ruffles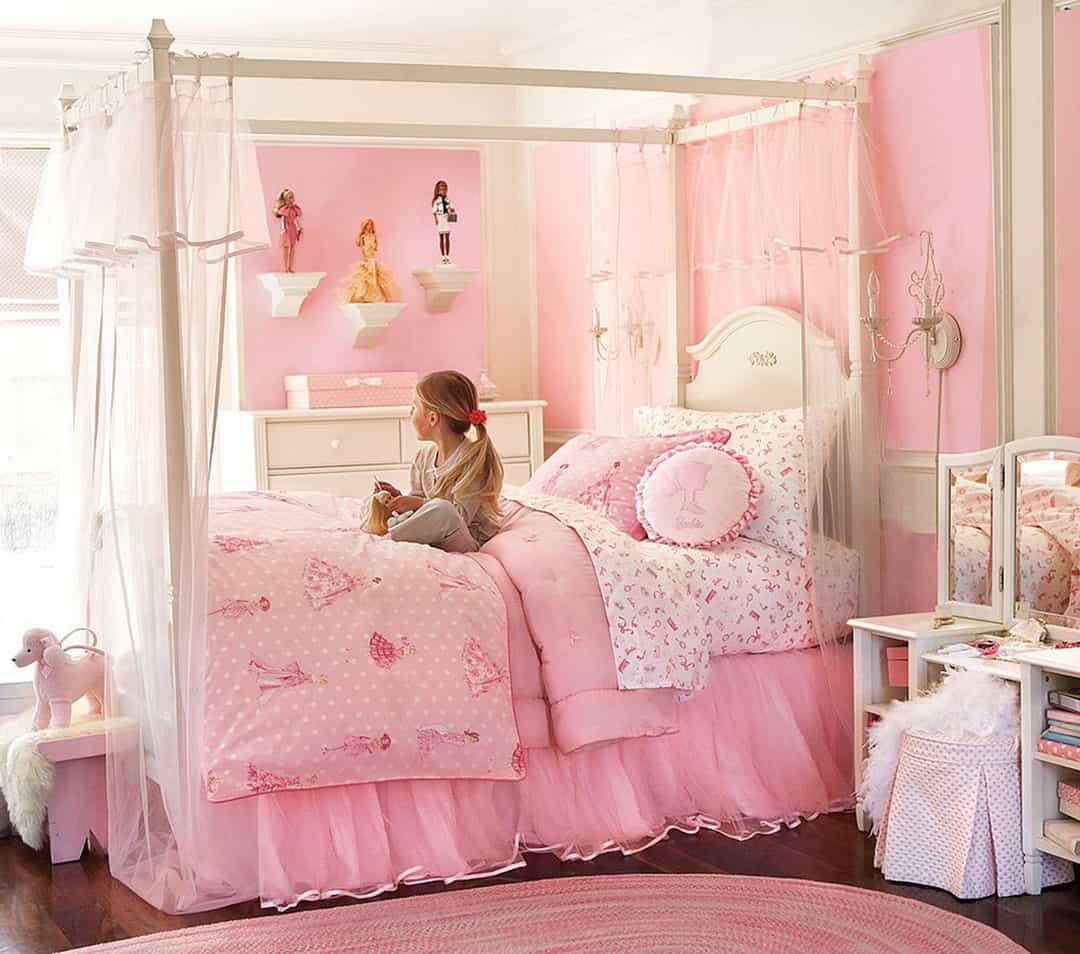 We have another perfect example of a room that echoes simplicity and minimalism. In this case, we don't have accessories, but we do have different textures for the bed sheets and some wall decorations to make it playful. The canopy bed is always a good idea, by the way.
20. White Bedroom with Twin Bed Tree-House Design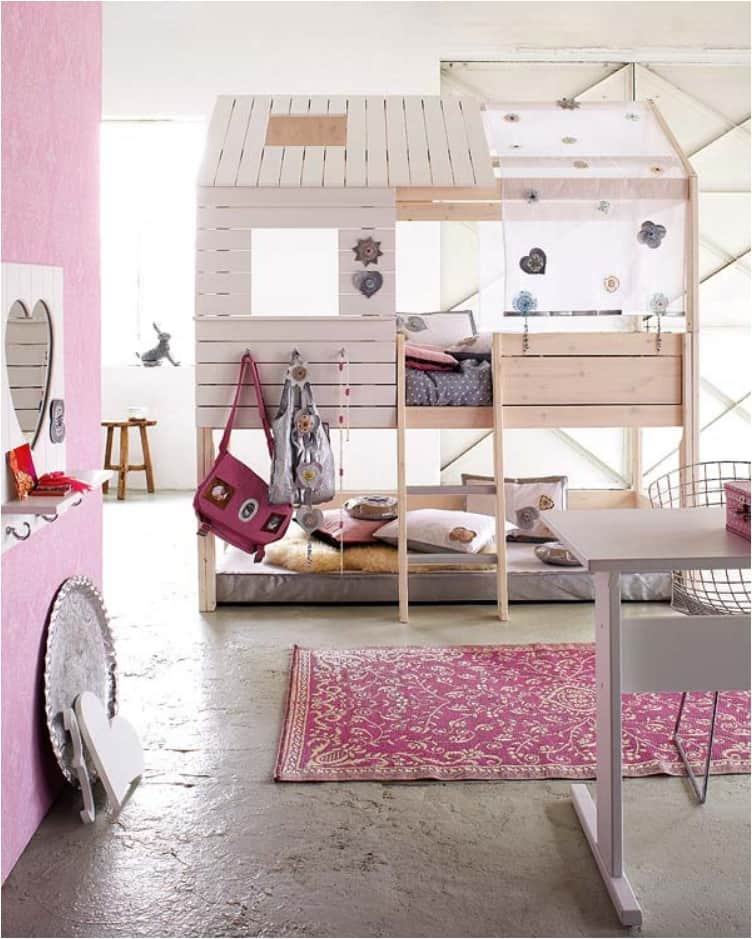 You rarely see a girl's room decorated in white. Especially when your little princess is young. But I must say, it works in this case. The room looks clean and neat, and thanks to that tree house, you have your unique decoration—and you know a tree house brings entertainment to the room.
21. Pink and Purple Bedroom with Car Bed and Floral Wallpaper
I love how flowers are a big theme in this room. Not only do you have floral wallpaper, but you have floral embeds on the wardrobe, the desk, and the car bed. It just shows that you can pick up a theme and apply it throughout the room. And as mentioned previously, you definitely have to appreciate a full-size mirror in the room.
22. Pink, Four-Poster Princess Bed and Yellow Walls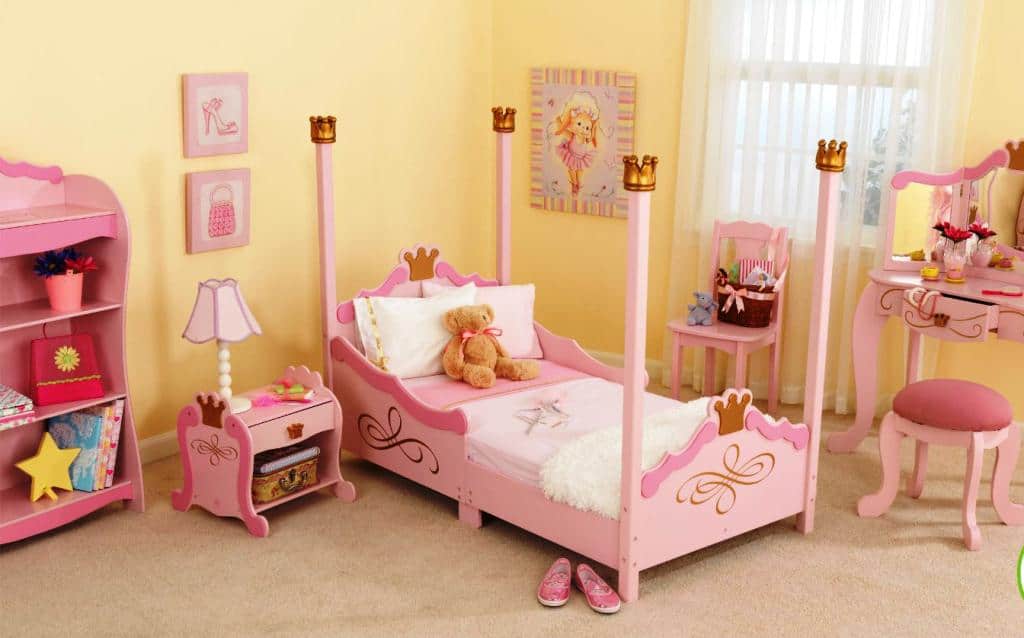 A princess needs her crown. And little girls love that accessory. Some even wear a crown when they grow up. So, why deny her that experience?
23. White Bedroom with Pink Canopy Bunk Bed and Wooden Furniture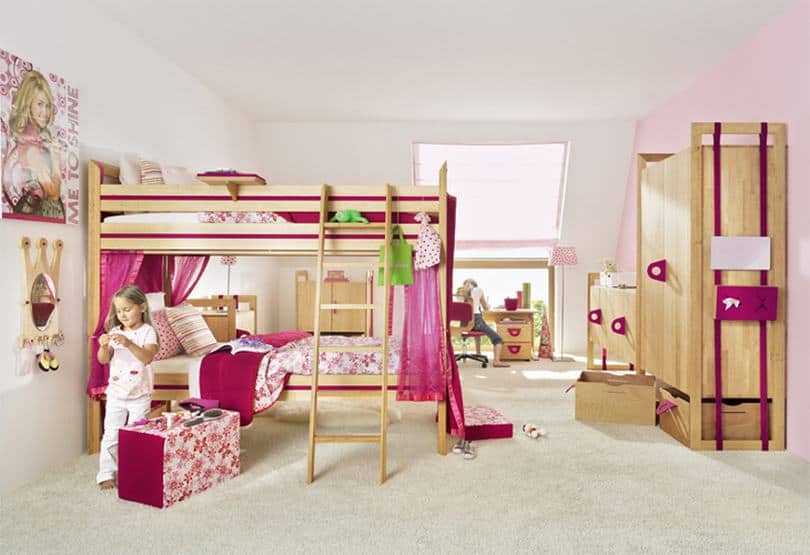 The best part about this room is the furniture. Wooden furniture works wonderfully in white rooms. It emphasizes the furniture's quality of work. Now, I'm sure most girls will not be interested in that—at least not when they're just five or six years old. But they will definitely love how the room looks. You strike a perfect balance between white, pink, and light brown.
24. Pink Bedroom with Floral Picture Wallpaper and Tent-Enclosed Bed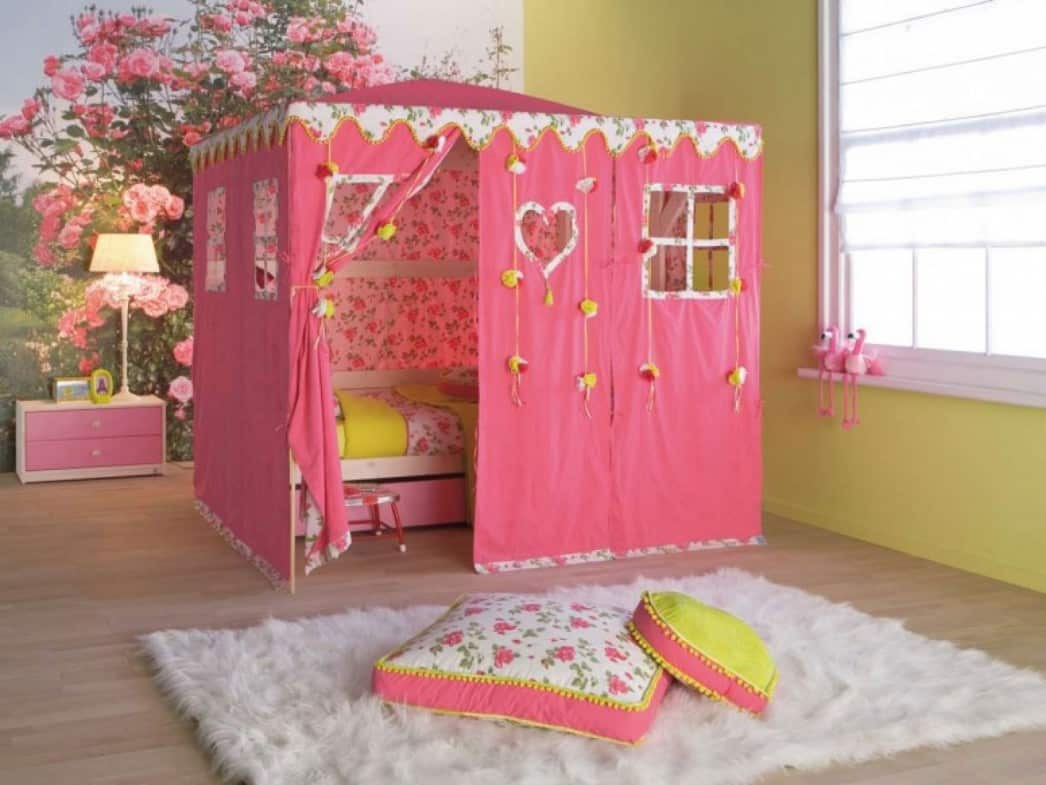 We had a tree house as well as some other bedroom designs for a room within a room. But we didn't have a tent. Now, a tent is not very princess-like. But as you can see, you can make it look like a little princess' room. The floral wallpaper is something to marvel at.
25. Two-Girl Princess Bedroom with Canopy Beds and Castle Mural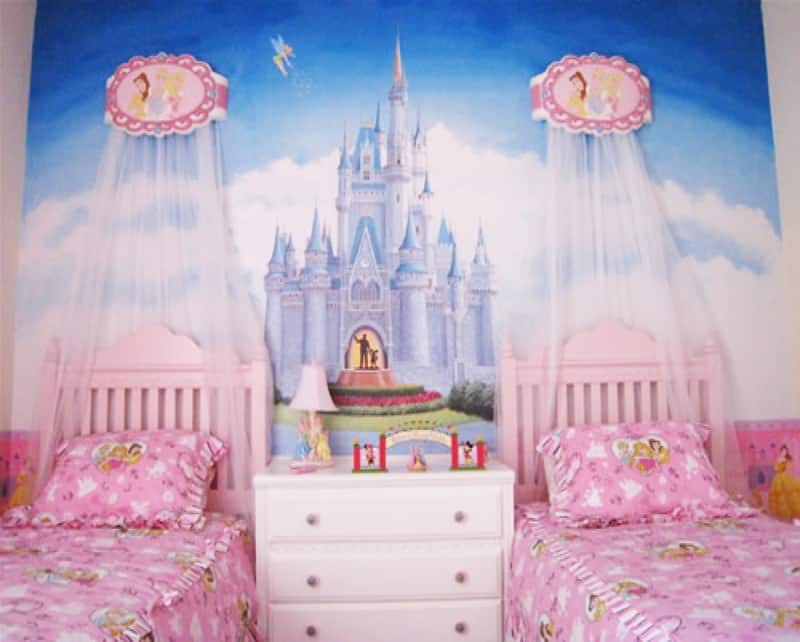 The room looks like the opening sequence of a Disney movie. The balance and symmetry are just amazing.
26. Pink, White and Green Bedroom with Bunk Bed and Colorful Wallpaper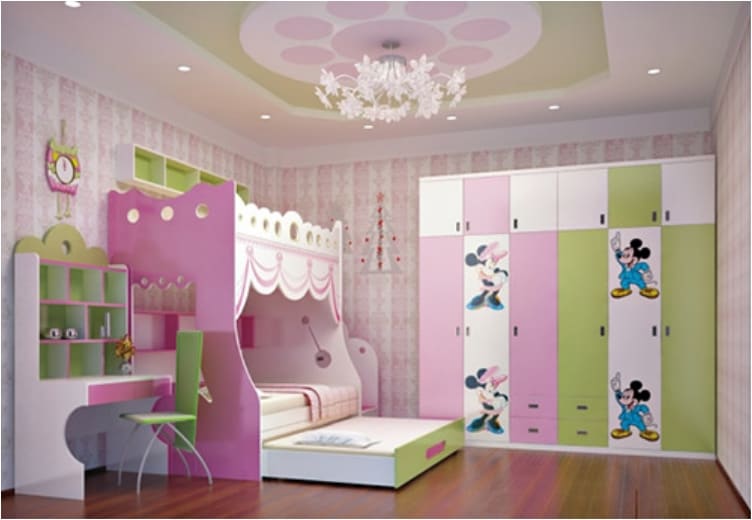 Bunk beds have become popular in recent years because of their practicality. And the kids' room is one room where a bunk bed fits perfectly. You might notice the wallpaper at first when you enter this room. But Mickey and Minnie Mouse steal the scene.
27. Small Bedroom with Night Sky Dome Bunk Bed and Floral Curtains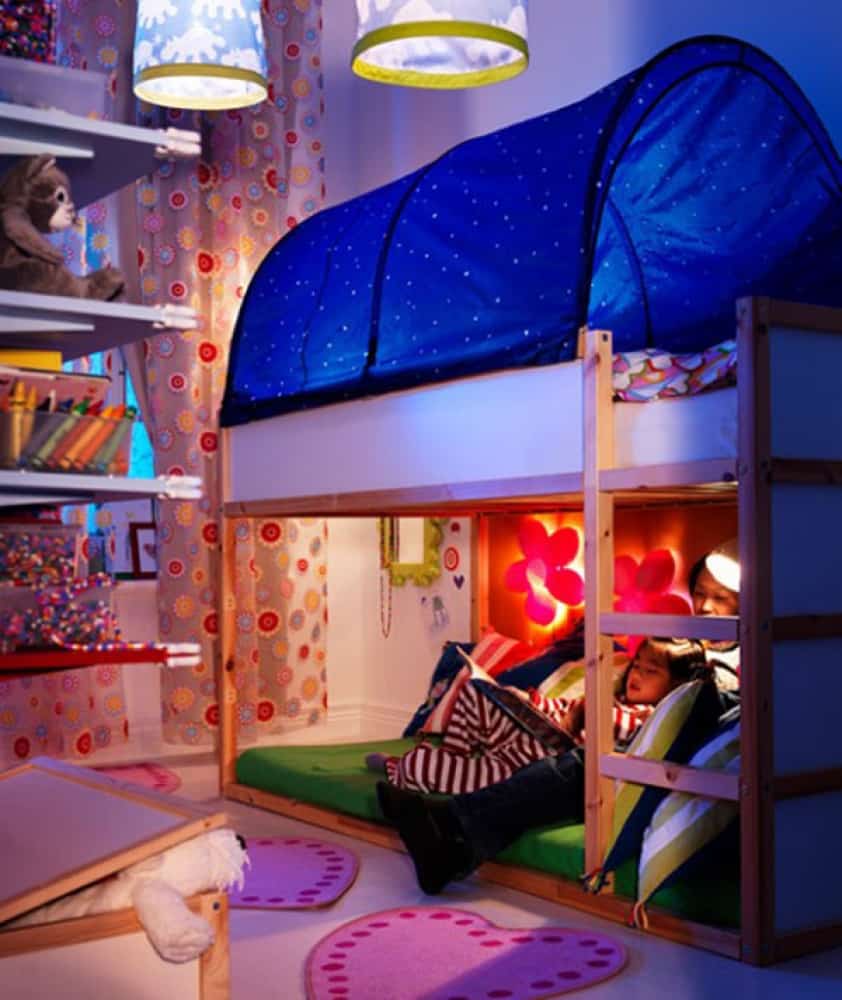 Your little princess will feel like she's out in the open, and she can gaze at the stars all night. But, in fact, she's safe in her room. Looking at the stars is a feeling words can't describe, and you just want to relax and enjoy.
28. Baby Pink Bedroom with Canopy Toddler Bed with String Lights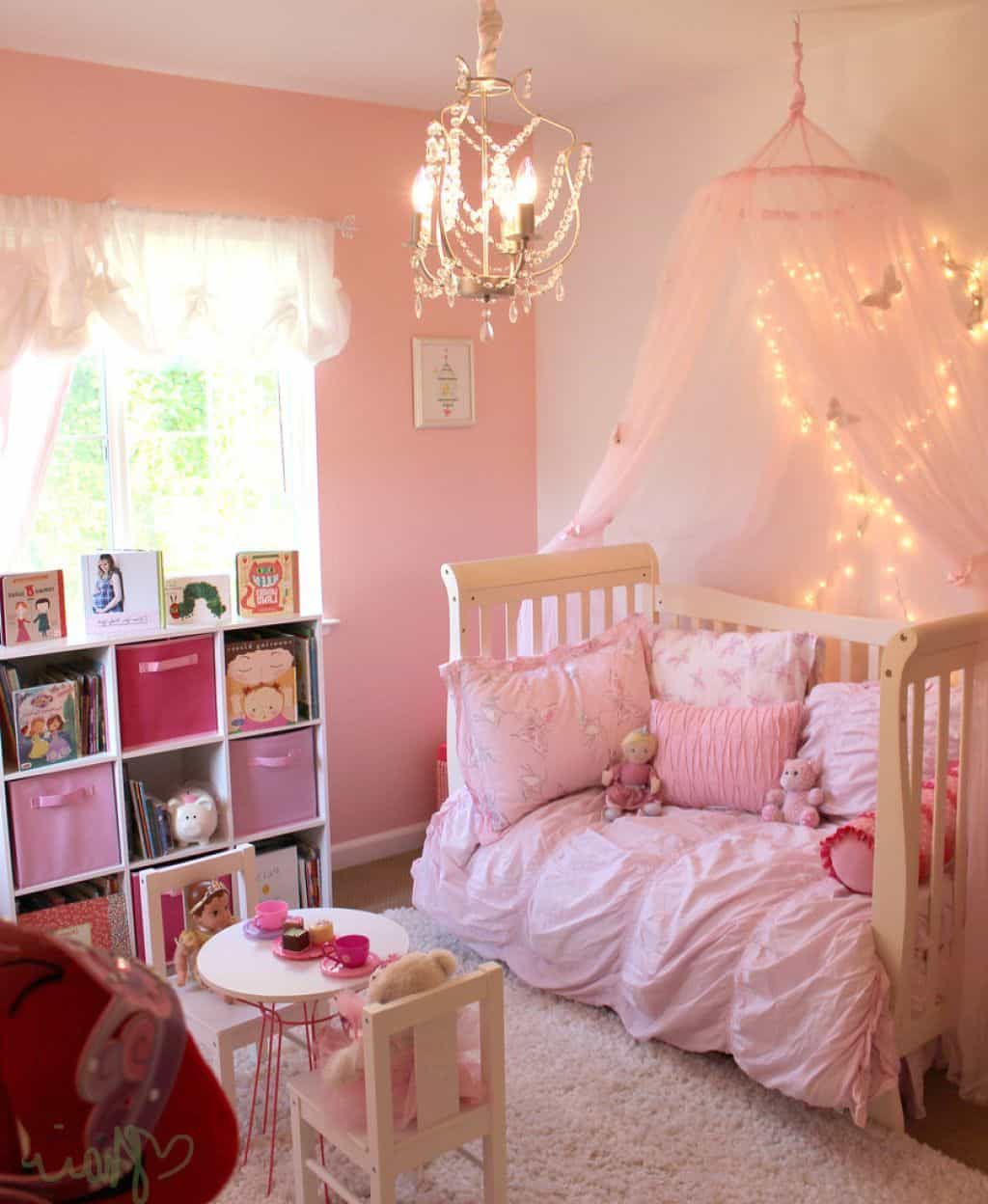 The canopy lights are just so perfect. I must say, I don't care for the chandelier. But it is what it is. What I love, however, is the tea cup party small table with chairs. Definitely something your girl will love. She can play with her dolls for the whole day!
29. Pink Bedroom with Princess Carriage Bed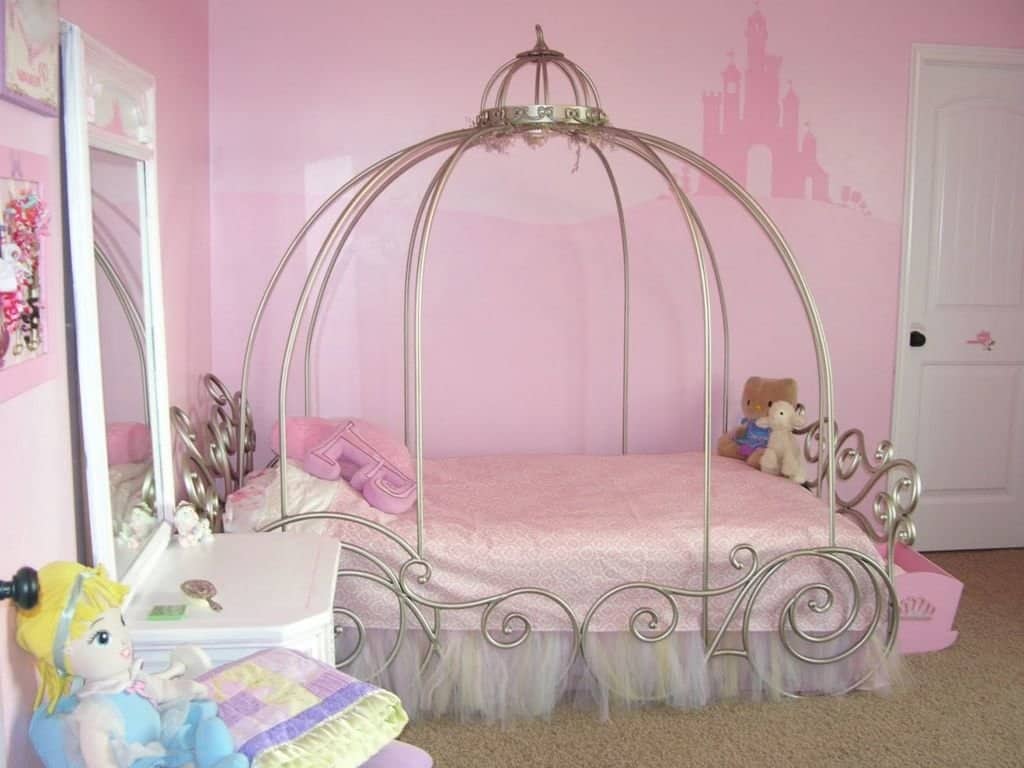 We had Cinderella's carriage earlier. This is just a classic, standard carriage, but it brings that princess moment to the room. Some girls love a race car bed, and some want a carriage bed. After all, she's the one to choose.
30. Pink and White Princess/Hello Kitty Bedroom with Bunk Beds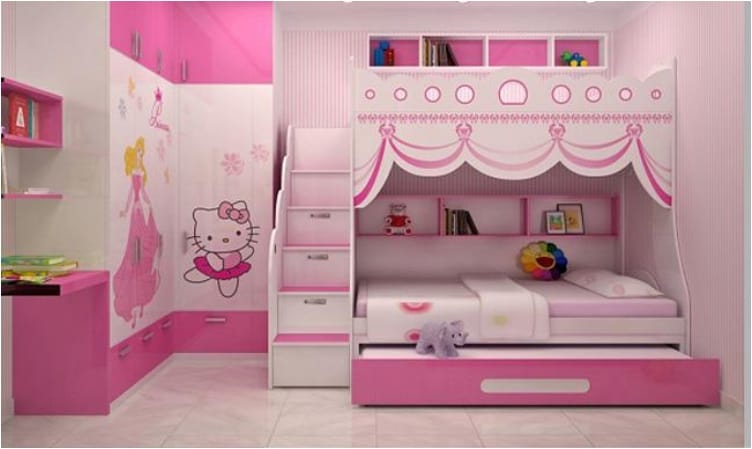 Just look at how much storage that bunk bed brings to the room! I like the combination between a princess and Hello Kitty. But the bed is what makes this room great. You can find space for all the toys.
31. White and Peach Bedroom with Princess Castle Bunk Bed with Stairs and Slide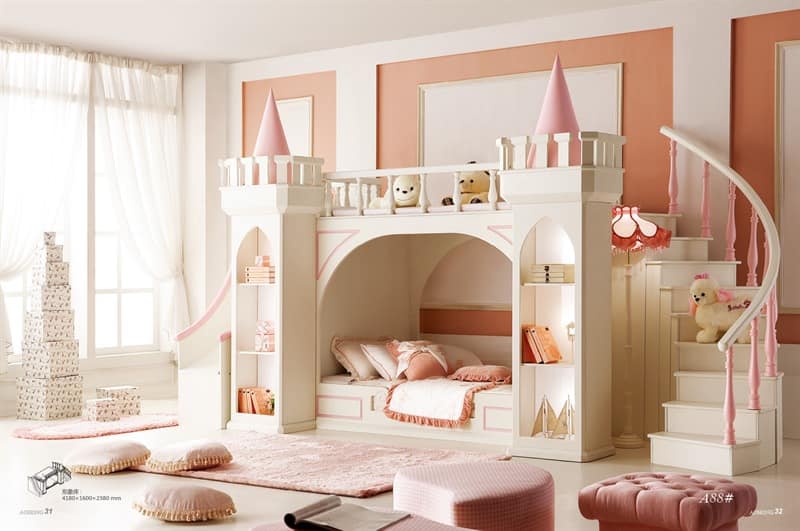 Your little princess will finally have her castle. She'll need a prince later on in life, but while she is just a girl, she has her castle. And she can play in it the entire day. That is more that most girls get.
32. White Princess Bedroom with Canopy Bed and Purple and Pink Accents
We finish off with a simple, yet elegant design. It's all about minimalism and simplicity here. You might assume this is a room for an older girl, like 8 or 10 years old. Still, you do get lots of princess elements.