Truth be told, the Russians are probably the funniest nationality on the internet. The internet is filled with drunk Russians, Russians doing funny stuff, and so on. And it seems like they are now cloning celebrities. The pictures showing American celebrities and their Russian doppelgangers are just pure entertainment. Enjoy!
1. Robert Downey Jr.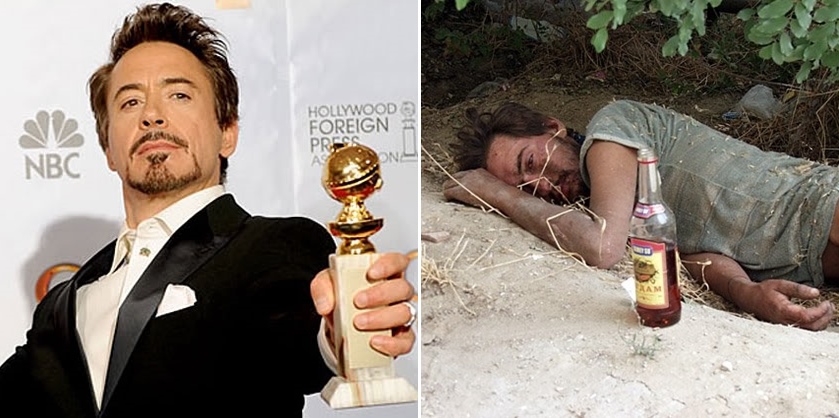 Of course Robert Downey Jr. has a drunk Russian twin. After all, the actor battled alcoholism for so many years. Nowadays, he is clean and sober, but there were moments when he passed out just like his twin from Russia.
2. David Duchovny and Gillian Anderson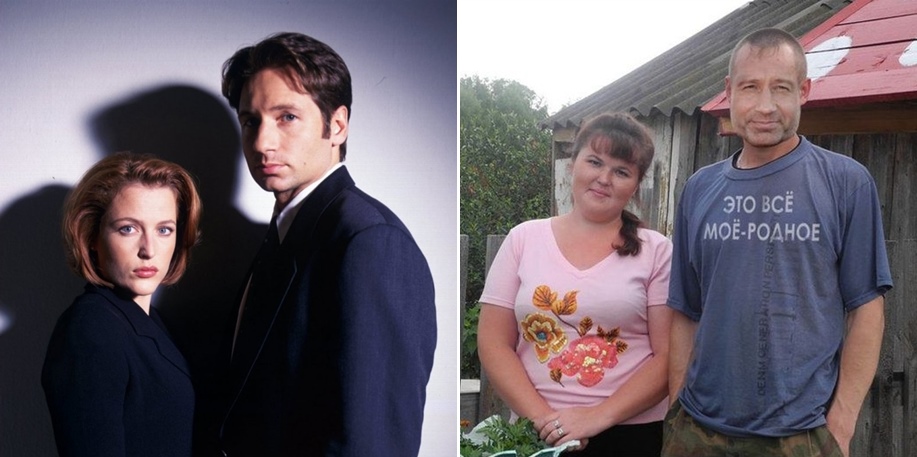 Well, when you're looking for extraterrestrials, you're usually looking in the countryside. And David and Gillian can sleep tight. They know that if aliens come to Russia, they have someone to take care of the problem.
3. Bruce Willis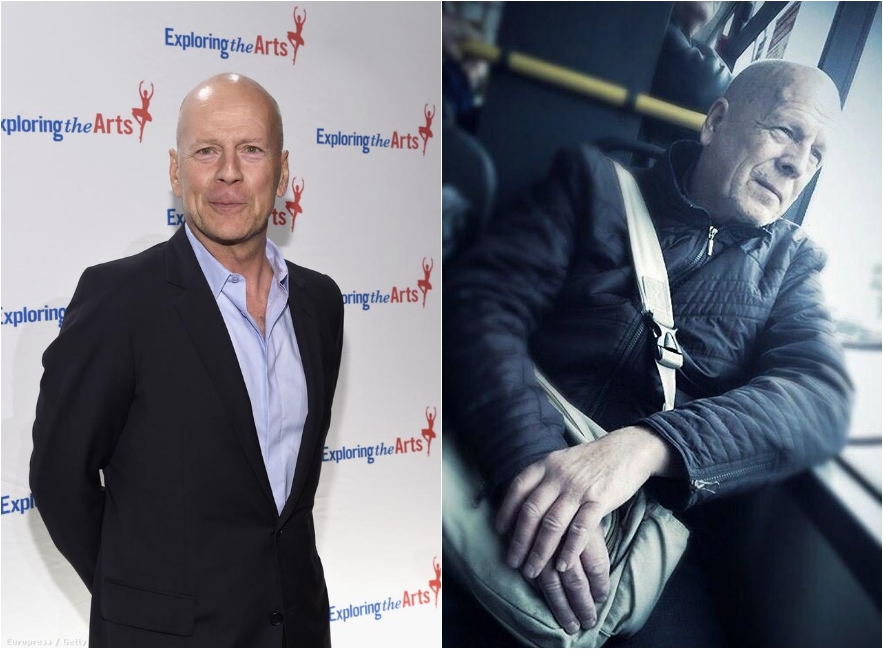 Bruce Willis riding on the bus is probably the best thing you can see on a daily basis. Just imagine how happy people in Russia are knowing that a celebrity takes the bus to work, just like them.
4. Scarlett Johansson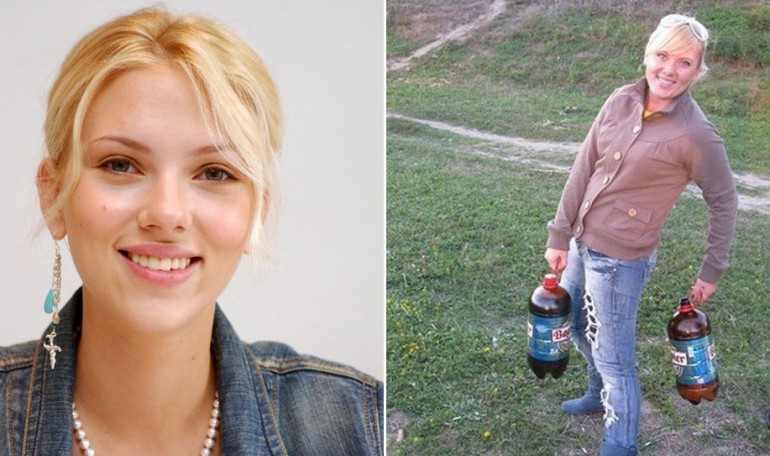 Truth be told, we have a hard time picturing Scarlett in the countryside. After all, she's more of an uptown girl. But hey, she probably wanted some time off and some peace and quiet.
5. Eminem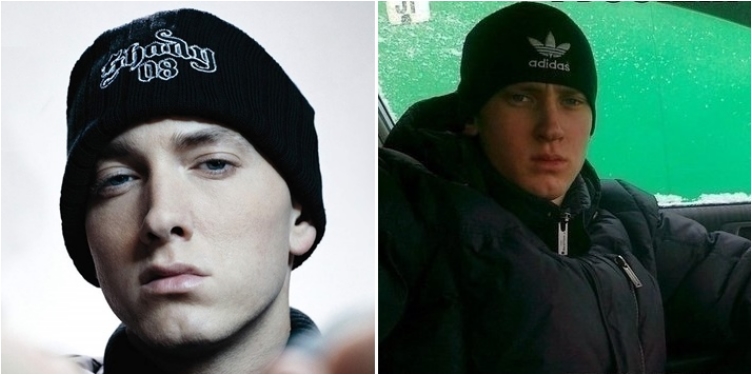 To be fair, Eminem is more of a Nike guy. After all, he has been the face of Nike for more than 10 years now. Marshal Matters is known for his collection of Nike sneakers. There is no reason for him to wear an Adidas hat.
6. Jason Statham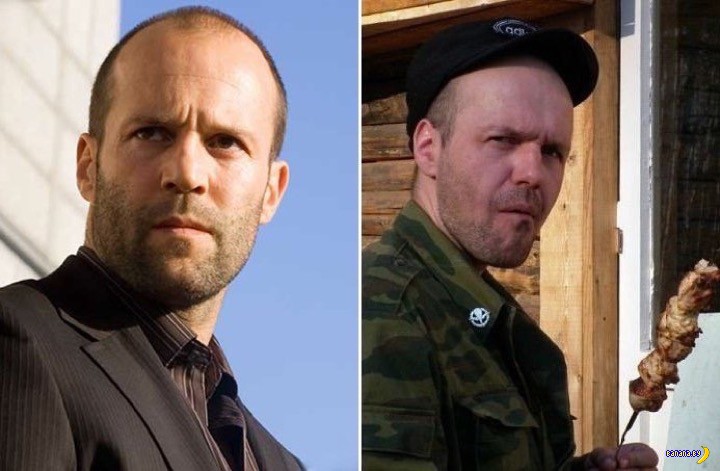 When Jason is preparing for a role, he probably visits his twin in Russia. Just look at that picture. Isn't that how you picture Jason in a thriller movie? Undercover, barbecuing meat somewhere in the forest, preparing a plan for his next victim or trying to find the killer?
7. Keira Knightley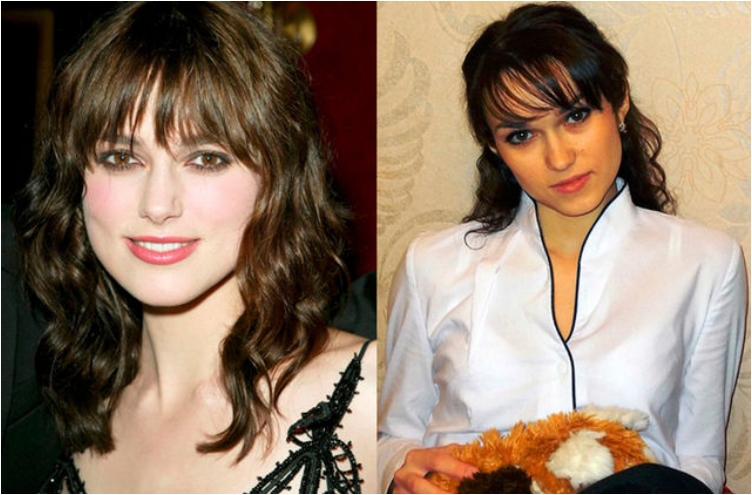 Keira is adorable no matter what. And her Russian doppelganger shows that. No matter if you dress her up in a fancy dress, or just in a shirt, Knightley impresses with her cuteness.
8. Chris Hemsworth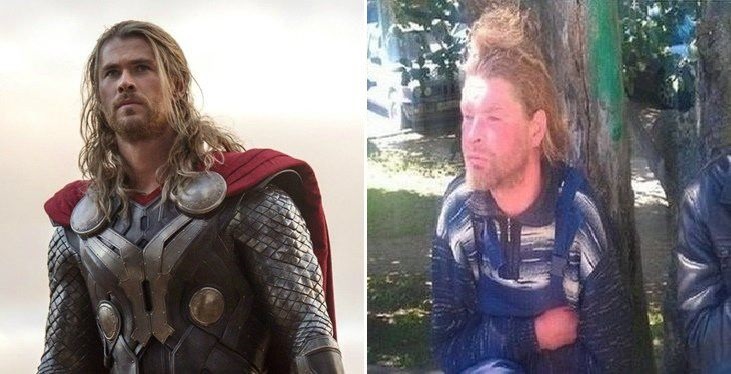 Recently we saw a picture of Anthony Hopkins wandering the streets like a common dude. And it seems like his son Thor has also taken a break from all that superhero drama. Thor just wants to hang out in the wild for a while. And who are we to stop him from doing that?
9. Harrison Ford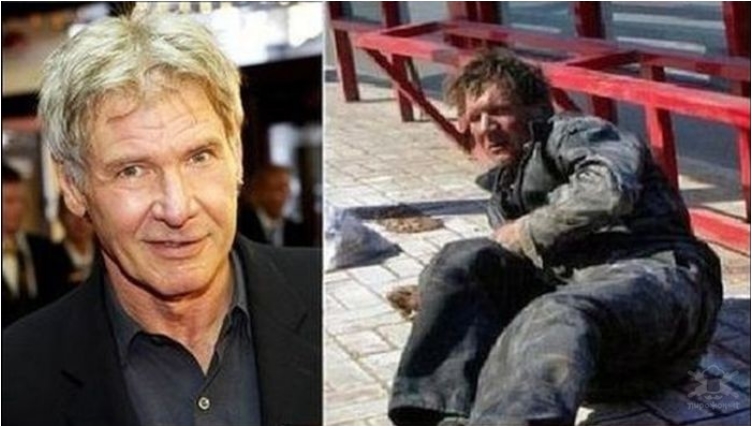 When you play in as many movies as Harrison has, you can afford to go wild from time to time. And his twin from Russia definitely looks like someone who wants to party all night long.
10. Leonardo DiCaprio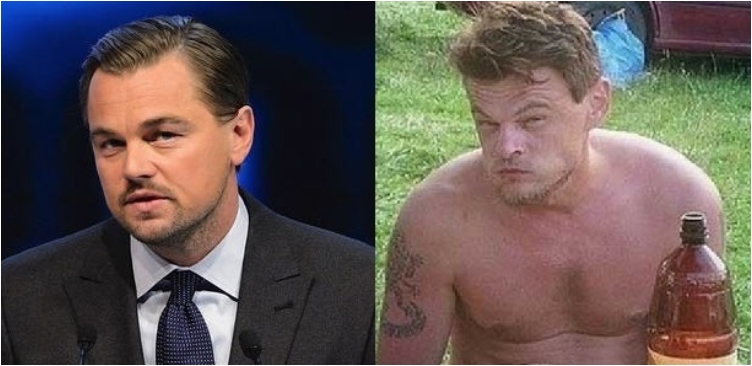 I can't picture Leo looking that bad. But hey, who knows. Maybe if he hadn't overcome that teenage problem he had in Basketball Diaries, he might have ended up like this. Just kidding.
11. Ken Jeong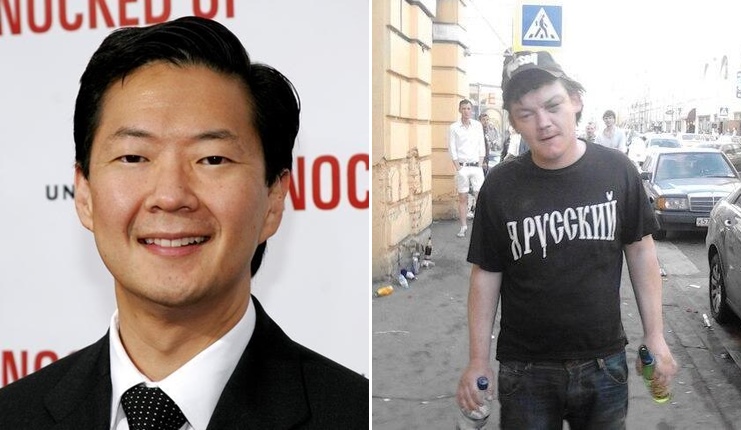 Ken is probably one of the funniest actors in Hollywood. At least when it comes to memes. Just google Ken Jeong memes, and you'll be entertained for the whole day. Most of those memes are from the Hangover movie, but he is a delight in every movie he stars in.
12. Heath Ledger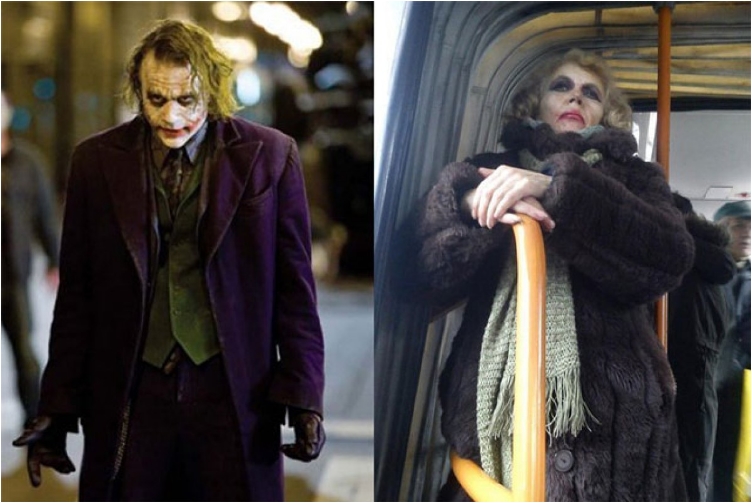 Apparently, the Joker can be a female as well. As long as he pulls the same jokes, pranks, and has that deep psycho moment like Ledger's Joker, he/she will be good.
13. Milla Jovovich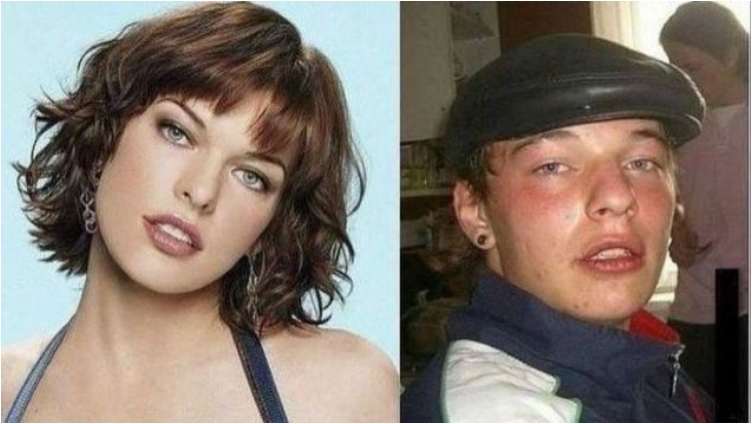 The star from Resident Evil certainly doesn't look like herself in this picture. But after so many years fighting with the walking dead, she probably needs a rest.
14. Hugh Jackman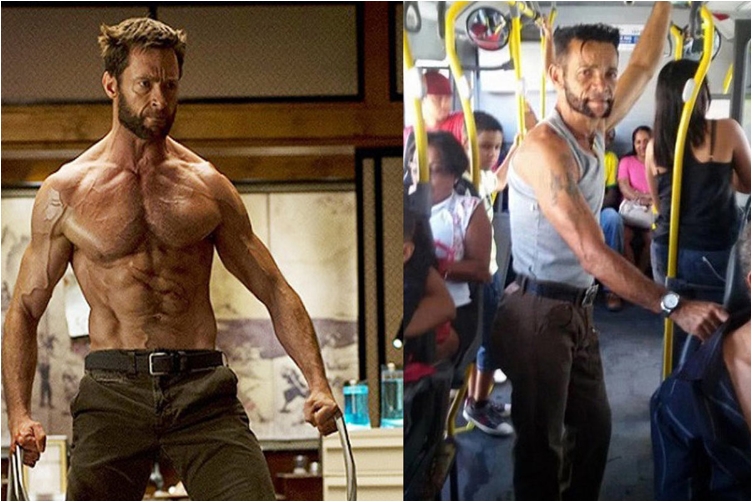 I can't decide who is more badass when riding the bus. Is it Bruce Willis? Or Hugh Jackman? Truth be told, Hugh looks more like himself on the bus. It seems like he is definitely enjoying the ride.
15. Björk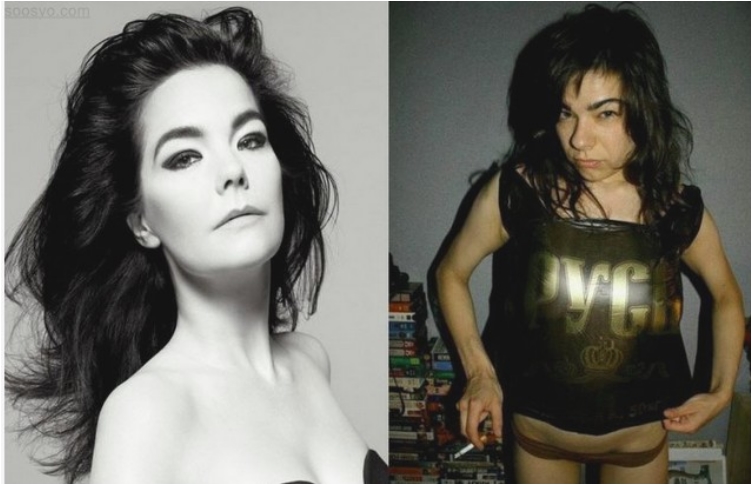 Björk recently turned 51, and she might have celebrated her birthday in this fashion. Who knows? The singer and actress is definitely one of the most mysterious celebrities in Hollywood.
16. Chuck Norris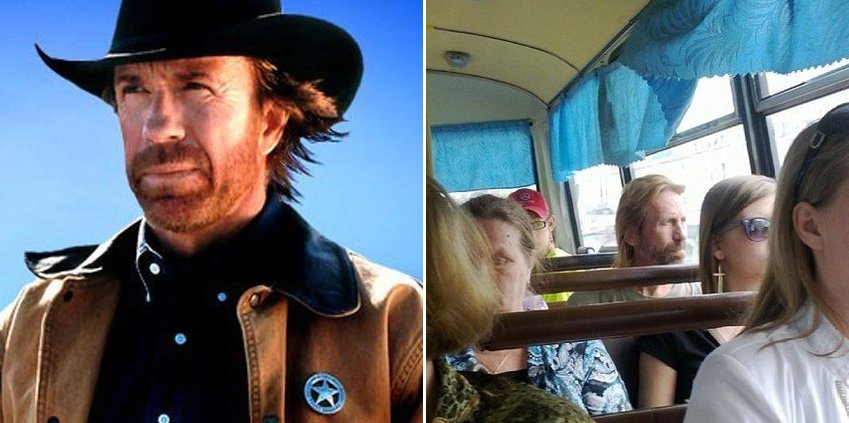 What is it with celebrities and buses? Do they need to take a break from their celebrity life that much? And they want to see if regular people recognize them on the street? It seems like nobody has noticed that Chuck Norris is taking the bus.
17. Quentin Tarantino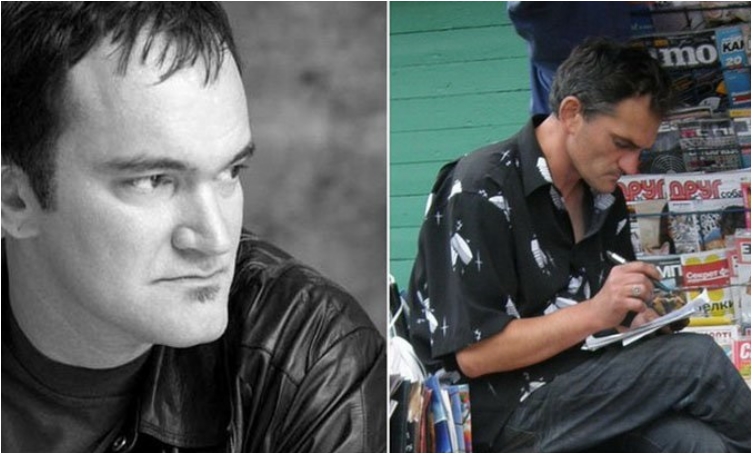 This definitely looks like Tarantino. He is so dedicated and focused on coming up with a new bloody thriller. Who should he kill this time? And how much blood should there be?
18. Tom Hardy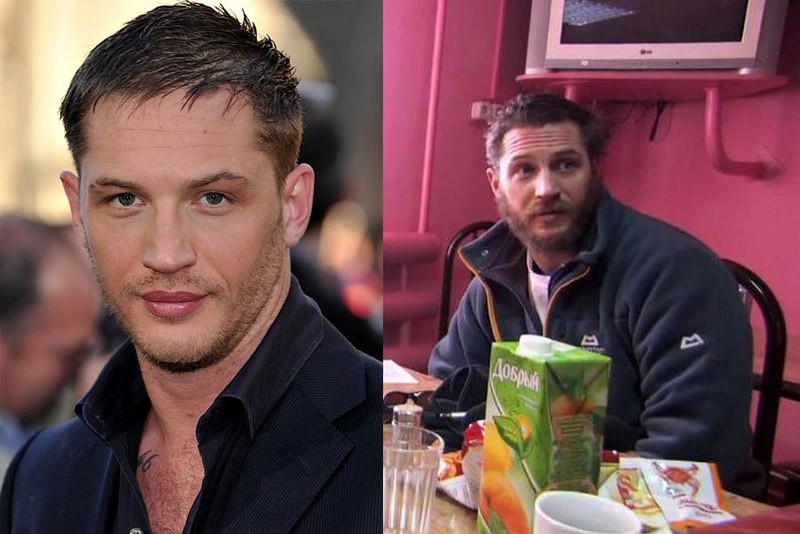 Hardy needed to bulk up for his role as Bane in Batman: The Dark Knight Returns. And he probably did it by eating tons of junk food and working out.
19. Jeremy Clarkson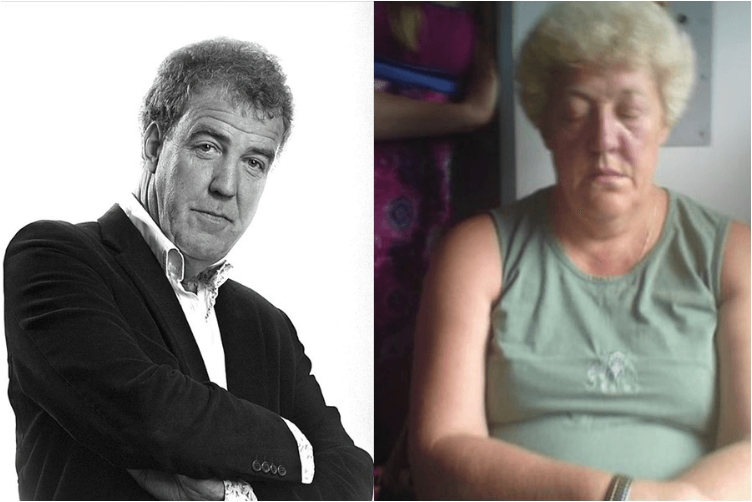 Well, Top Gear goes to Russia from time to time. Who knows, maybe Jeremy had a gender change while being there. In any case, he is funny any way you put it.
20. Antonio Banderas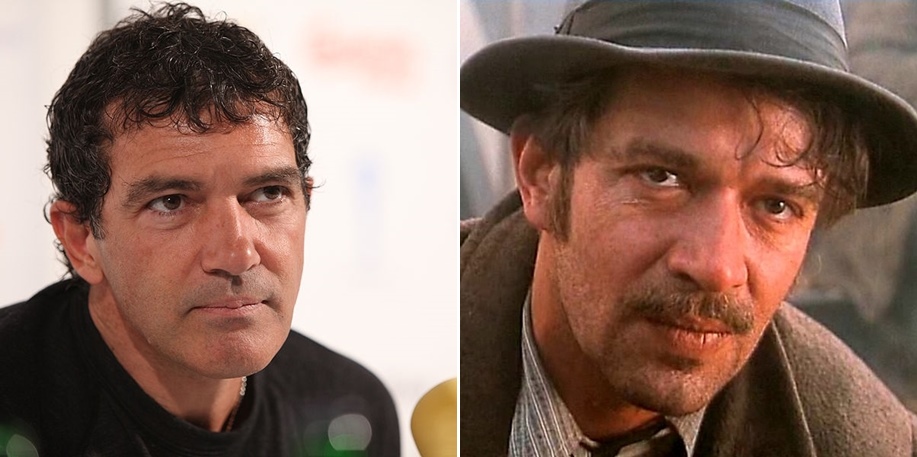 Back when Banderas was starting his career in Hollywood, he played in some Western-style movies. After all, he was Zoro. And that mustache is just too good to ignore.
21. Alan Rickman (Severus Snape)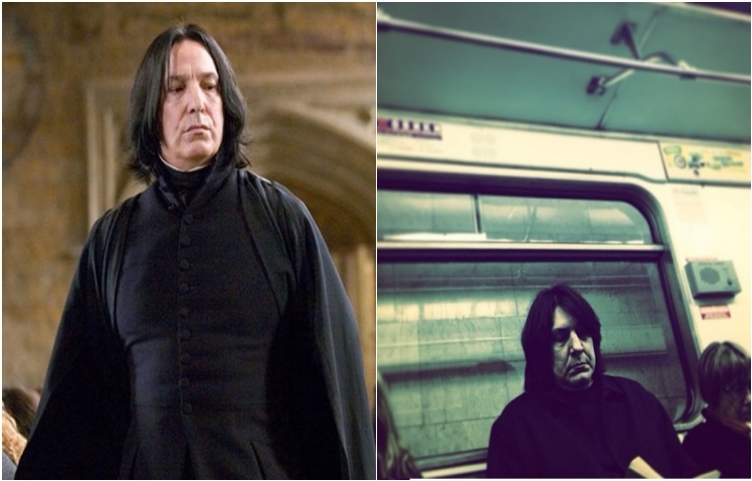 Now doesn't that look like a scene from Harry Potter? Professor Snape riding the subway and thinking about how to torture Harry in class? I know I would be extremely happy and delighted to see Professor Snape in the metro. I know I'm safe from anything.
22. Jack Nicholson

For long time, Jack was considered the golden standard in Hollywood. And there is no denying he is one of the most talented and best actors in Hollywood. But what few people knew is that he was a constant drug abuser in the early years of his career. A new biography published in 2013 stated that Nicholson was using heroin in the 70s. He probably looked something like the guy in the right picture after dosing out.
23. Hugh Laurie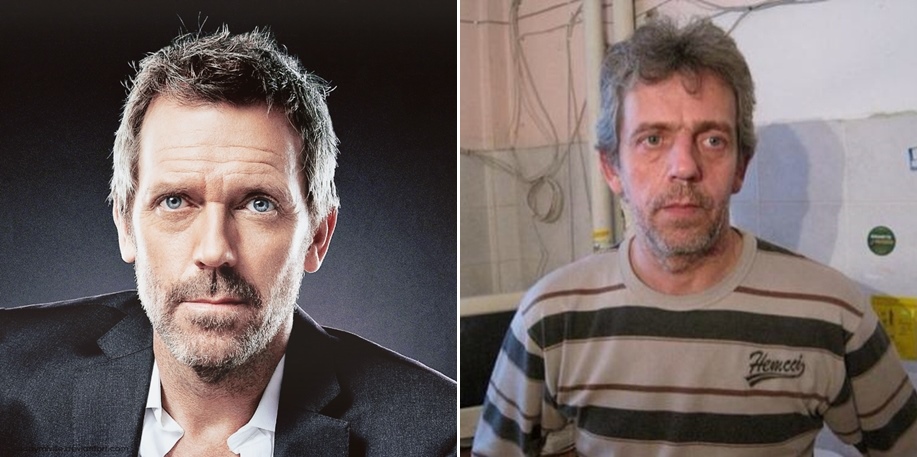 You just cannot imitate that look on his face. Seriously, whenever Dr. House looked at you, you felt scared, terrified, and excited at the same time. His twin doesn't have that look.
24. Dolph Lundgren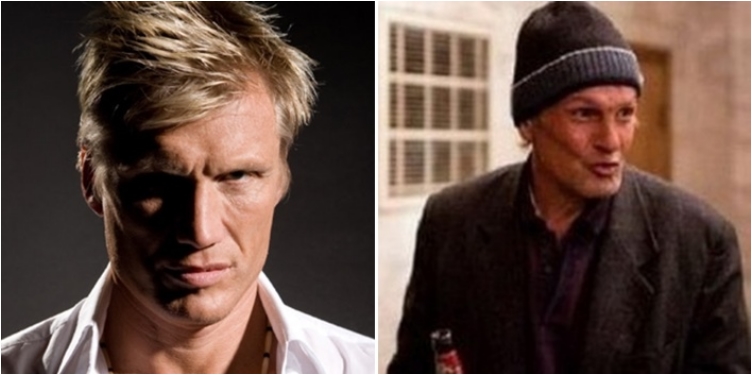 Dolph was one of the most badass actors in Hollywood for a while. We all remember him from Rocky, but he acted in so many more movies. Mostly, his movies were thrillers where he played the role of a soldier or commander.
25. Johnny Depp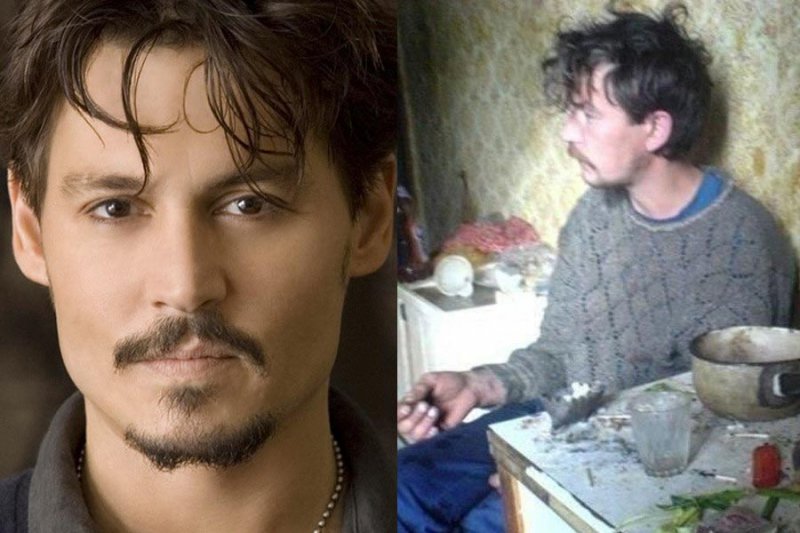 I seriously think that the picture on the right is Captain Jack Sparrow on one of his off days. All that's left is his pirate clothes, and you have the nonchalant, I-don't-care-about-anything captain.
26. Vin Diesel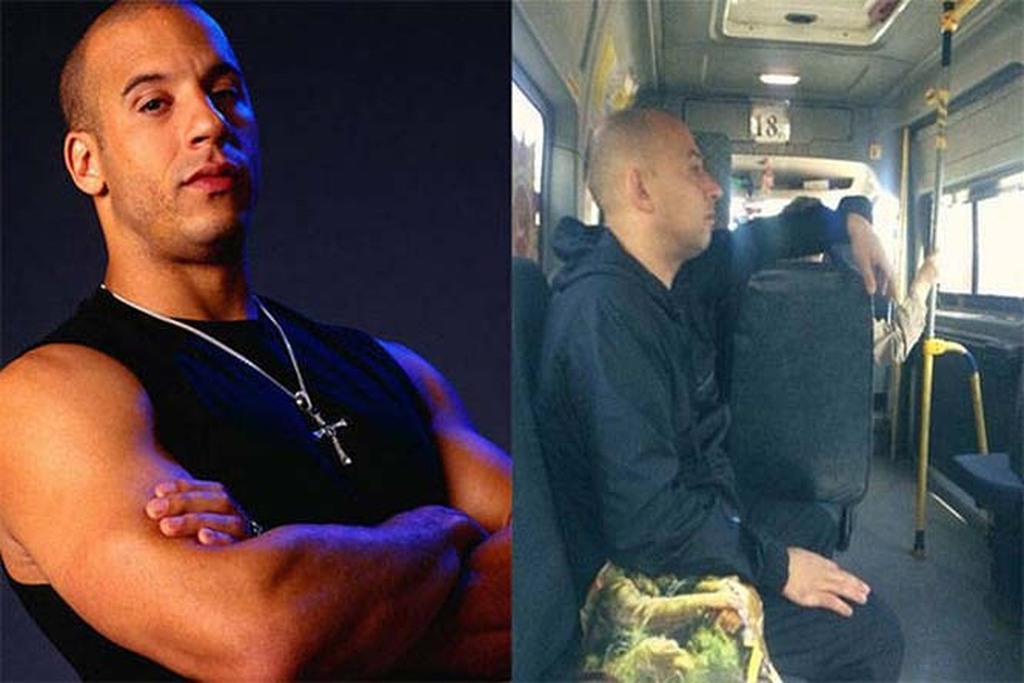 Definitely the biggest trend for celebrities in Hollywood is to take the bus to work. In the case of Vin, he was lucky enough to ride the bus all by himself, with no fans around to pester him.
27. Barak Obama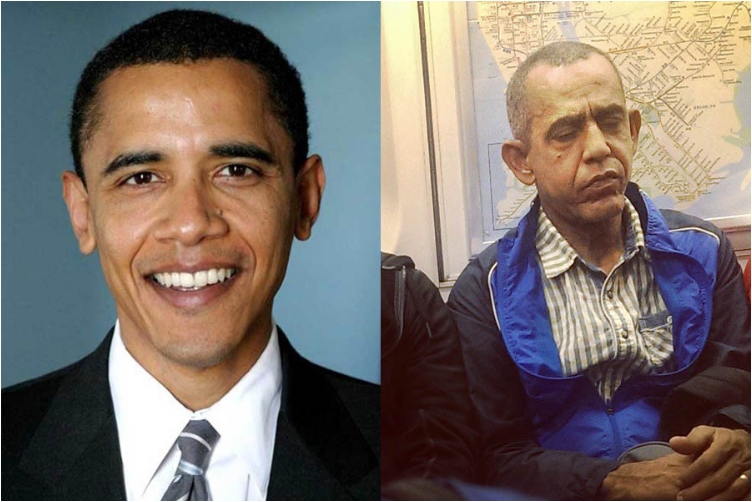 Oh Barack. This picture is like a foreshadowing. Look on the left, and you see the young and energetic Barack before winning the U.S. presidential election. And on the right, you have Obama after two terms, with his hair totally white.
28. Jim Carrey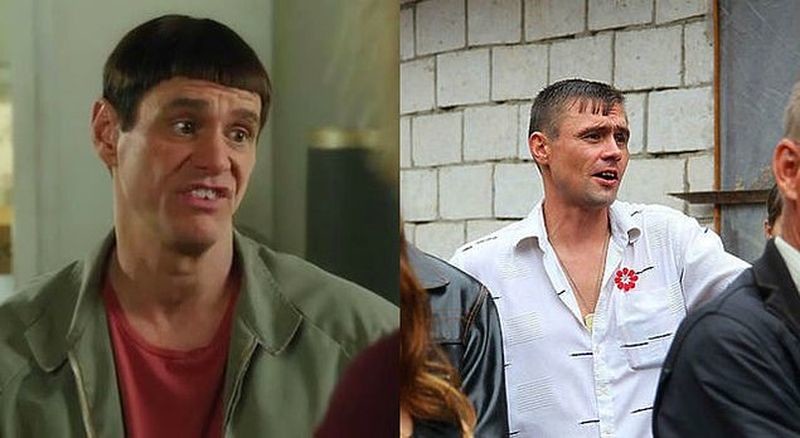 If there is one actor you can picture in almost any situation, it's Jim Carey. The man can seriously act as everything and anything. And doesn't that guy on the right have Jim's signature hairstyle from Dumb and Dumber?
29. Anthony Hopkins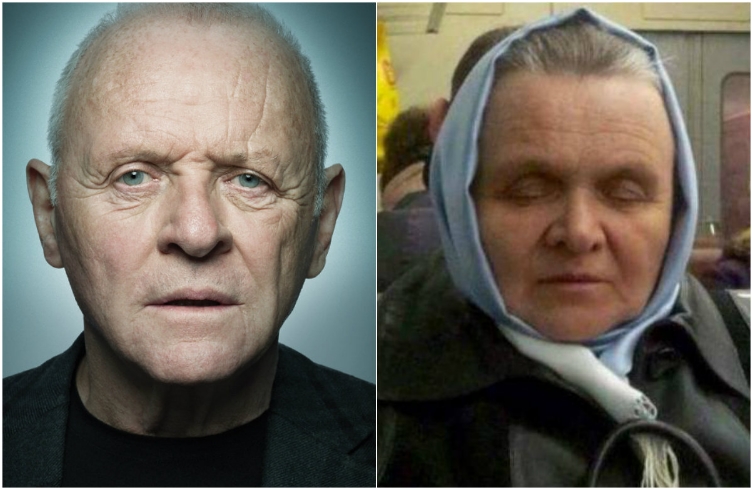 It seems like Anthony also has an opposite gender doppelganger. Most of the doppelgangers were of the same gender, but Sir Anthony Hopkins has a female twin.
30. Chuck Norris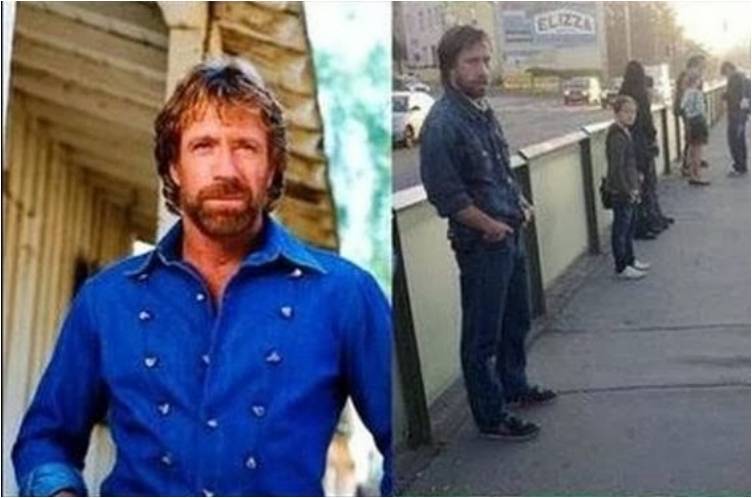 You can never get enough of Chuck Norris. The man is an internet and celebrity attraction. Wearing denim all the way, he is just casually posing for a picture.
31. Leonardo DiCaprio
The internet is full of doppelgangers looking like DiCaprio. If you ask me, nobody can be him, but some of them come fairly close in looks.
32. Jason Statham
We saw Jason earlier in the wild, focused and plotting his next adventure. This time, we have him casually enjoying the night off.
33. Eminem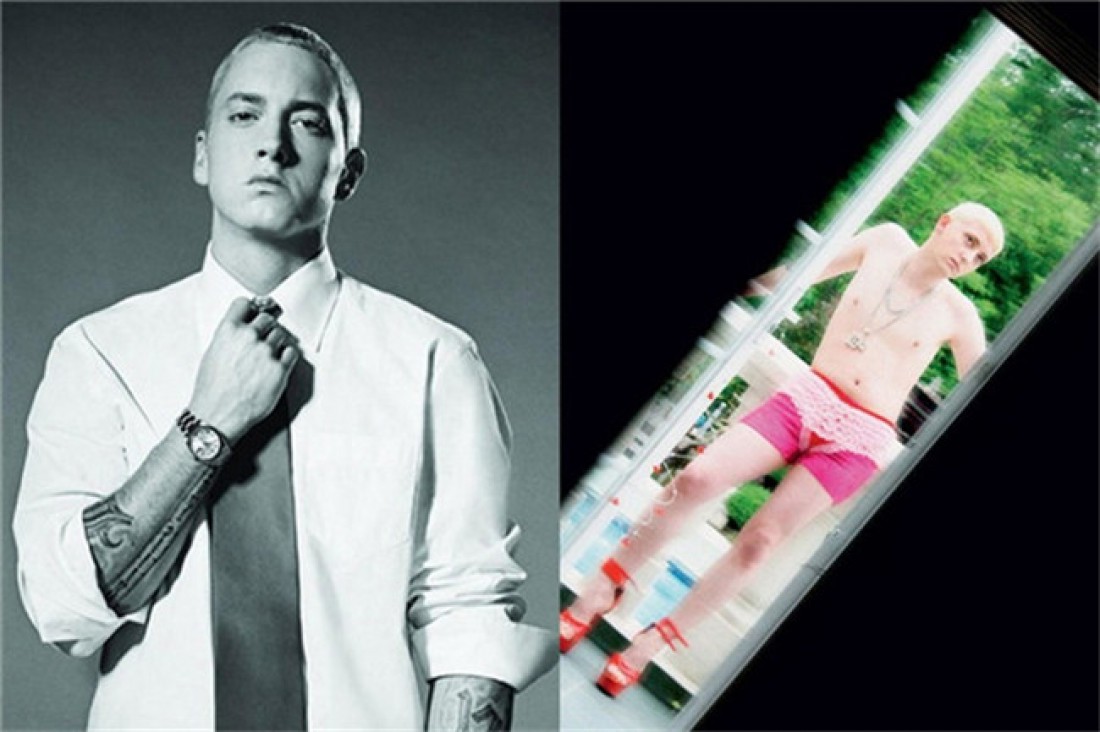 Back when Eminem was starting his career, he was a white boy in a black man's world. And as you can expect, there were jokes about that. We can't say for sure whether the guy on the right is a photoshopped joke or a doppelganger.
34. Darth Vader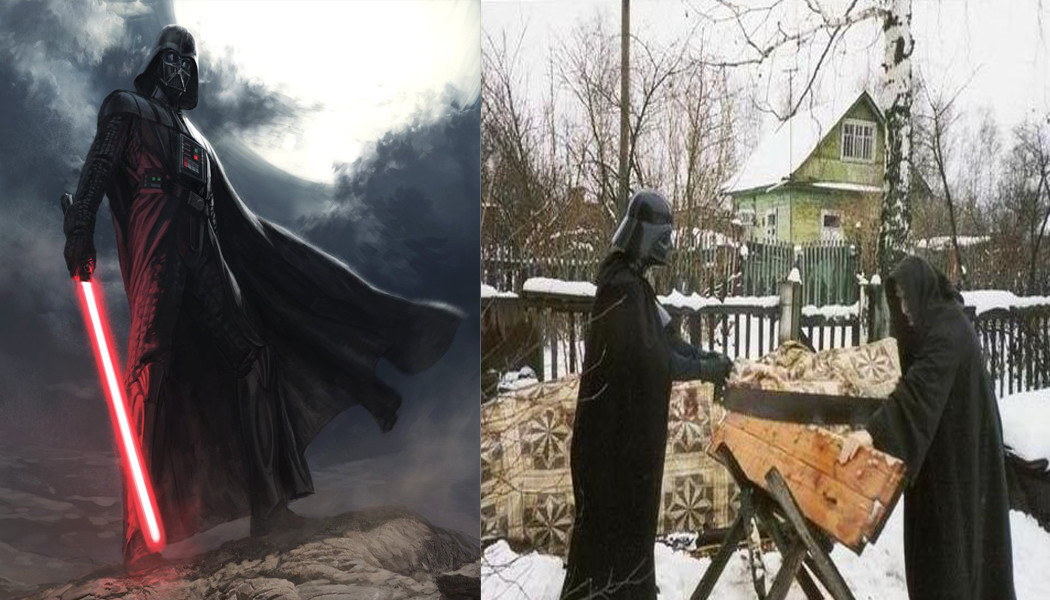 Darth Vader is one of the most famous and iconic movie characters. You can expect many people to try and imitate him. Vader is one of the most popular looks in America. But when he is in Russia, Vader isn't using the force. Instead, he is chopping wood and carrying it together with the Emperor.
35. Hugh Jackman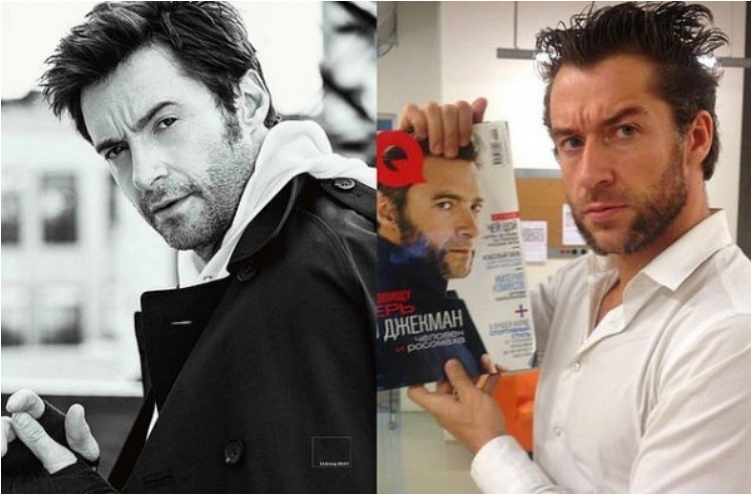 Posing with your doppelganger on a magazine cover. Now isn't that something every man and woman dreams of? Just kidding.
I hope you enjoyed having fun with celebrities and their doppelgangers.