Photoshop is one of the best things that has happened to the movie, music, and every other industry there is. Photoshop makes impossible things happen. The question we have for you is, have you ever seen a celebrity on top of a sandwich? Of course you haven't. But now, thanks to Photoshop and some drawing, we get to see our favorite celebrities in a setting we could only imagine before.
So, enjoy the combination of two of the most popular topics you can find on the Internet: food and celebrities.
1. Drake on a Canadian bacon and cheese sandwich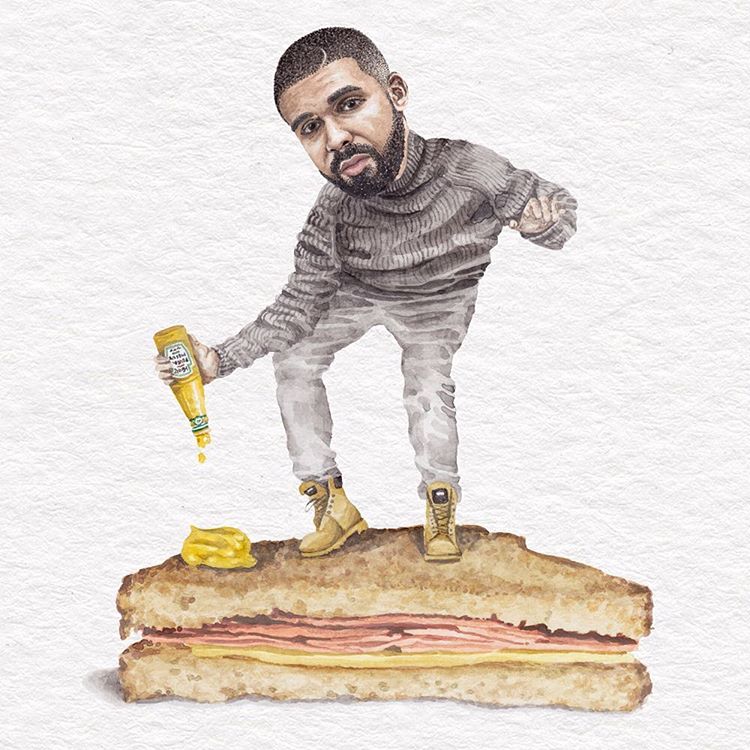 Drake is one of those celebrities who looks good in any setting. We start the list with a picture we are sure even Drake would love hanging in his office.
2. Cara Delevingne on a BLT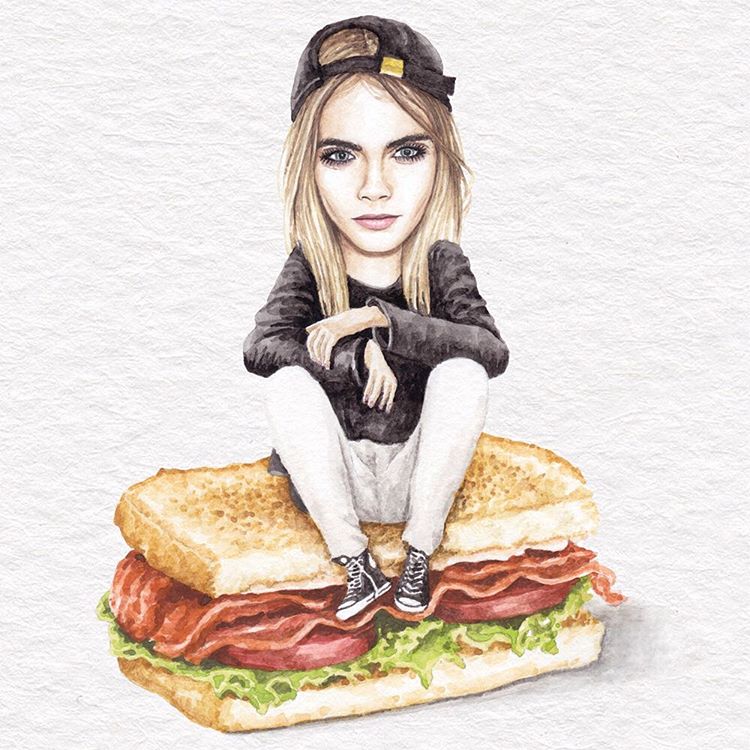 Models and a bacon sandwich? Now that is not a sight you see every day. Cara sticks to a strict diet to keep her body in shape, but every now and then, we all need a cheat day.
3. Bernie Sanders on a meatball sub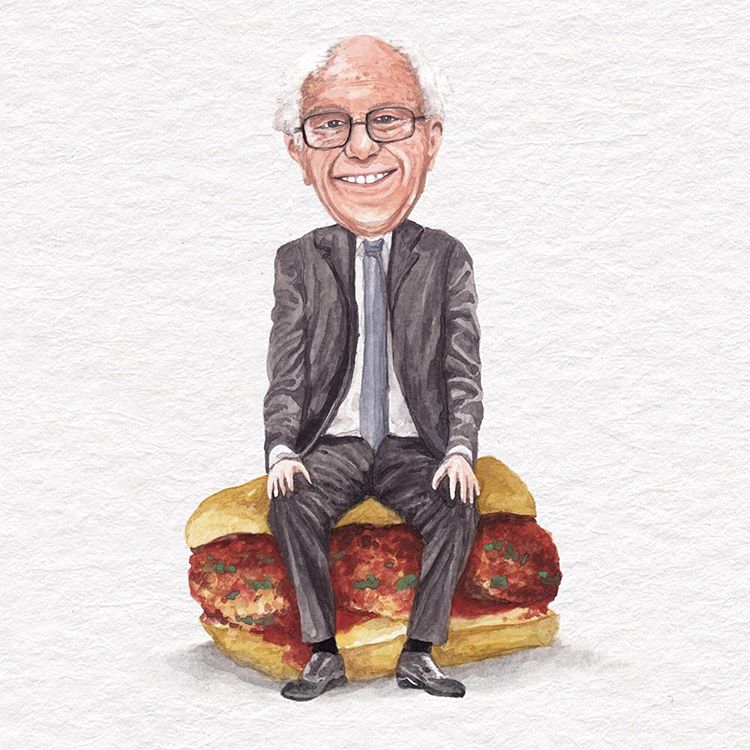 Bernie is a classic. So it is only logical that his sandwich is the classic meatball sub as well. And I haven't seen Bernie smile a lot. He looks good when he is smiling.
4. Chloe Grace Moretz on a steak and roasted red pepper sandwich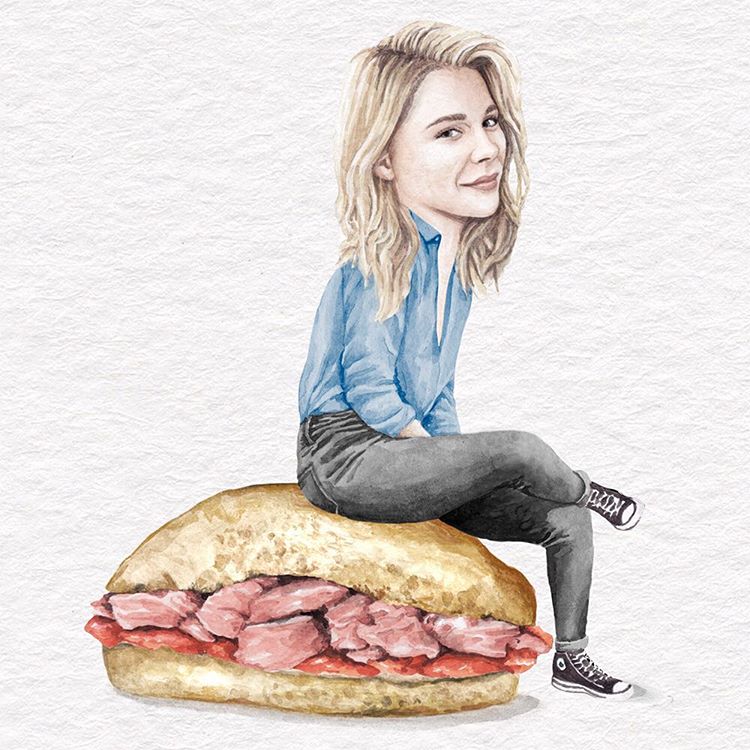 The 19-year-old model also tries to stay away from junk food. But at least she is getting roast chicken, which some nutritionists consider healthy. Kudos for finding a suitable healthy sandwich.
5. Jason Segel on a Reuben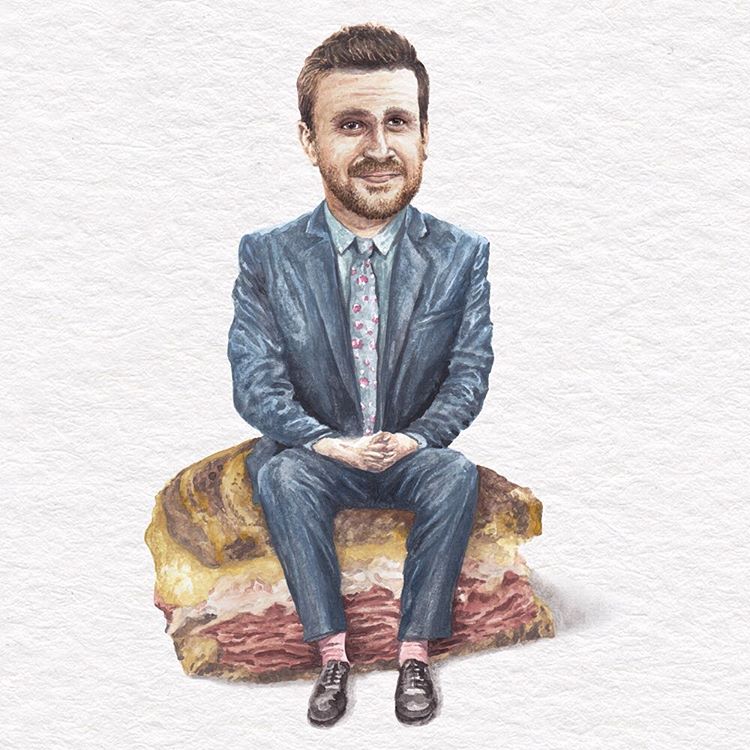 Every fan of How I Met Your Mother knows Segel is more of a burger guy. But hey, Marshal had no problems eating whatever sandwich you gave him. And Segel looks classy and sophisticated here.
6. Louis C.K. on a chicken sandwich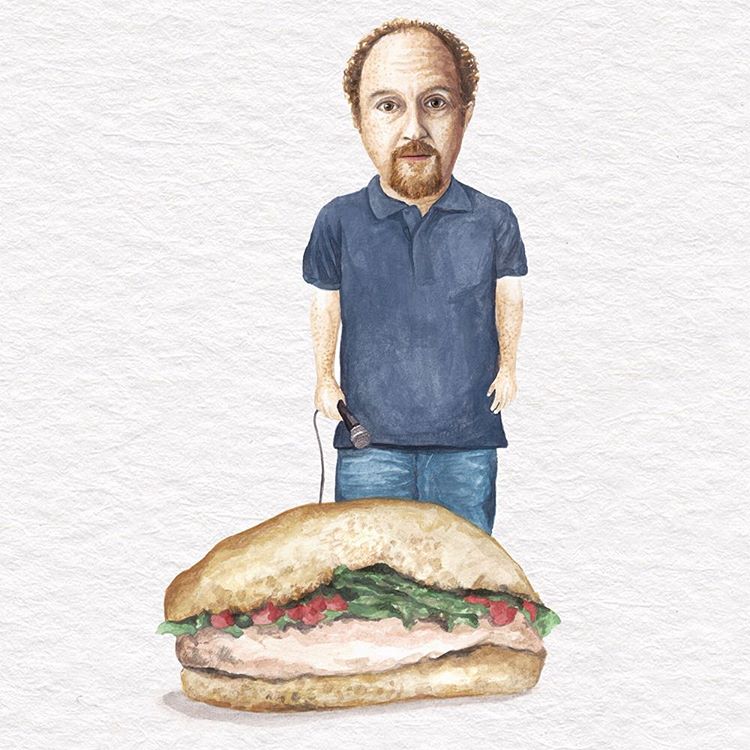 I am sure Louis could use this photo in one of his next stand-up acts. The comedian always finds way to joke about whatever people throw at him. And judging by his looks, he is a fan of sandwiches and fast food from time to time.
7. Rebel Wilson on a prosciutto panini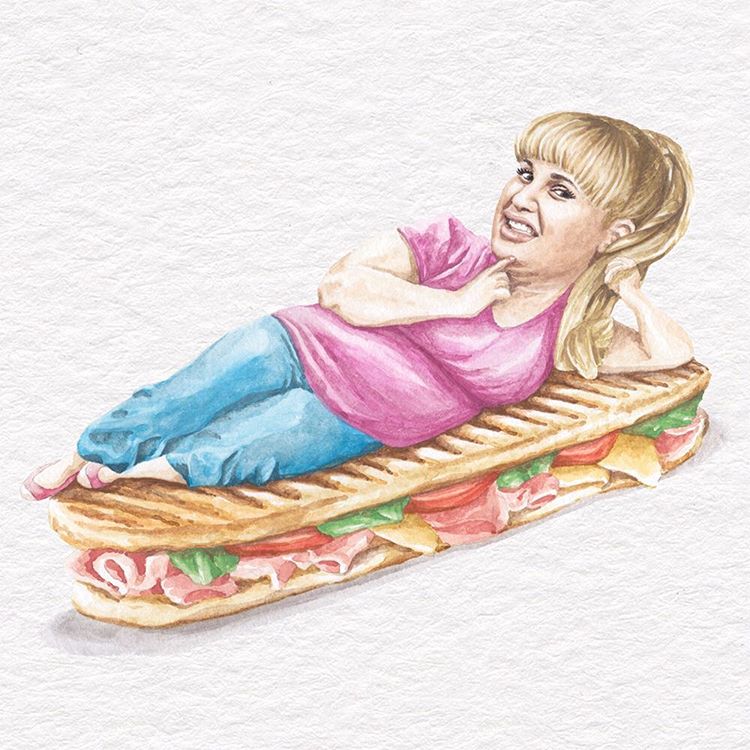 Honestly, I expected Rebel to be on a higher calorie sandwich. And that is not a stereotype; the actress is a favorite in Hollywood, especially since she openly jokes about her looks and weight all the time.
8. Wiz Khalifa on a BK Whopper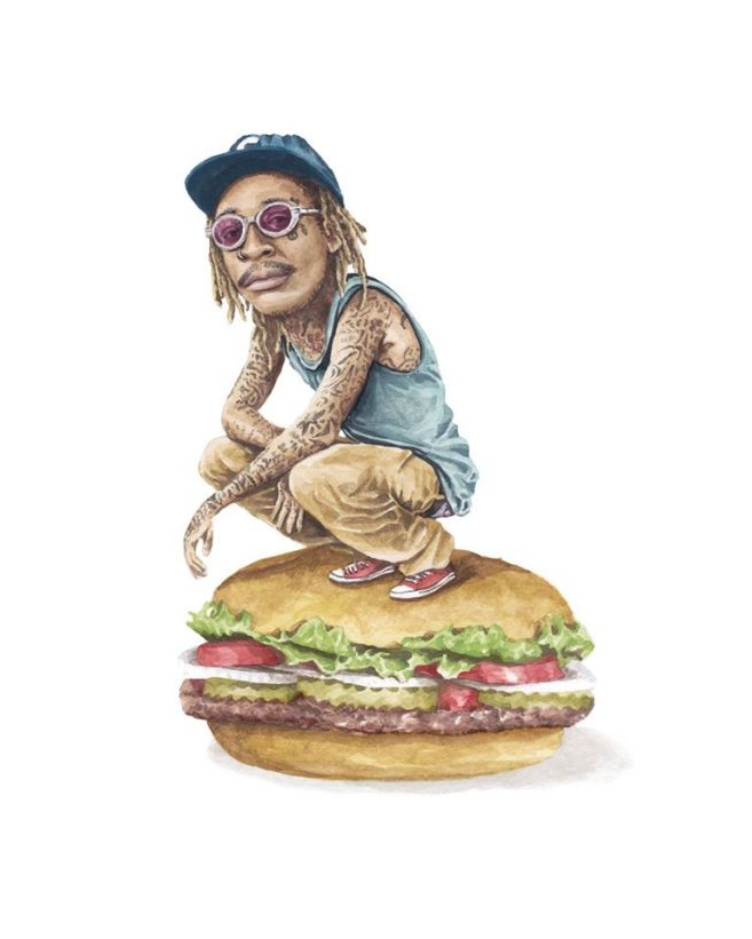 Rappers and Burger King. It seems suitable. The Whooper might be too classy for Wiz. I think of him as more of a Bacon Cheeseburger type of guy. But he looks like he has everything sorted out here.
9. Seth Rogen on corned beef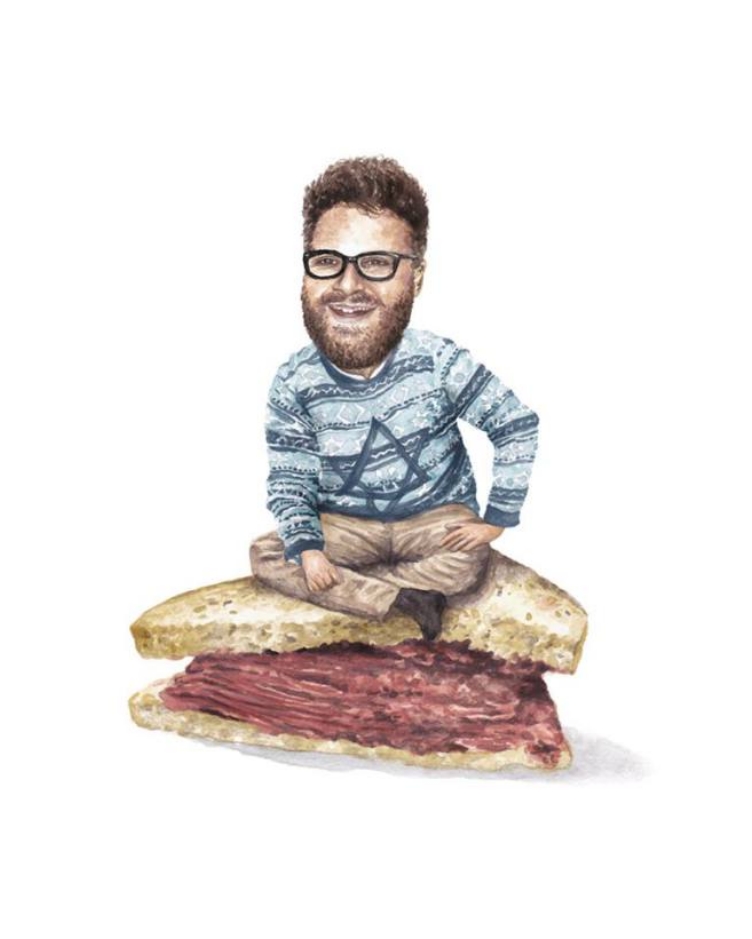 The irony here is that Seth Rogen starred in Sausage Party this summer, a movie about sausages trying to discover the truth about their existence.
10. Nicki Minaj on turkey and pepperoni with lettuce, oil, and vinegar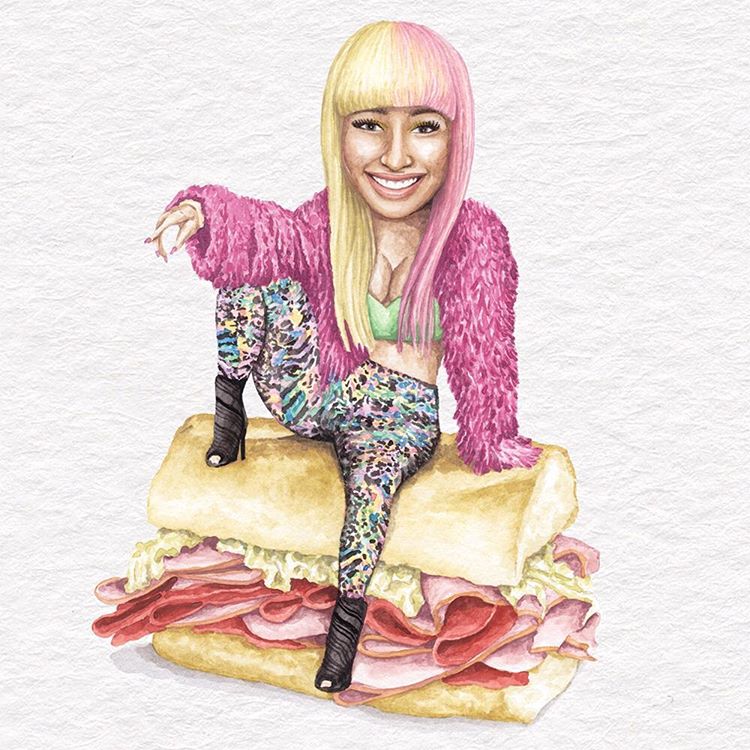 I love how the artists gave Nicki a classy and fashionable look. She looks better in the picture than in real life, to be honest. But the sandwich is spot on, as Nicki is always somewhere in the middle.
11. Shaq on a turkey, cheese, lettuce, tomato, and mayo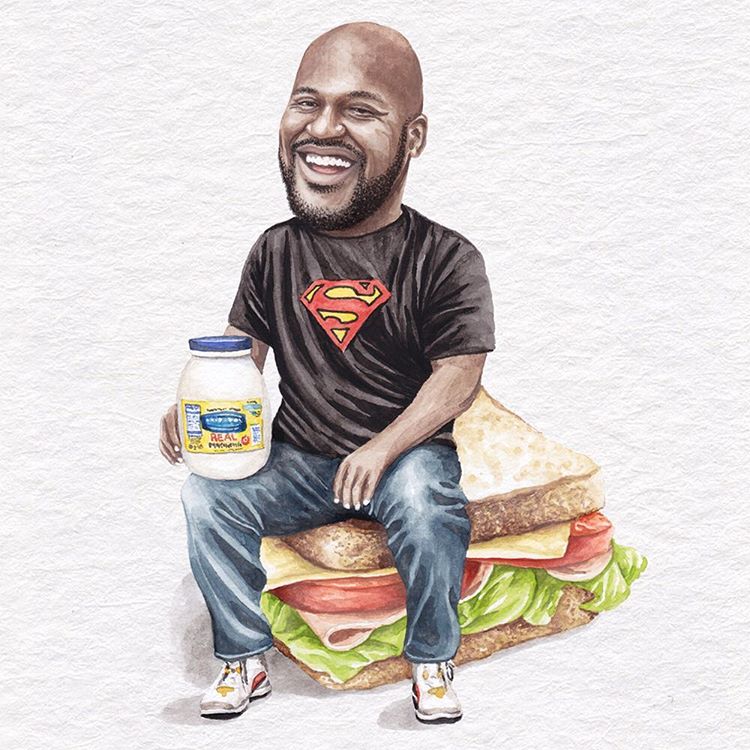 You have to have mayo when you think of Shaq. He is a guy I would have thought would sit on a double burger sandwich. But I guess the guys wanted to give him a healthier alternative.
12. Taylor Swift on a fried chicken sandwich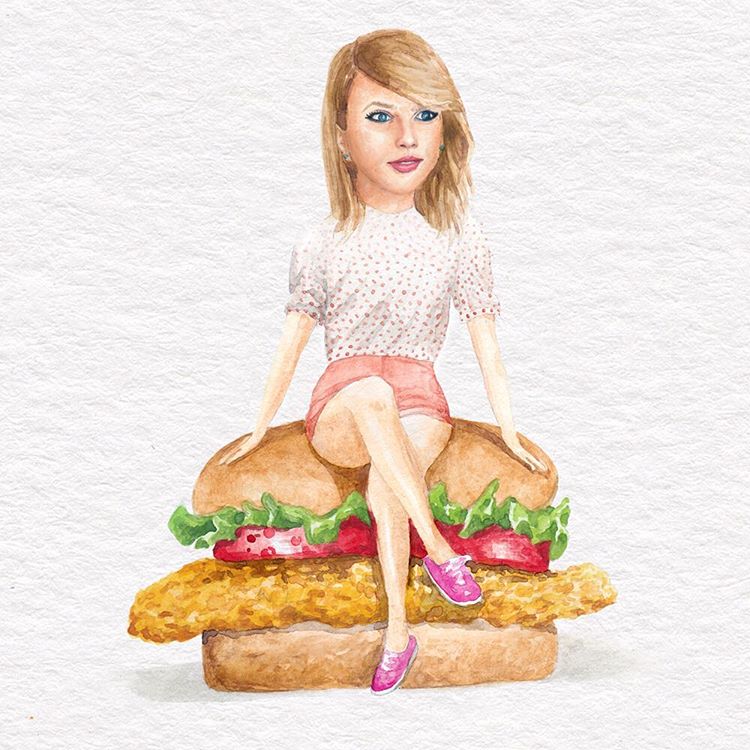 Now who thought that giving Taylor Swift a chicken sandwich is a good idea? She is a vegetarian, after all. She might even write a song about that! But at least we know for sure the song will be a No. 1 hit.
13. The Weeknd on a buffalo chicken sandwich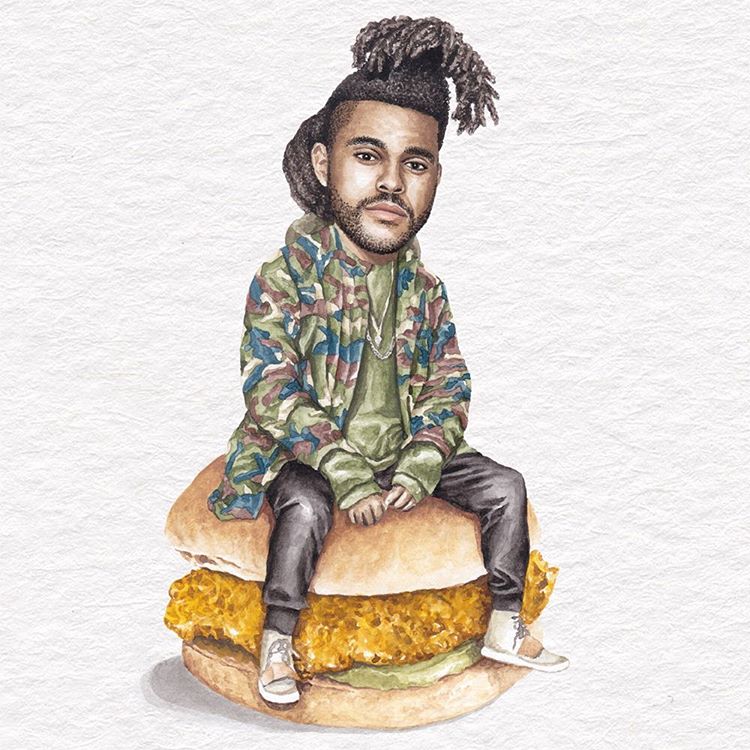 This is probably the most appropriate combination I can think of. And they even got his pose right.
14. Sia on a grilled eggplant on a brioche bun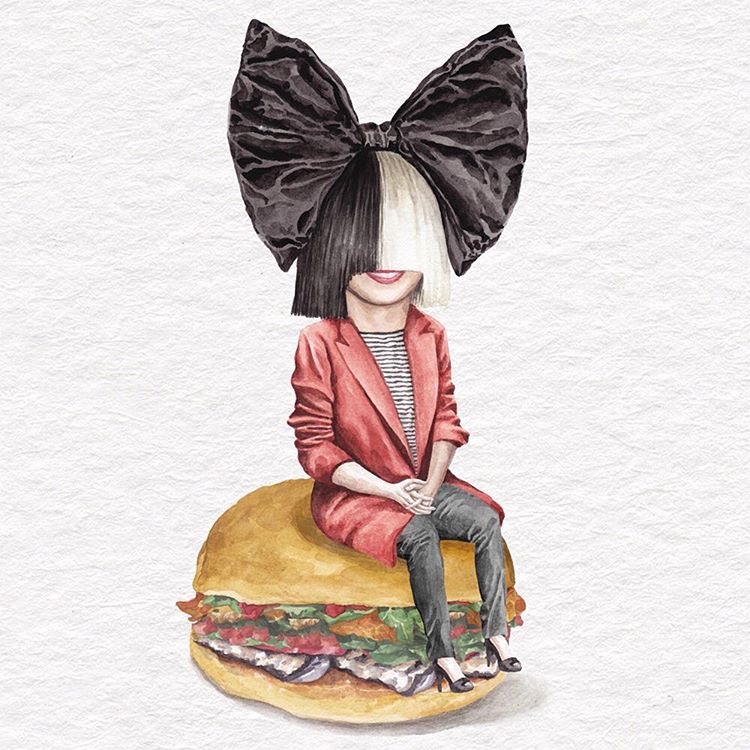 And I thought we would finally see Sia's face. But even on a sandwich, she's covering her face. The eggplant sandwich is suitable for her, as she is also a vegetarian.
15. Peter Dinklage on a braised beef sandwich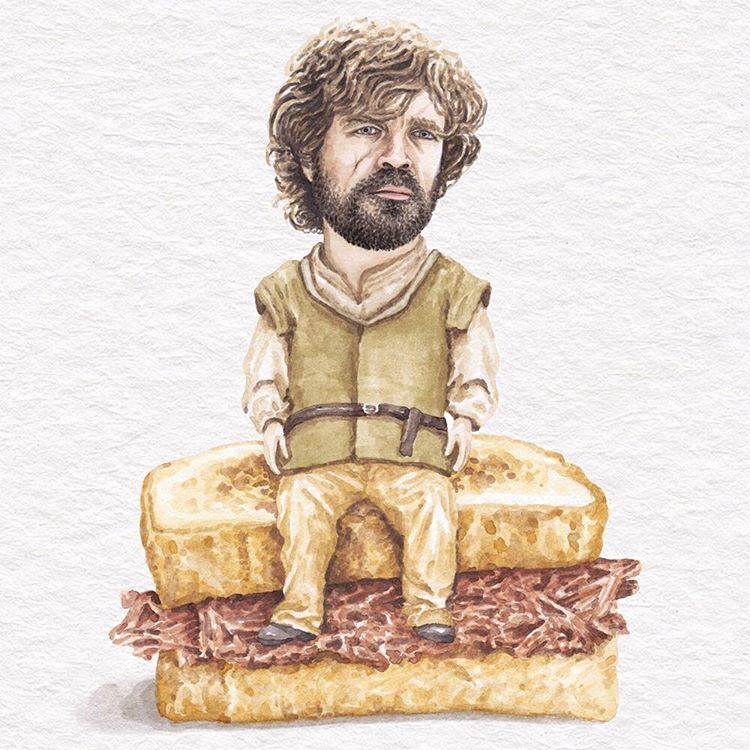 Peter might be the only actor who is smaller than his sandwich. I thought we might get some dragon blood in there, seeing as Game of Thrones helped Dinklage get to a point where he is one of the highest paid actors in the business.
16. Katy Perry on an In-N-Out double double burger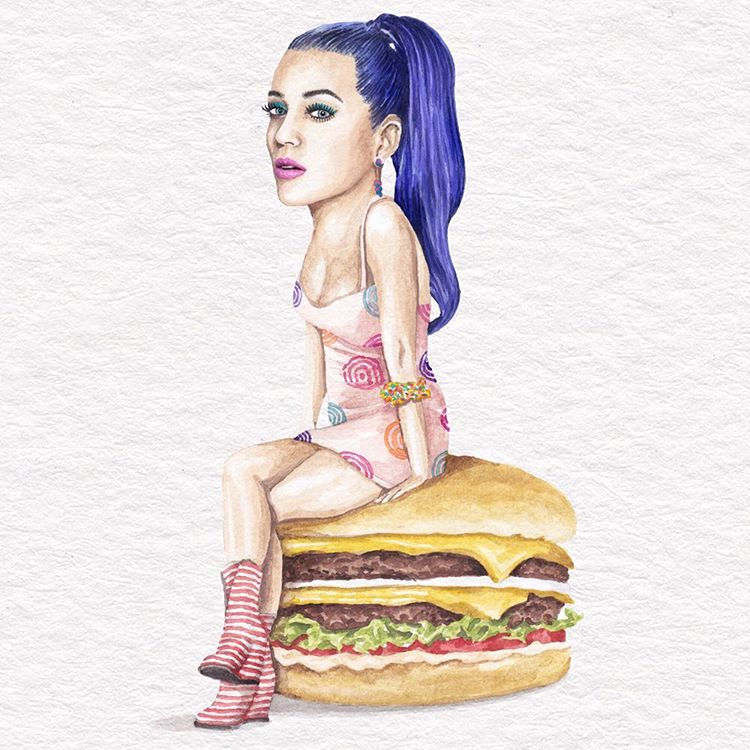 If you remember, Perry brought In-N-Out burgers to her Golden Globes table. So it is only suitable we get to see her on her favorite sandwich. The double burger is so yummy.
17. Hugh Hefner on a grilled chicken breast sandwich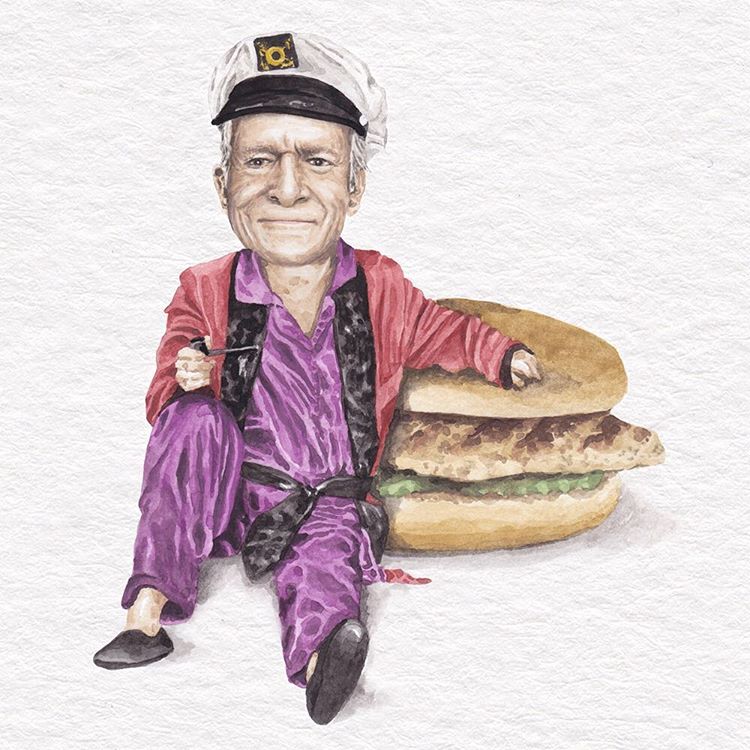 Hefner owns any picture he is in. And the artist drew his "like a boss" pose to perfection. The sailor cap is a nice touch.
18. Drew Barrymore on a grilled mac and cheese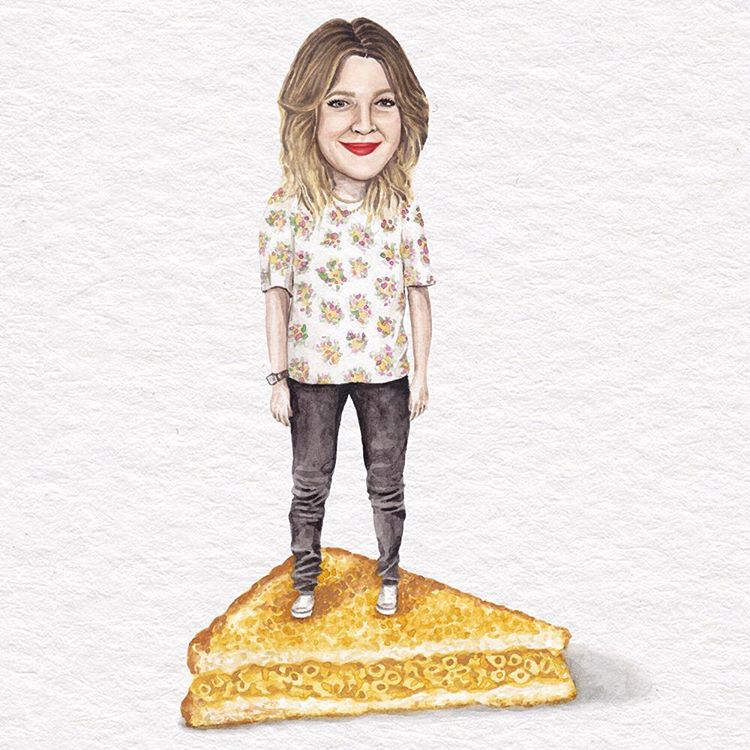 There was a time when Drew was the epitome of an American sweetheart. And in traditional American fashion, it is only suitable she is standing on a mac and cheese sandwich. Not to mention that mac and cheese is her favorite sandwich.
19. Ben Affleck on a meatball parm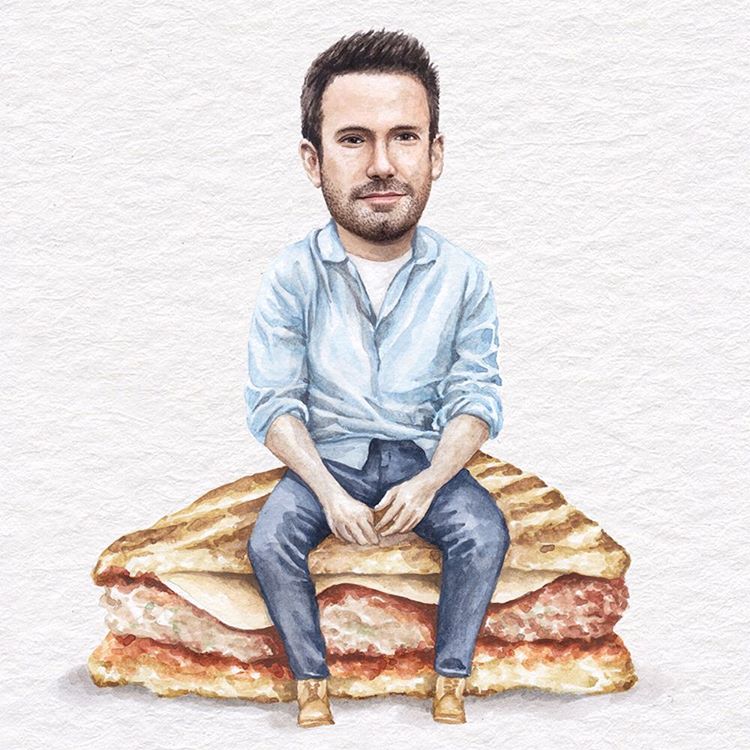 Get your Batparm jokes out. Ben Affleck might be more suitable drawn on a hamburger, but the meatball parm will do. Batman loves everything.
20. Mindy Kaling on an umami burger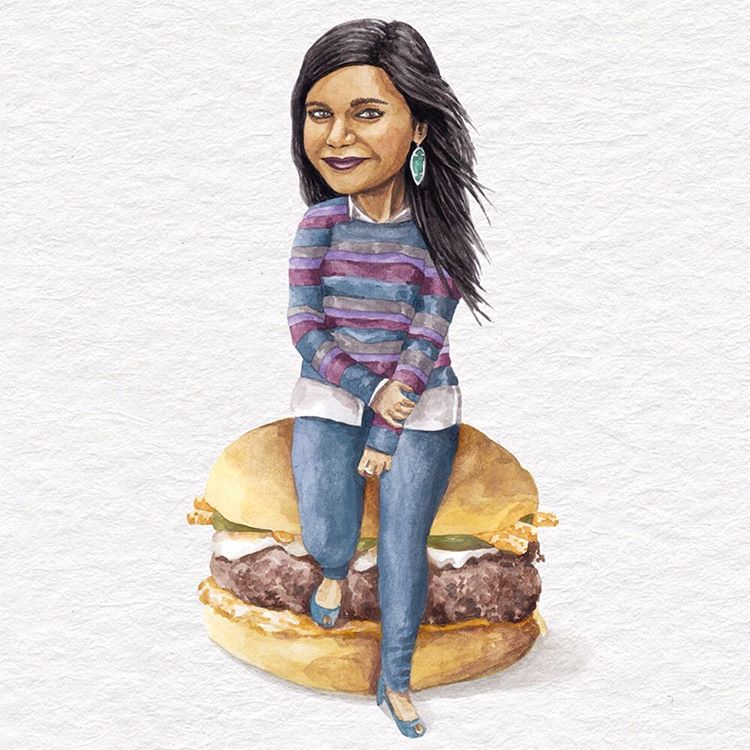 I always thought of Mindy as someone who is outside the box. She doesn't want traditional tastes, so umami is just the perfect fit for her.
21. John Goodman on an onion ring cheeseburger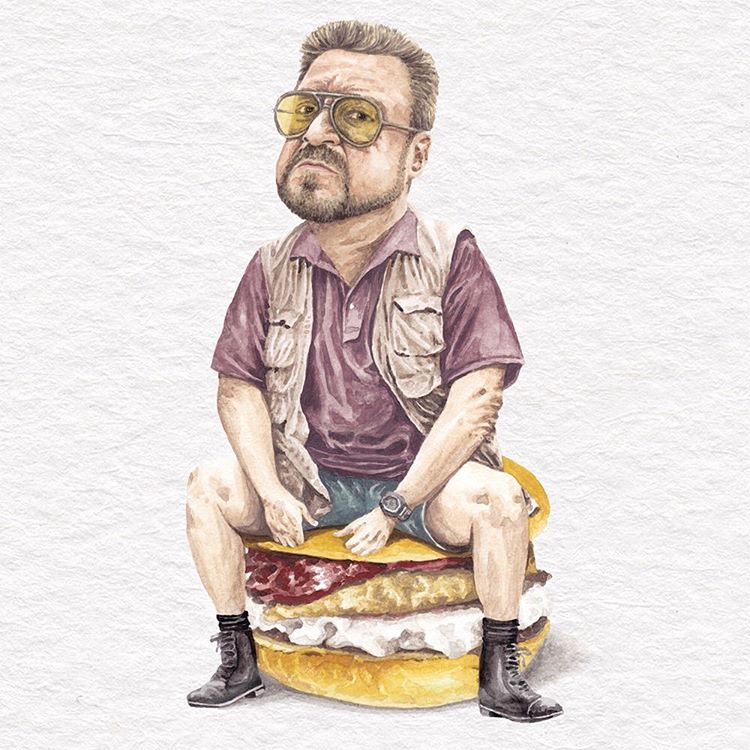 Watch him, and you think he'll pull a gun on you at any moment. John is just such a badass, and the cheeseburger is a perfect fit for him. And then those boots. Epic!
22. Robert Downey Jr on a roast beef sandwich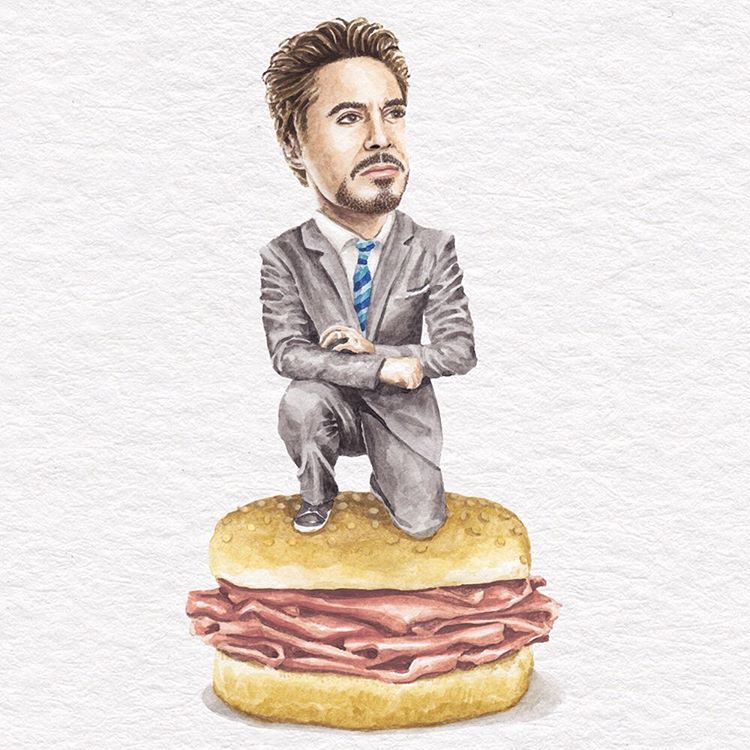 You just know Ironman will be sitting on some sophisticated sandwich. And roast beef is something that suits him. With his classy, sophisticated and elegant looks, Downey is not someone who will risk getting dirty with mayo and ketchup in his sandwich.
23. Jane Lynch on a toasted avocado sandwich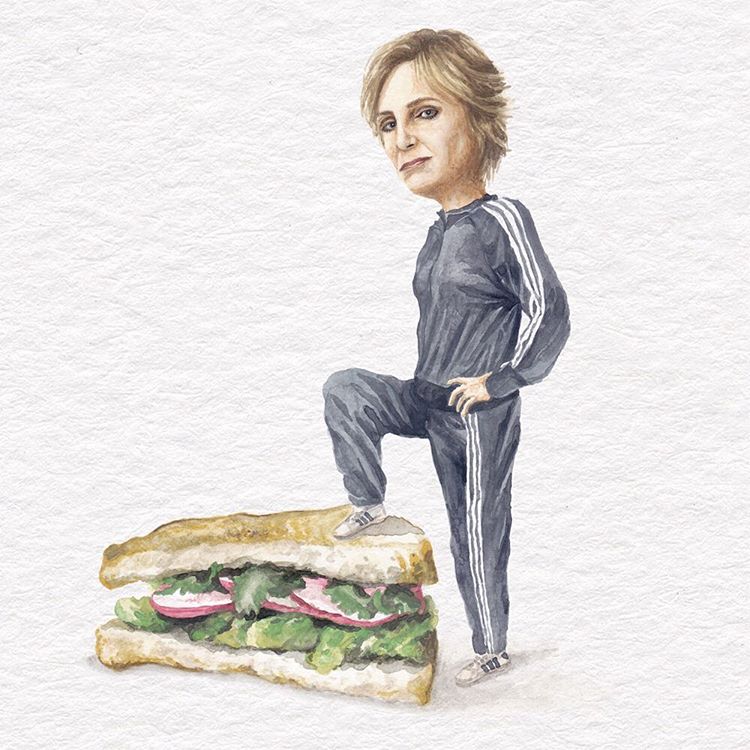 Jane made a career out of mockumentary pictures, so it was about time someone gets her. But I like how the artist stayed true to her vegan lifestyle.
24. Donald Trump on a grilled sausage sandwich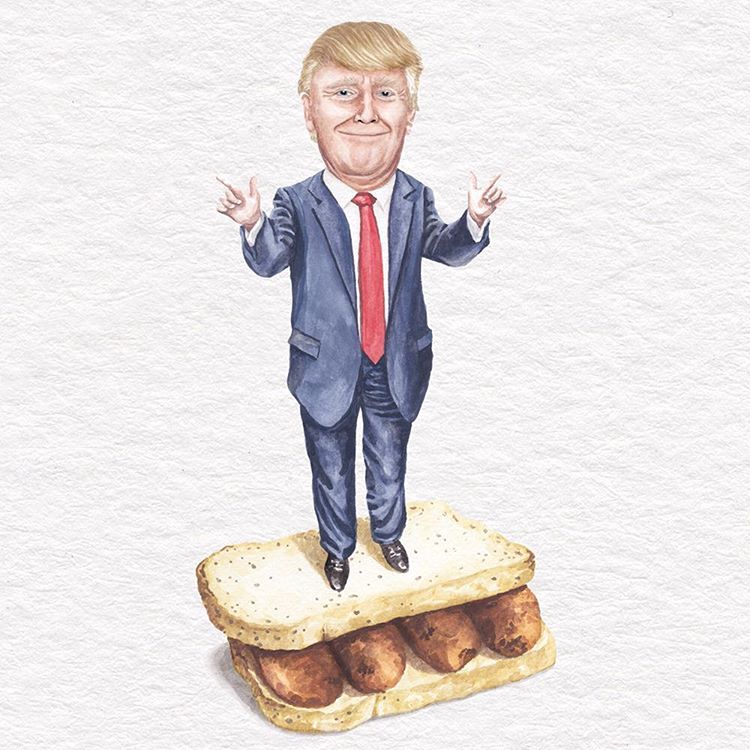 Trump, oh Trump. We can only hope he doesn't make a life-size statue out of this picture as well. The American presidential candidate is someone you can always find something to joke about. Trump has been the subject of mocking for the past year, and it won't stop, no matter if he wins or loses the election.
25. Aziz Ansari on a turkey panini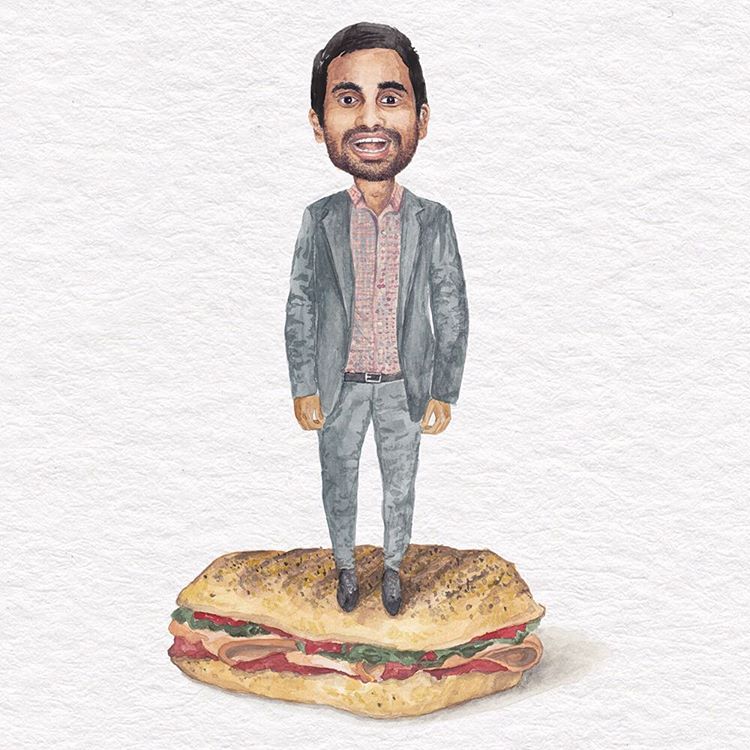 Ansari is someone you picture with some unique idea like a turkey panini. The comedian always have some out of the box ideas, and his Master of None is spectacular.
26. Bethenny Frankel on a turkey burger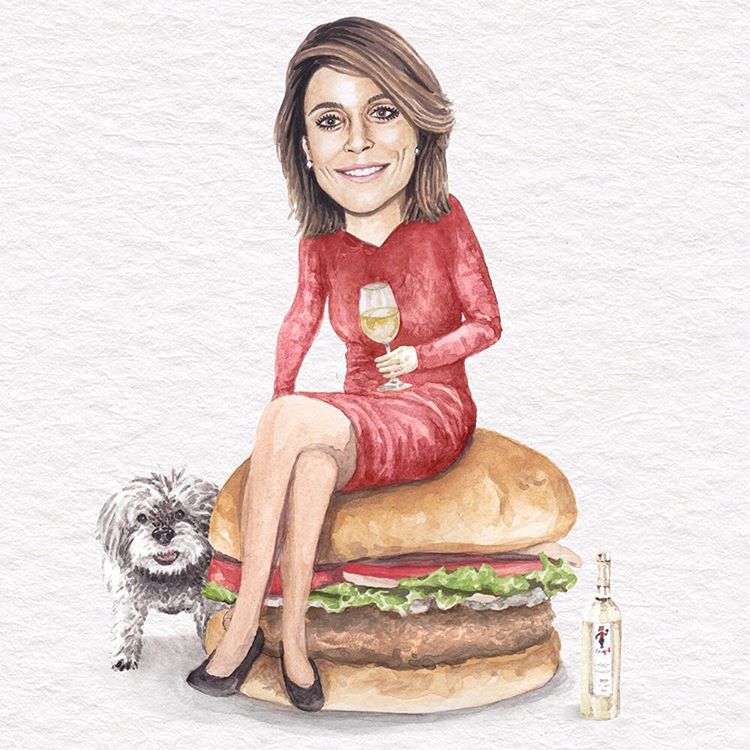 The self-help book writer seems to need some comfort food. And is there any better comfort food than a burger? The dog is just a nice detail.
27. George Takei on a ham, egg, and cheese croissant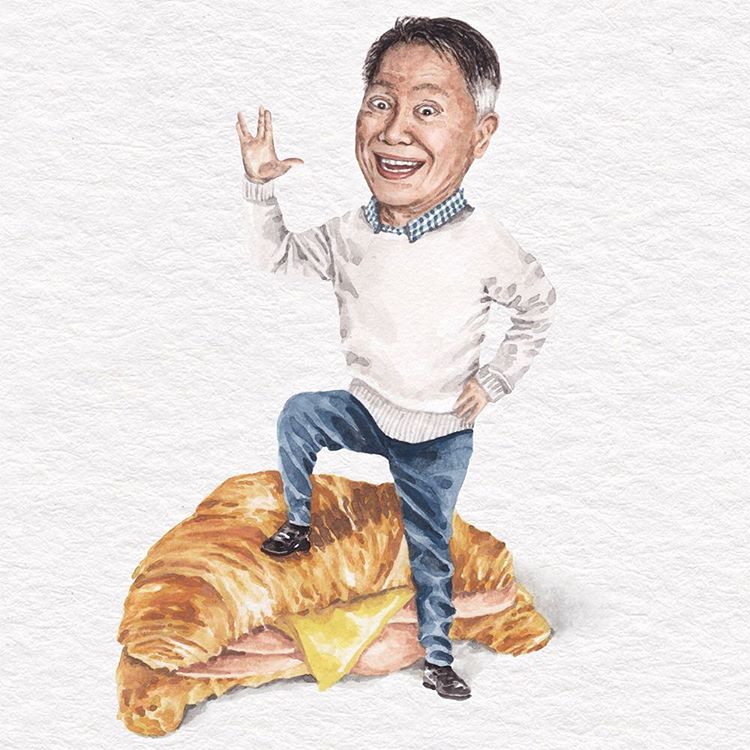 Now how ironical is that? An American actor with Japanese parents, sitting on a French delight. A croissant is a French sandwich, and I just cannot imagine George on it. But that is the beauty of this, and the former Star Trek actor nails it.
28. Ellen DeGeneres on a grilled veggie wrap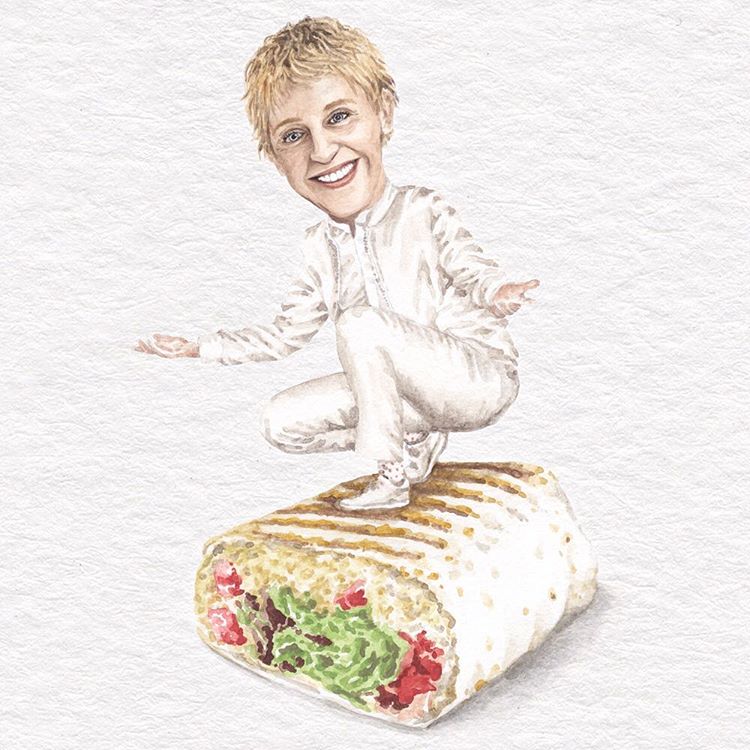 Ellen always arrives in style, and this time is no different. Her veggie wrap is perfect for her character. The only downside is her white suit is lost in the picture. A black one would be better.
29. Jody Highroller on a shrimp po'boy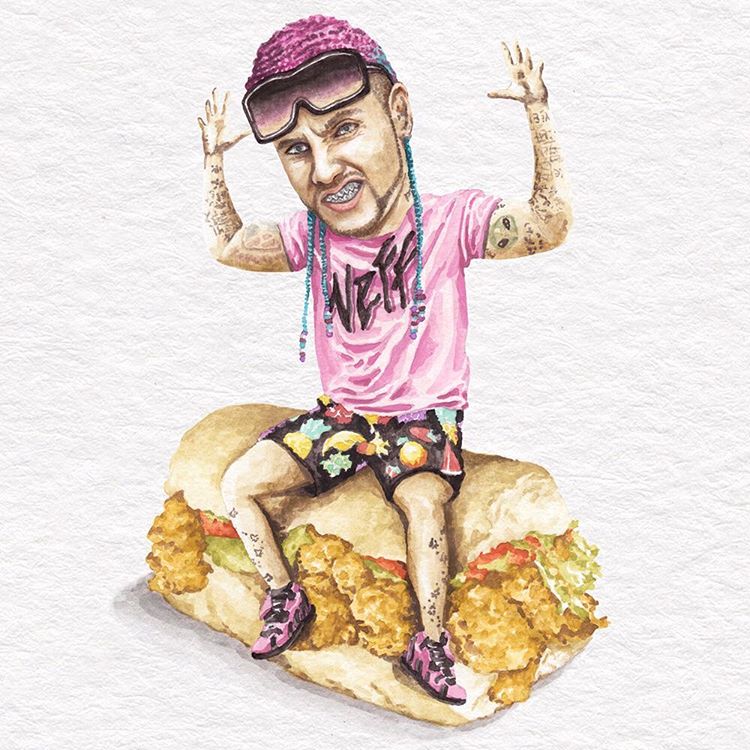 When you think of rappers, you usually think of burgers. But Jody is a "white boy in a black man's world," so it is only natural that he falls under a different stereotype.
30. Chrissy Teigen on a BLT with avocado sandwich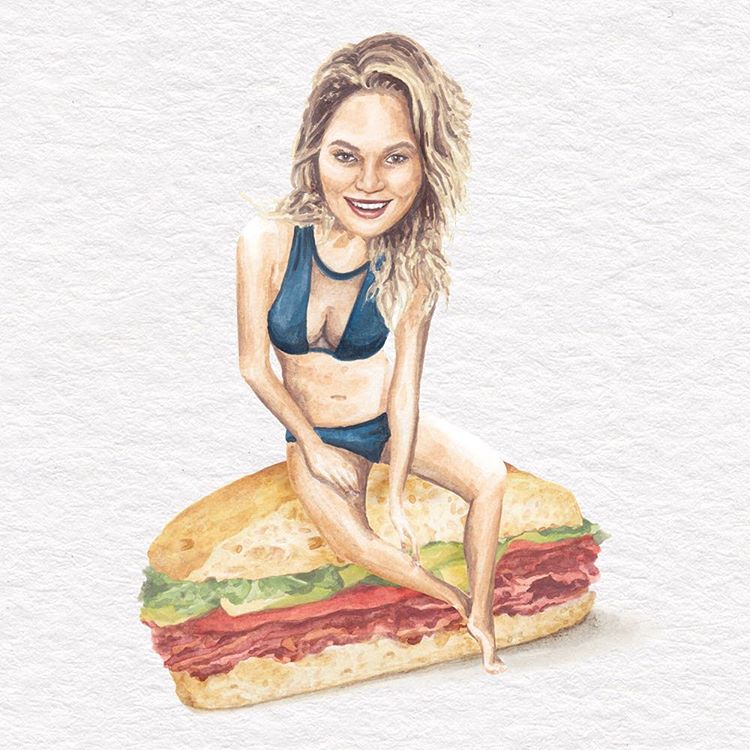 The model debuted on Sports Illustrated, and for the past 10+ years, she has been one of the hottest women in Hollywood. I am sure that eating a bacon sandwich didn't help her get there. But hey, there is avocado in it as well.
31. Ryan Raynolds on chimichanga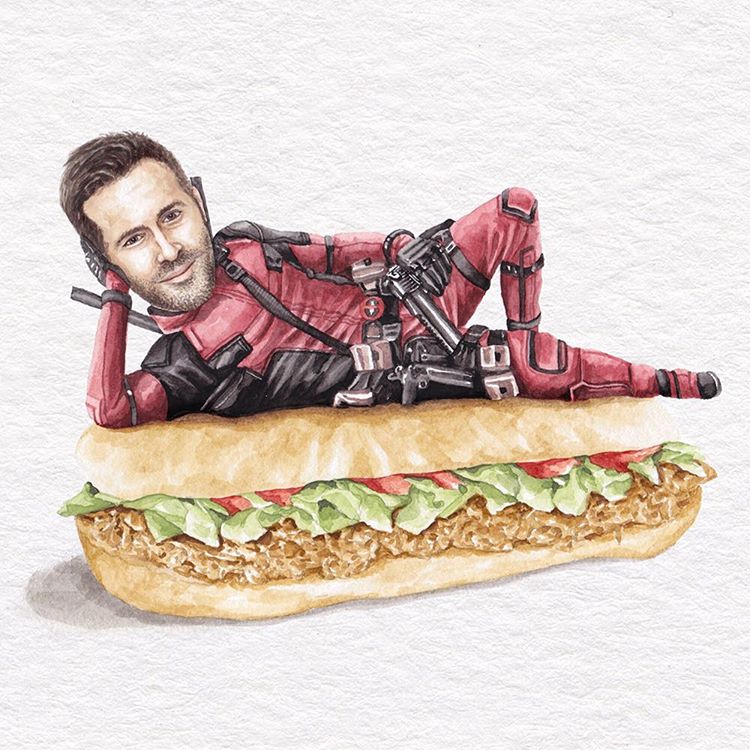 Since starring as Deadpool, Ryan Raynolds can look good on anything, anywhere. But chimichanga is his signature word in Deadpool, so it suits him. Ryan was phenomenal in the movie, and it certainly made us forget about that Green Lantern experience.
32. Bruno Mars on a chicken adobo sandwich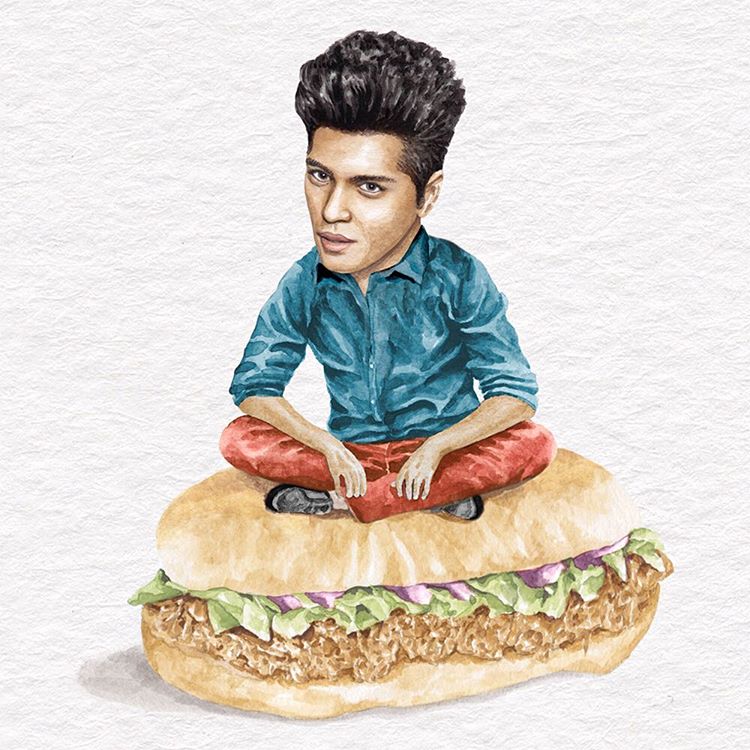 Chicken adobo is something you make when you have leftover chicken. Not to say that Bruno uses leftovers, but just thought you needed a quick reminder.
33. Miley Cyrus on a bacon, egg, and cheese sandwich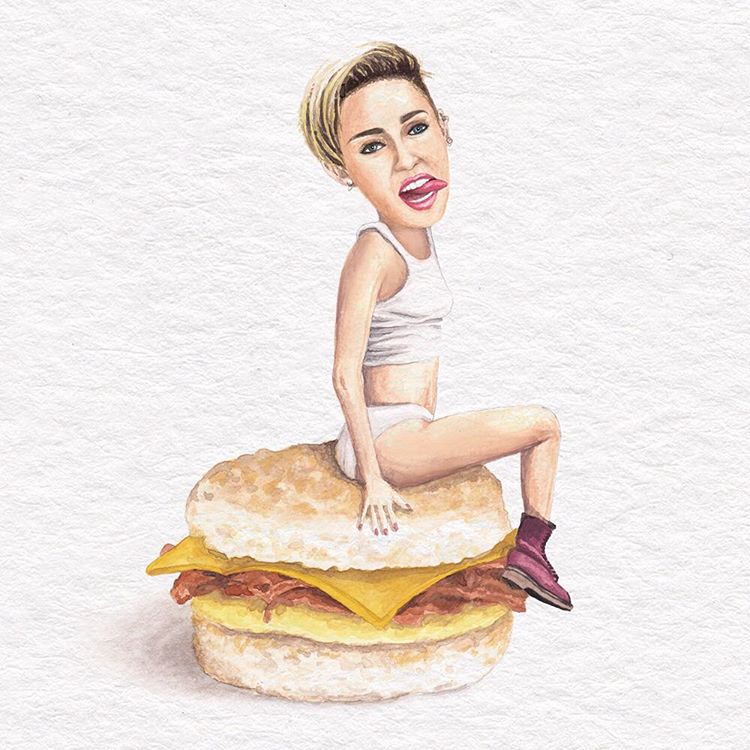 Miley is long past the American sweetheart character, but that doesn't mean she can't look good on a classy American bacon and cheese sandwich. I love how the artists used her pose from Wrecking Ball.
34. Snoop Dogg on a fried chicken and waffle sandwich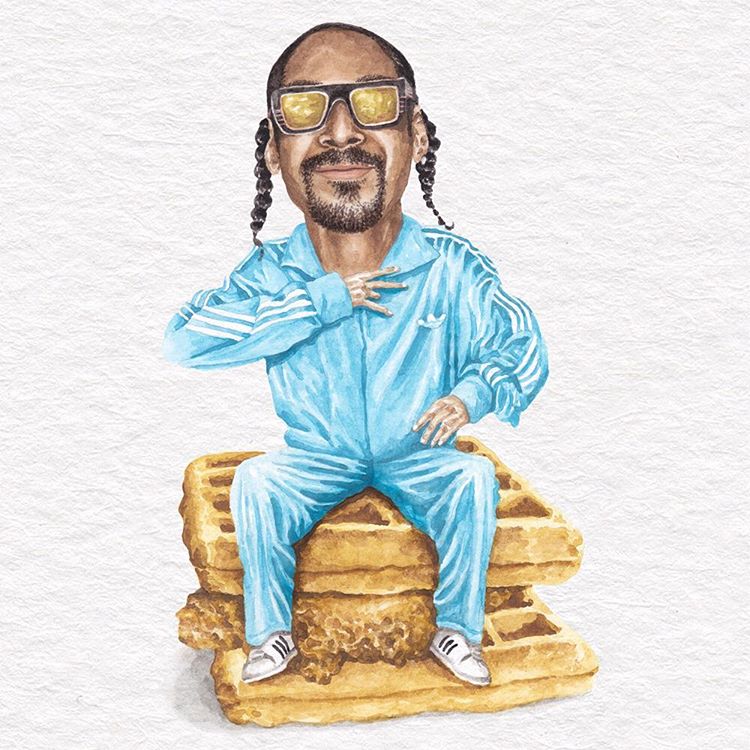 Now can you imagine Snoop on a waffle sandwich? I can't either. But that's the beauty of it—putting celebrities in unthinkable situations. The fried chicken, on the other hand, is spot on.
35. Ariana Grande on a doughnut ice cream sandwich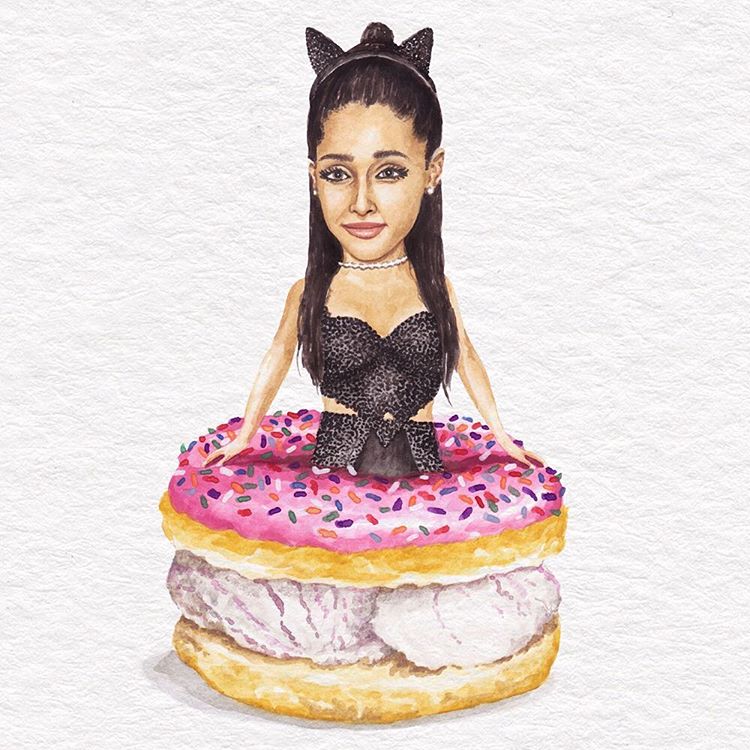 For the new American sweetheart, the Princess sandwich is the most suitable one. You can even imagine Ariana having a scene like this in one of her next videos.
36. Dwayne "The Rock" Johnson on a steak and egg breakfast sandwich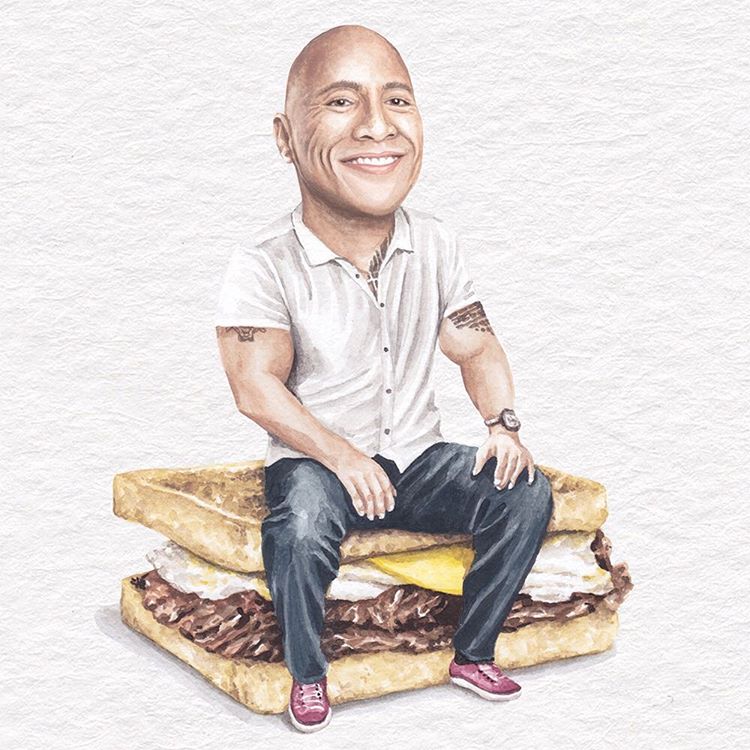 I don't think Dwayne Johnson eats sandwiches a lot. He is on a much higher calorie diet. He needs energy for all those muscles to do their job. But in the morning, he can have a sandwich or two.
37. Betty White on an egg salad sandwich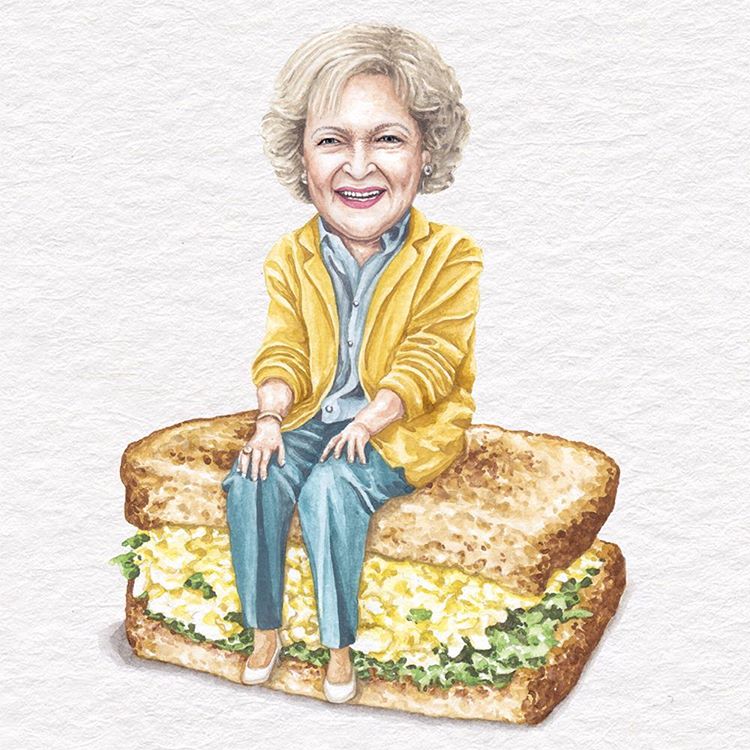 At 94 years old, Betty is still one of the most popular characters in Hollywood. She was part of so many generations. Everyone loves Betty, and her sandwich is definitely something we can imagine her eating.
38. Jean Claude Van Dam on a grilled eggplant sandwich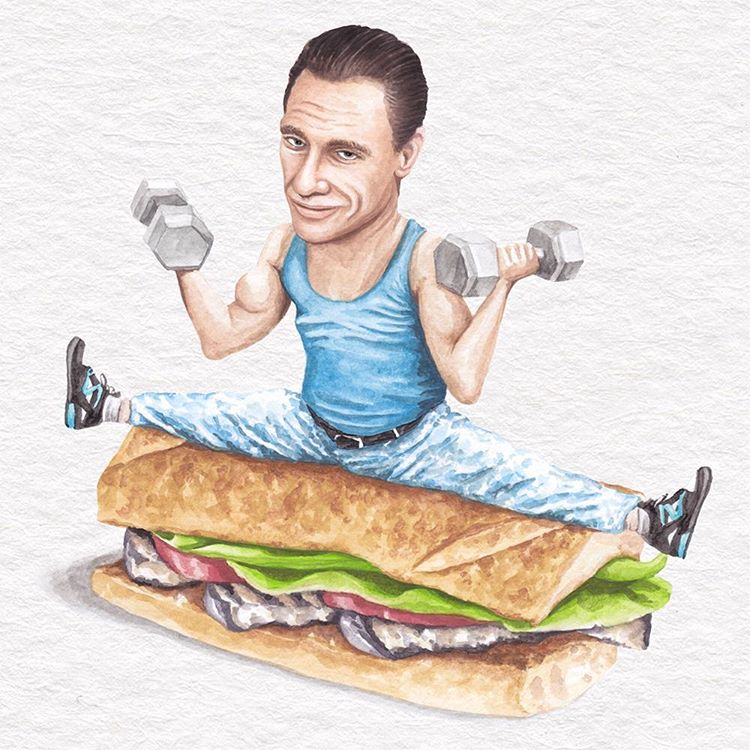 Jean definitely needed a long sandwich so that he can do his signature split. The actor might have been forgotten in past years by the movie industry, but his fans will never forget him.
39. Amy Schumer on a turkey and avocado sandwich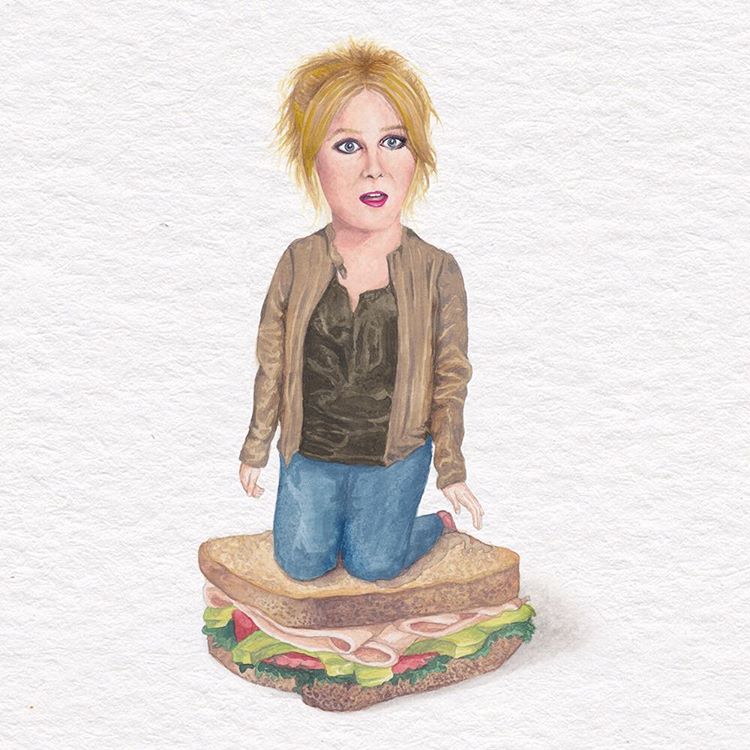 I've never seen Amy looking more surprised than in this picture with a sandwich. It's rare when someone can surprise the comedian and make her uncomfortable. Apparently, a sandwich can do just that.
40. Hosts of The Chew on a turkey and avocado sandwich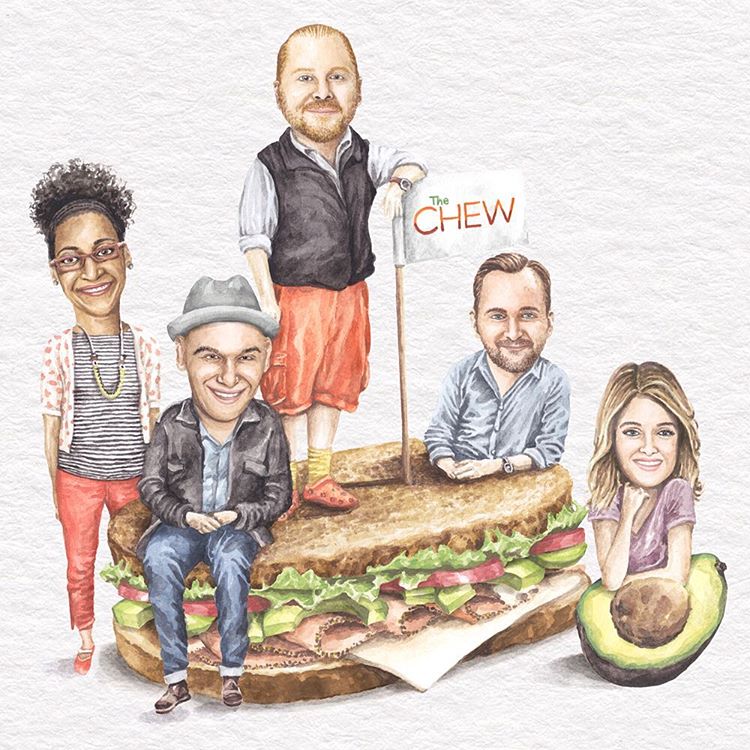 It is only suitable that we finish the list with foodies. The Chew is a TV food show, and we are sure they appreciated being included in the list. Hope you enjoyed it!
Photos: : @celebsonsandwiches