When it comes to celebrities, you can usually say they will look good in whatever they wear. And almost always, that will be true. And with Halloween costumes, it is just a joy and delight to see these celebrities get out of their designer clothes into something more "casual" looking.
When you're a celebrity, you have a large choice of clothes at your disposal. And it is safe to say that with so many options, you can't go wrong. But not all of us can look good in Halloween costumes. These celebrities have nailed it.
1. Jemima Khan as Victim of "It"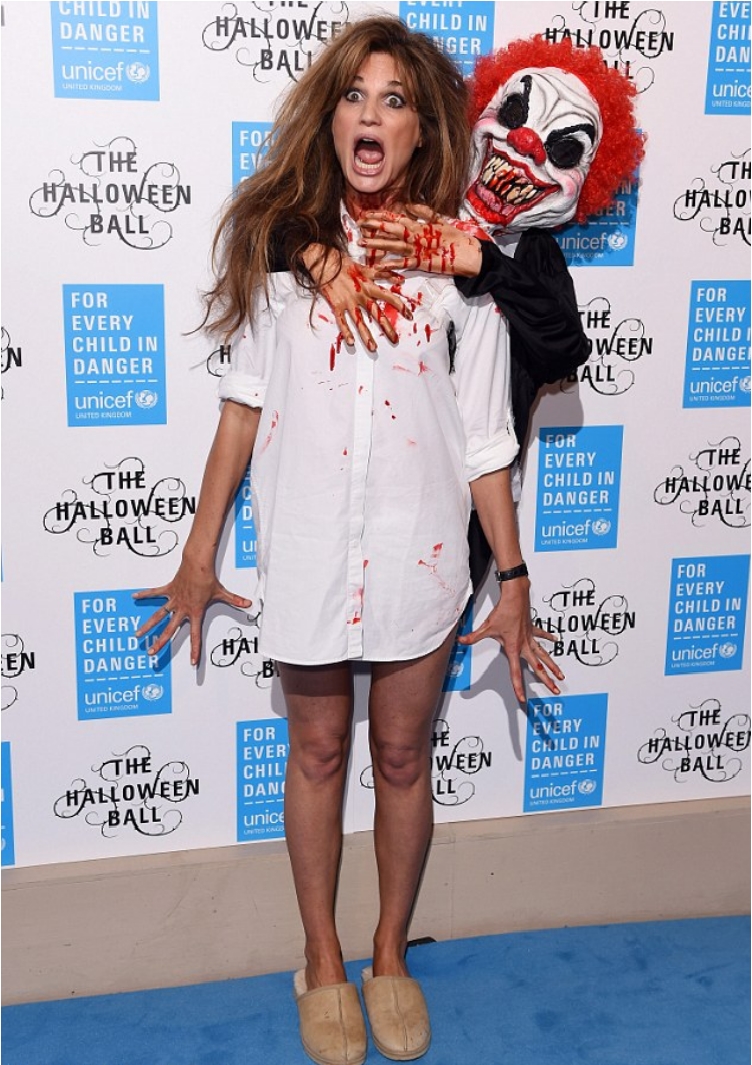 Most children love clowns. What's there not to like? They make us laugh, they entertain us, they play with us. But when It came out in 1990, many people started hating clowns. Suddenly, clowns became scary. Jemina is one of the best celebrities when it comes to Halloween costumes, and she perfectly gets the "It" feel.
2. Gigi Hadid as Sandy from Grease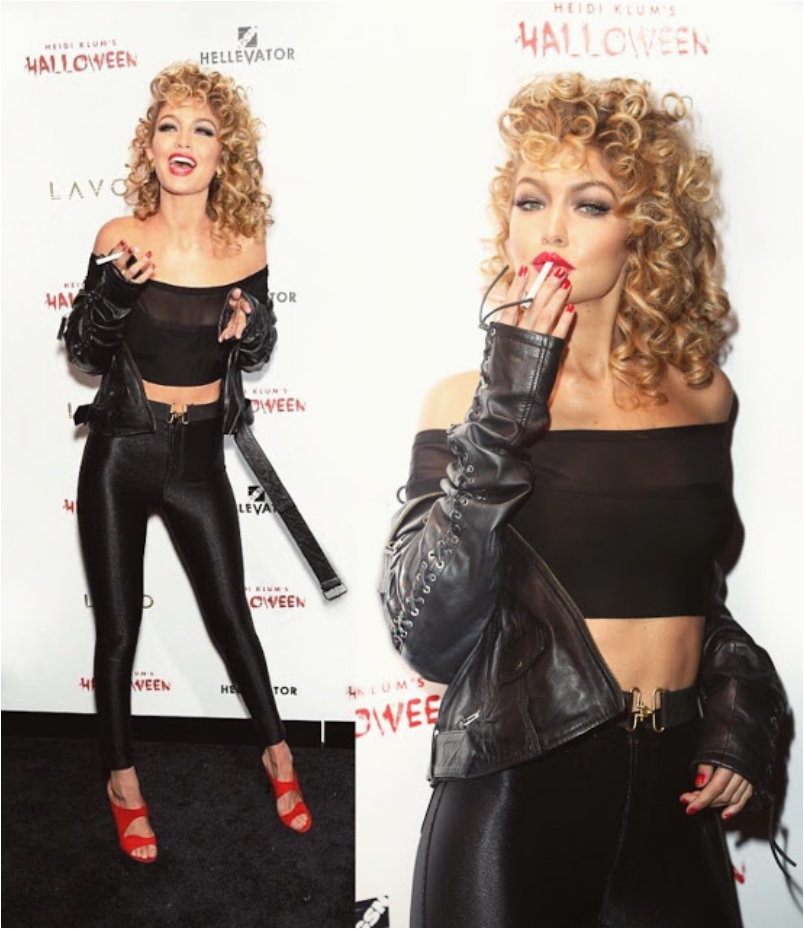 Gigi wasn't even born when Grease came out. But there are only a few people alive who haven't seen the iconic movie. And while Gigi is this sweet and innocent girl, she rocks as Sandy. Remember, Sandy was a cute and innocent girl at first as well.
3. Taylor Swift and Idina Mandez as Olaf and Elsa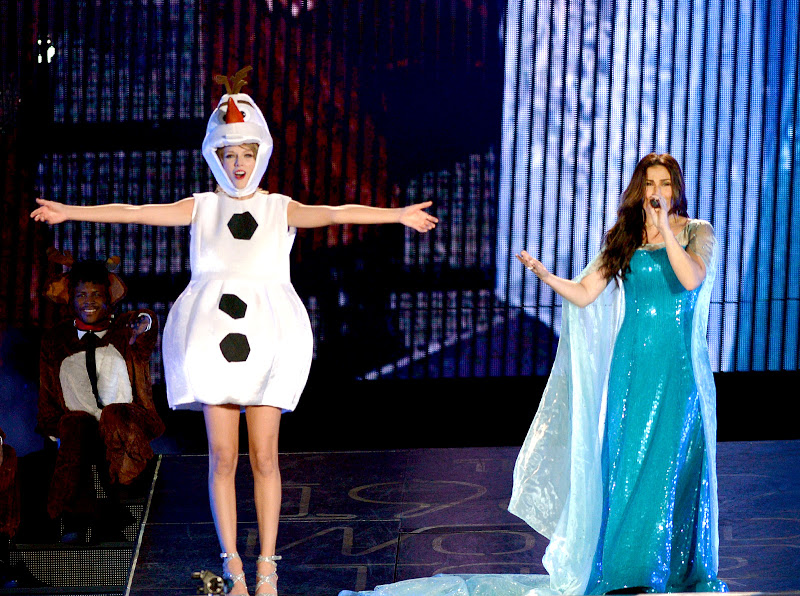 Until I saw Taylor as Olaf, I always thought of her as this serious girl who had no sense of humor. But then she put on that dress, and she showed us all that she can joke from time to time.
4. Kelly Ripa and Michael Strahan as Kim Kardashian and Kanye West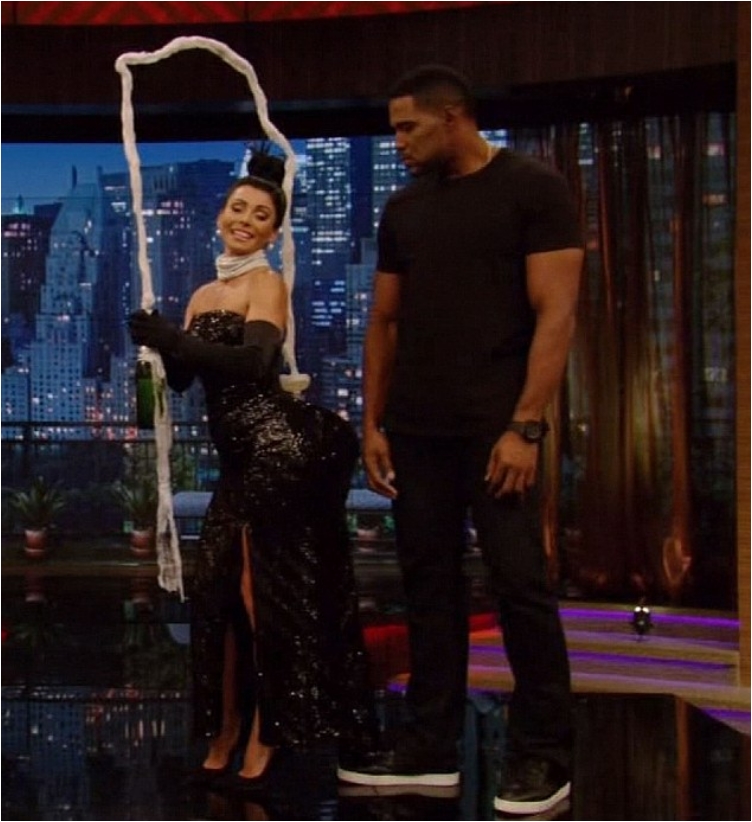 In an effort to "break the Internet," Kelly Ripa posed as Kimmy on her famous magazine cover. Not many women can pull off a Kimmy K butt pose, but Kelly nailed it.
5. Pink and Family as the Cast from E.T.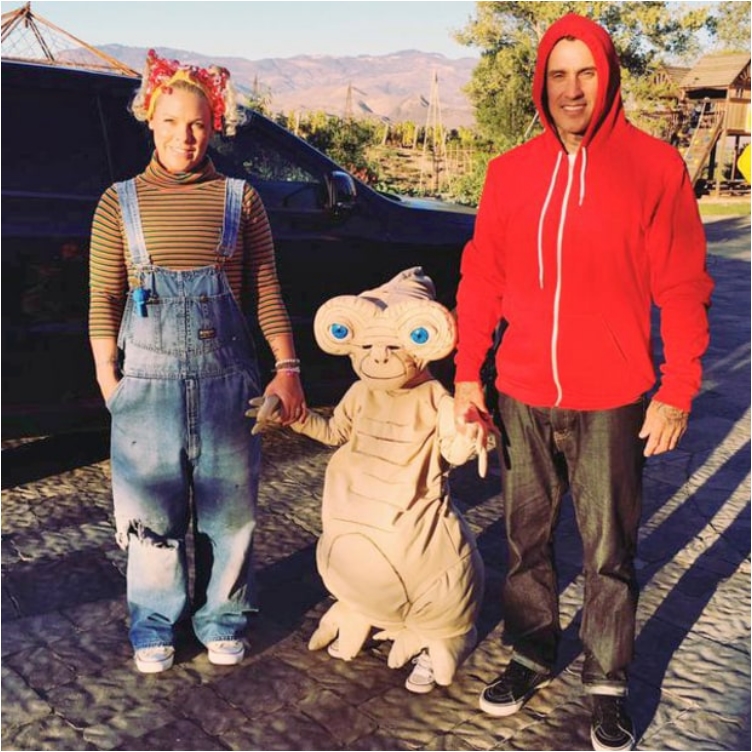 Pink is one of the most adorable singers. At least for me. She always hits that sweet spot, that perfect balance between controversial and scary good. She never wanted the spotlight, but she didn't hide in the shadows either. Her Halloween costume from E.T. perfectly sums it up.
6. Chrissy Teigen as Guy Fieri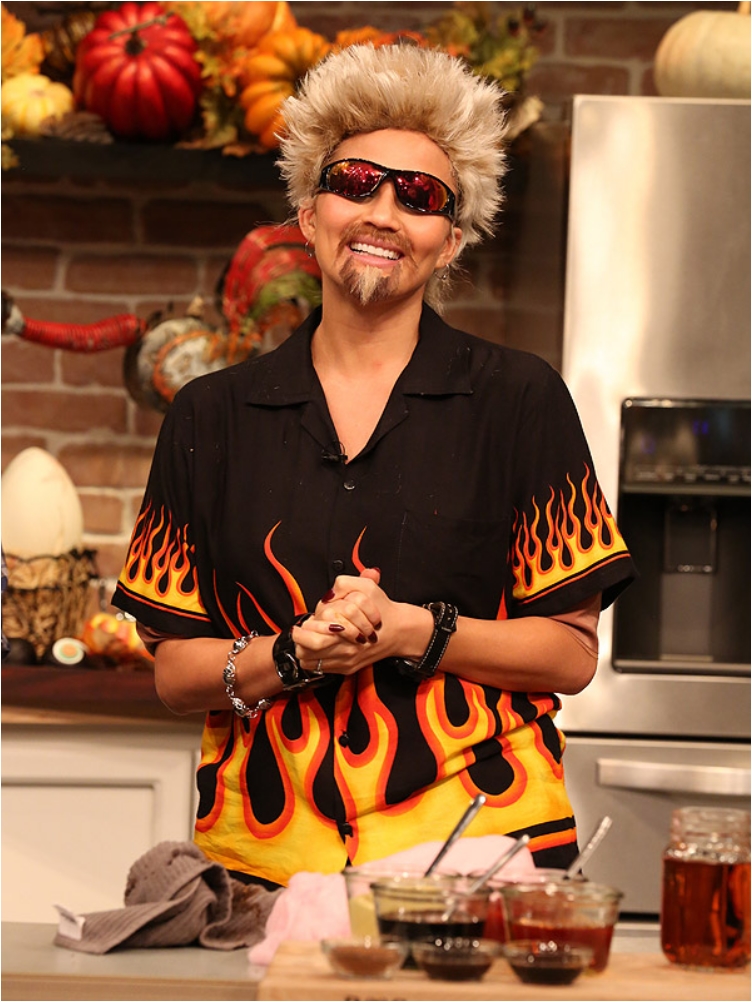 When it comes to masquerades, men love to dress up as women. The other way around is rare, though. But then you have Chrissy, an hilarious and funny supermodel who just kills it. Dressed up as the famous chef, Teigen is always a delight to follow on social media.
7. Ellen DeGeneres as Karla Kardashian (the Lost Sister)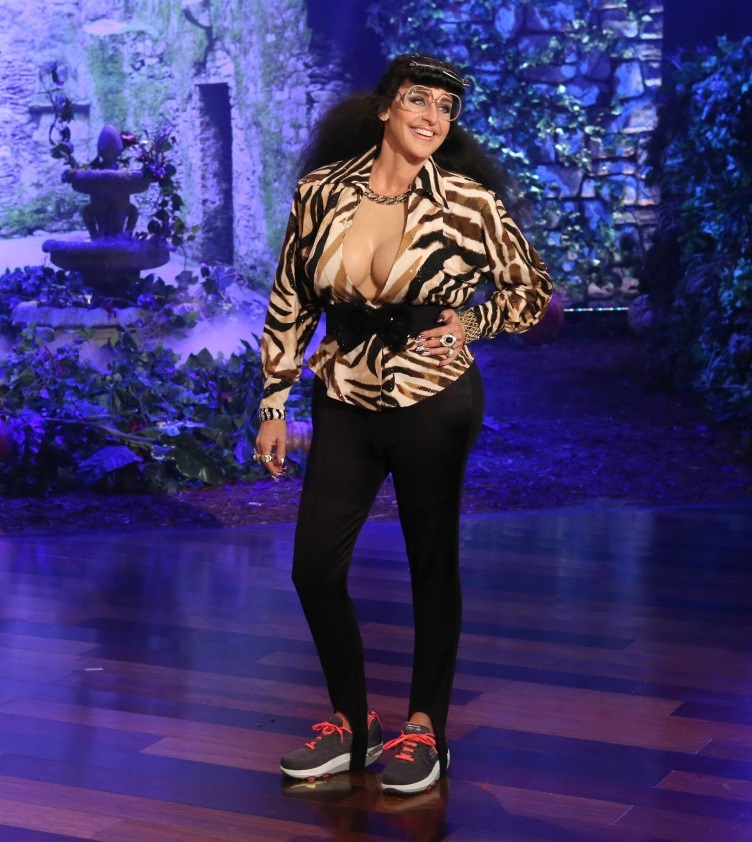 You can expect anything and everything from Ellen. She loves to mock people and celebrities. After all, that's her job. Her costume as the lost Kardashian sister was one of the best in 2015.
8. Fergie and Josh Duhamel as Karl Lagerfeld and Choupette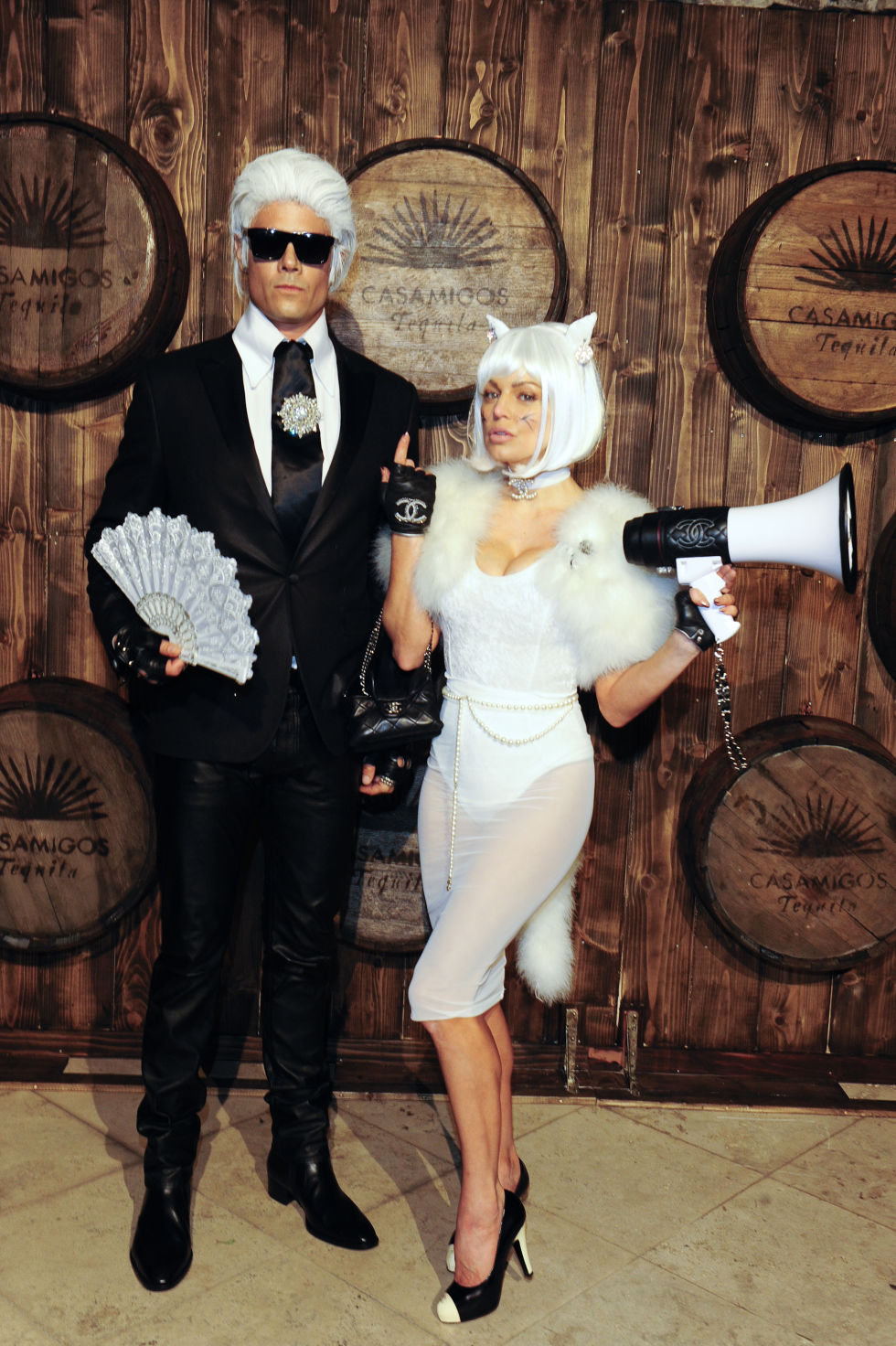 Now here is another adorable couple in love. Fergie and Josh are a bit underrated when it comes to famous celebrity couples. But they don't mind; they enjoy each other's company. And when it comes to having fun, they know how to do it. We all know Karl loves his cat, almost as much as Josh loves Fergie.
9. Kylie Jenner as Warrior Princess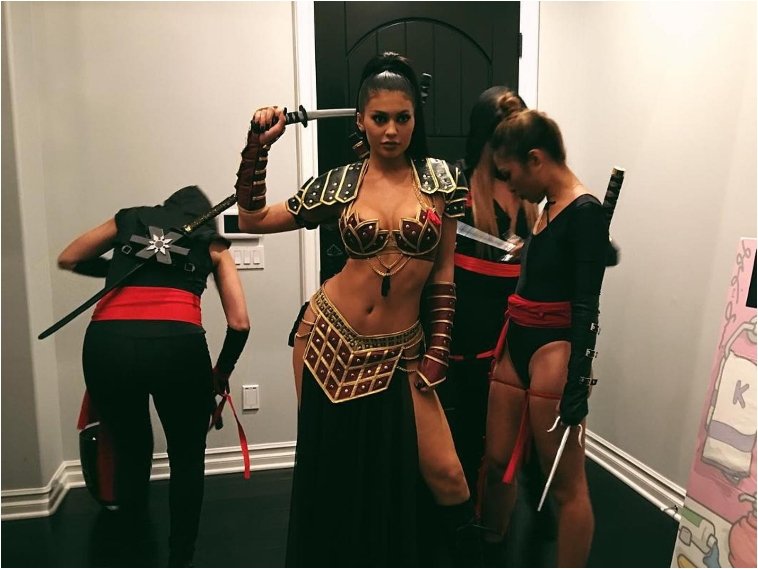 Being part of the Kardashian family means that you have to be in the spotlight 24/7. After all, they're celebrities just because they are celebrities. Kylie knows that well. Being one of the younger members of the family means that she has to follow the footsteps of Kimmy K and others. But she carved her own path, posing as a strong and independent woman.
10. Chrissy Teigan and John Legend as Cowboy and Indian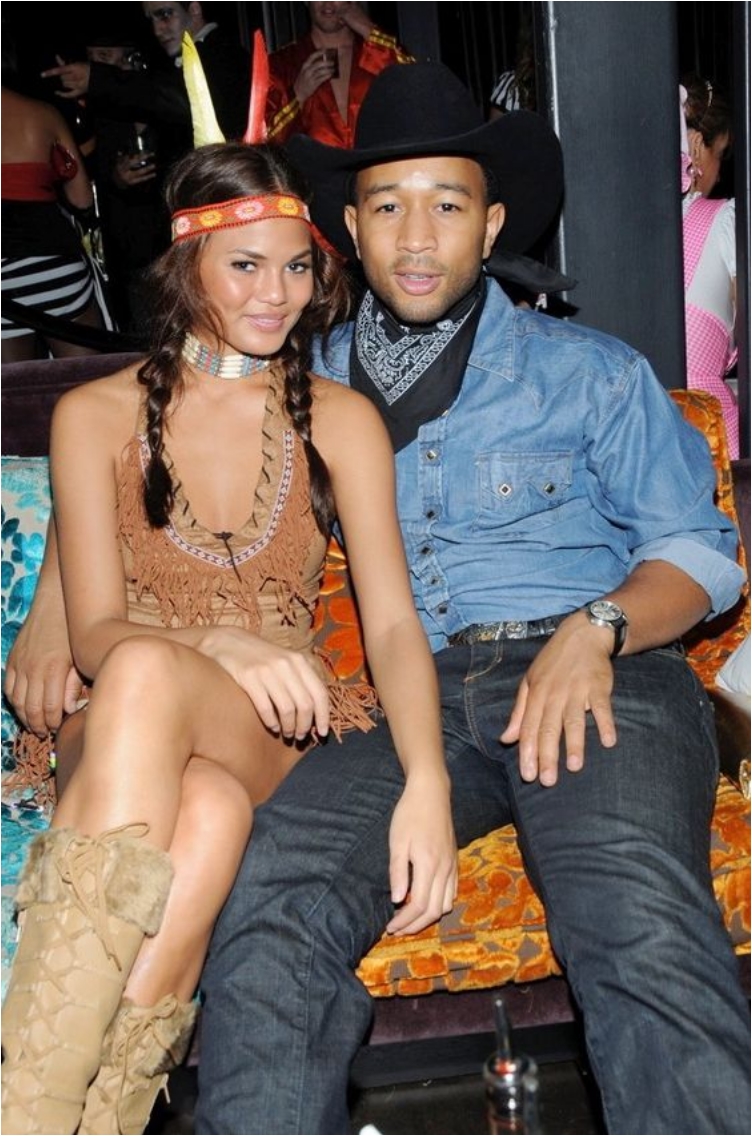 We already saw that Chrissy loves to dress up. You can say that Halloween is her favorite time of the year. With a young baby, we can expect even more fun from these two in the years to come. Here, they pose as Native Americans, showing their support for history and tradition.
11. Tyra Banks as Richard Branson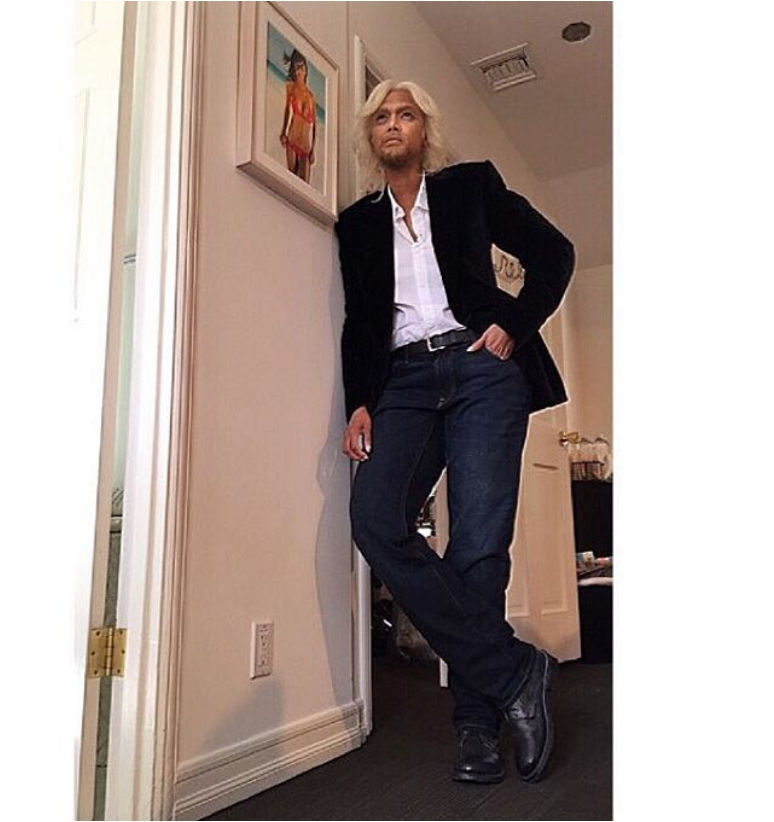 I said previously that it is a rarity for women to dress up as men. But just like Chrissy Teigen, Tyra Banks is not your ordinary woman. She'll go down in history as one of the most successful women in the fashion world. She is almost as successful as Branson. You might say that he should try dress up like Tyra. Can you imagine the 60+ year old magnate in sexy underwear?
12. Perrie Edwards as Ice Queen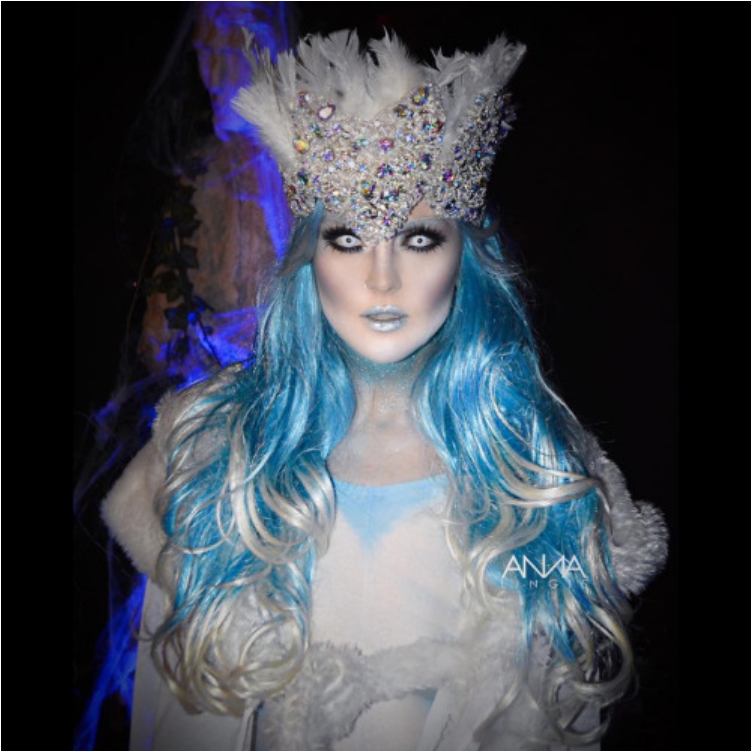 Perrie became famous as the ex-girlfriend of One Direction singer Zayn Malik. They were engaged once, but that's over. Still, during the time with Malik, she used the spotlight to her advantage, and her Halloween costumes were a big part of that.
13. Lisa Rinna and Harry Hamlin as Lucy and Ricky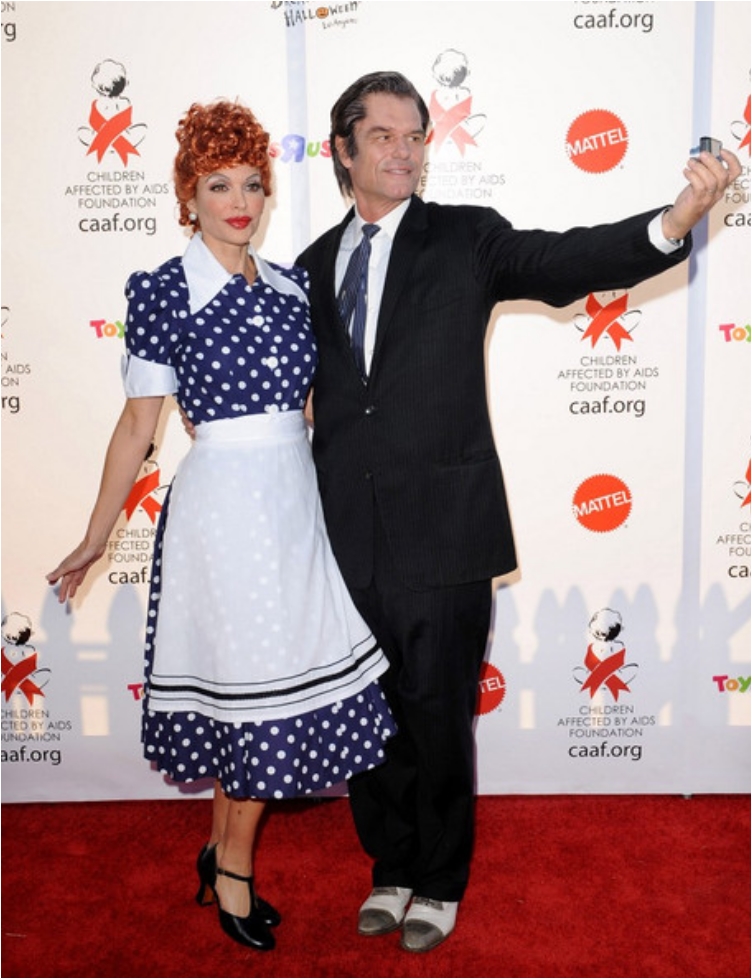 Posing as one of the most iconic love couples of the 50s, Lisa and Harry are adorable. Who knew she could pull of red hair like that? For those of you who do not know the show, check out I Love Lucy.
14. Colton Haynes as Princess Fiona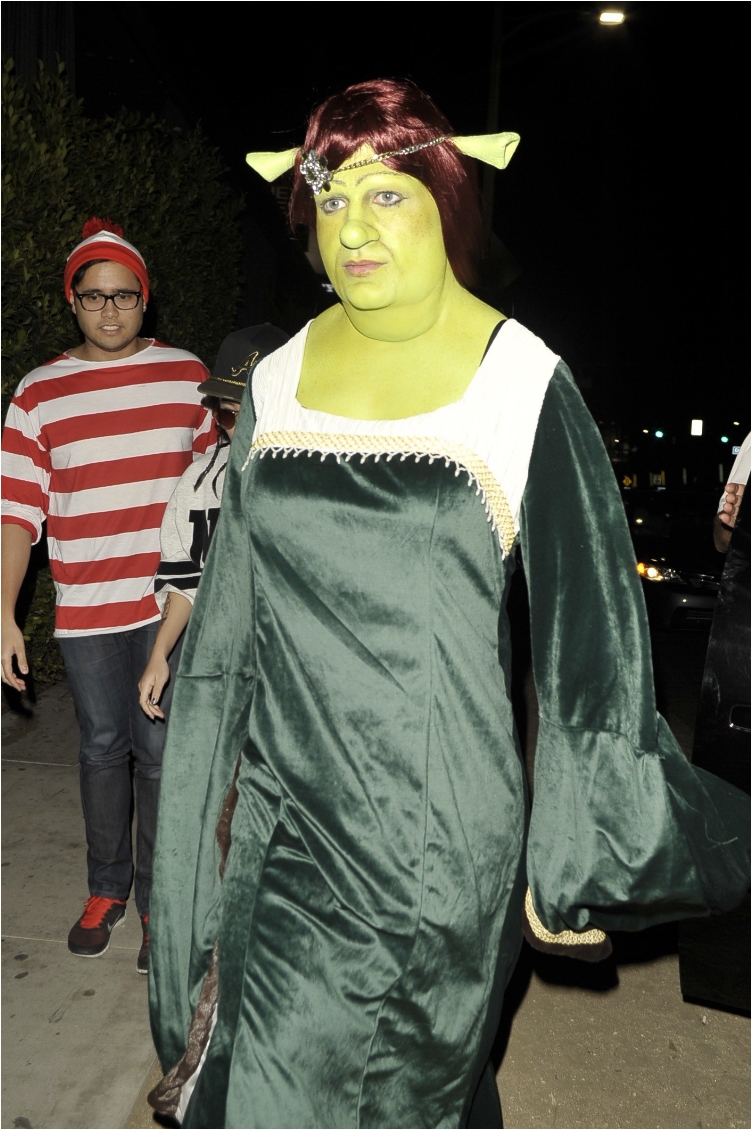 I said that it's usually men who dress up as someone of the opposite sex. And that usually happens when men try to look sexy. Colton, on the other hand, took a different approach, posing as one of the least sexy princesses in the Disney universe. He looks more like Shrek than Fiona to be honest.
15. Russell Wilson and Ciara as Batman and Catwoman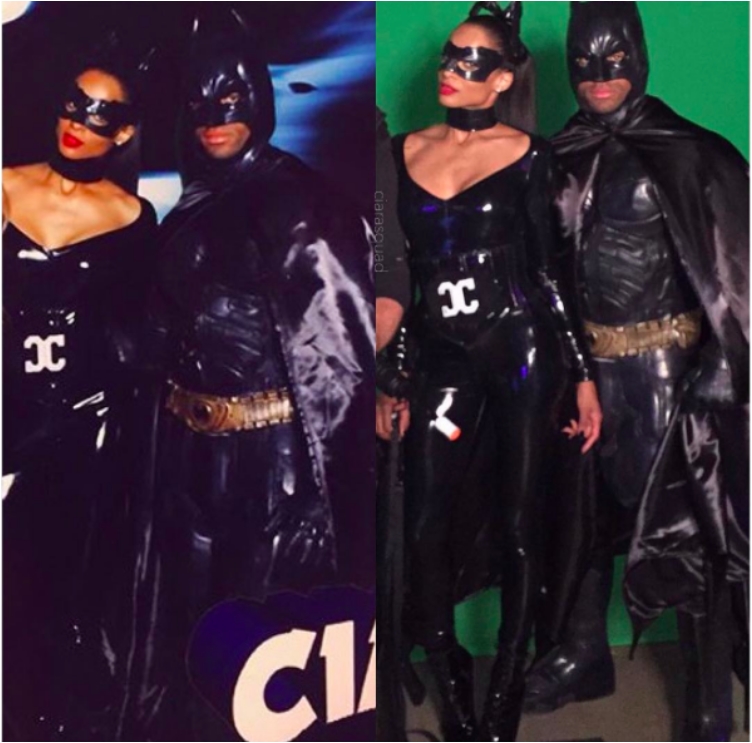 Talk about a perfect copycat. Russell and Ciara are another underrated Hollywood celebrity couple. But they are adorable and so much in love. And kudos for posing as iconic and old school Batman.
16. Nick Jonas as the Hamburglar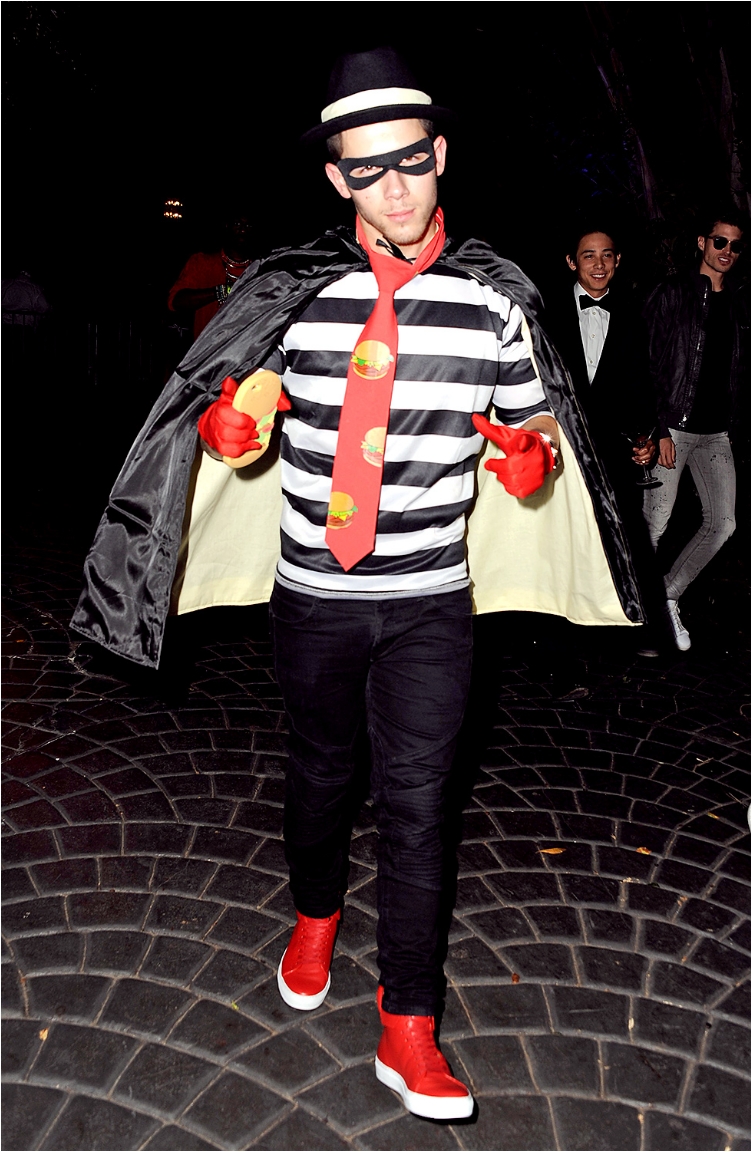 What I love about Halloween is when people try to do some unconventional and unique costume. We all remember the Hamburglar from McDonald's commercials, but rarely does someone try to copy him. Nick Jonas does it so well!
17. Poppy Delevingne as Harley Quinn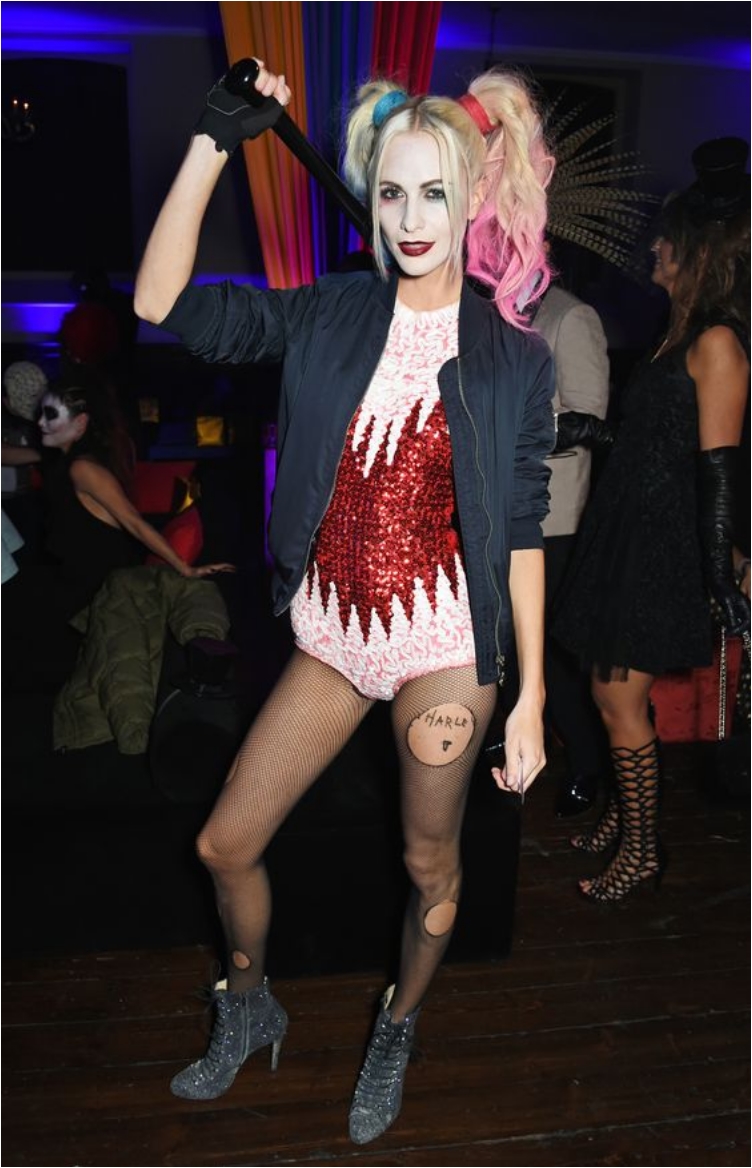 The older Delevigne sister is not nearly as famous as Cara. She is also a model, but Poppy is not as beautiful as Cara. Be that as it may, she caught up on the Harley Quinn trend. With Suicide Squad now released, we can expect even more Harley Quinn costumes. She is definitely one of the most popular comic book characters.
18. Beyonce and Blue Ivy as Janet and Michael Jackson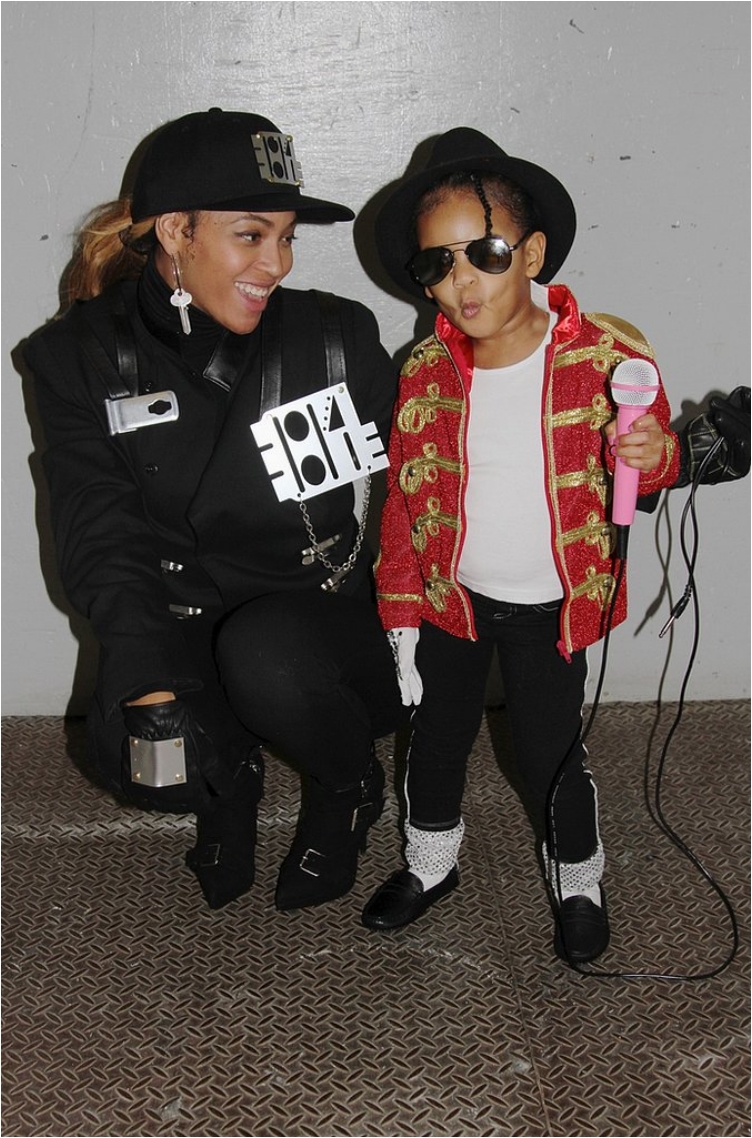 Once you have children, you can have fun with many more Halloween costumes. And Beyonce uses her four-year-old daughter to the maximum. While Janet and Michael were close in age, Beyonce pulled the costume off perfectly.
19. Grace Gealey and Trai Byers as Bonnie and Clyde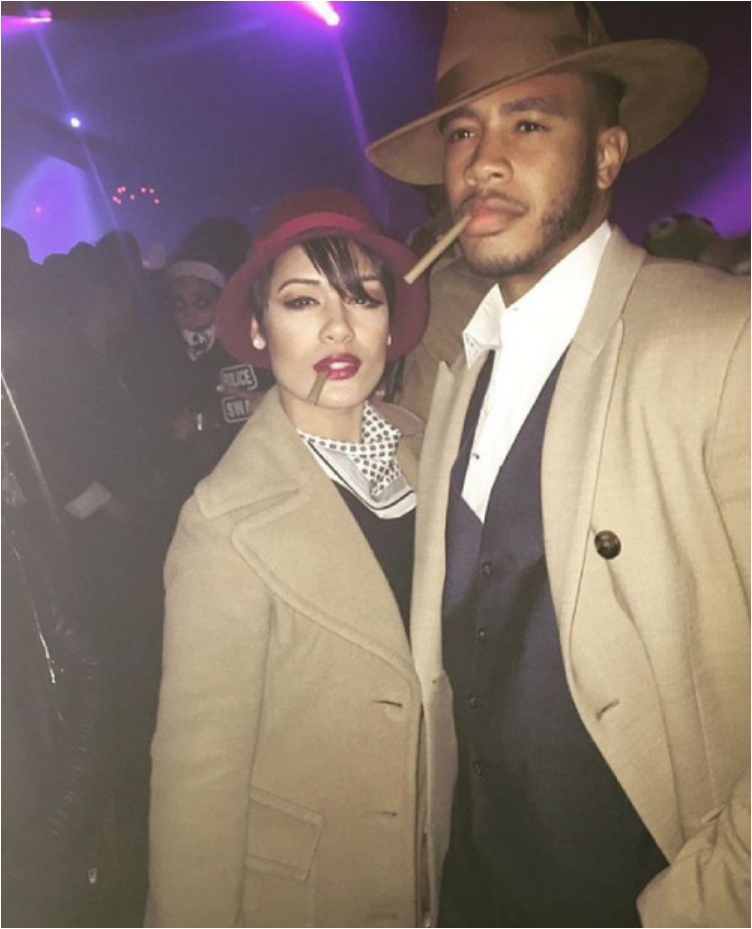 Bonnie and Clyde are one of the iconic costumes a couple could pull off for Halloween. And on the list of the best Bonnies, Grace Gealey is high up there.
20. Alexa Chung as Marie Antoinette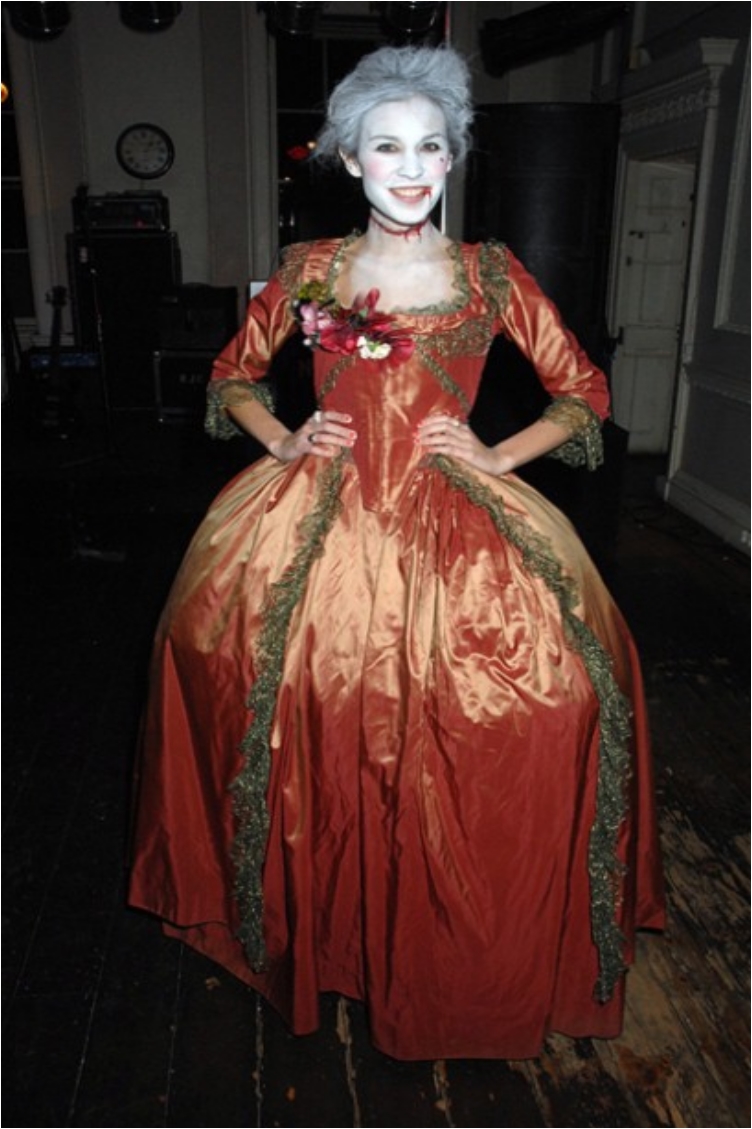 Love her or hate her, but Marie Antoinette was a significant character in French history. And while she was never scary looking, Alexa managed to give the character a different vibe. She is scary and cute at the same time, a feat few can pull off.
21. Rihanna as Raphael from TMNT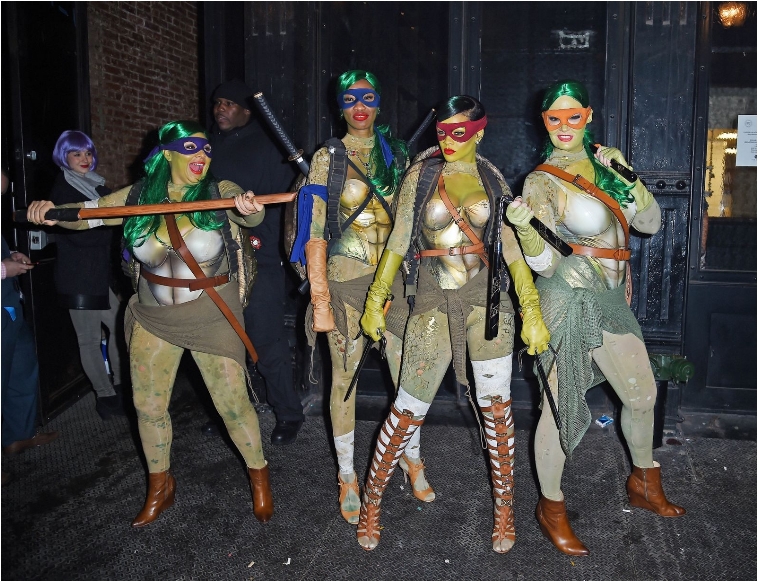 Rihanna loves to hang out with her girlfriends, and they always have fun. And because she can't do a group costume without her friends, she invited them for a Halloween bash. Raphael might have been the least popular of the gang, but Rihanna makes him more popular. Personally, I loved Mike and his cravings for pizza.
22. Emily Ratajkowski as Marge Simpson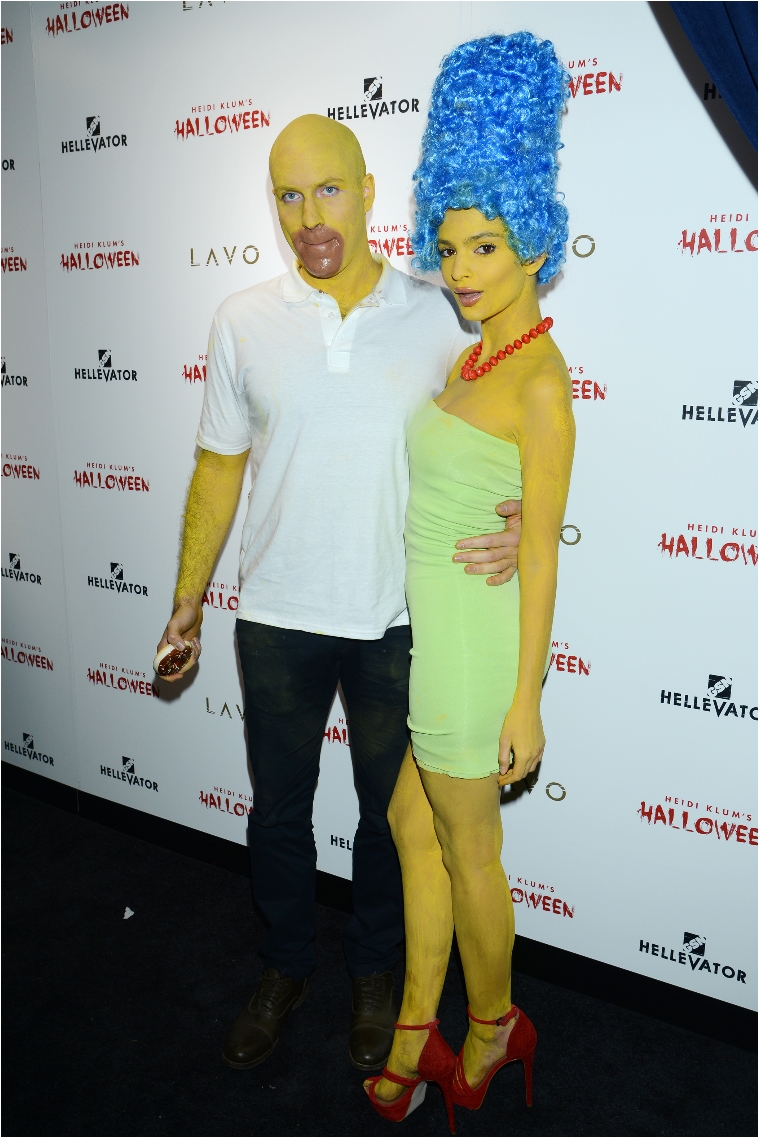 Unlike Marge, Emily is known as this sexy and provocative lady. But every now and then, even Emily wants a more conventional life, something along the lines of the Simpsons. And besides, she managed to make even Marge look sexy.
23. Jared Padalecki and Family as Cast of How to Train Your Dragon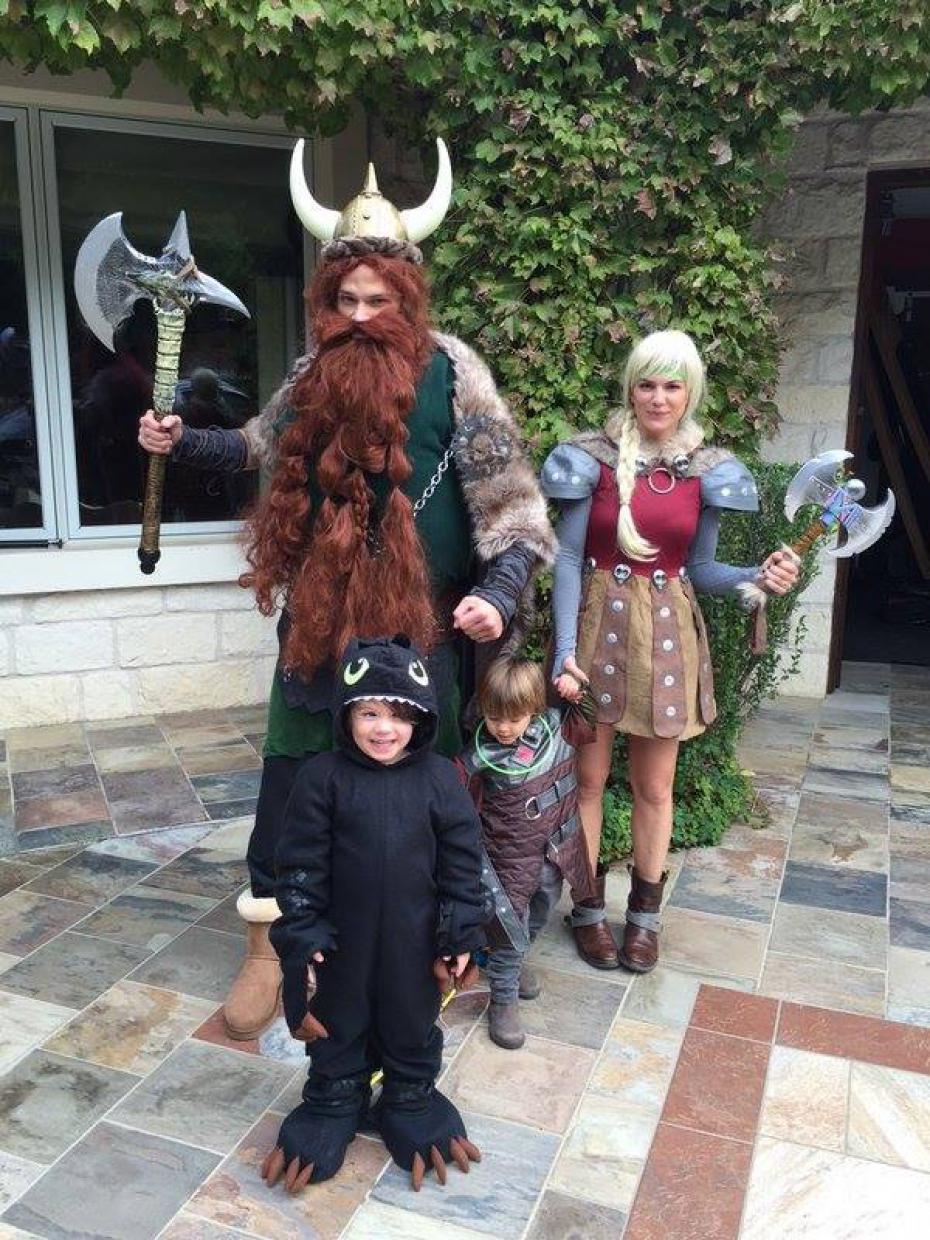 The 30-something actor is always fun to watch. He plays mostly in television series, but I am sure he could do well in a movie also. Especially one children would love to watch.
24. Lebron James as Prince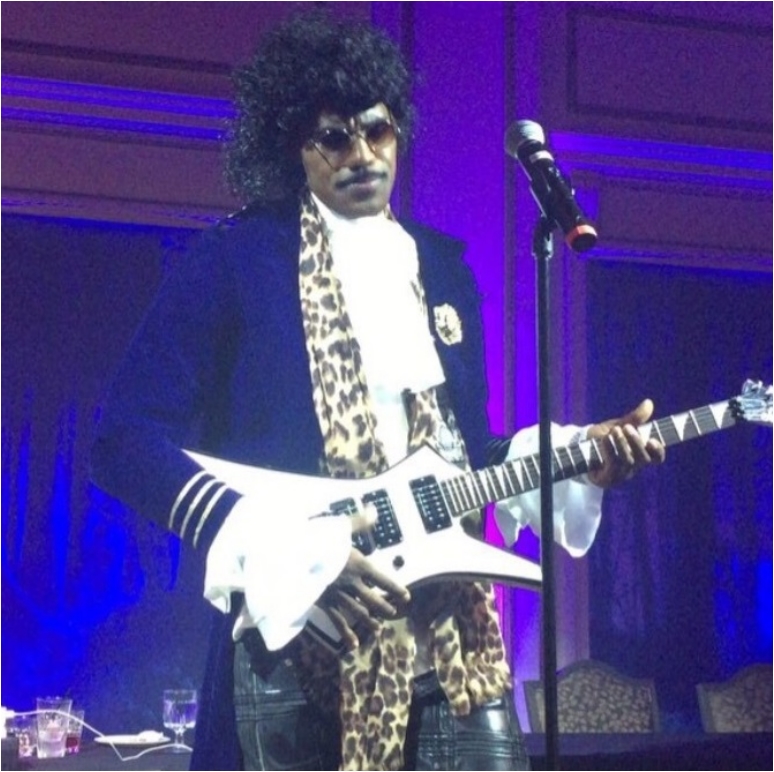 Lebron James is a big fan of history and tradition. And that applies to everything, not just basketball. He is an historian of the game, but also of music, literature, culture and everything else. Which is why he loves characters like Prince.
25. Eniko Parrish and Kevin Hart as Martin and Gina Paye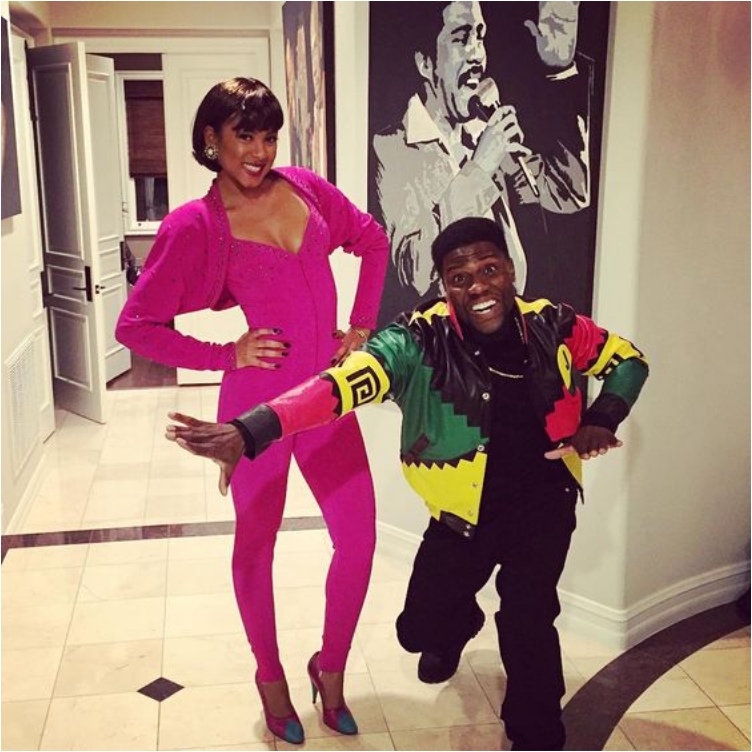 In the 1990s, Martin was one of the most popular sitcoms on television. It aired for five seasons, and made Fox millions. And who better to act as Martin than Kevin Hart. In the original series, Martin Lawrence was Martin.
26. Dwayne "The Rock" Johnson as Popeye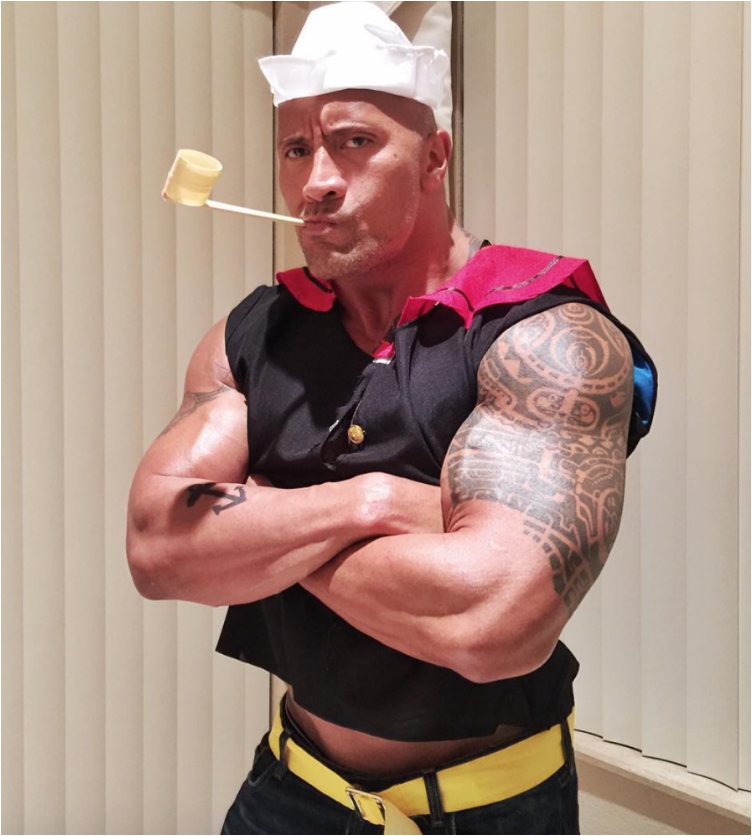 I am sure that if you put Dwayne and Popeye in a ring, we would witness an epic match. That is, if Popeye has his spinach first. Popeye is one of the reasons children love spinach, and thank goodness for that. And to be honest, I would love to see Dwayne as Popeye in a movie.
27. Nina Dobrev as Victoria Beckham Posh Spice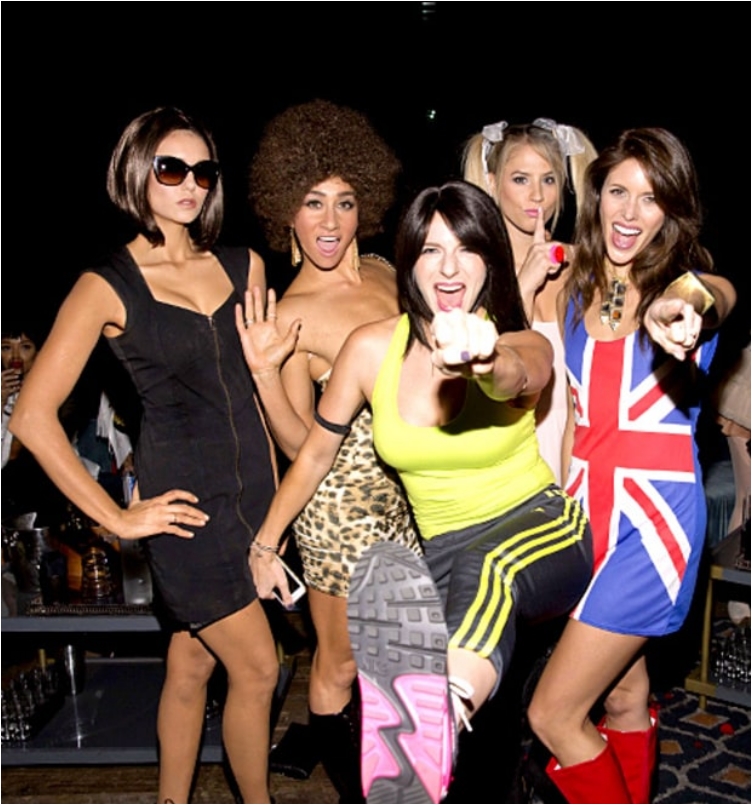 Be honest, if you didn't know this was a costume, wouldn't you think that was Victoria in the picture? That's just a testament how good Nina Dobrev was in her costume.
28. Adam Lambert as Ghost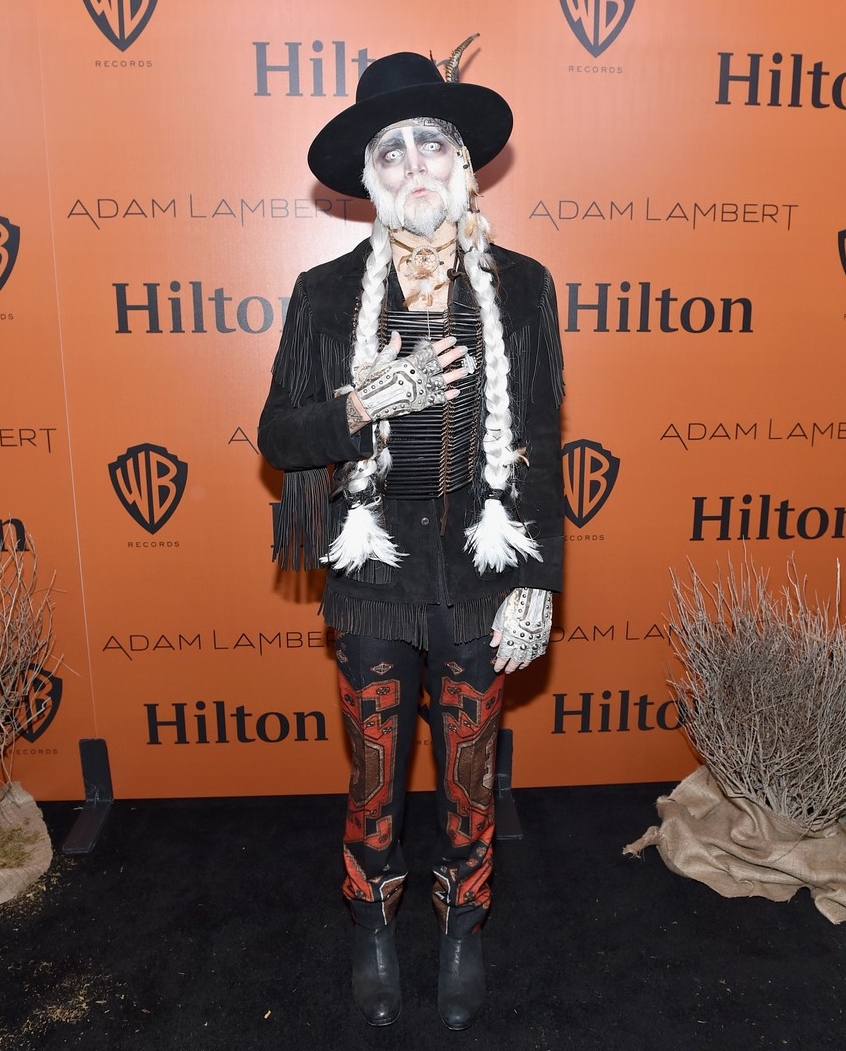 For the younger generation here, Ghost is actually a name of a movie. Yes, Adam looks like a real life ghost, but check out the movie. It is one of the best 1990s movies.
29. Demi Lovato as Trap Queen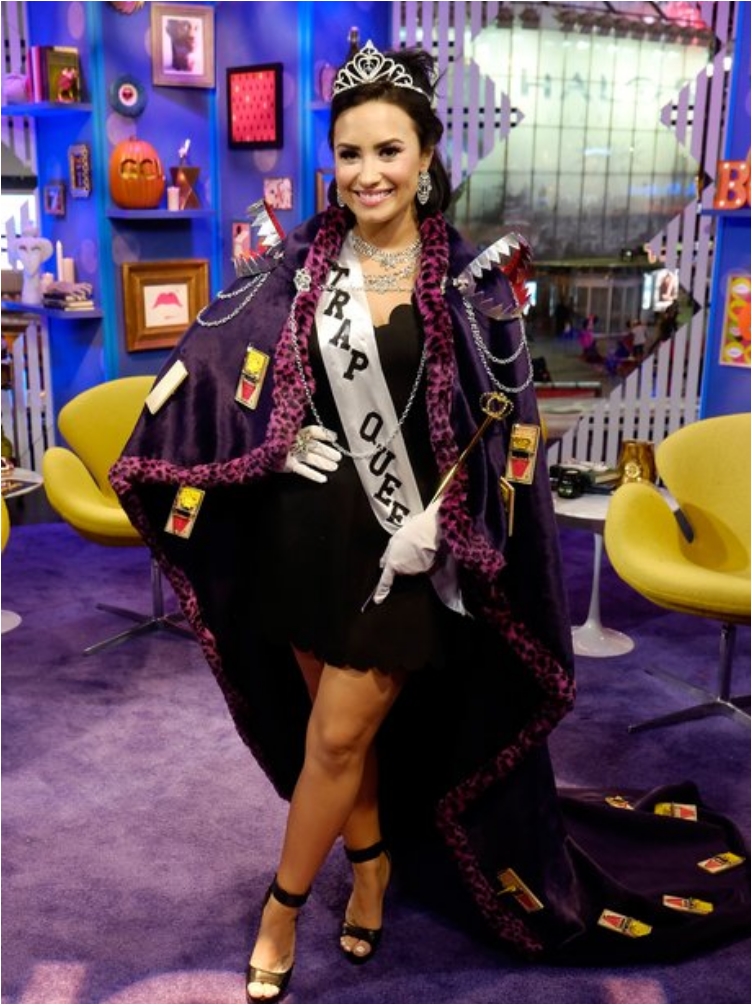 Demi is always spot on with what is happening in the music world. And when Fetty Wap released the single "Trap Queen" in 2015, Demi followed it up with a costume of her own.
30. Justin Bieber as Jackie Moon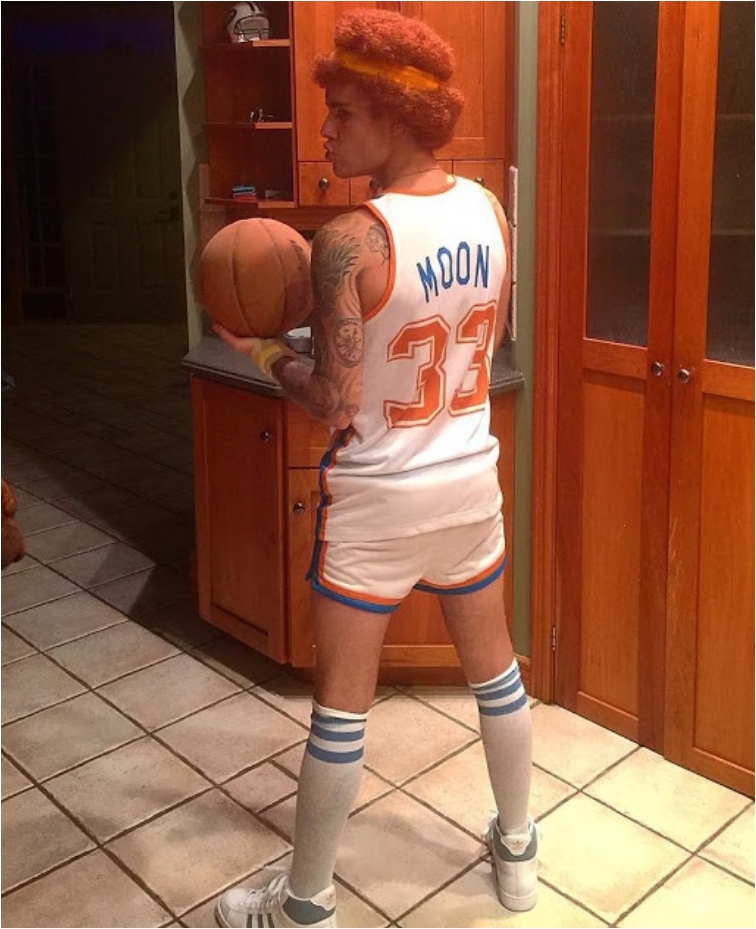 Justin is a big basketball fan. You can often see him in the stands at NBA games. And he was even part of the All-Star celebrity game. That's why it's no wonder that he loves to dress up as basketball icons for Halloween. Jackie Moon is an iconic character from an even more iconic basketball movie.
31. Neil Patrick Harris and Family as Star Wars Characters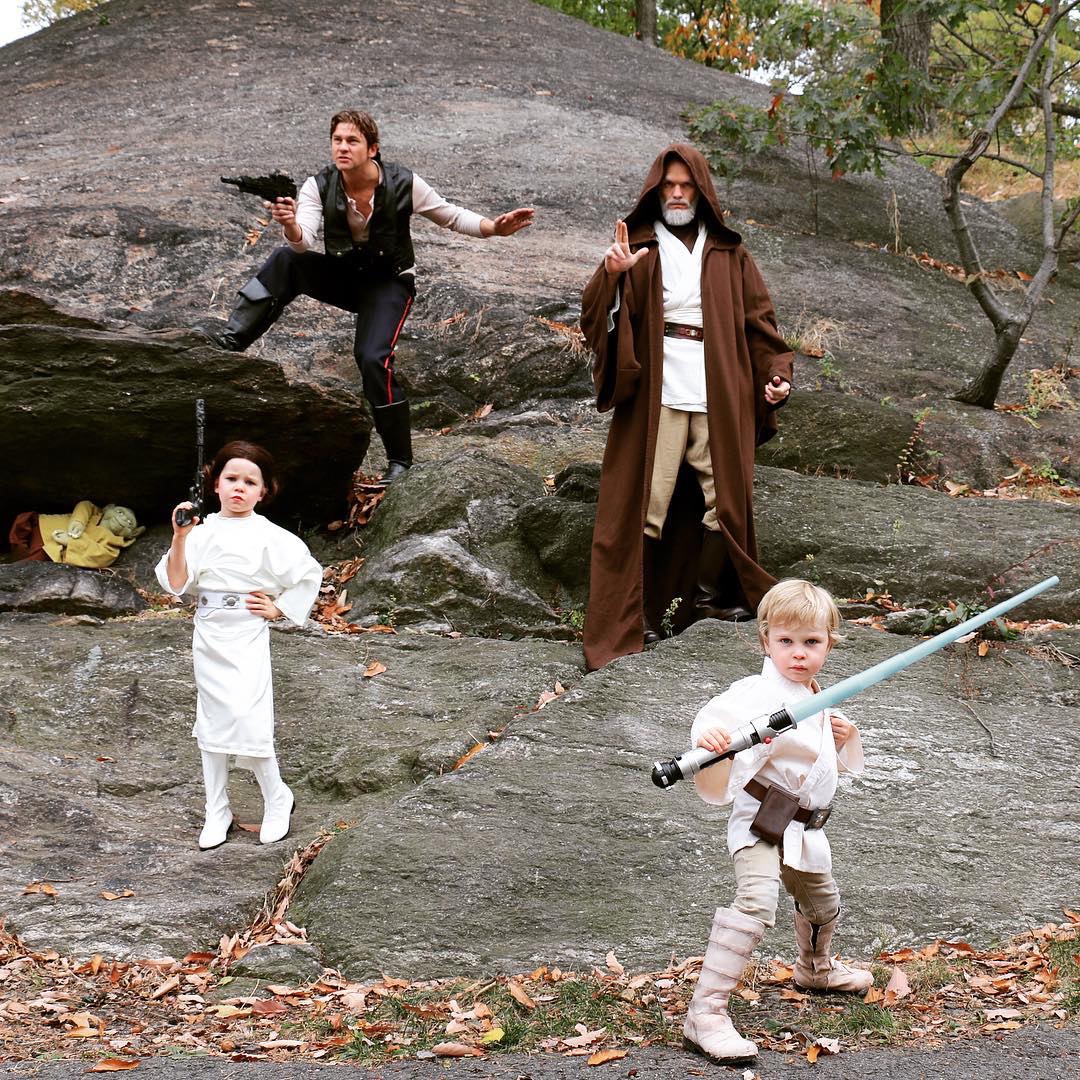 You can rarely find a character in Hollywood who is as much fun as Neil Patrick Harris. With his partner and two children, Neil always brings something interesting to the table.
32. Colton Haynes as Ursula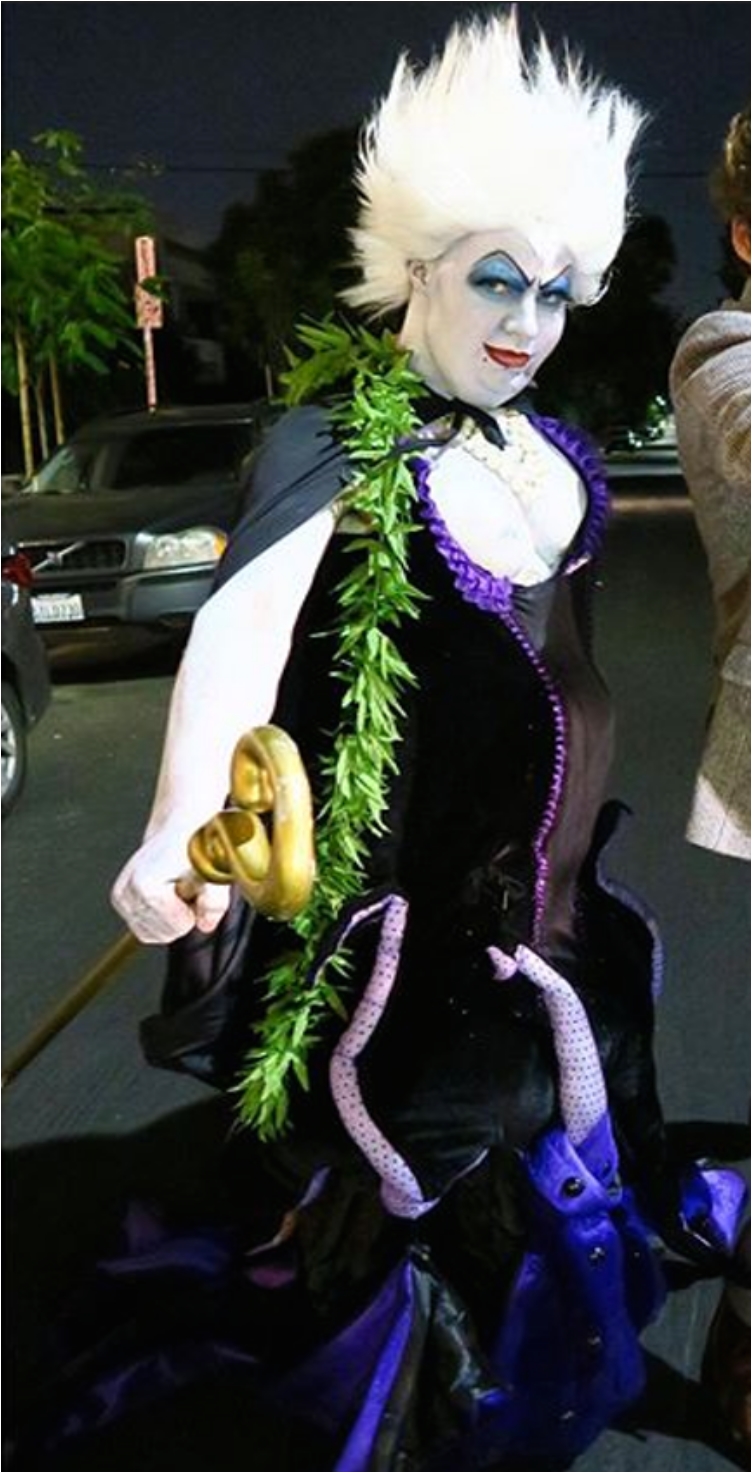 We can say one thing for sure. Colton loves Disney movies and Disney princesses. We saw him as Fiona, and we now see him as Ursula. And while Ursula is not a princess, she is still part of the Disney lore.
33. Holland Roden and Max Carver as Models from Rick Owens Spring 2016 Collection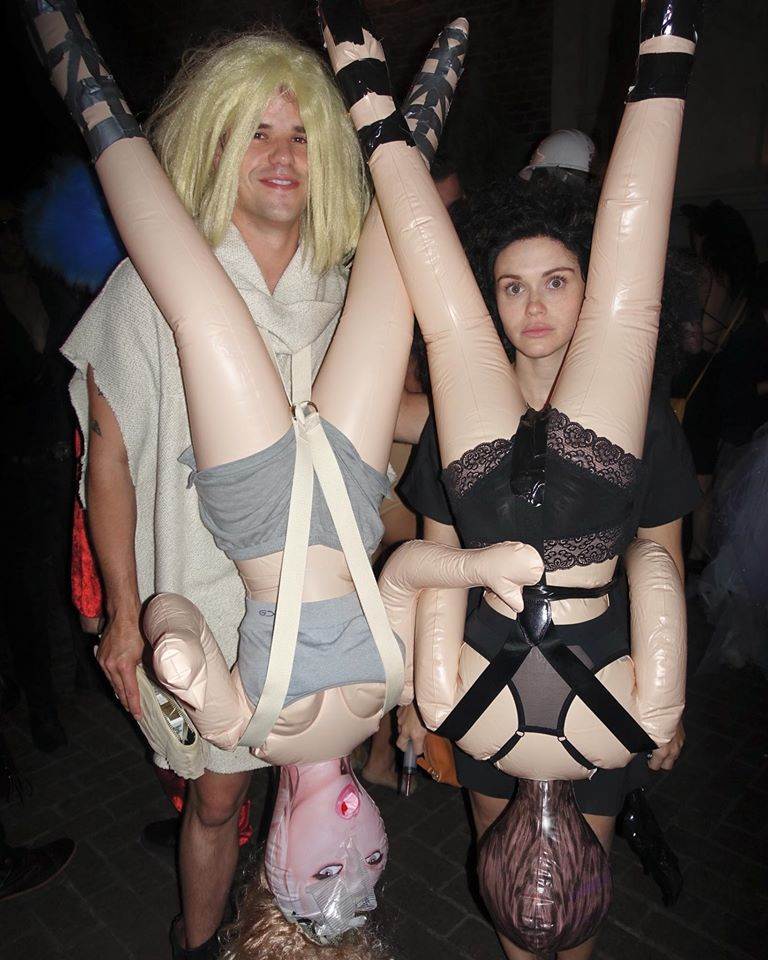 I love mocking costumes. Truth be told, Halloween is perfect time to mock a fashion event, a movie, a song or anything in between.
34. Allison Williams as Belle from Beauty and the Beast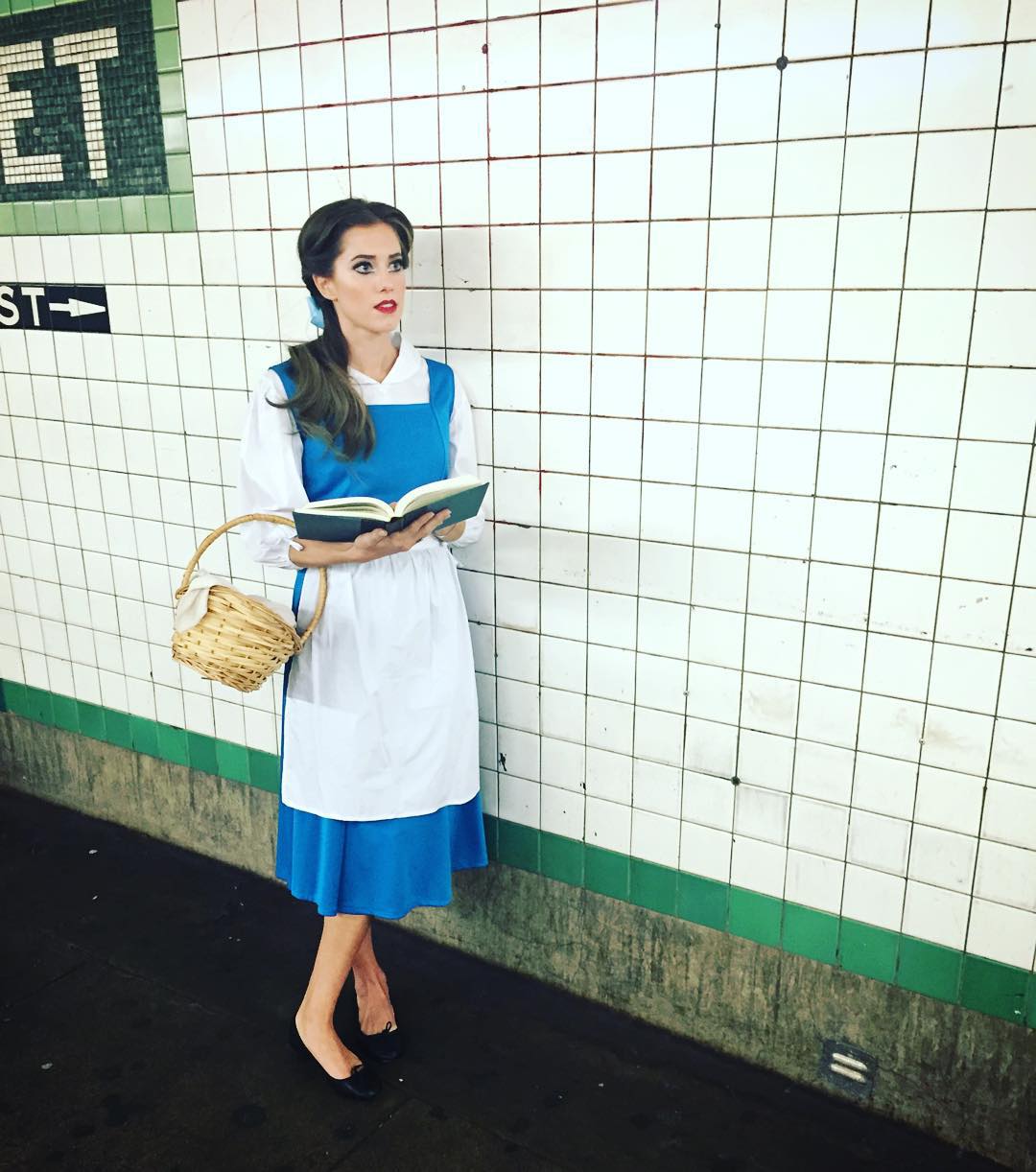 Allison makes one of the best Belle imitations. She perfectly captures Bell's character, spirit, and mind. Her surprised face is just spot on.
35. Keke Palmer as Aaliyah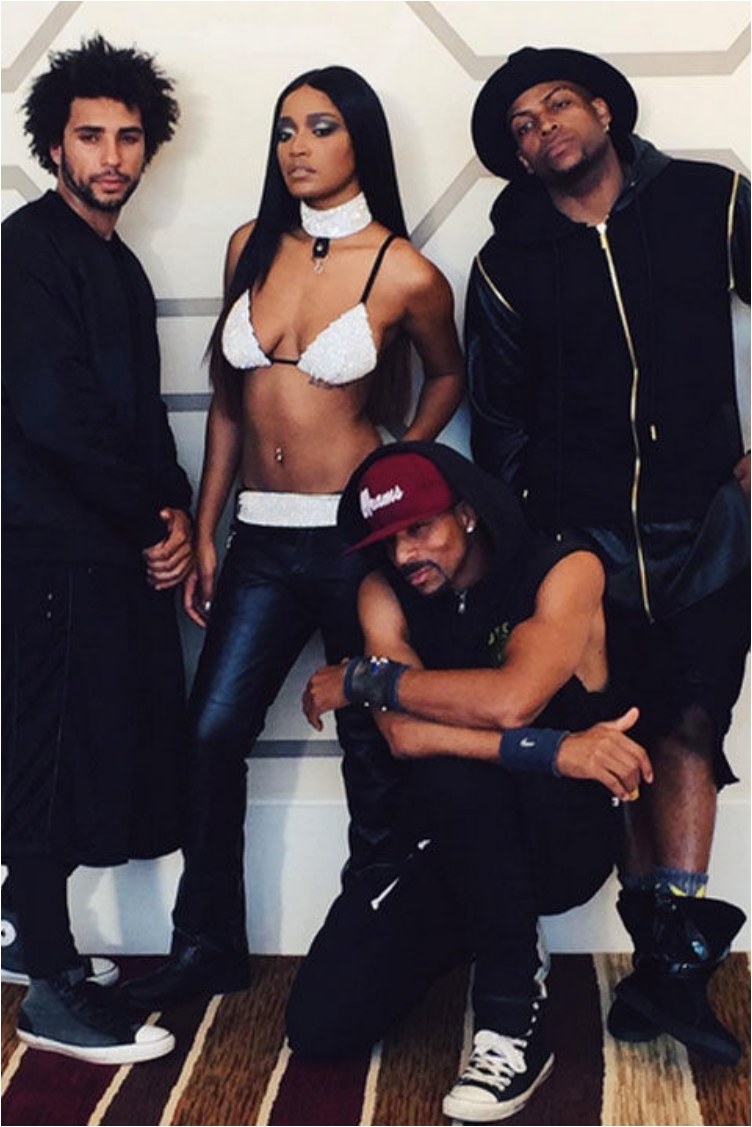 We all miss Alliyah. She was one of the best singers in the early 2000s, and it is just sad what happened to her. Keke has the potential to be just as good. And we can see imitations work for her.
36. Tika Sumpter as Egyptian Queen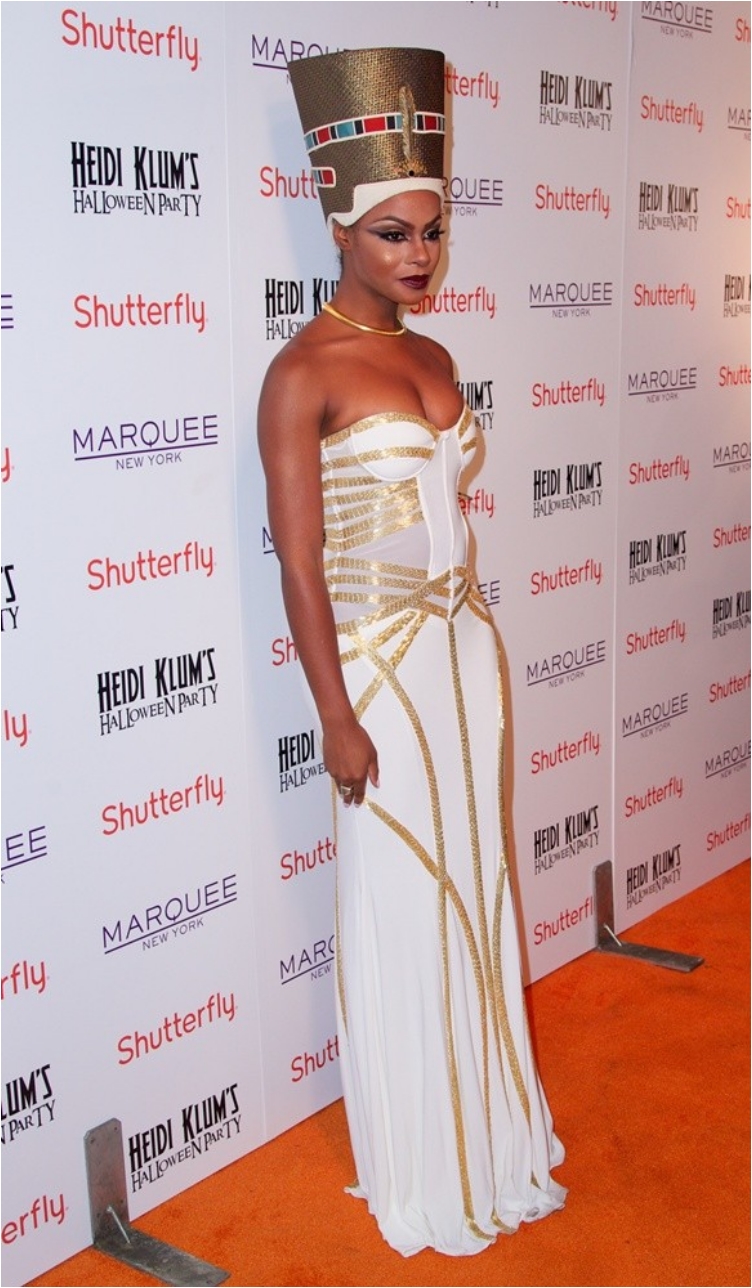 Tika will give birth to her child sometime in October, and we know what that means. Even more and better Halloween costumes! But for her part, she was stunning as an Egyptian queen. This was way back in 2013.
37. Casper Smart and Jennifer Lopez as Sexy Skeletons
Ah, Casper and Jennifer were such a great couple. It is sad that they're calling it quits. But what can you do, Casper cheated on her. Who in his right mind would do that? I mean, look at Jennifer; she looks stunning even as she approaches her 50th birthday.
38. Heidi Klum as Jessica Rabbit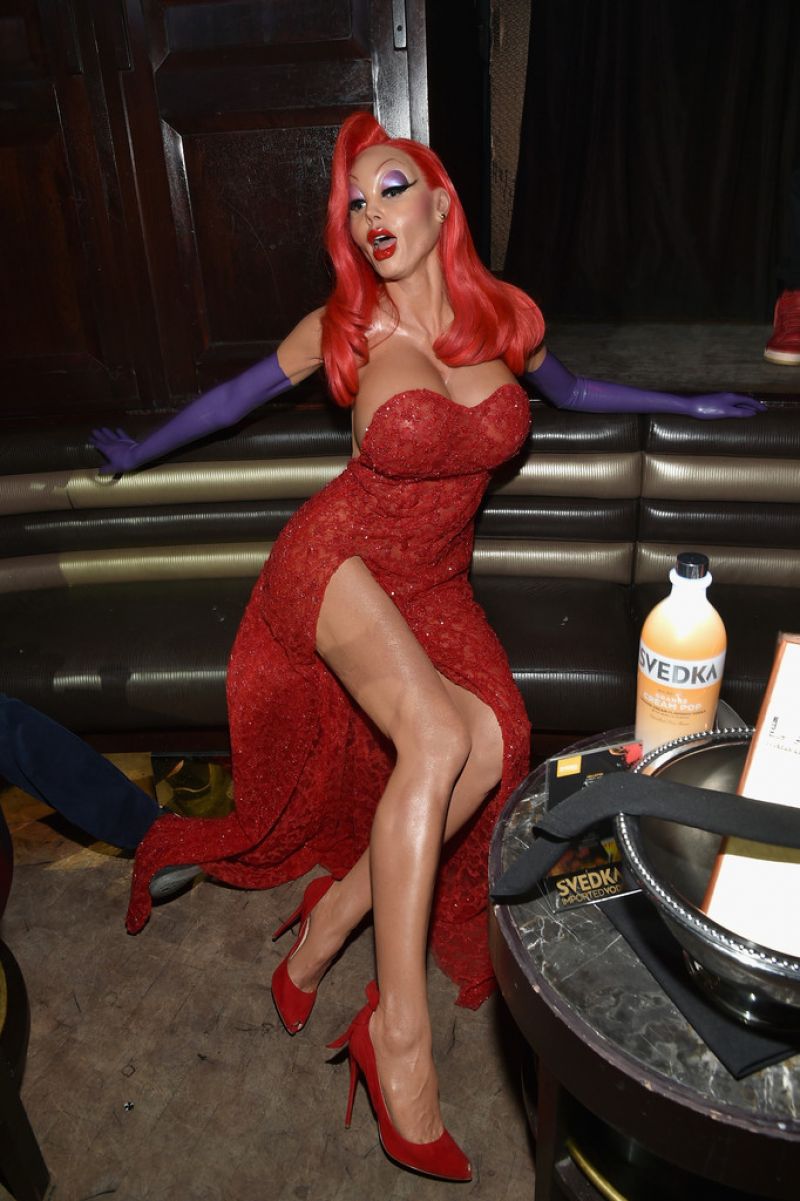 Heidi has had so many iconic Halloween costumes; the supermodel is just the best Halloween celebrity of all times. Period. In 2015, she rocked Jessica Rabbit, showing us once again that she is still one of the sexiest women alive.
39. Jemima Khal as Melania Trump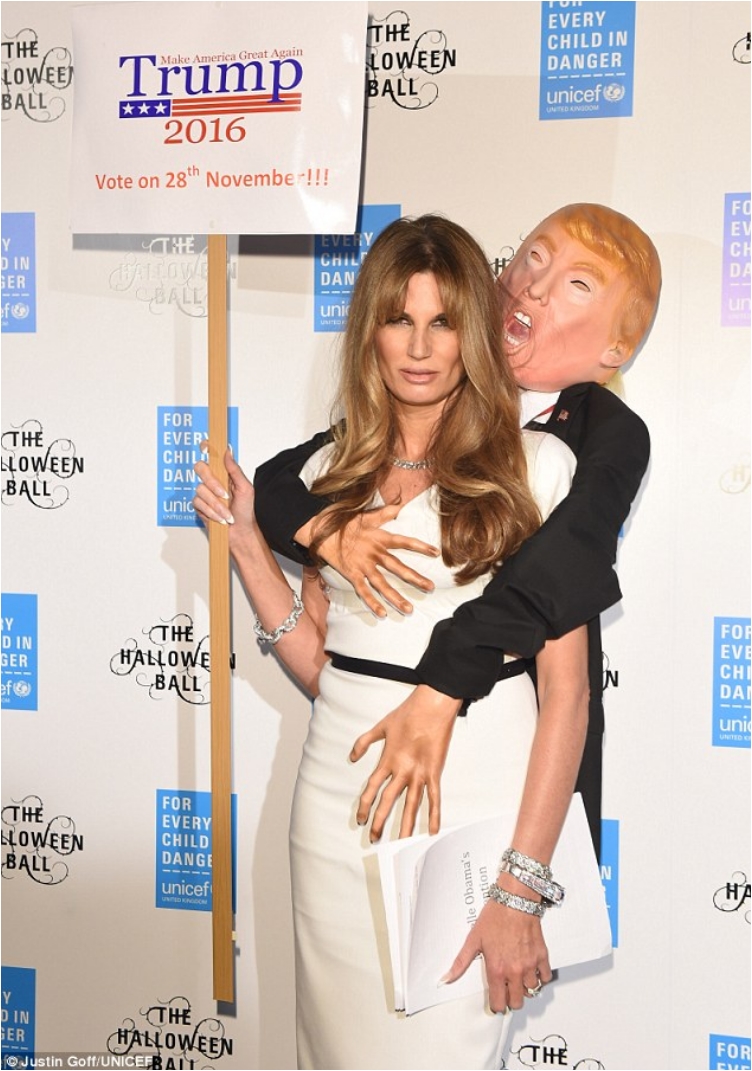 This costume will go on eBay, and you can purchase it. Jemina will sell her iconic mannequin costume and donate the money to charity. Good for her. And I am sure she will raise lots of money, as the costume is one of the best I've seen in recent years.