For what it's worth, many of the celebrities nowadays got their start on the Disney channel. So in a way, you can say they learned how to be princesses from the very best. Disney has always been an inspiration for fashion designers, to the point where we now have a "Disney princess" wedding dress. And if it looks good on screen, it looks great on a beautiful woman on the red carpet as well. So, with that being said, let's take a look at some of the "Disney dresses" we've seen on the red carpet. You are never too old to dress up as a Disney princess, and these celebrities are living proof.
1. Sarah Jessica Parker as Elsa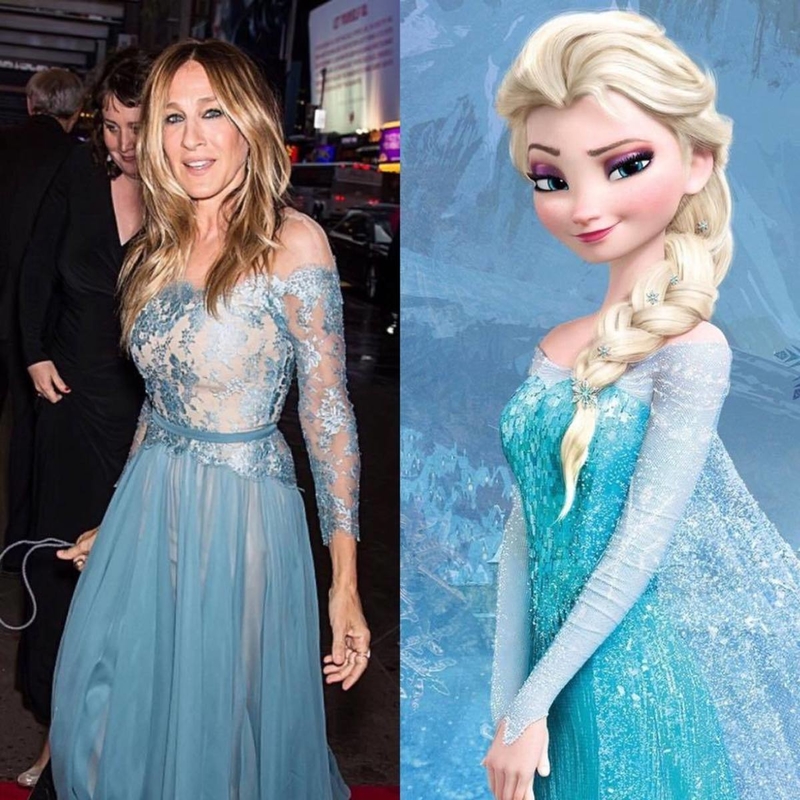 Sarah usually dresses up like Carrie Bradshaw, the character from Sex and the City that got her famous. But every now and then, she steps out of character and throws on something like this Elsa dress. We can be sure that Bradshaw wouldn't approve of this dress, but Sarah looks stunning in it. The actress wore the dress for the New 42nd Street's 25th Anniversary Gala.
2. Rachel McAdams as Merida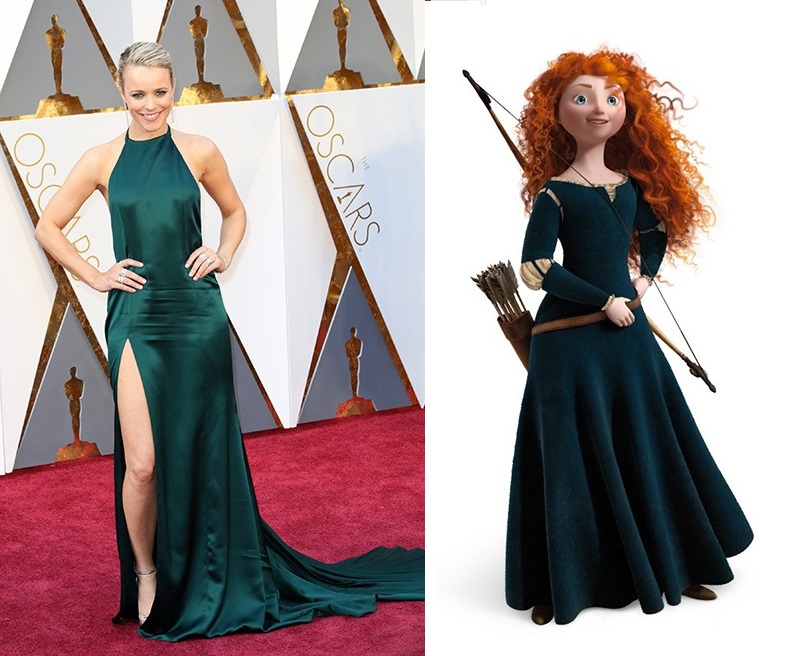 Obviously, dressing like one of the bravest Disney heroes suits Rachel perfectly. And she even wore this dress at the Oscars, where celebrities are not very prone to experimenting. But the blonde actress tried to experiment, and you can safely say that she nailed it.
3. Lupita Nyong'o as Tiana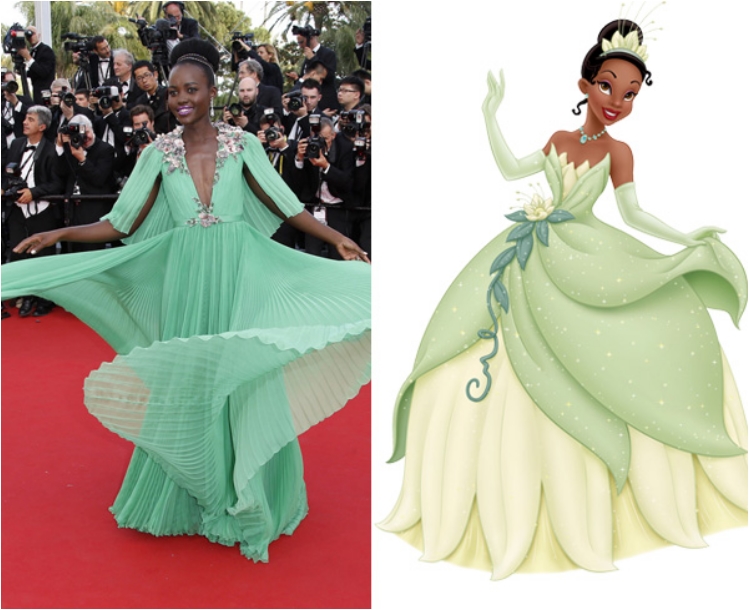 Lupita was the star of 12 Years a Slave, a role for which she got an Oscar for best supporting actress. She rose to prominence easily after that, and once you become famous, you can wow people in any dress. Not that she doesn't look great as Tiana.
4. Keira Knightley as Rapunzel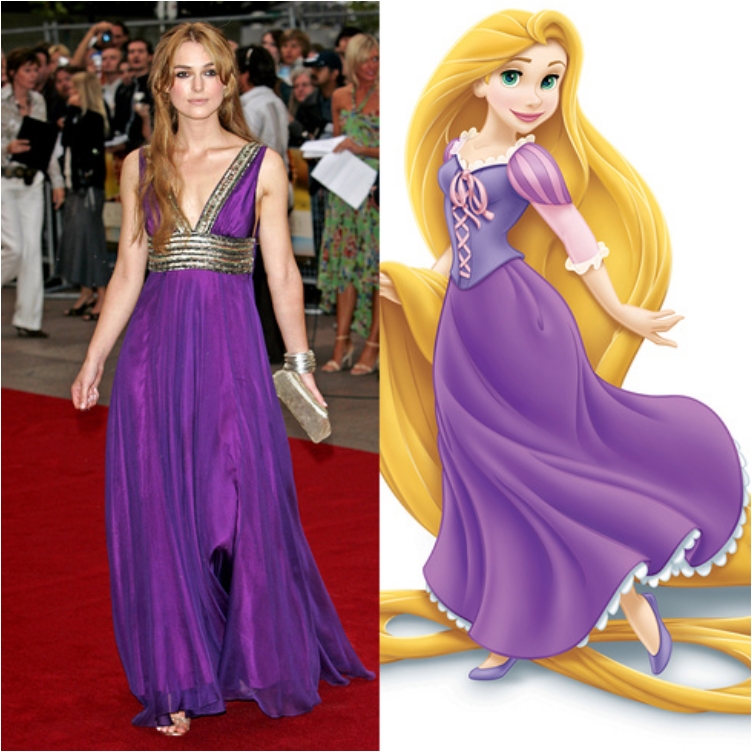 Keira has never been one to wear stunning dresses. She has always been more of a classic, little black dress type of celebrity. And when she walked the red carpet at the Pride and Prejudice premier in London in 2005, she showed again that she is all about business, not looking extravagant.
5. January Jones as Ariel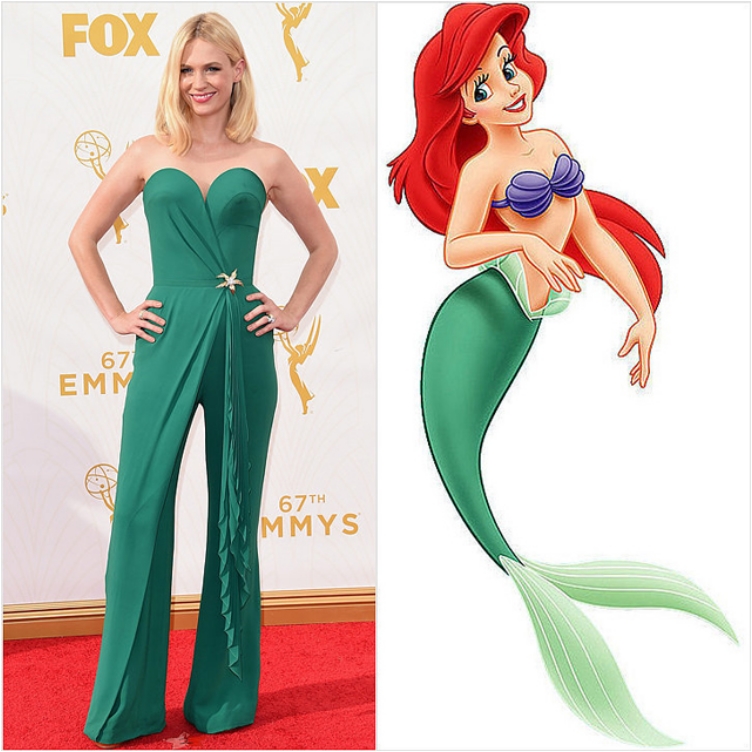 Yes, this might be classified as a cheat, since it is more of a suit than a dress. But who is to say that January Jones doesn't look stunning in it? I am sure fans would love to see a complete Ariel impersonation, with just a bra covering that beautiful cleavage, but Jones was not into it.
6. Teyonah Parris as Cruella de Vil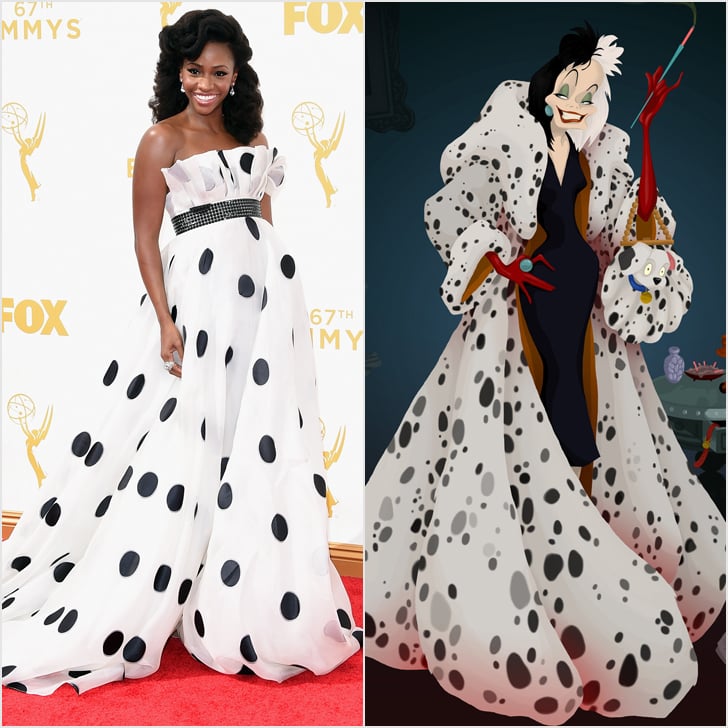 Teyonah wore this dress at the Emmys several years ago. We don't know if she skinned a few dogs to get her polka dress made, but we sure hope she didn't. In any case, polka dots were a huge trend back then, and Teyonah managed to bring them to the red carpet in exquisite fashion.
7. Diane Kruger as Elsa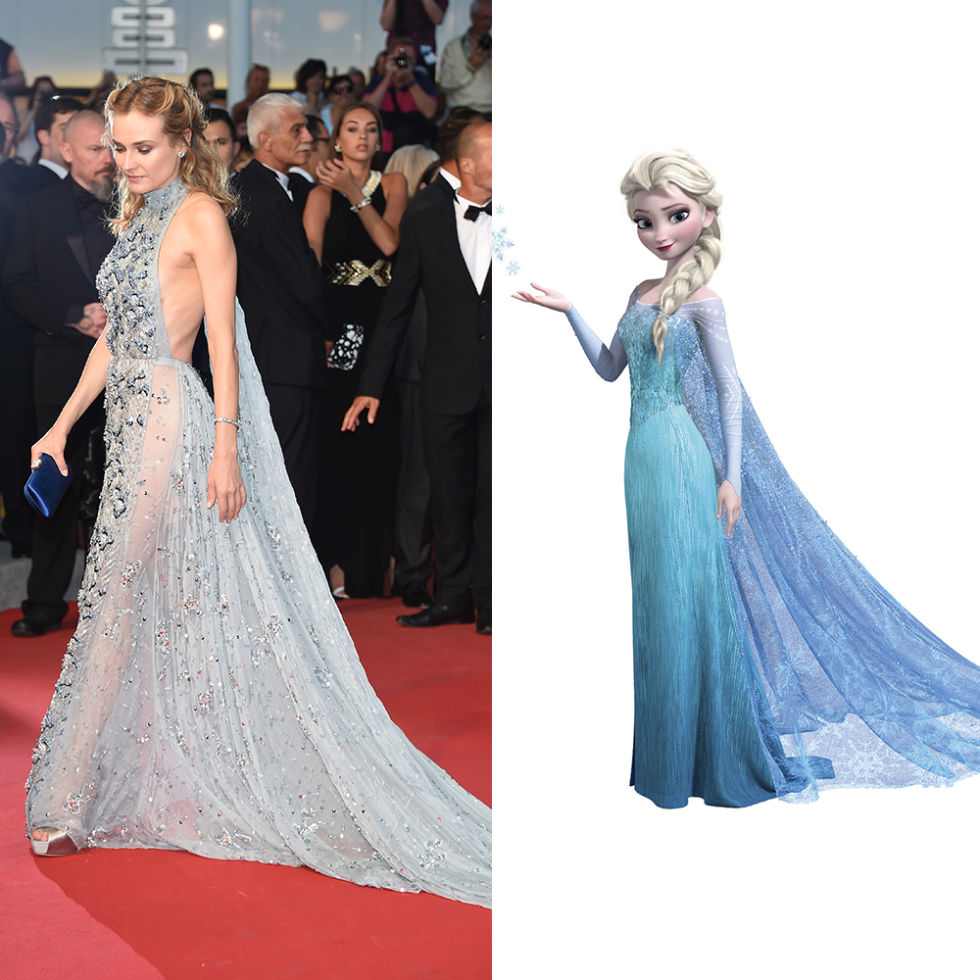 The question now is whether Kruger beats Sarah Jessica Parker. They didn't wear the same dress, but both dresses were inspired by Elsa. I would love to see a "who wore it better" competition. I vote for Kruger, but I might be subjective, since I love her grace and elegance on the red carpet.
8. Gwyneth Paltrow as Aurora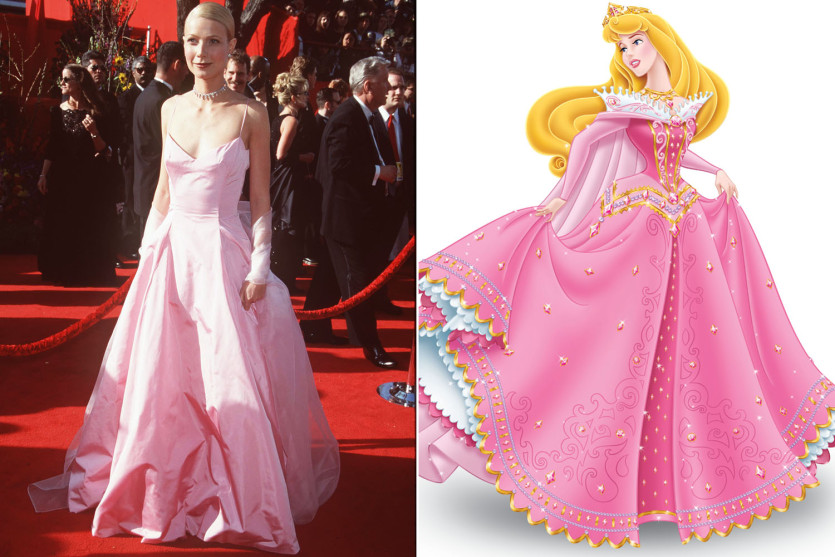 Gwyneth might be a strong character, and her roles in Ironman and The Avengers sure helped her create a superhero image. But even superheroes like to feel like princesses from time to time, waiting for their prince to kiss them and wake them up. Or, they can continue dreaming. In any case, Gwyneth was perfect in the pale pink dress.
9. Dianna Agron as Ariel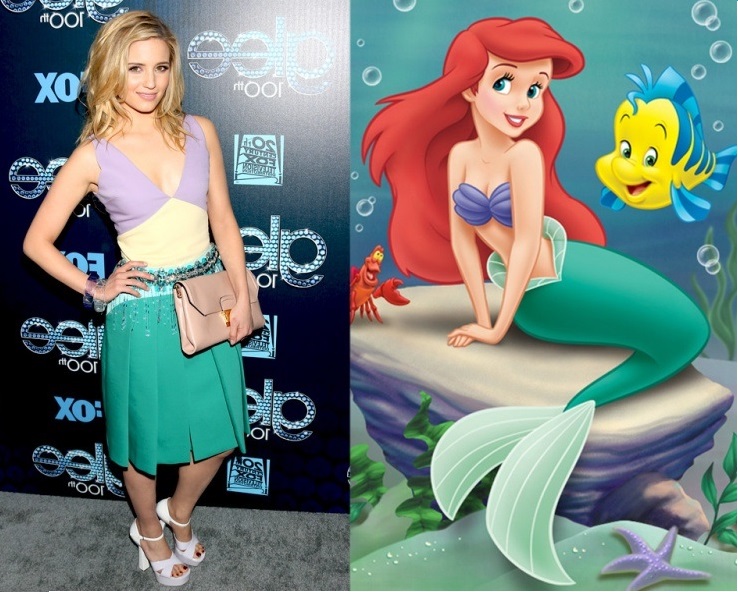 Unlike January Jones, Dianna actually wore a dress. And while it might not bear much of a resemblance to Ariel, the colors are there. The white section in the middle perfectly suits the dress, and Dianna even has the pink bra section covered.
10. Bar Refaeli as Megara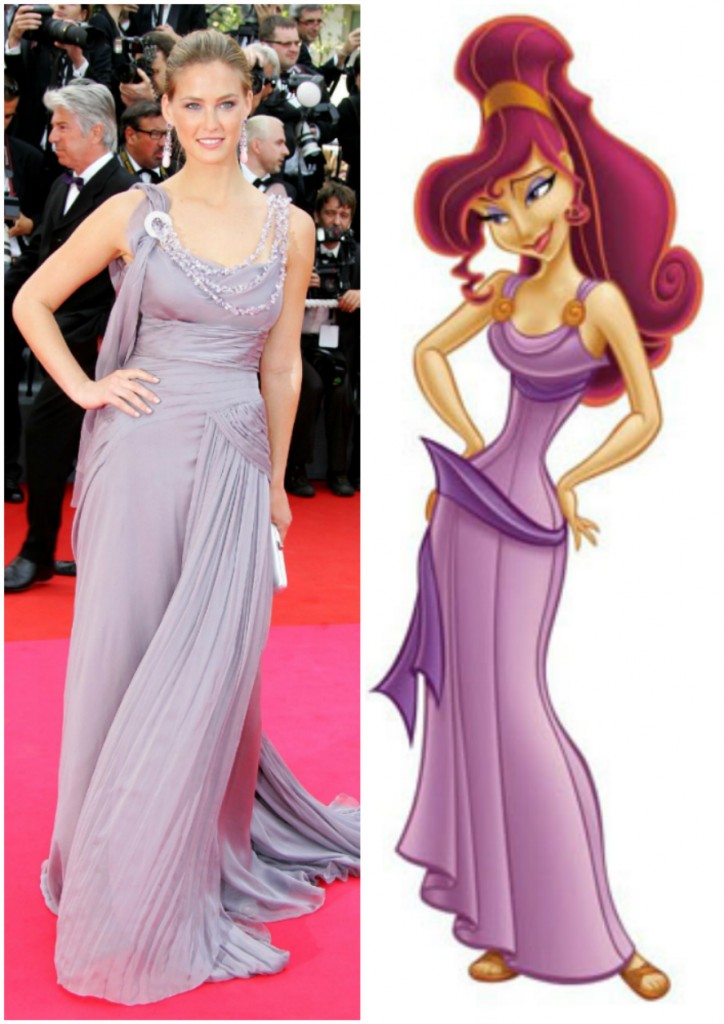 At the time, Bar hadn't found her Hercules yet, but she was as stunning as she could be as Megara. The model found her Hercules in 2015, when she married the famous Israeli singer Shlomi Shabbat.
11. Olivia Palermo as Snow White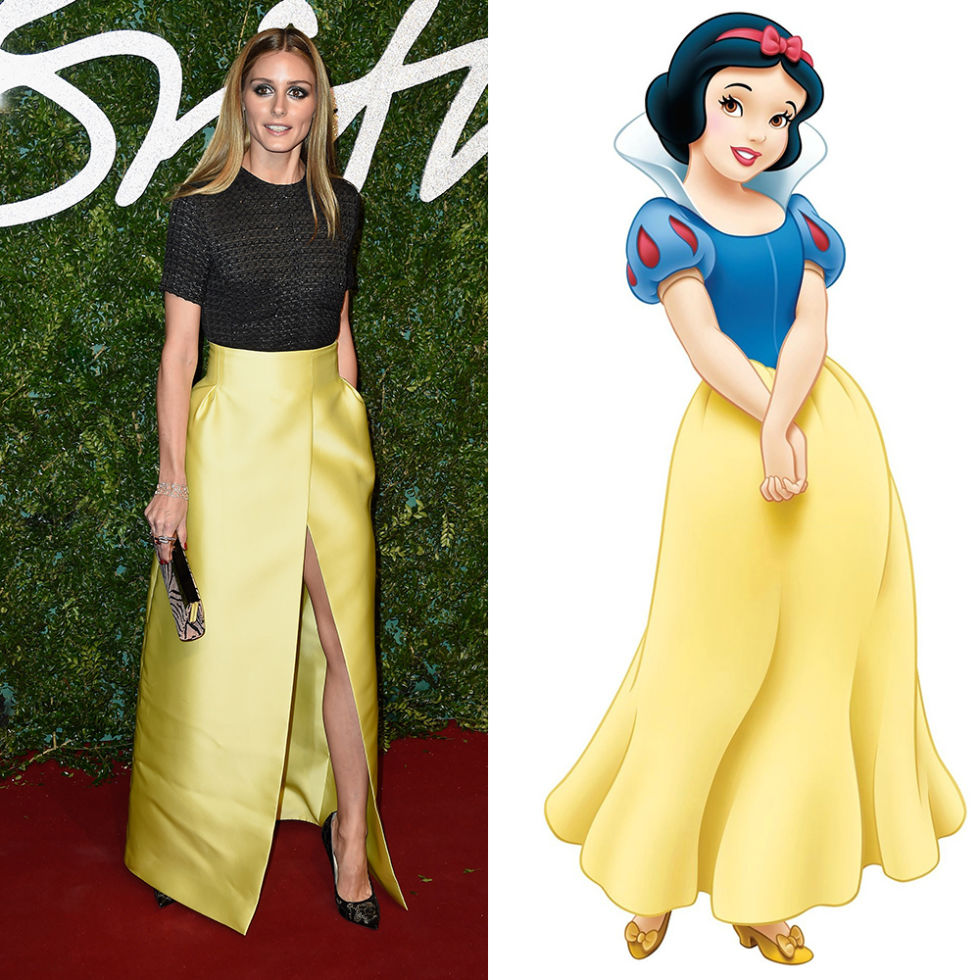 Simple, yet elegant: that is the way we all think of Olivia Palermo. The actress is another of those celebrities in Hollywood who love to keep it simple, and not WOW with their outfit. Snow White is the perfect princess for Palermo to copy, both for outfit and character.
12. Kylie Jenner as Pocahontas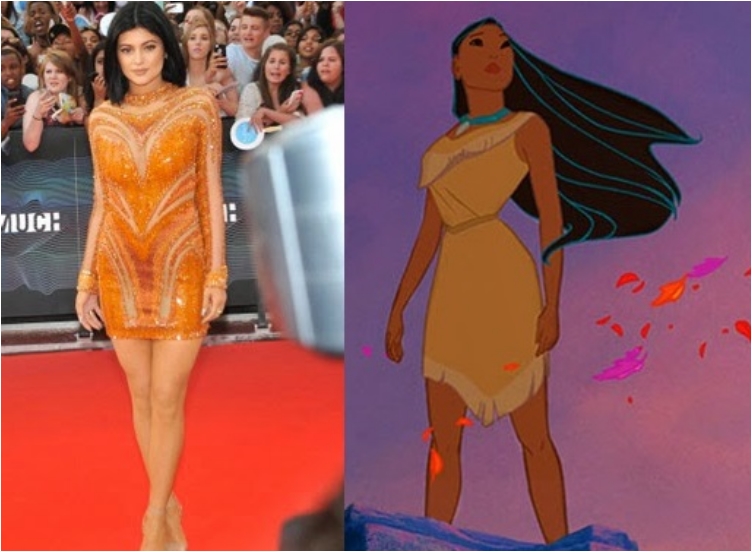 Jenner actually wore a Pocahontas dress a few more times. She was also spotted wearing a similar dress inspired by the heroine on the streets, in a more casual look. But nevertheless, for the red carpet, she choose a shinier dress than the Pocahontas original version, but her dress did pay tribute to the winds Pocahontas listens to.
13. Aubrey Plaza as Mulan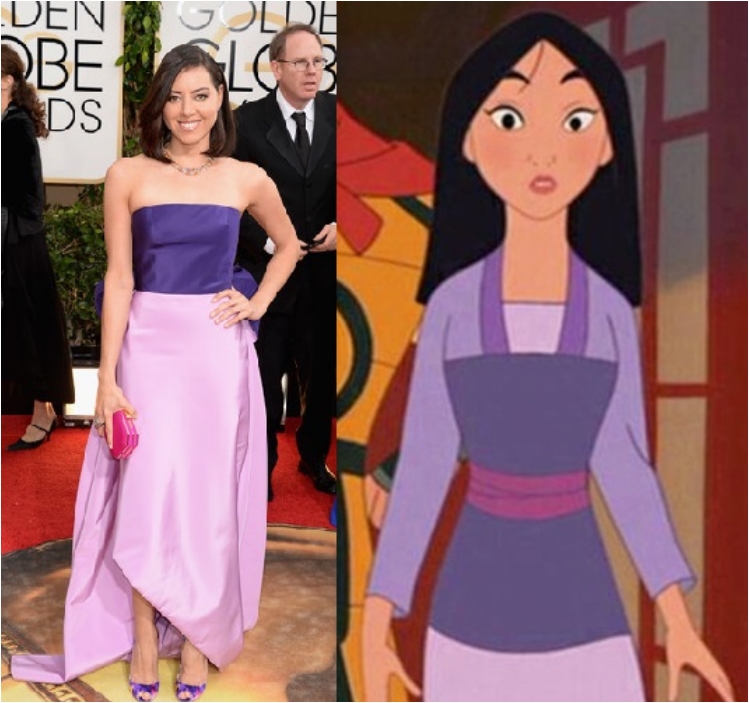 When you think of Disney princesses and their beautiful dresses, you rarely think of Mulan. After all, Mulan wanted to be a man and a knight. But Aubrey managed to make even Mulan look nice on the red carpet, thanks to her pale violet and pink dress.
14. Nicki Minaj as Anna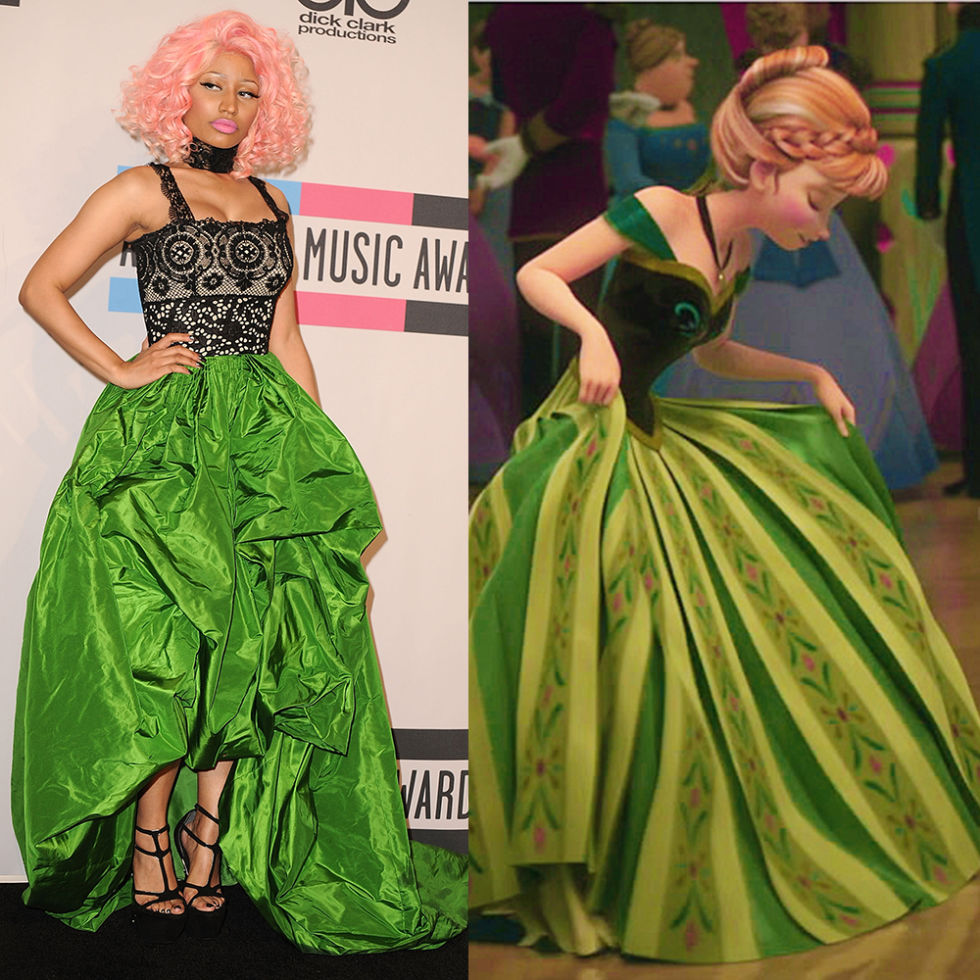 You would never think Nicki Minaj would love to look like a princess. After all, she is this hard-core rapper with nasty and dirty lyrics. But even the strongest of us have a soft side, and it looks like Anna from Frozen is Minaj's soft side.
15. Lady Gaga as the Evil Queen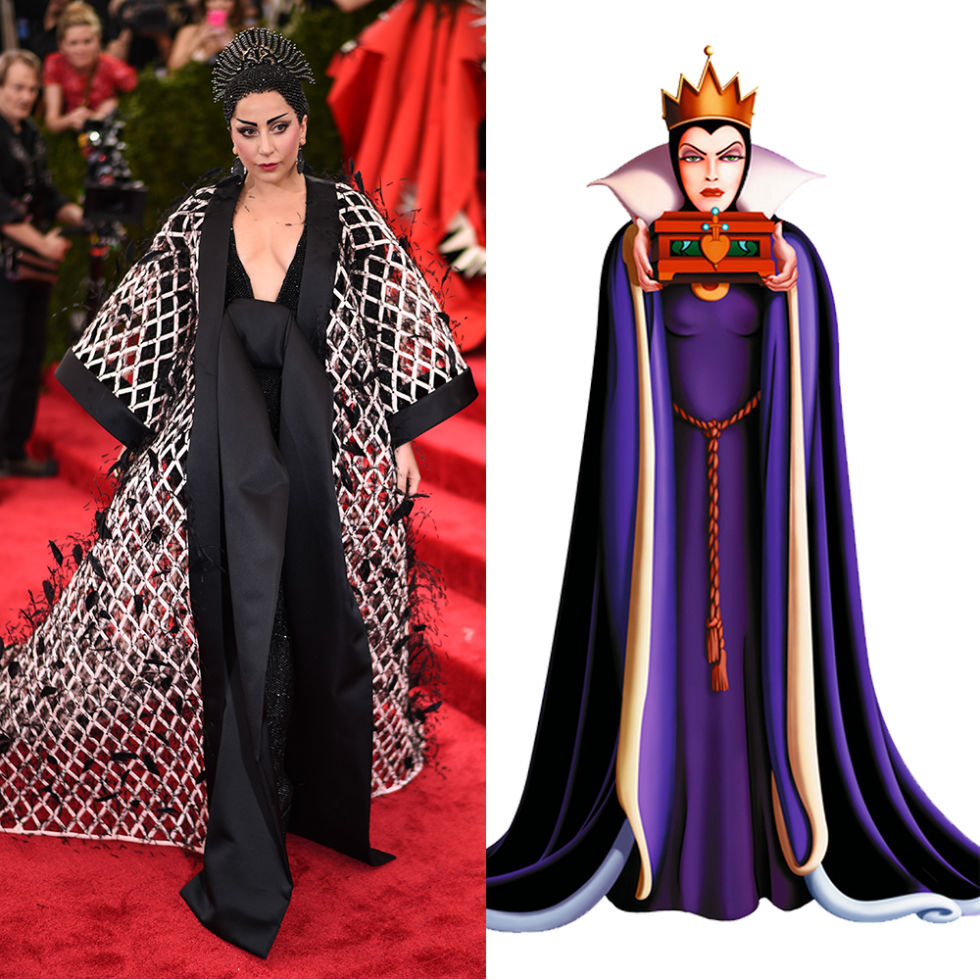 You can actually picture Gaga portraying the Evil Queen. I mean, the pop star is such a mysterious and cold person in public that many might mistake her for the Evil Queen. She wears some of the wackiest costumes on stage and on the red carpet, but it seems this one topped them all. Fun fact: In 2011, Gaga posed next to the Evil Queen, and she looked like a kitten next to her.
16. Lana del Rey as Ariel
Ariel is quite the inspiration for celebrities in Hollywood; her dress might be most copied dress in the fashion world. This time, Lana del Ray wore it for the Golden Globes awards. But Lana opted for the dress Ariel wore for the wedding with the prince, not that mermaid-looking outfit.
17. Lupita Nyong'o as Cinderella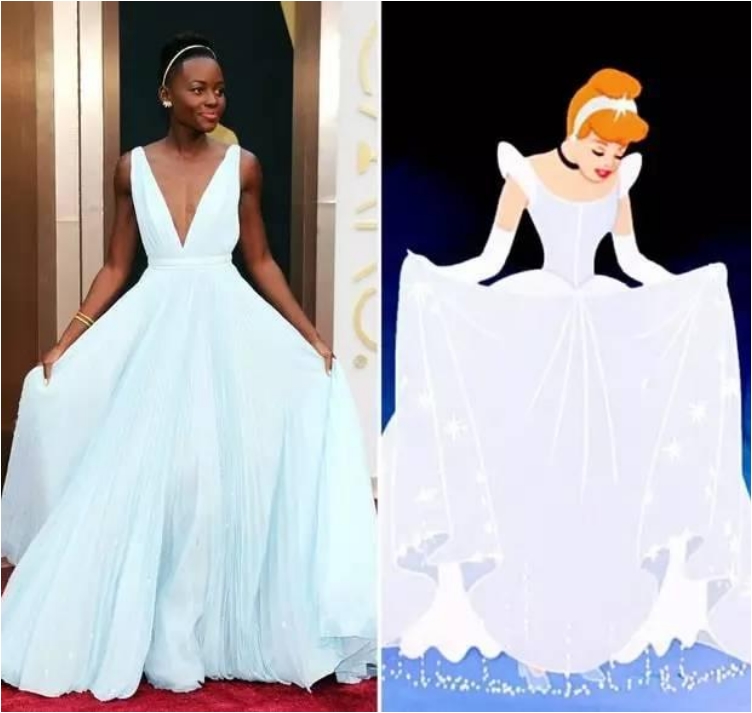 Lupita is quite fond of Disney and princesses. Not only did she wear a Tiana dress, she has also worn a Cinderella dress. The young actress dressed as Cinderella for her first Oscar red carpet, when she was nominated for her role in 12 Years a Slave.
18. Kim Kardashian as Jasmine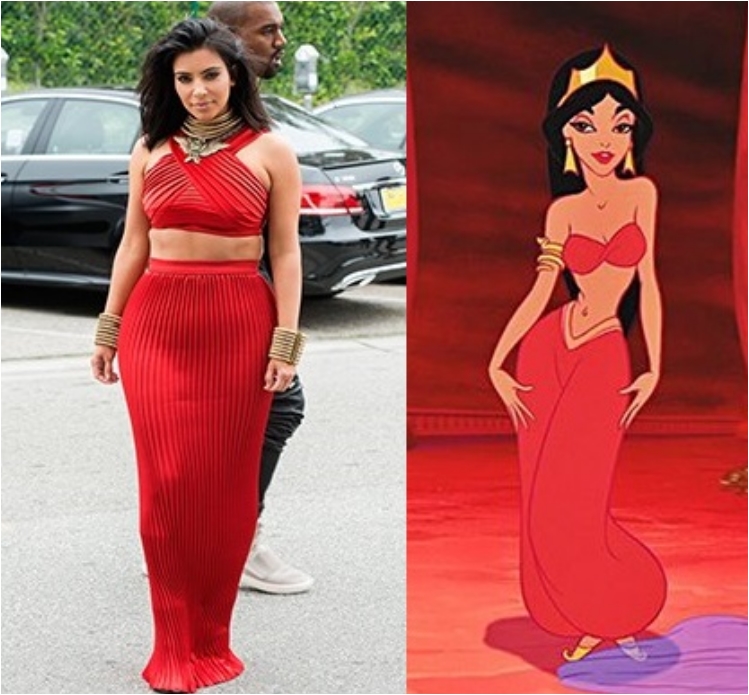 You can just picture Kim as the sweet and exotic Jasmine. She is just as seductive and as heart-breaking as the exotic princess from Aladdin. And red suits her perfectly.
19. Lena Dunham and Melissa Rauch as Belle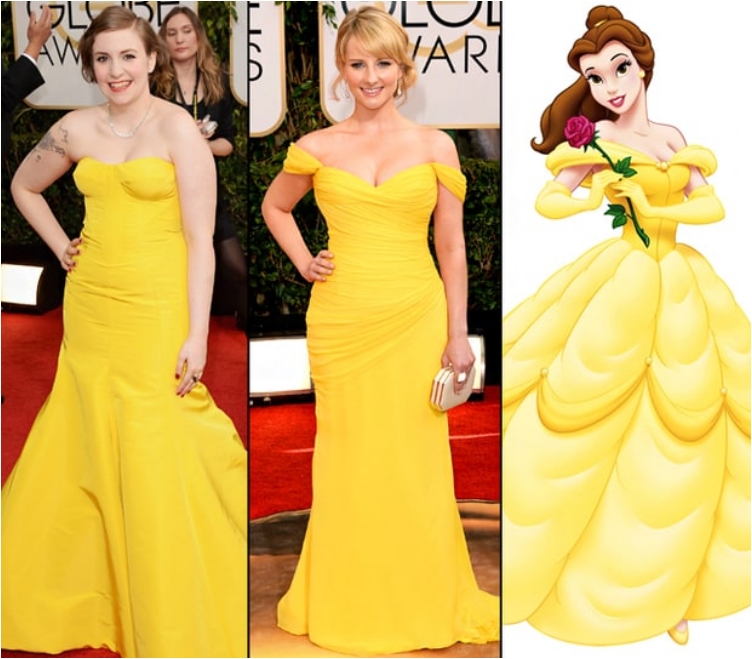 Fun fact: Both girls wore the dress at the same event, the 2014 Golden Globes. The only difference is Lena's dress is strapless, while Melisa's is tighter at has a slimmer line at the bottom. In any case, Belle's ballroom dress looks fantastic on both actresses.
20. Olivia Wilde as Merida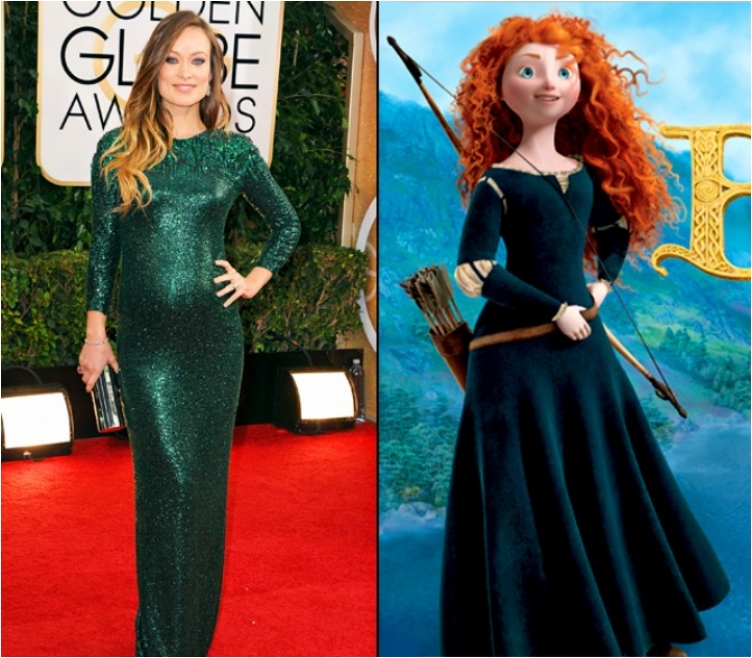 The interesting fact is that Olivia was six months pregnant at the time. She was carrying her first child when she appeared at the 2014 Golden Globe Awards. Merida's dress might not hide the baby bump, but it sure made the actress look stunning, even though she was deep into her pregnancy.
21. Rosie Huntington-Whiteley as Jessica Rabbit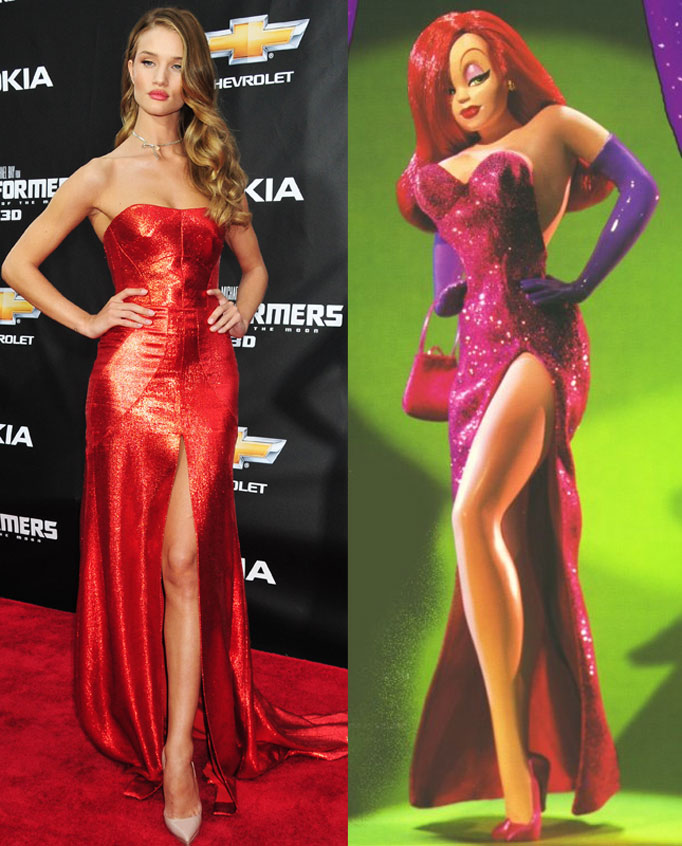 Celebrities rarely copy Jessica Rabbit's dress for one simple reason: some might say it is inappropriate for a cocktail event. The dress does look stunning, and Jessica is known for her seductive skills, her promiscuity, and so on. But when it comes to Rosie, no dress looks bad on her. She is one of the most beautiful ladies in Hollywood, and whatever dress you put on her, she will look stunning.
22. Katy Perry as Elsa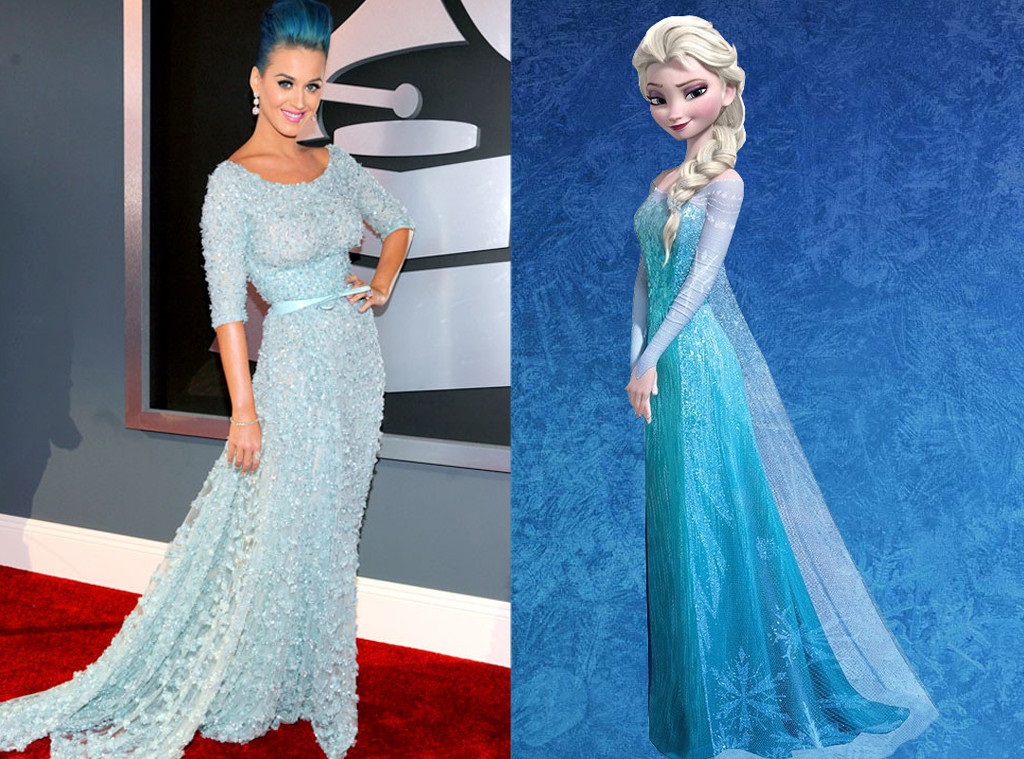 This is probably the third Elsa dress, and it looks very similar to the one Diane Kruger wore. What made Perry stand out here is the fact that she is wearing the dress bra-less, and her huge cleavage gets all the attention.
23. Kendall Jenner as Ariel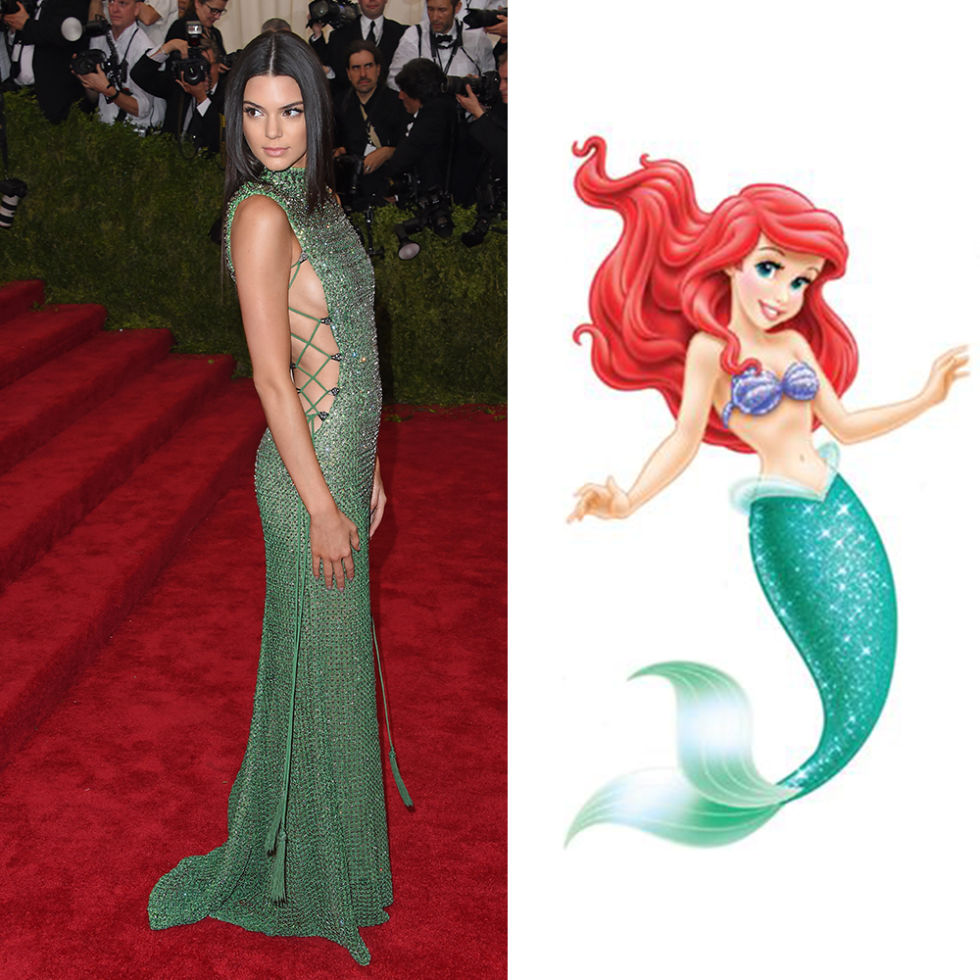 Kendal managed to bring the Ariel fish skin to the red carpet. Unlike many other Ariel dresses, Jenner actually made sure the texture of the dress resembled fish scales. And props for that. Another bonus: She flashed some cleavage, which nowadays looks like a standard at gala events.
24. Sofia Vergara as Ursula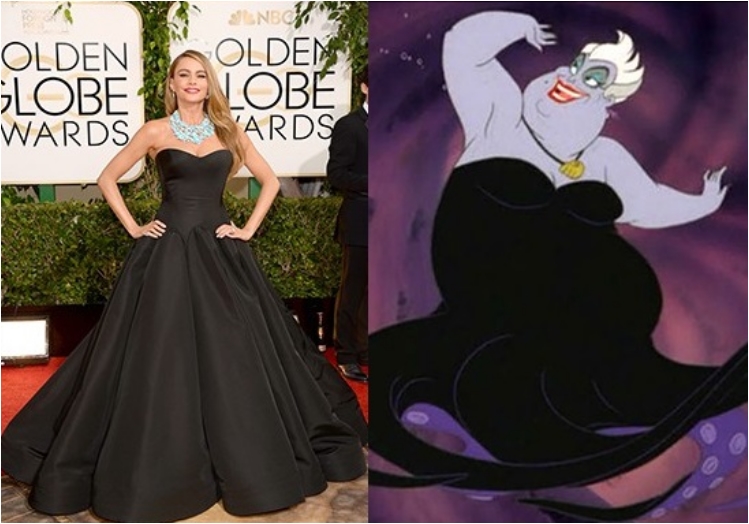 Nobody in their right mind would ever mistake Sofia Vergara for the evil sea monster. But even the villains at Disney can be an inspiration for a sensational dress, and Sofia is the perfect example. The Latin beauty stole all the attention at the Golden Globes.
25. Rihanna as Tinkerbell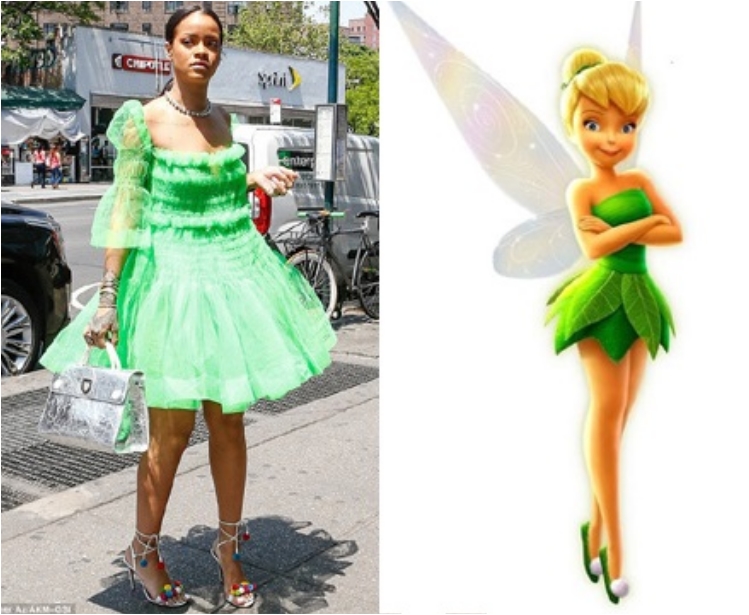 Bonus points for Rihanna for looking like a Disney princess while casually walking the streets of New York City. The singer walked through the city, grabbing coffee as Tinkerbell before heading to the recording studio. You might think some fairy dust is better than coffee, but it seems not.
26. Emma Stone as Charlotte La Bouff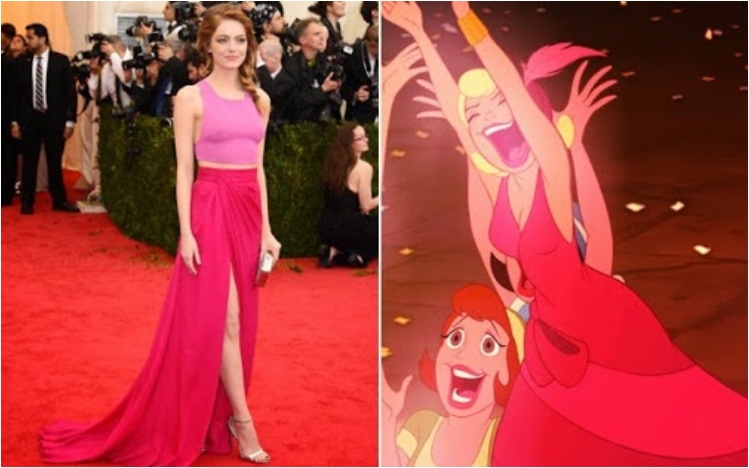 Charlotte is one of the most underrated Disney princesses. And that role is perfectly suited for Emma Stone. The actress is one of the most talented in Hollywood, but she is often overlooked because she likes to keep her private life private and her outfits simple and classy.
27. Elle Fanning as Aurora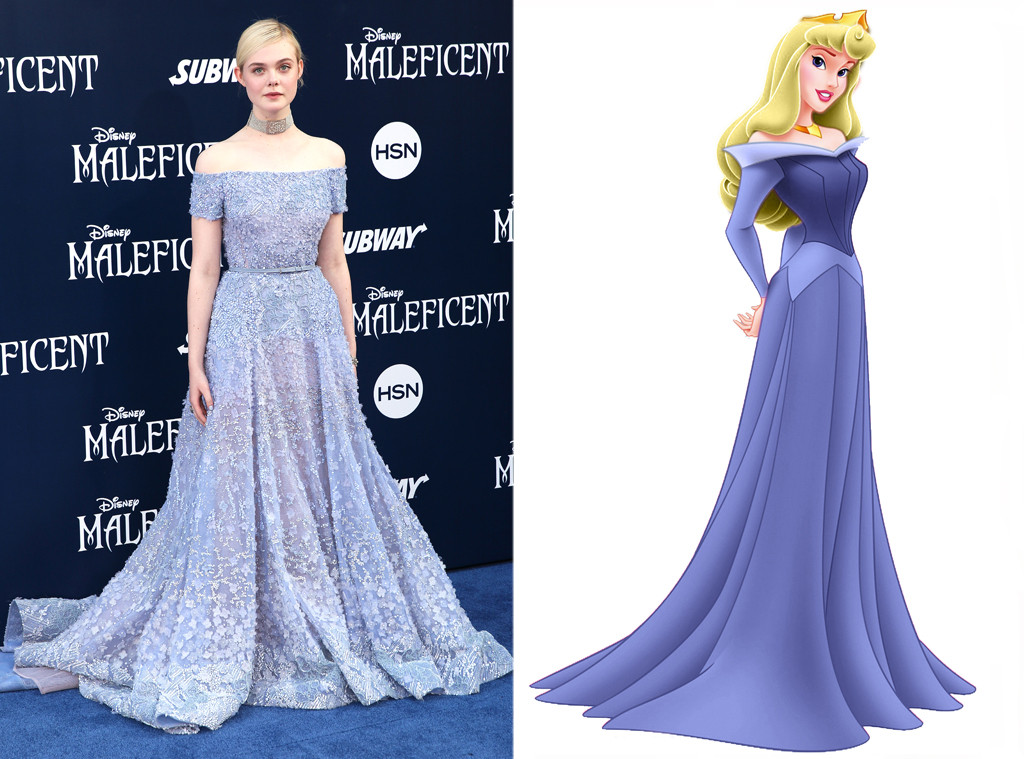 Elle actually played the role of the Sleeping Beauty in Maleficent, a movie that came out in 2014. And she used it to wear an Aurora-inspired dress to the premiere of the movie. The younger sister of Dakota Fanning is already a star in the making; at just 18, she has already starred in several great movies.
28. Katie Holmes as Belle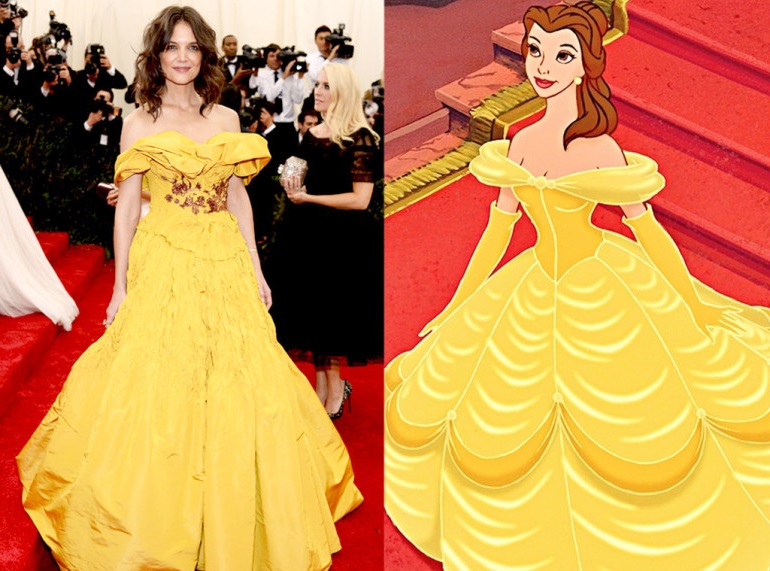 Unlike Melisa Rauch and Lena Dunham, who chose a simple imitation of Belle's ballroom dress, Katie went all in for her red carpet appearance.
29. Naomi Watts as Anna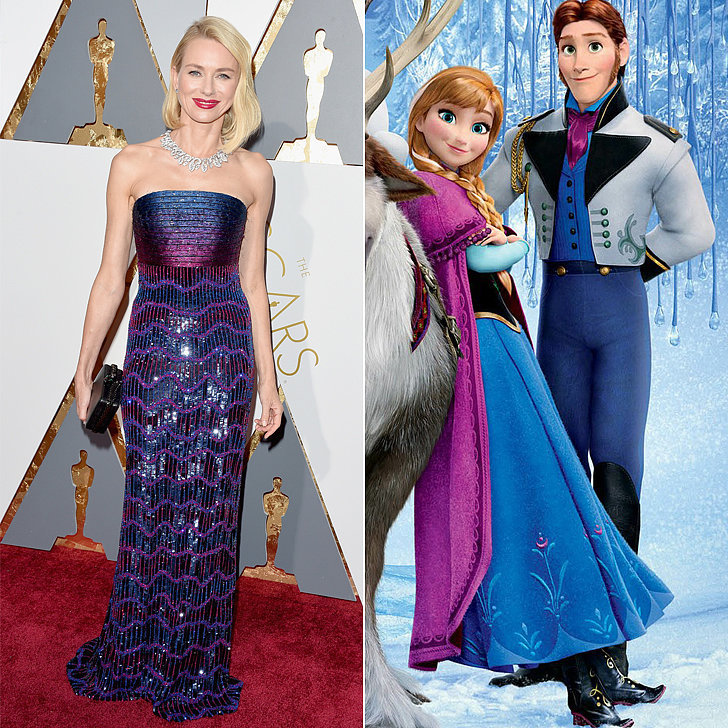 We had Nicki Minaj dressed as Anna as well, but the rapper chose the green dress Anna wore. Naomi, on the other hand, found her inspiration in the simple outfit Anna wears while walking with her prince in the snow.
30. Jennifer Hudson as Pocahontas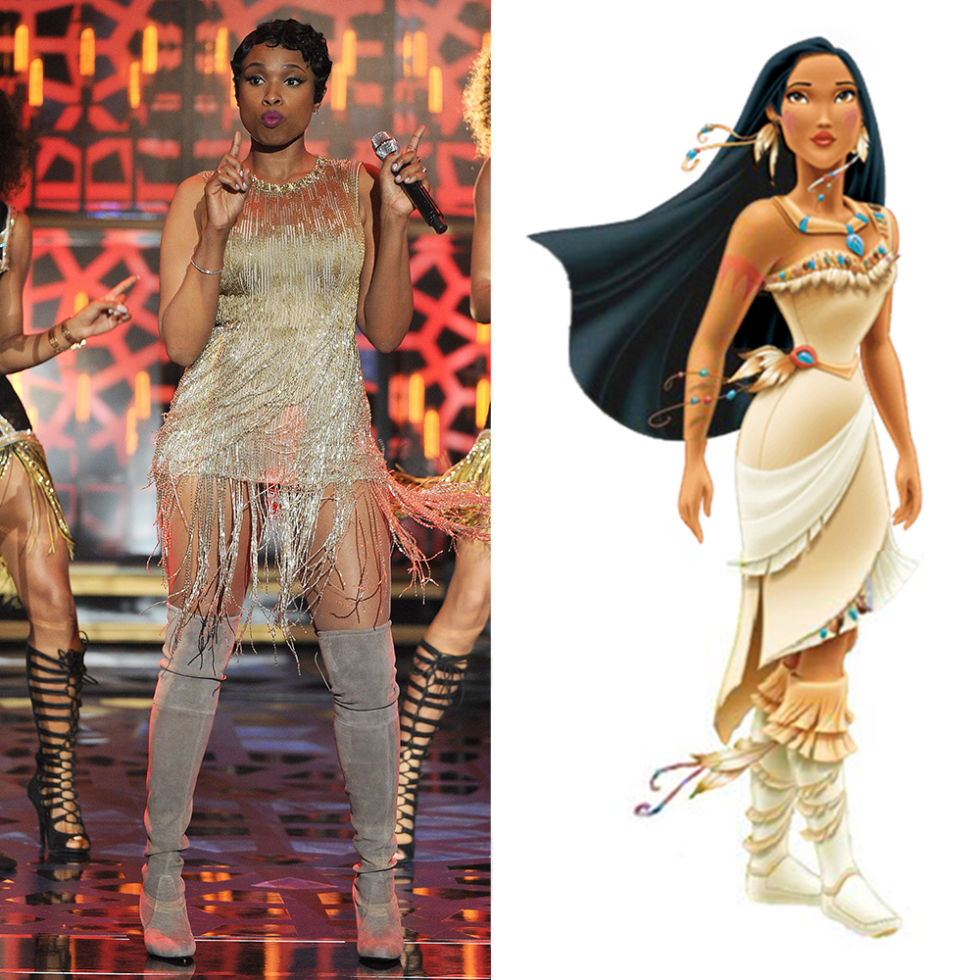 Jennifer actually performed like a Disney princess, and she nailed it. For those who want to see more of Jennifer's Disney impersonation, check her Princess and the Frog costume, where she posed for a photo shoot with her son.
31. Kerry Washington as Jasmine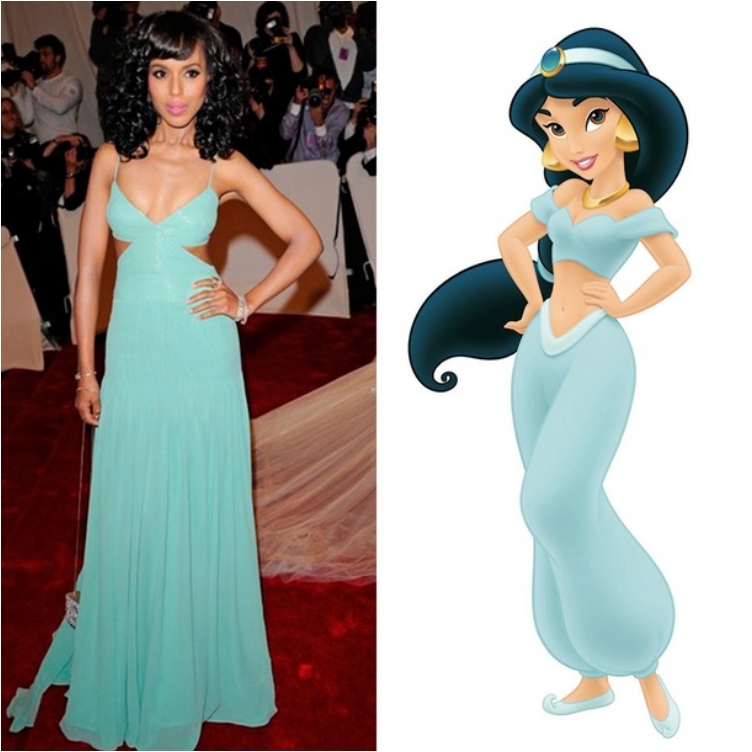 Every Disney princess has a few dresses that can serve as inspiration for others. And while Kim Kardashian chose the seductive, red Jasmine look, Kerry Washington opted for the more casual, and sweet looking, blue outfit.
32. Kate Winslet as Merida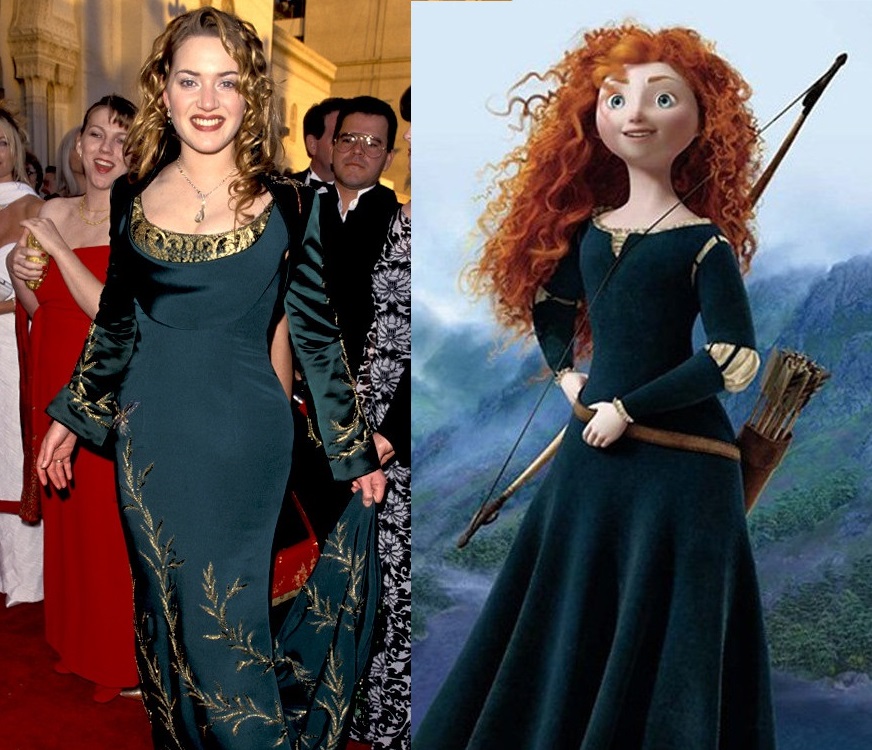 Merida is the symbol of strength, bravery, boldness and much more for a woman. That is why many celebrities copy her dress, as the little archer is just an unconventional princess. In most Disney movies, the princess is saved by her prince, but Merida is strong and smart enough to be the hero herself.
33. Julia Roberts as Aurora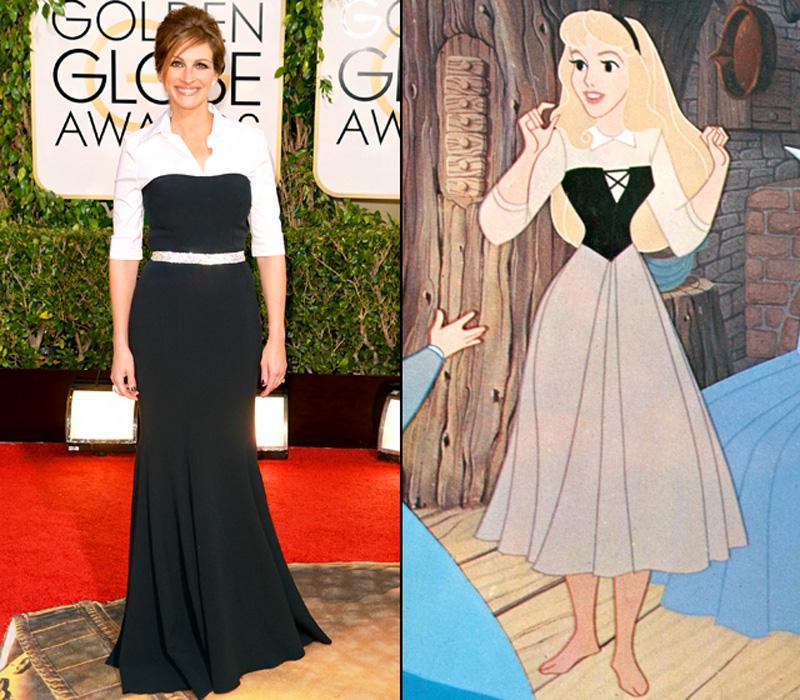 You'd think Julia Roberts would never dress like a Disney princess, as she is someone who needs to stand out, not copy someone else's style and outfit. But she choose a rather traditional outfit from one of the first Sleeping Beauty movies.
34. Jennifer Lawrence as Ariel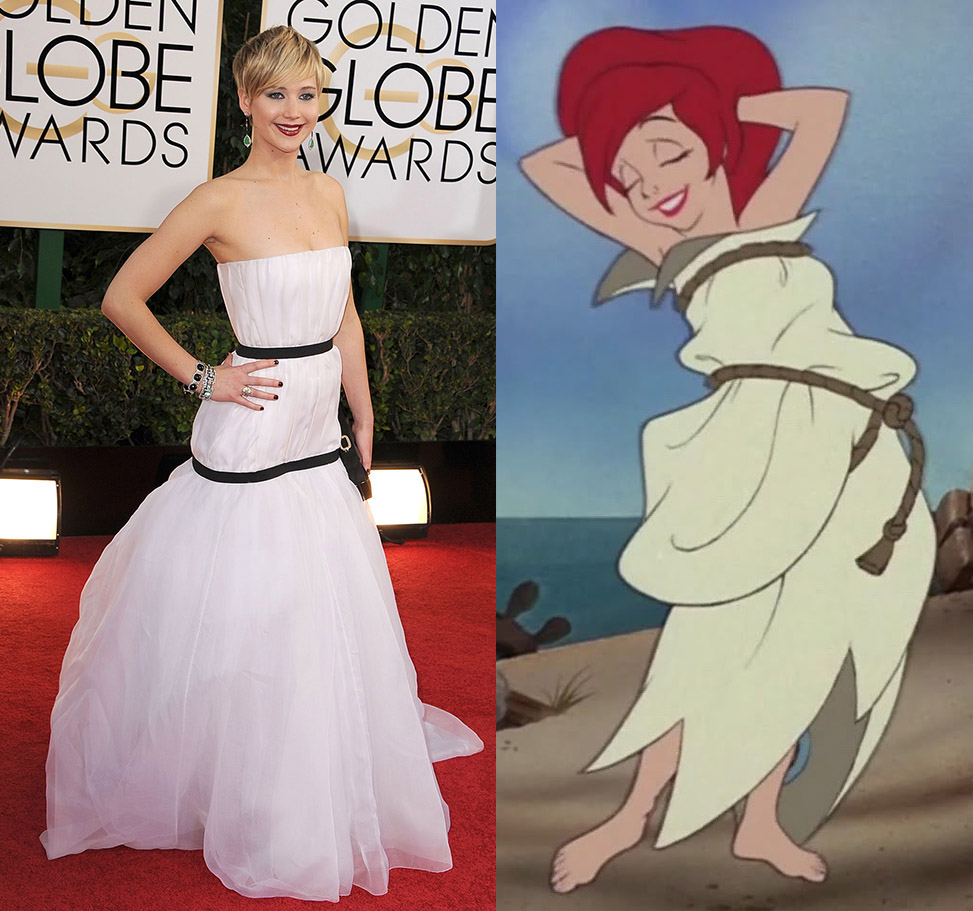 I must say, when it comes to Ariel, this dress is probably one of my favorites. Of course, I'm talking about the dress she wore the first time she got her legs as a human. And Jennifer Lawrence managed to impersonate that dress perfectly at the Golden Globes. She even had black ribbons looking like the ropes Ariel used to wrap her dress.
35. Cate Blanchett as Mulan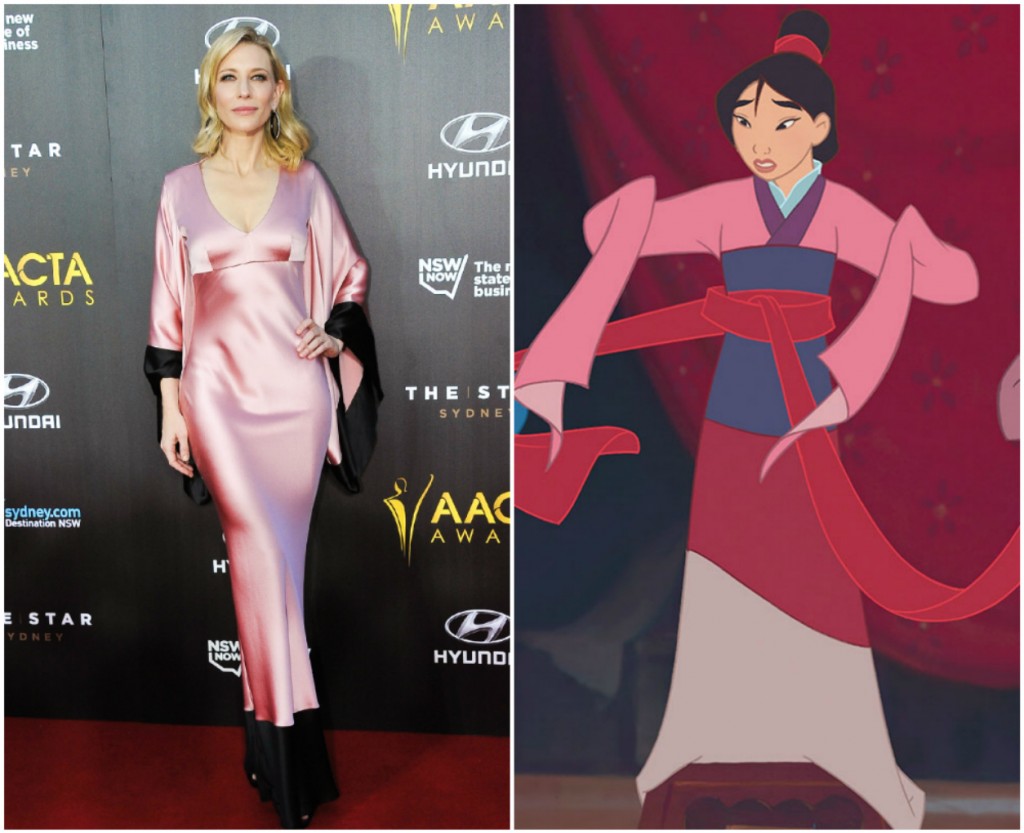 There was a time when Disney was contemplating a white actress for a Mulan movie. And fans were outraged. But Kate Blanchett didn't actually play Mulan—she just dressed as the Asian heroine.
36. Amy Adams as Cinderella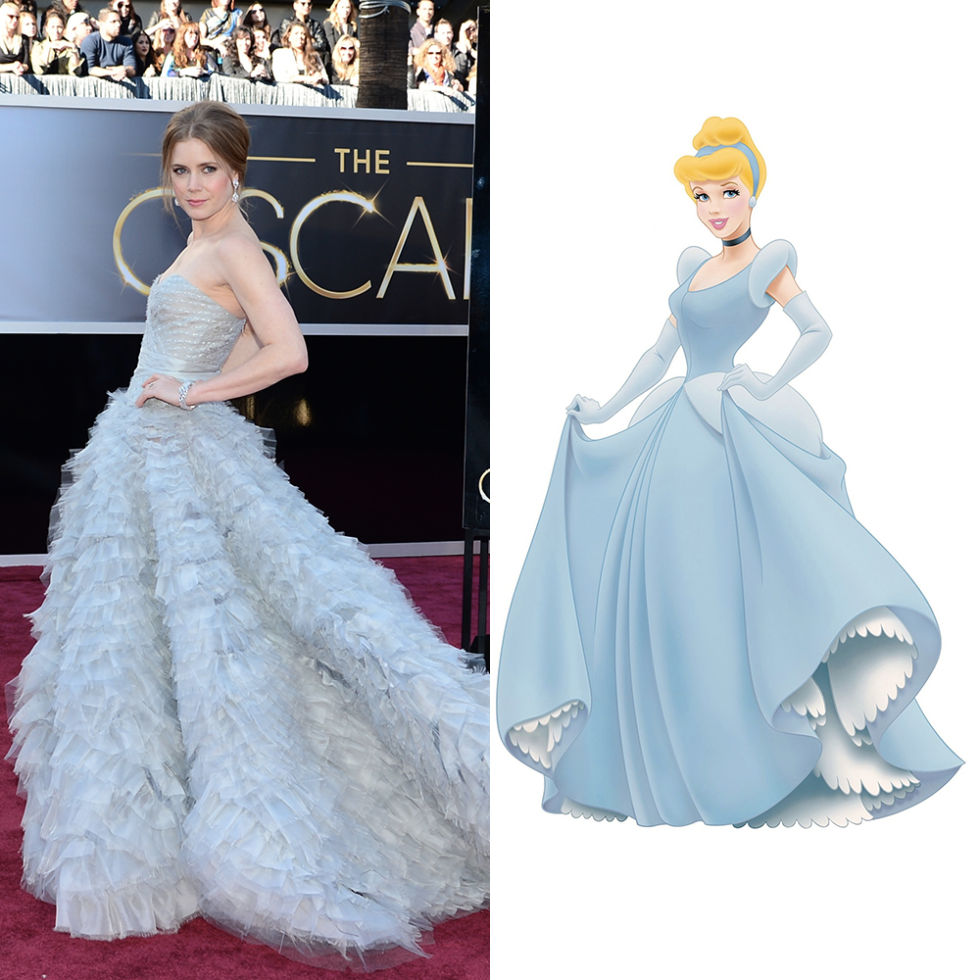 When you think of Disney princesses, Cinderella's dress is probably the most iconic of them all. So many celebrities have copied it, hoping that they will also find their prince. Amy certainly found him, marrying Darren Le Gallo after a 15-year relationship.
37. Blake Lively as Pocahontas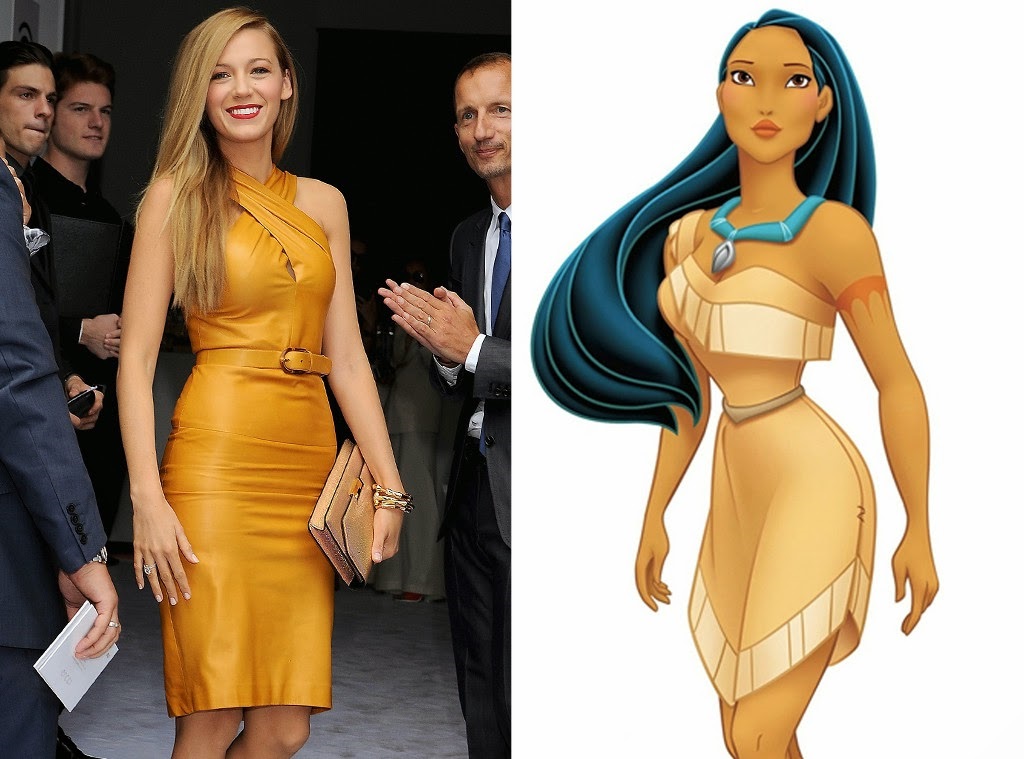 Of all the Pocahontas dresses out there, we can say Blake's is the most authentic. And for three simple reasons: the material, texture, and how it fits. Many go for a loose fit when copying Pocahontas, but her dress is just glued to the body. Lively hits that perfect fit.
38. Zooey Deschanel as Tiana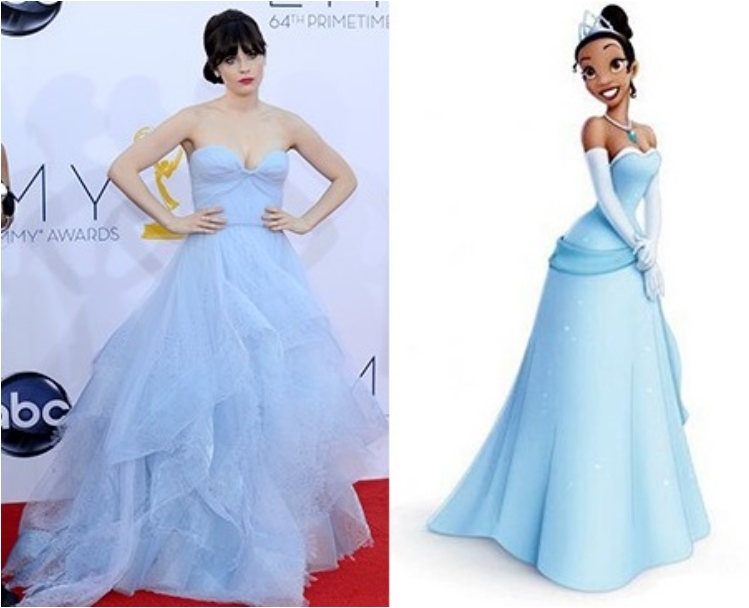 Zooey is not an actress we're used to seeing in glamorous gowns. After all, one can say that her character in New Girl is exactly like her: quiet, simple, and all about business. But every now and then, even Zooey can go wild. And she did for her Emmy red carpet appearance.
39. Rihanna as Aurora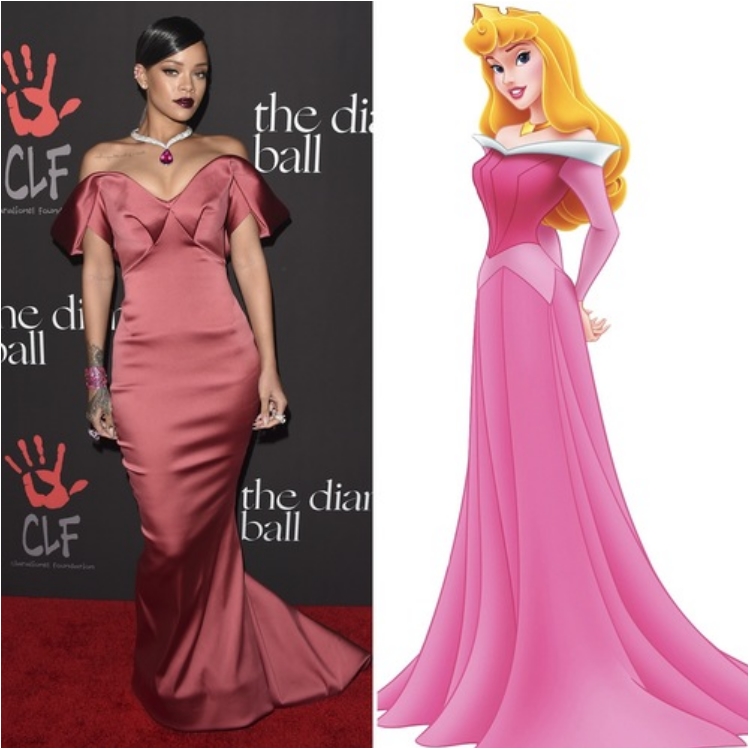 When she needs to look casual, Rihanna dresses like Tinkerbell, in a short dress. But when she needs to look glamorous, the singer sure knows which princess to copy. The Sleeping Beauty is probably after Belle and Cinderella for best dressed Disney princess.
40. Maggie Gyllenhaal as Anna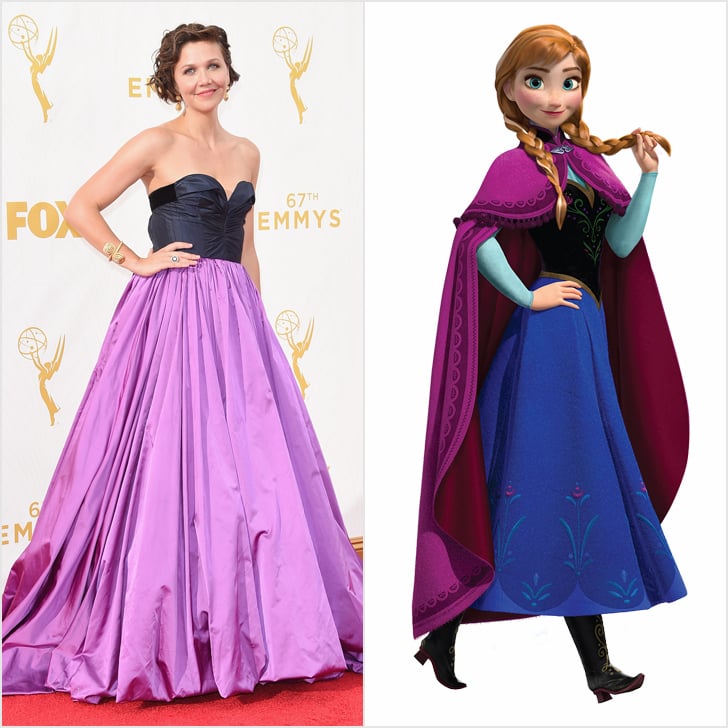 Maggie is another actress who was inspired by Frozen for her red carpet appearance. But she also chose to keep things simple, and use Anna's casual outfit, and not her ballroom dress, as an inspiration.
41. Lily James as Cinderella
If you haven't noticed by now, Cinderella's dress is definitely one of the most copied. And there are different versions of it. Some chose to stick to the blueish color, while others opt for a different color. In any case, this is the dress you think of when you say the words "princess dress."
42. Jessica Alba as Aurora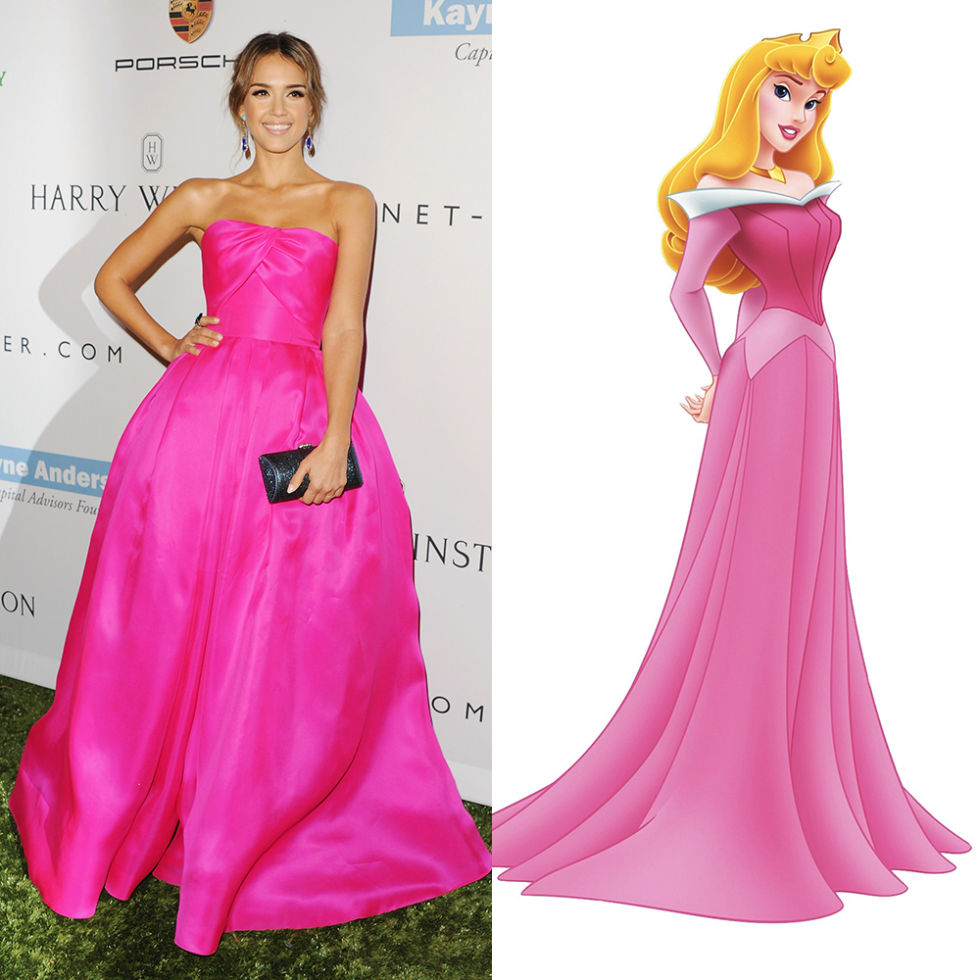 Even Jessica Alba couldn't resist dressing up as Aurora. But unlike others who choose to hide their cleavage with the dress, Alba proudly presents one of her best attributes.
43. Alicia Vikander as Belle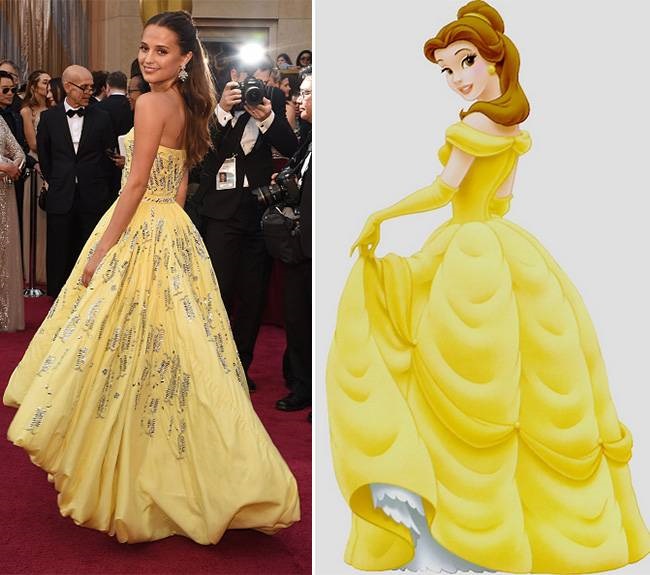 Alicia is the one who copied the dress to perfection. But that is what happens when you let Louis Vuitton design your dress. The young actress wore the dress at the Oscars, where she was nominated for her role in The Danish Girl.
44. Lea Michele as Aurora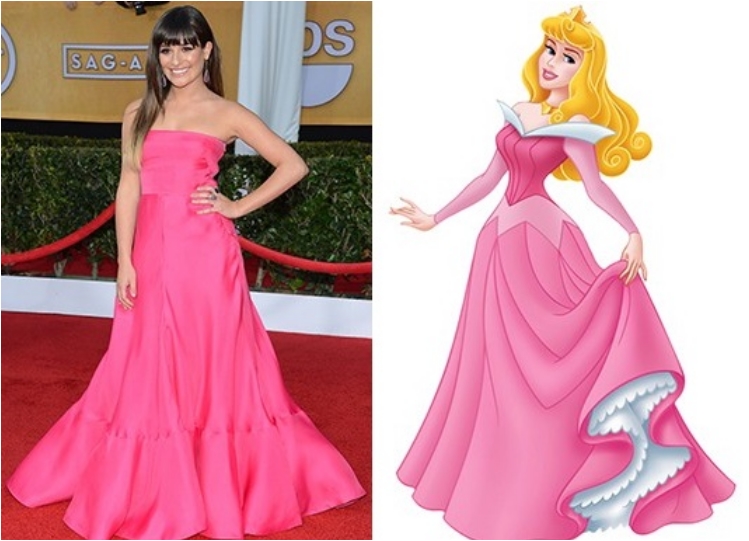 The star of Glee is the last actress on our list to wear an Aurora-inspired dress. We love the dress, but we must say she missed the color a bit.
45. Blake Lively as Elsa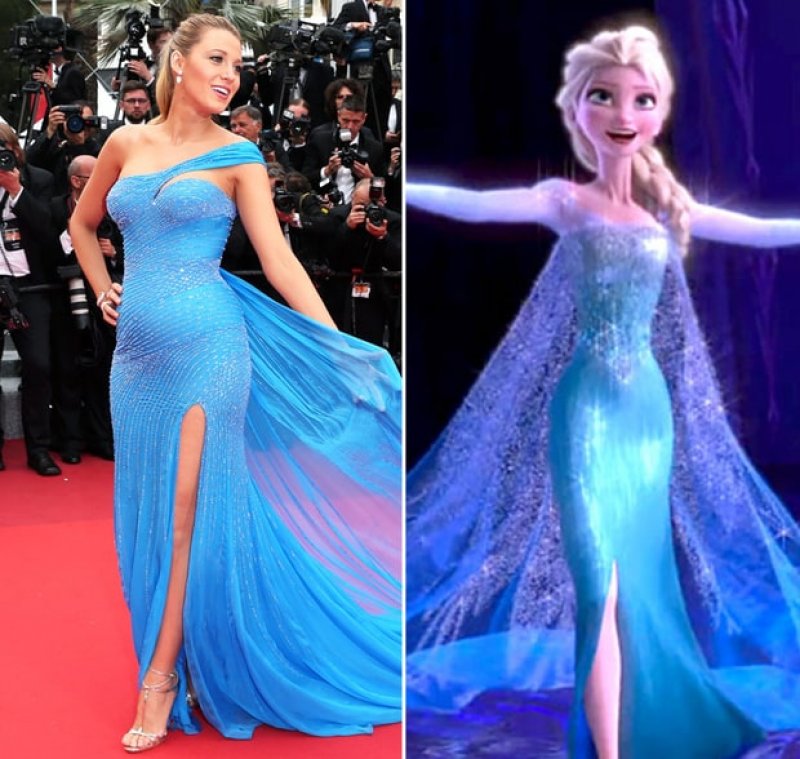 Blake Lively is another of those Hollywood actresses who can wear absolutely any dress, and wear it with perfection and confidence. No matter if it is the short Pocahontas dress or the glamorous Elsa gown, Lively is sure to look great. After all, she got used to wearing beautiful dresses while she was acting in Gossip Girl.