Of course that you'll see celebrities with makeup at an official event. Wearing makeup has become the gold standard in the beauty industry to the point that women without makeup are rarely considered beautiful. The term "natural beauty" is slowly, but steady dying, and we all are to blame. But don't think that Hollywood A-listers are beautiful only when they wear makeup. After all, they were "discovered" without makeup. Let's take a look at some beauties.
Kim Kardashian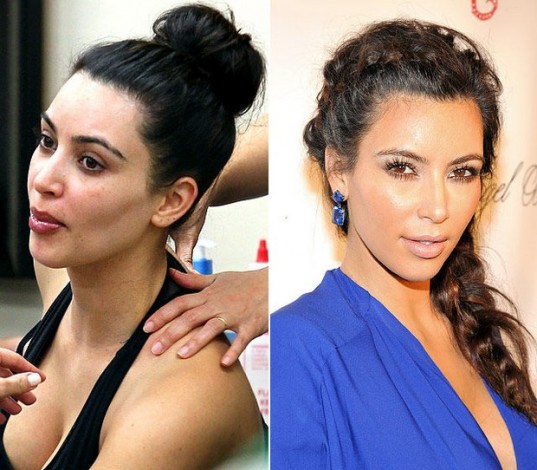 Kim has a completely different look when she is not wearing makeup. And even though she is far away from the stunning beauty she is with makeup on, Kim possesses a natural beauty look that few other women in Hollywood have.
Lady Gaga
...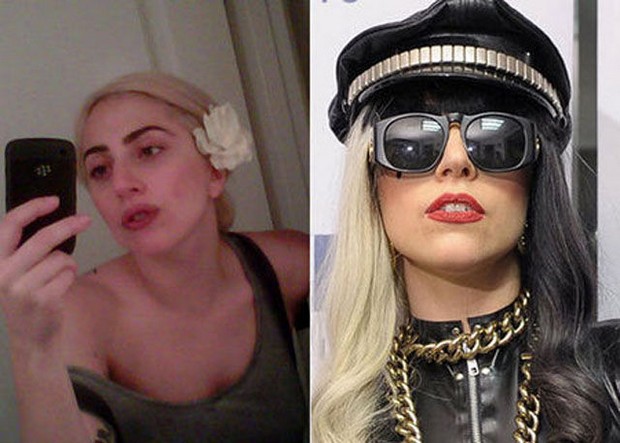 You might not have seen Gaga without makeup, or without something covering her face. She often wears hats, sunglasses and other assets to cover her face. But don't think that is because she is not beautiful. Quite the contrary, Stefani Joanne Angelina Germanotta is one gorgeous looking lady. Her beauty might have second seat due to her singing, but she is definitely a face worth looking at.
Beyonce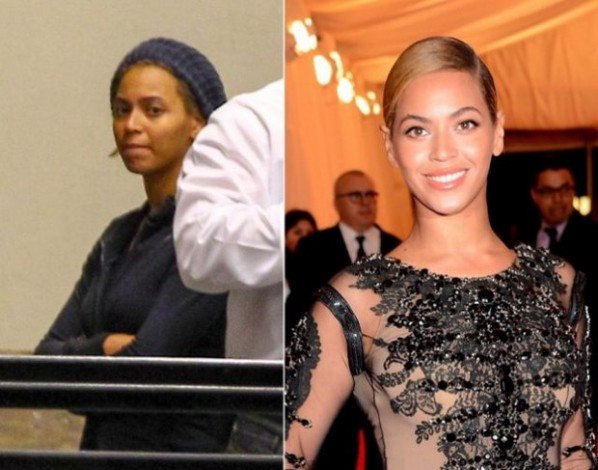 She rose to fame with her all-female band Destiny's Child in the mid 1990s, but Beyonce got to stardom level when the group disbanded and she began her solo career. Don't be shocked to see how beautiful she is without makeup.
Demi Lovato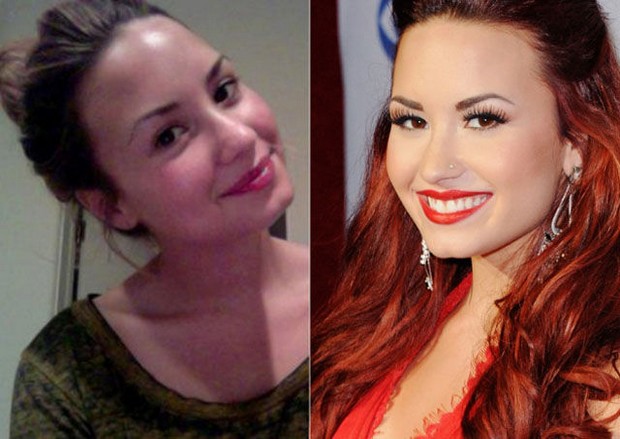 Lovato has that innocent, teenage look girl-next-door when she is not wearing makeup. After all, she is still very much young at 23 years old. Her debut album was sold in more than 500,000 copies in 2008, earning her a gold certification.
Hilary Duff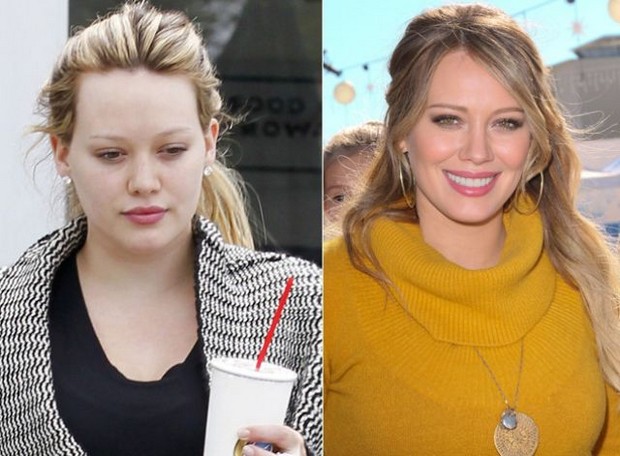 One of the teen idols of our time, Hilary has been the face of several magazine covers, skin care products and fashion labels. But even when she is not wearing makeup, Duff is more than good looking girl.
Jennifer Lawrence
The roles in the Hunger Games and X-Men helped Jennifer earn international stardom, but it was the movie "Silver Linings" that showed a whole new side of Jennifer. In it, she portrays a mentally unstable woman, and it is there where her true beauty is revealed.
Katy Perry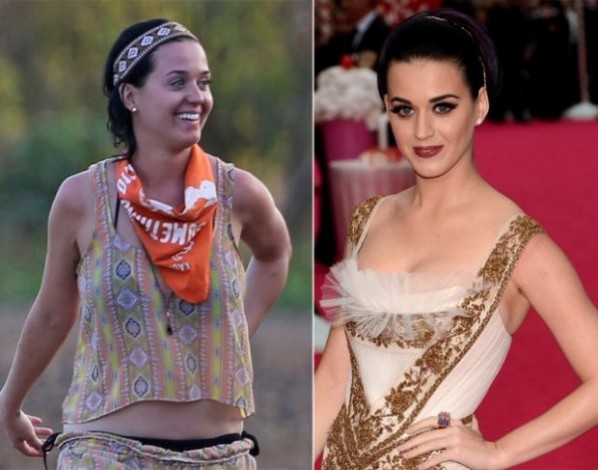 Casual looking, Perry won't turn many heads around when she walks in her sweatpants and shirt. Katy looks like an everyday girl when she is not wearing makeup, and one that we can relate to.
Mila Kunis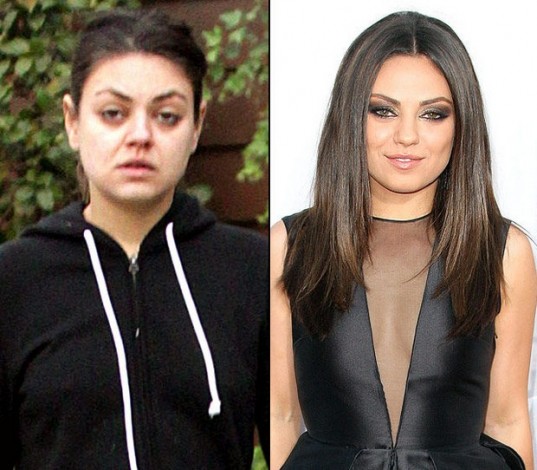 Discovered by an agent while taking class at after-school activity, Mila Kunis is definitely one of the more beautiful ladies in Hollywood. With her husband Ashton Kutcher and her baby daughter, Mila has gone off the grid lately, but still boasts one of the cuter-looking faces.
AnnaLynne McCord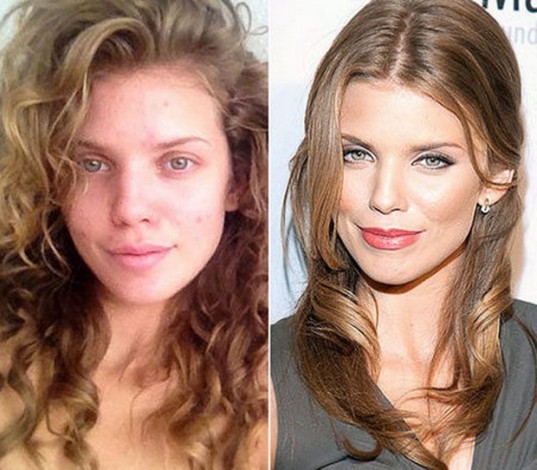 Known for her vixen-type roles, AnnaLynne is much more than that. A former model, the 29 year old actress is one of the more involved Hollywood characters involved in charity work. She was abused as a teenager by a male friend, which contributed greatly to her supporting organizations that fight sexual and domestic abuse.
Anne Hathaway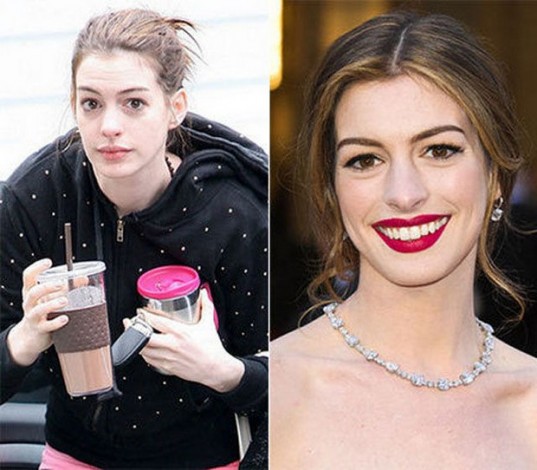 The personal assistant in "The Devil Wears Prada" has gone a long way from an anonymous face in Hollywood to a big time star. Aside from movies, Anne also acts in theaters. She actually started her career on the stage, before moving to the big screen.
Kathy Griffin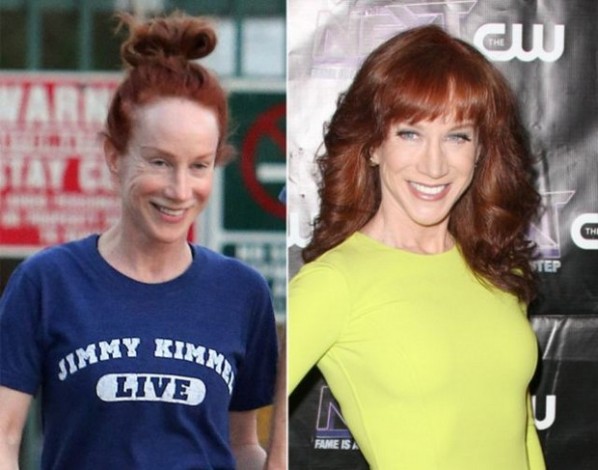 At age of 55, Kathy is still one of the more beautiful ladies in Hollywood. Age is just a number for this read-haired beauty. Nowadays, she is more known as a television host than actress.
Katie Couric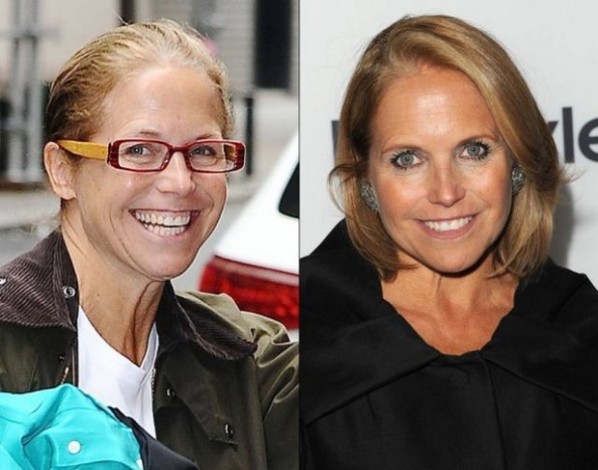 Katie will turn 60 years in January next year, but she still looks like she has 40. Her mesmerizing smile and charisma will make you love her, no matter if she wears makeup or not. Katie is currently the Yahoo Global News Anchor. In her career, she has been host to all three major television networks in the United States, a feat that select few have achieved.
Maria Shriver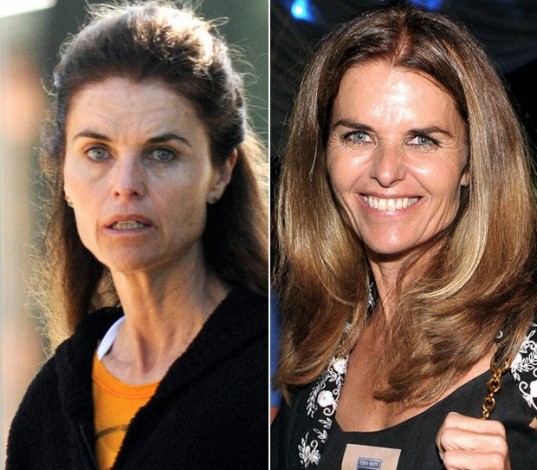 The former wife of Arnold Schwarzenegger, Maria is a 60 years old beauty known for her best-selling books. She divorced the former Governor of California in 2011, after Arnold admitted he had a child with a housekeeper. She is also actively involved in humanitarian and charity organizations.
Milla Jovovich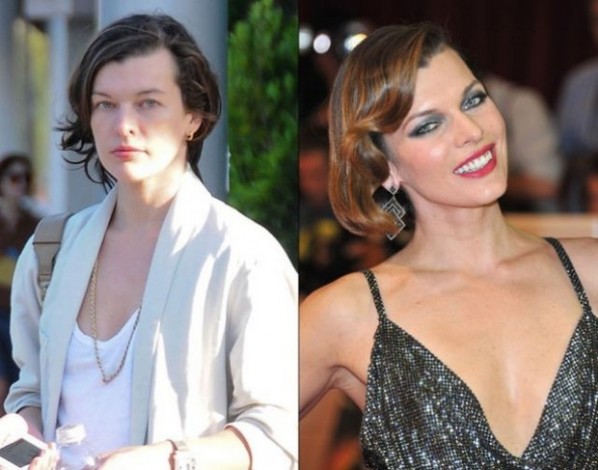 One can safely say that Jovovich is one of the more accomplished women in the world. At only 40 years old, Jovovich has already had success in the fashion industry, film industry and music industry. In the movie industry, she is mostly known for her role as Alice in Resident Evil, a character she will again portray in 2017.
Nicole Richie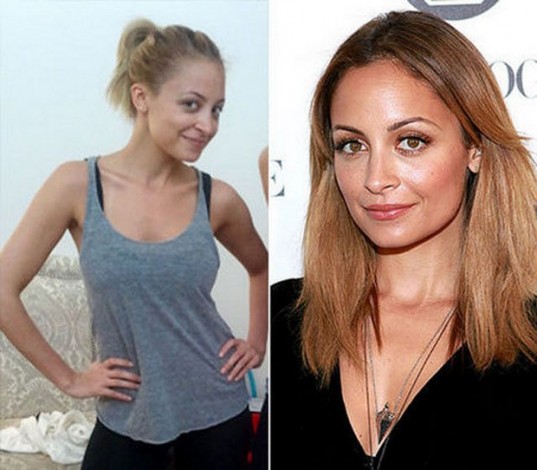 Nicole and Paris Hilton were friends for years, and the two rose to stardom together. However, unlike Paris who chose to be controversial, Nicole has a more quiet life. The two started in the show "The Simple Life", after which Nicole used her influence to launch a career in fashion.
Nicollette Sheridan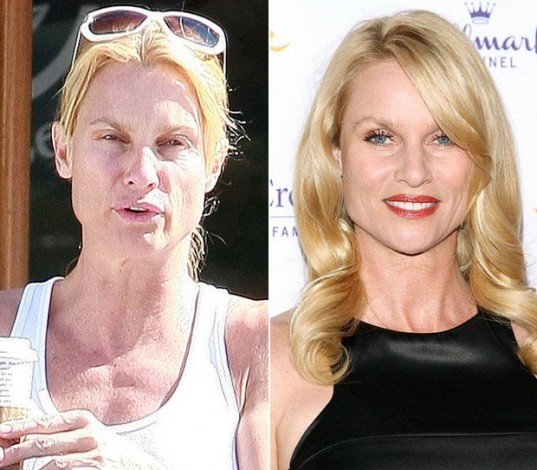 Teri Hatcher and Eva Longoria might be the two most popular faces from Desperate Housewives, but Nicollette certainly did a great job portraying the Edie Britt, a woman who constantly had relationships with ex-husbands and lovers of other residents. Sheridan posed nude in 2008, when she was 45 years old.
Pamela Anderson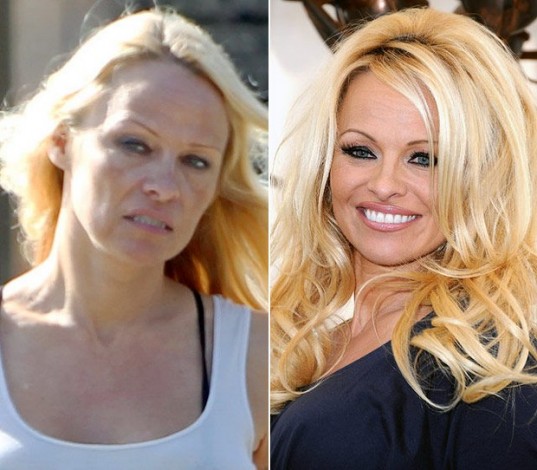 We all became in love with Pamela during her time in "Baywatch", a series in which we saw her rock her body in a swimsuit. It is safe to say that boys keep posters of her in their bedroom. Several years later, Pamela is still a beautiful lady, and she has now started a career in stand-up comedy.
Sharon Stone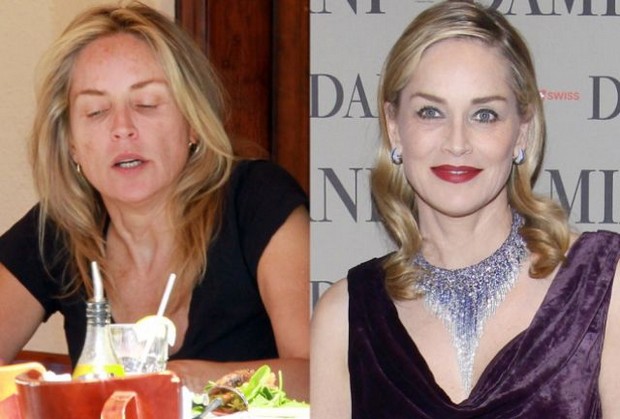 The interrogation scene in Primal Instinct is arguably one of the most sexual tense scenes in the history of Hollywood. And Stone gets the credit for it. At almost 60 years, Sharon is still one of the more beautiful ladies in Hollywood. And after all, she is a former model, so beauty is on her side.
Tyra Banks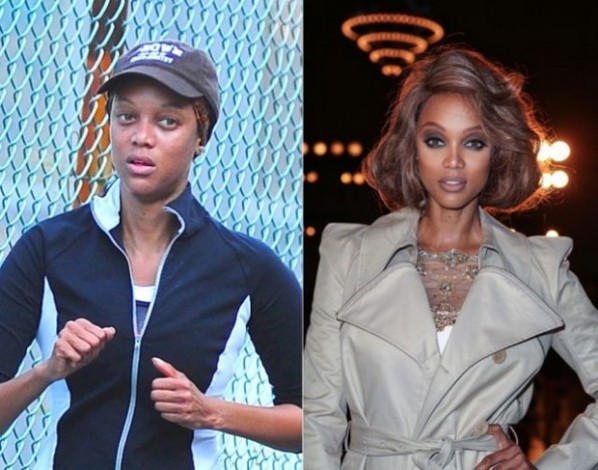 The former Victoria's Secret angel is nowadays more involved in charity and humanitarian work. In 2003 she started the popular show "America's Next Top Model". She is among the most influential women according to TIME magazine.
Uma Thurman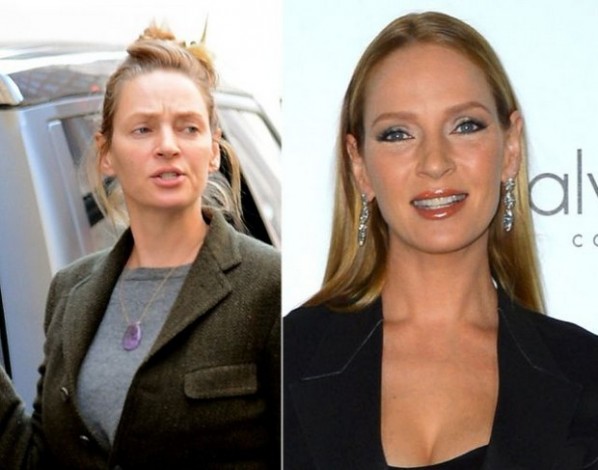 The face Uma Thurman makes in Kill Bill is a scary one, as you just know she will rip you apart. But outside of that movie, Thurman is a great looking tall blonde.