In the past several years, tattoos have become part of the mainstream culture. And the saying goes that nobody stops at one tattoo. Some 20 years ago, tattoos were a taboo topic, with people being stigmatized for having tattoos. Nowadays, every other person has it, and the trend has caught up on Hollywood as well. Behind every tattoo, there is a story to tell. Here are some interesting celebrity tattoos.
Cheryl Cole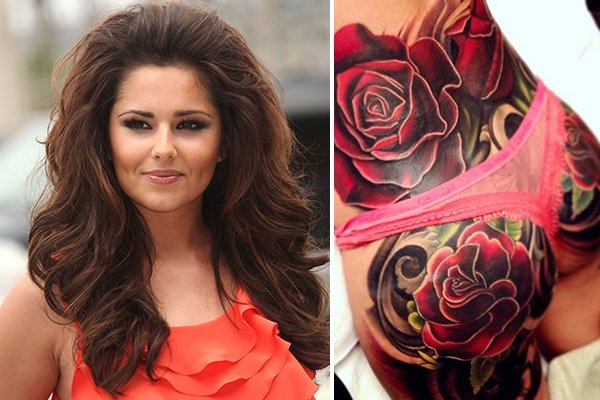 Cheryl Cole is a fan of body art. In 2014, she needed to cover three tattoos on her lower back, so she decided to remade the tattoo and go for a rose extravaganza. According to the former Judge of X-Factor, the tattoo cost a small fortune, or the same price as a small car. And to those who judge her tattoo choice, Cheryl says "Smell the roses". Nice touch right?
Rihanna
...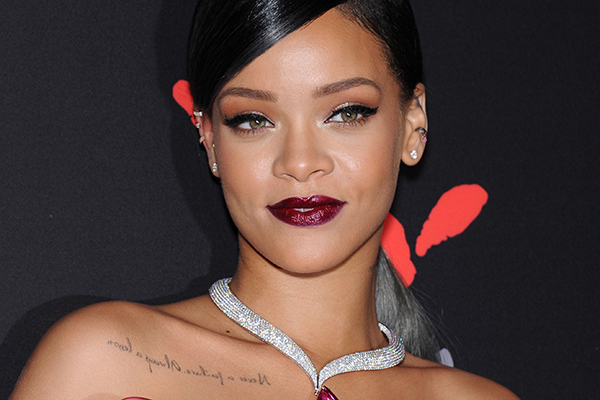 Rihanna has several tattoos on her body, and every one of those is great. But the one that carries the strongest message is the tattoo inked just below her neck that reads "Never a failure, always a lesson". It is the motto that drives Rihanna in her life. The fun part is that the words are spelled backwards, so that the singer can read them anytime she looks herself in a mirror.
Brad Pitt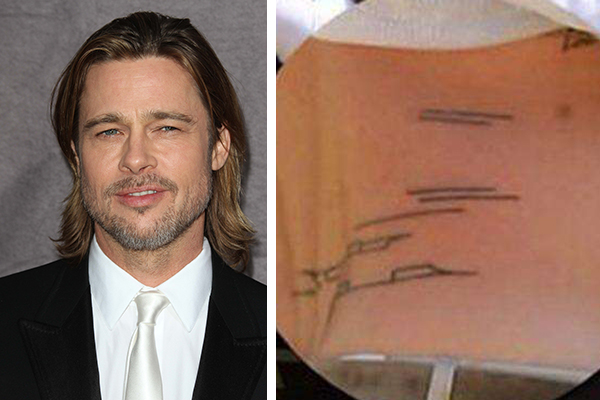 The story behind this unconventional tattoo is rather simple and very cute. It all started one night when his wife, Angelina Jolie started drawing lines on his back. Brad loved it, and soon after he went to a tattoo shop and had it inked on his back. When the tattoo was first revealed, some people thought Brad has joined some secret society, but that is not the case.
Angelina Jolie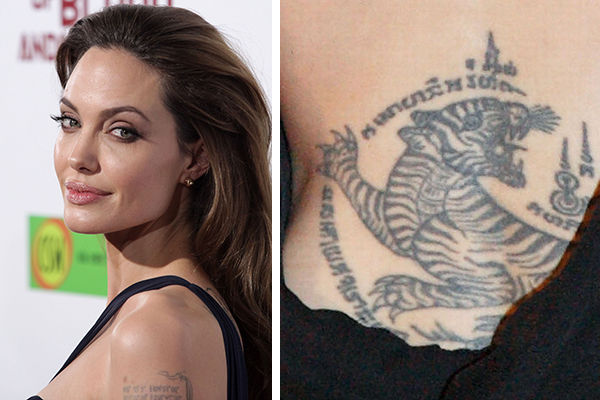 Jolie was awarded Cambodian citizenship in 2005 because of her humanitarian work. She was thrilled to accept it. And in 2008, she decided to honor her new citizenship by tattooing a tiger located just above her butt. She did the tattoo with a traditional needle and ink.
Chris Brown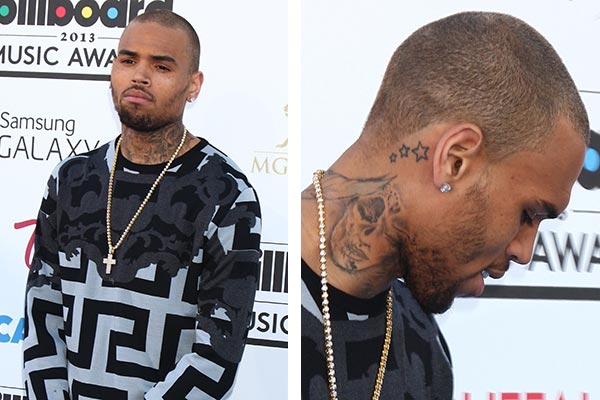 Famous for his incident with Rihanna, Chris Brown has decided to have the memory eternalized on his neck. While the singer claims that his neck tattoo has nothing to do with Rihanna, it is hard not to see the connection. Brown has a woman severally beaten tattooed on his neck, which is exactly what happened in that Rihanna incident.
Charlize Theron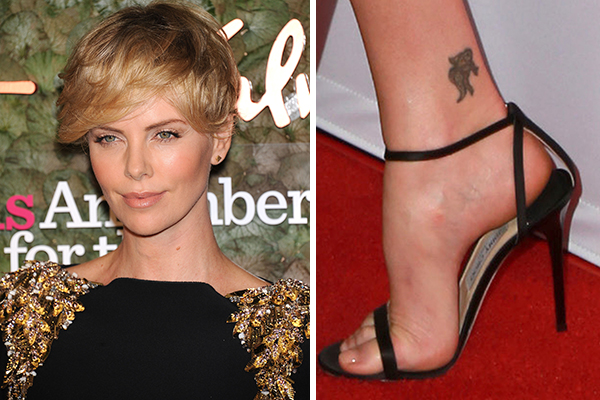 The popular actress is very much in love and connected with her mother. But in 2012, the two decided to take their love and connection to another level. Both Charlize and her mother got a koi fish tattoo on their ankle. The koi fish is a popular symbol in Asian culture, and the meaning behind the tattoo is luck, fortune and aspiration to improve oneself. The legend says that the koi fish fall off the Yellow River and became a dragon.
Taye Diggs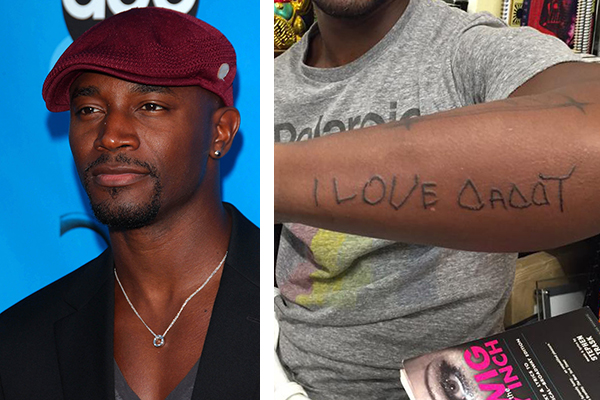 Diggs got to experience being a parent when he played the role of Kevin Hill in 2004 and 2005. In the show, Taye portrays a bachelor lawyer that has to get use to a new life in the house, a young baby that his cousin left after his death. And Taye completely nailed the part. In 2010, when his son Walker was born, Taye got his name "Walk" tattooed on himself. But the tattoo in question here is the phrase "I love you daddy", which Diggs has it inked with his son's handwriting.
Scarlett Johansson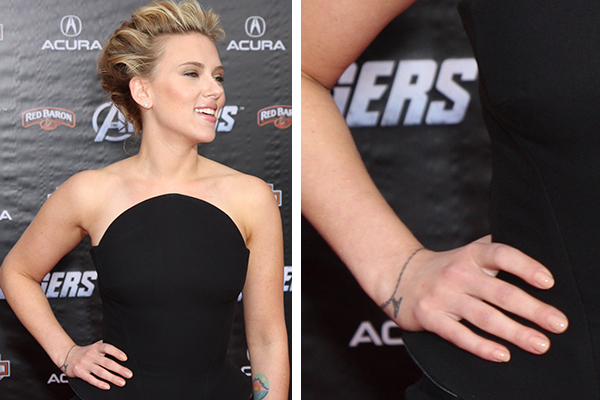 Scarlett wants to keep the meaning of her tattoos private for herself. The tattoo in question is the bracelet on her wrist spelling "I love New York". While it is obvious the tattoo shows her love for the Big City, it is unclear what happened and why Scarlet loves the city so much. Although, she was born in New York, so that might be the reason.
Hayden Panettiere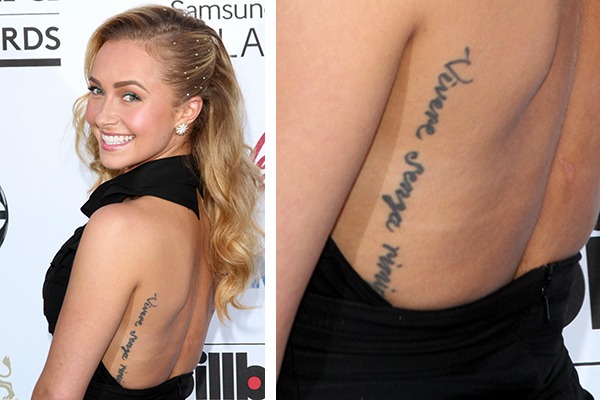 Known for her role as Claire Bennet in the TV Show "Heroes" Hayden is one of the young and up and coming actress in Hollywood. Her tattoo, on the other hand, is one of the biggest mistakes in the tattoo world. The phrase "good intention, bad realization" works perfectly here. The young actress wanted to spell the phrase "live without regret" in Italian down her ribcage. However, she or the tattoo master misspelled the last word, and got "Vivere senza rimipianti". For those that don't know, "regrets" is spelled "rimpianti" in Italian. There were rumors she had her tattoo removed.
Kendall Jenner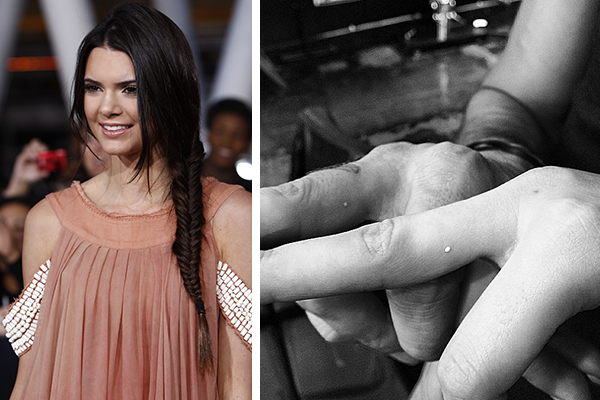 Harry Hudson, Kendall Jenner, and Joe Termini all have white dots on each of their fingers. The matching tattoos are still a mystery. The white dots were first done by another member of the Hillsong Church, Joe Boy who got the tattoo as a response to Kendall. Rumors are Jenner told him he can't get a tattoo, so he got one on the middle finger.
Jason Derulo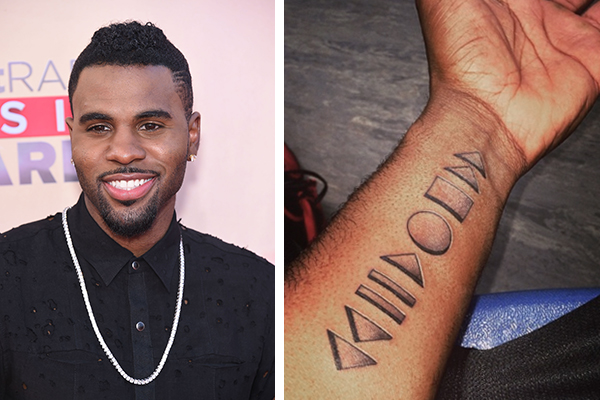 The popular singer would love to treat life like remote control. For that matter, he tattooed remote tattoo across his arm, and his explanation is that he would love to fast forward bad times in his life, rewind the good times and record the crazy ones. Pretty neat tattoo, don't you think?
Jennifer Lawrence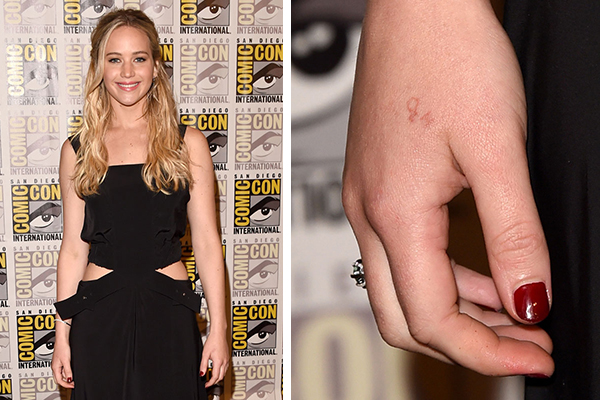 Another strange and wrongly done tattoo, but also a mystery in its own. Jennifer got a H2O tattoo when she worked with Liam Hemsworth on the Hunger Games. She got the chemical symbol for water as a reminder to stay hydrated at all times. The problem is the "2" is in the wrong place, written as superscript, not a subscript.
Ryan Gosling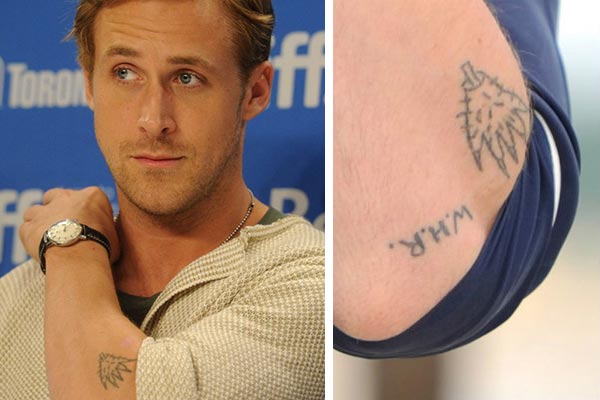 The popular actor wanted to get a bad tattoo, and he got one. His DIY tattoo includes what should be a monster and a heart, but ended up looking like a cactus. The monster and the bloody heart is the cover of the children's book "The Giving Tree". Gosling's mother read the book to Ryan every day when he was little, so he wanted to honor her.
Ryan Cabrera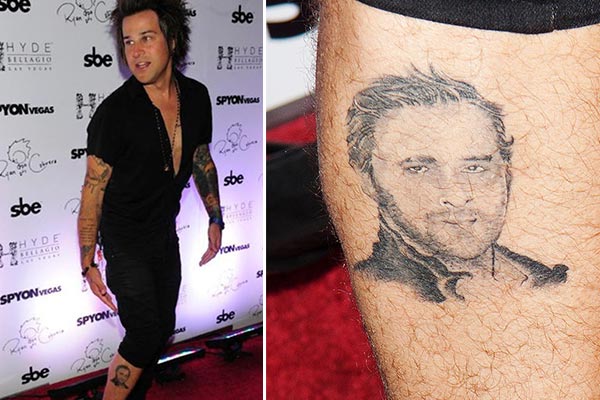 The story behind this intriguing tattoo is spectacular. You'll rarely find a person tattooing a fellow colleague's face on his body, but Cabrera has Gosling on his leg. Why? It was one special night when he and his friends played a game called "tattoo roulette". The rules are simple, everyone is blindfolded, and you pick a tattoo for your friend. You don't get to see the tattoo until it is done. Cabrera was left with Gosling.
Kat Von D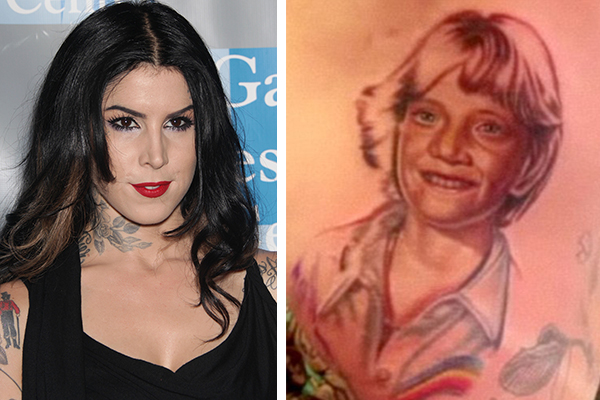 Kat has already removed this tattoo, but putting it on in the first place was strange enough. The tattoo artist inked a baby boy face of her on again and off again fiancé, Jesse James. The pair split for good, and since then, Kat has said that Jesse cheated her with 19 different women during their relationship.
Kelly Osbourne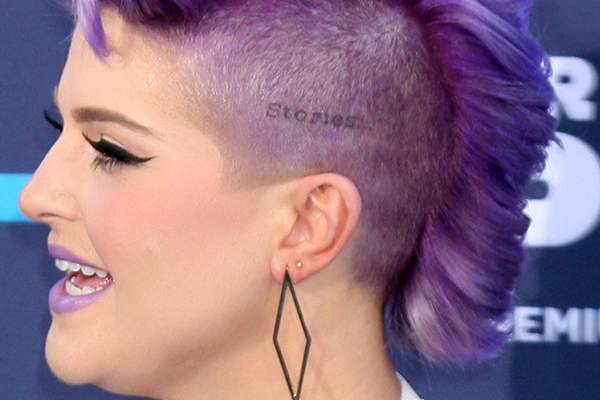 Her head tattoo reads "stories", like many stories told and untold about her. Her shaved head with Mohawk hairstyle is enough attention-grabbing, but Kelly wanted to go a step further. She has many other tattoos, but the "stories" are worth mentioning.
Miley Cyrus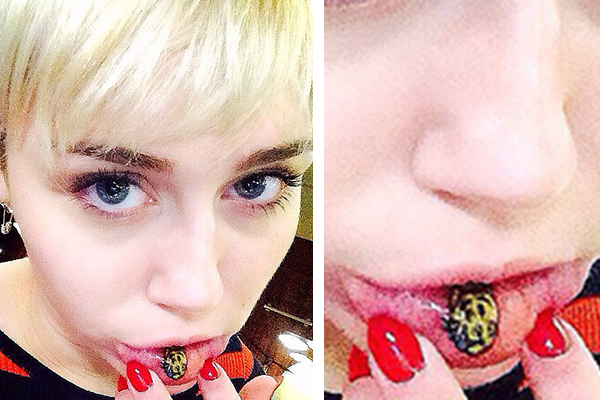 Cyrus continued her antics in 2014, showing once more that she is one of the most controversial artists in the music industry. She got a crying pussycat tattoo on the inside of her lip, as if twerking was not being shocking anymore. Cyrus shared her new tattoo back then on Instagram with the caption #sadkitty and #lovemoneyparty.
Jackson Rathbone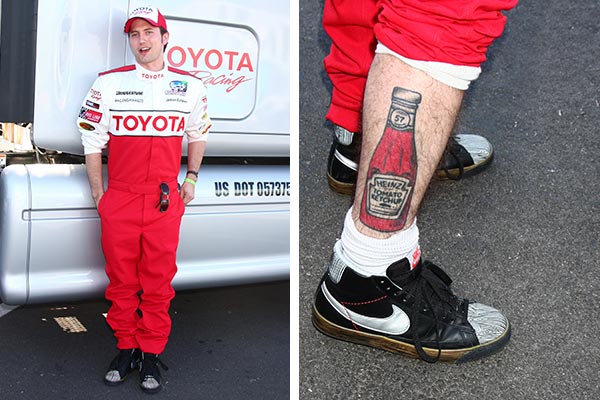 Jackson Rathbone has been teased his entire life by his family for his love of ketchup. His father used to say "Do you like little hamburger with that ketchup". So, the young actor decided to take things to another bizarre level. He tattooed a ketchup bottle on his leg. And when we say leg, we mean half of his leg.
Amanda Seyfried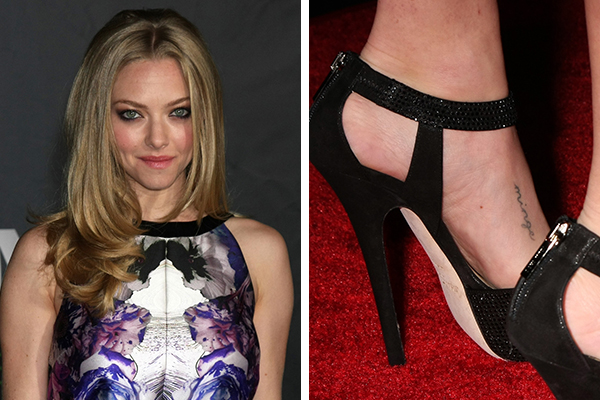 The young actress has a dirty sense of humor, and she can sometimes be vulgar. At least that is what she says, and the tattoo on her foot supports the claim. She has the word "minge" tattooed on her foot. The story is that former colleague and co-star Colin Firth used the word all the time during the set of Mamma Mia. Amanda had no idea what it meant, and when it was explained to her, she burst into laughing. Nowadays, she laughs every time she sees her tattoo.
Kesha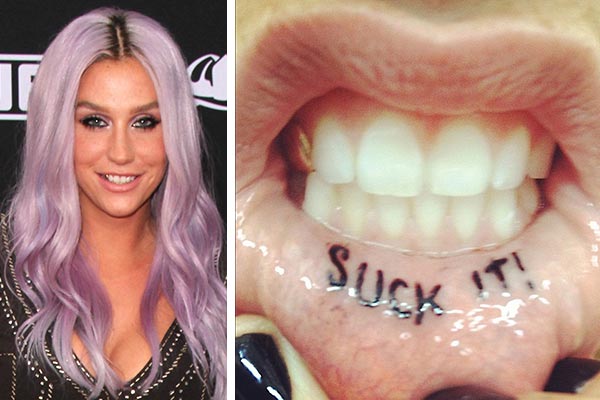 You know you are crazy when you have a tattoo on the inside of your lip. And if you thought Miley Cyrus sad kitty was a bit too much, Kesha is even worse or better, depending on your view. She inked "suck it" on the inside of her lips, as a way to show her craziness. Enough said. I wonder how her conversations go. Source: pophitz.com
READ THIS NEXT: Discover The Secrets Behind 18 Of Rihanna's Tattoos