Everyone loves a good photobomb. Just to clarify, a photobomb is "a photograph that has been spoiled by the unexpected appearance of an unintended subject in the camera's field of view as the picture was taken." Photobombs are even more hilarious when celebrities get in the way.
Most celebrity pictures we see are posed; they are standing still, posing on the red carpet like gods and goddesses.
But every now and then, celebrities decide to take things to another level and have fun with each other. Let's see some of the funniest photobombs.
1. Lionel Messi photobombs Christiano Ronaldo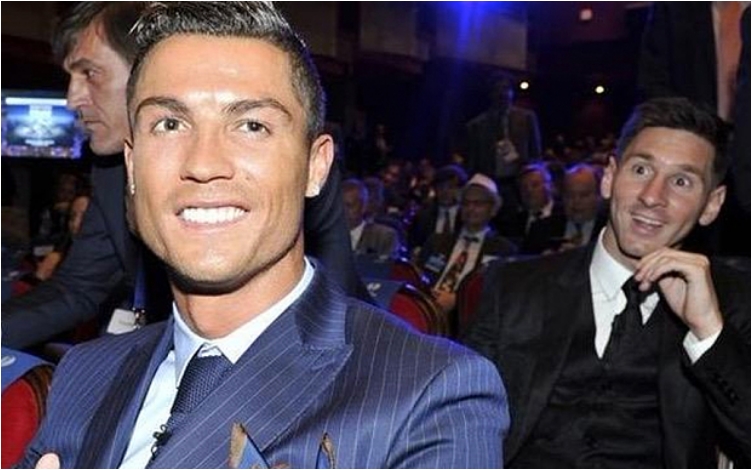 Messi and Ronaldo have had their battles on the soccer court, and for several years, they've been battling off the court as well. It is hard to determine which one is the better soccer player, but Messi definitely is the winner on this photo.
2. Zach Braff photobombs a random couple's wedding photoshoot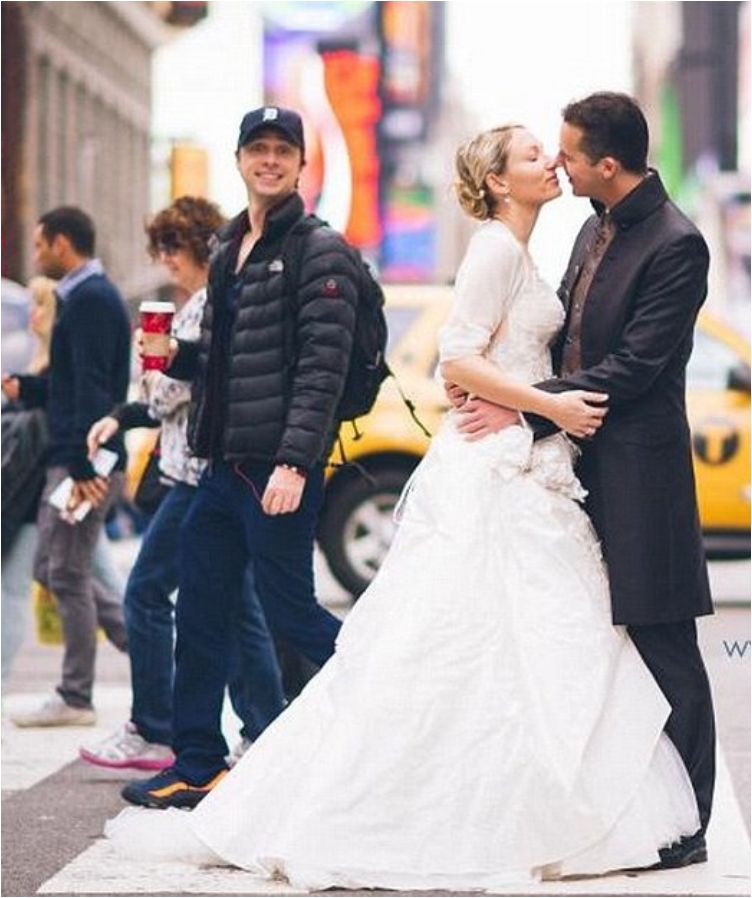 When you want to take your wedding photos on the streets of Los Angeles, you are bound to be photobombed by some celebrity. In this case, it was Zach Braff. And one might say that the photo is not spoiled. Quite the contrary, Zach gives it that celebrity flair.
3. Tom Jones and Sylvester Stallone get photobombed by comedian Penn Jillette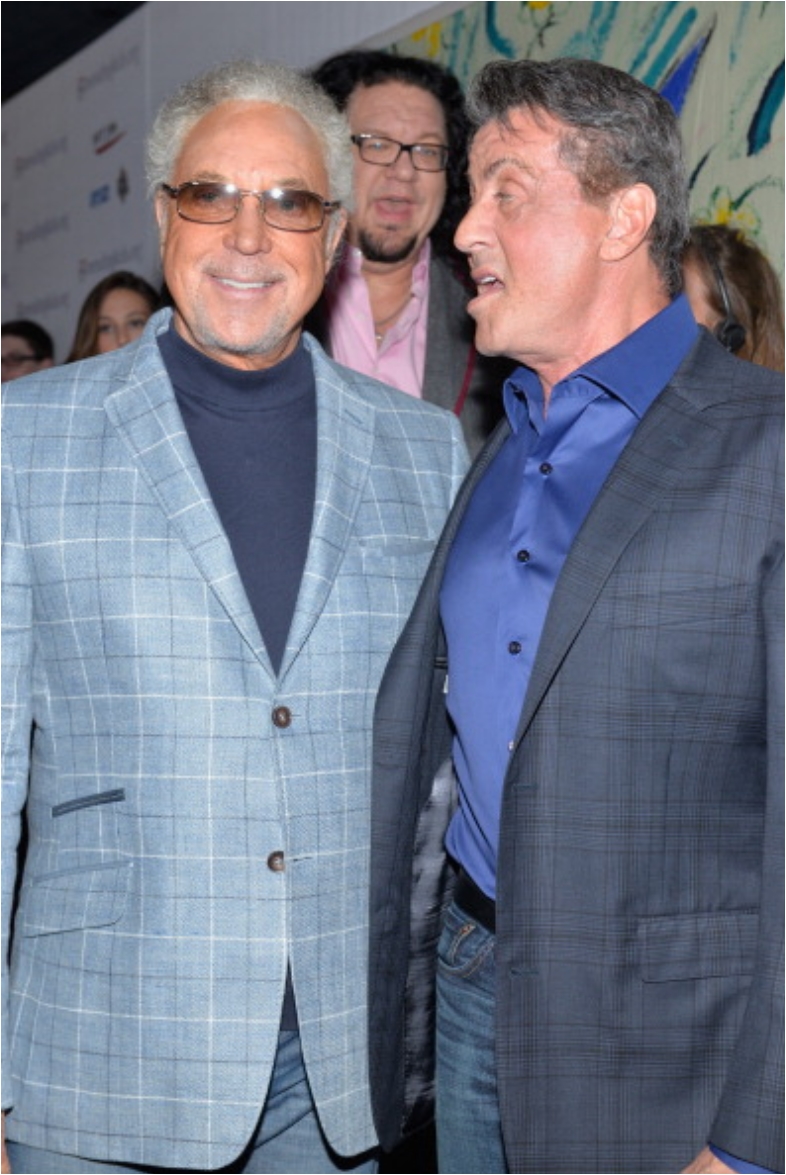 Stallone and Jones are old school, and they are not used to the new and modern life in Hollywood. Photobombing, selfies—all of those are new for Stallone and his music friend. But not that Penn is some young guy. He might not be noticeable at first glance, but he sure looks funny between these two.
4. Lupita Nyong'o photobombed by Emma Thompson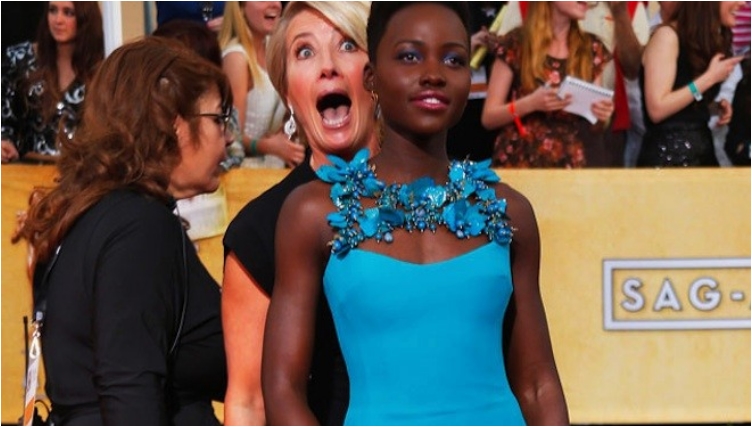 Lupita became famous thanks to her performance in 12 Years a Slave, and in her first few appearances on the red carpet, she got the royal treatment. But you are not a celebrity on the red carpet until you've been photobombed by another celebrity.
5. Judi Dench gets rabbit ears by Dustin Hoffman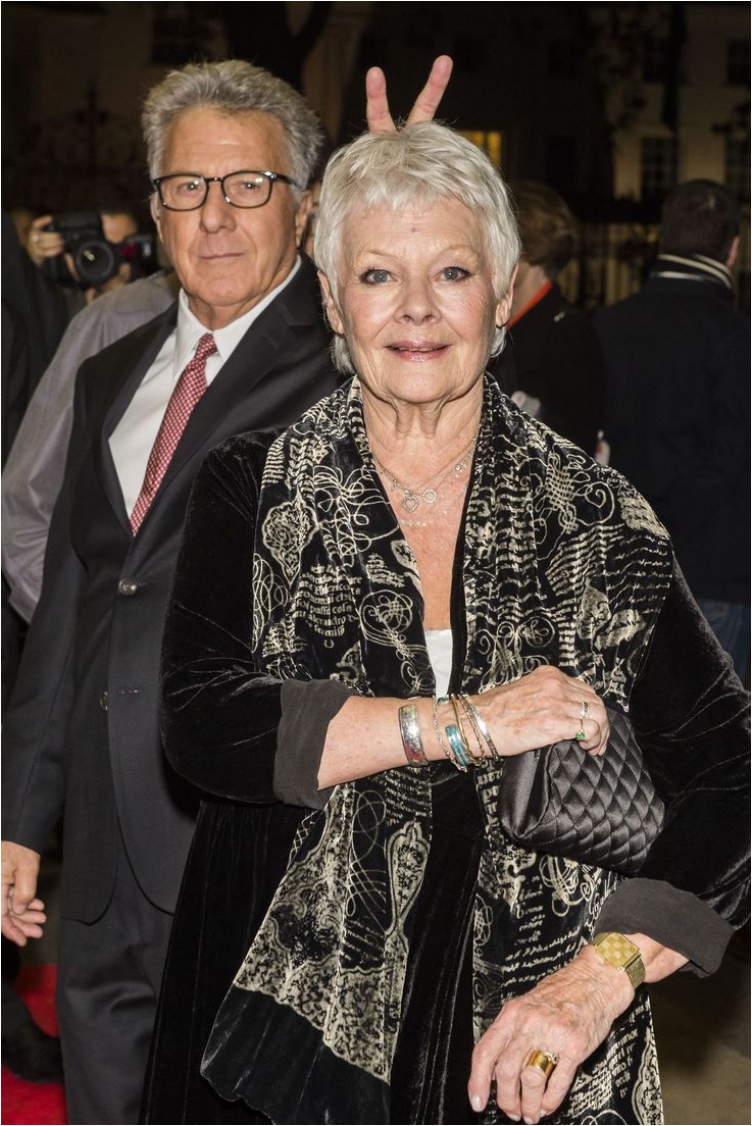 Dustin couldn't resist this one. Judi was just bound for a photobomb here, and it was simply a question of what kind of joke Hoffman would pull out. He opted for the classic and everlasting bunny ears.
6. Jennifer Lawrence photobombing Taylor Swift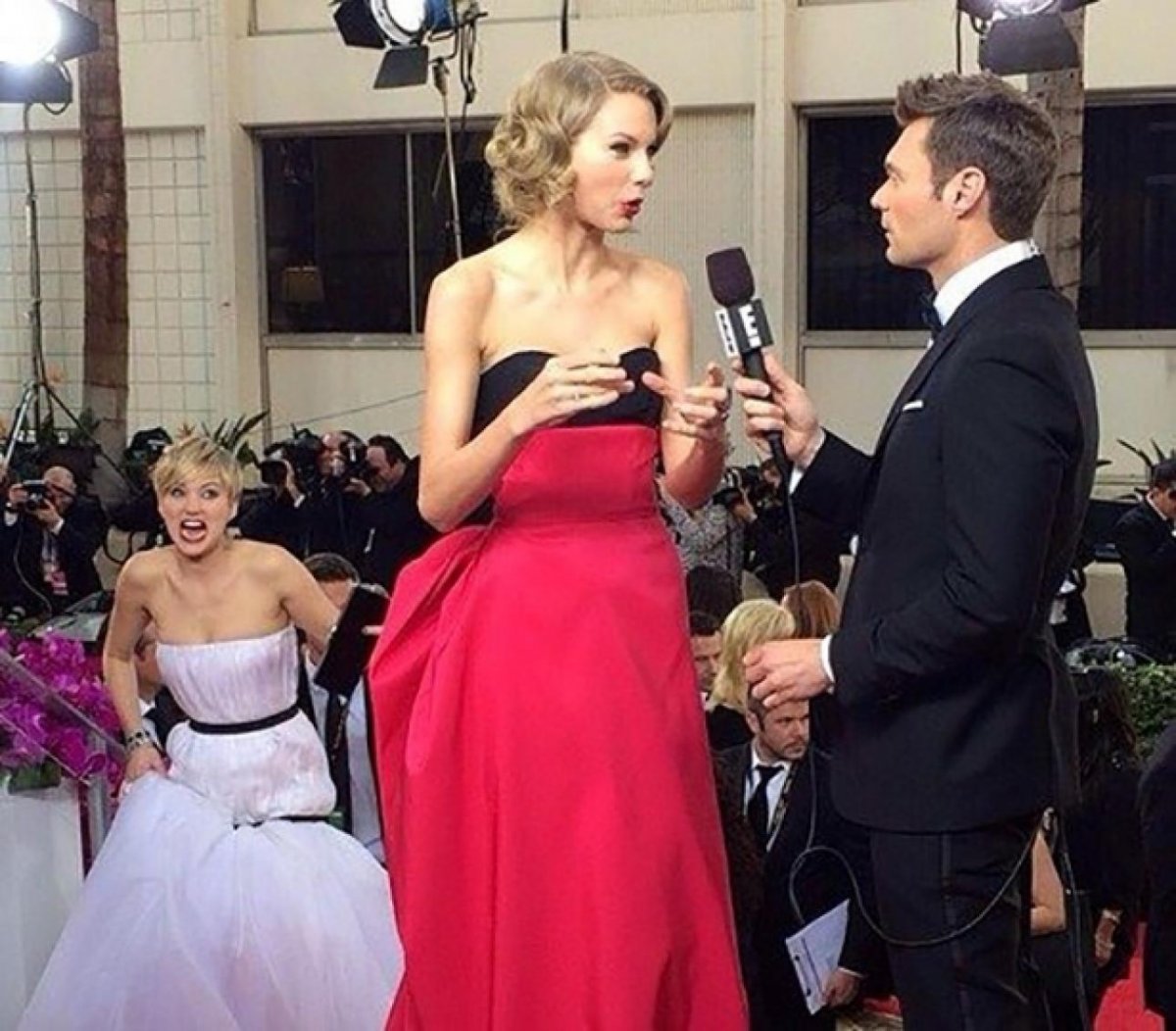 Jennifer has had her fair share of funny moments at big-time events. After all, her fall at the 2013 Grammys is memorable. And if she suffers, other celebrities have to suffer as well. So she jumped into the camera's view while Swift was giving an interview.
7. Hailee Stanfield photobombs John Sykes and Snoop Dogg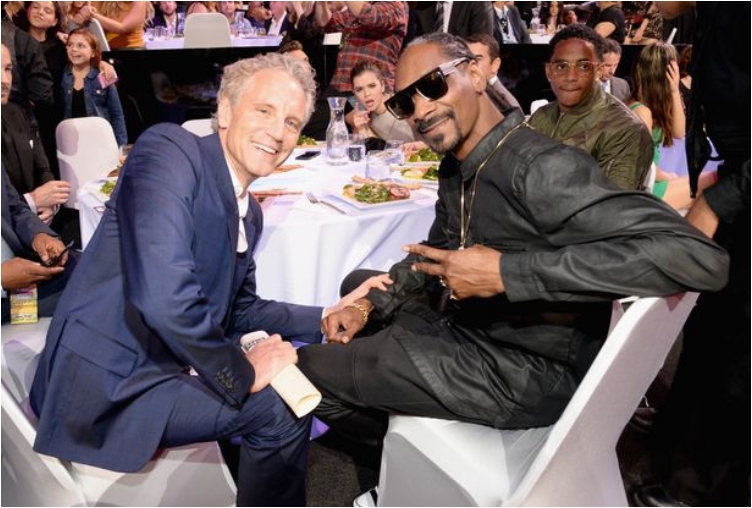 You might not notice Hailee at first glance, but she is right in the middle between Snoop and his friend. And this picture just needs a photobomb to be funny. Otherwise Snoop and John look like a loving couple.
8.  Anne Fletcher photobombs Sofia Vergara and Joe Manganiello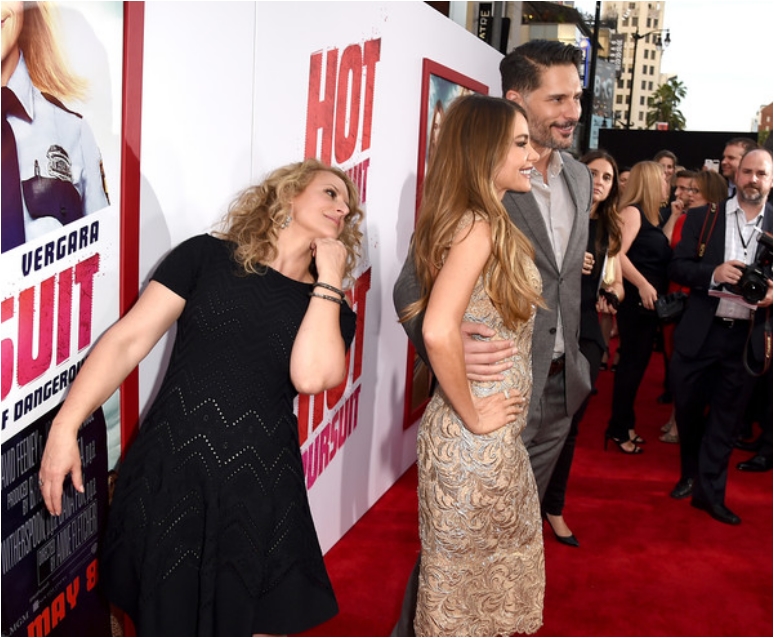 Anne Fletcher might be one of the older actresses in Hollywood, but she is no stranger to having fun. The 50-year-old actress decided to steal the show and spoil Vergara's stunning outfit.
9. Aubrey Plaza pops up between Katy Perry and Hillary Clinton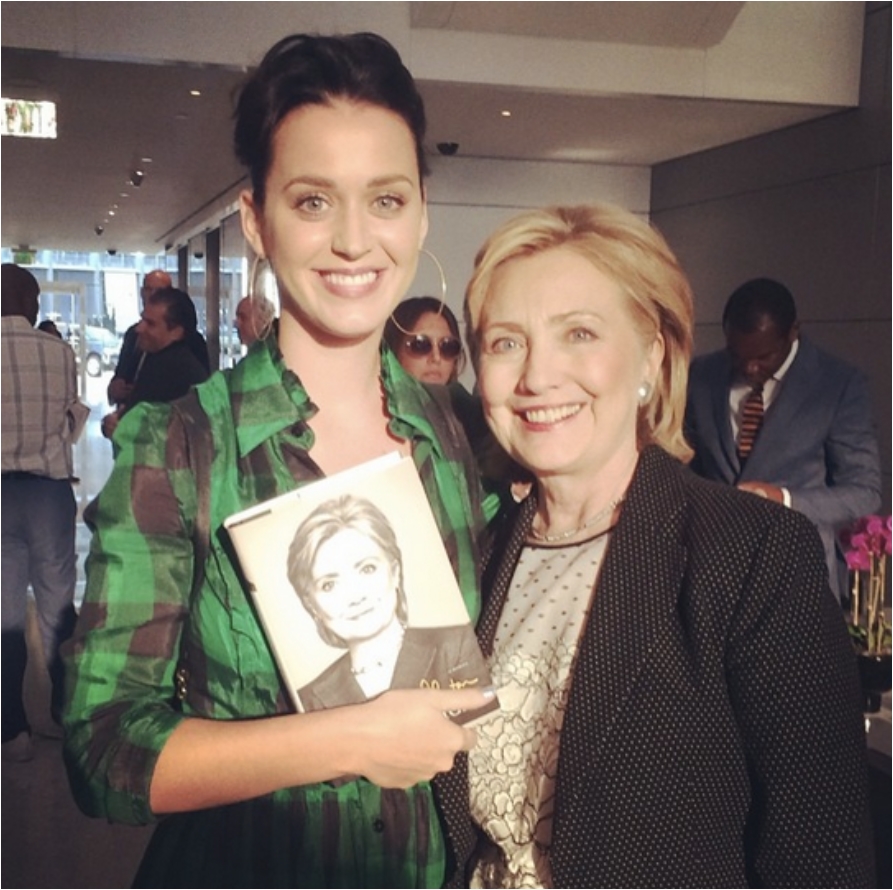 At least you can say this was a non-intentional photobomb. After all, Aubrey had no idea she will pop just between Katy Perry and Clinton. The Democratic Party presidential candidate has a fair share of female celebrities supporting her cause, and with so many girls, we need some fun.
10. Zach Quinto gets two fingers from Benedict Cumberbatch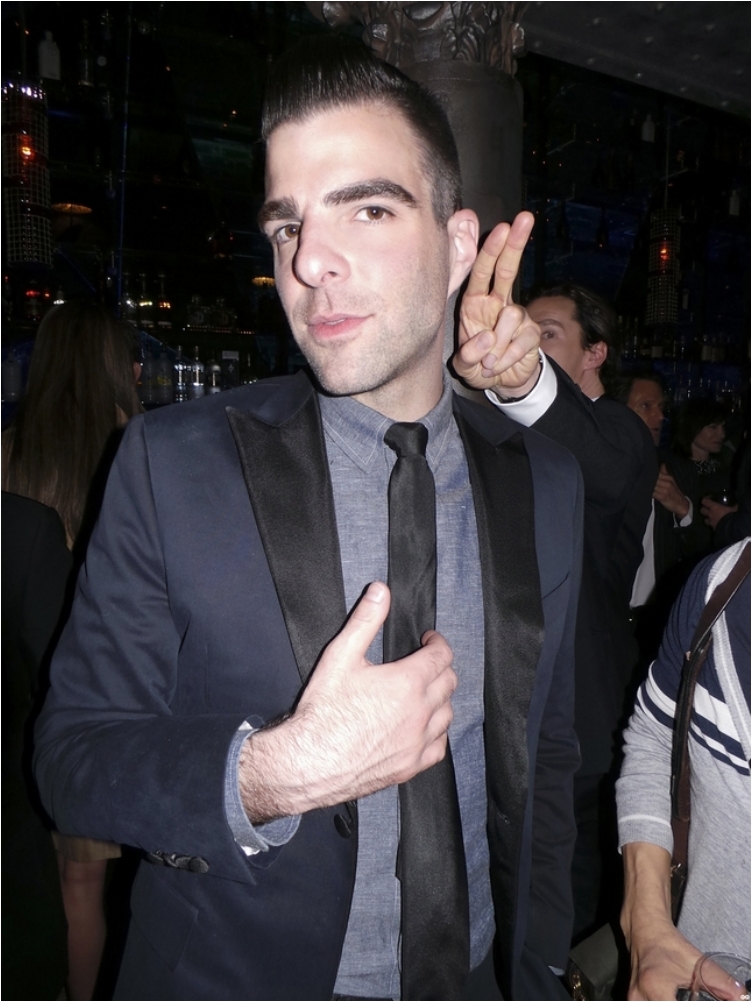 Quinto might have beaten Cumberbatch in Star Trek, but the British actor got the last laugh. It is not who wins on the movie screen, but who wins in the fun department. And Benedict clearly pulled one on Zach.
11. Sarah Hyland photobombs actresses Angie Harmon and Julie Bowen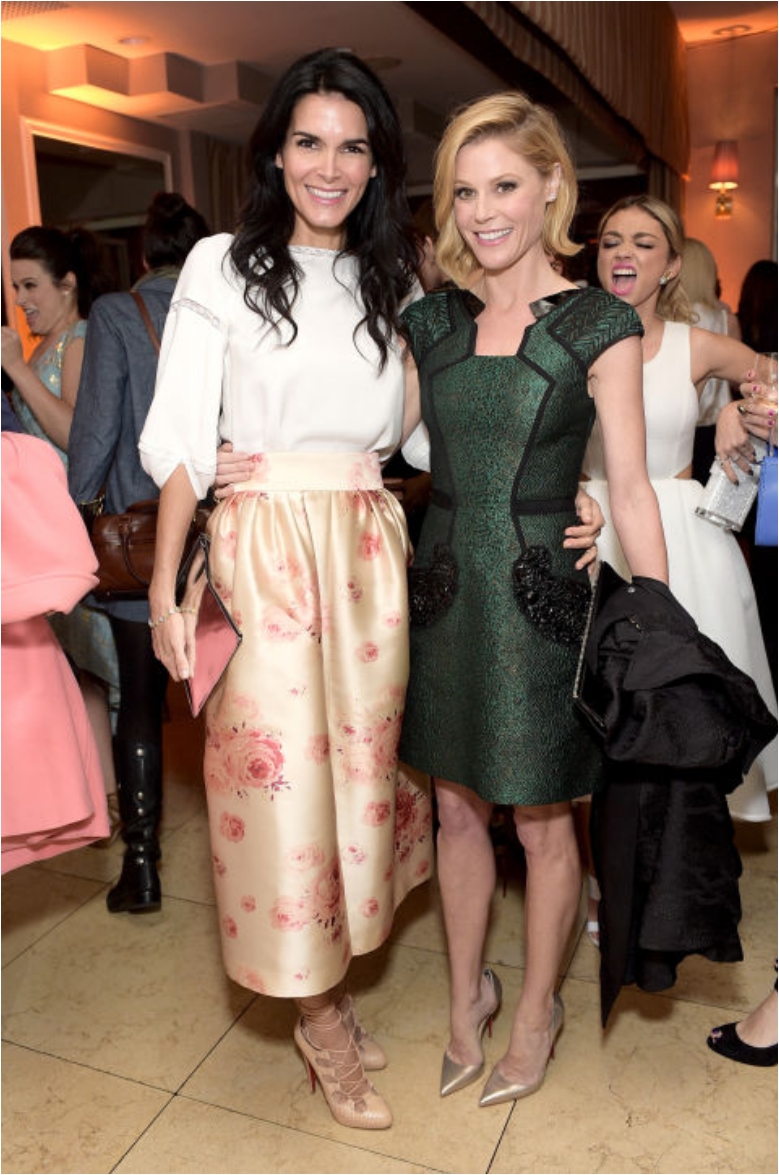 Now this is a classic photobomb. The trick with photobombs is to make a funny or disgusting face while the main characters are all serious and poised. Sarah pulled a great one here.
12. Patton Oswalt photobombs Chris Pine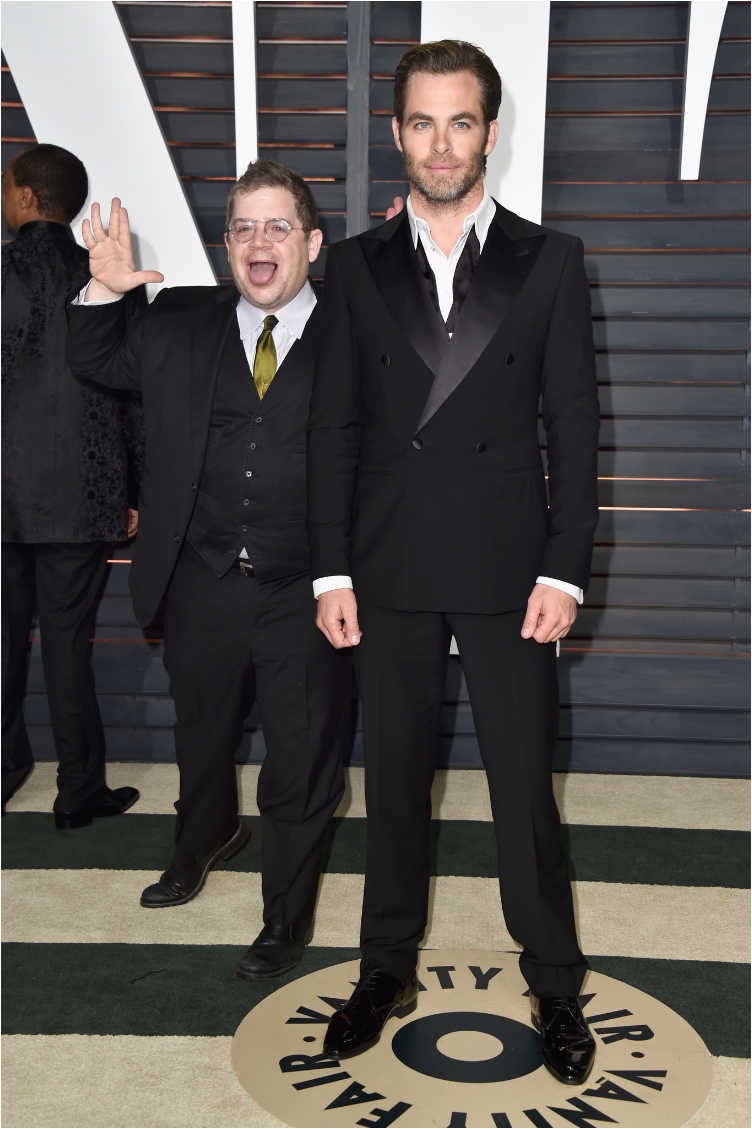 I love Patton—he is one of my favorite actors in Hollywood. He is just so funny, so interesting and so unique. His performances might not be Oscar-worthy, but his off-screen character is just one of the best.
13. Johnny Depp creeping up on Tim Burton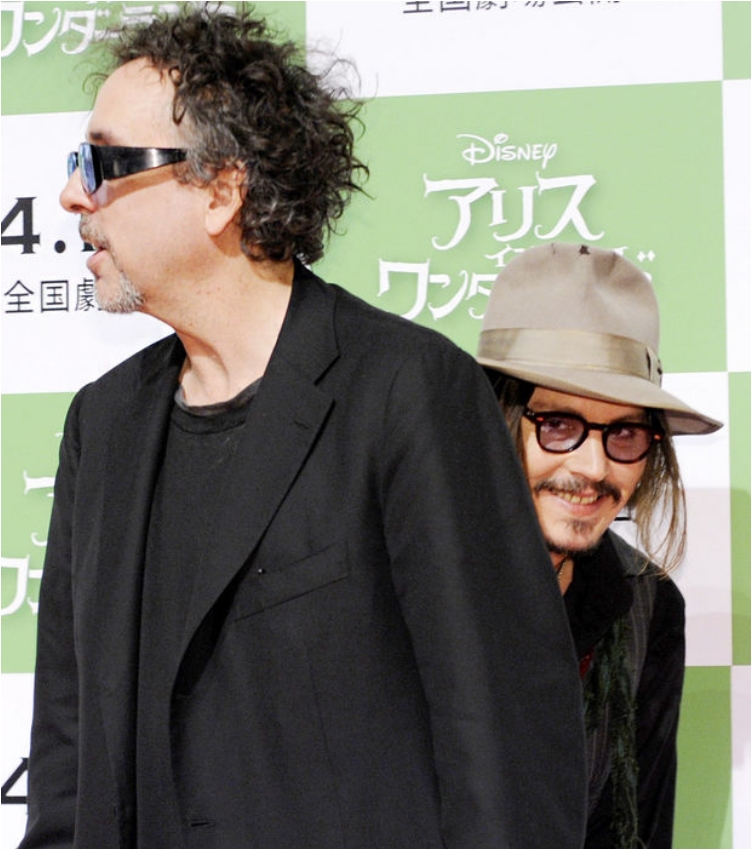 Depp and Burton are such good and close friends. They've worked together on several movies, but what are friends for if not for having fun and pulling jokes? I must say, Depp looks creepy here, as if he is going to pull Edward Scissorhands on the director.
14. Sarah Jessica Parker gets photobombed by Jennifer Lawrence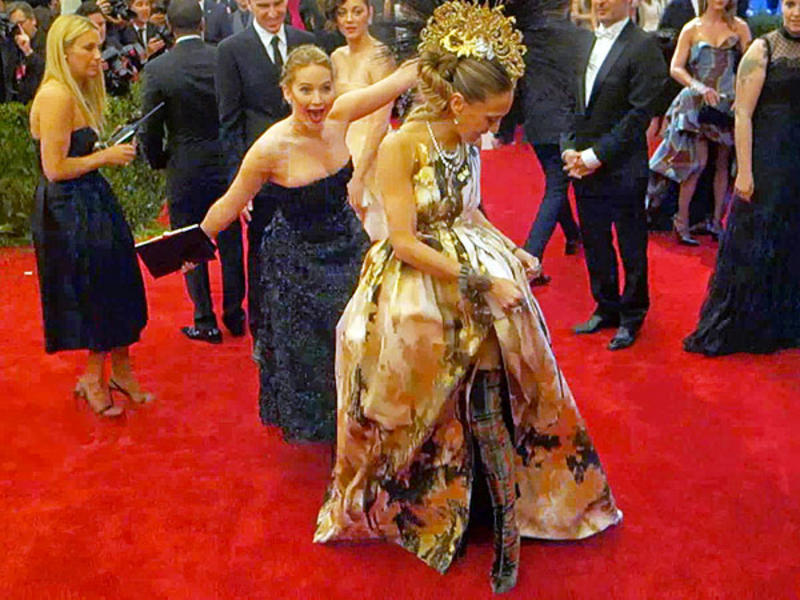 Taylor Swift is not Jennifer Lawrence's only victim. In fact, the young actress is responsible for quite a few photobombs, and this time, Sarah Jessica Parker was her victim. No matter how good you look in your dress, Jennifer can make you look funny.
15. George Clooney waves "hi" over Steven Spielberg, Jessica Seinfeld and Jerry Seinfeld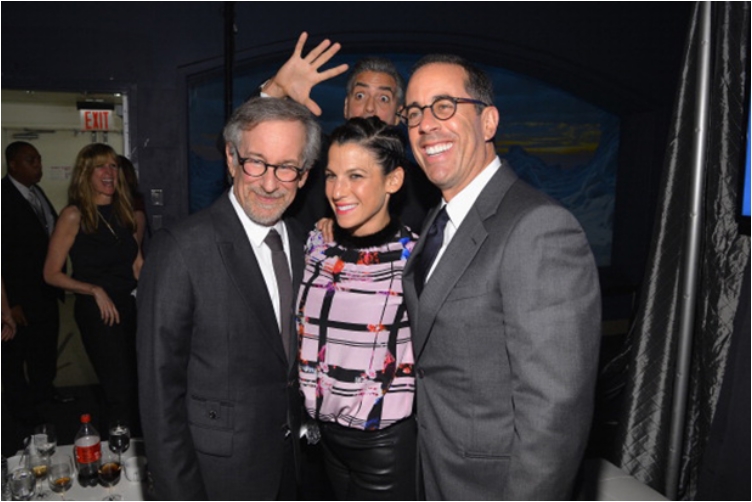 Who would have thought that even George Clooney had a fun side like this to him? Oh come on, we're just kidding—we knew he was a comedian. Despite his serious movies, Clooney has always been a charmer and a funny guy.
16. Daniel Craig photobombs Taylor Swift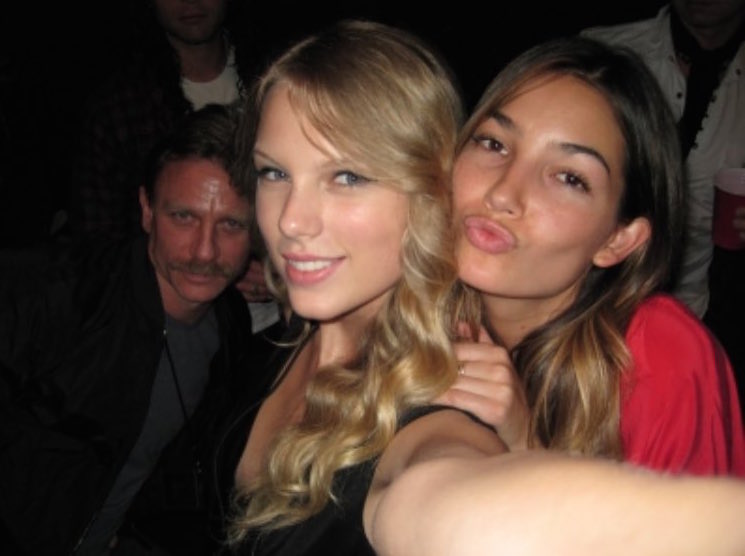 Poor Taylor. It's one thing to get photobombed once, but getting photobombed twice—and this time on a selfie? Now that is too much, even for Swift to handle. Who knows, maybe she's written a song about it.
17. Anthony Anderson sneaks up on Adrian Grenier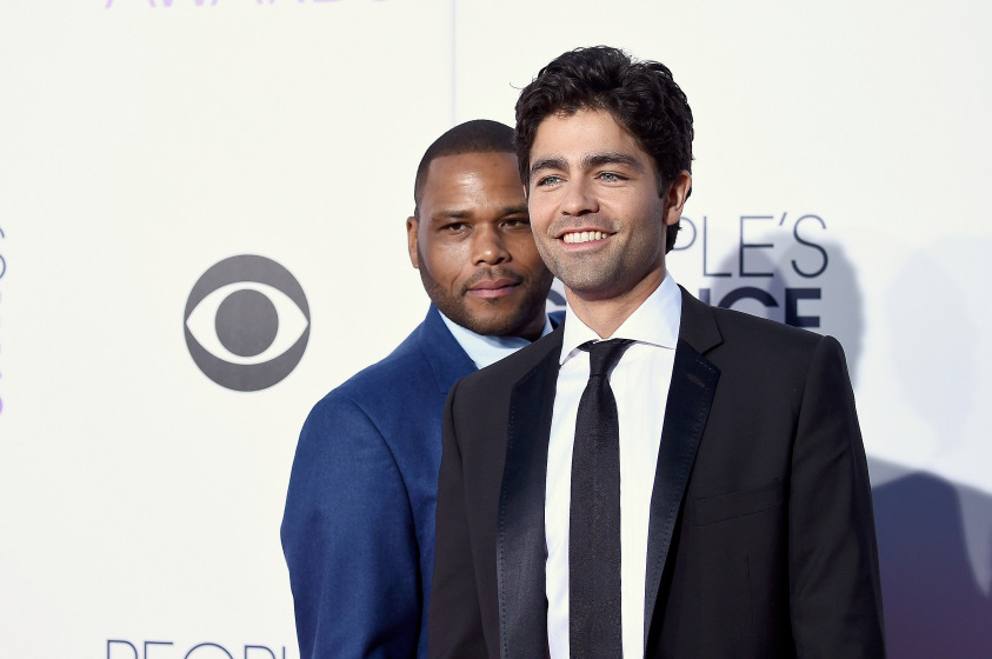 An Entourage reunion, you could say. These two were great friends in the popular TV show, but outside of the show, they love throwing pranks and jokes on each other. Just look at that killer face on Anderson.
18. Younghee Lee, Gigi Hadid and Carine Roitfeld photobombed by Jared Leto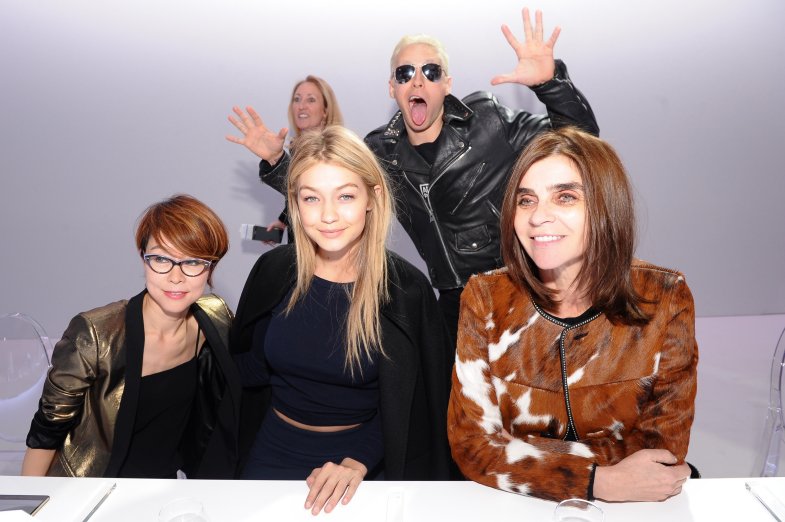 It seems like Jarred Leto was preparing for his role as the Joker in Suicide Squad even before he was the Joker. This is a classic prank the Joker would do on his friends—or on total strangers—and it suits Leto perfectly.
19. Robert Pattison photobombing a group of friends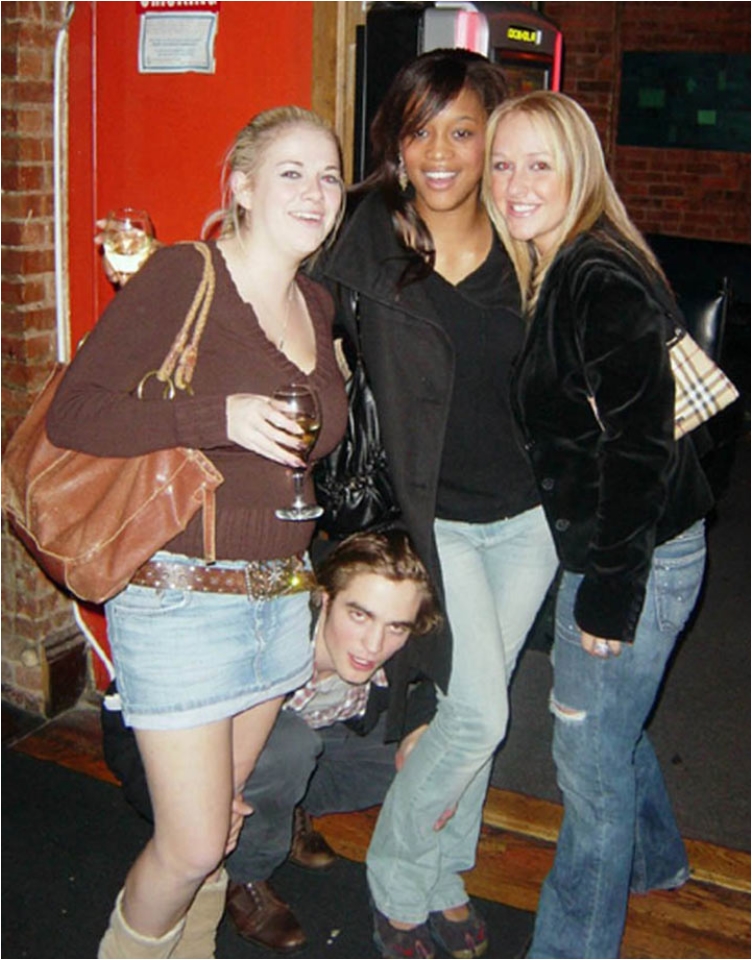 I am sure the girls didn't mind Pattison spending some time and hanging out with them. After all, this was when Robert was at the height of his popularity thanks to Twilight, and teenagers all over the world were falling for him.
20. Niall Horan jumps into a fan shot with Harry Styles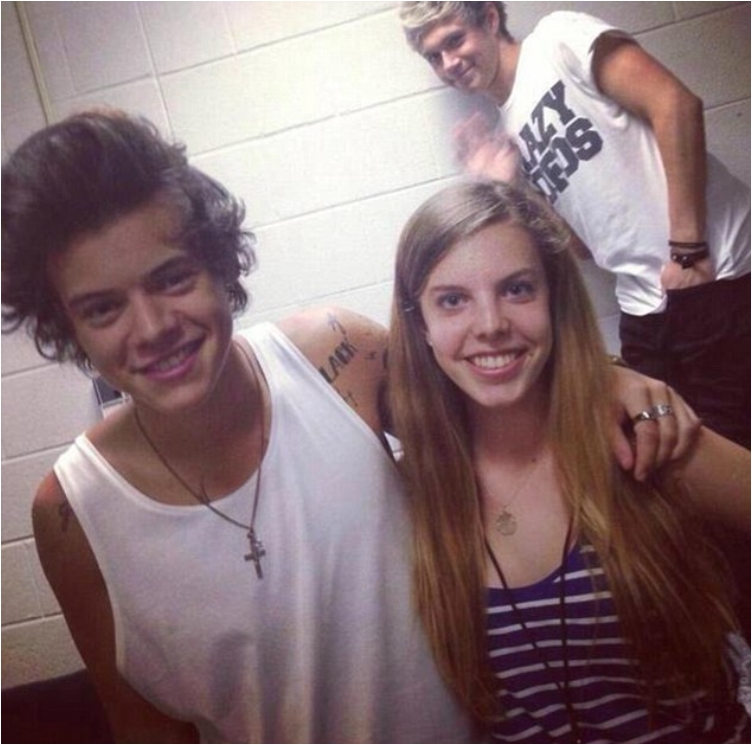 I feel sorry for this girl. She wanted a fan photo with Harry, and she ended up being photobombed. Well, that's what happens when you manage to get backstage with One Direction.
21. Kourtney Kardashian photobombed by Jennifer Saunders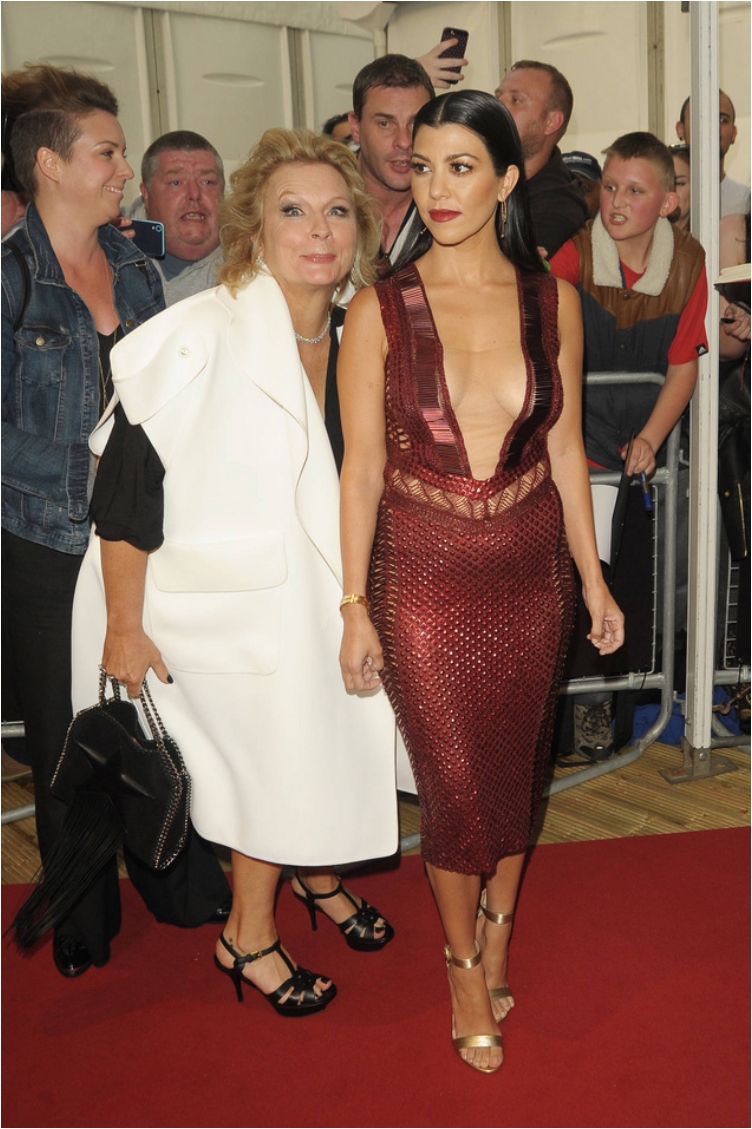 Jennifer is a comedian by occupation, but who would have thought the 50-something actress had this up her sleeve. Kudos for a perfect photobomb.
22. Joe Jonas photobombs Nick Jonas and Demi Lovato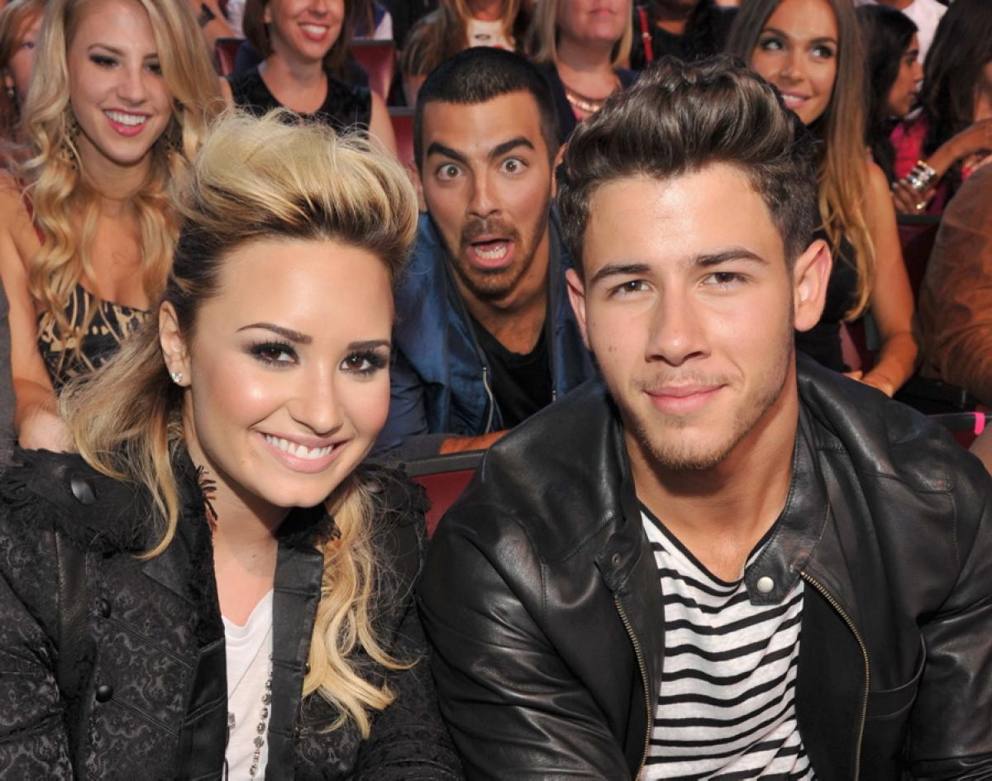 Who knows, maybe this photobomb is the reason the Jonas brothers disbanded and each went his own way? Nah, just kidding, Joe is happy that his little brother is dating Demi Lovato.
23. Nicholas Hoult gets a double photobombing by Jennifer Lawrence and Michael Fassbender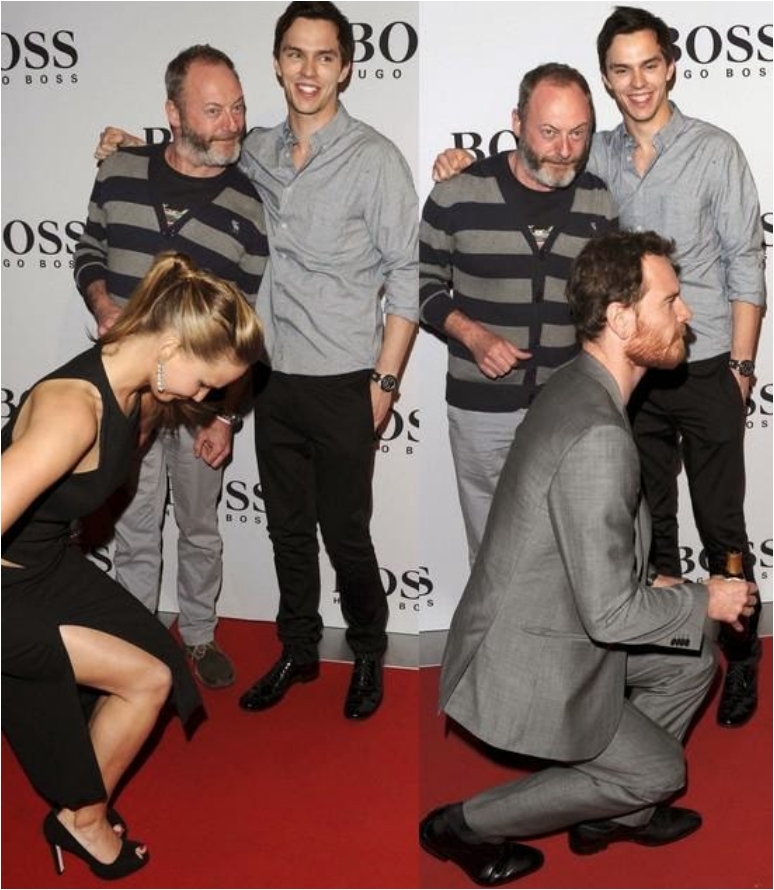 This is just the cast of X-Men having fun. You gotta love Magneto pulling pranks on other cast members. We all know Magneto as this serious character, but when he goes and does something like this, we must enjoy.
24. George Clooney photobombs Cindy Crawford and Rande Gerber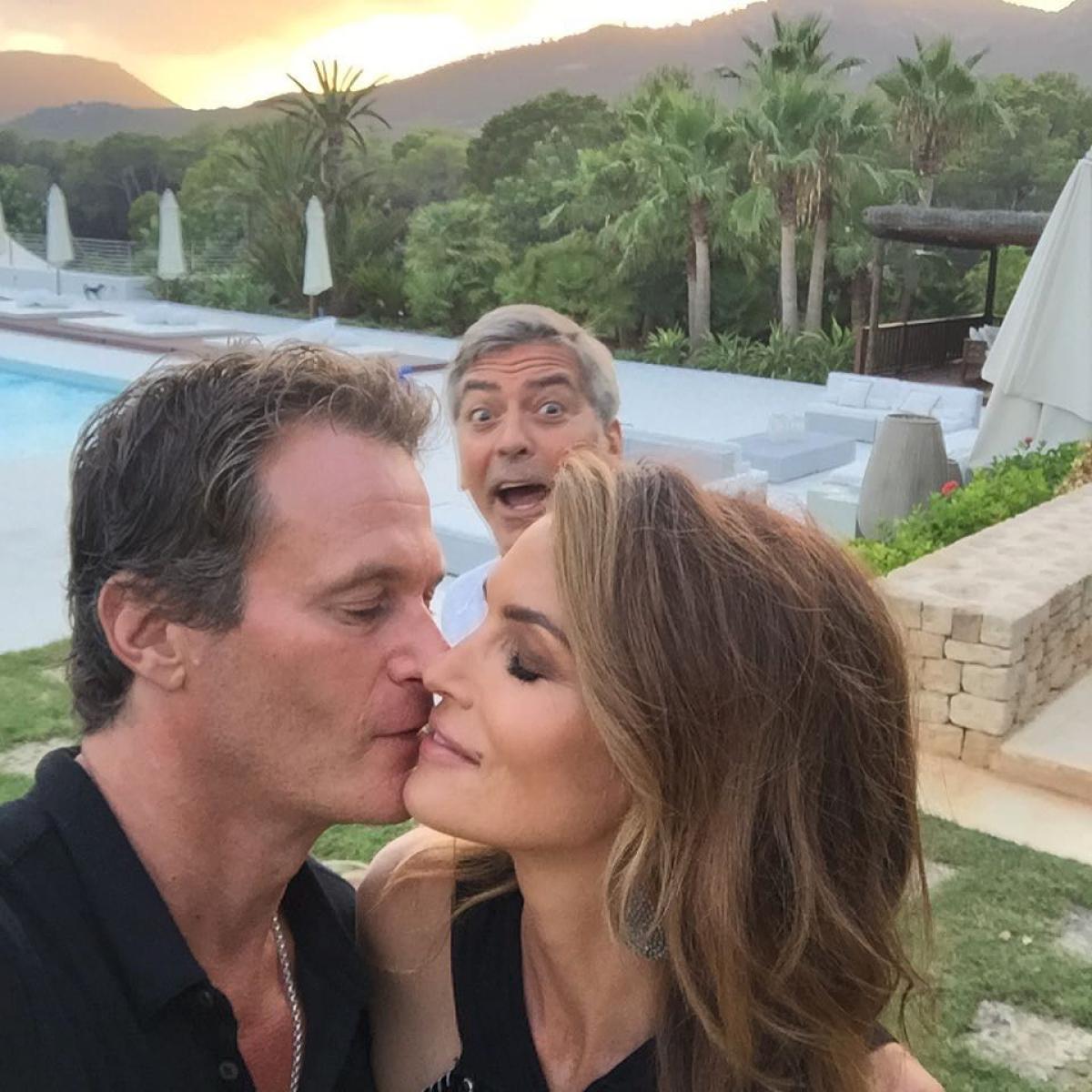 I told you Clooney is not the nice guy everyone think he is. How can you spoil such a good kiss? Well, you can, and you should. Romance is intimate; it's not for the public's eye.
25. Emily Bett Rickards photobombed by Colton Haynes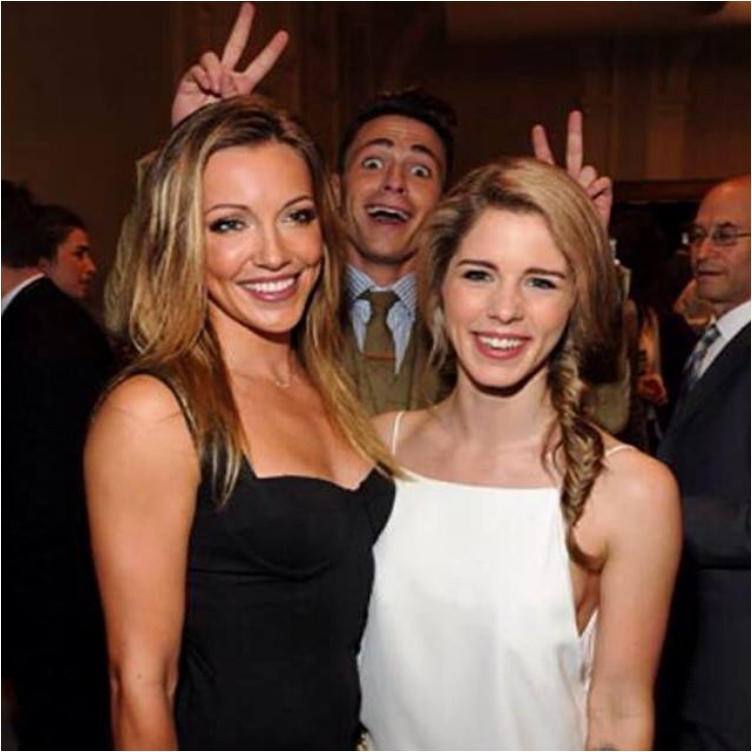 Most men would love to be in a picture with two beautiful ladies. And there are different ways to do it. Colton chose to photobomb rather than cuddle up!
26. Anne Hathaway photobombed twice by Joshua Jackson and Gisele Bundchen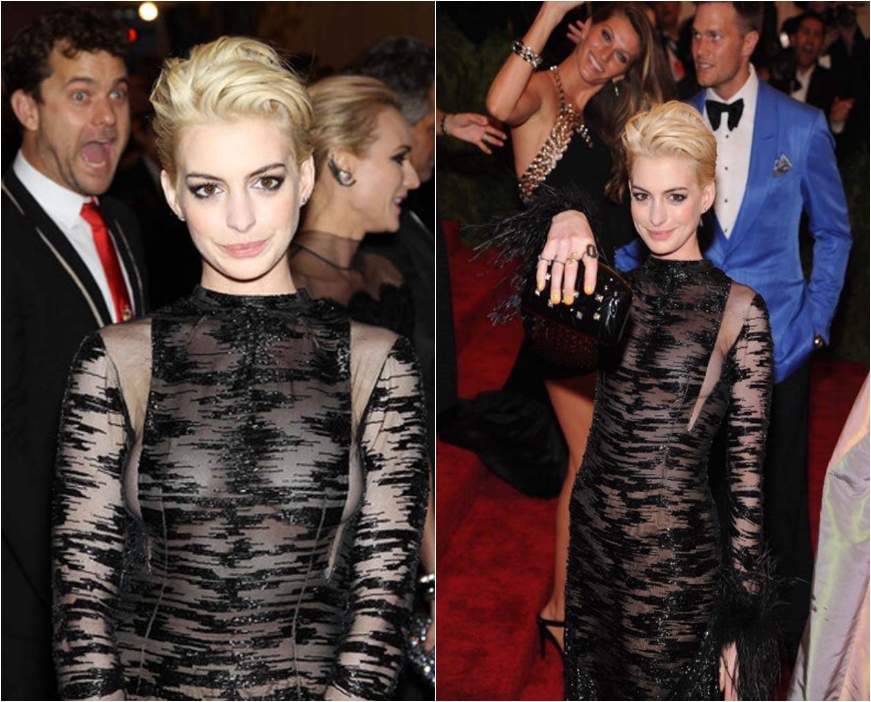 Now this is just bad luck. There is no other explanation for being photobombed twice, on the same event, by two different people who have nothing in common. Good thing Jennifer Lawrence was not there to join in the fun.
27. Vanessa Bayer casually photobombs Amy Schumer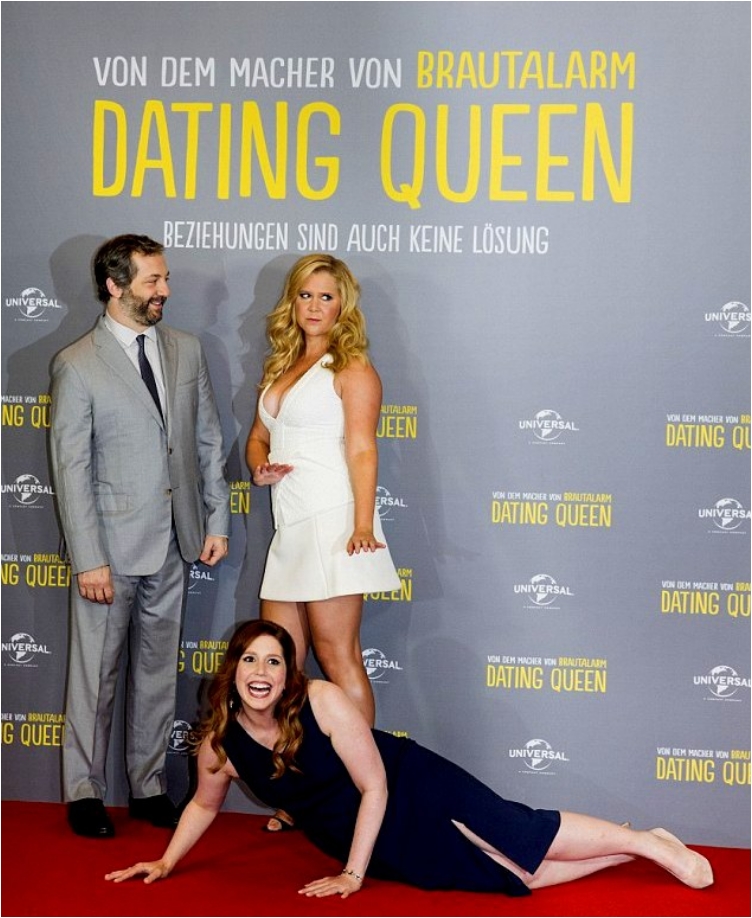 I don't know if she fell down on the red carpet or she intentionally wanted to be "down," but this picture is just priceless.
28. Rihanna photobombs Full House reunion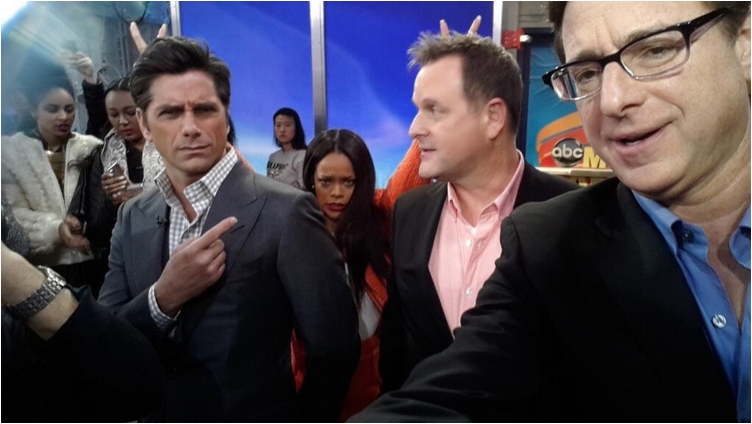 It looks like John Stamos knew Rihanna was there. Or did he? In any way, that he is pointing his finger makes this photobomb that much better.
29. Nat Wolff photobombs Cara Delevingne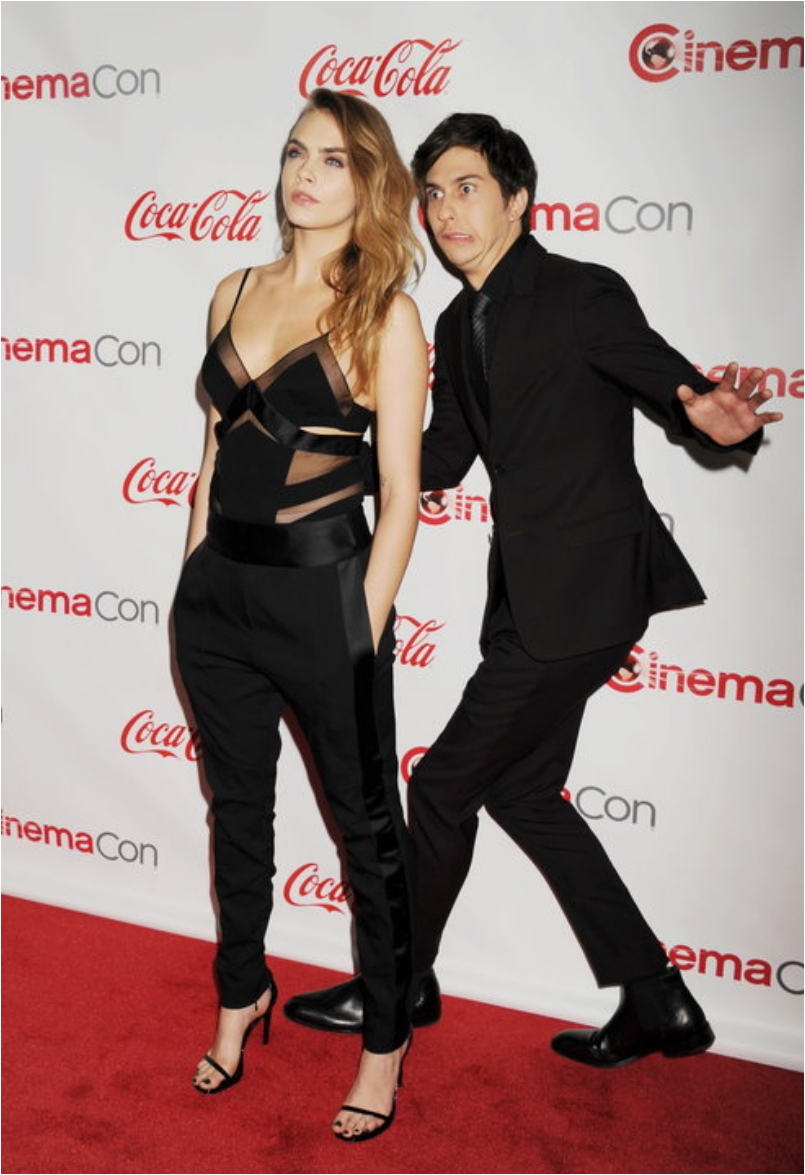 I can say that "it is scary how beautiful Kara is." But it is just creepy—like in a horror movie—how Nat does this photobomb. I hope he doesn't kill her—I love Kara.
30. Kevin Spacey photobombs a lady in Boston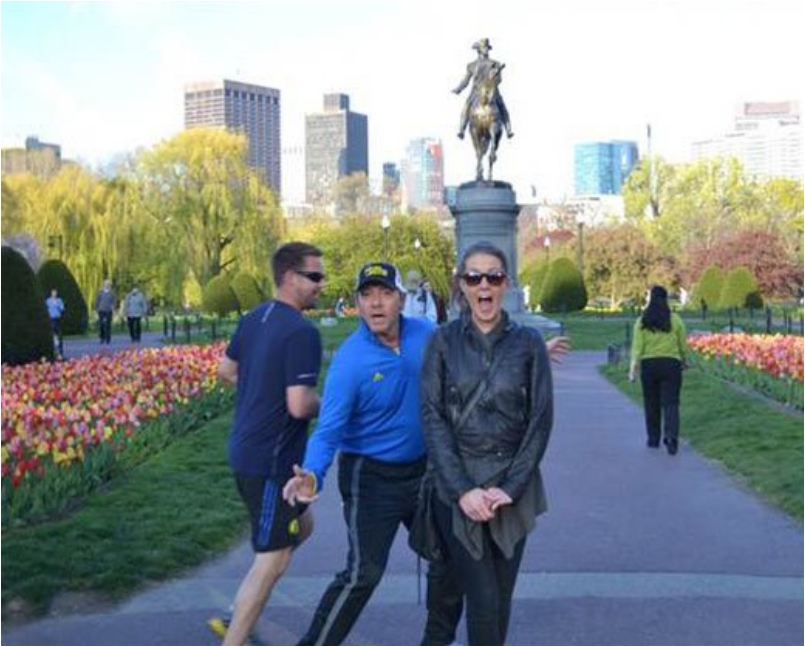 Los Angeles is not the only city in America where you can casually find celebrities on the streets. Boston is another such city, and Spacey makes sure tourists and casual walkers get their celebrity treatment.
31. Michael Strahan photobombs Jim Toth and Reese Witherspoon
I will never understand how people can get photobombed when they are trying to take a selfie. You see the guy behind you, right? But it's a great picture nevertheless. And Reese makes almost every picture great.
32. One of the many photobombs Jared Leto made at the Oscars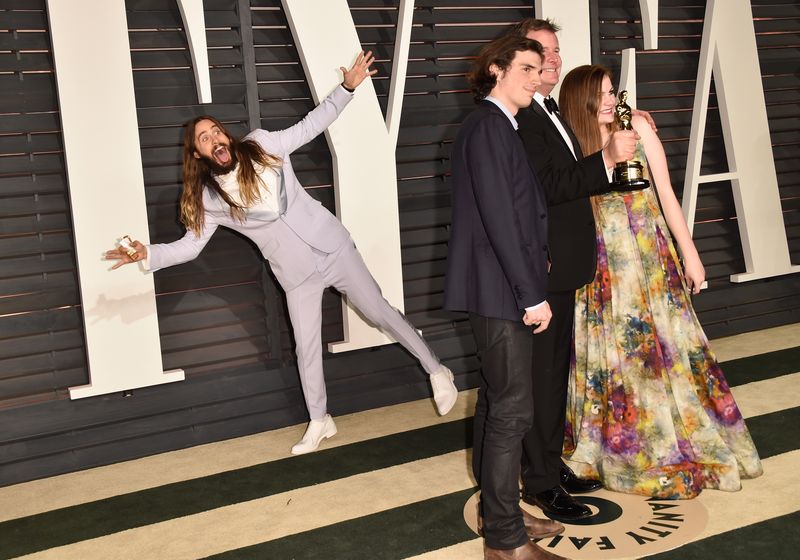 At the 2015 Oscars, Jared made a point of trying to photobomb as many celebrities as he could. Michael Keaton was one of his victims.
33. Gabrielle Union and Martin Lawrence photobombed by Dwyane Wade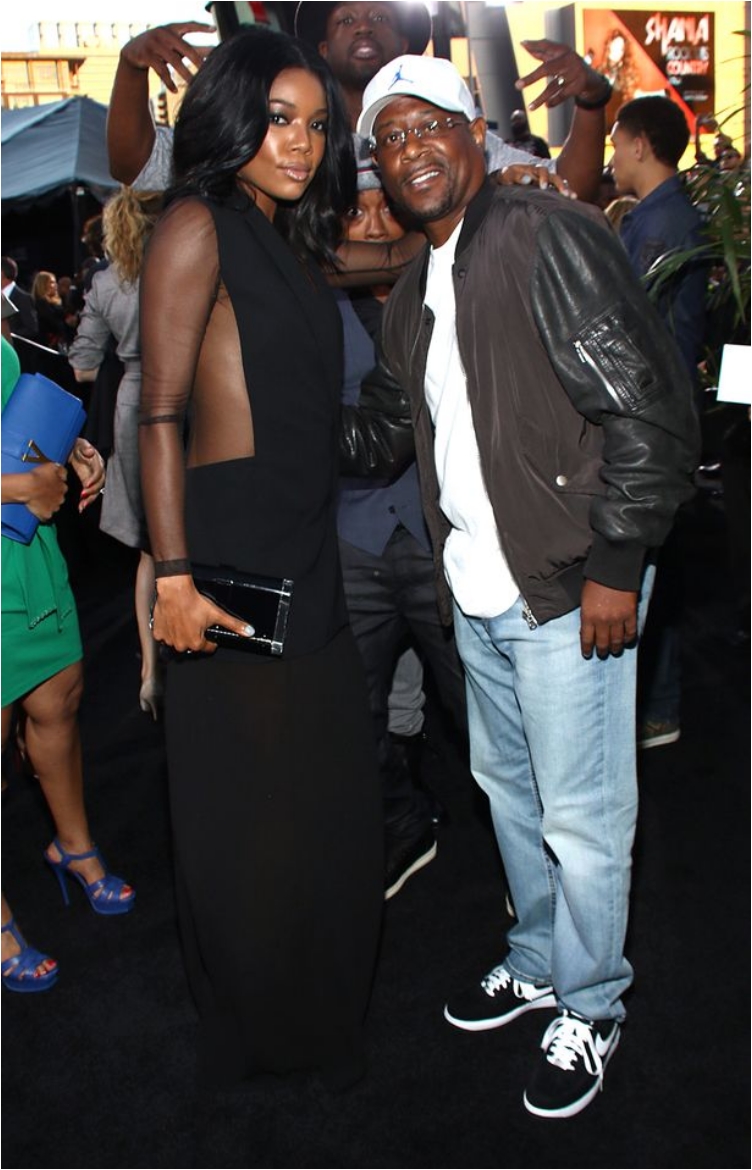 You are a famous athlete, and your wife wants to take a picture with a celebrity actor. What can you do? Well, photobomb the picture of course. I am not saying Wade is the jealous type; he is just a funny and comedian type.
34. Bryant Gumbel creeps up on Hilary Quinlan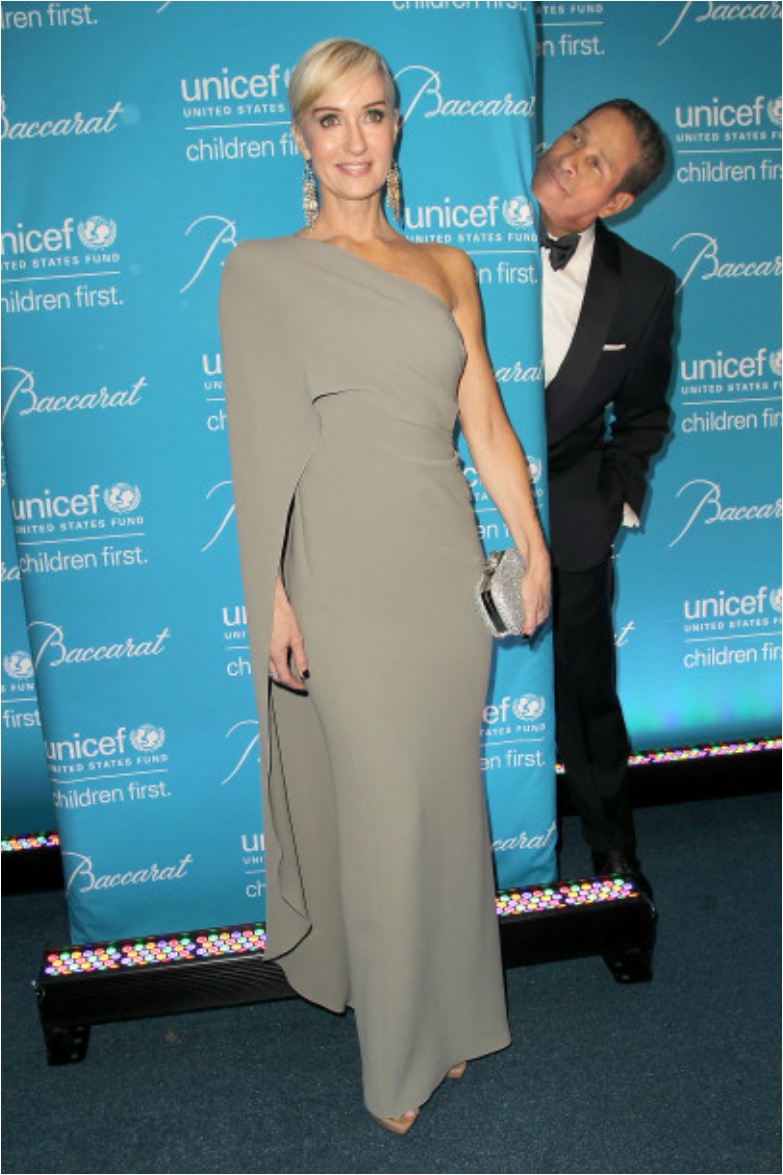 When it comes to photobombs, one of my favorites is the creepy type. They look scary, intimidating, and perfect at the same time.
35.  James Marsden and Kathryn Hahn photobombed by Jack Black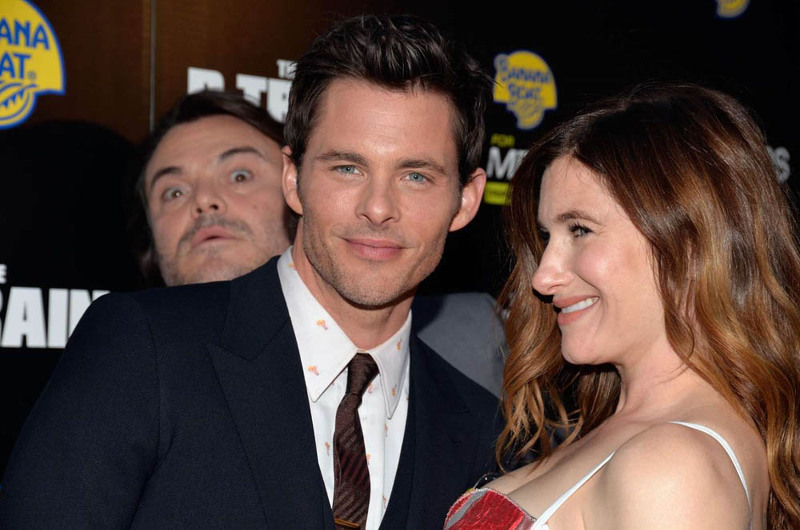 You know what makes Jack Black such an awesome character for photobombs? He has a big face, and when he enters the picture, he just steals the show. No matter who else is on the photo, Jack is the star of the show.
36. Julie Bowen photobombs Ty Burrell
You want to be photographed regularly and show your awesome new suit on the red carpet? Julie Bowen doesn't allow that!
37. Another photobomb for Reese Witherspoon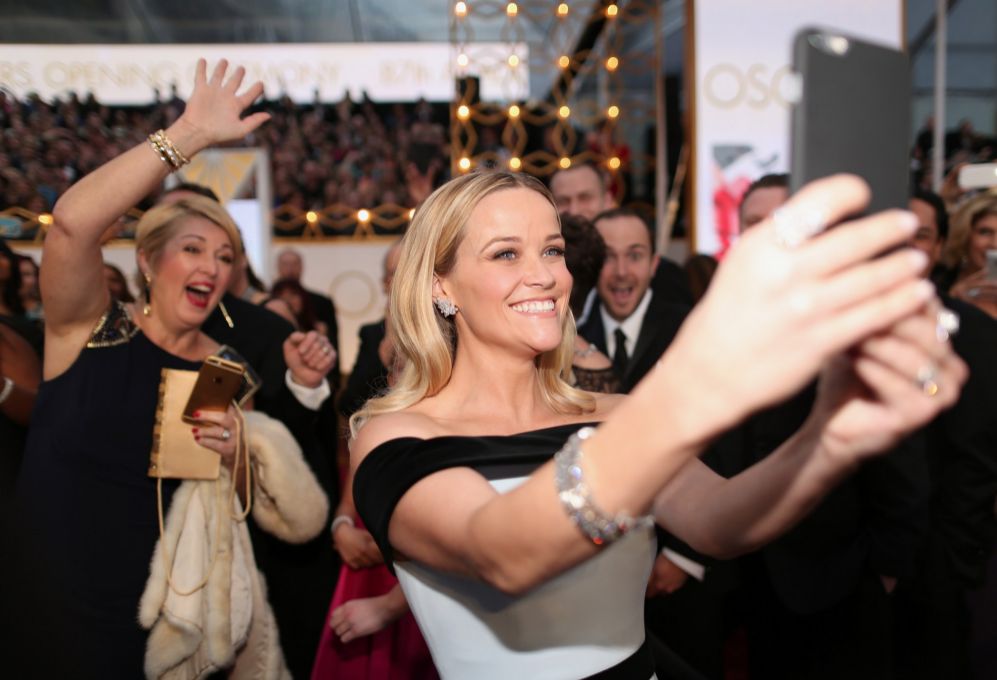 Reese is just such a lovely, cute, and adorable character, you can't help but love her. Even when she is the victim of a photobomb.
38. Kate Middleton photobombs a kid's selfie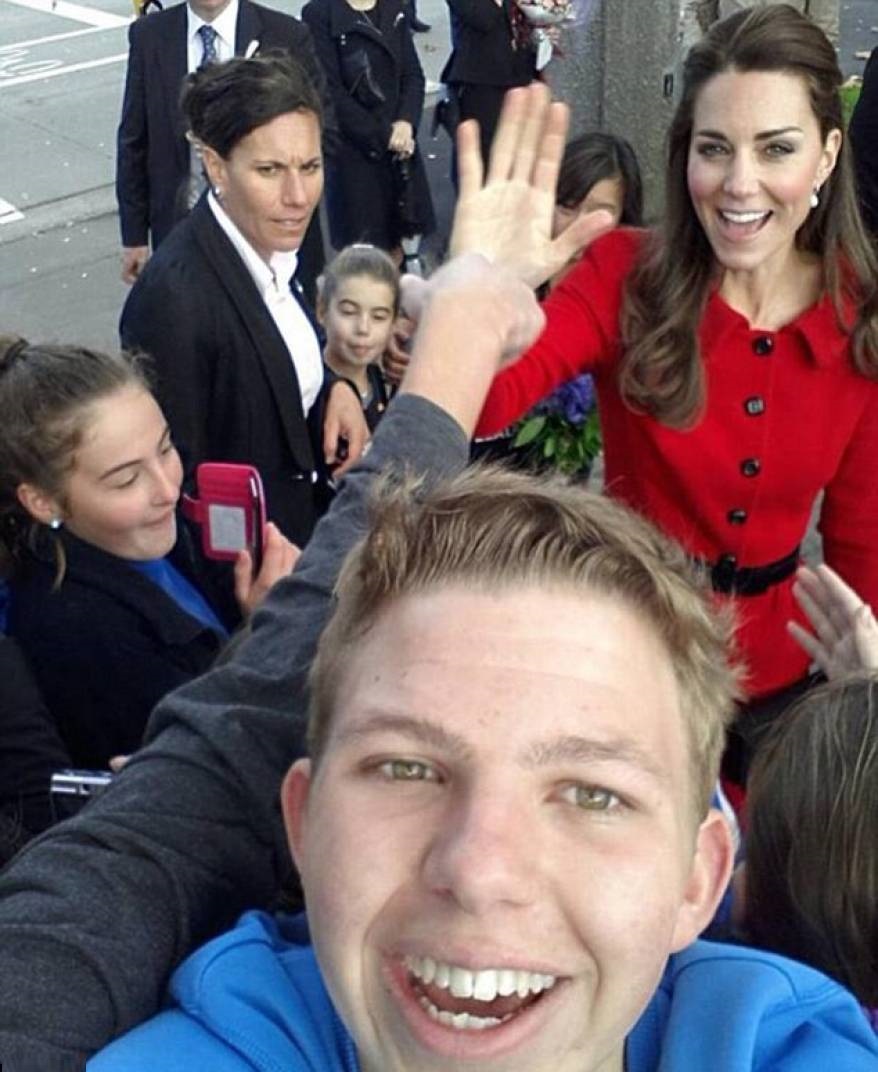 Part of the job description when you are the Duchess and wife of the future King of England is to participate in kids' events, support children and inspire young people. And Kate Middleton does this job to perfection. But from time to time, she is able to get out of the Duchess skin and just have some fun.
39. Jennifer Lawrence (again) photobombing Josh Jatcherson, Liam Hemsworth and Conan O'Brien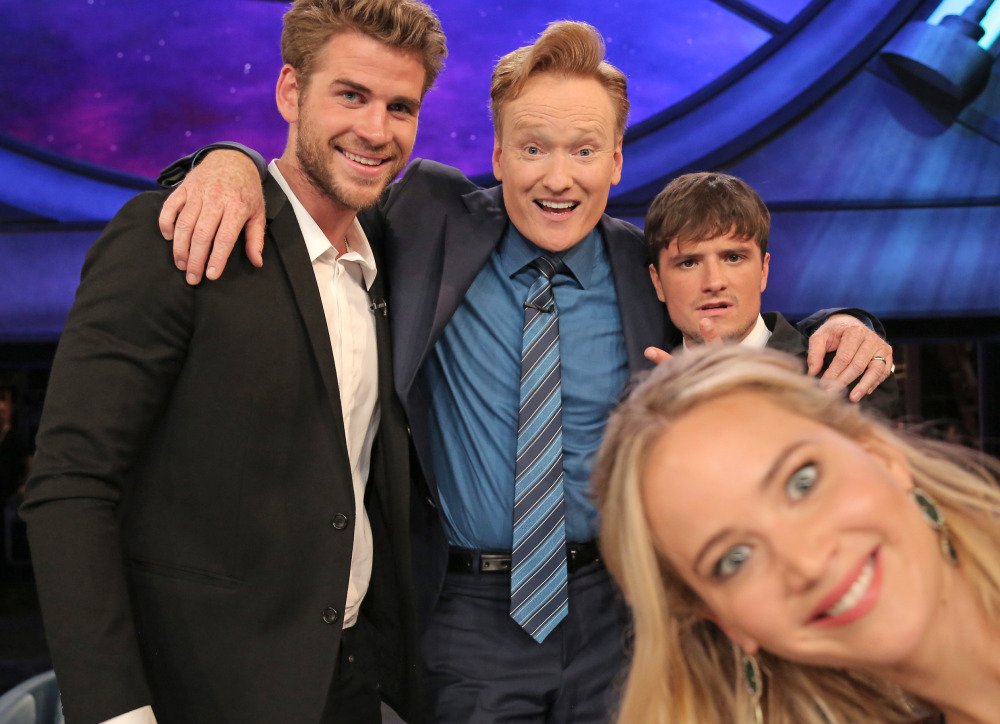 I bet celebrities in Hollywood are thinking, "Where is Jennifer Lawrence, can I take a photo now?" It's as if she is lurking in the shadows, waiting to spoil a picture or two.
40. Hugo Taylor gets photobombed by Spencer Matthews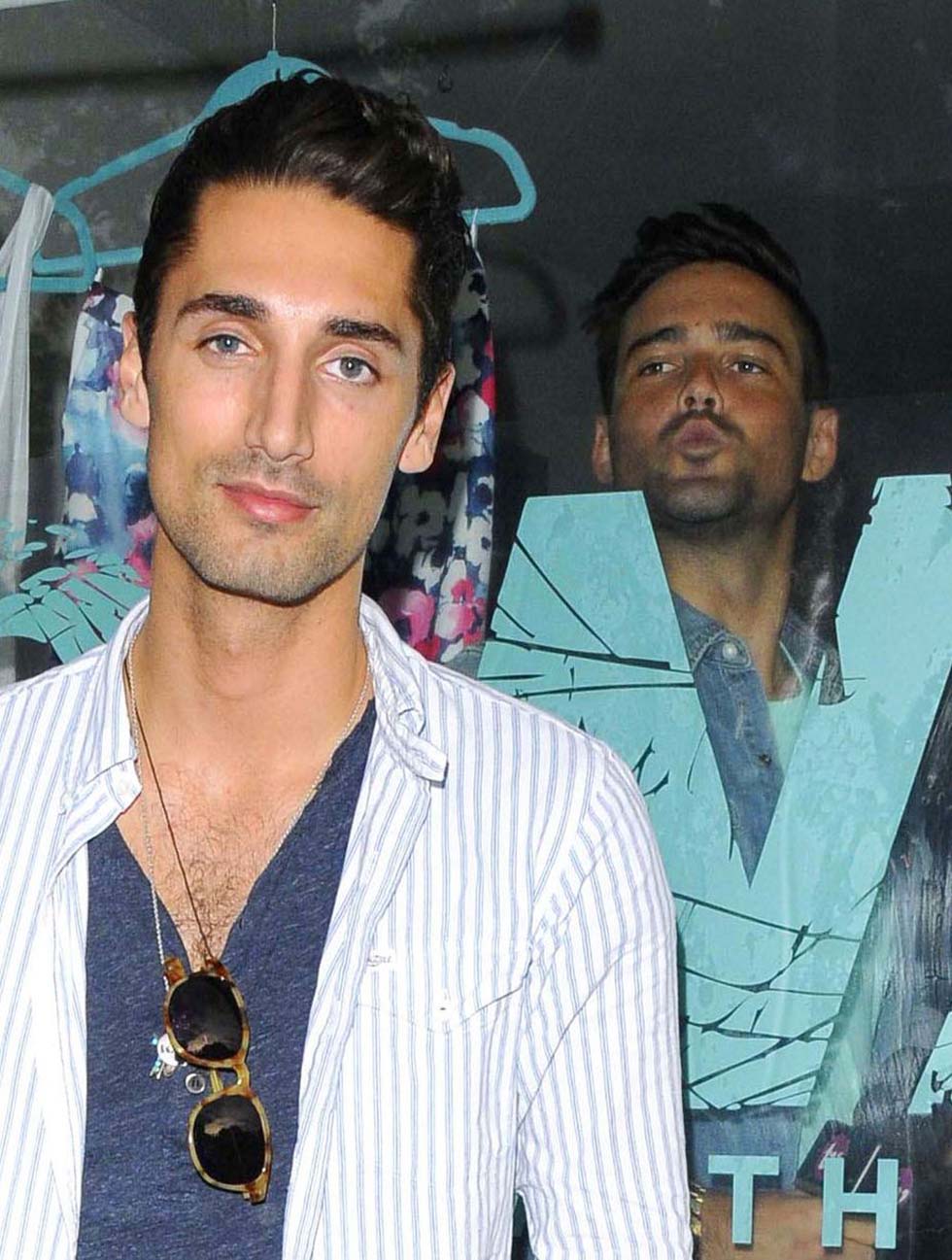 Spencer Matthews will soon become closer to the royal family, as his brother is engaged to Pippa Middleton. But there was a time when the TV star could pull pranks on his friends all the time.
41. Ellen DeGeneres and her wife, Portia de Rossi, photobombed by Kelly Clarkson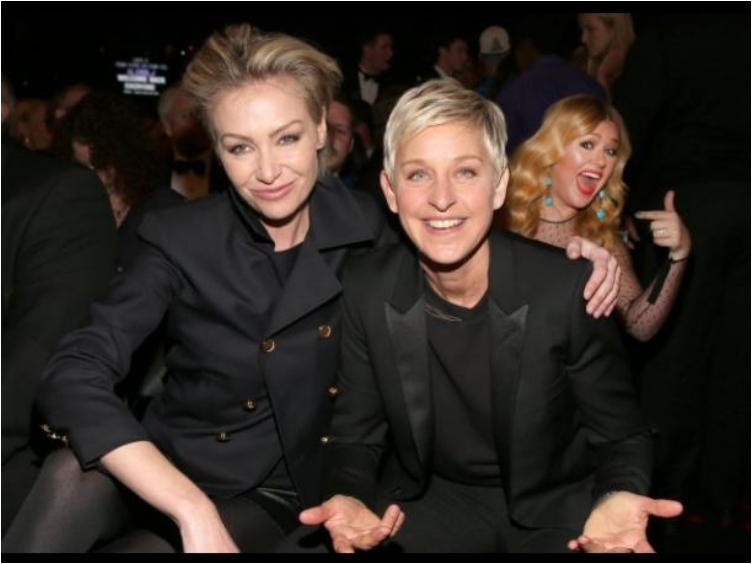 You would expect that Ellen would be the one photobombing people, but even the best of us can get pranked from time to time. Ellen and her wife are a perfect example showing that you are never immune to a good photobomber.
42. Benedict Cumberbatch does the same photobomb to U2 at the Oscars in 2014 and to Meryl Streep at the Golden Globes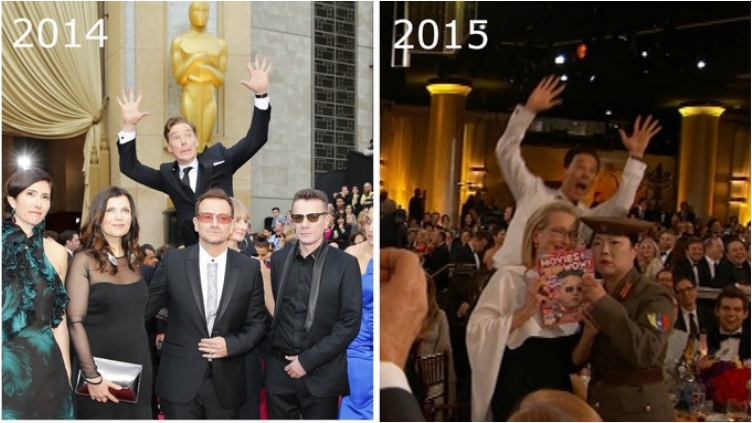 Benedict is always a welcome addition to a gala event. He just manages to pull a joke or two that can turn even a boring event into an hilarious night. Not that the Oscars are boring, but Cumberbatch is just plain awesome. Bonus points for striking the same pose.
43. 50 Cent and Naomi Campbell get photobombed by Leonardo DiCaprio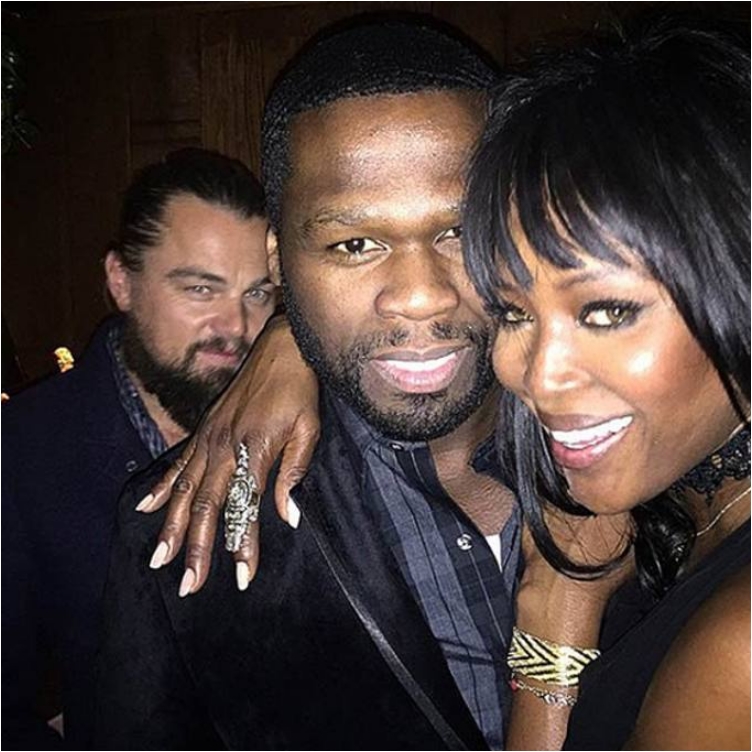 Nobody is immune to Leonardo's photobombs. And he looks scary with that beard of his, lurking in the shadows behind 50 Cent.
44. Prince Harry photobombs model Winnie Harlow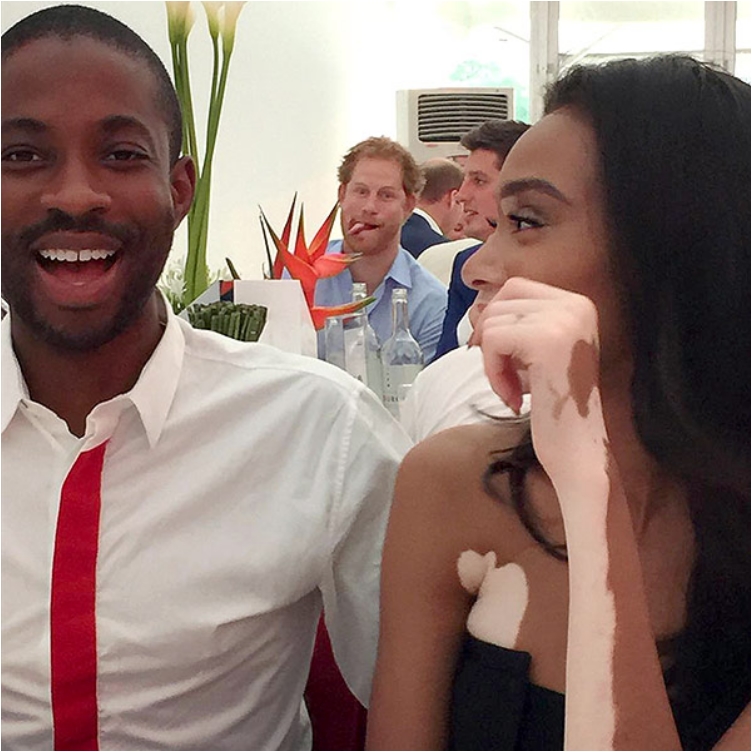 Hey, royals can have their fair share of fun as well. And besides, Prince Harry is the fun one, William is the more serious guy. I don't know if the Queen approves of this, but Harry has his fun.
45. Adam Lavine photobombing Blake Shelton's interview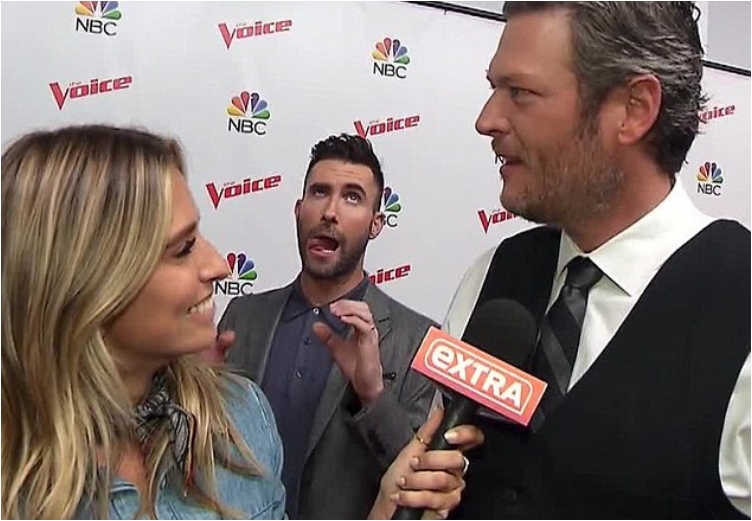 This one has to be one of my favorite photobombs. Adam Levine's face is just plain gold.