Cynthia Bennet is an avid hiker. Her boyfriend as well. They love traveling, going on adventures, and sleeping alfresco. But what they lacked during their time traveling was companion. So, they found one in a dog called Henry, which they adopted back in 2014. Soon after, they adopted a cat, and now the cat and dog love traveling together with Cynthia and her boyfriend.
As soon Cynthia noticed Henry, she fell in love with him. He curled into her lap and went belly up and flipped his head over her arm. From then on, she decided he was coming everywhere with her.
Soon after, the pair found Baloo, a Siamese kitten mix at a local shelter. Baloo and Henry soon became best friends, going together with Cynthia on epic adventures to the highest rocks on hiking trips.
1.Helping each other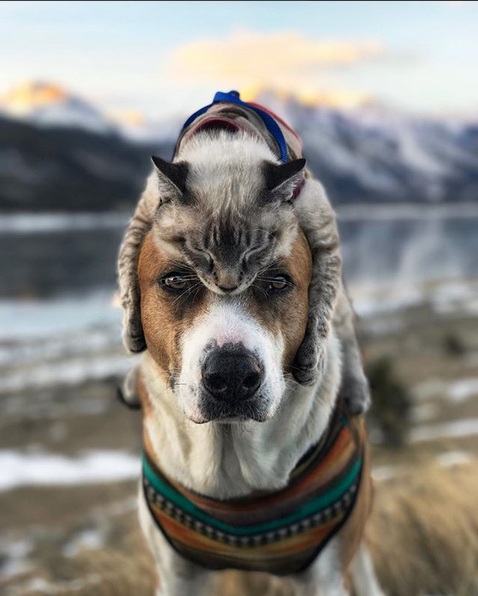 These two are just so adorable together, but more importantly, they take care of each other. Henry is the one carrying the load, while Baloo makes sure that Henry is warm and cozy at all times. Definitely the best of friends.
2. Brothers or parents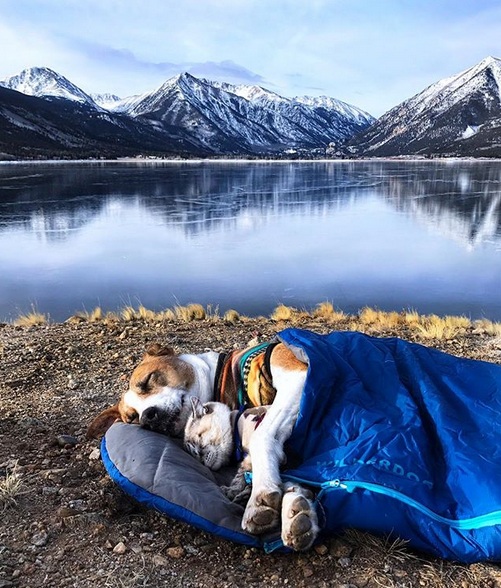 Cynthia calls the cat and dog love traveling together brothers. However, she thinks that Baloo thinks of Henry as his mother. He constantly looks for a teet, and he'l go in and he is nuzzling under Henry's armpit.
3. Pack the essentials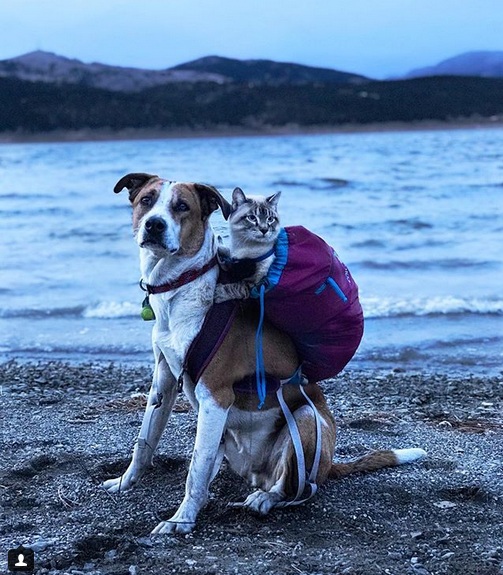 When you go on a hiking trip, you pack only the essentials you need. After all, you do not want to carry a heavy load. For Henry, packing the essentials means packing Baloo in his backpack. He doesn't need anything else.
4. Watching the sunrise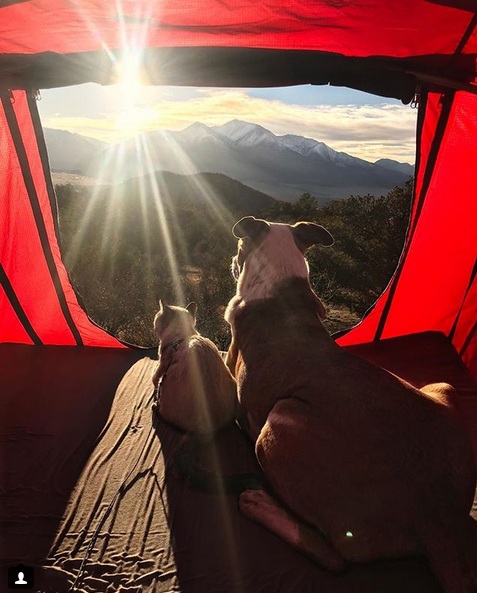 Not only this cat and dog love traveling together, but they also love sharing memorable and unforgettable moments as well. Just look at the sunrise, and how beautiful it is. Most of us dream of experiencing this moment with a love one. Henry and Baloo want to share the moment together. They might not be lovers, but they are just made for each other.
5. Picture with mommy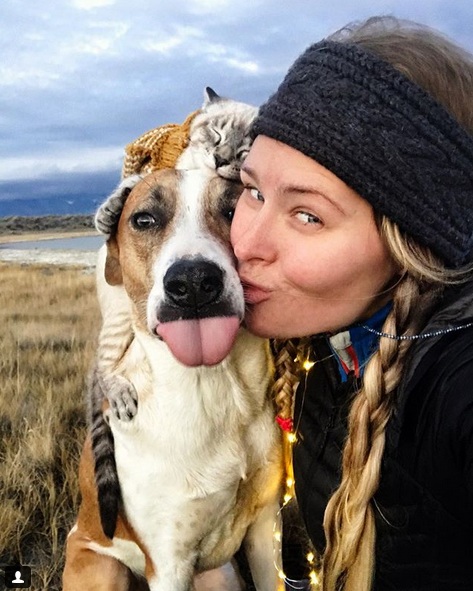 Cynthia is the one taking the pictures in most cases. And then she shares them to Instagram where Henry and Baloo have more than 600k followers. But every now and then, she wants to get into the picture as well.
6. Loving the flowers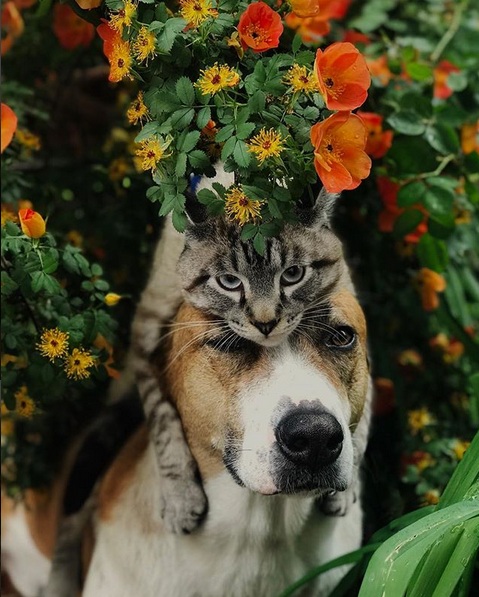 When you think of cat and dog, you do not think of animals much into flowers. Yes, dogs love to dig, and they can make a mess in the yard. But staying still and enjoying flowers? Now that is something you rarely see.
7. Enjoying the car ride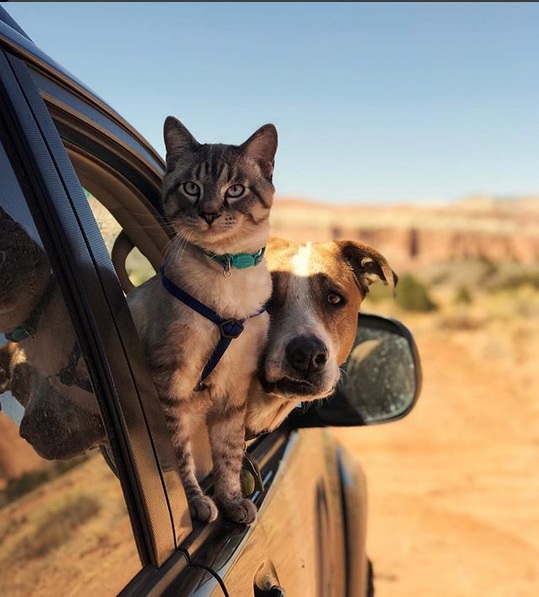 The two road warriors are always ready for the weekend getaways. Just call them, and they will hop in the car and wait for the ride to finish. Once in the mountains, they can enjoy the freedom of roaming around together. Really just a match made in heaven.
8. Hanging around together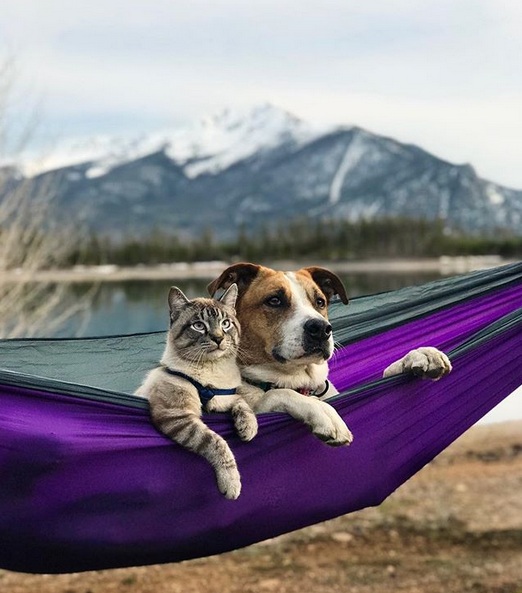 Hiking and mountain adventures usually means a lot of walking. But every now and then, you have to take a moment to relax, and enjoy the nature. Henry and Baloo certainly have those moments.
9. It is nap time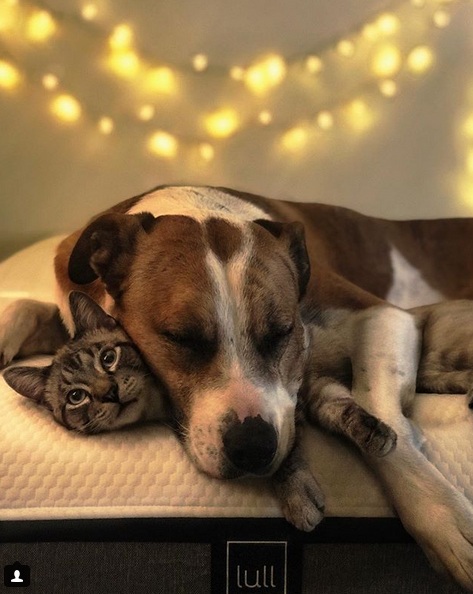 Just look at how calmly Henry is sleeping. Baloo, on the other hand, still wants to play and have some fun. And that is sometimes an issue. He has to be told to go sleep. Otherwise, Cynthia cannot get some sleep as well.
10. Getting their feet wet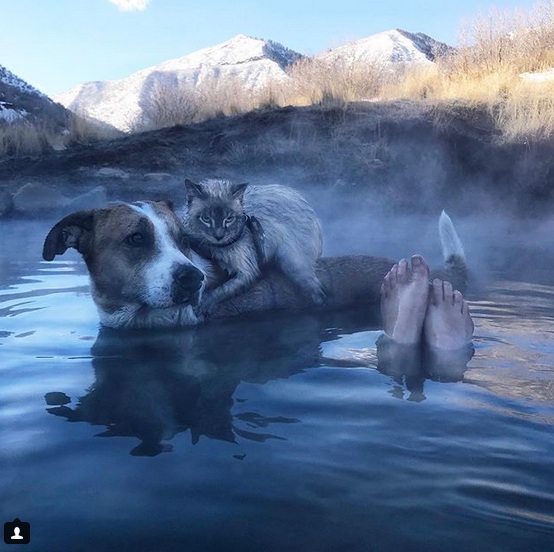 Henry and Baloo travel through the entire year. And that means springtime, and getting their feet wet in the natural lakes in the mountains. They love to soak inside those. If you enjoyed their pictures, feel free to visit their Instagram page as well.