I've said it many times: tattoos are a very personal decoration. Sometimes, tattoos carry a deep personal message—one that only the bearer knows. Other times, tattoos are a way to celebrate friendship and love between two people.
And sometimes, tattoos are like a bar code, a way to show what your profession is. Personally, I don't think that you need to show what you do with a tattoo, but I never judge. And I must admit, these tattoos look great, no matter if you are showing your career arc or not. And besides, nobody will ask you what you do for living any more.
1. Doctor/Nurse Tattoo Idea No. 1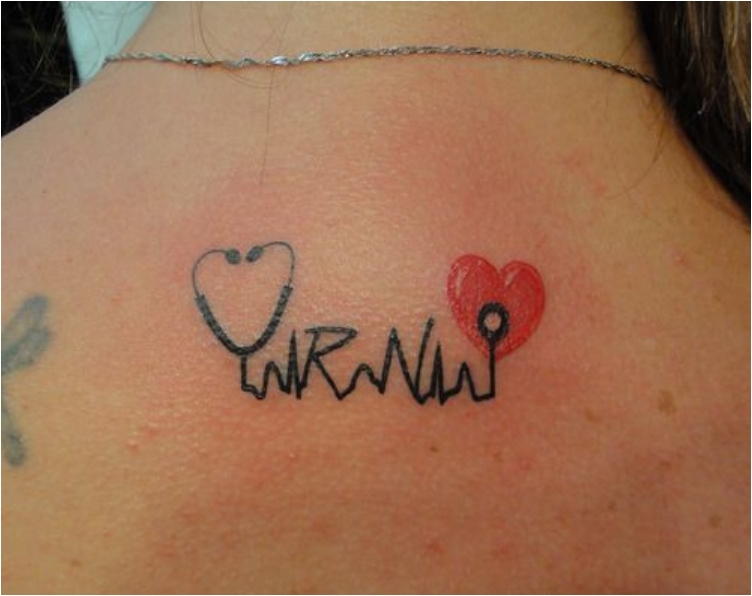 Heart rate is probably one of the most recognizable symbols when it comes to the medical industry. This tattoo not only shows your career, but also looks adorable.
2. Doctor/Nurse Tattoo Idea No. 2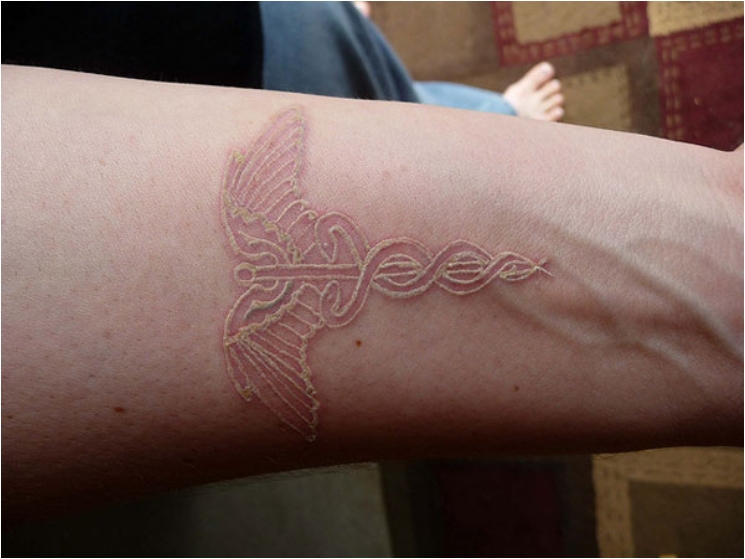 If you are wondering what this symbol is, it is the caduceus. With its two snakes and wings, the caduceus is often used as a symbol for medicine.
3. Doctor/Nurse Tattoo Idea No. 3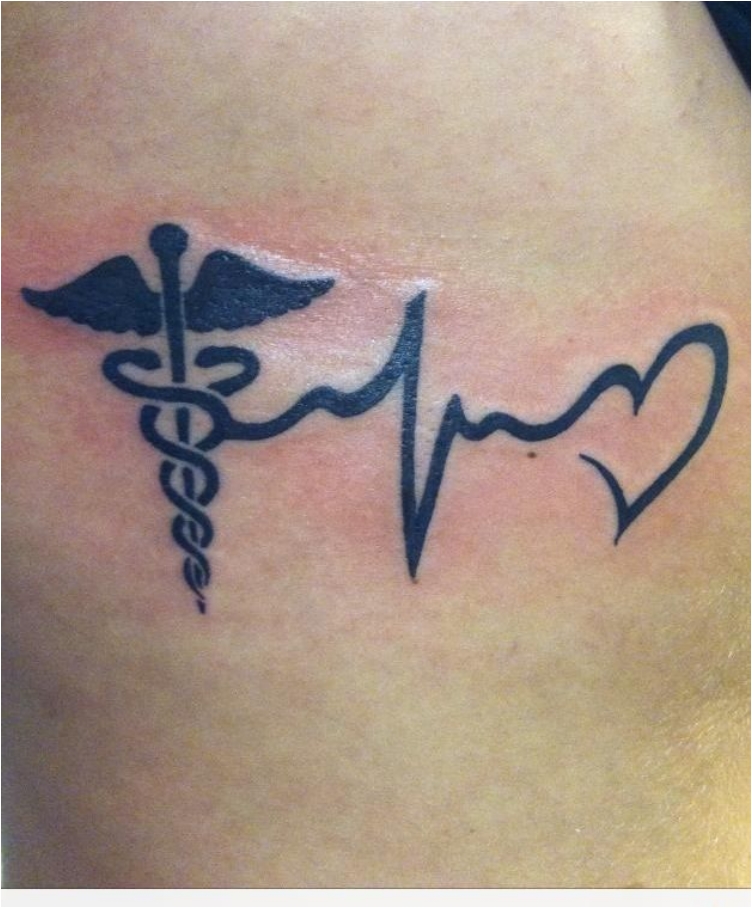 This one is a bit more artistic, but it still keeps the same medical symbols. You've got the symbol of medicine and a heart rate, ending up in what is an "unfinished" heart symbol. I like the flow of the tattoo, and honestly, you can add the ink even if you're not a doctor.
4. Singer Tattoo Idea No. 1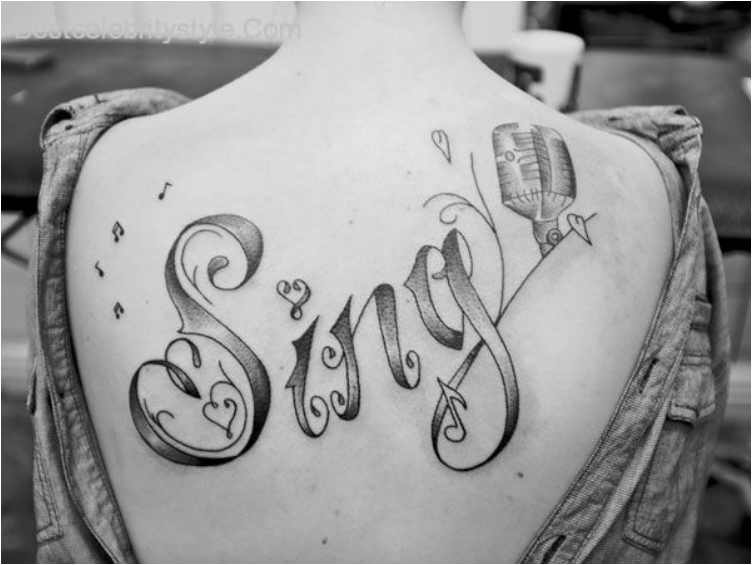 What had you expected for a singer? Anything less than a microphone is not good enough. I love that the tattoo takes it to the next level, with the perfectly designed "Sing" accompanied by all the music symbols you can think of.
5. Singer Tattoo Idea No. 2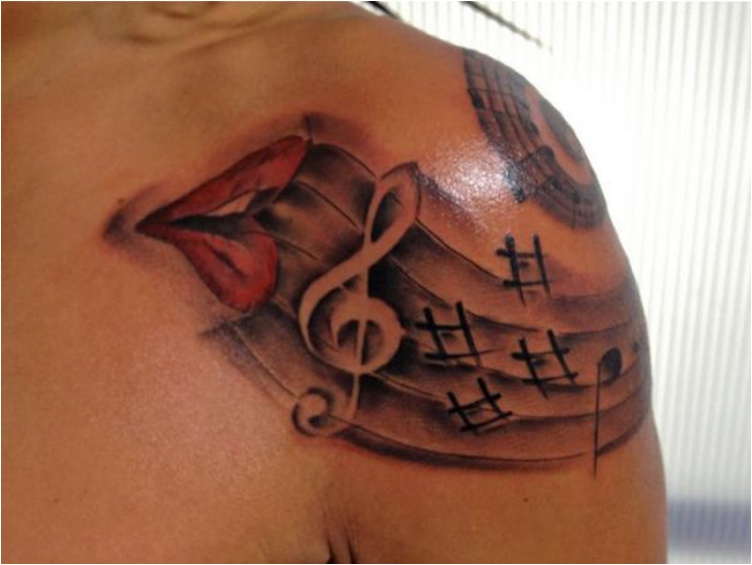 Now this is what I call an artistic tattoo. And it's another tattoo idea that you can use even if you are not part of the singing industry. The blow of a kiss, followed by the treble clef and the dotted line, is just perfect.
6. Singer Tattoo Idea No. 3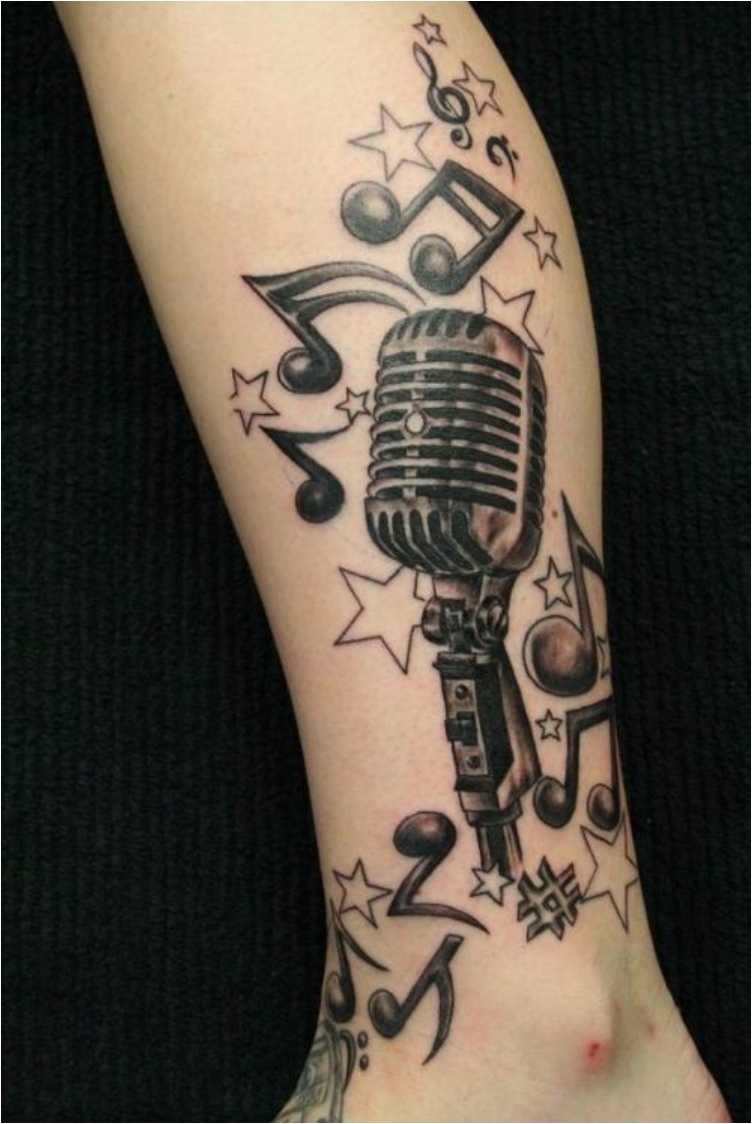 You can say this is a symphony of music symbols. The tattoo looks playful and interesting, good enough for decorating any part of your body.
7. Hair Stylist Tattoo Idea No. 1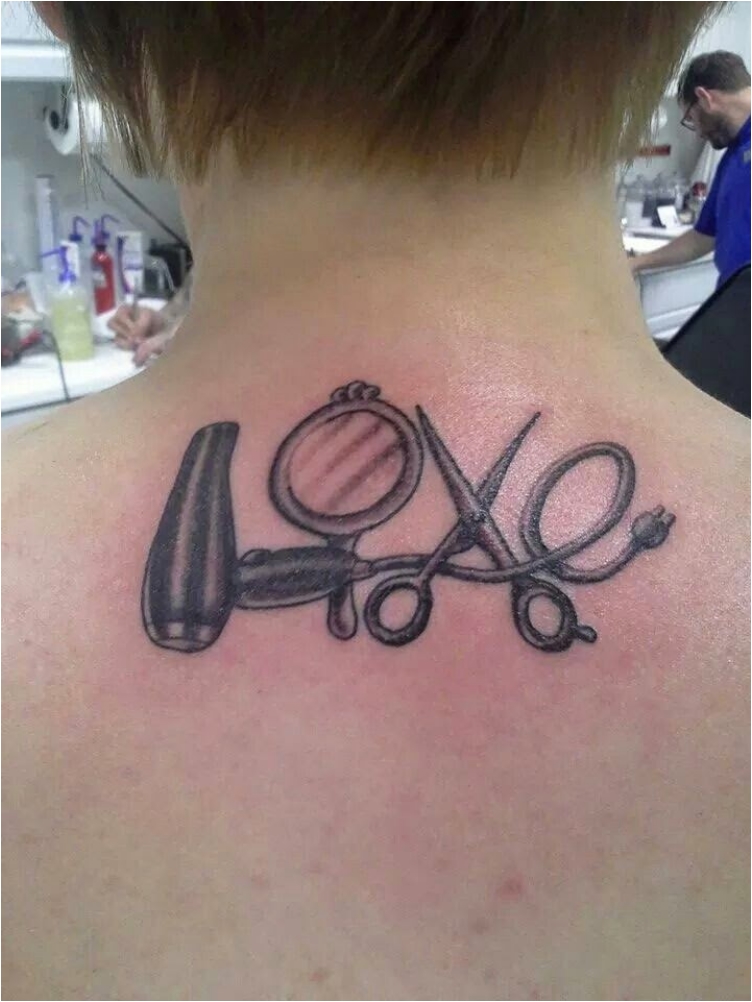 A hairstylist needs three essential elements to work his magic: scissors, hair dryer and a mirror. One could argue that you don't even need a mirror. The element that's missing here is creativity and skill. But hey, we've got the essentials.
8. Hair Stylist Tattoo Idea No. 2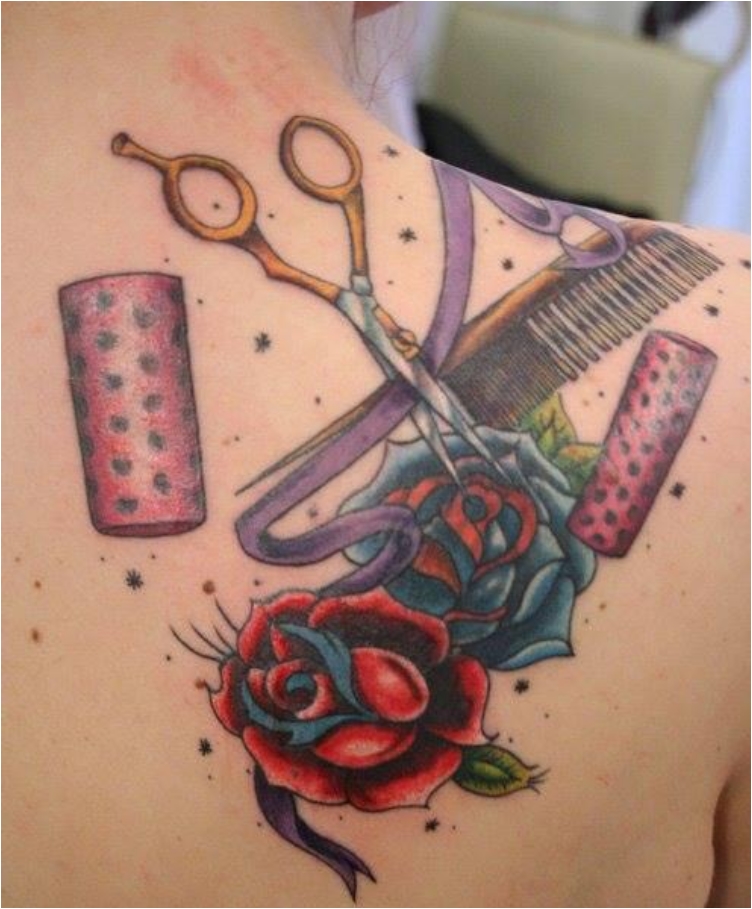 Every time a career tattoo gets an artistic look, I'm all in. I love colorful tattoos, and I love when a tattoo shows more than just the simple elements.
9. Hair Stylist Tattoo Idea No. 3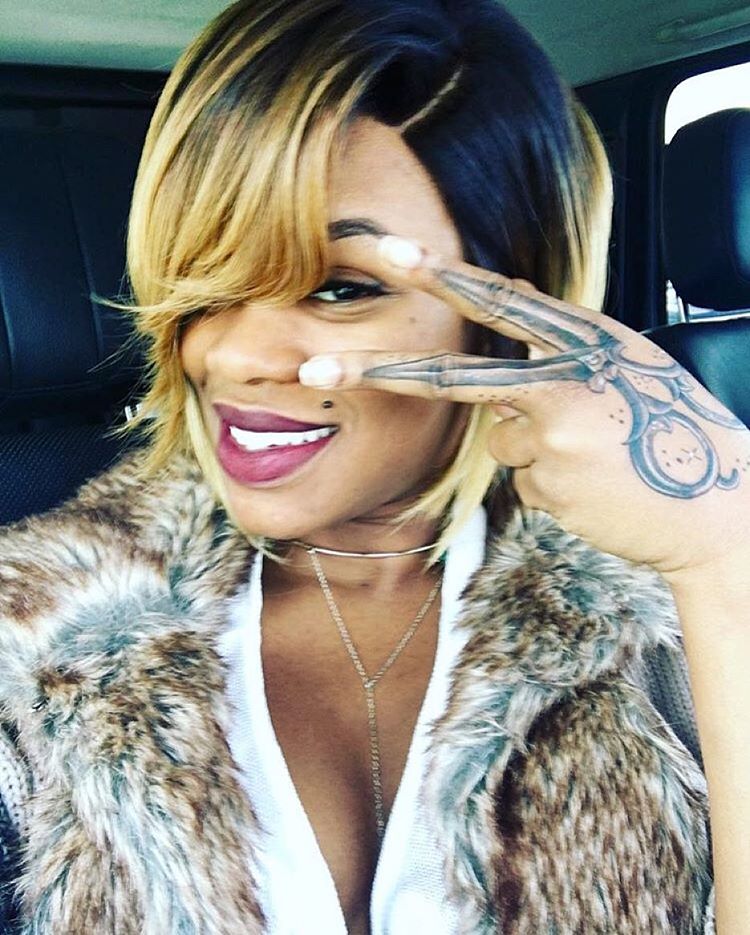 I'd say this is one of the more witty, clever and savvy tattoos I've ever seen. It is definitely a cool tribute to the hair styling profession.
10. Veterinarian Tattoo Idea No. 1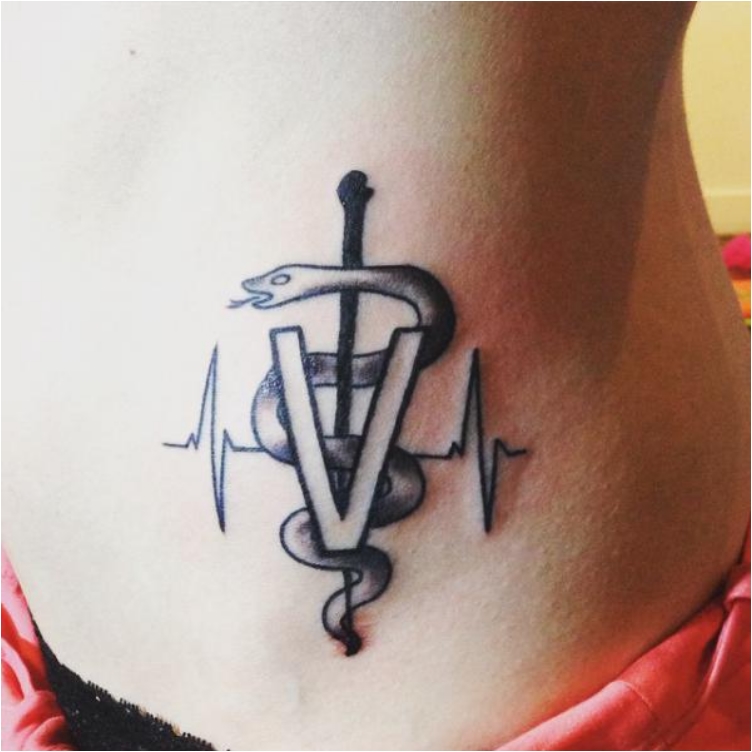 I've never understood why the veterinary symbol has a snake on it—there are so many more popular and common animals. But I assume it has something to do with the two snakes representing the medical profession. In any case, veterinary tattoos are awesome, simply because their symbol is extremely cool looking.
11. Veterinarian Tattoo Idea No. 2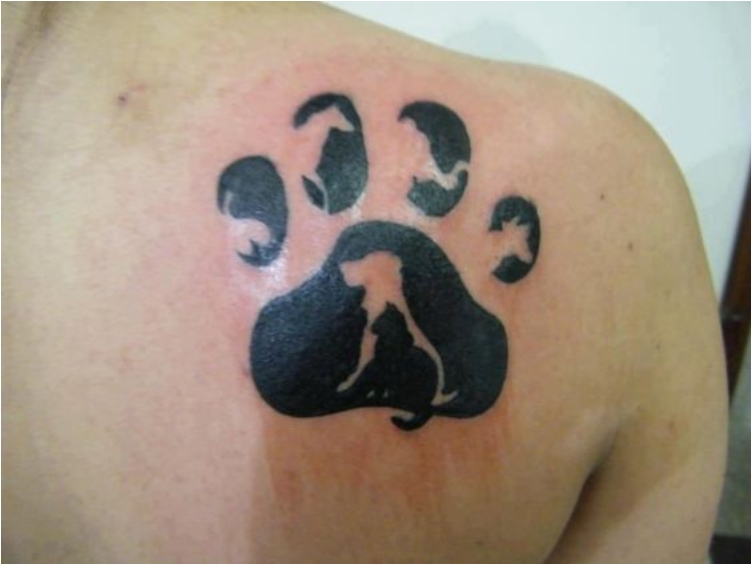 Paws were a huge trend in tattoo art some 10 years ago. Everyone wanted to a get a paw on their back. Be it cat paws or dog paws—they were contagious. I like how this one has both cats and dogs in it.
12. Veterinarian Tattoo Idea No. 3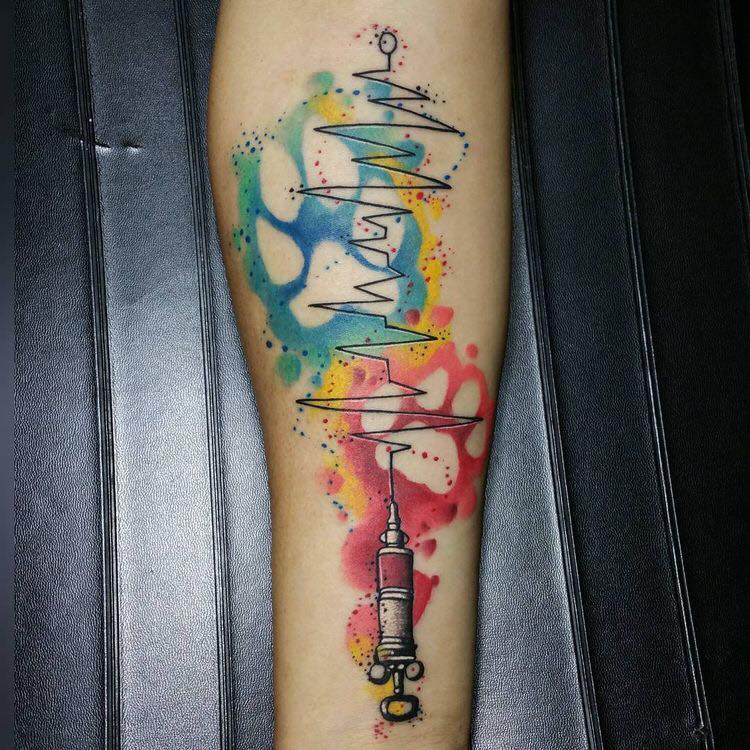 If you've noticed a pattern by now, I'm giving you an artistic tattoo idea for every profession. I can't help it—I just love artistic tattoos. So, this is another veterinary one.
13. Photographer Tattoo Idea No. 1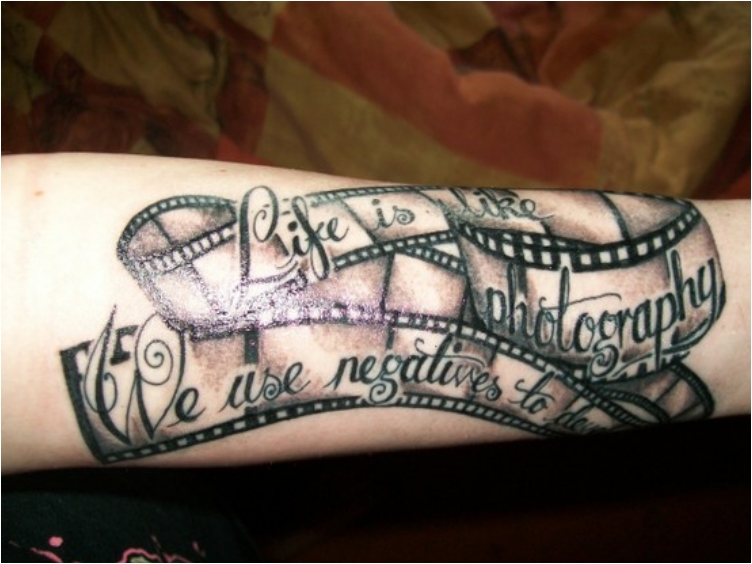 There was a time, before the era of digital photography, when photographers could take only about 30 pictures with their camera before they needed to change the roll of film. Now that was one slow process, and I love when someone pays tribute to old school photography.
14. Photographer Tattoo Idea No. 2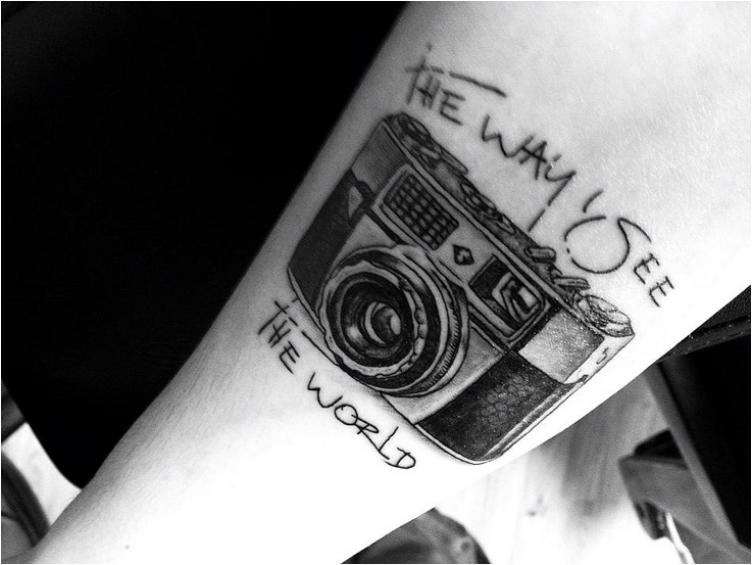 Thanks to Instagram, retro camera and retro filters have made a big comeback in photography. But do you remember when this was what a camera looked like? Ah, the good old days.
15. Photographer Tattoo Idea No. 3

In case anyone forgets to smile when you're trying to take a picture of them, a smile tattoo might come in handy. And I am sure they will smile, just for the sake of how cute, adorable and interesting the tattoo is.
16. Scientist Tattoo Idea No. 1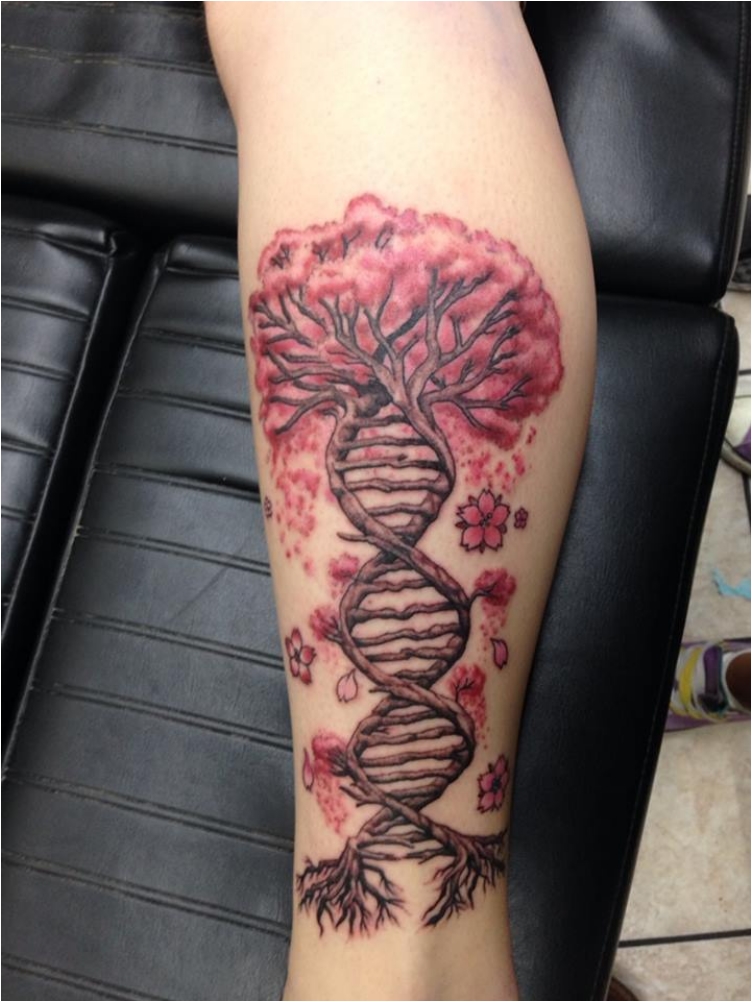 When you think of science, the DNA symbol is probably one of the first things you think of. And you won't be the only one. But I love how the artist has given the symbol a more personal touch, making the symbol a tree that grows within you.
17. Scientist Tattoo Idea No. 2
Well, some people just love science more than others. And they can even go with a chemical equation as a tattoo.
18. Scientist Tattoo Idea No. 3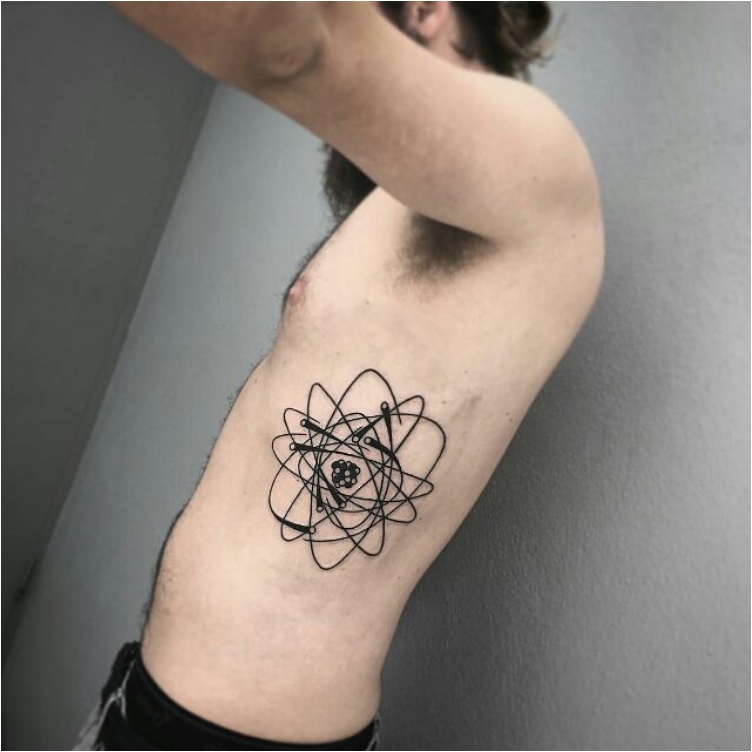 Going back to basics, the atom is the purest and simplest idea you can have for a science tattoo. But that doesn't mean it has to be simple. You can give it a nice touch here and there.
19. Fashion Designer Tattoo Idea No. 1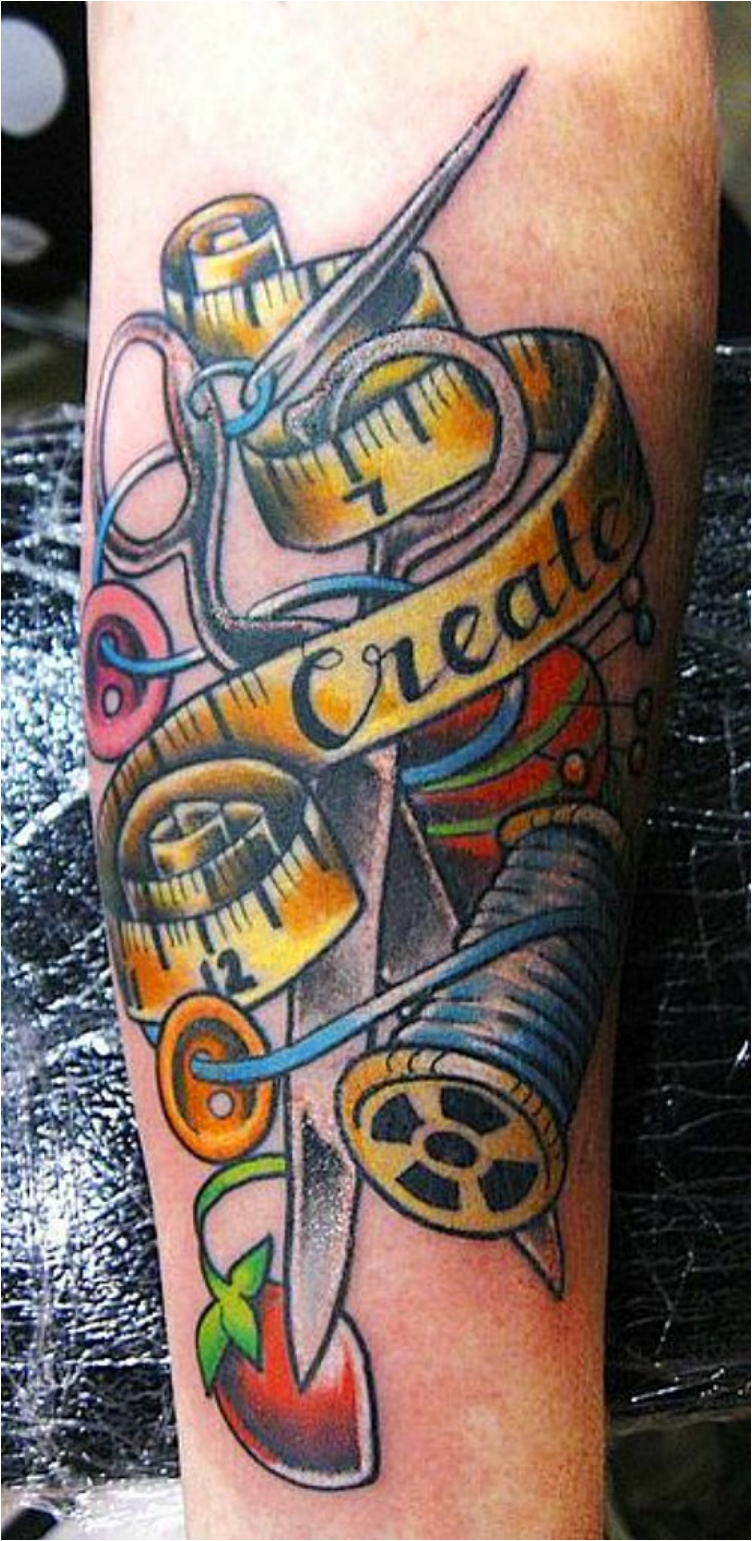 Did you notice that this fashion designer tattoo has scissors, just like the hair stylist tattoo? Well, one of them is altering your hair, while the other is altering your clothes. And I love the colorful touch and playfulness of the tattoo.
20. Fashion Designer Tattoo Idea No. 2
I would love to see a fashion designer tattoo with Cinderella and her mice trying to make the perfect dress for the big night. This one comes pretty close, though, as it looks like it comes out of a Walt Disney Cinderella movie.
21. Fashion Designer Tattoo Idea No. 3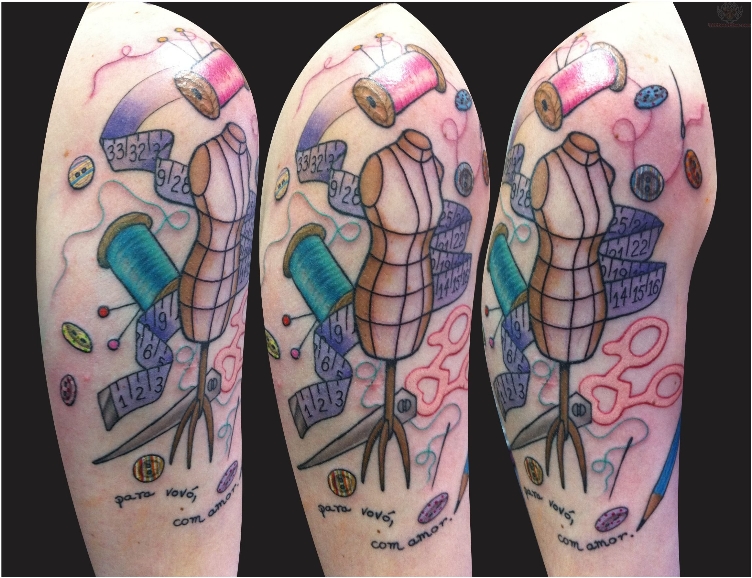 Anytime you have colors on a tattoo, you have a big hit. And this one is an extremely complex tattoo for an artist to make, so bonus points for that as well.
22. Dentist Tattoo Idea No. 1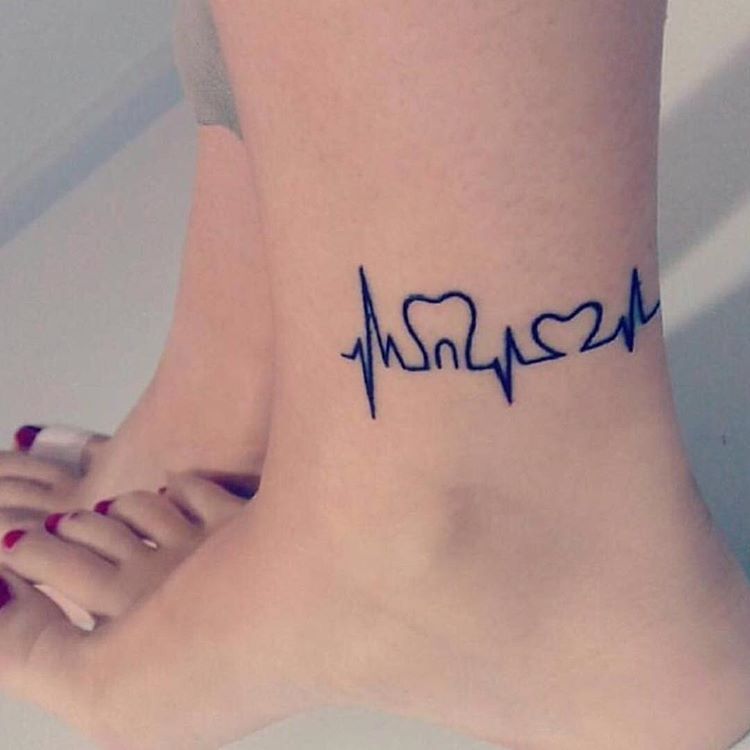 I must say, dentists are some of my favorite people. Personally, I am very afraid of going to the dentist, but I love the people who take care of our teeth. And I love this illustration of a heart rate with teeth in between. Oral health is as important as heart health.
23. Dentist Tattoo Idea No. 2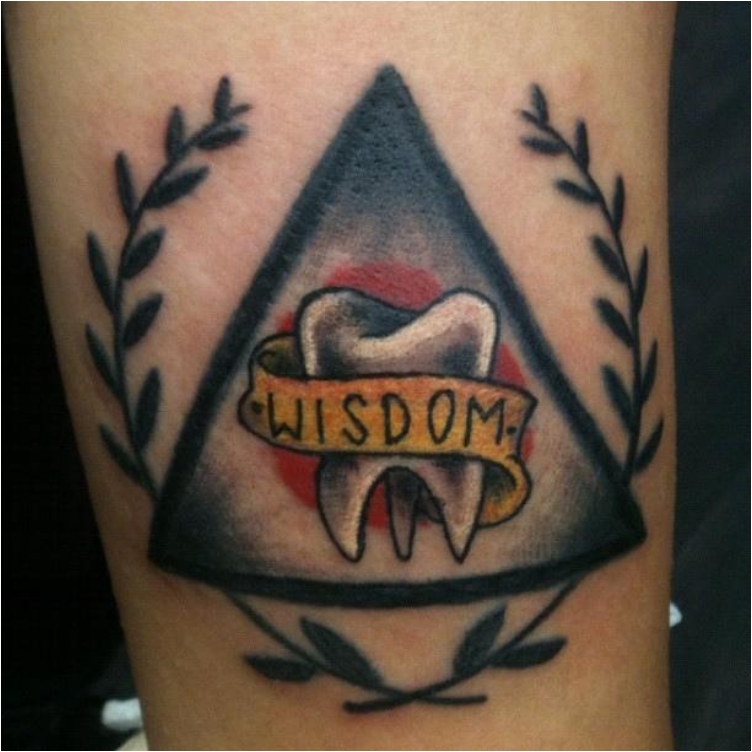 When I was little, one of the jokes we loved to make with our friends was who was going to get his wisdom teeth first. Like, if I get them, and you don't, does that make me smarter than you? Ah, wisdom teeth: the subject for so many jokes and so much fun.
24. Dentist Tattoo Idea No. 3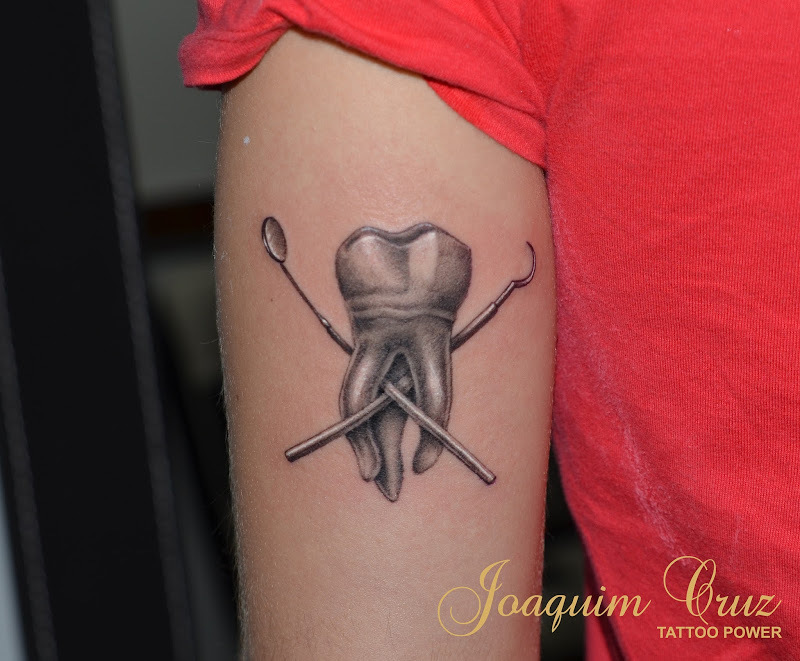 Simple, elegant, sleek and sophisticated—exactly how a career tattoo should look. I know I said I love artistic tattoos, but simple and elegant ones are perfect too. Spot on!
25. Writer Tattoo Idea No. 1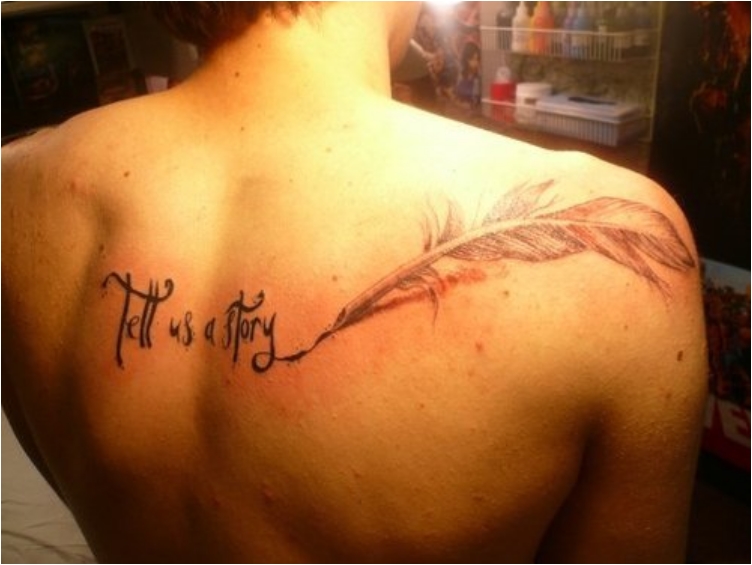 And now we are into the profession in which I work. Writers—we are just so full of stories. I cannot tell you how many times I've been asked to tell a story. And personally, I'm very good at it. You've been reading this story so far, right?
26. Writer Tattoo Idea No. 2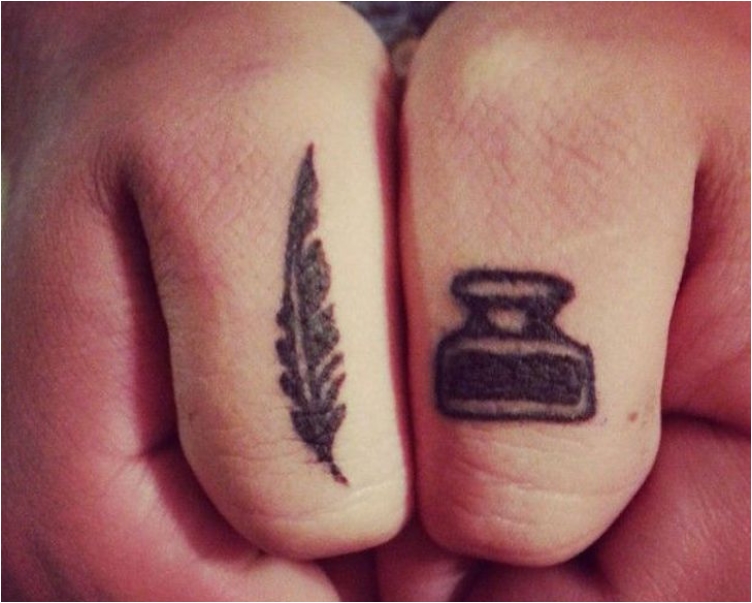 There was a time when writers needed only a feather and ink to write. The feather and ink have been replaced by a keyboard, but the writing symbol will never go out of fashion.
27. Writer Tattoo Idea No. 3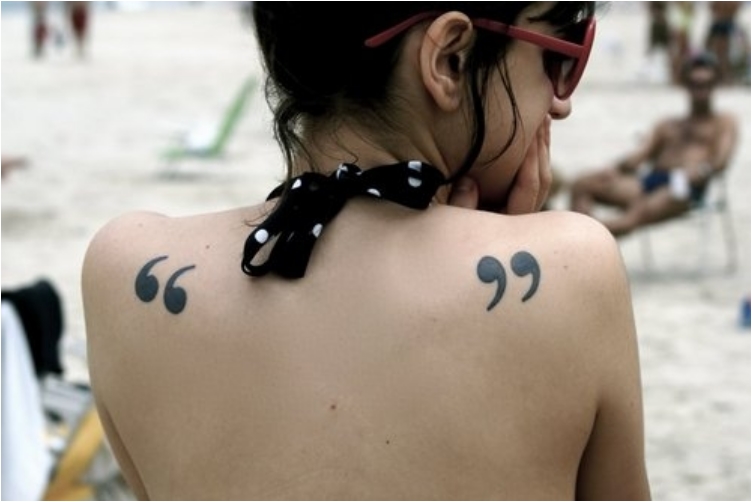 Enter what you like in between those quotation marks. And tell me, doesn't the tattoo look so very nice, to the point where you would like have it? No matter if you are writer or not—you have to appreciate talent.
28. Geologist Tattoo Idea No. 1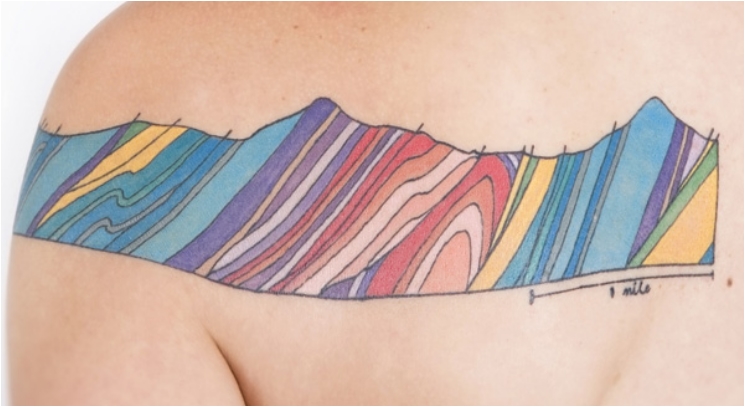 One of the underrated careers nowadays is that of geologist. But geologist are so important for our society, and we should appreciate them more. And they have colorful ideas for tattoos.
29. Geologist Tattoo Idea No. 2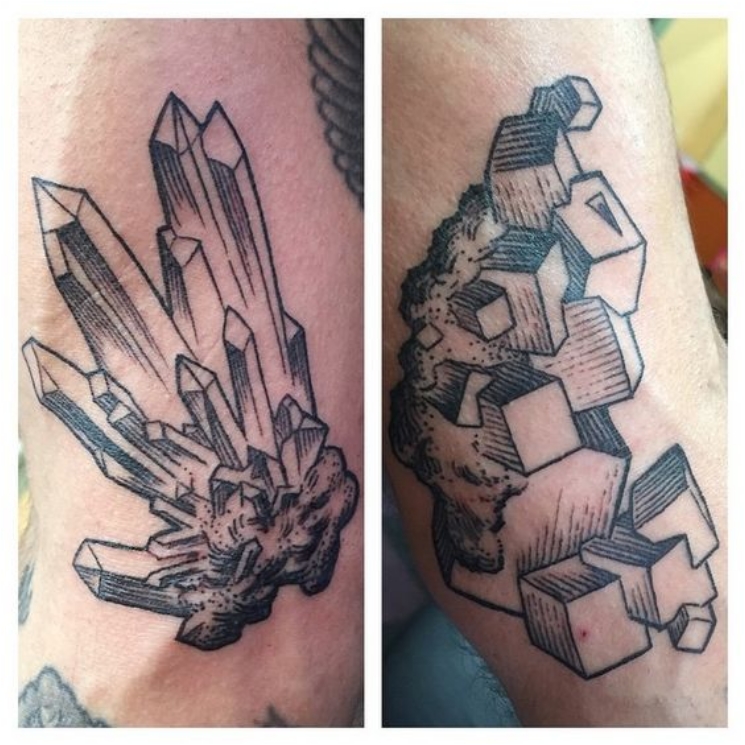 You see what happens when an earthquake strikes? Not many people will recognize this tattoo as a geologist tattoo, but hey.
30. Geologist Tattoo Idea No. 3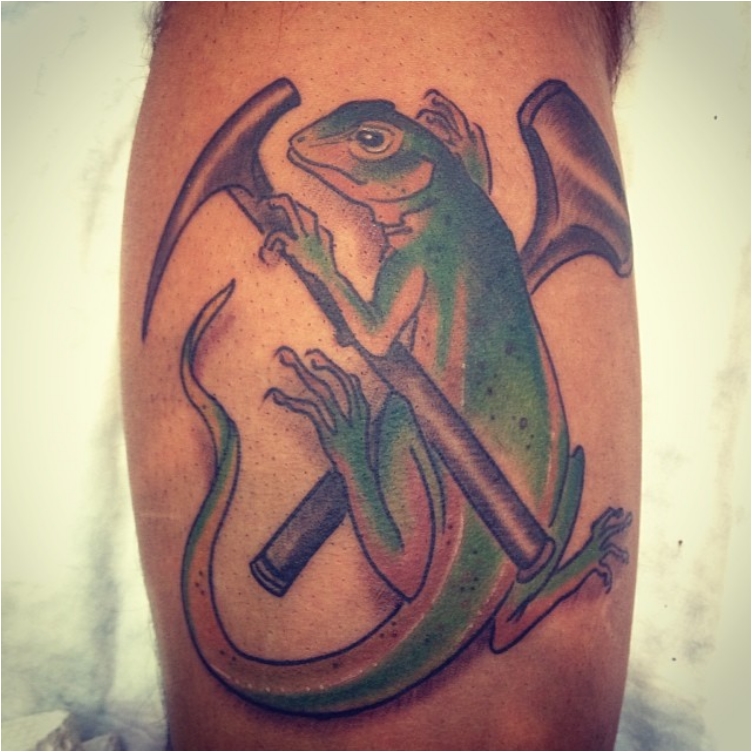 I love how the frog makes an appearance with the symbol for geology. It is such a clever and witty touch.
31. Ballet Dancer Tattoo Idea No. 1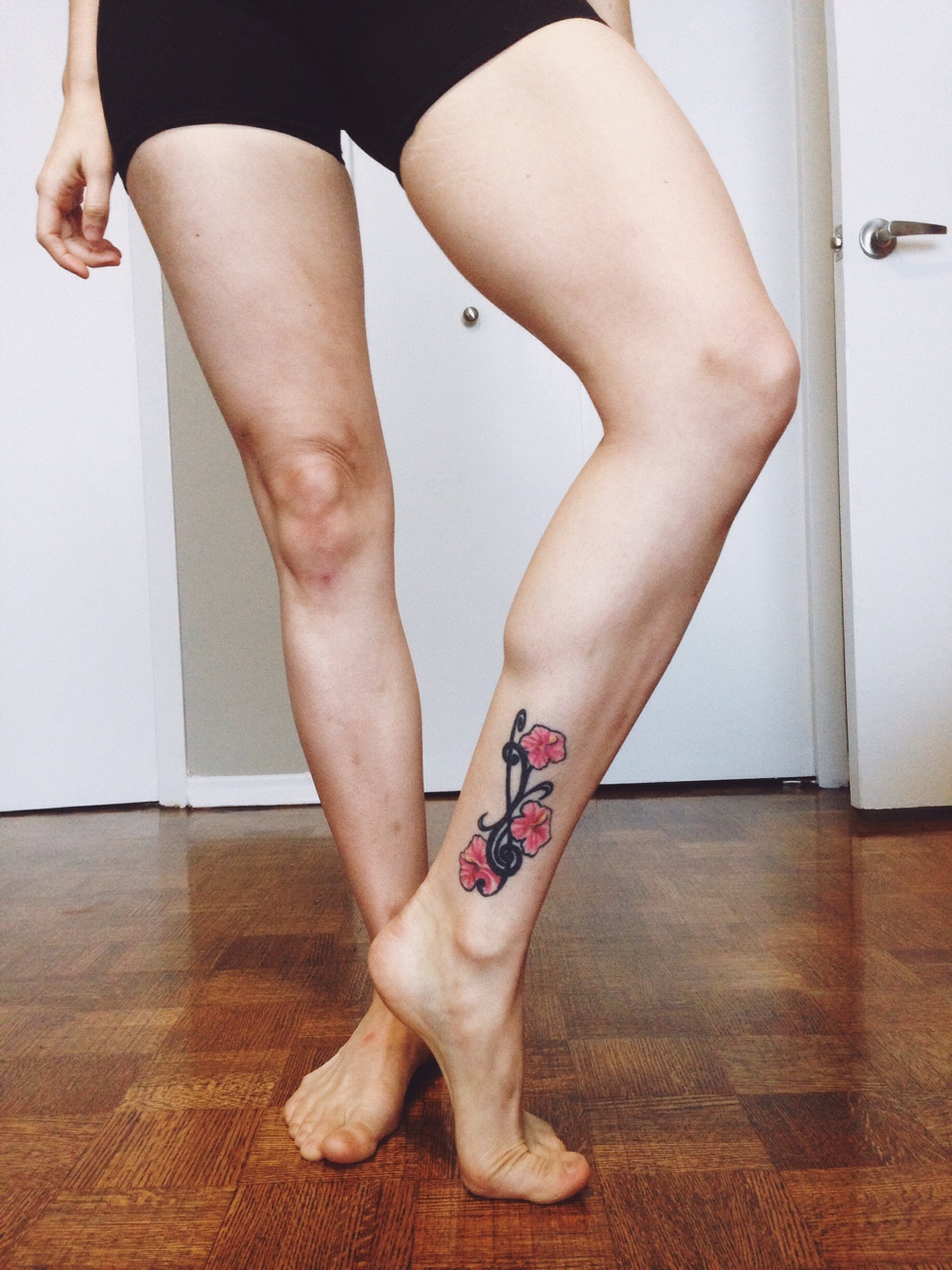 As you might expect from a ballet dancer, the first thing about a tattoo is the spot where you show it. And for ballet dancers, the best spot is on the leg, particularly just above the ankle.
32. Ballet Dancer Tattoo Idea No. 2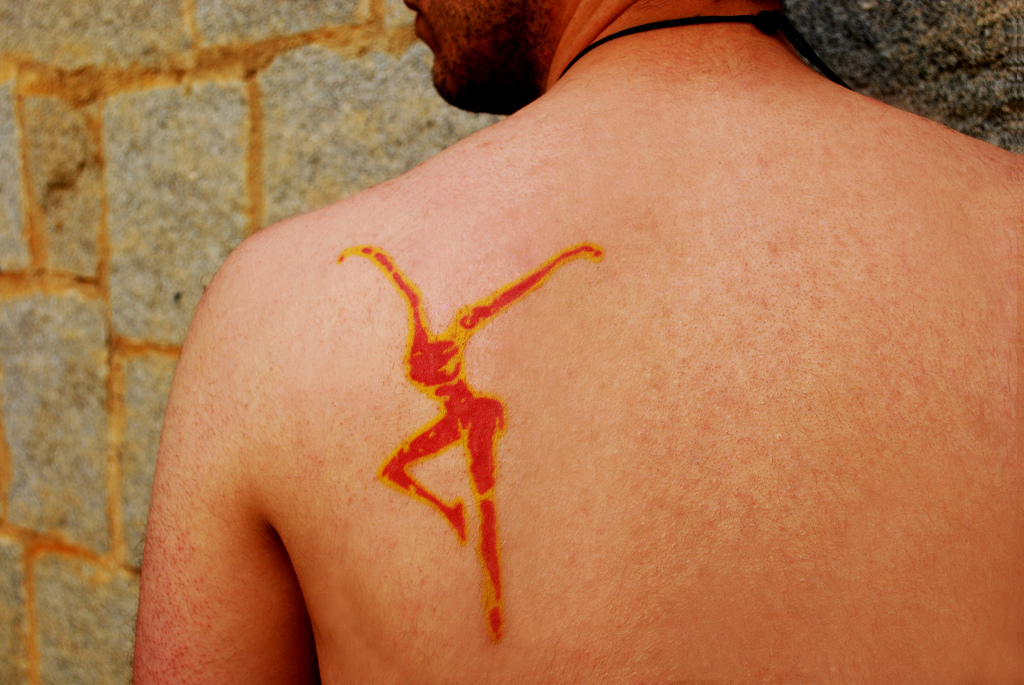 First of all, I love the choice of colors. Red and yellow are the colors of the flame, and we all know how dancing starts a fire inside of us. Just perfect.
33. Ballet Dancer Tattoo Idea No. 3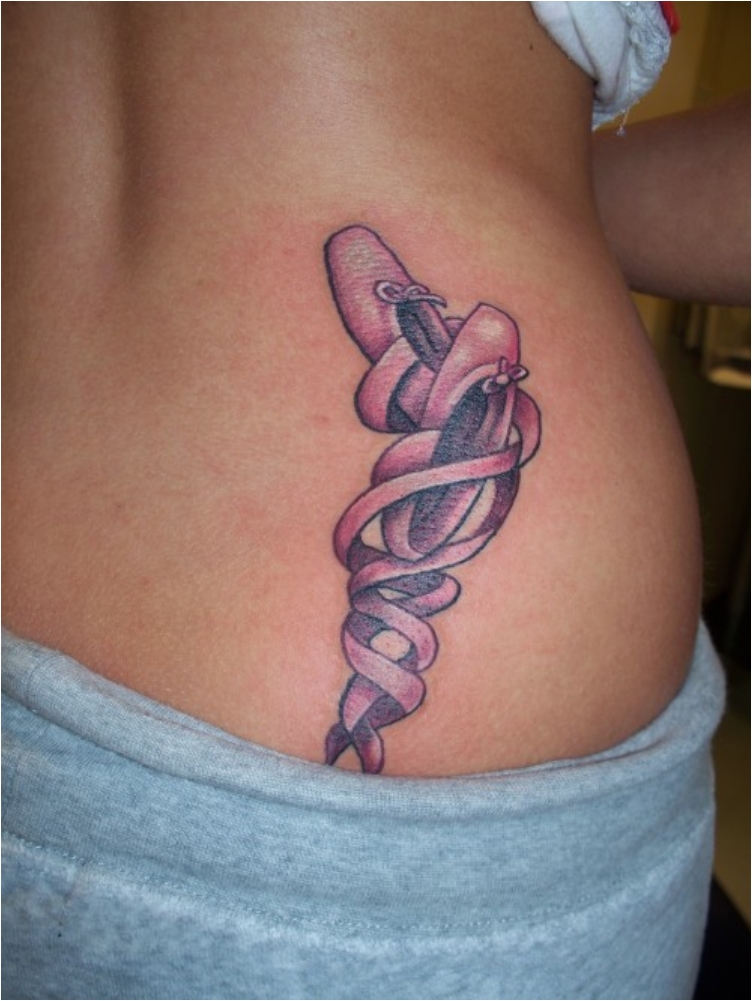 Now take those ballet shoes from your back, place them on your feet, and start working your magic. I am a huge fan of ballet dancing, and I had to give props to the people in the industry.
34. Architect Tattoo Idea No. 1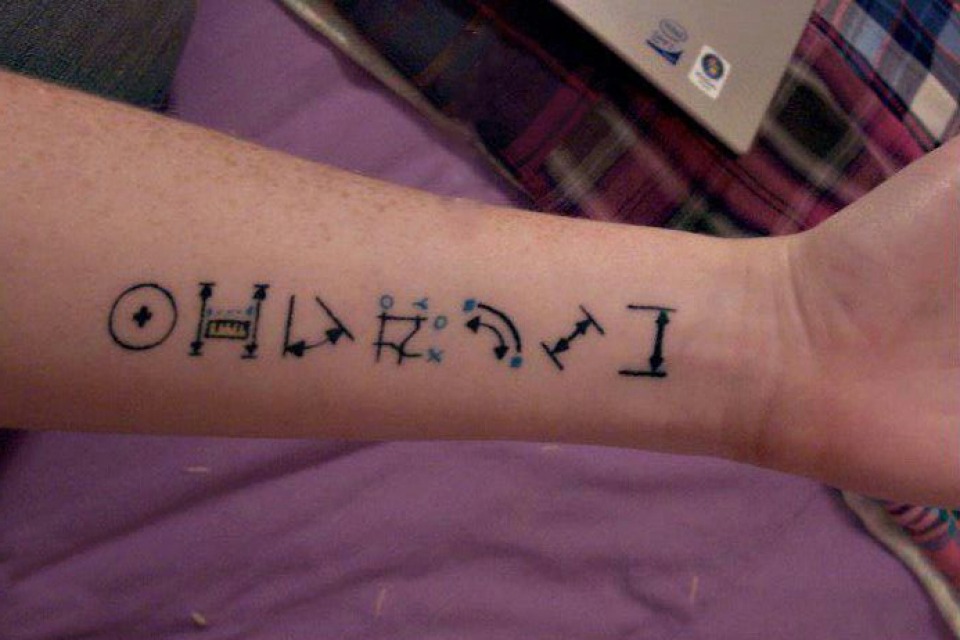 From the few architects I've known over the years, I've come to an understanding that they want to stay in their own world. They even have a special language. And their tattoos reflect that.
35. Architect Tattoo Idea No. 2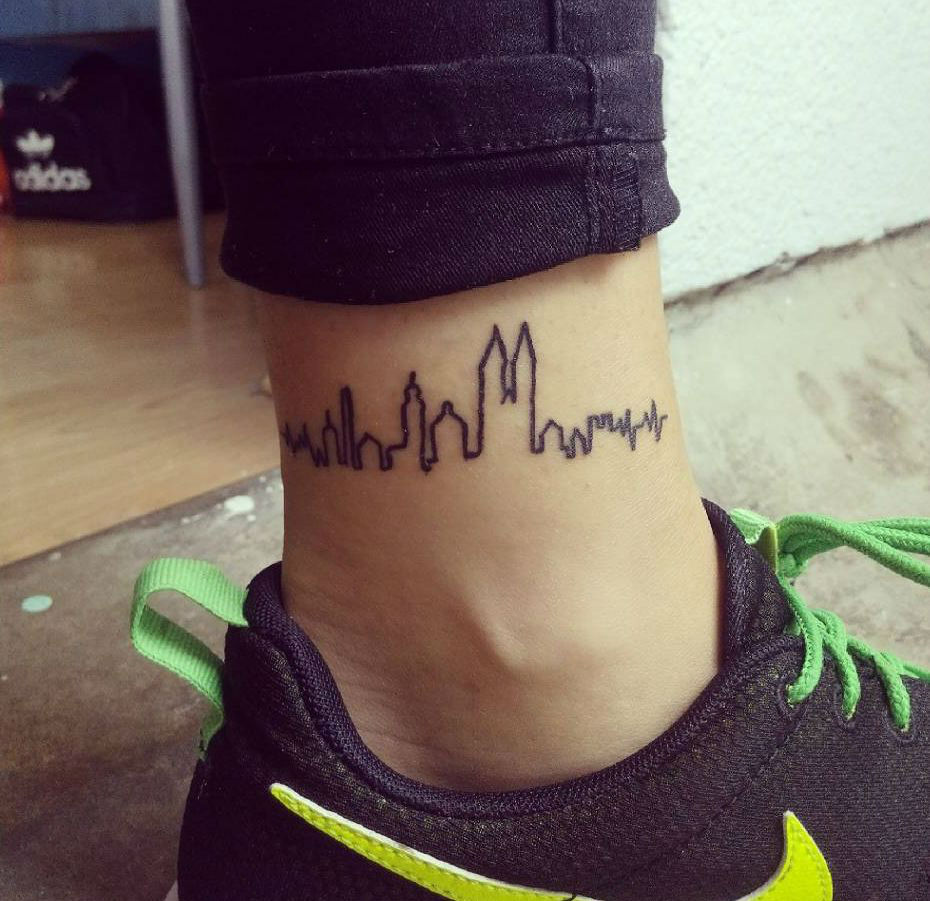 Buildings that look like a heart rate readout—now isn't that special? And the area above the wrist seems like the perfect spot for it.
36. Architect Tattoo Idea No. 3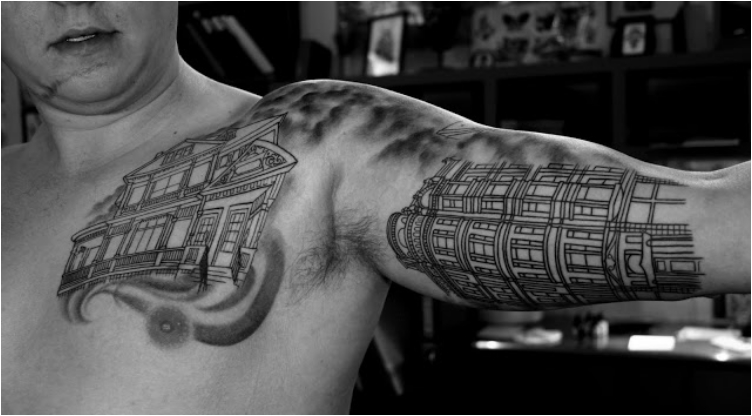 It's only natural that an architect has an artistic side to him. After all, architects spend countless hours drawing, so they know a thing or two about art. Both the house and the building look amazing.
37. Makeup Artist Tattoo Idea No. 1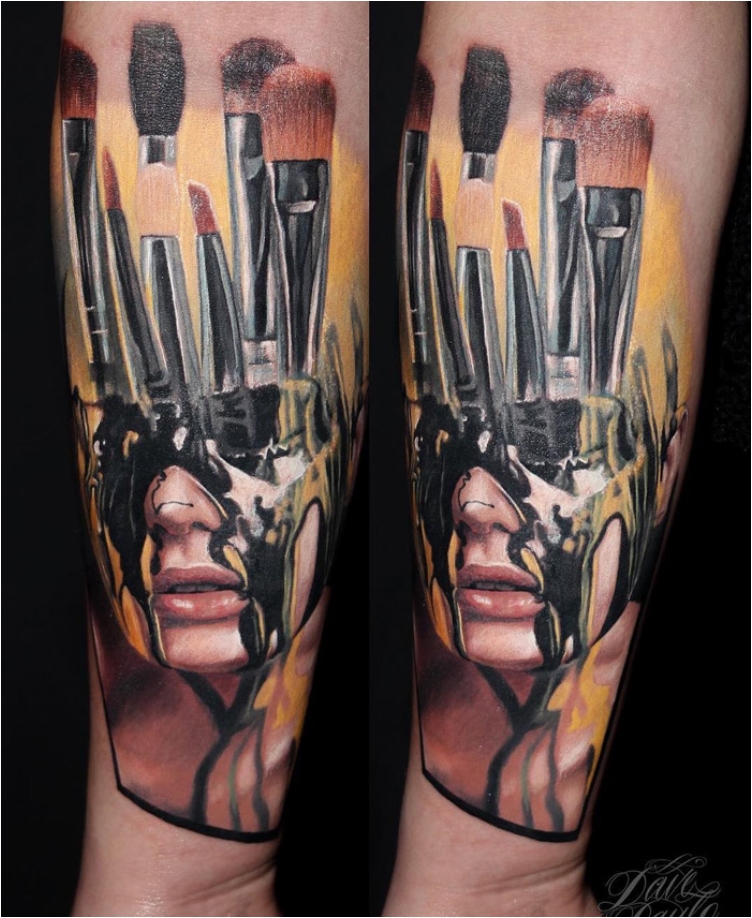 If there is one profession where you can expect some sexy, mystic-looking and delightful tattoos, that has to be the makeup industry. Makeup artists are like wizards—they can completely change your appearance. And their tattoos are great as well.
38. Makeup Artist Tattoo Idea No. 2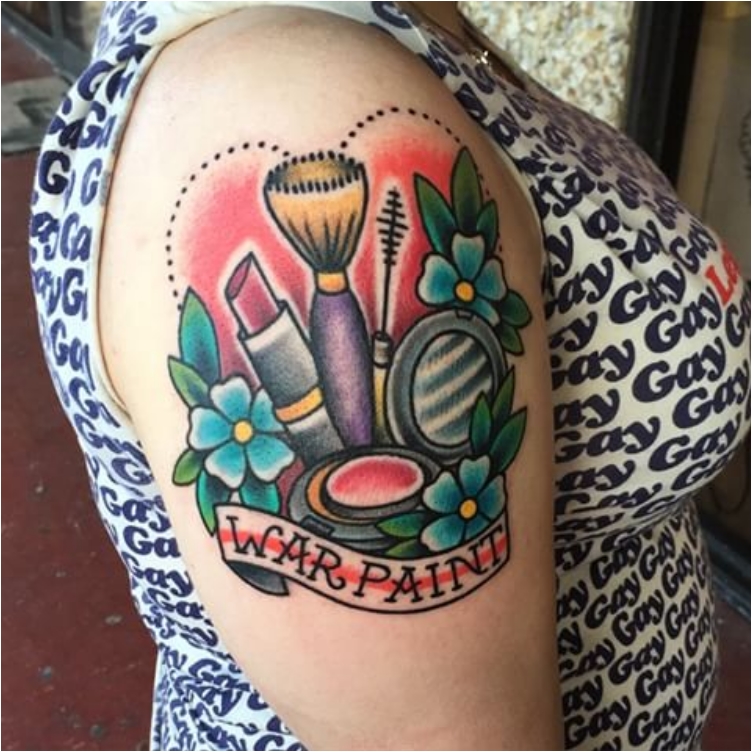 Truth be told, sometimes when you have to take care of the makeup for a bride, it's like going to war. Brides can be demanding and irritating, and taking care of them might look like trying to win a war against a more powerful opponent.
39. Makeup Artist Tattoo Idea No. 3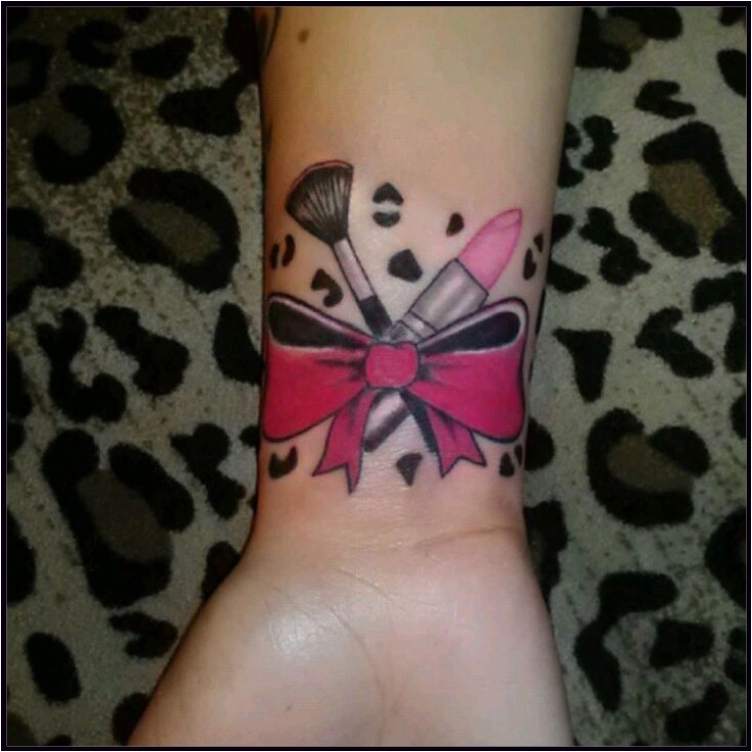 Finally, a cute and simple tattoo to round up the makeup artist section. You know there have to be some colors, and pink is great for pairing with black.
40. Chef Tattoo Idea No. 1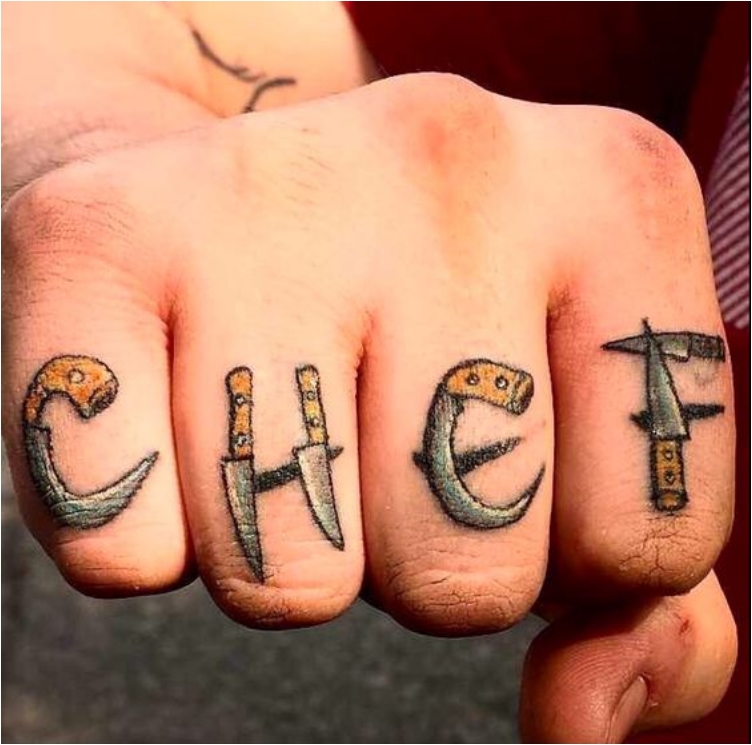 Chefs are some of my favorite people. Given the fact that I love cooking, and I love eating, you know that I love chefs as well. I like when they move out of their comfort zone in the kitchen and step into the world of the tattoo industry.
41. Chef Tattoo Idea No. 2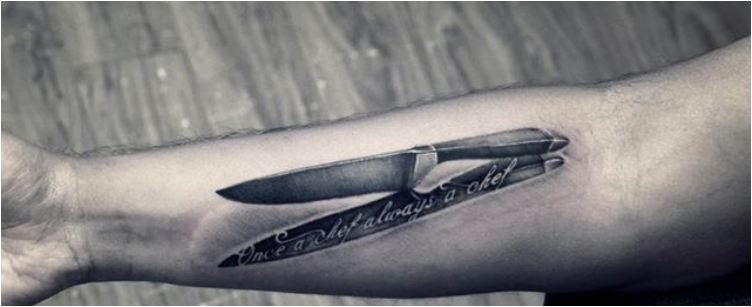 I said at the beginning that tattoos tend to be very personal and intimate. I imagine this knife carries a personal message—just the shape, form, and texture of it is extraordinary.
42. Chef Tattoo Idea No. 3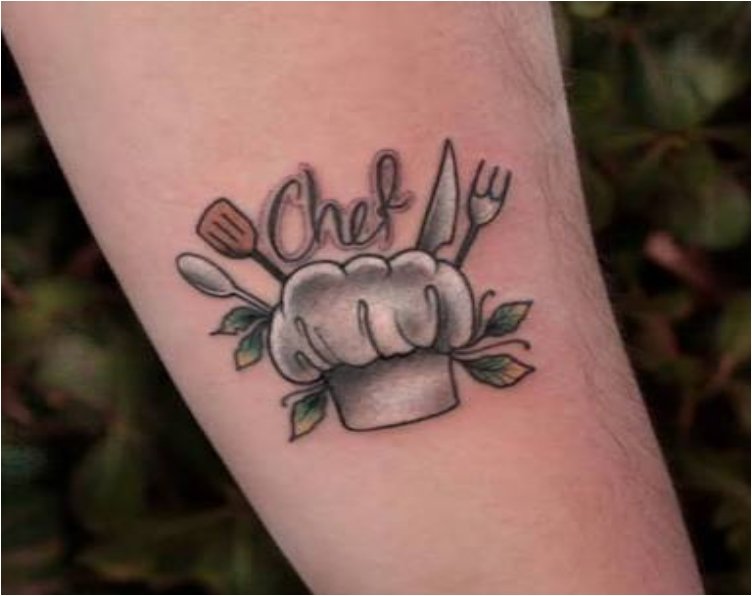 I am not going to lie: this is my favorite tattoo on the list. It has everything I look for in a tattoo. An artistic touch, colors, simplicity and elegance. Pure perfection.
43. Artist Tattoo Idea No. 1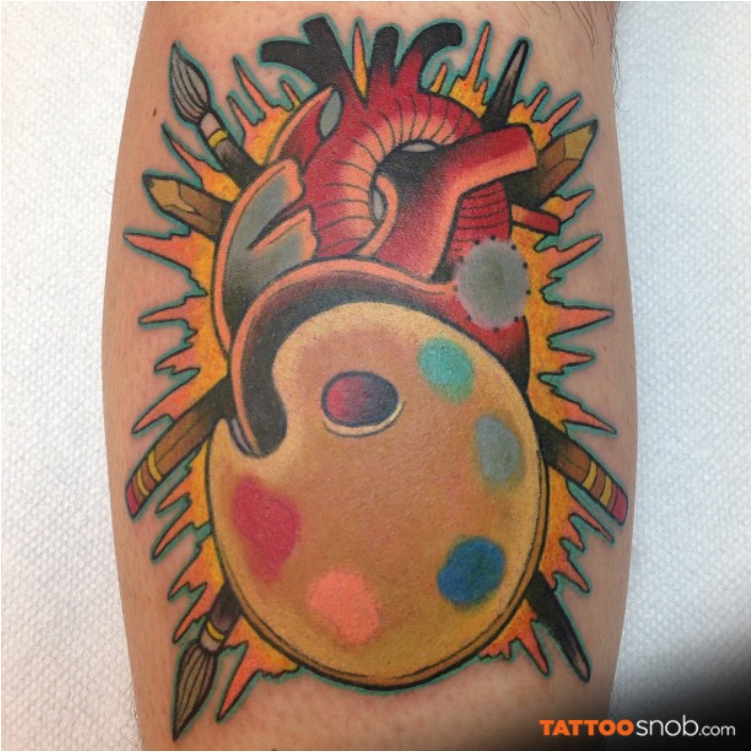 When an artist decides to "paint" his body with some ink, you can't expect anything less than a true masterpiece. Just look at the tattoo and try to find all the symbols and elements in it. There are just so many subtle elements that complement the grand picture in a beautiful way.
44. Artist Tattoo Idea No. 2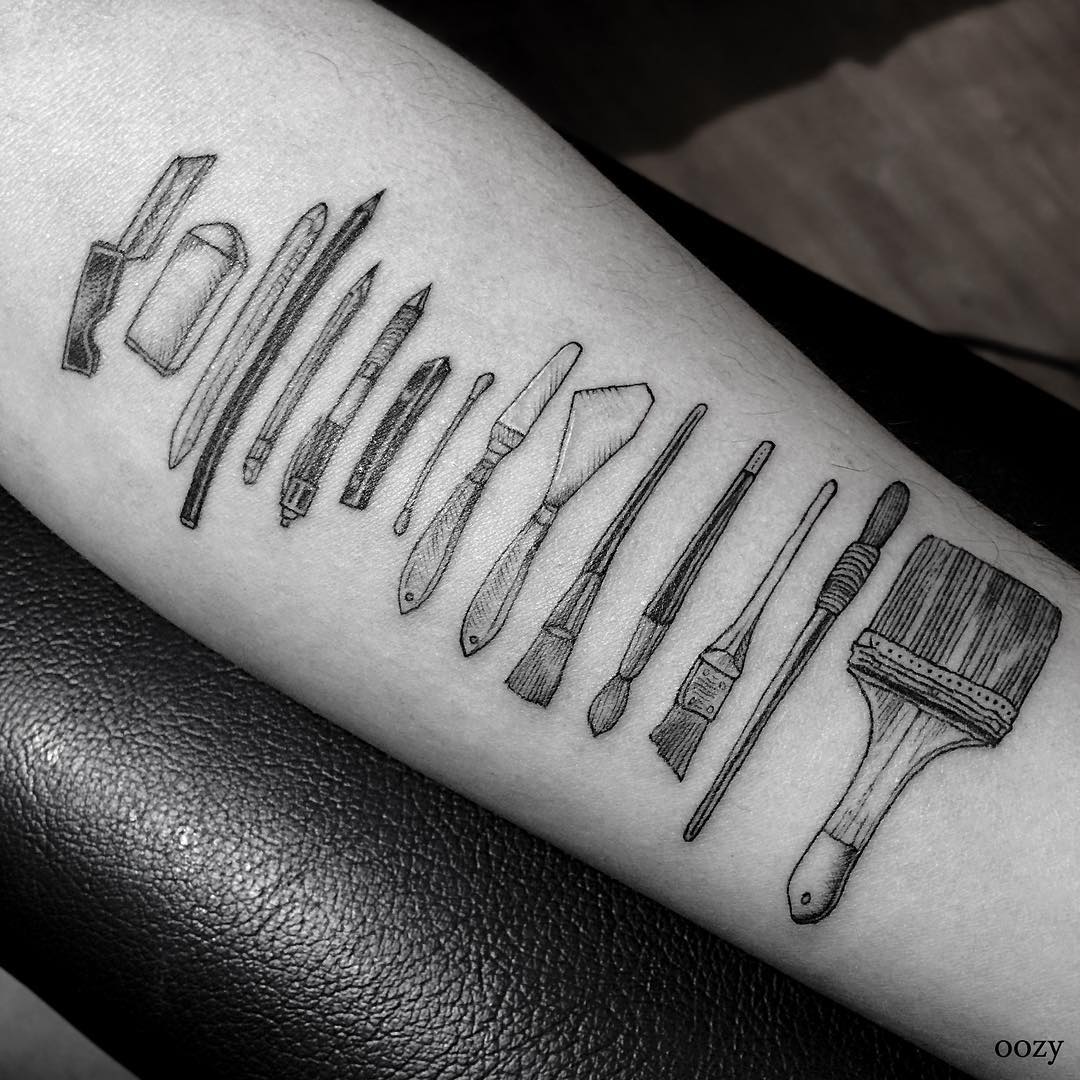 We need more brushes. Yes, more and more. Different sizes, different shapes. Brushes and more brushes. And then some pencils too.
45. Artist Tattoo Idea No. 3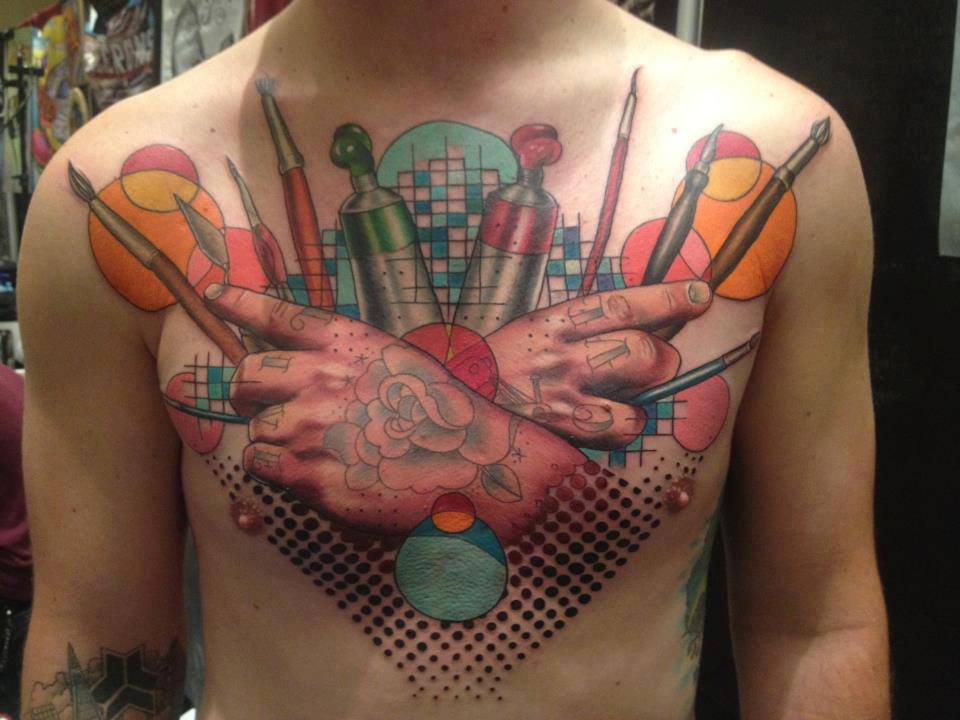 I said that you should look at artists' tattoos as true art masterpieces, and I wasn't kidding. Just look at this picture. If you put it on a canvas, you would think of it as a masterpiece. Well, in this case, your body is your canvas.
46. Computer Engineer Tattoo Idea No. 1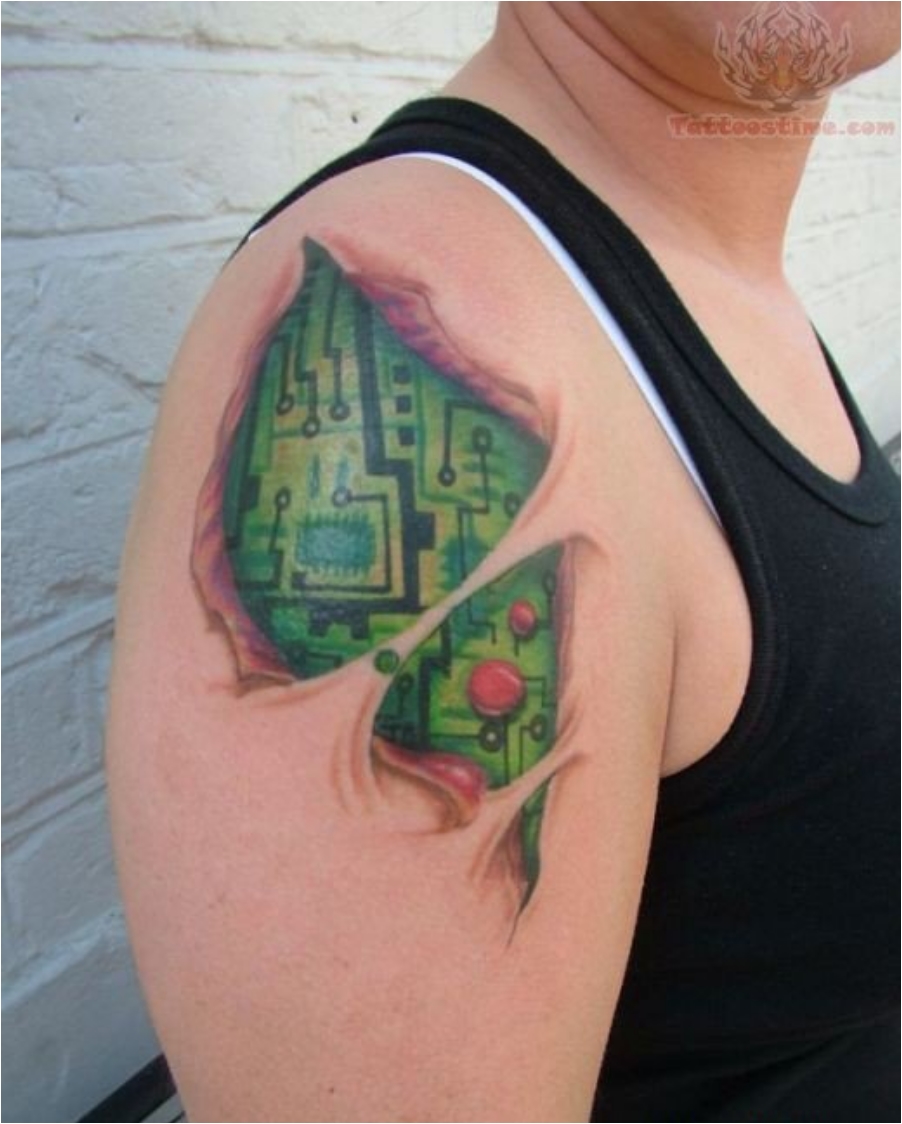 When I talked about architects, I said they live in their own world, and people rarely understand them. The same applies for computer engineers once they start talking in their computer language. But we all know what a computer chip looks like. So yay for that.
47. Computer Engineer Tattoo Idea No. 2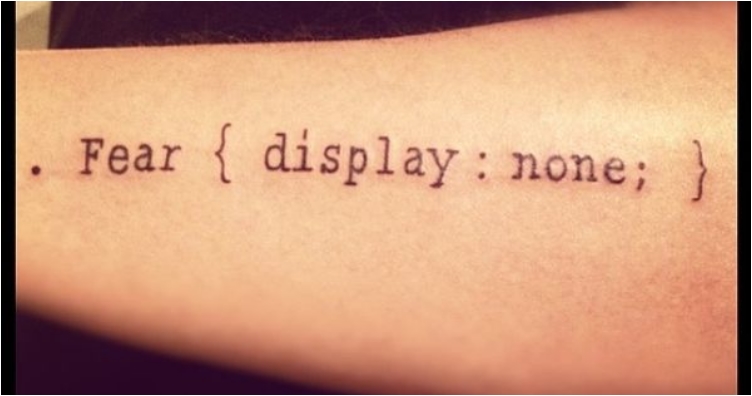 For those who don't understand computer language, this tattoo actually says "Fear No One." Such a clever and witty way to say you are fearless.
48. Computer Engineer Tattoo Idea No. 3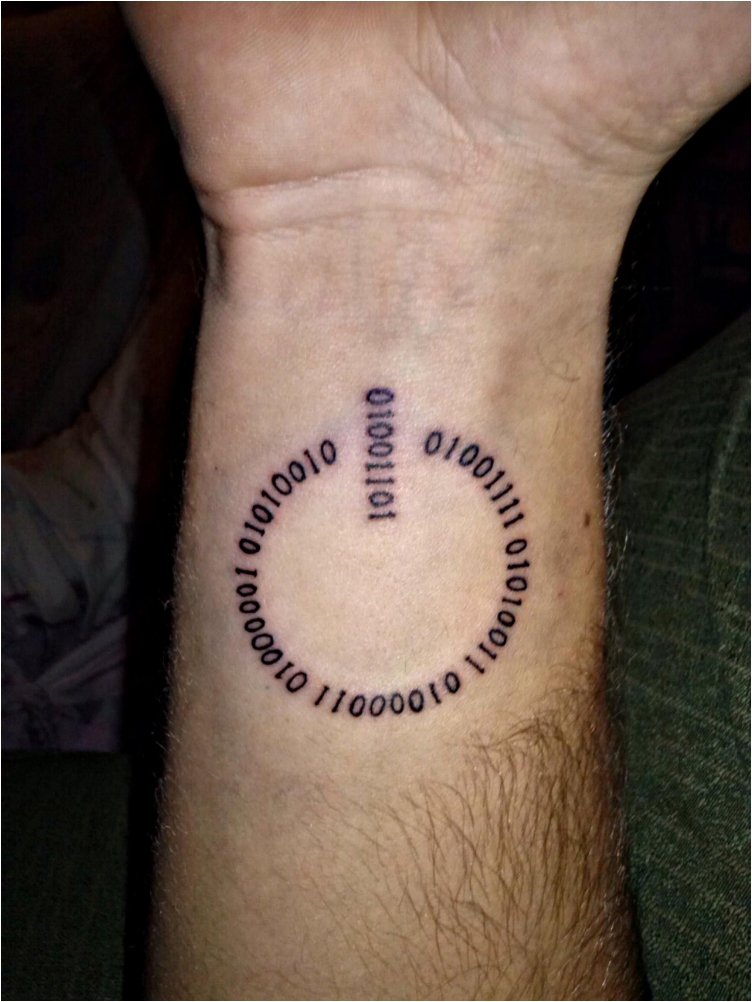 Of course we're going to have binary numbers. After all, computer science, technology and engineering are based on binary numbers.
49. Professional Swimmer Tattoo Idea No. 1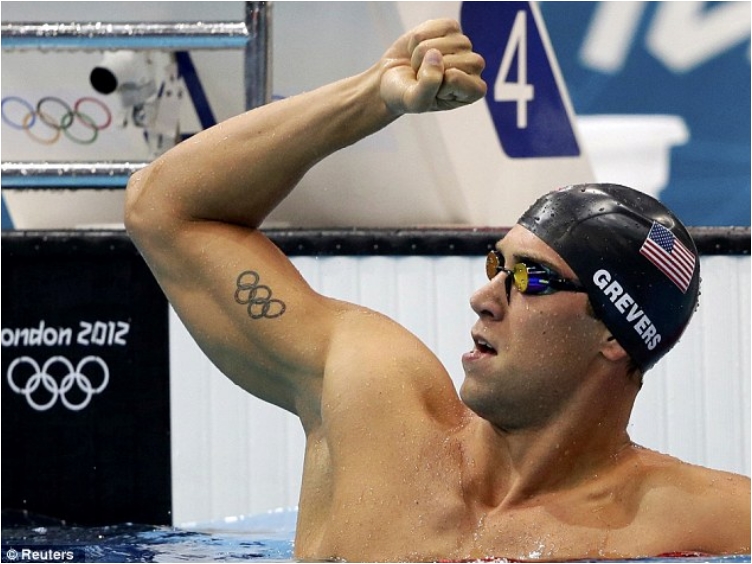 During the Rio Olympics, we saw quite a few swimmers with the Olympics logo tattooed on their biceps. You can say that the logo has become a swimming symbol. And the truth is, swimming was one of the first Olympic sports.
50. Professional Swimmer Tattoo Idea No. 2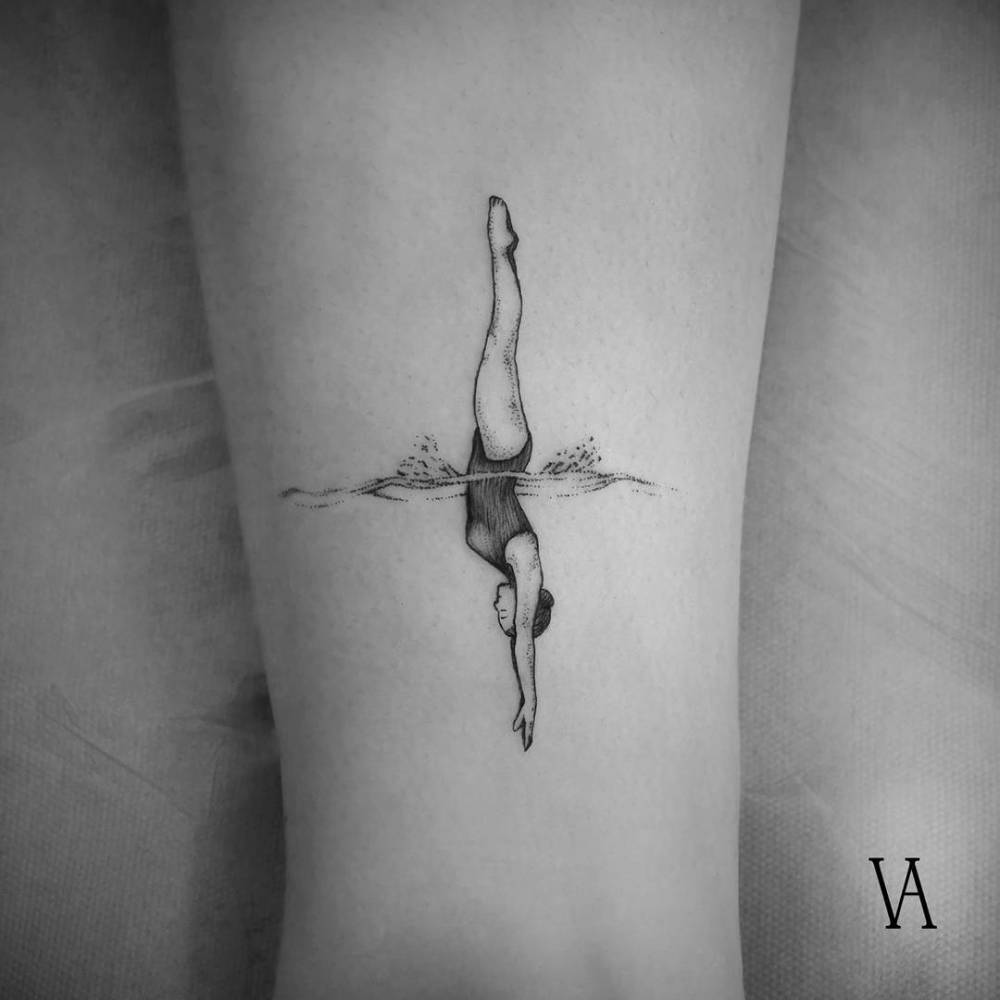 Before you start swimming in the pool, you need to dive in. Right? Well of course! You just have to appreciate the elegance of this tattoo.
51. Professional Swimmer Tattoo Idea No. 3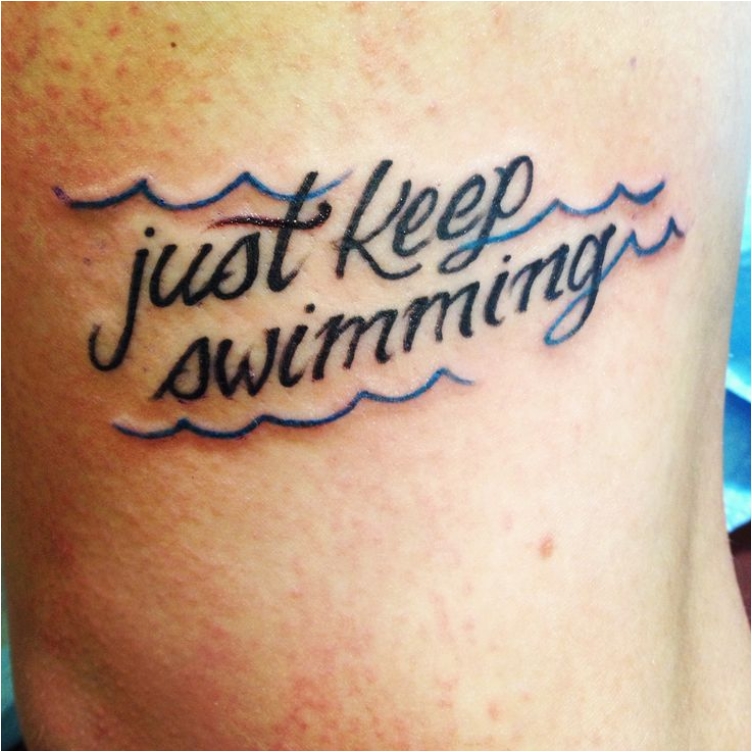 Sometimes, the best idea is just to write what you want the world to know. You can think of it as a personal motto and motivation, but sometimes, you just have to keep doing what you are doing.
52. Tattoo Artists Tattoo Idea No. 1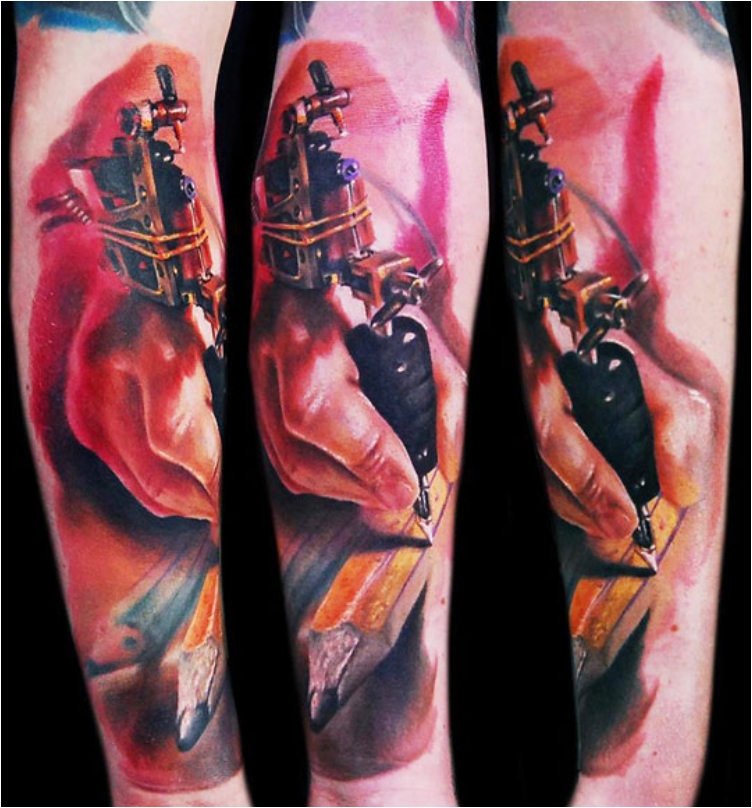 I saved the best for last. After all, we are talking about tattoo artists, who are, in my opinion, one of the most creative people in the world. So feast your eyes with some great career tattoos. Same as with artists, these are also masterpieces.
53. Tattoo Artists Tattoo Idea No. 2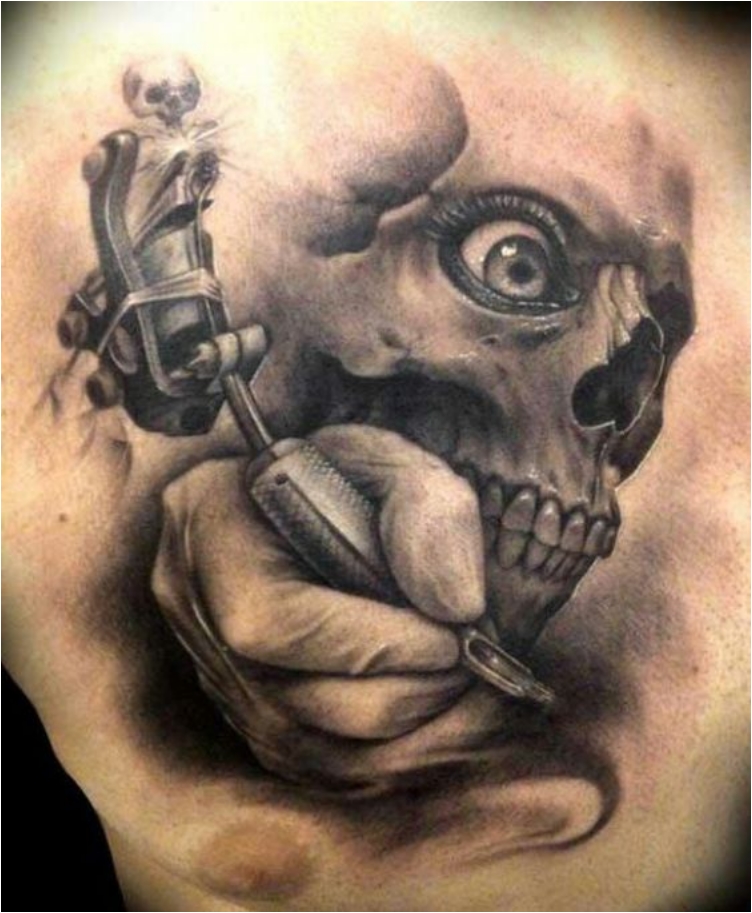 I know people who are afraid to get a tattoo. They see the tattoo artist as some kind of a devil; someone who will hurt them in a painful way. So, it is only appropriate to show a skull tattooing.
54. Tattoo Artists Tattoo Idea No. 3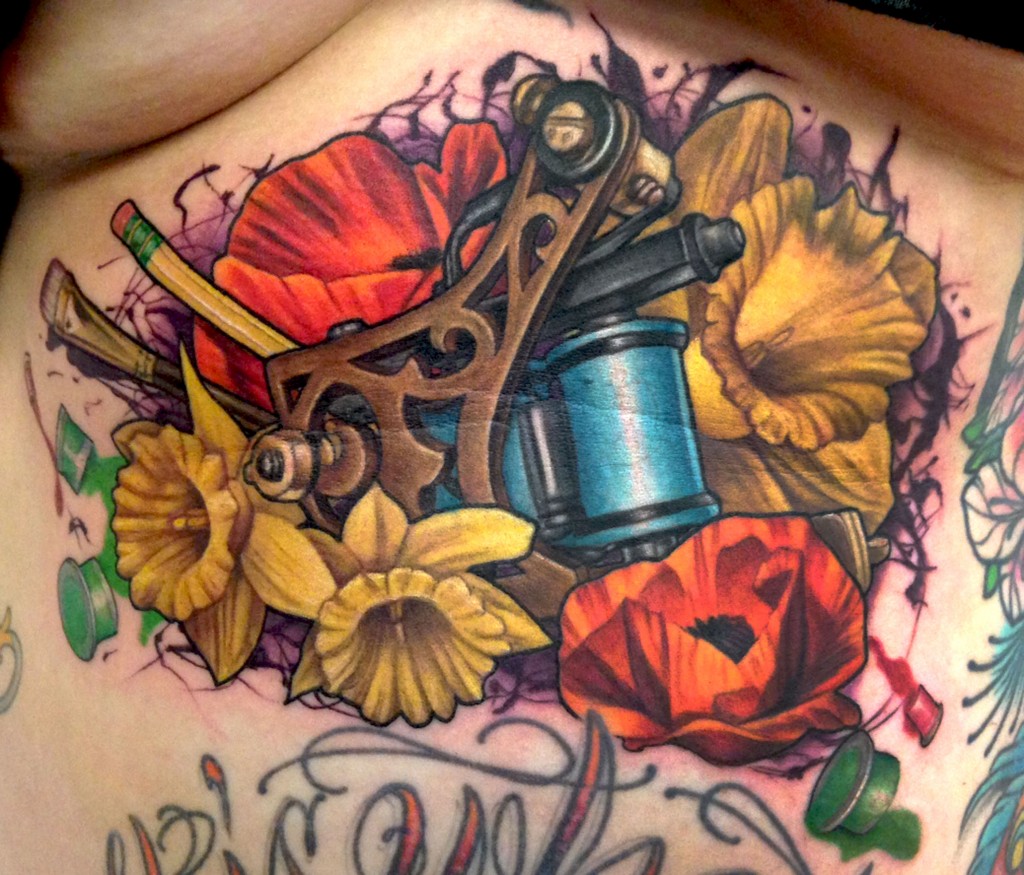 For the last tattoo, we have a true masterpiece, with clear colors, lines, objects and everything else. Your body definitely makes for a great canvas.
 READ THIS NEXT: 32 Lovely Tiny Finger Tattoos Anyone Would Love