Tattoos are a personal thing. They have a meaning, and in most cases, that meaning is  tied to the bearer of the ink. In that spirit, some people chose symbols that represent their life.
One symbol that is always tied with your life is your zodiac sign. Today, we will look at Capricorns. Some of the most prominent qualities of the Capricorn, or the Goat as people like to call it, is that they are ambitious, determined, practical, and helpful.
You can say the Capricorn is the most determined sign in the zodiac. And you won't be wrong. So let's take a look at some tattoos that honor the 10th sign in the Zodiac.
1. Watercolor Capricorn Tattoo On Thigh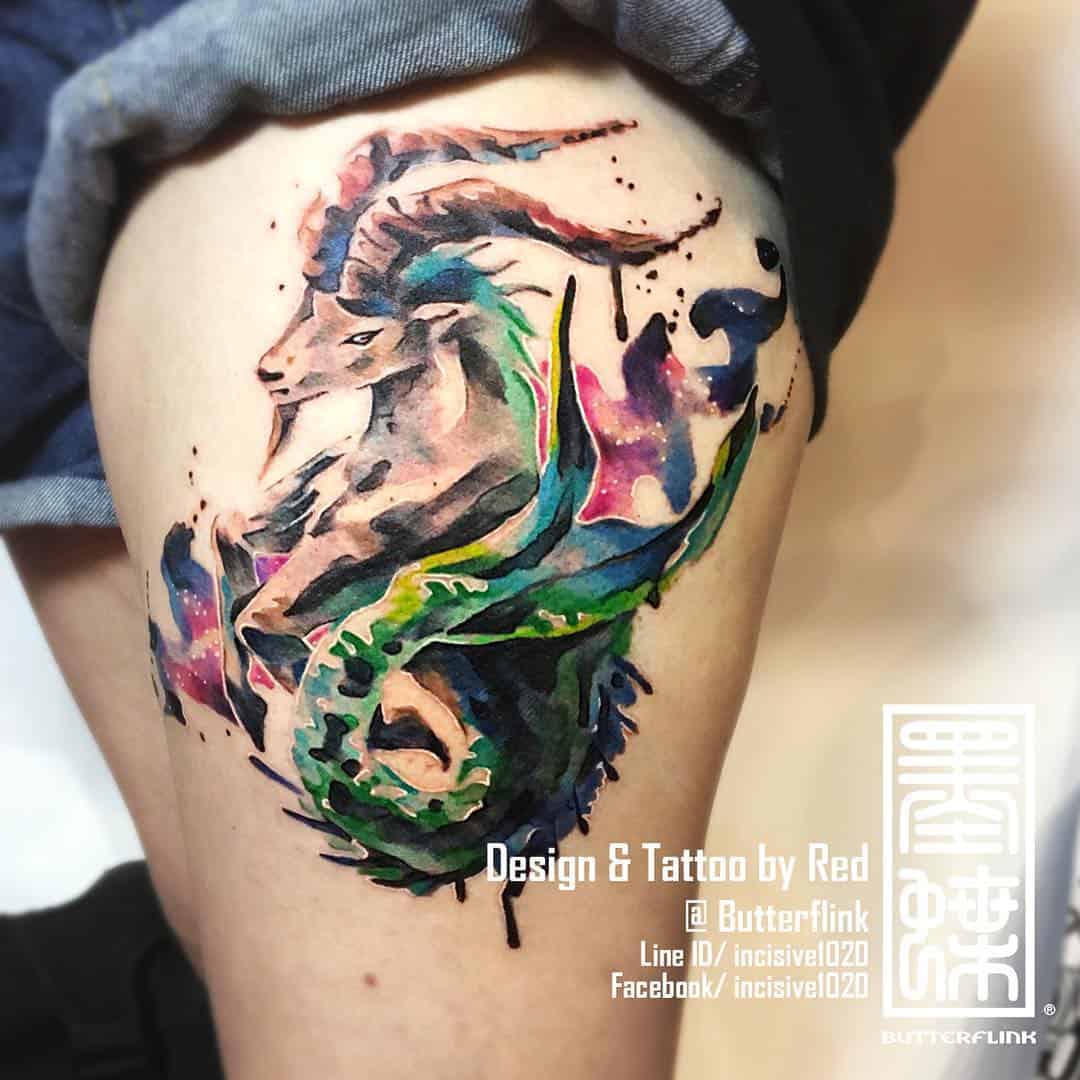 We start you off with a playful and colorful tattoo. Yes, the Capricorn is not much of a colorful sign. But it is a way to make your tattoo look more interesting and lively. You can just see "the goat" coming out of your shoulder.
2. Flowers And Capricorn Skull On Back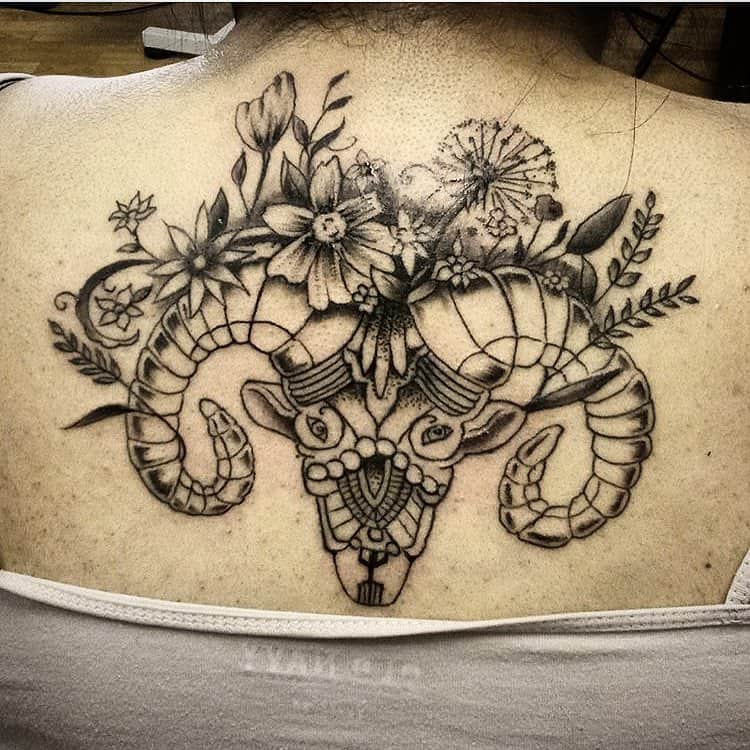 One thing about the Capricorn is you can easily go big. The design of the sign allows you to get a big and flashy tattoo. And in that way, you can cover your entire back with just one tattoo. What we love here is the clear lines of the tattoo. The Capricorn does not look as determined as we are used to see him, but that might have something to do with the flowers.
3. Black Capricorn Silhouette On Forearm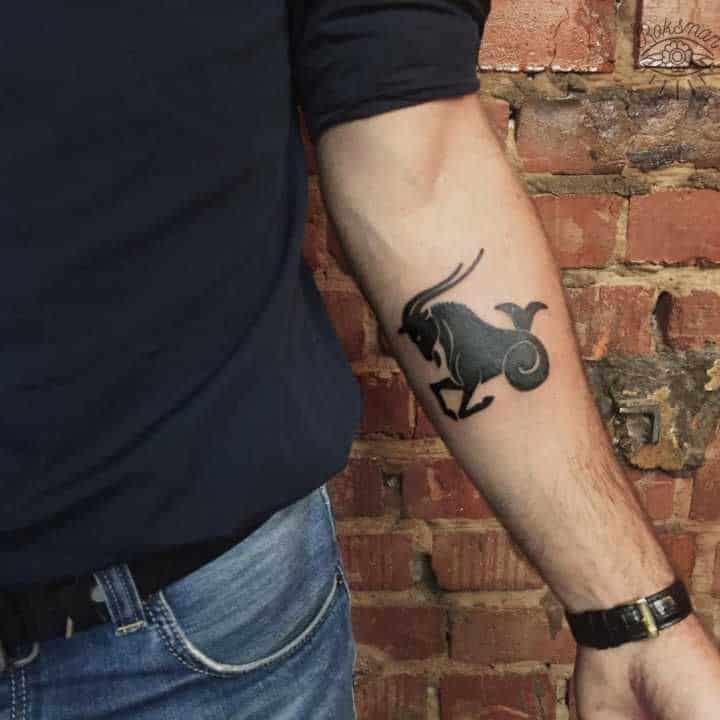 Even the silhouette of the Capricorn is a great idea. You do not have to draw the real thing. And as you can see here, the ink can be small and good looking as well.
4. Red Fiery Capricorn On Leg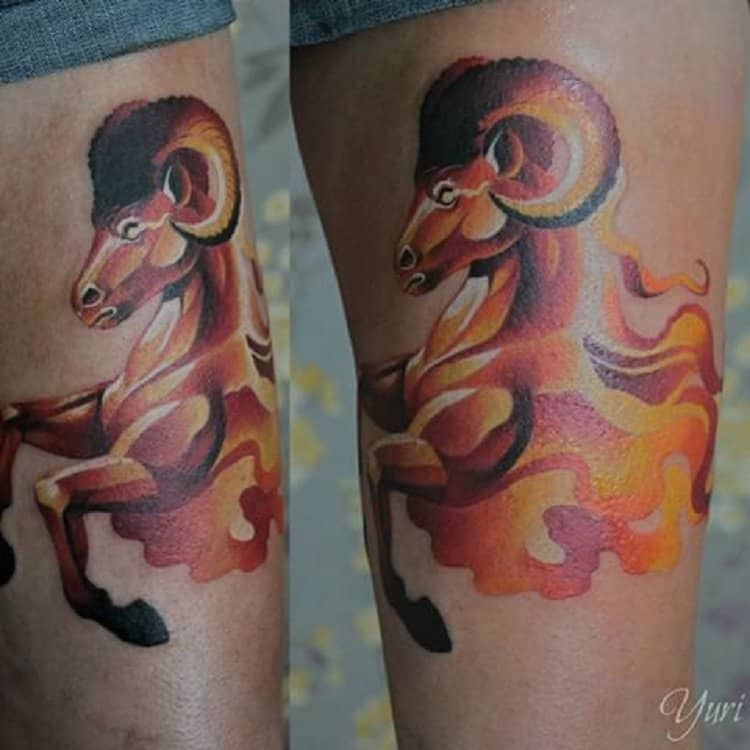 We said at the beginning that the Capricorn is one of the most determined signs in the zodiac. Take a look at this Capricorn and tell me he doesn't look determined. When you add fire to the mix, you just know it will look awesome.
5. Stellar Capricorn Mermaid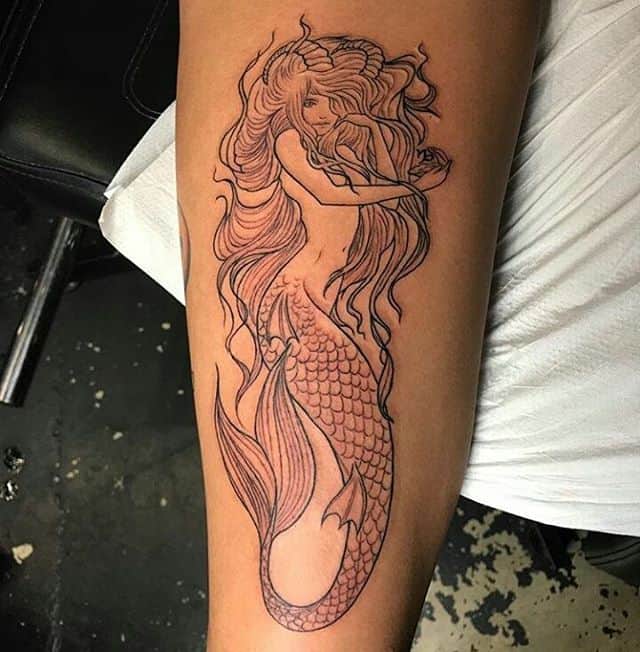 Babylonians connected the Capricorn with the mermaid. They called the mermaid a goat-fish. In their culture, the Capricorn was a horned goat with a mermaid like tail. In that spirit, this tattoo honors Ancient Babylon, and the Capricorn sign in the same time.
6. Zodiac Sign On Chest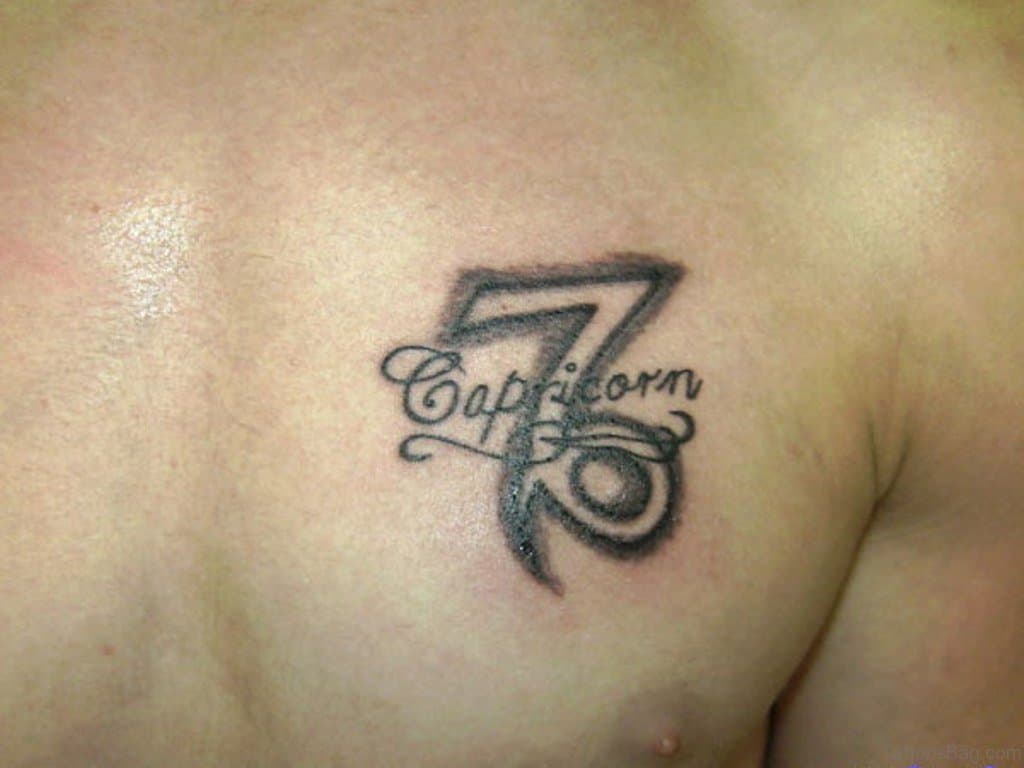 You do not have to draw a goat to honor the Capricorn. You can use the Zodiac symbol for the sign as well. Or you can just write Capricorn. There is no limit to what you can do, and I want to give you several different ideas.
7. Capricorn Landscape Silhouette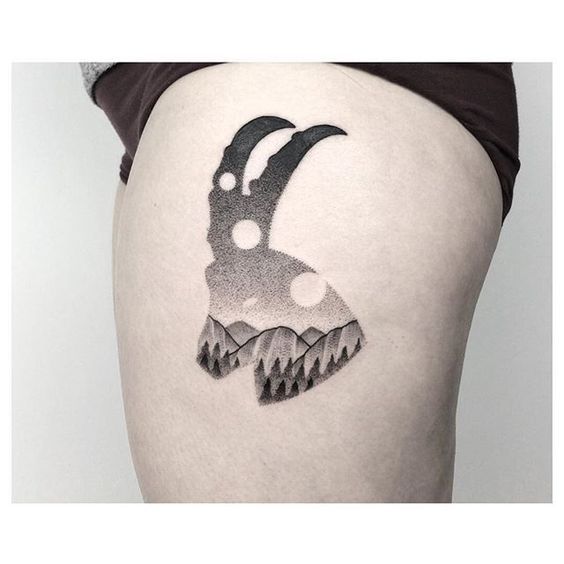 There will always be people that want to make the tattoo look more artistic and creative. In that spirit, they opt not for a goat, but a goat like landscape. Combine it with a silhouette of a Capricorn, and you have one artistic ink.
8. Realistic Black And White Capricorn Sleeve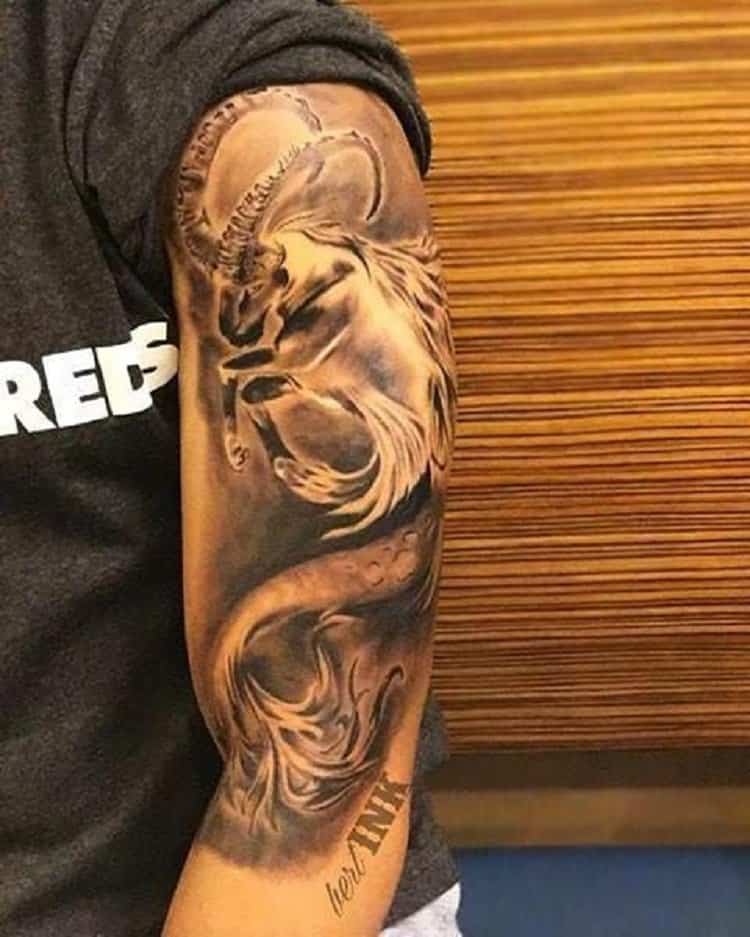 This is the true spirit and soul of the Capricorn. Determined and ambitious, you just look all of the traits in his eyes. The movement and flow has some Babylon mermaid elements in there as well.
9. Capricorn Stylized Lines On Wrist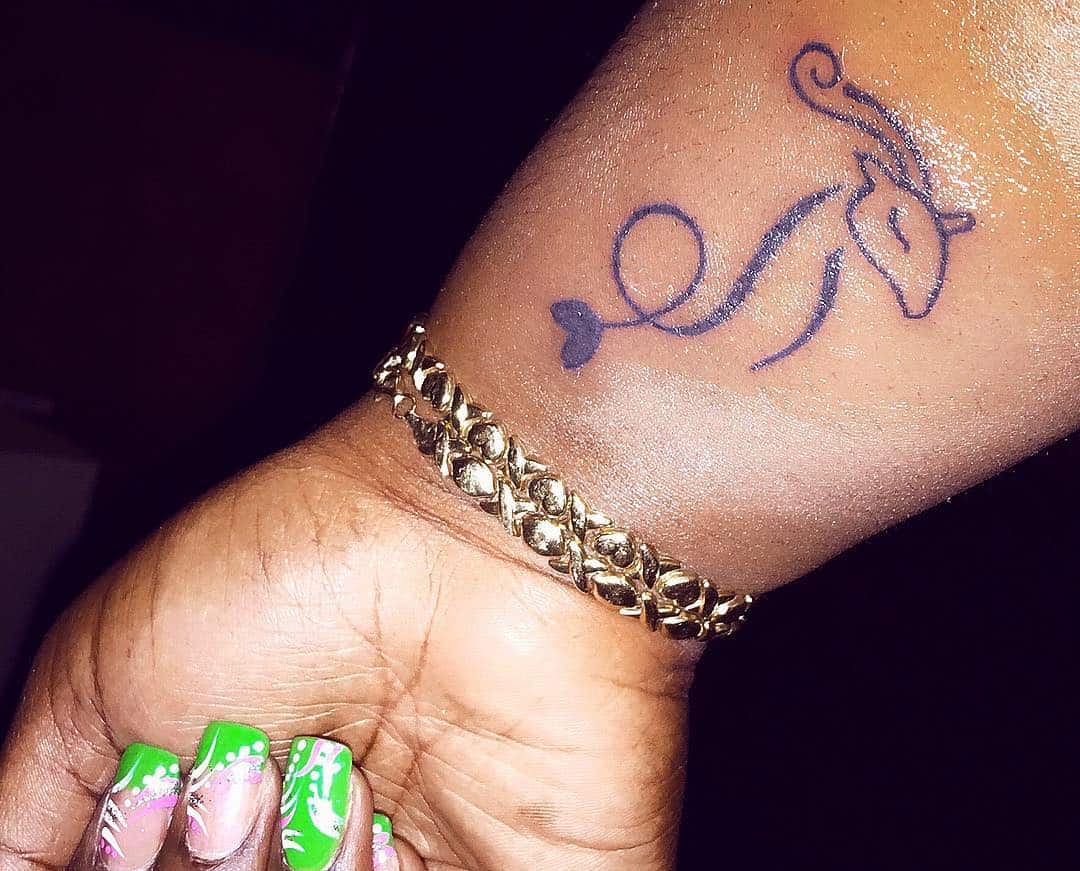 Call it the girly tattoo if you like, but there is no denying this looks awesome. Small, subtle, and extremely sophisticated, this is a tattoo that helps you honor your sign without going over the top. And it looks quite feminine as well.
10. Flowy Capricorn Over Shoulder And Down The Arm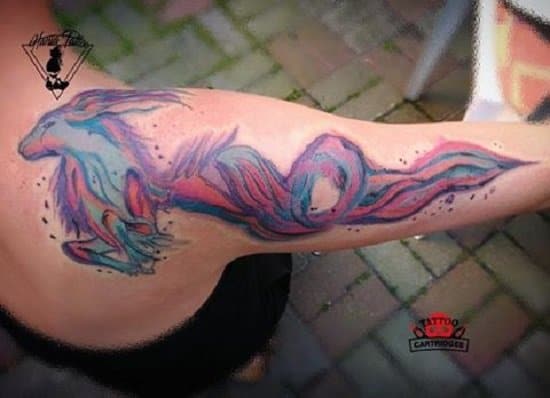 I said before that you can actually make the Capricorn quite big. The sign offers that much. We had a capricorn on the entire back, and now we get a shoulder and arm pairing. Instead of getting two or more tattoos for your arm, get just one, your zodiac sign.
11. Capricorn Constellation On Foot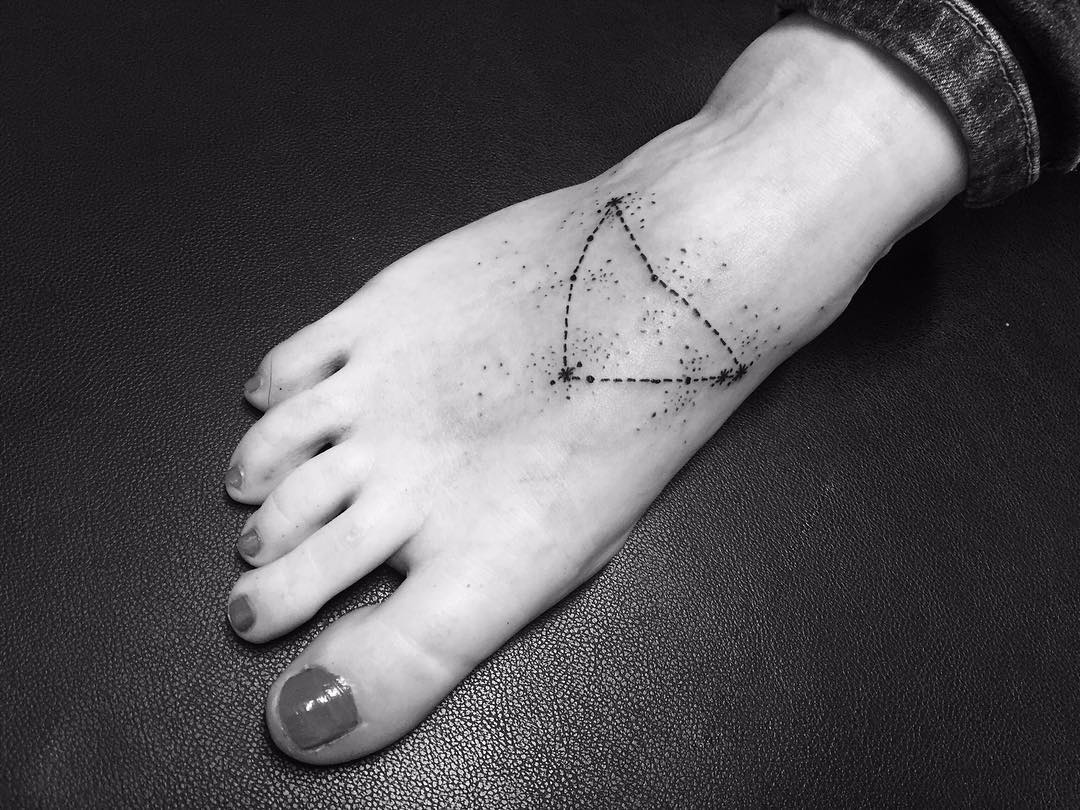 Another way you can honor your zodiac sign is with a constellation tattoo. A recognisable group of conspicuous stars that are placed together as imaginary patterns or outlines on the celestial sphere look great on your body.
12. Dotted Geometric Capricorn On Forearm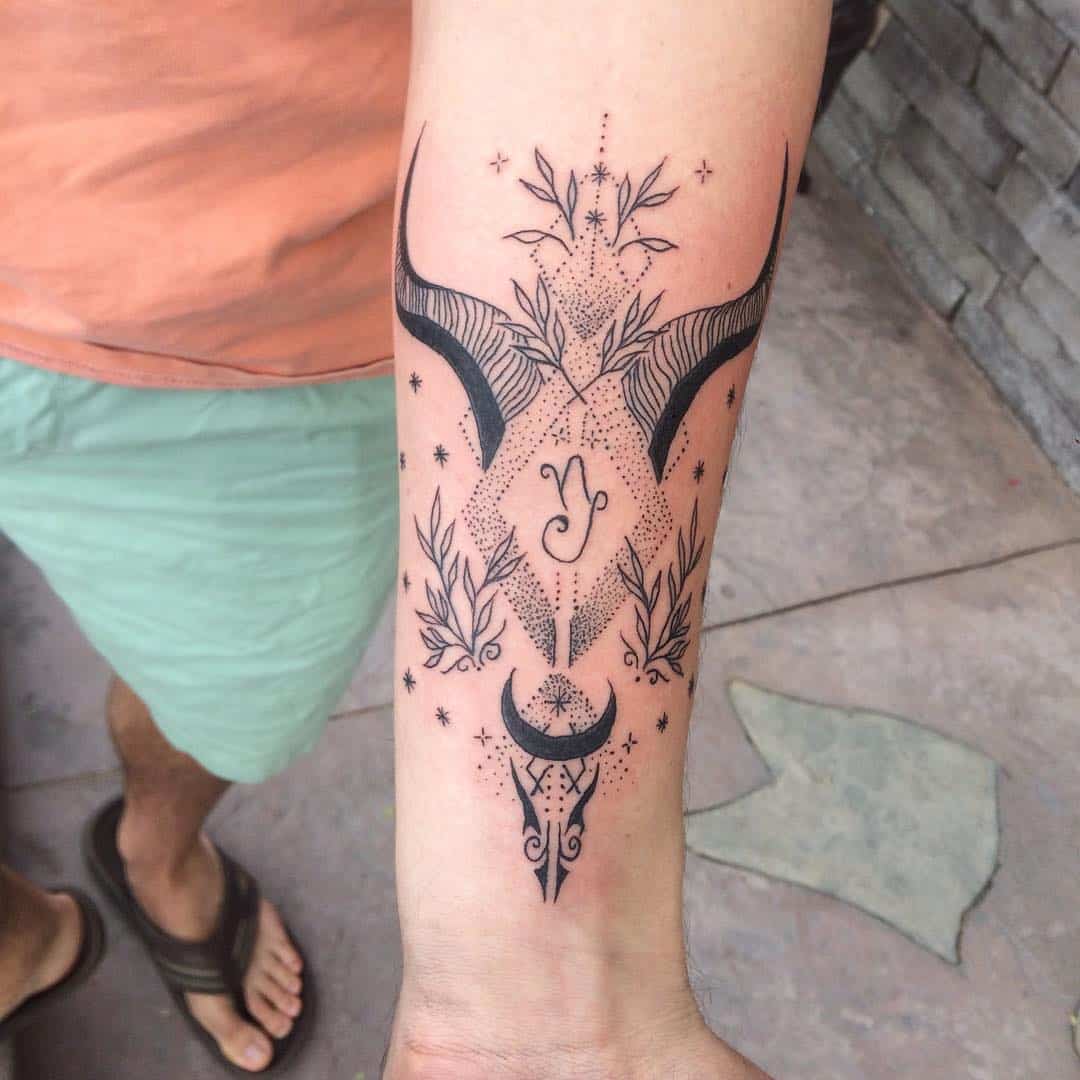 We talked previously about how some people want to get a more creative and more artistic tattoo. Well, dots are one of the techniques used to achieve that. In recent years, dotted tattoos have become a huge trend, mainly because of their ability to look artistic. Almost any tattoo can get the dotted treatment. And now we see the Capricorn get that.
13. Black And White Goat's Head With Capricorn Sign On Shoulder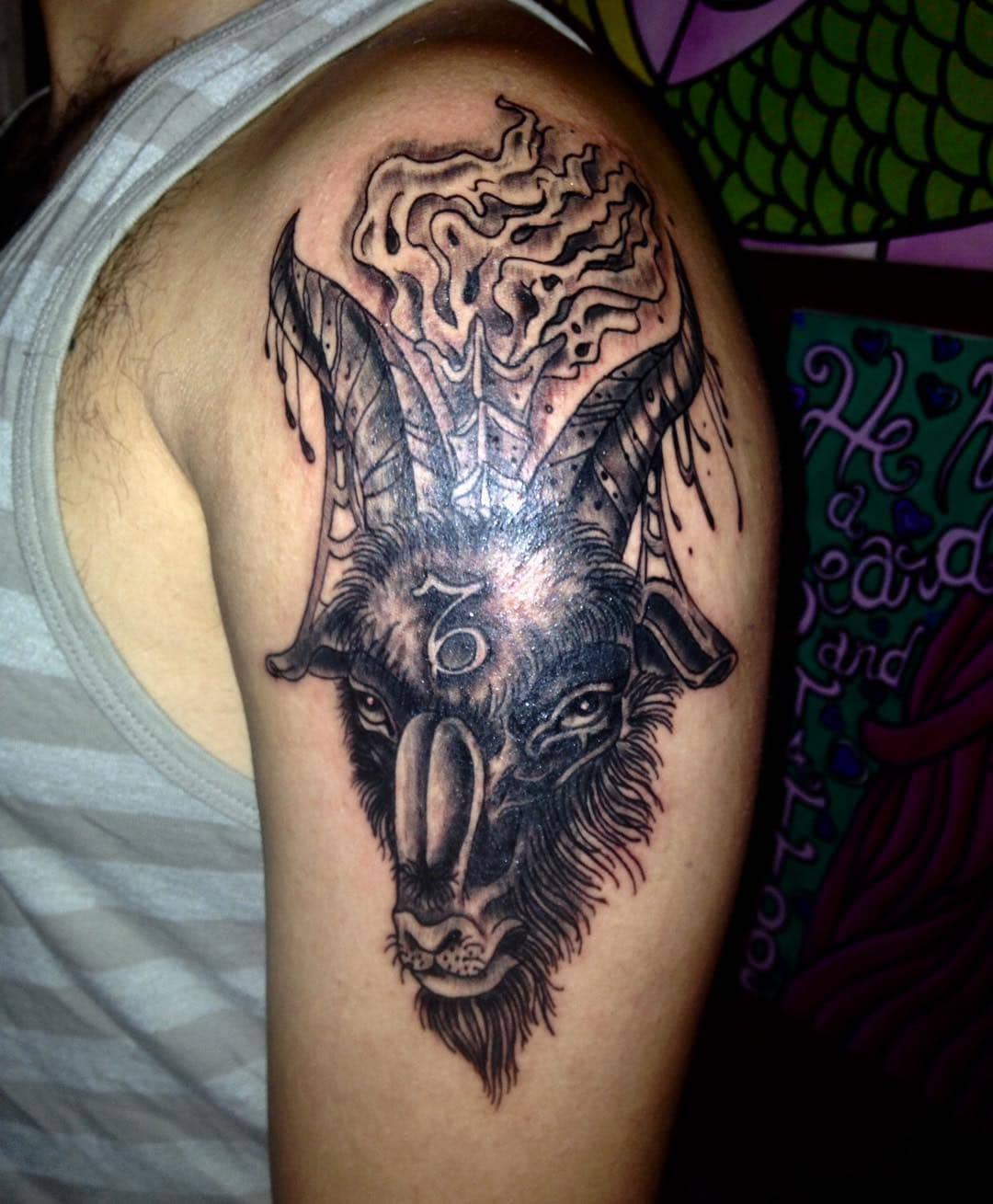 Now this is one scary tattoo. We mentioned that Capricorn is actually a goat. Even since the Ancient times, the Capricorn has been a creature that is half goat. And if you thought goats are cute and adorable, think again. Just look at that face.
14. Colorful Copper Capricorn On Thigh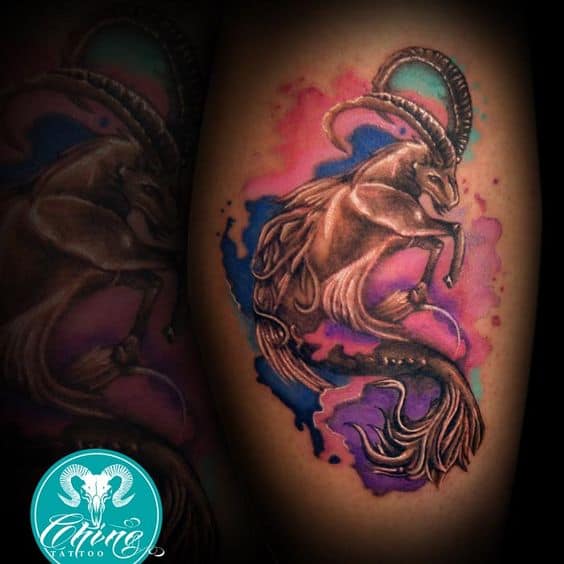 We had a colorful Capricorn at the beginning, done with some water colors. This one is more artistic, with clearer lines and shape. And you have to love how colors round up and frame the Capricorn. Again, we have the mermaid like tail.
15. Diamond And Arrow Capricorn Tattoo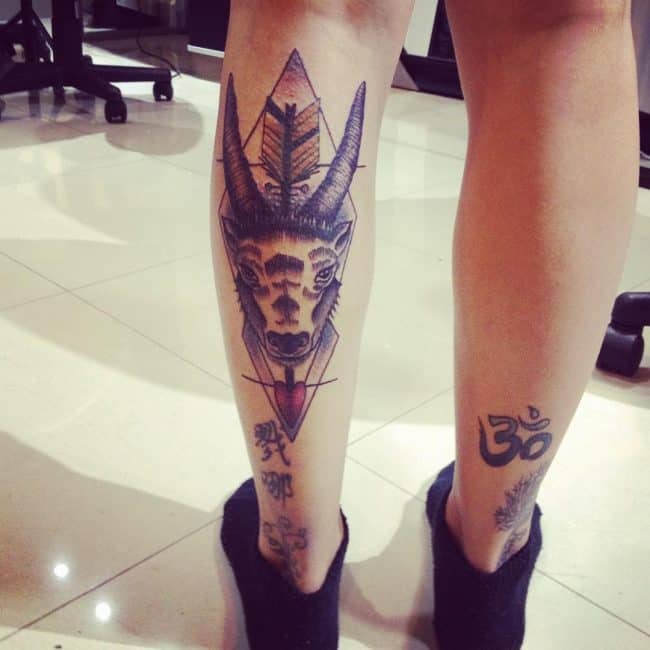 I talked previously that instead of two or more tattoos, you can get just one. Well, you can do the opposite as well. That is combine the Capricorn with other tattoos, other signs, and symbols. We cannot find the symbolism behind using an arrow and a diamond, but it definitely looks good.
16. Tribal Capricorn Half Sleeve Tattoo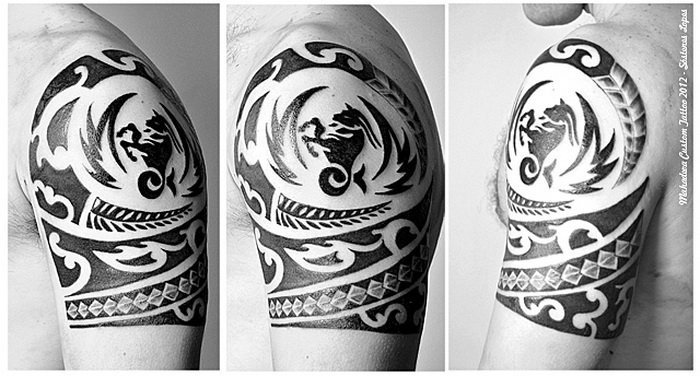 We had the dotted treatment, and now we have to give the Capricorn the tribal treatment. That is just mandatory and standard. Any design looks good as a tribal. And while tribals have fallen in popularity, they will never get out of fashion.
17.  Red Rose Capricorn Tattoo On Wrist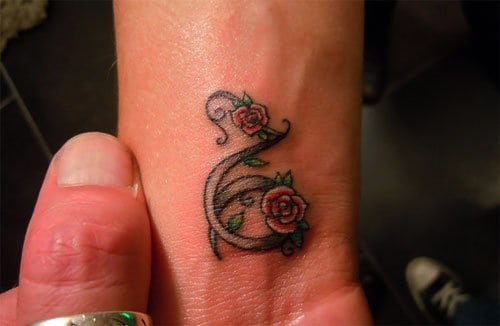 The Capricorn sign looks a lot like curly flower. And you can try different flowers if you like. However, the rose is one of the timeless options. And I love how the sign is paired with rose. After all, the rose is another symbol that has similar traits as the zodiac sign.
18. Goat Sign With Astrological Sign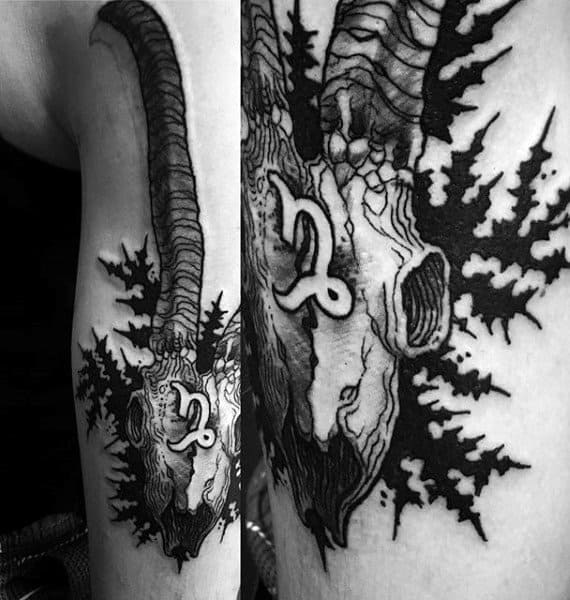 This is one of those tattoos that you won't understand at first glance. It will take you few moments, and a couple of more gazes to understand it is actually a goat tattoo. But with many tattoos, the goal is get something that is not instantly recognizable. If that is your wish, we've got you covered.
19. Capricorn Symbols On Back Of Neck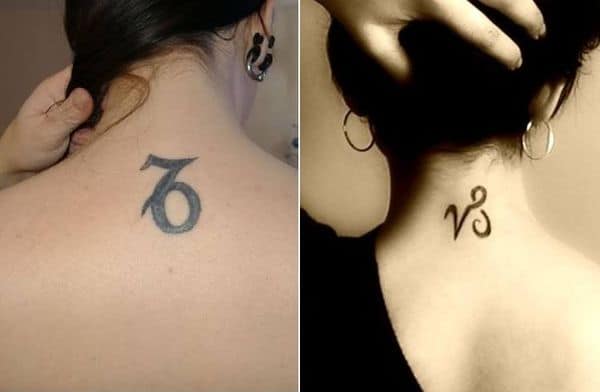 Two different takes on the Capricorn symbol, and both look great. A small and subtle sign is always a nice idea. And the placing is just perfect. We are long pass the dog and cat paws tattoo on the back of the neck. A zodiac sign looks much better there.
20. Capricorn And Flowers Half Sleeve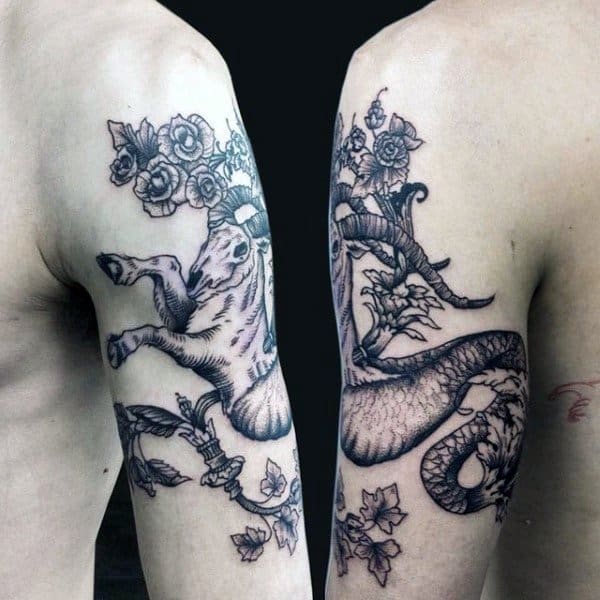 While goats are herbivores, they are not as associated with flowers as some other animals. They eat grass mostly. But in the spirit of a good tattoo, flower are a nice pairing with the Capricorn. They give balance to the scary and intimidating look of the creature.
21. Elegant Capricorn Queen Down The Spine
We had some feminine tattoos, we had some masculine tattoos, and now we have an adorable Capricorn tattoo. Many women dream of being a queen. But if you cannot be one, you can always carry a Capricorn queen on your back. Or on any other part of your body.
22. Gray Black Capricorn With Constellation On Shoulder Blade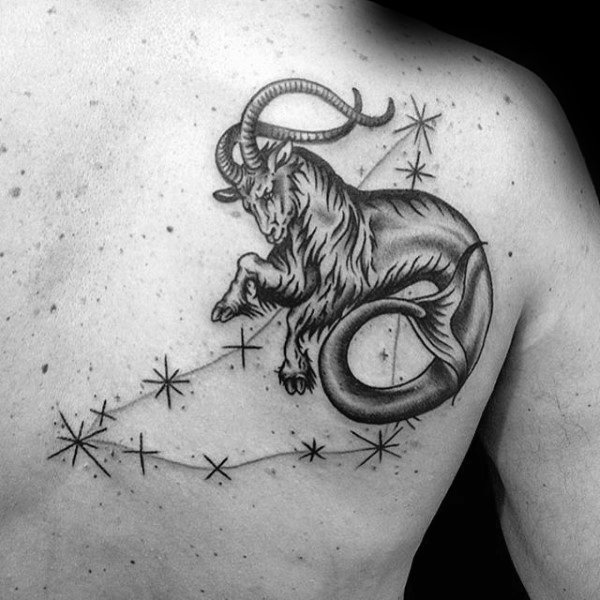 I would like to finish with a complete Capricorn tattoo. You have all of the Zodiac elements there. You have the sign, you have the goat, and you have the constellation. What more can you ask for? I hope you enjoyed the Capricorn tattoos.
And do not worry, I will get some for the other zodiac signs as well. In the meantime, I invite all of you Capricorns to share some ideas with the rest of us.