When you think of a baby crib, two things always come to mind: cozy and comfortable. You definitely want those for your baby crib!
But why stop there? Why not make your baby feel like something special? Today, we have some whimsical, amusing, and playful designs for the baby crib. They all have one thing in common: a canopy bed. I'm sure you'll find something for you and your baby, no matter your taste and preference.
1. Beautiful Baby Crib with Mosquito Net Canopy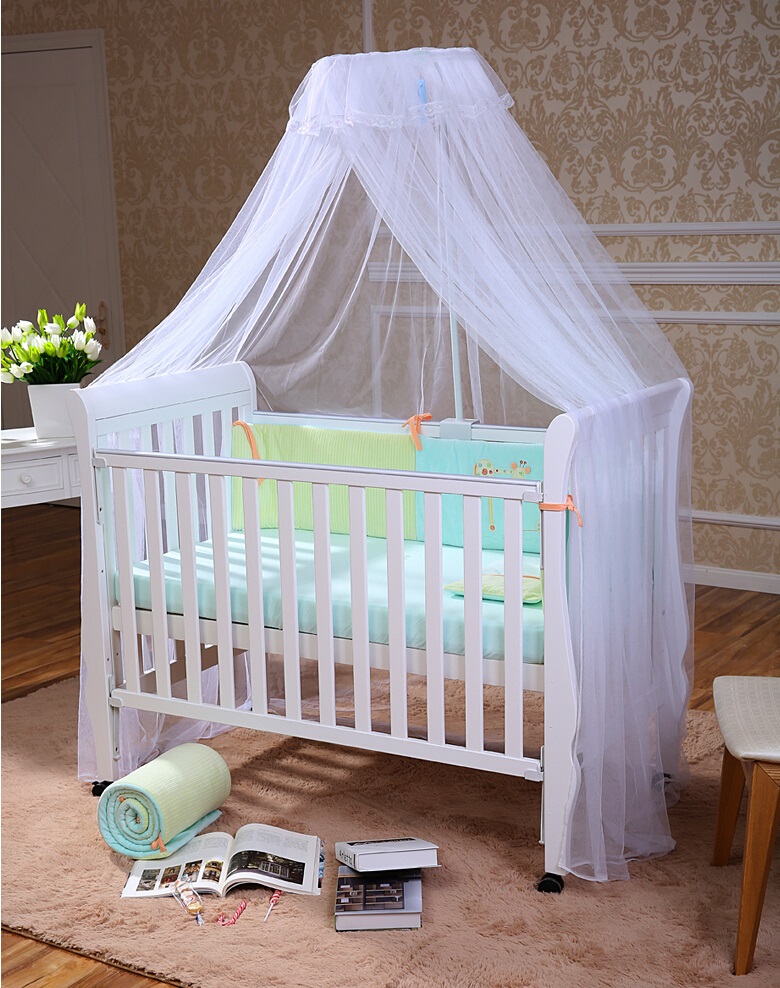 We start you off with something that is not just beautiful, but also practical. Yes, I know you can place screens on your windows. And yes, that will prevent them from entering the room. But you never know, and with babies, it's best to be safe. This crib will definitely let you sleep at night, knowing there will be no mosquitoes bothering your baby.
2. Round Canopy Crib with Green and Brown Color Scheme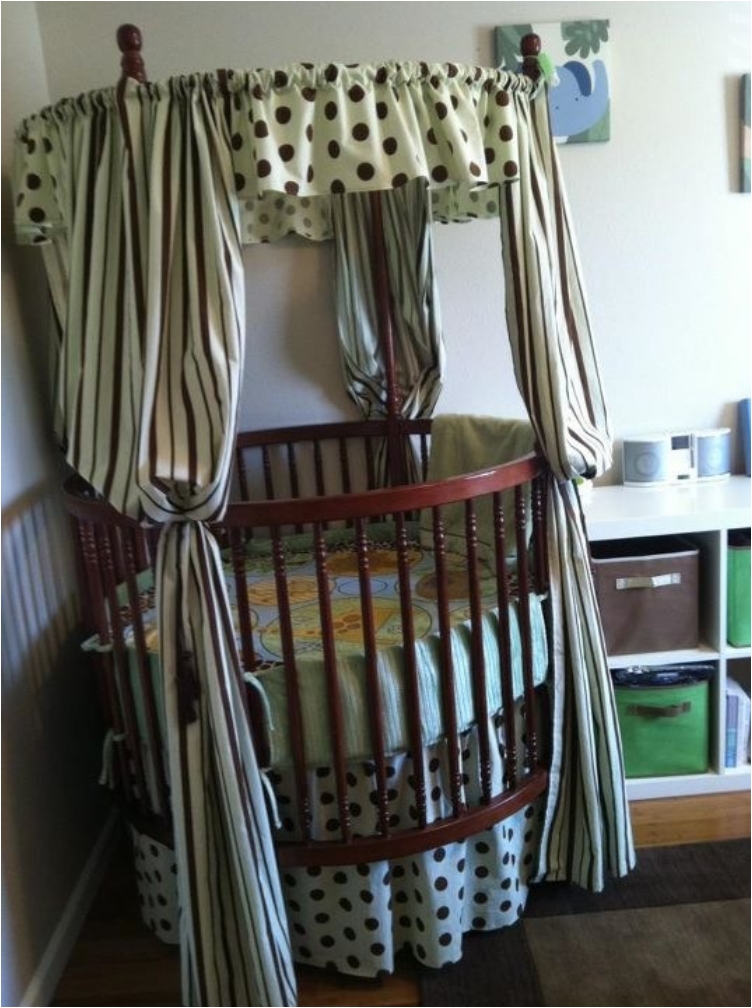 The colors might look old-fashioned, but this crib is definitely modern. But what I love more is the round shape. Round cribs are awesome, as you have more space for people watching over your baby.
3. Princes Pink Baby Crib with Geometric Hanging Canopy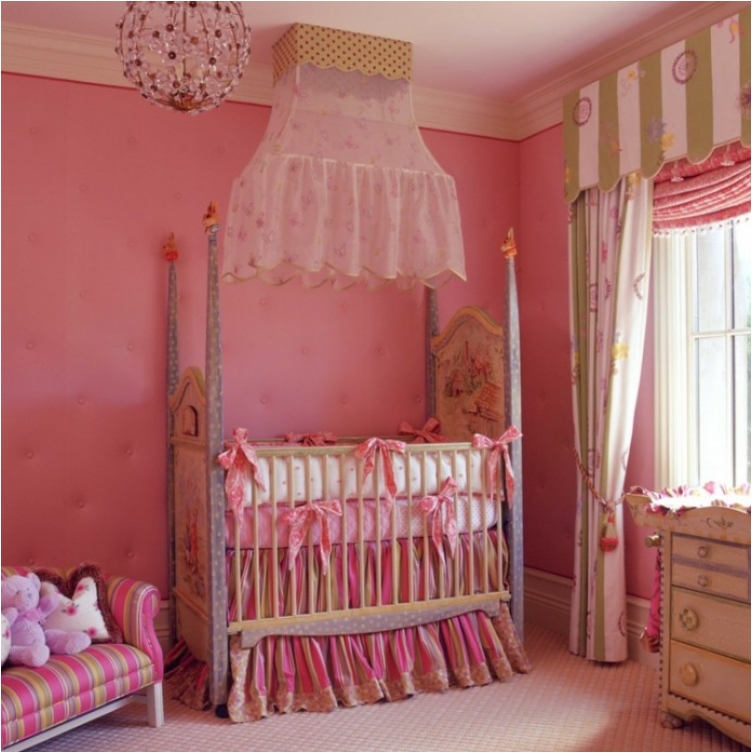 Talk about setting your baby daughter up for the life of a princess from the get-go! I know some people think parents want to do this sort of stuff because they didn't have it. But whatever the case, the princess crib looks awesome.
4. Country French Round Canopy Crib in Black and White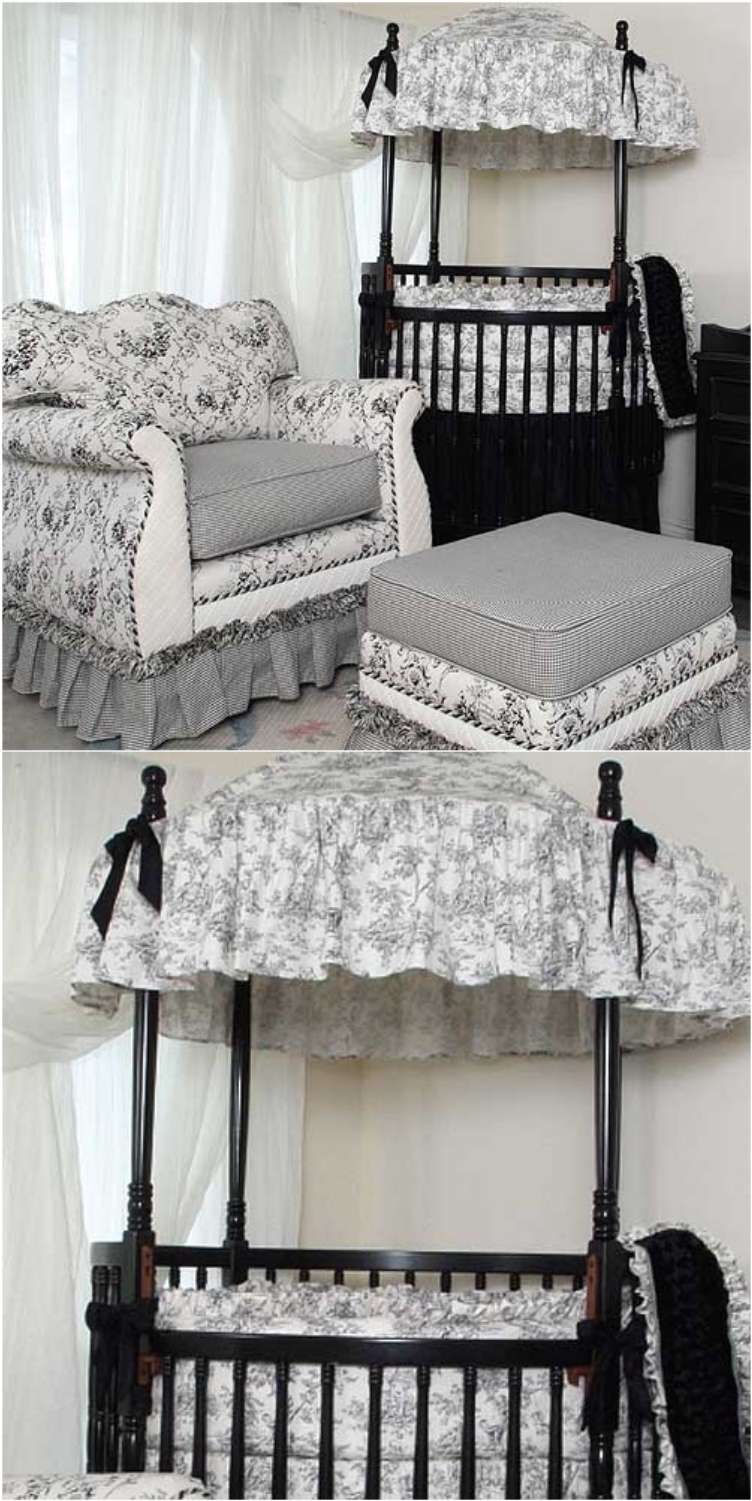 Some people are just way too classy to try something colorful. That doesn't mean that classic is bad. And in that spirit, we get a great black and white example to show us the way.
5. Four-Poster Canopy Crib
At first glance, you might not even notice the beauty of this crib. It's all about stability here. And then you have the craftsmanship. The embedded hooks let you hang a few dolls in the crib. We know babies love those.
6. White Baby Crib with Pink Loose Canopy
Personally, I prefer simple things, and in that spirit, I love when you have simple cribs. This white crib has everything I want. And without sounding stereotypical, it's made for a girl. Therefore, the pink canopy. You've got to love all the decorations on the canopy.
7. Hanging Canopy Cribs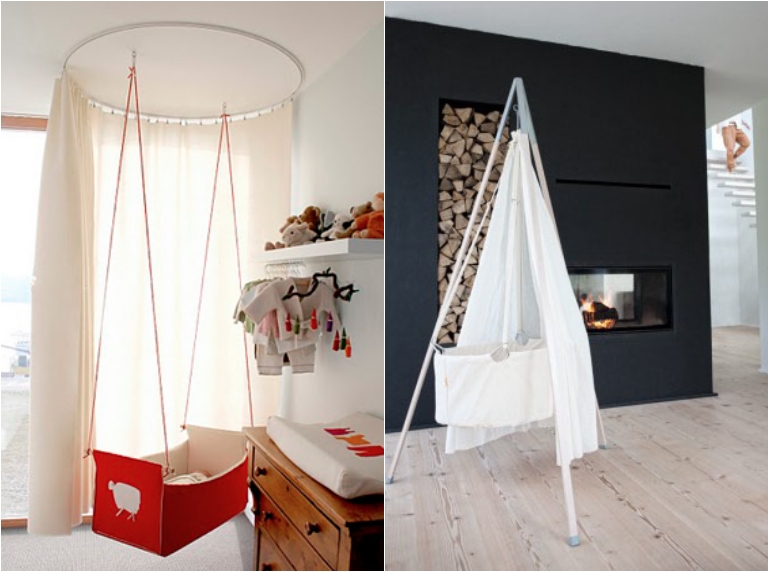 The question here is, "Why not?" In the past several years, we've seen almost every furniture piece as a hanging example (we've had hanging sofas, hanging beds, and everything else). And now, a hanging canopy baby crib.
8. White Royal Crib with Dome Canopy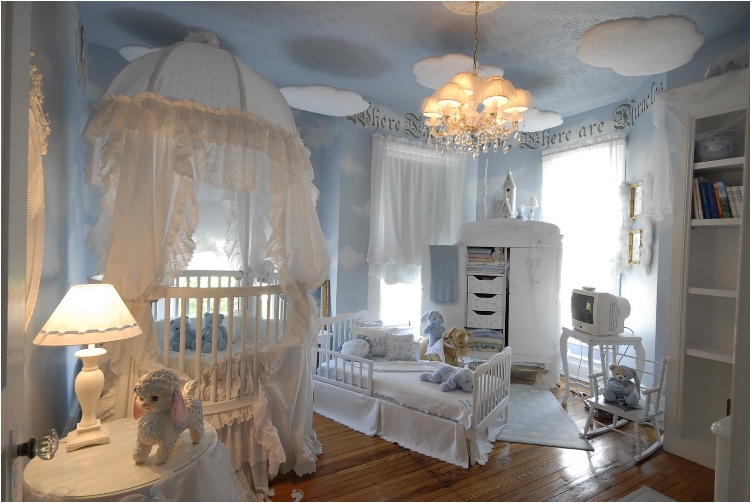 We had a white crib with some pink accessories, but this is a whole new level of white. You've probably seen an all-white living area. But the baby's room? That's something we rarely see. Usually, the kids' room and the crib are colorful. In this case, we have a peaceful and calming ambience thanks to the white and pale blue.
9. Nook Baby Crib with Simple Canopy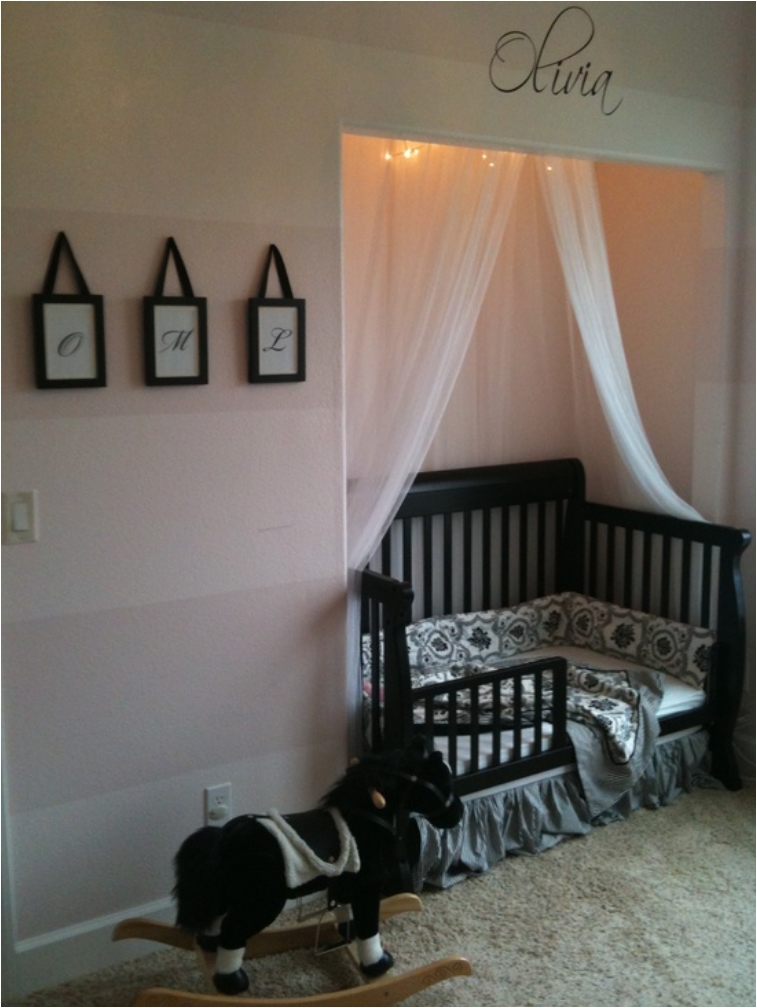 You knew it was coming. Nook beds have become very popular in recent years. People are trying to save space in their homes, and nook beds give them that chance. And in that spirit, we a nook baby crib!
10. Four-Poster Canopy Crib with Lights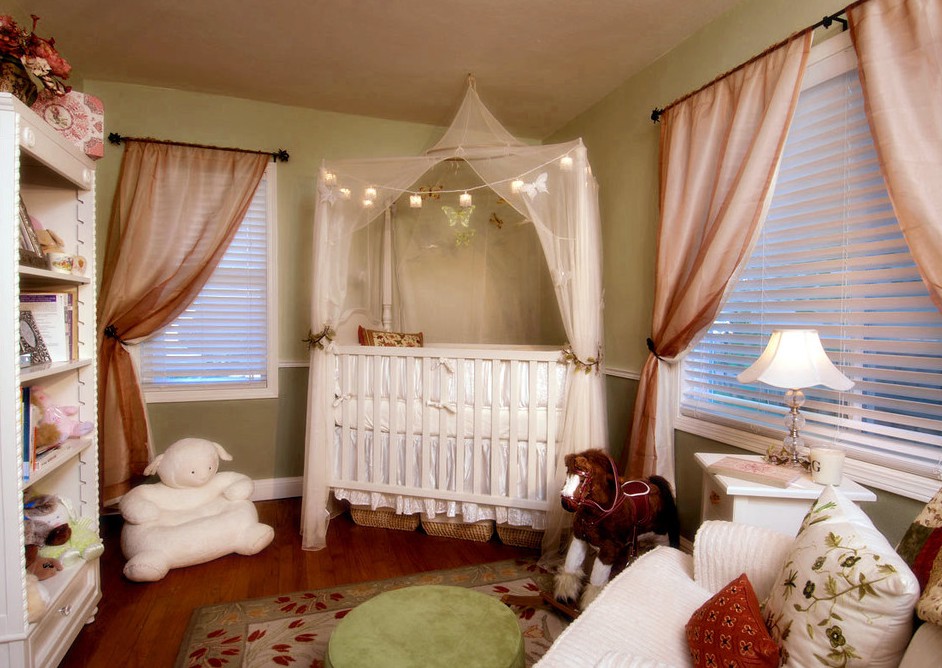 A four-poster baby crib is the standard. Anyone who has ever studied cribs knows this. The challenge is how to make the crib special, unique, and different from the others on the market. Well, lights are one option.
11. Baby Crib with Sliding Curtain Canopy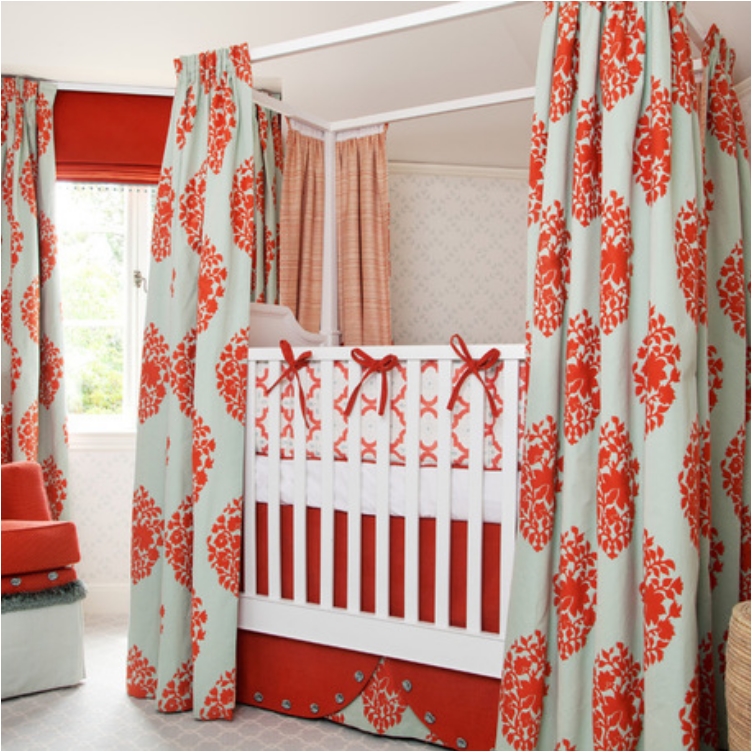 The beauty of a piece of furniture is always in the nuances. Or, the small things, to be precise. Sometimes, something as simple as sliding curtains can make all the difference. And it's good that we have different options.
12. Gold-Accented Baby Crib with Wall Mounted Canopy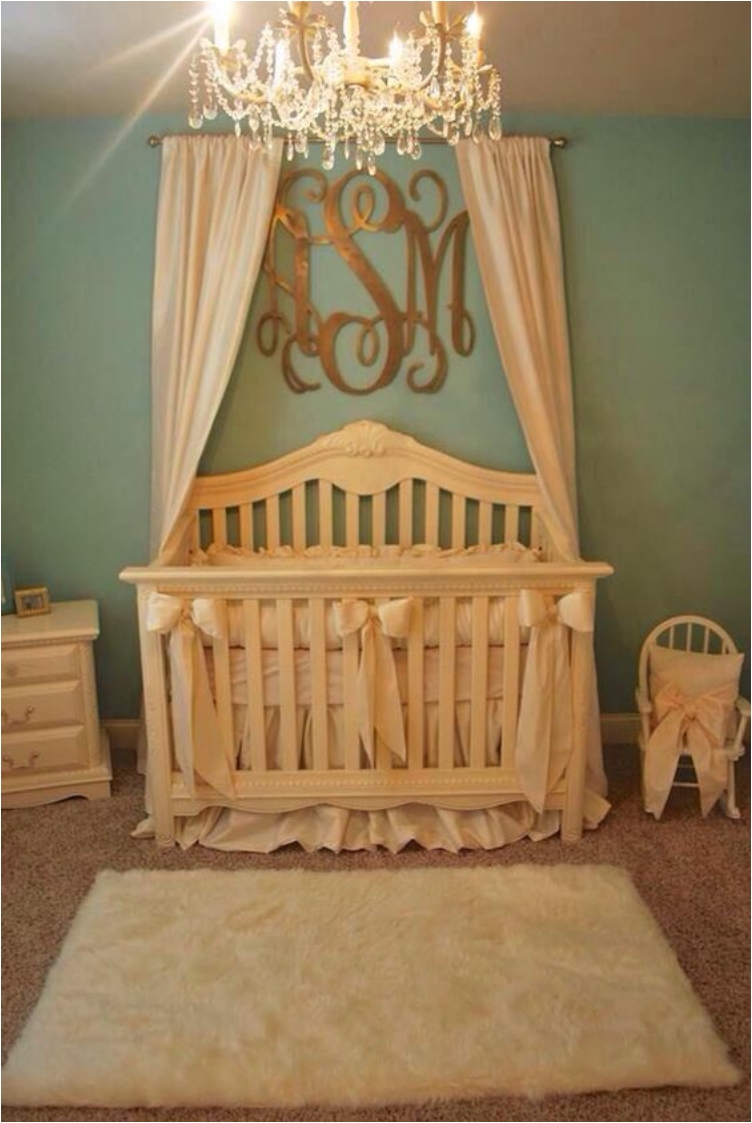 I always try to include some avant-garde options whenever I write a furniture and interior design article. After all, there are people who want something like this. You can't deny it looks glamorous and luxurious! No offense to other brands, but this is just the Versace style overdone.
13. Parisian Round Cribs with French Lace Canopy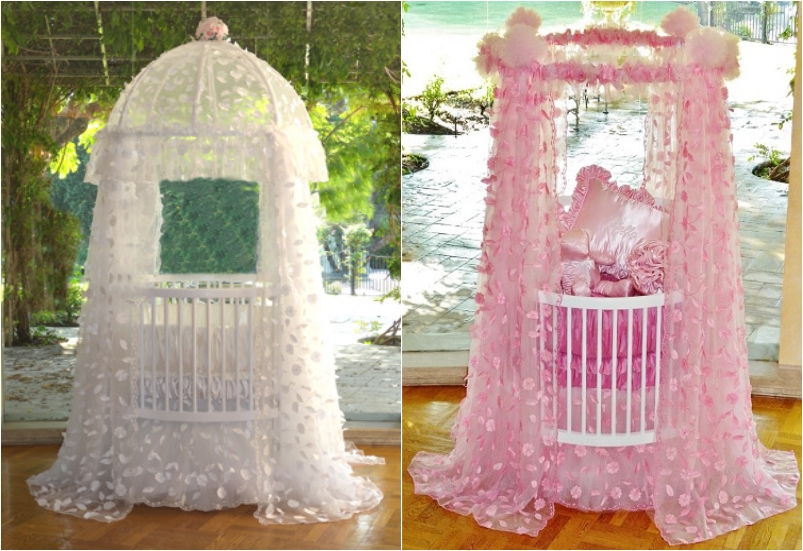 Lace looks romantic and cute on anything you put it on. Be it a woman's dress or a baby crib, lace looks awesome. And it's so gentle and silky soft. You also have to love the shape of these cribs.
14. Soft Pink Canopy Crib with Disney Princess Bedding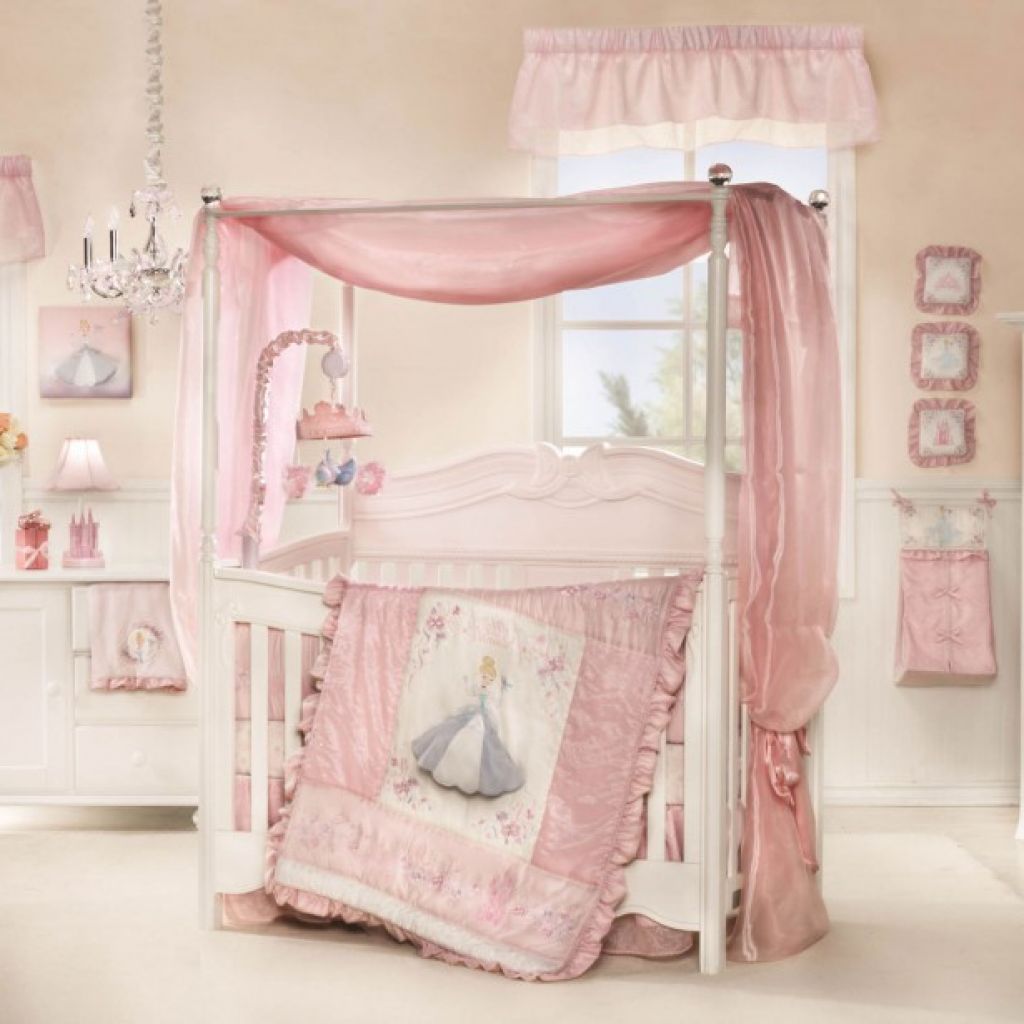 We had a princess design earlier. This one differs in the shade of the pink color. You get more of a baby, pale pink. And the thing that stands out is the Disney princess bedding.
15. Round, Four-Poster Baby Crib with Short Canopy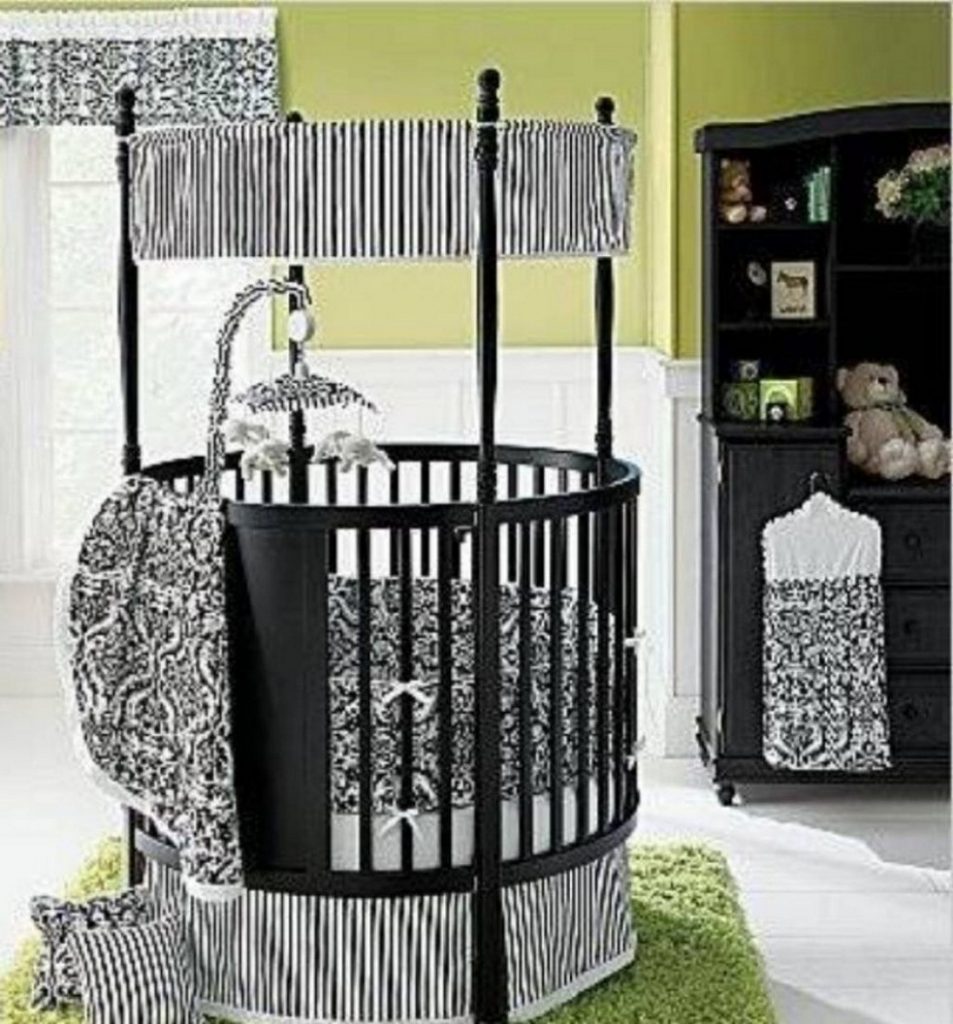 I said four-poster cribs are the standard, and they're usually a rectangular shape. So it's refreshing to see a round take on the standard baby crib. I know the canopy is short, but that's just an accessory.
16. Baby Boy White Canopy Crib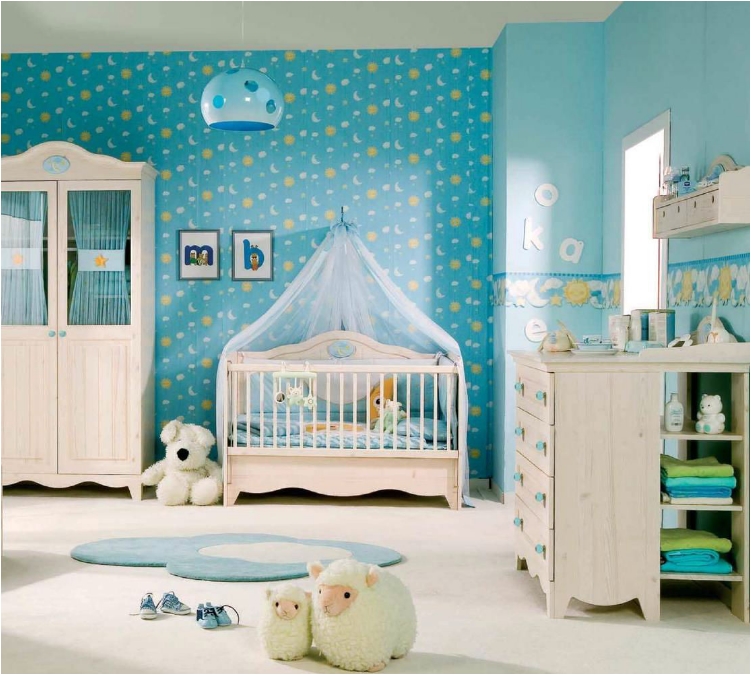 You have to give it to the designers. This baby crib fits just so perfectly and seamlessly in the room. Everything revolves around the crib. And the colors are so calming and peaceful. The blue is one of my favorite colors.
17. Fairyland Circle Crib with Glowing Canopy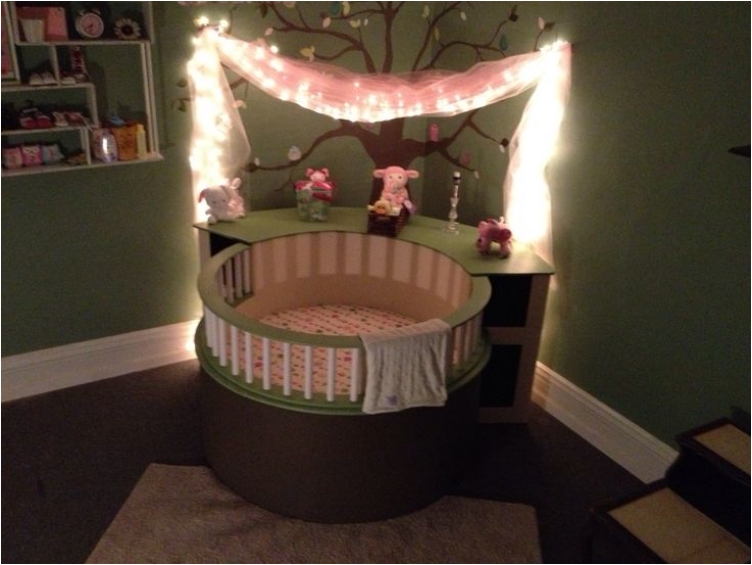 Those lights might be troublesome for the baby to sleep. But on the other hand, she or he will definitely have a blast looking at all the lights! Personally, what I love the most about this design is the tree.
18. Vintage Crib with Silk Curtain and Tufted Canopy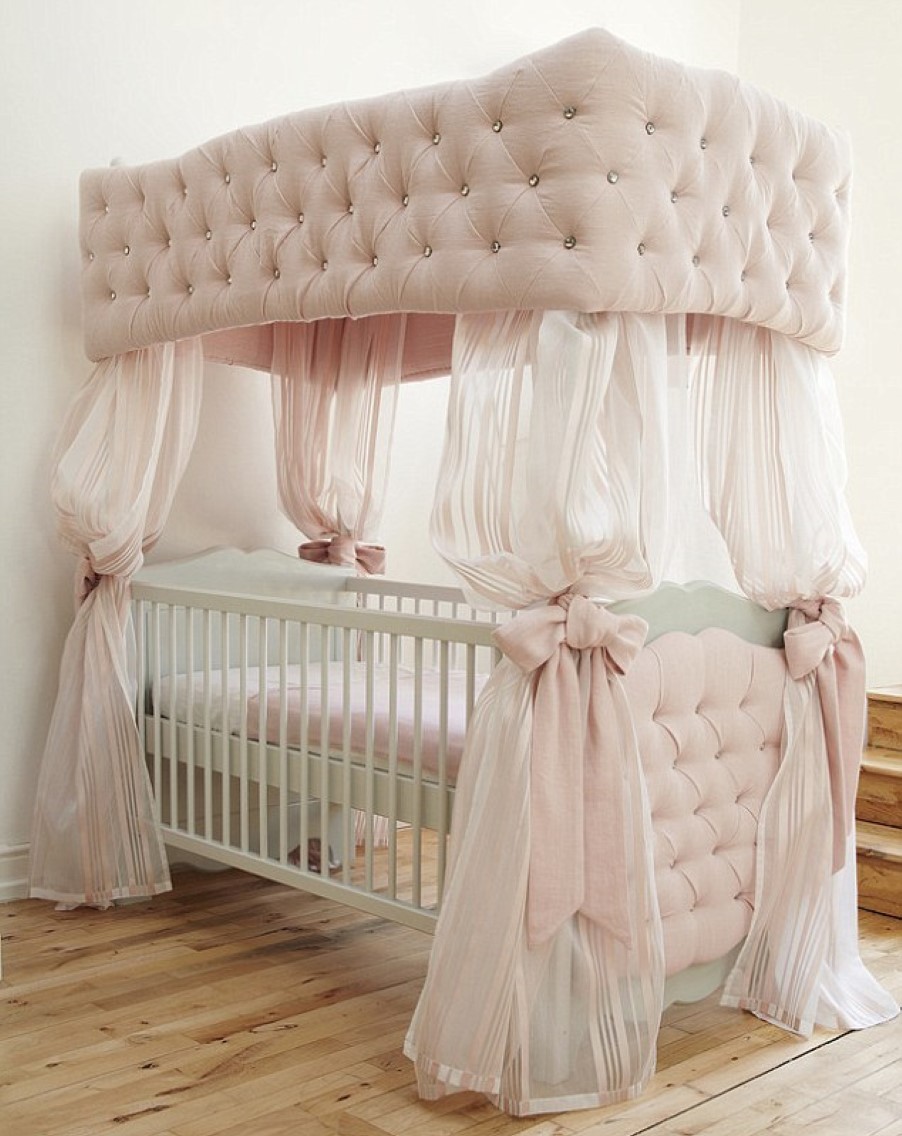 Since the vintage style has made a comeback in interior design, it's only logical we see it in the kids' room as well. Vintage style is all about sophistication, elegance, and subtle magnificence.
19. Elegant French Crib with Green Thick Canopy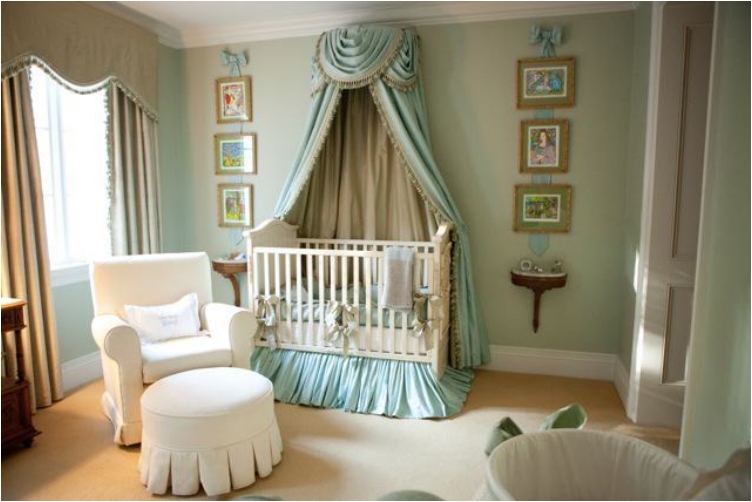 You can say the thickness of this canopy reminds you of something kings and queens had during the medieval times. And you would be right. Just look at that glamour—your baby will definitely feel like a prince in this crib.
20. Colorful Hanging Canopy Crib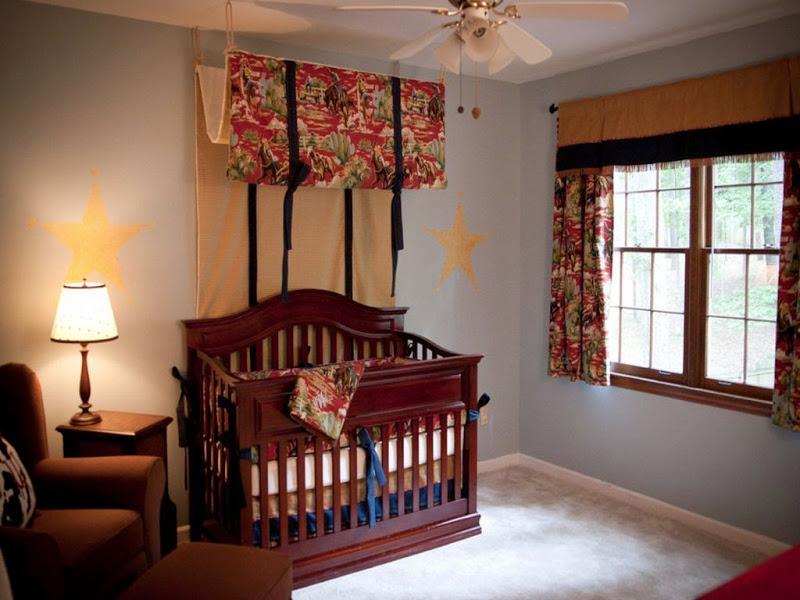 We have another hanging crib. You know I always try to give you several options, no matter what your preference is. The first hanging canopy baby crib was so simple. This one, on the other hand, is all about the quality of the materials and craftsmanship.
21. Bohemian Canopy Crib in Earth Tones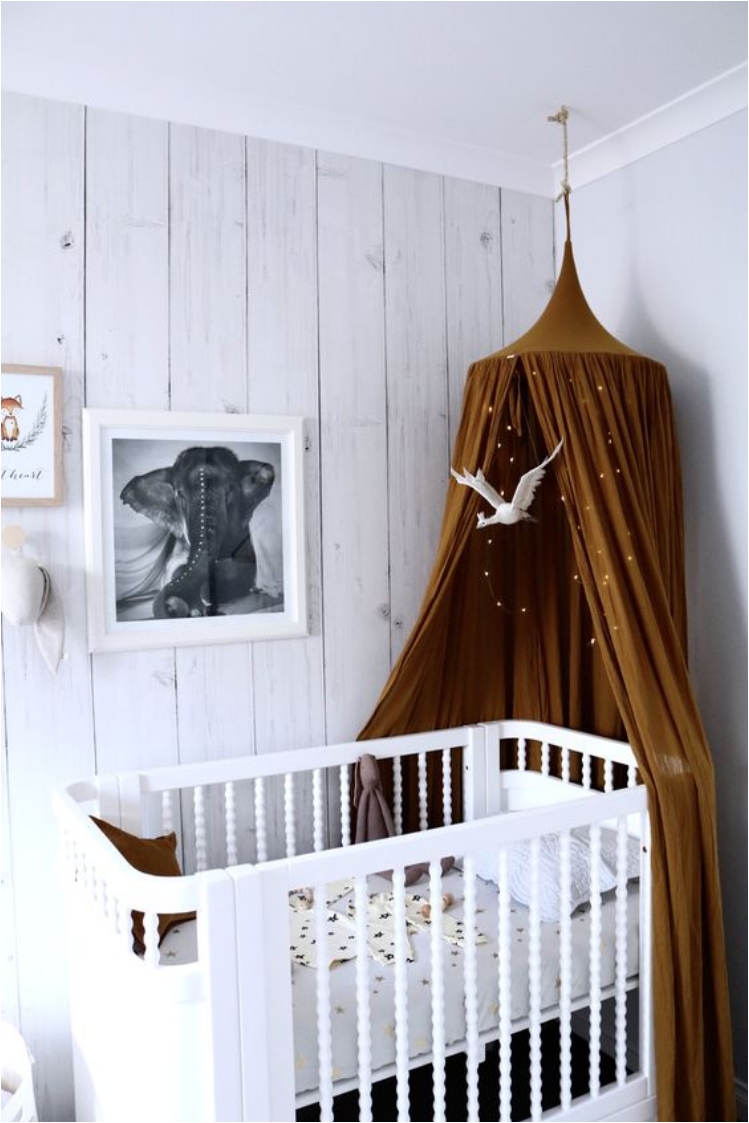 Bohemian style was a huge hit about three years ago. Especially in fashion, bohemian and boho-chic were something we saw in almost every other fashion show. The trend is slowly disappearing, but there are still pieces that are worth getting. Like this canopy crib, for example.
22. Baby Blue Canopy Crib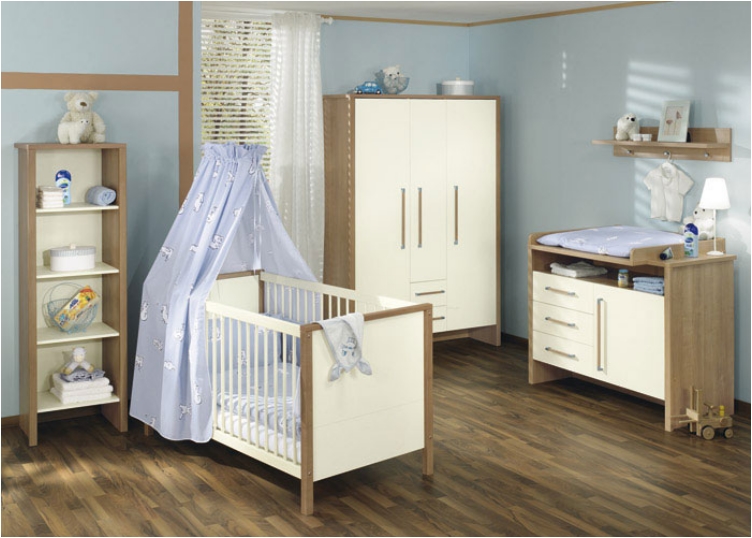 I've said it a few times, but baby blue is not only one of my favorite colors, but I think it's one of the best colors for a baby crib. That is, if you have a boy. And no, that's not stereotypical. We all know blue is for boys and pink is for girls. So if you have a boy, a simple white and blue canopy baby crib is all you need.
23. Princess Pleat Canopy Baby Crib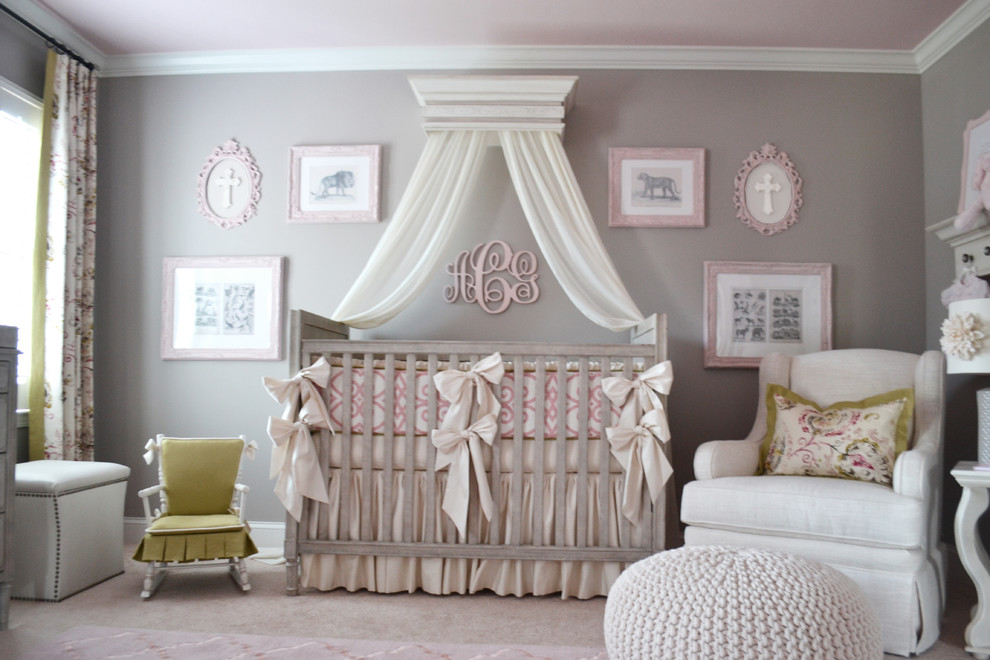 Pleats are common in upholstery. And they look great when used on a baby crib. At first glance, you might not notice this is a "princess" bed. After all, there is no pink color that pops. But sometimes, the beauty is in the eye of the beholder. Subtle beauty is sometimes better than eye-candy beauty.
24. Minted and Glam Baby Crib with White Canopy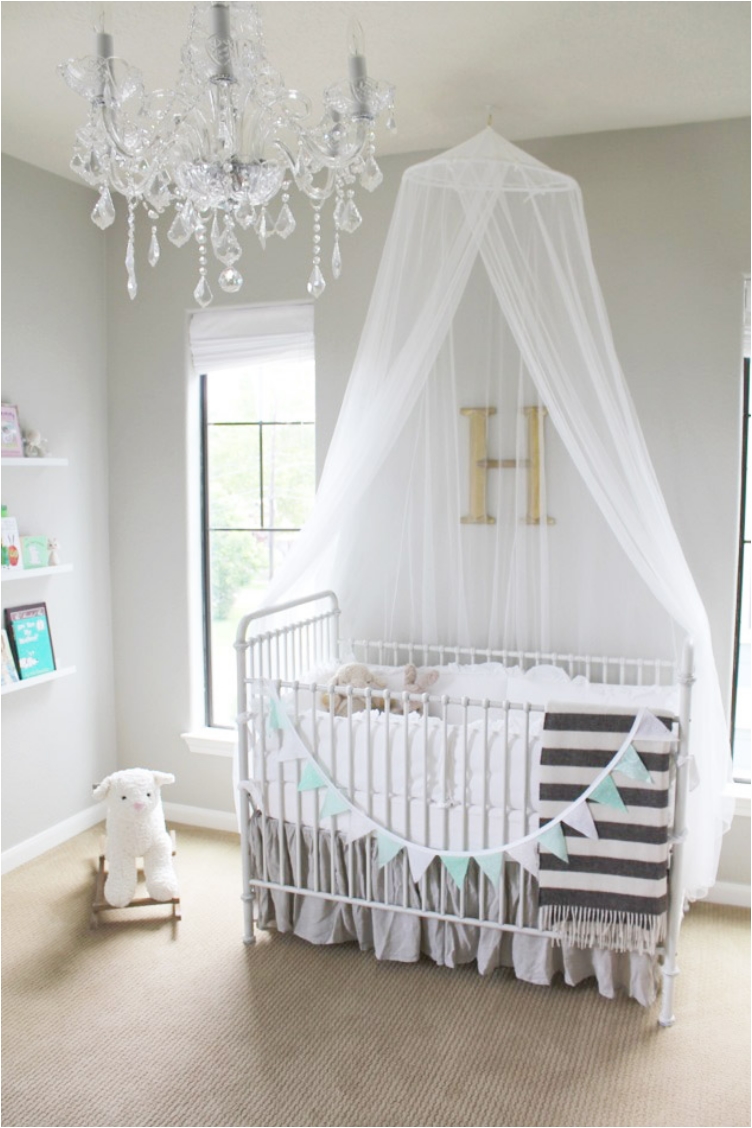 It's not every day that you see a crystal chandelier in a baby's room. But there's nothing wrong with that. Some people just like to express their love for fancy things, and do that in every room.
25. Red Round Canopy Baby Crib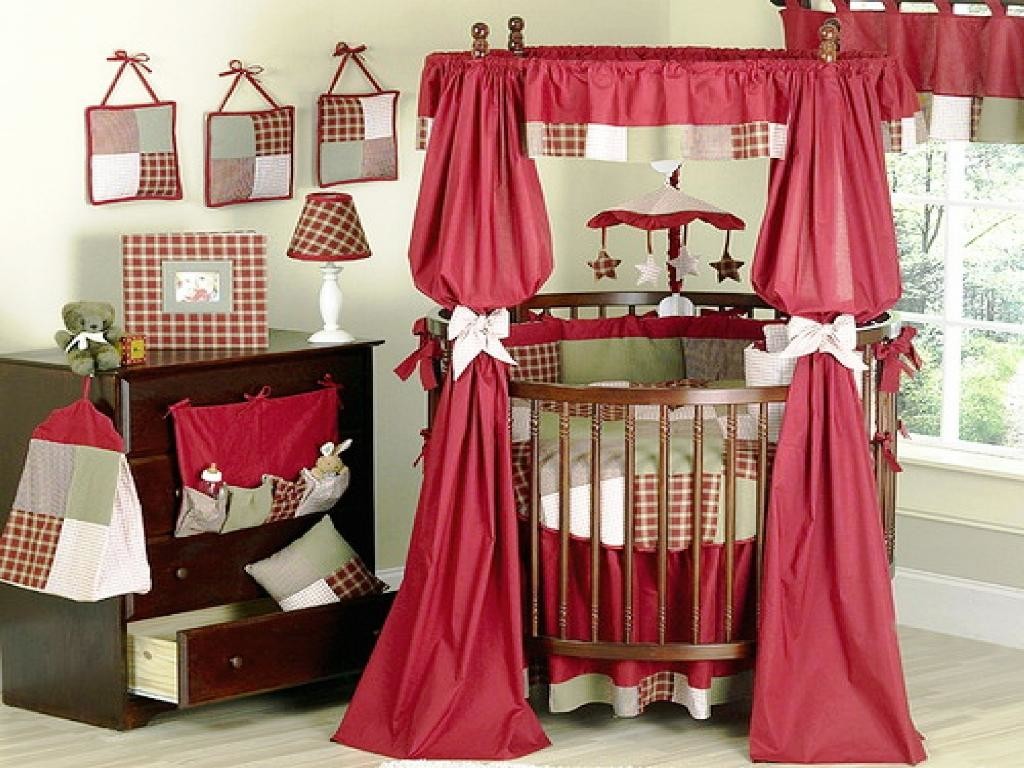 I know many parenting experts will attack this choice. After all, red is not a color that parenting experts recommend for the baby's or kids' room. They say it makes your kids hyperactive (red is an energetic color). But it's a bold choice nevertheless, and it looks stunning.
26. Baby Crib with Wall Mounted Canopy Tent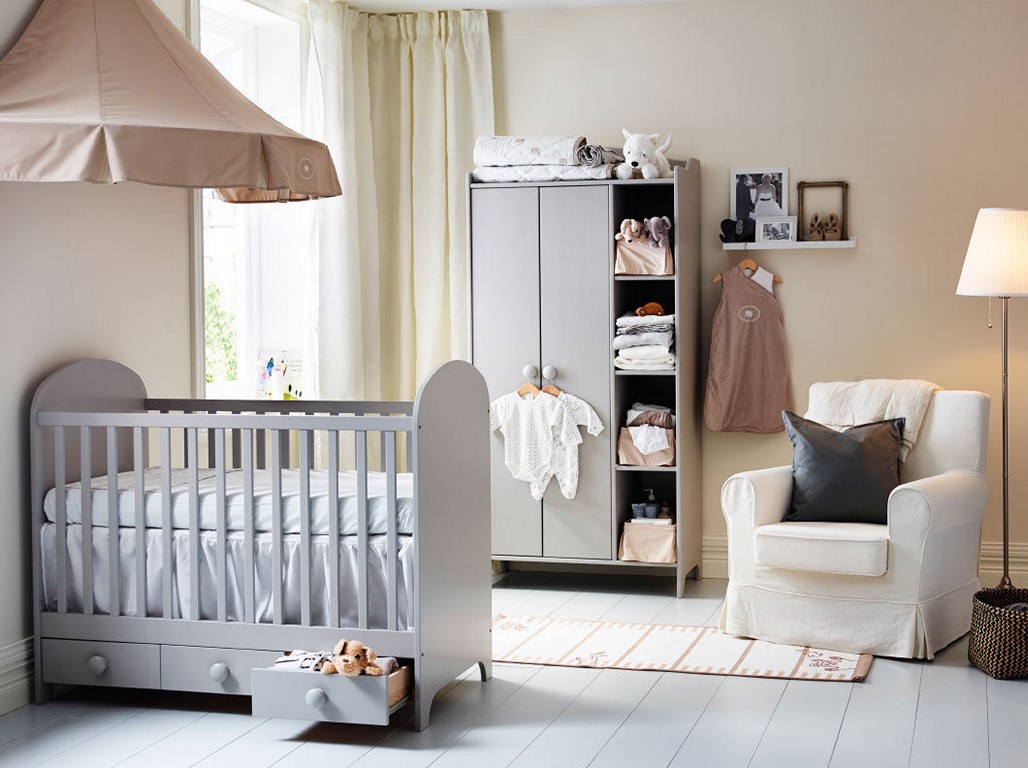 If you didn't know by now, you can play with different shapes and forms in the baby's room. That applies to the crib too. In that spirit, we had some princess castle-style cribs, and now we have a tent crib.
27. Pink Silk and Lace Baby Crib and Dome Canopy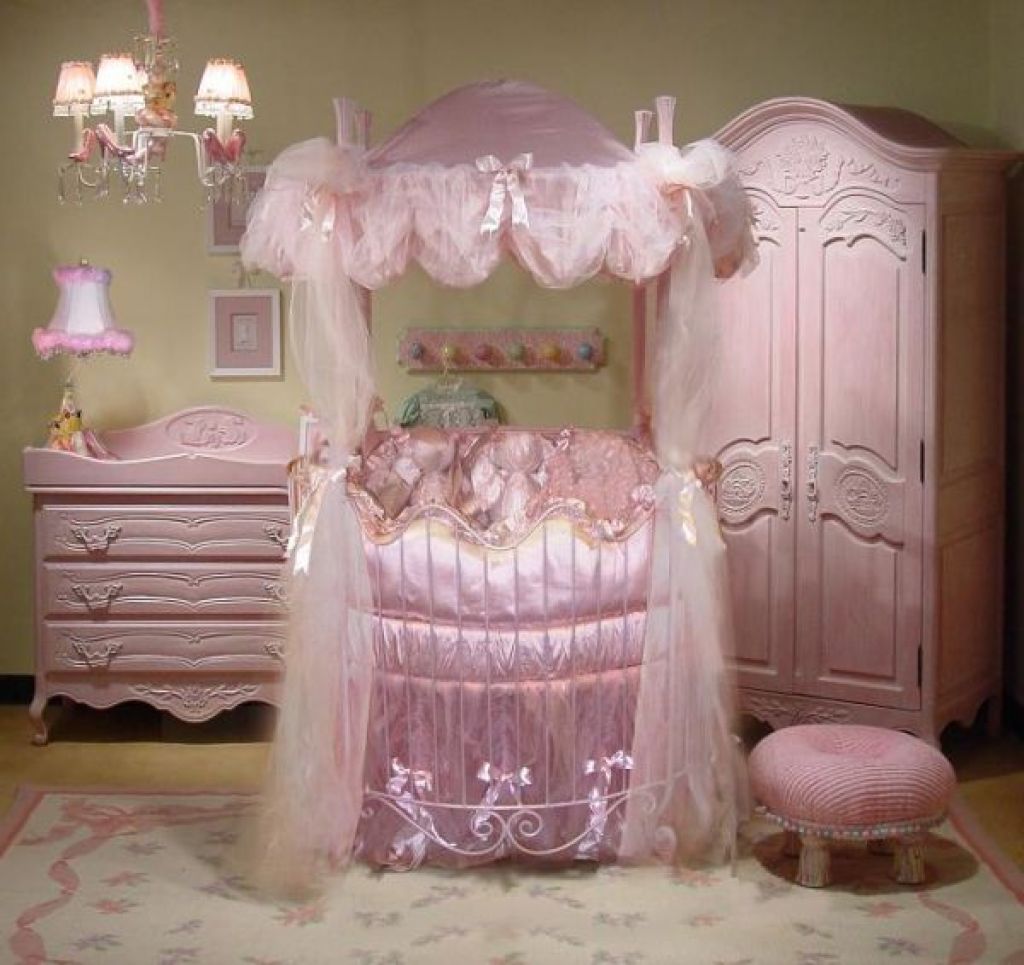 This one is probably the most princess-looking baby crib you'll find on this list. I had to include it, just for the sake of parents who want their daughters to live like princesses (like in shows like Toddlers and Tiaras).
28. Round Baby Crib with Sheer Fabric Canopy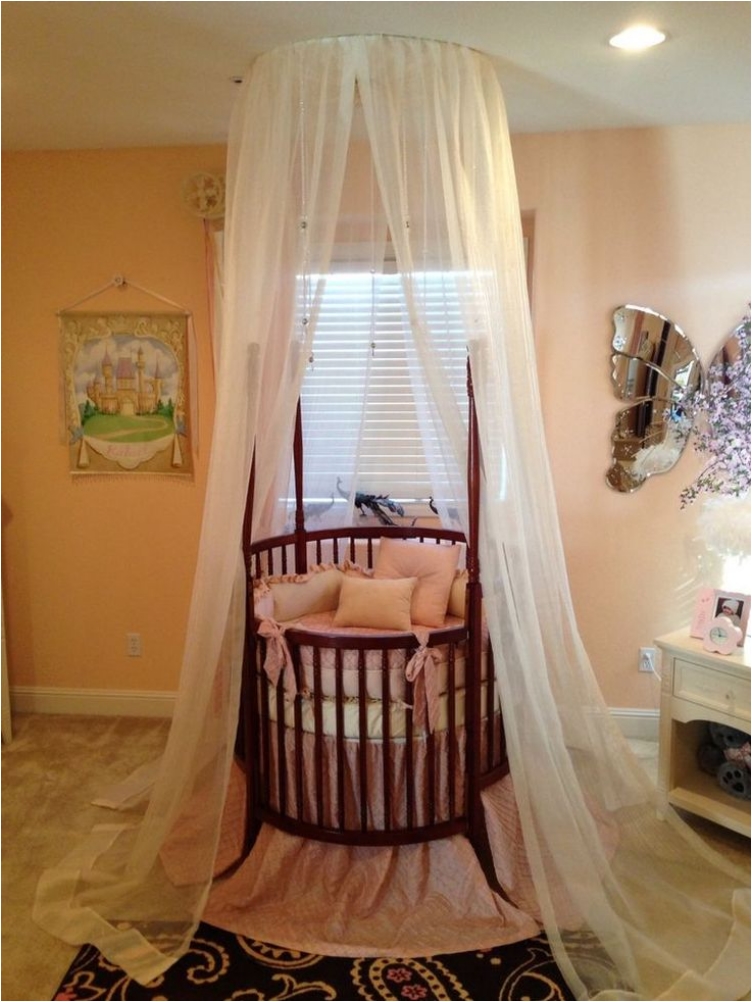 Simple, elegant, and practical. Now, the canopy might drag on the floor, but you can push it aside when you need to tend to the baby.
29. Enchanted Seaside Canopy Crib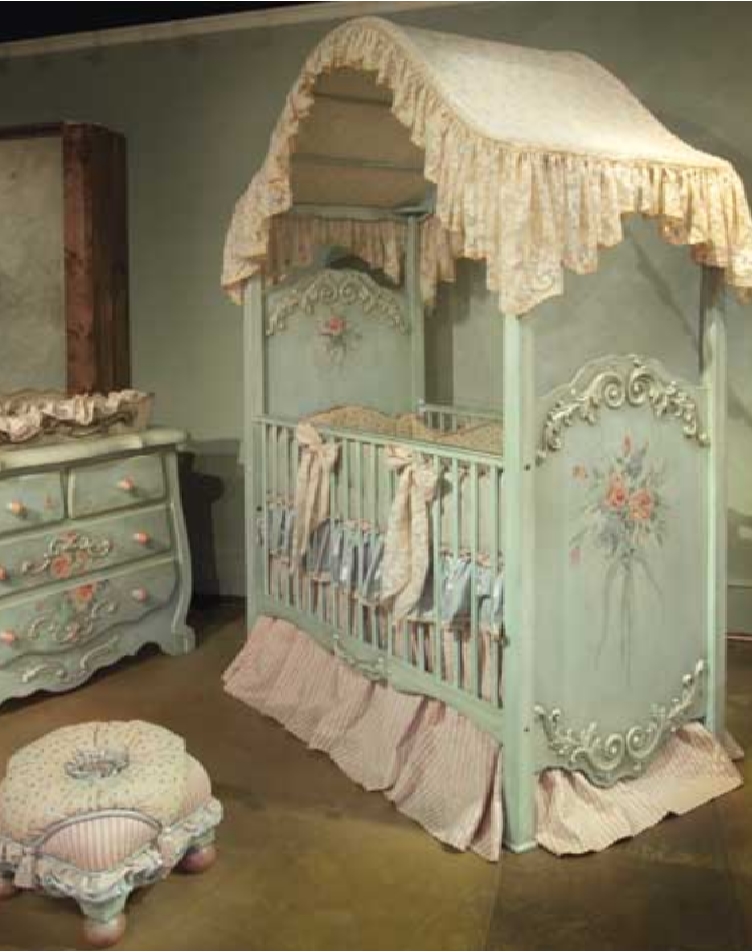 We're going back to medieval times with this one. Take a look at the crib and tell me it doesn't look like a cartoon or movie with a medieval theme! Magicians and enchanters are a huge part of medieval culture, and that theme is deeply embedded in this crib.
30. Baby Blue Canopy Crib with Butterfly Mobile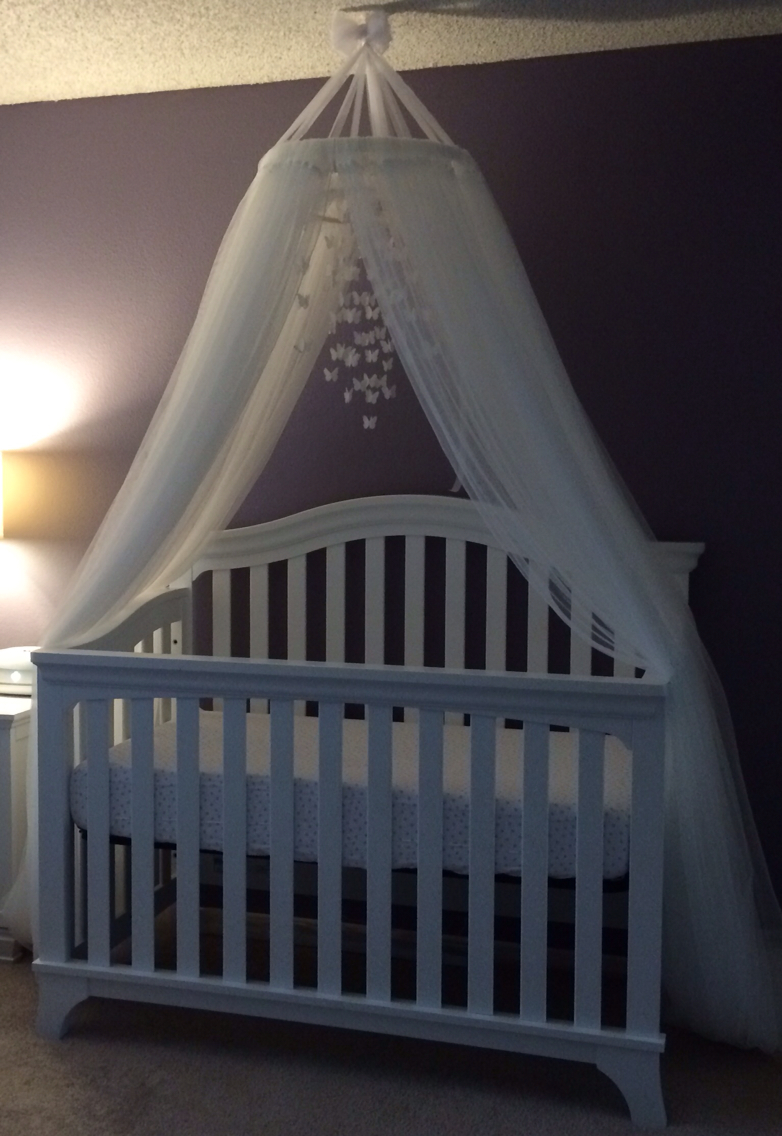 I'm all for minimalism and simplicity. After all, minimalism is my favorite style, after French country. And I like how minimalism lets you play with simple designs. For example, in this case, we have a butterfly motive that adds a touch of accessorizing.
31. Brightly Colored Canopy Baby Crib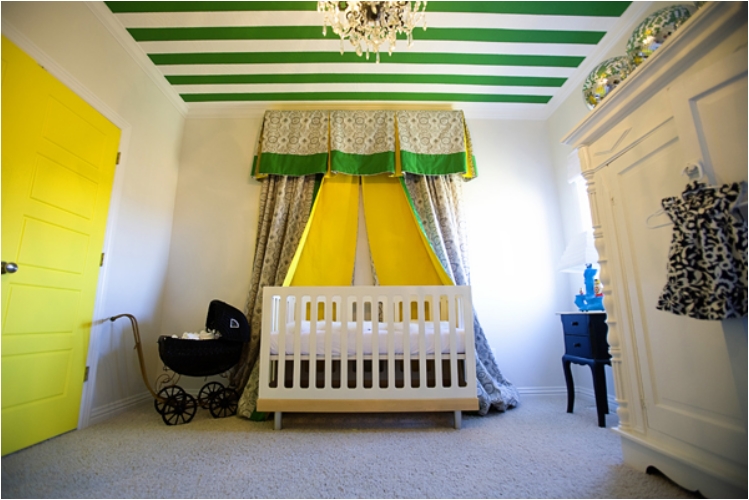 If you thought red would make your baby hyperactive, brace yourself. Sunny yellow and energetic green in one room. If you listen to parenting experts, they'll tell you NO-NO. But if you listen to your gut, and you like these colors, go for it. After all, it sure looks vibrant and lively!
32. Royal Baby Crib with Beige Curtain Canopy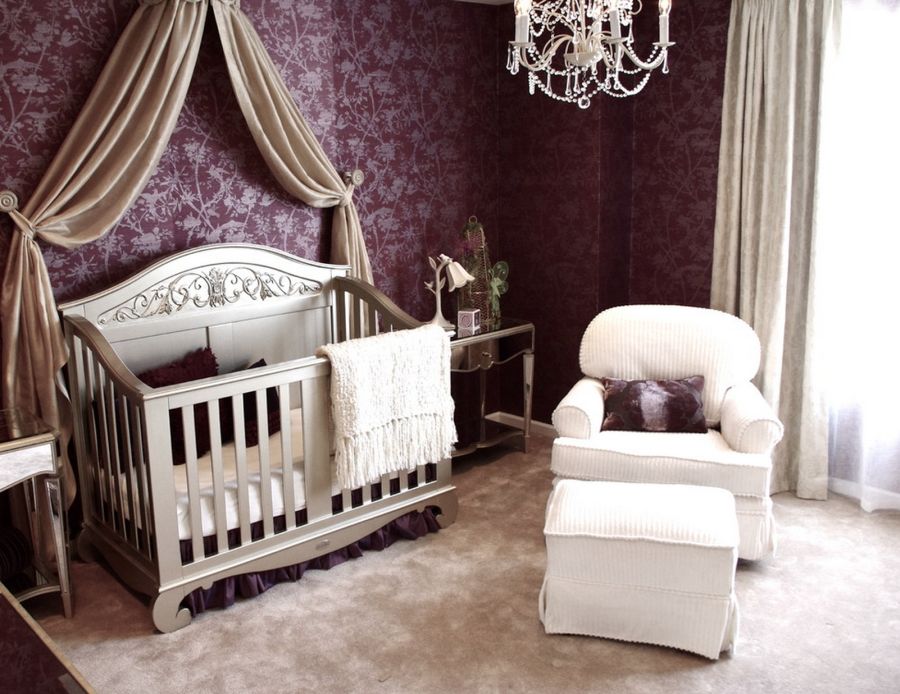 This is definitely a room fit for a king, not just a baby. Take a look at the wallpaper behind the crib. Or the chandelier up on the ceiling. The baby sleeping in this crib will surely have everything. His/her parents will make sure of that!
33. Cute Carriage Canopy Baby Crib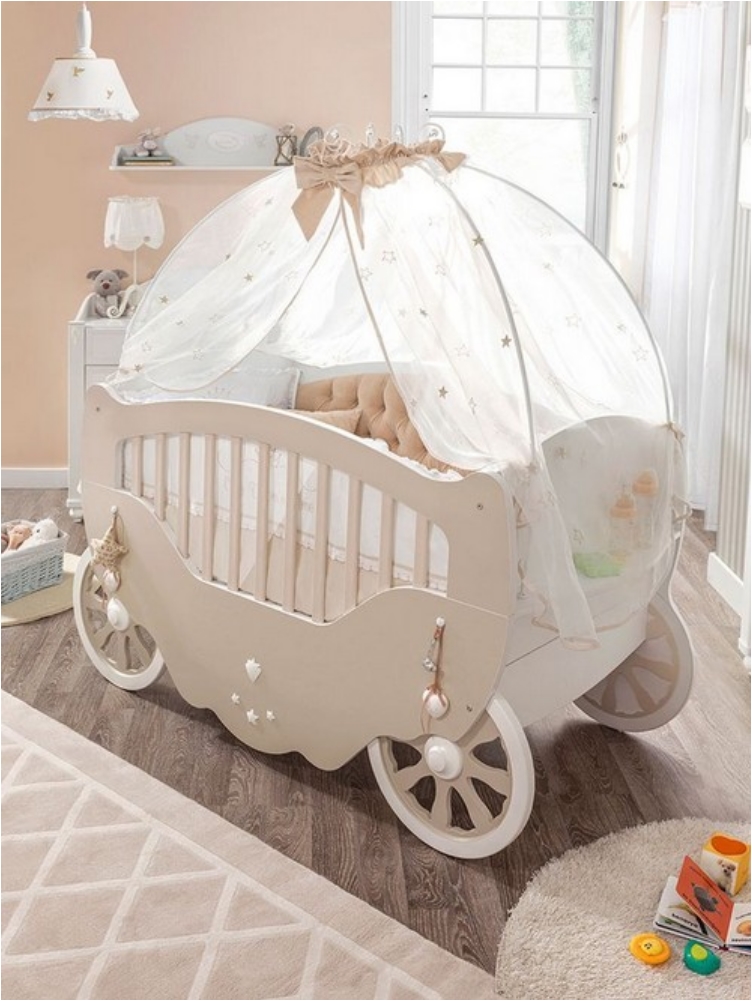 We had a tent, we had a princess castle, so why not a carriage? After all, back in the day, princes and princesses traveled by carriage. I love it!
34. Four-Poster Baby Crib with Custom-made Short Canopy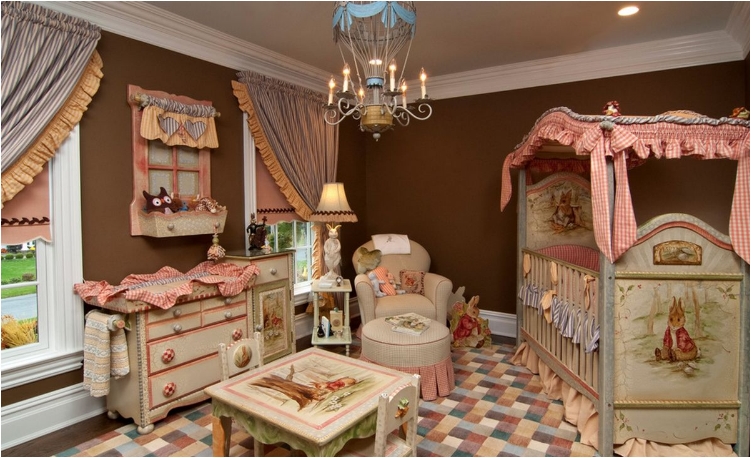 You can easily see that this room was decorated by a designer. The pattern on the canopy enriches the entire room. Even the room's color scheme is inspired by the canopy.
35. Gentle White Net Canopy for Cribs and Kids' Beds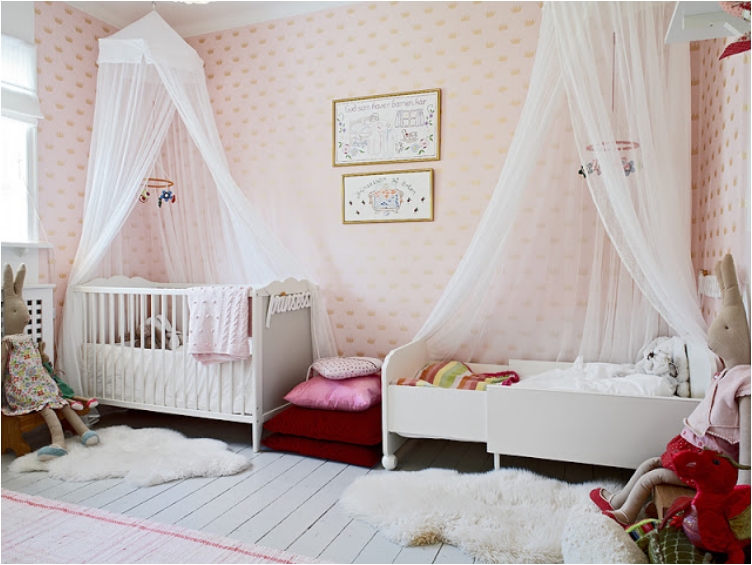 The same canopy used for different beds. Talk about versatility and practicality! On a side note, you have to appreciate the simplicity of this design. Something we all need.
36. Rocking Canopy Baby Crib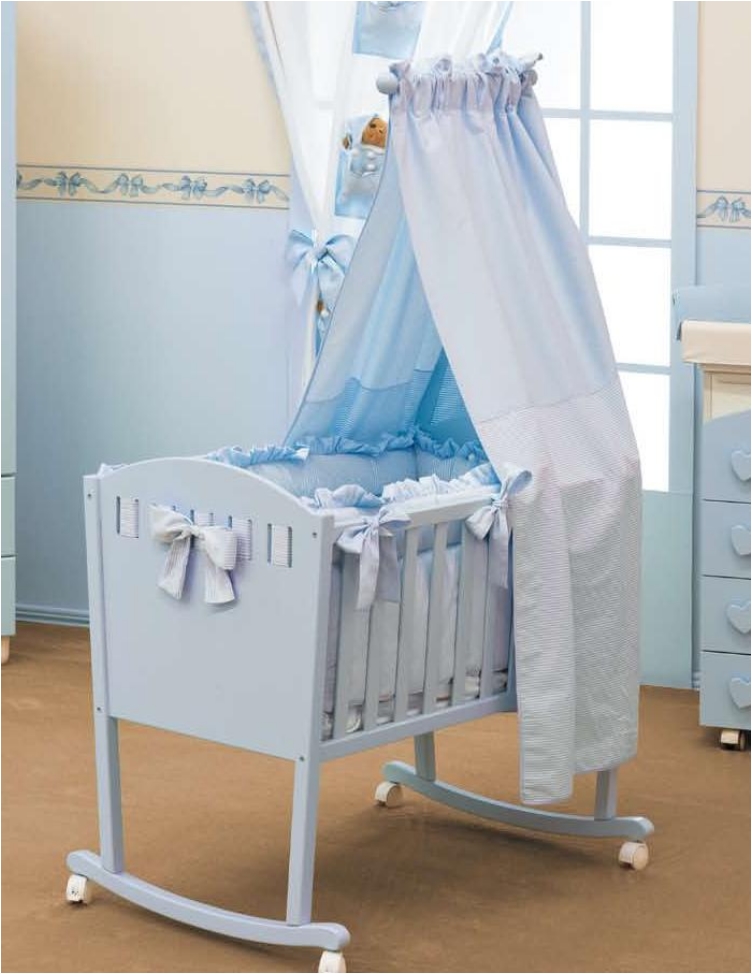 The best part about this canopy bed is that you will easily put your baby to sleep. Just swing him/her a bit, and your baby will fall asleep. You have to love it when someone makes your job easier!
37. Round Baby Crib with Dark Canopy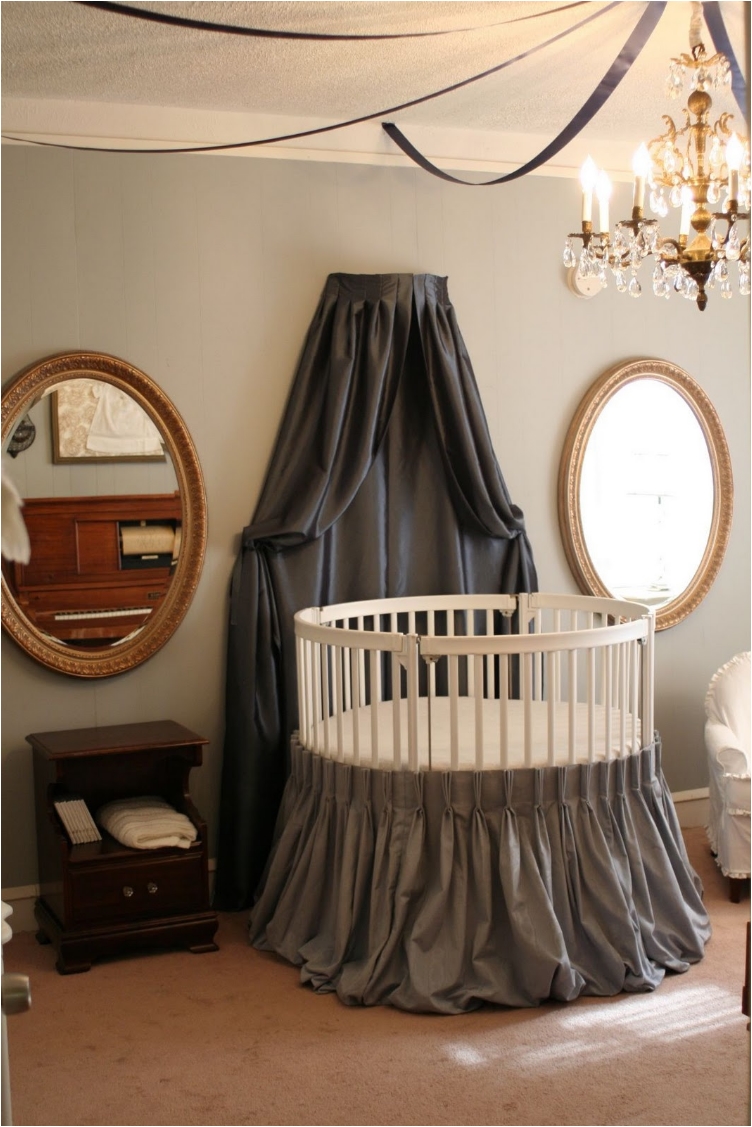 This crib sure looks evil. After all, black is a color associated with villains. But in this case, the black looks so elegant. After all, it's made of satin, a smooth and silky fabric.
38. Pink Princess Baby Crib with Glowing Silk Canopy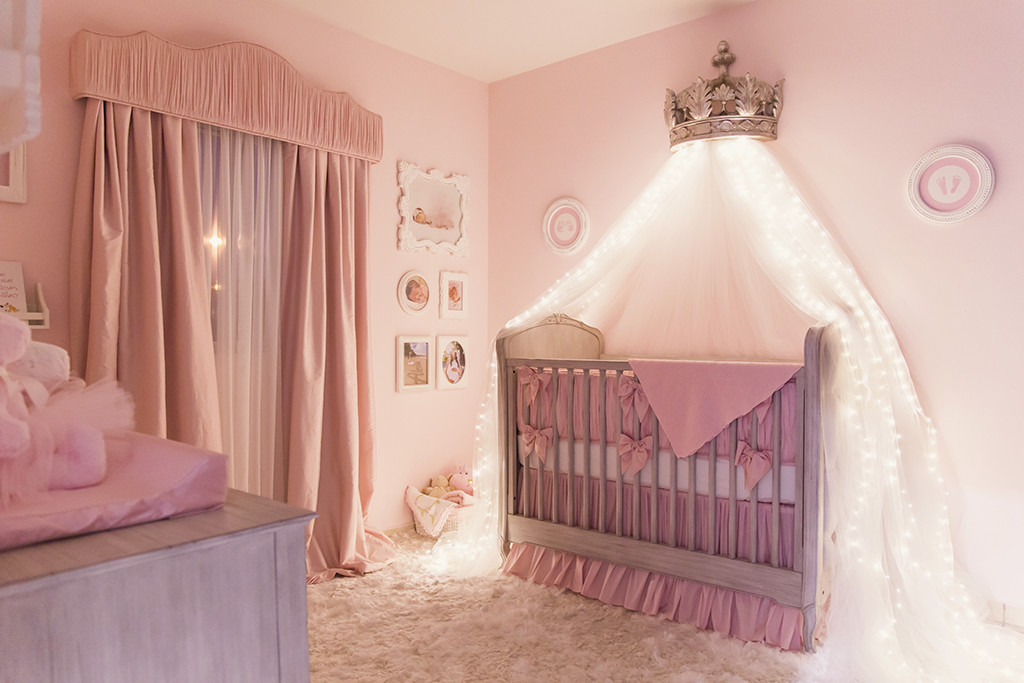 As you might have guessed, we're finishing off with a princess canopy baby crib. After all, most parents want their kids to feel like princes and princesses.
That being said, I hope you found something that you like.