One of the best aspects of the Big Bang Theory is the way the show addresses sex. The whole point of the series is to show that not all people are equally socially skilled. Some of us can be geniuses in our respected field of work, but when it comes to social games, social events, or even talking to other people, we might experience issues.
The Big Bang Theory addresses the problem in a weird, but very specific way. And when it comes to sex, the show has evolved from weird jokes about coitus, to actually having one between all core characters. We even witnessed Sheldon having sex, albeit everything happened off screen. That being said, let's revisit some of the best sex moments of the show so far. These can include quotes, explanations, sex scenes and much more. Fasten your seatbelt and let's go.
1. Sheldon tells Leonard helping doesn't guarantee sex (s1/e2)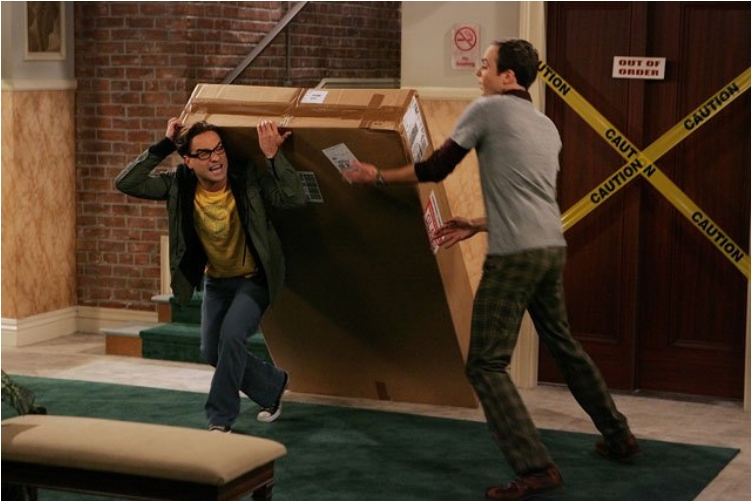 At the very beginning of the show, we get to see the nerdy talk between these two brilliant scientists. Penny asks Leonard to help her move some furniture, and Leonard accepts at the very moment. Sheldon, on his part, tries to explain Leonard that helping Penny won't increase his chances for having sexual intercourse later. And he does it in such a scientific way, it is weird and funny at the same time.
2. Leslie lists scientific benefits of sex (s1/e5)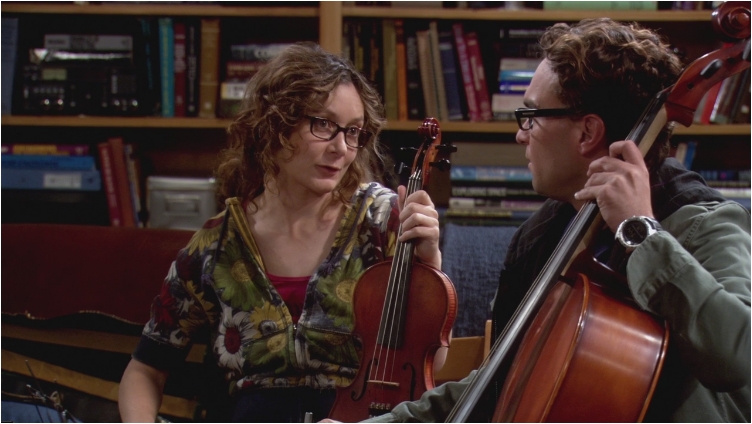 Through the course of season one, all of the guys except Sheldon gets laid. Leonard does it first with Leslie Winkle, a colleague at work. She seduces him, but later explains she wanted only a one-night stand because of the scientific benefits of sex. Which, as per her explanation, are bonus hormones like dopamine, serotonin and others.
3. Sheldon compares sex to video games (s1/e7)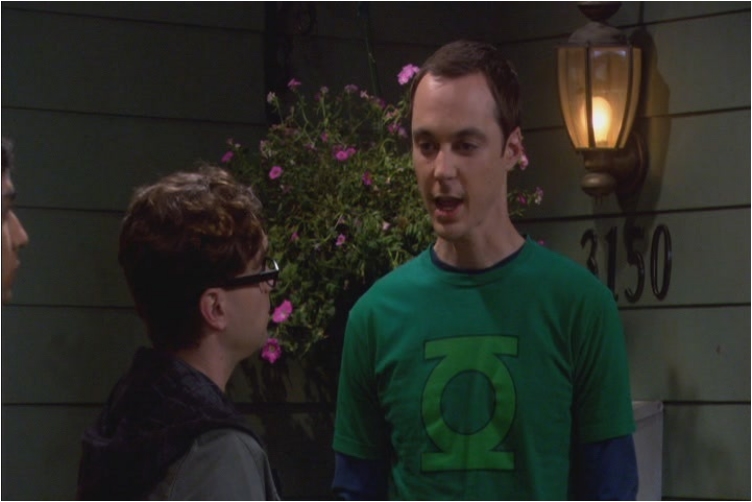 For Sheldon, the road from understanding sex, to actually having one is long. He fails to understand the lust and craving for sex early on. Sheldon thinks of sex as "something people must have to reproduce, but he is not accepting it". Anyway, in the 7th episode of the first season, Howard hooks up with Penny's friend, leaving the boys a man short for playing Hallo. And when Sheldon and company go to convince him to come back, Leonard asks Sheldon "Are you sure you are going to ask him to choose between Hallo and sex"? Sheldon replies, "No, I am going to ask to choose between Hallo 3 and Sex". Apparently Hallo 3 has much better graphics.
4. Sheldon asks Stephanie was she satisfied (s2/e10)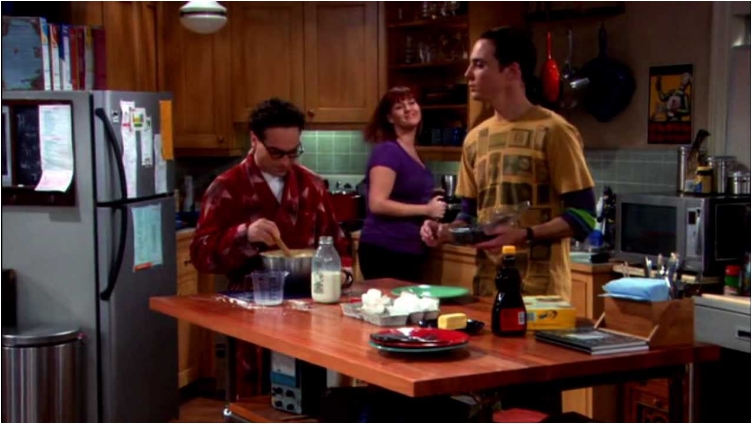 In season 10, Leonard hooks up with a doctor, a girl Sheldon likes and is finally acceptable of his roommate female companion. So, he makes sure that Leonard doesn't "screw up" the relationship. In episode 10, after Leonard and Stephanie had sex, he makes sure to ask the doctor whether she was satisfied by Leonard's performance.
Sheldon: Good morning, Dr. Stephanie. I trust Leonard satisfied you sexually last night?
Leonard: Oh come on! Sheldon, we don't ask questions like that.
Sheldon: I heard you ask it over and over! How is it inappropriate for me to ask it once?
Stephanie: He did very nicely.
Sheldon: See? She's not offended. And now you finally have an answer.
5. Penny knows Howard's girlfriend (s2/e16)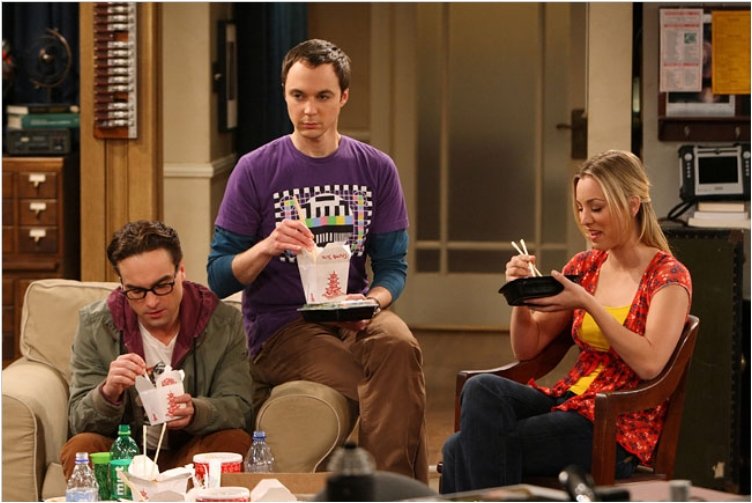 Penny is always joking with the guys, be it Raj, Leonard, Wolowitz or Sheldon. And while her scenes with Sheldon are absolute best, she thrives also with other characters. For example, in this episode, Howard is dating Leslie. But Penny has a different explanation for Wolowitz's booty call.
*Wolowitz checks his Caller ID*.
Wolowitz: Ooh, looks like I'm gonna have sex tonight. (answers) Hey, baby…
Penny: His right hand is calling him?
6. Howard is always serious (s2/e20)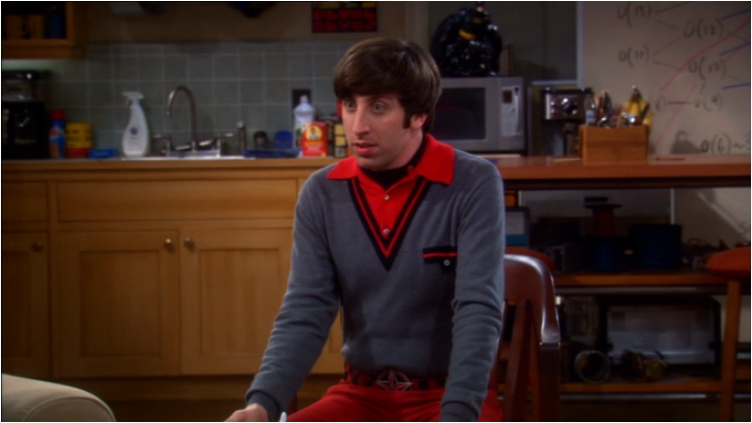 There is one thing that Howard never jokes about. Or two, if you want to be exact. Providing some stereotype for engineers, Howard replies "I'm a horny engineer, Leonard. I never joke about math or sex" when Leonard asks him about women.
7. Raj compares sex to Harry Potter (s3/e2)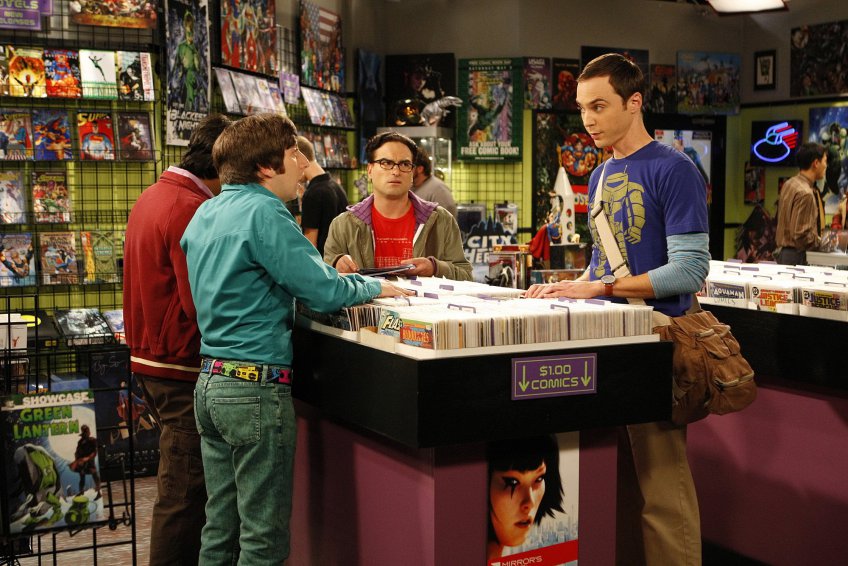 Much of the humor in the series comes from movies like Harry Potter, Star Trek, Star Wars, Marvel movies, DC movies and much more. But the best part is when the guys compare things in their real life with the movies they love. So when Leonard and Penny hit a rough patch after a not so good night together, Raj weighs on it.
Wolowitz: I think that you and Penny had a poor night.
Leonard: It wasn't poor. It was … just fine.
Raj: Dude, the fourth Harry Potter movie was just fine.
8. Sheldon tires to improve Penny's behavior (s3/e3)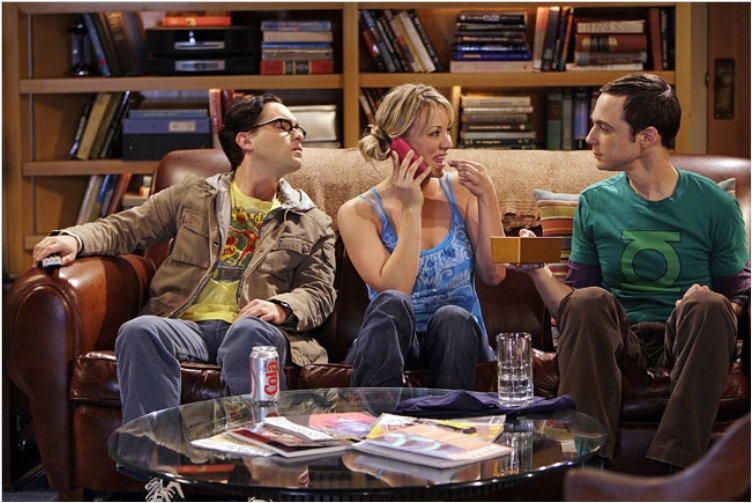 Penny and Leonard are together, and Sheldon is not happy. Most importantly, he is not happy with Penny's habits. He tries to modify her behavior with chocolate, and Leonard is against it. After Penny invites Leonard to her place, suggesting they can be loud there, Sheldon comes up with this conclusion. "Interesting. Sex works even better than chocolate to modify behavior. I wonder if anyone else has stumble on that."
9. Sheldon touches Penny's breast (s3/e8)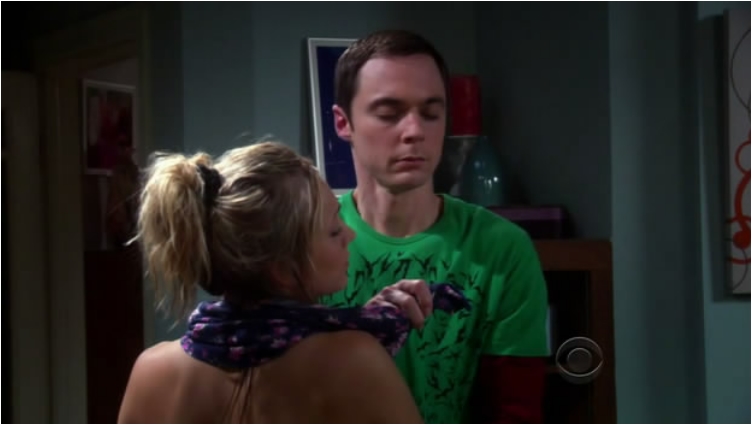 As I mentioned, Penny and Sheldon's scenes are one of the best. And we got one of the first tastes of the chemistry these two have in season 3, when Sheldon is nursing Penny from a broken arm. She breaks her arm, and Sheldon comes to the rescue. But while trying her to get dressed, he accidentally touches her breast, not her arm. It's such a weird, and funny scene in the same time.
Penny: You gotta help me get my arm into my sleeve.
Sheldon: (Eyes closed) Okay!
Penny: Is that my arm?
Sheldon: It doesn't feel like an arm.
Penny: Then maybe you should let it go.
10. Doctor Beverly speaks on sex (s3/e11)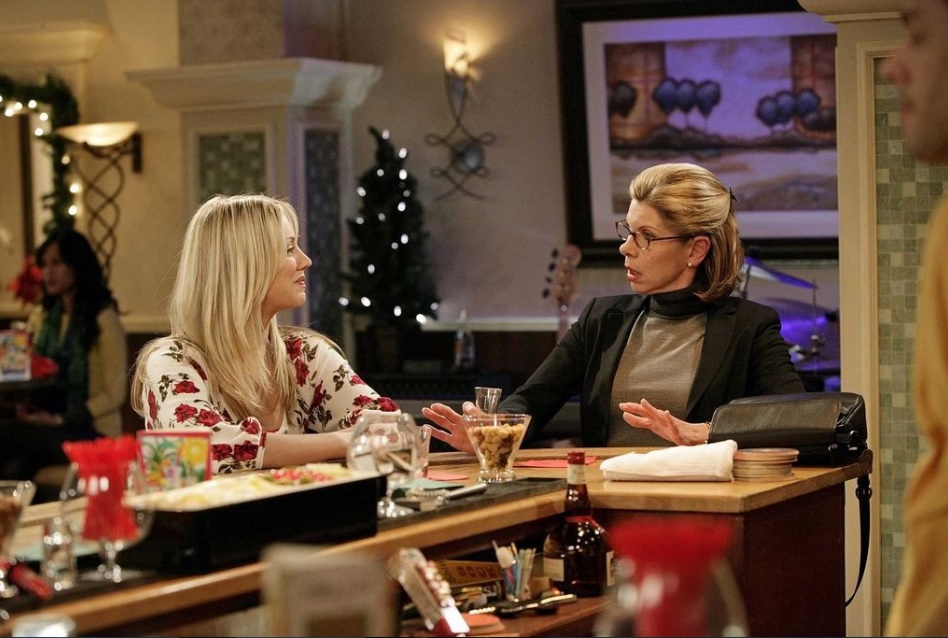 Leonard's mother is again visiting the guys, and this time, she gets to hang out with Penny for a while. They go out for a drink, and before getting hammered, Beverly tells Penny she was responsible for her own orgasms for years. And she does it so seriously.
11. Sheldon talk with Penny about reproduction (s4/e1)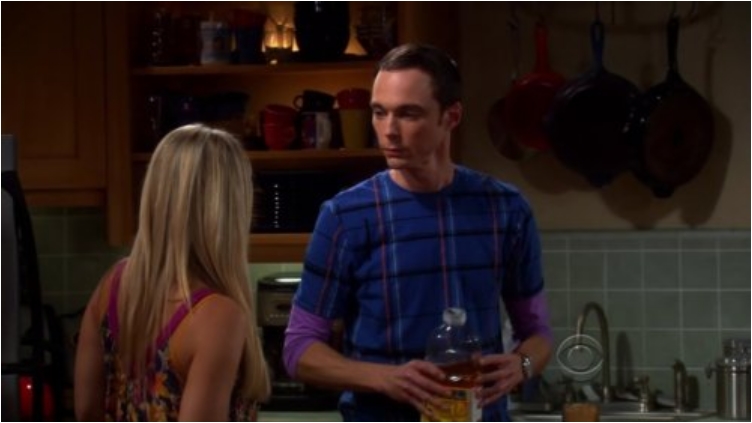 During the episode, the two of them have a chat, during which Sheldon paints her his vision of sex and reproduction, judging by what he heard from her.
Sheldon: I'm quite aware of the way humans usually reproduce which is messy, unsanitary, and based on living next to you for three years, involves loud and unnecessary appeals to a deity.
Penny: Oh, God.
Sheldon: Yes, exactly.
That is some classic Sheldon Cooper jokes right there.
12. Howard and the Robot arm (s4/e1)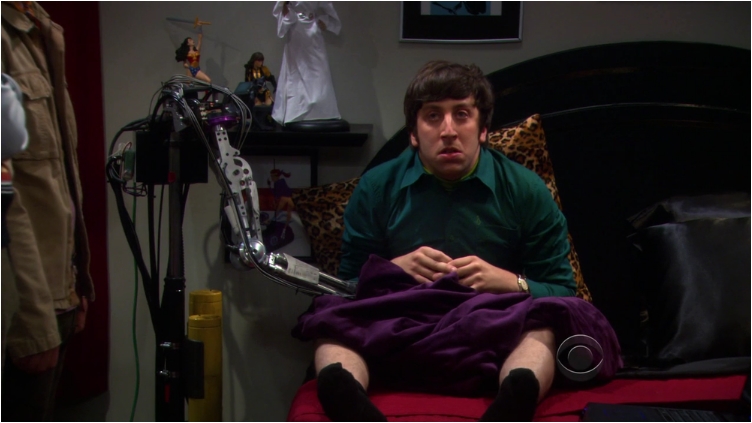 When it comes to playing with robots, nobody does it as good as Howard. In the season4 opener, he borrows a robot hand from the university. At the beginning of the episode, he uses to serve the guys dinner, and finds it useful. However, as the episode progresses, Howard finds other "uses" for the arm. Sadly for him, the hand gets stuck at his junk. His explanation "I slipped and fell on the arm" is priceless, as well as the nurse's response. Definitely one of the best "sex scenes" in the show.
13. Leonard's walk of shame (s4/e15)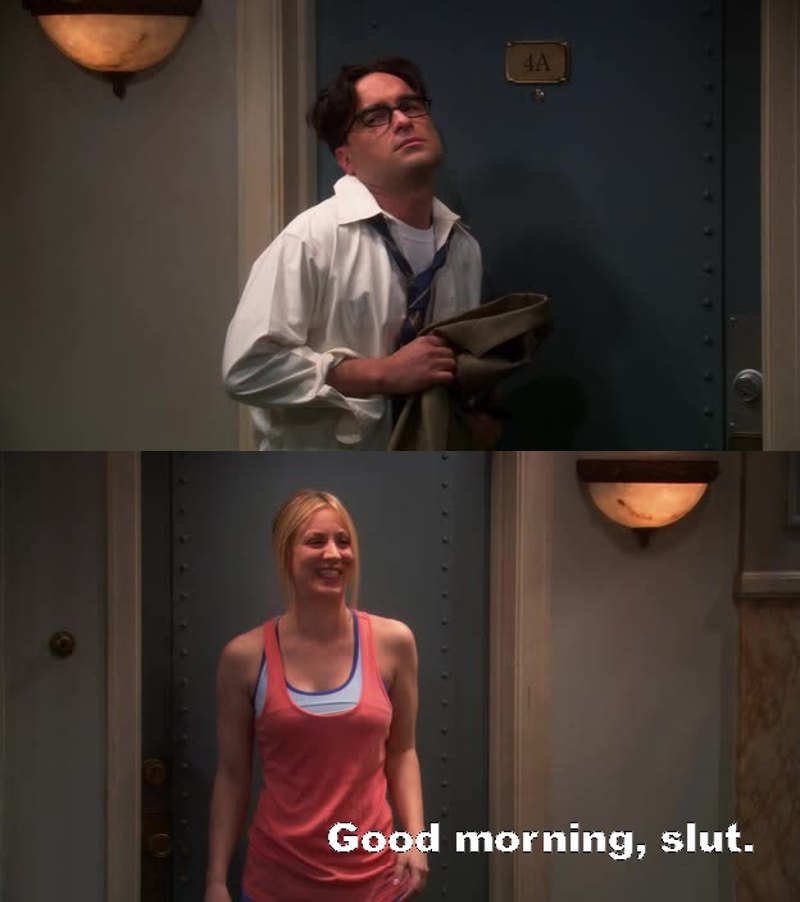 This sex scene also happened off screen. But it was hilarious to see Leonard in a different role. And then Penny busting him for his "slutty behavior". Sheldon doesn't get it at first, but then he asks Leonard to rest so he can satisfy "more rich ladies for money". Apparently, Leonard could have been a toy-boy.
14. Apparently, people make noises during sex (s4/e16)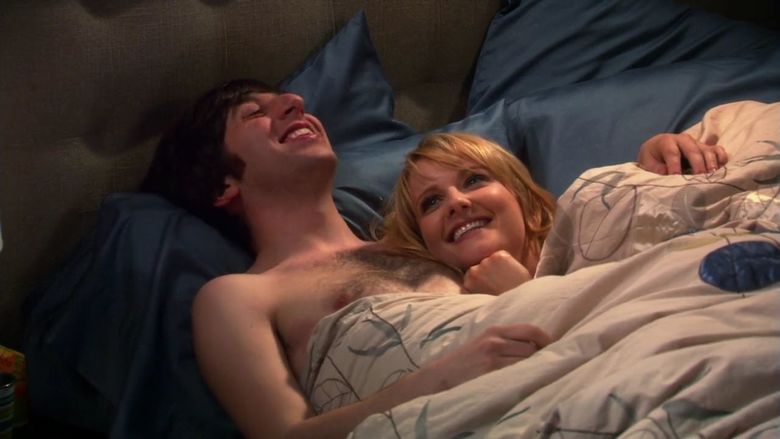 As mentioned previously, the Big Bang Theory excels when trying to explain normal situations in a weird and funny way. Which brings us to the fact that people do make noises when they are having sex. But the way Howard and Bernadette play with that is just absolute must. For example, Howard sounds like "little drunken monkey". Have you thought how do you sound during sex? Here is the full conversation between these two.
Howard: What's so funny?
Bernadette: Nothing. Just thinking about the noises people make during sex.
Howard: I do sometimes get a bit carried away, don't I?
Bernadette: It's cute. You sound a little like a drunken monkey. Ooh-ooh-ooh-ooh!
15. Sheldon interrupts Leonard and Priya (s4/18)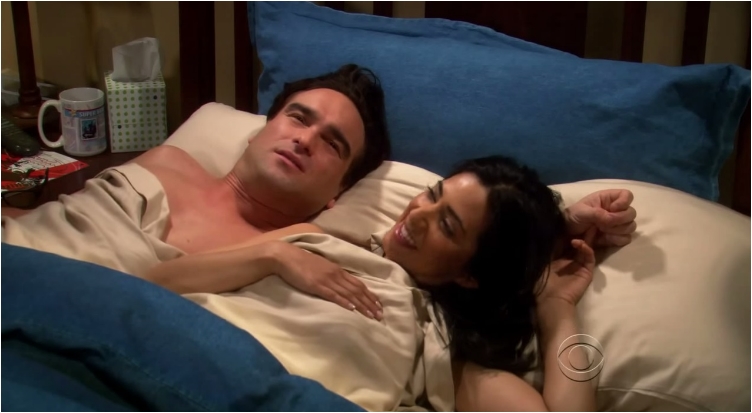 There are so many fun aspects to this scene. Starting off with Leonard trying to make his best Kamasutra impersonation, and then getting hurt in the process. But the best part is at the end of the episode when Sheldon tries to perform a card trick while Leonard and Priya are going at it.
16. Bros before hoes, or not (s4/e19)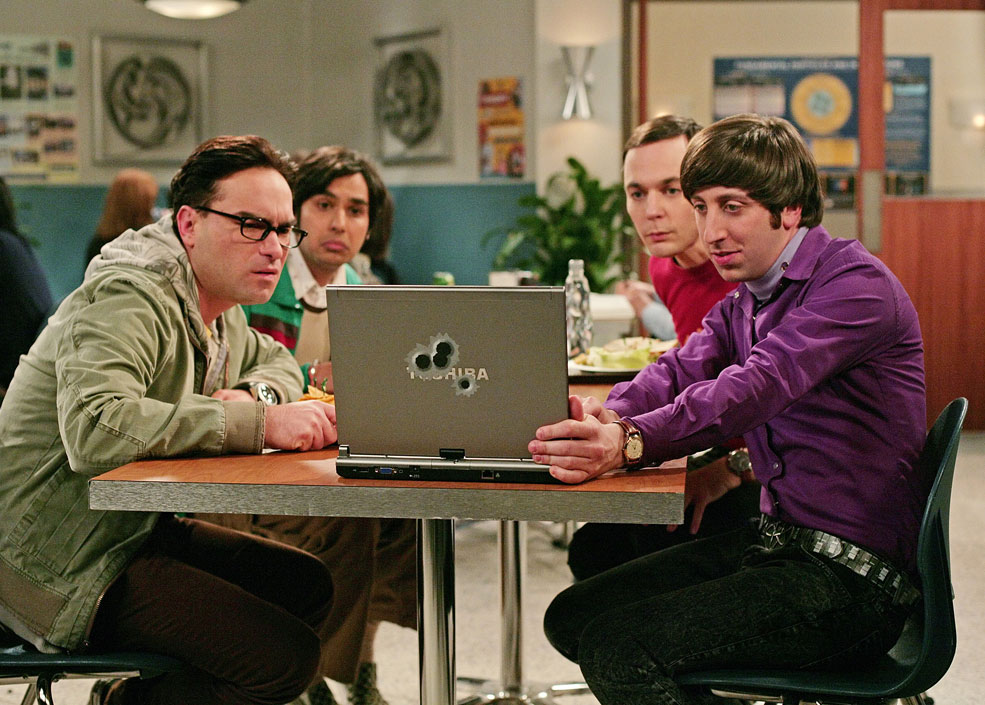 The Big Bang Theory gives one of the best modification of the famous "bros before hoes" quote. At this time, Leonard is in relationship with Raj's sister. And Raj doesn't like it. Not one bit! So, he tries to convince Leonard to stop seeing Priya. And he says "Come on, dude, bros before … my sister".
17. Raj sleeps with Penny (s4/e24)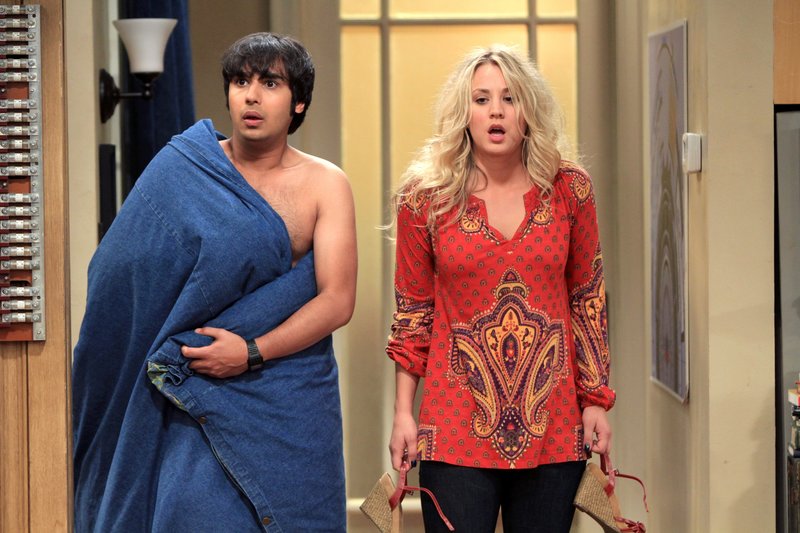 In what would become one of the best cliffhangers in the history of Big Bang Theory, at the end of season four, Raj made the unthinkable. He slept with Leonard's love interest Penny. And that crossed some borders. Penny's response in the morning is priceless "You still cannot talk to me"? The episode ends with Penny saying "This is not how it looks like", prompting Sheldon to think and try to figure it out.
18. Howard and Raj kiss machine (s5/e3) (https://www.youtube.com/watch?v=vQ2Lrhk7VYE)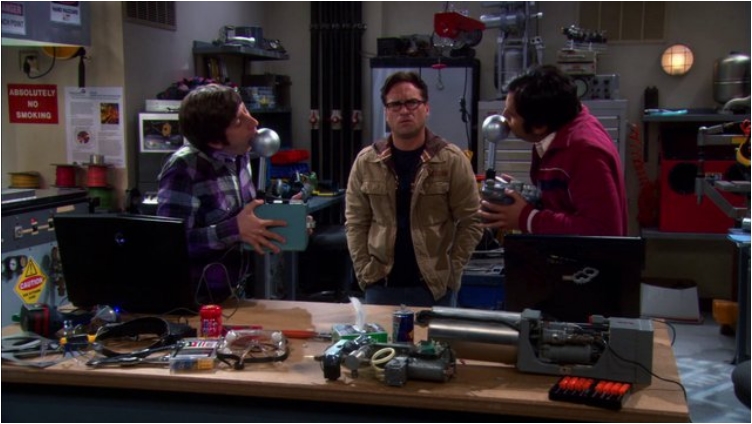 Leonard and Priya are trying to make long relationship work, and Howard has a great advice: cyber-sex. So what does the engineer does? He builds a device by which Leonard and Priya can kiss, and feel the same emotion and excitement as they are close to each other. But when Leonard doesn't have a clue how to use it, Howard and Raj try to show him.
19. It is all about money and sex (s5/e4)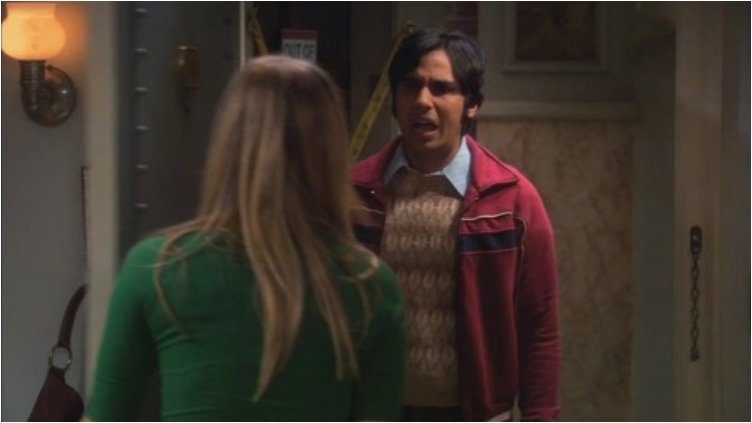 Penny sets up Raj with a deaf friend, thinking that would be the perfect pairing. Raj cannot speak with women, and she cannot hear anything. So, they have nothing to worry. Turns out, her friend is a gold digger, and she exploits Raj and his money. Acknowledging what she did, Penny tries to make things better by confronting the deaf girl. She breaks up with Raj, who is now pissed. And when Penny asks him if he doesn't mind dating a gold digger, he explains the simplicity of relationship: you pay one way or another.
Penny: This girl is trouble! What kind of relationship is it where you buy her gifts and she gives you sex?
Raj: The best one I've ever had!
20. Sex is for manipulation (s5/e16)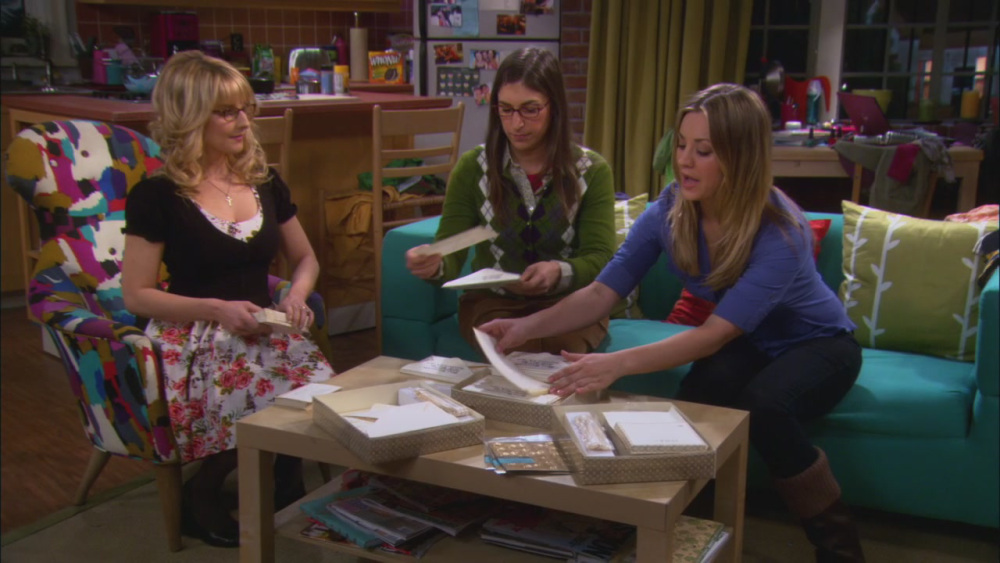 Sometimes, the harsh truth is the best thing you need to hear. And Penny dishes some harsh truth throughout the show. In season five, she dishes one of the best harsh realities about sex. Bernadette is having problems with Howard, and Penny suggests sex. And when Bernadette says she doesn't want to manipulate her partner, Penny tells her the truth about sex.
Bernadette: Oh, I don't know. I don't want to manipulate him with sex.
Penny: Oh, sweetie, that's what sex is for.
21. Howard and Bernie trying to have sex (s6/e4)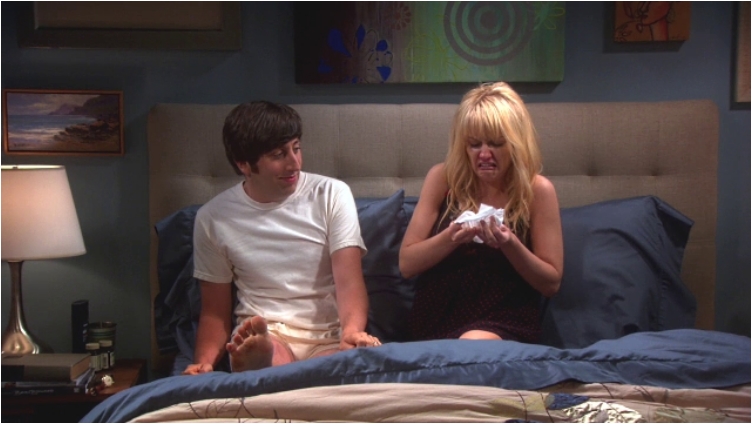 When you go to space for several months, the first thing you want to do when you get back is hug your significant other. And then, of course, have sex. And after waiting few months to get back with Bernadette, Howard is excited to have sex with her for a first time in a while. And for the first time as married couple. But sadly for him, she is sick and cannot go for it.
22. Sheldon Spanks Amy (s6/e10)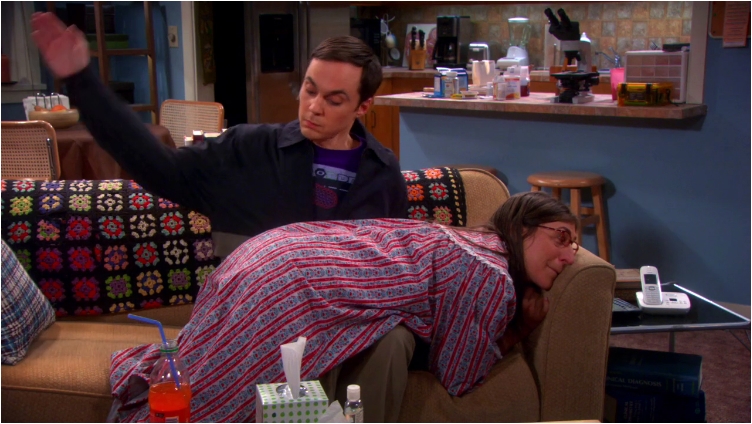 Sheldon and Amy are dating for three seasons now, but they have yet to get physical. The only thing Amy managed to get Sheldon do is hold her hand. But she wants more, and when Sheldon is forced to take care while she is ill, she finds a way to use it to her advantage. Sheldon worries that Amy is ill, and he rubs her chest, takes her in the shower, and does everything he can. But he finds out she is using him, so he has to punish her. And what do you know, Amy enjoys punishment. "Would you like to spank me" never sounded as good as it did in this episode.
23. Raj doesn't know what he is talking about (s6/e11)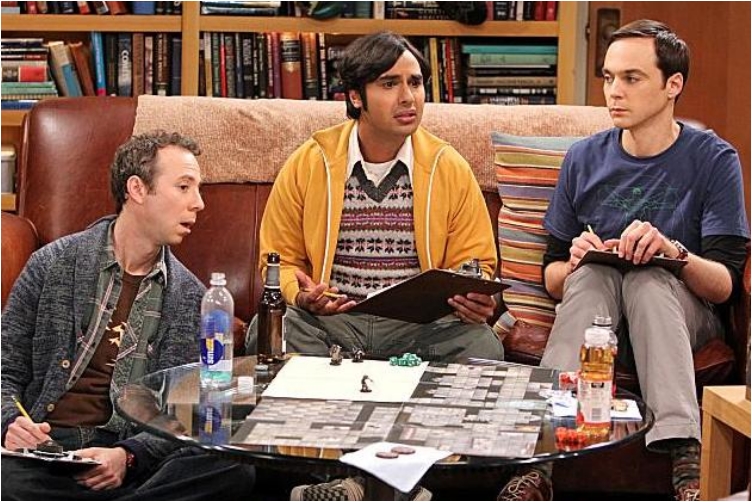 Raj is one of the funniest characters on the show, and his best moments are when he doesn't know how he sounds. In this season, for example, the guys are playing Dungeons and Dragons, and Raj goes all rage on the monsters. But his speech is equivocal. And that is an understatement. Raj goes saying "Oh man, first monster I see I'm gonna sneak up behind him, whip out my wand and shoot my magic all over his ass!" And when Stuart asks if he hears himself, Raj is even more confused. And then he goes "Doesn't anyone have a rod of resurrection? Because if you've got one, I need it bad. Get in here with your rod and give it to me."
24. Raj and Howard Grab their boobs (s7/e2)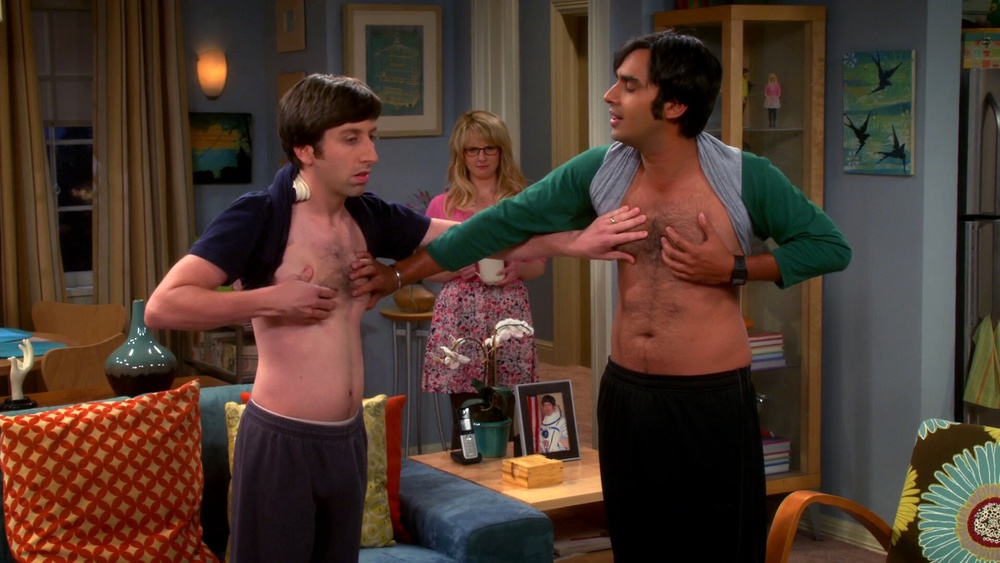 Howard is treating his mother with some cream that is rich with estrogen, forcing him to act more like a woman than a man. And his bromance with Raj gets to a new height. Everything starts when Howard asks if his boobs look bigger. And then, as the shows goes on, they end up checking each other's breasts. It might not be a sex scene in the classic shape, but it is definitely a funny moment.
25. Penny gets back at Leonard with left/right breast (s7/e4)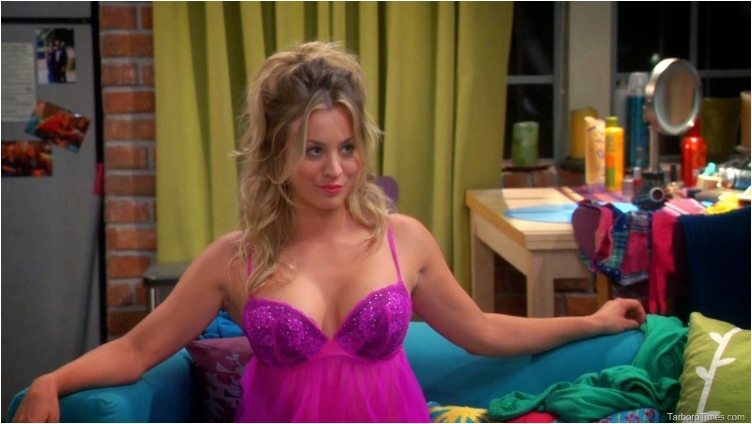 Penny and Leonard are already in a serious relationship, but he feels the need to lie to her to get sex. Penny starts reading his mother's book, and Leonard is sad. In order to make him feel better, Penny sleeps with him. So Leonard exploits it to the fullest. The sad part for Leonard is when Penny finds out and uses his mother to make him feel awful.
26. How will Amy and Sheldon have sex? (s7/e11)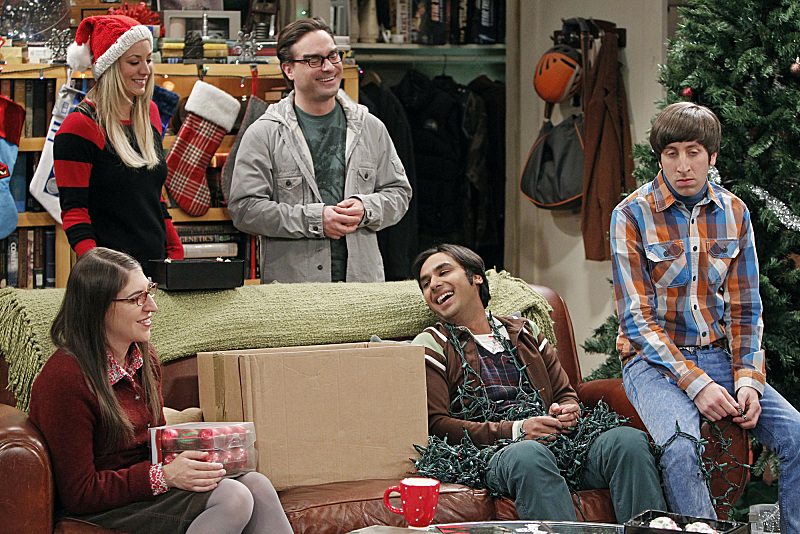 Sheldon flies back to Texas to help with his sister's giving birth. And naturally, the guys organize a party without him, and conversation turns back to the point what would they all do without Sheldon in their lives. Somehow, the conversation moves to the point that Sheldon is not exactly someone you want in the room when you are giving birth. And Raj turns to Amy, asking if she would like to have Sheldon in the room. But Penny's response is what makes this scene hilarious.
Raj: (To Amy) If you were having Sheldon's baby, would you really want him in the room?
Penny: Yeah, if he's in the room when they're making the baby, I'll give you $10.
27. Sex makes you lose focus (s8/e5)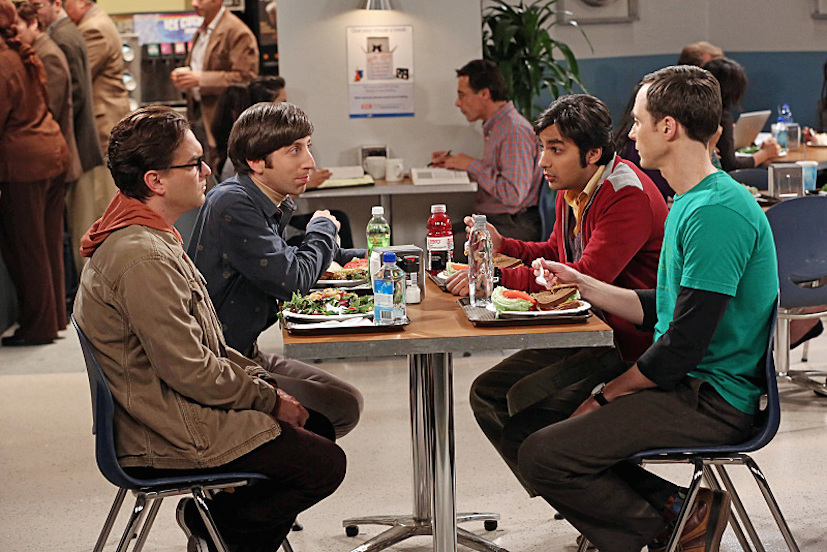 One would argue this is actually true. But Sheldon uses it to explain to Leonard why he is not having progress with his career achievements. Leonard complains that he hasn't made much progress with his study and idea, and of course, Sheldon has an explanation. "I know the real reason you never made progress with that idea. You thought of it September 22nd 2007. Two days later, Penny moved in and so much blood rushed to your genitals, your brain became a ghost town."
28. Sheldon explains love (s8/e8)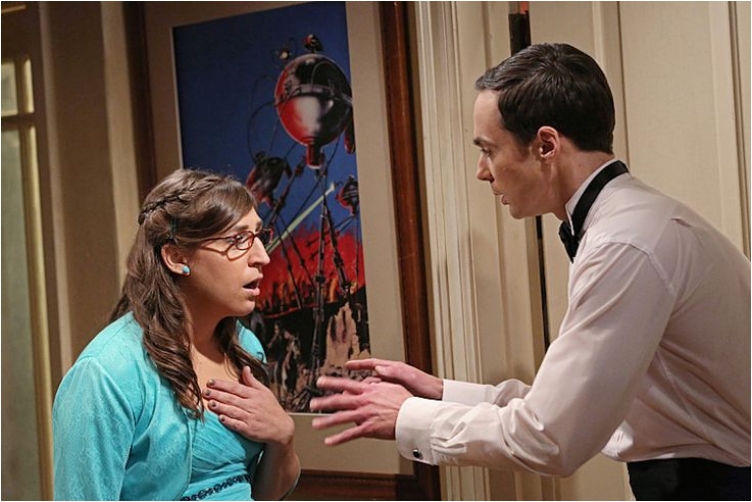 For Sheldon, one of the biggest problems is to express his feelings. He has challenges expressing any feeling. He doesn't have troubles expressing his opinion, but feelings are a different monster. But he cannot help but acknowledge that he is in love with Amy. Of course before finally saying "I love you", Sheldon tried to give a scientific explanation. "There's no denying that I have feelings for you that can't be explained in any other way. I briefly considered that I had a brain parasite, but that seems even more far-fetched. The only conclusion was love."
29. Amy fan fiction with Sheldon (s8/e14)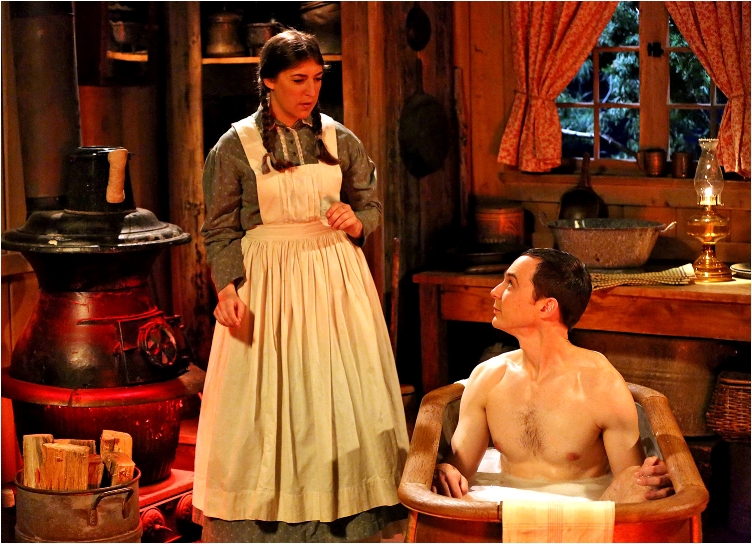 The girls discover Amy has a fan fiction journal, in which she writes stories like "Little House on the Prairie". And in those stories, Amy pictures herself with Sheldon, as the two end up together. And at the end of the episode, we see a world that "could have been".
30. Sex can be replaced by a hand (s9/e2)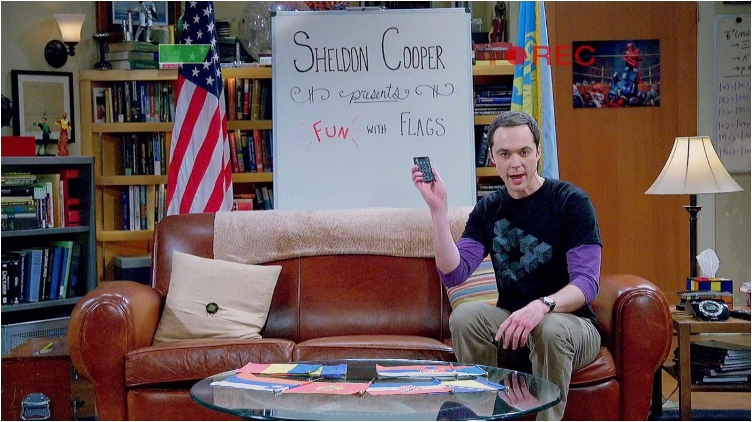 Sheldon doesn't say many dirty jokes in the show, but when he does it, he is awesome. He and Amy break up at the end of season 8, and season 9 starts with the two of them separated. So, in a way to get back to her, he does an episode of Fun with Flags, but without Amy. When explaining to the audience why Amy is not here, he says that "Thankfully all the things my girlfriend used to do can be taken care of with my right hand".
31. Sheldon and Amy have sex (s9/e11)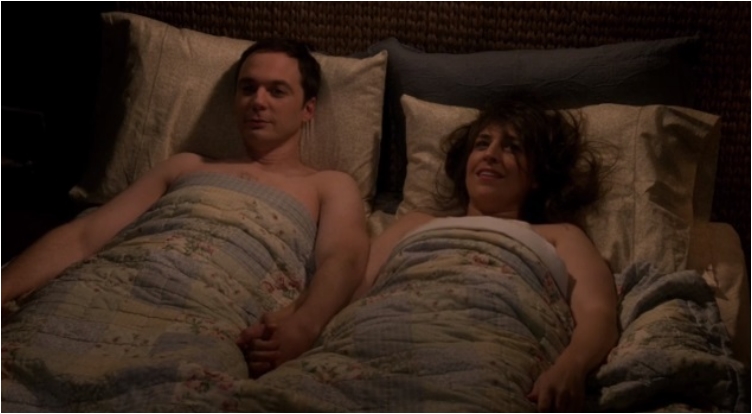 It took Shammy six seasons, and the producers of Big Bang nine seasons, but Sheldon finally got laid. For Amy's birthday, Sheldon asks the girls what his gift should be. One of the options is for him to have sexual intercourse with Amy. Of course Penny and Bernadette say sex, so Sheldon accepts, saying "Amy's birthday present will be my genitals". The funniest part of the episode is that in the same time Sheldon and Amy have sex, the guys are watching the new Star Wars episode. And at the end, everyone look like they just had the best sex of their lives.