Ask yourself "How many true friends do I have?" What is your answer? You do not need to say it publicly, but the fact of the matter is that true friends are rare these days. Most of our friends will be next to us in our good times, but during the bad times, you will see your friends disappearing.
I am not trying to be pessimistic or skeptic. I am just being honest in saying that friendship is a precious thing these days, and one must preserve it and hold on tight. There are many ways to honor your friends, but one of the popular trends in past years is matching tattoos.
Some people do not approve of tattoos, but some of us love that ink. For all tattoo lovers and fans out there, here is a list of friendship tattoos.
1. Anchor On Wrist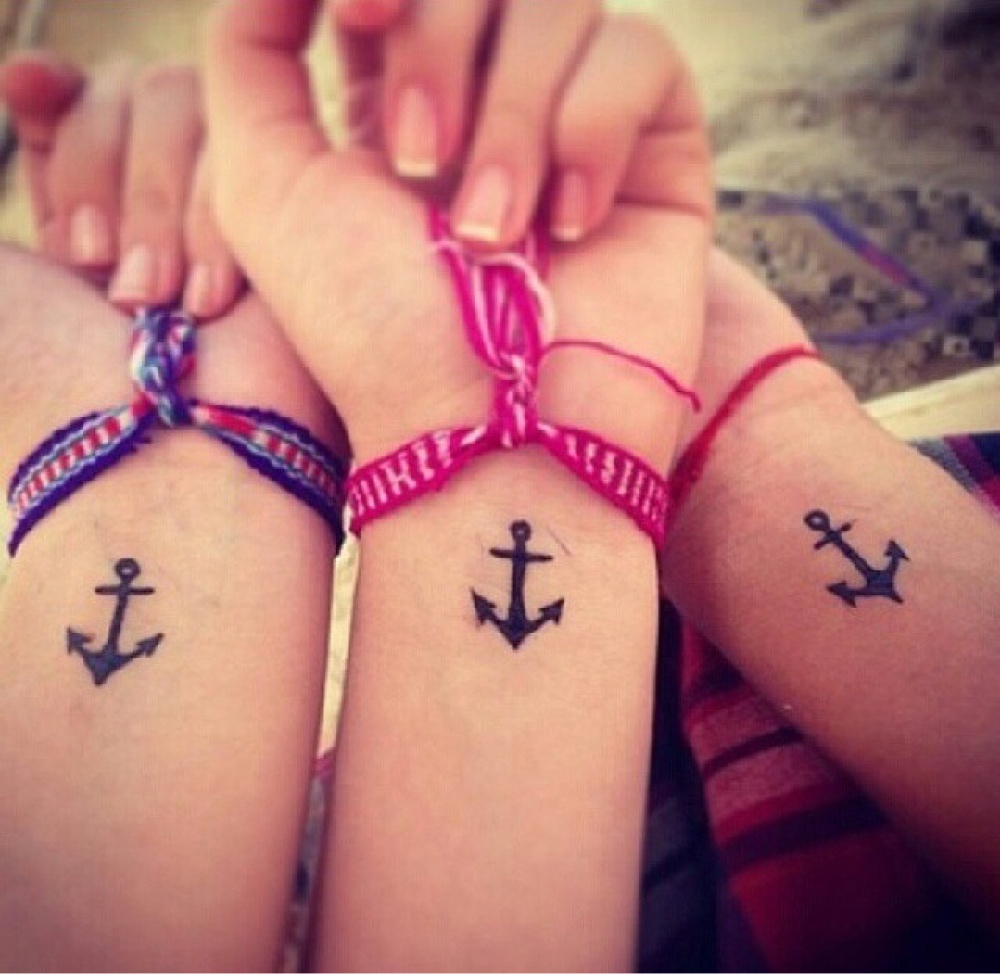 The anchor has been around since the time of the Sumerians, some 2000 years B.C. But in the past years, the anchor has become one of the most popular symbols for tattoos. The meaning itself is stability and strength, so you can see why friends love to take the strength of their friendship to the next level.
2. Matching Yin-Yang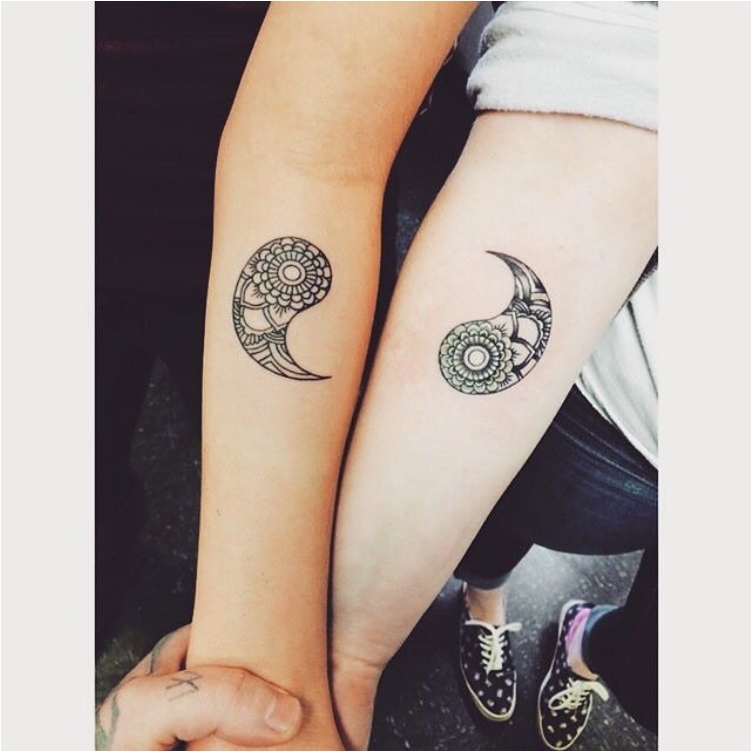 When it comes to friends, the same premise applies as lovers. Friends are not alike. They might have similar views on certain important aspects of life, but in most cases, friends are opposite of each other. No tattoo better represents that fact than the yin-yang.
3. Ankle Irises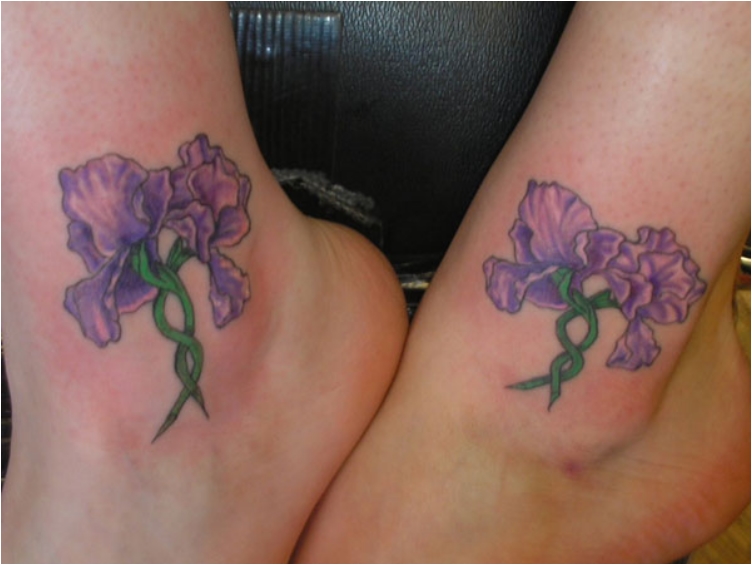 When you are getting a friendship tattoo, you need an area that is subtle, and you do not want some big and voluminous tattoo. That is why irises are perfect. The ankle area is just spot on as well, as not many people will see it.
4. Silly Hats Only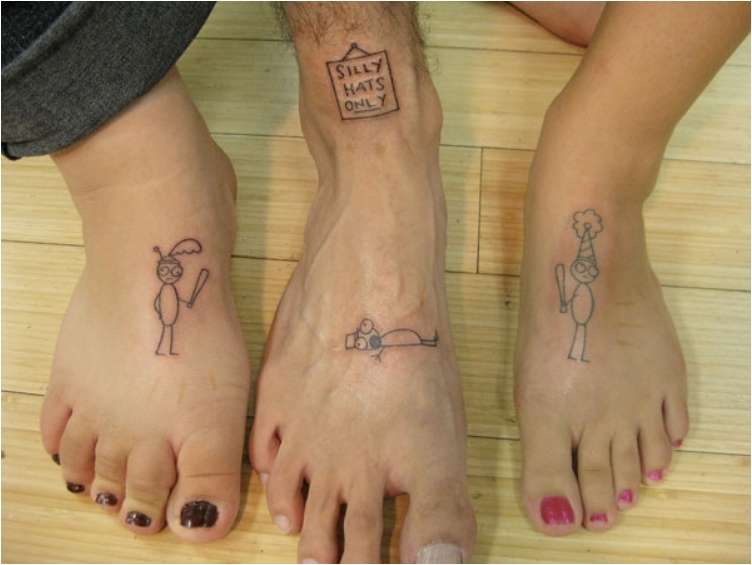 What you do when you hang around with your friends? You joke around, right? You do silly stuff? You have fun? Well, why don't you take that goofing around to the next level? Silly hats, people. Silly hats!
5. Pinky Finger "Promise"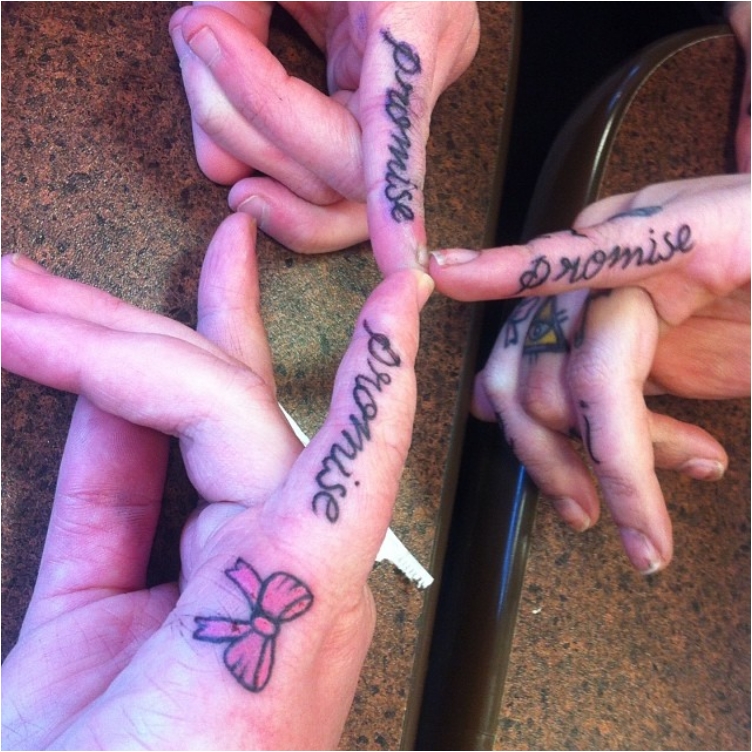 When I was little, one of the strongest bonds was the pinky swear. I would never break a pinky swear. Whenever someone asked me "Do you promise?", I'd let my pinky finger do the job. That being said, this tattoo promises to be around for the long haul, as your friendship will.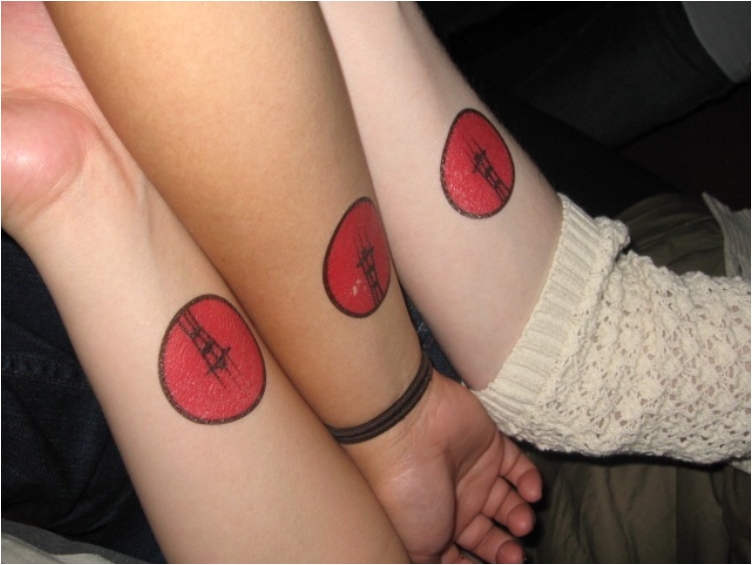 The symbol in this tattoo actually appears in a video game, "Batman Arkham City." It looks so good, and if you find some subtle location, only you and your friend will know what it means.
7. Pleasant Living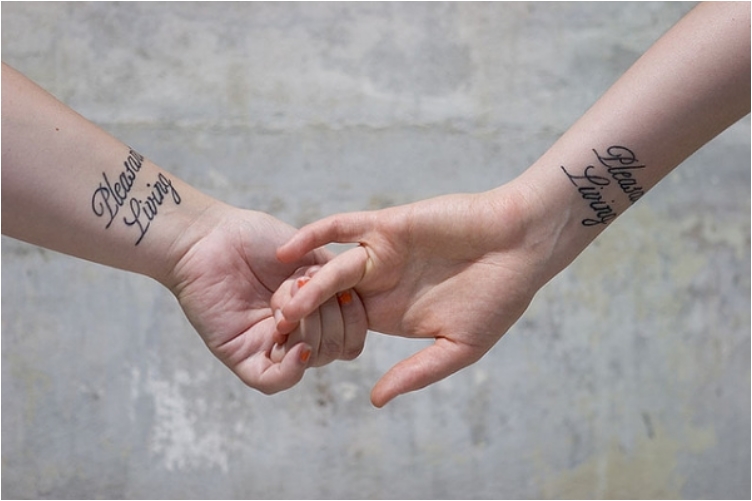 Sometimes, a tattoo has no hidden meaning, and instead the meaning is written all over the tattoo. Pleasant living is a promise friends give as a way to support each other at all times and to make sure both of you are enjoying the company and the lifestyle you have.
8. Birds Of A Feather Stick Together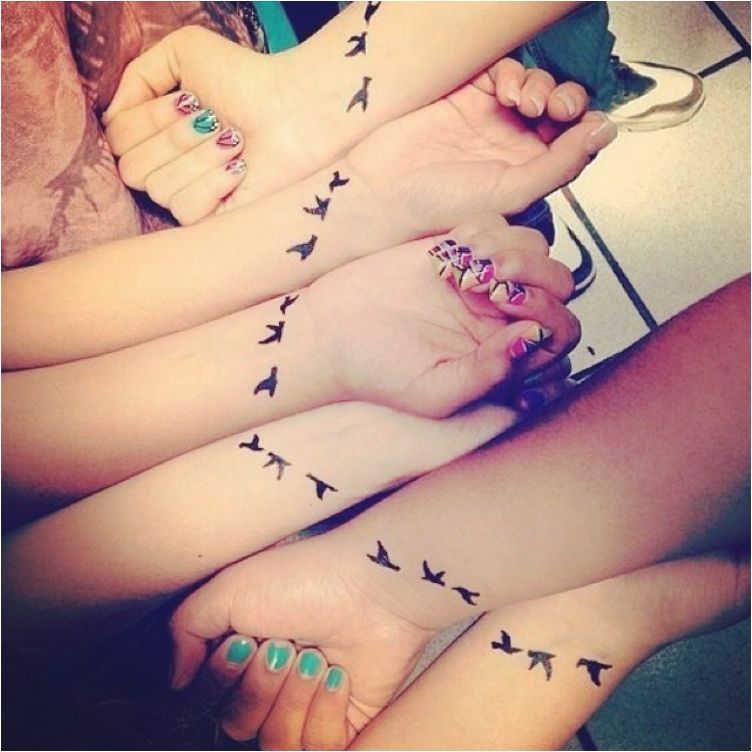 The birds of feather tattoo gained popularity when Rihanna had it done on her ribs. Her birds were not birds of feather, but they looked awesome. Since then, I've seen countless of birds tattoos done as individual tattoos, but also as matching friendship tattoos.
9. Card Symbols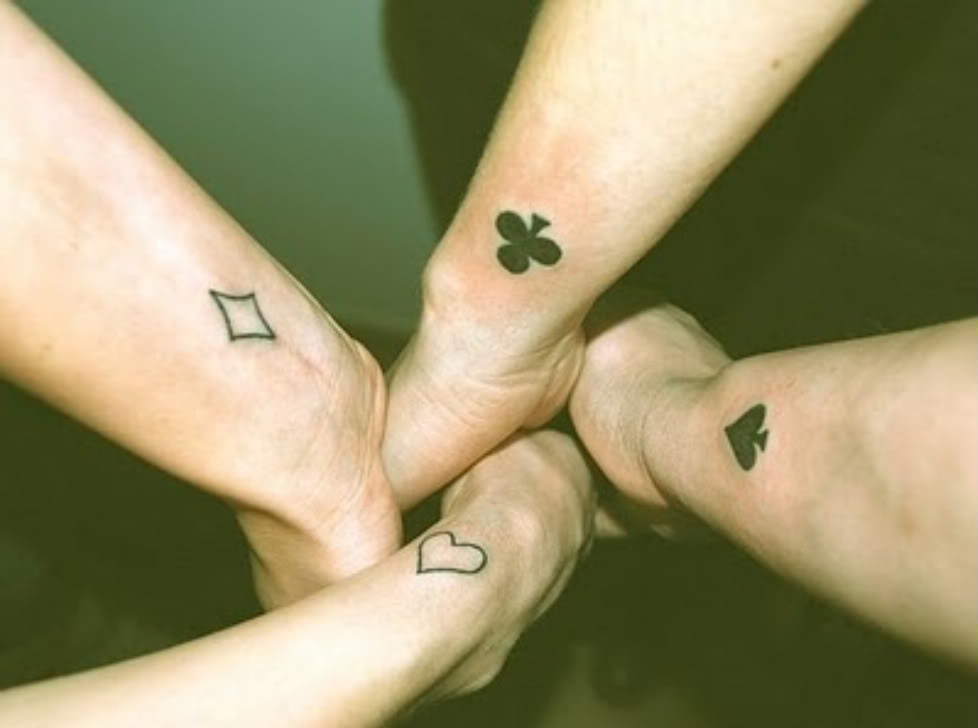 Friendship tattoos are sometimes done between more than two friends. When your group of loyal friends equals four, card symbols are fun and interesting way to honor the friendship you have. If you are card lovers, that is even better.
10. "Friends For Life" On Forearm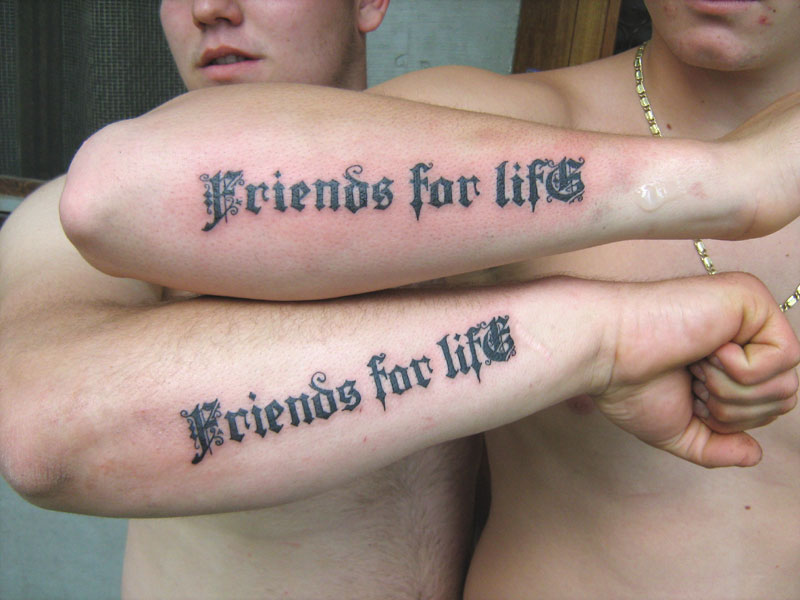 As I said previously, sometimes, the meaning of the tattoo is written. It looks a bit kinky and huge for my taste, but this is something boys like and do. Who am I to judge?
11. Ice Cream Unicorns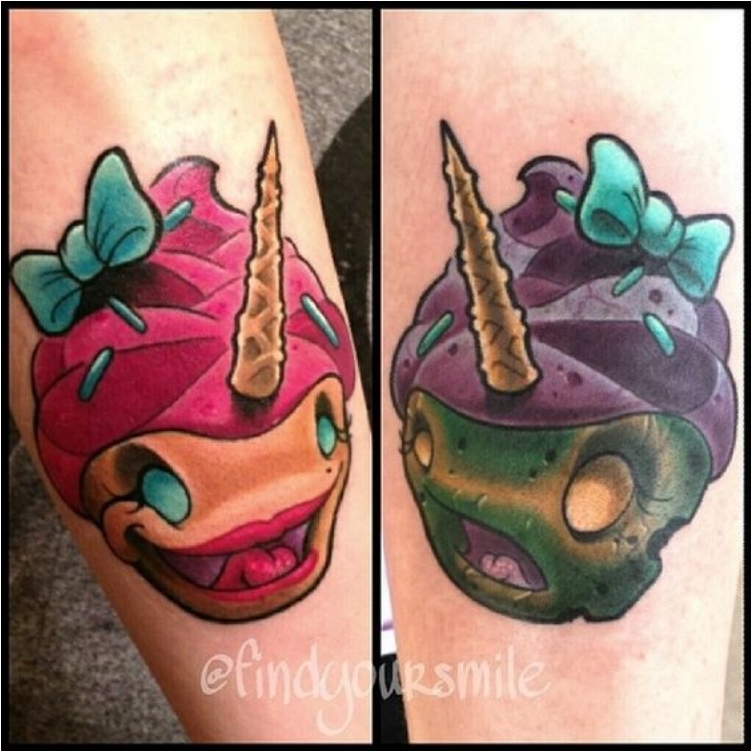 As you can see, friendship tattoos can be silly symbols from time to time. Just think of it — who will know what your ice cream unicorn means? Only you and your friend will know.
12. Puzzle Pieces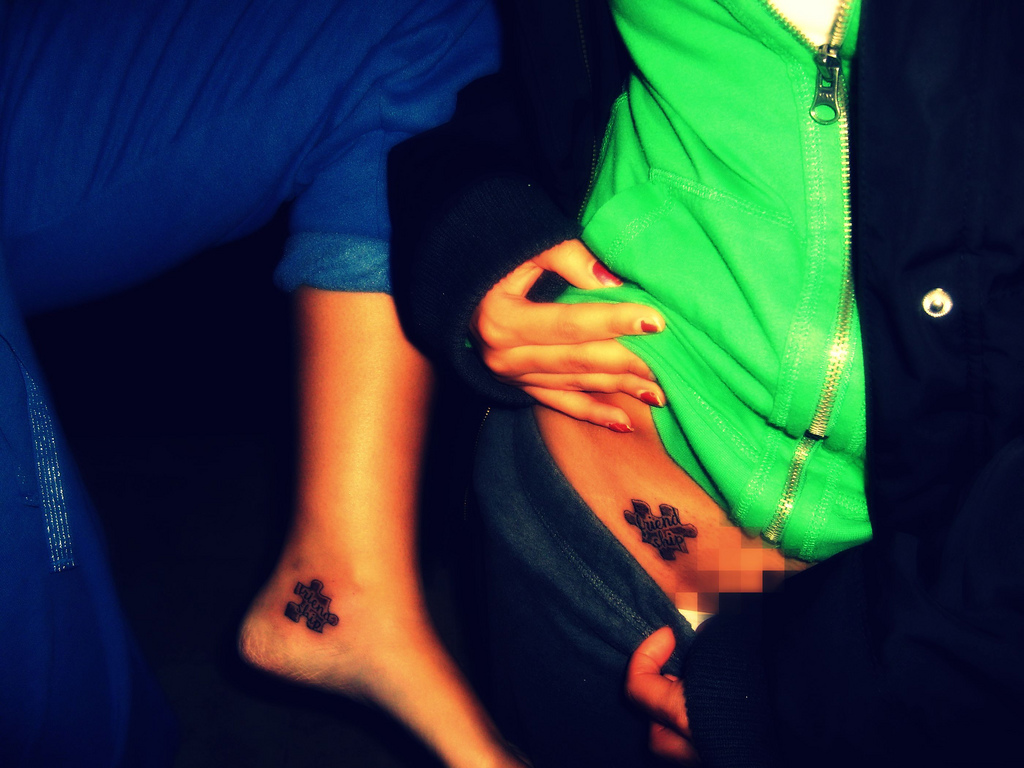 Similar as the yin and yang tattoo, this one paints a perfect picture how you two match together and how you complement each other. Just make sure the puzzle pieces fit together.
13. Dudes…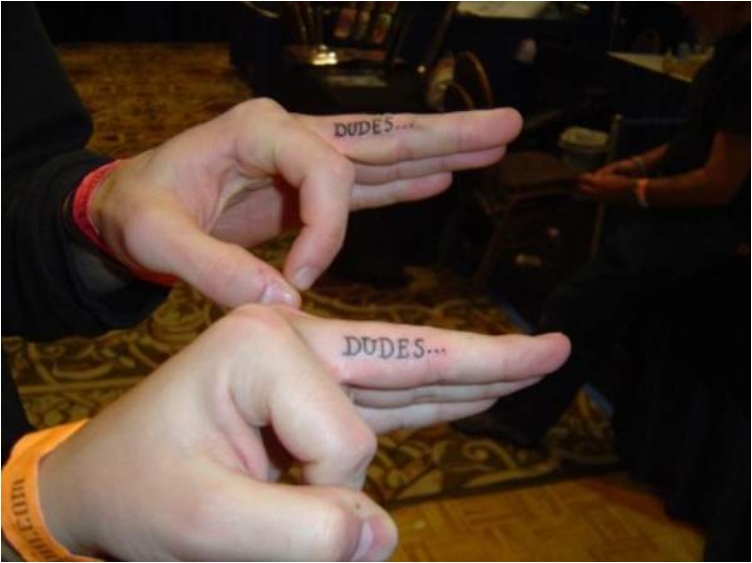 Simple, elegant and witty, this tattoo is just great. Boys are more elegant than women sometimes. However, boys do not always want to do matching tattoos to represent their friendship. If you hang around guys long enough, you will notice they have a different understanding of friendship. We girls love to make it all emotional and stuff. But boys can do matching tattoos from time to time, and this "dudes…" one is just awesome.
14. Butterflies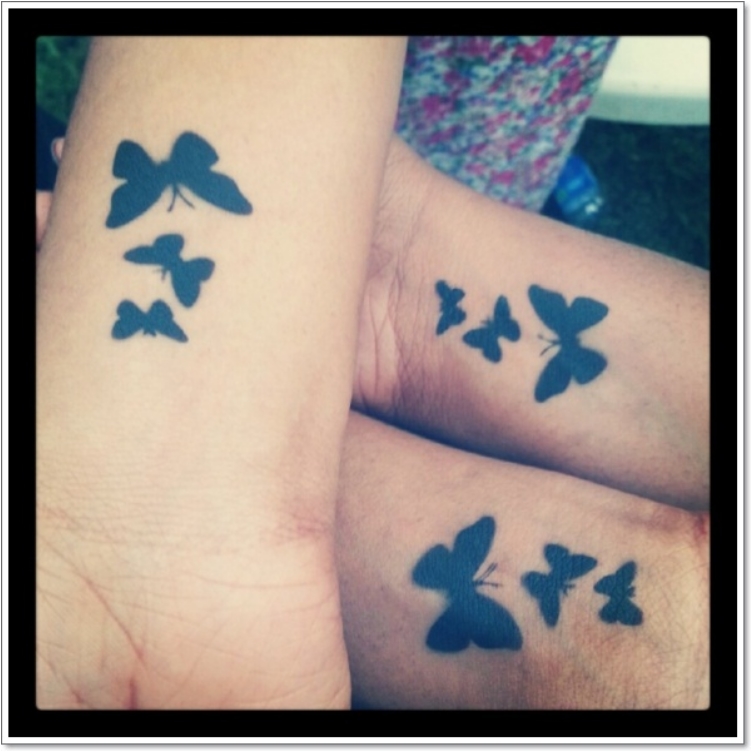 There are so many butterfly tattoos out there. The purest meaning and symbolism of the butterfly is transformation, evolution. And that is something every friendship goes through. You've probably started as kids, but as you grow older, your friendship evolves, all through college and married life. It might not be the same always, but true friends find a way to work.
15. Pinky Promise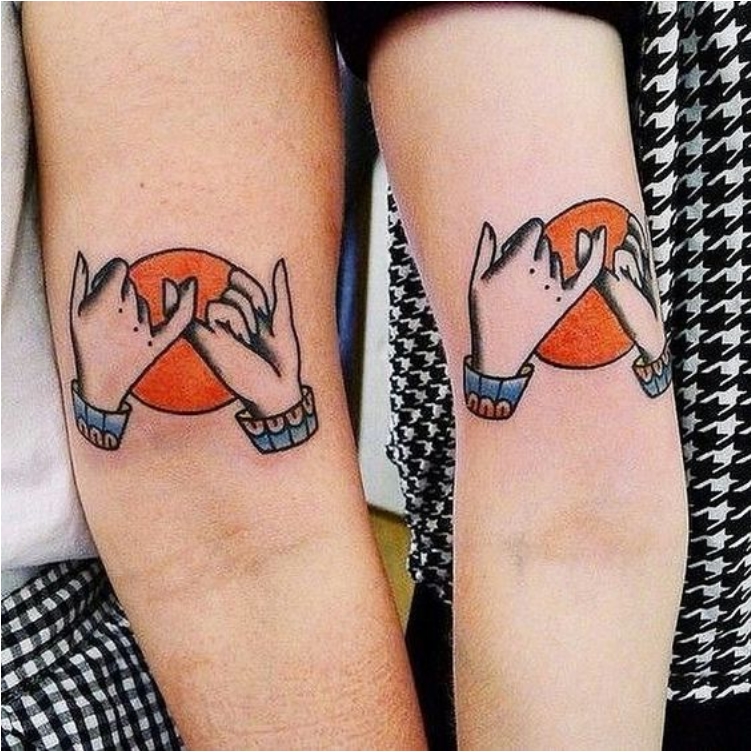 We already had a pinky promise, but this is a more artistic take on the tattoo. And, as a bonus, you can find another spot for this tattoo.
16. You See All My Light And You Love My Dark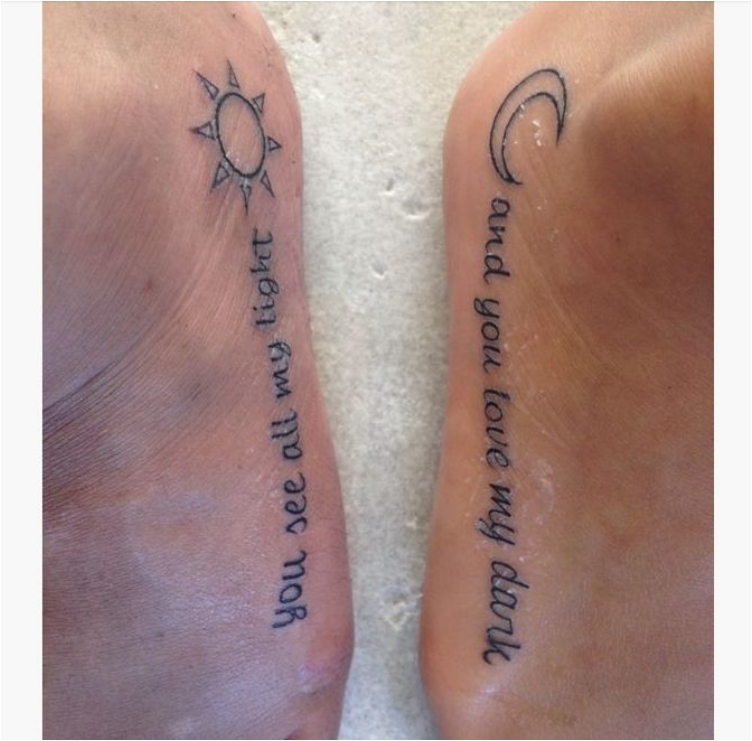 One of the most romantic quotes for friendship is embedded on your body. And with that, immortalized and left forever. You can find several sweet spots for this quote, be it your arm, your ribs or anything else you can think of.
17. Night Owls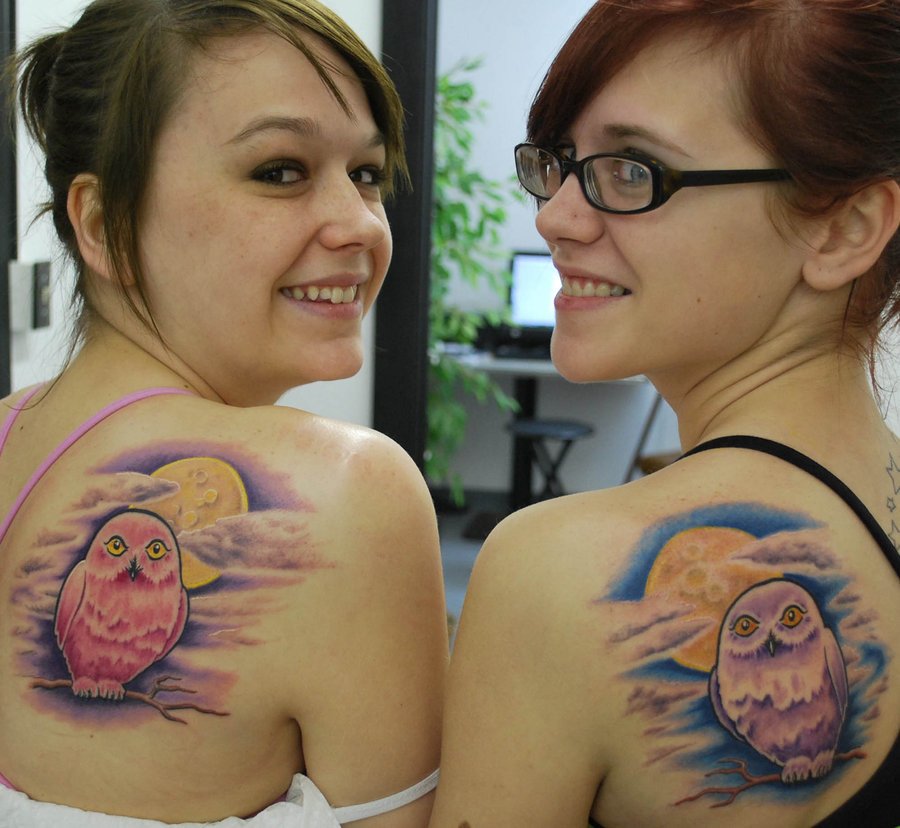 "Night owls" are people who live for the night. When the moon rises, their day starts. And if you have a best friend who is also a night owl, you can embody your character on the back of your body.
18. You Rule And You Rock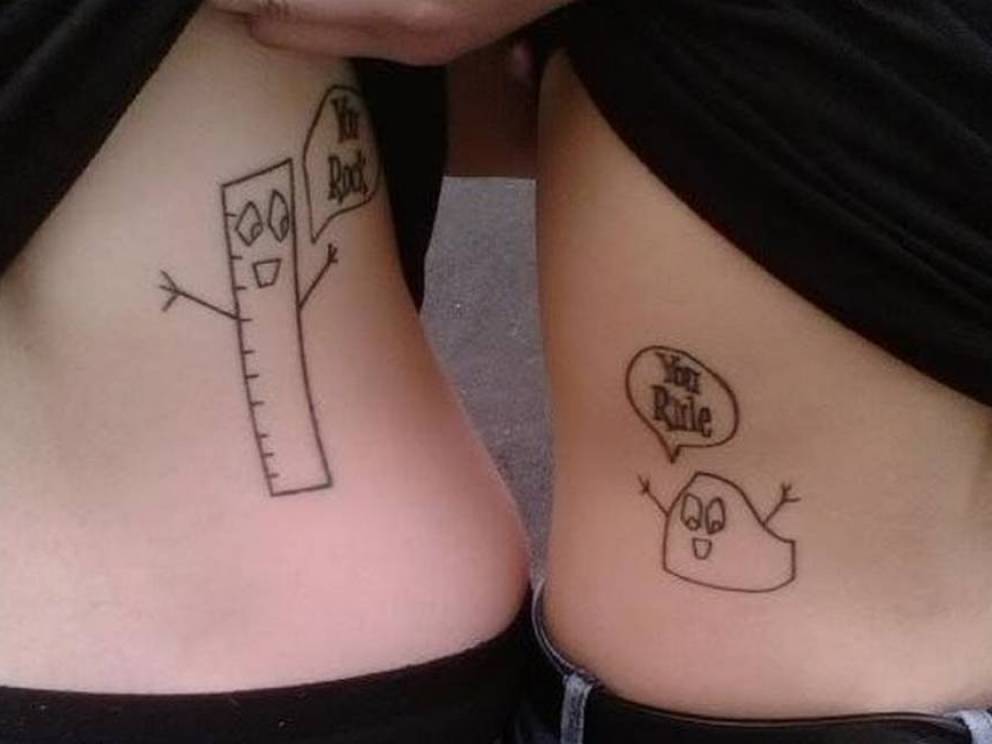 We have had a few interesting and funny tattoos, such as the silly hats. And if you have been following me, you know I always want to goof around and have fun. That is why I love these silly tattoos.
19. Friends For Infinity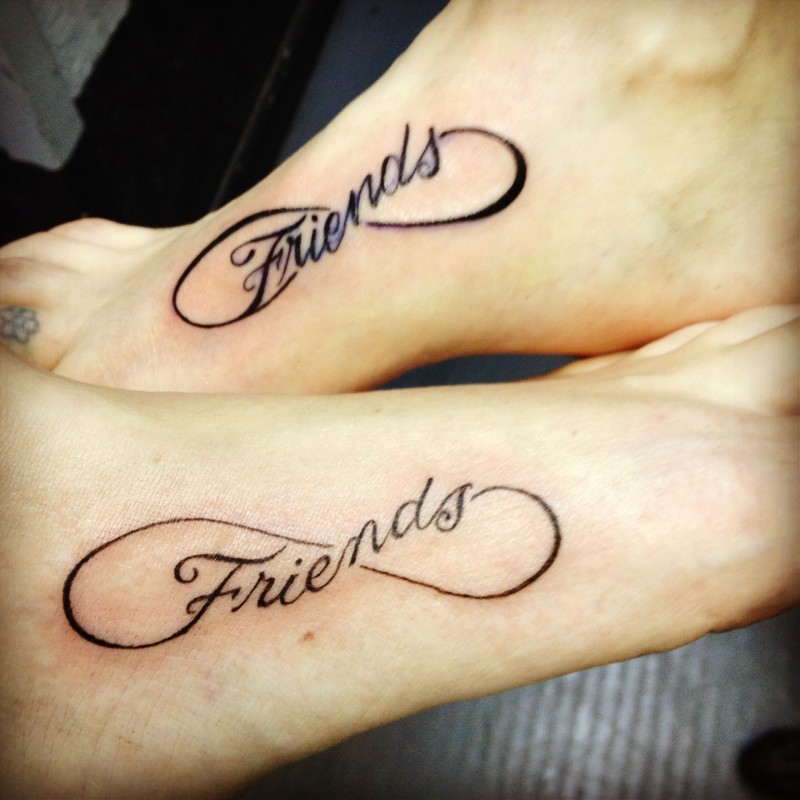 The number 8 is the infinity symbol. Sometimes called the lemniscate, the infinity symbol is perfect for paying tribute to your friends.
20. Geometric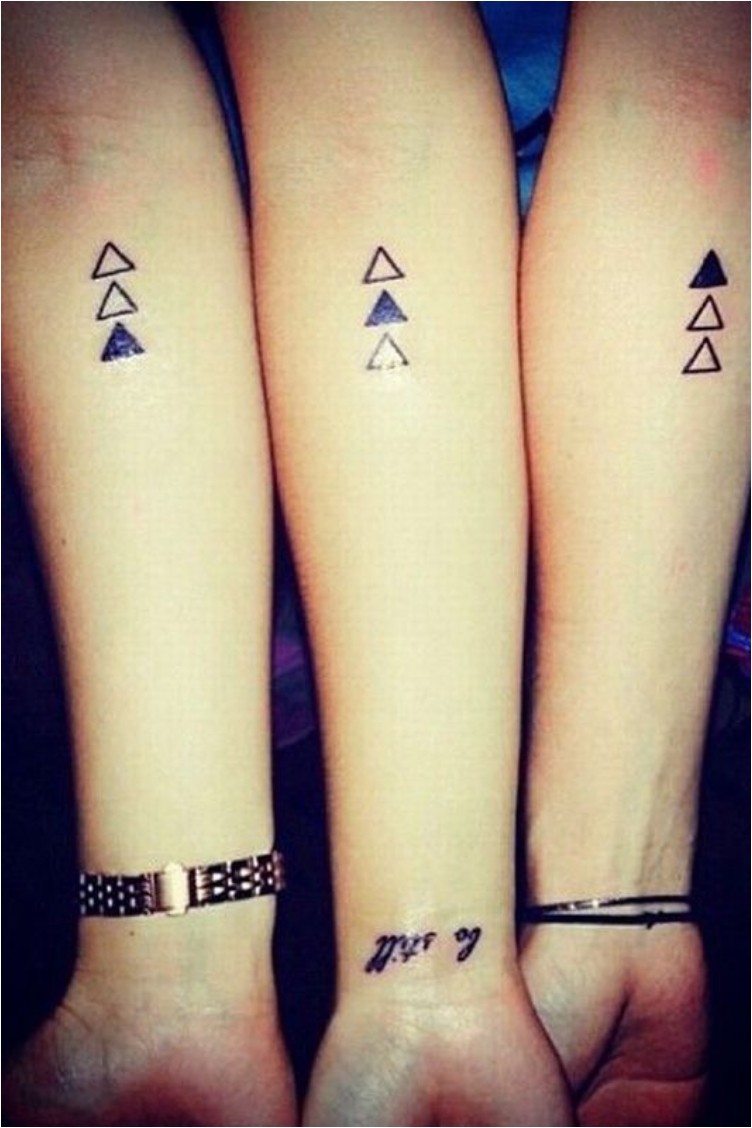 Geometric symbols have made their way into the tattoo industry over the past few years, and friends have taken notice. Truth be told, geometry has entered our lives to the fullest in the past few years, from fashion, to interior design, to tattoos.
21. Small Heart On Foot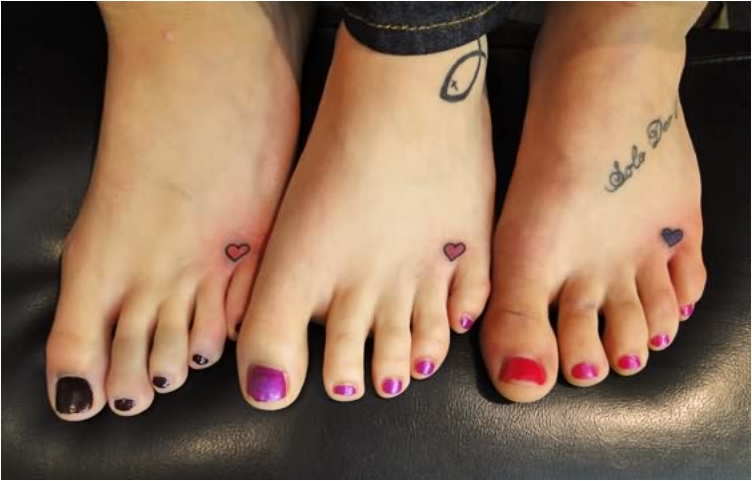 Another subtle, yet very adorable way to honor your friends is a heart on the foot. Not many people will see this tattoo. That is, until the summer hits and you start wearing summer shoes.
22. The Sun And Moon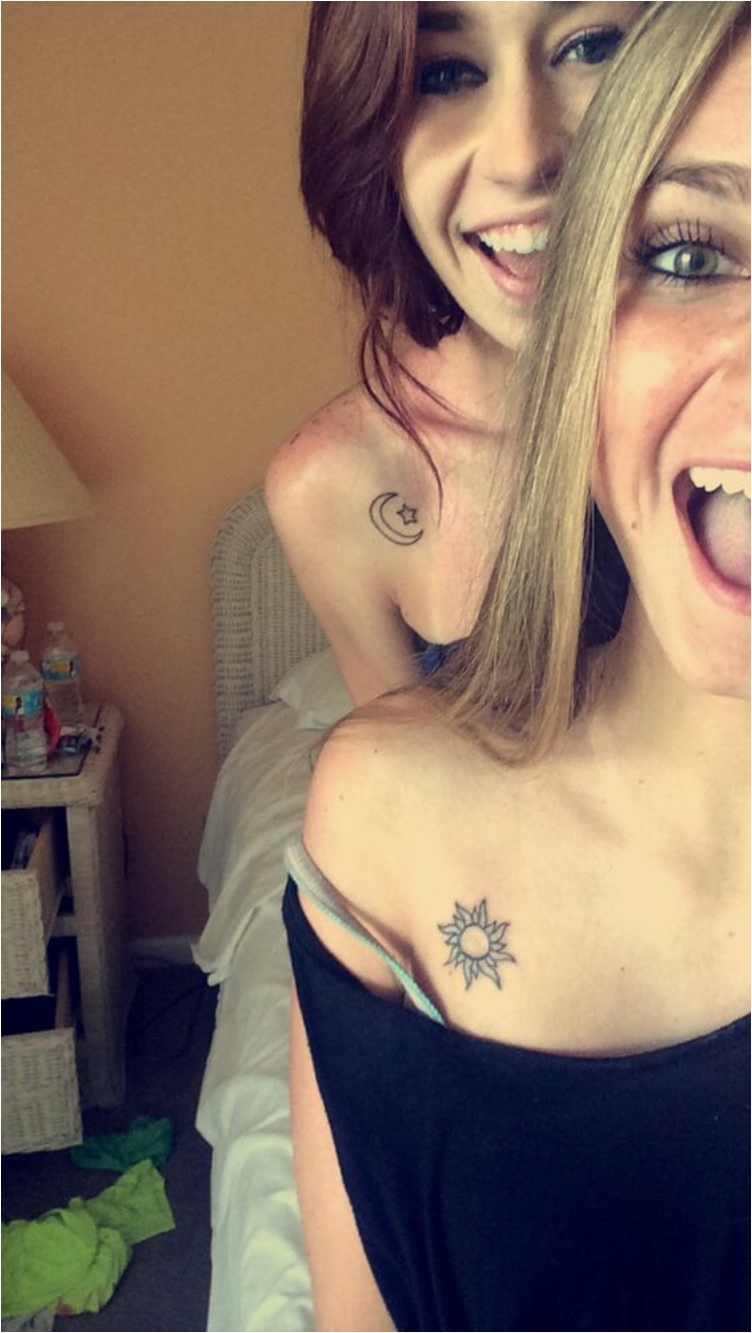 Long before "Game of Thrones" showed the love between Khal Drogo and Daenerys, and immortalized the words "moon of my life" and "my sun and stars," the moon and sun symbols showed two opposite personalities who can work together in perfect harmony. Think of it as yin-yang of the Western World.
23. Two Peas In A Pod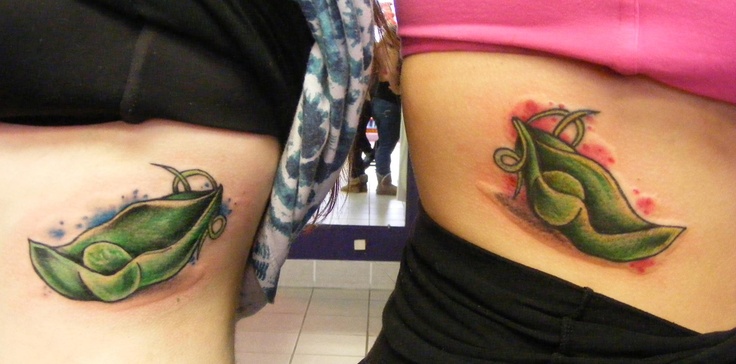 When two people are a lot alike, they are called "two peas in a pod.. They have the same taste for music, food, fashion and everything else. You remember the twins from "Alice in Wonderland?" They were called "Tweedledee" and "Tweedledum," something you can joke around for two people who are practically identical to each other.
24. Friendship Tattoo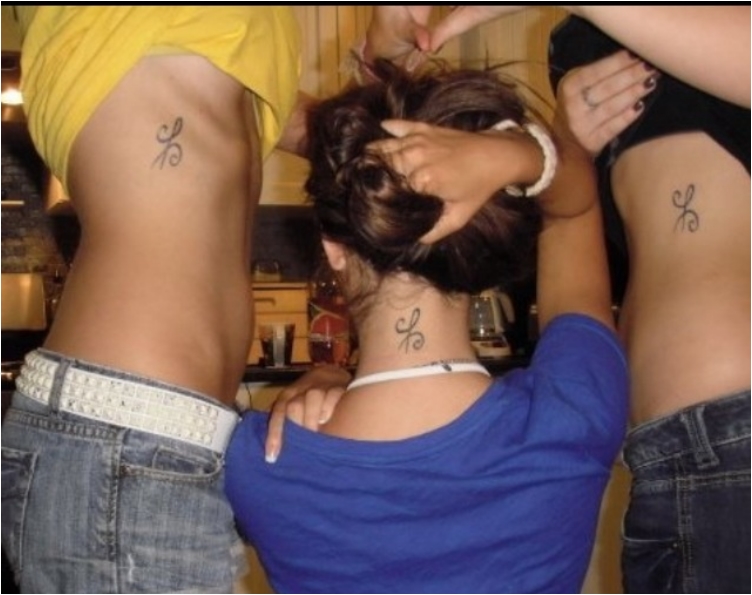 The friendship symbol looks a lot like the letter "F," and that is all you need to know about this tattoo.
25. Wrist And Inner Bicep Dynamite Tattoo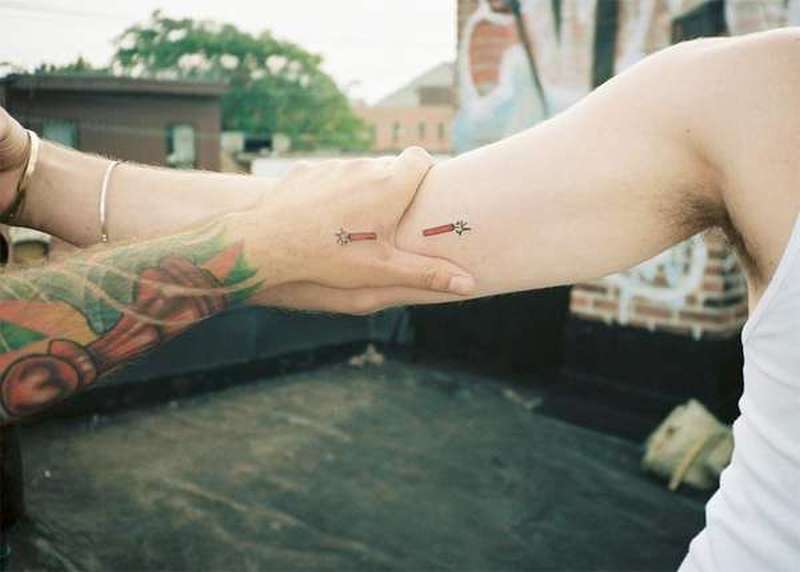 When placed individually, these tattoos have no meaning. But once you put them together, you show the world that you and your friend can cause an explosion. You've heard that line in movies a hundred times: "If you have a problem with my friend, you have a problem with me as well."
26. Follow Me — I'll Follow You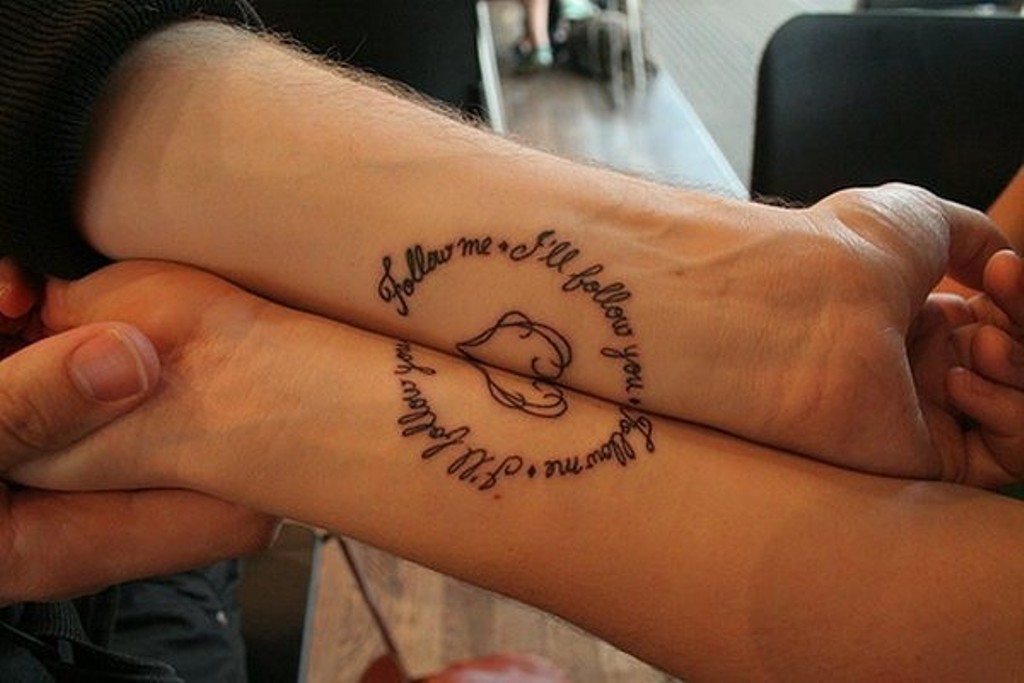 There are cute and adorable tattoos, and then there is this one. I would say this is the cherry on the cake of matching friendship tattoos.
27. Vine On Wrist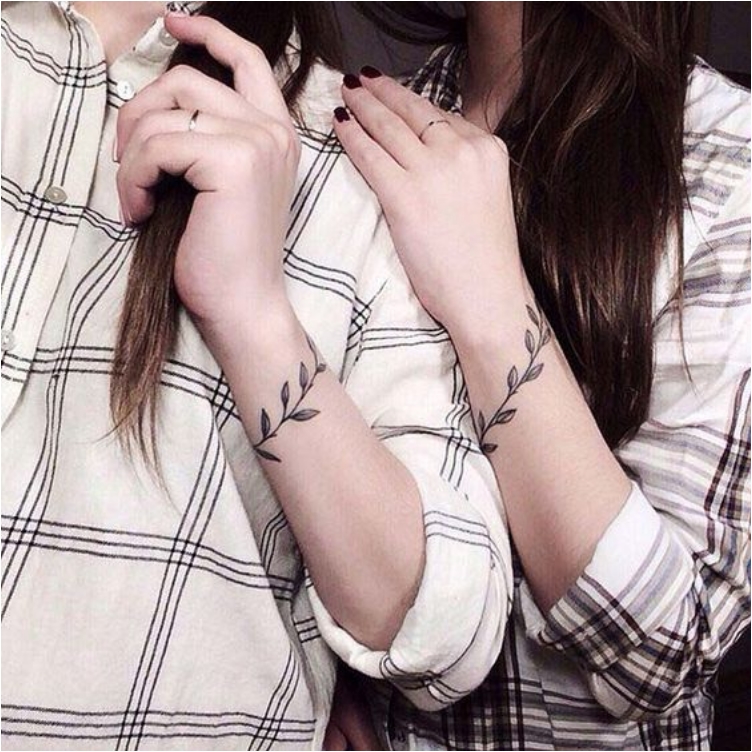 Vines are great way to express a connection, and we all know friendship is a connection between two people. Vines vary, and their shapes can be different, but the meaning stays the same.
28. Knotted Hearts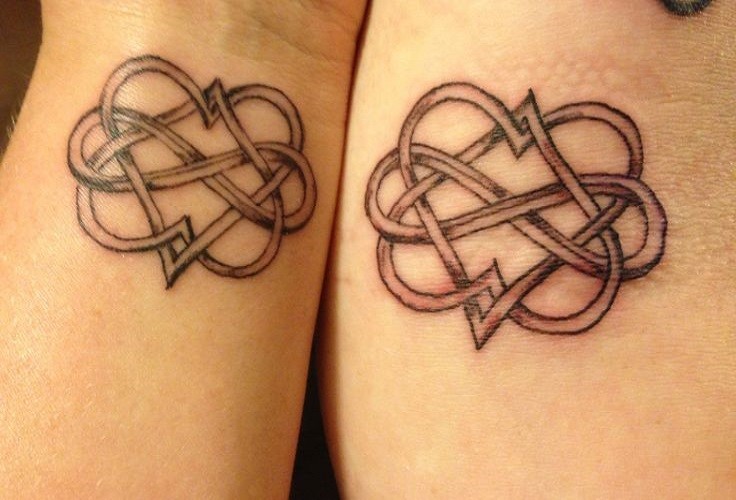 Another popular tattoo for expressing a connection and love for each other is a Celtic knot. This Celtic knot offers mystery along with artistic design for your friendship tattoo.
29. Feather On Forearm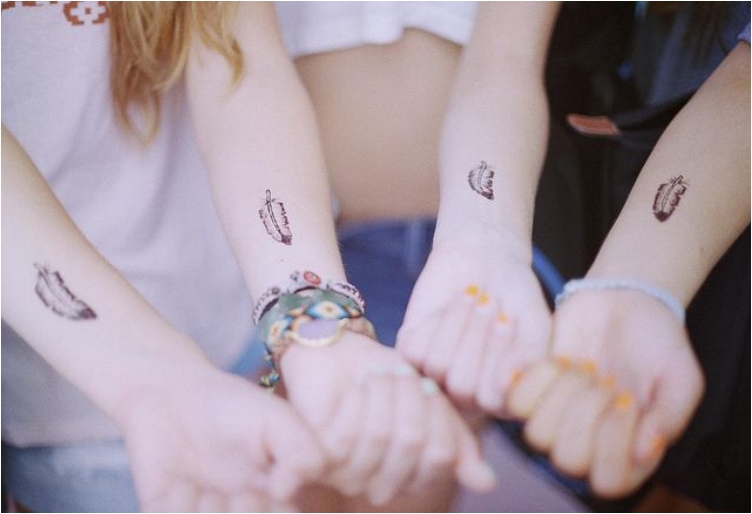 Feather tattoos come in different shapes, sizes and meaning. Most notably, feather tattoos are connected with the Native Americans. However, feathers also symbolize strength and courage — two traits that your friendship has to have to endure challenges.
30. Always Connected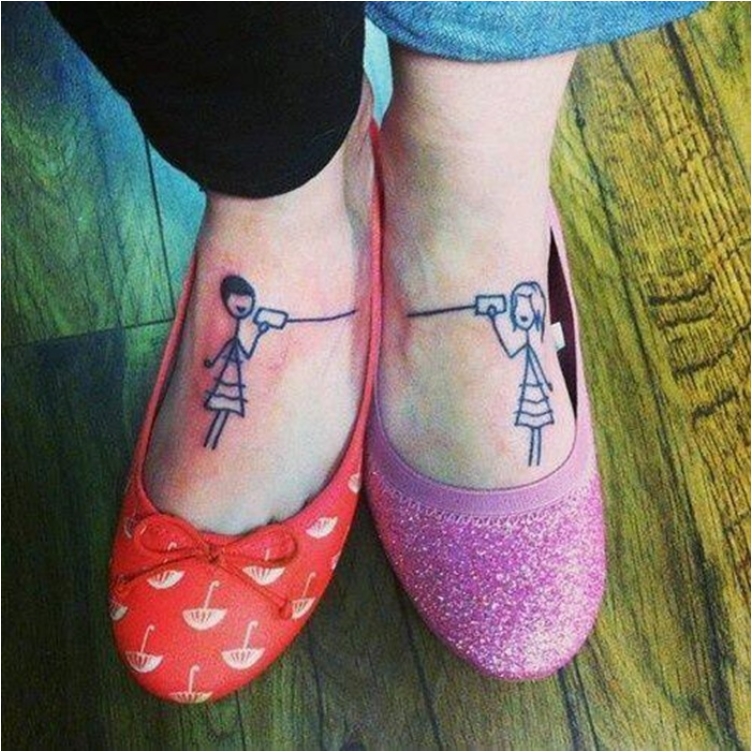 Artistic tattoos are some of my favorites ones. Combine artistic tattoo with a silly clip art, and then sprinkle some jokes, and in my opinion, you have the perfect tattoo. I might not be looking to my friends through a looking glass, but I love this tattoo.
31. Infinity Finger Tattoo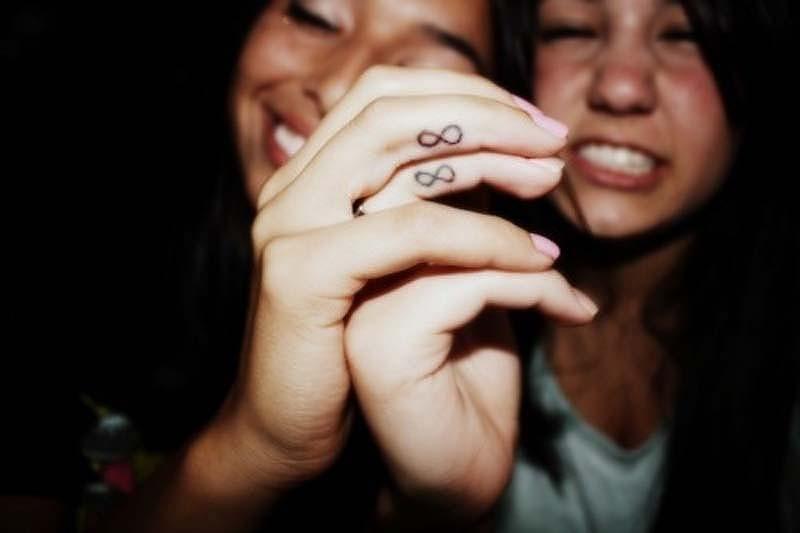 We had the infinity symbol with "friends" written inside, but if you want a smaller, more subtle tattoo, do just the infinity symbol without any words attached to it.
32. Tribal Doves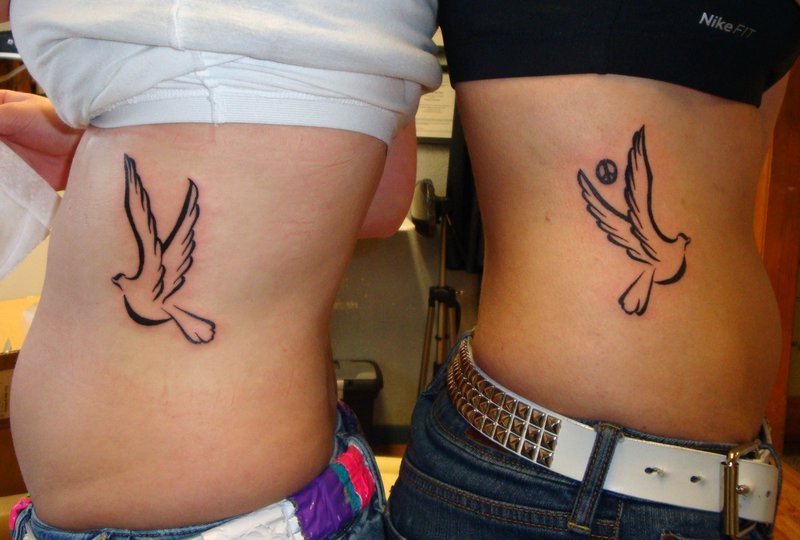 Doves are usually done as a symbol of memory for a loved one who has passed away, but that does not mean you cannot do a dove tattoo for a living person. Also, passing away does not have to be taken literally. Maybe your friend has moved to another country, and you do not see him/her as often as you used to do. In any case, it is a nicely done tattoo.
33. Chinese Friendship Symbol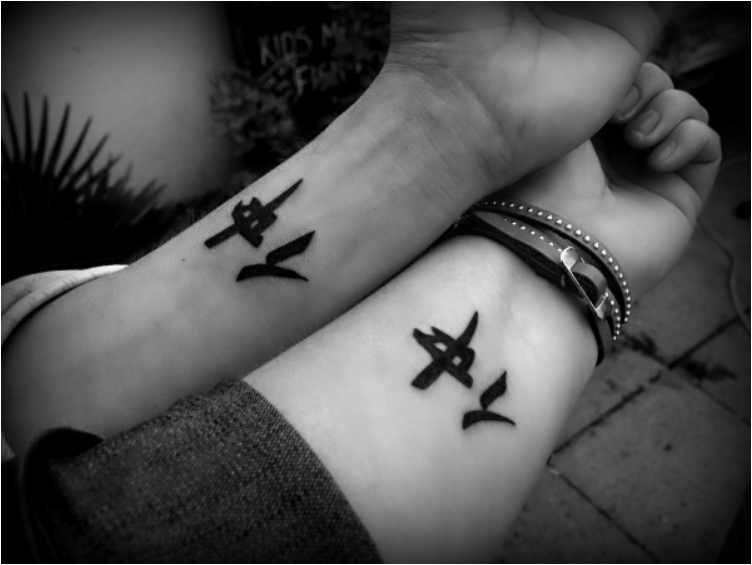 The best part about Chinese symbols is that few people understand them, so you and your friend can be sure that only the two of you know what the tattoo means.
34. Doves On Shoulder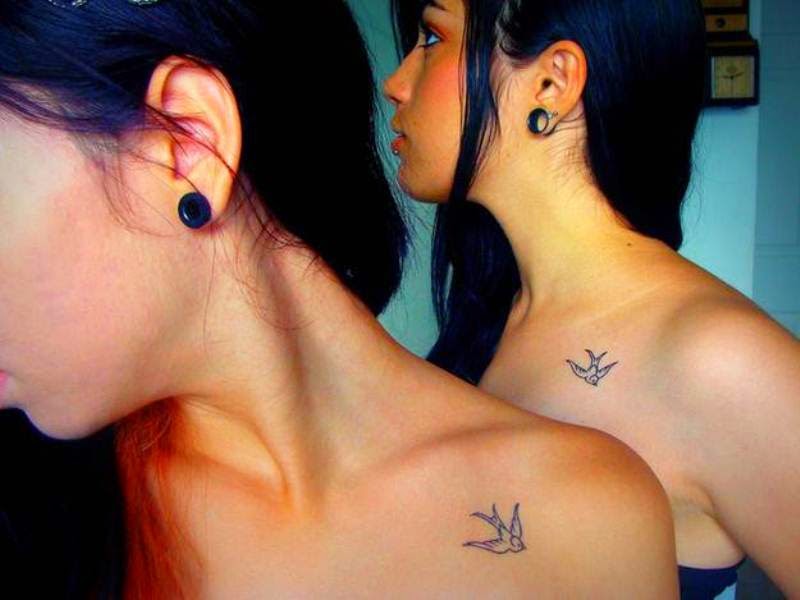 I said that doves are usually done for a memory of a person, but what I also like about doves is that they are small and subtle symbol that can be placed on a non-visible area. You do not always want everyone seeing your tattoos. After all, they are private and intimate.
35. Infinity With Stars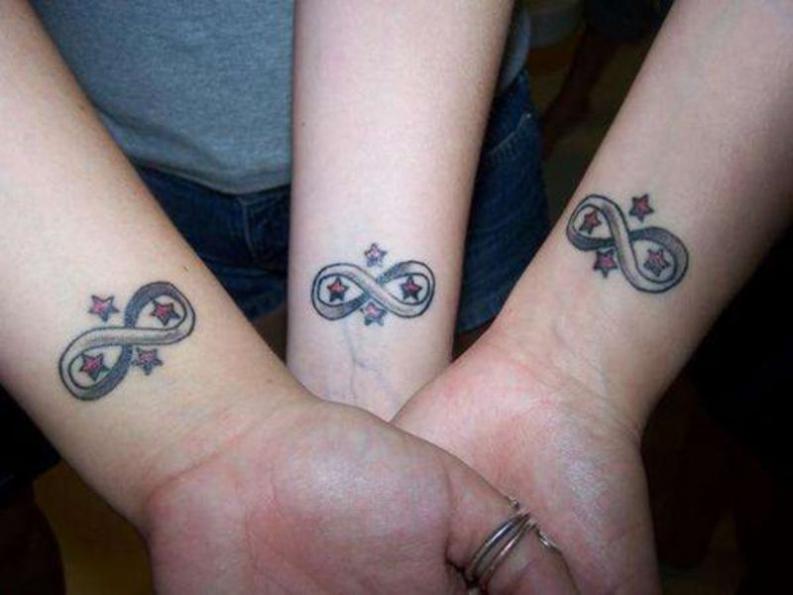 We had two other takes on the infinity symbol — one empty, and one with the word "friends" written inside. Now, I would liketo give you another take on the popular symbol for friendship. This tattoo reminds of the "Friends are like stars" quote. If you haven't heard it, the quote goes, "Friend are like stars. You don't always see them, but you know they are always there."
36. We Shall Never Drift Apart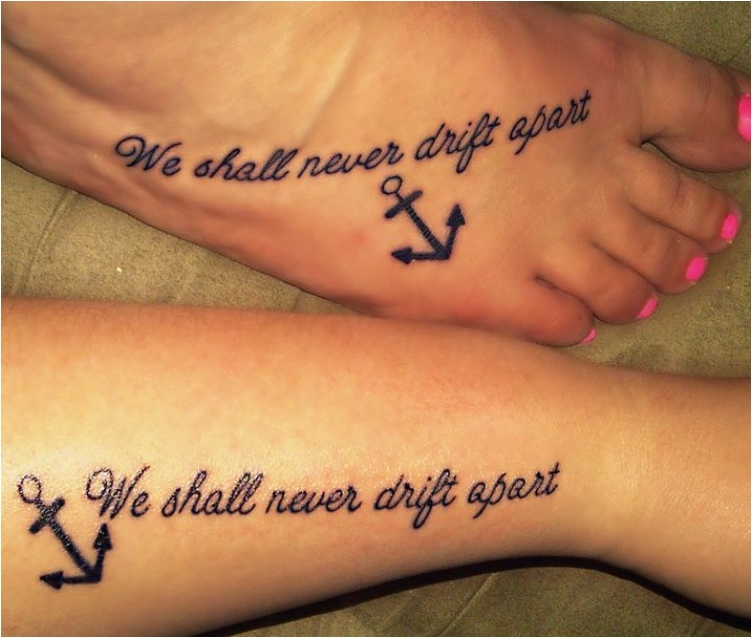 As I said a number of times, sometimes just a simple writing is the best option to honor your friendship. And I like the anchor symbol.
37. Best Friends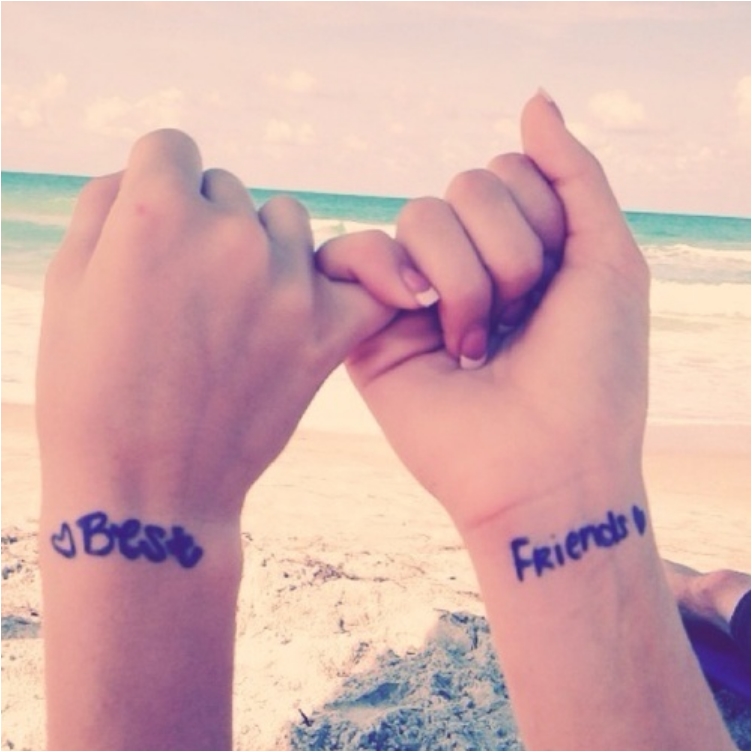 It is only appropriate that we finish the list with a "best friends" tattoo. We all have a best friend, and this is my reminder for you to take care of your friends and never take them for granted. One day, you might find yourself in a tough situation, and only a true friend will and can help you.
 READ THIS NEXT: 32 Lovely Tiny Finger Tattoos Anyone Would Love