It's been more than a year since Barack Obama and Joe Biden left the White House. But their bromance lives on. We cannot forget how much fun these two generated. The Barack Obama Joe Biden tweets were witty, sassy, funny, and genius in the same time. The Barack Obama Twitter account is still active, but now the former president does not generate the same amount of tweets as before.
With that in mind, let's take a look at some forgotten Obama Biden memes. Who can forget when Joe Biden tweet about Trump? Well, we cannot.
1.Is Trump the Devil?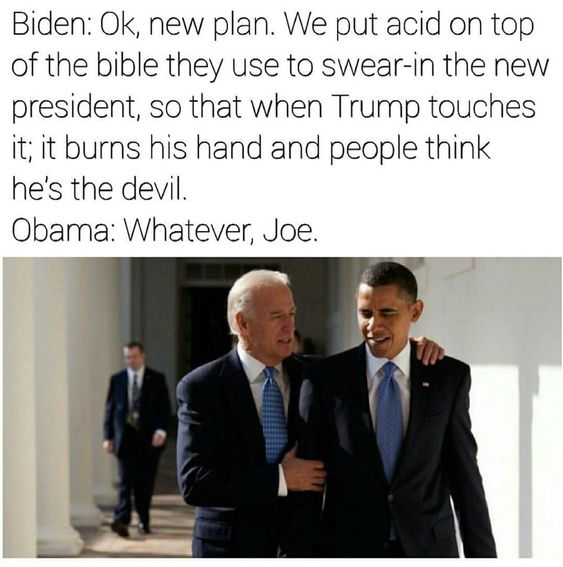 The master plan revealed. When Obama had to leave office so that Trump can vacant the White House, vice-president Biden had a genius plan how to make Trump look even more bad than he is.
2. The Third Wheel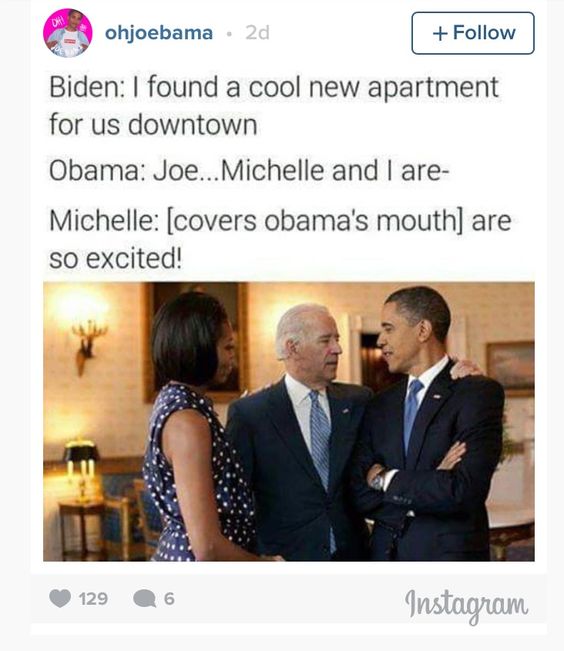 Every now and then, Michelle Obama got in between the bromance of Joe and Barack. But she didn't mind it. It was fun and entertainment.
3. Who has custody?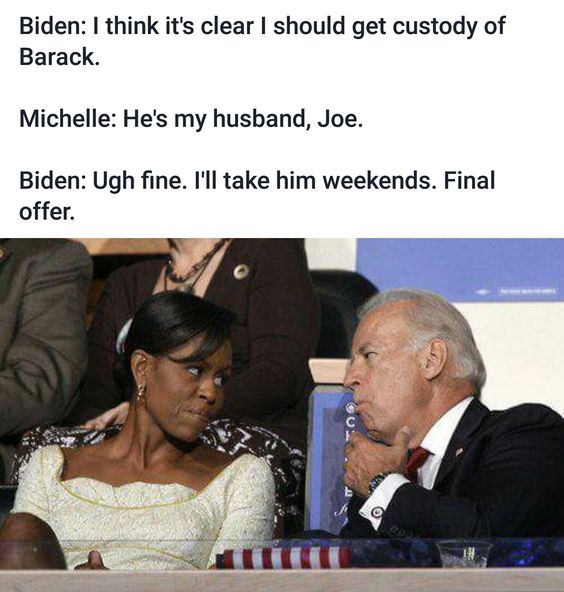 People were joking all the time that Barack and Joe spend more time than the former president spends with his wife. And that is how these Obama Biden memes were born.
4. Not leaving the White House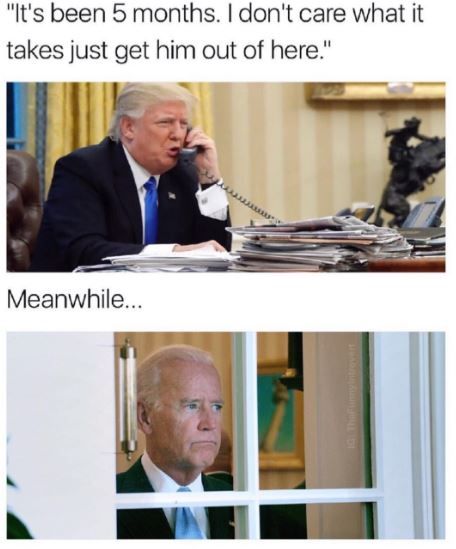 Obama had to leave the White House. But Biden doesn't want to give up the fight up that easily. He tormented Trump for some time afterwards.
5. Where will Santa bring my presents?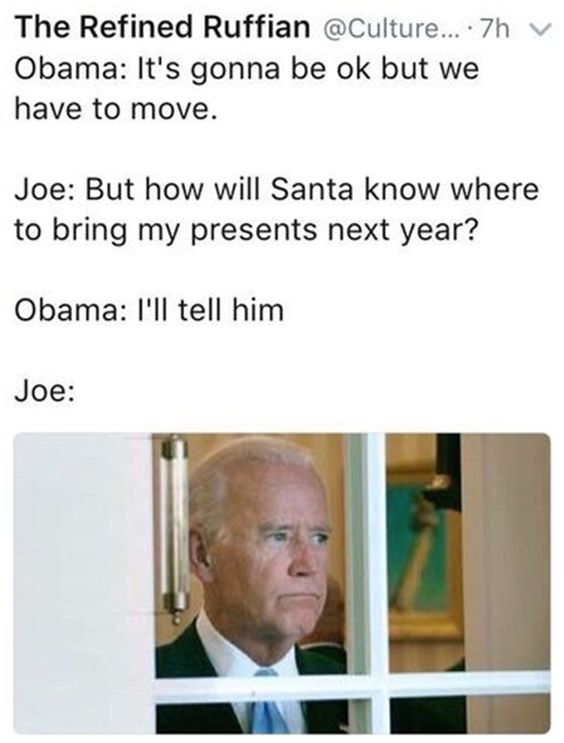 Telling your significant other that you have to move is a difficult decision. Obama had to be the one to tell to Joe that they have to move out of the White House, and into a new house. Biden had only one question, how will Santa know where to bring his presents.
6. Milk and cookies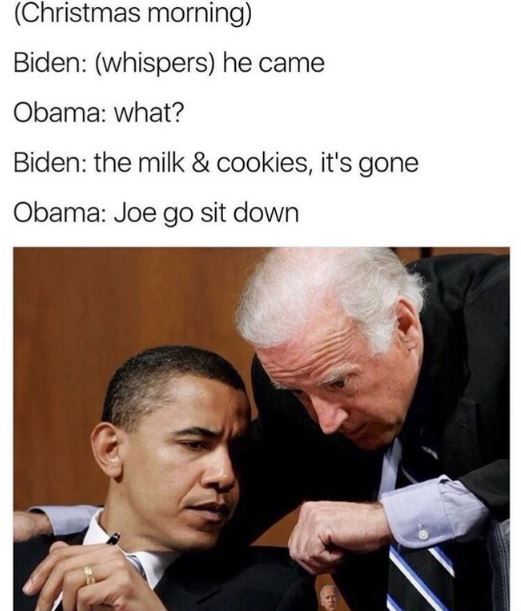 The Joe Biden twitter milk tea was a popular one during the Obama's presidency. Twitter folks had so much fun with that one. Definitely a classic worth remembering.
7. Help Bernie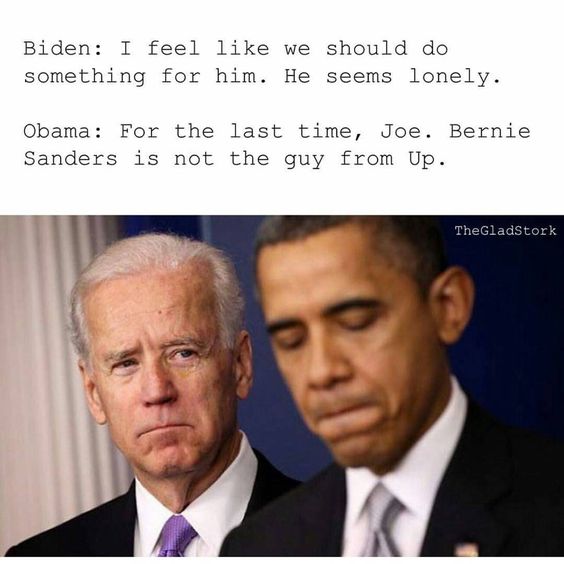 Bernie Sanders was a presidential candidate by the Democratic Party. Obama endorsed Hillary, so Bernie was left alone. But Biden was there to have him back and support him.
8. Press Conference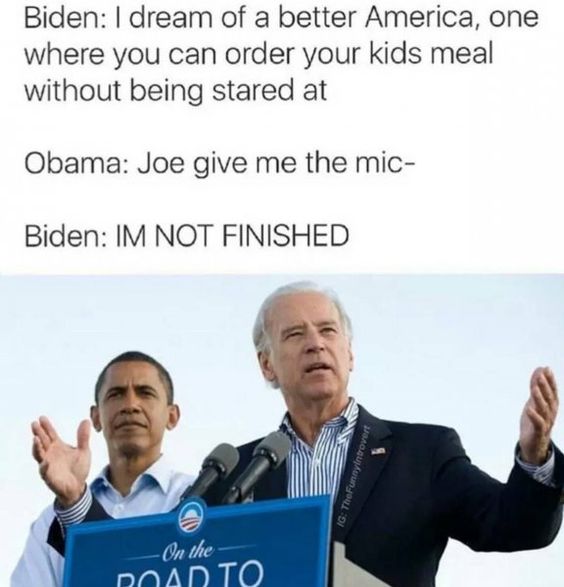 Every now and then, Biden was the one to be the man at the press conference. And while Obama tried hard to stop Biden from telling some jokes, Joe was just that type of a man. Who will not miss his funny and entertaining press conferences?
9. Smile and wave
It seems like Biden hasn't seen Madagascar the movie. He is not like the penguins that just smile and wave. Obama is there to correct him, but Biden is his own man.
10. Flipagram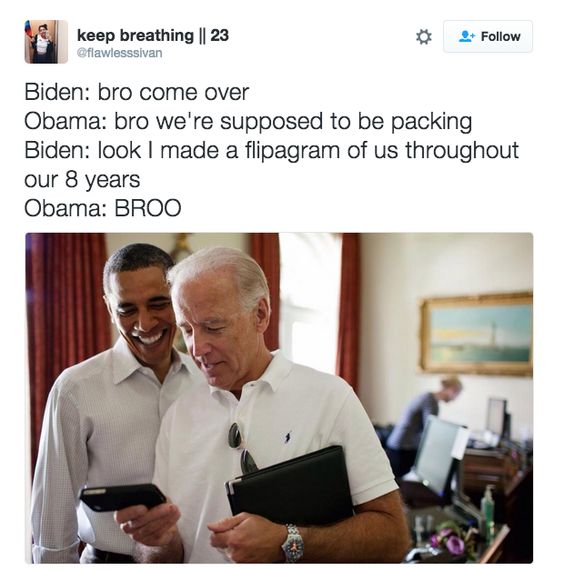 One thing is certain, Barack Obama and Joe Biden tweets showed us just how modern these two are. They are always in line with the latest technology and apps. You just cannot say they are not entertaining.
11. Have an ice cream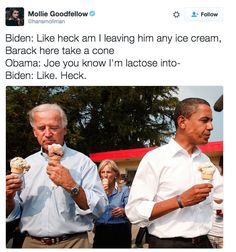 Barack Obama's first job was scooping ice cream. And from there, he went on to become one of the more popular US presidents of all time.
12. Coping with Trump's win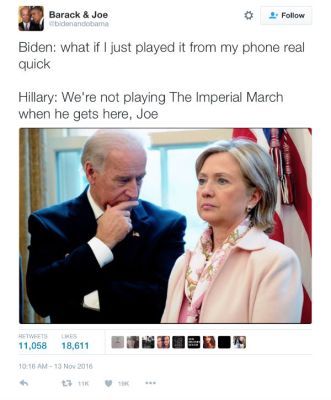 A lot of the Barack Obama Joe Biden Tweets were regarding the Trump's win. This one sums up what they felt about the current president of the United States. Truth be told, the Emperor in Star Wars was better.
13. Who is the President here?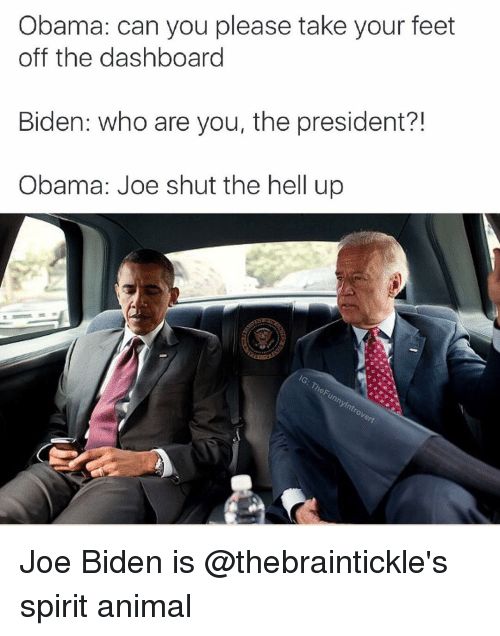 At times, you could argue that Joe Biden was acting more as a president than Obama. These rare sights we get of the two driving in the car are just priceless. The 8 year presidency of Obama produced a lot of Obama Biden memes, and the Twitter world got into it.
14. Messing with Trump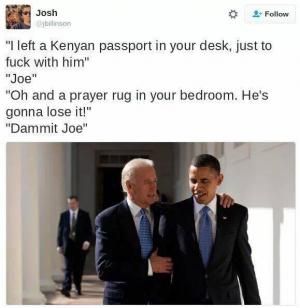 President Donald Trump tried to criticize Barack Obama for his alleged Muslim history and past. And the Twitter world joked about that once Trump was elected.
15. Do not sneak up on me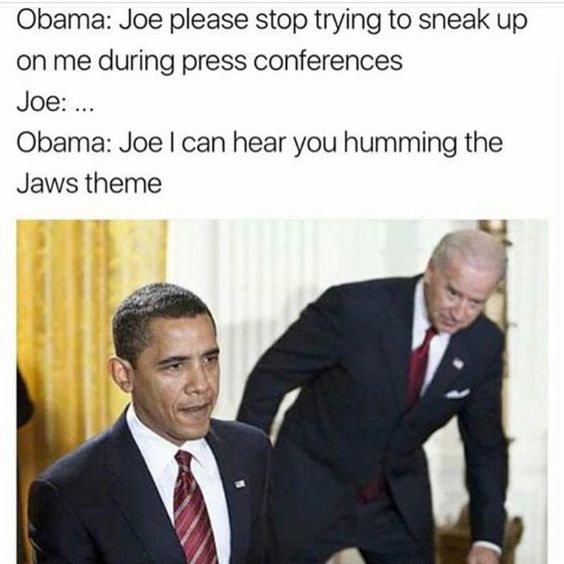 It is just painful to see that these two are not together in the White House anymore. They were definitely one of the best, if not the best pairing for a president and vice-president in US presidential history. We will miss them.
16. The Matrix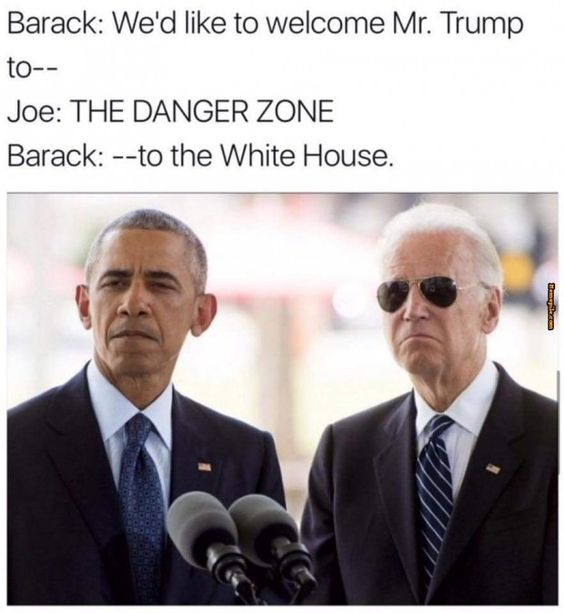 It is only fitting that we finish off with a pop culture reference. These two are a lot like Neo and Morpheus from the Matrix. It was definitely a picture worth captioning.