Imagine you want to make a picture look better. What do you need for that? Photoshop skills is one of the possible answers.
The other is a magic genie who will make every wish come true. Well, Aladdin had one, and how did that went? Remember, a Genie cannot make someone fall in love with you. Everything else is on the table.
James Fridman is one such genie. The British graphic designer is famous for taking requests on Twitter for alterations to photographs. However, he responds with an edit slightly different than what you thought.
It is funny people still expect him to become a good genie and respond with a normal effect, not a comedic one. Well, what can we do than have a laugh and enjoy his good work.
If you have a picture that needs some photoshopping, ping him on Twitter. Just be careful what you wish for.
1.Danger incoming in 3 2 1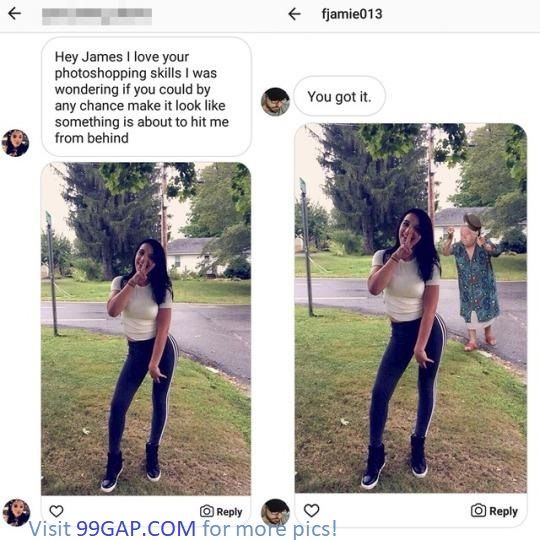 Who in his right mind would want something to hit him from behind in a picture? Like how would that look? James has a creative fantasy, that is for sure.
2. The ugly creature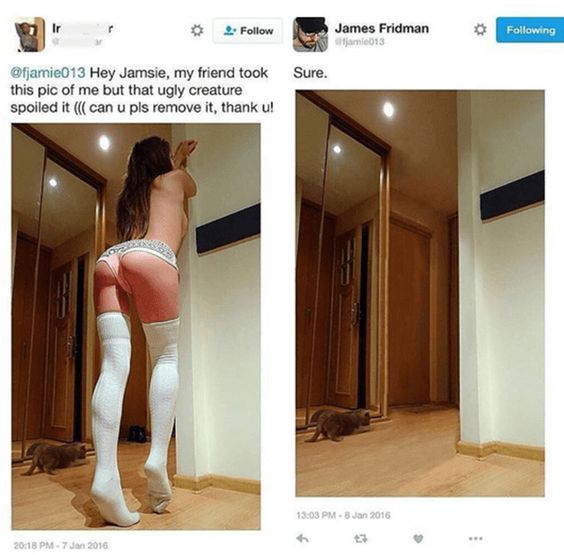 We all have a different view on what is beautiful, and what is ugly. What is beautiful for you, might be hideous for me. The lesson here is never assume you are beautiful, and someone else is not.
3. Dream come true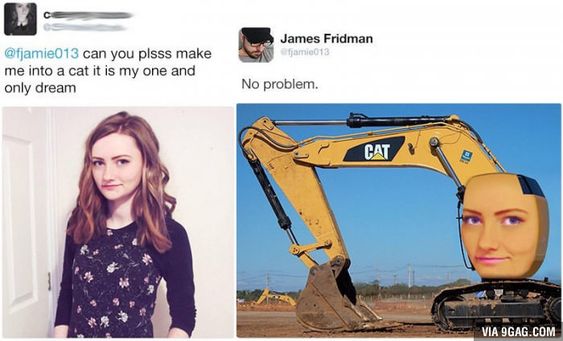 How can a little girl know of CAT, an American Fortune 100 corporation. We all know their shoes, which became widely popular in the past few years. Caterpillar Inc. is a company mostly focusing on engineers, but thanks to hipsters, they became popular in the mainstream media as well.
4. Shrink or enlarge

Many women want a man who is taller than them. That way, they can wear heels without worrying it will look awkward. But as you can see, some women have other fetish. They want a boyfriend with a bigger head than theirs.
5. The elongated arm
It is one of the more popular poses. When you go to Paris, you try to hold the Eiffel tower. In Pisa, we try to hold the tower. With that in mind, some people just want to hold something, whatever that is.
6. Running from danger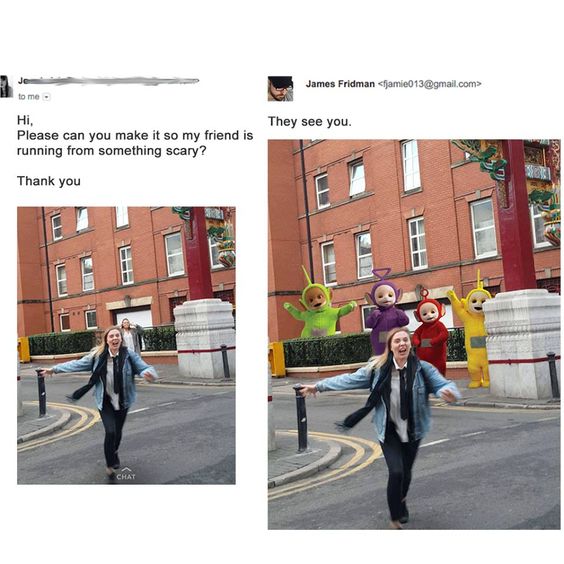 Let's be honest for a second. Teletubbies can really be creepy and scary. We think of them as cute and adorable children characters, but those big things can get creepy. I would run away from them as well.
7. The train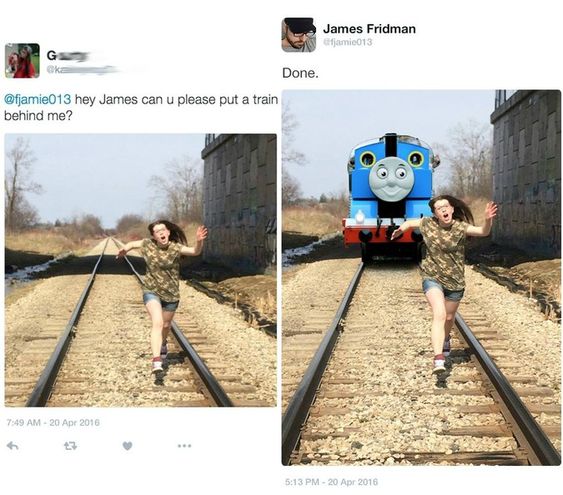 What we love about James is his love for children's characters. Thomas the Train Engine is a beloved character that is just pure awesomeness. Some of us grew up with Thomas. Others might be too young to remember him.
8. You are a unicorn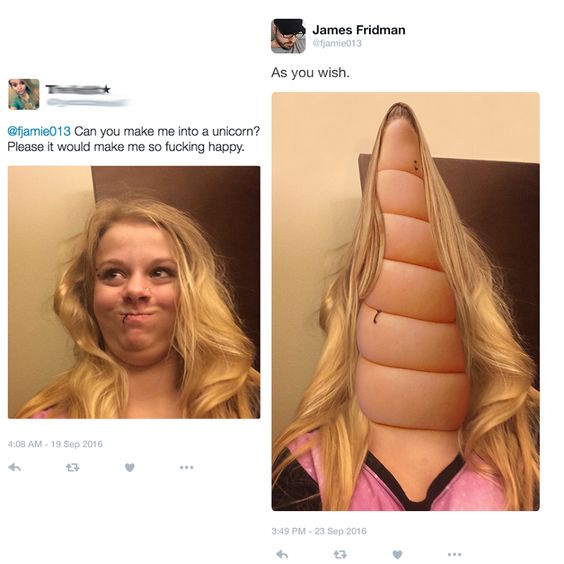 You just have to love a good photoshop troll. There is no other way around it. And this lady definitely asked for it.
9. Lady in the background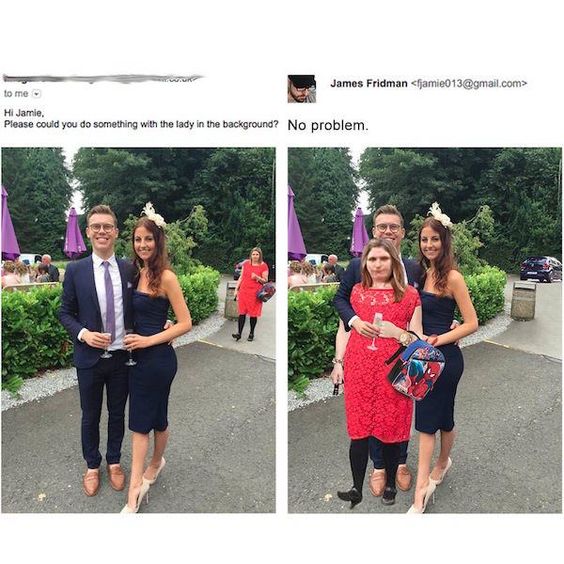 Nothing can ruin a good picture with your boyfriend/girlfriend more than a strange and awkward person in the background. It can happen to all of us. A photo bomb is just an inevitable in some cases. And if you cannot live with it, just do not ask someone to do something about it.
10. Off to Miami you go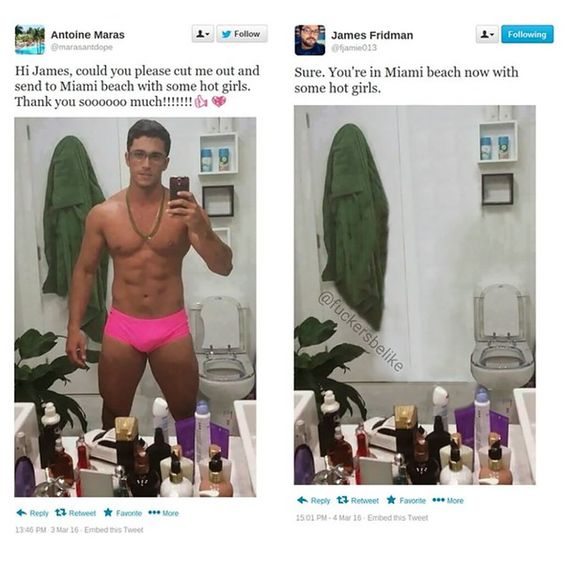 Your wish is my command, master. Please enjoy your time in Miami. Hope you have a blast, and once you are ready to come back, just ping me. Just make sure the next time, you pick up different swimsuit. That pinky is not at all manly.
11. That definitely blow my mind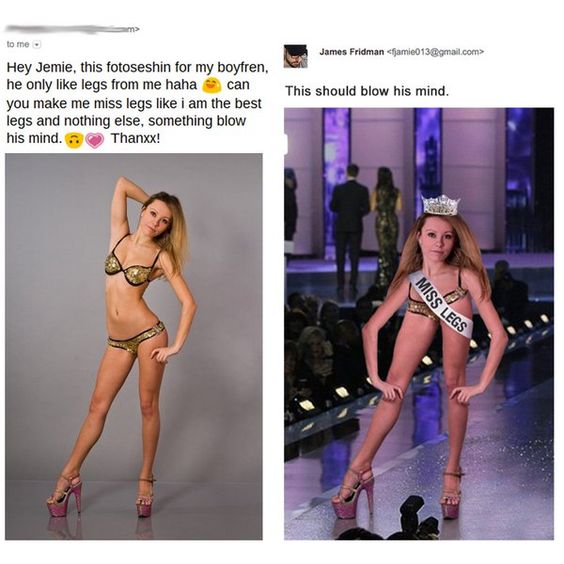 Everything for your boyfriend, right? If your boyfriend loves your legs, be happy about it. And you can blow his mind by wearing something provocative that puts your legs in a shiny light.
12. That dress needs length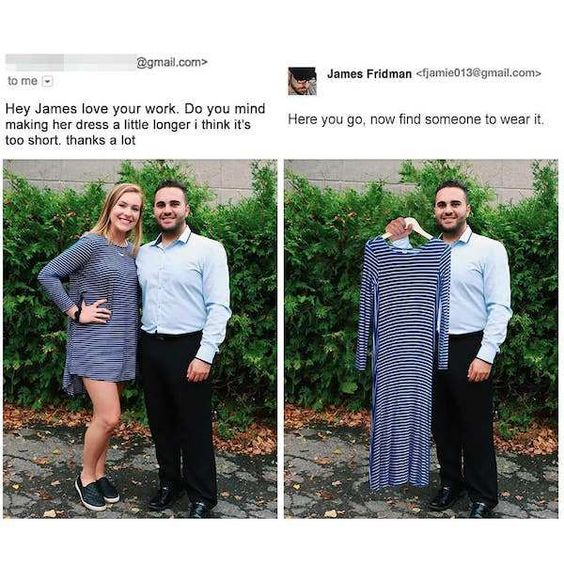 I love how people always are trying to find a flaw in their partners. What is up with you people? If you do not like something about your partner, photoshop will not help you. Instead, you will end up on the wrong side of a photoshop troll.
13. Pimping your mom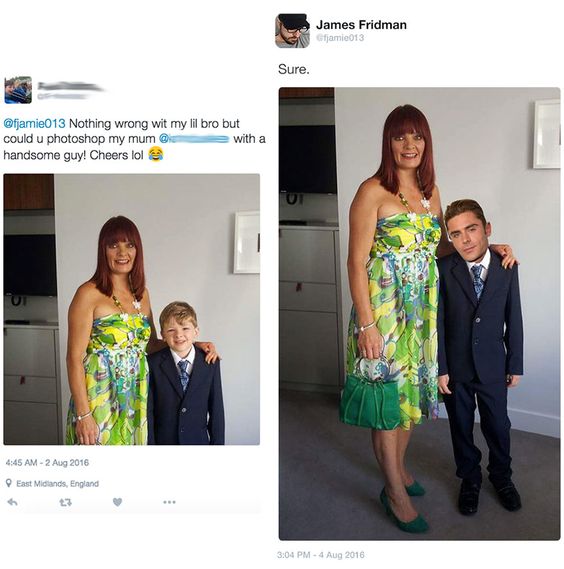 Now that is a guy taking care of his mother. He just wants his mom to find someone a handsome guy who will love her. And even if that is only thanks to a photoshop troll.
14. The American Dream
For many people, coming to America is "The Dream". They do not call it the American Dream for nothing. But many of those do not like what they see. Instead of becoming a millionaire or something, they end up working in Walmart or McDonald's for a minimum wage. Even photoshop knows it.
15. Feel sorry for the animal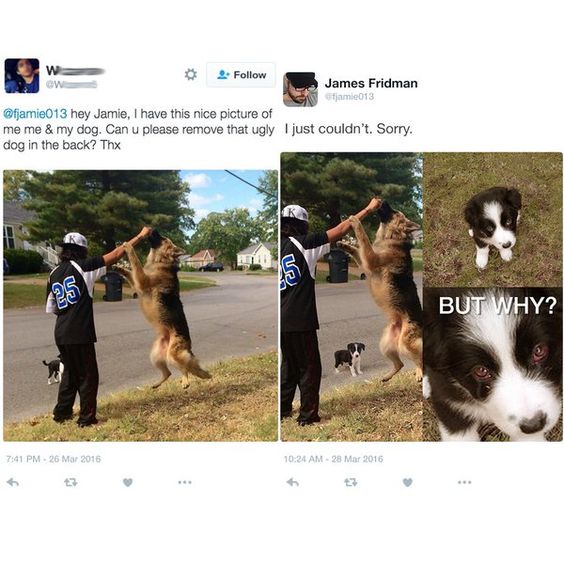 One thing about James, the Photoshop troll, he is always on the side of righteousness. When people ask him to remove some "ugly" creature from a picture, he gives them a curve ball. That is the internet hero we need and deserve.
16. A Kardashian level booty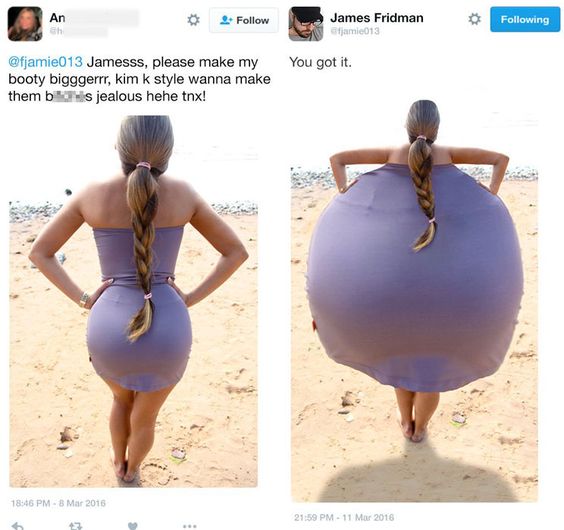 Only Kim Kardashian has a bigger booty than you know girlfriend. Enjoy it. Who knows, you might become as popular as Kimmy. But that requires you take the clothes off and show that big booty of yours.
17. Hey Ariel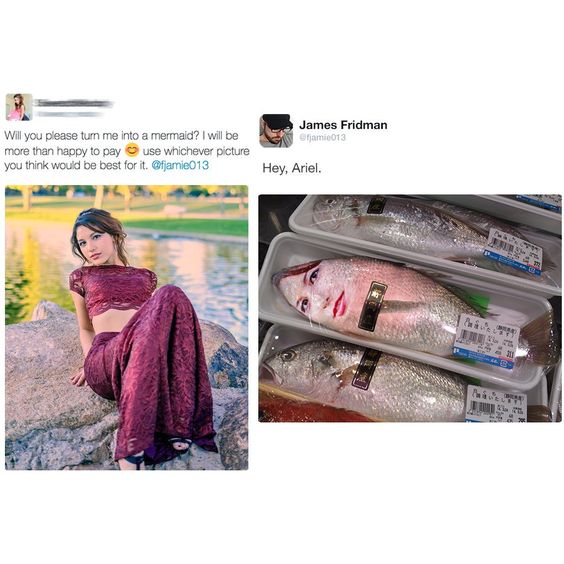 Look at Halloween costumes for women. You will see a mermaid is among the popular choices. We think of mermaids as these beautiful creatures. Well, if you think you can become Ariel with photoshop, think again.
18. The Kiss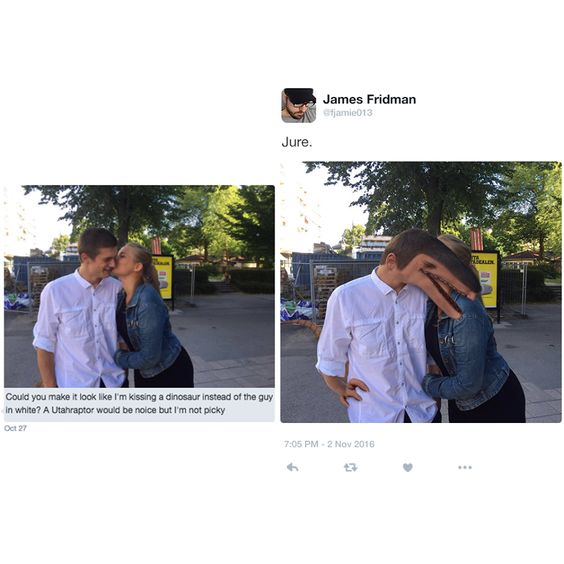 What goes in the head of this girl? She is kissing the guy she loves, and instead, she wants to kiss a dinosaur? Well, it was her wish.
19. The Goose Wins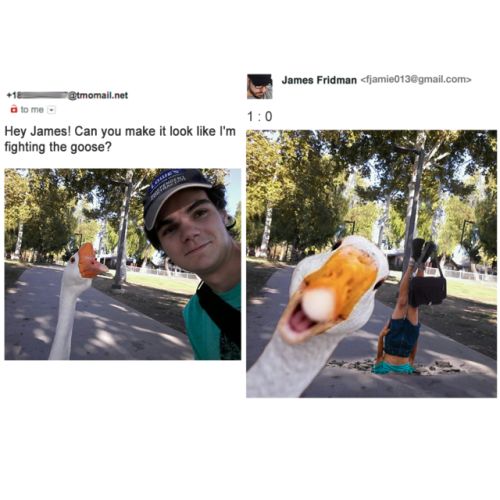 When you are fighting an animal, usually the animal wins. That is a free life lesson there. You cannot be more stubborn than a donkey. So, next time you want to fight with an animal, just do not. Even if it is just a photoshop edit.
20. Motivation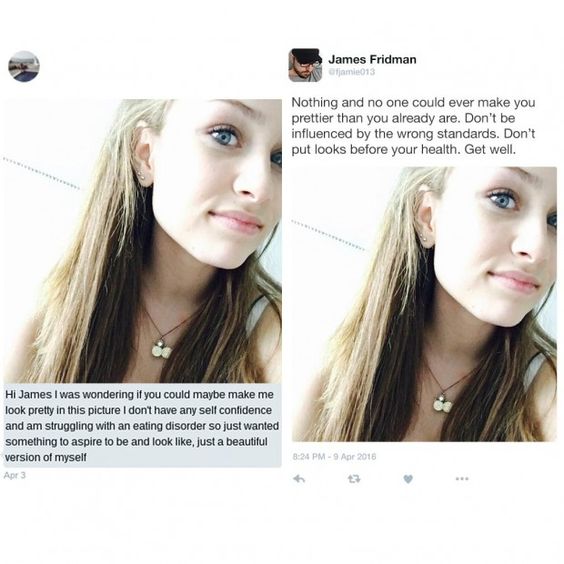 Let's finish with James trying to motivate a girl by telling her she is as beautiful as they come. That is a true gentleman right there ladies. And he couldn't have said it better. Nothing will make you more beautiful than you are.